CLICK PLAY TO HEAR MUSIC (CD-DEPARTURE)
(ONE TAKE SCENE)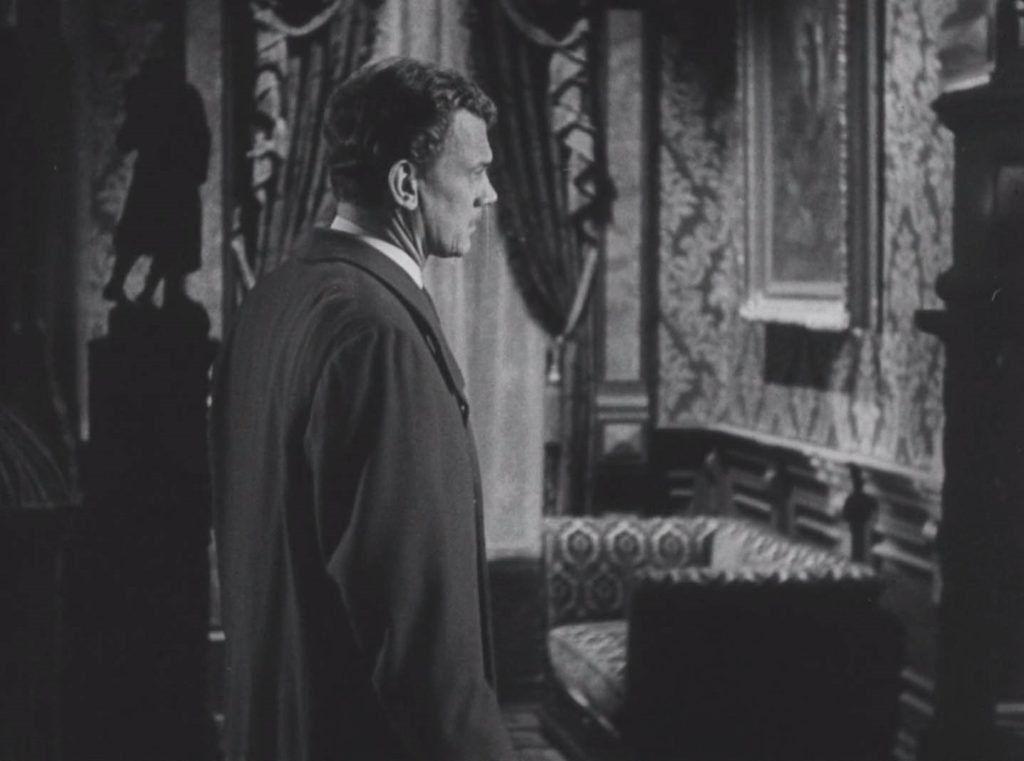 Eugene is seated in the parlor/waiting room.  His face is covered with deep concern, worry and he is obviously in emotional pain. When Fanny appears and, he sees her walking towards him, Eugene brightens a bit and stands. He walks toward her into the  but then is stopped by what he sees in her face. Her face answers any question he might have.
FANNY
The doctor says she ought to be kept quiet.
She stops as she lets this settle in. Eugene is desperate. He begs.
EUGENE'S VOICE
If I could only look into the room and see her for just a second.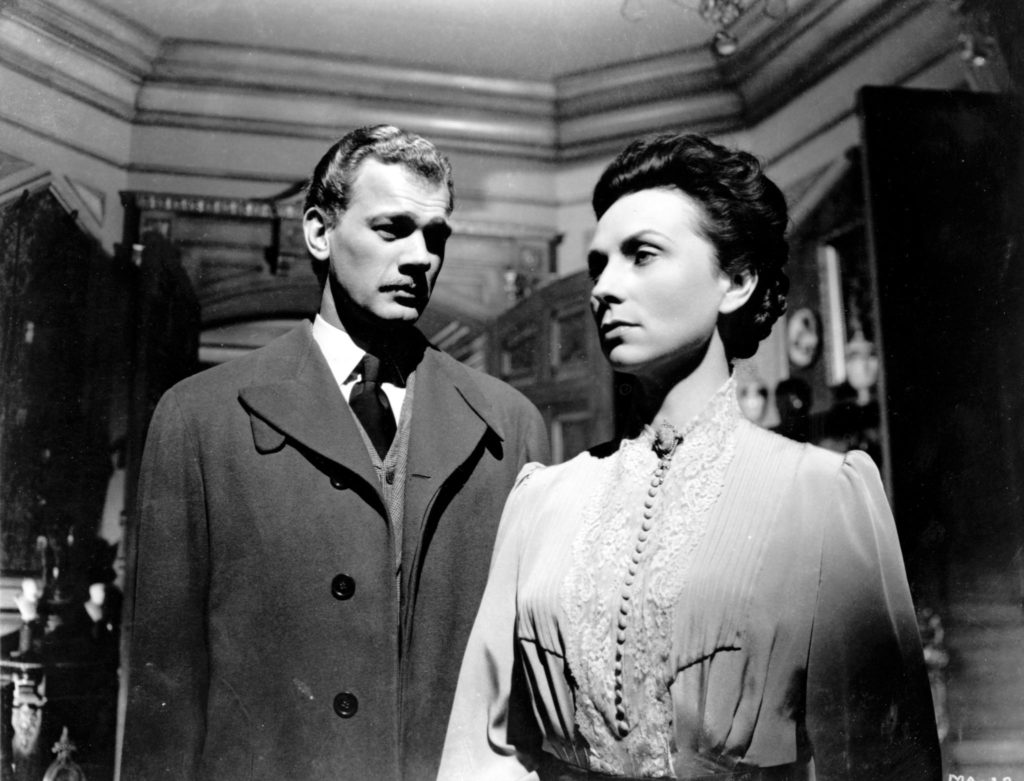 Fanny talks tensely. She is very uncomfortable.
FANNY
The doctor says she mustn't see anyone
A short silence as Eugene realizes that he is defeated and there is nothing else he can do or say.
EUGENE
All right, Fanny.
Grief and loss on his face he is suffering but turns to go. Fanny watches as Eugene walks into and down the hall as the camera pans to follow him. He opens the door and slowly walks out.
Eugene's shadow is on the door as he walks out the door and moving towards the street walks down the steps. He looks like a man who knows that this will be the last time he will ever be in the Amberson Mansion.
FADE DISSOLVE TO
The camera is shooting up a second floor window, George approaches, opens the curtains and looks through them.
George's reflection on window. He grimly looks out as Eugene walks through the entrance gates and gets into his automobile. George hears:
NURSE'S VOICE
She wants to see you.
George wheels around and walks to the nurse, the camera panning to follow.
The nurse is Beside Isabel's door and George slowly approaches fearing what this means.
CLICK PLAY TO HEAR MUSIC (CD-ISABEL'S DEATH)
(SINGLE TAKE SCENE)
The door opens and George walks into his mother's bedroom. He looks grim. The nurse follows him inside and closes the door.
George, extreme sadness covering his face, pauses, approaches the bed
He kneels down. The camera pans and tilts to follow as George brings his face close to Isabel's on the bed.
He takes her hand and gently puts it to his cheek. Isabel attempts a smile as light through the curtains throws lace pattern on their face. As if her life was already fading away Isabel speaks weakly and with difficulty. She can only whisper.
ISABEL
Darling, did you get something to eat?
GEORGE
Yes, mother.
ISABEL
All you needed?
GEORGE
Yes, mother.
ISABEL
Are you sure you didn't—catch cold coming home?
GEORGE
I'm all right, Mother.
He picks up her hand in his and gently kisses it.
ISABEL
That's sweet—sweet.
GEORGE
What is, Mother darling?
ISABEL
My hand on your cheek. I can feel it…I wonder…if Eugene and Lucy know we've come home.
GEORGE
I'm sure they did.
She glances up directly at him. George lowers his hand and answers with difficulty.
ISABEL
Has he asked about me?
GEORGE
Yes, he was here.
ISABEL
Has he gone?
GEORGE
Yes, Mother.
Isabel sighs faintly her voice barely audible. She stares off wistfully in the distance.
ISABEL
Oh…I'd like to have seen him…just once. 
NURSE's VOICE
She must rest now.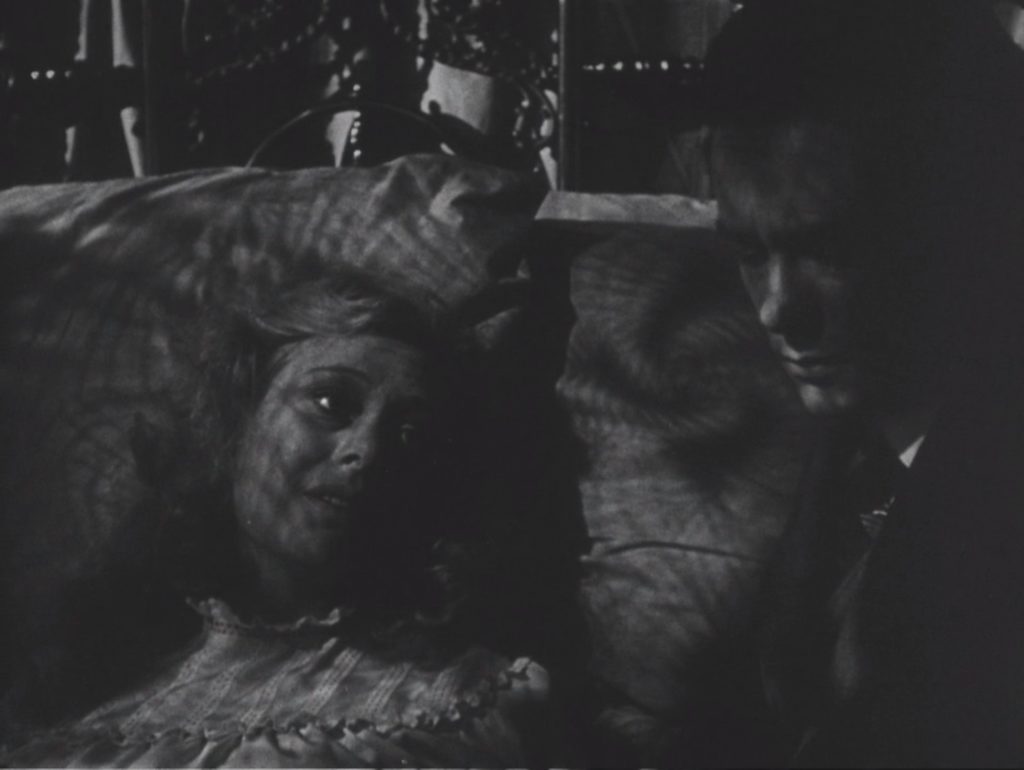 A shadow crosses slowly over Isabel as the curtains—off screen—are drawn. George turns ruefully away
After he has left, Isabel opens her eyes and looks after him one final time.
DISSOLVE TO
(SINGLE TAKE SCENE)
Jack and Fanny are sitting in George's room. When the door opens the two stand.  On the bed The Major dozing uneasily, rises. When George walks in and Fanny hurries out of the room. Startled to find The Major and Jack in his room George stops in front of Jack. He is overwhelmed and bewildered all at once unable to believe or accept what is actually happening. His world is evaporating before his eyes. As Jack walks over to the Major, George announces.
GEORGE
The doctor in New York said she might get better? Don't you know he did? Don't you know he said she might?
The major lies down again and Jack stops beside him. George walks over to the right while Jack walks to the doorway and stands silently in it. They are all waiting to hear that Isabel has died.
MUSIC-CD-ISABEL'S  DEATH
CUT TO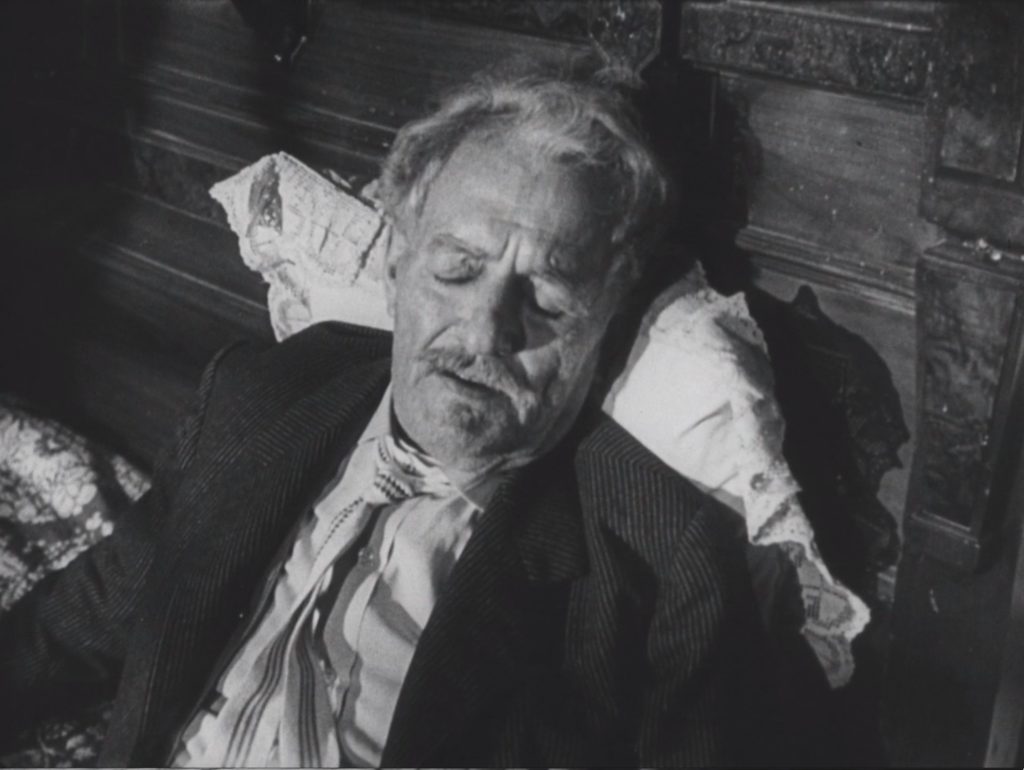 The major is propped up on George's bed sleeping fitfully.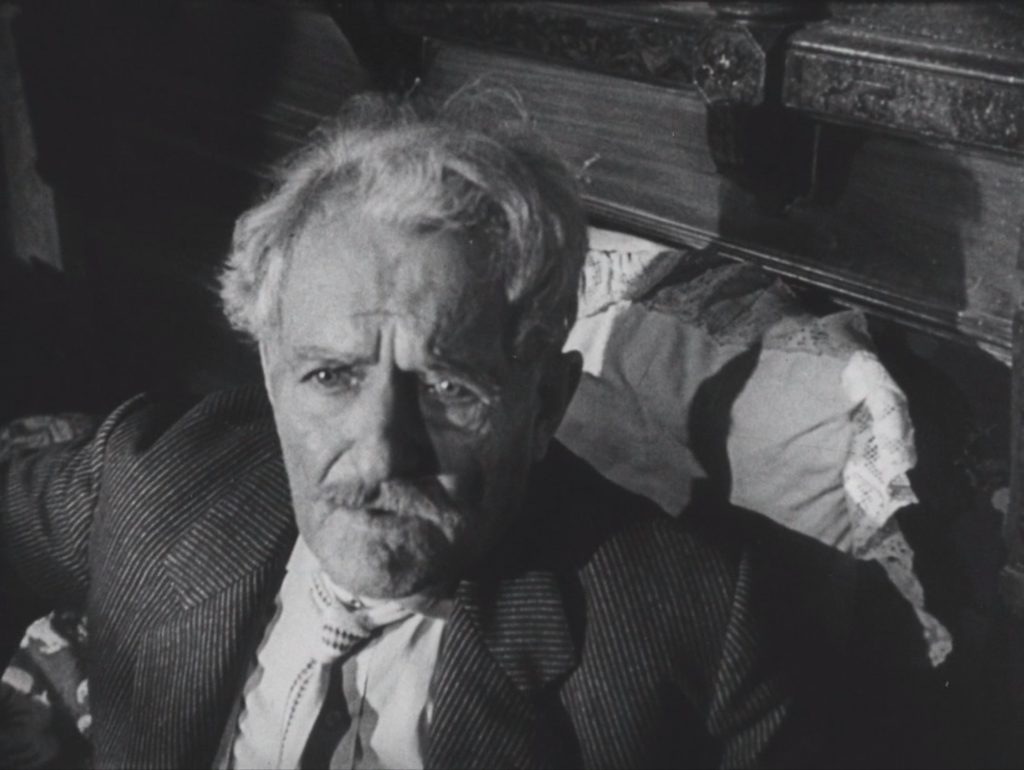 He awakens and  rises.
The Major walks towards camera as the camera moves back.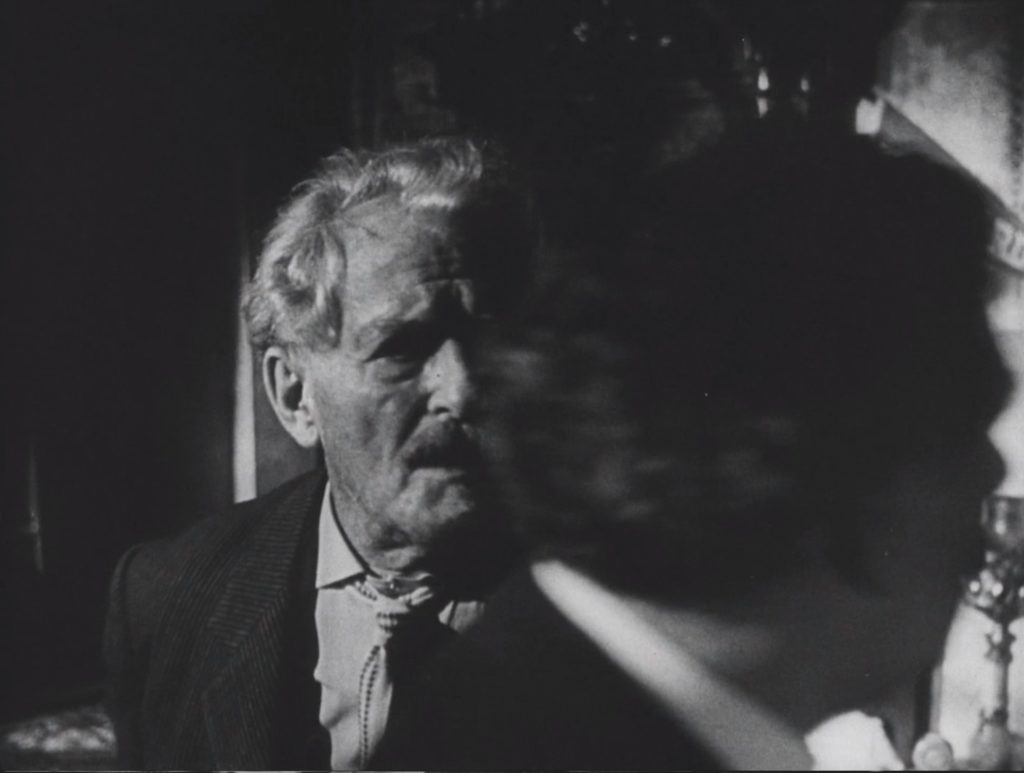 Jack walks in front of the camera as the Major stumbles after him
The camera pans to follow as Jack walks out with the Major.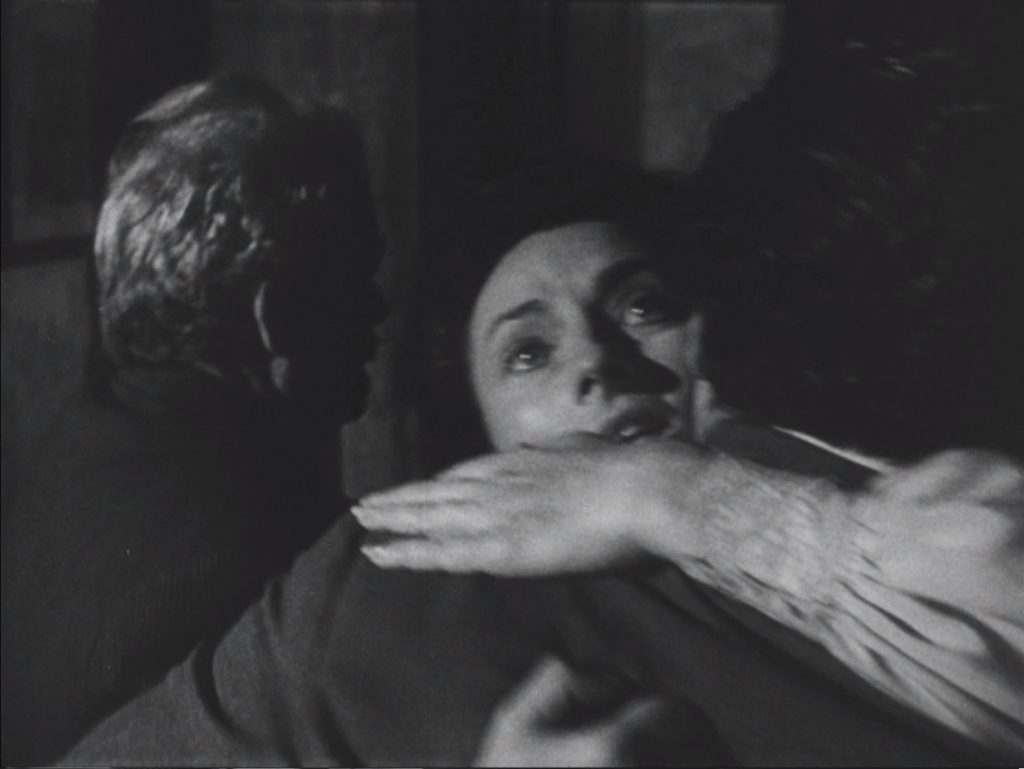 Fanny appears.  She throws her arms around George sobbing in agony of loss and compassion as the Major disappears behind them
FANNY's VOICE
George!
FANNY
She loved you. She loved you! Oh, how she did love you.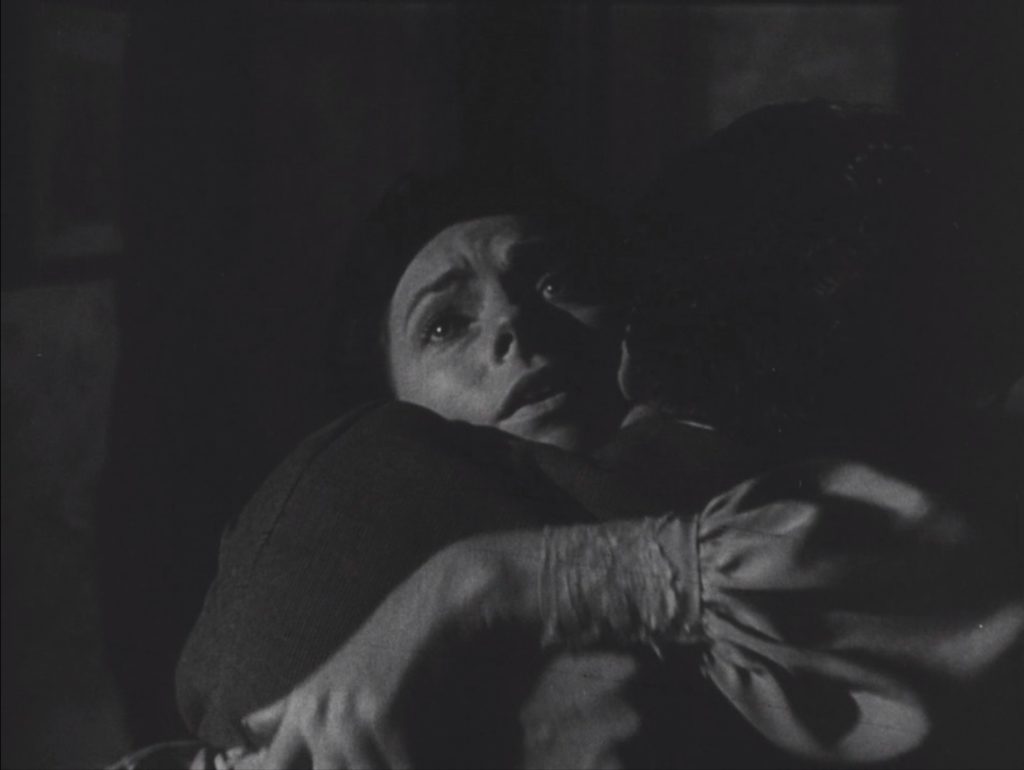 FADEOUT/FADE IN
(ONE TAKE SINGLE ANGLE SCENE)
CLICK PLAY TO HEAR MUSIC (CD- FIRST REVERIE)
The dark screen flickers as the fade concludes on a close-up of the major sitting in the library of the Mansion staring at the fire. He is peering into a fireplace, its flickering light playing on his face. Lost in deep in thought he is unaware of what is happening around him as jack is going through his personal papes.
NARRATOR
And now Major Amberson was engaged in the profoundest thinking of his life. He was occupied with the first really important matter that had taken his attention since he came home after the Gettysburg campaign, and went into business; and he realized that everything which had worried him or delighted him during this lifetime between then and today—all his buying and building and trading and banking that it was all trifling and waste beside what concerned him now. For the Major knew now that he had to plan how to enter an unknown country, where he was not even sure of being recognized as an Amberson—not sure of anything, except that Isabel would help him if she could.
As soon as the Narrator's voice stops we hear:
JACK'S VOICE.
That's true, Fanny—You know, it's a funny thing about the deed to the house. Father…
Interrupting, Fanny's voice is filled with worry She speaks desperately.
FANNY's VOICE
But it must go right! We saw with our own eyes how perfectly it worked in the shop.
JACK'S VOICE
I'm only glad you didn't go into the confounded thing to the extent I did.
FANNY'S VOICE
But the light was so bright no one could face it, and so there can't be any reason for it not to work. It simply…
JACK'S VOICE
It certainly was a perfect thing in the shop! Well our headlight just won't work, Fanny.—Father…Father…
The Major glances to the right.
MAJOR
Huh!
JACK'S VOICE
The house was in Isabel's name, wasn't it?
He nods slightly.
MAJOR AMBERSON
Yes.
JACK'S VOICE
Can you remember-when you gave her the deed, Father?
MAJOR AMBERSON
No—no, I can't just remember.
GEORGE'S VOICE
It doesn't matter—
JACK'S VOICE
The whole estate is about as mixed up as an estate can get, and I haven't helped out any by this infernal headlight scheme. You ought to have that deed, George.
GEORGE'S VOICE
No, don't bother.
(CD-SECOND REVERIE)
The major continues to stare into the fire.
MAJOR AMBERSON
It must be in the sun! There wasn't anything here but the sun in the first place…the earth came out of the sun, and we came out of the earth…so—but whatever we are, we must have been in the earth. We go back to the earth we came out of—-so the earth goes back to the sun that it came out of—and in a little time means nothing—nothing at all—so in a little while we'll all be back in the sun together and time means mothing at all. I wish—
He glances a bit to the right as he hears. .
GEORGE'S VOICE
Did you want anything, Grandfather?
MAJOR AMBERSON
Huh?
GEORGE'S VOICE
Would you like a glass of water?
The Major talks slowly.
MAJOR AMBERSON
No—no, I don't want anything.
As the major continued his pondering:
 DISSOLVE TO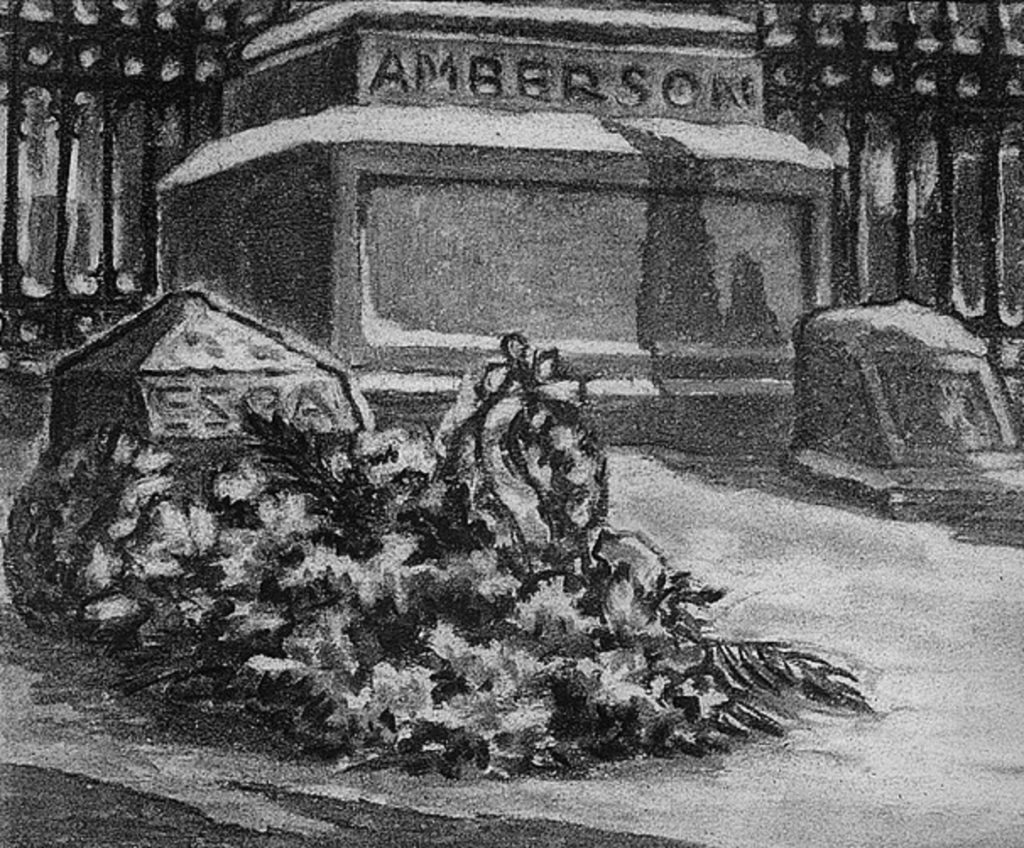 The camera is shooting up at two tombstones. The Major's and Isabel's name are on them.
FADE OUT/FADE IN
(SINGLE TAKE SCENE)
People are moving around in the railroad station as general train station noises are heard. Jack and George are sitting together on one of the waiting benches. Jack's valise is on the floor beside him. Bells sound. George takes out his wallet.
JACK
Just a hundred, George. I know you can't spare it, but I really must have something to tide me over in Washington till things are settled.
Man heard calling trains indistinctly. Man on the left stands and walks off. The camera moves up close to the two. George looks around uncertainly worried if anyone is watching him.
JACK
Nobody's looking.
 George hands Jack the money and Jack puts it away as people move about behind them
JACK
We'll survive, Georgie—you will especially. For my part, I'll be content with just surviving. An ex-Congressman can always be pretty sure of getting a consulship somewhere. Oh, I'll live pleasantly enough with a pitcher of ice under a palm tree, and native folk to wait on me-–that part of it will be like home.
GEORGE
I wish you'd take more.
They stand as Jack talks and camera moves up to follow them.  George puts his wallet away.
JACK
That's one thing I'll say for you, young George. You haven't got a stingy bone in your body. That's the Amberson stock in you.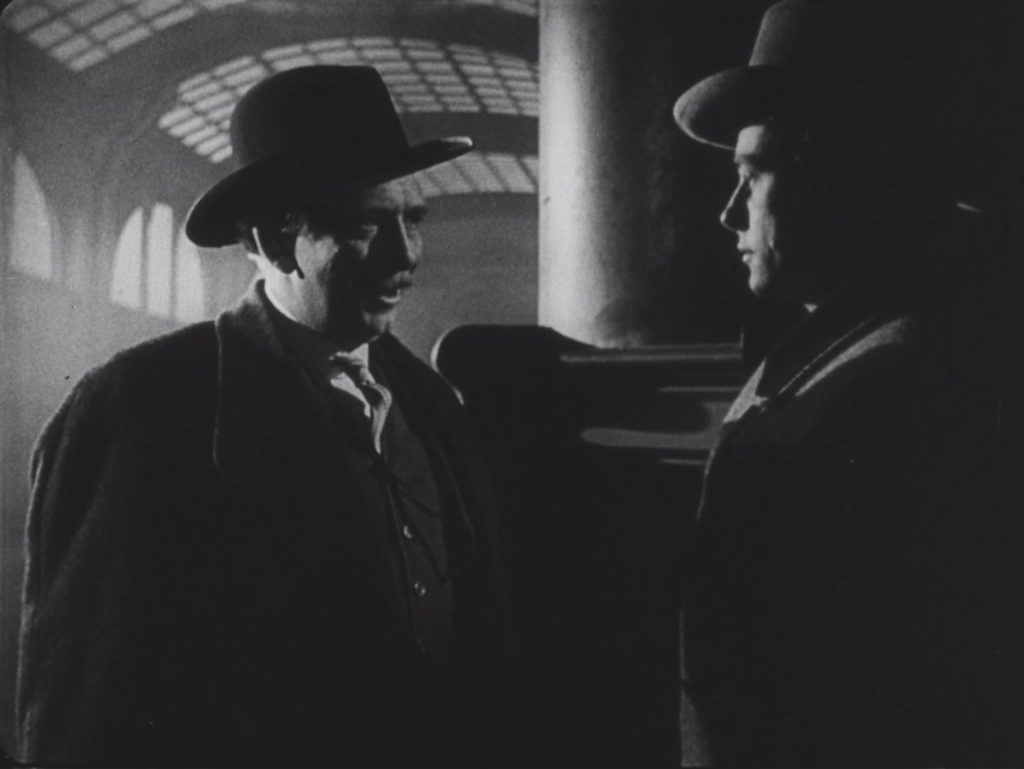 The room is filled with station noises and a train whistler can be heard.
JACK
Well, I may not see you again, Georgie. From this time on it's quite probable that we'll only know each other by letter until you're notified as my next of kin that there's an old valise to be forwarded to you, and maybe some dusty curios from the consulate mantelpiece.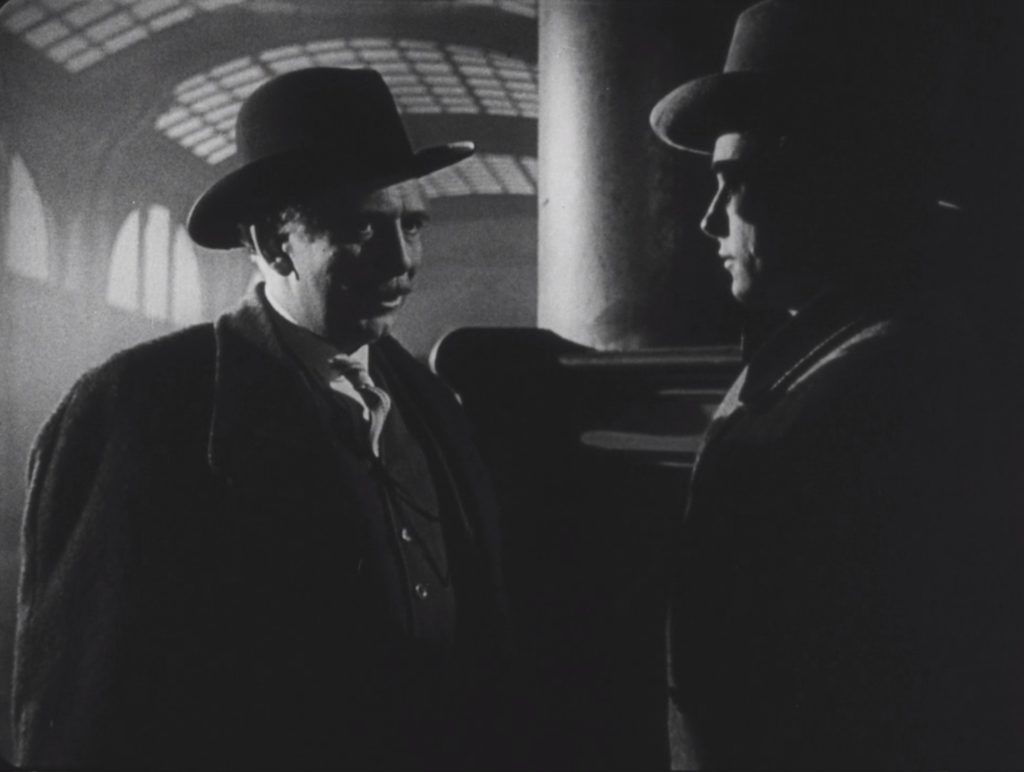 Jack, growing thoughtful, faces George.
JACK
Well, it's an odd way for us to be saying good-bye…one wouldn't have thought it, even a few years ago, but here we are…two gentlemen of elegant appearance in a…state of bustitude. Ehh, you can't ever tell what will happen at all, can you…Once I stood where we're standing now, to say good-bye to a pretty girl—only it was in the old station before this was built…and we called it the "depot."…We knew we wouldn't see each other again for almost a year. I thought I couldn't live through it. She stood there crying. Don't even know where she lives now, or if she is living…If she ever thinks of me she probably imagines I'm still dancing in the ballroom at the Amberson Mansion…She probably thinks the Mansion is still beautiful—still the finest house in town…Ah, Life and money both behave like…loose quicksilver in a nest of cracks…when they're gone we can't tell where or what the devil we did with 'em! But—I believe I'll say now—while there isn't much time left for…either of us to get embarrassed, I…believe I'll say that I've always been fond of you, Georgie, I can't say that I always liked you…but we all spoiled you terribly when you were a boy, but you've got a pretty heavy jolt and you've taken it pretty quietly and…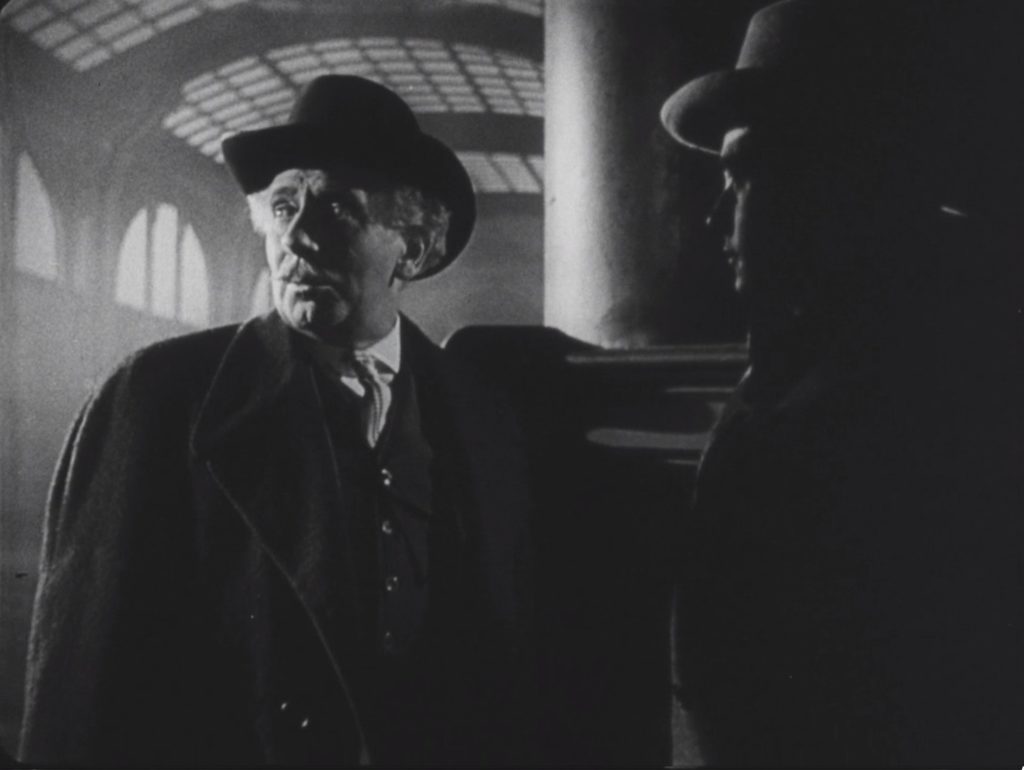 Jack glances around at the sound of a train pulling in.
JACK
…well, with the train coming into the shed, you'll forgive me for saying that there have been times when I thought you ought to be hanged and just for a last word there may be somebody else in this town who's always felt about you like that—fond of you, I mean, no matter how much it seemed you ought to be hanged. You might try…
Jack glances toward sound of conductor.
CONDUCTOR
Calling out names of towns.
He grabs his valise and begins backing away
JACK
I'll send back the money as fast as they pay me, so good-bye and God bless you, Georgie!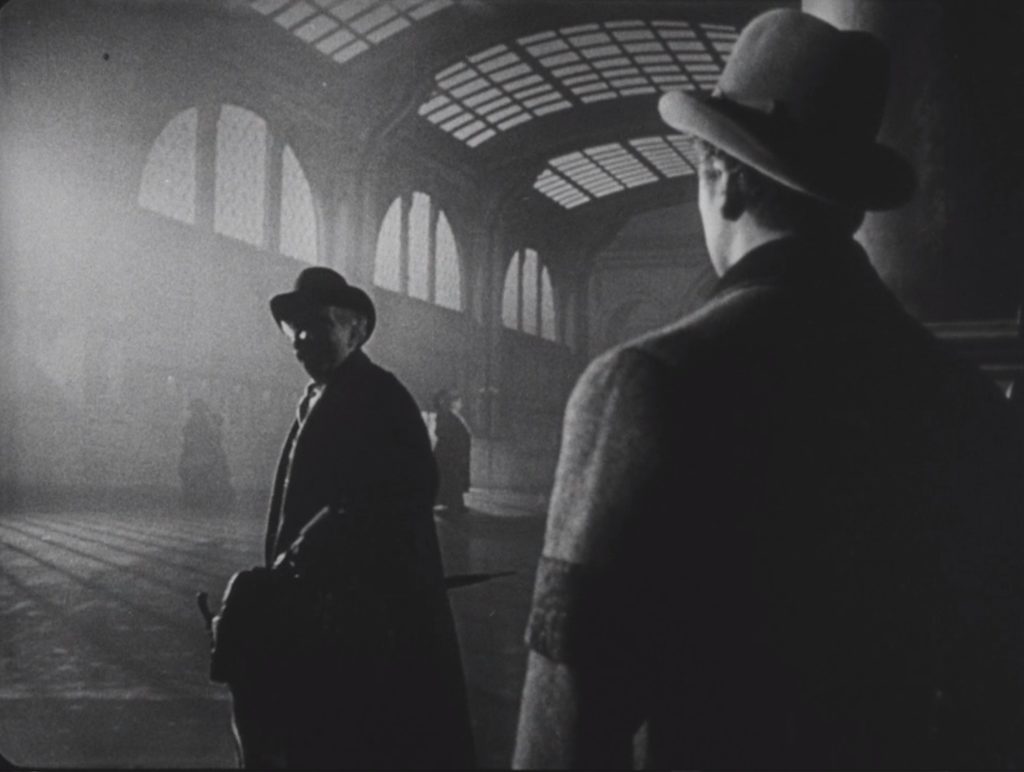 Jack runs with his valise toward the station platform to catch the train.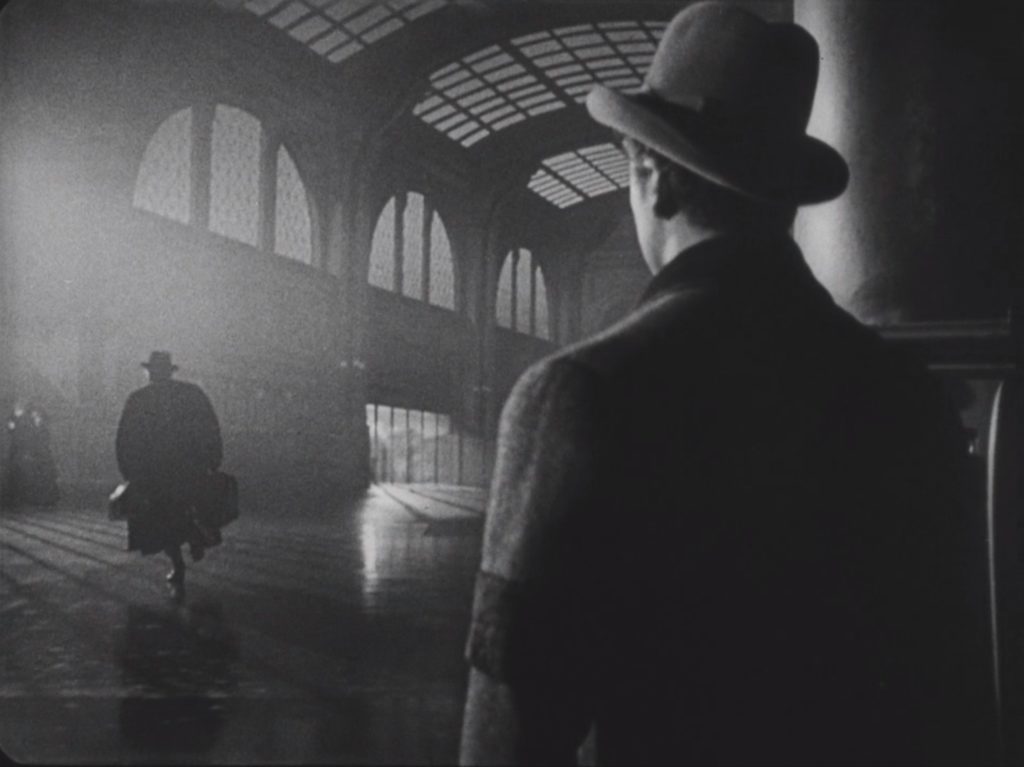 George is left there to watch him go and even though his face is in profile an unexpected sense loneliness falls upon it. It's as if the last fragment of a world familiar to him has just disappeared.   George turns and walks off.
FADE OUT/FADE IN
CLICK PLAY TO HEAR MUSIC (CD-THE WALK HOME)
A building appears as the camera slowly moves down the street. What we see is through George's eyes.
NARRATOR
George Amberson Minafer walked homeward slowly through what seemed to be the strange streets of a strange city…for the town was growing…
DISSOLVE TO 
A grain elevator.
NARRATOR
…and changing.
DISSOLVE TO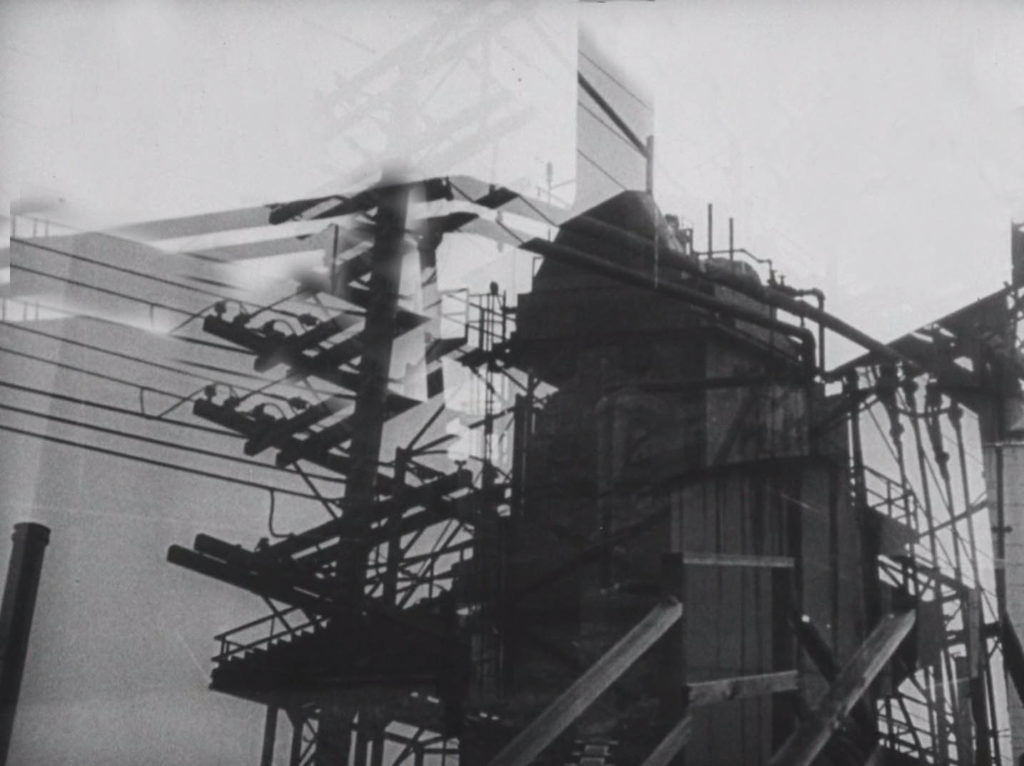 Electrical Generators.
NARRATOR
It was heaving up in the middle incredibly…It was spreading incredibly.
DISSOLVE TO 
A factory.
NARRATOR
And as it heaved and spread…
DISSOLVE TO 
Superimposed shots of steel scaffolding and factory exteriors
NARRATOR
…it befouled itself and darkened its sky.
DISSOLVE TO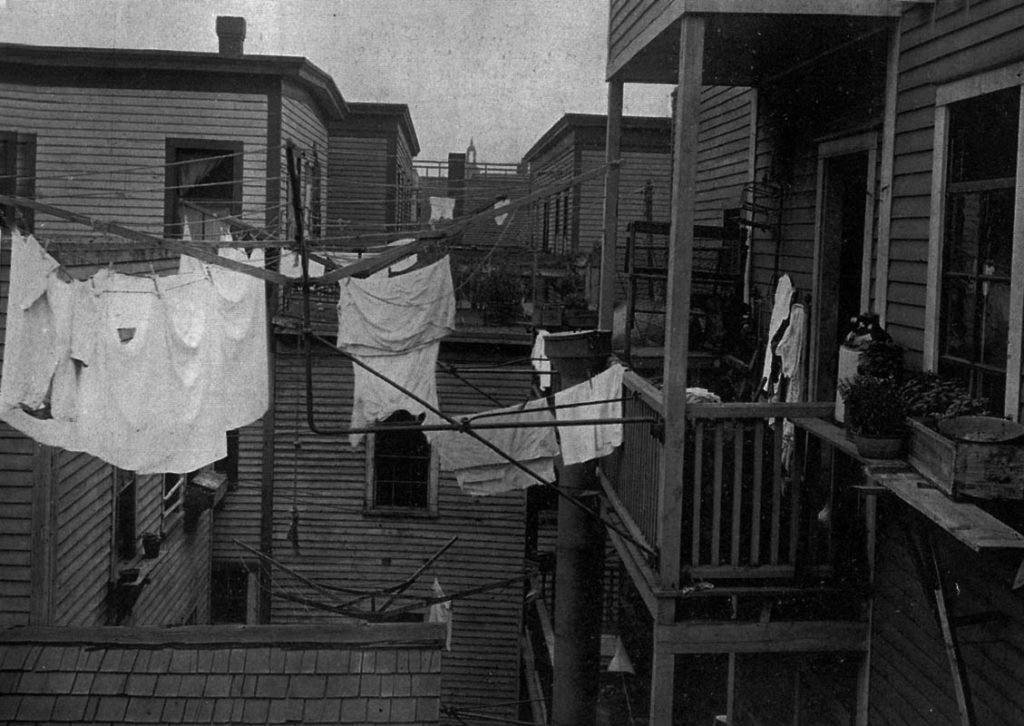 Clothes hanging on lines behind apartments. Camera is moving. The smoke and grime shows
NARRATOR
In this alley he'd fought with two boys at the same time, and whipped them.
DISSOLVE TO 
A shabby house with a yard in back.
NARRATOR
On that sagging porch a laughing woman had fed him and other boys with doughnuts and gingerbread.
DISSOLVE TO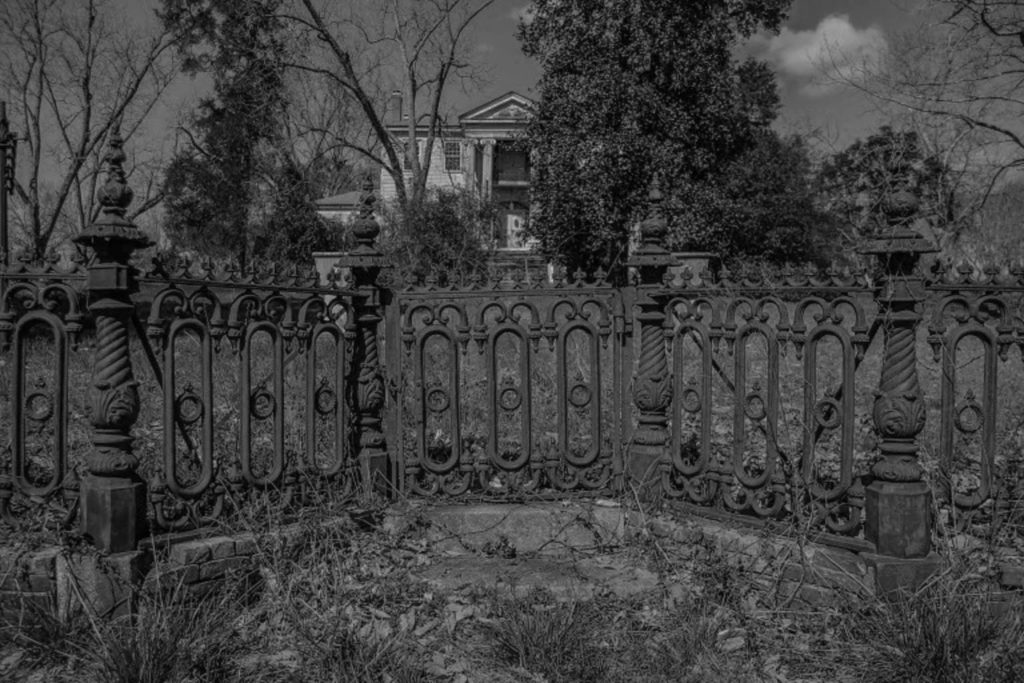 The camera is moving.
NARRATOR
Yonder the relics of  the iron picket fence he'd made his white pony jump, on a dare.
DISSOLVE TO
Camera passing house. Having torn out part of an old stone-trimmed bay window for purposes of commercial display, showed forth two suspended petticoats and a pair of oyster-colored flannel trousers to prove the claims of its black-and-gilt sign: "French Cleaning and Dye House."
NARRATOR
And in the shabby stone-faced house behind the fence he'd gone to children's parties and when he was a little older he'd danced there often and fallen in love with Mary Sharon and kissed her, apparently by force, under the stairs in the hall.
DISSOLVE TO
Camera moving past row of tenements.
NARRATOR
This was the last "walk home"…
DISSOLVE TO
Camera shooting up to exterior of larger apartment buildings.
NARRATOR
…he was ever to take up National Avenue to Amberson Addition…
DISSOLVE TO
Camera shooting to sign "New Hope Apartments single Rooms.
DISSOLVE TO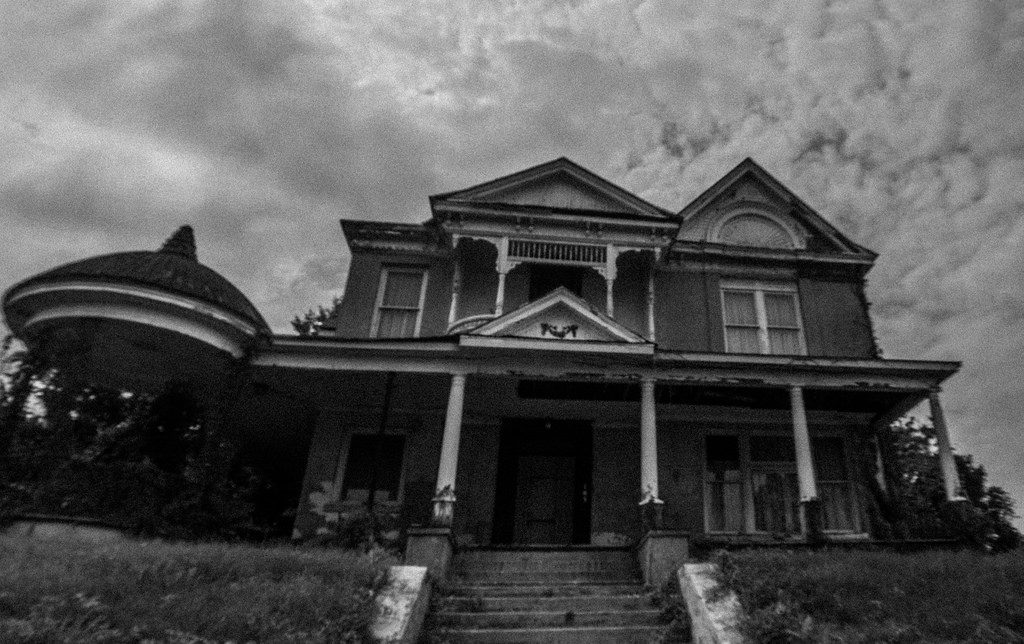 Camera slowly moving down the street passing two houses.
NARRATOR
…and the big old house at the foot of Amberson Boulevard –
DISSOLVE TO
Camera shots through gates to the Amberson Mansion. Massive as the old house is, it manages to look gaunt: its windows stare with the skull emptiness of all windows in empty houses that are to be lived in no more. Of course, the rowdy boys of the neighborhood have been at work; many of these haggard windows are broken.
NARRATOR
Tonight would be the last night that he and Fanny were to spend in the house which the Major had forgotten to deed to Isabel. Tomorrow they were to move out. Tomorrow everything would be gone.
FADE OUT/FADE IN
The dark screen fades into a tight close up on George's back, and immediately the camera pulls showing George, kneeling beside Isabel's bed, his hands clutching the covers.
NARRATOR
The very space in which tonight was still Isabel's room would be cut into new shapes by new walls and floors and ceilings.   And if space itself can be haunted as memory is haunted, then it may be that some impressionable, overworked woman in a kitchenette, after turning out the light, will seem to see a young man kneeling in the darkness with arms outstretched through the wall…
DISSOLVE TO 
George is kneeling by the bed as the camera continues to pull away until it holds a full shot of the room, with George kneeling motionless at the bed. The shot holds.
NARRATOR
…clutching at the covers of a shadowy bed. It may seem to her that she hears the faint cry, over and over…
GEORGE
Mother, forgive me. God forgive me.
NARRATOR
Something had happened—a thing which, years ago had been the eagerest hope of many, many good citizens of the town. And now it came at last: George Amberson Minafer had got his comeuppance. He got it three times filled and running over. But those who had so longed for it were not there to see it, and they never knew it. The ones-who were still living had forgotten all about it and all about him