FADE IN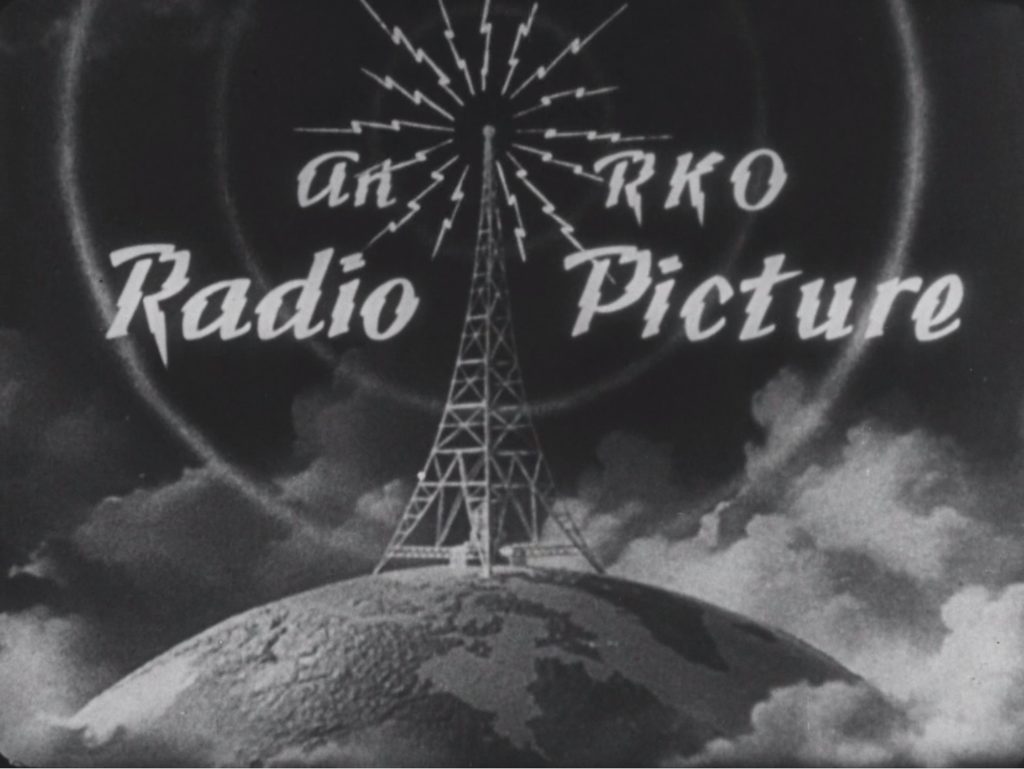 LAP DISSOLVE
FADE OUT/ FADE IN
MUSIC-CD-THEME & VARIATIONS
A dark Screen
NARRATOR
The magnificence of the Ambersons began in 1873. Their splendor lasted throughout all the years that saw their Midland town spread and darken into a city. In that town in those days…
FADE IN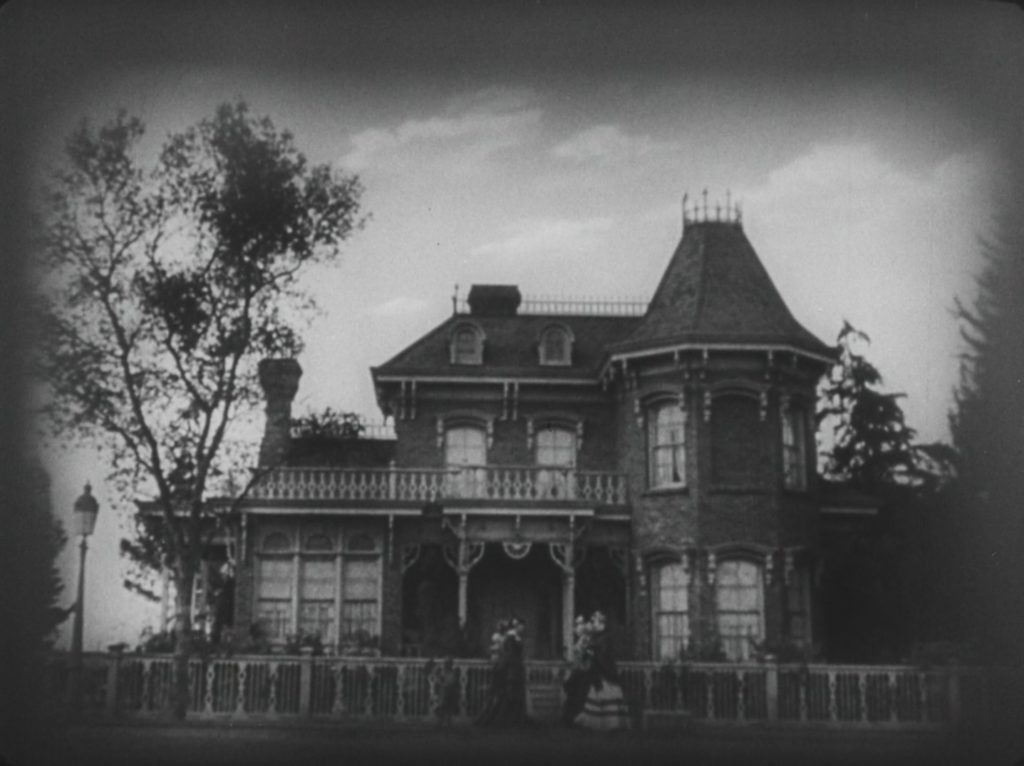 A house on a period street with a white picket fence. On the sidewalk, two ladies are passing three ladies and they greet each other.
NARRATOR
…all the women who wore silk or velvet knew all the other women who wore silk or velvet
A horse-and-carriage appears and as it crosses the occupants, wave to the ladies on the street and the ladies wave back to the occupants.
NARRATOR
…and everybody knew everybody else's family horse-and- carriage. The only public conveyance was the street-car;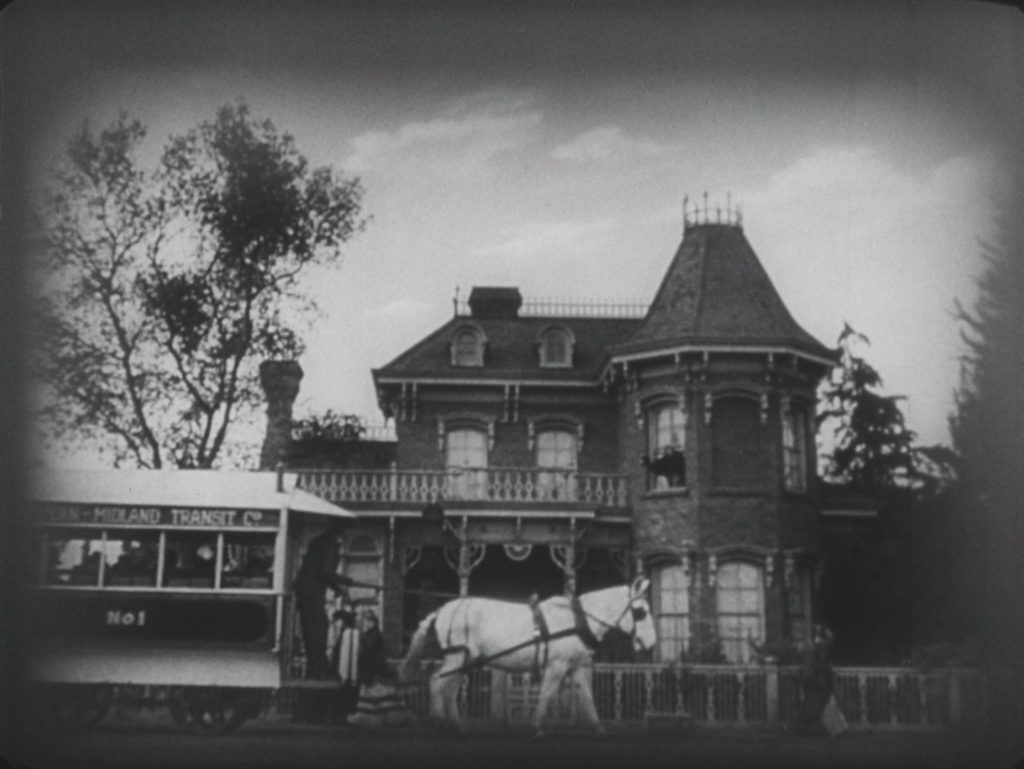 A mule appears drawing the streetcar – an upper window of the house opens a lady leans out, waves and calls.
MRS. JOHNSON
YooHoo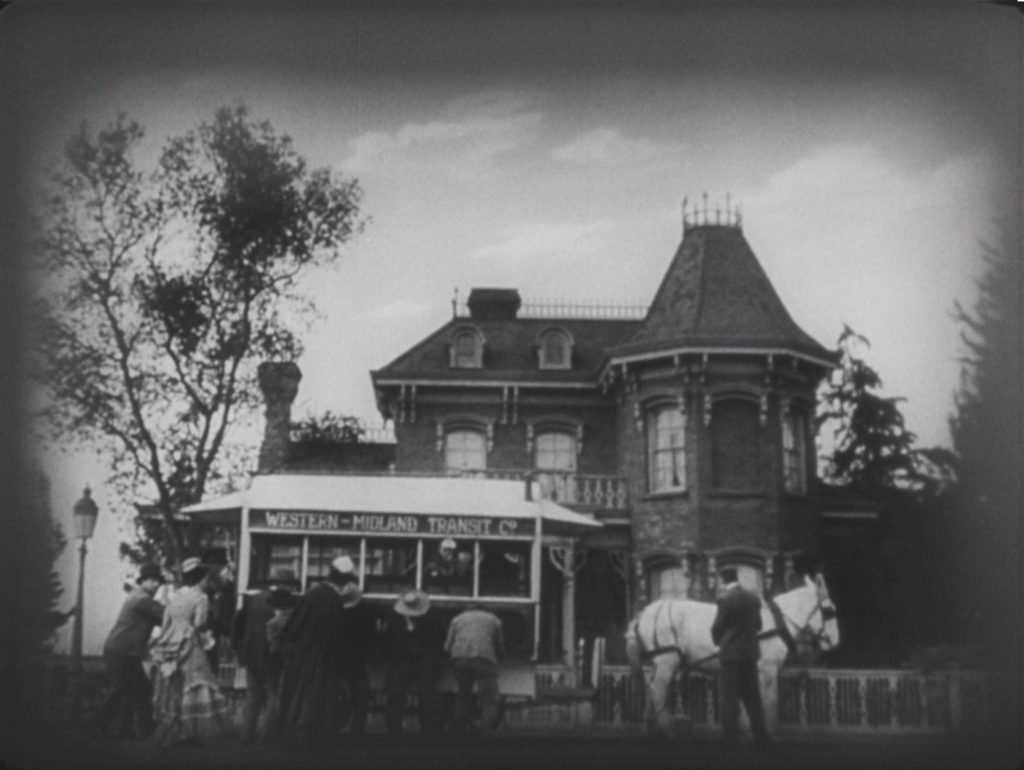 The woman shuts the window and disappears as the driver pulls the mule to a stop. The streetcar stops with a jolt and jumps off the track. All the passengers get off and the men lift it back on the tracks.  
NARRATOR
A lady could whistle to it from an upstairs window and the car would halt at once and wait for her while she shut the window, put on her hat and coat, went downstairs, found an umbrella, told the "girl" what to have for dinner and came forth from the house. Too slow for us nowadays, because the faster we're carried the less time we have to spare. But in those days they had time for everything…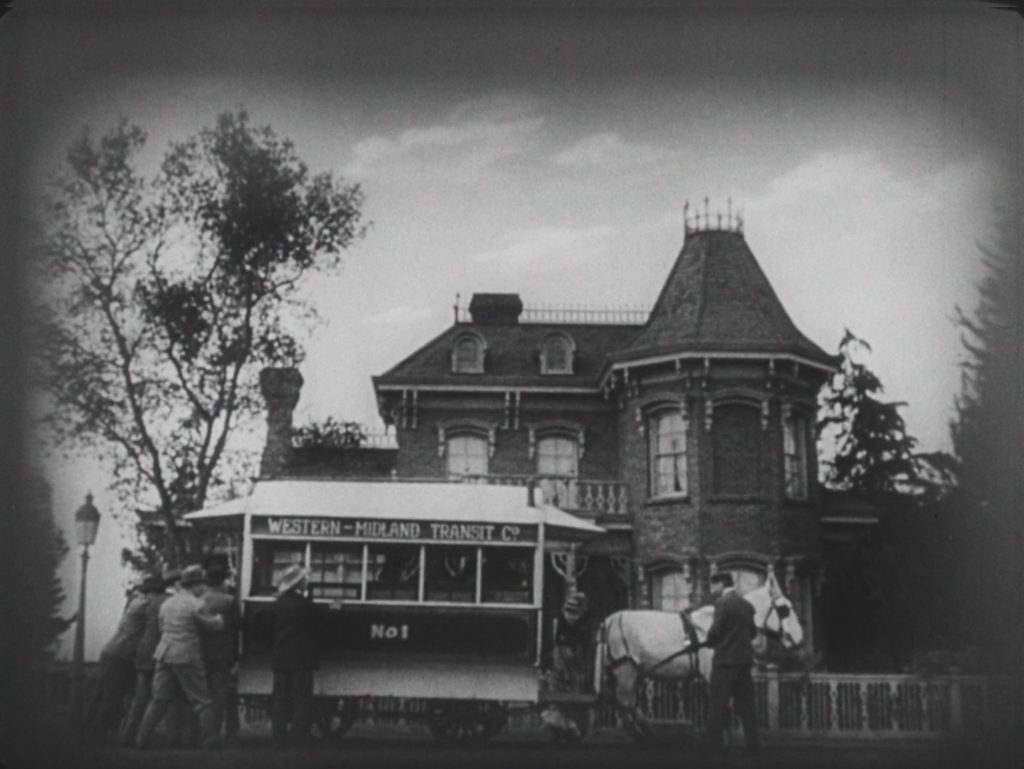 As the passengers re-board the lady runs out of the house a hat, cloak, umbrella and pocketbook added to her costume. She gets on the car, the passengers resume their seats, and the driver slaps the reins on the mule's back as the horse pulls the car as it leaves the frame.
DISSOLVE TO
The same house and street are covered with snow. A horse-drawn sleigh, filled with gay couples, rides through while boys throw snowballs and people walk past. It's a picture of the winter of days gone by.  
NARRATOR
…Time for sleigh rides and balls, and Assemblies, and cotillions, and open house on New Year's…
DISSOLVE TO
The house on a summer night; a party in progress with carriages drawn up before the picket fence. All the windows are lit and Japanese lanterns are strung up in the front yard. Gay young couples are strolling on the lawn.  
NARRATOR
…and all day picnics in the wood. And even that prettiest of all vanished Customs – the serenade.
DISSOLVE TO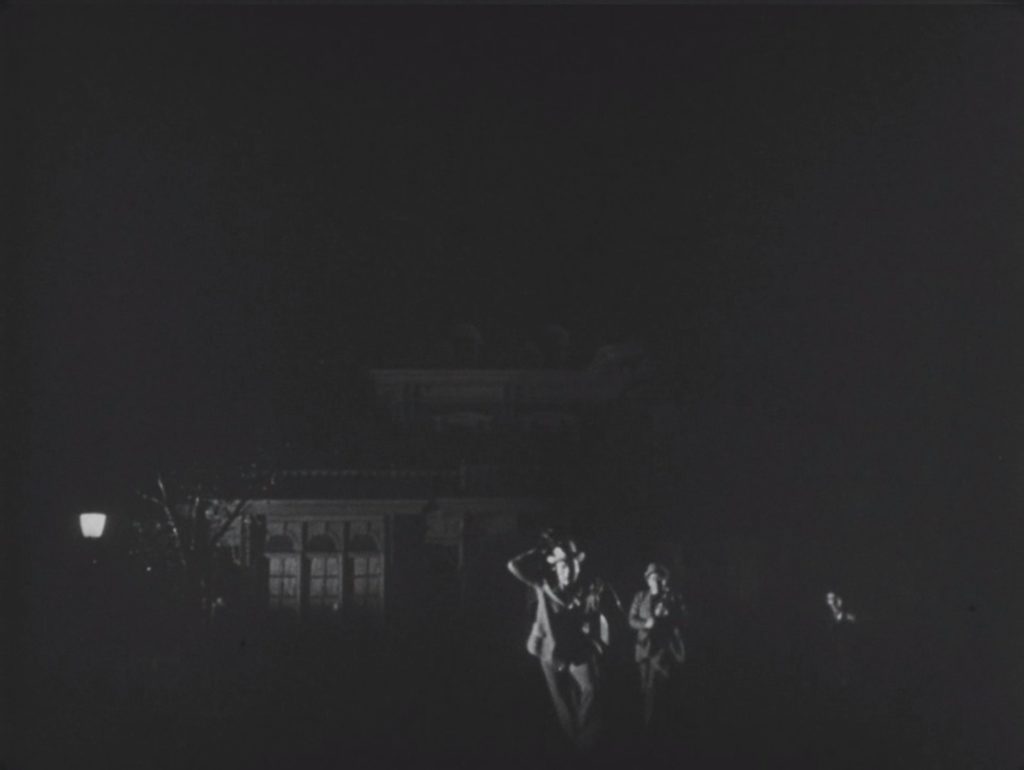 The house is now dark as, a bit tipsy, a small group of musicians run carrying their instruments on the lawn of the house across the street.
NARRATOR
On a summer night, young men would bring an orchestra under a pretty girl's window – and flute, harp, fiddle, cello, cornet and bas vio; would presently release their melodies to the dulcet stars.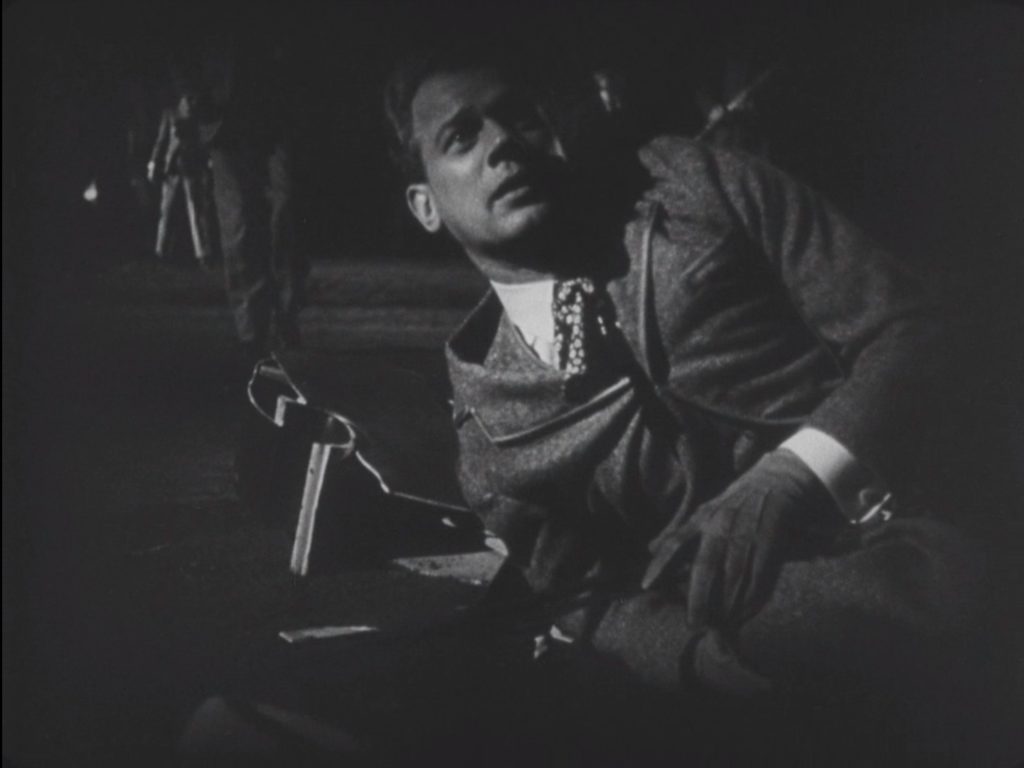 Eugene Morgan trips over the bass viol, falls on top of it and collapses, sinking through the top of as if it were a tub and looks up anxiously.
DISSOLVE TO
Who Eugene is looking to is Isabel Amberson looking out the second floor window of the Amberson Mansion wearing a frown and looking hurt.
Disappointed at Eugene's "performance" she turns away from the window.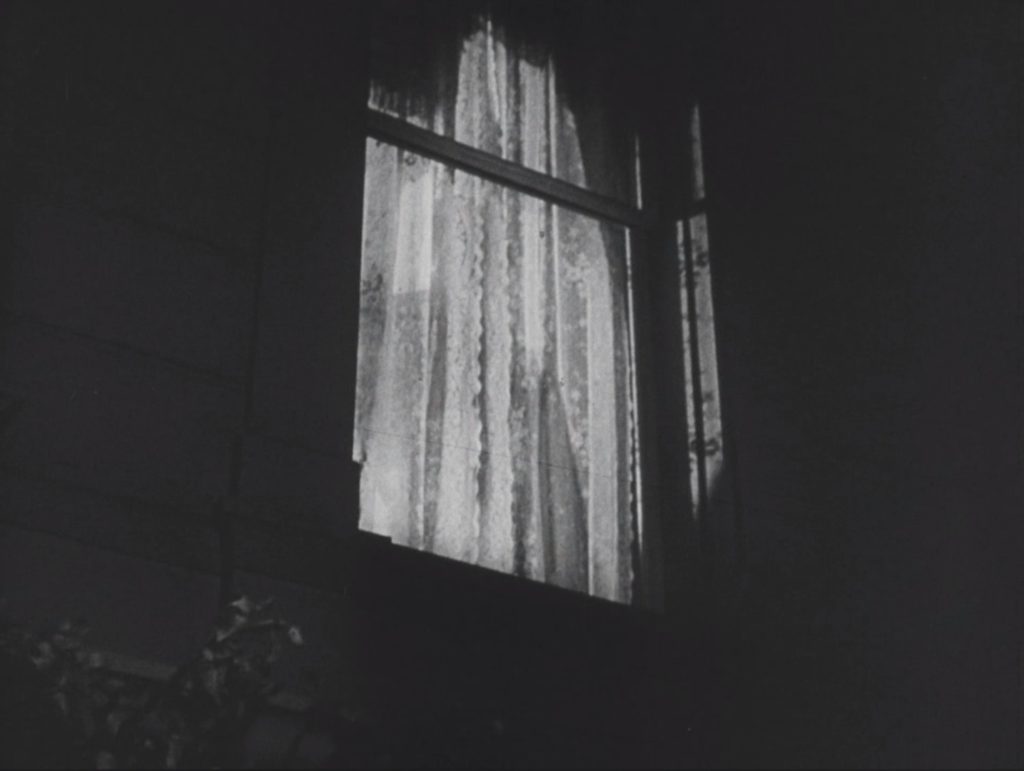 Disappeared from the window, light now shines through the window curtain
NARRATOR
During the earlier years of this period…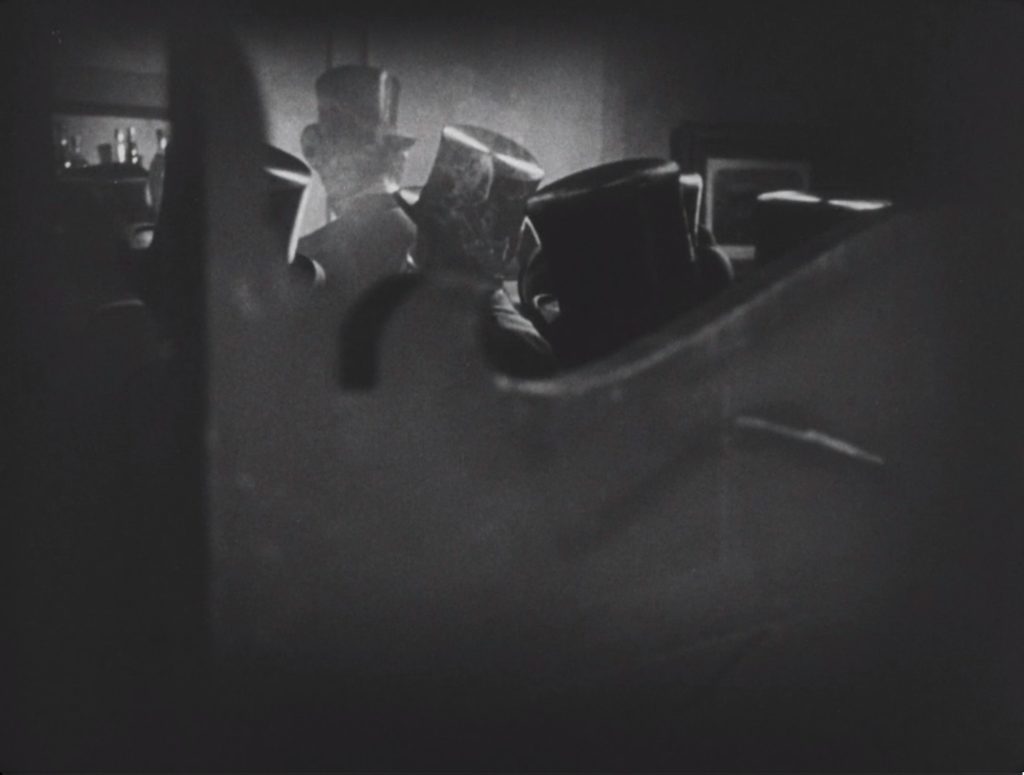 A saloon door swings open revealing men with silk hats inside.
NARRATOR
…while bangs and bustles were having their way with women, there were seen men of all ages…"
Wilbur Minafer is in a boat on a lake with Isabel rowing. Isabel has a parasol while Wilber wears his stove-pipe hat.
NARRATOR
…to whom a hat meant only that rigid, tall silk thing known to impudence as
Major Amberson, back of his head to us is wearing his top hat.
A snowball knocks it off and he turns  smiling.
NARRATOR
….. "stove-pipe." But the long contagion of the…
Eugene Morgan is in his bedroom, observing himself wearing a derby in a mirror while wearing hi-long underwear.
Taking it off, he replaces it with a spoon-shaped derby
NARRATOR
…"Derby" had arrived: one season the crown of this hat would be a bucket but next it would be a spoon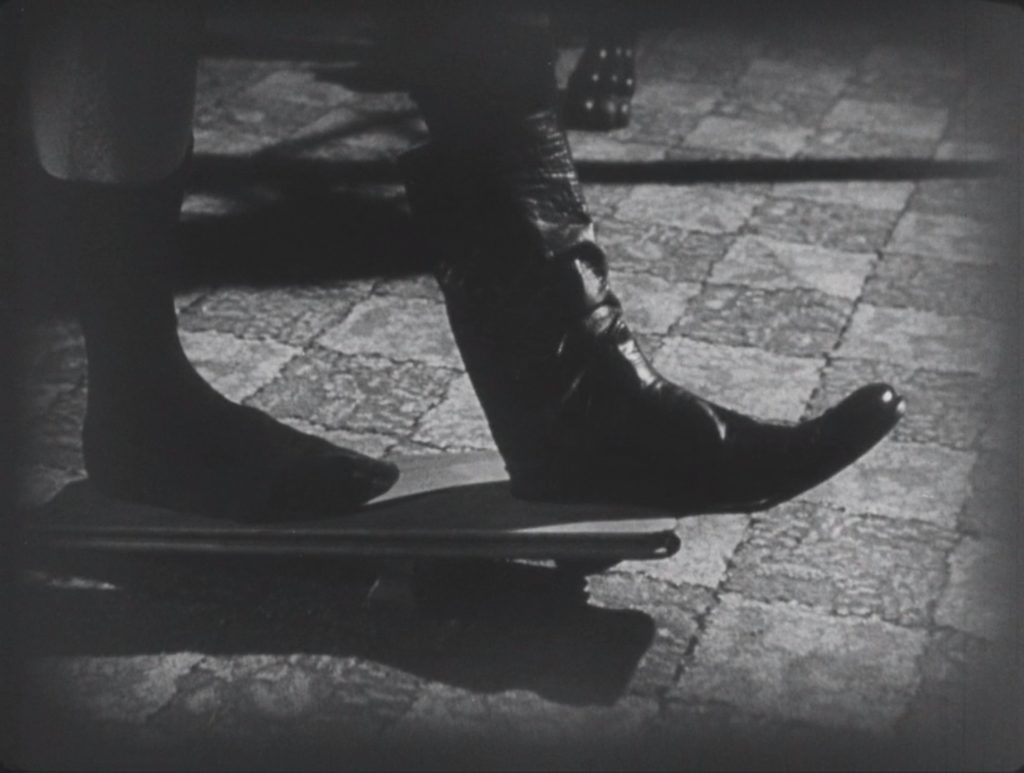 Eugene's feet as he pulls off his boots using a bootjack. He then kicks the boot and bootjack aside.
NARRATIOR
…Every house still kept its bootjack – but high-topped boots gave way…
Eugene's in front of the mirror wearing shoes that have toes like the prow of a racing shell.
NARRATOR
…to shoes and "Congress gaiters" and these were played through fashions that shaped them now with toes like box-ends and now with toes…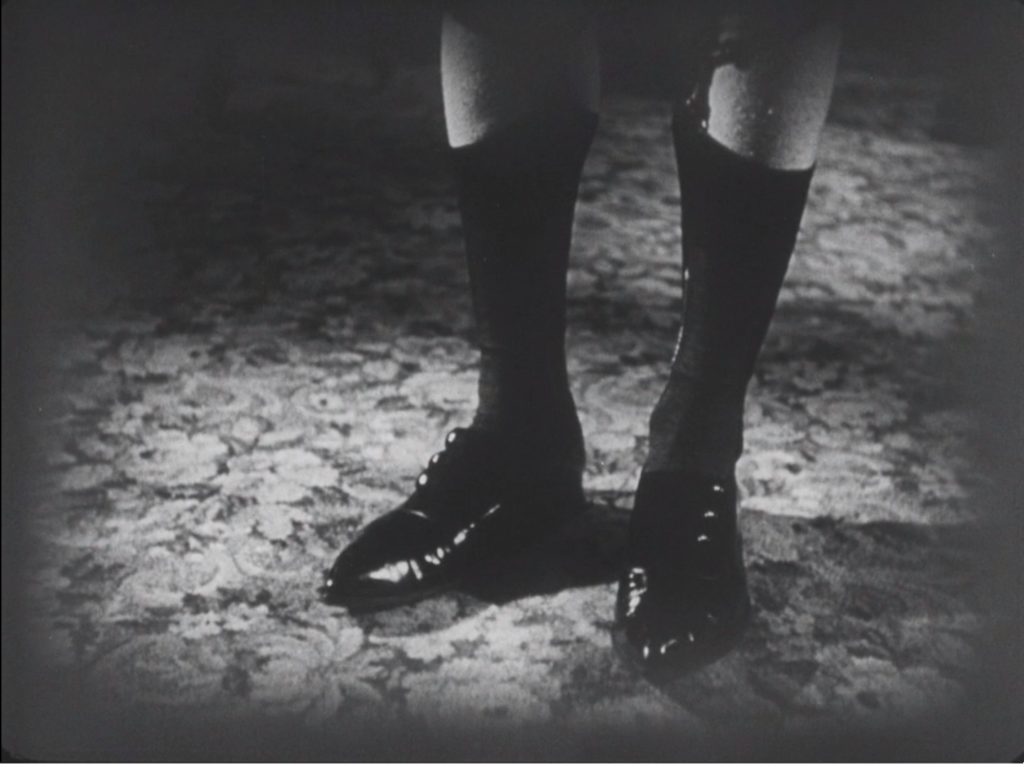 Eugene's feet now wearing shoes with pointed toes.
NARRATOR
…like the prows of racing shells.
With the mirror still reflecting him, Eugene puts on a pair trousers over his legs. The camera pans UP showing him struggling to get them on.
NARRATOR
Trousers with a crease were considered plebeian; the crease proved that the garment had lain upon a shelf, and hence was "ready-made."
In the mirror Eugene is inspecting as he looks at a light-colored overcoat over his full dress, his black coattails hangings below the overcoat.
NARRATOR
With evening dress a gentleman wore a tan overcoat, so short that his black coat-tails hung visible, five inches below the overcoat.
He exits and returns to the mirror now wearing an overcoat that touches his heels
NARRATOR
But after a season or two he lengthened his overcoat till it touched his heels. And he passed out of his tight trousers…
Outside his front door Eugene's legs appear wearing trousers resembling bags
The camera tilts up and Eugene, now wearing a straw hat holds a big candy box and a bamboo cane. Smoking a cigar, he wears a satisfied expression,
NARRATOR
…into trousers like great bags.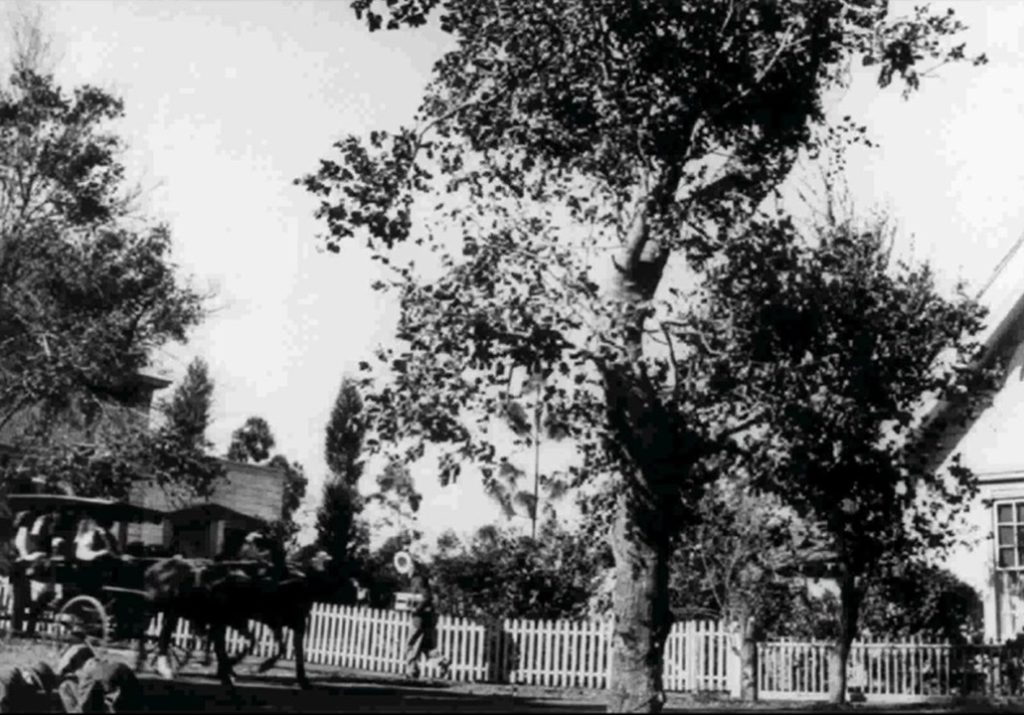 Once outside his gate and the town in the background, Eugene, turns and walks down the street. Children running about, Eugene tips his hat to a passing carriage.
NARRATOR
The people were thrifty in that Midland town because they were the sons or grandsons of the "early settlers," who had opened the wilderness with wagons and axes and guns, but with no money at all. The pioneers…
Eugene continues down the street as activity whirls around him. One man rides his bicycle as the carriage passes. The children are running
Eugene tips his hat to a woman.
The CAMERA PANS as it follows him passing a fountain and tipping his hat to another woman and a man, drinking, tips his hat to Eugene who is a popular member of this community. The camera moves away from him showing a couple in the foreground.  
NARRATOR
…were thrifty or they would have perished; they had to store away food for the winter, or goods to trade for food, and they often feared they had not stored enough. They left traces of that fear in their sons and grandsons. In the minds of most of these, indeed, their thrift was next to their religion. To save, even for the sake of saving, was their earliest lesson and discipline. No matter how prosperous they were, they could not spend money either upon "art"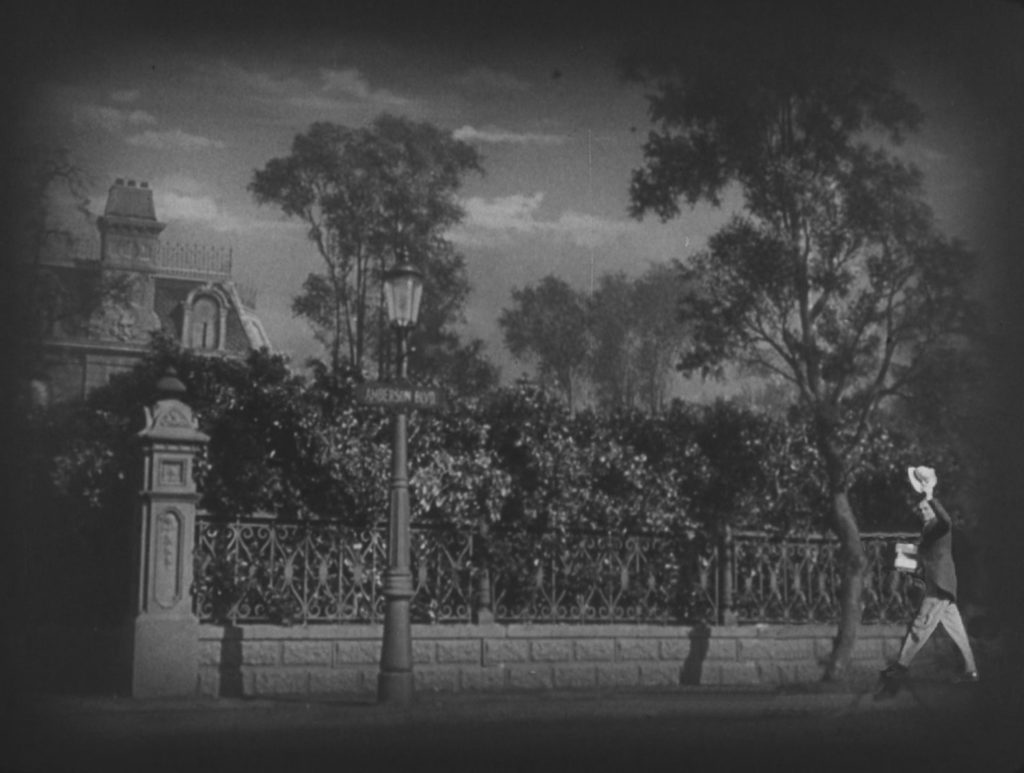 Eugene crosses the street. Several ladies pass and Eugene tips his hat. He is walking towards a building in the distance.
NARRATOR
…or upon mere luxury and entertainment without a sense of sin
DISSOLVE TO
A sign announces "Amberson Boulevard."  A boy on a bicycle passes Eugene as…..
… he tips his hat people off screen. His destination is the magnificent Amberson Mansion, its splendor a severe contrast to the homes Eugene has just passed.
Reaching the stone Marker  he heads down the walk toward the front door of the Mansion. By this time the camera takes in the whole structure as we hear
NARRATOR
Against so homespun a background the magnificence of the Ambersons was as conspicuous as a brass band at a funeral.
Voices are heard off screen.
JEROME's VOICE
There it is!
HOLMES VOICE
The Amberson Mansion!
A group of citizens are gathered across from the Amberson Mansion.
AUGUST
The pride of the town!
BAXLEY
Well. Well.
Shooting through statues Eugene approaches the mansion entrance.
HUMPHREY'S VOICE
Sixty thousand dollars for the wood work alone!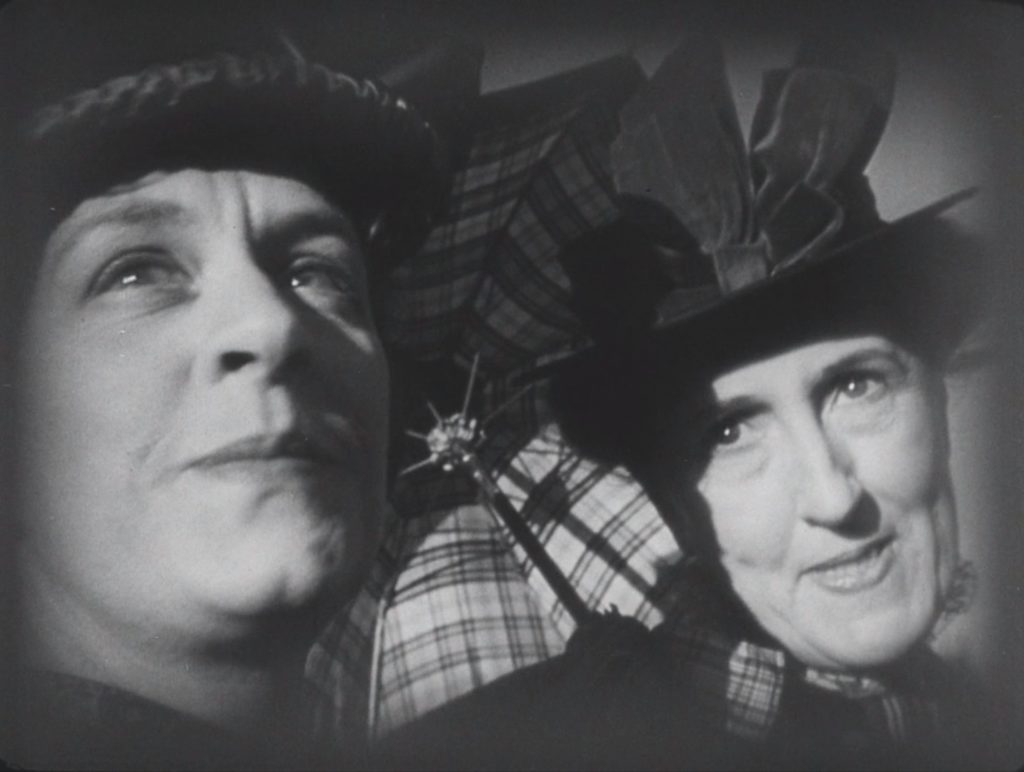 Two woman are talking.
GEORGIA
Hot and cold running water…
MRS. FOSTER
…upstairs and down!
Camera shoots up to Man
AUGUST
And stationary washstands in every last bedroom in the place!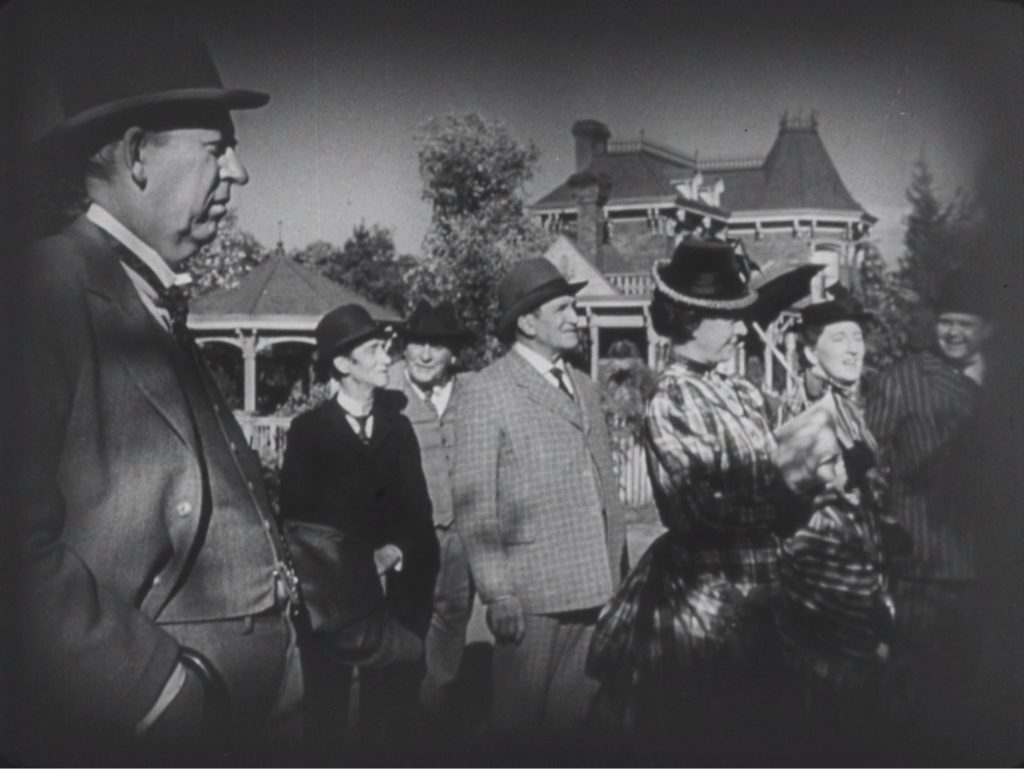 Humphrey approaches man talking while others in back of them.
HUMPHREY
Well, sir, I presume the President of the United States'd be tickled to swap the White House for the new Amberson Mansion if the Major'd give him the chance.
Camera shooting up beside August
AUGUST
But, by the Almighty Dollar, you can bet your sweet life the Major wouldn't.
BAXLEY
Well. Well.
Eugene at the Mansion door, gloved hand ringing the bell, he is holding the box of Candy.
He waits and Sam the Black butler opens the door.
EUGENE
Is Miss Amberson at home?
SAM
No, suh, Mis' Mo'gan. Miss Ambuhson's not at home.
Disappointed Eugene looks at him for a moment.
EUGENE
Thanks, Sam.
Sam Closes door in Eugene's face.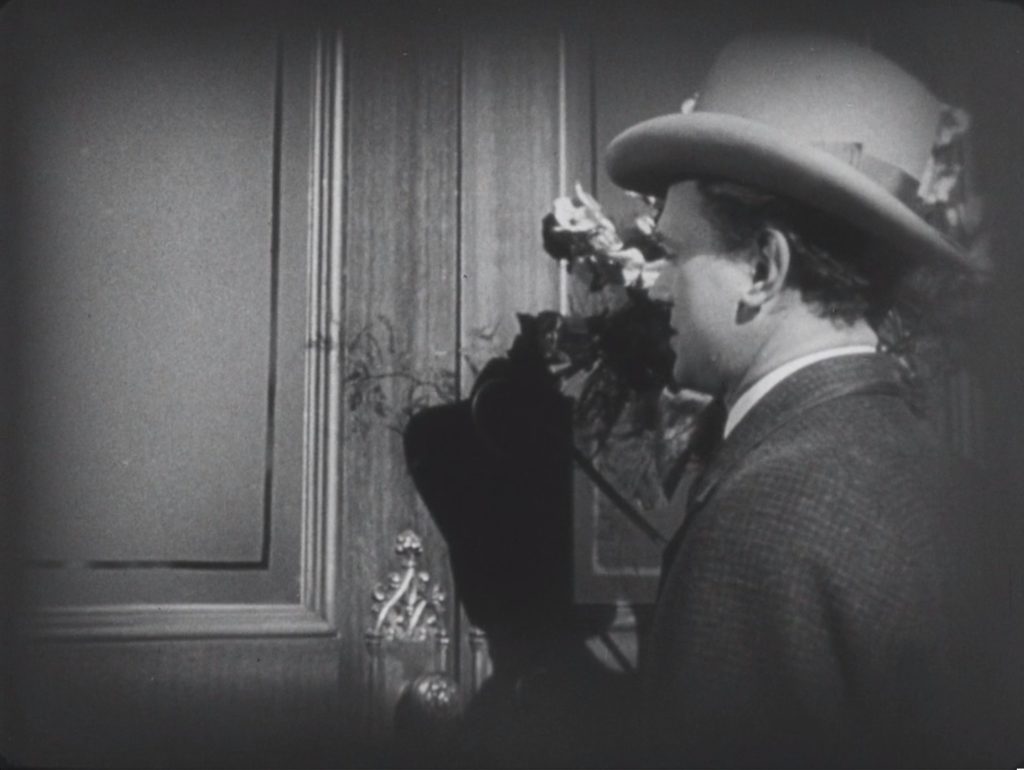 Eugene's gloved hand again rings the bell. He is holding flowers.
He waits only a moment before Sam opens the door and says sharply before Eugene can speak.
SAM
No, suh, Mis' Amberson ain't at home to you, Mist' Mo'gan
EUGENE
Thanks!
Once again disappointed, he turns away.  
The townspeople. Fanny Minafer among them
FANNY
I guess she's still mad at him
MAN'S VOICE
Who?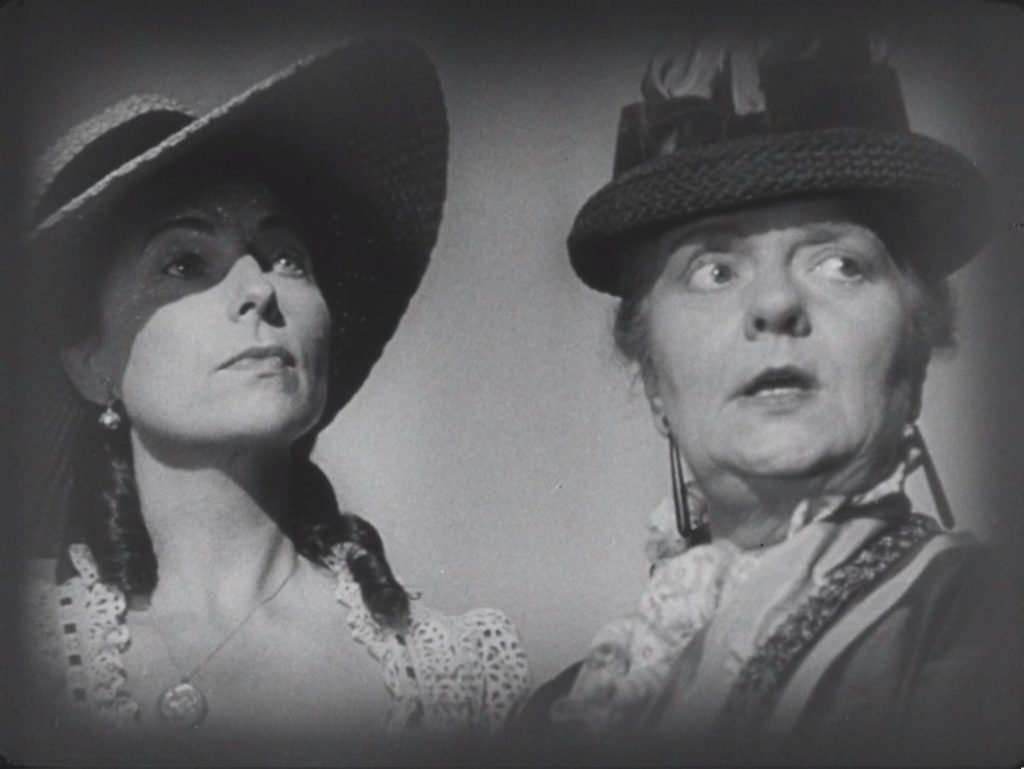 Camera Shots up to Fanny and her friend Mrs. Johnson
MRS. JOHNSON
Isabel.
FANNY
Mrs. Amberson's daughter.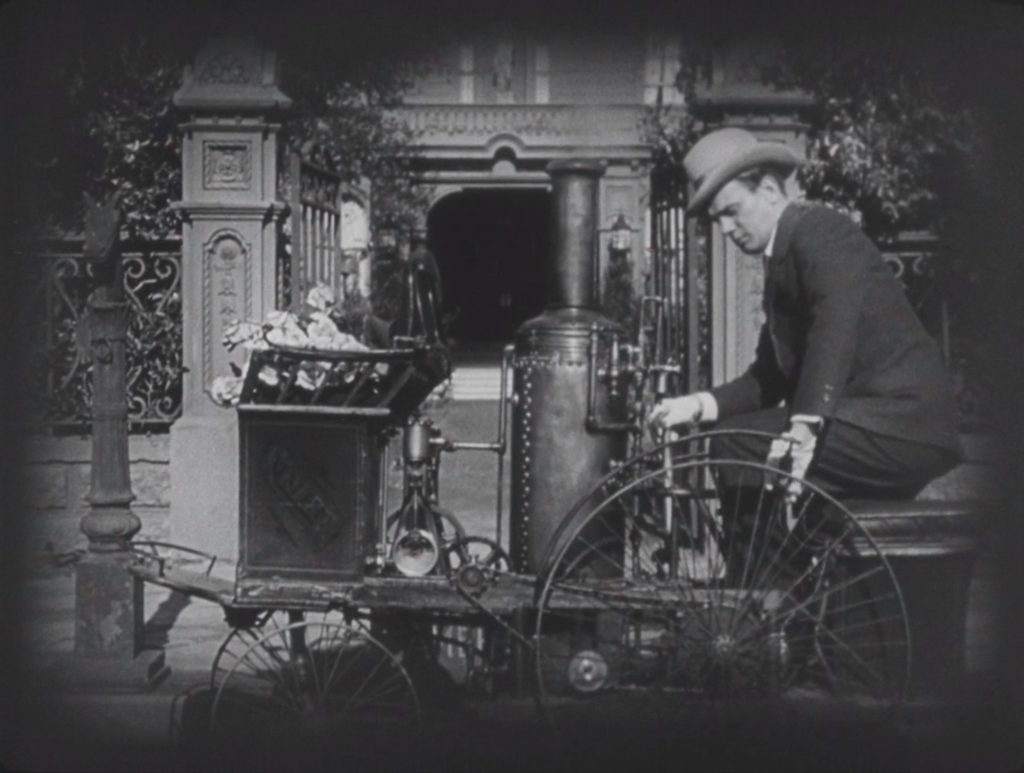 On the street in front of the Amberson Mansion Eugene climbs onto a primitive steam automobile, sits and….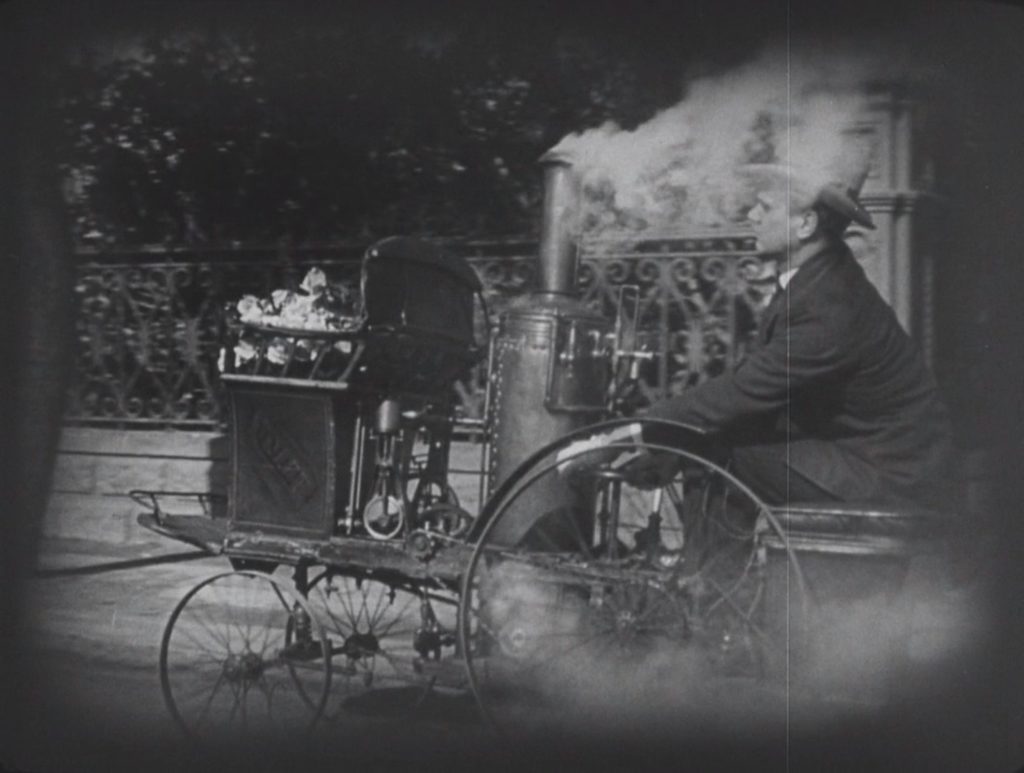 …drives off as the camera follows him.
HUMPHRY's VOICE
Eugene Morgan's her best beau. Took a bit too much to drink the other night right out here and stepped clean through the bass fiddle serenadin' her.
Several people are heard off screen laugh.
MAN'S VOICE
Very Well.
Eugene's steam car moves away from the mansion. Town's people are talking.
MAN's VOICE
I haven't seen her since she got back from abroad.
MAN's VOICE
Isabel?
Camera shots up to three men, Bronson in center
BRONSON
Well, sir, I don't know as I know just how to put it—but she's—she's kind of a…
The Ice cream Parlor door opens.  Isabel, with a St. Bernard dog on leash, and Wilbur Minafer at her side, is coming out. Camera pan to follow her. A steam whistle is heard.  
BRONSON'S VOICE
…delightful lookin' young lady.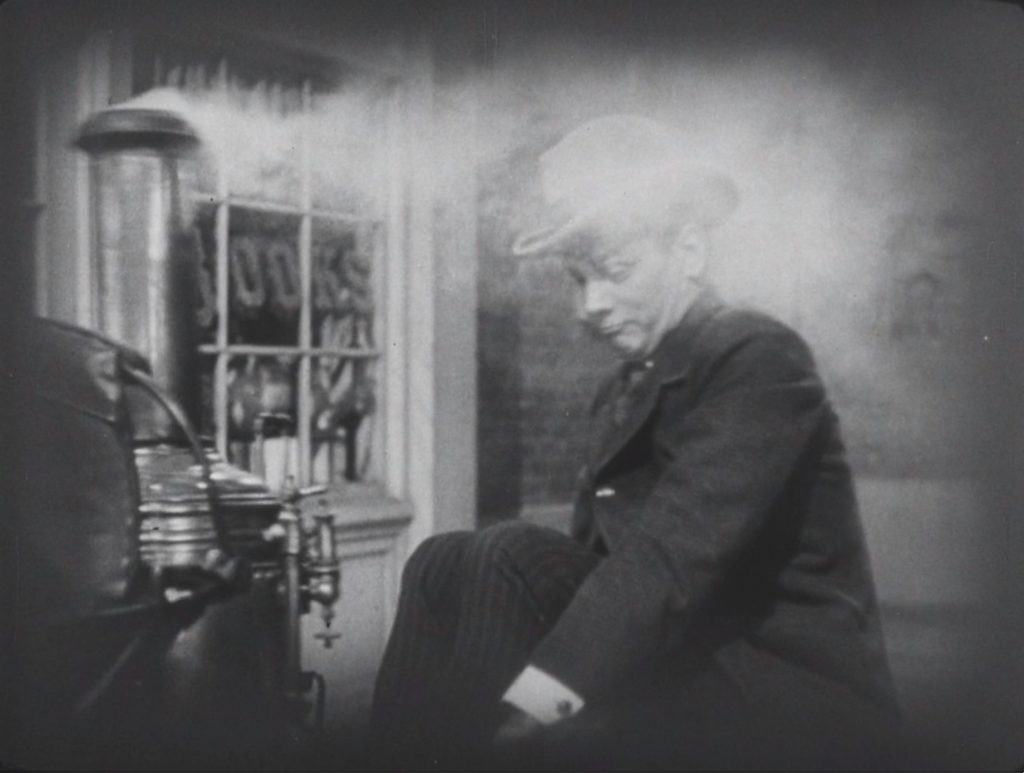 Sitting on his steam car, Eugene stops and blows the whistle.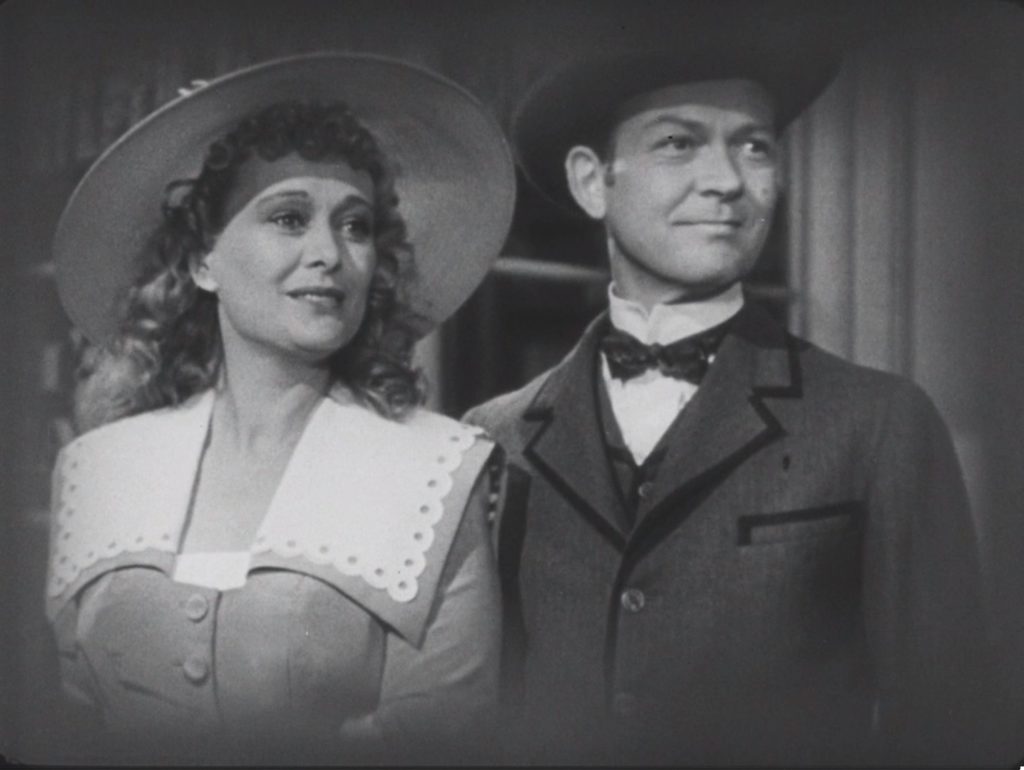 Wilber and Isabel are smiling. The whistle blows again and they turn to it.
Eugene, taking the bouquet off the steam car walks up to the two and tips his hat.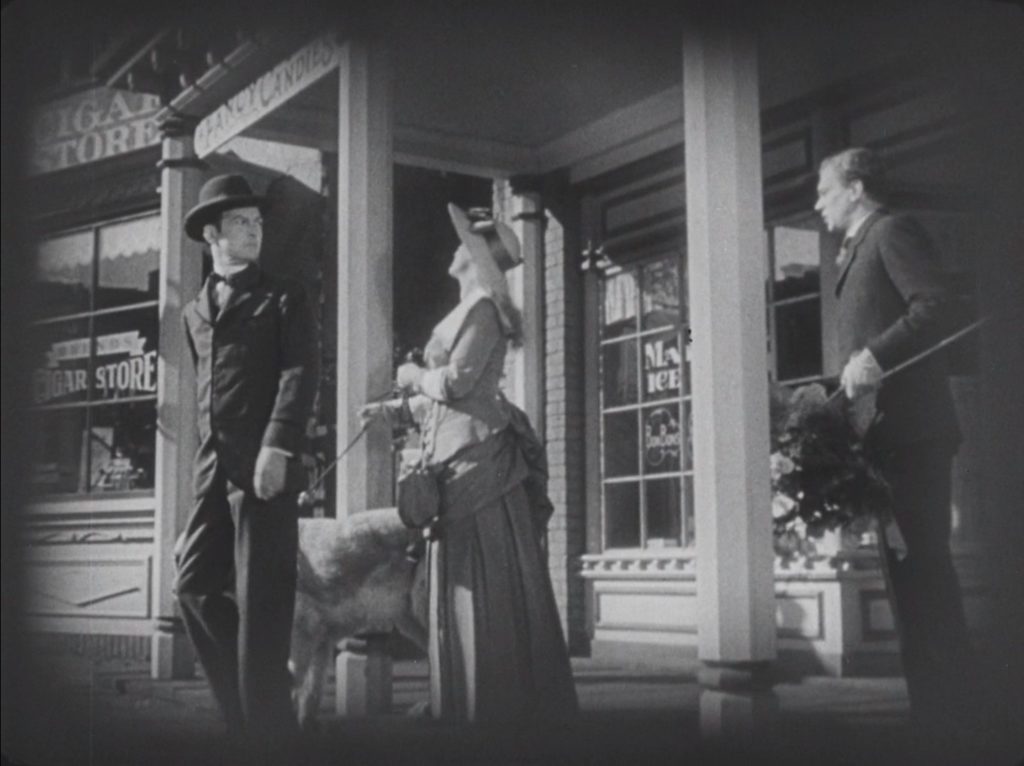 The three are in front of the Ice cream Parlor.   Wilber tips his hat while Isabel, walking away with the dog on the leach, cuts Eugene by turning her back to him.
Wilbur joins her and the two walk away leaving Eugene looking after them sadly.
BRONSON's VOICE
Wilber? Wilber Minafer? I never thought he'd get her. Well, what do you know.
Uncle Jack Amberson is sitting in the barber chair—lather on his face—being shaved. Turning to the camera he speaks to the men seen in reflection in the mirror.  
JACK
Well, Wilbur may not be any Apollo, as it were, but he's a steady young businessman.
(SINGLE TAKE/SINGLE ANGLE SCENE)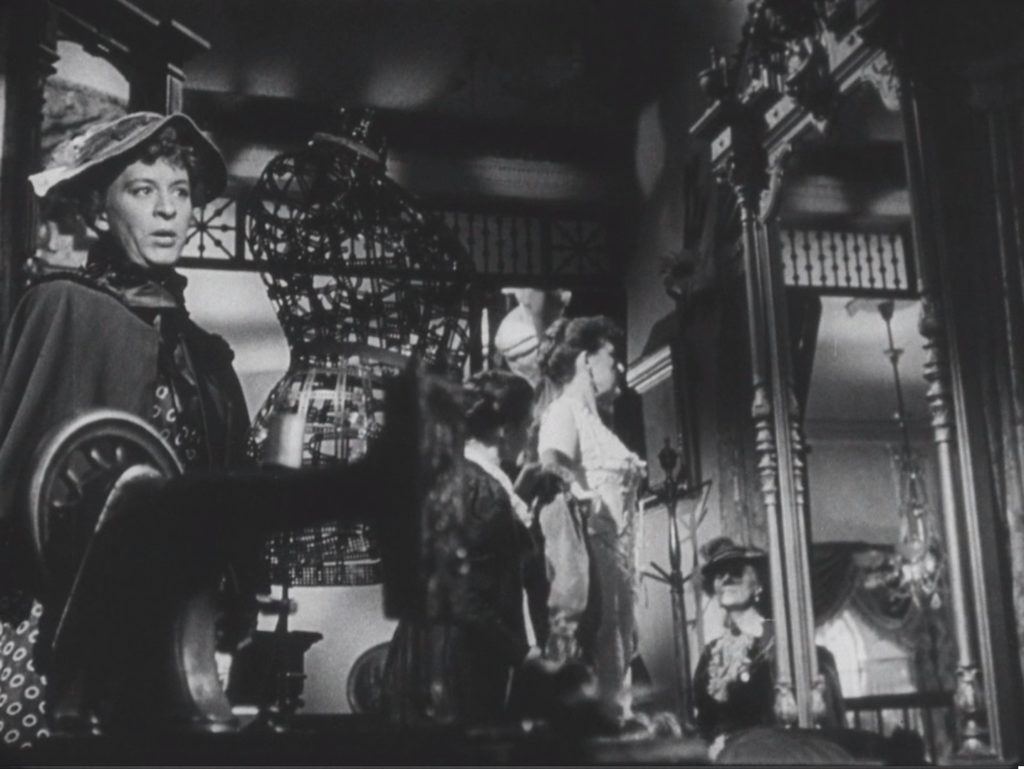 In Mrs. Foster's home, two matrons, a seamstress, and Mrs. Foster in a corset wearing the involved underwear of the period.
FIRST MATRON
Wilber Minafer!
Her voice implies that the name Minafer is less then acceptable. Mrs. Foster rises up on a stool to speak to the others.
MRS. JOHNSON
Looks like Isabel's pretty sensible for such a showy girl.
FIRST MATRON
To think of her taking him.
SECOND MATRON
Yes, just because a man any woman would like a thousand times better was a little wild one night at a serenade!
Mrs. Foster speaks up; her tone indicating that she knows something the others don't
MRS. FOSTER
What she minds was his making a clown of himself in her own front yard! Made her think he didn't care much about her.
Mrs. Foster steps down from the stool moves close to the camera as the other woman gather around and Mrs. Johnson helps her on with her with her kimono. Mrs. Foster sits as she talks and is handed a cup of coffee.  
MRS FOSTER
She's probably mistaken, but it's too late for her to think anything else now. The wedding'll be a big Amberson­ style thing, raw oysters floating in scooped-out blocks of ice and a band from out-of­town—And then Wilbur'll take Isabel on the carefulest little wedding trip he can manage, and she'll be a good wife to him, but they'll have the worst spoiled lot of children this town will ever see.
FIRST MATRON
How on earth do you make that out, Mrs. Foster?
Mrs. Foster speaks as if this was the most obvious thing in the world.
MRS. FOSTER
She couldn't love Wilbur, could she?  Well, it'll all go to her children, and she'll ruin em!
DISSOLVE TO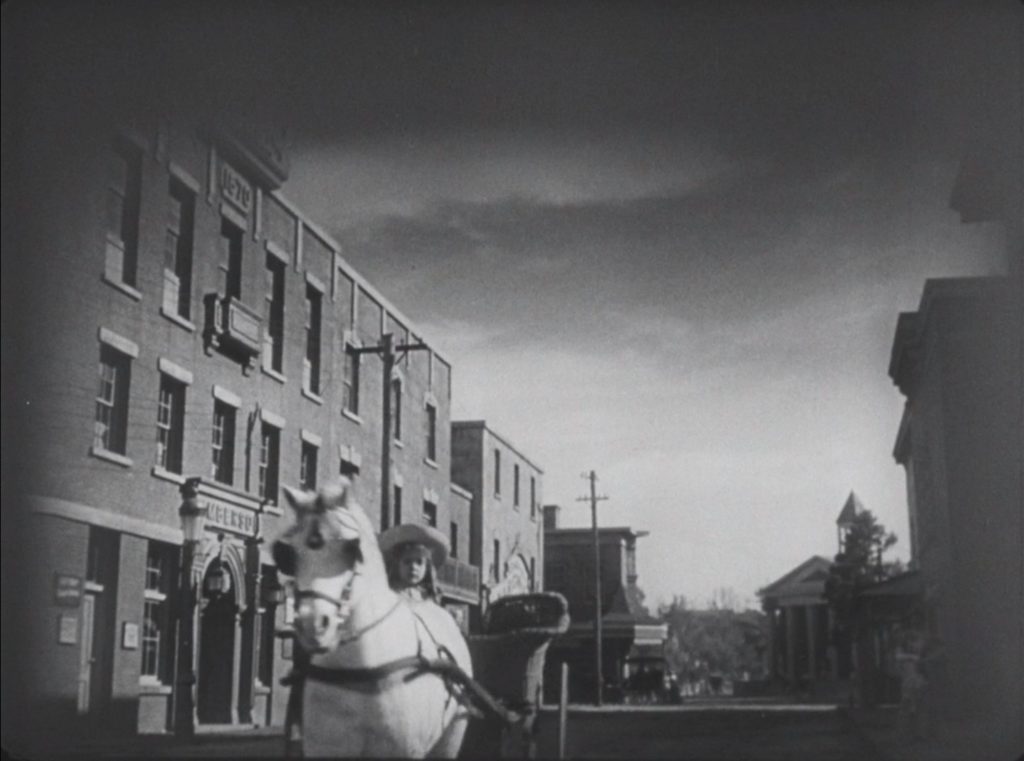 A Pony Cart gallops along the street towards the camera with 10 old George Amberson Minafer driving it. George, wears long curls and a Fauntleroy suit in the fashion of the period.  
NARRATOR
The prophetess proved to be mistaken in a single detail, merely. Wilber and Isabel did not have children; they had only one.
George drives he pony cart to the Camera
NARRATOR
Again she found none to challenge her. George Amberson Minafer, the Major's one grandchild, was a princely terror.
A laborer is leaning over a pile of sand. George gallops his pony cart on the pile, enveloping the laborer sand dust.
THE LABORER
Hey by…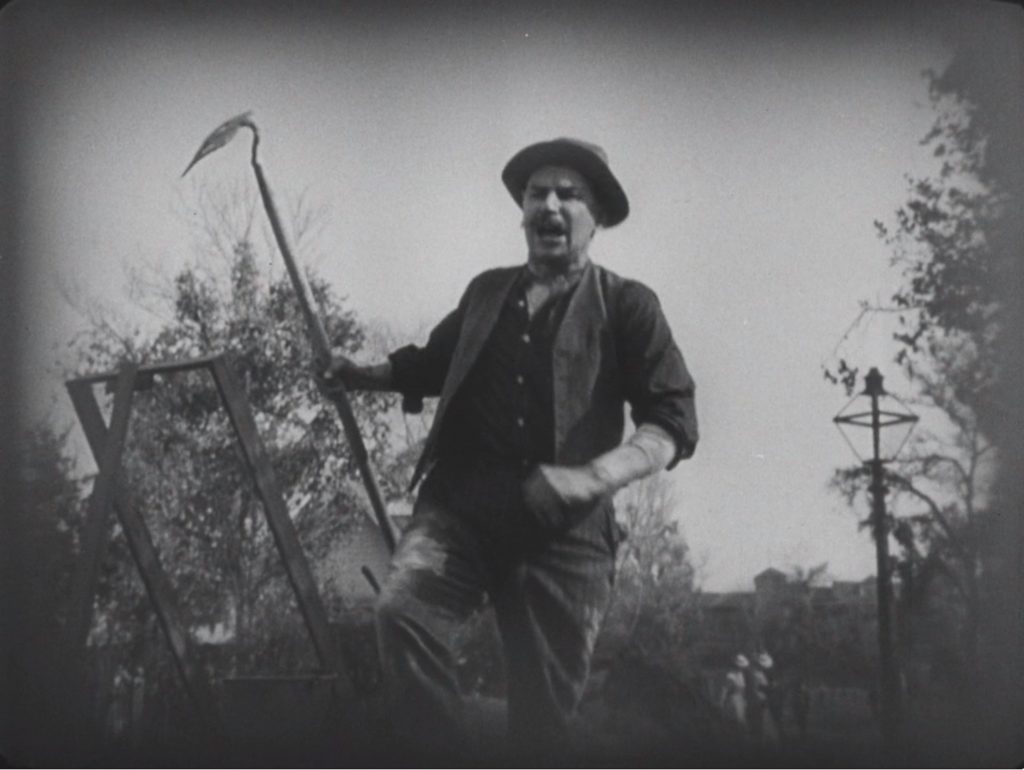 As the cart shoots past the frustrated Laborer rushes after, tossing down his tool.
THE LABORER
…golly! I guess you think you own this town!
GEORGE
I will when I grow up.
The laborer is running after George. As he races his pony cart away little George yells back over his shoulder as if this is a fact the man should be aware of.
GEORGE
I guess my grandpa owns it now, you bet!
THE LABORER
Aw, pull down your vest!
George is enjoying getting the man's temper up and intends to get it up even further.
GEORGE
Don't haf to! Doctor says it ain't healthy! But I tell you what I'll do: I'll pull down my vest if you'll wipe off your chin!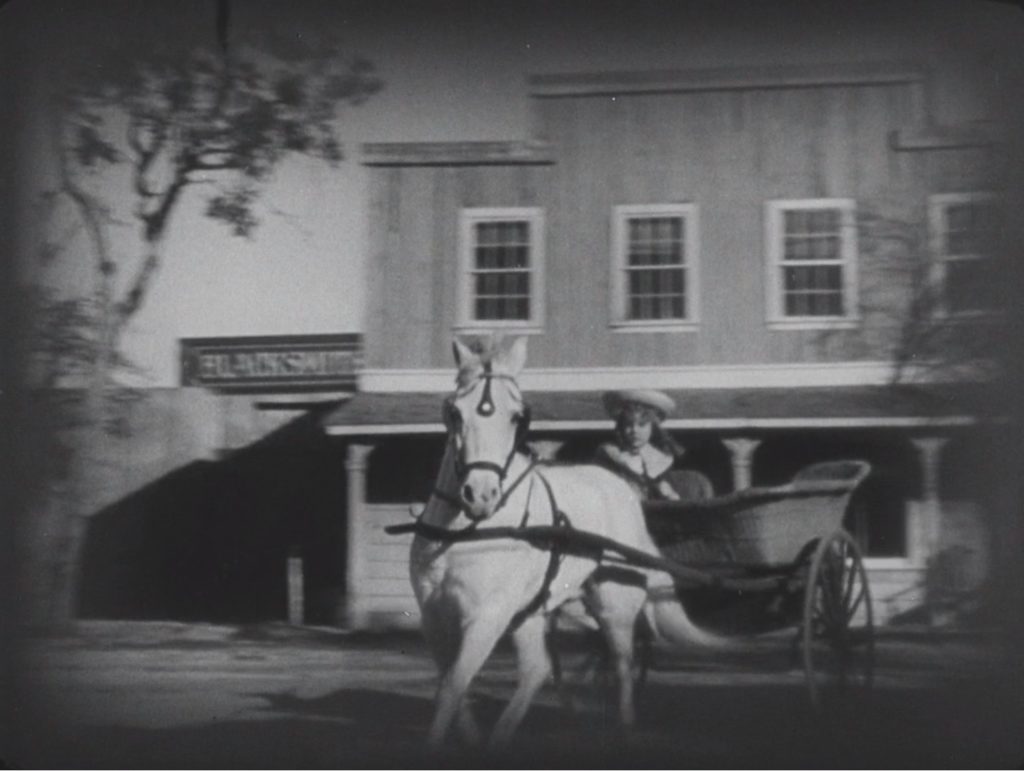 A group of people are standing in front of building as George drives past totally unaware they even exist or in fact even matter. With long beautiful blond curls that fall to his shoulders topped by a white brimmed hat, George is wearing the classic black velvet Fauntleroy suit with matching knee pants, silk stockings and a fancy blouse topped by a broad lace collar.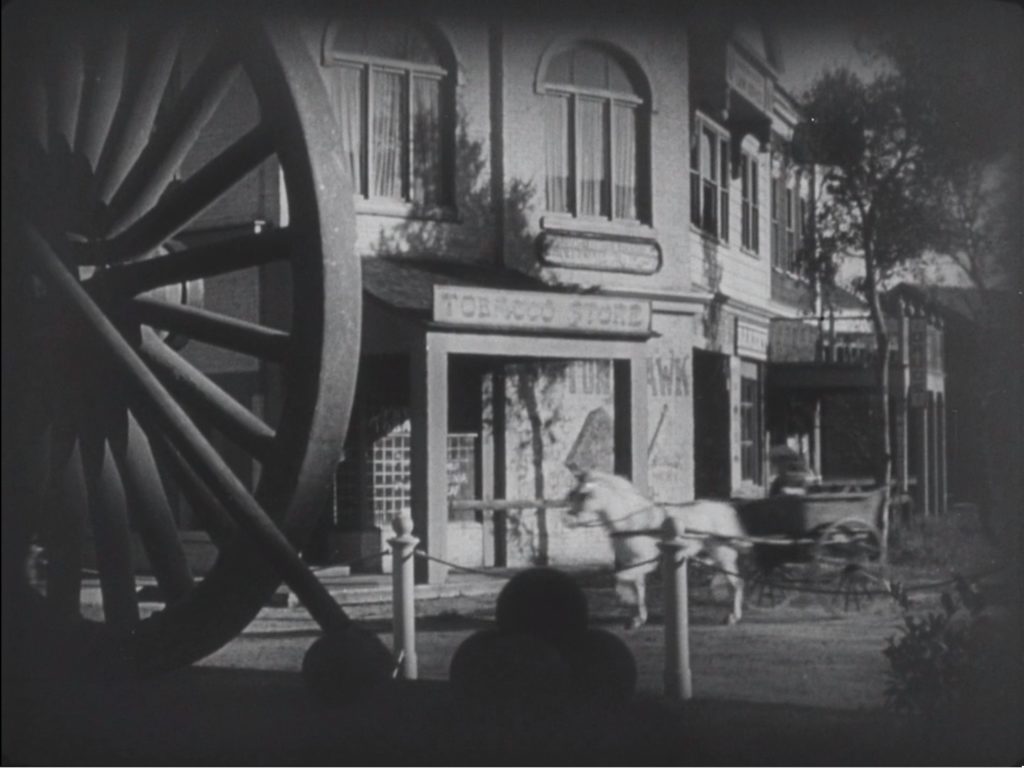 NARRATOR
They did hope to live to see the day, they said…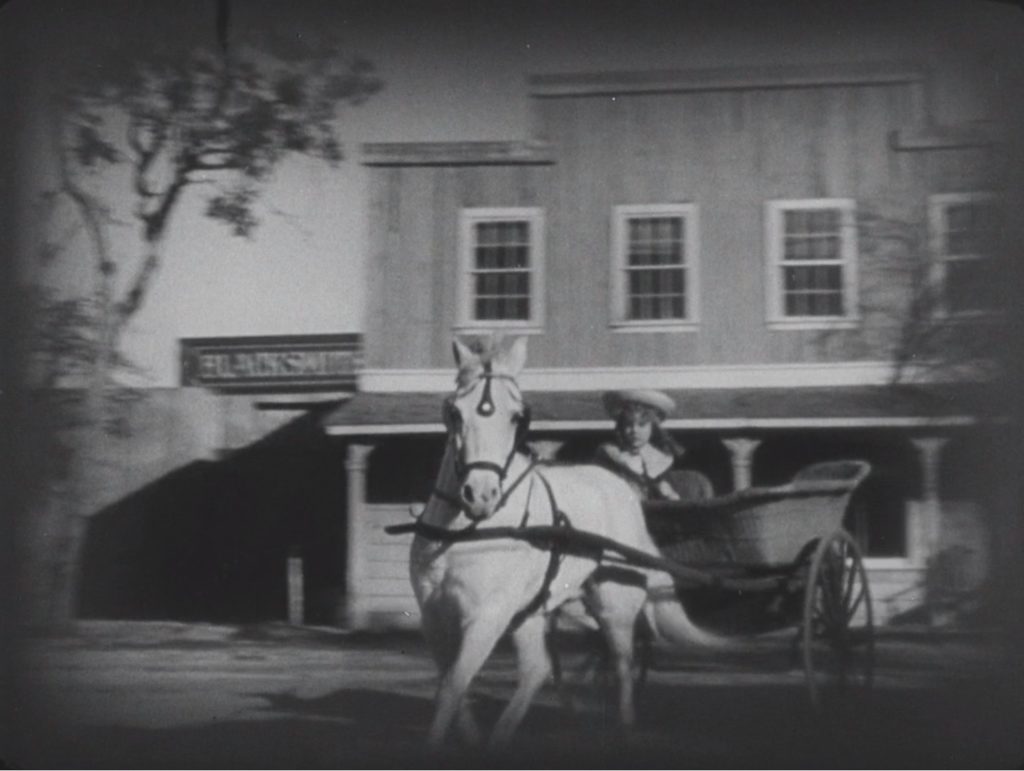 Man is standing front a building as George races past and turns a corner. The camera pans to follow.
NARRATOR
…when that boy would get his comeuppance!
Camera shooting up to woman and Bronson. Surprised she asks.
WOMAN
His what?
Bronson speaks with total assurance.
BRONSON
His comeuppance. Something's bound to take him down, some day, and I only want to be there!
A prim little boy wearing a short brimmed hat shouts as a taint.
ELIJAH
Look at the girly curleys…
  The boy is watching the street from behind his gate. George rides into the frame.
ELIJAH
…look at the girly-cureys.
In response George abruptly stops his cart. George stands on his cart not only ready for the challenge but more than willing to take it a step further.
ELIJAH
…Say bub, where'd you steal your mother's ole sash!
George speaks with total self assurance
GEORGE
Your sister stole it for me! She stole it off our clo'es line an' gave it to me.
ELIJAH
You go get your hair cut! Yah! I haven't got any sister!
GEORGE
I know you haven't at home. I mean the one that's in jail.
George's attitude has riled the boy and hot with anger he challenges George.
ELIJAH
I dare ya to git outta that pony cart!
Obliging the boy, George starts off Cart.  Jumping off hi cart George presents Elijah with a challenge of his own.
GEORGE
I dare ya outside that gate.
Instead of accommodating George, somewhat intimidated, Elijah remains behind the gate while George stands ready for what comes. He's not intimidated at all.
ELIJAH
I dare ya half way here. I dare ya!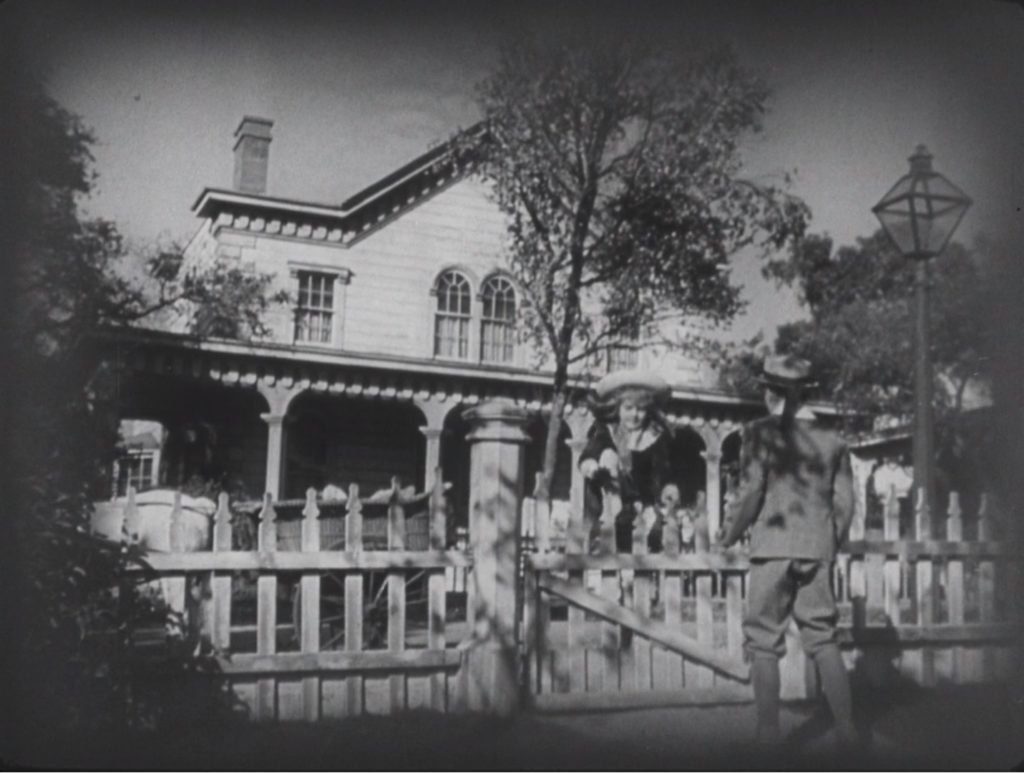 That's all George needed, or better put, wanted to hear. Yelling and without hesitation George runs to gate
GEORGE
Here I come!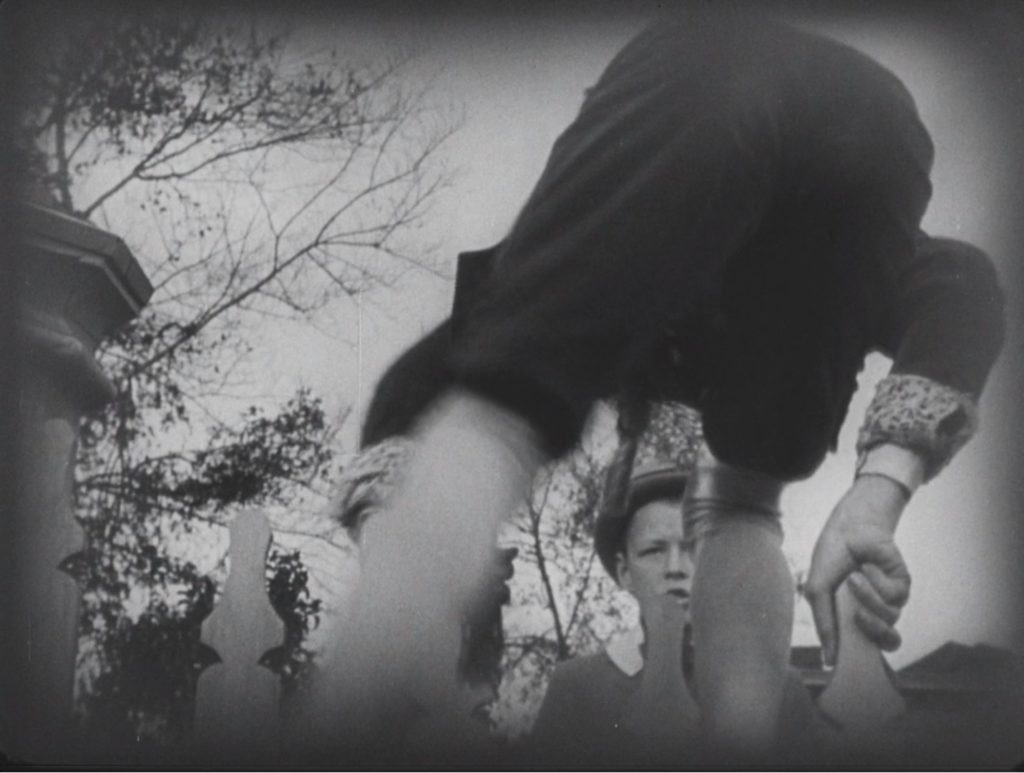 George vaults the fence, leaps on and catches Elijah who, regretting he had opened his mouth, starts toward the house for shelter.
George is pummeling Elijah as the two struggle. Elijah doesn't have a chance as George doesn't hold back and gives for worse than he gets.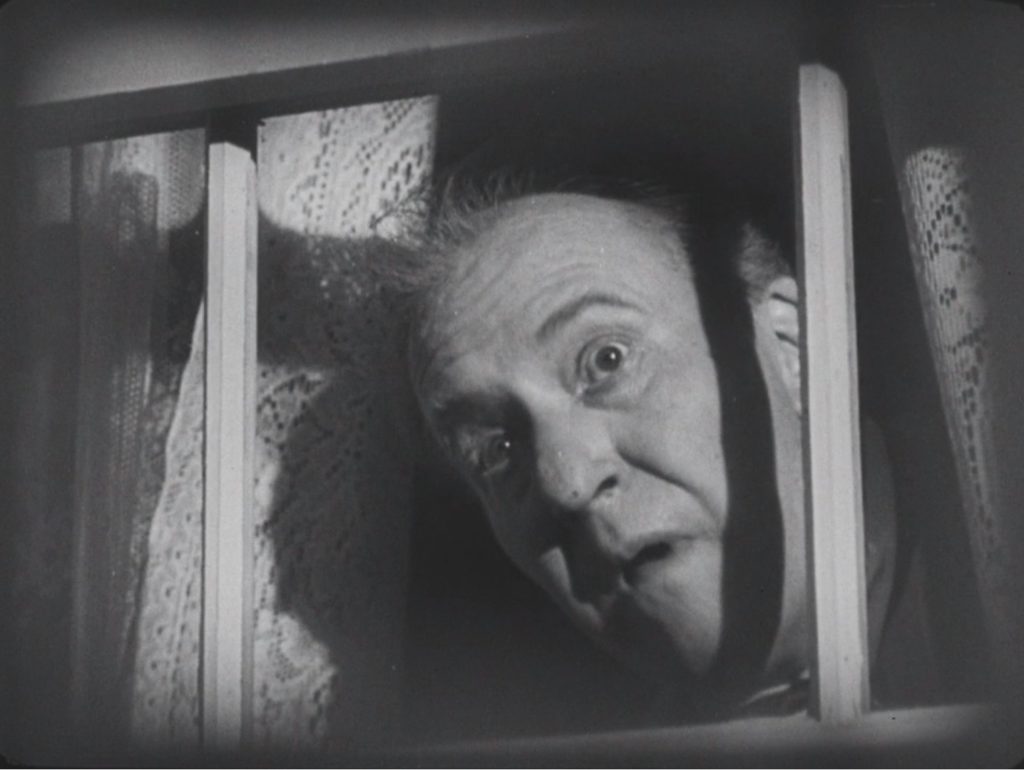 Window shut, parting the curtains an extremely distressed Bronson watches the boys fighting.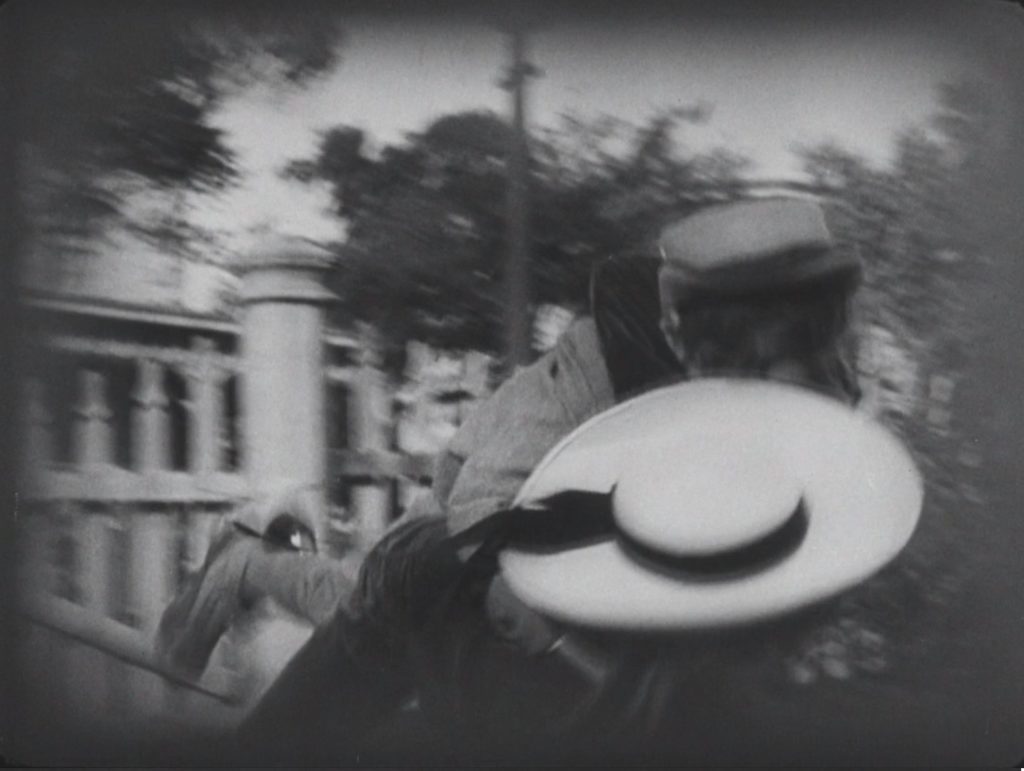 George wrestles Elijah to the ground rapidly preparing the boy to serve as the principal figure in a massacre
Showing worry, Bronson knocks on the window glass and yells at George. Bronson Turns from the window.
BRONSON
Boy! Boy!
ELIJAH
Mother! Mother!
The Camera pans to Bronson's front porch while George announces to Elijah.
GEORGE's VOICE
Pick on someone your own size, you big bully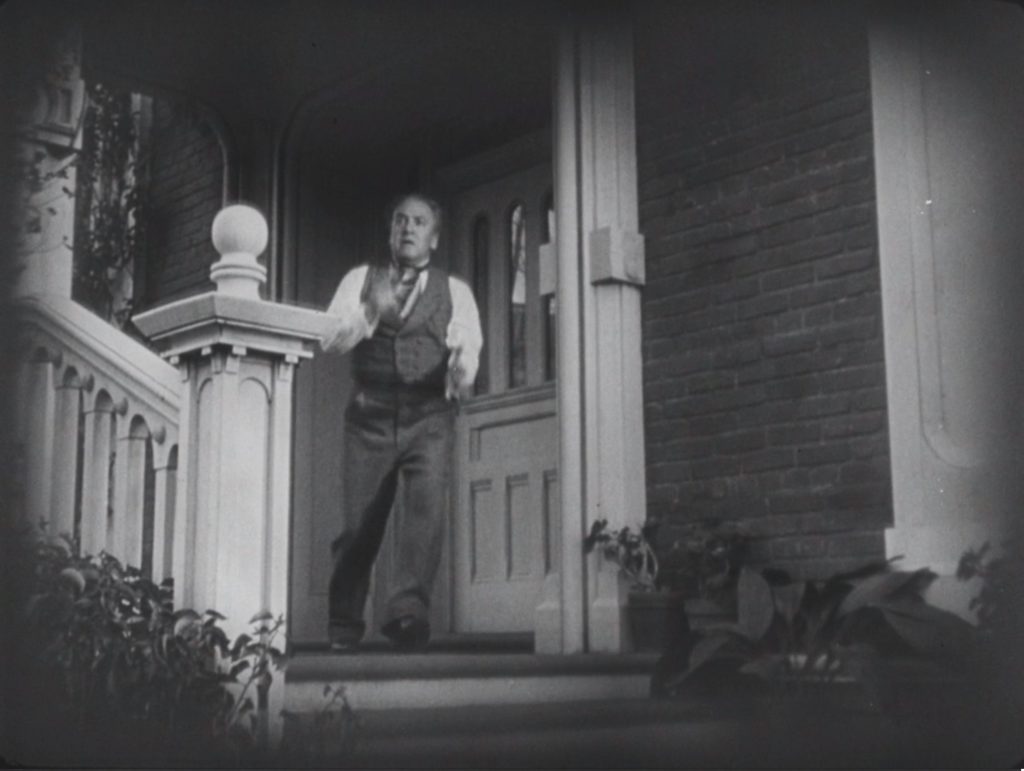 Bronson opens the door and rushes out of the house clapping his hands and shouting. He runs down to them
BRONSON
Hey! Boy!
After an almost grotesque tussle—for George is hard, quick and adept in such matters–he is now sitting on Elijah holding him down. Bronson runs to them. Elijah is now close to tears dearly regretting having taunted George.  
ELIHAH
Mother!
With great physical difficulty Bronson drags George off Elijah, giving the defeated boy a chance to escape to the safety of the house and his mother's arms.
Elijah
Mother!
Bronson is tugging at George but George is hard and quick, and, to Bronson's regret, remarkably intense.
BRONSON
Boy! Boy!
While Bronson continues this tussle and tugs George away, George hits Bronson in the Stomach
BRONSON
That'll be enough of that—oof!
Behind them Elijah runs into the house while George fiercely, wrenches himself away.
GEORGE
You stop that, you!
Camera shoots up at George hitting out.
Bronson groans and doubles up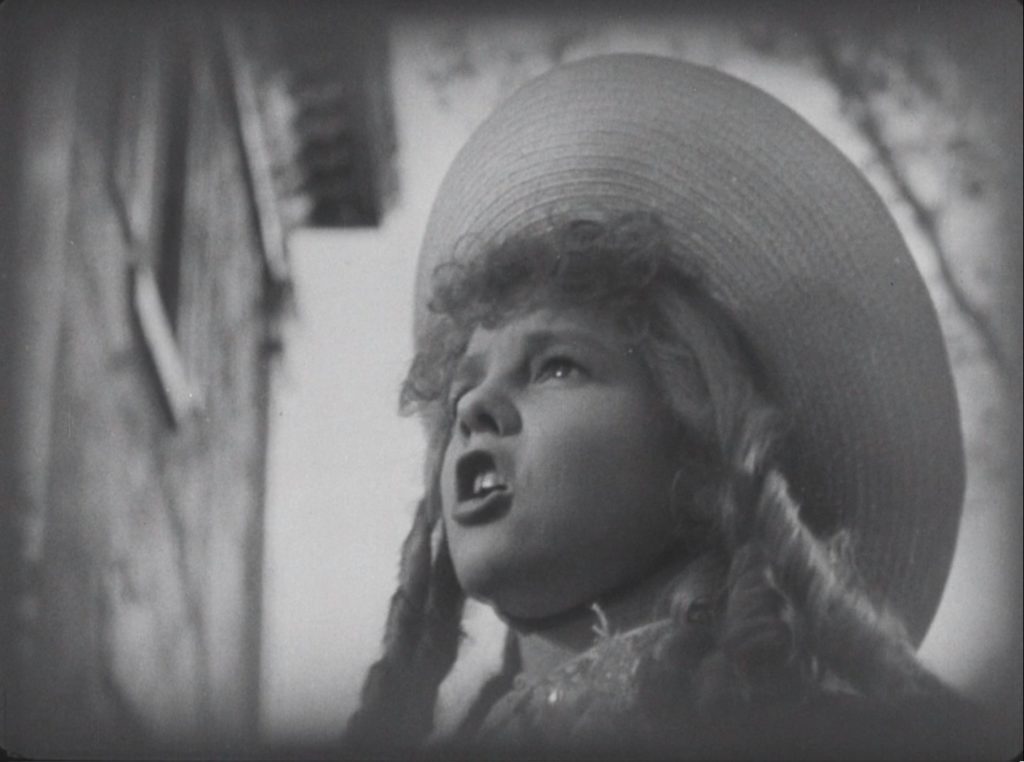 Camera shooting at George
GEORGE
I guess you don't know who I am!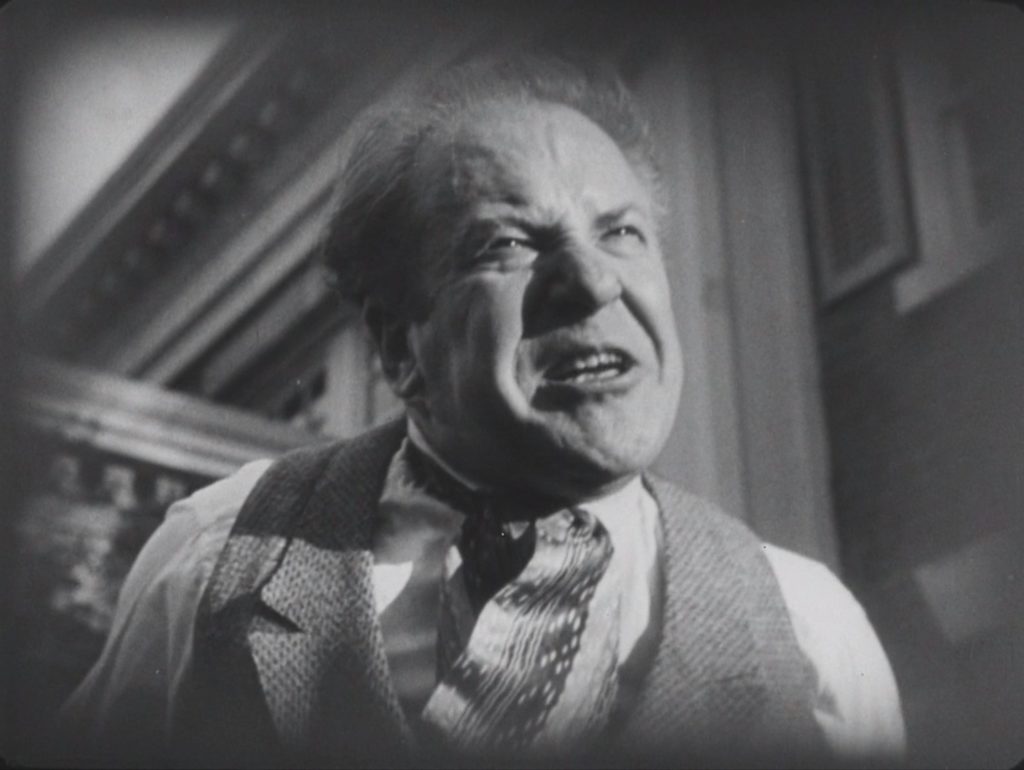 Angry, Bronson looks down at George and retorts.
BRONSON
Yes, I do know! And you're a disgrace to your mother!
Camera shooting up a George.
GEORGE
You shut up about my mother!
Unable to tolerate his mother being disparaged, George instinctively hits out again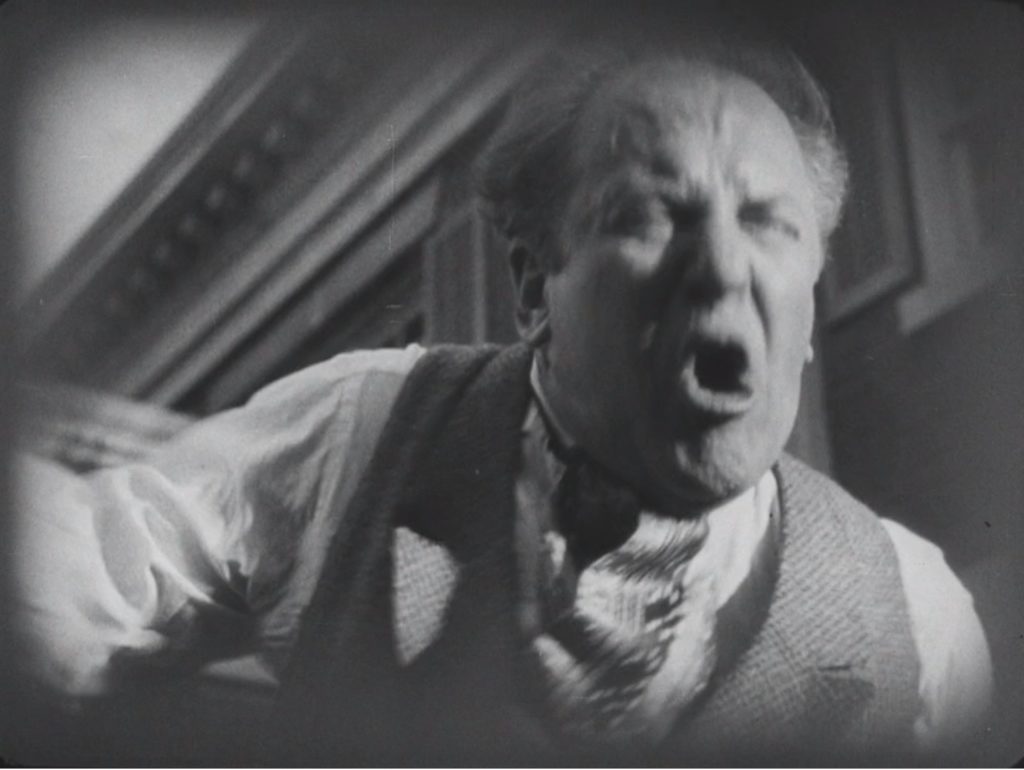 An exasperated Bronson, groaning and doubling up as George's fists hit their mark.
BRONSON
She ought to be ashamed. A woman that lets a bad boy like you…
George punched out while, excitedly letting Bronson know exactly what he thinks of him.
GEORGE
You pull down your vest, you ole billy goat, you!   Pull down your vest, wipe off your chin— an' go to—
An utterly shocked Bronson shouts in near disbelief
BRONSON
WHAT!
FADEOUT/FADE IN
(SINGLE TAKE/SINGLE ANGLE SCENE)
In the grape arbor, the Amberson Mansion in the background, Major Amberson sits on the left, Isabel and Wilber on the Right and George stands in the middle. Wilber is reading Bronson's letter while George looking exactly like the prince he thinks he is, is in Scottish dress; kilts and holding a walking stick.  
WILBER
"…This was heard not only by myself but by my wife and the lady who lives next door."
George stands there facing the camera looking both indignant and imperious. He speaks out of the side of his mouth with contempt.
GEORGE
He's an ole liar!
MAJOR
Georgie!   You mustn't say "liar."
Isabel is deeply concerned
ISABEL
Dear, did you say what he says you did?
George looks annoyed at being asked such a question.
GEORGE
Well, Grandpa wouldn't wipe his shoe on that ole story teller.
ISABEL
Georgie, you mustn't…
GEORGE
I mean: none of the Ambersons wouldn't have anything to do with him.
ISABEL
That isn't what we're talking about.
Imperious, George is emphatic.
GEORGE
I bet if he wanted to see any of us, he'd haf to go 'round to the side door!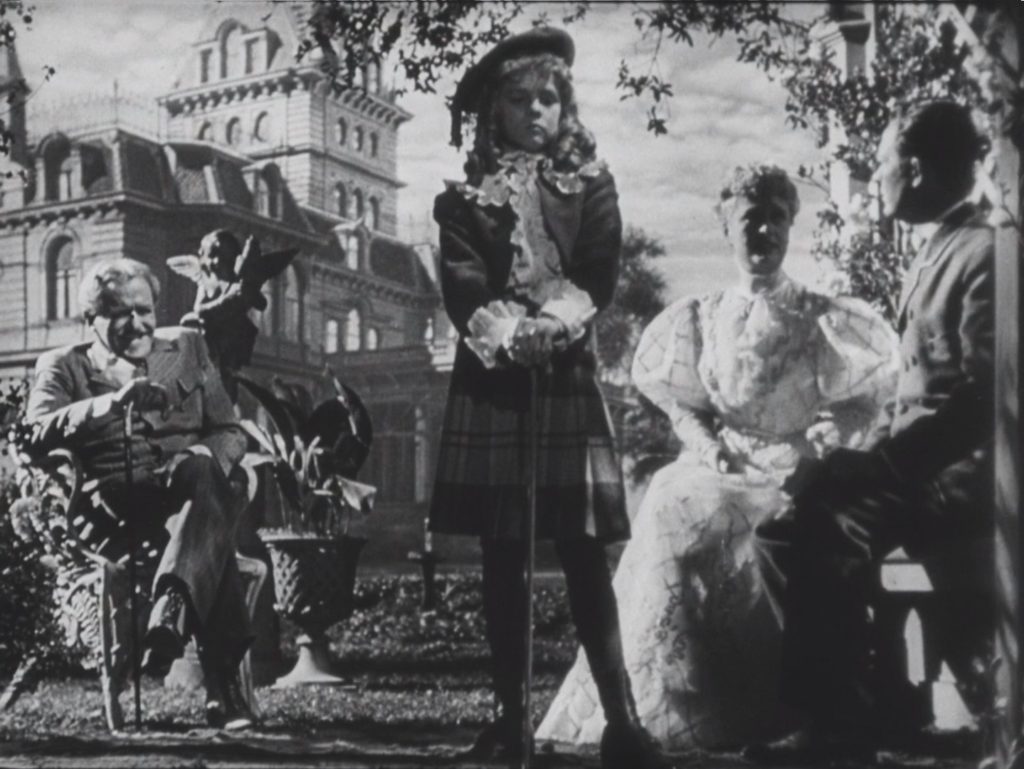 Enjoying this display of George's sense of superiority the Major laughs heartedly. Wilber is annoyed as this doesn't help him discipline the boy.
WILBER
Please father!
ISABEL
No, Georgie.
Isabel is obviously unsettled and very much torn as she tries to sort through this. She wants to do right by her son but finds it near impossible to truly find fault with the boy. So, she attempts to think this threw.
ISABEL
From his letter he doesn't seem a very tactful person, but…
GEORGE
He's just riffraff.
ISABEL
Oh, you mustn't say so.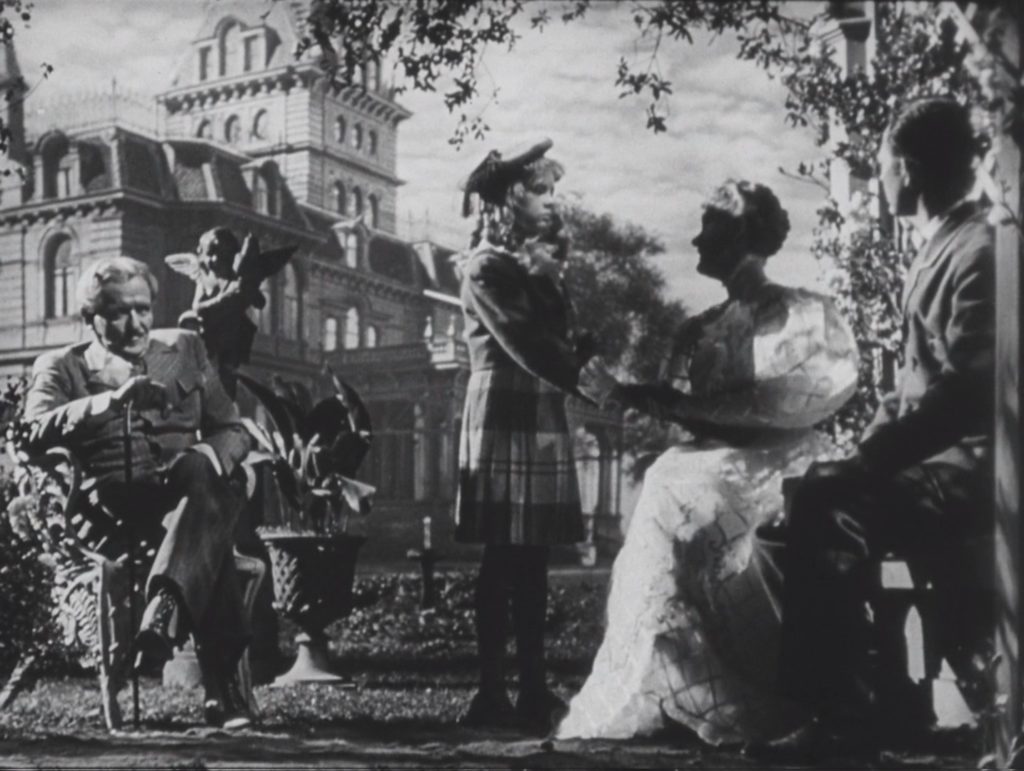 George walks over to his mother and she gently takes his hand, her voice filled with love and concern.
ISABEL
And you must promise me never to use those bad words again.
GFORGE
I promise not to.
George slowly drifts behind the Major and partly looking over his shoulder to his mother whispers under his breath.
GFORGE
Unless I get mad at somebody
That said he walks off
DISSOLVE TO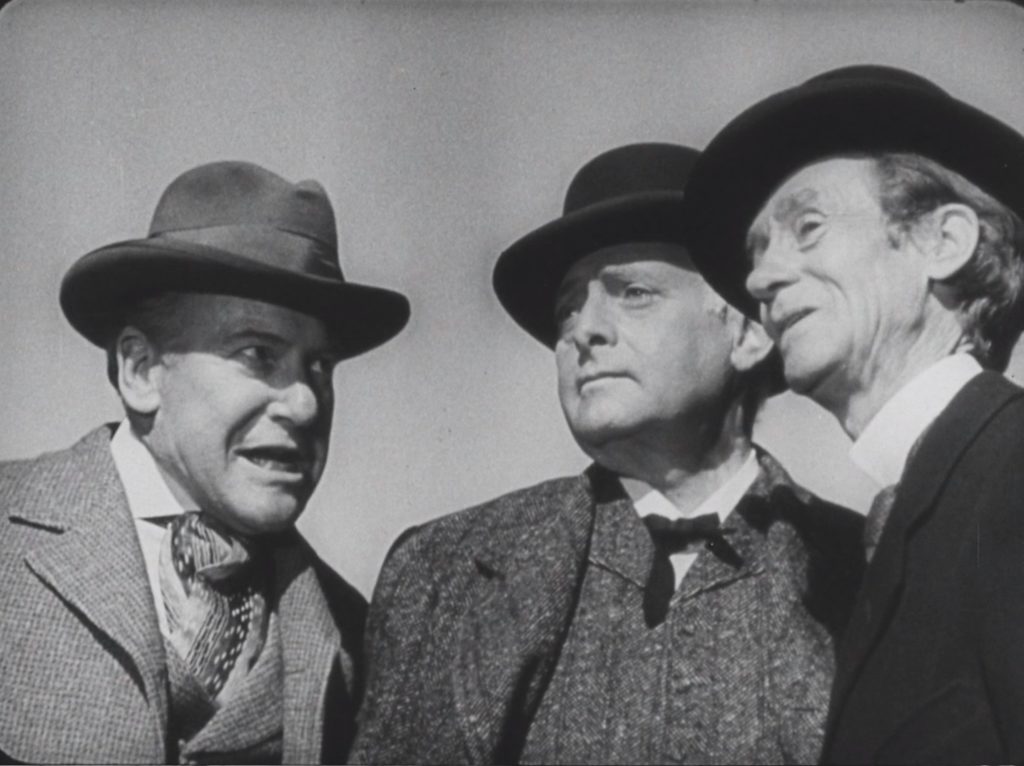 Three men; Bronson among them speaks with absolute assurance.
BRONSON
Wait 'till they send him away to school—then he'll get it. They'll knock the stuffing out of him.
MUSIC CD-GEORGE's HOME COMING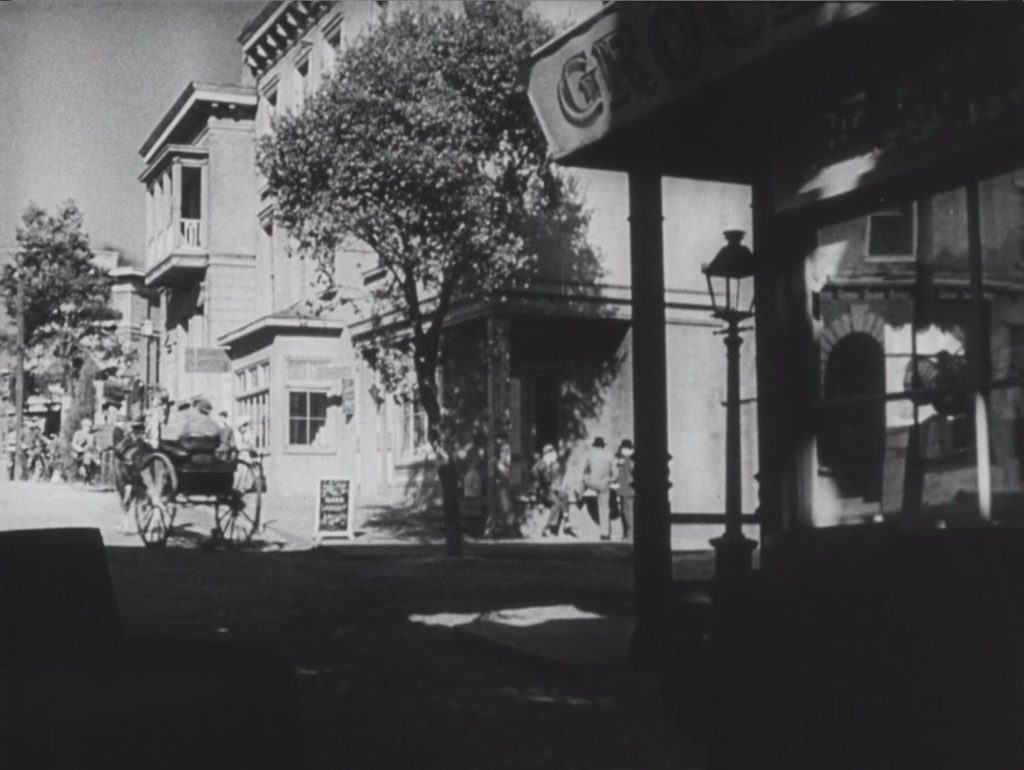 Men are standing about the street. George Minafer Amberson now age 17 is racing his dogcart at criminal speed down a side street. He turns a corner and heads up the street behaving as if he owns the earth.
NARRATOR
But George returned with the same stuffing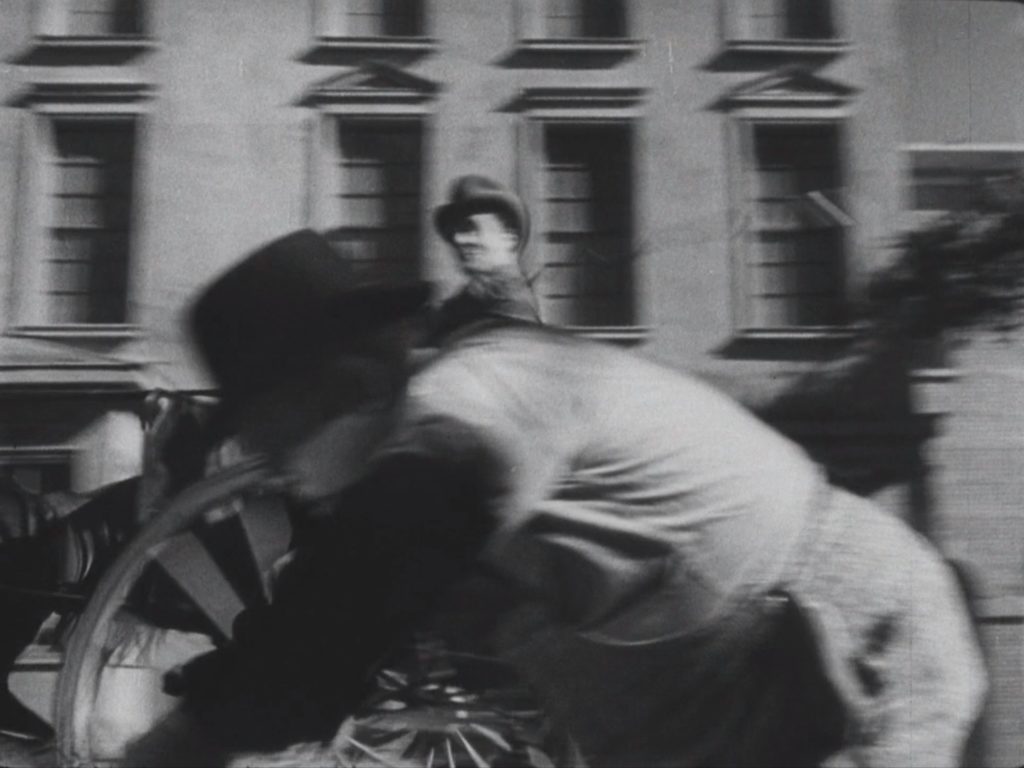 Man wearing an apron is bending as he works. George races behind the man and without seeming to look at him, flicks the long lash of his whip dexterously, and a little spurt of dust comes from the man's trousers below the waist.
The man raves, looking for a missile, then, finding none the camera pans as he runs after George yelling
MAN
Got any sense! See here, bub, does your mother know you're out? Turn down your pants you would be dude.
George races his buggy giving the man no encouragement to think that his words were heard. The camera pans as men leaps out of the way.
MAN'S VOICE
Rainin in dear ole Lunnon!
George races away from the camera cutting in front of a team of horses. They rear up as George turns a corner.
The camera shoots up as George races past and the camera pans to follow.
DISSOLVE TO
 Letters for the "F.O.T.A." club sign—a skull and crossbones—are on the opaque class on the door in a building with offices. Reaching the door George raps on opaque glass three times.
Inside the clubroom the camera shoots past Fred at the desk to the door with others in the room. A boy by the door raps the opaque glass with his knife.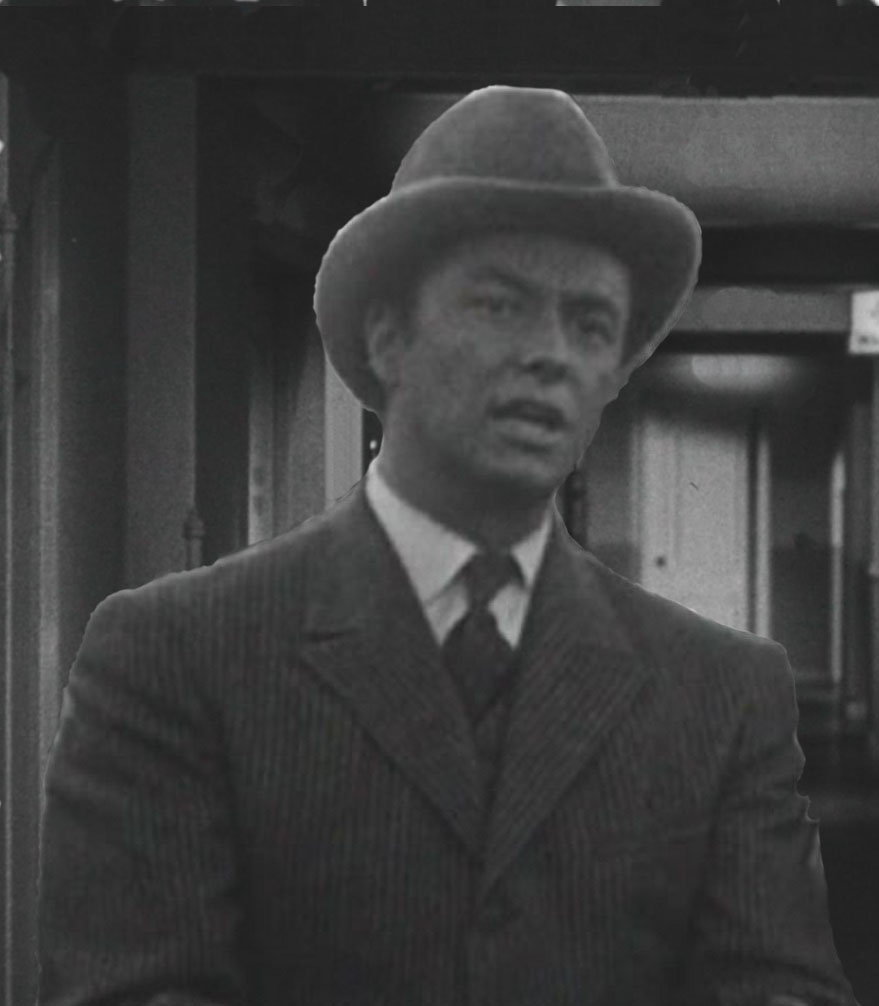 George returns three raps. These precautionary measures completed, the door is opened by Charlie Johnson, a well-dressed boy of 16. George comes in. opening door in front of him. A boy folds arms.  
SECOND BOY
Welcome, Friend Of The Ace.
GEORGE
Welcome Friend Of Ace.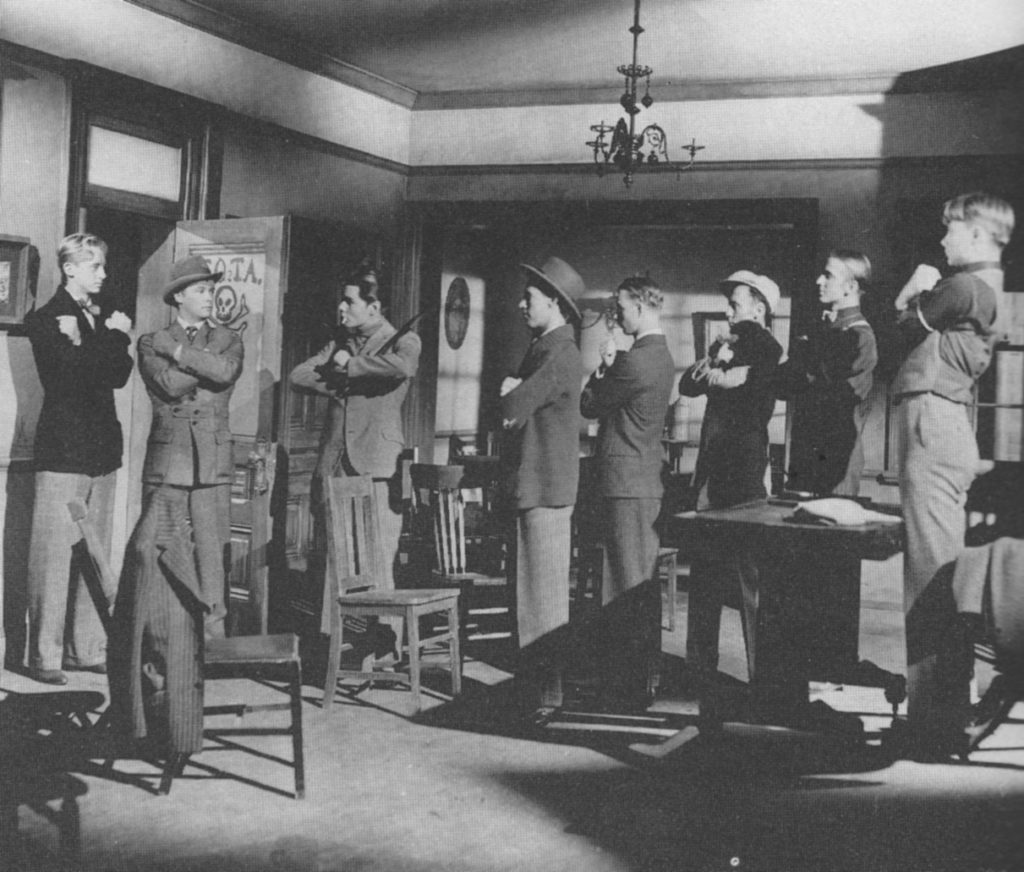 Seven boys are seated in a semicircular row facing a table.  At one end of the room, is a little platform with a table on it. On the platform stands Fred Kinney holding, for a gavel, a Civil war horse-pistol. Facing him are seven boys, seated in a semicircular row of damaged office chairs. Fred Kinney speaks in a serious voice.  
FRED KINNEY
Welcome, Friend of the Ace
GEORGE
Welcome, Friend of the Ace.
THE OTHER BOYS
Welcome, Friend of the Ace.
George looks at Fred at the table.
ROY
Hi, George.
FRED KINNEY
Take your seat in the secret semicircle…
Turning to Fred Johnson, George interrupts
GEORGE
Look here, Charlie Johnson…
FRED
We will now proceed to business at hand.
George motions to Fred as he talks to Bill
GEORGE
What's Fred Kinney doing in the president's chair?
Fred Kinney raps loudly for order.
GEORGE
Didn't you all agree I was to be president just the same, even if I was away at school?
Fred is now sharply rapping on his desk with the civil war horse-pistol.
FRED
All Friends of the Ace will take their seats! I'm president of the F.O.T.A. now, George Minafer.
The Boys around the desk, Fred hammering on the table commands fiercely.
FRED
This meeting will now come to order.
Angry, George shouts.
GEORGE
No it won't. You put down that gavel.
Fred pounds the table and George grabs at the gavel to take it away from him.
GEORGE
It belongs to my grandfather.   Give it to me.
FRED
I was legally elected here.
GEORGE
All right.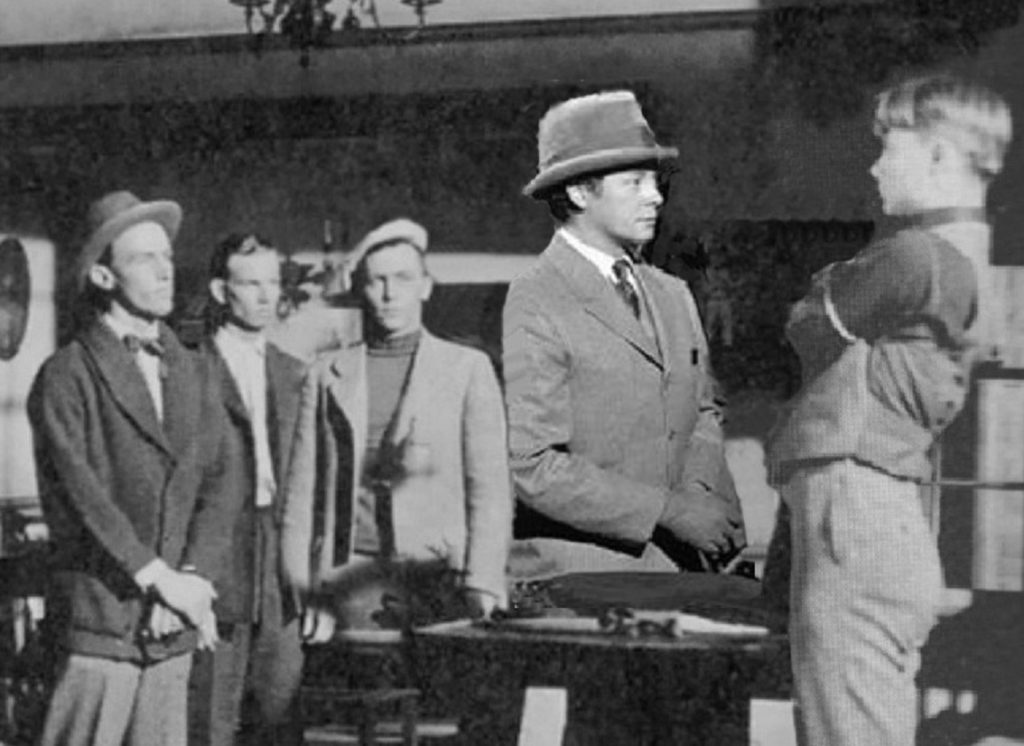 Fred, close to the camera jumps up.  George faces him with the other boys around him
GEORGE
You're president.
He turns to the other boys.
GEORGE
Now we'll hold another election.
 An angry Fred at the desk/table and shouts.
FRED
We will not!
Fred stubbornly sits back down.
FRED
We'll have our reg'lar meeting, and then we'll play euchre, a nickel a corner, what we're here for. This meeting will now come to order
Fred pounds on the table with the gravel while George, refusing to be put off, leans over and grabs for the gravel.
 George on the other side of the desk finally taking the gravel from Fred. George puts it on desk and announces to the others.
GEORGE
That belongs to my grandfather. Who's the founder of the F.O.T.A;., if you please?
George speaks belligerently
GEORGE
Who got the janitor to let us have most of this furniture? You suppose you could keep this clubroom a minute if I told my grandfather I didn't want it for a literary club anymore. And another thing…
George on the other side of him looks around at the boys as he talks.
GEORGE
…I want to say something on how you men have been acting, too. If that's what you want; you can have it. I was going to bring some port wine down here and we'd have a little celebration some night like we do in our crowd at school.
Fred, sitting at the desk looking at George who turns from the boys.
GEORGE
But, you men got a new president now!
He starts toward the door speaking plaintively, with disdain beneath his pretend sorrow.
GEORGE
I guess all I better do is resign!
As he stops by the door, Charlie Johnson looks around and talks hastily
CHARLIE JOHNSON
All those in favor of having a new election say "Aye!"
All the boys except Fred raise their hands
THE BOYS
Aye!
Fred Kinney begins a hot protest
FRED
That's unfair!
But it is immediately othered. George turns and shouts.
GEORGE
All in favor of me being president instead of Fred Kinney say "Aye!"
THE BOYS
Aye!
GEORGE
The "Ayes" have it.
George walks back to the table grinning. Gulping Fred hurries around the desk
FRED
I resign.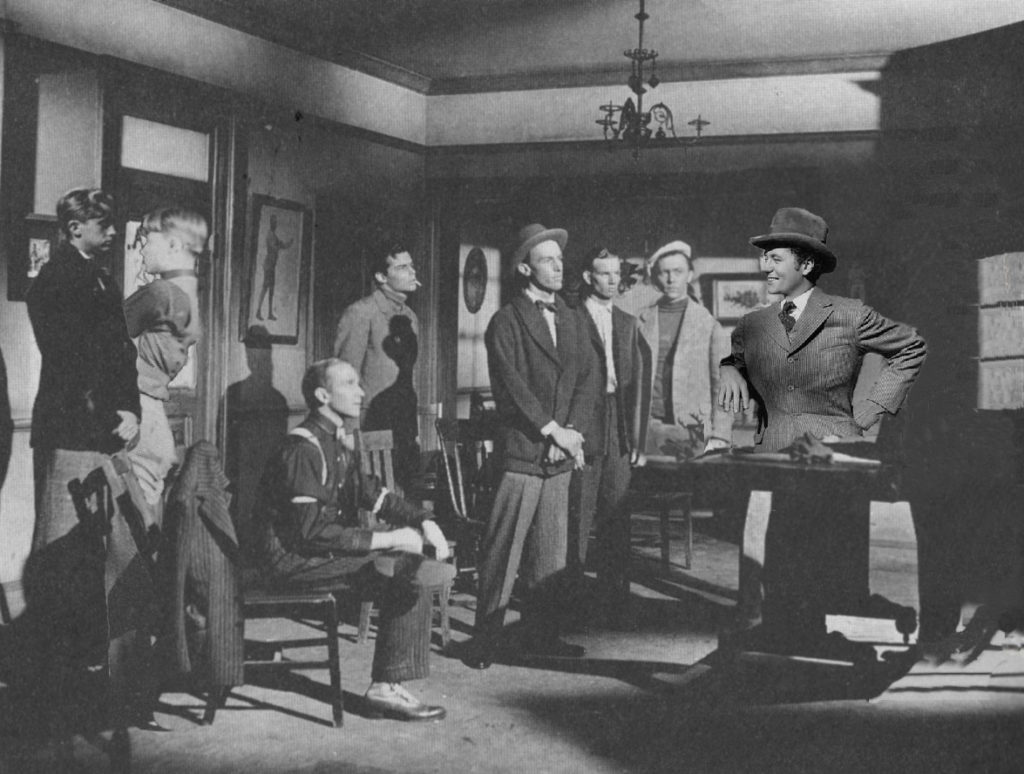 Hot-eyed and angry, Fred rushes out slamming the door behind him.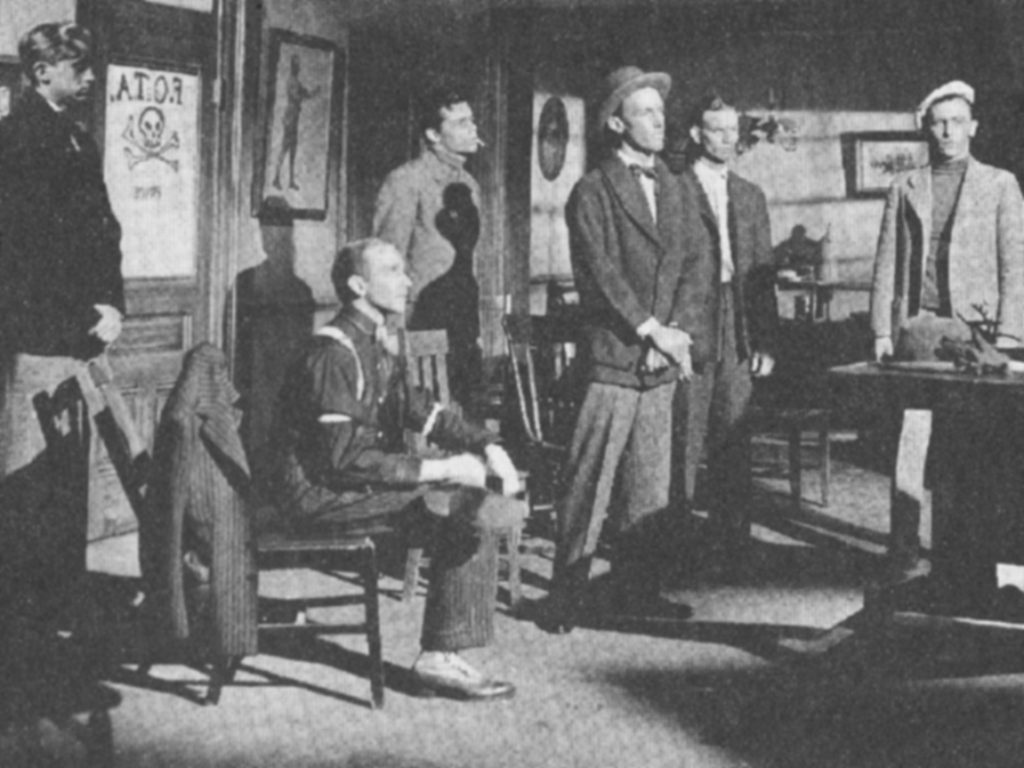 The boys are laughing derisively. George walks behind the desk/table and takes off his hat. George steps upon the platform and takes up the horse-pistol.
GEORGE
Old red-head Fred'll be around next week. He'll be around boot-lickin' to get us to take him back in again·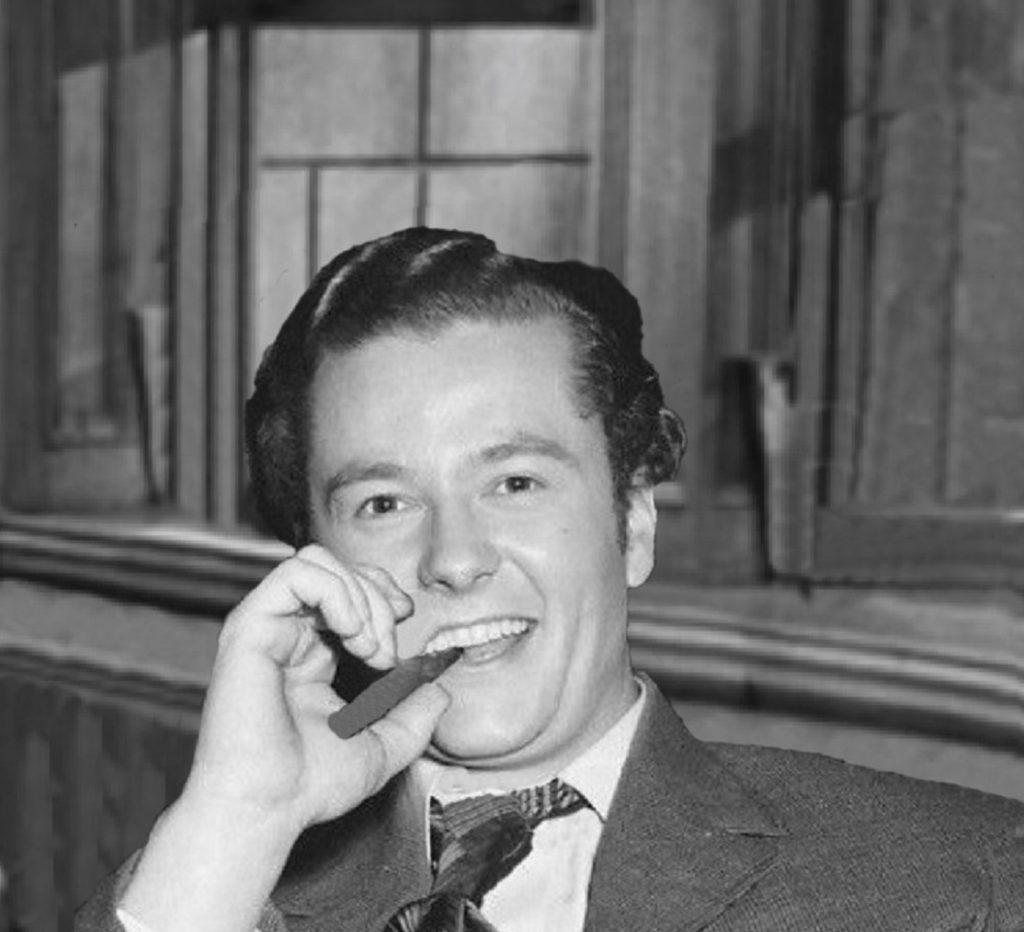 George looks around and smiles with satisfaction; mission accomplished. As he speaks he pulls a cigar from his pocket and smells it.
GEORGE
Well fellows, I suppose you want to hear from your president. I don't imagine there's any more business before the meeting.
The boys sitting around room, George pounds on the table.
GEORGE
Meeting adjourned.
The boys laugh stand, move around as CAMERA pans to follow them.
GEORGE
I had a pretty good time at the old school back east.
Everyone gathers around a card table listening to George boast.
GEORGE
Had a little trouble with the faculty and had to come home. But the family stood by me as well as I could ask. Anybody that's game for a little quarter-limit poker or any limit they say, why I'd like to have 'em sit at the president's card-table.
George finished all the boys sit down around the table to begin playing cards. George officially closes his speech by a pound on the desk/table with the horse-pistol.
DISSOLVE TO
During the Narrator's first lines, the scene has been dissolving into a full shot of the Amberson Mansion. Its three floors lighted for a gala affair which is in progress. Sleighs and carriages line its fence while others move close to the camera.  Richly-dressed people are arriving in carriages.  
NARRATOR
When Mr. George Amberson Minafer came home for sophomore year, nothing about him encouraged any hope that he had received his comeuppance.  Cards were out for a ball in his honor, and this pageant of the tenantry was the last of the…
DISSOLVE TO
At the Mansion door a Christmas wreath is fastened. Eugene Morgan, back to camera holds his hat against the wind. The camera follows Eugene and his daughter Lucy inside while servants open the door. Music is heard from within.  
NARRATOR
….great, long-remembered dances that everybody talked about.
The camera follows Eugene and Lucy across the vestibule and inside where Sam, the butler, now a very old man, passes in front of them. Lucy speaks to him.
LUCY
Hello there!
As she moves off camera Sam takes Eugene's Hat. The hall and adjoining rooms are embowered in flowers. Music, supplied by a zither, harp, cello and fiddle is heard. The orchestra is off to one side in a grove of palms. Guests are talking and laughing above the music.
CUT TO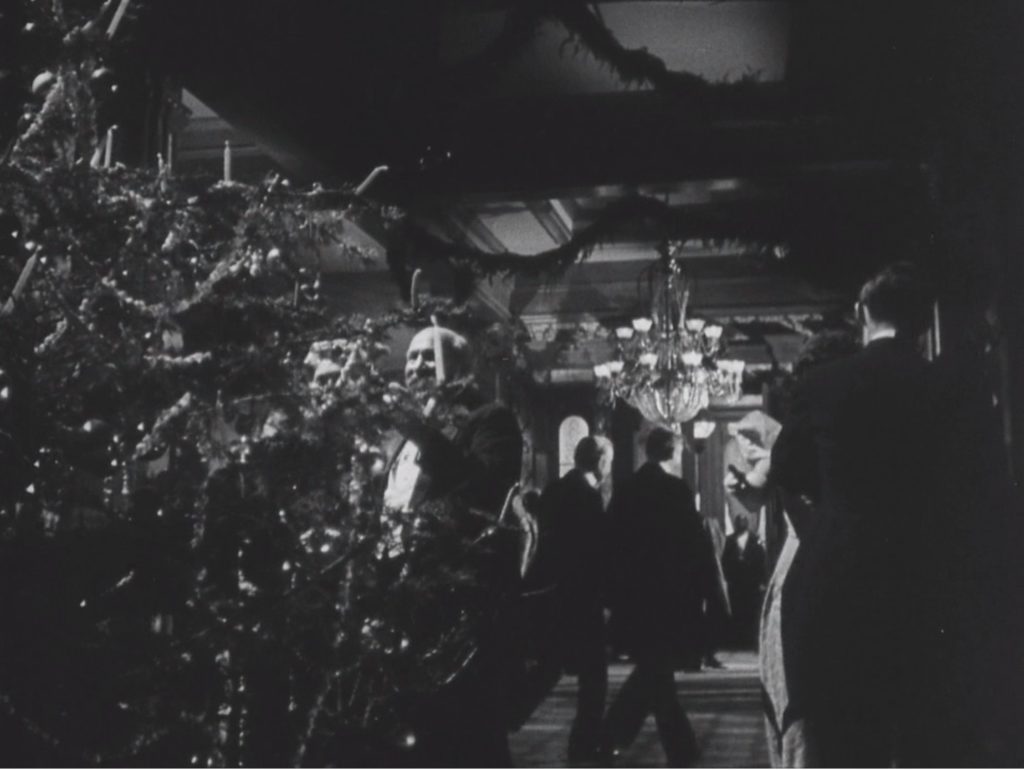 People are gathered around a Christmas tree while the general activity includes crowds walking about talking.
Eugene removes his coat and scarf as the camera moves to the receiving line where Major Amberson, Isabel and George, now age nineteen, are receiving guests.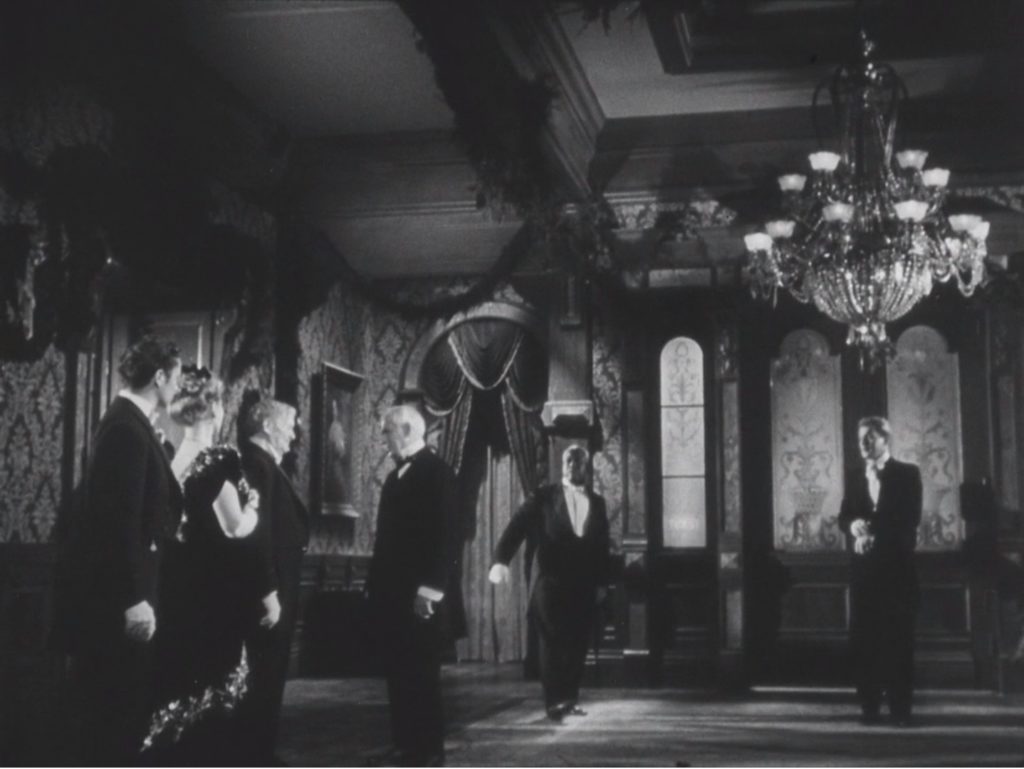 George—an air of superiority about him—white gloved, with a gardenia in his buttonhole speaks with a touch of condescension as he does his duty greeting the incoming guests. Uncle John Minafer is shaking hands with the Major.   He is loud and blunt.  
JOHN
I suppose that's where they'll put the Major when his time comes. Now don't you look at me like that Major!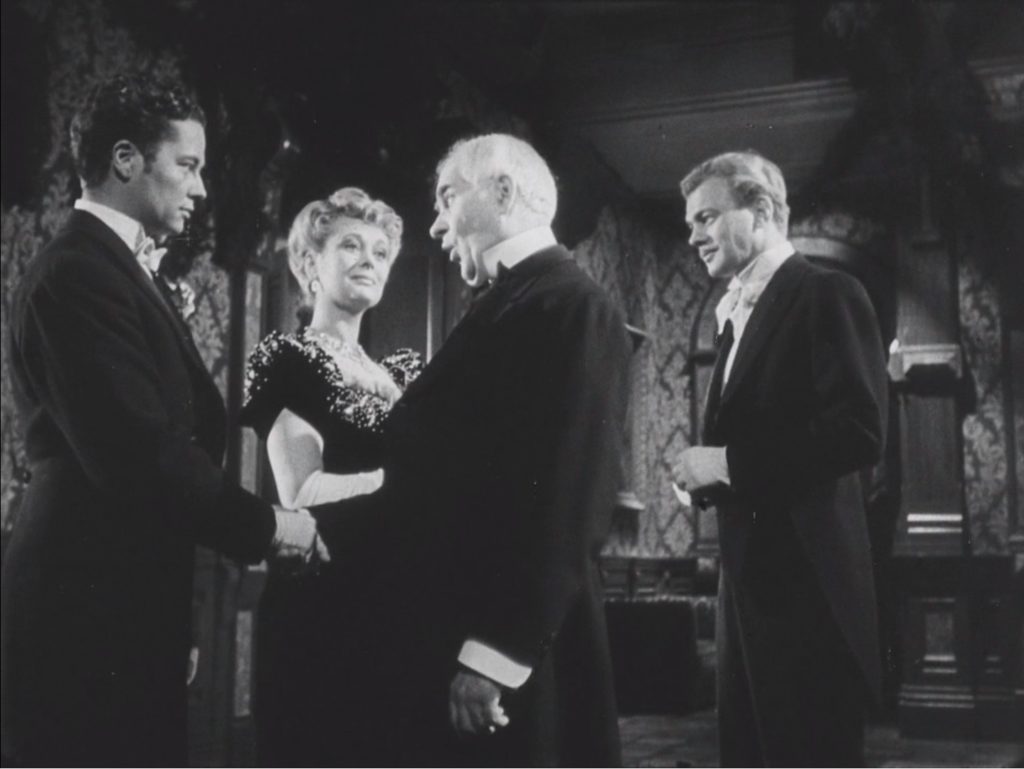 The camera is moving closer to the receiving line..
UNCLE JOHN
Georgie!
MAJOR
Sam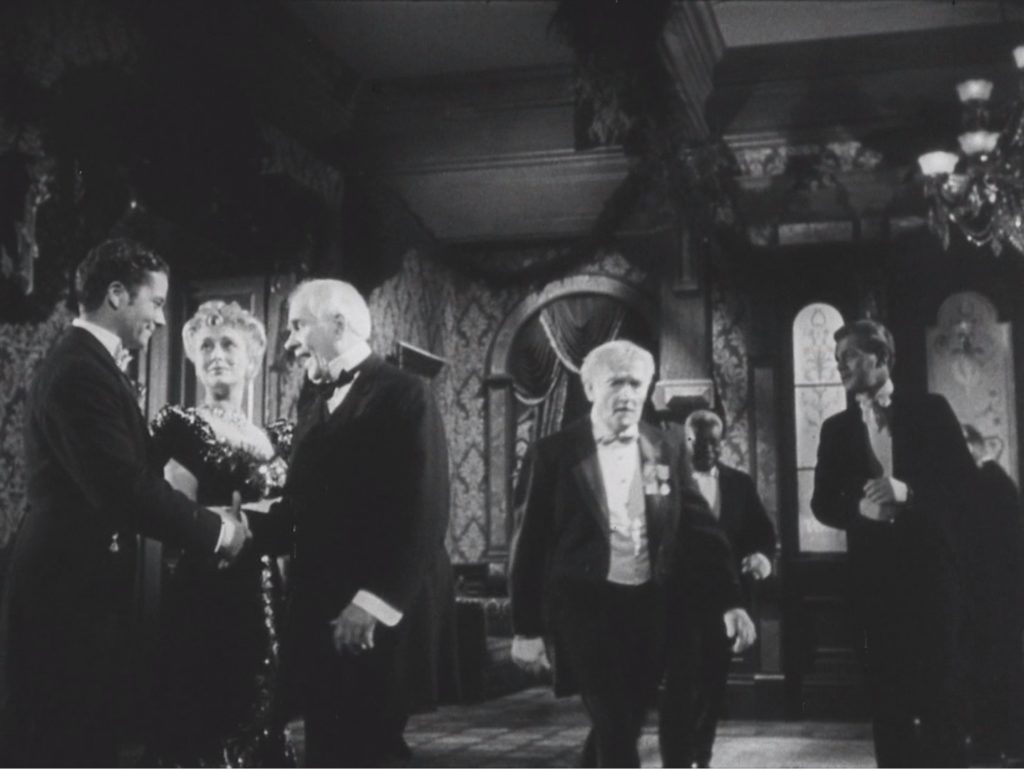 The major walks off while George shakes John's hand. Uncle John laughs while George frowns. Uncle John is a bit too crude for George's tastes. Uncle John's tremulous, strident voice cuts like the whine of a saw mill over the music and shouting.  Being partly deaf, he hears his own voice only faintly, but he likes to hear it.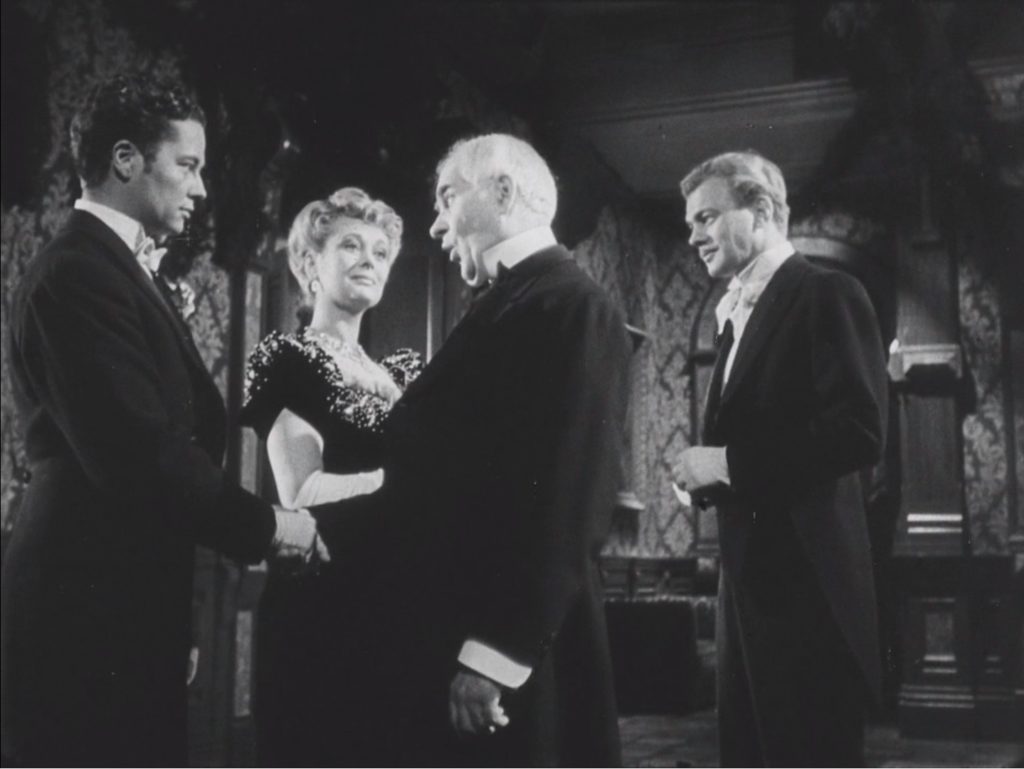 Eugene joins the receiving line while Uncle John Moves to George. It is obvious that George wants nothing so much as to ignore this irritating man, but is required to take his hand for a moment.
JOHN
You look fine. Ha! Ha! There wuz a time in your fourth month, that you were so puny nobody thought you'd live.
George, embarrassed blushes, drops the old man's hand and turns to the next in line. Uncle John, not noticing turns to look for someone. He was louder and his voice more penetrating than any other, because obviously he was hard of hearing.
UNCLE JOHN
Where's Fanny.
George repeated this formality over and over without demonstrating much conviction.
GEORGE'S VOICE
Remember you very well, indeed.
As Uncle John disappears Eugene moves up takes Isabel's hand and greets her.
EUGENE
Isabel
There is a glow to Isabel. Smiling at Eugene her eyes are brilliant and she has the graceful look of a young woman. Her affection for Eugene radiates from her face. Behind her George is frowning annoyed that her mother is giving Eugene this special attention.  
ISABEL
Eugene!
Eugene faces Isabel smiling with a pleasant look of remembrance and the smile of a genial man. He looks over at George
EUGENE
This your boy Isabel?
Isabel turns to George to present Eugene. They look at each other. George regards Eugene sharply and frowns. Eugene let's go of Isabel's hand.
ISABEL
George this is Mr. Morgan.
George shakes Eugene's hand; responding in his same automatic fashion.
GEORGE
Remember you very well 'ndeed!
Embarrassed, Isabel laughs. Eugene smiles enjoying this.
EUGENE
George, you never saw me before in your life. But from now on you're going to see a lot of me…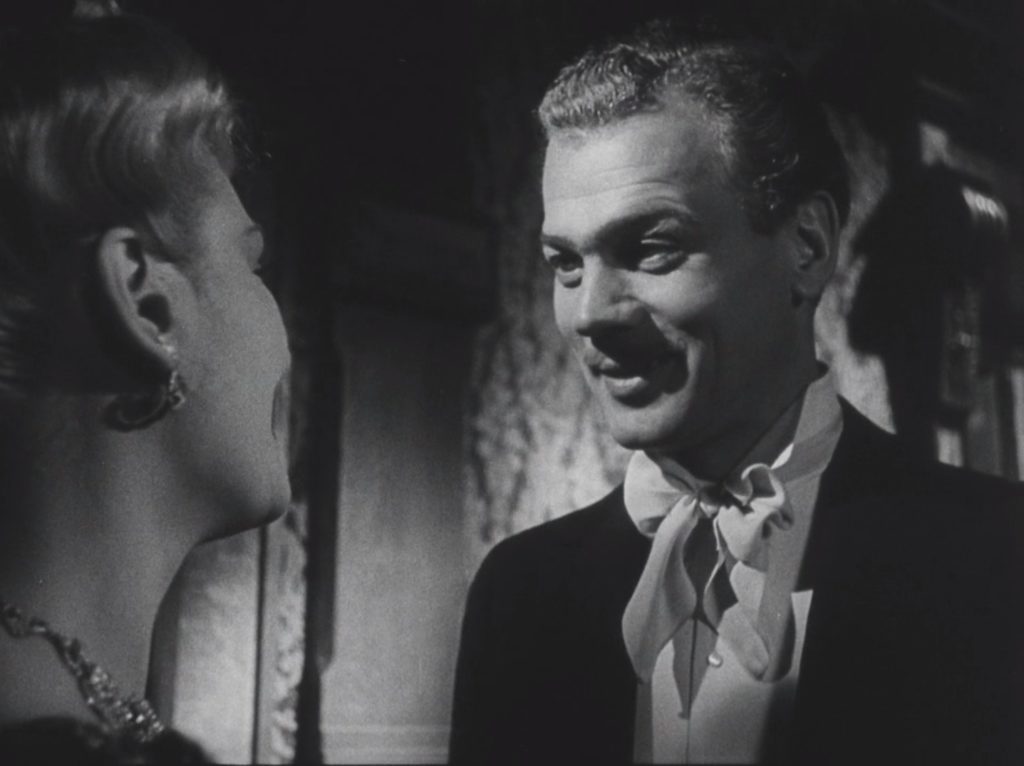 Looking at Isabel Eugene is smiling.
EUGENE
I hope.
ISABEL
I hope so, too, Eugene.
EUGENE
Where's Wilber?
Facing Eugene Isabel is smiling while George frowns his disapproval surprised that his mother is giving a stranger this special attention.
ISABEL
You'll find him in the game room with some of the others. He never was much for parties. Remember?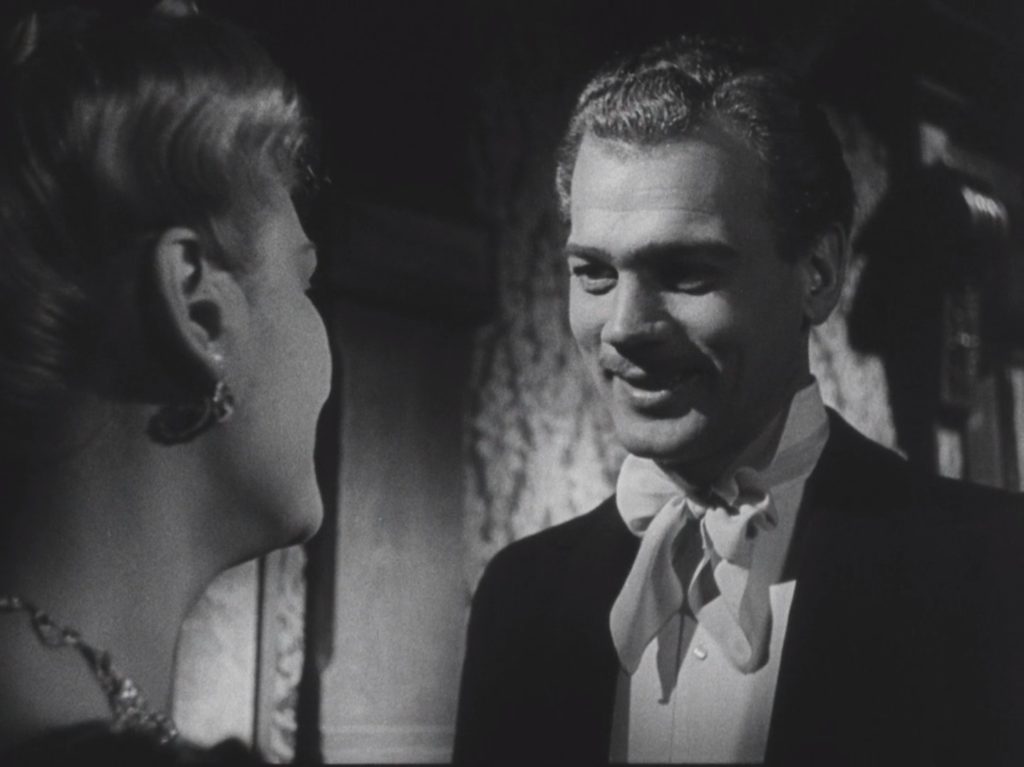 Eugene is smiling as he speaks
EUGENE
Yes, I remember.
He turns and smiles
EUGENE
I'll come back for a dance.
CUT TO
ISABEL
Please do.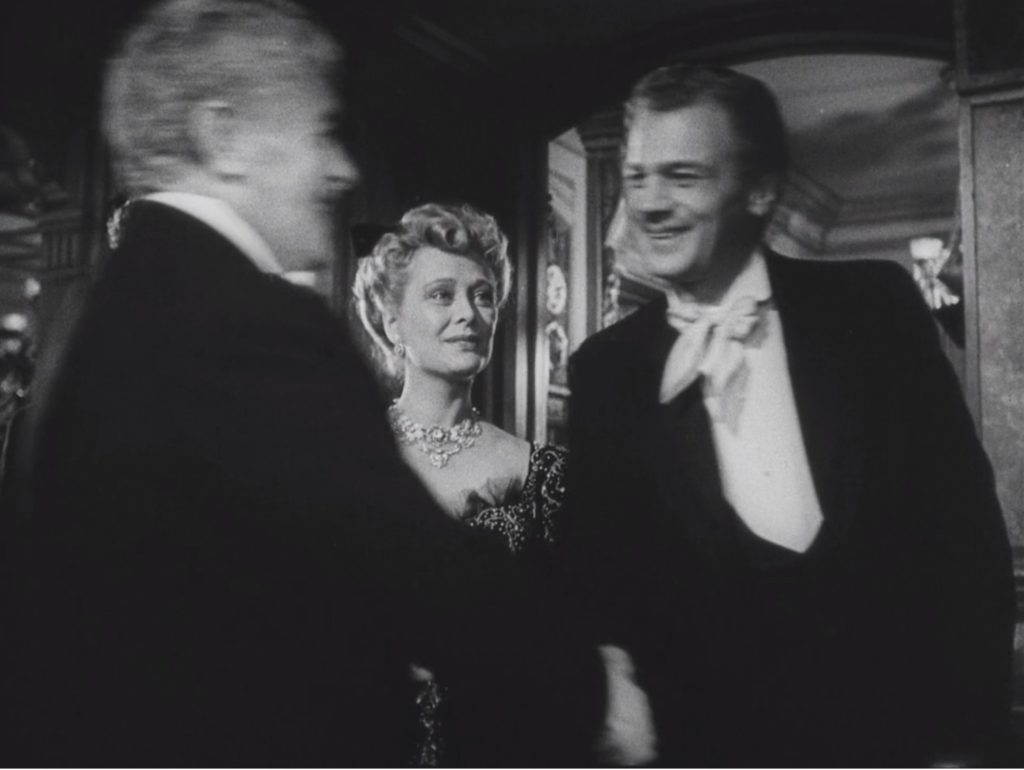 Eugene turns to the Major and offers his hand.
EUGENE
Eugene Morgan, Major Amberson.
The major grips his hand.
MAJOR
Well, well, well.
The two men walk off as a couple greet George and Isabel. Lucy Morgan is next.
GEORGE'S VOICE
Remember you very well. Remember you very well indeed.
The major is heard talking to Eugene and Jack Amberson appears while Lucy greets Isabel and George.
LUCY
Miss Morgan.
EUGENE'S VOICE
Jack!
JACK'S VOICE
Gene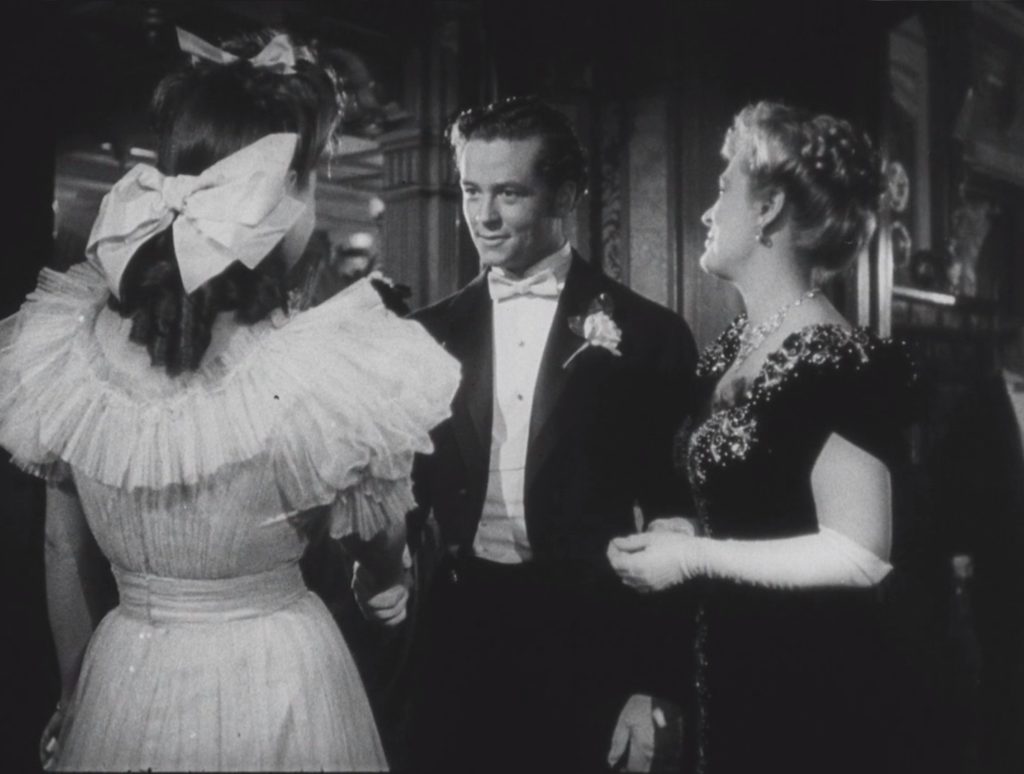 As Jack walks off Lucy takes George's hand. George smiles for the first time. His interest is obvious.  The camera pans slightly to show Eugene and Jack shake hands heartily, then walk away into the crowd. The camera pans back to George and Isabel.
GEORGE
Remember you very well, indeed!
In the middle of his speech his tone suddenly becomes less formal and more gracious. He is visibly affected. Amused, Isabel laughs.
ISABEL
You don't remember her either, but of course you will. Miss Morgan is from out of town.
Lucy is making a big impression on George.
ISABEL
You might take her up to the dancing. I think you've pretty well done your duty here.
 GRORGE
Be delighted.
George responds formally, and offers his arm in a state as befits the hero of this fete. Lucy entrusts her gloved fingers to his coat-sleeve, and they moved away together and, with Isabel looking on, they move slowly through the crowd. The camera moves back, showing all the people gathered there as George conducts Lucy to the stairway, quiet self-assurance emanating from his voice.  
LUCY
What did you say your name was?
LUCY
Morgan.
GEORGE
Oh.
Close to the stairs, Jack Amberson and Eugene walk past close to the camera. Jack has his arm around Eugene like an old friend would do.
JACK
Well, I'm certainly glad you're back.
EUGENE
It's nice to be back, Jack. Been a long time.
As the camera moves with George and Lucy, Jack and Eugene cross in front of the two. Lucy glances at Jack and asks George.
LUCY
Who's that?
George glances over at Eugene as they continue to walk forward, the camera following.
GEORGE
I didn't catch his name when my mother presented him to me. You mean that queer-looking duck?
LUCY
The who?
GEORGE
The queer looking duck.
LUCY
Oh, I wouldn't say that.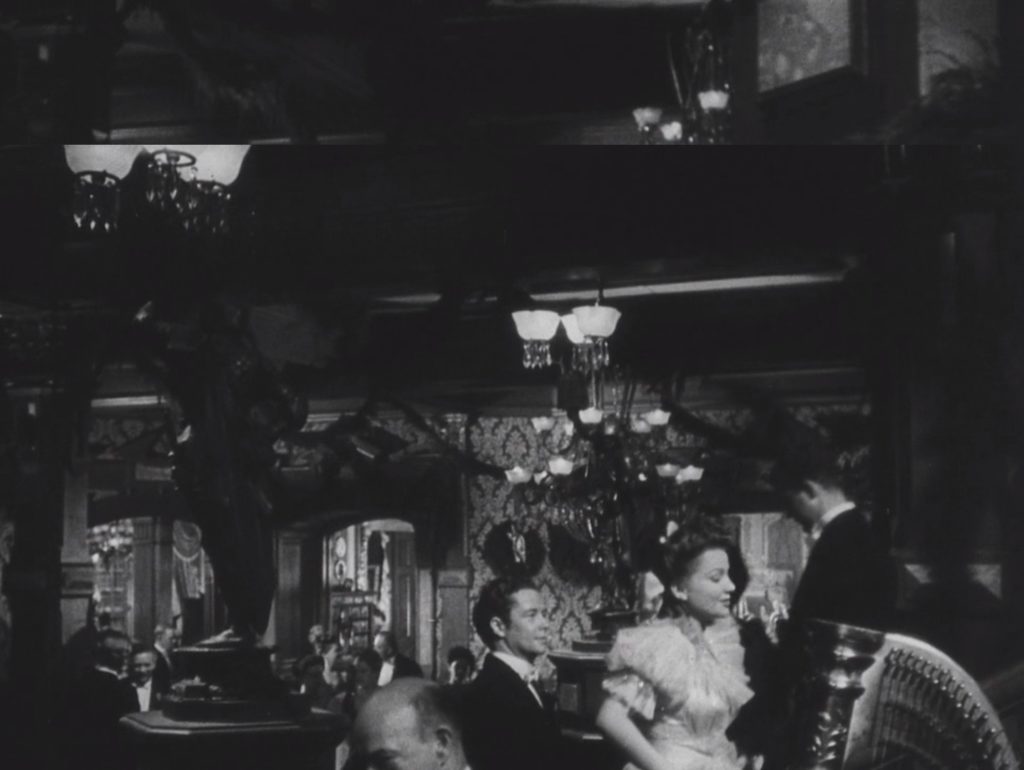 The camera following the two slowly ascends the steps. The camera pans, taking in the musicians as it follows Lucy and George up the stairs.
GEORGE
The one with him is my Uncle Jack, honorable Jack Amberson. I thought everybody knew him.
LUCY
He looks as though everybody ought to know him…It seems to run in your family.
Lucy sarcasm skips George who interprets it as a compliment.
GEORGE
Well, of course, I suppose most everybody does know him…
CUT TO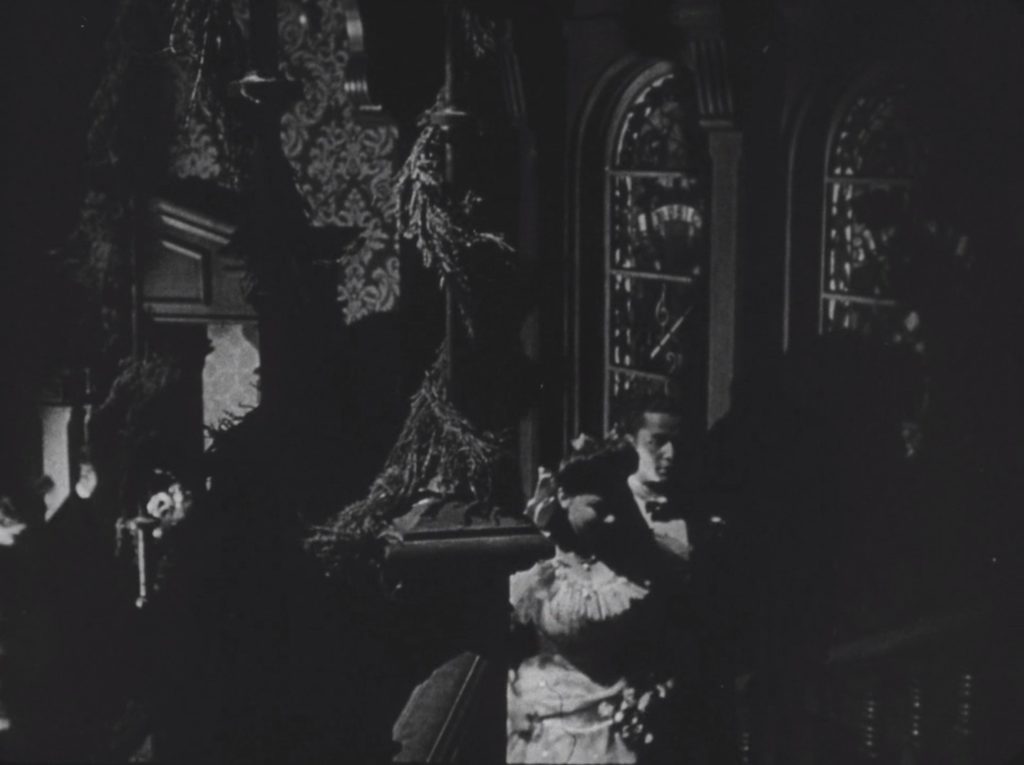 Lucy and George are walking up the steps and the camera pans to follow. Others walk up as well.
GEORGE
…out in this part of the country especially. Uncle Jack's pretty well known.
GEORGE
He's in Congress you know.
LUCY
Oh really?
The camera pans following them up the stairs.
GEORGE
Oh yes.
They continue up the stairs as they move away from camera
GEORGE
The family always liked to have someone in congress.
The two move through a crowd beside the corridor leading to the kitchen and disappear as people talk around them.
GEORGE
It's sort of a good thing in one way.
The quests continue up the steps to a balcony where there is a great deal of talking and activity.  
CUT TO
The camera is shooting up to the third floor balcony as guests walk inside the ballroom. George and Lucy continue up the stairs. The music is loud and gay, and the guests are shouting over it. Uncle John is up here, his sawmill voice heard above all others. He indicates the stairs construction.  
UNCLE JOHN
Solid black walnut every inch of it, balustrades and all.
Uncle John stops at the railing and slaps it, his penetrating sawmill voice heard over the music and talk.
UNCLE JOHN
Sixty thousand dollars' worth o' carved woodwork in the house! Like Water! Spent money like water! Always did still do! Like water!
Fanny Minafer, distressed by Uncle John's behavior nevertheless does her duty and takes charge of the old man. So, Fanny walks up behind him as he turns to Lucy.  
UNCLE JOHN
Gosh knows where it all comes from!
He sees Fanny.
UNCLE·JOHN
Hello…
CUT TO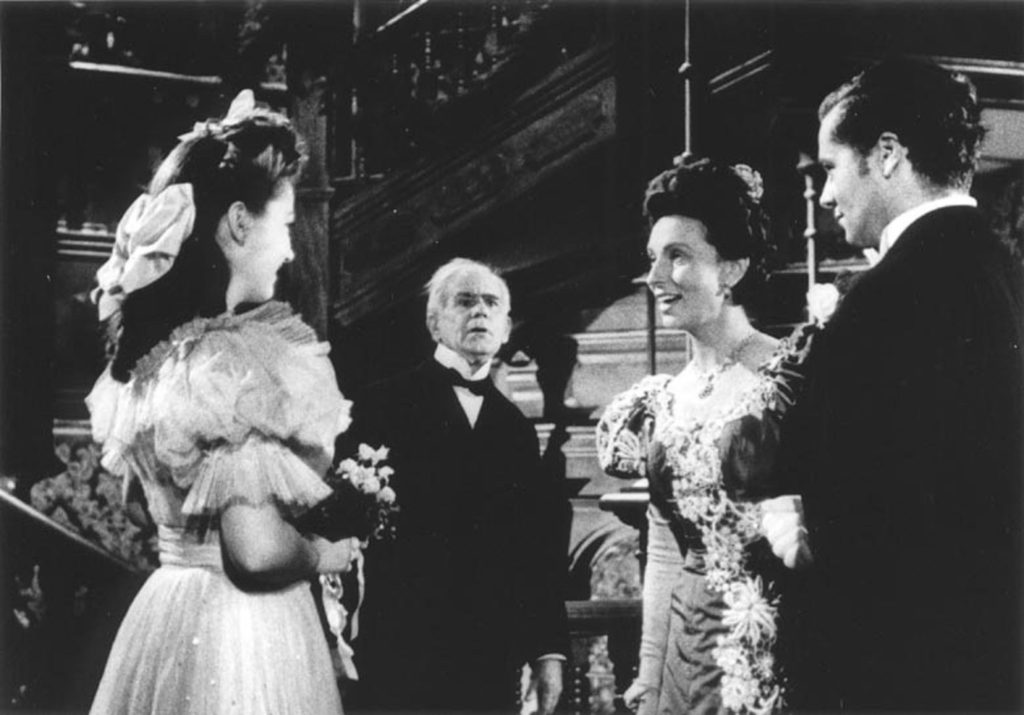 The camera is now on the third floor balcony and has turned to Fanny while the crowds pass.
UNCLE JOHN
…Fanny
FANNY
Hello, Uncle John.
By this time Lucy and George are close to the two.
GEORGE
Aunt Fanny.
Surprised to see George and Lucy together. Fanny walks over to and the two stop to speak to her.
 FANNY
Well…
UNCLE JOHN
Hello
Fanny speaks to George.
FANNY
…is this Lucy Morgan?
GEORGE
Miss Morgan, Miss Minafer.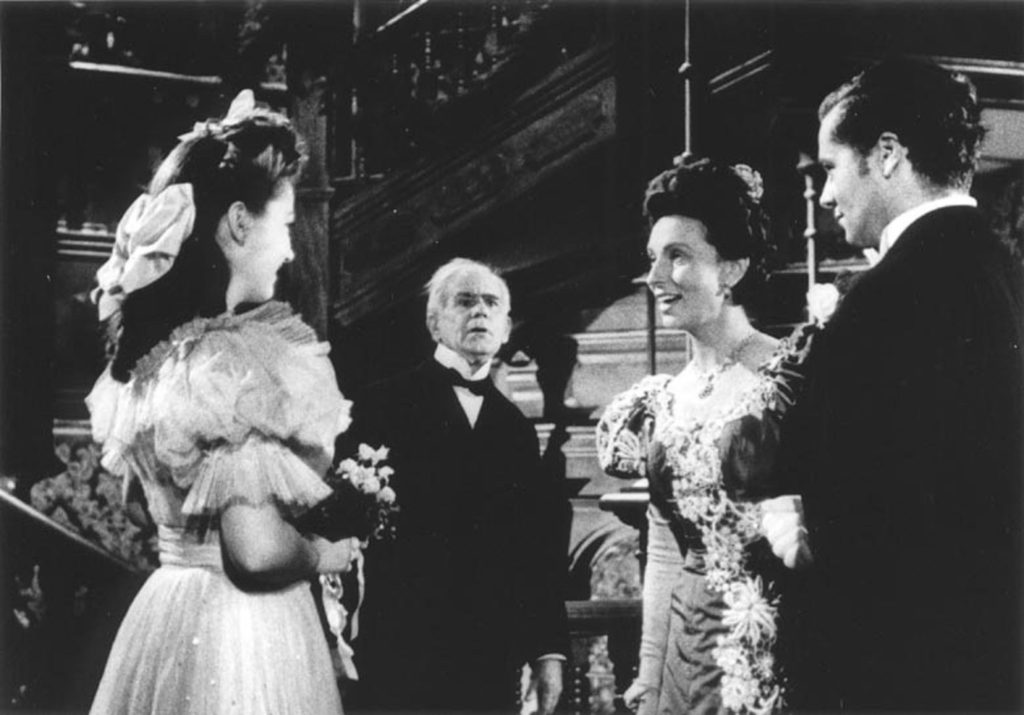 FANNY
You must favor your mother, my Dear. I never knew her.
Uncle John Grabs Fanny
UNCLE JOHN
Come on…
CUT TO
As the camera moves backward with George, Lucy, Fanny and Uncle John in the background quests move about the staircase. Uncle John holds onto Fanny as he speaks bringing her nearer to the camera. Both are smiling.  
UNCLE JOHN
…there's dancing going Hoopla!
John continues to move Fanny closer to the CAMERA as the CAMERA moves back and Lucy and George follow them. Uncle John continues talking in his sawmill voice.  
UNCLE JOHN
Let's push through an' go see the young women-folks crack their heels! Start the circus! Hoopse­daisy! Ha-ha-ha.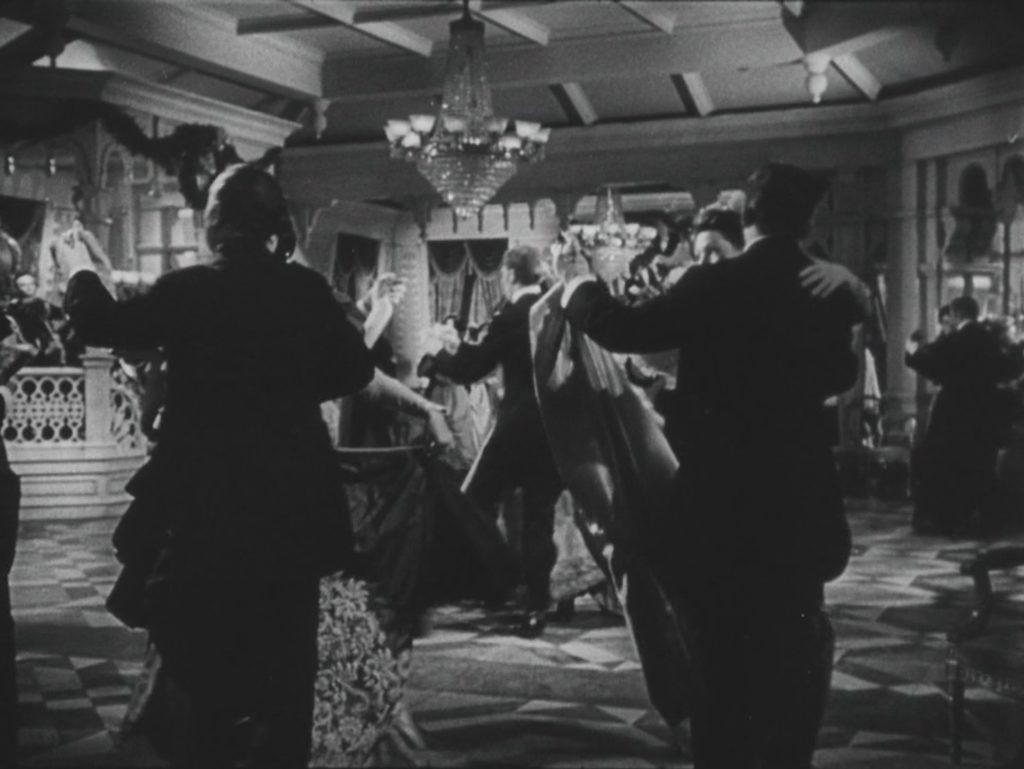 Uncle John sweeps Aunt Fanny past George and Lucy in wild, dervish-like prancings as they move off.
Close to the camera George and Lucy begin dancing. They have just gotten out on the floor when the music stops. People applaud as the camera moves backward making its way through the ballroom. George is obviously smitten; very smitten
GEORGE
Give me the next one and the one after that, and give me every third one the rest of the evening.
LUCY
Are you asking?
CUT TO
The camera is shooting up at Fanny and Uncle John catching their breaths. This had been a bit too much for Uncle John. Quests are moving about the room.
UNCLE JOHN
Well, I don't want any more o' that!
Uncle John turns to Fanny. She walks away from the camera as Wilber Minafer, now taking charge of the old man, walks up behind John, joins him and relieves Fanny.
UNCLE JOHN
Jus 'slidin' round.
Fanny turns to Wilber as Uncle John has become an embracement.
FANNY
Wilber…
Talking loudly Uncle John passes them. Fanny and Wilber whisper as Wilber follows Uncle John walking behind George and Lucy.
UNCLE JOHN
Call that dancing.
Wilber grabs hold of Uncle John and tries to quiet him.
WILBER
John! John!
He gives up as John talks loudly to Lucy and George.
UNCLE JOHN
Rather see a jig any day in the world! Hello Young Lady.
John nudges Lucy and winks. He laughs as does Lucy.
LUCY
Hello
Wilber brings Uncle John close to the camera and talks to George unobtrusively in a low voice.
WILBUR
I'll take Uncle John home.
GEORGE
All right, Father;
Uncle John looks around laughing and talking loudly. It is obvious that George is anxious not to linger with Lucy in the vicinity of old man who it is equally as obvious he sees as family disgrace. Uncle John is spoiling George's sense of proper decorum.
UNCLE JOHN
Ain't very modest some of 'em. I don't mind that, though. Not me.
 MUSIC-BEAUTIFUL OHIO WALTZ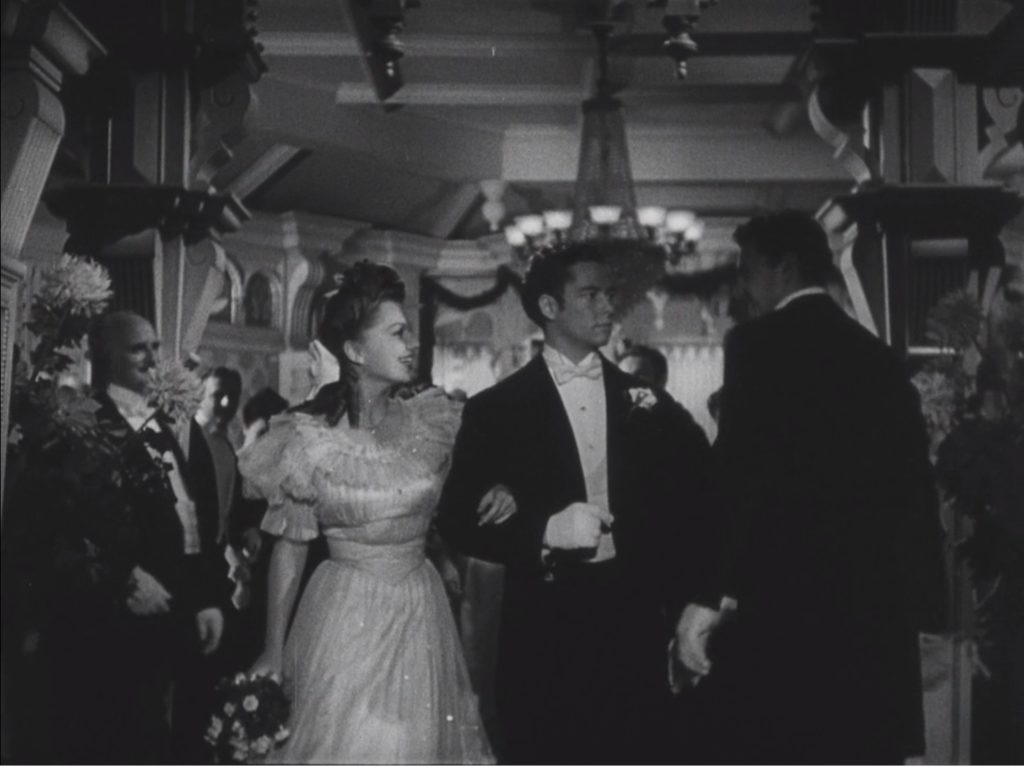 The camera moves ahead of Lucy and George as they leave the ballroom. A group of boys walk past all smiling greeting Lucy. George makes it quite evident that they have managed to annoy him as he looks around jealously.
FIRST BOY
Hello Lucy.
LUCY
Hello.
SECOND BOY
Hello Lucy.
LUCY
Hello, Argyle.
THIRD BOY
Hello Lucy
LUCY
Hello
Lucy sniffs her bouquet as the two walk close to the camera. George talks jealously.
GEORGE
How'd those-ducks get to know you so quick?
Lucy Smiles as the music changes
LUCY
Oh, I've been here a week.
GEORGE
Seems to me you've been pretty busy! Most of those…
Another group of boys comes on Greeting Lucy with smiles
BOY
Hello Lucy
LUCY
Hello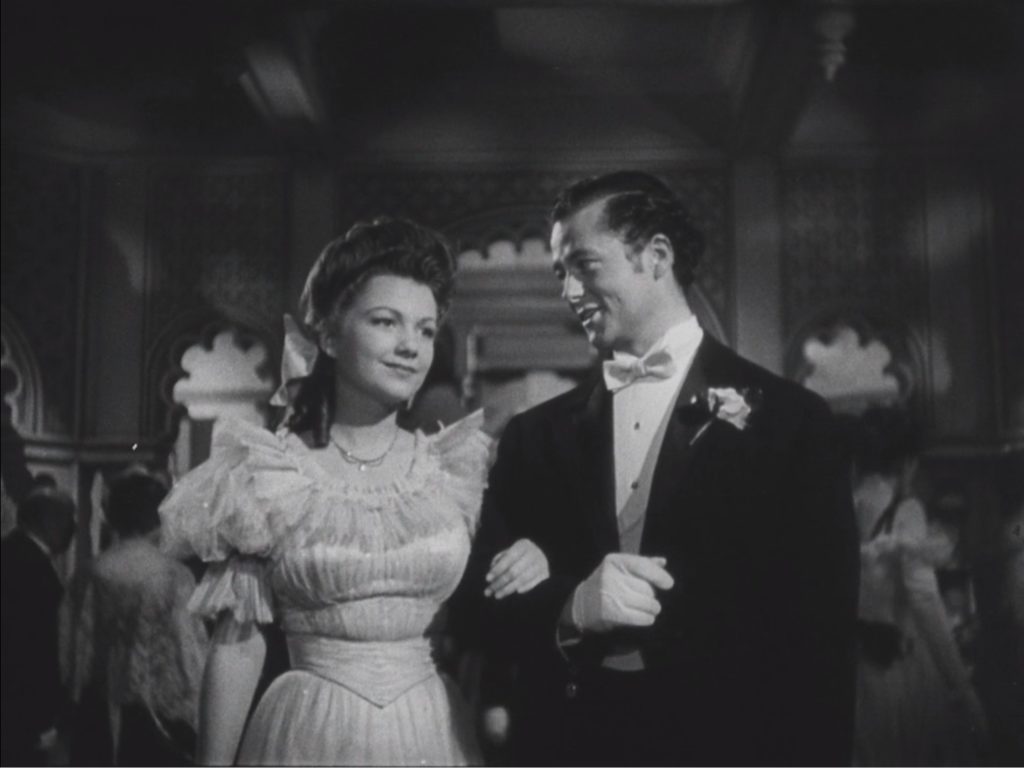 George and Lucy continue walking forward and the camera moving ahead of them as they walk into the oriental room. By now George is disgusted at the attention she is getting and tries his best to dismiss these boys as beneath him.  
GEORGE
…most of these ducks. I don't know what my mother wanted to invite 'em here for.
 LUCY
Don't you like them?
GEORGE
Oh, I used to be president of a club that we had here, and some of 'em belonged to it. But I don't care much for that sort of thing any more. I really don t see why my mother invited 'em.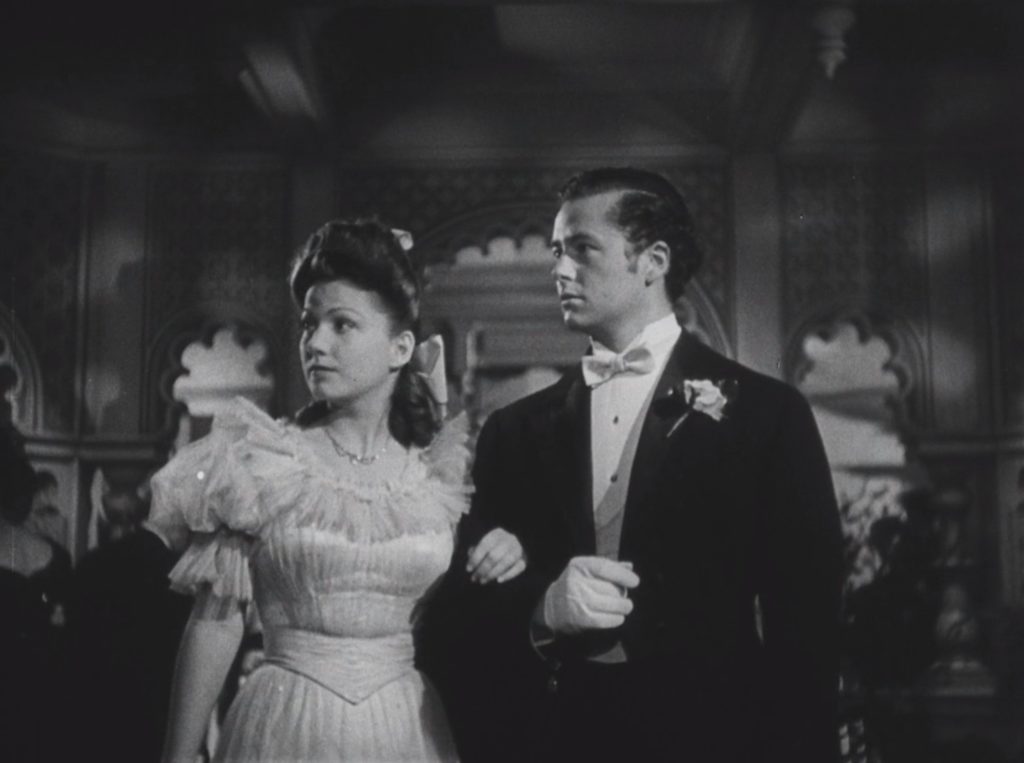 They stop walking and the camera stops as well. Lucy speaks mildly
LUCY
Maybe she didn't want to offend their fathers and mothers.
George speaks smugly
GEORGE
I don't think my mother need worry much about offending anybody in this old town.
LUCY
It must be wonderful. Mr. Amberson. Mr. Minafer, I mean.
GEORGE
What must be wonderful?
LUCY
To be so important as that'
Lucy is once again being sarcastic and once again it passes by George who speaks in a voice filled with self-confidence because he believes it is true.
GEORGE
Oh that isn't "important."
A couple passes them. George greets them with little interest.
MAN
Good Evening.
GEORGE
Good Evening.
George continues with Lucy
GEORGE
Anybody that really is anybody ought to be able to do about as they like in their own town, I should think.
They both look to their left.  
CUT TO
Fanny and Eugene are dancing rather gaily with Eugene maintaining sufficient grace throughout his wildest moments. Eugene seems right at home and Fanny looks almost girl-like in his arms. Eugene spots Lucy and waves a laughing salutation as he calls out.  
EUGENE
Hello,
The two dance away from the camera.   George gazes stonily at Eugene, responding neither by word nor sign and, as Lucy enters the frame, he turns to her annoyed. The camera moves beside them as they walk.  
GEORGE
Well…how's that for a bit of freshness!
LUCY
What was?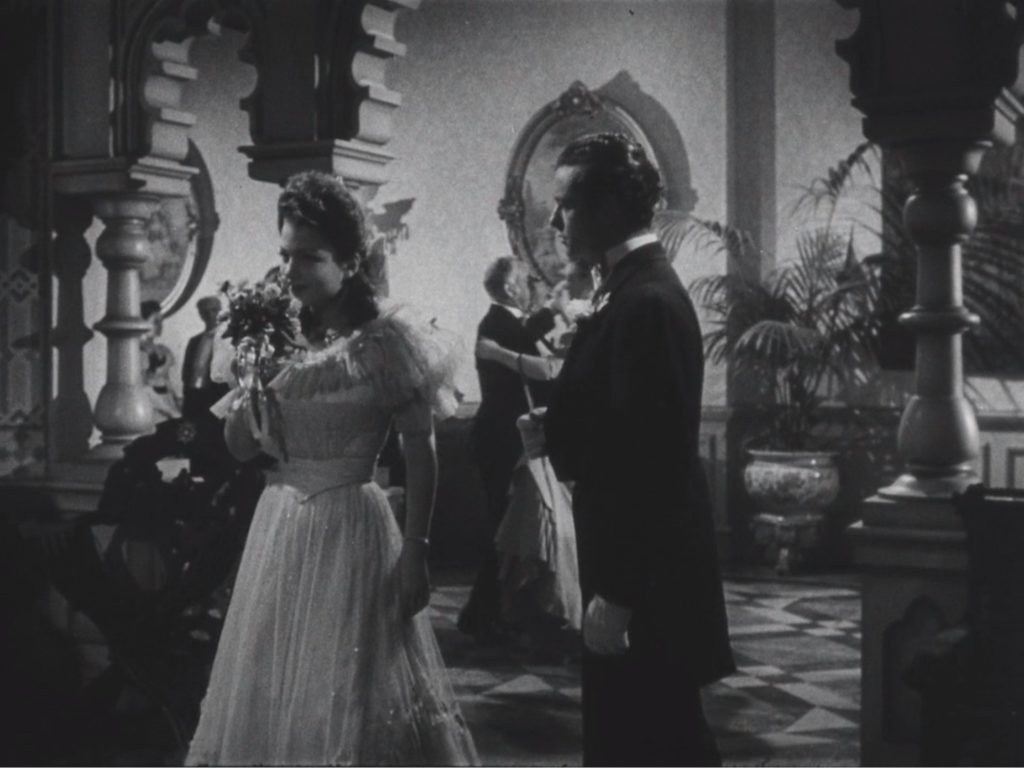 Lucy walks in front of George and joins him.
GEORGE
That queer looking duck waving his hand at me like that.
George is definitely not mollified.
LUCY
He meant me.
Lucy waves at Eugene and as the two walk and the camera following. George is obviously jealous.
GEORGE
Oh, he did? Everybody seems to mean you!
Lucy presses her bouquet of violets and lilies-of- the-valley to her face, her eyes sunny and content, over the top of her bouquet. She laughs into it, not displeased. The camera moves to follow them as people pass. Revealing his interest, George suddenly becomes straightforward.
GEORGE
See here! Are you engaged to anybody?
LUCY
No.
George is not wholly mollified,
GEORGE
You certainly seem to know a good many people!
LUCY
Papa does. He used to live here in this town, before I was born.
GEORGE
Where do you live now?
LUCY
We've lived all over.
GEORGE
What do you keep moving around so for? Is he a promoter?
LUCY
No. He's an inventor.
GEORGE
Oh! What's he invented?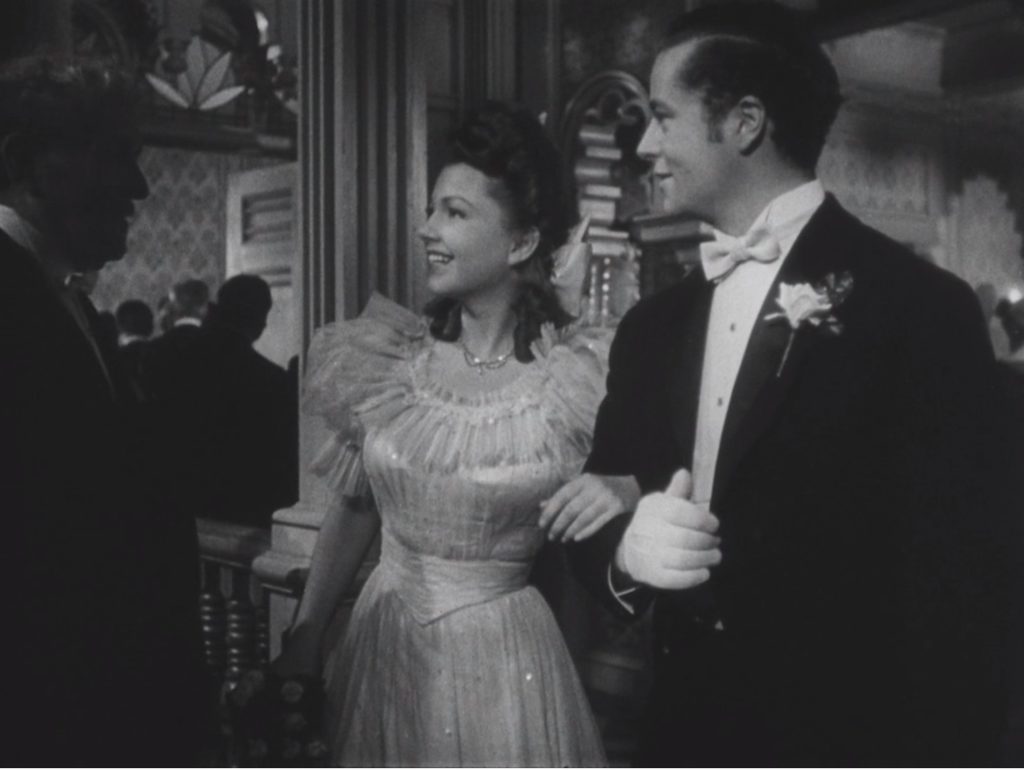 They pass the Major bringing up the punchbowl .  The major speaks casually.
MAJOR
George.
GEORGE
Grandfather.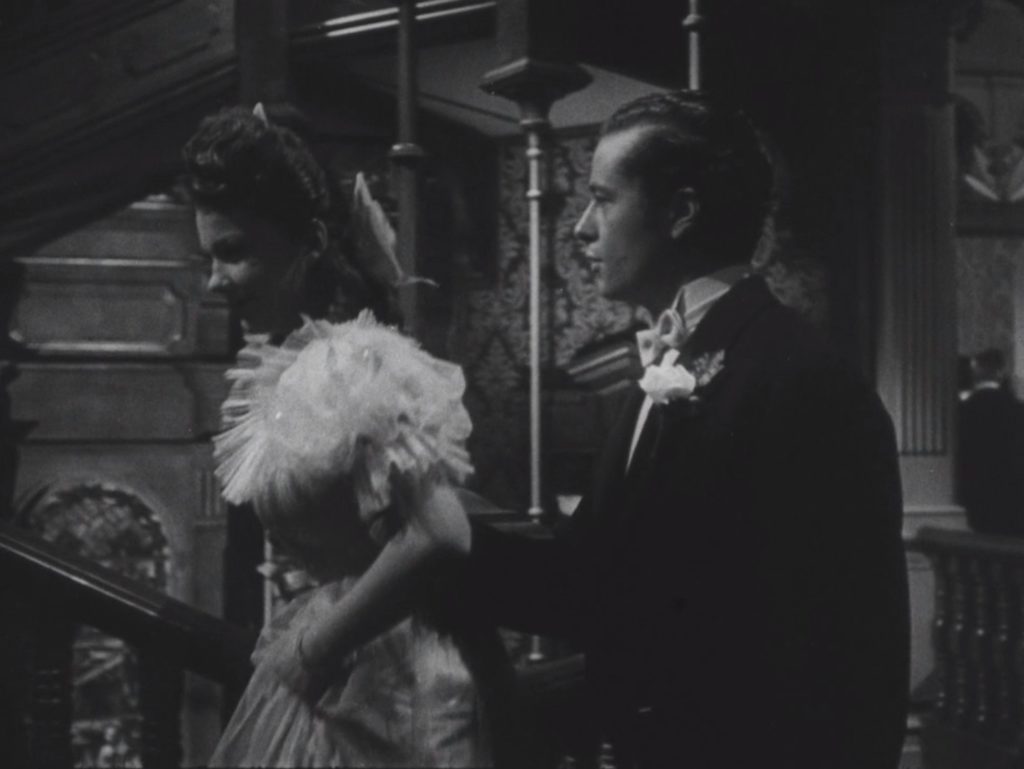 The camera follows as the two reach the narrow steps to the tower and they prepare to sit. The music has been playing for a few minutes and they look off toward the dancers.  
LUCY
Just lately, he's been working on a new kind of horseless carriage.
George disparages this idea
GEORGE
Horseless carriages! Otto-mobiles? Well, well!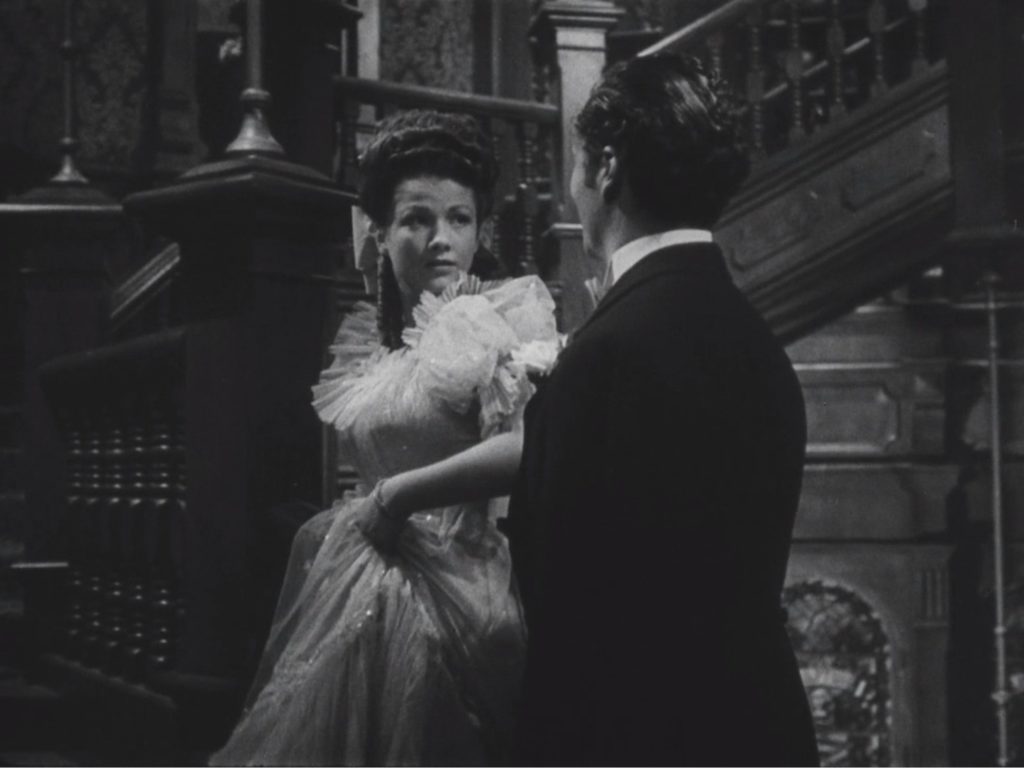 As they continue up the steps, Lucy turns to face George
LUCY
Don't you approve of them, Mr. Minafer?
GEORGE
Oh, yes, they're all right.
Lucy sits on the steps shaking her head in gentle wonder
LUCY
You know I'm beginning to understand.
CUT TO
The camera is positioned above the steps. Beyond them people can be seen dancing in the ballroom. Eugene and Fanny are dancing and other quests are moving around the hall.  
GEORGE
Understand what?
George sits a few steps above Lucy and looks down at her.
GEORGE
What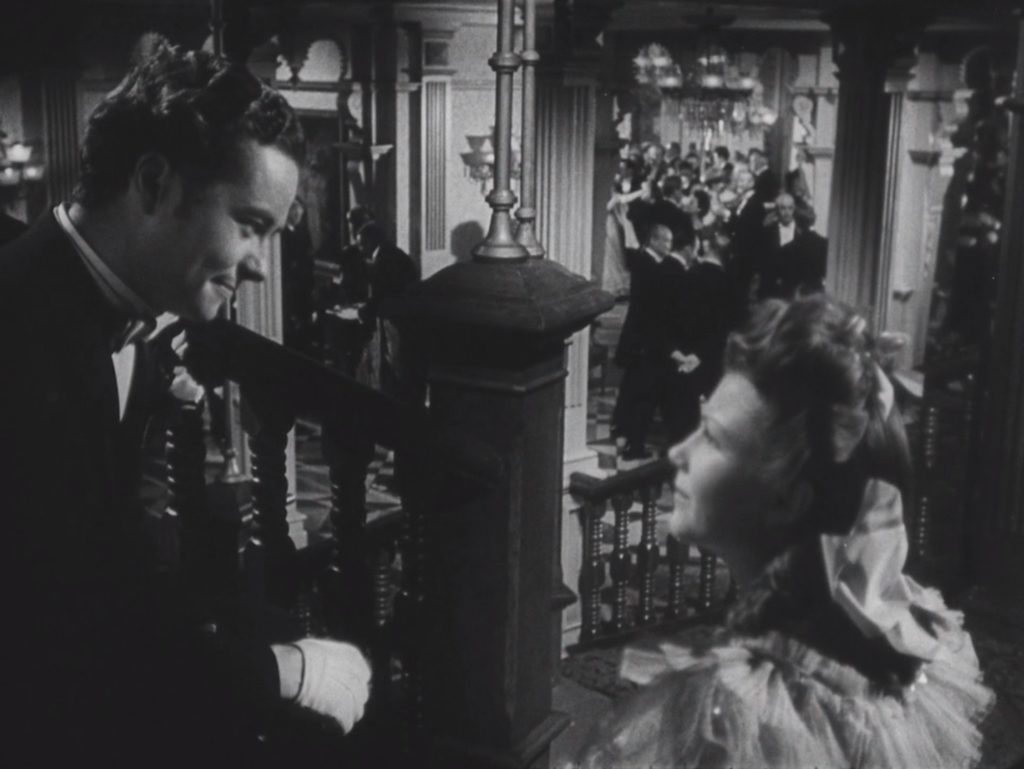 Lucy looks up at him.
LUCY
What it means to be an Amberson in this town. Papa told me about it before, but I see he didn't say half as much.
George of course takes this as a tribute
GEORGE
Did your father say he knew the family before he left here?
LUCY
I don't think he meant to boast of it. He spoke of it quite calmly.
George stares at her for a moment perplexed and finally perceives her intention as sarcasm and now feels slighted.
GEORGE
Most girls are usually pretty fresh.
Lucy lifts her bouquet to her face to smell her flowers as George expresses his anger at Lucy making jest of him.
GEORGE.
They ought to go to a man's college about a year! They'd get taught a few things about freshness! Look here! Who sent you those flowers you keep makin' such a fuss over?
The music stops, there is the customary applause and Eugene calls up to Lucy.
EUGENE
Lucy!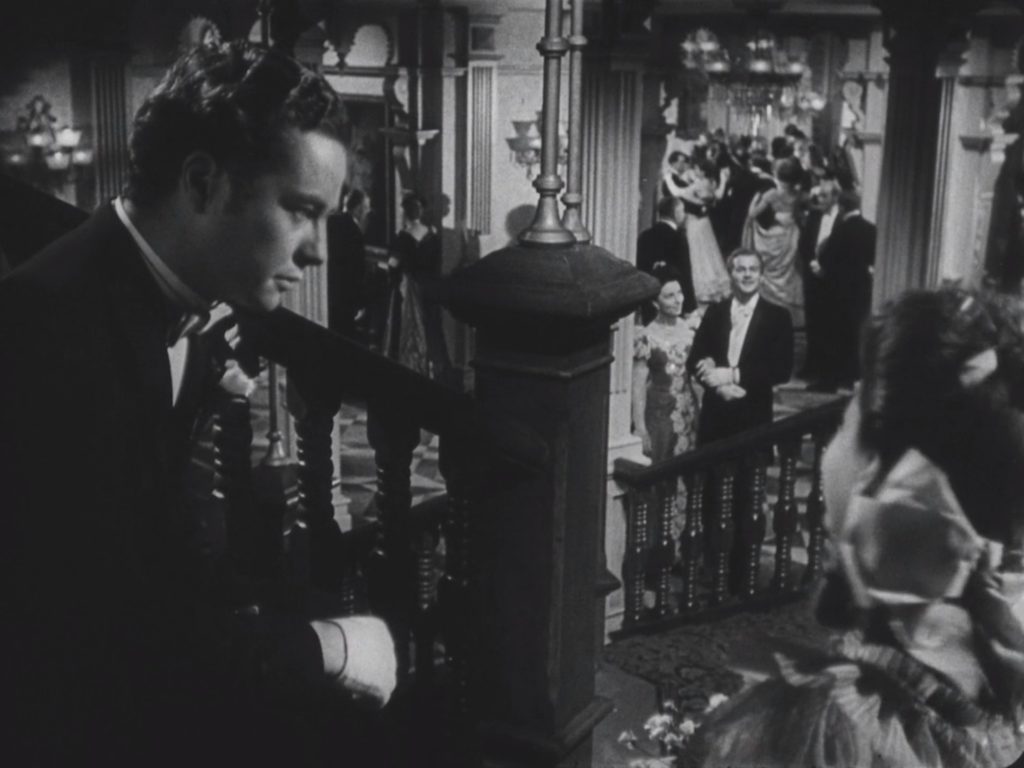 Lucy glances at Eugene approaching.
LUCY
He did
GEORGE
Who's he?
LUCY
"The Queer looking duck"
EUGENE
I've come for that dance,
George immediately dismisses Eugene as a rival as Eugene and Isabel walk towards them. Lucy still has the flowers pressed to her face.
 GEORGE
Oh, him?    I s'pose he's some old widower! Heh—Some old widower!
Lucy suddenly becomes serious.
LUCY
Yes, he is a widower. I ought to have told you before; he's my father.
George's amusement is instantly replaced by immediate embarrassment. He just put his foot in his mouth.
GEORGE
Oh well that's a horse on me. If I'd known he was your…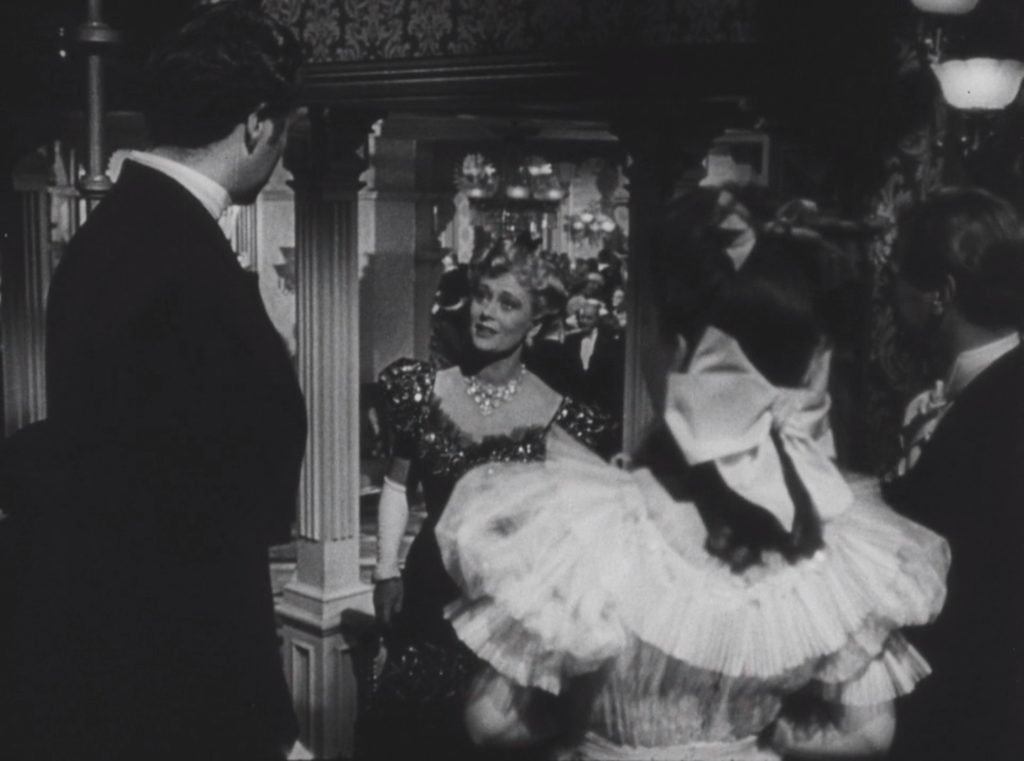 Eugene and Isabel walk up the stairs and reach them. Eugene speaks to Lucy while Isabel glances lovingly at her son.
EUGENE
This is our dance. But I guess I won't insist on it.
ISABEL
George, dear, are you enjoying the party?
GEORGE
Yes, Mother, very much. Will you please excuse us? Miss Morgan.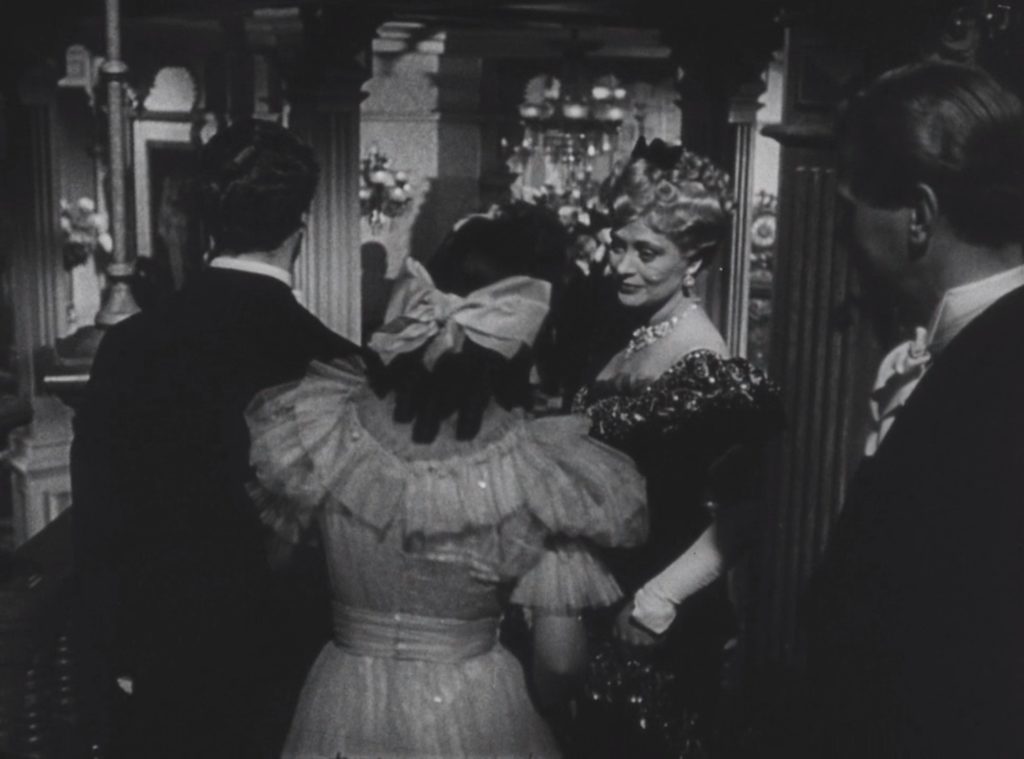 George offers and Lucy takes George's arm. They go down the stairs as the camera moves closer to Eugene and Isabel who watch them as they go.
Jack appears at the foot of the steps and glances at Lucy and George walk off. Tremendous pride in her voice, Isabel talks to Eugene about George with Lucy.  
ISABEL
It's charming, isn't it?
Eugene doesn't quite understand.
EUGENE
Hm?
ISABEL
Those children. It's touching. But of course they don't… it's touching.
Jack speaks and the two turn to him.
JACK
Do you know what I think whenever I see these smooth, triumphal young faces?
CUT TO
Fanny is below the steps patiently waiting for them to join her. Then Isabel, Eugene and jack turn on the steps and start down the stairs
JACK
I always think…
They come down and the camera moves in front of them as they walk. People moving about them, Jack speaks light heartedly but his voice has a certain cynical wisdom for it  
JACK
Oh how you're going to catch it.
Troubled hearing this Isabel smiles but responds.
ISABEL
Jack!
JACK
Oh, yes, Life's got a special walloping for every mother's son of 'em!
ISABEL
Maybe some of the mothers can take the walloping for them.
The camera pans to following them. Jacks laughs but assures his sister with emphasis.
JACK
Not any more than she can take on her own face the lines that are bound to come on her son's.
The four stop close to the camera as quests pass in front of them.
JACK
I suppose you know that all these young faces have got to get lines on 'em?
Isabel smiles and speaks almost wistfully
ISABEL
Maybe they won't. Maybe times will change, and nobody will have to wear lines.
EUGENE
Times have changed like that for only one person I know.
Eugene laughs at Isabel as she looks at him inquiringly, then realizes that she is that "only one person." She blushes with embarrassment as the four walk close to the camera as it moves ahead of them.
JACK
What puts the lines on faces? Age or trouble? Ha, we can't say that wisdom does it. We must be polite to Isabel.
They all laugh, moving closer to the camera as it continues in front of them
EUGENE
Age puts some, and trouble puts some…
They stop as Eugene talks while people move about them.
EUGENE
…but the deepest wrinkles are carved by lack of faith. The serenest brow is the one that believes the most.
Isabel asks gently
ISABEL
In what?
EUGENE
In everything.
Again Isabel looks at Eugene inquiringly as she did before and again he laughs.
EUGENE
Oh, yes, you do!
Isabel is surprised hearing this about herself.
ISABEL
Why, I believe—believe I do!
Jacks laughs as they and the camera moves through an arch as Isabel again looks at Eugene inquiringly
JACK
Isabel! There're times when you look exactly fourteen years old!
They have started walking toward a punch bowl, and now they reach it, joining the Major and Wilbur. The major offers drinks.
MAJOR AMBERSON
Eggnog anybody?
EUGENE
Not for me, sir, thanks.
MAJOR
I see you kept your promise, Gene.
Wilber approaches from behind and Jack pours punch. The Major is amused speaking to Isabel.
MAJOR
Isabel, I remember the last drink Eugene ever had. Fact is, I believe if Eugene hadn't broken that bass fiddle and given himself away, Isabel never would have taken Wilbur.
The Major laughs
MAJOR
What do you think, Wilbur?
Wilber speaks placidly as if he knows the truth of the statement.
WILBER
I shouldn't be surprised. If your notion's right, I'm glad Gene broke the fiddle.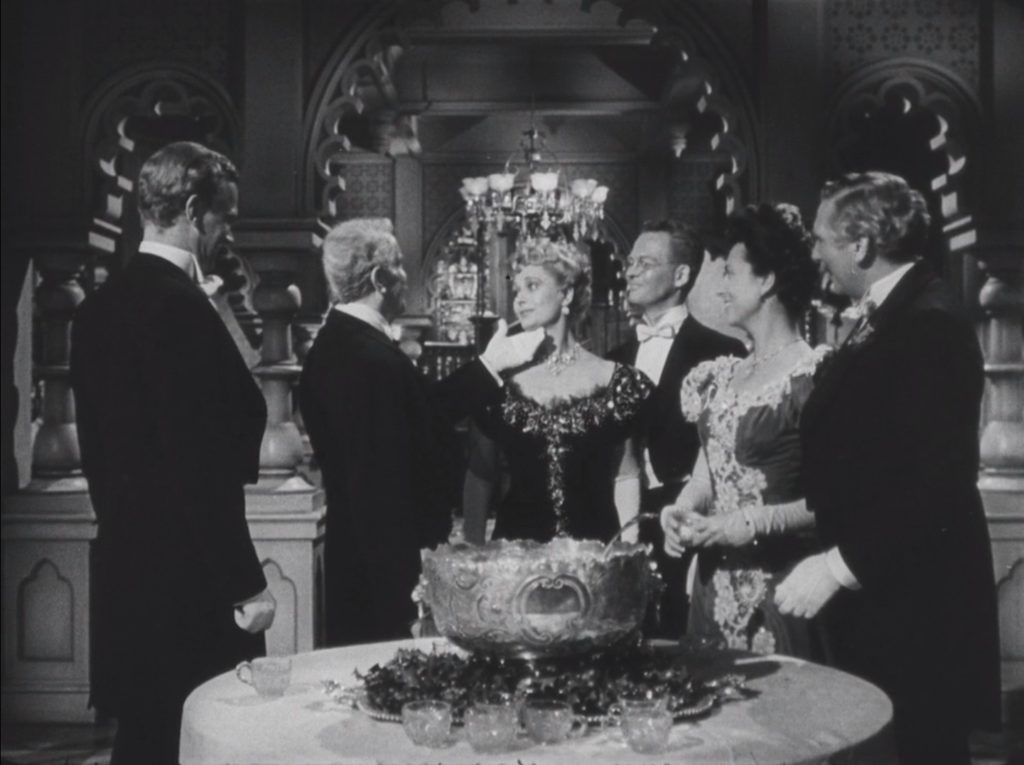 The major walks around Eugene to Isabel and rests his hand under her chin.
MAJOR AMBERSON
What do you say about it, Isabel? By Jingo. She's blushing!
The Major's right. Isabel is embarrassed.
ISABEL
Who wouldn't blush!
They all laugh. The major walks to his right and the camera pans to follow. Eugene walks to Fanny, leads her to follow the Major as do the others. Her voice, jovial, Fanny lends her sister-in-law some assistance while also supporting her brother.
ANNY
The important thing is that Wilber did get her…
Close to the camera Sam the butler walks in front of them.
FANNY
…and not only got her but kept her!
Eugene is as embarrassed as is Isabel, but he laughs
EUGENE
There's another important thing. That is for me. In fact it's the only thing that makes me forgive that bass viol for getting in my way.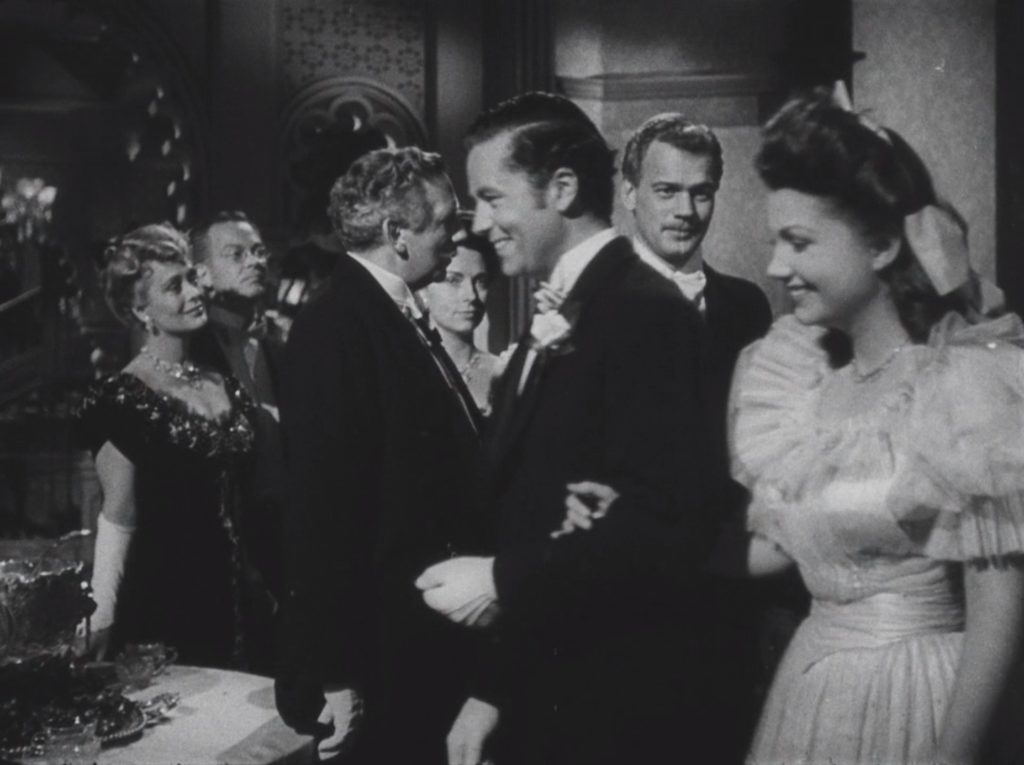 George and Lucy walking on past.
Jack
What is it?
Eugene's voice is filled with his loving feelings for his daughter.
EUGENE
Lucy.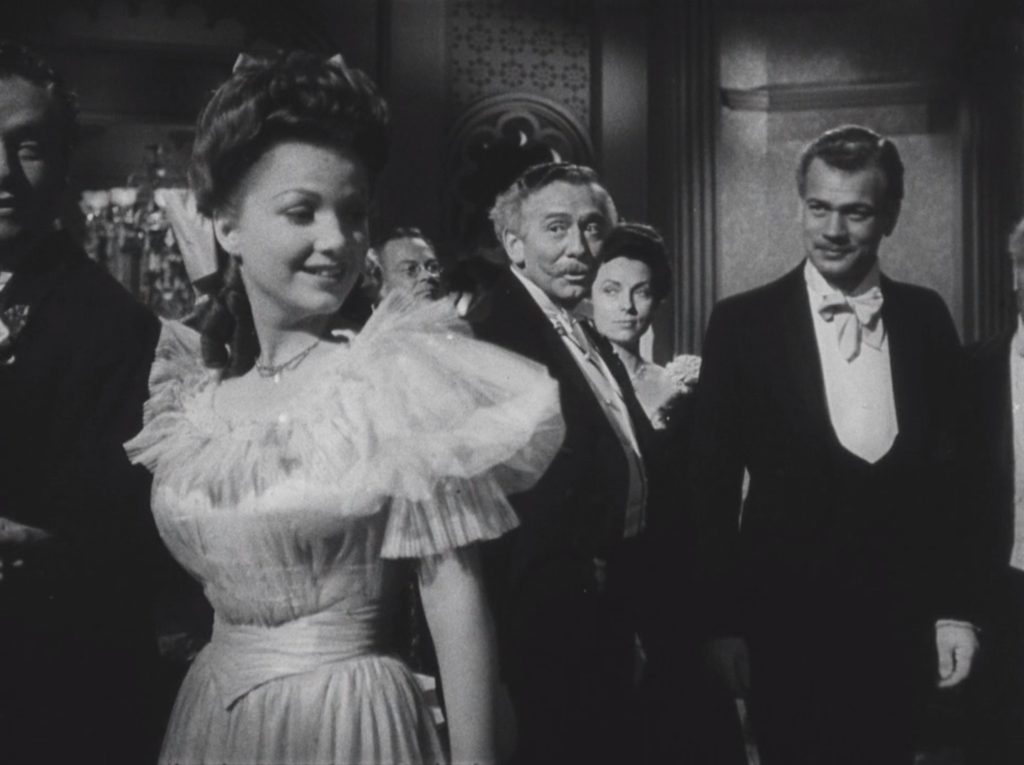 George and Lucy pass in front of the group at the punch bowl. Lucy half turns in response to her father's comment and the camera moves back. Jack speaks to them.
JACK
You havin' a good time.
The Major appears on the right holding Eugene's arm. The group moves to the left and the camera pans to follow.
MAJOR
I don't suppose you ever gave up smoking.
EUGENE
No Sir.
MAJOR
Well, I've got some Havana's.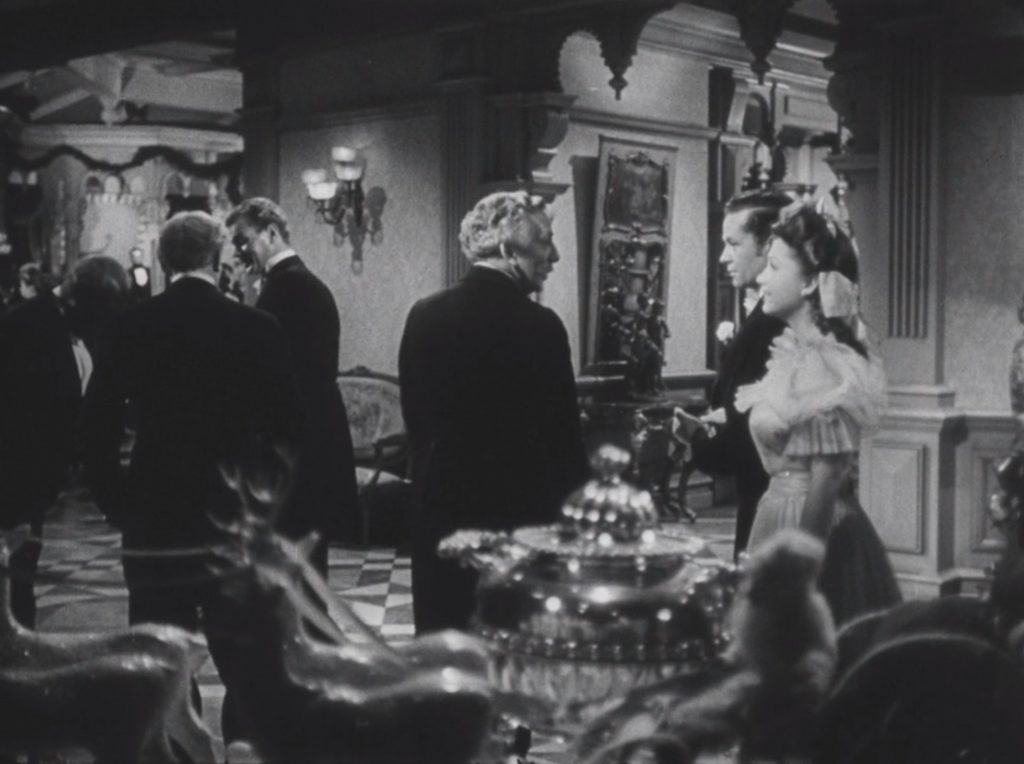 The group moves away from camera as the Camera pans to follows. As they pass Lucy, Jack says confidentially to Lucy in a near whisper.
JACK
Do your ears burn, young lady?
Lucy laughs as George and Lucy continue on their way without stopping and reach the buffet table. Camera pans with them. Before Lucy can answer George speak ups.  
GEORGE
Would you care for some refreshments, Miss Morgan?
LUCY
Yes, Thanks.
George then asks coolly as a distance away Eugene and Jack light cigars.
GEORGE
What did you say your name was?
LUCY
Morgan.
GEORGE
Funny Name.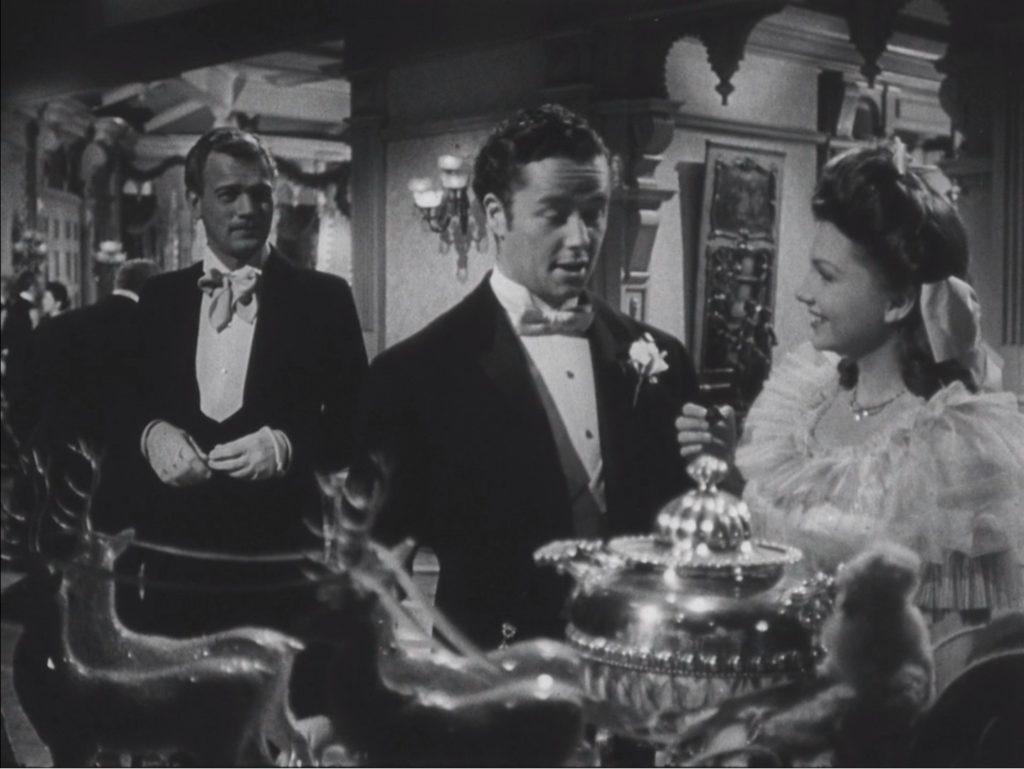 Eugene approaches them from behind
LUCY
Everybody else's name always is.
GEORGE
I didn't mean it was really funny.
Jack moves up to join Eugene. George speaks in a tone that is as close to an apology as he can make.
GEORGE
That's just one of my crowd's bits of horsing at college.
Lucy laughs. As she bites into an olive Eugene moves behind and then between the two.
GEORGE
I knew your last name was Morgan. I meant your first name.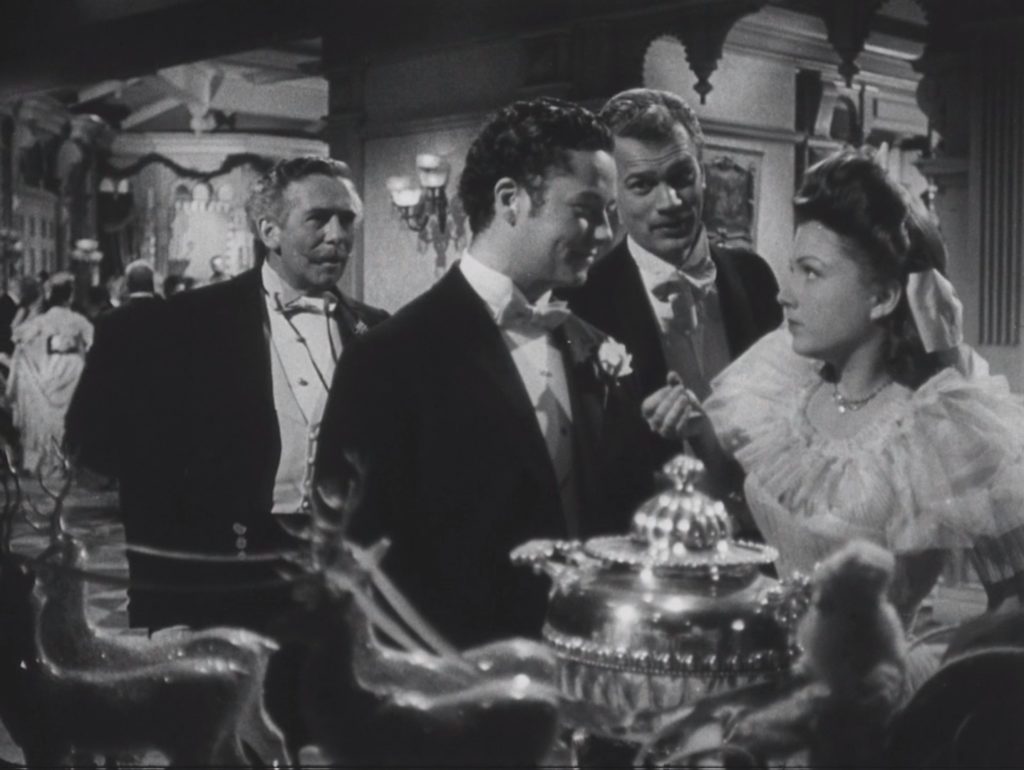 Eugene interjects to George.
EUGENE
Lucy
Eugene and Jack head off while George, both surprised and offended looks at Eugene indignantly.
LUCY
Is Lucy a funny name, too?
A woman leads a man and Mrs. Johnson to the camera and the food table.
GEORGE
No, Lucy's very much all right.
LUCY
Thanks.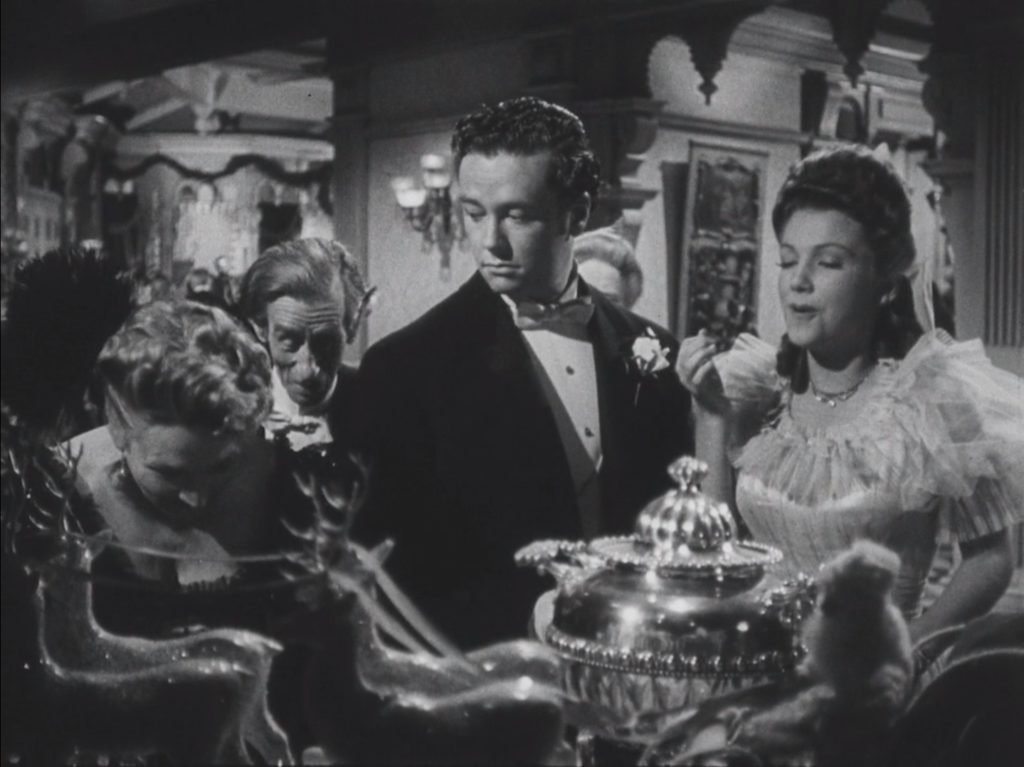 The woman and man stop at the table and indicate an olive.
WOMAN
Here are. Here they are Henry.
HENRY
Are they?
GEORGE
Thanks for what?
Lucy once again speaks with a touch of sarcasm.
LUCY
Thanks about letting my name be Lucy.
Lucy takes hold of George's arm and turning as they walk away from the table. Mrs. Johnson appears
WOMAN
No they're not.
MRS JOHNSON
No?
WOMAN
No.
Disappointed that they haven't found what they wanted henry and the two woman turn and walk away.