FADE IN
MUSIC-CD GARDEN SCENE (ISABEL AND EUGENE)
With the Amberson Mansion in the background Eugene and Isabel are sitting on a bench beside a tree. Some time has passed and Isabel.
DISSOLVE TO
Eugene gently takes hold of Isabel's hand. His voice is gentle and loving.
EUGENE
Isabel, dear.
ISABEL
Yes, Eugene?
EUGENE
Don't you think you should tell George?
ISABEL
About us?
EUGENE
Yes.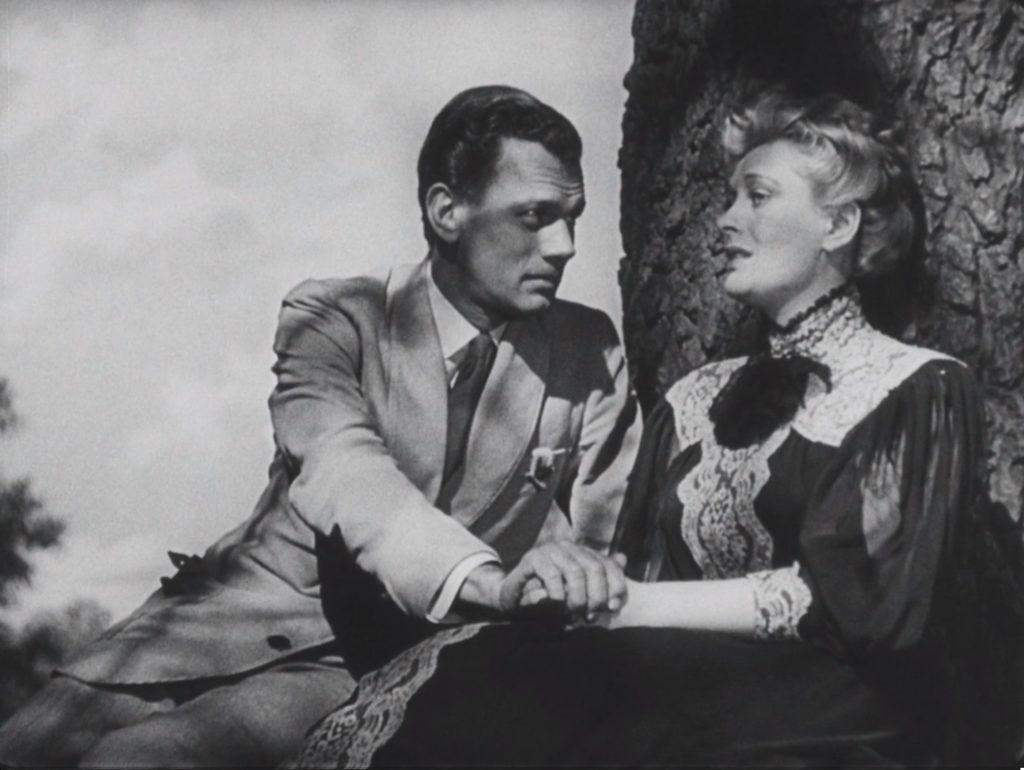 Worried, Isabel is hesitant.
ISABEL
There's still time.
EUGENE
I think he should hear it from you.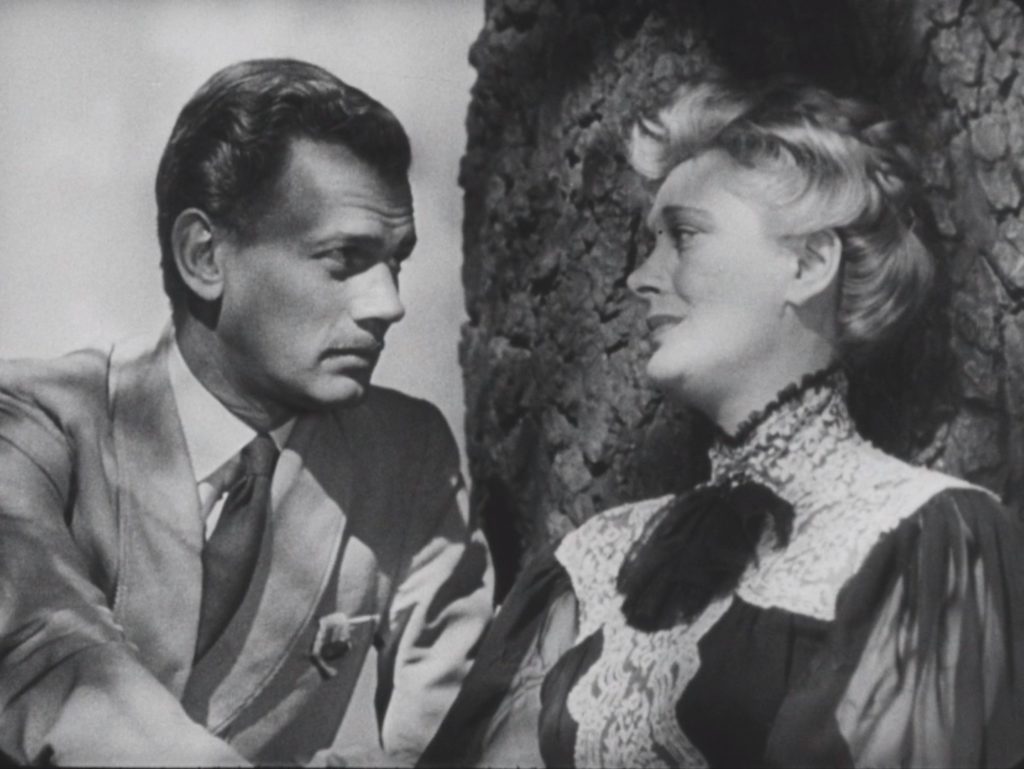 Isabel leans against the tree talking to Eugene.
ISABEL
He will, dearest—soon–soon—
DISSOLVE TO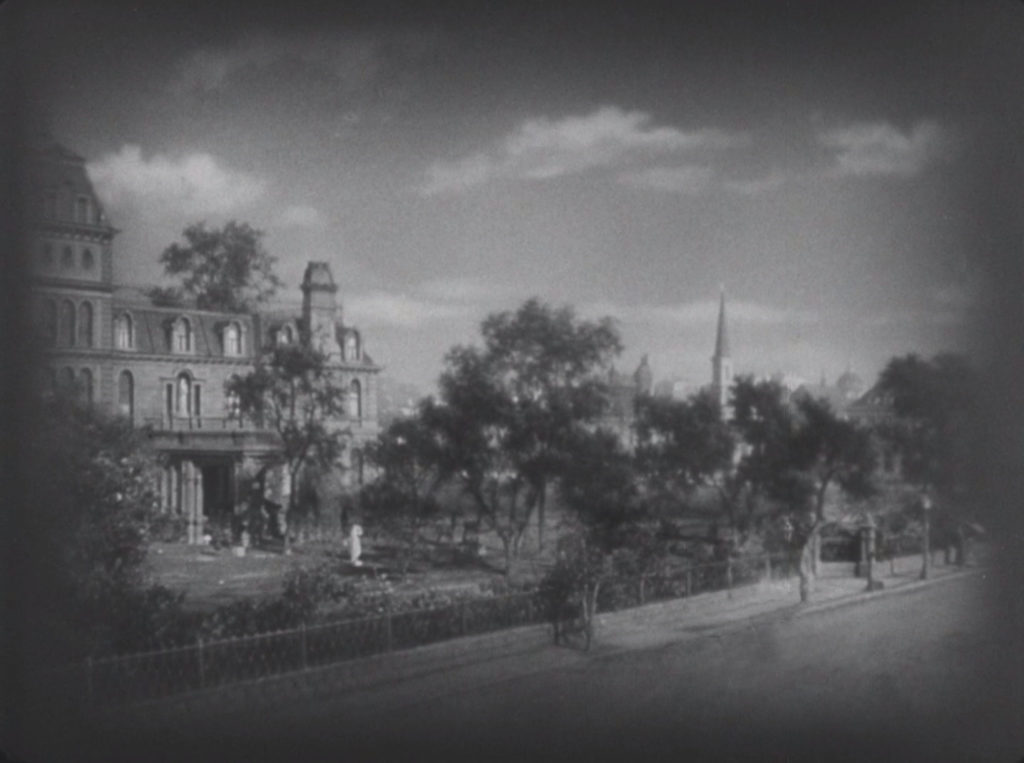 The Amberson mansion in the background as an automobile drives up
DISSOLVE TO
MUSIC-CD-GARDEN SCENE
The whole family—Ambersons and Minafers—is present in the dining room and Eugene is a guest. A servant carrying a tray walks to a door. They are just finishing their dessert. The music from the garden carries over here for a bit.  
MAJOR AMBERSON
I miss my best girl.
At the end of the table Isabel is facing the Major. Fanny and George are on the left.
ISABEL
We all do. Lucy's on a visit, Father. She's spending a week with a school friend.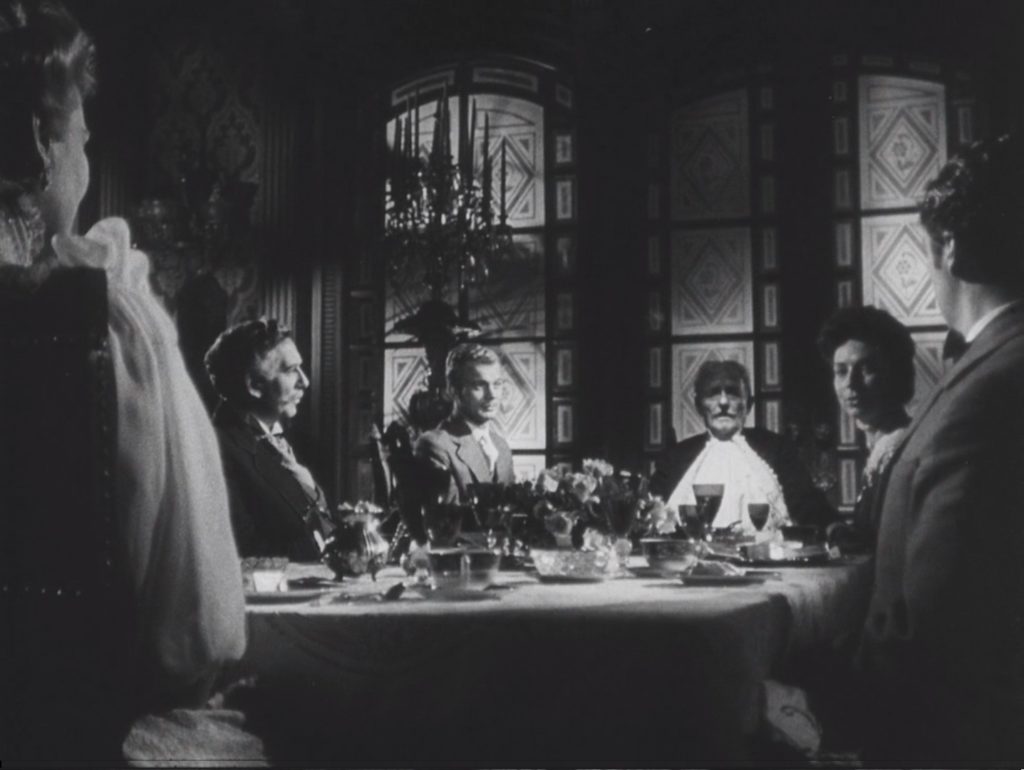 Eugene speaks up.
EUGENE
She'll  be back Monday.
Fanny leans forward and as a snide dig at her nephew.
FANNY
George, how does it happen you didn't tell us before? He never said a word to us about Lucy's going away.
 MAJOR AMBERSON
Probably afraid to.
MAJOR AMBERSON
Didn't know but he might break down and cry if he tried to speak of it!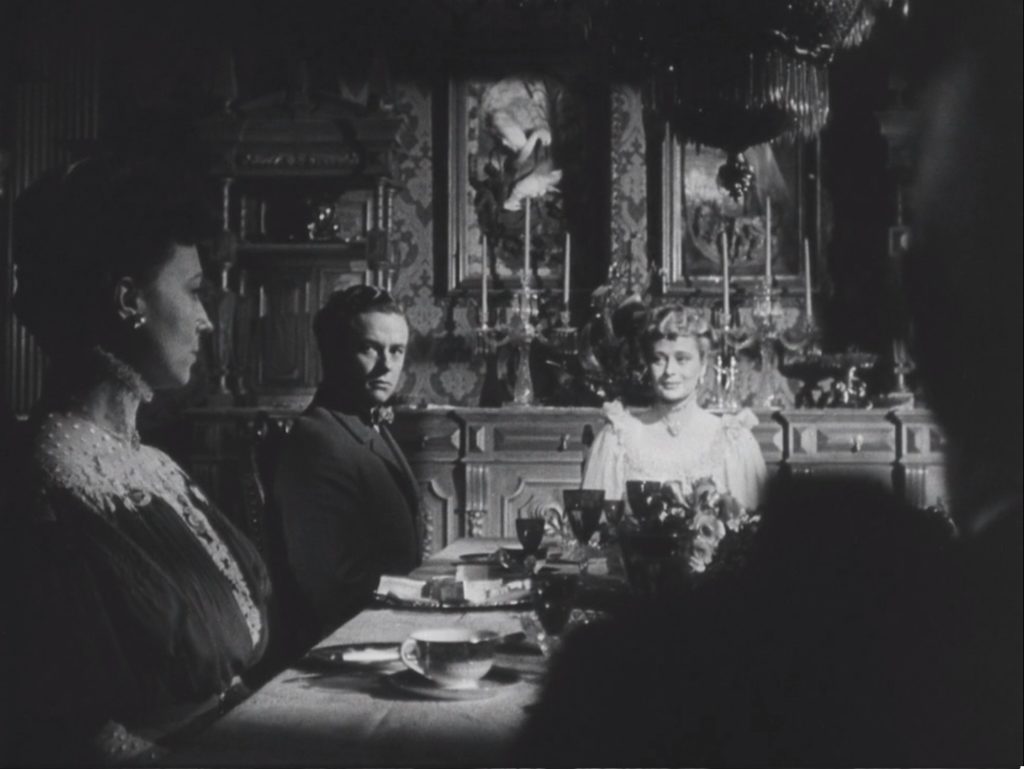 MAJOR AMBERSON
Isn't that it, Georgie?
The Major's chuckle develops into laughter at George's silence and George feels embarrassed in front of the whole family. Taking advantage, Fanny puts in another dig.
FANNY
Or didn't Lucy tell you she was going?
George looks around sullenly
GEORGE
She told me.
MAJOR AMBERSON
At any rate, Georgie didn't approve. I suppose you two aren't speaking again?
The Major laughs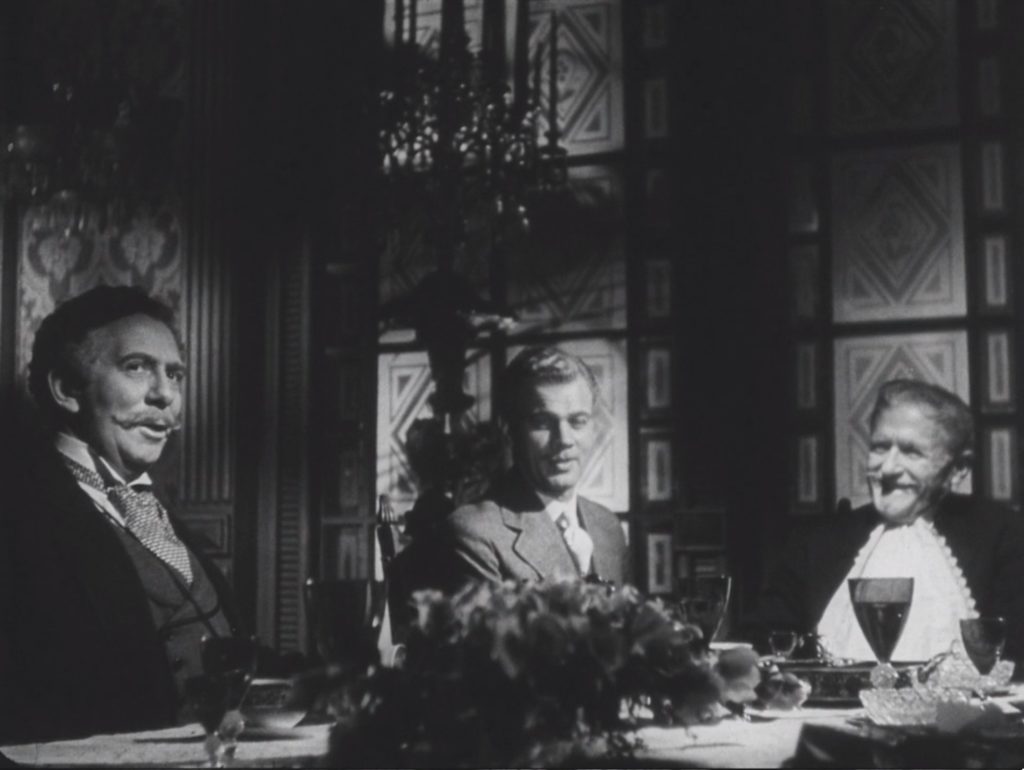 Jack is nice enough to change the subject.
JACK
Gene I hear somebody's opened up another horseless carriage shop somewhere out in the suburbs.
MAJOR AMBERSON
Ah, I suppose they'll either drive you out of the business, or else the two of you'll drive all the rest of us off the streets.
EUGENE
Well, we'll even things up by making the streets bigger. Automobiles will carry out streets clear out to the county line.
MAJOR AMBERSON
How do you propose to do that?
JACK
Well, I hope you're wrong, because if people go to moving that far, real estate values here in the old residence part of town are going to be stretched pretty thin.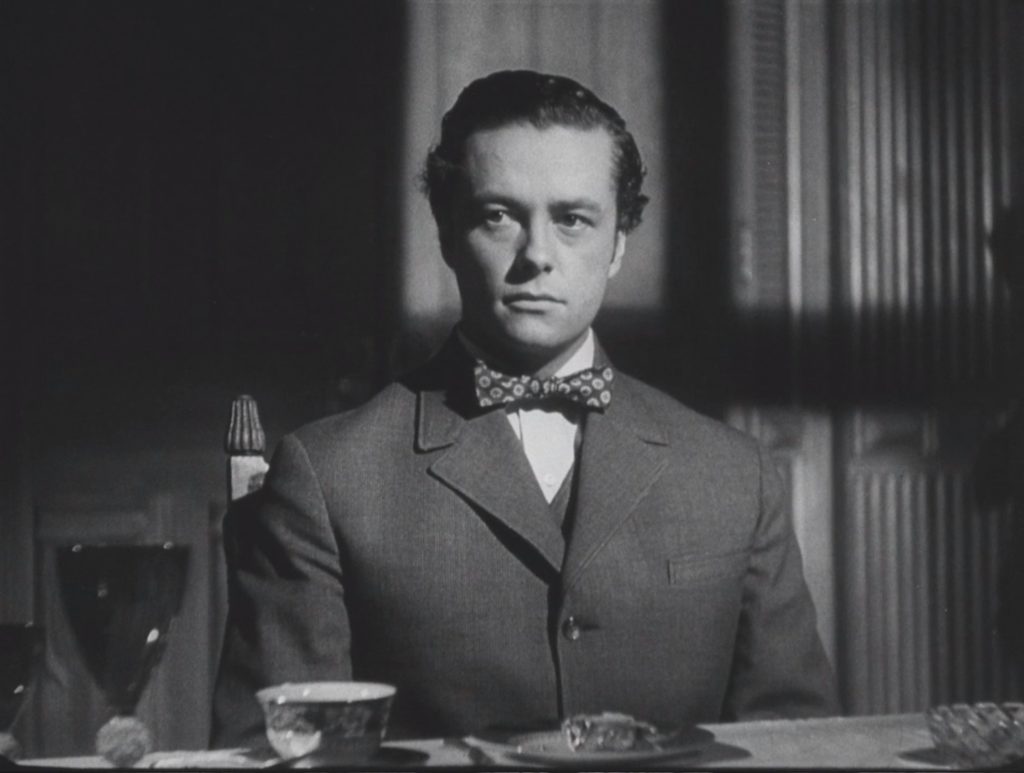 George looks up with a stern look as the Major says with dismay.
MAJOR's VOICE
So your devilish machines are going to ruin all your old friends, Eugene.
 MAJOR AMBERSON
Do you really think they're to change the face of the land?
EUGENE
They're already doing it, Major; and it can't be stopped. Automobiles –
It is obvious to everyone at the table that George had been sitting there stewing about Lucy. It soon becomes obvious that George blames her father for Lucy's refusal of an engagement. So, his repressed anger finally exhibiting itself, George abruptly interrupts in a loud and peremptory voice
GEORGE'S VOICE
Automobiles are a useless nuisance.
There is a sudden silence at the table as everyone is startled.
Jack frowns
Isabel is embarrassed and glances down.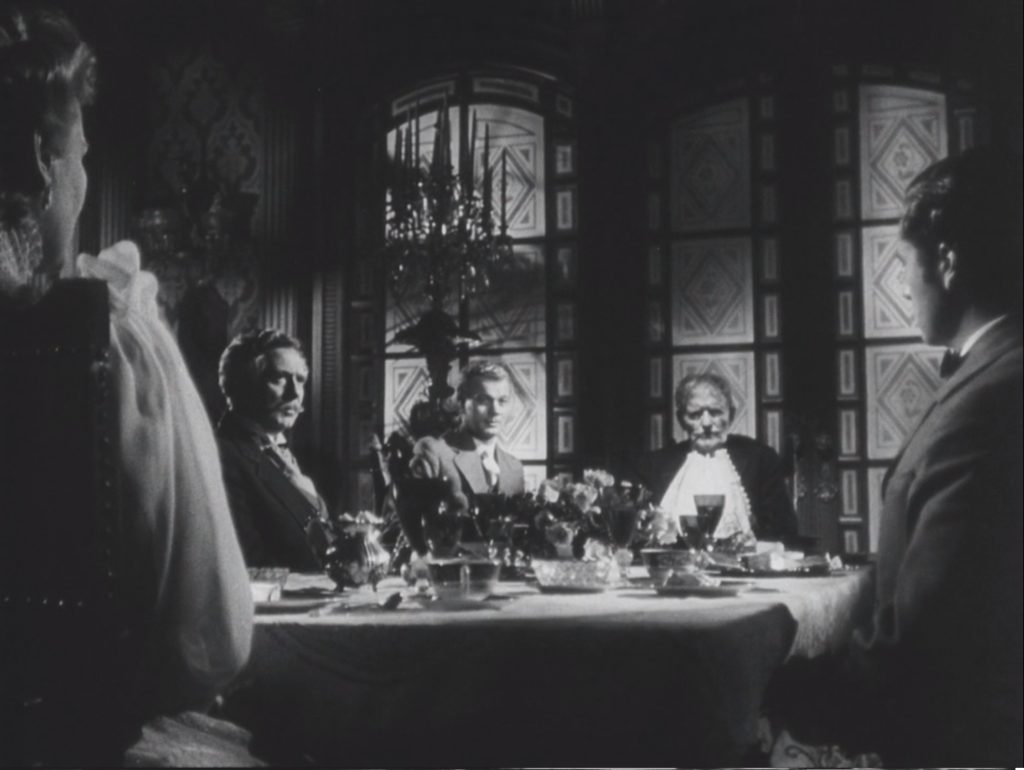 The major is seriously disturbed by what he heard.
MAJOR AMBERSON
What did you say, George?
He repeated not only the words but the tone.
GEORGE
I said automobiles were a nuisance.
 GEORGE
They'll never amount to anything but a nuisance. They had no business to be invented.
Hurt, Eugene fingers a spoon.
JACK's VOICE
Of course, you forget that Mr. Morgan makes them—also did his share in inventing them.
Jack frowns.
JACK
If you weren't so thoughtless he might think you rather offensive.
George becomes coolly sarcastic.
GEORGE
I don't think I could survive it.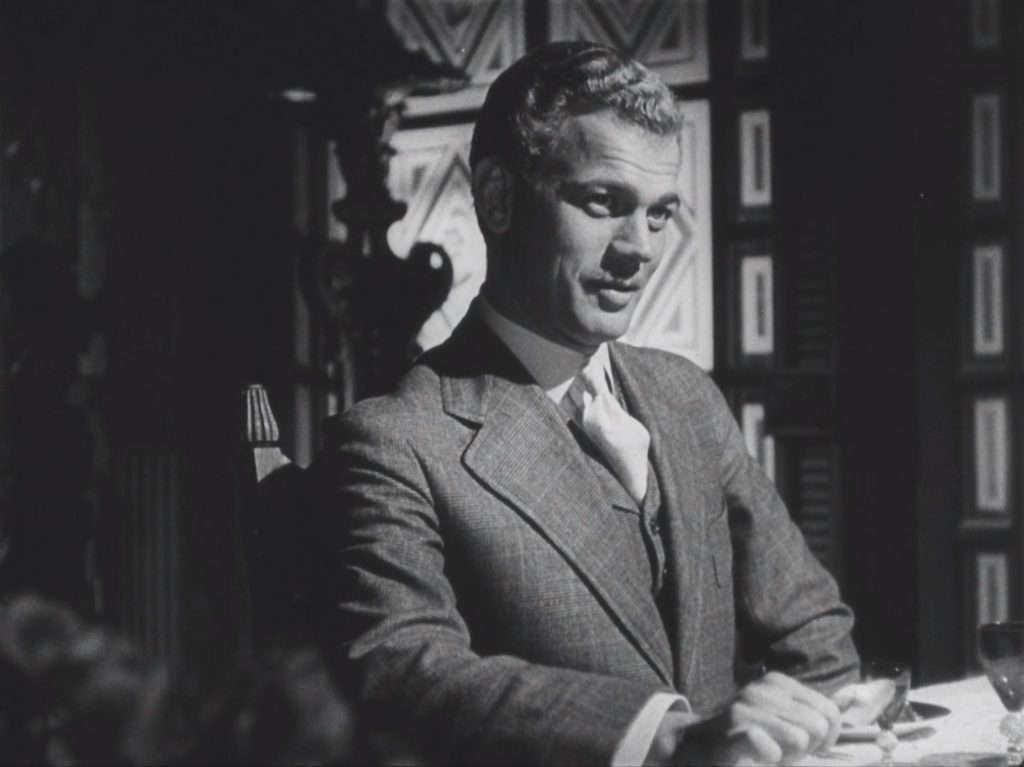 Eugene looks to his right and begins speaking. He fingers the spoon occasionally glancing down.
EUGENE
I'm not sure George is wrong about automobiles…With all their speed forward they may be a step backward in civilization—It may be that they won't add to the beauty of the world, or to the life of men's souls—I'm not sure…But automobiles have come…and almost all outward things are going to be different because of what they bring…They're going to alter war, and they're going to alter peace…And I think men's minds are going to be changed in subtle ways because of automobiles…And it may be that George is right.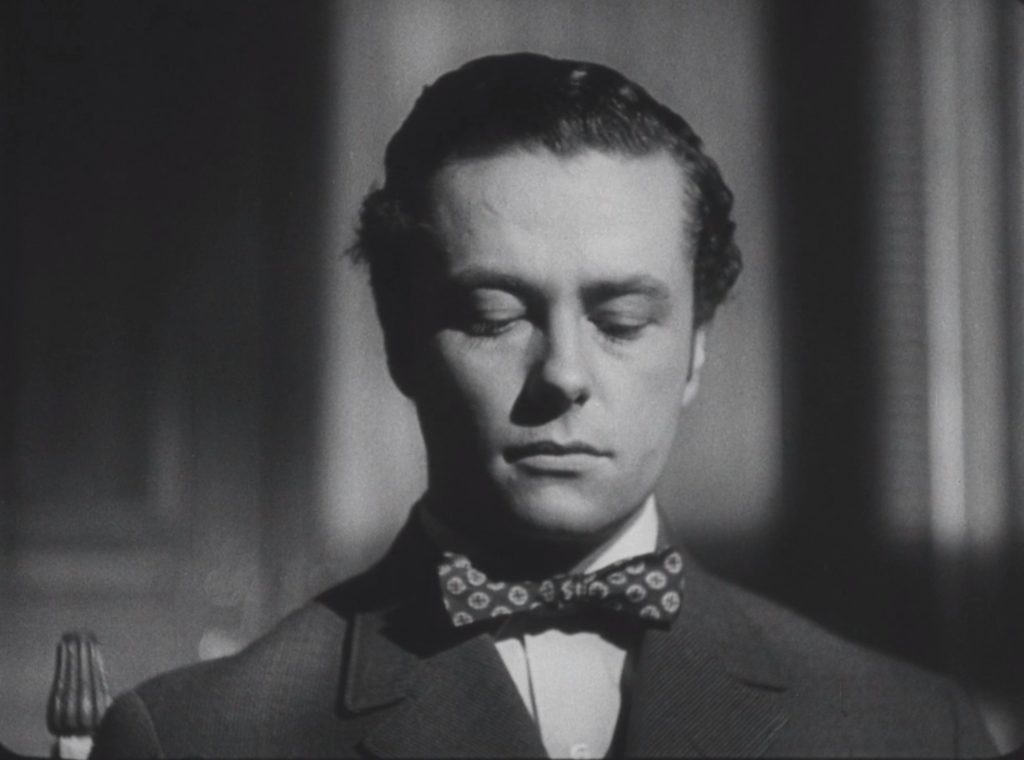 George glances down embarrassed.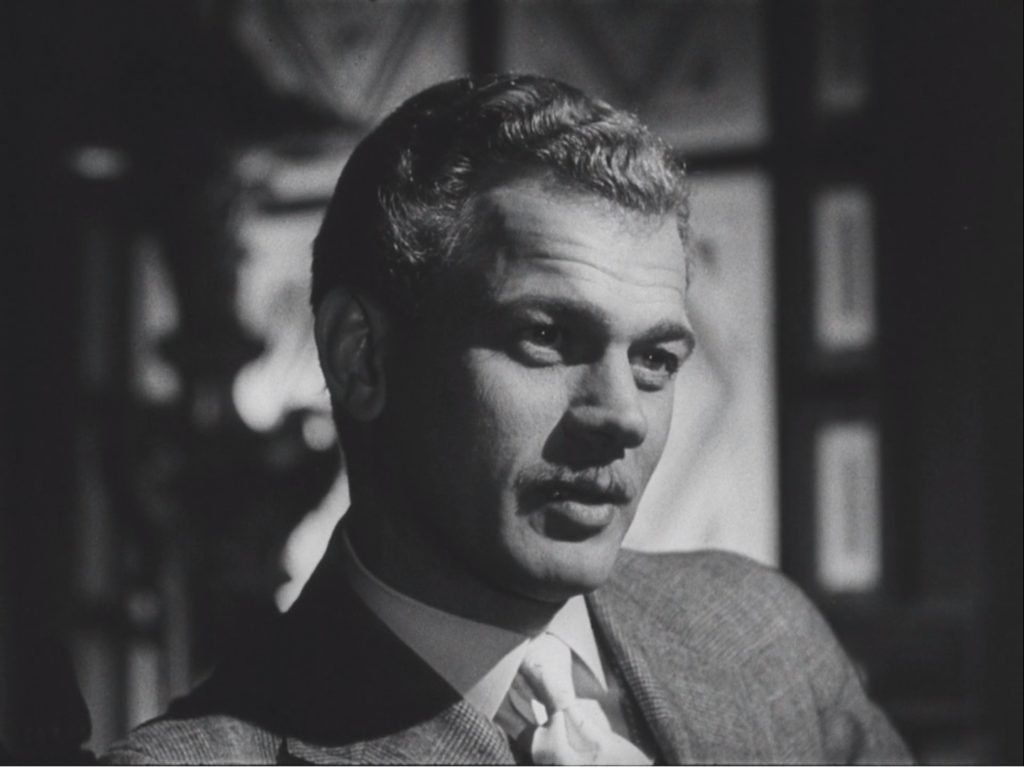 Eugene looking down.
EUGENE
It may be that ten or twenty years from now, if we can see…
He looks to his right
EUGENE
…the inward change in men by that time..
Eugene look forward
EUGENE
..I shouldn't be able to defend the gasoline engine, but would have to agree with him that automobiles "had no business to be invented"
George is frowning; obviously wishing that he hadn't opened his mouth.
Eugene looks to his right then glances down and firmly places his spoon on the table. He looks at the Major.
EUGENE
Well, Major…
He starts to Rise.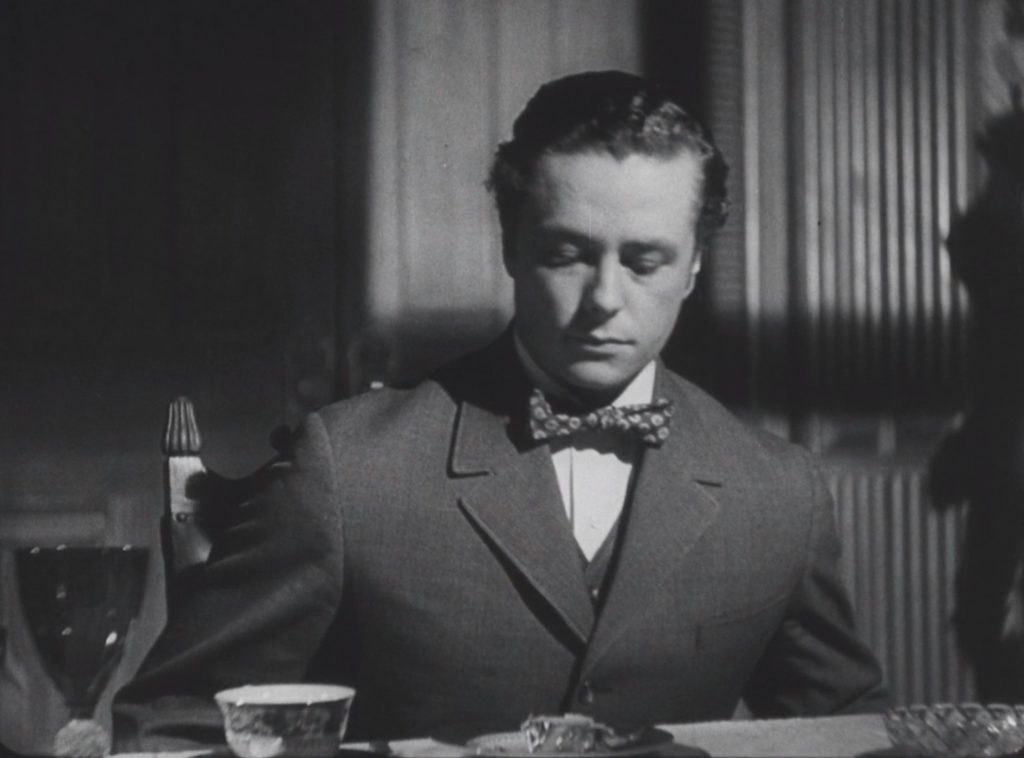 As good manners dictate, George rises as well
EUGENE's VOICE
…if you'll excuse me.
George glances to left as he hears
EUGENE's VOICE
Fanny?
FANNY'S VOICE
Oh, Eugene.
EUGENE'S VOICE
Isabel.
Eugene and George are standing facing each other. Fanny and Isabel are seated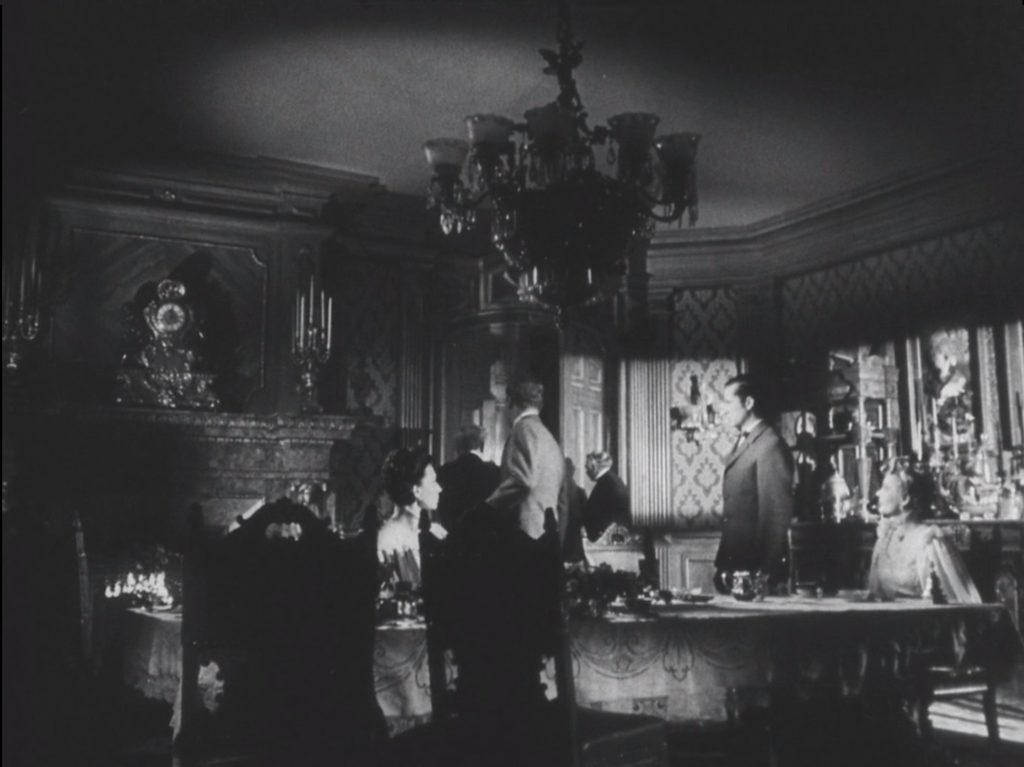 while Jack is going out the door. Major moves to escort Eugene out.
EUGENE
I've got to get down to the shop and talk to the foreman.
MAJOR AMBERSON
I'll see you to the door.
EUGENE
Don't bother…sir. I know the way.
Fanny rises.  Eugene stops, looks back at George and Isabel and then walks out
FANNY
I'll come, too.
She walks past the men through door and the Major follows.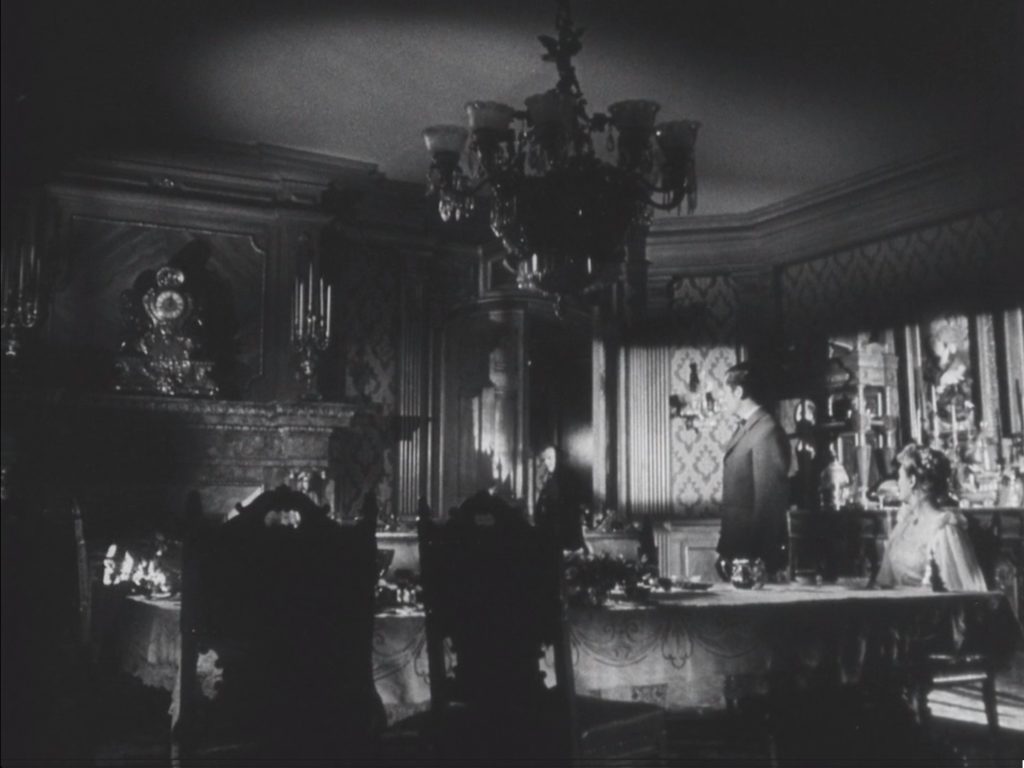 Jack starts out and also looks back before leaving the room and closing the door behind him.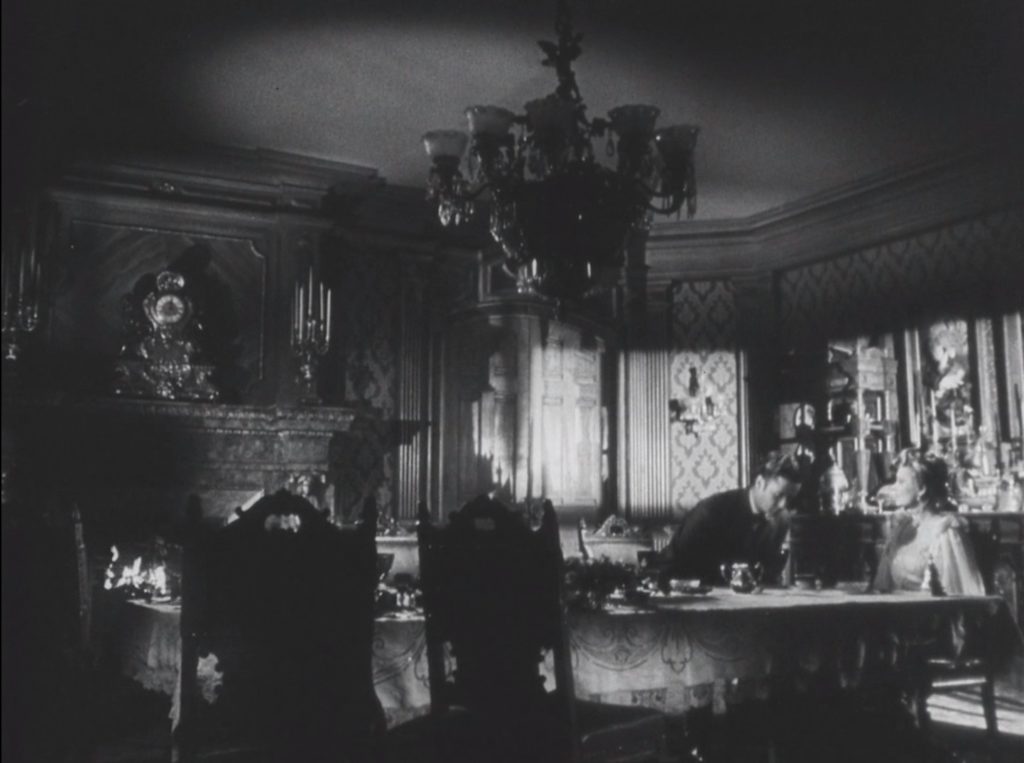 George sits back down.
Both seated at the other end of the table, Isabel appears pained.
ISABEL
Georgie, dear, what did you mean?
Unperturbed, George becomes the definition of stubborn, refusing to admit his error.
GEORGE
Just what I said.
ISABEL
He was hurt!
GEORGE
Don't see why he should be. Didn't say anything about him. Didn't seem to me to be hurt, he seemed perfectly cheerful. What made you think he was hurt?
ISABEL
I know him!
Jack opens the door and walks into the room.
After closing the door Jack crosses to the fireplace as camera pans to follow. Jack takes a cigar from his inner pocket and stops before the mantel, He turns and stares hard at George as he speaks to him.  
JACK
By Jove, Georgie, you're a puzzle!
GEORGE
In what way, may I ask?
JACK
Well, it's a new style of courting a pretty girl, I must say, for a young fellow to go deliberately out of his way to try and make an enemy of her father by attacking his business! By Jove! That's a new way of winning a woman.
Jack turns and lights his cigar.
Disgusted, George angrily throws his napkin down.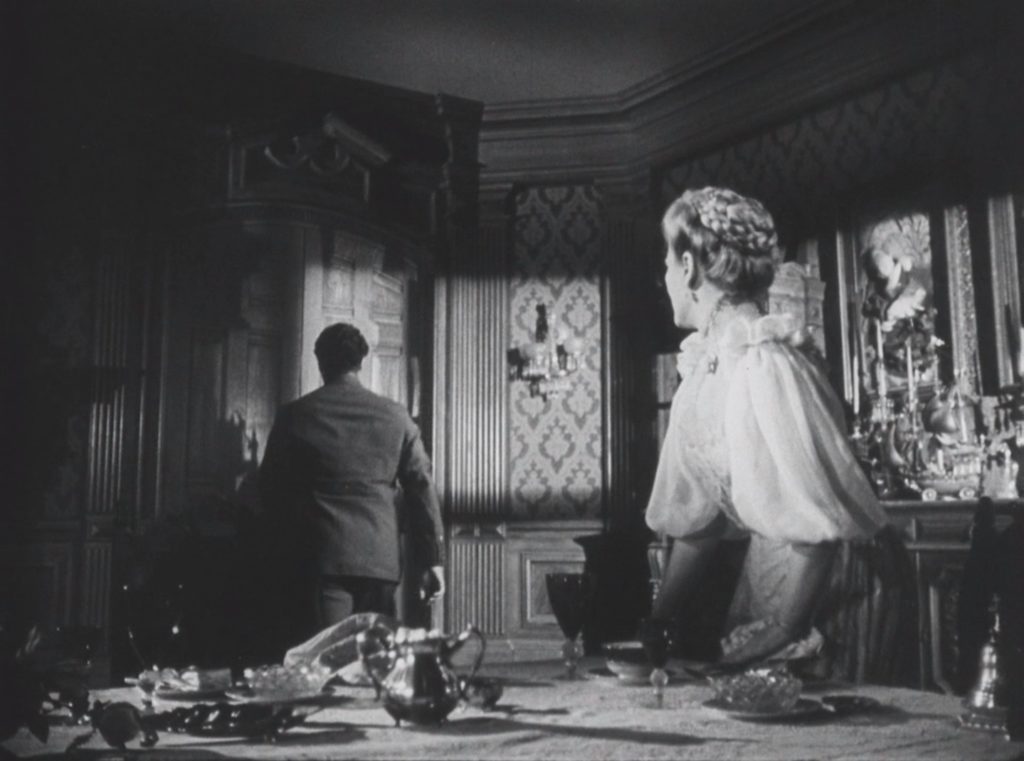 He stands and camera pans watching George hurrying to the door. Isabel rises as George opens the door.
(SINGLE TAKE  SCENE)
George is rushing out the doorway and crosses the hall.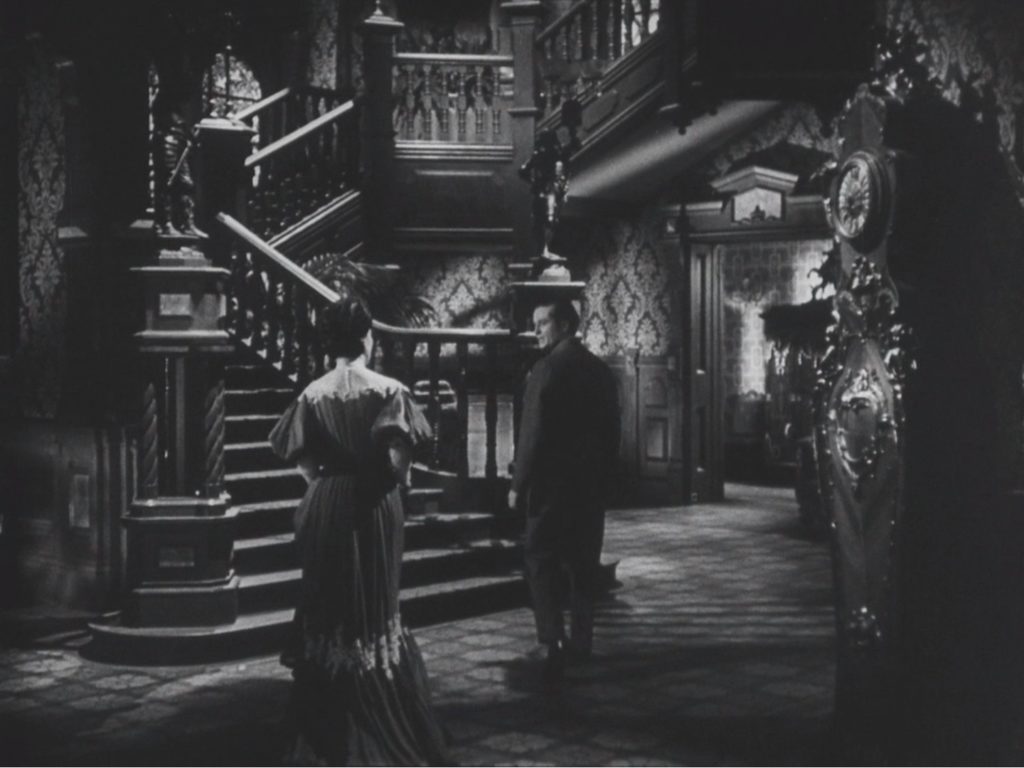 Camera pans to follow as Fanny approaches him and whispers
FANNY
George, you struck just the right treatment to adopt.
George turns to go to the steps, camera moves to follow.
FANNY
You're doing just the right thing!
GEORGE
Oh, what do you want?
Fanny follows him whispering with a vehemence
FANNY
Your father would thank you if he could see what you're doing.
GEORGE
Quit the mysterious detective business!
Fanny fixes her gaze on George. Her bile and feelings of rejection finally reveal themselves as she unloads those feelings by revving up George so—in Fanny's spite—George might interfere in Isabel's and Eugene's relationship.  
FANNY
You don't care to hear that I approve of what you're doing?
George moans.
GEORGE
For Gosh sakes, what in the world's wrong with you?
Fanny starts up the steps talking bitterly and sounding wretched.
FANNY
You're always picking on me, always…
He follows her up the steps and as they argue the camera follows them.
FANNY
…ever since you were a little boy!
GEORGE
Oh, my Gosh!
FANNY
You wouldn't treat anybody in the world like this except old Fanny! "Old Fanny" you say. "It's nobody but old Fanny, so I'll kick her. Nobody'll resent it. I'll kick her all I want to!" And you're right; I haven't got anything in the world, since my brother died—nobody—nothing!
George groans again.
GEORGE
Oh, my Gosh!
FANNY
I never, never in the world would have told you about it, or even made the faintest reference to it…
He stops on the steps and the camera pauses. Fanny moves off screen.
FANNY'S VOICE
…if I hadn't seen that somebody else had told you, or you'd found out for yourself some way.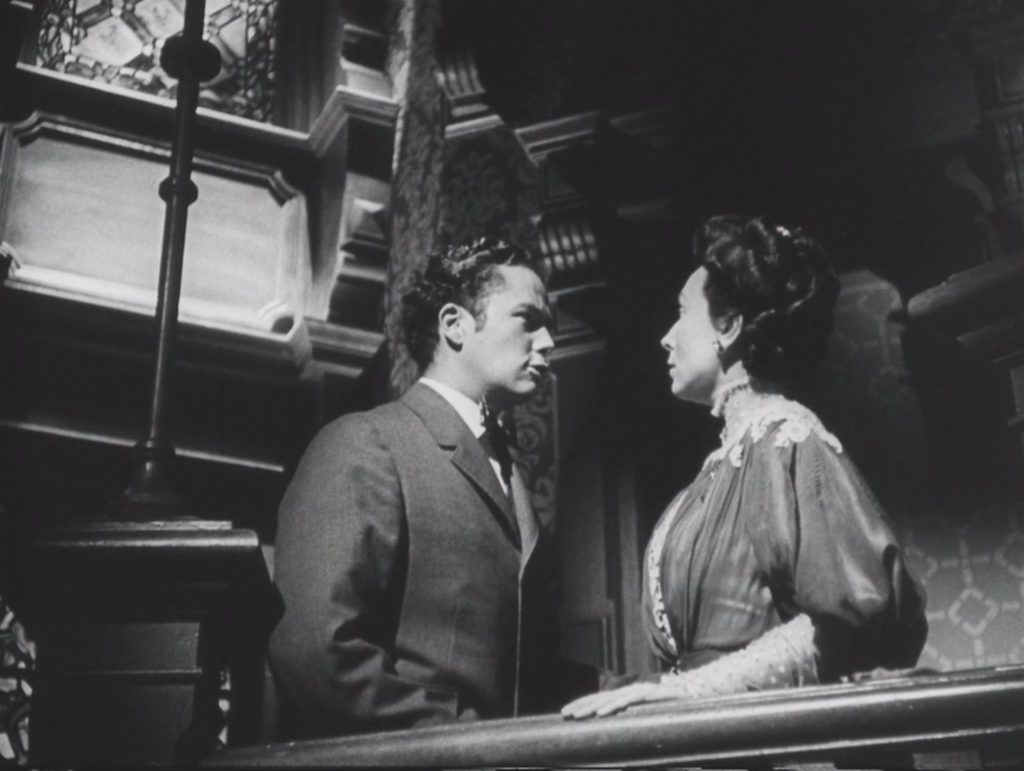 George is suddenly interested in what Fanny is saying.
GEORGE
Somebody else told me what?
FANNY
How people are talking about your mother.
Dumbfounded, George pauses and walks up the steps slowly. The camera follows him up onto the balcony where he stops and faces Fanny. He is incredulous.  
CLICK PLAY TO HEAR MUSIC (CD-FANTASIA)
GEORGE
What did you say?
FANNY
Of course I understood what you were doing. It puzzled other people when you began to be rude to Eugene.
They start up another flight of steps. The camera follows
FANNY
I knew you'd give Lucy up in a minute, if it came to a question of your mother's reputation.
GEORGE
Look here.
She stops, turns and looks down at him. Fanny knows George and knows how this will affect him. Settling in what Fanny is saying George becomes suddenly agitated.
FANNY
…because you said that…
GEORGE
Look here! Just what do you mean?
FANNY
I only wanted to say that I'm sorry for you, George. That's all. George, that's all. But it's only old Fanny…
She turns and goes up stairs George follows and the camera resumes moving George's temper is beginning to rise.
FANNY
…so whatever she says pick on her for it! Hammer her!
GEORGE
Uncle Jack said…
They confront each other on the landing
FANNY
It's only poor old lonely Fanny!
GEORGE
…if there was any gossip it was about you! He said people might be laughing about the way you ran after Morgan, but that was all.
FANNY
Oh Yes, it's always Fanny! Ridiculous old Fanny-–always—always!
GEORGE
You listen! You said Mother let him come just on your account, and now you say…
FANNY
I think he did. Anyhow, he liked to dance with me. He danced with me as much as he danced with her.
George turns fierce
GEORGE
You told me Mother never saw him except when she was chaperoning you.
FANNY
Well, you don't suppose that stops people from talking, do you?…They just thought I didn't count! "Only old Fanny Minafer" I suppose they'd say! Besides, everybody knew that he'd been engaged to her.
This definitely catches George's attention
GEORGE
What's that?
FANNY
Everybody knows it. Everybody in this town knows that Isabel never really cared for any other man in her life.
Fanny has gotten George exactly where she wants as George gazes wildly at her..
GEORGE
I believe I'm going crazy. You mean you lied when you told me there wasn't any talk?
FANNY
It never would have amounted to anything if Wilbur had lived.
GEORGE
You mean Morgan might have married you?
Her vanity in play Fanny, more trying to convince herself than her nephew, replies.
FANNY
No. Because I don't know that I'd have accepted him.
GEORGE
Are you trying to tell me—because he comes here and they see her with him—driving and all that—they think they were right saying that she was—she was in love with him before—before my father died?
She speaks gravely.
FANNY
Why, George, don't you know that's what they say? You must know that everybody in town…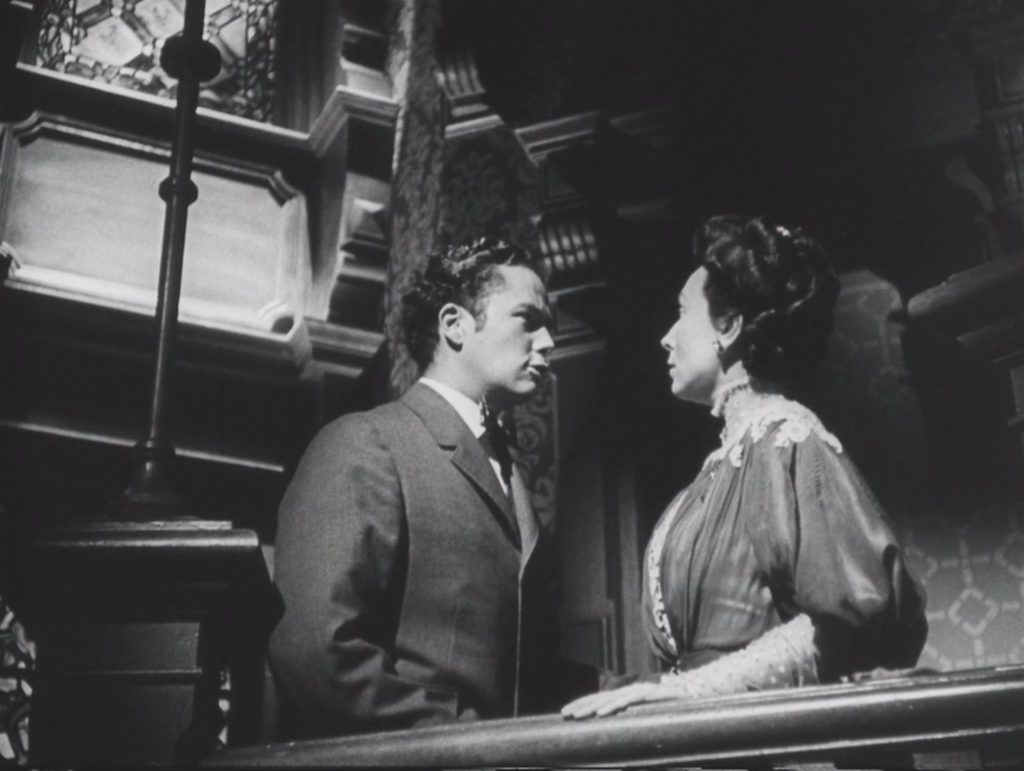 George is on the verge of nausea from shock.
GEORGE
Who told you?
FANNY
What?
GEORGE
Who told you there was talk? Where is this talk? Where does it come from? Who does it?
FANNY
Why, I suppose pretty much everybody. I know it's pretty general.
George grabs her shoulders shaking them and shouts angrily.
GEORGE
Who said so?
Fanny was suddenly hesitant.
FANNY
Why?
GEORGE
How did you get hold of it?
Fanny hesitates realizing she may lose control of the situation.
FANNY
Why!
GEORGE
You answer me!
FANNY
Why I hardly think it would be fair to give names.
GEORGE
Look here. One of your best friends is that mother of Charlie Johnson's across the street. Has she ever mentioned this to you?
FANNY
She may have intimated…
GEORGE
You and she have been talking about it! Do you deny it?
FANNY
Why, George!
GEORGE
Do you deny it!
FANNY
She's a very kind, discreet woman, George…
George turns and rushes down the stairs walking out of frame.
FANNY
…but she may have intimated…
Fanny having seen the passion on his face suddenly becomes alarmed. Leaning over the railing she calls after him realizing what her jealously has started and what she has no control over. Fanny is frightened.  
FANNY
George! What are you going to' do, George?
Leaning over Fanny stares after him, terrified at what she has done, calling out.
FANNY
GEORGE!
(SINGLE TAKE SCENE)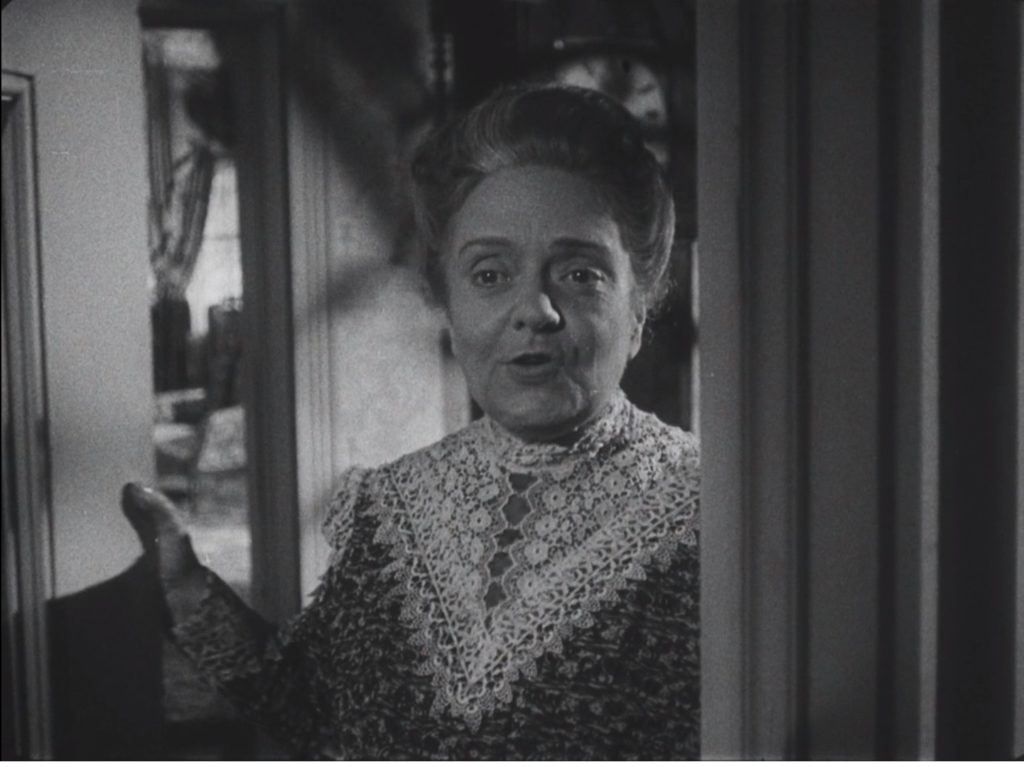 Mrs. Johnsons door open from the inside. She looks out to the camera—George's POV—surprised but hospitable.
MRS. JOHNSON
Mr. Amberson—heh, heh I mean Mr. Minafer.
She opens the door wider and the camera pans to follow George into Mrs. Johnson's living room and for a bit the camera is his POV.
MRS. JOHNSON'S VOICE
Eh, won't you come in please?
GEORGE'S VOICE
Thank you.
Going into the room George comes into view as the camera follows.
MRS JOHNSON
Well, How nice to see you Mr. Minafer.
He stops, his back to the camera and his voice demanding.
GEORGE
Mrs. Johnson
He turns to face her.
GEORGE
Mrs. Johnson, I've come to ask you a few questions.
Mrs. Johnson becomes grave.
MRS. JOHNSON
Certainly, Mr. Minafer. Anything I can do for you.
He turns away.  The camera follows as they walk. He speaks sternly.
GEORGE
I don't mean to waste any time, Mrs. Johnson.
He turns to confront her.
GEORGE
You—you were talking about a—scandal that involved my mother's name.
 MRS. JOHNSON
Mr. Minafer!
Mrs. Johnson walks past him.
GEORGE
My aunt told me you repeated this scandal to her.
She turns to face him and speaks sharply.
MRS. JOHNSON
I don't think your aunt can have said that. We may have discussed some few matters that've been a topic of comment about town
George walks in front of her.
GEORGE
Yes! I think you may have!
Irritated, she becomes crisp with him
MRS. JOHNSON
Other people are less considerate.
GEORGE
Other people! That's what I want to know about—these other people! How many?
MRS. JOHNSON
What?
GEORGE
How many other people talk about it!?
Heating up even more, George crosses in front of the room. Camera pans to follow. Mrs. Johnson is becoming extremely annoyed.
MRS. JOHNSON
Heh, really, this isn't a courtroom and I'm not a defendant in a libel suit.
GEORGE
You may be!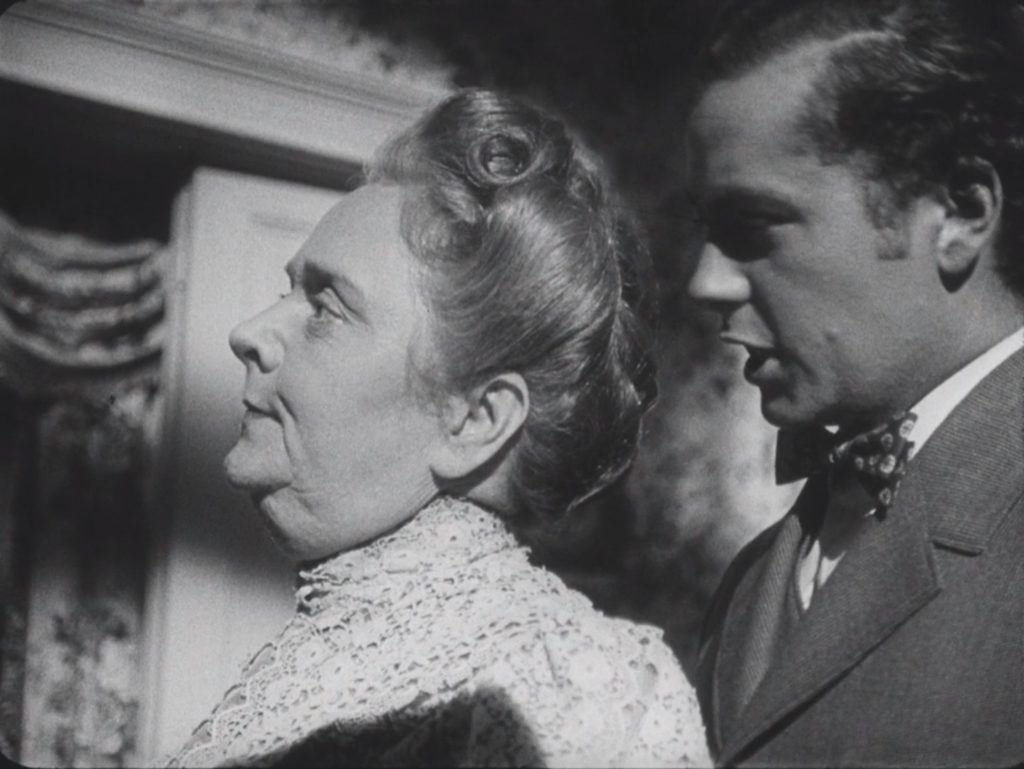 Losing control George approaches her talking angrily.
GEORGE
I want to know just who's dared to say these things, if I have to force my way into every house in town.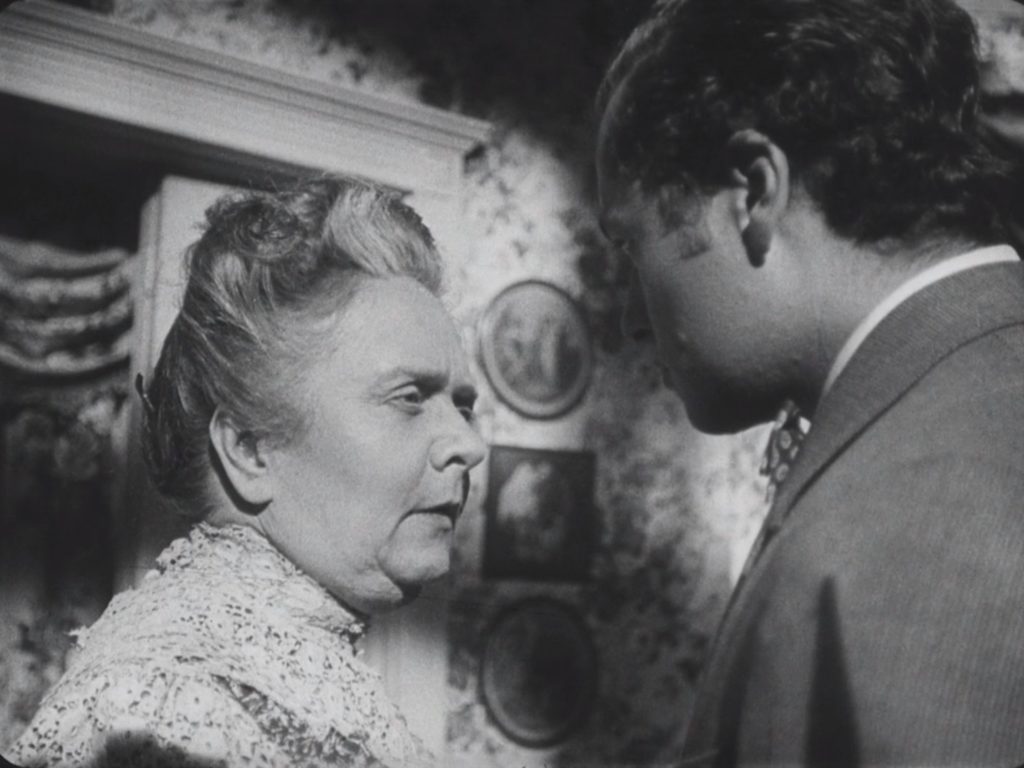 She whirls to him.
GEORGE
I mean to know just who…
Now Mrs. Johnson's temper is the one that rises
MRS. JOHNSON
You mean to know! Well you'll know that you're out in the street.  Please to leave my house!
George stiffens turns and exists leaving her glaring at him.
In Jack's bedroom water pours out of a bathtub spigot in. The pipes groan.
Bathing, Jack is disgusted.
JACK
Ohhhhh, now you have done it!
In the tub bathing Jack is dismayed. Water is heard. Sounding outraged George is still hot.
GEORGE
What have I done that wasn't honorable and right?
JACK
Awww.
GEORGE
Do you think these riffraff can go around bandying my mother's good name?
JACK
They can now…gossip's never fatal till it's denied.
GEORGE
If you think I'm going to let my mother's good name be…
JACK
Good name. Look, nobody has a good name in a bad mouth! Nobody has a good name in a… silly mouth, either.
George takes a deep breath.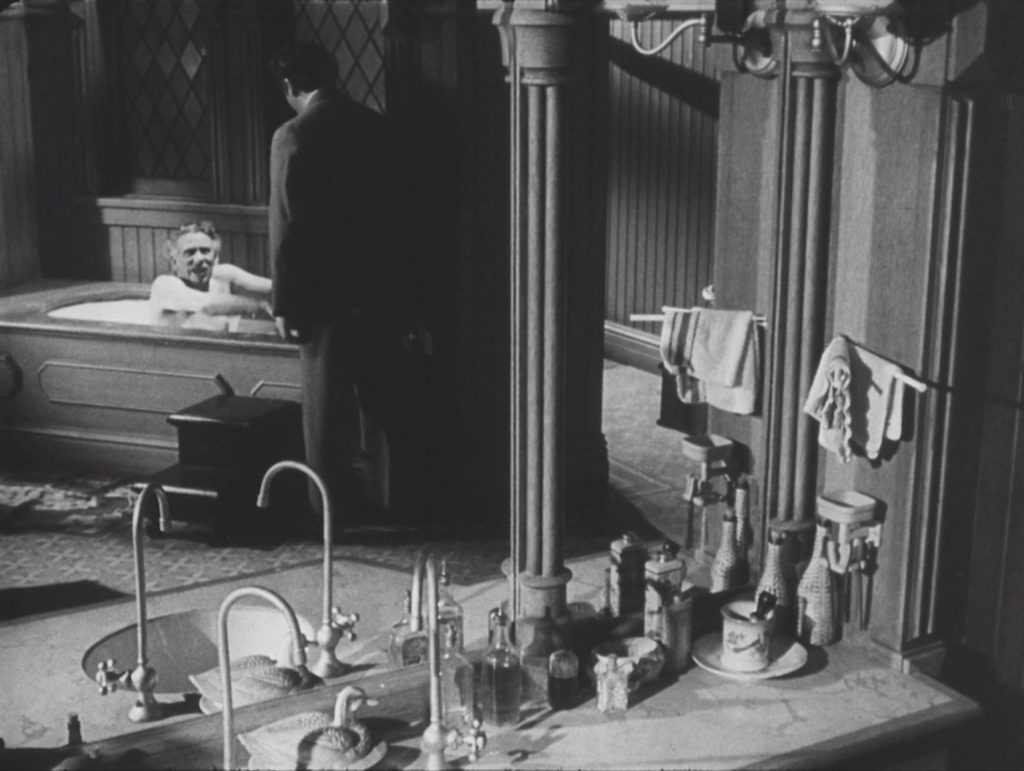 George's reflection seen in mirror, walks away from the camera towards Jack in the tub.
GOERGE
Didn't you understand me when I told you people are saying my mother means to marry this man?
JACK
Yes, I understood you.
George is disgusted.
GEORGE
If such a—such an unspeakable marriage did…
Jack talks impatiently.
JACK
Unspeakable marriage!
 GEORGE
…did take place do you think that would make people believe-they'd been wrong in saying…
Washing himself Jack shouts
JACK
No. I don't believe it would. There'd be more badness in the bad mouths and more silliness in the silly mouths. But it wouldn't hurt Isabel and Eugene. Why If they decided to marry…
George is incredulous. In fact, he is staggered. The pipes are heard are groaning.
GEORGE
Great gosh! You speak of it so calmly!
JACK
Well, why shouldn't they marry if they want to?
GEORGE
Why Shouldn't they?
JACK
It's their own affair!
GEORGE
Why shouldn't they!
Looking up Jack is shouting.
JACK
Yes, why shouldn't they!
It is a grim George looking down at his uncle.
JACK
I don't see anything…
Jack shouts impatiently.
JACK
… precisely monstrous about two people getting married when they're both free and care about each other. What's the matter with their marrying?
George shouts angrily.
GEORGE
It would be monstrous—monstrous even if this horrible thing hadn't happened. Now in the face of this—oh, you can sit there and even speak of it! Your own sister!
Jack talks impatiently.
JACK
Ohhh, for Heaven's sake, don't be so theatrical!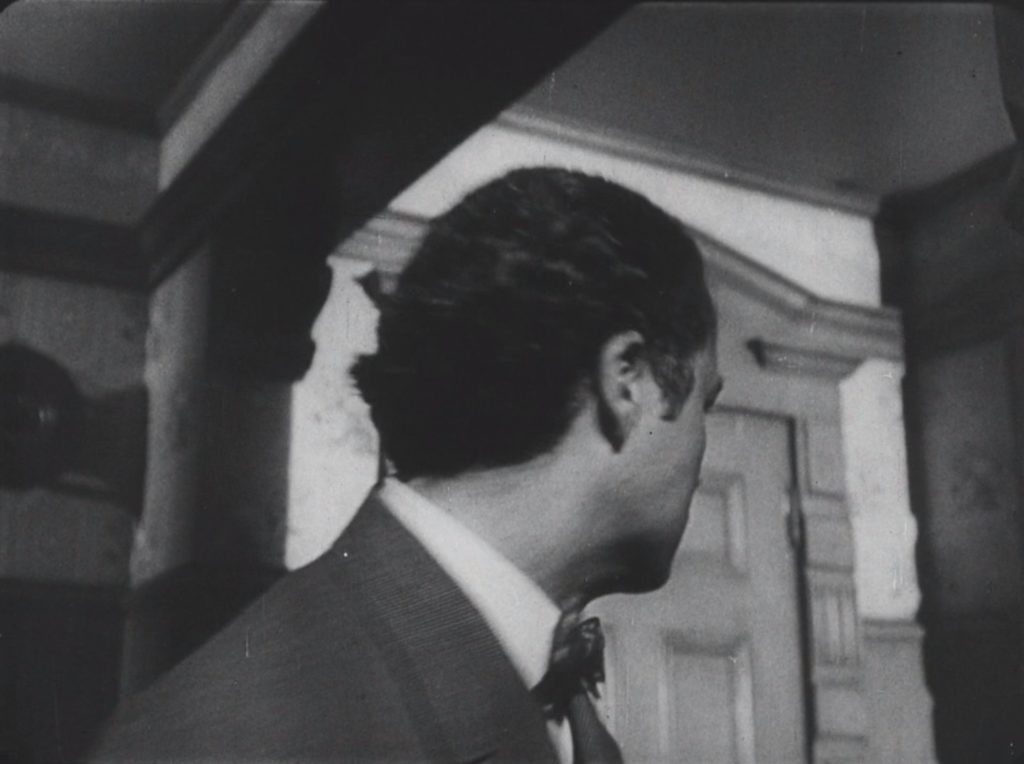 George turns to leave.
Jack calls to George Sharply.
JACK
Come back here!
George walks back to his uncle.
Jack looks at George.
JACK
You mustn't speak to your mother about this. Georgie. I don't think she's very well.
George speaks impatiently.
GEORGE
Mother? I never saw a healthier person in my life.
Jack talks sharply.
JACK
She doesn't let anybody know but she goes to the doctor regularly.
George is dismissive.
GEORGE
Women are always going to doctors regularly.
Jack talks warmly.
JACK
I'd leave her alone, George.
George turns quickly. He goes to the door.
Opening the door he slams it behind him.
FADEOUT/FADE IN
MISIC-CD-SCENE PATHETIQUE (GEORGE AND EUGENE)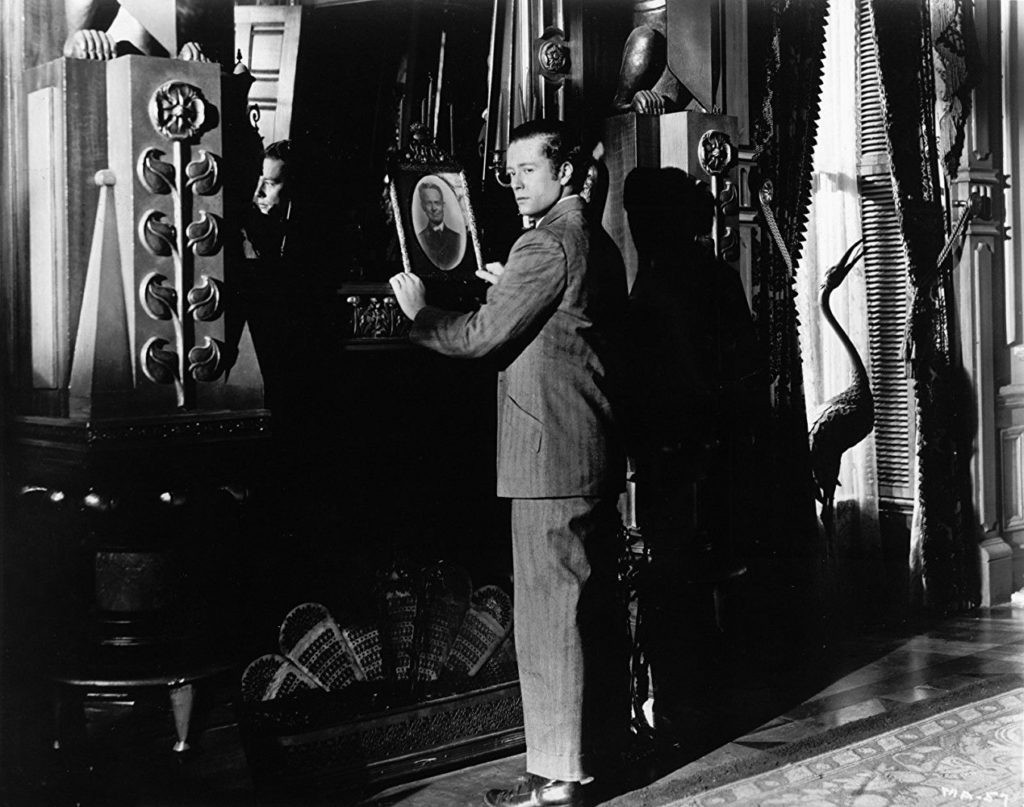 In the Mansions drawing room, George's reflection is in the mirror as in the background he unwraps a box. We walks to the mental and puts a silver framed photograph of his father on it. His hands appear placing the picture on the mantel. His hands exit and he looks around. Then his hands pick up the photograph and in reflection he turns.
  Holding the photo, the camera follows. George stops, looks at photograph and puts it on table in front of the camera. He turns and the camera pans. He walks to leave and stops. He hears the sound of an automobile and George turns the window.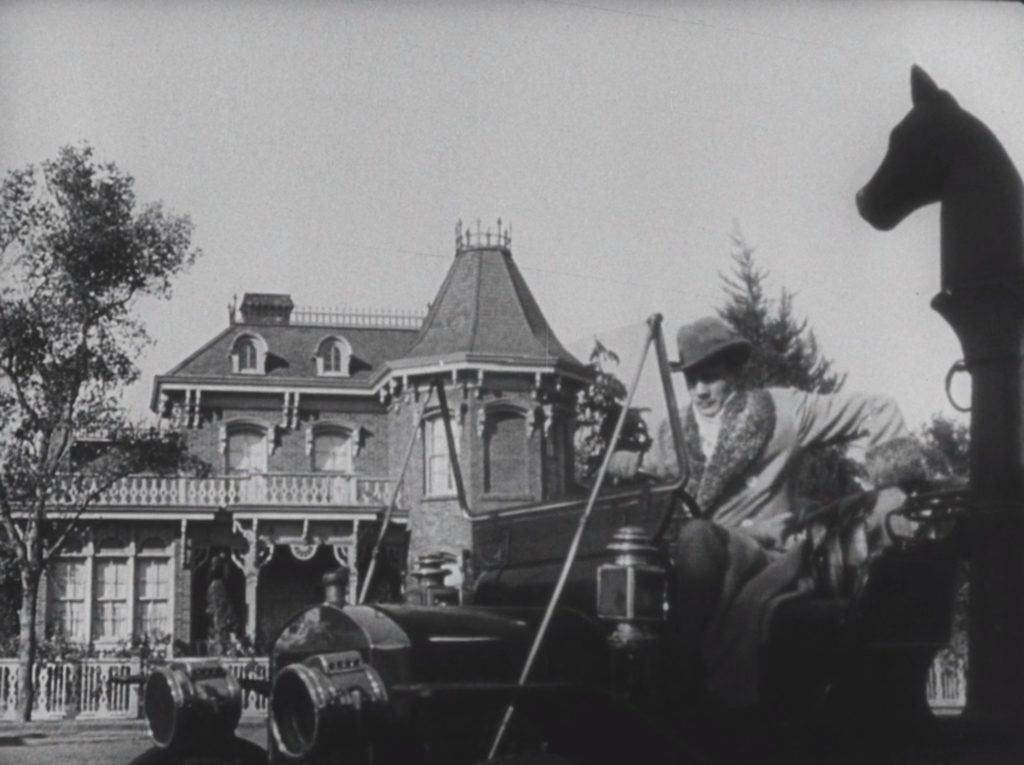 The camera is shooting across the street to he house that opened he film. An automobile stops. The car is of a new design, low and long. Eugene jumps lightly down from it. Richly dressed and looking a like a millionaire he walks confidently towards the house.
The Curtains part in the drawing room window. George peers through the window curtains toward the street.
George looks out window. Eugene is coming up walk toward house.
At the window George closes the curtains.
The vestibule doors are closed.
The doorbell rings, and the maid walks towards glass doors.
She starts to open the door but George is seen on the other side of the glass.
GEORGE
You needn't mind, Mary. I'll see who it is and what they want. Probably it's only a peddler.
MARY
Thank you, sir, Mister George.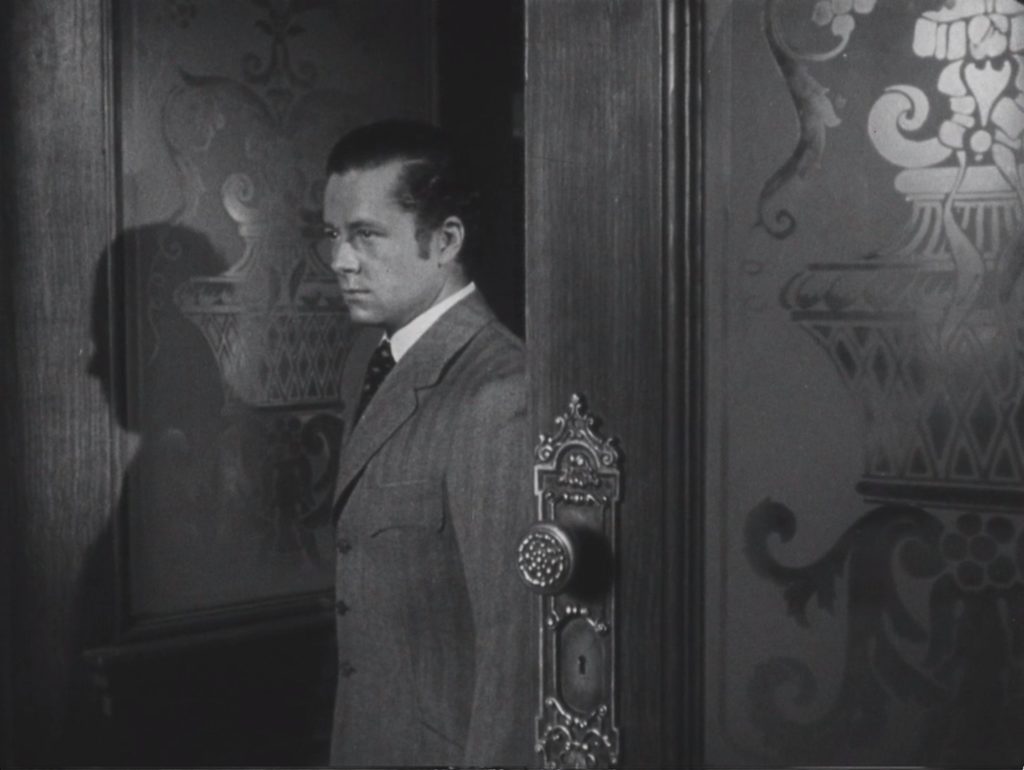 The maid disappears. The bell is heard again. George abruptly throws open the door
He steps squarely into the middle of the vestibule.
He opens the front door where Eugene is waiting. Eugene's happy anticipation gives way to something formal and polite.
EUGENE
Good afternoon George… Your mother expects to go driving with me, I believe.
George, stock still, is facing him.
EUGENE
If you'll be so kind as to send her word that I'm here.
George talks sharply without making the slightest movement.
GEORGE
No.
Eugene is incredulous. He smiles slightly.
EUGENE
I beg your pardon. I said…
George Interrupts.
GEORGE
I heard you. You said you had an engagement with my   mother, and I told you, No!
Eugene gives him a steady look and speaks quietly.
EUGENE
What's the matter?
Hot eyes flaring, George keeps his own voice quiet; this does not mitigate the vibrant fury of it
GEORGE
My mother will have no interest in knowing that you came here today…Or any other day!
Eugene looks at him with a scrutiny. He is angered.
EUGENE
I'm afraid I don't understand you.
George voice rises slightly.  
GEORGE
I doubt if I could make it much plainer, but I'll try. You're not wanted in this house Mr. Morgan.
Eugene looks grim
GEORGE'S VOICE
Now or at any other time. Perhaps…
George looks ahead.
GEORGE
…you'll understand- this!
CLICK TO HEAR MUSIC (CD-WAITING-1)
George slams the door in Eugene's face.
Then, he stands just inside the door and notes that the misty silhouette remains upon the frosted glass for several moments as if Eugene is debating what to do.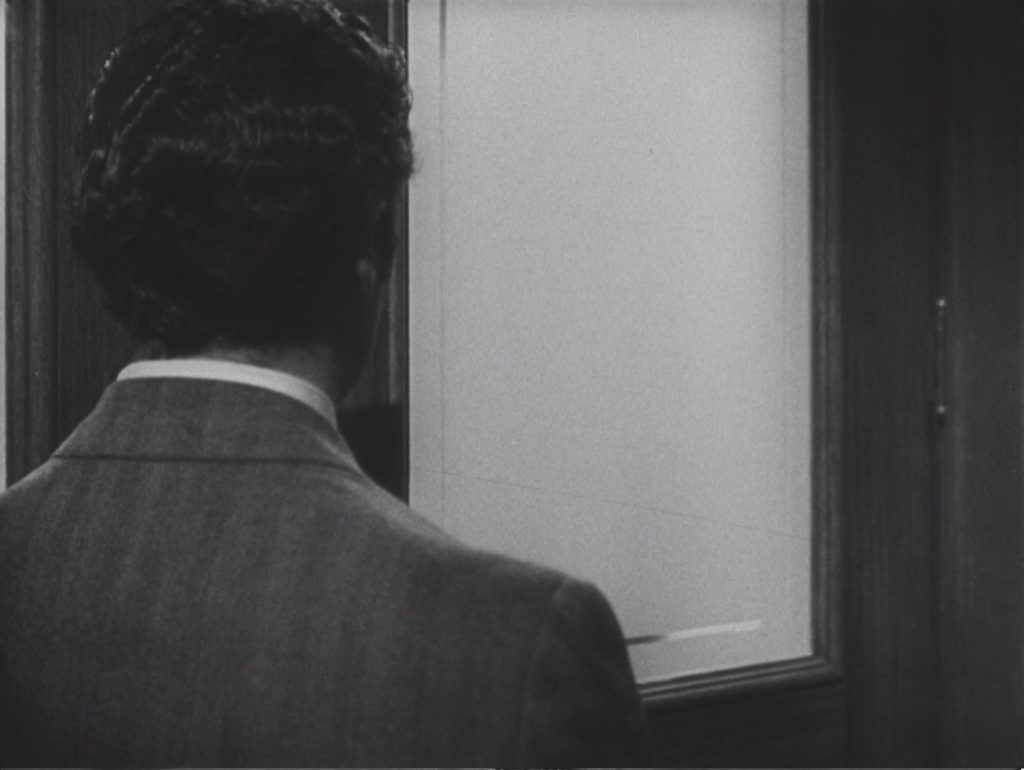 The silhouette disappears
George walks toward the drawing room slamming the door behind him.
Coming from the hall George, moving towards the camera, walks into room and the camera follows him to the window. He looks out through the curtains watching Eugene slowly get into his car and not looking back at the house.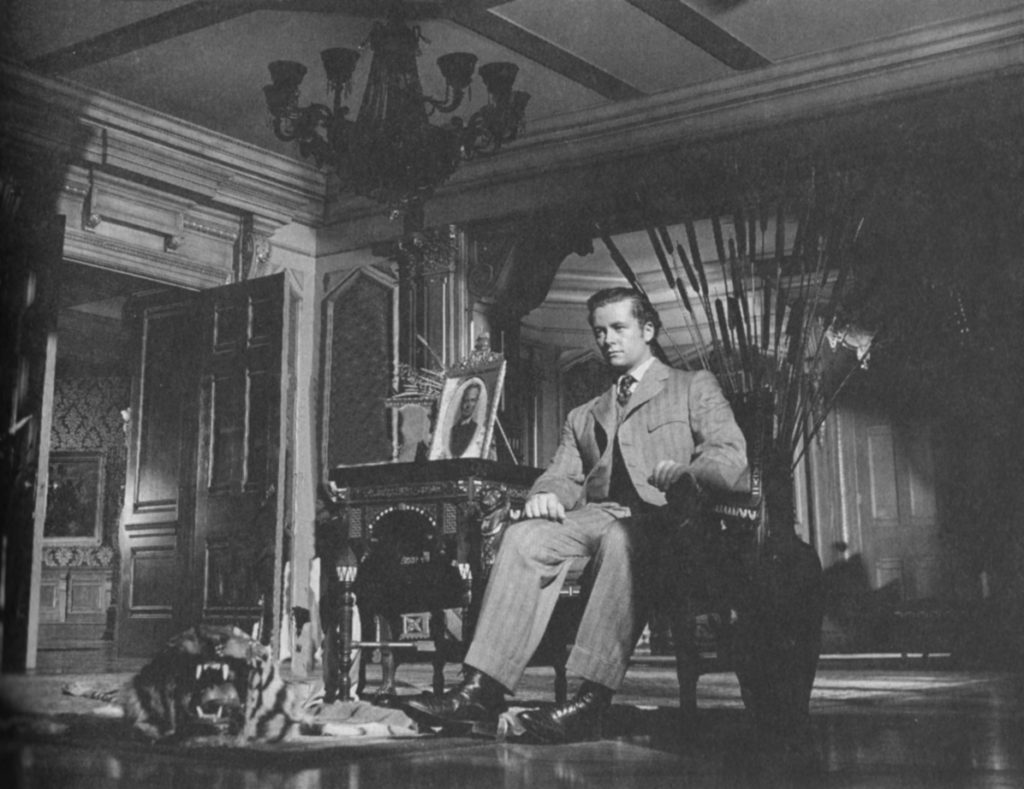 George turns and walking sits down in chair—his back to the camera—beside the table where on he had placed the photograph of his father
(SINGLE TAKE SCENE)
George is sitting when Isabel appears at doorway, a fur coat over her arm, and looks around. As the large room contains too many pieces of heavy furniture and the inside shutters exclude most of the light, at first she does not at notice George. When she does.  
ISABEL
Why, Georgie! Dear, I waited lunch almost an hour for you, but you didn't come!
The bell is heard ringing.
ISABEL
Did you lunch out somewhere?
GEORGE
Yes.
The maid appears in the background, passes Isabel and walks to the front door.
ISABEL
I think it's Mr. Morgan. Mary tell him I'll be there at once.
Talking to George, Isabel comes towards the table.
ISABEL
Wouldn't you like to have Aggie fix you something now for you in the dining room? Or they could bring it to you here, if you think it would be cozier.
GEORGE
No.
George stands as she talks and walks closer to camera..
ISABEL
I'm going out driving, dear.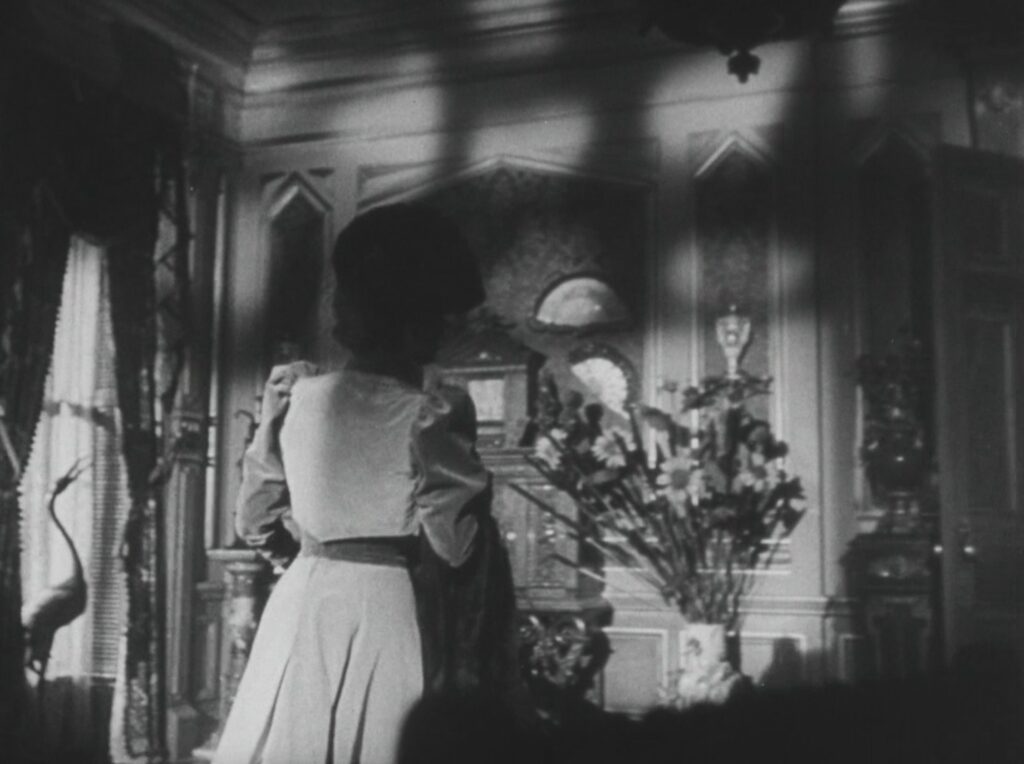 Mary appears in the doorway.
MARY
'Twas a peddler, ma'am.
Isabel is surprised.
ISABEL
Another one? I thought you said it was a peddler when the bell rang a little while ago.
MARY
Mister George said so, ma'am; he went to the door.
Isabel musses.
ISABEL
There seem to be a great many of them.
The maid leaves and Isabel turns to George.
ISABEL
What did yours want to sell, George?
GEORGE
He didn't say.
ISABEL
You must have cut him off short.
Isabel notices the picture of Wilber on the table and picks it up while speaking.
ISABEL
Gracious, Georgie! You have been investing! Is it—is it Lucy?
The next instant Isabel sees whose likeness it is and she is silent for a moment. As she speaks George turns to her.
ISABEL
Oh! That was nice of you, Georgie. I should have had it framed myself, when I gave it to you.
She puts the picture back on the table and George walks to her, disappointed that the photo has had no effect on his mother with regards to Eugene.  
His scheme having failed, he looks at his mother and defeated walks warily into the hallway.
  Isabel sits and waits.
DISSOLVE TO
In the vestibule window George looks down a little troubled and then slowly walks off. He realizes that what he has done will hurt his mother and for a moment questions his actions. But, just for a moment.
DISSOLVE TO
Through the curtains we see Isabel is sitting at the table with Wilber's photograph prominent on the table.
(CD-WAITING 2)
Isabel is still sitting.
 The bell rings. She rises and moves to the door as the camera pans to follow.
(SINGLE TAKE SCENE)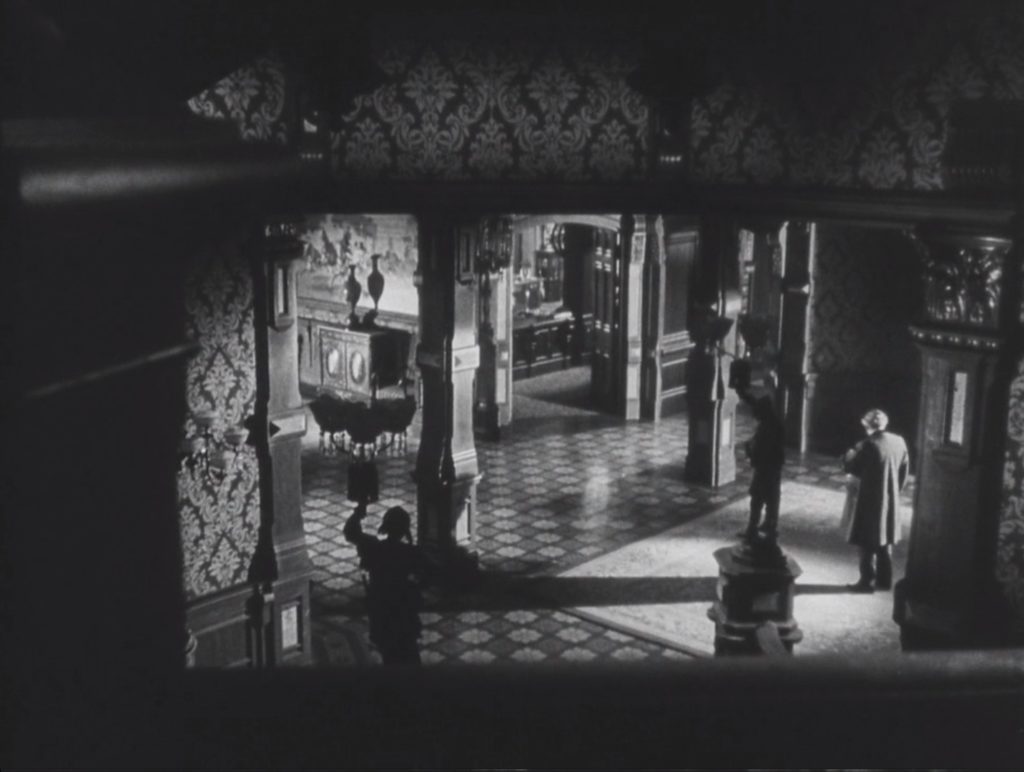 The camera is shooting down from the balcony to the hall below. Jack appears removing his hat.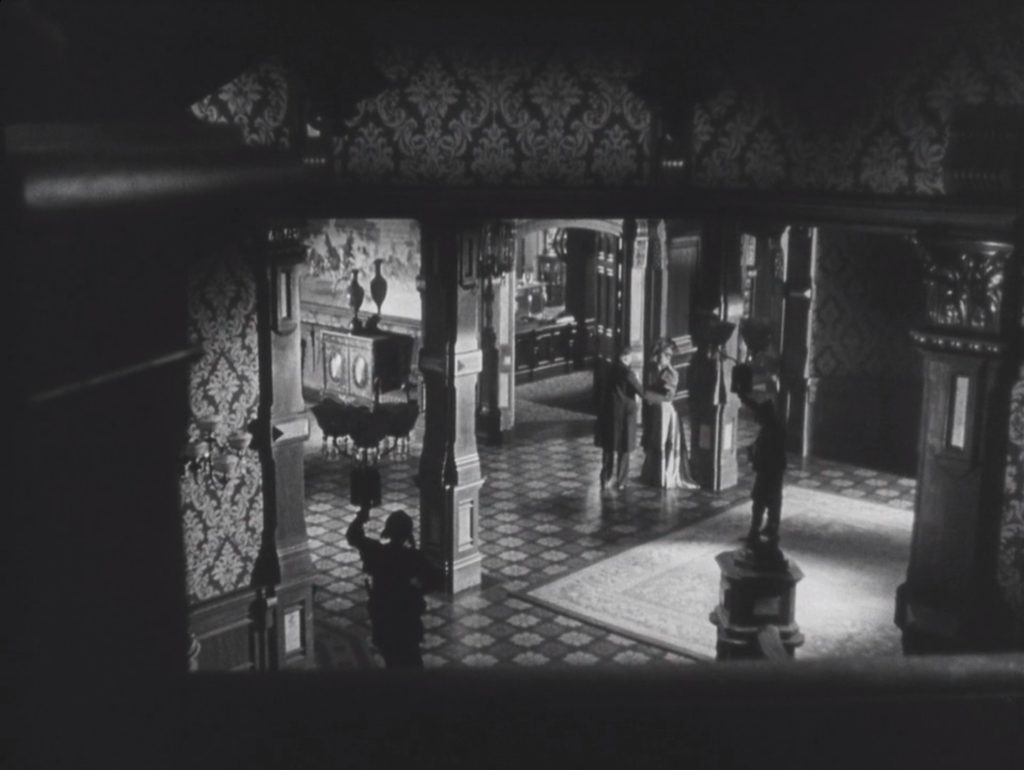 Isabel walks from the drawing room they talk but are barely heard. His voice is very serious.
JACK
I want to talk to you, Isabel.
ISABEL
Yes?
JACK
I've just come from Eugene's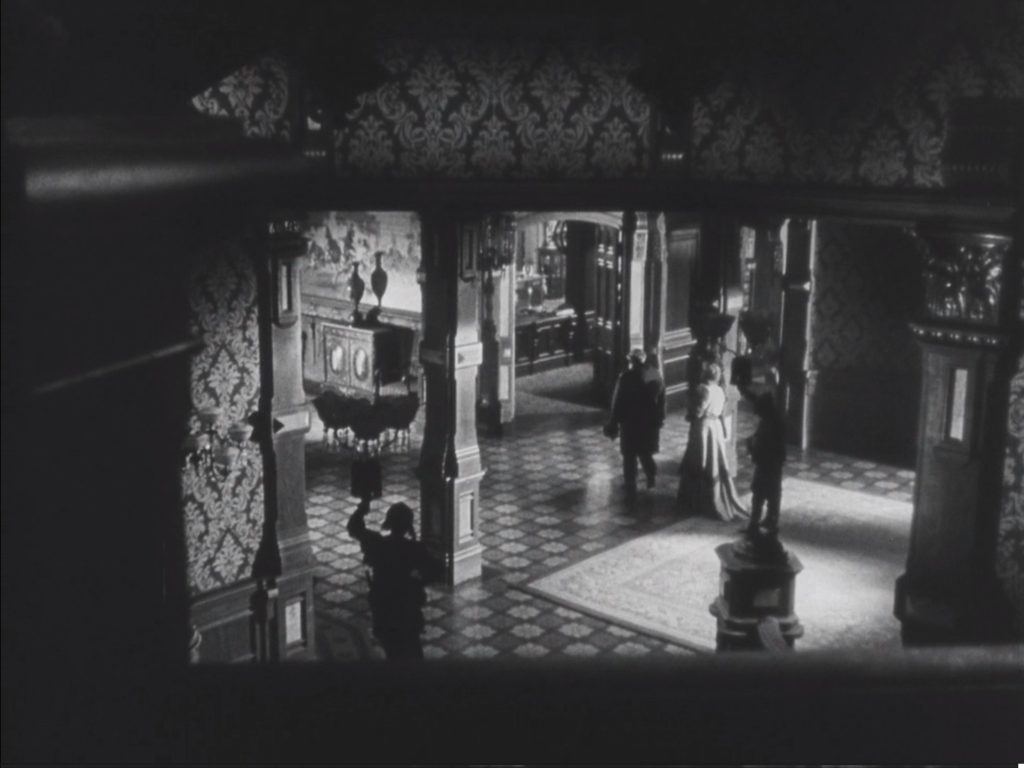 Jack walks into the library and Isabel follows. He stops. Turns to her and taking her arm leads her silently into the library.
CLICK PLAY TO HEAR MUSIC (CD-OSTINATO)
JACK
I want to talk to you.
There is something about her attitude and the pose of her slightly bent head that is both startled and meek. They disappear into the library and Jack closes the massive double doors.
The Camera tilts upward to George looking down over the balcony.
He looks up as hears Fanny speak in husky whisper.
FANNY 'S VOICE
Well!
Camera continues to tilt revealing Fanny above him leaning over the bannisters of the second balcony. She whispers
FANNY
I can guess what that was about!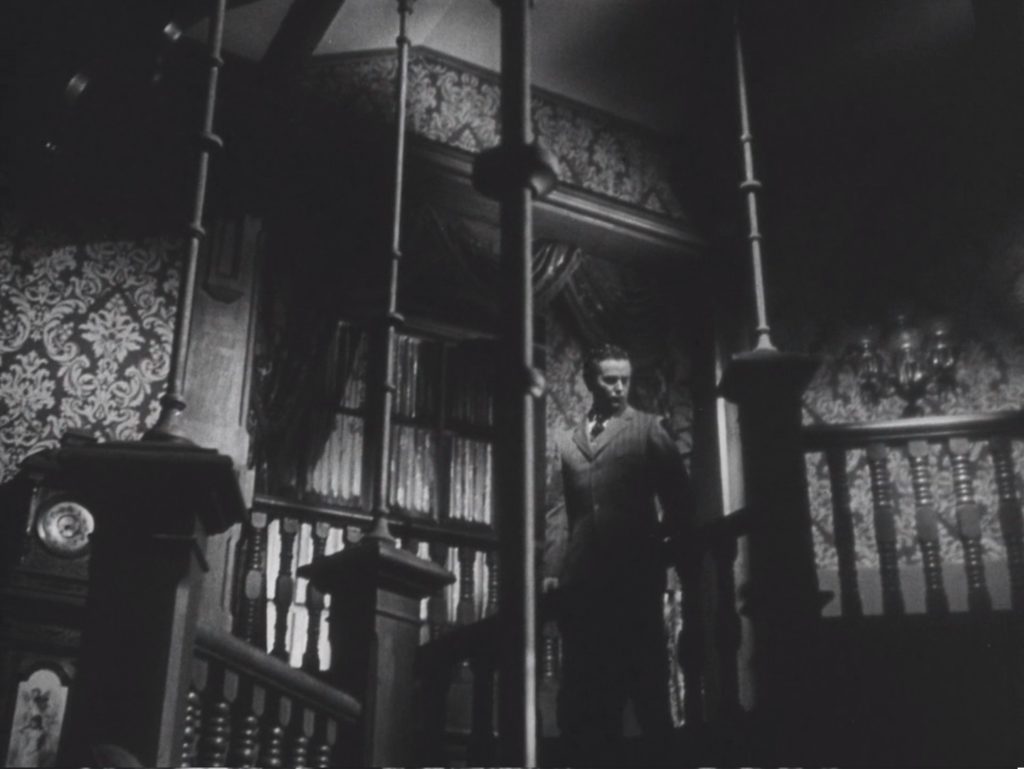 George gives her a dark look and Fanny hurries down the stairs as Camera tilts down to George. He walks down steps and camera pans to follow as he nearly stops on lower landing.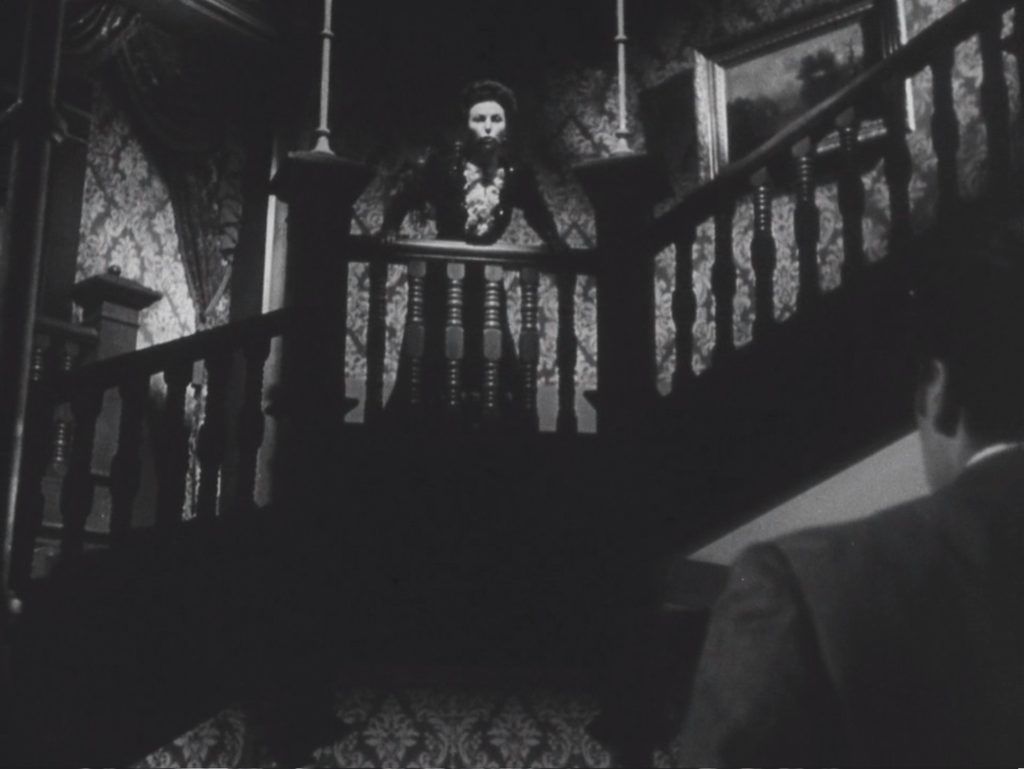 The camera pans up at balcony where Fanny is speaking in a loud whisper.
FANNY
He's just told her what you did to Eugene.
GEORGE
You go back to your room!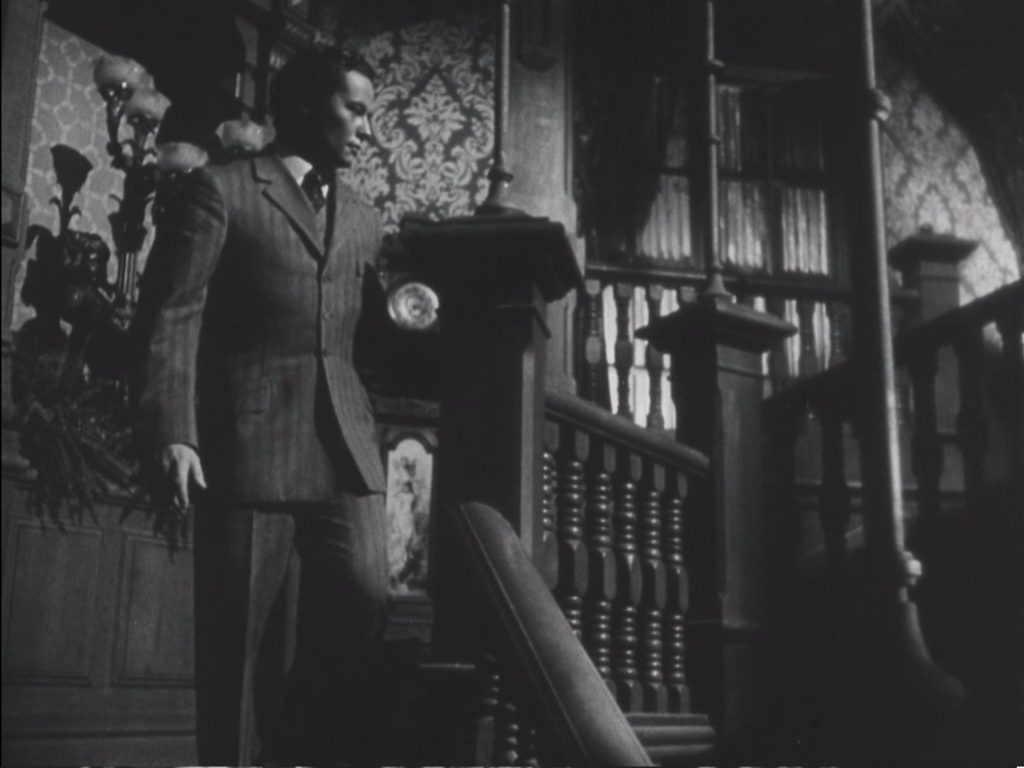 George ignores her and begins to descend the stairs. Fanny objects.
FANNY
You're not going in there?
GEORGE
You go back to your room.
FANNY
George!
CUT TO
Fanny rushes down the steps to George. The Camera pans across stair railing to follow her
FANNY
George.
Funny rushes down to George.
FANNY
No, you don't, Georgie Minafer! You keep away from there!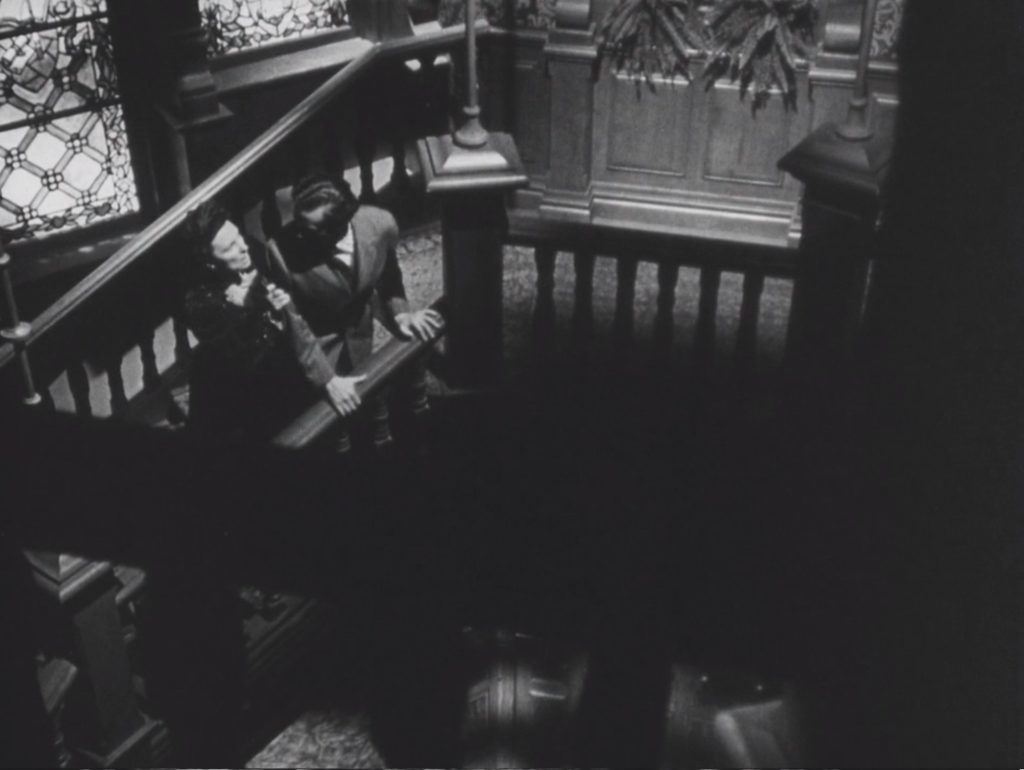 She catches George and she clutches him savagely and tugs at him to restrain with determination. George tries to wrench away.
GEORGE
You let go of me
FANNY
I won't! You come back here! And let them alone!
GEORGE
Of all the ridiculous…
Still whispering Fanny takes one hand from its grasp of his sleeve and claps it over his mouth.
FANNY
Hush up! Hush up! Go on to the top of the stairs—go on.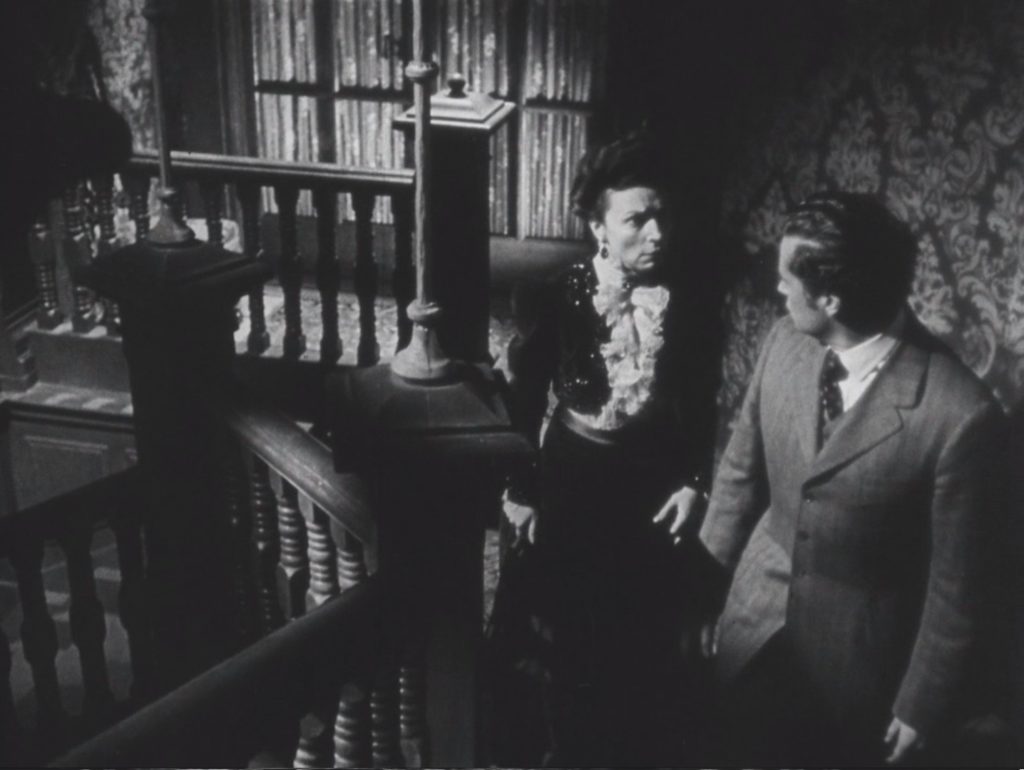 George unwillingly obeys and Fanny plants herself in his way on the top step.
FANNY
It's indecent…like squabbling outside the door of an operating room…The idea of you going in there! Jack's telling Isabel the whole thing—and you stay here and let him tell her. He's got some consideration for her.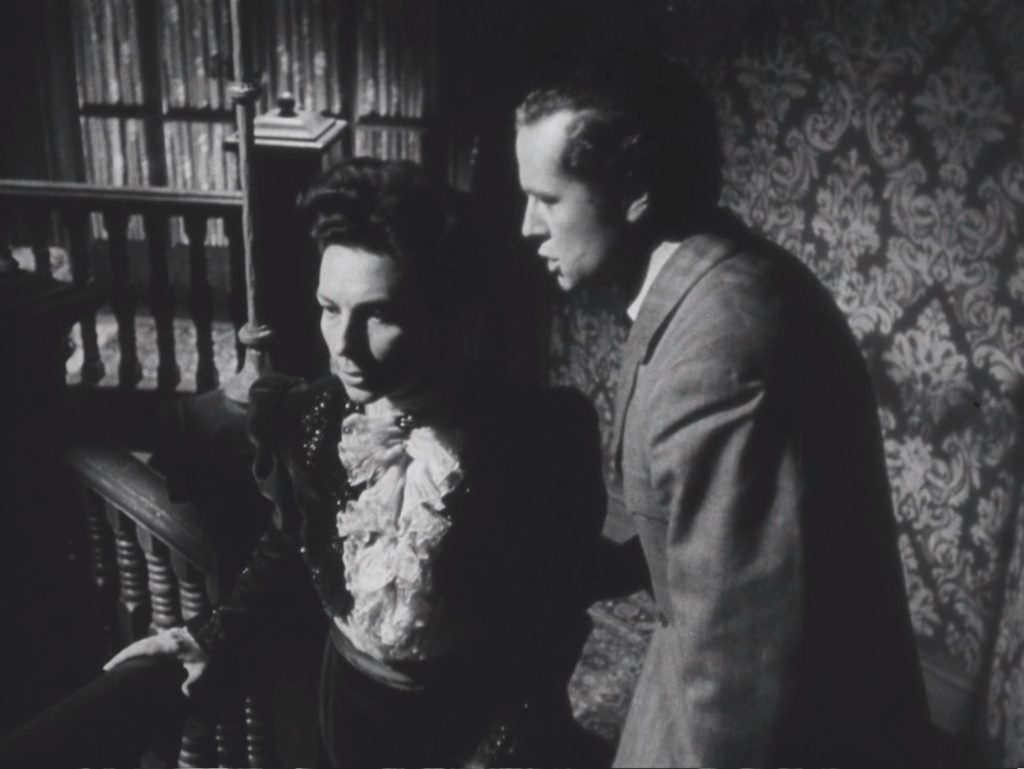 They stop. He challenges her.
GEORGE
I suppose you think I haven't!
She answers writhingly.
FANNY.
You! Considerate of anybody!
George Is Hot.
GEORGE
I'm considerate of her good name!
FANNY
Oh!
GEORGE
Look here! It strikes me you're taking a pretty different tack.
Fanny laments. She is finally aware of what her jealously has wrought and painfully regrets it to the point of near agony.
FANNY
I thought you already knew everything I did! I was just suffering so I wanted to let out a little…Oh, I was a fool! Eugene never would have looked at me even if he'd never seen Isabel…and they haven't done any arm. She made Wilbur—happy, and she was a true wife to him—as long as he lived…And here I go, not doing myself a bit of good by it, and just—just ruining them.
She wrings her hands.
GEORGE
You told me how all the riff-raff in town were busy with her name, and then the minute I lift my hand to protect her, you begin to attack me and…
FANNY
Shh!
She checks him, laying her hand on his arm and looks over the railing.
GEORGE
Your uncle's leaving.
JACK'S VOICE
I'll be back, Isabel.
George looks over the railing and steps down the steps. He is stopped by Franny whispering.
FANNY
Let her alone. She's down there by herself. Don't go down.
George starts back up the stairs and the sound of a front door closing is heard. George heads up passes Fanny. He glances back down at her.
FANNY
Let her alone.
George looks at her bleakly and then turns away.
FADE OUT