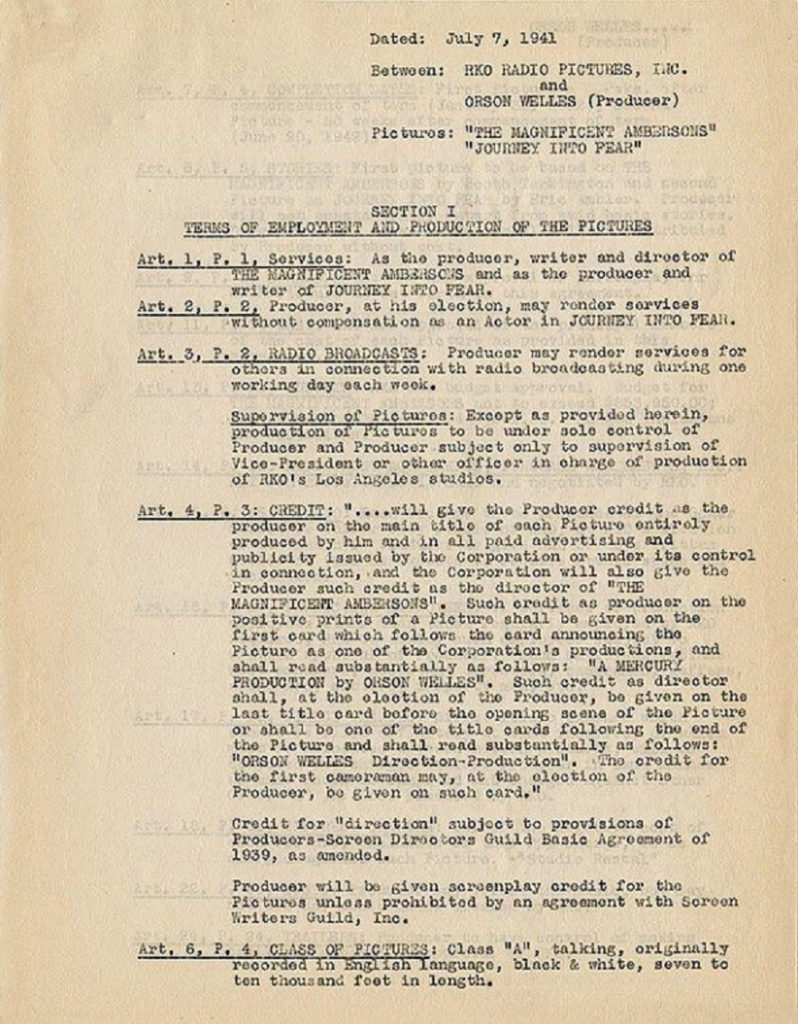 MEMOS-TELEGRAMS-LETTERS-PRESS
Organized by date with minimal contemporary additions,  this documentary and press material  tells the AMBERSON story its own way with no need of any help from me.
*****
July 22, 1939
Orson Welles, Mercury, and RKO sign two agreements providing that RKO "engages [WELLES] to produce, direct and write the screenplay for the two motion pictures." The second agreement provides that Orson Welles would play the leading male role in the two motion pictures for which he would receive $30,000 each. Mercury would earn 20 percent of net profits from the two motion pictures after RKO recouped $500,000 each. Mercury would get $100,000 for the first film and $125,000 for the second. Welles would have complete artistic control of the two films once RKO approved both project's stories. Welles would be allowed to develop the stories without interference as well as select his own cast and crew and RKO executives would not be allowed to see any footage until Welles chose to show it to them. In addition no cuts could be made to either film without Welles's approval. In short, Orson Welles had the right to final cut.
August 31, 1939
AGREEMENT LETTER FROM RKO TO ACTOR RAY COLLINS
Mr. Ray Collins, Columbia Artists, Inc. New York, NY
Dear Mr. Collins:
This will confirm our understanding and agreement with respect to the agreement between us, dated August 25, 1939, pursuant to which you are to perform services for us as an Actor in the feature motion picture tentatively entitled "Welles No. 1":
1-Anything in said agreement contained to the contrary notwithstanding, you shall be permitted to perform services in connection with the Orson Welles radio broadcasts during the duration of said agreement, such other services shall not interfere with your full performances of services for us under said agreement dated August 25, 1939.
2-In the event that such Orson Welles radio broadcasts should continue after the completion of your services for us in connection with such motion picture, including such services as we shall require for retakes, added scenes, etc., then anything in said agreement, dated August 25, 1939, to the contrary notwithstanding, your continued services in connection with such Orson Welles radio broadcasts thereafter shall in no way prejudice our obligation to pay for, or furnish you with, return railroad transportation from Los Angeles, Calif. to New York, N.Y. provided that you leave Los Angeles for New York not later than five (5) days after the final Orson Welles radio broadcasts without having accepted further employment in Los Angeles or vicinity. Moreover, during the period intervening between the completion of your services for us in connection with such motion picture, including retakes, added scenes, etc., and the final Orson Welles radio broadcast, if such broadcasts should continue after your completion of services for us aforesaid, we will have no objection to your performance of services for others in connection with radio broadcasts only (not connected in any way with motion pictures, however), and your employment by others during such period in connection with any such other radio broadcasts shall in no way prejudice your right to return railroad transportation as aforesaid provided you leave Los Angeles for New York not later than five (5) days after the final Orson Welles radio broadcast without having accepted further employment in Los Angeles, or vicinity.
3-Subject to your full performance of services for us under said Agreement, dated August 25, 1939, we agree to give you featured billing, the exact manner of which shall be within our sole discretion, in connection with such motion picture.
Your signature below under the words "Agreed to" will constitute this an amendment and modification of said agreement, dated August 25, 1939.
Very Truly Yours, RKO RADIO INC.
October 29, 1939
Welles radio adaptation of the MAGNIFICENT AMBERSONS  is broadcast on CBS' Friday night Campbell Playhouse to rave reviews. Ray Collins was in the cast.
May 18, 1940
MEMO: TO GEORGE SCHAEFER (RKO RESIDENT) FROM J.R. McDonald.
Today I received the following report, under date of May 18, from A.R.I on Orson Welles.  (Audience Research Institute )  "It will interest you to hear that we tested the three Orson Welles properties without reference to cast.  The results were approximately the same as before,  If "Invasion Of Mars" is given the value of 100, the three pictures tested without Welles ranked in this order: "Invasion From Mars"-100, "Heart Of Darkness"-73, "Smiler With A Knife:"-60.   Theoretically, it was to be expected that the removal of Welles would make no difference to the results, because he was previously a constant factor present in all three pictures.  However it required a survey to confirm this assumption."
March 11, 1941
LETTER: GEORGE SCHAEFER (President RKO) TO ORSON WELLES
Dear Orson,
I have had the usual trite clearances title at the end of the picture taken out and substituted the following:  This is not the story of any man, be he iving or dead.  This is the story of the power and strength which impels the lives of many great men, seen through the eyes of little men."   For your information, those who have seen the picture have snickered when we ran the present title.  I have had some good advice on the subject and it has been suggested that the above would be more appropriate.  Please wire and let me know if you approve or have any suggestions.  Kind Regards
April 1941
Welles In Mexico beginning work on My "Friend Benito," second picture of  1939 Final Cut contract.
May 1, 1941,
ACME NEWS SERVICE: ORSON WELLES IN NEW YORK FOR PREMIERE
New York City, Orson Welles, the one-man Movie Studio, arrived at LaGuardia Field on A TWA Airliner today.  He's in New York to attend the Opening of his first motion picture, RKO-RADIO'S "Citizen Kane."  Besides playing the stellar role, the Dynamic Young Theatrical Jack-Of-All-Trades produced and directed the film and collaborated on the original story and screenplay for the much discussed picture.
May 1, 1941
The first film under the July, 1939 contract, CITIZEN KANE, opens at the RKO Palace in New York. As per Welles instructions it was never previewed.
July 7, 1941
Welles and RKO chief George Schaefer reach agreement on a second, two picture contract that will include THE MAGNIFICENT AMBERSONS and JOURNEY INTO FEAR.   The original 1939 contract remains in effect and under its provisions Welles owes RKO two films (IT'S ALL TRUE to be one of them) to be completed after AMBERSONS and JOURNEY. Welles will produce write, direct but not only act in JOURNEY INTO EAR. Under this new contract RKO will now have control over the screenplay and casting and after the first preview enjoy the right to cut these films to its satisfaction.
THE NEW YORK TIMES, July 23, 1941:
MAGNIFICENT AMBERSONS AND JOURNEY INTO FEAR TO BE MADE BY ORSON WELLES FOR RKO
By Douglas W. Churchill
After several weeks of conferences RKO and Orson Welles today announced the program for the actor-writer-producer-director for the new season.
All conflict between Welles and the studio has been ironed out by Joseph L Breen, new head of production, and Welles will begin preparation immediately of the first screen story, Booth Tarkington's novel of American transition, "The Magnificent Ambersons," which will go before the cameras in September. It will be followed by "Journey Into Fear," an Eric Ambler novel which Ben Hecht has adapted to the screen.
Michele Morgan, RKO's French import, had been announced for the latter picture, but the Welles office said that he will discard the RKO plans for the production and start afresh. Welles third venture will be "It's All True," a photoplay about which no information was divulged. Mystery also surrounded the nature of Welles connection with each project; which he will appear in and which he will direct was not disclosed.
His office announced, however, that negotiations had been resumed with the Mexican government for permission for the producer-writer to make a picture there with Dolores Del Rio. Mexico previously had banned the film.
MOTION PICTURE HERALS, July 26, 1941
 WELLES TO HAVE THREE AT RKO
Orson Welles announced this week definite production plans in the immediate future for three of his Mercury Productions now in preparations for RKO Radio release. First of the Welles' trio, with shooting scheduled for mid-September, is booth Tarkington's "Magnificent Amberson," which won the 1919 "best novel" Pulitzer Award. "Journey Into Fear," a novel by Eric Ambler with screen adaptation by Ben Hecht, will follow in production and the third Mercury feature will be "It's All True," an original Orson Welles project for motion pictures. Also on the Welles schedule is an untitled film with Mexican background in which Dolores Del Rio will star. Negotiations are now under way with Mexico City interests for its production.   Mr. Welles' first Mercury film production "Citizen Kane" which has had two-a-day runs in leading cities, will be released generally the first week in September
VARIETY, July 30, 1941:
JACK MOSS PARTNERS WITH WELLES IN MERCURY'S NEW DEAL AT RKO
Hollywood, July 29, Orson Welles has lined up a new deal with RKO, making Mercury Productions a full-fledged producing organization, set to make four pictures. Welles new partner is Jack Moss, Moss is locally reputed as man with enormous talent for parting studio 'treasures' with goodly bits of their surpluses for people with him he is associated. He is also a producer in his own right. He never fails to read the fine print in contracts. And after 12 years of being an agent and a producer he always reads them between the lines. His bargaining talents were best shown when he was Gary Cooper's business manager. At the beginning of that relationship Cooper had an $800 bank account. Four years later he could, if he had to, get up half a million dollars.   The Bargaining talents of Mr. Moss and the producing talents of Welles could make an important combination. Moss produced "The Biscuit Eater" and "The Shepard Of The Hills. He concludes his work with Walter Wanger as a production assistant on 'Sundown' to go with Welles.
Under the new setups with RKO, Welles will extend his activities. Whether he acts in the pictures or not, or whether he just produces and directs them, they will bear his stamp. It is understood that he will receive four different salaries if he does four different things. For producing alone he will be paid. For directing he will be paid. If he acts he will be paid another sum. "The Magnificent Ambersons" by Booth Tarkington is the first film Welles will do under the new RKO deal. It will be vastly different from Citizen Kane. It will not be a searching portraits of an ego-maniac, but the story of three love affairs and the story, as well, of an American town turned suddenly into a roaring metropolis by the invention of the automobile.   His second one will be 'Journey Into Fear', a melodrama with the background in Modern-day Europe. The third will be 'It's All True" which he describes only as an 'original project.' His fourth will be the story of a Nazi plot in Mexico. He will film this one in Mexico City with Dolores Del Rio playing the famine lead. Welles will not act in 'Magnificent Ambersons,' but he will produce and direct and help write it. Joseph Cotton and Ruth Warrick will play the top roles. Cotten and Michelle Morgan will head the cast if 'Journey Into Fear.' It is possible that Welles may appear in his 'original project' and that he will also play with miss Del Rio in the Mexican Picture
August 13, 1941:
RKO PUBLICITY RELEASE: ORSON WELLES STAR MAKER [STILL B41813-10]
Ray Collins accompanied Orson Welles To Hollywood from Mercury Theater of the Air, appeared in RKO Radio's "Citizen Kane" in role of political Boss who destroys Kane's political ambitions.  Collins has now been signed to long-term contract by RKO.
NEW YORK TIMES, August 14, 1941
ORSON WELLES WILL APPEAR IN JOURNEY INTO FEAR—LEAD ROLE FOR JOSEPH COTTON
Orson Welles next screen appearance will be in "Journey Into Fear," with Michele Morgan at RKO, it was learned today. What type of role Welles will play was not disclosed, but Cotten has been named for the lead, and it is understood that the producer-actor-director will be seen in a character part.
Cotten will also have a leading role in Booth Tarkington's "The Magnificent Ambersons"  which will precede "Journey Into Fear" on Welles's program. Welles will direct both pictures, and they will be filmed in immediate sequence, with "The Magnificent Ambersons" scheduled to start on Sept 16. The producer has acquired another property, "Love Story" by John Fante and Norman Foster, for probable spring production.
August 15, 1941
MAGNIFICENT AMBERSONS screenplay completed and submitted to budgeting.
AUGUST 27, 1941
PAYMENT  ACKNOWLEDGEMENT  LETTTER FROM WELLES TO RKO
VARIETY, August 27, 1941
WELLES' SET UP HOUSED AT RKO-PATHE STUDIO
Hollywood, August 26. Frederick Fleck joined Mercury Productions as assistant director, completing the personnel reorganization of the Orson Welles film producing unit, now housed at the RKO Pathe studio in Culver Studio. Others in the unit are Jack Moss, Welles' partner in all Mercury productions, Richard Wilson, story editor and executive assistant, Hermann Drake, chief flack, and John Fante and Norman Foster, contracted as a writing team. Mercury's next picture is 'The Magnificent Ambersons,' to be followed by 'Journey Into Fear' and 'It's All True.'
FILM DAILY, September 8, 1941
Hollywood-Orson Welles yesterday signed Tim Holt, western actor, for the role of George Amberson Minafer in Booth Tarkington's novel "The Magnificent Ambersons, which goes before the cameras at RKO studios Oct 1.  Agnes Moorhead and Ray Collins have been signed for the film and a leading woman will be selected when Welles returns from Mexico where he is inspecting locations for "It's All True," which will follow the Tarkington opus on his schedule.
September 10, 1941
Preliminary budget for THE MAGNIFICENT AMBERONS comes in at $987,034. George Schaefer writes Welles his dissatisfaction. Eventually, Welles prunes budget to $853,950 and receives Schaefer's approval.
September 15, 1941
LETTER: ORSON WELLES TO RKO
Gentleman:
I hereby acknowledge receipt of the sum of Nine Thousand Dollars ($9,000.00) from you.  You are hereby authorized and directed to deduct said sum from the first compensation payable to me pursuant to the employment agreement to be executed by us providing for the rendition of my services to you in compensation with the motion picture tentatively entitled "The Magnificent Ambersons" and "Journey Into Fear."
FILM DAILY, September 29, 1941
RICHARD BENNETT IN COMEBACK
HOLLYWOOD — It is believed that Richard Bennett will be signed by Orson Welles to play the role of Major Amberson In Booth Tarkington's, "Magnificent Ambersons," which he will produce for RKO.
September, 1941
In late September Welles began rehearsing the cast using a "rehearsing and recording script." He records all the scenes in the film on disk that developed out of these rehearsals including changes and improvisations.
October 7, 1941
Final shooting script to the MAGNIFICENT AMBERSON completed.
October 7,  1942
RKO PUBLICITY RELEASE: HOLLYWOOD MERCURY [STILL DC-9b]
Lovely Dolores Costello resumes her screen career with one of the top roles in Orson Well' Mercury Theater production for RKO Radio of Booth Tarkington's "The Magnificent Ambersons," Pulitzer Prize novel of several years ago.  Miss Costello appears dramatically as the indulgent mother of Tim Holt.  "The Magnificent Ambersons" is the second production of Hollywood's outstanding personality and represents Welles' efforts is producer, director and Writer of the screen play.
RKO PUBLICITY RELEASE–CURTAIN CALL [PHOTOPHOTO R42413-6]
Beautiful and charming Dolores Costello returns to the screen to play feminine leas in "The Magnificent Ambersons," produced by Orson Welles for RKO Radio.  Dolores portrays one of the most appealing characters in American literature, as the heroine of Booth Tarkington's Pulitzer Prize novel.
VARIETY, October 8, 1941
MISS COSTELLO'S COMRBACK
Hollywood October 7. Dolores Costello does her first picture in two years as the femme lead in the Orson Welles production of The Magnificent Ambersons" from Booth Tarkington's novel. Cast goes through two weeks of rehearsals before shooting starts.
FILM DAILY, October 9, 1941
WELLES SIGNS DOLORES COSTELLO
Hollywood – Orson Welles, has signed Dolores Costello Barrymore for the role of Isabel Amberson Minafer in Booth Tarkington's "The Magnificent Ambersons."  The film starts October 20th after two weeks of rehearsing.
October 10, 1941
LETTER FROM LOUIS ARMSTRONG TO MANAGER JOE CLASER
Dear Joe;
This is to certify that I give you "power of attorney" to sign and and all papers for me pertaining to the picture that is to be produced  by Orson Welles or any other papers that need my signature.   With kindest personal regards.
October 13, 1941
RKO PUBLICITY FRE-RELEASE: YOUNG AND LOVELY
Last word in loveliness is Anne Baxter, who plays a top role in Orson Welles' forthcoming film, "The magnificent Ambersons."  It's a screen adaptation of Booth Tarkington's Pulitzer novel, and Welles' second job as producer-director for RKO Radio Studio.
FILM DAILY, October 14, 1941
Ann Baxter has been signed by Orson Welles for the ingenue lead in 'The Magnificent Ambersons," the Booth Tarkington story which starts production the latter part of this month.
 October 22, 1941
20TH FOX MEMO: E.C. DE LAVIGNE TO L. SCENEISER ET, Al.
We have entered into an agreement with RKO Radio Pictures, Inc, under date of October 13, 1941, providing for the loan to them of the services of Anne Baxter, to portray the role of Lucy," in their production now entitled "The Magnificent Ambersons."  The terms of the loan for a period commencing on the day the artist actually begins work, which shall in no event be later than October 3, 1941 and continuing until completion of the artists role in said photoplay.  RKO may not retain the services of Miss Baxter after December 8, 1941 without our written consent.  Compensation is at the rate of $400.00 per week, for not less than four (4) weeks, plus accumulation of $1,200.00.
SHOWMAN'S TRADE REVIEW, October 28, 1942
 "AMBERSONS" GETS NOD
Orson Welles' "The Magnificent Ambersons" with Welles as producer-director is currently in production at the RKO-Pathe Studios in Culver City. The Cast includes Joseph Cotton, Dolores Costello, Tim Holt and Ray Collins.   Welles is also responsible for the screenplay.
October 28, 1942
First day of principal photography on THE MAGNIFICENT AMBERSONS.
 NEW YORK TIMES, November 6, 1941
GENIUS UNDER STRESS: Spending RKO's Money Worries Orson Welles
By Thomas Brady-
Orson Welles declared openly the other day that his second venture as the cinema's universal genius, "The Magnificent Ambersons" which he adapted in nine days from Booth Tarkington's novel and is producing, directing and narrating for RKO, has him worried. "Gargantus," he says, "is only good for a one-night stand.
He will not appear in the film but his voice will be heard in a commentary, which begins and ends the picture and introduces every sequence. The visible members of the cast are Dolores Costello as Isabel Amberson, Joseph Cotten as Eugene Morgan, Tim Holt as George Amberson, Richard Bennett as Major Amberson, Anne Baxter as Lucy Morgan, Agnes Moorehead as Aunt Fanny Minafer, Ray Collins as Uncle George Minafer, and J. Louis Johnson as Sam, the butler.
Unlike "Kane" "Ambersons" will be a normal, sequential picture without startling innovations, according to Welles. The scenario, he says, adheres closely to the novel, presenting the baroque mushrooming of mid-western life at the turn of the century.
Soon after he began "The Magnificent Ambersons," Welles startled his company with the vehement statement that "time is money." He explained later that he was troubled because he is making the picture with RKO's funds and working for the company on a salary. Though RKO paid for "Citizen Kane" too, Welles worked for a percentage of the profits, and so he felt as if he were spending his own money. He insists, however, that he has always been a cautious man financially. He even devoted his dally epigram to the subject. "David O. Selznick," he said, "talks about money and worries about art; I talk about art and worry about money."
A contract adjustment made by RKO last summer is the reason Welles is working as a hired hand. Soon after his arrival in Hollywood two years ago, the producer-director-writer-actor agreed, as a gesture, to do a free picture for the company. An older and wiser man when the time came to fulfill the contract, he threatened not to make any picture at all. RKO compromised on a moratorium on the old deal, during which Welles would do two pictures as an employee of the studio—the first to be "Ambersons" and the second "Journey Into Fear." Welles will not disclose his salary, but says he is being underpaid. After "Journey" RKO will gets it's free picture, which will be "It's All True," a group of factual incidents combined in a feature (as the short subjects are) too long for double bills. Then Welles will make Joseph Conrad's "Heart of Darkness," his favorite project, on the same basis as "Citizen Kane"—a guarantee of $150,000 against  25 per cent of the profits.
November 28, 1941:
Welles showed three rough cut sequences to RKO executives: The ball, the dinner table scene and fanny confronting George on the staircase.
_____
While the film was in production the RKO publicity department began publicizing the film by sending out blurbs with production stills, called candids to both national press as well as  newspapers and other local publications all over the country. 
RKO PUBLICITY RELEASE: MEET HENRIETTA [STILL N4273-1]
Henrietta, a steam-powered horseless carriage built at Dayton, Ohio, in 1892 as America's first practical automobile, makes her movie debut fifty years later in Orson Welles; "The Magnificent Ambersons," soon to be released by RKO Radio, and gets Hollywood glamour treatment.   After tightening up bolts on Henrietta's brass boiler and under-carriage, RKO Radio starlets Ariel Heath and Julie Warren assist in polishing up her lines for a screen test.
RKO RUBLICITY PRE-RELEASE MEET HENRIETTA [STILL N4273-5]
Henrietta, the horseless carriage, wasn't in Hollywood long before she had a date.  Here she is headed for the Brown Derby with soldiers and starlets Ariel Heath (l) and Julie Larren.  Henrietta makes her screen debut in Orson Welles' "The Magnificent Ambersons," soon to be released by RKO Radio.
RKO PUBLICITY RELEASE: THE UNPREDICTABLE MR. WELLES [RABBIT]
Orson Welles doesn't mind a bit of levity now and then feeling that it makes the work go better by relaxing tension.  One of his favorite ways of getting the players in a happy frame of mind is magic which he's demonstrating of Joseph Cotten and Dolores Costello.  Orson Welles is producer-director of "The Magnificent Ambersons."
RKO PUBLICITY PRE-RELEASE: GENIUS WORKS AGAIN [STILL B411029-3]
Designer.  A fine painter at the age of 15, Orson Welles does his own designing of everything from suits and dressing gown to entire villages.  Here he is working on a ballroom for one of the settings in "The Magnificent Ambersons," An RKO Radio production.
RKO RUBLICITY PRE-RELEASE: THE UNPREDICTABLE MR. WELLES [STILL B42323-5]
Synthetic snow is out with Orson Welles.  The script calls for snow and snow he gets – even in California.  Orson, dressed in Aviator's leather flying suit is shown with Tim Holt and Dolores Costello.  Orson Welles is producer-director of RKO Radio's "The Magnificent Ambersons."
RKO RUBLICITY PRE-RELEASE (5) RE-CREATING  AN ERA [STILL B42325-5]
Old Automobiles help date the time for Orson Welles in producing  "The Magnificent Ambersons."  Inventor Morgan and his daughter Lucy (Joe Cotten and Ann Baxter) are coming home in a 1905 model Sears.  A two-cylinder, it once was sold by mail.
RKO RUBLICITY PRE-RELEASE (6) RE-CREATING AN ERA [STILL B42325-6]
A street scene about 1910, as staged by Orson Welles for RKO Radios, "The Magnificent Ambersons."  It is one of the longest "pull" shots ever attempted n moving pictures.  The camera, mounted on a crane, is recording the walk of Ann Baxter and Tim Holt.
RKO RUBLICITY PRE-RELEASE: (7) RE-CREATING AN ERA [STILL B42325-7]
Joseph Cotten is all decked out for a speedy spin in one of the automobiles presumably coming out of the Morgan Automobile Company's shop.  It is one of fifty used by Orson Welles in producing RKO Radio's The Magnificent Ambersons.
RKO PUBLICITY FRE-RELEASE: HOLLYWOOD MERCURY [STILL R42395-7]
A stickler For exact sound, Orson Welles not infrequently done the sound man's earphones to listen in on the dialogue of the pleasure.  Here he is keeping the eagle-ear open to what the microphone is getting.  Orson Welles is producer-director of RKO's "The Magnificent Ambersons."
_____
December 1941
 Modern Screen Reports, "Duke Ellington's name is practically on the dotted line for Orson Welles production of 'The Magnificent Ambersons."
December 2, 1941
MEMO: Phil Reisman To Orson Welles:
(RKO Vice-President and Foreign Manager)
This picture will be one of the outstanding pictures of the year… produced with an intelligence that only a few people in show business are gifted with. I am certain that it will be a commercial success.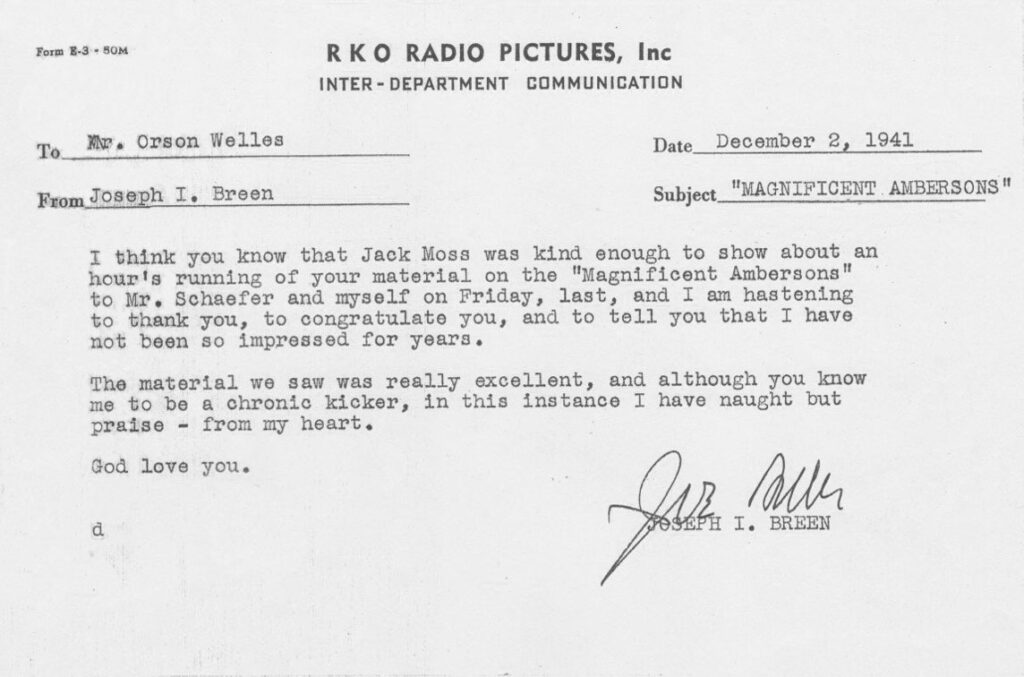 December 3, 1942
TELEGRAM: GEORGE SCHAEFER TO ORSON WELLES
(President of RKO Studio)
PLEASE FORGIVE ME FOR NOT HAVING WIRED YOU IMMEDIATELY ON MY RETURN FROM THE COAST TO TELL YOU OF MY HAPPINESS AS A RESULT OF WHAT I HAVE SEEN OF YOUR CURRENT PICTURE. EVEN THOUGH I HAVE SEEN ONLY A PART OF IT, THERE IS EVERY INDICATION THAT IT IS CHOCK FULL OF HEART THROBS, HEARTACHES AND HUMAN INTEREST. FROM A TECHNICAL STANDPOINT IT IS STARTLING AND I SHOULD NOT FORGET TO MENTION ESPECIALLY THAT AGNES MOOREHEAD DOES SOME OF THE FINEST PIECES OF WORK I HAVE EVER SEEN ON THE SCREEN. ALTHOUGH I SAW ONLY PART OF THE PICTURE HER WORK IN PARTICULAR MADE A TREMENDOUS IMPRESSION ON ME. AGAIN I AM VERY HAPPY AND PROUD OF OUR ASSOCIATION. CONGRATULATIONS AND BEST WISHES,
GEORGE SCHAEFER
December 1941
Following Pearl Harbor Welles is requested by Nelson Rockefeller and John Jay to fly to Brazil and make a film as part of a "good will mission."
December 10, 1941
TELEGRAM: JOHN HAY WHITNEY TO ORSON WELLES:
(Coordination of Inter-American Affairs-OCIAA)
DEAR ORSON:
WE UNDERSTAND YOU ARE WILLING AND MAY BE ABLE TO UNDER TAKE TRIP TO BRAZIL WHERE YOU WOULD PRODUCE MOTION PICTURES IN COOPERATION WITH BRAZILIAN GOVERNMENT. IF THIS CAN BE ARRANGED IT WILL BE ENORMOUSLY HELPFUL TO THE PROGRAM OF THIS OFFICE AND ENERGETICALLY SUPPORTED BY IT. WE HAVE ALREADY RECEIVED EXPRESSIONS ENTHUSIASTIC APPROVAL FROM RIO. PERSONALLY BELIEVE YOU WOULD MAKE GREAT CONTRIBUTION TO HEMISPHERIC SOLIDARITY WITH THIS PROJECT.
REGARDS,
JOHN HAY WHITNEY
December 11, 1941
MEMEO: PHIL REISMANN TO JOSEPH GREEN
(RKO Executives)
They (the Brazilians) feel that the sending of Orson Welles by RKO to cover the Carnival which is so close to them and so near to their hearts, was a most magnificent gesture and it is highly appreciated by the Brazilian people and the Brazilian government…Orson Welles is looked upon by the Brazilian people as one of the great theater and picture personalities in the United States, and has in his make-up exactly what these people like…the compliment that we are paying them by sending the best man in Hollywood to cover this, is greatly appreciated.
December 22, 1941
OPEN LETTER: GEORGE SCHAEFER TO ORSON WELLES (EXCERPT)
This goes to you as an expression of our government's deep appreciation of your patriotic service to the cause of hemisphere solidarity, Your service in this work is fully as important to the national cause as would your service in any other phase of national endeavor.
FILM DAILY, December 29, 1941
Screen newcomer, Orson Welles who attracted attention with "Citizen Kane" and who provided Hollywood with several new players in Joseph Cotten, Ruth Warwick, Dorothy Comigore, and Ray Collins made The Magnificent Ambersons for RKO.  It is a come-back vehicle for Dolores Costello.
January 1942
Modern Screen reported, "There's a second Dolores in Orson Welles' life. Dolores Costello has been awarded the lead in Orson Welles' next production, "The Magnificent Ambersons. " He tested her from nine o'clock one evening till five o'clock the next morning before handing her the part.
January 2, 1942
To Speed up the shooting Welles – now filming exteriors – splits the shooting into two units. He relegates cinematographer Stanley Cortez to second unit and finishes main unit photography with RKO cinematographer Harry Wald who, among other scenes, shoots Lucy and George's one-take buggy ride as well as their walk.
MOTION PICTURE HERALD, January 3, 1942
Critics Vote 'Kane' The Best Picture of 1941.
In their seventh annual balloting, New York Film Critics Tuesday named the RKO-Welles "Citizen Kane" as the best picture of 1941….Orson Welles was runner-up for the best-direction award.  Mr. Welles, producer and star as well as director of the winning "Citizen Kane" will be awarded the Film Critics bronze plaque at a private dinner to be given by the reviewers on January 10th in New York.  The annual open cocktail party which customarily marked the awarding has been cancelled this year because of the war.
January, 1942
Editor Robert wise and assistant editor Mark Robson move into a motel near Culver Studio so they can work between 100-120 hours a week on AMBERSONS.
January 12, 1942
Welles conducts first production meeting for his South American project, IT'S ALL TRUE, with FDR's representative, Harry Hopkins, and representatives from both Technicolor and RKO
January 1942
CITIZEN KANE is nominated for nine Academy Awards including Best Picture.
 January, 1942
ORSON WELLES ISSUES STATEMENT:
We have pretty well in mind what we are going to do in Brazil. And we also know that we are going on from there to other Latin American countries. My definite plan is to attempt a movie for all the people of all the Americas. It will be a polyglot movie, by which I mean we are designing it to be completely understandable, no matter what the language of the audience. Some of it will be silent, part will be in color, but we intend to make it so that it can play in its original state in all of the Americas.
January 6, 1942
Shooting Begins on JOURNEY INTO FEAR. Ambersons cast members Joseph Cotten, Agnes Moorehead, Richard Bennet and Orson Welles appear in the film shuttling between the two productions until AMBERSONS is completed. Welles shoots his scenes at night while directing AMBERSONS during the day.
January 22, 1942
Principal Photography of THE MAGNIFICENT AMBERSONS ends. Welles spends the rest of the month on pick-ups and reshoots. At $1,013,000 the film is $159,000 over budget and 13 days behind Schedule.
January 23, 1942
Schaefer informs RKO's Westcoast staff that he wants THE MAGNIFICENT AMBERSONS ready for an April 3 opening at New York's 6000 seat Radio City Music Hall.
January 28, 1942
Welles reluctantly signs second contract agreed to during July 1941. In short, Welles has officially given up final cut to the two projects he is working on including THE MAGNIFICENT AMBERSONS.
January 28-29, 1942
Bernard Herrmann conducts recording session and 14 cues are recorded.
FILM DAILY, January 29, 1942
RKO Radio sets Feature Releases Through June.
For march…"The Magnificent Ambersons."
January 31, 1942
Welles last day shooting THE MAGNIFICENT AMBERSONS.
February 1942
Photoplay announce that "Joe Cotton is now actively engaged in the Welles picture "The Magnificent Ambersons."
February 1942
CITIZEN KANE is nominated for nine Academy Awards including Best Picture.
_____
Once the Film was completed, in anticipation of the film's April release,  the RKO publicity department began publicizing the film by sending out stills with publicity material to both national press as well as newspapers and other local publications all over the country. 
RKO PUBLICITY FRE-RELEASE [STILL MA-ADV-51]
Joseph Cotton And Dolores Costello are shown here as they appear in Orson Welles New Mercury Production for RKO, "The Magnificent Ambersons."  Since his debut in Welles' persuaded Miss Costello to return to the screen in the filmization of Booth Tarkington's Pulitzer Prize Novel.   Although Orson Welles plays no part in the picture he produced directed and wrote the screenplay,  Anne Baxter Tim Holt, Agnes Moorehead, Ray Collins and Richard Bennett play important roles.
RKO PUBLICITY FRE-RELEASE: PORTRAY MOTHER AND SON [STILL MA-ADV-24]
Tim Holt and Dolores Costello make a mighty happy family picture.  They are shown in a scene from Orson Welles' forthcoming film, "The Magnificent Ambersons," in which they play mother and son.  Miss Costello, one of the screen's loveliest women, returns to film work after absence of several years.  Holt, former western star, turns to highly  dramatic "straight" role.  Tim by the way, is a veteran actor despite his youth.  He has appeared in more than a score of pictures in a three year period.
RKO PUBLICITY PRE-RELEASE [STILL MA-PUB-A-42]
Shooting up a long star cast for a scene in "The Magnificent Ambersons" required a difficult bit of planning for the camera crew, as this photo shows.  Orson Welles, producer-director-and author of the screen play of the new Mercury Production for RKO Radio is giving a lost minute check to the camera angle.
RKO PUBLICITY PRE-RELEASE: WELLES TRIANGLE [Still MA-49]
Tim Holt, Dolores Costello and Joseph Cotten play top roles in "The Magnificent Ambersons," Orson Welles' new RKO Radio Mercury production.  Although Orson does not act in this filmization of Booth Tarkington's Novel, he produced, directed and scripted the screenplay.  Remainder of featured cast includes Anne Baxter, Rat Collins, Agnes Moorehead and Richard Bennett.
RKO PUBLICITY PRE-RELEASE: HE'S DONE IT AGAIN  [STILL MA-PUB-A-7]
Hollywood's busiest individual – is Orson Welles, a producing, directing, acting, writing bundle of energy who works three times as hard as anyone else in the screen capital.  In the Above photo he is shown in a relaxed moment during the filming of his new RKO Radio Mercury production, "The Magnificent Ambersons."
RKO PUBLICITY PRE-RELEASE:  THE OLD AND THE NEW (STILL MA-PUB-a-21]
Veteran of 50 years on the stage and screen, Richard Bennet is shown here taking direction from 26-year-old Orson Welles during the filming of "The Magnificent Ambersons, an RKO Radio-Mercury production.   Producer-director Orson wrote the screenplay based on Booth Tarkington's Pulitzer Prize Novel, but does not appear in the film.  Cast features Joseph Cotten, Dolores Costello, Tim Holt. Anne Baxter, Ray Collins and Agnes Moorehead.
RKO PUBLICITY FRE-RELEASE: EVERY MAN A TROOPER [STILL MA-PUB-A-103]
Every man a trooper!  Even nine-year-old Bobby Cooper, who plays Tim Holt as a boy in Orson Welles RKO Radio-Mercury production, "The Magnificent Ambersons," has developed the special "esprit de corps" typical of the Mercury Players.  Bobby spends all his spare time hanging around the sets watching the other actors work!  He is shown being filmed for a close-up shot.  He was selected for the part by Welles after literarily hundreds of youthful aspirants had been interviewed
RKO PUBLICITY FRE-RELEASE: FROM WESTERN TO WELLES [STILL MA-52]
Snow time is a goof time for romance, as Tim Holt and An Baster are demonstrating in this scene from Orson Welles' forthcoming RKO radio film, "The magnificent Ambersons."   Known to legions of juvenile film fans as a dashing cowboy hero, Tim plays willful scion of wealthy family in the picture.  Tim Holt is one of the few natives of Hollywood to make good in the movies.  When not acting, he lives on a fourteen acre ranch on the San Fernando Valley.  It's no dude place, but a full-fledge working farm that pays for self under Tim's expert administration
RKO PUBLICITY FRE-RELEASE: WELLES AND A STARLET [STILL MA-PUB-A-60]
Young Miss Anne Baxter was the envy of most of Hollywood's younger players when she won the choice role of Lucy Morgan in "The Magnificent Ambersons" – for that is Orson Welles; new Mercury Production for RKO Radio,  Here Orson and Anne pose for an  informal photo, garbed in outfits made necessary for the shooting of winder snow scenes.  Welles does not appear in the film, but is producer, director and Author of the screen play.
RKO PUBLICITY FRE-RELEASE: RELAXATION – [STILL MA-PUB-110]
Between scenes on the set of his new Mercury Production for RKO, The Magnificent Ambersons," Orson Welles takes time out of tea and Tim Holt who plays a leasing role in the film, peruses a South American Magazine.  The Heading concerns Welles's first movie, "Citizen Kane."
RKO RUBLICITY PRE-RELEASE ACTION CAMERA [STILL MA-49]
Here, three of the principals go through a scene of "The Magnificent Ambersons."  The Mercurites are Tim Holt, Dolores Costello and Joseph Cotton.  Proof of the Draw the Mercury Group has in Hollywood is Miss Costello, who had retired from the screen three years ago to devote self to her two children.  Although she has refused scores of contract offers in that period, she ended isolation policy to accept Welles' role.
RKO PUBLICITY FRE-RELEASE: Welles ANF STARLET [STILL MA-PUB-A-60]
Young Miss Anne Baxter was the envy of most of Hollywood's younger players when she won the choice role of Lucy Morgan in "The Magnificent Ambersons" – for that is Orson Welles' new Mercury production for RKO.  Here Orson and Anne pose for an informal photo, garbed in the outfits made necessary by the shooting of winter snow scenes.  Welles does not appear in the film, but is producer, director and author of the screen play.
RKO PUBLICITY FRE-RELEASE: (2) DATE ABOUT 1880 [STILL MA-103]
"The Magnificent Ambersons" begins in a small mid-west city back in the days when America was a Nation of dirt streets and gas lights; when the houses of the wealthy were grotesquely turreted mansions, jam-packed with articles of stuffy elegance; when a rackety contrivance known as the automobile was making its first appearance on the thoroughfares and frightening respectful horsecar equines into actions such as this.
RKO PUBLICITY FRE-RELEASE: (3) DISCONSOLATE, HER JILTED SUITOR LEAVES TOWN [STILL MA-25]
The story gets underway wen Isabel Anderson, Belle of the Town and daughter of its wealthiest family quarrels with her fiancée, Eugene Morgan after e has been party to a wild escapade that shocked the community.  Despite his remorse, she brakes their engagement and marries Wilber Minafer.
RKO PUBLICITY FRE-RELEASE: (4) [STILL MA-111]
Spoiled son of Isabel and Wilber Minafer, destined to become one of the key figures of the drama, is young George, played by Bobby Cooper,.  Even as a small boy, he is a reckless, arrogant person, takes positive delight in bedeviling people nd riding rough-sod over everything in his way.  His mother, whose true love was frustrated by her unfortunate affair with Eugene, compensates by lavishing all her affection on her son.
RKO RUBLICITY PRE-RELEASE (5) [STILL MA-15]
Nearly two decades pass.  Then Eugene, now a widower, returns to his native city with his daughter, Lucy.  He finds Isabel more beautiful than ever, and the Ambersons still dominating the community. Major Amberson is still head of the family  of the family including. daughter Isabel, her husband Wilber, Fanny Amberson who has always been secretly in love with Eugene, and Jack Amberson, Isabel's brother.
RKO RUBLICITY PRE-RELEASE (6) [STILL MA-101]
A pioneer Auto Manufacturer, Eugene sets up a shop in the city.  His early rattle-cars draw the good natured jibes of the town, but he persists in his experiments.  Some day he declares, the horseless carriage will supplant the horse.
RKO RUBLICITY PRE-RELEASE (7) RE-CREATING AN ERA [STILL MA-56]
A new romance springs up between George Minafer and Lucy.  Here the two are having a wonderful time during a snow picnic.  Meanwhile, Eugene and Isabel are thrown constantly together,r find that the intervening years have not destroyed the love they once felt for each other.
RKO RUBLICITY PRE-RELEASE (9) [STILL MA-72b]
Free again, Isabel and Eugene pick up the threads of their old romance.  Quietly they decide to Marry.  Until their plans are completed, however they determine not to reveal their secret.
RKO RUBLICITY PRE-RELEASE: (10) [STILL MA-7]
Bitterly jealous, Fanny Amberson discovers the affair between Eugene and Isabel and informs George.  Inspired by his emotional attachment to his father's memory, George proceeds to block the pending wedding.  He utilizes his mother's love for him to keep Eugene from seeing her, and finally induces her to take an extended tour of Europe.  Although sheis passionately in love with Eugene, Isabel tells him that they will have to wait still longer before they can marry.
RKO RUBLICITY PRE-RELEASE (13) [STILL MA-105]
Proud and Stubborn, George refuses to effect a reconciliation with Lucy, despite her efforts.  Gradually, their association breaks off and George loses contact with all of hs former friends.  Meanwhile, the money his mother has left disappears and after several years he is penniless.  The town to, has changed.  Huge factories have grown up; the Ambersons are completely forgotten.
_____
February 1, 1942
Welles completes his role in JOURNEY INTO FEAR
February, 1 1942
THE LADY ESTHER RADIO SHOW:
This is the last time for some while I'll be speaking to you from the United States. Tomorrow night the Mercury Theater starts for South America. The reason, put more or less, officially, is that I've been asked by the office of the coordinator of Inter-American affairs to do a motion picture especially for Americans in all the Americas, a movie which, in its particular way, might strengthen the good relations now binding the continents of the Western Hemisphere. Put much less officially, the Mercury's going down there to get acquainted. We the people of these United Nations of America now stand together: We're going to have to know each other better than we do. My job–the Mercury's job–is to help with the introductions.  And now it's time for good byes. As always, we remain obediently yours.
February 2, 1942
Welles flies to Washington for meetings State Department regarding IT'S ALL TRUE.
February 4, 1942
Vern Walker prepares final list of the trick shots and matte shots needed to be done on AMBERSONS.
February 4 & 5, 1942
Welles meets with Editor Robert Wise and shown rough cut and several reals of rough footage of AMBERSONS. Welles and wise agree on what changes need to be made so Wise can complete rough cut that two plan to work on in Rio. On the night of the 5th at the Fleischer Miami animation studios Welles records the film's narration.
February 6, 1942
TELEGRAM: ORSON WELLES TO JACK MOSS
(Business Manager of Mercury Productions)
BECAUSE OF THE ENORMOUS AMOUNT OF WORK BOB WISE HAS TO DO ON AMBERSONS, BECAUSE OF THE NECESSITY OF SPEED AND OF SOME CENTRAL AUTHORITY, I WOULD LIKE YOU TO MAKE CLEAR TO ALL DEPARTMENT HEADS THAT HIS IS THE FINAL WORD. HE IS TO HAVE A FREE HAND IN ORDERING PRINTS, DISSOLVES, FURTHER WORK FROM VERNE WALKER, AND ANYTHING ELSE OF A SIMILAR NATURE. IT BOILS DOWN TO THIS: I WANT TO KNOW THAT HE WON'T BE SLOWED UP AT ANY POINT BECAUSE HIS AUTHORITY IS QUESTIONED. I DICTATE THIS AT THE AIRPORT JUST BEFORE DEPARTING.
ORSON
February, 1942
As Robert Wise completes sections of The MAGNIFICENT AMBERSONS he sends them to Welles in Rio for Welles approval and suggestions. These back and forth correspondences, as well as phone calls, occur almost daily allowing Welles to stay on top of the editing.
February 11, 1942
LETTER: ACTOR RICHARD BENNETT TO ORSON WELLES
(Bennet Played Major Amberson)
Dear Orson Boy
I wanted so much to tell you so many things before you slipped away. But I feel sure you understand my gratitude—lifting as you did "an old scow" from the mud banks and permitting it to see sunshine once more.
Now: for you: my boy your life is too precious to cast entirely to the swine who would sap your vitality and leave you hungry for conquest. The future is at your feet, use it well but: spare the vitality it would sap. Expletives count little. I thank you Orson.
Simply but sincerely Richard—to you dear—Bennett.
February 12, 1942
TELEGRAM: PHIL REISMAN TO GEORGE SCHAEFER (Excerpt)
(RKO Executive)
RECEPTION OF ORSON WELLES RIO NOT ONLY EQUAL TO BUT SURPASSED DISNEY'S SUCCESS HERE STOP ORSON CAN QUILIFY FOR MY MONEY AS A GREAT AMBASSADOR…KNOW THAT IT IS NO SURPRISE TO YOU THAT HIS OUTLOOK AND UNDERSTANDING ARE INTELLIGENT AND COMPREHENSIVE AND THAT HE HAS A COMPLETE GRASP OF THE IMPORTANCEOF THIS JOB….THE ONLY THING THAT KEEPS US FROM BEING EXTREMLY HAPPY IS THE FACT THAT YOU ARE NOT HERE
February 21, 1942
Robert Wise writes letter to Welles discussing minor changes, line dubbing and editing final scene with Bernard Herrmann "making the music to."
February 23-24, 1942
Composer Bernard Herrmann completes his music score for THE MAGNIFICENT AMBERSONS.
FILM DAILY, February 24, 1942
RKO Will Tradeshow 5th Block Mar 16, 17, 31
RKO's fifth group of five pictures will be trade screened March 16, 17 and 31.  Orson Welles' "he Magnificent Ambersons" will be trade shown on March 31.
February 26, 1942
Orson Welles wins Best Original Screenplay Oscar for CITIZEN KANE. Bernard Herrmann wins Oscar for this score to ALL THAT MONEY CAN BUY.
February 27, 1942
RKO head George Schaefer reminds Welles that he wants AMBERSONS ready for an April 3, opening at Radio Music Hall. A print will be sent to him March 15. Schaefer writes:
"Please… Do everything to make this possible. Have heard of excellent progress very happy everything working out so well. Kind personal regards."
February, 28, 1942
In response to Schaefer's request Welles puts everyone working on Ambersons at RKO on triple shifts and wires Wise to make as many cuts, dissolves sound and music as possible as this will speed the editing process.   He also asks Mercury manager Jack Moss to take charge of the Mercury office At RKO
February 28, 1942
TELEGRAM: ORSON WELLES TO JACK MOSS:
PLEASE START RUNNING AMBERSONS NIGHTLY AND TAKING ACTIVE PRODUCTION CHARGE. GET IN NORMAN, JO, DOLORES FOR JURY AS MANY TIMES AS POSSIBLE. EVERY OPINION MUST BE COVERED BY AN ALTERNATE. YOU HAVE BEEN AWAY FROM AMBERSONS LONG ENOUGH TO BE FRESH AND YOU KNOW I TRUST YOU COMPLETELY.
ORSON
March 2, 1942
Welles telegrams Schaefer proposing world premiere of AMBERSONS taking place in Buenos Aires a day before the Hollywood premiere and he will record narration in Spanish and Portuguese:
RESULTANT INTERNATIONAL PUBLICITY WILL BE ENORMOUS SHOWMANSHIP TERRIFIC…MAGNIFICENT PAN AMERICAN GESTURE BESIDES KEEPING ARGENTINA FROM FEELING LEFT OUT OF OUR SOUTH AMERICAN PICTURE.
March 2, 1942
Schaefer wires RKO executive Phil Resisman then in Rio regarding this and Resisman wires Schaefer:
AMBERSONS CANNOT BE PREMIERED IN BUENOS AIRES BECAUSE IT WOULD NEED SPANISH SUBTITLES, FOR WHICH WE NEED THE NEGATIVE; THEY ONLY HAVE ANSWER PRINT HERE.
Subsequently, Schaefer replied to Welles that he had no objection to Rio but wired that Buenos Aires opening was out of the question.
March 7, 1942
MOTION PICTURE HERALD
RKO RADIO: FILMS AWAITING RELEASE. The Magnificent Ambersons with Joseph Cotten, Dolorous Costello, and Tim Holt, release March 27.
March 9, 1942
TELEGRAM: ORSON WELLES TO JACK MOSS:
IN ISABEL'S LETTER TO GEORGE, DELORES'S VOICE TRACK IS HORRIBLE, TOO SIBILANT. I HOPE THIS IS TEMPORARY. HERE IS A NEW SCENE FOR AMBERSONS. HAVE NORMAN SHOOT TONIGHT, AND RUSH TO BENNY FOR MUSIC. DELORES READING LETTER FROM JOE. TIM AS BEFORE, HE STARTS TO BURN LETTER, LEAVES HIS ROOM, WALKS DOWN THE HALL, KNOCKS ON ISABEL'S DOOR. PAUSE. KNOCKS AGAIN. PAUSE. THEN DUB IN TIM SAYING, 'MOTHER?' NOW, HERE IS NEW SCENE: INTERIOR DELORES BEDROOM. MAKE OVER AGAIN FROM JOURNEY INTO FEAR HOTEL ROOM, BUT SHOW ONLY THE DOOR, PART OF BED, CAMERA LEFT PART OF DRESSER, CAMERA RIGHT AT POST. TIM OPENS DOOR AND HEADS INTO A CAMERA CLOSE UP. THEN TIM LOOKS DOWN AND FALLS TO HIS KNEES, CAMERA STAYING WITH HIM ON CRANE, DELORES LYING UNCONSCIOUS. TIM GRABS HER IN HIS ARMS, IN A TIGHT TWO-SHOT. SAYS, 'MOTHER!'  FADE OUT.
March 10, 1942
Fleck shoots scene Welles requested.
March 11, 1942
Preview print shipped to Wells in Rio.
March 12, 1942
MEMO: CHARLES KOERNER TO RKO EXECUTIVES (excerpt)
(Now Temporary Head of Production)
…With respect to Orson Welles or Mercury Productions in which we are interested, please make sure that no commitments of any nature whatsoever are entered into without first checking with me.
March 12, 1942
Cutting Continuity 131 minute rough cut prepared.
March 14, 1942
LETTER: ROBERT WISE TO ORSON WELLES
(Editor Magnificent Ambersons)
I am sending this letter in the event the picture gets to you before I arrive. The film was shipped Wednesday night, the 11th, and I was prepared to leave myself, but due to the present situation passage could not be arranged. I understand that it may be a matter of 3 to 10 days before I can leave.
In any event, I am quite anxious to be off, and the studio is working very hard to arrange it. Since we have sent you not only the complete picture, but some alternates as well, and also since the re-recording was done in great haste and we have many things to fix in that, I will go through the show, reel by reel and tell you our plans and ideas:
REEL I
Make slower fade in on the opening shot of the house.
The vignettes were rushed thru and we still need a lot of work on them. They should start a little heavier and be lighter near the end. Also they have to be juggled individually so that we do not lose them in the night scenes. We are also making a test on a white vignette which will be sent down.
Plan to blow up a shot of Major with hat and move back a little as he turns in to camera.
Your narration seems a bit low at start of reel. That will be raised in new R.R. (re-recording).
We also will clean up the steam-car a little in our redub.
REEL II
You will find the C.U. of the Major at punch bowl in the alternates. The shot did not turn out well, and when cut into the picture, spoiled the whole flow of the party, so I did not use it. We consider this reel O.K. as it stands. Do you like "The Beautiful Ohio" waltz?
REEL III
This reel we consider O.K. except for changing George's speech from "Most girls of sixteen are pretty bum dancers" to "Most girls of sixteen are pretty bad dancers." This at the request of our Foreign Dept.
Jack (Moss) feels that the scene in the bedroom where George gets his "come-uppance" is definitely a curtain and should come as late as possible in the picture. He also feels that this scene will have greater feeling if it comes after a greater accumulation of trouble for George. He also likes the idea of the girl appearing on the screen immediately after George gets his "come-uppance."
Jack would also like to lose the accident scene for a reason that I know has been brought up before. That is, it is a definite jar for George to say "riff-raff after he has supposedly received his "come-uppance." Jack is not particularly fond of the scene as a whole anyway, and would like to cover this by lapping to the first part of one of your other angles of the accident where we see only stretcher being put into ambulance and lap on through to inserts. This to be covered by sounds and music.
The picture as it now stands is 2 hours and 11 minutes long, and I feel very definitely that we must get some footage out of it. I would like to cut three scenes – the factory and the two porch scenes. This would take out almost 11 minutes and bring the show down to just over two hours.
This cut would make perfect continuity and would not lose any story for us. The scenes we are losing are both darn good scenes, but it is going to be a matter of sacrifice wherever we lose footage and I feel that the footage in this part of the picture makes all of our later and more important scenes seem much longer. You will find in the alternates, film that we have made up to make this cut in the picture.
Jack agrees with these three cuts and in addition has other cuts and retakes he feels would help the show. One is to drop the bathroom scene between George and Jack and fade out on Mrs. Johnson's house. He feels that all the points in the bathroom scene are brought out in other scenes and that it would be better continuity to go from Mrs. Johnson's to George unwrapping the picture and turning Eugene away at the door.
Jack was quite bothered by Isabel's walk during the first part of Eugene's letter to her. He didn't mind it after she had sat down and the last walk up to the camera was all right, but the first part he felt was stagey and awkward. He suggested playing the first part of the letter over some shots of the inside of the house and then lapping to Isabel seated. You will find a rushed version of this among your alternates but we are making a new one with all the pauses shortened in the letter and with Eugene's voice reverberated to try and give an effect to it. I certainly agree that Isabel's first walk is bad, but I am not sure that this is the remedy. Have you any other ideas?
As I have said earlier in the letter, we have made and are sending to you the scene you requested of Isabel unconscious on the floor. However, both Jack and I feel that the cuts you propose to make using this scene are entirely too drastic and are sure that once you see the picture you will wholeheartedly agree with us. It is true that we need footage out of the show but not to the extent that we must definitely hurt the picture to make it shorter, for that is what we feel you will be doing in making such cuts.
If you are proposing the cuts for any other reason than footage, we cannot help but feel that you have been ill-advised as to the quality of the show and cannot too strongly urge you to reconsider these cuts.
All of us up here feel very definitely that you have a very fine picture and that you needn't sacrifice it for any reason.
This pretty well covers all our points at present on the show. I know that this is an extremely unsatisfactory way to work and that you must have a thousand and one questions you would like to have answered. I can assure you I am waiting with great impatience to be off and can only hope that I arrive not too long after the film and this letter. In the meantime we are going right ahead with all the work that does not require an answer from you.
I have seen "Journey Into Fear" a couple of times and am very pleased with it. The finish wasn't completed when I saw it, but now is and I am going to run the complete show with Mark (Robson) tonight.
I have seen the color tests on your South American film and it looks fine. Talked to the Technicolor people and they are pleased with their end of it and say the negative is all very good.
Hope to practically beat this to you.
Warmest regards,
Bob
P.S. We need trailer material desperately.
March 15, 1942
In Rio Welles receives a received 131 minute composite (picture and sound track together) version along with alternate takes and scenes. What he considers a rough cut but will without his consent become the preview print of THE MAGNIFICENT AMBERSONS.
March 16, 1942
TELEGRAM: ROBERT WISE TO ORSON WELLES (excerpt)
DEAR ORSON: REPORTING DEVELOPMENTS AMBERSONS. MR. SCHAEFER UNEXPECTEDLY REQUESTED RUNNING AMBERSONS TODAY FOR HIMSELF AND KOERNER AND 4 OTHER MEN UNKNOWN TO ME, PROBABLY EASTERN EXECUTIVES. FOLLOWING SHOWING SCHAEFER INQUIRED REGARDING SHORTENING LENGTH. HE HAS ORDERED ME TO PREPARE PICTURE FOR SNEAK PREVIEW TUESDAY NITE WITH FOLLOWING CUTS: BOTH PORCH SCENES AND FACTORY.   HAVE ADVISED JACK MOSS.
March 17, 1942
A Sampling of 130 Pomona Preview Cards: 72 Negative/58 positive.
Questions asked: "1 Did you like the Picture or not?  Why? 2 Which Players did you like well enough to want to see their future pictures?"
No. It stinks.
No. It's as bad if not worse than CITIZEN KANE
No. The worst picture I ever saw.
No. Too morose.
No. Too much gloom.
No. The God Damn thing stunk.
No. It was putrid.
No. Rubbish
Yes. The picture is magnificent. The direction, acting, photography, and special effects are the best the cinema has yet offered. It is unfortunate that the American public, as represented at this theatre, are unable to appreciate fine art. It might be, perhaps, criticized for being a bit too long.
No. I did not. People like to laugh, not be bored to death.
Yes. Picture will not be received by the general audience because they as a whole are too darn ignorant.
No. A horrible distorted dream.
Yes. The picture was a masterpiece with perfect photography, settings and acting. It seemed too deep for the average stupid person. I was disgusted with the way some people received this picture which truly brings art to the picture industry. Each artist is deserving of a great deal of praise.
No. Too many shadows and the scenery was too dark.
Yes. Exceedingly good picture. Photography rivaled that of superb CITIZEN KANE…To bad audience was so unappreciative.
No. Only Orson Welles could think up a thing like that.
Yes. I liked it but I feel that it was above the audience. I think it was very depressing and nerve-wracking, but still when I think about it in retrospect, I can see its good points.
Yes, I think it was the best picture I have ever seen.
No. Too many weird camera shots. It should be shelved as it is a crime to take people's hard earned money for such artistic trash as Mr. Welles would have us think…  Mr. Welles had better go back to radio, I hope
Yes. A hell of a good picture. Why do you like any good piece of art? A little hard to say in five lines, isn't it?
No. I did not like it. I could not understand it. Too many plots.
No. I did not care for the picture at all. I don't see why in times of trouble, bloodshed and hate, movie producers have to add to it by making dreary pictures…  I wish you producers could see how much more the audience enjoyed THE FLEET'S IN after they had seen the THE MAGNIFICENT AMBERSONS.
No. Too dramatic and strained but very artistic in spots…
No. We do not need trouble pictures, especially now… Make pictures to make us forget, not remember.
No. Much Too Long and dragged out.
No. Overdone.
No. A very disastrous attempt.
No. You boys are slipping.
No. Who cares about that junk!
Putrid 2) Tim Holt was very impressive. 
No, I did not. Too dull, no action. No good actors. 
No. Boys you're slipping. I was robbed. 
No. It was much too long and dragged out. 2) Dolores Costello. 
A very disastrous attempt. 
No, does not hold your Interest. Too Long and Drawn out. Overdone 2) Dolores Costello and that girl that played the part of Lucy. 
No. Dragged all the way thru. No definite climax. Too much repetition. 2 (Dolores Costello. 
No, it was too long and drawn out. 2) Dolores Costello, Lucy and Mr. Morgan. 
No I felt the picture was making an attempt to be great and it failed completely. 
No. The setting was perfect. Direction was good. Story fair, but very dated and dry. The truth is that I couldn't understand it. 
It started out fairly well but it was too long. It got duller by the minute. Terrible ending! 2) Ann Baxter, The Actor that played the part of Eugene Morgan. 
No. Orson Welles must have been frightened when young. He's so morbid. He leaves me with a bad taste in my mouth. His plays do likewise. 
Absolutely not. It was positively stinky. 2) Ann Baxter. 
No Soap
Overdone, over long, over photographed. I overheard one lady say, "I don't like to look at a picture I can't see." Too much angles for picture of this type. 2) All did their parts well.   Masterful direction. 
No, I didn't especially care for it. It was dragged out too much. Just sat waiting for something to happen. 2) Dolores Costello. Ann Baxter – the girl who played the part pf Lucy. 
Good in spots, but spotty, and please have pity on our poor strained eyes. 
I liked the picture but too much sadness. 2) Tim Holt and Ann Baxter. 
A very interesting photographic endeavor but it was too long and dragged with hardly any plot. Expertly directed and above general movie-goers heads. 2) Aunt Fanny, Dolores Costello, Ann Baxter. 
Very good. Marvelous acting. Photography made the picture even more dramatic.   Far too high for general consumption, however. 2) Aunt Fanny, Tim Holt – lighter parts might be more to his type. Very good though. 
Very good. All of it. 
Good, but dragged out at end. Maybe I'm no judge but I thought the dialogue was – 
It was all right, in parts. 2) Tim Holt and Ann Baxter. 
First half very good, last half very poor. Very slow. 2) Fanny, Morgan, Tim Holt, Ann Baxter.
 I enjoyed it but it is not the type one would want to see often. I thought the story weak. The acting was excellent esp. Aunt Fanny. I didn't think it will have much box office appeal. A good psychological study. Photography excellent but the darkness gets on ones nerves. 2) Costello – best I have seen her for a long while. Baxter Okay. So was Aunt Fanny
Picture could be made excellent if certain parts not made so eccentric.
It was Okay as far as the acting went, but it dragged a lot, and did not explain itself many times. 2) Dolores Costello, Tim Holt, part portrayed for Eugene.
Ann Baxter was swell for I know her well, but the picture absolutely stank.
 March 18, 1942
TELELEGRAM: ORSON WELLES TO GEORGE SHAEFER
EGAR TO HEAR REACTIONS TO AMBERSON PREVIEW LOVE ORSON.
 March 19, 1942
TELEGRAM: JACK MOSS TO ORSON WELLES
AMBERSONS PREVIEW UNSATISFACTORY. GENERAL COMMENT TOO LONG BUT DESPITE IMPATIENCE THEY WERE OVER AND OVER AGAIN HELD BY DRAMA. PREVIEWING AGAIN TONIGHT IN PASADENA WITH DIFFERENT TYPE OF AUDIENCE.  WE WILL PHONE YOU TOMORROW WITH FULL REPORT ON BOTH PREVIEWS.
JACK
March 19, 1942
MEMO: ROSS HASTINGS TO GEORGE SCHAEFER:
(RKO Attorney)
You asked me concerning our rights in connection with the cutting of THE MAGNIFICENT AMBERSONS.
Orson Welles has the right to make the first rough cut of the picture or to cut the picture in the form of the first sneak preview if it is to be previewed. Thereafter he agrees to cut the picture as directed by us.
I am not really informed as to the facts, but I know that the picture has been previewed, and assume that this preview was in the form in which he cut the picture, or at least in the form as to which he controlled the cutting. In view of the fact that from this point on he is obligated to cut as directed by us, and in view of the further fact that he is now not available for cutting, it is my opinion that we have the right to cut the picture.
March 19, 1942
Sampling of 85 Pasadena Preview Cards 67 cards positive 18 negative:
"Did you like the Picture or not? Why?"
Wonderful. Much Better than CITIZEN KANE. Orson Welles is a genius.
Definitely 10 times better than CITIZEN KANE.
Orson Welles is the most tremendous director of the day. This is by far one of the finest pictures I have ever seen.
Magnificent direction. Outstanding performances, especially aunt, son, Eugene, grandfather, mother. Photography excellent, snow scenes like Currier & Ives.
Perfect. CITIZEN KANE was marvelous. This preview cannot be praised too highly.
This preview cannot be praised too highly. Depressing but better than any propaganda picture.
Yes, it portrayed realistically and faithfully a marvelous study in adolescent psychology, maternal complex and social maladjustment. The setting accurately portrayed the scenes of my own childhood and I saw some of my unlovely relatives… the entire cast was well chosen. Music so subordinated that it never jarred. The picture is a triumph for Mr. Welles, but its subject and subtleties will go over the heads of that vast populace whose mental capacity is restricted to Mickey Mouse and Pluto.
Superb. Won't be appreciated by majority but the rest of the world will profit.
Simply tops in entertainment. Absolutely perfect in historical setting of that other day:
causing nostalgia which anyone over 30 will like and enjoy.
No word at my command can express the emotion that this story has aroused in me.
I do not like Orson Welles "Running his shows." He should be "kept quiet" The Goddamn thing stunk.   Only Orson Welles could think up a thing like that. The blackout doesn't have to be observed on the screen. Turn on the lights.
 March 21, 1942
LETTER: GEORGE SCHAEFER TO ORSON WELLES:
PERSONAL-CONFIDENTIAL
Dear Orson:
I did not want to cable you with respect to  THE MAGNIFICENT AMERSONS as indicated in your cable of the 18th, only because I wanted to write you under confidential cover.
Of course, when you ask me for my reaction, I know you want it straight, and though it is difficult to write you this way, you should hear from me.
Never in all my experience in the industry have I taken so much punishment or suffered as I did at the Pomona preview. In my 28 years I the business, I have never been present in a theater where the audience acted in such a manner. They laughed at the wrong places, talked at the picture, kidded it, and did everything that you can possibly imagine.
I don't have to tell you how I suffered, especially in the realization that we have over $1,000,000 tied up. It was just like getting one sock in the jaw after another for over two hours.
The picture was too slow, heavy, and topped off with somber music, never did register. It all started off well, but just went to pieces.
I am sending you copies of all the preview cards received to date. They speak for themselves and do not tell the whole story because only a small percentage of people make out cards. I queried many of those present and they all seemed to feel that the party who made the picture was trying to be "arty," was out for camera angles, lights and shadows, and as a matter of fact, one remarked that "the man who made that picture was camera crazy." Mind you, these are not my opinions—I am giving them to you just as I received them.
The punishment was not sufficient, and as I believed in the picture more than the people did, I hiked myself to Pasadena again last night, feeling sure that we would get a better reaction. We did, but not, of course, in its entirety. There were many spots where we got the same reaction as we did in Pomona. I think cutting will help considerably, but there is no doubt in my mind but that the people at Pasadena also thought it was slow and heavy. The somber music score does not help.
While, of course, the reaction at Pasadena was better than Pomona, we still have a problem. In Pomona we played to the younger element. It is the younger element who contribute the biggest part of the revenue. If you cannot satisfy that group, you just cannot bail yourself out with a $1,000,000. Investment—all of which, Orson, is very disturbing to say the least.
In all our initial discussions, you stressed low costs, making pictures at $300,000. To $500,000. We will not make a dollar on CITIZEN KANE and present indications are that we will not break even. The final results on AMBERSONS is still to be told, but it looks "red."
All of which reminds me of only one thing—that we must have a "heart to heart" talk. Orson Welles has got to do something commercial. We have got to get away from "arty" pictures and get back to earth. Educating the people is expensive, and your next picture must be made for the box-office.
God knows you have all the talent and the ability for writing, producing directing—everything in CITIZEN KANE and AMBERSONS confirms that. We should apply all that talent and effort in the right direction and make a picture on which "we can get well."
That's the story, Orson, and I feel very miserable to have to write you this.
My very best as always,
George Schaefer
March 21, 1942
MEMO: Charles Koerner to RKO attorney Ross Hastings
(Temporary head of production)
…Please see me Monday regarding the Orson Welles deal…
March 23, 1942
20TH CENTURY FOX MEMO: B. LAVIONE TO P. METZLER
Upon date of February 27, 1942, 12, we received a letter from RKO, amending our loan agreement with them, dated October 12, 1941, for the services of Ann Baxter, in connection with their production "The Magnificent Ambersons," to provide that Miss Baxter's screen credit be announced orally in the order of her appearance, rather than in the usual visual manner.
 March 23, 1942
TELEGRAM: JACK MOSS TO ORSON WELLES
DEAR ORSON: AS CABLED POMONA PREVIEW GENERALLY UNSATISFACTORY. PASADENA PREVIEW HAD BETTER RECEPTION. FOLLOWING IS THE WAY THE PICTURE WAS PREVIEWED IN POMONA:
CONTINUITY THE SAME AS THE WAY PICTURE WAS SHOT UNTIL THE END OF CARRIAGE SCENE WITH JACK AND MAJOR. FADE OUT THERE. DROP PORCH SCENE, FADE IN ON EUGENE AND ISABEL AT TREE. CONTINUITY FOLLOWS AS SHOT, UP TO THE NEW SCENE (WHERE GEORGE FINDS ISABEL UNCONSCIOUS IN HER BEDROOM). MADE YOUR BIG CUT AND COME TO A GROUP IN HALL EXTERIOR OF ISABEL'S ROOM. CONTINUITY AGAIN AS SHOT, UP UNTIL THE INDIAN LEGEND AND ACCIDENT SCENE – BOTH DROPPED. FADE IN ON ACCIDENT INSERT. CONTINUE TO END AS SHOT.
FOLLOWING IS THE WAY THE PICTURE WAS PREVIEWED AT PASADENA:
FIRST CUT, THE FACTORY SCENE. SECOND CUT, THE FIRST PORCH SCENE. THIRD CUT, BATHROOM SCENE WITH JACK AND GEORGE. CONTINUITY AGAIN AS SHOT. PUT BACK ALL OF YOUR BIG CUT, EXCEPT MAJOR AND FANNY IN SECOND PORCH SCENE. CONTINUITY AS SHOT, TO THE END OF RAILROAD STATION, JACK'S GOODBYE SCENE. FOLLOWED BY FANNY'S BOILER SCENE, BRONSON'S OFFICE, GEORGE'S WALK HOME, INDIAN LEGEND, AND ACCIDENT. LAP OUT ON ACCIDENT, OMITTING THE LINE "RIFF RAFF."  LAP FROM NEWSPAPERS TO EUGENE EXITING HOSPITAL, TO PROCESS SHOT WHERE EUGENE SAYS, "TAKE ME TO MISS MINAFER'S," THEN TO BOARDING HOUSE. BOARDING HOUSE CUT DOWN. PUT THE LINE "THAT'S THE END OF THE STORY," UNDER A FADE OUT ON MATTE SHOT OF STREET.
SCHAEFER AND HIS ASSOCIATES ADVOCATE MANY DRASTIC CUTS, MAINLY FOR PURPOSES OF SHORTENING LENGTH. BOB WISE, JOE I AND MYSELF HAVE CONFERRED ANALYZING AUDIENCE REACTIONS AND EXERCISING OUR BEST JUDGMENT WE BELIEVE THE FOLLOWING SUGGESTED CONTINUITY WOULD REMOVE SLOW SPOTS AND BRING OUT THE HEART QUALITIES OF THE PICTURE.
SWITCH CONTINUITY IN THE OPENING REEL FROM "THE FASTER WE'RE CARRIED, THE LESS TIME WE HAVE TO SPARE" TO "DURING THE EARLIER YEARS OF THIS PERIOD." PLAY DOWN TO "THEY COULD NOT SPEND MONEY EITHER UPON ART OR UPON MERE LUXURY AND ENTERTAINMENT, WITHOUT A SENSE OF SIN." CUT BACK TO "IN THOSE DAYS WE HAD TIME FOR EVERYTHING." PLAY THROUGH EUGENE FALLING ON BASS VIOL, LAP TO "MAGNIFICENCE OF THE AMBERSONS CONSPICUOUS AS A BRASS BAND." CUT FROM "STATIONARY WASHSTANDS IN EVERY LAST BEDROOM IN THE PLACE" SPEECH, TO EUGENE AT FRONT DOOR.
REASON FOR FOREGOING IS TO KEEP THE FALL THROUGH THE BASS VIOL AND EUGENE TURNED AWAY CLOSER TOGETHER. CUT THE LAST TWO SPEECHES OF SEWING CIRCLE. CONTINUITY THROUGH TO GEORGE ON HIS HORSE CART AFTER "BUT GEORGE RETURNED WITH THE SAME STUFFING." LAP TO NITE SNOW SHOT "WHEN GEORGE CAME HOME FROM THE HOLIDAYS IN HIS SOPHOMORE YEAR" LOSING THE FOTA CLUB SCENE.
CONTINUITY THROUGH TO END OF "THE FAMILY LIKES TO HAVE SOMEONE IN CONGRESS," THEN LAP TO ALL THE BOYS SAYING "HELLO" TO LUCY. PLAY THROUGH TO THE POINT WHERE GEORGE IS ON THE STAIRS WITH LUCY, SAYS "YES, MOTHER, VERY MUCH. WILL YOU PLEASE EXCUSE US." LAP TO GROUP WALKING IN TO THE PUNCH BOWL. MAJOR SAYS "EGGNOG ANYBODY?" PLAY THROUGH TO END WHEN LUCY SAYS, "THANKS ABOUT LETTING MY NAME BE LUCY." CUT FROM THIS TO EUGENE SAYING TO JACK, "GOODBYE, I'VE GOT THIS DANCE WITH HER."
CONTINUITY CONTINUES TO FADE OUT ON BALL SCENE. FADE IN ON SNOW SEQUENCE. DROP STABLE. SNOW SEQUENCE PLAYS THROUGH TO CLOSE-UP OF LUCY SINGING AFTER GEORGE SAYS "HOW ABOUT THAT KISS." FROM HER CLOSE-UP, CUT TO A LONGSHOT AND IRIS OUT. AFTER TOMBSTONE GO TO FACTORY. DROP DIPLOMA AND KITCHEN SCENE. FROM INTERIOR FACTORY SCENE, LAP TO GENE AND ISABEL AT TREE.  FADE OUT ON THIS. DROP MAJOR AND JACK IN CARRIAGE.  FADE IN ON DINING ROOM.
CONTINUITY AGAIN AS SHOT. DROP BATHROOM SCENE. CUT FROM GEORGE COMING IN WITH PACKAGE TO EUGENE ARRIVING. PLAY THROUGH TO FADE OUT. FANNY IS ON STAIRS. PLAY FIRST PART OF EUGENE'S LETTER OVER EXTREME HIGH, LONG SHOT INTERIOR OF AMBERSON MANSION. SLIGHT REVERBERATION ON HIS VOICE, NO MUSIC. LAP TO ISABEL SEATED, MUSIC STARTS AND PLAY THROUGH TO "THIS TIME I'VE NOT DESERVED IT." CUT TO GEORGE IN HALL ON THE DOOR SLAMMING. SHOOT NEW SCENE WITH GEORGE AND ISABEL IN HER BEDROOM. LAP TO LETTER UNDER DOOR. MUCH SHORTER, MAKING NEW TRACK. ISABEL'S LETTER TO PLAY OVER GEORGE.
LETTER TWO AS OUTLINED IN ROBERT WISE'S LETTER. PLAY THROUGH STREET SCENE AND DRUGSTORE. DROP POOLROOM. DROP MAJOR AND FANNY ON PORCH. FADE IN EXTERIOR OF MORGAN MANSION AND PLAY THROUGH. FADE OUT SOONER ON INTERIOR OF MANSION. PLAY THROUGH THE EXTERIOR OF RAILROAD STATION. LAP IN SOONER TO CARRIAGE. DROP HALLWAY SHOT OF THE EXTERIOR OF ISABEL'S ROOM.
SHOOT A NEW SCENE IN WHICH EUGENE ASSERTS HIMSELF WHEN GEORGE ATTEMPTS TO STOP HIM FROM GOING UPSTAIRS TO SEE ISABEL, THEN FANNY PLEADS WITH EUGENE NOT TO GO UP, BUT TO COME BACK LATER, AND IN THE MEANTIME ISABEL DIES. LAP FROM ISABEL'S DEATHBED SCENE TO MAJOR ON BED. PLAY THROUGH. CUT HEADLIGHT TALK AND MAJOR'S FIRESIDE SCENE. FADE IN ON RAILROAD STATION ON THE LINE "WELL THIS IS AN ODD WAY FOR US TO BE SAYING GOODBYE." FOLLOW WITH FANNY'S BOILER SCENE.
SHOOT A NEW SCENE IN BRONSON'S OFFICE STRESSING GEORGE'S DISTRESS AND NEED OF MORE THAN EIGHT DOLLARS A WEEK. IN THE WALK HOME, CUT FROM "IT BEFOULED ITSELF AND DARKENED ITS SKY," TO "THIS WAS THE LAST WALK HOME." AFTER "BIG OLD HOUSE AT END OF AMBERSON BOULEVARD." CUT TO "TOMORROW EVERYTHING WOULD BE GONE," THIS OVER SHOT OF MANSION. THEN LAP DISSOLVE TO LONGSHOT OF GEORGE AT BED. LONG PAUSE, THEN, "MOTHER FORGIVE ME. GOD FORGIVE ME." PLAY ON THROUGH TO END AS IN PASADENA PREVIEW. PLEASE CABLE OR PHONE YOUR DECISIONS AND INSTRUCTIONS. LOVE FROM ALL. JACK
March 24, 1942
TELEGRAM: ORSON WELLES TO JACK MOSS:
MY ADVICE ABSOLUTELY USELESS WITHOUT BOB WISE HERE. SURE I MUST BE AT LEAST PARTLY WRONG, BUT CANNOT SEE REMOTEST SENSE IN ANY SINGLE CUT OF YOURS, BOB'S, JO'S. REALIZE I HAVEN'T SEEN COMPLETED FILM WITH AUDIENCE REACTION, BUT CANNOT EVEN BEGIN DISCUSSING ON PROPOSALS AS RECEIVED WITHOUT DOING ACTUAL WORK ON ACTUAL FILM, WITH BOB HERE.
POSITIVELY (HATE) NEW SCENE THAT BOB SHOT WHERE GEORGE DISCUSSES EUGENE. NOT DONE WELL ENOUGH. ABSOLUTELY INSIST THAT NORMAN (FOSTER) DIRECT IT. MUST HAVE INTENSITY AND PUNCH. SHOULD BE TERRIFIC AND THE MUSIC FOR THIS IS ESSENTIAL. RE-DUB FANNY'S LINE "GEORGE, GEORGE", WHICH GOT A BIG LAUGH. TAKE OUT THE NOTES (THAT GOT) COMPLAINT AND CHANGE TO MAJOR KEY BUT STILL KEEP HUSHED.
AM SURE THIS WILL KILL LAUGH OR I'M CRAZY. I GUESS I AM ANYWAY. MUCH LOVE
March 25, 1942
LETTER: JACK MOSS TO ORSON WELLES:
Dear Orson:
Every effort being made to secure immediate passage for Bob. We all agree your decisions on AMBERSONS dependent upon actual work with actual film.
Jack
FILM DAILY, March 26, 1942
WELLES PIC WILL BE IN RKO SIXTH BLOCK
RKO has withdrawn Orson Welles' "The Magnificent Ambersons" from the company's fifth block and will include it in the sixth group.  Picture was to have been trade shown next Tuesday, but delays in editing have caused the postponement to a later date.
March 27, 1942
TELEGRAM: ORSON WELLES TO JACK MOSS:
THIS IS A PRELIMINARY LIST OF AMBERSON CUTS. DETAILS FOLLOW TOMORROW MORNING.
AFTER THIS:
FULL SHOT: THE BALLROOM FOLLOWING TIM'S LINE "A YACHTSMAN. " INSTEAD OF DISSOLVE TO JOE AND DOLORES WALTZING, HALF FADE OUT, HALF DISSOLVE TO STABLE SCENE, SAME TIMING GOING OUT OF BALLROOM AS BEFORE, SAME TIMING COMING INTO STABLE AS BEFORE.
ALSO: TRY STARTING SCENE AS SAME LINE ON WILBUR. CLOSE SHOT OF TIM WALKING IN.
ALSO: ON SAME LINE TRY FADING IN AS DOOR OPENS THROWING LIGHT ON TIM AND DOLORES; THEY LOOK AT CAMERA LEFT AT END OF WALKING SHOT, IN HALF.
I WILL SAY THIS AGAIN FOR CLARITY AND COLOR: JOE BLOWS OUT LIGHT ON BLACK SCREEN.
FADE IN ON SECOND FLOOR OF MANSION ON TIM'S LINE "LOOK HERE, FATHER, ABOUT THIS MAN MORGAN" AND SO ON, THROUGH REMAINDER OF SCENE, FADING OUT WITH SAME TIMING AS PRESENT. DISSOLVE AS TIM WALKS UP HALF LAUGHING AFTER JACK GOES BACK INTO HIS ROOM.
IN OTHER WORDS: THIS ELIMINATES THE FULL LATE NIGHT SEQUENCE ON FIRST FLOOR AND ALSO THE EXTERIOR OF MANSION WITH AUTOMOBILE.   TWO SHOT WHERE TIM, DOLORES WALK ALONG DARK HALL FROM STAIRWAY TO WILBUR'S ROOM. THIS CUTS NOTHING WHICH PROMOTES STORY OR REVEALS CHARACTER WHERE NOT OTHERWISE REVEALED.
SNOW SEQUENCE
FADE IN: REFLECTION SHOT, SAME TIMING AS BEFORE. CUT THE NEXT TWO SHOTS. GO FROM REFLECTION TO SCENE SIXTEEN, THE CAMERA UNDER AUTO
THEN: CONTINUE SNOW SEQUENCE AS BEFORE, FINISHING AS BEFORE, EXCEPT INSTEAD OF IRISING DOWN AND OUT, HALF FADE OUT HALF DISSOLVE TO NEXT SCENE.
NEXT SCENE IS SCENE ONE – REEL THREE: AUTO COMING TOWARDS US, SMOKE
MUSIC ON TO GEORGE AND LUCY IN BUGGY AS BEFORE. PLAY THROUGH THE GEORGE AND LUCY SCENE TO MAJOR AND JACK, TRIMMING LAST FEW FRAMES ON THE CRANE SHOT SO MAJOR'S BUGGY DOES NOT START OUT OF FRAME, BEFORE WE CUT INSIDE.
SUGGEST TRYING VERY FAST LAP TO: INTERIOR OF MAJOR'S BUGGY. PLAY THROUGH MAJOR AND JACK'S SCENE WHICH IS VITAL TO PICTURE. FADE OUT AT END OF THE SCENE. FADE IN TO:
BEGINNING OF FUNERAL SCENE. DOOR OF MANSION WITH CREPE. OR IF MUSIC WORKS WELL FOR IT, MAKE TRANSITION HALF FADE OUT, HALF DISSOLVE. PLACING FUNERAL HERE MAKES IT LESS ARBITRARY AND GIVES IT SLIGHT ANGLE. ANOTHER ADVANTAGE IS BEAUTIFUL TIME TRANSITION FROM HORSELESS CARRIAGE IN SNOW AND EARLY AUTOMOBILE ON STREET FROM END OF FUNERAL, FULL SHOT, TRY GOING TO: "WILBUR MINAFER—QUIET MAN—THE TOWN WILL HARDLY KNOW HE'S GONE."
REMAKE THIS AS TWO SHOT AGAINST BACK OF FLOWERS TO MATCH THE INTERIOR OF LIBRARY.
PHONE ME TO GET CORRECT READING FOR LINE.
FOLLOWING SUGGESTION EXPERIMENTAL: TRY GOING FROM TWO SHOT OF CITIZENS TO CHOKER OF FANNY, THEN HALF FADE OUT, HALF DISSOLVE FROM FANNY'S FACE TO A NIGHT MATTE SHOT OF MANSION IN RAIN, THEN: DISSOLVE INTO KITCHEN. STARTING KITCHEN SCENE AS BEFORE. ALSO TRY ALTERNATE START OF KITCHEN SCENE ON FANNY'S LINE: "SO EUGENE CAME TO THE STATION TO MEET YOU."
IN ANY EVENT THE DIPLOMA INSERT AND MUSIC ARE DEFINITELY CUT.   ALSO DEFINITE CUT IS THE FADEOUT OF KITCHEN SCENE ON JACK'S LINE: "I REALLY DON'T KNOW OF ANYTHING MUCH FANNY HAS GOT EXCEPT HER FEELING ABOUT EUGENE." FADEOUT JUST BEFORE TIM REACTS TO HOUSES OUTSIDE. FADEOUT IS HALF FADE OUT, HALF DISSOLVE.
GOES FROM HERE TO THE FIRST PORCH SEQUENCE: CUT ESTABLISHING SHOT. COME IN ON PORCH SCENE TO CARRY MAXIMUM POSSIBLE PAUSE BEFORE FANNY'S LINE: "ARE YOU LAUGHING ABOUT SOMETHING." PLAY THE PORCH SCENE THROUGH FANNY'S EXIT AND "THE VERY ANNIVERSARY OF WILBUR'S DEATH."
THEN: CLOSEUP OF TIM LEANING AGAINST RAILING STARTING OFF, BEFORE FULL SHOT, INCLUDING LUCY'S VISION. DISSOLVE TO: DAY SEQUENCE SCENE ONE – REEL FOUR: EXTERIOR MANSION:
EUGENE AND ISABEL, THEN PLAY THROUGH TO END OF JACK AND GEORGE IN BATHROOM SCENE AS IN PRESENT VERSION, MAKING ONLY THE FOLLOWING SHORT CUT: SCENE THIRTY-SEVEN, REEL FOUR – CUT GEORGE'S LINE BEGINNING WITH: "THEN IT WOULD BE MONSTROUS IN THE FACE OF ALL THIS."
IN OTHER WORDS CUT FROM: "WHAT'S THE MATTER WITH THEIR MARRYING" TO: "OH, THAT YOU CAN SIT THERE AND SPEAK OF IT." FADE OUT ON THE SLAMMING DOOR, TIMING AS IN PRESENT VERSION.
FADE IN – SCENE THREE, REEL FOUR: EXTERIOR OF EUGENE ENTERING IN CAR. THIS CUTS GEORGE'S ENTRANCE IN PARLOR, UNWRAPPING OF PICTURE AND HIS SITTING DOWN BEFORE WINDOW. TONE DOWN BIG RISE UP IN MUSIC OVER VESTIBULE SETUP, OTHERWISE CONTINUING UNCHANGED THROUGH FANNY'S LINE: "LET HER ALONE." FADE OUT AT END REEL FOUR. VERY SLOW FADE IN.
FOLLOWING IS NEW SCENE: INTERIOR OF EUGENE'S HOUSE. DESK NEAR WINDOW. LATE AFTERNOON – BACKLIGHT. TIGHT SHOT OF JOE WRITING ALMOST IN SILHOUETTE. SOUND OF PEN AS HE SIGNS NAME, THEN PUTS DOWN PEN AND LOOKS BACK TO TOP OF PAGE, AS HE READS TO HIMSELF, HIS LIPS NOT MOVING, HIS VOICE READING THE LETTER IS HEARD ON SOUNDTRACK WITH MUSIC, AS IN PRESENT LETTER SEQUENCE.
NEW TEXT OF LETTER AS FOLLOWS: EUGENE: "YESTERDAY I THOUGHT THE TIME HAD COME WHEN I COULD ASK YOU TO MARRY ME, AND YOU WERE DEAR ENOUGH TO TELL ME SOMETIME IT MIGHT COME TO THAT. BUT NOW WE COME TO THIS DEAR—WILL YOU LIVE YOUR OWN LIFE YOUR WAY OR GEORGE'S WAY?  OH, DEAREST WOMAN IN THE WORLD, I KNOW WHAT YOUR SON IS TO YOU AND IT FRIGHTENS ME. DEAR, IT BREAKS MY HEART FOR YOU BUT WHAT YOU HAVE TO OPPOSE NOW IS THE HISTORY OF YOUR OWN SELFLESS AND PERFECT MOTHERHOOD. ARE YOU STRONG ENOUGH, ISABEL? CAN YOU MAKE THE FIGHT?"
NOW A CUT OR QUICK DISSOLVE TO ISABEL SEATED AS SHE LOOKS UP FROM LETTER THEN RISES. HERE IS ADDED LINE FOR EUGENE'S NARRATION FOR THIS PLACE: "I KNOW YOU AREN'T QUITE WELL DEAR— BUT…."
THEN GO ON WITH LETTER: "I PROMISE YOU THAT IF YOU WILL TAKE HEART FOR IT."  AND SO ON THROUGH:
DISSOLVE TO: GEORGE. THEN PLAY THROUGH GEORGE ENTERING ISABEL'S ROOM, INCLUDING THE NEW SCENE WHERE HE FINDS HER UNCONSCIOUS WHICH SHOULD BE TERRIFIC IF CAMERA IS IN CLOSE ENOUGH AND MOVING WITH HIM AS HE DROPS TO FEET AND TAKES HER IN HIS ARMS FOR THE FADE OUT.
AGAIN EMPHASIZE THE TREMENDOUS IMPORTANCE THAT THIS SHOT BE BEAUTIFULLY DONE—MUSIC VERY STRONG.
FADE OUT, FADE IN ON INTERIOR HALL – REEL FIVE – THE FAMILY WAITING OUTSIDE ISABEL'S ROOM. PLAY THROUGH UNTIL JUST BEFORE FANNY'S ENTRANCE.
THEN: CUT OR QUICK DISSOLVE TO SCENE ONE – REEL SIX:
SILHOUETTE OF EUGENE WAITING DOWNSTAIRS. IF POSSIBLE REPEAT FRAMES BEFORE FANNY'S ENTRANCE TO LENGTHEN PAUSE. THIS CUTS THE SCENE BETWEEN FANNY AND GEORGE ABOUT WHETHER EUGENE SHOULD BE ALLOWED TO SEE ISABEL. PLAY THROUGH FROM FANNY AND EUGENE'S SCENE TO AND INCLUDING THE MAJOR'S DEATH SCENE, WITH THESE DIALOGUE CHANGES IN OFFSTAGE VOICES READ OVER THE MAJOR'S FACE: JACK'S SPEECH SHOULD READ: "I AM ONLY GLAD YOU DIDN'T PUT AS MUCH MONEY IN IT AS I DID." INSTEAD OF: "GO INTO THE CONFOUNDED THING TO THE EXTENT I DID." JACK'S NEXT LINE SHOULD READ: "OUR HEADLIGHT JUST WON'T WORK, FANNY. WE SHOULD HAVE TAKEN GENE'S ADVICE." INSTEAD OF:  "IT CERTAINLY WAS A PERFECT THING IN THE SHOP. WELL, OUR HEADLIGHT JUST WON'T WORK, FANNY." GEORGE'S OFF STAGE LINES TO GRANDFATHER: "DID YOU WANT ANYTHING?" AND "WOULD YOU LIKE A GLASS OF WATER?"  ARE SPOKEN TOO SHARPLY AND PRONOUNCED TOO CAREFULLY. EFFECT IS UNPLEASANT. REMAKE. ALSO: OFF STAGE VOICES IN THIS SEQUENCE ALL SLIGHTLY TOO HIGH.
I WILL REPEAT FOR CLARITY: THE ENTIRE ISABEL DEATH SEQUENCE STANDS AS IN PRESENT VERSION.
DIALOGUE BETWEEN GEORGE AND FANNY IS ONLY CUT BETWEEN FADE IN OF HALL SCENE AND FADE OUT OF MAJOR'S DEATH. ALL CEMETERY SCENES ARE CUT, SO USE FOOTAGE ALLOWED FOR IN MUSIC TO HOLD OVER ON FLICKERING LOW KEY IMAGE OF MAJOR'S FACE AND SCREEN GOING BLACK, JUST AS DEATH MUSIC FINISHES.
NARRATION HERE AND ALSO THROUGHOUT ENTIRE PICTURE SLIGHTLY TOO LOW; CONSONANTS AND SIBILLANTS TOO SHARP. THIS MUST BE FILTERED OUT. ALSO MUSIC SOMETIMES FIGHTS ME.
FOLLOWING MAJOR'S DEATH SCENE, FADE IN RAILWAY SCENE AS IN PRESENT VERSION, ONLY CONDUCTOR MUST BE CALLING TRAINS OVER DARK SCREEN, CONTINUING AS WE FADE IN AND ON THROUGH UNTIL FIRST FINISH OF EFFECT AS ALREADY LAID OUT IN TRACK. GENERAL STATION SOUNDS SHOULD BE SLIGHTLY HIGHER AT VERY START OF SCENE. THE RAILWAY SCENE UNCUT. FADE OUT AT END.
FADE IN: LUCY AND EUGENE IN GARDEN SCENE. PLAY THROUGH BUT SNEAK OUT MUSIC UNDER LUCY'S LINE: "RIDES DOWN EVERYTHING." BUILD IN BLANK SPOTS. BIRD CALLS AND RUSTLE OF BREEZE IN TREES.
FADE OUT AT END OF SCENE, THE SAME TIMING AS PRESENT DISSOLVE.
THEN QUICK FADE IN TO KITCHEN SCENE AS FANNY FALLS TO FLOOR. "YOU WANT TO LEAVE ME IN THE LURCH." SAME TIMING AS PRESENT VERSION. PLAY THROUGH FANNY AND GEORGE SCENE, AND GEORGE BRONSON SCENE AS IN PRESENT VERSION, WITH ONLY THE ADDITION OF THIS LINE FOR SECRETARY: "MISTER MINAFER." AS DOOR OPENS ON DISSOLVE INTO OFFICE, LINE THIS FADING UP WITH FADE IN.
FADE OUT AT END OF BRONSON OFFICE. FADE IN ON WALKING HOME SEQUENCE. IMAGE STAYS TOO LONG IN CLEAR ON WORDS: NARRATOR "IT BEFOULED ITSELF AND DARKENED ITS SKY." THE FLAT SIDE OF BUILDING IS DULL AND MEANINGLESS. ALSO IRON PICKET FENCE LOOKS NEW. SHOULD BE VERY BROKEN DOWN, EVEN NONEXISTENT. LAST IMAGE IN THIS SEQUENCE SHOULD BE THE SIGN READING: INSERT: NEW HOPE APARTMENTS. HOLD ON THIS LONGER. FADE OUT
DEFINITELY CUT THE MATTE SHOT IN FRONT OF THE MANSION. IF NECESSARY CUT THESE LINES: NARRATOR "TONIGHT WOULD BE THE LAST NIGHT THAT HE AND FANNY WERE TO SPEND IN DIE HOUSE WHICH THE MAJOR HAD FORGOTTEN TO DEED TO ISABEL." AND THE NARRATION READING: "AND THE BIG OLD HOUSE AT THE FOOT OF AMBERSON BOULEVARD—TOMORROW THEY WERE TO MOVE OUT AND SO ON….." REST OF SEQUENCE PLAYS THROUGH AS IN PRESENT VERSION.
AFTER THE NARRATOR'S LINES: "FAINT CRY OVER AND OVER…." TAKE LONGER PAUSE BEFORE GEORGE'S LINE: "MOTHER, FORGIVE ME. GOD, FORGIVE ME." ON NARRATOR'S LINES: "CAME AT LAST." MUSIC SHOULD HAVE SNEAKED DOWN AND ALMOST FADED OUT, RETURNING TO LEVEL OF PRESENT VERSION UNDER THE WORDS: "THOSE WHO HAD SO LONGED FOR IT."
FADE OUT AS IN PRESENT VERSION, THEN SLIGHT PAUSE. THEN CONTINUE WITH NARRATION I SENT TO YOU LAST WEEK, WITHOUT MUSIC AND ON BLACK SCREEN PLAY THE NARRATION THROUGH TO FINISH AFTER LAST WORDS OF THIS: "BY AN AUTOMOBILE." FADE IN ON EUGENE'S CAR COMING TO STOP IN FRONT OF THE BOARDING HOUSE. THEN PLAY BOARDING HOUSE SCENE THROUGH AS IN PRESENT VERSION. ONLY CHANGE NECESSARY HERE IS COMIC RECORD. NORMAN SOUNDS TOO LEGITIMATE. GET RAY TO PLAY STRAIGHT MAN, WHO SHOULD SOUND LIKE TIGHT VOICED VAUDEVILLIAN.
AS WISE SAYS IN LETTER, THE FINAL FADEOUT SHOULD BE SLOWED WITH TRAFFIC EFFECTS. IT'S BETTER.
AS TO CREDITS, THESE MUST BE DONE IN PLAQUE STYLE. ONE HALF PLAQUE STYLE OR NEGATIVE EFFECT. INDEED, ANY EFFECT BUT STRAIGHT CUTS AS IN PRESENT VERSION. IF NO PHOTOGRAPHIC TRICKS SATISFACTORY, SUGGEST PEN AND INK DRAWINGS IN SOMEWHAT SIMPLIFIED GIBSON STYLE, WHITE LINES ON BLACK FIELD OR SOME SUCH VAGUE, PLEASANT STYLISH EFFECT. VERY WORRIED ABOUT VISUAL PROBLEM WITH END TITLES, BUT THEORY SEEMS TO WORK.
OPENING TITLE, MERCURY PRODUCTIONS, SHOULD BE AS SET BY ME BEFORE LEAVING, SIMILAR TO KANE.
March 28, 1942
TELEGRAM: PHIL REISMAN TO ORSON WELLES (excerpt)
(RKO Executive)
…BE SURE AND LEAVE HIM (George Schaefer) A REASONABLE OUT, AS CONFIDENTIALLY HE HAS HAD TERRIFIC PROBLEMS WITH BOARD AND I MEAN TERRIFIC.
March 28, 1942
LETTER: JOESPH COTTEN TO ORSON WELLES (excerpt):
Dear Orson:
In cases such as this great difference of opinion in the editing and cutting of AMBERSONS, people usually say "nothing personal, of course" as an excuse to say whatever they think. In my case, I have no business interest in AMBERSONS, Mercury or you; but a great personal feeling about all three, especially you, and whatever I say I know you will take in a personal way, and I want you to.
I have often been wrong in discussing scripts and plots with you, and I agree that I'm wanting in intellectual concept and understanding of art. I do, however, have a reliable instinct, and as often as I have been wrong about actual ideas, I have been right about audience reactions. I also know by now just about what your reaction to audiences is, and I am writing this to you because I know you would have been far from happy with the feeling in the theater during the showing last week. The moment the temporary title was flashed on the screen THE MAGNIFICENT AMBERSONS, a Mercury production by Orson Welles, there was a wonderful murmur of happy anticipation, which was warming and delightful to hear and feel. And the first sound of your voice was greeted with applause. Certainly I was fair in assuming at this point that the audience was with us. Then something happened… it happened gradually and awfully and the feeling in that theater became disinterested, almost hostile and as cold as that ice-house they had just seen and my heart as heavy as the heart of Major Amberson who was playing wonderful scenes that nobody cared about.
You have written doubtless the most faithful adaptation any book has ever had, and when I had finished reading it I had the same feeling I had when I read the book. When you read it, I had that same reaction only stronger. The picture on the screen seems to mean something else. It is filled with some deep though vague psychological significance that I think you never meant it to have. Dramatically, it is like a play full of wonderful, strong second acts all coming down on the same curtain line, all proving the same tragic point. Then suddenly someone appears on the apron and says the play is over without there having been enacted a concluding third act….It is a dark sort of movie, more Chekhov than Tarkington… The emotional impact in the script seems to have lost itself somewhere in the cold visual beauty before us and at the end there is definitely a feeling of dissatisfaction… chiefly, I believe, because we have seen something that should have been no less that great. And it can be great, I'm sure of that. It's all there, in my opinion, with some transpositions, revisions and some points made clearer… points relating to human relations, I mean.
…Our cables that fly back and forth, I know, present everything in a very unsatisfactory manner. They often must be misinterpreted at both ends. Jack, I know, is doing all he can. He is trying his best to get Bob Wise to you. His opinions about the cuts, right or wrong, I know are the results of sincere, thoughtful, harassed days, nights, Sundays, holidays. Nobody in the Mercury is trying in any way to take advantage of your absence. Nobody anywhere thinks you haven't made a wonderful, beautiful, inspiring picture. Everybody in the Mercury is on your side always. I miss you horribly and will be a happier soul when you return.
We all love you… and until then remain forever, as all of us do,
Obediently yours,
Joe
March 31, 1942
LETTER: ROBERT WISE TO ORSON WELLES
Dear Orson:
You asked for a detailed report of preview audience reactions and I have never tackled a more difficult chore. What I mean is, it's so damn hard to put on paper in cold type the many times you die through the showing—the too few moments you are repaid for all the blood and suffering that goes into a show.
With God's help and a sigh, here's a rough breakdown of the previews:
To start with, the audience seemed very restless and impatient during the first three or four reels of the show. It's not that there were any bad reactions or laughs during this part of the picture, but I had figured on more chuckles and general enjoyment.
Things like Joe's fall on the fiddle, the derby hat, shoes, different clothes, etc. got only a part of the laughs I'd expected.
The F.O.T.A. Club got only one laugh. That was at the boys crossing their arms and saying, "Welcome, friend of the Ace." The balance of the scene got nothing.
Uncle John and the olive business, I had figured on both for quite a number of laughs, got very few. This was true of a lot of the lines, particularly those of Lucy kidding George, which I had always felt were more amusing.
The scene downstairs after the ballroom seemed to play very well, and the scene upstairs in the hallway between George, Aunt Fanny and Uncle Jack was a wow. They really loved it. The stable scene between Eugene and Lucy fell rather flat.
The snow sequence, especially the part of starting the car, the pushing, cuts of George pushing and coughing, all played very well and got good laughs. However, it did seem to drag along when we got into the later dialogue and the song. However, the lack of expected laughs that I have pointed out in this part of the picture is not the important thing to stress. The really important thing is the length of the film and the definite audience disinterest and inattention during all this.
During the scene of characters filing past Wilbur Minafer's casket the audience laughed at the shot of Mrs. Johnson. This badly affected the balance of the scene.
The kitchen scene between George, Aunt Fanny and Uncle Jack played to laughs all the way through with an especially big one on Fanny's hysteria and crying. The same was true of George and Uncle Jack in the rain.
The factory, George and Lucy on the cart, the Major and Jack in carriage, Eugene and Isabel under the tree all went well by comparison.
The dinner sequence played beautifully, especially Joe's long speech about the automobile. They got a big kick out of Uncle Jack's line to George: "That's a new way of winning a woman."
We again got laughs from Aunt Fanny in several spots on the stair scene where she tells George that people are talking about his mother, as well as a couple in Mrs. Johnson's scene especially on her line: "Please to leave my house."
The bathroom scene did not get any particular laughs but one got the impression in this scene, as well as the rain scene where George and Jack yelled at each other, that they resented the hysterical sort of boy that George seems to be in these scenes.
There was a feeling of restlessness when George unwrapped the picture and did the business with it in the drawing room. But they were held by the scene at the door where George turns Eugene away.
There was a little laugh at the discovery of Fanny up at the top of the stairs but the audience settled down and were interested for the balance of that scene.
There was also some bad laughter at the start of Eugene's letter to Isabel.
On the cut of George reading Eugene's letter we got, not a laugh, but a reaction that said: "Oh, God, here he is again." There was a great lack of sympathy for George through this particular part of the picture.
Scene in Isabel's bedroom and her letter to him seemed to play well enough and the scene on the street between George and Lucy went beautifully. They got right away that Lucy still liked him and was giving him the needle. That she fainted in die drugstore does not seem clear, but we have tried to remedy this by putting in one of the other takes where the clerk says, after he apparently sees her on floor: "For gosh sakes, Miss."
The scene of Uncle Jack and Lucy at the exterior of the Morgan mansion all through the scene with Eugene, Jack and Lucy, the railroad station where they bring Isabel home, and the scene in the carriage all played well. The scene in the hallway outside of Isabel's room got rude laughs on Major Amberson speaking to the nurse and on his walk back to Isabel's bedroom.
As I think you already know, Aunt Fanny repeatedly calling George got loud laughs and varied audible mimics from the audience.
The scene downstairs between Fanny and Eugene, Eugene's departure, George at the window, George's scene with Isabel in the bedroom, the scene in George's bedroom where they are all waiting, and finally the Major on the bed to the fade out played, once again, to impatience and restlessness.
I'm sorry to say that there was some laughter at the first preview on the Major's wonderful speech in the fireside scene. This, however, wasn't repeated at the second preview.
The railroad station went well. The walk home did just all right. Here again there was that same impatience. Fanny in the boiler scene again got laughter in a few spots.
Bronson's office, the garden scene, the accident, on down to the boarding house played all right. The boarding house got us several laughs, one on the man's face when the door opens and several through the scene on Fanny's strange behavior, and here again we could feel great restlessness.
At Pomona we got a big hand and what seemed to be a sigh of relief on your line: "That's the end of the story." At both previews there were too many people who walked out all during the show. This can be attributed, I think, to the great length and slow pace. The picture does not seem to bear down on people.
Please believe me that notwithstanding all in this report, we are all certain that the basic quality of the show was appreciated and it is merely a matter of gentle, tireless and careful study and work to resolve "The Magnificent Ambersons" into a real proud Mercury production.
Warmest regards,
Bob Wise
March 31, 1942
LETTER: GEORGE SCHAEFER TO ORSON WELLES (excerpts):
Orson, I want you to believe me that I am personally on the hook for the whole South American venture. My board were not enthusiastic even with government help. They thought I was taking too much risk. Nevertheless, I pushed it through and prevailed upon them to be guided by my judgment. Further, we receive help from the government only up to a certain extent and that was also clearly outlined to board. That certain extent does not permit us to shoot FOUR MEN IN A RAFT in Technicolor.
It would cause your man Friday tremendous amount of personal embarrassment and everyone in particular taking a keen delight, in pointing out that you had not lived up to what I expected and what I stated would be done. Most anxious to bring this through at least possible cost. Urge you to do so for me. Even though photography will be black and white, it can still blend in to the Technicolor (footage) of Rio Carnival.
VARIETY, April 1, 1942
WELLES NEARS WASHUP AT RKO, 1 MORE TO GO
Hollywood, March 31. One more picture, following 'It's All True' washes up the Orson Welles' (Mercury Productions) deal with RKO. Forthcoming Mercury film, to be started soon with Norman Foster directing Mexico, is aside from the RKO contract and is being financed by Mercury probable United Artists release. RKO-Welles deal called for four films in addition to 'Citizen Kane.' Quartet consists of 'The Magnificent Ambersons, 'Journey Into Fear,' 'It's All True" and one more to be made when Welles returns from Brazil.
April 1, 1942
Joseph Cotton Does retakes.
 April 2, 1942
TELEGRAM: ORSON WELLES TO JACK MOSS:
TO LEAVE AUDIENCE HAPPY FOR AMBERSONS, REMAKE CAST CREDITS AS FOLLOWS AND IN THIS ORDER: FIRST, OVAL FRAMED OLD FASHIONED PICTURE, VERY AUTHENTIC LOOKING OF BENNETT IN CIVIL WAR CAMPAIGN HAT.
SECOND, LIVE SHOT OF RAY COLLINS, NO INSERT, IN ELEGANT WHITE DUCKS AND HAIR WHITER THAN NORMAL SEATED ON TROPICAL VERANDA WITH OCEAN AND WAVING PALM TREE BEHIND HIM—NEGRO SERVANT SERVING HIM SECOND LONG COOL DRINK. THIRD, AGGIE BLISSFULLY AND BUSILY PLAYING BRIDGE WITH CRONIES IN BOARDING HOUSE. FOURTH, CIRCULAR LOCKET WITH AUTHENTIC OLD FASHIONED PICTURE OF COSTELLO IN RINGLETS, LOOKING VERY YOUNG. FIFTH, JO I AT FRENCH WINDOW CLOSING WATCH CASE OBVIOUSLY CONTAINING COSTELLO'S PICTURE TYING IN WITH PREVIOUS SHOT; SOUND OF CAR DRIVING AWAY.  JO TURNS, LOOKS OUT WINDOW AND WAVES. SIXTH, TIM HOLT AND ANNE BAXTER IN OPEN CAR—TIM SHIFTING GEARS BUT LOOKING OVER SHOULDER—AS HE DOES THIS, ANNE LOOKING SAME DIRECTION AND WAVING, THEY TURN TO EACH OTHER THEN LOOK FORWARD BOTH VERY HAPPY AND GAY AND ATTRACTIVE FOR FADEOUT. THEN FADE IN ON MIKE SHOT FOR MY CLOSING LINES AS BEFORE.
 April 9, 1942
TELEGRAM: GEORGE SCHAEFER TO ORSON WELLES:
DEAR ORSON: HAVE BEEN TRYING FOR THE PAST TWO DAYS REACH YOU ON PHONE BUT UNSUCCESSFUL TO GET THROUGH CONNECTION. IMPORTANT I TALK WITH YOU WITH REFERENCE TO RE-TAKES ON AMBERSONS AND CERTAIN ASPECTS WITH REFERENCE TO PROPOSED BUDGET AND EXPENSES IN THE URCA CLUB SEQUENCE. LEAVING FOR NEW YORK FRIDAY AND MUST TALK WITH YOU BEFORE I LEAVE AS WE MUST CLEAR UP AMBERSONS SITUATION BEFORE I LEAVE. REGARDS,
GEORGE SCHAEFER
 April 14, 1942
TELEGRAM: JACK MOSS and JOSEPH I TO ORSON WELLES (Excerpt):
DEAR ORSON: SCHAEFER ORDERED THREE AMBERSON SCENES RETAKEN. SAYS HE IS PHONING YOU FOR APPROVAL. SHOOTING SCHEDULED TO START FRIDAY. NO FURTHER WORD FROM SCHAEFER AND NOT HEARING DIRECTLY FROM YOU WE ARE PLENTY WORRIED. IF YOU HAVE NOT TALKED TO SCHAEFER YOU SHOULD WITH US, SO WE COULD DISCUSS SITUATION…
April 14, 1942
TELEGRAM: GEORGE SCHAEFER TO ORSON WELLES
DEAR ORSON: SURE YOU CAN APPRECIATE MY WORRY AND CONCERN WHEN I HEAR COMMITMENTS HAVE BEEN MADE TO AUGMENT SHOW AND PRACTICALLY RECONSTRUCT URCA CASINO AT COST OF $25,000.  AT THAT RATE WE WILL HAVE ANOTHER AMBERSONS SITUATION ON OUR HANDS. THIS LATTER PICTURE, AS YOU KNOW COST WELL OVER $1 MILLION. IT IS VERY PAINFUL TO SEND THIS CABLE BECAUSE I KNOW WHAT A STICKLER YOU ARE FOR QUALITY, BUT ON OTHER HAND I AM RAPIDLY COMING TO CONCLUSION YOU HAVE NO REALIZATION OF MONEY YOU SPEND AND HOW DIFFICULT IT IS TO RECOUP COSTS.
REGARDS,
GEORGE SCHAEFER
April 14, 1942
The present costs of IT'S ALL TRUE were now estimated at $241,000 with a further $288,000 to complete. With the BENITO segment added and with reshoots and post production, final cost could approach $1.3 million. This situation began affecting THE MAGNIFICENT AMBERSONS and George Schaefer's relationship with Welles.
 April 15, 1942
TELEGRAM: ORSON WELLES TO GEORGE SCHAEFER (excerpt):
PRICES FOR THIS (URCA SET) WERE QUOTED TO HOLLYWOOD BEFORE I HAD A CHANCE TO CUT THEM DOWN. $25,000 IS MORE THAN I INTEND TO SPEND. HOWEVER THAT MONEY BUYS THE BASIS FOR CARNIVAL PRODUCTION. IT WOULD COST $150,000 HOLLYWOOD AND ANY STUDIO WOULD BE HAPPY TO PAY FOR IT WHEN THEY SAW WHAT THEY WERE GETTING. ON AMBERSONS I HAD ILLNESS AND A CRIMINALLY SLOW CAMERAMAN. HERE OUR MONEY COSTS ARE ACTUALLY NOT HIGH EVEN DURING SHOOTING OF THIS SEQUENCE. WHEN I FINISH THIS PICTURE YOU WILL SEE WHAT I MEAN. MUST HOWEVER BE ALLOWED TO FINISH IT AS I WISH TO. I HAVE ADDED NOTHING TO ORIGINAL PROJECT. OUR PROBLEMS HERE HAVE BEEN TREMENDOUS BUT UNLESS I CAN FINISH FILM AS IT MUST BE FINISHED FOR ENTERTAINMENT VALUE THE ENTIRE EXPENDITURE OF TIME AND MONEY AND EFFORT WILL BE A TOTAL LOSS.
MUCH LOVE,
ORSON WELLES
April 15, 1942
George Schaefer orders Robert wise to get Ambersons ready for release and Wise given control and he decides which of Welles suggestions to be used.
April 15, 1942
TELEGRAM: ORSON WELLES TO JACK MOSS:
HAVE CALL IN FOR YOU. MEANTIME PLEASE WIRE FULL DETAILS LEGALITY OF STUDIO RETAKES AND STUDIO CUTS. MY POSITION IS I CANNOT ALLOW RETAKES. WHAT CAN SCHAEFER DO ABOUT IT? IS CONNECTION COORDINATOR OFFICE WITH THIS PICTURE STRONG ENOUGH TO KEEP ME FROM BEING RECALLED OR SUSPENDED? WILL TALK TO SCHAEFER RIGHT AFTER I TALK TO YOU ABOUT SITUATION HERE…
REALLY DESPERATE…
ORSON
THE EXHIBITOR, April 15, 1942
Joseph Cotton having finished is roles in Orson Welles' RKO productions, Journey INTO Fear and The Magnificent Ambersons arrives in New York from Hollywood for a brief vacation
April 16, 1942
TELEGRAM: GEORGE SCHAEFER TO ORSON WELLES:
DEAR ORSON: HAVE BEEN TRYING, ALL DAY YESTERDAY AND AGAIN TODAY BUT UNSUCCESSFUL. YOUR CABLE WAS RECEIVED AND I HAVE FULL APPRECIATION OF YOUR PRODUCTION DIFFICULTIES SO FAR AWAY FROM HOME. BUT ON THE OTHER HAND, I MUST TAKE FIRM POSITION AND CANNOT PERMIT MONEY TO BE EXPENDED AT RATE YOU ARE PLANNING AND I MUST KNOW WHEN YOU EXPECT TO FINISH. YOU HAVE BEEN AWAY NOW FOR THREE MONTHS AND SURELY WE EXPECTED YOU BACK LONG BEFORE THIS. ON TOP OF THAT, RECORDS INDICATE YOU SPENT $33,000 IN MARCH, $10,500 1ST WEEK IN APRIL, AND BUDGET CALLS FOR $15,000 WEEKLY FOR THE NEXT FOUR WEEKS. THIS IS ALL OUT OF PROPORTION TO WHAT WE EVER ESTIMATED AND WE CANNOT GO ALONG ON THAT BASIS, EVEN IF WE HAVE TO CLOSE DOWN SHOW AND ASK YOU TO RETURN. THIS IS HOW SERIOUS SITUATION IS. WITH RESPECT TO MY OWN APPREHENSIONS, I MUST CONTACT YOU BY PHONE WITHIN 24 HOURS AS THERE ARE SOME DEVELOPMENTS THAT LOOK VERY UNPLEASANT IN MANY DIRECTIONS.
REGARDS,
GEORGE SCHAEFER
April 16, 1942
TELEGRAM: JACK MOSS TO ORSON WELLES:
DEAR ORSON: CAREFULLY THOROUGHLY CHECKED… LEGALITY DEFINITELY GIVES STUDIO FINAL RIGHT ON BASIS FILM THEIR PROPERTY. …MY OPINION THERE WILL BE NO RECALL NO SUSPENSION. WAITING YOUR CALL TO RELATE AMBERSON DETAILS…
JACK MOSS
April 16, 1942
Hollywood Reported announces that the studio was "putting several un Orson touches into retakes on Ambersons, while Welles works in Rio "
April 17 thru 20, 1942
Assistant Freddie Fleck does retakes, including the new hospital ending which was shot on the 20th..
April 21, 1942
HOLLYWOOD REPORTER
Announces that whenever Joseph Cotton goes to a studio phone, "He calls Welles in Rio to tell them what goes with Amberson and Journey Into Fear."
VARIETY, April 22, 1942
ORSON CABLES CHANGES
Hollywood April 21, Three new scenes are being added to "The Magnificent Ambersons" at RKO, with specific instructions cabled by Orson Welles from Rio de Janeiro, where he is currently making "It's All True."   Norman Foster directs the added scenes.
April 27, 1942
PHONE CALL: REGINALD ARMOUR and PHIL REISMAN
(Transcription of telephone call):
REGINALD ARMOUR: When are you leaving, Phil?
PHIL REISMAN: In about ten days. He's a tough baby—He's done a magnificent job of selling himself to Nelson Rockefeller.
REGINALD ARMOUR: From what we have seen from here the best thing you can do is to send him back—the crew do not feel any loyalty to him. We have received 60,000 feet here (of Rio Carnival)  and there is no picture in it. If we can get 800 or 1,000 feet out of it, we will be doing well. We have roughly $60,000 in Technicolor film stock.
PHIL REISMAN: Maybe we could make a couple of shorts out of it.
REGINALD ARMOUR: I don't think so. George will lose his job out of this.
PHIL REISMAN: George wrote Orson a strong letter which I am to deliver. After he has read the letter, he will either come back, as George says, or quit.
REGINALD ARMOUR: I think Orson wants to stay out of the country. He wants to duck military service.
PHIL REISMAN: I think I could get the authorities to take him off our hands.
REGINALD ARMOUR: This picture will put (RKO) back in 77B (bankruptcy).
PHIL REISMAN: Do you really think so?
REGINALD ARMOUR: Yes, I do, Phil.
PHIL REISMAN: I want to find out from the legal department about Welles's contract—what rights he has… Do you have the breakdown of the actual cost to date—what the Mexican part of the picture has cost to date? Has there been any budget set?
REGINALD ARMOUR: No—it will be about $1.2 million altogether—but we don't want to talk to him about that—we don't want him to know.
PHIL REISMAN: Someone must have told him—because when I was down there he was telling everyone the picture would cost a million dollars. It's going to be a documentary film—and we'll never get it back. George is sending me down there with the right to shut the God damn thing off if I want to—and bring him home and take the loss right now.
REGINALD ARMOUR: I saw Magnificent Ambersons and Journey Into Fear—they are both bad.
PHIL REISMAN: I would like you to send me a consensus on both pictures—and put Citizen Kane in too—showing how much money we will lose.
REGINALD ARMOUR: We may break even on Kane—but that will be all—we will be lucky if we do.
PHIL REISMAN: …Reg, give me a complete picture—what we have spent and what we will have to spend—and make it as tough as you can.  …Have you talked to Jack Moss at all?
REGINALD ARMOUR: They are beginning to rat on Welles.
PHIL REISMAN: In what way?
REGINALD ARMOUR: They say, "We told Welles to do so-and-so—and now we're being disloyal to him—but we'll do it."
PHIL REISMAN: Any information you can send me I will appreciate—please mark the information you don't want Welles to know about "confidential"—it will help me to know all about everything.
April 27, 1942
TELEGRAM: PHIL REISMAN TO ORSON WELLES (excerpt):
I HAVE NEVER READ ANYTHING AS STRONG IN MY LIFE (Regarding Schaefer Letter) AND MY REASON FOR SENDING THIS CABLE IN ADVANCE IS TO PLEAD WITH YOU TO FINISH UP AS QUICKLY AS POSSIBLE TO AVOID CLOSING OUT THE PRODUCTION COMPLETELY BEFORE IT IS FINISHED.
April 28, 1942
RKO composer Roy Webb records music replacing 31 minutes of Bernard Herrmann's 58 minute score.
THE EXHIBITOR, April 28, 1942
RKO last week announced the makeup of its next block. "The Magnificent Ambersons" Orson Welles picture originally reported to have been included in the block has been postponed until a later group
April 29, 1942
LETTER: GEORGE SCHAEFER TO ORSON WELLES (excerpts):
Here I am in New York, endeavoring against all odds to maintain the same confidence in you as I have had in the past. Facts and developments come so fast and are so overwhelming that it is no longer possible for me to maintain that frame of mind, because of the crisis which has arisen in my relationship with my company and my relationship with you…
You were chosen as the man in whom we could place our confidence. But that confidence has been betrayed. The thing that disturbs me more than anything else is that people in your unit don't know from one day to another what they are supposed to do, and that, to me, seems to be the crux of the situation. The Brazil sequence is only one section of It's All True, but the rest of it is equally unfinished. On Bonito the Bull they only have 40 per cent of what's needed, though the accumulated expenses are $400,000—so we are just pouring money down the drainpipe…
…I was astonished… that even you would have the audacity to turn over such a disgraceful synopsis to Lynn Shores. How in the world with such an outline you expect Shores or even your own men to carry on and give any loyalty to this company and yourself is beyond me to comprehend. The whole thing is a catastrophe, quite apart from the financial aspect: I placed my confidence in you because of my fervid desire to do something for this country… but let me remind you, you are making a picture for our company and are not down in South America as a representative of the Government or an Ambassador of Goodwill. That, while secondary, is something you naturally were supposed to do and it expected from any good American…
In Brazil, they will come to the conclusion that you, the one person in whom they have had confidence, have spoiled all their future possibilities of motion picture production. Everyone admires your work as ambassador, but quite evidently, you have come to the conclusion that you are down there representing the Coordinators office and not RKO.
The way I feel right now, I am wondering if the boys will be out of the trenches by Christmas. If there are any personal reasons why you want to stay down till August, or longer, at least get through with the picture, send the men back and stay as long as you wish. That is your personal affair… I am now again put in the painful position where I have to write you a letter which I never, in God's world, thought I would have to write wherein I am begging you to fulfill in an honorable way your obligations and not put such a terrific load on my shoulders. In respect to the latter, I think I have carried that load a long time.
What Kane cost this organization, and me, personally, never can be measured in dollars… the abuse that was heaped on myself and the company will never be forgotten. I was about as punch-drunk as a man ever was. I made my decision to stand by you and I saw it through. I have never asked anything in return, but in common decency I should expect that I would at least have your loyalty and gratitude. To the extent that I have received it with respect to the Brazilian enterprise up to the present time, I would say it has merely been lip service.
It was one problem on Citizen Kane; sickness on Ambersons; $150,000 over on Journey Into Fear, now what is the answer in Brazil? Here was a real opportunity to show the industry that without adequate equipment and with a most difficult problem, you were able to come through.
…I have instructed Phil that he must forget his friendship for you… He has the authority to stop production immediately and call the whole production off and instruct everyone to return. That of course I would dislike to see—particularly because you left in a blaze of glory and made such a fine showing on your arrival. It would be painful to share with you the closing of the show and your instructions to return.
Sincerely,
George Schaefer
 May 4, 1942
Inglewood Preview of 93-minute version of AMBERSONS. Original ending still in film.
May 4, 1942
Selection of Long Beach Review Cards:
New Style of direction is very fascinating.
It would take an IQ of 120 or more to really enjoy it.
75 Minutes of gloom and camera acrobatics
Much too boresome.
Too Dark
To Arty
May 12, 1942
Long Beach Preview of 87 minute version of AMBERSONS is previewed. New ending written by Jack Moss included.
 May 14, 1942
LETTER: MAURICE BERNSTEIN TO ORSON WELLES (excerpts)
(Welles' Stepfather)
You have made me happy beyond words. I felt like embracing the janitor, the garage man, the garbage collector, the whole world, except the Japs and Hitler! Today, Monday, I'm back at the office and still happy. Let the old flat smelly feet come in for treatment, what do I care about their feet—I got your call today and their feet will not smell so badly.
So you hear no more from "a certain party"? Please don't stir up the embers. When the fire dies out, it shows there was little fuel.
Charlie Chaplin, like everyone else thinks you have no appreciation of the value of money! Ever hear that before? He thinks you are a great artist, though still young in your conception of human emotion. He had much to say about KANE which he was crazy about, with only the above reservation, of emotional value. He believes in you 100%. I do wish that you could form some sort of alliance with him. You would complement each other. You need mature minds in your associations, not mere "bulk". The trouble with your associates has been that you have no respect for them. Most of them have need of you either financially or to help them climb. They therefore all flatter you, try to read your mind, and agree with you without giving you an honest opinion. All except Jack Houseman. He is the one person I am sorry you broke with.
My last letter had more truth then fiction when I said I wished I could trust the people who claim to be your friends, and look after your affairs. I know your relations with Schaefer were friendlier before you established the "new order." This is why I wish you could form an alliance with Chaplin…
There has been much talk about the "United Artist" in you, but then there is always much talk about you—some bad, but most of the time good. Today, I was at your studio and got an earful. First, that RKO is frantic about your expenses, both personal and in making the picture in South America. One million feet of color film when only 12,000 can be used. And in addition, your mixing of the blacks and whites cannot be accepted by Iowa, Missouri, not to mention all the people the other side of the Mason/Dixon line. You probably know the feeling of RKO better then I on all these things. But your doings are certainly stirring them up. I understand that JOURNEY will be released before AMBERSONS.
Charles Koerner said to Billy Wilkerson (from The Hollywood Reporter), that "you can take it from me that RKO will not renew Orson Welles's contract after the current deal under any circumstances." This was told to the Wilkerson staff for their guidance. You should therefore make plans now for the future. I wish you would take my advice and have Arnold look after things here. I know that you do not like to face reality when it comes to business, and so your affairs are generally in a muddle. I wish too that you would have a little confidence in me. I guided you in a way that I have never regretted—and you STILL need a guardian! The proof of this is that you have little to show even after all your tremendous success. You are now a man, and I am talking to you man to man. I am alarmed when I think of the mercenary people who surround you—Moss, his lawyer, and others who have sucked you dry! AMBERSONS was shown last night, May 14, to a group from the press. I was barred from the showing, but was informed afterwards. I wonder. Anyway, reports today are that everyone was most enthusiastic about it. Moss, I am told, did a masterly job of "editing" it, and really made a great picture out of it.
Did you get my birthday cable? It was all we could send—just love. So far I have not received your promised compliance with my request (for money) and I am hanging on to the last link now, so don't wait too long. It may break and I'll sink!
Love,
Dadda
PS: Did you notice how much it costs me to write to you? I have to go without my meager lunch to mail this.
 May 19, 1942
Fleck shoots the final re-take on AMBERSONS: fanny next to the boiler.
May 18, 1942
MEMO: GEORGE SCHAEFER TO PHIL REISMAN (excerpts):
After careful thought and considering all the circumstances I have decided the best thing to do is discontinue all work and arrange for Welles and troupe to return.
I would much prefer to do the best we can with film so far received and write off our loss than continue. Be assured this comes only after most careful deliberation and with full recognition of our responsibility to coordinator, but on the other hand I have responsibility to company and stockholders…
Under certain conditions I would be willing to let Welles continue, namely that he deliver to you immediately a complete story outline covering material to date and his plans from this point on including shooting for FOUR MEN ON A RAFT, delivering at same time a schedule of shooting days and permitting him to finish within a maximum cost of $30,000… Unless you satisfied he means business, you are
June 1, 1942
LETTER: HERBERT DRAKE TO ORSON WELLES (excerpt)
(Mercury Press Representative)
You have got to come home right away – hugely – and not sneak in on a plane. You must return with trumpets and banners because the campaign really needs a good hot fillip of the old Welles personality. I have been planting pretty solid stuff locally and nationally and I think we have made par for the course.
There have been two other Welles pictures to keep alive, and the RKO anti-Welles battle to fight. It has never been so virulent. The juggling act done by your press office here has been nothing short of extraordinary.
I'm as nervous as a cat, and being without information all the time has made things really tough. But a real bang-up arrival can take the newspapers' attention off Kirkoff and Ann Sheridan and focus the limelight on you.
There is a widespread, nurtured campaign to prove you have been spending too much time and wasting too much money in Brazil; that "Ambersons" is no good, and "Fear", ditto. This has gone so far as a personal visit by Koerner to The Hollywood Reporter. As I wrote Wilson, Billy Wilkerson informed his staff that he was quoting Schaefer when he said "Koerner told Wilkerson that RKO would on no condition ever allow you to work in the studio again".
I have shown Ambersons on two occasions to the picture papers, once when it was two hours twenty minutes long and once at one hour thirty three minutes – the final version. They liked it both times, from "Beautiful" (Life) to "Better then Kane" (UP). So, you need a splash arrival.
It will be tough to get Nelson Rockefeller's cooperation, since the whole intent of the Coordinator's office is to avoid anything that looks like publicity. Nothing you can say and nothing I can say can impress anyone with the importance of the expedition, as opposed to the film itself. I can always sell them the idea that your pictures will be magnificent, but they have been hearing about neighborly expeditions for some years now, and Disney's Saludos Amigos took the cream off the idea. However, if someone in Washington will come out with a Thank You statement to you, you will return a conquering hero.
June 1, 1942
MEMO: CHARLES KOENER TO GEORGE SCHAEFER (EXCERPT)
We will eliminate the so called Kitchen scene.
June 1, 1942
MEMO: JACK MOSS TO GEORGE SCHAEFER (excerpt):
The Long Beach preview (12th) of AMBERSONS was amazing and gratifying… critics (Time, Life and UPI) have unanimously raved… I cannot stress too urgently, George, the deep belief that the picture should be left as it is since we have had such phenomenal luck with last previews and critical showings. We have expended so much work and time and care and together have fought this problem though. I ask you to review this message and make your final consideration an all-round agreement not just with me but with unanimous opinion. May I hear from you?
June 2, 1942
MEMO: HERB DRAKE TO GEORGE SCHAEFER (excerpt):
(Mercury Press Representative)
About a year ago you came to the rescue of CITZEN KANE with an exciting advertising insert in the trade pepers… With AMBERSONS, not enough press people have seen the film yet to counteract the irresponsible chatter of the anti-Ambersons element…There is always a ready audience for anti-Welles talk. The current belief is that Welles has muffed his opportunity and that he is a flash in the pan and does not justify RKO's faith in his talents…Only a statement on the picture's great worth from the very top can untie our hands and allow us to get the picture the attention it deserves. A powerful trade ad from you will set us right with the rest of the press.
June 3, 1942
MEMO: JACK MOSS TO GEORGE SCHAEFER:
With AMBERSONS, including last changes, going into final printing tomorrow, this becomes my last attempt to contact you. I have been unable to reach you by phone, and have had no reply to two telegrams respectfully requesting your final consideration, and a chance to discuss with you the most important points concerning AMBERSONS. I must say that, in view of every move to prove sincerity, and the great amount of untiring effort expended by all in editing AMBERSONS, that I am entitled to better consideration and certainly a reply. I'll put it this way: I beg you to consider my comments regarding the changes in AMBERSONS. Please let me hear from you.
Jack Moss
June 8, 1942
Schaefer finally approves "Ambersons" for release
June 12, 1942
MEMO: RAY JOSEPHS TO RKO:
(RKO South American Employee in South America.)
The members of the staff of a Latin American embassy, which shall remain nameless (it was Mexico), were frequent guests (of Welles), and at 3:00 P.M. of the afternoon before his departure (to Fortaleza), he and a diplomat from the embassy in question were looking at some crockery which Welles's landlady insisted should be paid for as damaged. Orson and the diplomat went out on the balcony to look at the porcelain and, according to Orson, discovered stamped on the back the words "Made in Japan," whereupon the piece in question was hurled over the railing on to the beach front sidewalk below. Several other pieces of furniture and assorted dishware followed, while an increasing crowd of cariocas gathered around to cheer. That's all there was to it, Orson insists.
THE MORION PICTURE HERALD, June 13, 1942
THE MAGNIFICENT AMBERSONS (RKO Radio): Orson Welles' second production will be advertised by many showmen with his name played heavily, since "Citizen Kane" was so successful and is inextricably identified with Welles.  The time of the picture is early Twentieth Century, providing the clues for several exploitation ideas, including a display of styles of the period contrasted with today's modes, various ancient vehicles such as a horse car, an early type of or even a horse drawn carriage with a modern tie-up.  The picture is adopted from a well known book by Booth Tarkington and therefore promotions can be arranged with lending libraries and bookstores.  The Ambersons are a large family and because of the book, well known; therefore , a lobby blow-up with their names and pictures and similar cut used in newspaper publicity or programs would be good exploitation.
June 15, 1942
MEMO: JACK MOSS TO CHARLES KOERNER:
Again I appeal to you for help. It was clearly my understanding that we here at Mercury would edit Journey Into Fear in accordance with Mr. Schaefer's suggested cuts and change of ending. This work was to be performed upon return of the film from New York. Subsequently, I learned that not only had the film returned, but that editing was completed, and that the film was screened for the sound and music departments. The natural conclusion can only be: Mercury can go fishing. I called Mr. Armour and he confirmed the foregoing details. I asked to bring to your attention that there are points to discuss regarding Mr. Schaefer's editing. Also there were ideas for sound and music that we wished to offer. The reply came the next day when Mr. Armour phoned to say that the studio would complete the editing, scoring and dubbing without Mercury's help. I will not introduce any arguments over rights, legal and moral. Courtesy alone should be enough to cause Mercury to be included in any function concerning Journey Into Fear. The present action is unwarranted. I want very, very much to talk with you. It will be better than boring you numb with lots of written words, if I haven't already done so. If my persistence is annoying, truly I am sorry. I must risk being annoying rather than risk losing your respect for Mercury because I failed to follow through on something I believe is just and right. What I ask of you IS just and right. Will you see me? When?
Sincerely,
Jack Moss
 June 16, 1942
LETTER: CHARLES KOERNER TO JACK MOSS:
Dear Jack:
Believe me, I realize your situation very definitely and clearly. Nevertheless, never for a moment can I imagine that RKO has, at any time, failed to extend every possible courtesy to Mercury productions. In fact, the extent of RKO's help to Orson Welles and The Mercury Productions would, in many circumstances, be considered somewhat fantastic. In regards to Journey Into Fear, I simply followed very definite and clear-cut instructions. There was no other alternative, and as far as I'm concerned, the matter is permanently closed.
Sincerely,
Charles Koerner
 June 16, 1942
MEMO: GEORGE SCHAEFER TO REGINALD ARMOUR
I think it important, in the scheme of things that you save the extra negative and positive cuts that we made on The Magnificent Amberson. Someday someone may want to know what was done with the original picture Welles shot. It might be a good idea to put all cuts together and show him all the useless material he shot and the improvement that was made by the elimination.
RKO PRESS RELEASE (killed):
Behind the film is heard a nostalgic score by Bernard Herrmann who scored Citizen Kane, and who is the youngest American composer to have had a work performed by the New York Philharmonic orchestra. Long the musical director for all the Welles radio productions, Herrmann chose a Waldteufel waltz for the thematic approach to scoring The Magnificent Ambersons, and his original music built around this is heard through the entire film.
June 22, 1942
GORDON YOUNGMAN TO ROSS HASTINGS (excerpt)
…Herrmann demands that we refrain from giving him any screen credit for score. Perfectly willing to have us use his music but wants all mention of him eliminated. Mention is made in a Welles reference to him as composer of score. Please discuss with Koerner and Depinet and advise because Herrmann insists cut be made before trade showing.
June 23, 1942
GORDON YOUNGMAN TO ROSS HASTINGS:
…Had lengthy discussion with Weissberger about Bernard Herrmann matter. Insists cut be made before trade showing on June 30. I am convinced in view of man's temperament he will bring injunction proceeding and cause all the trouble that he can. His theory is that statement is made that "score is by Bernard Herrmann" while it is not entirely so, and that this is a deception to the public and injurious to his reputation. Doubt he would ultimately recover on this theory but there is some chance and urge re-consideration by studio of the desirability of making the cut.
June 26, 1942
George Schaefer resigns as RKO President.
June 30, 1942
MOTION PICTURE DAILY: ORSON WELLES AND RKO ARE PARTED
Hollywood. June 29. RKO and Orson Welles have parted company, it was reliably reported today. The split is said to have occurred over production differences. Welles is still in Rio de Janeiro, as far as is known. The latest picture, The Magnificent Ambersons is scheduled to open at the Roxy in New York soon.
July 1, 1942
CHARLES KOERNER PRESS STATEMENT:
(New Head of RKO Studio)
Upon completion of The Magnificent Ambersons and Journey Into Fear and pending completion of Orson Welles' work in Brazil and his return, there is nothing further to be done at RKO Studios by representatives of Mr. Welles or Mercury Productions, in connection with either of the completed pictures or the picture currently being photographed in South America. Accordingly, because space was urgently needed for those engaged in current production, RKO requested representatives of Mr. Welles to make available offices which had been occupied by them. RKO's future relationship with Mr. Welles will be discussed with him upon his return from South America.
July 2, 1942
LOYD WRIGHT PRESS STATEMENT:
(Welles Attorney)
Disagreements that have existed between RKO and Orson Welles and his Mercury Productions have culminated in the necessity of his leaving the RKO Pathé lot. Journey Into Fear, on which Mr. Welles was working prior to leaving for Brazil, was arbitrarily taken over by RKO during Mr. Welles' absence and is being edited without benefit of the services of those who worked on the picture and conceived its creation. Mr. Welles is at present completing his services in Brazil where he went to make a picture in the interests of hemispheric solidarity. This film will be released by RKO. Mr. Welles will return to Hollywood in the last week in July, after reporting back to Washington.
July 9, 1942
MEMO: WILLIAM GORDON TO CHARLES KOERNER (excerpt):
It appears that the indiscriminate mingling of blacks and whites in the Welles Brazilian film will be found objectionable south of the Mason-Dixon line in the United States and in a good many countries of Latin America. It is my studied opinion that the carnival film will propagate a contrary view which is apt to be greatly resented by those other countries.
July 10, 1942
The Magnificent Ambersons" is released in Los Angeles
 THE NEW YORK TIMES, JULY 12, 1942
WELLES VERSUS HOLLYWOOD AGAIN
By Thomas F. Brady
The saga of Orson Welles's Mercury Productions reached a momentary impasse at mid-week when Mr. Welles henchmen, asked to leave the RKO premises by Charles Koerner, new head of the studio, established an embattled position in the Hollywood hills north of the Trocadero night club to await the return of their leader from Brazil this month. Herbert Drake, Mercury vice president and publicity director, characterized their position as that of "Leonardo da Vlnci evicted from a draughty garret.
Events behind the Mercury-RKO dispute involve the recent change in RKO management, in which Koerner replaced Joseph Breen as head of the studio and Ned Depinet supplanted George Schaefer as president of the company. After extended bickering over the exploitation of Mercury's "The Magnificent Ambersons" and the editing of Mercury's "Journey Into Fear," both of which will be released by RKO, Koerner took the Mercury staff off the payroll and asked them to vacate their offices in twenty-four hours.
Forty-eight hours later Jack Moss, Welles's partner, Drake and five secretaries left the lot, taking with them the Mercury files, a mimeograph machine and a few other "meager" possessions. The paraphernalia was transported to a workshop at the rear of Drake's home in the Hollywood hills, and a telephone with a long cord was brought out into the back garden so that a faithful henchwoman can sit on the grass and answer "Mercury Productions" whenever it rings.
Mercury triumphed in one detail, however, according to Drake's account. Welles's steam room, in which all Mercury conferences were held, had long been the envy of certain RKO executives. But they were jealously barred from using it. The steam outlet had been fashioned of bronze, at Mercury's expense—material no longer available because of the war. And so the evacuees took the fittings with them when they left. When the RKO-Pathe studio manager repaired to the empty Mercury quarters to enjoy a steam bath at last, he was horribly unhappy to find it inoperative, Drake said.
Since Mercury has only $200 in the bank, according to Drake, the faithful employees are working without salary, but they are counting on Welles's return to take care of everything. Statements have been issued by Koerner and by Loyd Wrlght, Welles's attorney, presenting their conflicting points of view in measured terms, and both sides have carefully avoided the words "breach of contract." But Hollywood is hopefully awaiting the fireworks which are regarded as inevitable when Welles himself gets home.
Welles's only personal contribution to the immediate fracas was a slogan he enunciated by long distance telephone. "Don't worry, boys," he told his staff; "we're just passing a bad Koerner." RKO's sole worth-while rejoinder to date has been: "All's well that ends Welles."
NEWSWEEK July 20, 1942
July 20, 1942
RIO NEWSPAPER ADVERTISEMENTS (DECLARACOES)
RKO RADIO PICTURES, INC established in New York, United States of America of the North, declares that it will no longer assume responsibility for any expenses in Brazil for Mr. ORSON WELLES.
LYNN SHORES
August 13, 1942
The Magnificent Ambersons opens in New York at the 5,000 plus seat Capital Theater.
MOTION PICTURE HERALD, August 29, 1942
 WELLES DEPARTMENT
Versatile, volatile, gifted and scintillating Orson Welles, rocketed into New York at last weekend and was based so to speak, on the Hotel Plaza. From there he was about many errands here and in Washington. He was fresh and vigorous from a two-month tour of all the Americas south of Panama, following upon the making of his RKO picture, "It's all true," which remains in process. According to Herbert Drake, Mr. Welles' representative, speaking from the plaza the agenda included editing the picture for RKO, negotiations for settlement of differences and accounts with RKO, consideration of offers from Twentieth Century-Fox, negotiations with Louis B. Mayer and MGM, Broadway offers and some issues about clearing his 180,000 feet of negative through customs. It seemed to be indicated that Mr. Welles hoped to keep his Mercury Players intact as a production unit and move it under another release banner. The statement that Mr. Welles' picture negative was awaiting development and screen examination made even more extra-ordinary some semi-official peans of praise of its utter magnificence.  If it looks so tremendous even undeveloped in the can, one can only fancy what the materialization will be when it actually is seen. The picture project, despite its uncertain status, continues under guaranty to RKO in the sum of $300,000 from the Office of Inter-American Affairs, thus underwriting so far, that much of Mr. Welles; pictorial expedition to Brazil. It is said that Mr. Welles' Latin-American adventure has cost about $600,000—and that includes a debate probably yet to be had, on an item called overheard. It appeared a reasonable forecast that when the dust had all settled there would be a picture, and that Mr. Welles would be on a new project somewhere with his Mercury Players.
 September 16, 1942
LETTER: L. ARNOLD WEISSBERGER TO ORSON WELLES (excerpts):
(Former Welles Attorney)
The deal that I worked out with Schaefer… provided that you were to get everything that the KANE contract gave you and in addition an autonomy to an extent of your not having to find your work impeded by RKO red tape… This picture was entirely upset, as Schaefer himself has told me, when (Jack) Moss's injection into the scene antagonized him and made him wary about granting you the terms which he had theretofore been willing to grant.
I knew that the most important thing was the artistic integrity of your work, and I saw to it that the (revised) contract gave you complete protection. $100,000 for acting in a picture, $100,000 for directing a picture, $50,000 for writing a picture, and $3,500 a week synchronously for producing the pictures.
…the fourth (extension), which I was negotiating when I left California, (Welles attorney) Wright refused to sign, although it was presented to him by RKO. The result was that when the time expired… you were in default. RKO could, by waiving your default, hold you to the contract, but you could not hold RKO to the contract. If the extension had been signed, so that there was no default, and RKO wanted to get rid of you, it would have had to buy up your contract.
I have written to Moss and Wright on ten different occasions in the previous nine months trying to deal with the problem (of delinquent taxes) but Moss has ignored me… My complaint against Moss is that he preferred to endanger your tax affairs rather that consider the question of the fees… Instead, he has just abandoned the whole thing, regardless of the seriousness of the tax situations, leaving you to face the music.
The fact that I am the only person who will advise you in your own interests and that I am, as Moss undoubtedly realizes, fully aware of all the boners that have been pulled, is reason enough for him to wish to sabotage me… I might speak less emphatically in this respect were it not for the fact that in my six years of service for you, my record – whether with respect to negotiating deals, preparing contracts, saving you taxes, or paying your bills, has been pretty near perfect.
FROM THE MOTION PICTURE HERALD: WHAT THE PICTURE DID FOR ME:  Theater Owners Write To Other Theater Owners.
 September 20-21, 1942
Majestic Theater-Conway- New Hampshire- General Patronage-Leon C. Bolduc: "Nobody seemed to like this picture, personally I thought it fair."
October 18-19, 1942
Paramount Theater- Dewey Oklahoma-Small Town Patronage-E.M. Freiburger : "Good dramatic acting of the heavy type, but this is not a small town picture. Business was poor and I had some walkouts.
October 23-24, 1942
Alfred Co Op Theater-Alfred, New York-Small College Town-W.V. Nevins III:  "Ran this with 'Crossroads,' making an expensive show which came out about even. Here is unusual photography, unusual direction, excellent acting and a rather uninteresting story. A large number of my folks go for the technical side of films, so it was well appreciated here but, even with its co-feature, it only hit the average box office stride. I liked it personally. You'll have to figure out this one for yourself.
November 1-2, 1942
New Paltz Theater-New Paltz New York,-Small Town Patronage-Thomas di Lorenzo: "Well produced and directed, this seemed like a disappointment to the majority who came to see it. Aside to MR. Welles: greater care in selection of material will mean more reward on the screen. Most audiences want entertainment first, art second."
February 5-6, 1943
Westby Theater-Westby, Wisconsin-L. V. Bergtold: "The public–especially small town –is not ready for Orson Welles type of picture. Panned
March 10-11, 1943
Zap Theater, Zap N.D.-Small Town and rural Patronage-J.H. Taylor" "Played mid-week; "Citizen Kane" killed this one. Everybody afraid because Orson Welles made the picture. Played just fair."
June 15-16, 1943
State Theater-Rivesville, West Virginia-Small Town Patronage-Frank Raspa" "Payed this late and got 100 better business than I expected. Maybe it was due to the fact that I played, "Hitler's Children" a week before and gave Tim Holt a buildup."
April 26, 1943
Covi Theater-Hermine Pennsylvania—Small Town Rural Patronage-Rudolph Covi: "This was a box office flop, as everybody must know. I had several walkouts."
THE LA DAILY NEWS, November 13, 1942
Incidentally, RKO took a slap at the departed Orson Welles in trade paper ads the other day.  Announcing a lineup of forthcoming films, the studio promised: "A new deal at RKO–showmanship in place of genius.
THE MOTION PICTURE HERALD, November 21, 1942
MIRACLE MAN
There's a special sort of backhand smack at the record in a recent expression of Mr. Charles Koerner, RKO's executive vice-president in charge of production, which he keynoted with the line : "Showmanship in place of genius."  It ends to with the exclamation: "back to showmanship."   The implication is, so very obviously, that what went before was, as they say in Hollywood, "lousy;" but now that he has taken over, that all will be "jake-a-loo."  One does not have to know much about advertising to know that pointing to past failures is not the best way of assuring future success.  The pronouncement and promise sound more like the Hollywood brand of "genius" than what is commonly accepted as showmanship.
THE MOTION PICTURE HERALD, November 28, 1942
SHOWMANSHIP TEN PERCENT
Remember that one about the Belgian maker of hare sausage?  When he was called to defend his brand, he assured the court: "It's practically pure, since it's 50-50, one horse and one rabbit.  For some absurd reason, that comes to mind at the moment.  T'other night, a researcher,  pipe in hand and feet on andirons, was turning over that recent utterance of Mr. Charles W. Koerner about RKO's impending and current product in which, you'll be recalling, he said he was offering "Showmanship in place of genius."  The product announcement listed twenty pictures.  Examination discovered that eighteen of them were inheritances by Mr. Koerner's administration, and that two were of his initiation: "The Gibson Girl" and Look Out Below."  The last is quite a title.  Score–genius era 18; Showmanship era,2.   that's 10 percent.
December, 1942
RKO INTERNAL MEMO (Excerpt)
Mr. Koerner agrees, that we may now junk all positive and negative trims and outtakes which you have been holding on The Magnificent Ambersons.
December, 1942
Hazel Marshall, head of RKO's stock-film library was given the directive and personally took charge of the negative and incinerated it.
MOTION PICTURE HERALD  , January 2, 1943
The New York Film Critics Circle chose as best actress Agnes Moorhead in the Magnificent Ambersons
MARCH 4, 1943
"The Magnificent Ambersons" is nominated for four Academy Awards including Best picture, Best Cinematography Stanley Cortez, and best supporting actress, Agnes Moorhead.