---
MUSIC-CD-THE DOOR; DEATH
Crepe is fastened on the front door of the Amberson mansion when Eugene's shadow appears on it. He removes his hat and rings the bell
Over his shoulder we see Sam open the door.
SAM
Mr. Morgan.
Back to the camera Lucy crosses the threshold with her father. Sam closes the door.
In the Library of the Mansion the camera's POV is the coffin as townspeople pass by looking into Wilber's coffin. The mood in the room is extremely somber.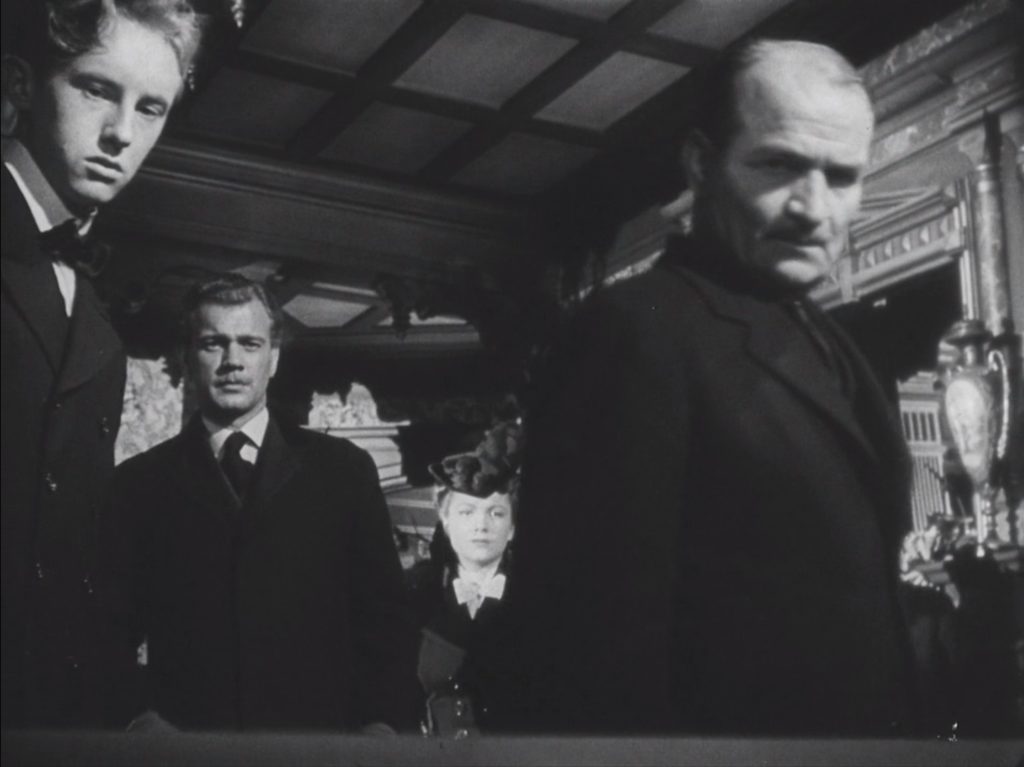 Eugene walks across the room in the background joining the group standing there.  He shakes hands with The Major then walks closer to the camera
Lucy Joins as people continue to file past the coffin.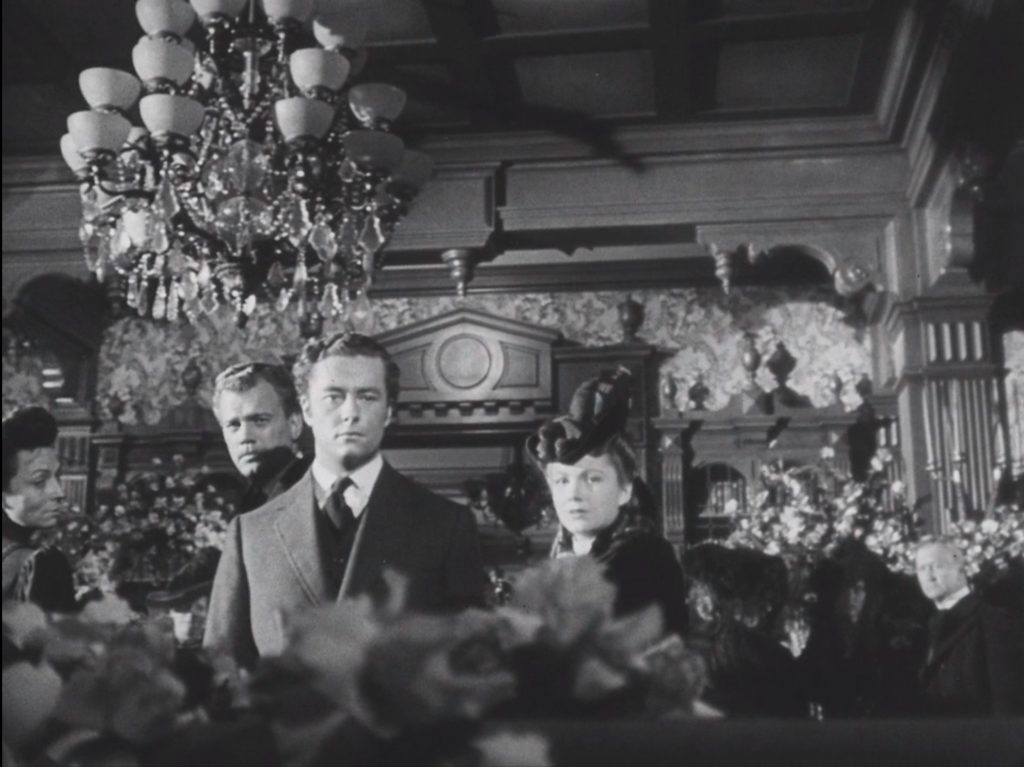 Lucy and Eugene pass behind George as George stares down at his father utterly devastated and racked with grief. Staring at the coffin he is unable to register what he sees. Eugene pats his arm as he passes behind him. Fanny is standing beside George.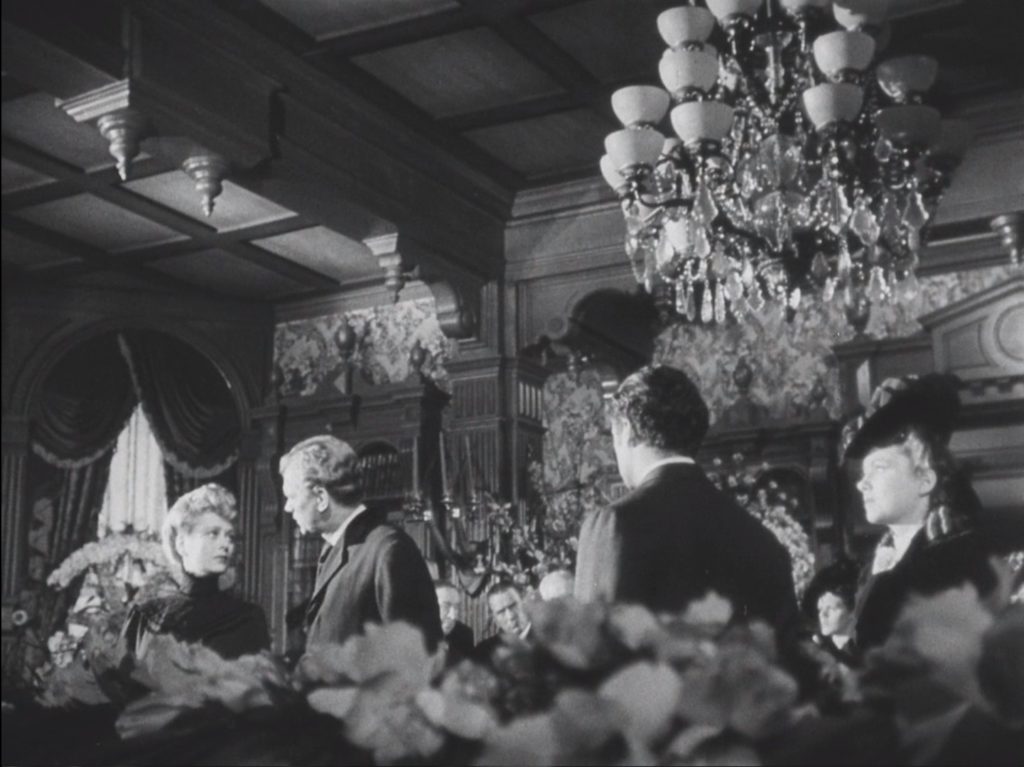 Eugene walks to Isabel who is pale
The camera pans to follow and they walk off screen into the hallway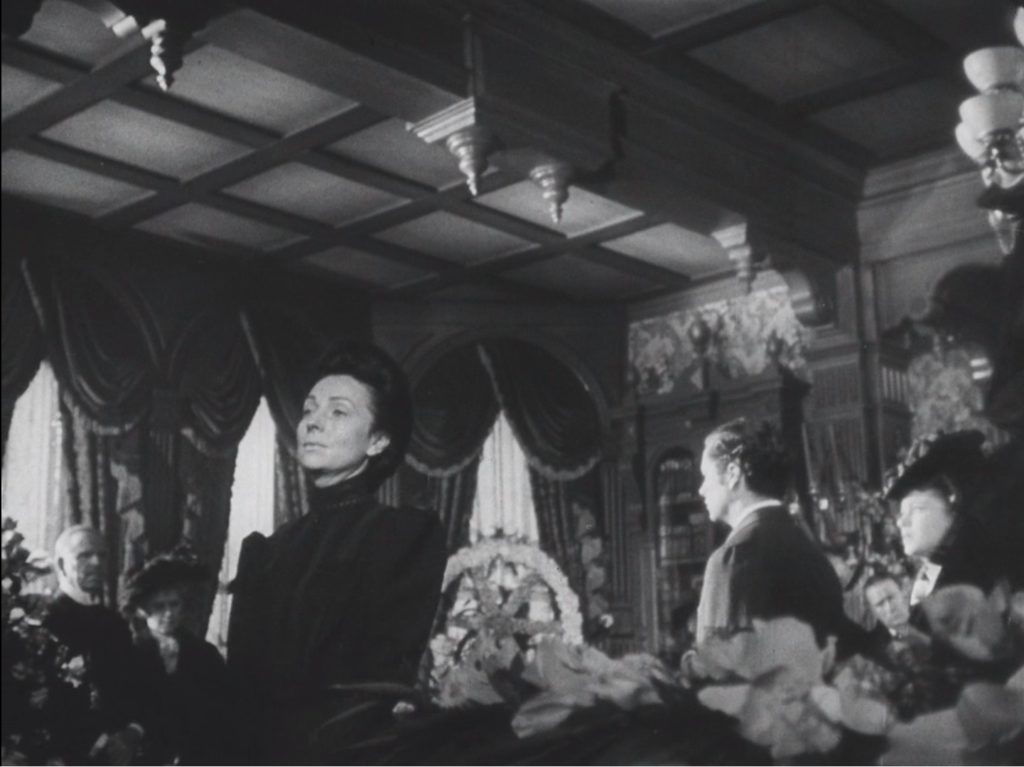 leaving a devastated grief stricken Fanny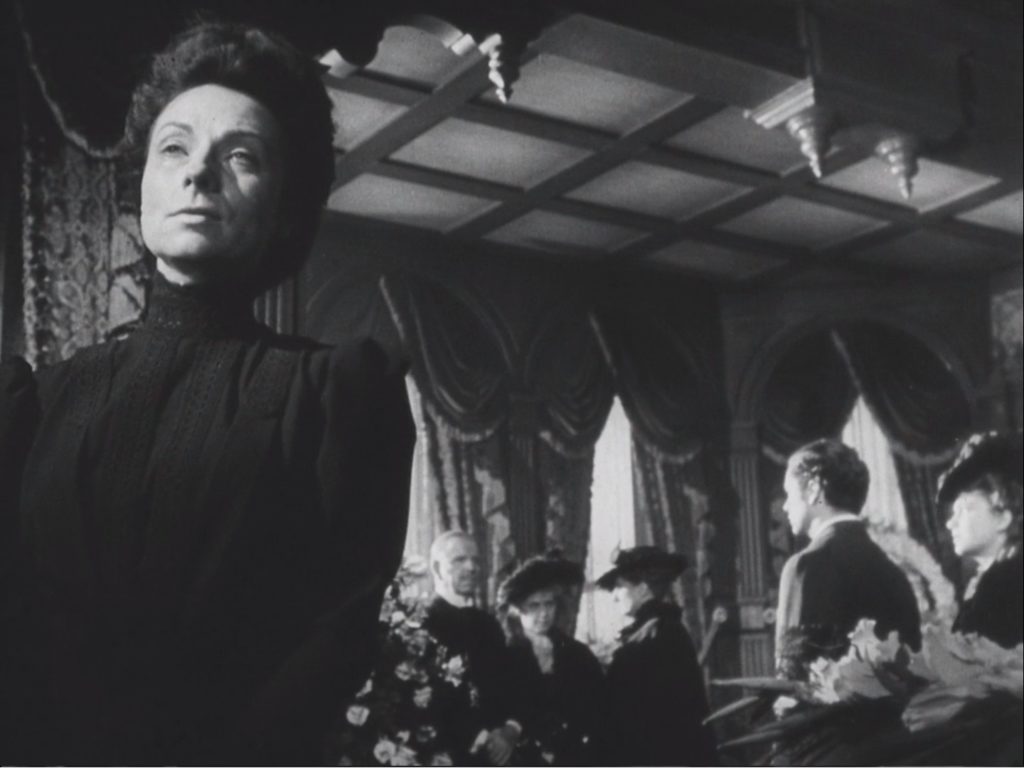 Face haggard, her grief is overwhelming. She appears as if she has lost the ground from under her.
DISSOLVE TO 
Among the tombstones of Amberson family is a granite block with the name "MINAFER" chiseled upon its one polished side. Wilbur's grave has a new headstone bearing his name, date of birth and death. It is heaped high with flower tributes.
FADEOUT/FADE IN
MUSIC CD-YOUTH
A Harvard Diploma in Latin with George's name on it.  Camera moves back. It is after Wilber's death and George has graduated from college.
DISSOLVE TO
The rain is pouring down on the Amberson Mansion as lighting and thunder fills the sky.
DISSOLVE TO
(SINGLE TAKE / SINGLE ANGLE SCENE)
In the Amberson kitchen  George is sitting at the table, eating hungrily as he gulps down his food. Fanny is standing by the sink at the window. The rain is pouring down and thunder is heard.
FANNY
Where did Isabel go to?
George is occupied with his food.
GEORGE
She was tired.
Fanny walks behind George and speaks absently. She is pre-occupied.
FANNY
It never was becoming to her to look pale….Look out.
Warning him it's coming, Fanny puts a strawberry shortcake cake down in front of him. Mouth full, George is delighted.
GEORGE
Oh boy, strawberry shortcake.
FANNY
It's first of the season. Hope it's big enough.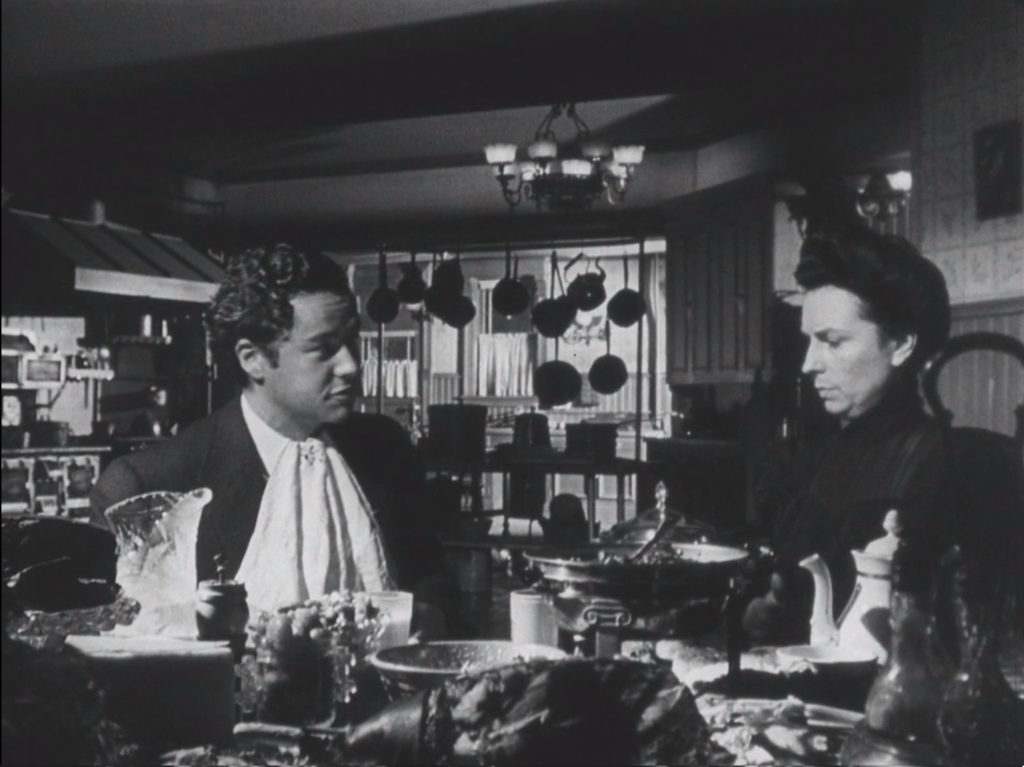 Fanny sits down beside George.
GEORGE
You must have known I was coming home.
Fanny is lost in her thoughts.
FANNY
Hm.
GEORGE
What'd you say?
FANNY
Nothing.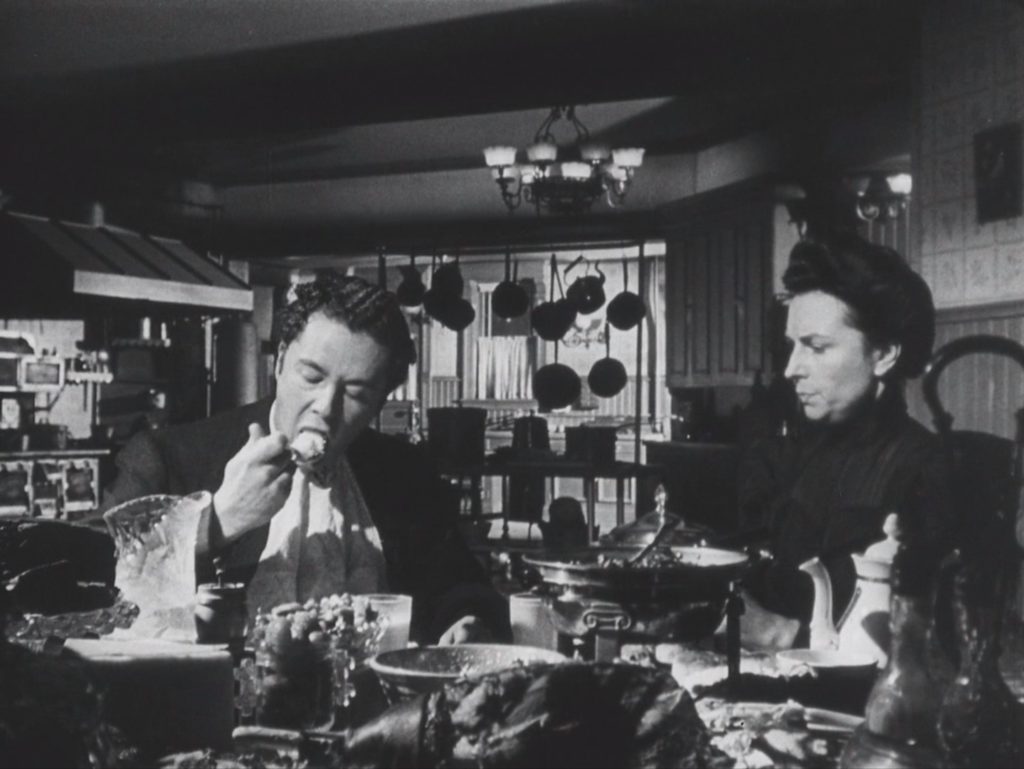 George takes a huge bite of the cake. And makes an approving sound.
GEORGE
Umh!
FANNY
Sweet enough?
GEORGE
Fine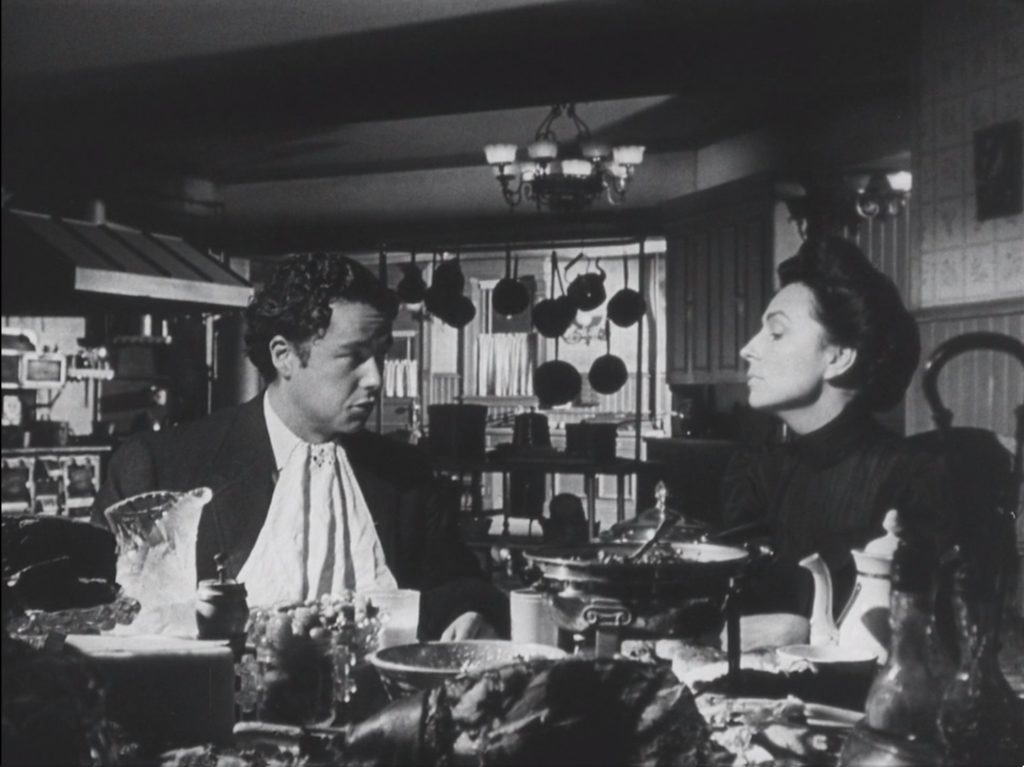 George gulps down cake as Fanny questions him obviously pumping him for information about Isabel and Eugene.
George is too engrossed in his eating to notice
FANNY
Suppose your mother's been—pretty gay at the Commencement? Going a lot?
GEORGE
How could she in mourning? All she could do was just sit around and look on. That's all Lucy could do either, for that matter.
FANNY
How did Lucy get home?
GEORGE
On the train with the rest of us.
FANNY
Quit bolting your food.
Ignoring her, George continues gulping down his food vigorously
FANNY
Did you drive out to their house with her before you came here?
GEORGE
No. She went home with her father.
FANNY
Oh, I see…Don't eat so fast George!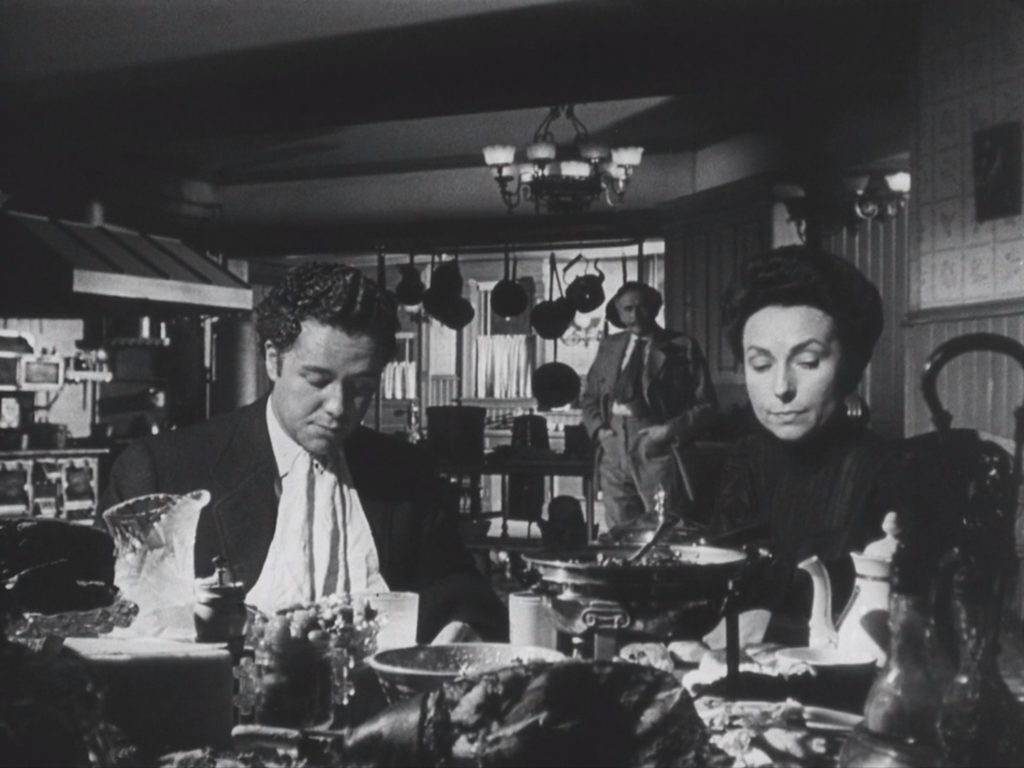 Loud thunder clap as Fanny is beginning to put things together about Eugene and Isabel. Jack descends kitchen steps that lead to the corridor and main staircase.
FANNY
So, Uh, Eugene came to the station to meet you.
GEORGE
To meet us? How could he?
FANNY
I don't know what you mean…Want some more milk?
GEORGE
No thanks.
FANNY
I haven't seen him while your mother's been away.
GEORGE
Naturally. He's been east himself.
FANNY
Did you see him?
GEORGE
Well, naturally, since he made the trip home with us.
Fanny had been talking drearily but suddenly her eyelids open wide with interest.
FANNY
He did? He's been with you all the time?
GEORGE
Unh-unhh. Only on the train and the last three days before we left. Uncle Jack got him to come along.
FANNY
You're going to get fat.
GEORGE
I can't help that—you're such a wonderful housekeeper. You certainly know how to make things taste good.
FANNY
Mmmmm
GEORGE
I don't think you'd stay single very long if some of the bachelors or widowers around town could just want…
Fanny isn't listening having put things together she is now thinking aloud.
FANNY
It's a little odd.
Thunder is heard.
GEORGE
What's odd?
Jack reached them and and George glances back at him as Fanny continues talking.
 FANNY
Your mother's not mentioning that—Mr. Morgan had been with you.
Jack walks towards the two and standing behind them, they talk while George continues to eat.
GEORGE
Didn't think of it, I suppose.
George casts a mischievous glance at Fanny. He is about to have some fun at her expense.
GEORGE
I'll tell you something, in confidence.
FANNY
What?
GEORGE
Well, it struck me that Mr. Morgan was looking pretty absent-minded most of the time. And he certainly is dressing better than he used to.
Seeing what George is up to, Jack joins in.
JACK
Oh he—isn't dressing better, he's dressing up! Fanny you ought to be a little encouraging when a—prize bachelor begins to show by his haberdashery what he wants you to think about him.
GEORGE
Uncle Jack tells me the factory's been doing quite well.
JACK
Quite well? 
GEORGE
Honestly, Aunt Fanny…
JACK
Why listen! Eugene's got…
GEORGE
…I shouldn't be a bit surprised to have him request an interview and declare that his intentions are honorable, and ask my permission to pay his addresses to you. What had I better tell him?
Fanny suddenly bursts into tears and sobs. George is surprised. George's teasing about Eugene pushed her over the edge.   Fanny realizes that Eugene might not really be interested in her but, instead Isabell. Her fears of being a penniless spinster on her own is becoming a reality. She is desolate.
GEORGE
Oh, Aunt Fanny!
JACK
Fanny, we wore only teasing.
FANNY
Let me alone!
JACK
Please, Fanny.
GEORGE
I didn't mean anything.
Realizing where Eugene's real interest might be, this is too painful for her and Fanny suddenly leaps up, brushes Jack aside and she rushes out of the room. Distressed, George leaps up following her as he tries to console her. Fanny speaks through her sobs.
FANNY
Let go of me! Please let me alone.
GEORGE
We didn't know you'd got so sensitive as all this.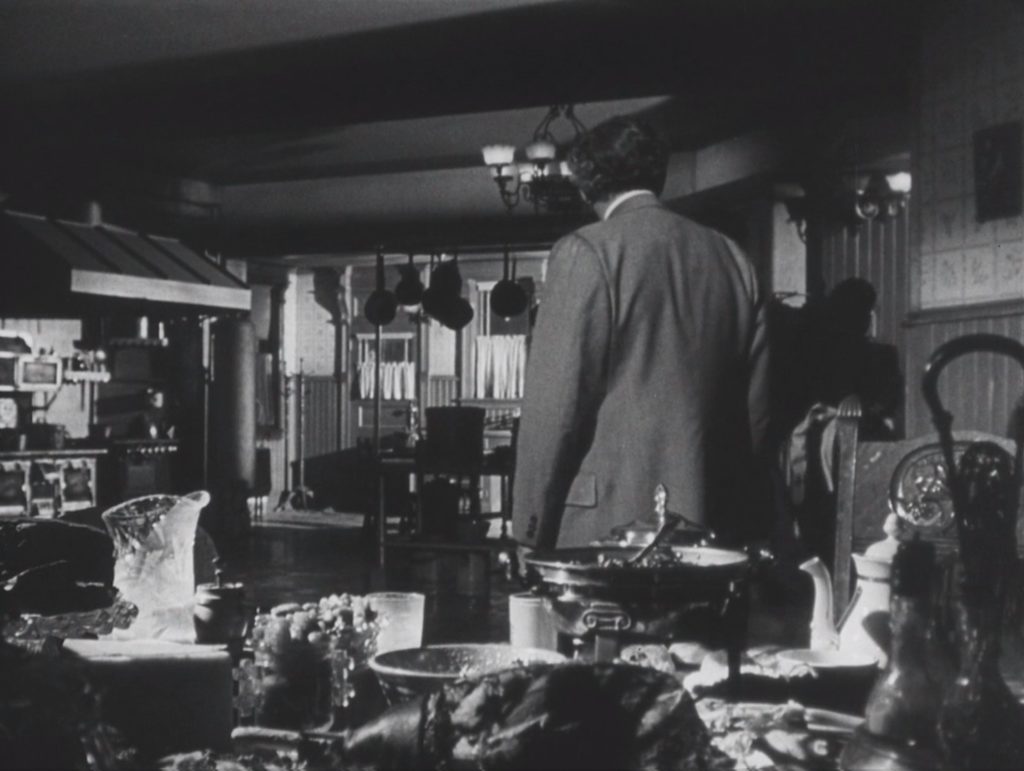 Fanny rushes up the steps and leaves the room. George turns to Jack.
GEORGE
It's getting so you can't joke with her anymore.
Jack walks to the table and sits while George standing in the background talks.
GEORGE
It all began when we found out father's estate was washed up and he didn't leave anything. I thought she'd feel better when we turned over father's insurance to her. Gave it to her absolutely without any strings to it. But now –mmmh.
Jack talks thoughtfully
JACK
Fanny hasn't got much in her life. You know, Georgie, just being an aunt isn't really the great career it may sometimes seem to be. I really don't know of anything much Fanny has got…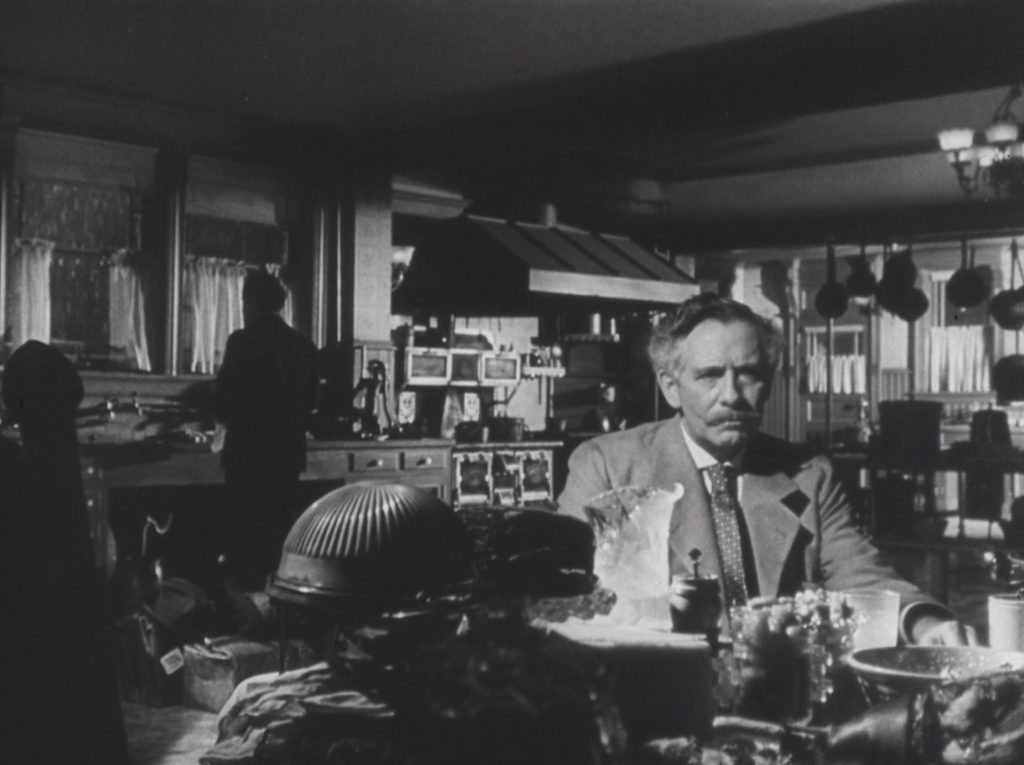 George leans over the sink and looks out the window with the rain pouring out.
JACK
..except her feeling about Eugene. You know, I think perhaps we ought to..
Dumbfounded, George suddenly shouts. His attitude absolutely electric and his voice expressing total dismay.
GEORGE
Holy cats!
George rushes the door. Turning, Jack is surprised.
JACK
What's wrong, Georgie?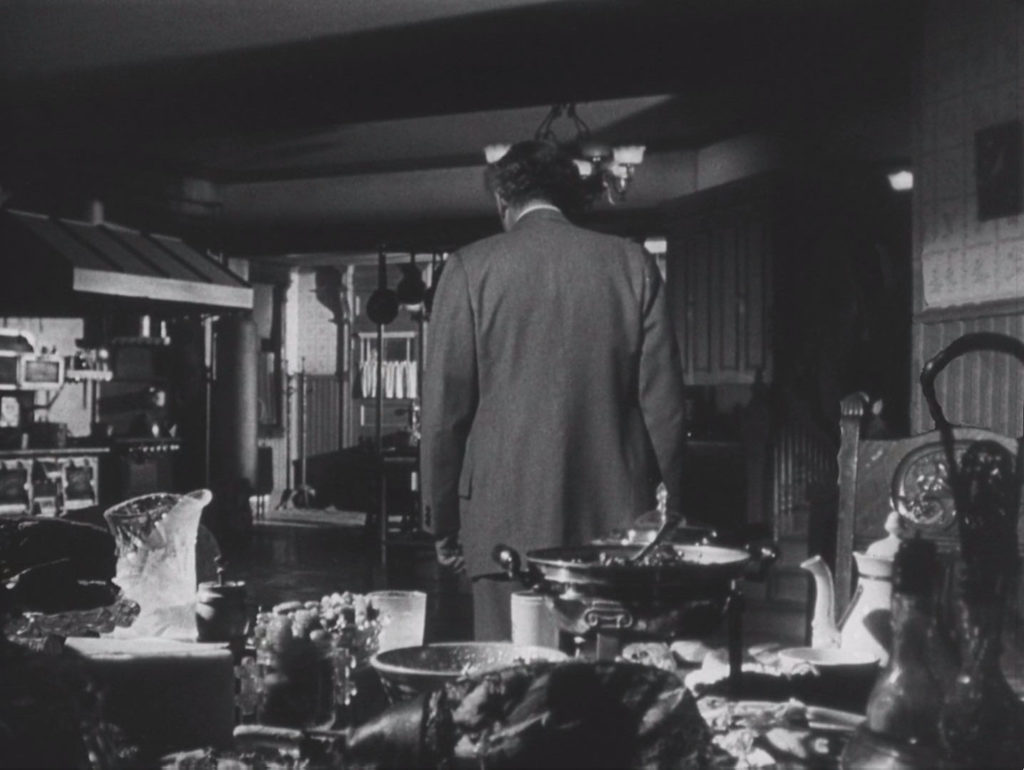 George plunges out the door. Concerned, Jack gets up, grabs a coat and an umbrella and puts them on as he rushes after George calling out.
JACK
Georgie! Georgie!
He heads for the door.
Rain pouring down George runs from the door onto the small Kitchen porch. Jack runs after him. Putting on his coat. he yells to George.
JACK
Georgie.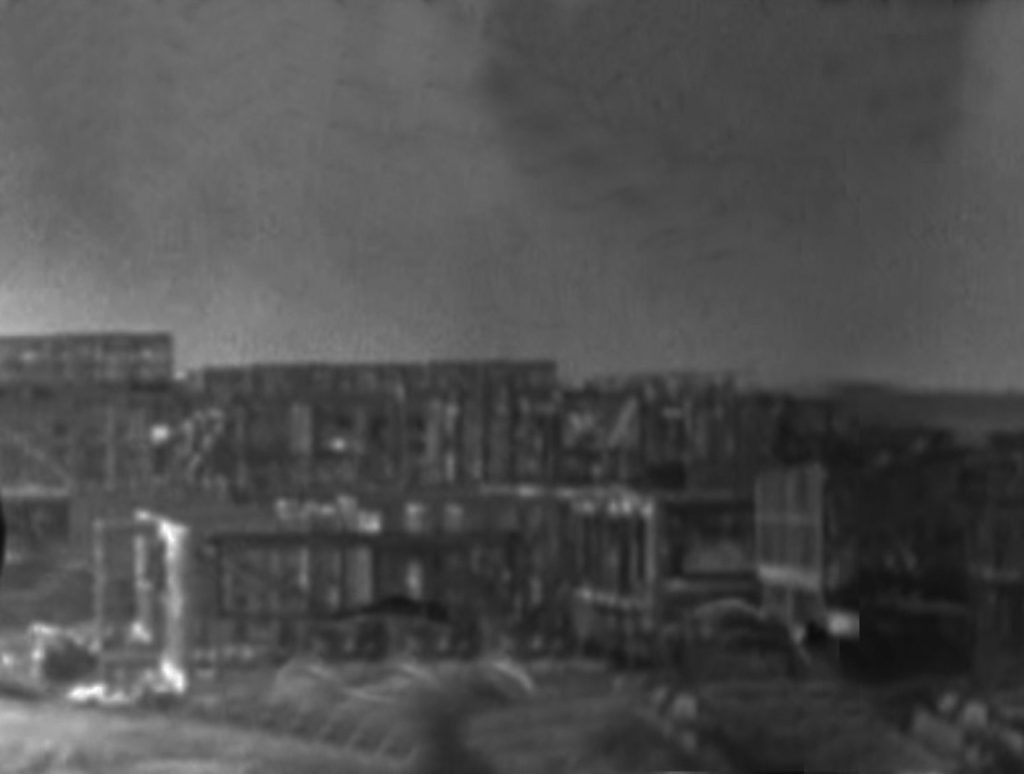 Standing on the Amberson lawn are partly erected buildings.  These excavations are for the cellars of five new houses, each within a few feet of its neighbor defacing the lawn and making it look unsightly. Foundations of brick are already laid and everywhere are mud-puddles, and drenched piles of brick, stacked lumber, sand heaps, and mortar beds.  With the storm raging, and rain falling on him, George dashes frantically about unable to comprehend what he is seeing. He acts as if this defacement has been done to him personally and his entire world has been pulled out from him. He turns and yells to the Jack.
GEORGE
What is this?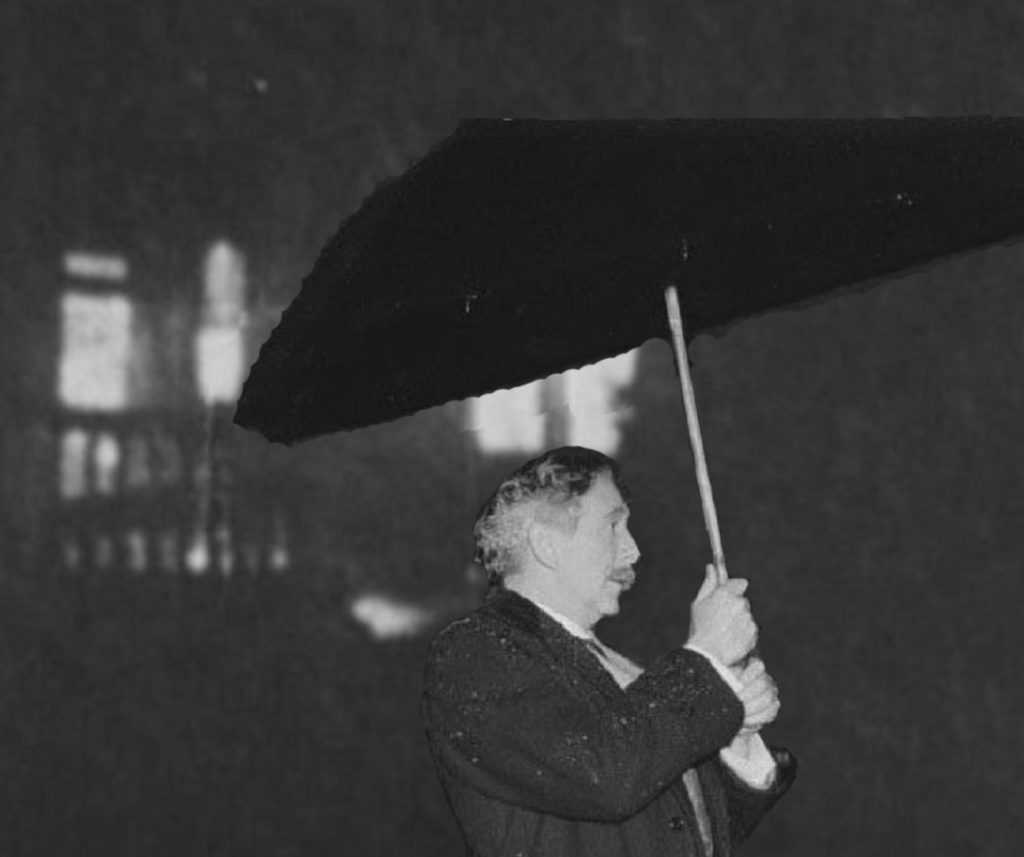 Rain and the storm around him, Jack is running to George opening his umbrella and waving
GEORGE'S VOICE
Looks like excavations!
George is standing glaring at the excavations. Jack is running with Umbrella trying to catch up with George. With the rain pouring down George is yelling over the noise of the storm. He is literally, in a state of shock.
GEORGE
Looks like foundations for a lot of houses!  Just what does Grandfather mean by this?
George rushes towards the partly constructed buildings. Jack follows and, in contrast to George, speaks rather calmly about this.
JACK
My private opinion is he wants to increase his income by building these houses to rent. For Gosh sakes come in…
Framework of a building, storm raging George runs about.
JACK
..out of the rain.
Yelling, George runs towards the buildings. Holding the umbrella, Jack is running to George. George sees this as a desecration of the house and of himself.
GEORGE
Can't he increase his income any other way but this?
JACK
It appears he can't.   I wanted him to put up…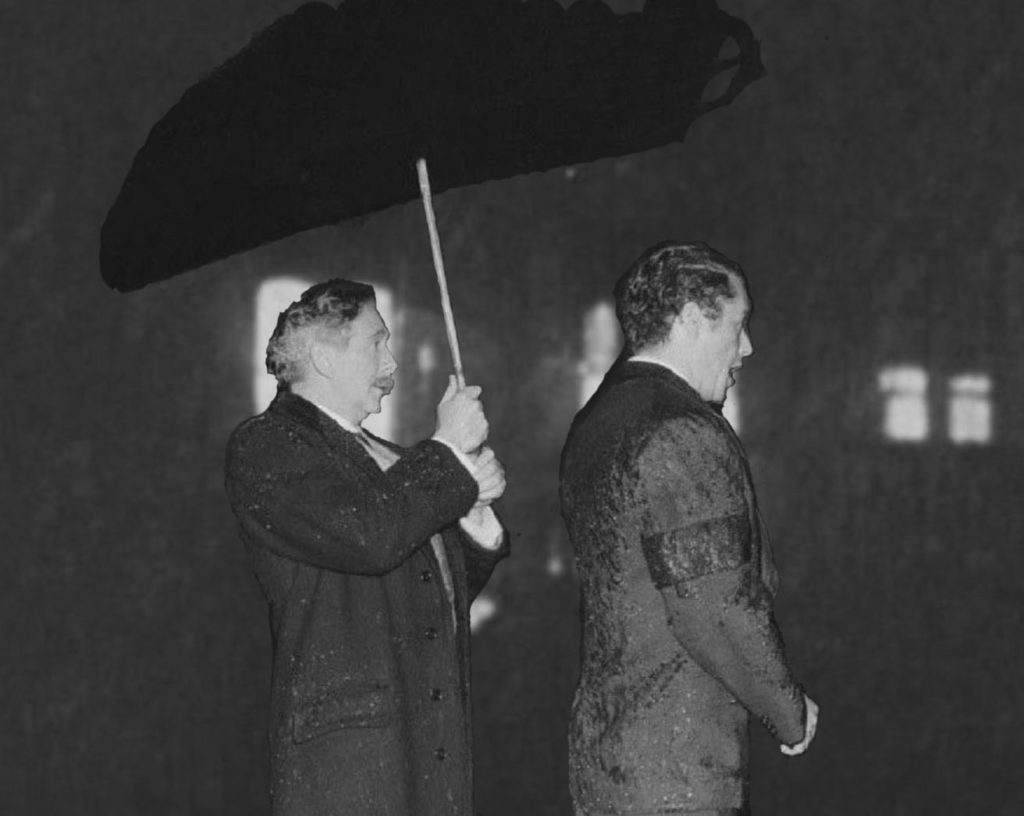 The two are standing as the storm rages forcing Jack to yell. He is trying to hold the umbrella over both of them.
JACK
…an apartment building instead of houses.
Because of the rain and thunder the two are forced to shout at each other. George is frantic. Not believing what he hears he seems in a state of shock.
GEORGE
An apartment building! Here!
JACK
Yes, that was my idea.
GEORGE
An apartment house!
Shocked, rain streaming down his face, George is looking at the buildings yelling.
GEORGE
Oh my gosh!
JACK
Don't worry!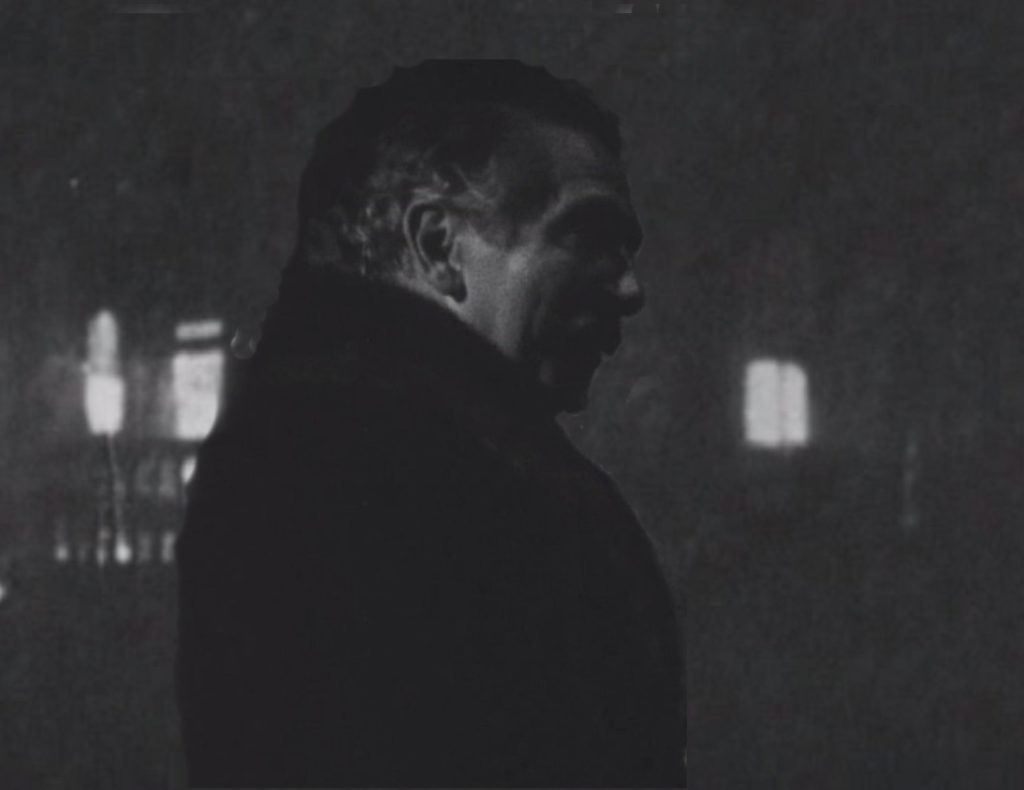 Jack shouts over the storm.
JACK
Your grandfather wouldn't listen to me, but he'll wish he had, some day.
George is shouting with the rain running down his face.
GEORGE
But, why didn't he sell something or other rather than do a thing like this?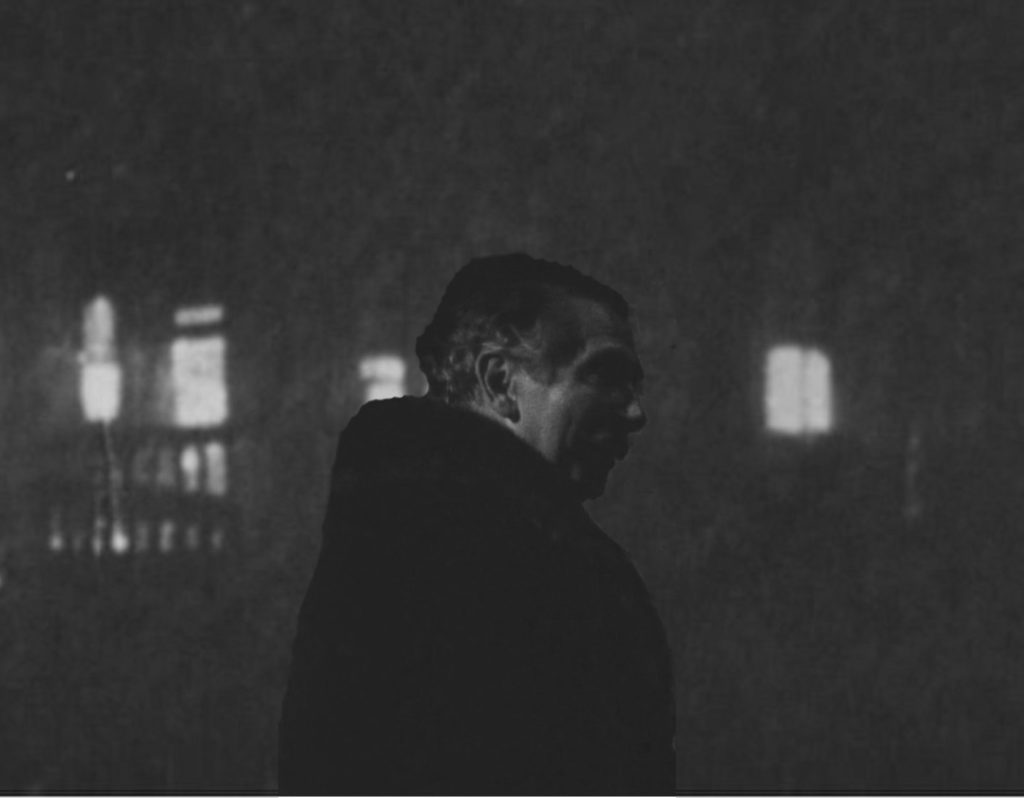 Jack is yelling
JACK
I believe he has sold something or other, from time to time.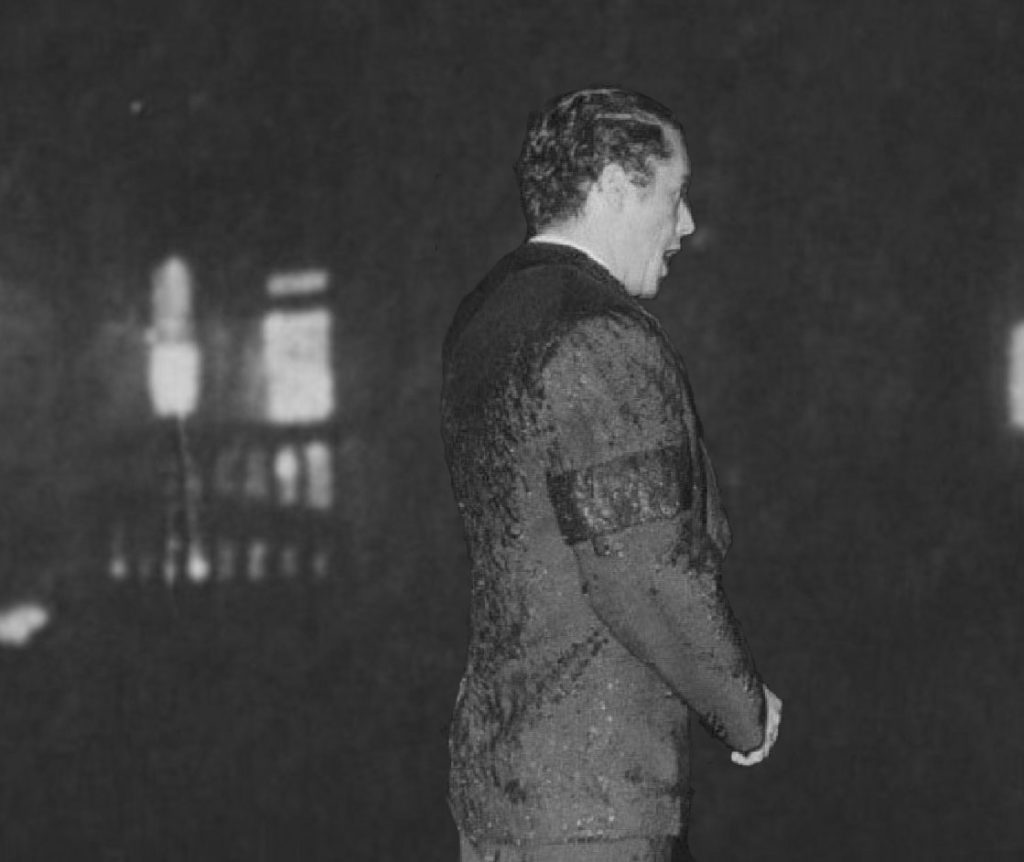 George shouts.
GEORGE
Well, in heaven's name, what did he do it for?
Holding the open umbrella Jack is shouting
JACK
In heaven's name to get money. That's my deduction.
For the first time George is being told about his grandfather's troubled finances but no matter what Jack says, George refuses, or better yet, is unable to accept this situation. All he can think is that the landscape of the Amberson mansion is being needlessly destroyed and what it will say to be people about the Ambersons and himself. So, all he can do is shout.
GEORGE
I suppose you're joking—or trying to!
Jack shakes his head
JACK
That's the best way to look at
FADEOUT/FADE IN
(SINGLE TAKE SCENE)
In Eugene's factory, pounding anvils fills the soundtrack as sparks are flying. George, Isabel and Fanny are being escorted by Lucy and Eugene through Eugene's growing factory. Fanny Isabel, Lucy, Eugene and George are gathered around watching. A worker approaches with a hot steel bar and pounds on an anvil. Sparks fly. The woman scream and the men laugh. The workman walk off as Lucy guides them amid general noises and confusion. She talks proudly.
LUCY
And were now turning out a car and a quarter a day.
Worker walks in front of the camera pushing a partly assembled car and the camera pans to follow the group as worker moves off.
Fanny, Isabel and Eugene walk close to the camera as the camera moves with them as they proceed down the assembly line. Factory noise all around them they are laughing and talking.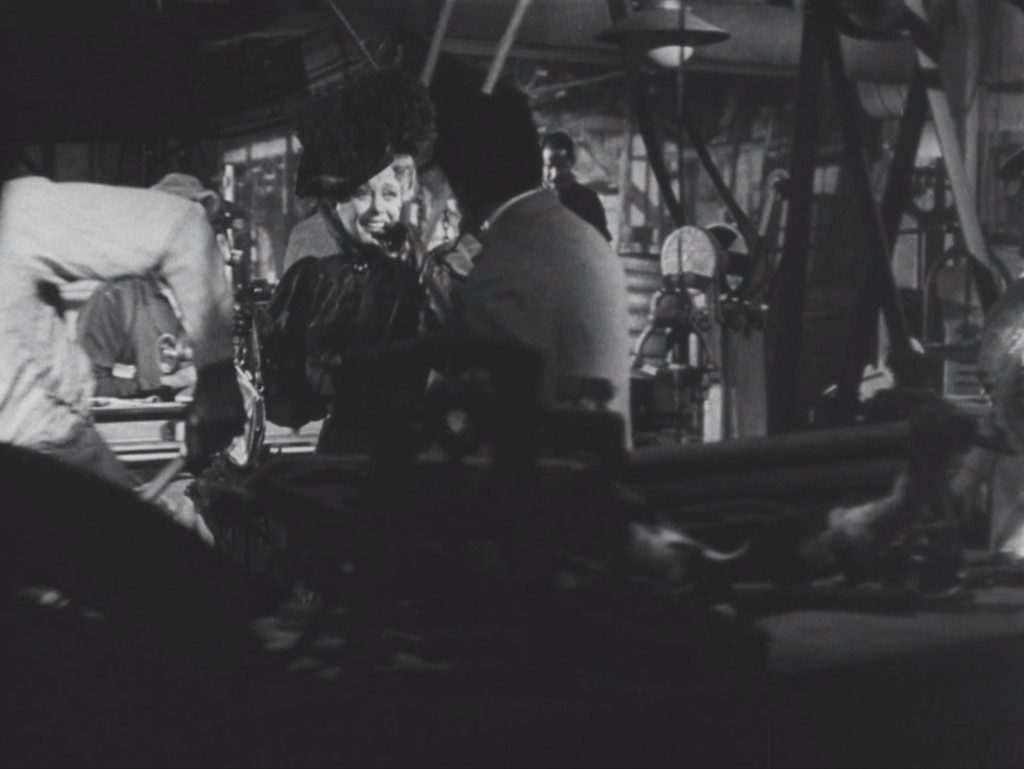 Isabel, showing a lively interest in everything, her face glows with compliments.
ISABEL
Isn't that marvelous.
FANNY
What's marvelous?
Man hoists up part of a car.
ISABEL
They're turning a car and a quarter a day.
FANNY
OH!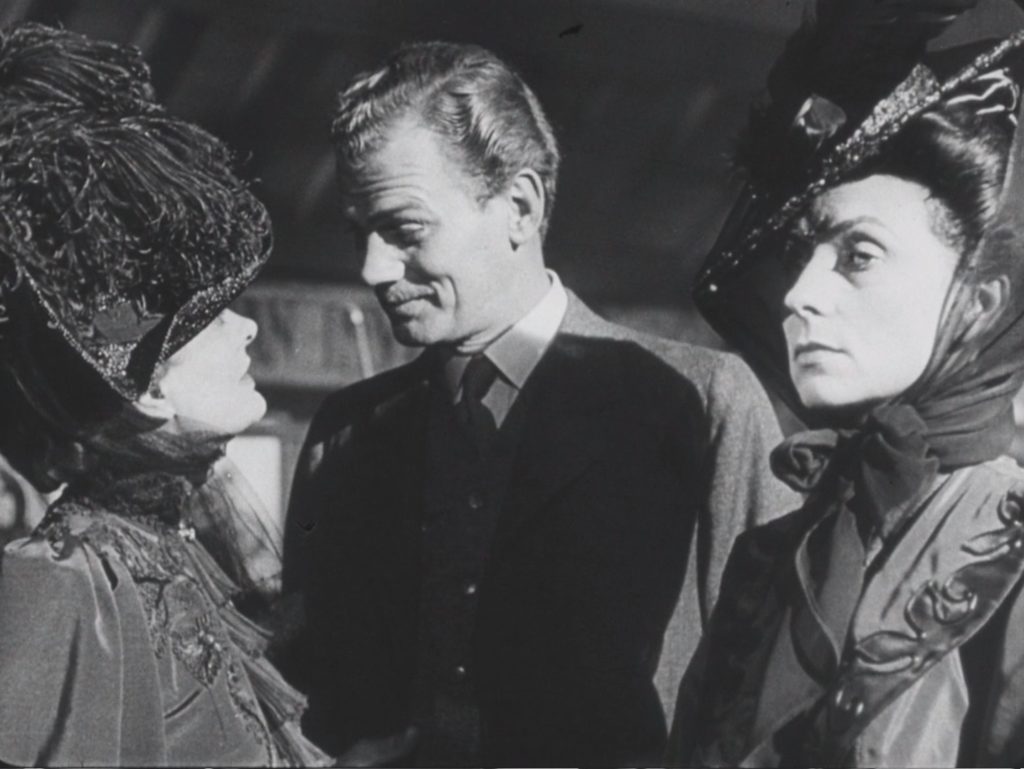 Fanny shows none of the interest that Isabel exhibits and if not exactly bored shows disinterest. The camera continues to follow them through the factory.
GEORGE's VOICE
Mother! Mother!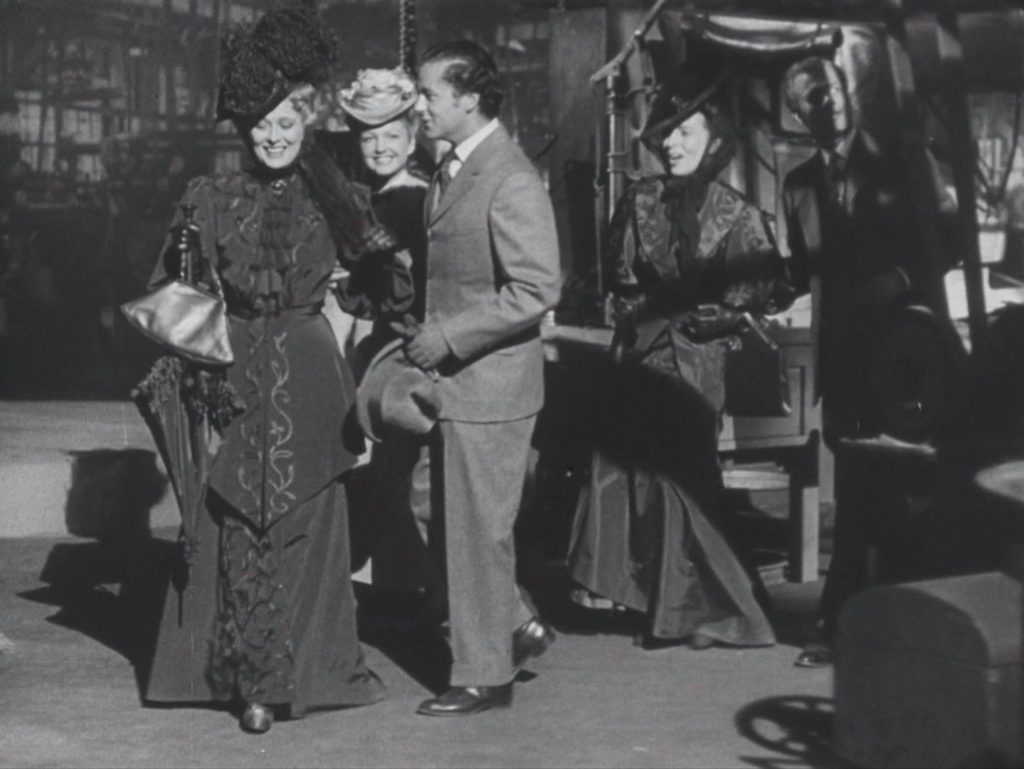 George moves closer to his mother
EUGENE
Fanny!
Eugene walks to Fanny in the background while George speaks to his mother. He is excited for her.
GEORGE
All this noise and smell seems to be good for you. You ought to come here every time you get the blues.
FANNY
Oh, she doesn't get the blues, George. I never knew a person of a more even disposition.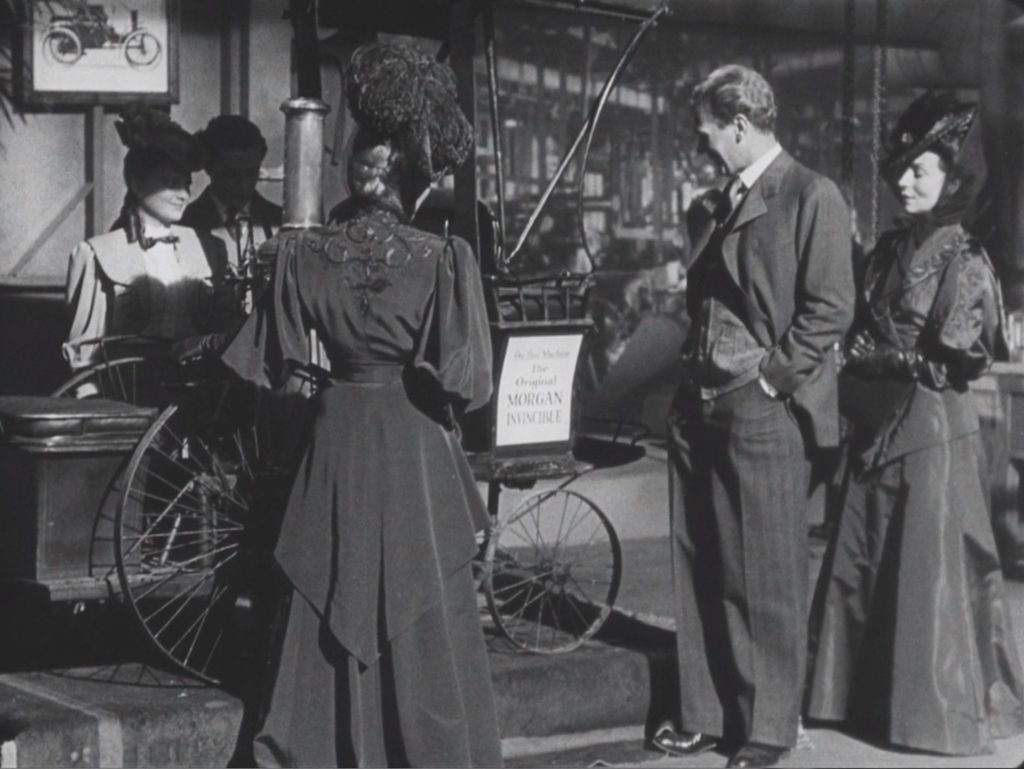 They stop by Eugene's old steam car in which he had once courted Isabel years earlier. Eugene, Isabel and Fanny are in front of the car while George and Lucy are behind it.
ISABEL
No, it's this place.
FANNY
I wish I could be like that.
ISABEL
Wouldn't anybody be delighted to see an old friend take an idea out of the air like that—an idea most people laughed at him for…
Fanny turns her back to them and moves a few steps backward. She is not at all interested in hearing this.
ISABEL
…and turning it into such a splendid humming thing as this factory.
Fanny turns to face Isabel and Eugene moves towards the car.
EUGENE
D'ya remember this! Our first machine. The original Morgan invincible.
ISABEL
I remember.
FANNY
How quaint.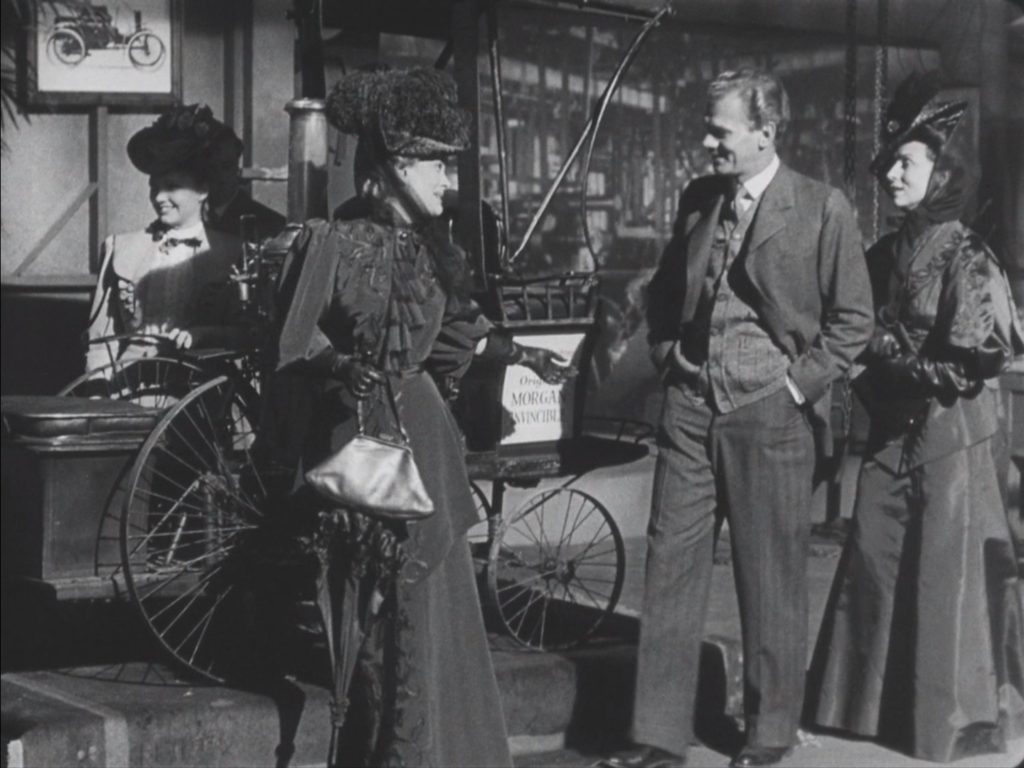 Isabel turns, stretches her hand out to Eugene and takes his arm.
ISABEL
Of course I'm happy, so very, very happy.
LUCY
Just look at the Morgan now, Mrs. Minafer.
ISABEL
It's beautiful—just beautiful.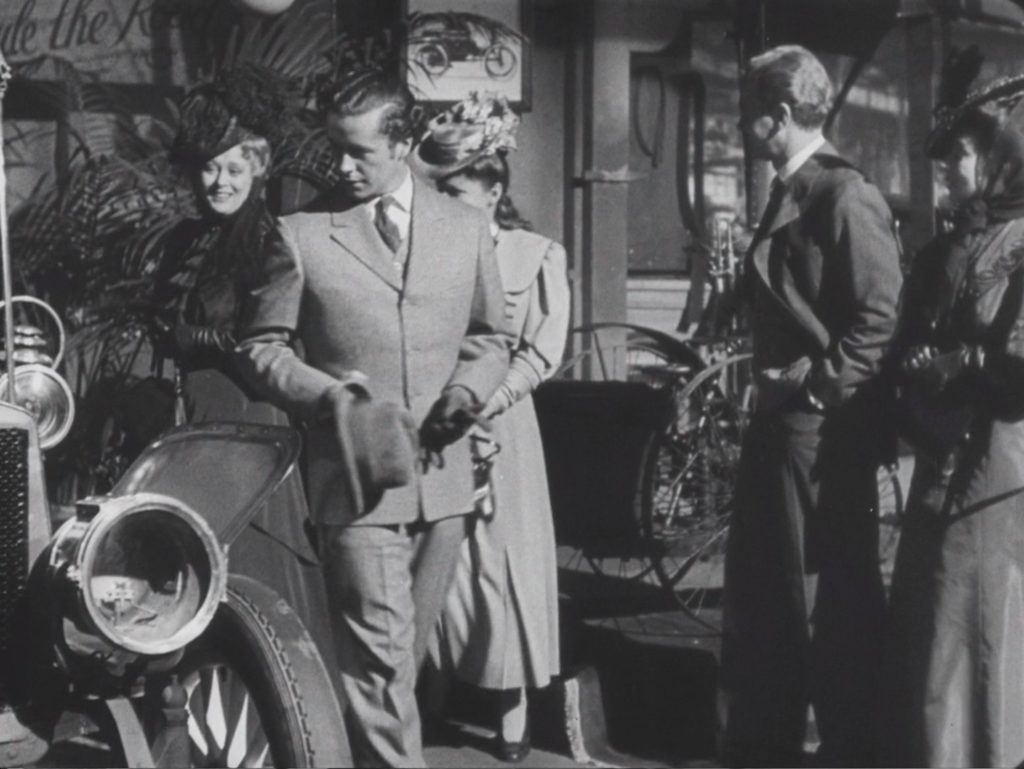 They pause by a model of new car. Eugene and Isabel move off as George inspects the car.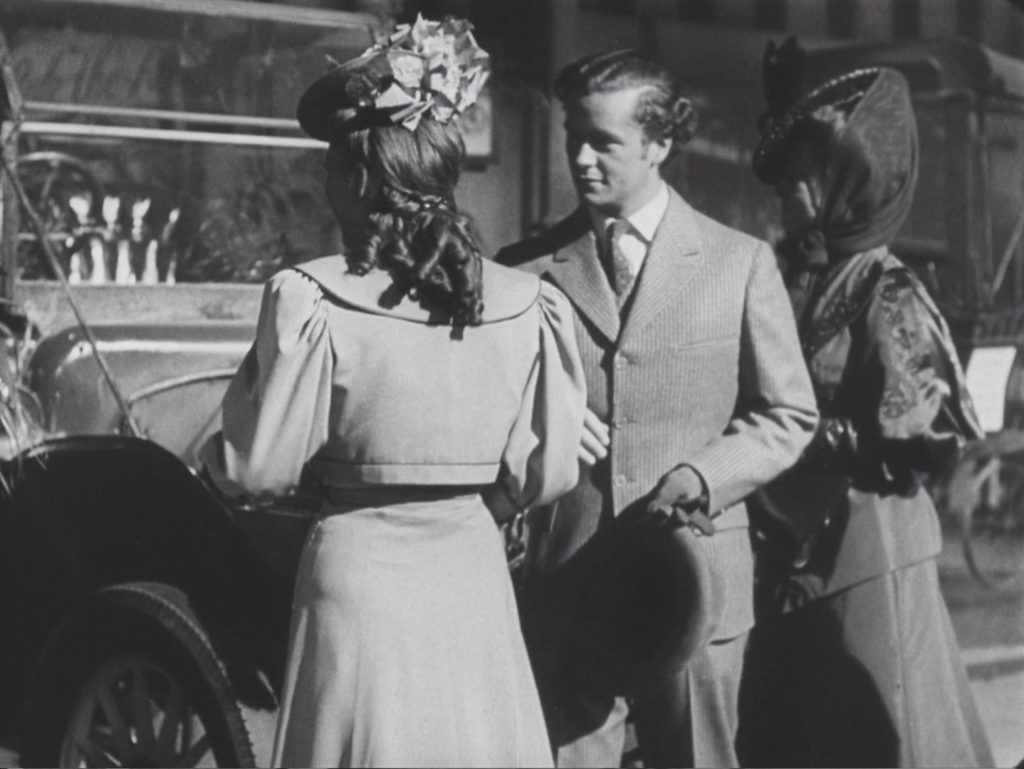 Lucy speaks to George.
LUCY
Did you ever see anything so lovely?
GEORGE
As what?
LUCY
As your mother.
George, Lucy and Fanny continue walking and move towards the camera as the camera moves back.
LUCY
She's a darling.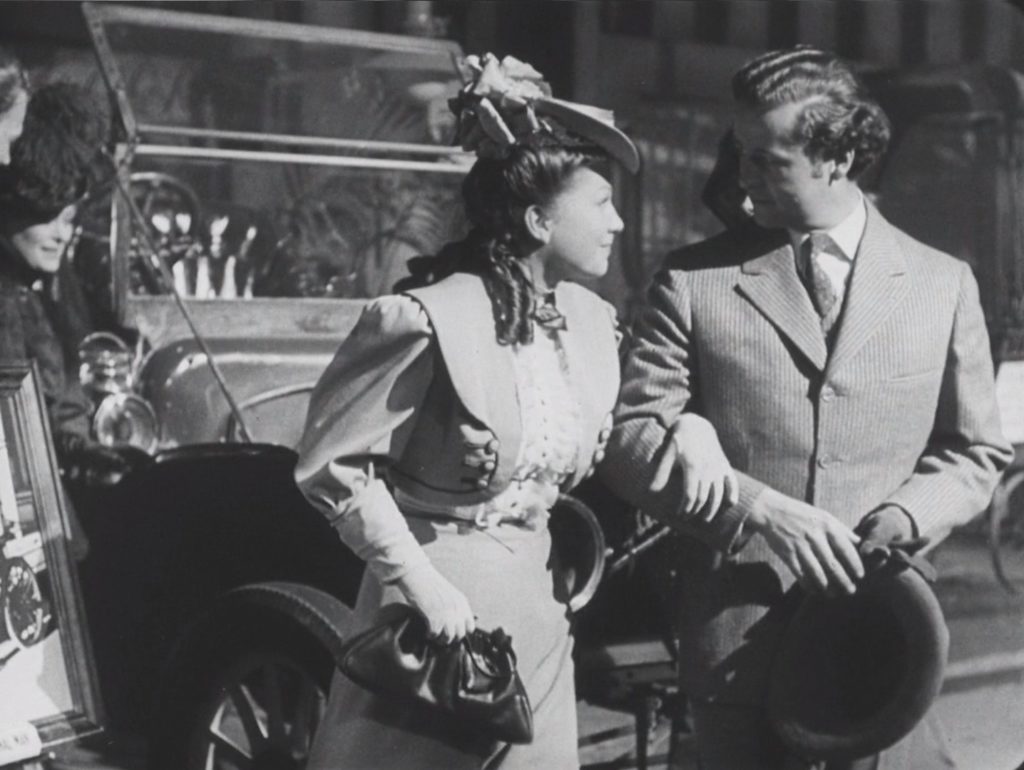 Lucy takes George's arm and they walk together. It is obvious that during the intervening months the two have grown very close. Eugene and Isabel are on camera again and Lucy comments.
LUCY
And Papa looks as if he were going to either explode or utter loud sobs.
Lucy and George move off as Isabel leads Eugene and Fanny follows. They pass a photograph of the Morgan car with caption, "Ideal for the Professional Man." The camera moves and pans to follow
ISABEL
It's just glorious…It makes us all happy, Eugene. Give him your hand, Fanny. There!
Eugene holds Isabel's hand and the three come together in a tight shot.
ISABEL
There, if Brother Jack were here, Eugene would have his three oldest and best friends congratulating him all at once. We know what Brother Jack thinks about it, though.
Eugene looks at the others and smiles. Isabel looks up at him.
EUGENE
I used to write verse about twenty years ago.   Remember that?
ISABEL
I remember that, too.
Fanny stares off grimly exhibiting her true feelings, resentment and perhaps even jealousy watching the attention Eugene gives to Isabell and not her.
EUGENE
I'm almost thinking I could do it again, to thank you for making a factory visit into such a kind celebration.
FADEOUT/FADE IN
General noises are heard as Lucy and George walk from the factory entrance to George's buggy. He helps Lucy onto it.   She is smiling.
LUCY
Gracious! Aren't they sentimental!
GEORGE
People that age are always sentimental. They get sentimental over anything at all.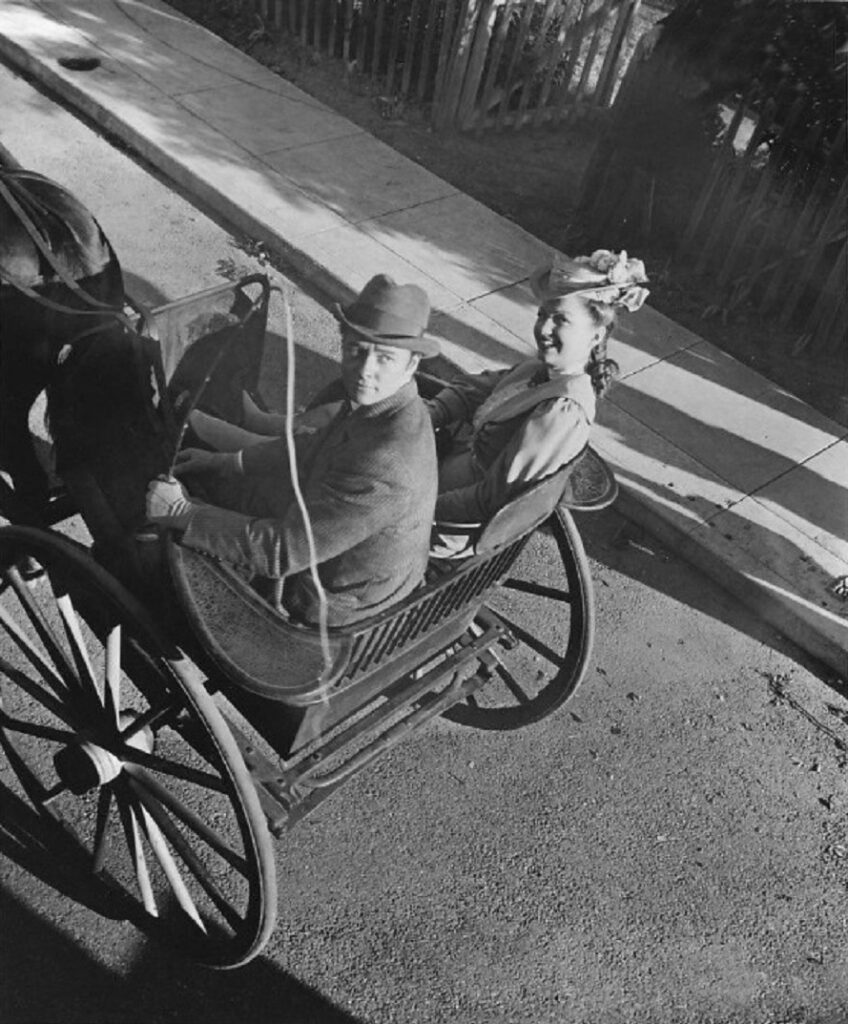 George picks up the rains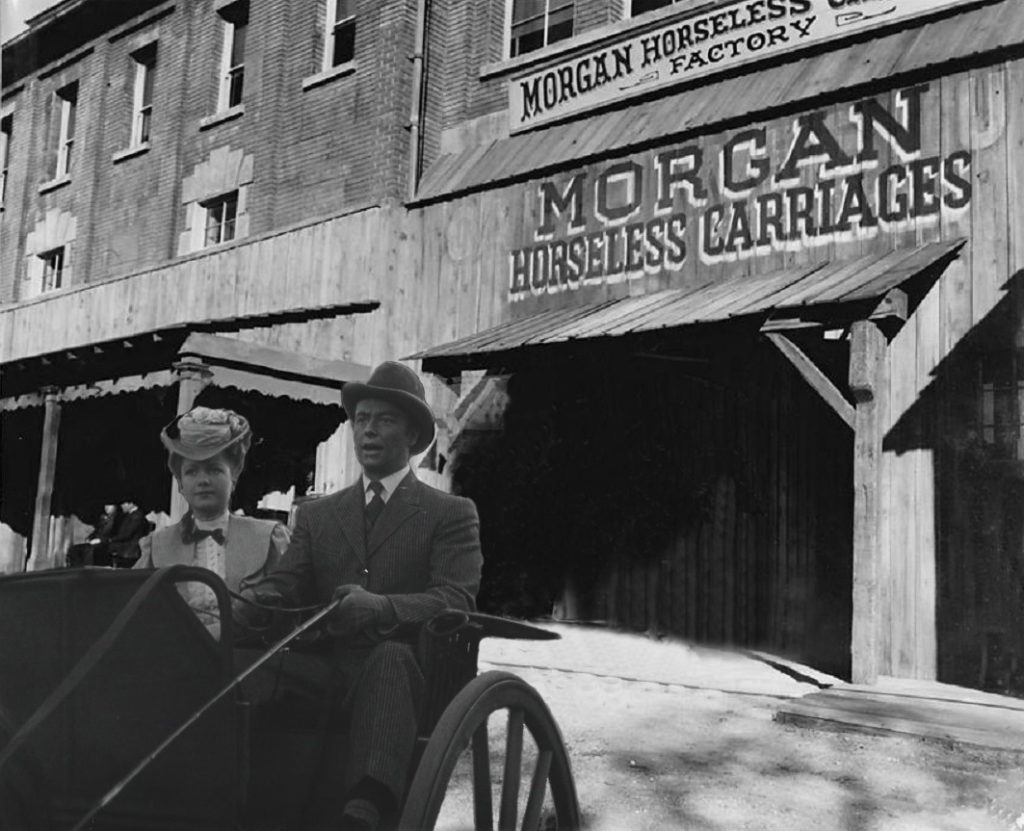 George drives the buggy off to the left.
In back of them the new Morgan special drives out of the factory. Eugene is driving and Isabel and Fanny are in the back seat. The camera pans to follow them as they head down the street.  
The auto is racing down the street as people on both sides of the street watch.
Dust rises as Eugene, driving Isabel and Fanny, turns a corner
As the dust clears George and Lucy follow the same path as the buggy.
MUSIC-CD PLEASURE TRIP (BUGGY RIDE)
(SINGLE TAKE SCENE)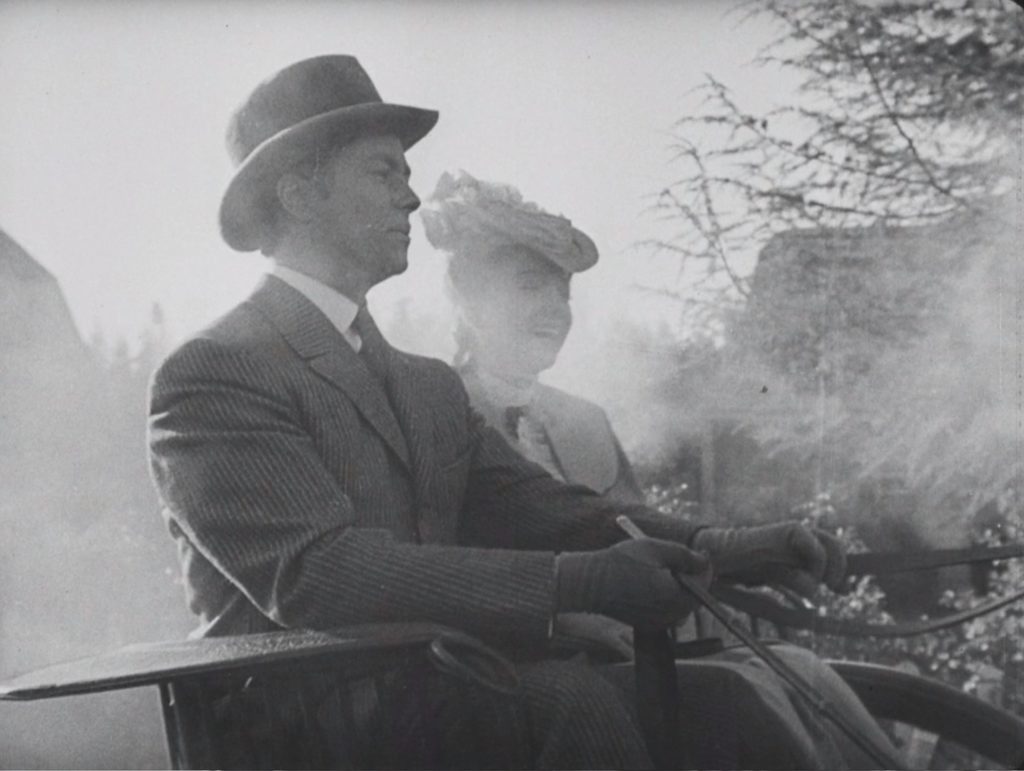 George and Lucy in the buggy the camera moves with them throughout the entire scene as they ride through town.
GEORGE
I'll still take a horse, any day.
Lucy laughs. They ride silently. He checks Pendennis down to a walk.
GEORGE
Whoa.
LUCY
Oh, don't!
GEORGE
Why? Do you want him to trot his legs off?
LUCY
No, but—
GEORGE
"No, but" what?
Lucy speaks gravely.
LUCY
I know when you make him walk it's so you can give all your attention to proposing to me again! George, do let Pendennis trot again!
GEORGE
I won't
LUCY
Get up, Pendennis! Trot! Go on! Commence!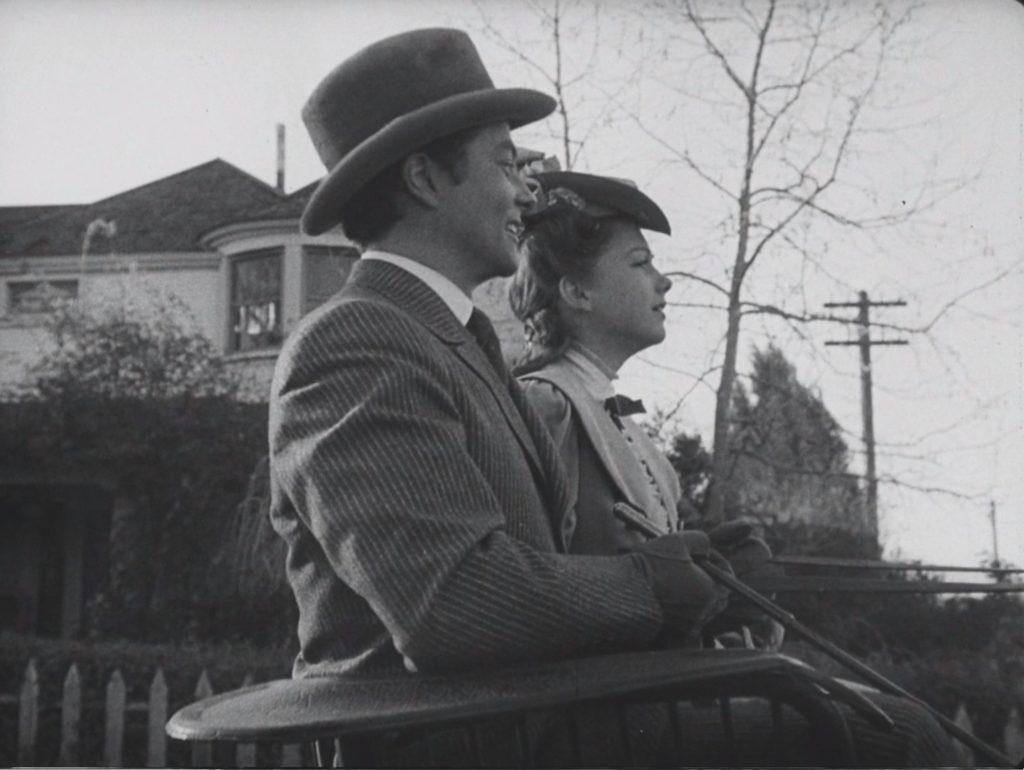 Pendennis pays no attention and George laughs fondly.
GEORGE
You are the prettiest thing in this-world, Lucy! When are you going to say were really engaged?
LUCY
Not for years so there's the answer.
His voice grows a little husky
GEORGE
Lucy! Dear, what's the matter? You look as if you were going to cry. You always do that whenever I can get you to talk about marrying me.
LUCY
I know it.
GEORGE
Well why do you?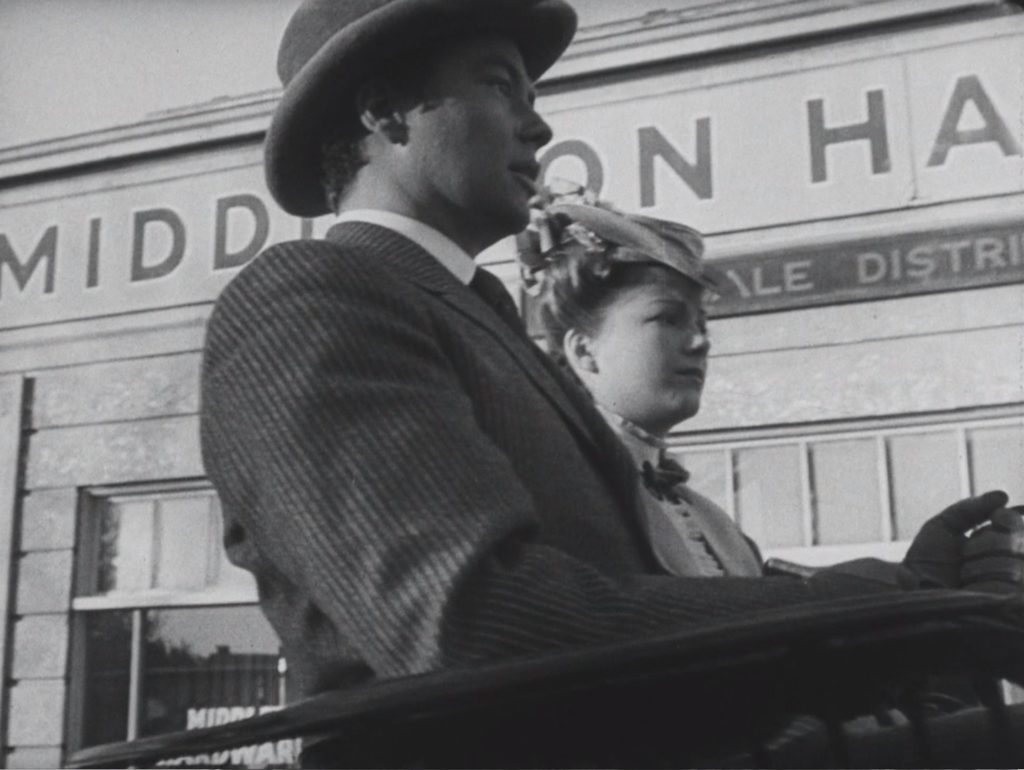 She speaks with sad gravity
LUCY
One reason's because I have a feeling that it's never going to be.
GEORGE
You haven't any reason or…
LUCY
It's just a feeling. I don't know—everything's so unsettled.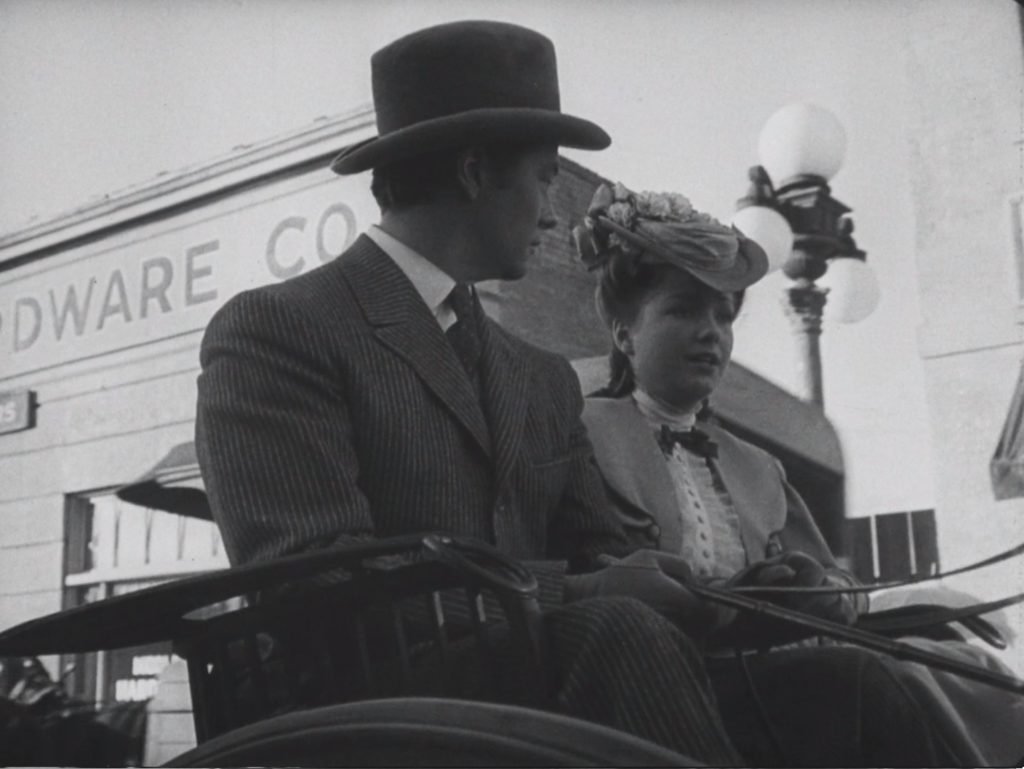 Anticipating another one of their arguments George becomes serious.
GEORGE
If you aren't the queerest girl! What is "unsettled?"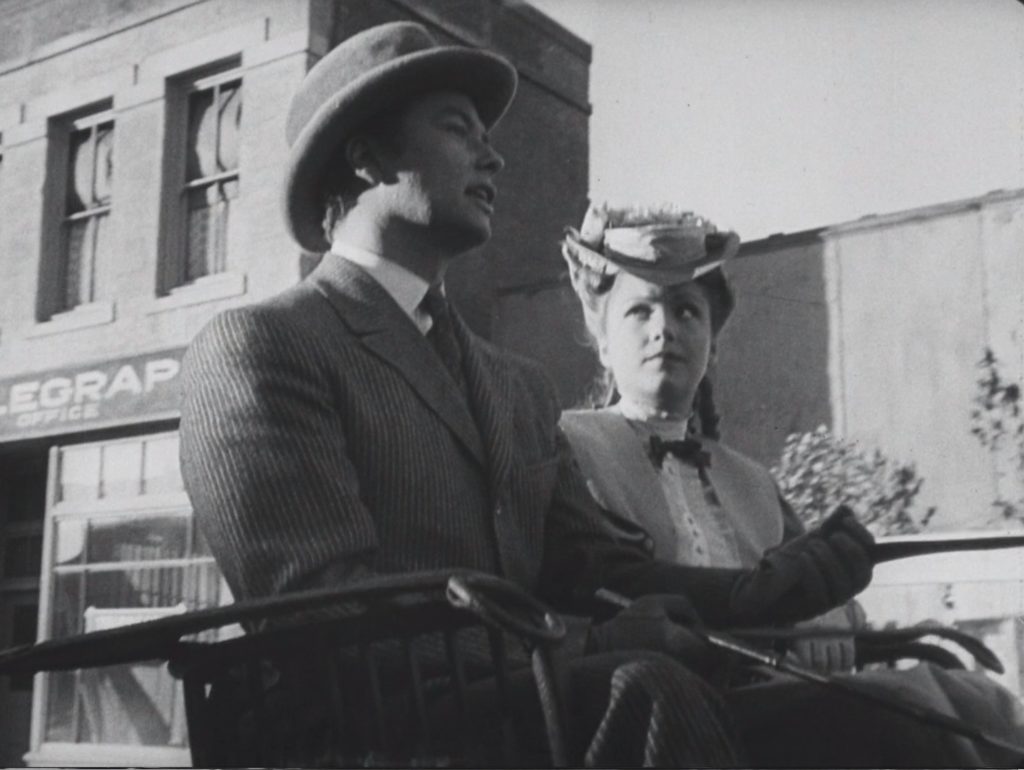 She speaks with vehemence.
LUCY
Well, for one thing, George, you haven't settled on anything to do. At least if you have, you've never spoken of it.
Surprise and displeasure are visible on his face so George permits a significant period of silence to elapse before making any response. He answers with cold dignity·
GEORGE
Lucy, haven't you perfectly well understood that I don't mean to go into business or adopt a profession?
LUCY
What are you going to do George?
George is earnest and genuine in his answer completely discounting what he recently heard about the Amberson financial decline.
GEORGE
Why, I expect to live an honorable life.     I expect to contribute my share to charities, and to take part in—well, in movements.
LUCY
What kind?
GEORGE
Whatever appeals to me. I should like to revert to the questions I was asking you, if you don't mind.
LUCY
No, George. I think we'd better…
GEORGE
Your father is a businessman.
Defending her father, Lucy answers quickly.
LUCY
He's a mechanical genius…
George's tone darkens
GEORGE
It's your father's idea.
LUCY
…or he's both.
GEORGE
Isn't it your father's idea that I ought to go into a business and that you oughtn't to be engaged to me until I do?
Camera moves in front of them. Now the entire street can be seen stretching into distance. Lucy is thoughtful in her answer.
LUCY
No! I've never once spoken to him about it!
George jumps to a conclusion.
 GEORGE
But you know that's the way he does feel about it?
  LUCY
Yes.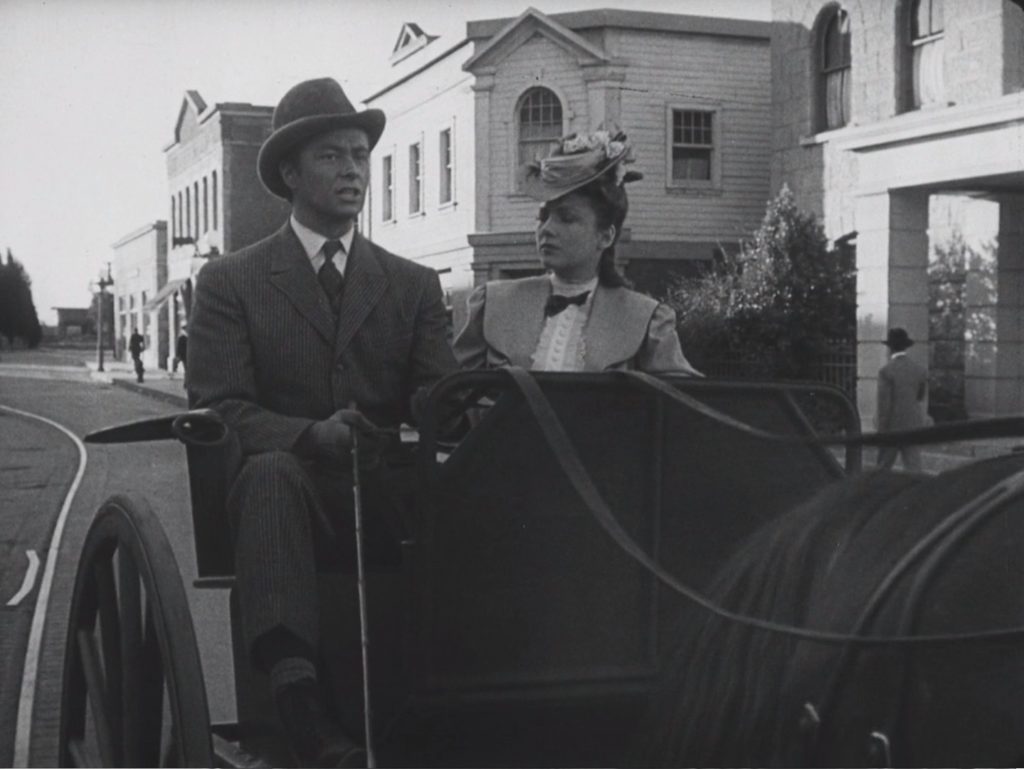 Camera is now directly in front of them, Streetcar tracks come into view. George's tone grows even darker.
GEORGE
Do you think I'd be much of a man if I let any other man dictate to me my own way of life?
LUCY
George! Who's "dictating" your way of life?
GEORGE
I don't believe in the whole world scrubbing dishes and selling potatoes and trying law cases.
The camera slows down and moves alongside them again. Stiff neck, George is now most definitely angry.
GEORGE
No, I dare say I don't care for your father's ideals any more than he does for mine!
LUCY
George!
GEORGE
Giddap, Pendennis
He tightens the reins, Pendennis quickens eagerly to a trot and they move off.
While the camera is still moving but now shows an enclosed carriage coming up from behind, racing across the screen.
CLICK PLAY TO HEAR MUSIC-(CD-PRELUDE)
(SINGLE TAKE / SINGLE ANGLE SCENE)
Major Amberson and Jack are seated inside the moving carriage conversing as the carriage squeaking and hoof-prints are heard.
JACK
He seems to have recovered. Looks in the highest good spirits.
MAJOR AMBFRSON
I beg your pardon!
JACK
Your grandson.      Last night he seemed inclined to melancholy.
MAJOR AMBERSON
What about? Not getting remorseful about all the money he's spent at college, is he? I wonder what he thinks I'm made of.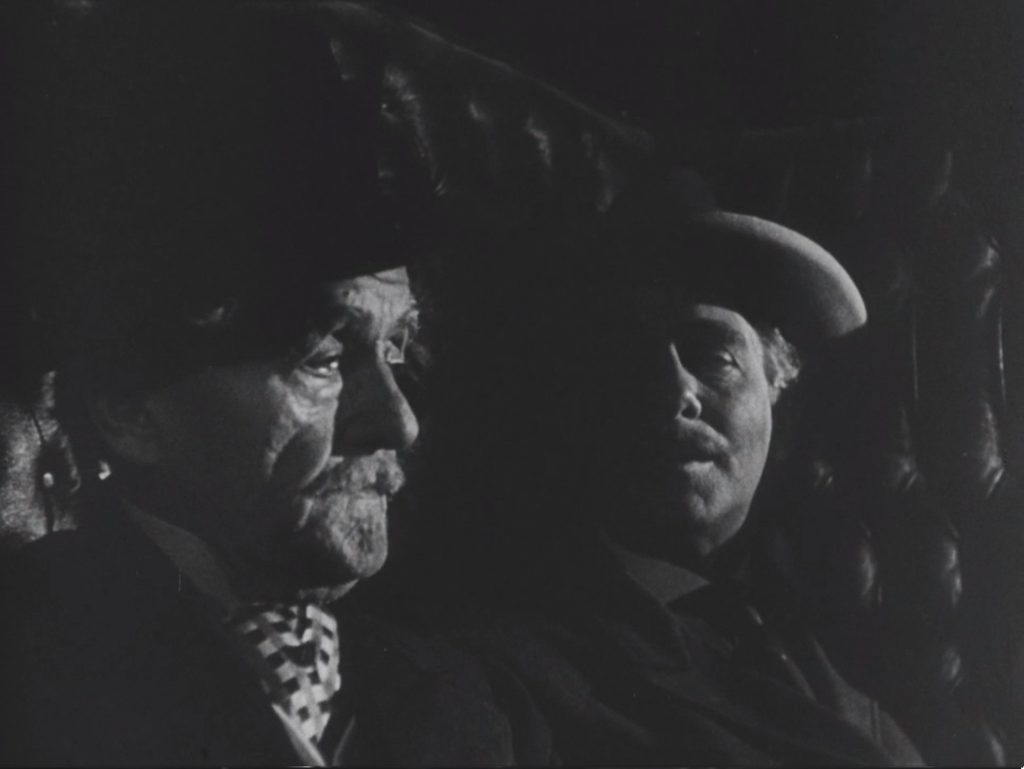 JACK
Gold…And he's right about that part of you, Father.
MAJOR AMBERSON
What part?
JACK
Your heart.
Major laughs ruefully.
MAJOR AMBERSON
I suppose that may account for how heavy it feels, sometimes, nowadays. This town seems to be rolling right over that old heart you mentioned just now, Jack…rolling over it and burying it under! When I think of those devilish workmen digging up my lawn, yelling around my house.
JACK
Never mind, Father. Don't think of it. When things are a nuisance, it's a good idea not to keep remembering 'em.
MAJOR AMBERSON
I try not to. I try to keep remembering that I won't be remembering anything very long. Not so very long now, my boy. Not so very long now, huh. Not so very long!
DISSOLVE TO
CLICK PLAY TO HERE MUSIC (CD FIRST NOCTUNE)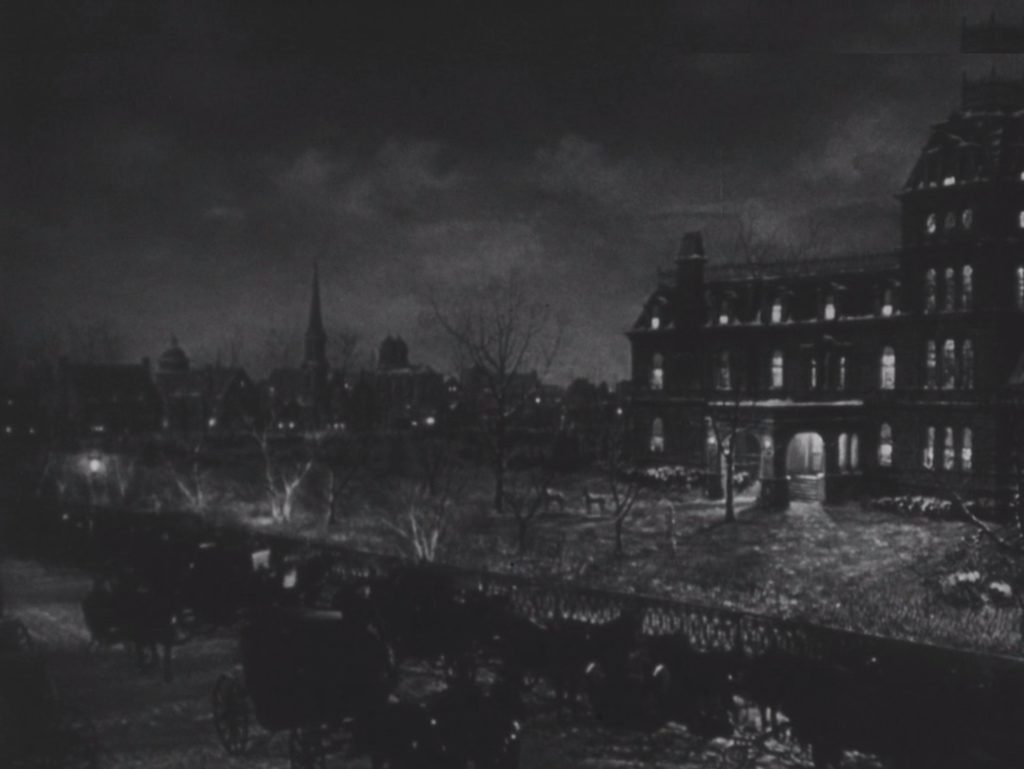 The Mansion and the evening life in a midland city. Carriage and buggy traffic lights pass by as silent bicycles riding by in pairs and trios, striking their bells as the riders' voices call out laughing. Surreys rumble lightly by, and frequently there is a glitter of whizzing spokes from a runabout or sporting buggy. Interspersed, disrupting the peace of the night, comes an occasional racketing auto—causing bicycles and people to scatter to cover. 
DISSOLVE TO:
(SINGLE TAKE / SINGLE ANGLE SCENE) 
George, Fanny and Isabel are on the Verandah. George is sitting at the top of the steps while Fanny sits on a creaking rocking chair. Isabel is on the right with her silhouette showing against the bright window. George's attitude is not comfortable, but rigid, and his silence heavy. He is obviously mulling over his tiff with Lucy earlier. When a lull falls after an auto roars by Fanny speaks in her lifeless voice as her rocking chair squeaks.
FANNY
I don't believe we'll see as many of those automobiles next summer.
Isabel is generallyy surprised by Fanny's tone.
ISABEL
Why?
FANNY
I've begun to agree with George about their being more of a fad than anything else. Like roller skates. Besides, people just won't stand for them after a while. I shouldn't be surprised to see a law passed forbidding the sale of automobiles the way there is with concealed weapons.
Feeling rebuffed by Eugene, Fanny is striking back by attacking Eugene's business. Fanny is so cutting in what she says that that Isabel, who feels quite the opposite, can't believe what she just heard.
ISABEL
Fanny! You're not in earnest?
FANNY
I am, though!
ISABEL
Then you didn't mean it when you told Eugene you'd enjoyed the drive this afternoon?
Fanny lifelessly resists the implication
FANNY
I didn't say it so very enthusiastically, did I?
ISABEL
Perhaps not, but-he certainly thought he'd pleased you.
She speaks slowly in a flat disinterested tone. The likeness of her remark masking her bitterness.
FANNY
I don't think I gave him any right to think he'd pleased me.
ISABEL
Why not? Fanny?
Hesitating; she doesn't answer immediately. Obviously, after what happened earlier—realizing Eugene was really interested in Isabel and not her—Fanny's response is to show cold indifference. Therefore, her answer is more reproachful than plaintive.
FANNY
I hardly think I'd want anyone to get the notion he'd pleased me just now. It hardly seems time yet to me.
Silence except for the creaking of the rocking chair; then a low musical whistle is heard,
FANNY
Is that you, George?
George is annoyed having his thought process interrupted.
GEORGE
Is that me what?
FANNY
Whistling "On Yonder Rock Reclining"?
ISABEL
It's I.
Fanny replies dryly.
FANNY
Who?
ISABEL
Does it disturb you?
FANNY
Not at all. I had an idea George was depressed about something—wondered if he could be making such a cheerful sound.
Fanny resumes her rocking and the creaking resumes. Isabel leans forward to look at George.
ISABEL
Troubled about anything, Georgie?
Being interrupted again George is annoyed
GEORGE
No!
Satisfied everything is all right with him, Isabel leans back in her chair and the three are silent for a bit until Isabel laughs.
FANNY
Are you laughing about something?
ISABEL
Pardon?
FANNY
I asked,  were you laughing at something?
ISABEL
Yes l was. It's that funny old Mr. Johnson across the street.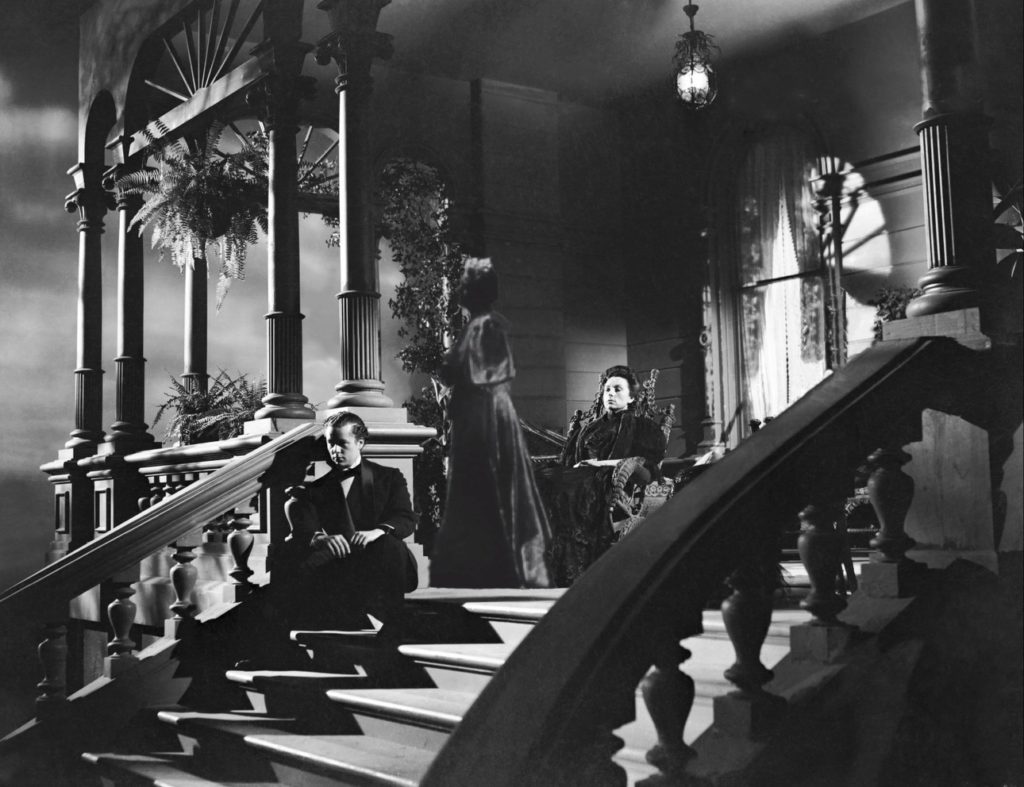 Isabel rises and walks behind George
ISABEL
She has a habit of sitting at her bedroom window with a pair of opera glasses.
FANNY
Really!
ISABEL
Really. She looks up and down the street, but mostly over here. Sometimes she forgets to put out the light in her room, and there she is, spying for all the world to see. Can you see her Georgie?
Lost in his thoughts George wasn't listening to his mother.
GEORGE
Hm? Oh pardon me, I didn't hear what you were saying.
ISABEL
It's nothing. Just a funny old lady—She's gone now. I'm going too…
Rather than disparage the woman Isabel merely finds the antics of the town gossip amusing as she cares little about what the woman might say or think, especially about her. George rises and Isabel walks to the door.
ISABEL
…at least, I'm going indoors to read.
She walks into the house talking.
 ISABEL
It's cooler in the house, though it's really not bad anywhere, since nightfall. Summer's dying. How quickly it goes, once it begins to die.
Speaking about summer she could just as well be referring to life itself. The door is heard to close and George sits again. Fanny talks to George and he answers her curtly.
FANNY
Isn't it queer, how your mother can use such words?
GEORGE
What words?
FANNY
Words like "die" and "dying." I don't see how she can bear to use them so soon after your poor father…
Not content to disparage Eugene, now that Isabel is gone, Fanny is fully prepared to disparage Isabel to her son. Unfortunately Fanny's ill intent has not found a receptive audience. George speaks absently.
GEORGE
Seems to me you're using them yourself.
FANNY
I? Never!
GEORGE
Yes, you did.
FANNY
When?
GEORGE
Just this minute
FANNY
Oh! You mean when I repeated what she said?
Preoccupied, George wasn't interested enough to argue the point but instead blatantly defends his mother.
GEORGE
I don't think you'll convince anybody that mother's unfeeling.
Feelings rebuffed, Fanny suddenly becomes defensive.
FANNY
I'm not trying to-convince anybody. I mean merely that in my opinion—well, perhaps it may be just as wise for me to keep my opinions to myself.
George is too occupied with himself to comment. Unfortunately for Fanny George is disinterested in her opinion about his mother or anything else for that matter. So, disappointed, Fanny rises to leave and heads into the house. She leaves with a parting criticism of Isabel as she anticipates what will happen between Isabel and Eugene.
FANNY
There is one thing I hope. I hope at least she won't leave off her full mourning on the very anniversary of Wilbur's death!
The door clangs shut.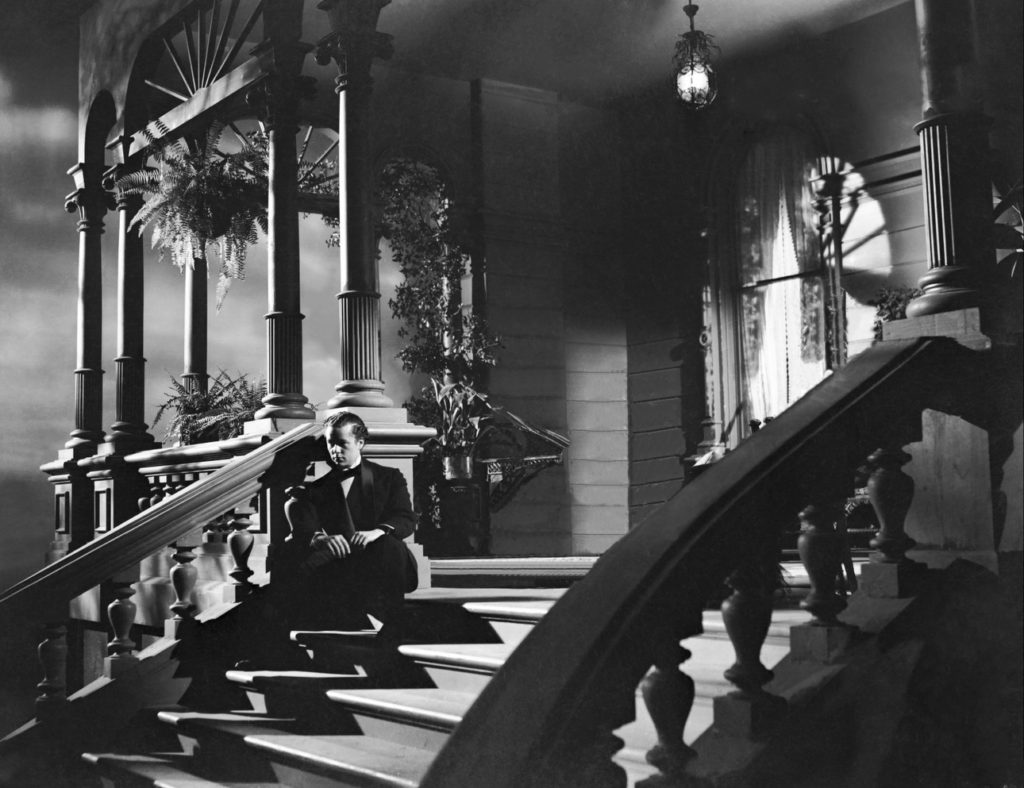 MUSIC-CD-FIRST NOCTUNE 2ND PART (GEORGE'S FANTASY) 
CUT TO:
George is leaning against the railing starring off thoughtfully.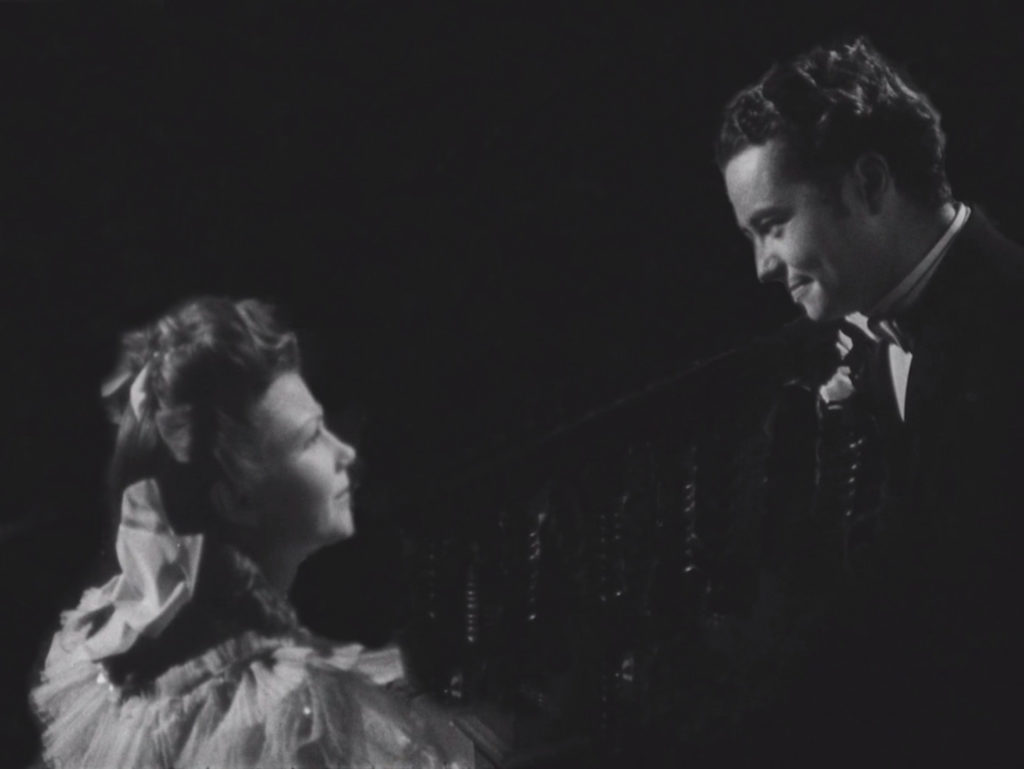 George's is sitting on the steps looking off and a vision of Lucy suddenly appears. Kneeling she holds out her hands and throws herself on the steps at his feet pleading.
LUCY
George, you must forgive me! Papa was utterly wrong! I have told him so, and the truth is that I have come rather to dislike him as you do, and as you always have, in your heart of hearts.
GEORGE'S VOICE
Lucy, are you sure you understand me. You say you understand me, but are you sure?
LUCY
Oh, so sure! I will never listen to Father's opinions again. I do not even care if I never see him again!
In this fantasy George was gentle and gracious with this imaginary Lucy.
GEORGE
Then I pardon you.
Realizing the absurdity of this little fantasy. and that's talking to himself, this vision disappears.  George leans back realizing that this will never happen. So, he goes to the other extreme.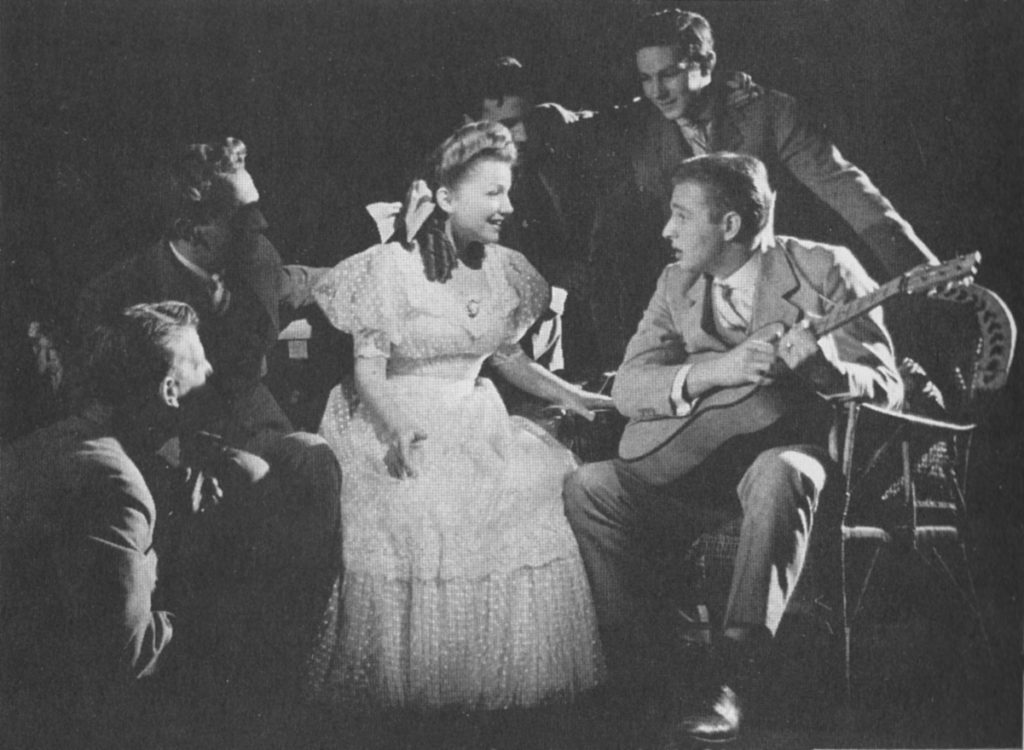 George is ls till leaning back against the post.   Laughter is heard. A vision of Lucy and boys appears above him. They are talking, laughing and even singing. George sits up and stares off, with that vision of Lucy of sitting with four or five boys, all of them laughing still in his thoughts. Then George suddenly jumps up, yells angrily and the vision of this imaginary competitors for Lucy and Lucy enjoying their attention disappears. Frustrated George says what he usually says when dismissing anyone he thinks beneath him.
GEORGE
Pardon nothing! Riffraff! Riffraff!
He walks back towards the door yelling
GEORGE
Riffraff!
Reaching the door he opens it and heads into the house slamming the door behind him.
FADE OUT