---
(ONE TAKE SCENE)
In the Amberson kitchen Fanny is sinking down onto the floor beside the boiler. The kitchen has been dismantled. Standing, George in half profile, is staring down at Fanny sinking to the floor. Fanny stares up at him. She is hysterical; in fact beyond hysterical; unable to breath properly gasping for air as she speaks. She looks and sounds like a woman utterly  at the end of her tether; her greatest nightmare now become reality.  She is on the verge of a breakdown. George has a hard time believing what he sees. Her plea is the voice of desperation.
FANNY
You're going to leave me in the lurch!
GEORGE's VOICE
Get up, Aunt Fanny.
FANNY
I can't. I'm too weak. You're going to leave me in the lurch!
GEORGE's VOICE
Aunt Fanny! I'm only going to get eight dollars a week at the law office. You'd have to be paying more of the expenses than I would.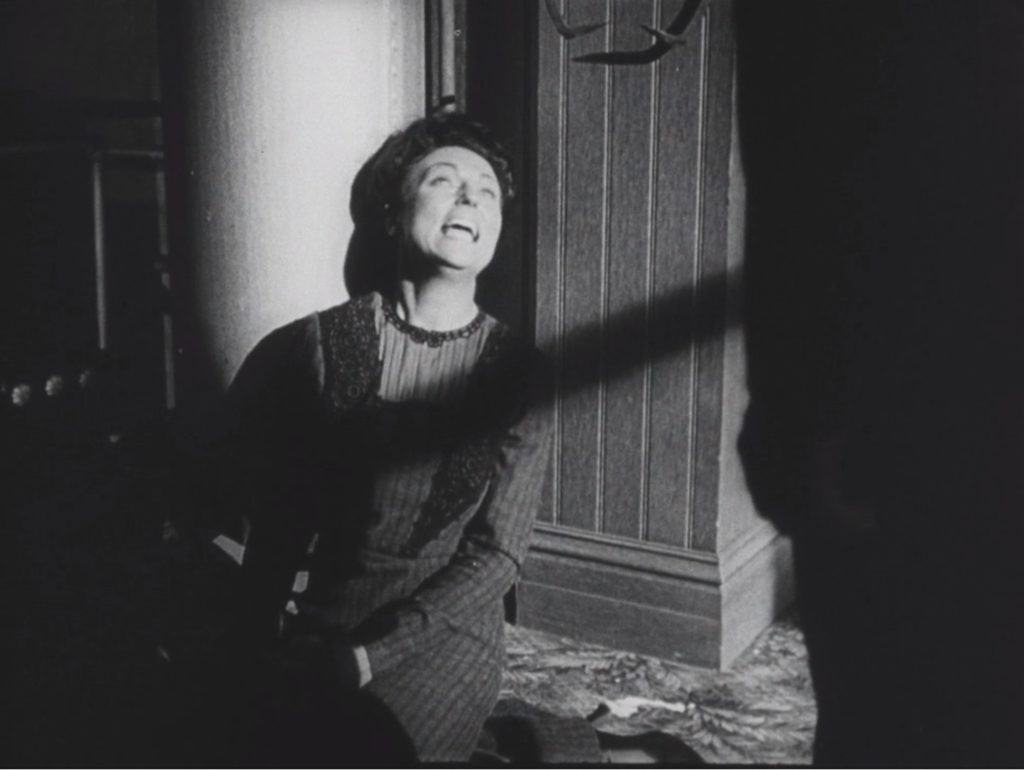 She stares at him her hysteria increasing, she laughs in misery as if being told about her impending doom.
FANNY
I'd be paying—I'd be paying—
GEORGE
Certainly you would. You'd be using more of your money than mine.
FANNY
My money!
Fanny laughs hysterically; the laugh of someone who has lost all hope.
FANNY
I've got twenty-eight dollars. That's all.
GEORGE
You mean until the interest is due again?
FANNY
I mean that's ill. I mean that's all there is. There won't be any more interest because there isn't any principal. I know. I told Jack I didn't put everything in the headlight. But I did—every cent except my last interest payment—and it's gone.
GEORGE
Why did you wait till now to tell me?
Fanny talks piteously, in short breaths, as one would talk if lost
FANNY
I couldn't tell till I had to. It wouldn't do any good—nothing does any good. I guess, in this old world! I knew your mother'd want me to watch over you and try to have something like a home for you and I tried—I tried to make things as nice for you as I could. I walked my heels down looking for a place for us to live. I walked and walked over this town. I didn't ride one block on a street car. I wouldn't use five cents no matter how tired I…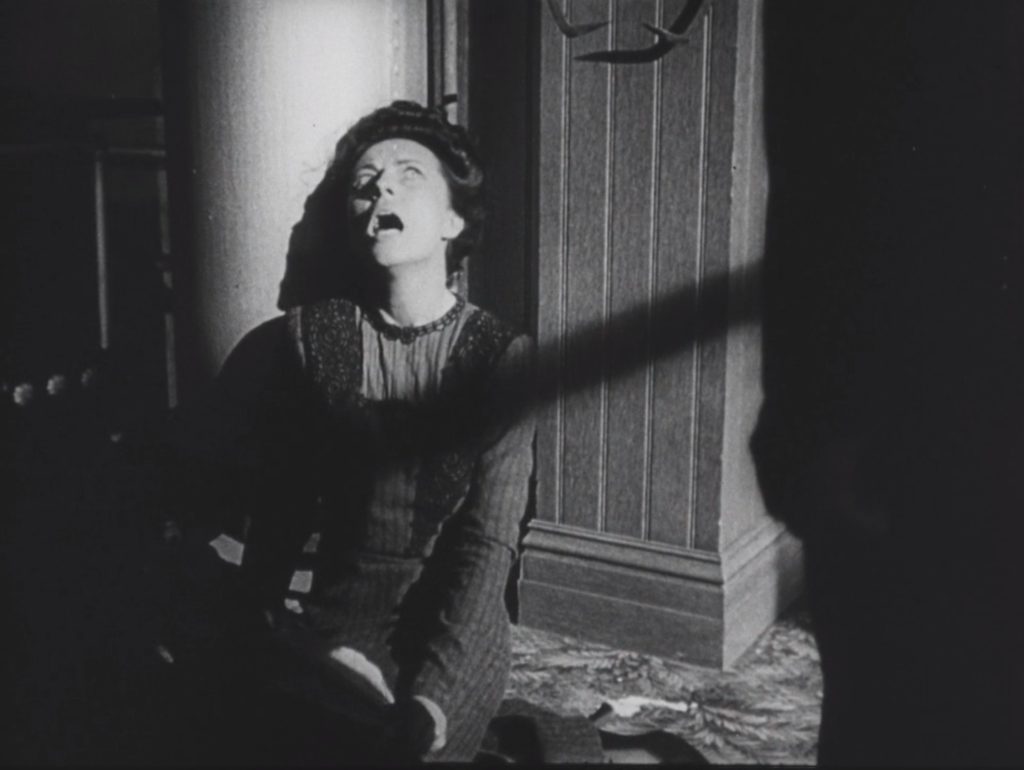 Fanny begins to laugh wildly, hysterically. It's chilling and painful to watch as circumstance has stripped the woman of her last shred of dignity or pretense.
FANNY
…oh—and now you don't want—you want—you want to leave me in the lurch!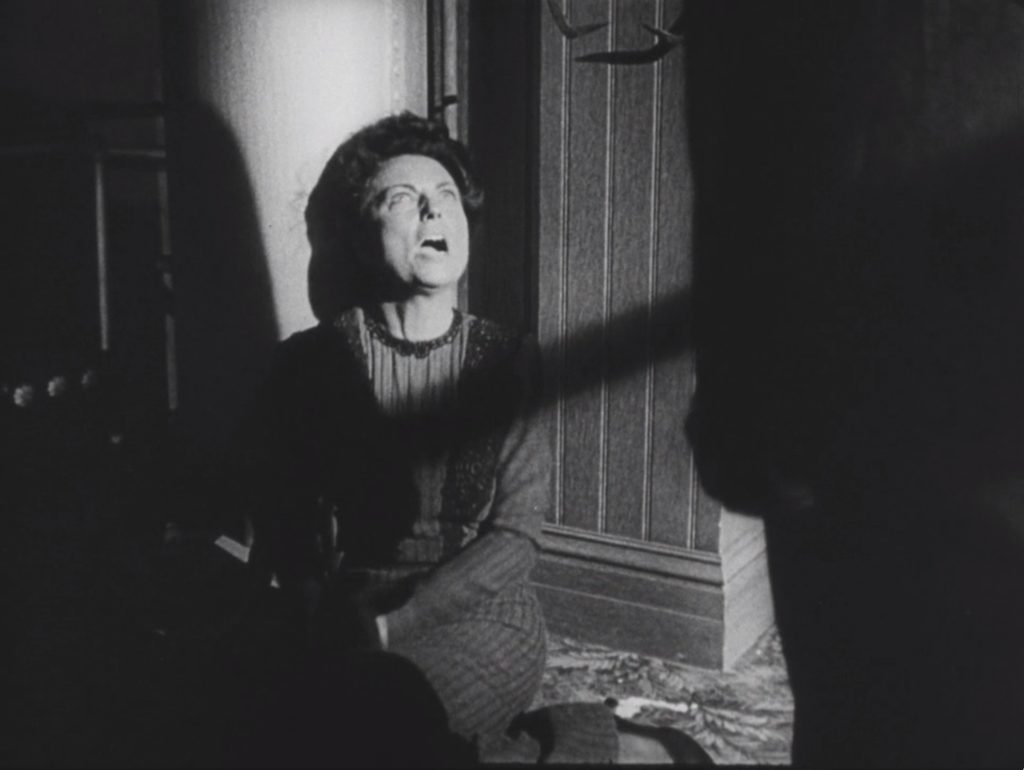 Fanny Laughs wildly while George talks impatiently.
GEORGE
Aunt Fanny! Aunt Fanny—get up. Don't sit there with your back against the boiler. Get up Aunt Fanny Get up, Aunt Fanny
FANNY
It's not hot. It's cold. The plumbers disconnected it…I wouldn't mind if they hadn't…I wouldn't mind if it burned me, George.
GEORGE
For gosh sake, get up!
George finally leans down, lifts her to her feet and shakes her to bring her to her senses
 Instead she laughs wildly and uncontrollably.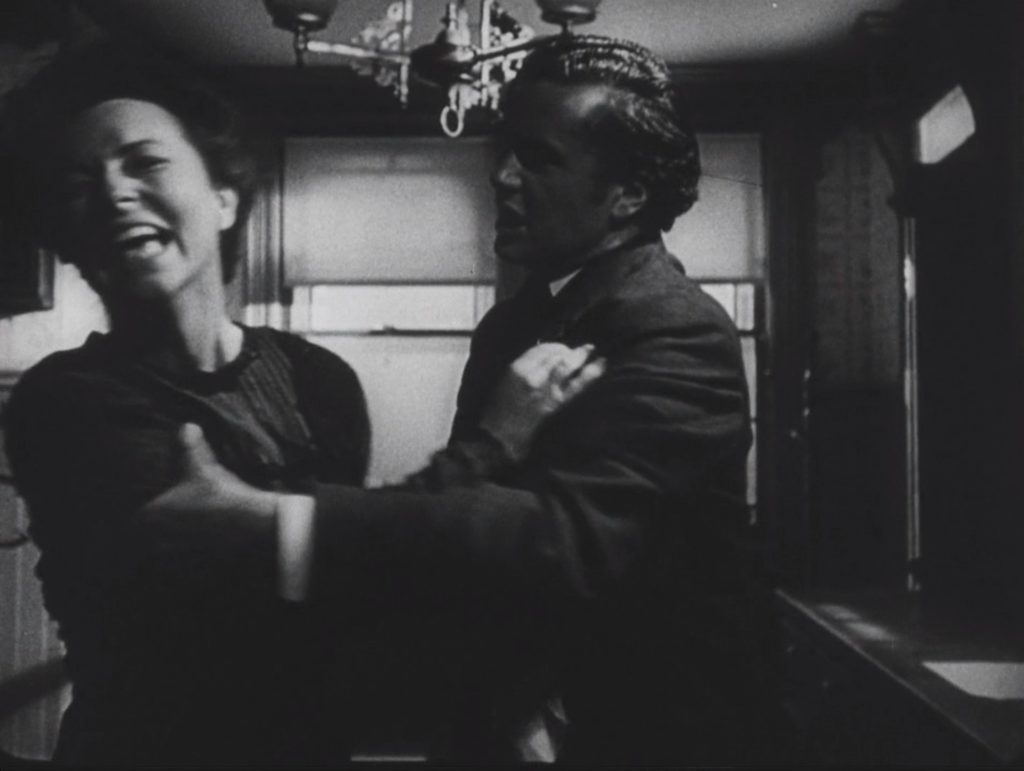 The camera pulls back as the two move towards it as they head into the dining room.
The camera moves back through doorway as they come through.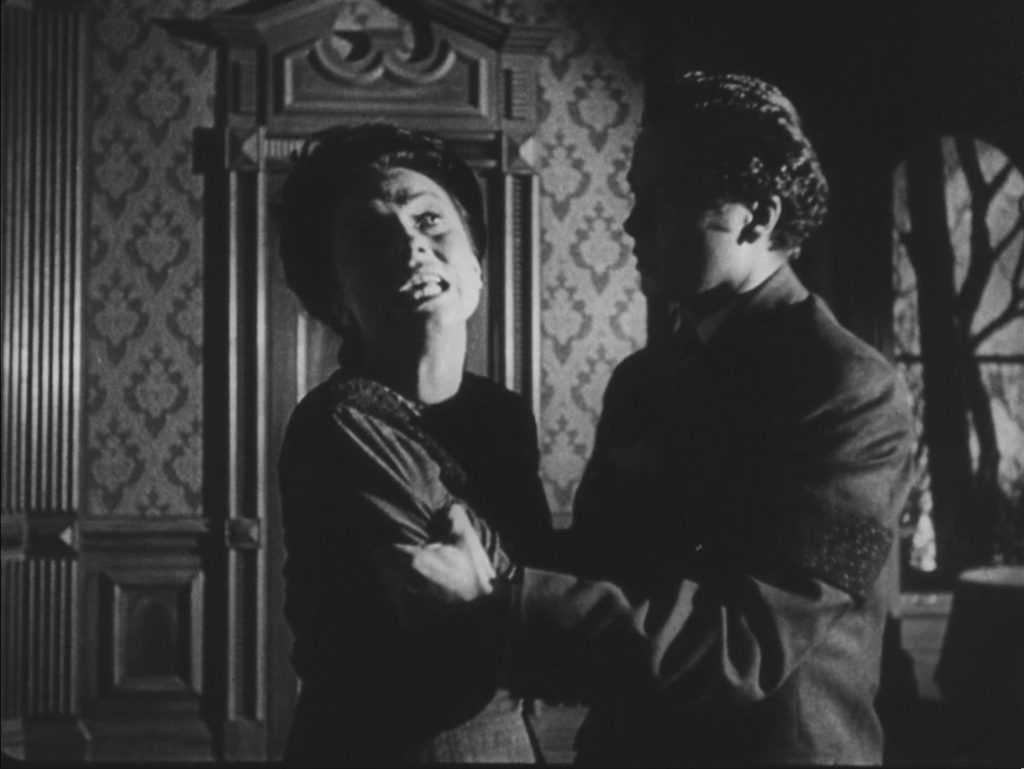 The dining room has also been dismantled and contains only two kitchen chairs and a rough table.
George tries his best to calm Fanny
GEORGE
Now stop it. Stop it. Listen to me, do you hear me? Stop it now. Stop it. Listen to me now.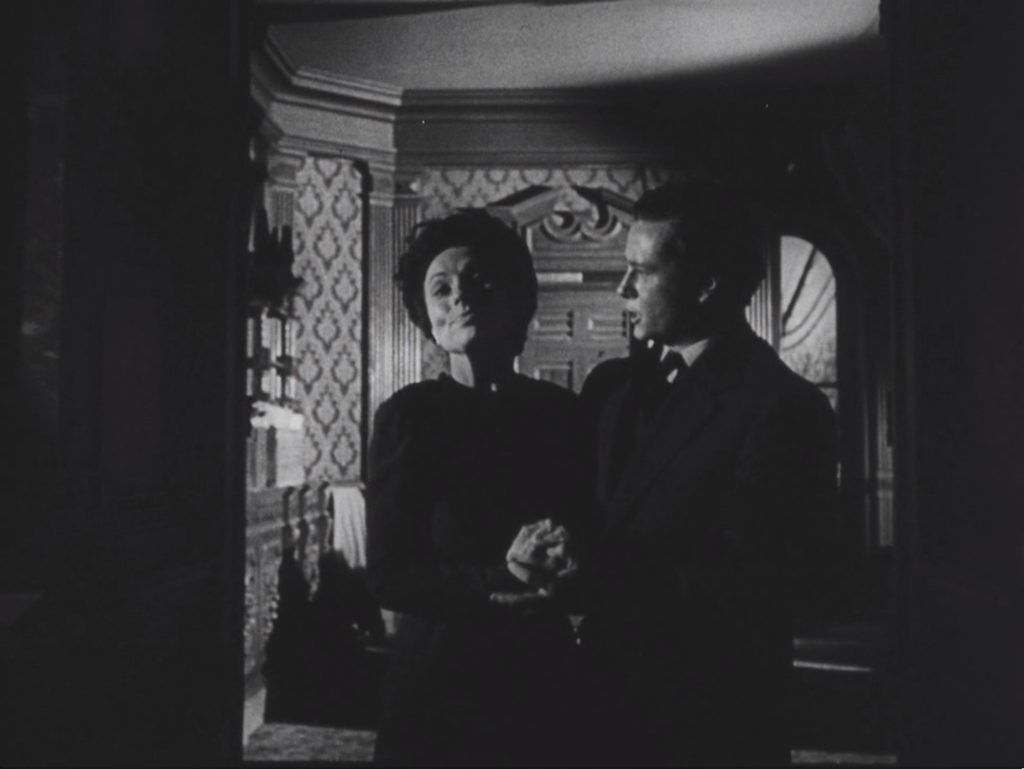 They pass through several rooms of the deserted mansion. George is trying his best to calm down the hysterical woman. It's working. As the camera continues moving ahead of them Fanny begins to calm
GEORGE
There, that's better. Now let's see where we stand…Let's see if we can afford this place you've picked out.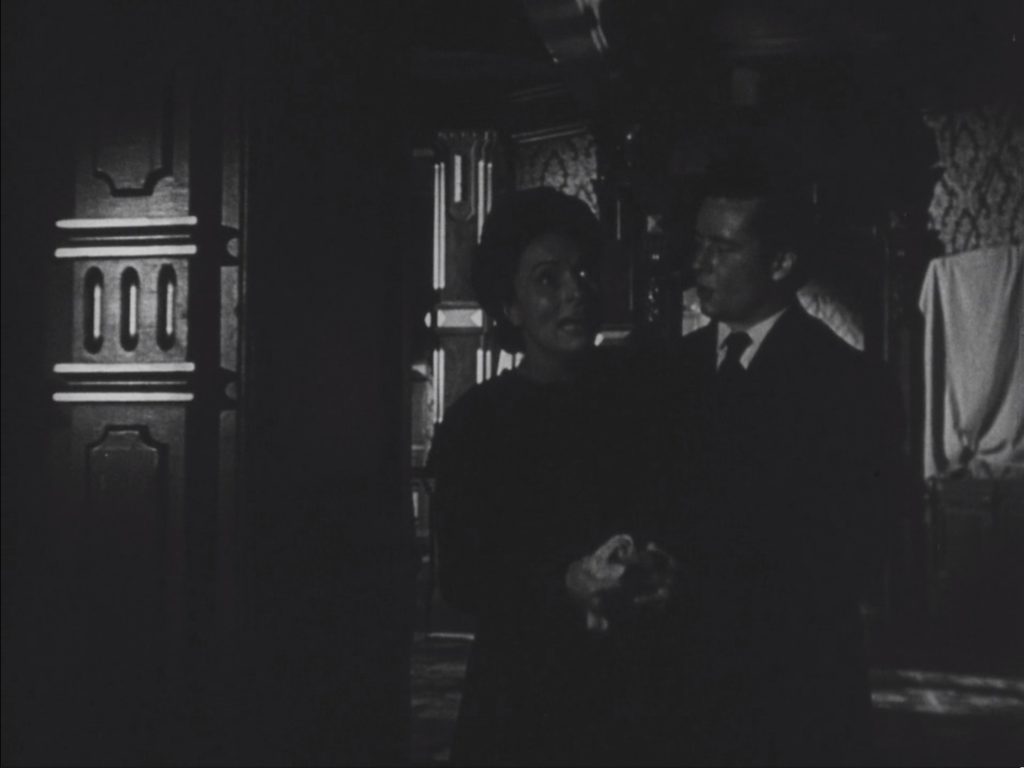 Fanny Brightens
FANNY
I—sure the boarding house is practical, George.
GEORGE
I know it must be practical, Aunt Fanny.
FANNY
And…and it is a comfort to be among nice people.
GEORGE
It's all right. I was thinking of money, Aunt Fanny. You see…
The camera continues to move back as George leads Fanny into the drawing room.
The camera then stops and pans to follow them as they walk to the window. Agitated, speaking quickly, Fanny twists her handkerchief.
FANNY
There's…there's one great economy. They—they don't allow any tipping. They have signs that prohibit it.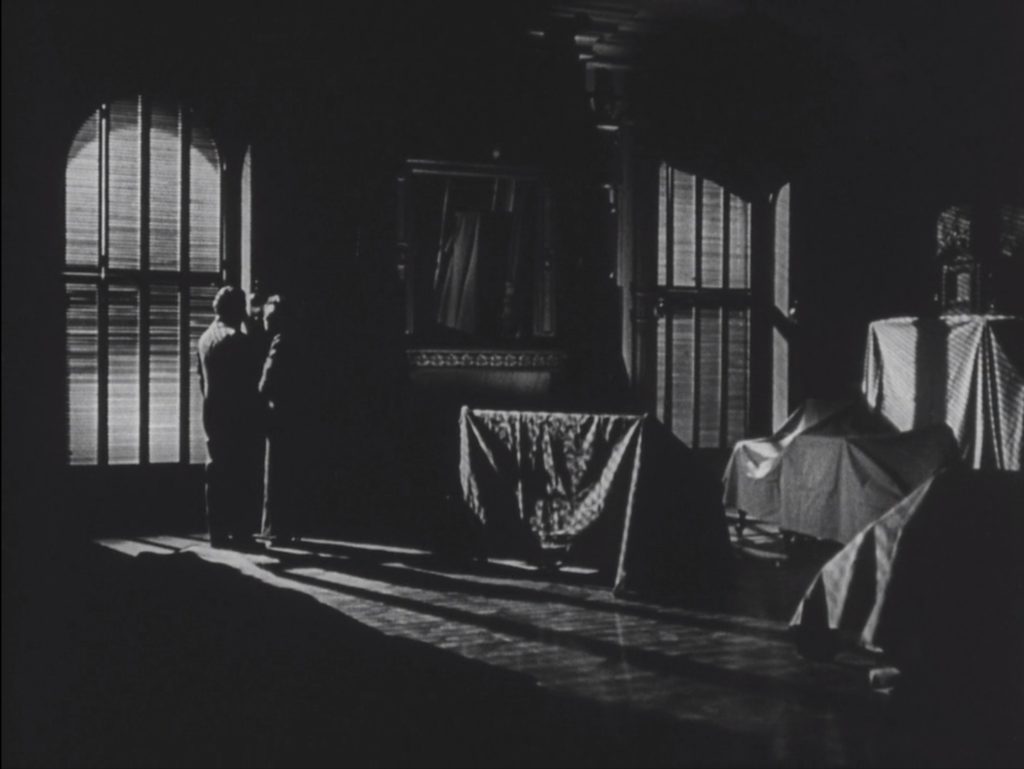 George is now facing the grim reality of their situation.
GEORGE
That's good. But the rent's thirty-six dollars a month. And the dinner's twenty-two and a half for each of us. I've got about a hundred dollars left that's all. We won't need any clothes for a year, perhaps—
FANNY
Oh, longer! So—you see
GEORGE
Yes I see. I see that thirty-six and forty-five a make eighty-one…..At the lowest we need a hundred dollars a month.
George moves from Fanny and looks out the window and, now aware of the harsh reality, facing them says bitterly.
GEORGE
And I'm going to make thirty-two— 
DISSOLVE TO:
(SINGLE TAKE SCENE)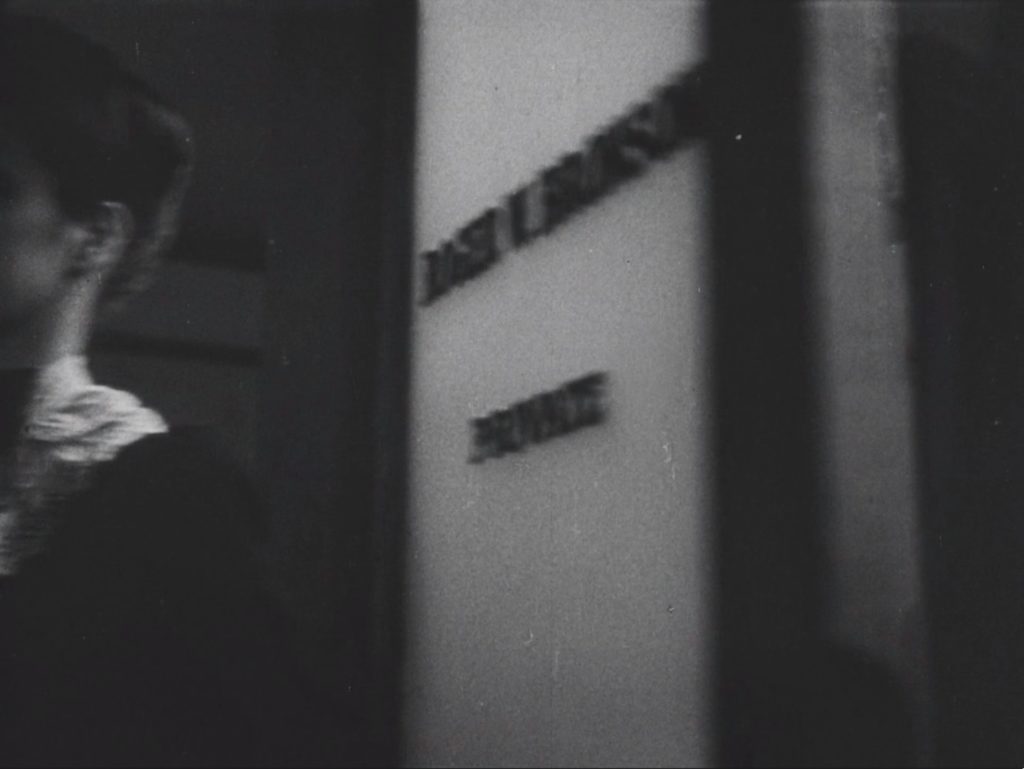 The camera is shooting upward as George walks into Bronson's office past the secretary opening the door for him.
The camera pans to follow showing Bronson standing surprised seeing George. He's cordial.
BRONSON
The real flare!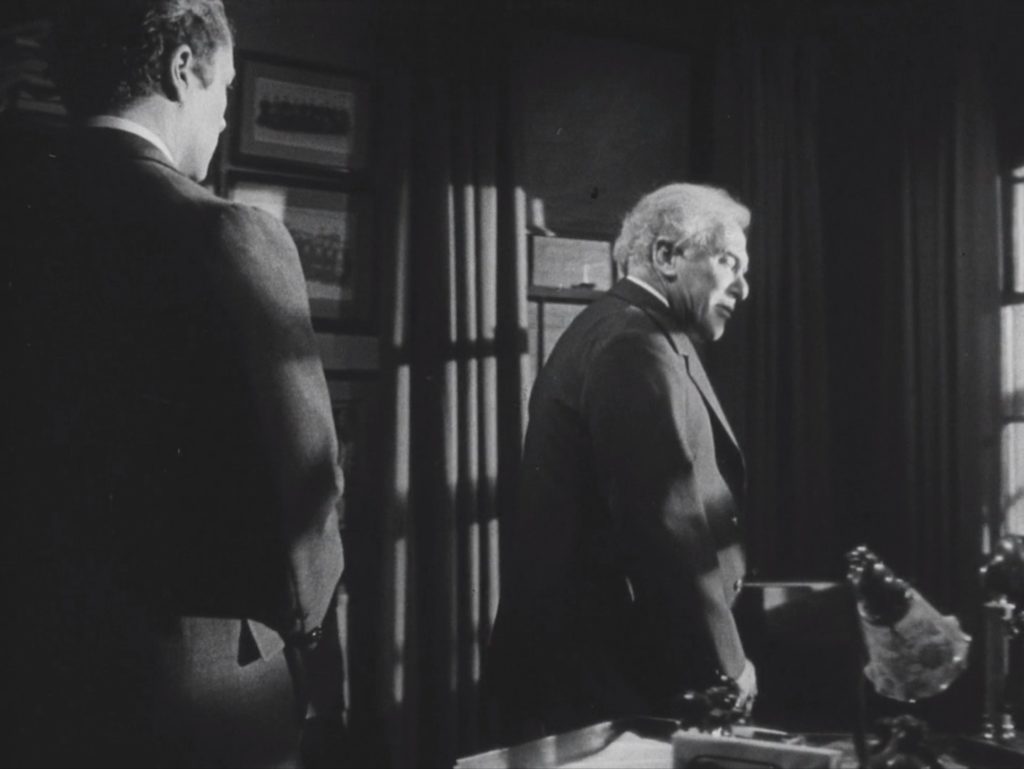 They go to the desk as the camera pans to follow.
BRONSON
That's right. Couldn't wait till tomorrow to begin. The law is a jealous mistress and a stern mistress.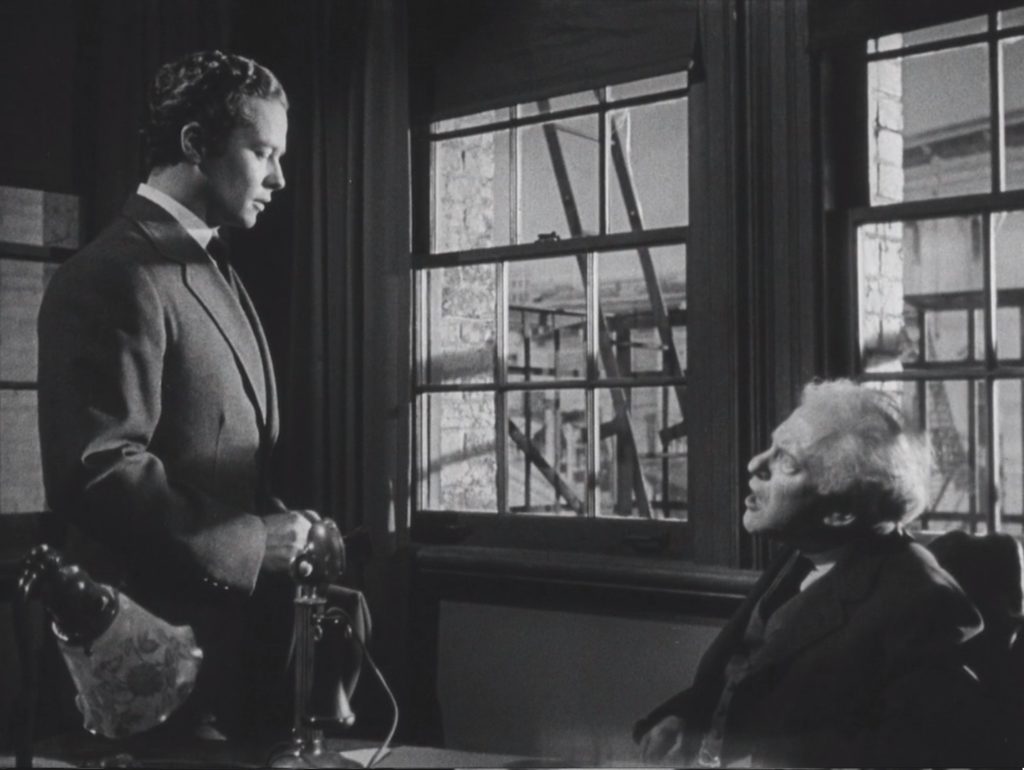 Pleased, Bronson sits at his big, flat-topped desk. Then suddenly George bursts out.
GEORGE
I can't do it! I can't take her for my mistress.
BRONSON
What?
GEORGE
I've come to tell you I've got to find something quicker—something else that pays from the start.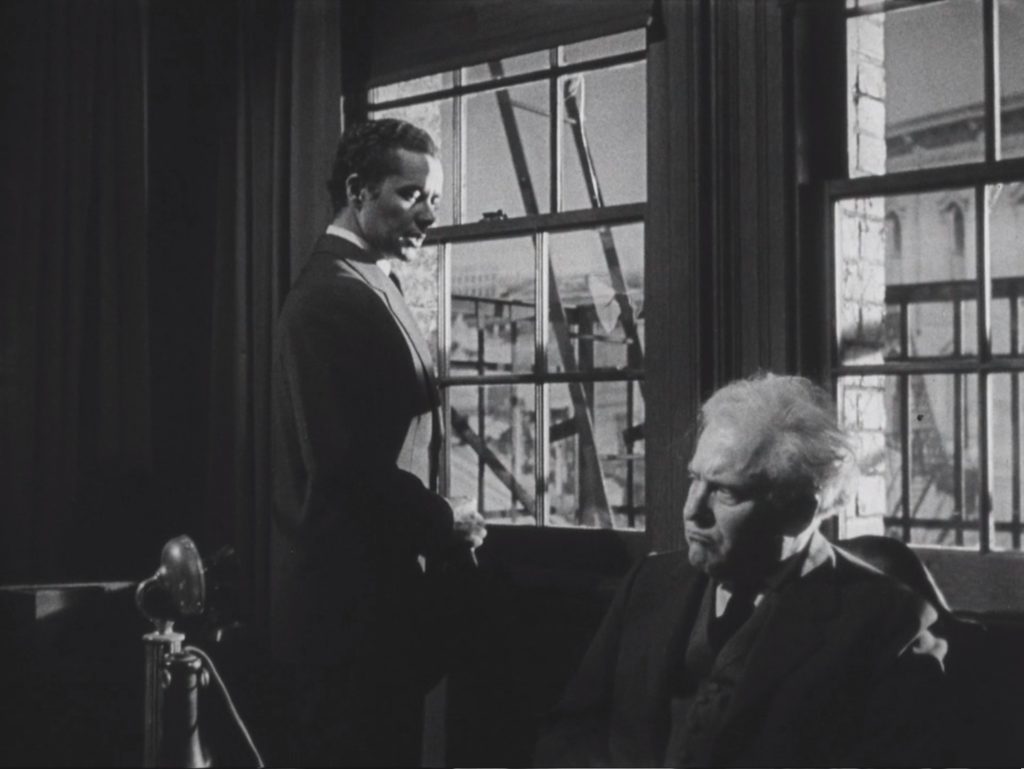 Bronson is perplexed but listens sympathetically.
BRONSON
I can't think of anything just at this minute that pays from the start.
GEORGE
Well sir, I've heard they pay very high wages to people in dangerous trades—people that handle touchy chemicals or high explosives—men in dynamite factories. I thought I'd see if I couldn't get a job like that. I wanted to get started tomorrow if I could.
BRONSON
Georgie, your grandfather and I were boys together. Don't you think I ought to know what's the trouble?
GEORGE
Well, it's Aunt Fanny.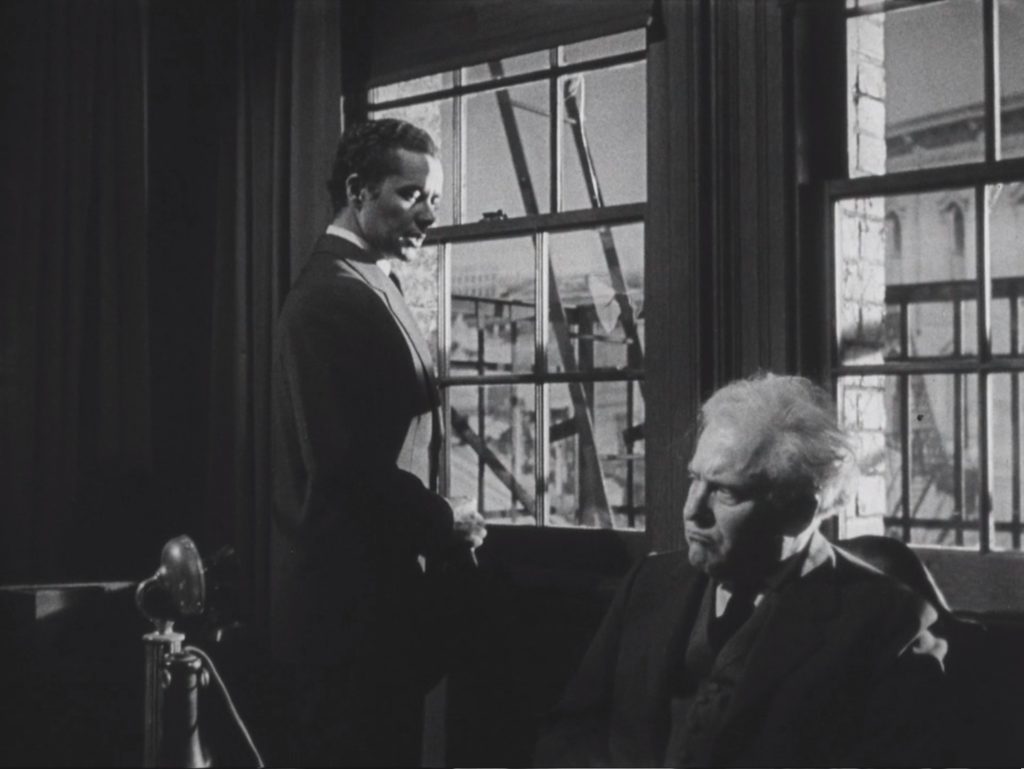 George moves to the window and traffic noises are heard.
GEORGE
She's set her mind on this particular boarding house—seems she put everything in the headlight company…and, well, she's got some old cronies and I guess she's been looking forward to the—games of bridge and—the kind harmless kind of gossip that goes on in such places. Really, it's a life she'd like better than anything else…and it struck me she's just about got to have it.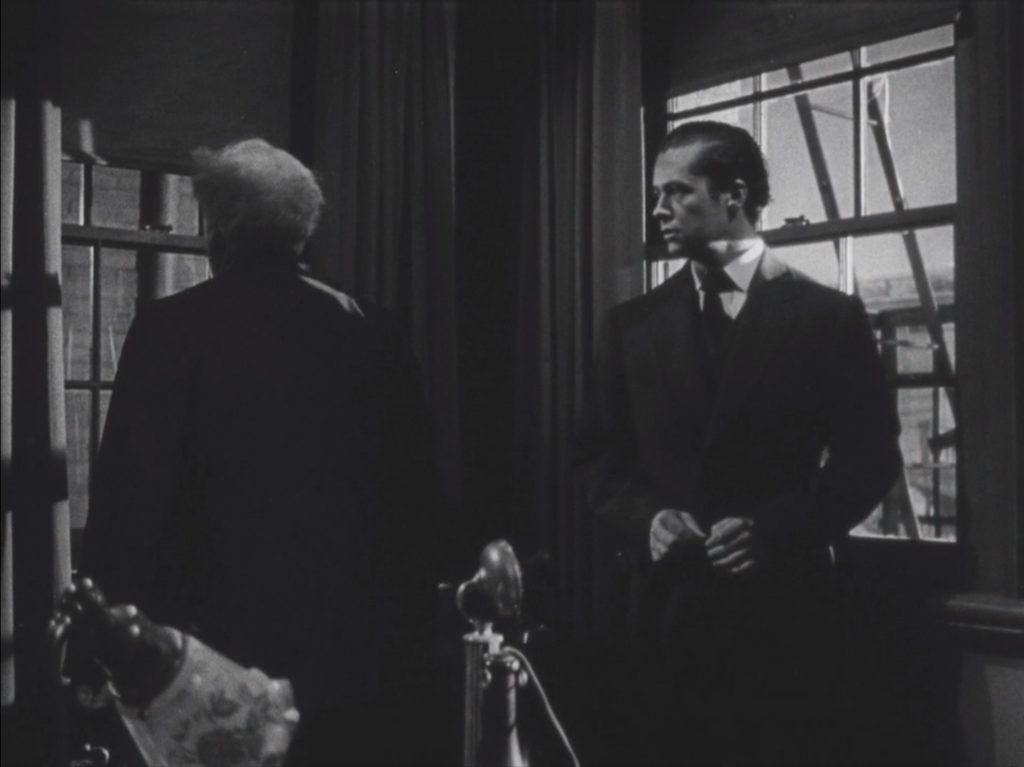 Bronson rises. He goes to the window as the camera follows him. George turns to look at him as he speaks.
BRONSON
I got her into that headlight business with Jack. I feel a certain responsibility myself.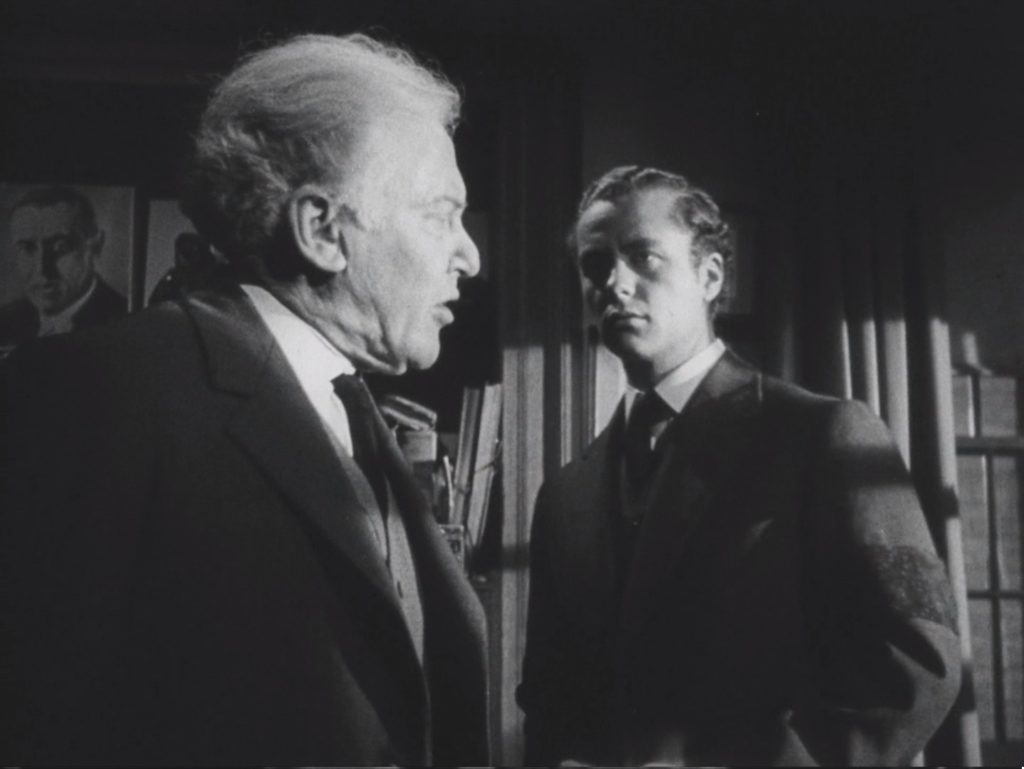 George turns to Bronson. His words are serious just as he is.
GEORGE
I'm taking the responsibility. She's not your aunt, you know, sir.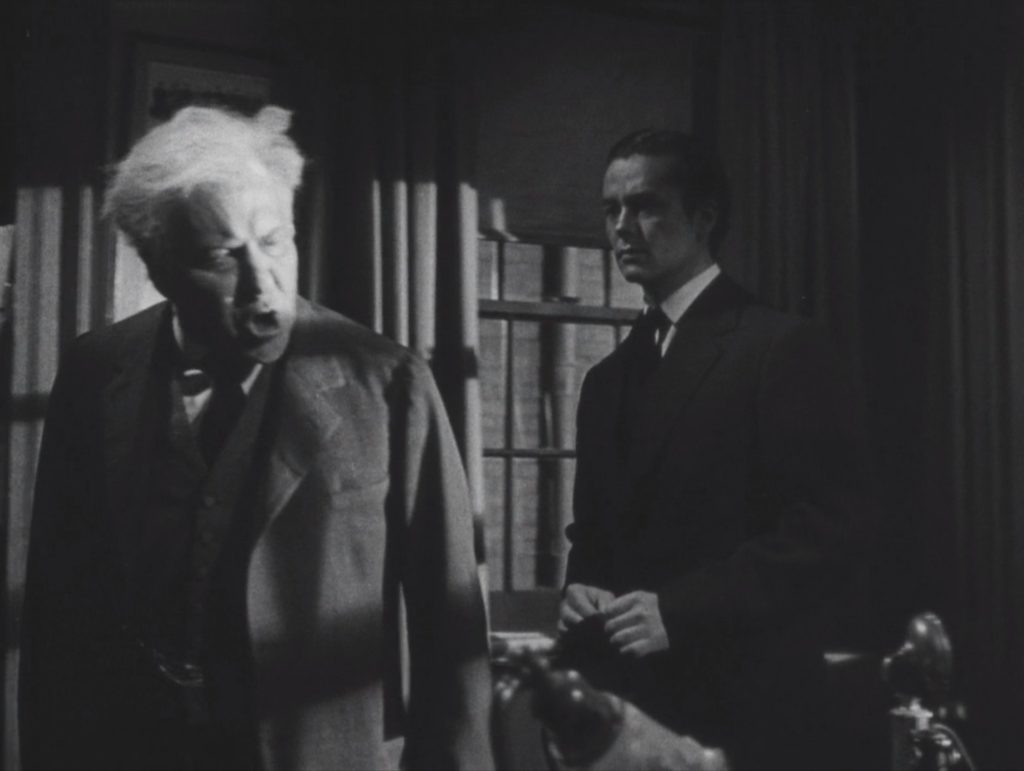 Bronson comes around the desk and George follows. The camera moves backward. Bronson turns back to camera.
BRONSON
Well, I'm unable to see, even if she's yours that a young man is morally called upon to give up a career at the law to provide his aunt with a favorable opportunity to play bridge whist!
George walks in front ready to leave with or without Bronson's help. Bronson realizes this and they turn to face each other. Bronson has no choice.
BRONSON
All right. If you'll promise not to get blown up, I'll see if we can find you the job.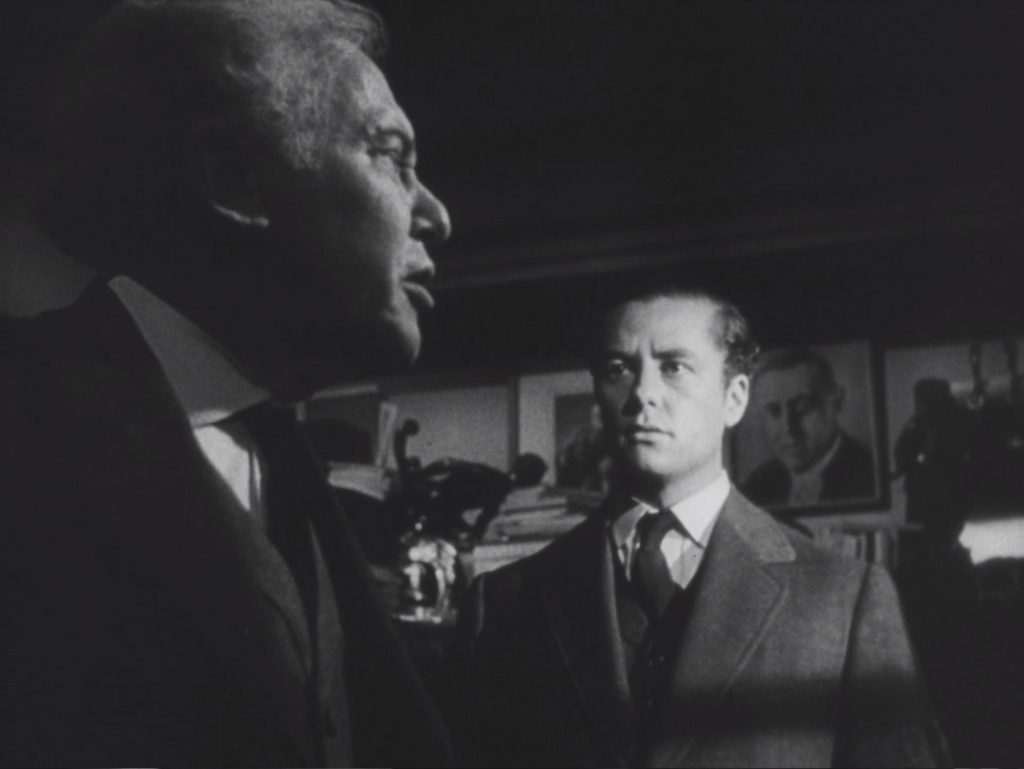 Bronson walks close to the camera
BRONSON
You certainly are the most practical young man I ever met
FADE OUT / FADE IN
MUSIC-CD-GARDEN MUSIC (LUCY AND EUGENE)
(ONE TAKE SCENE)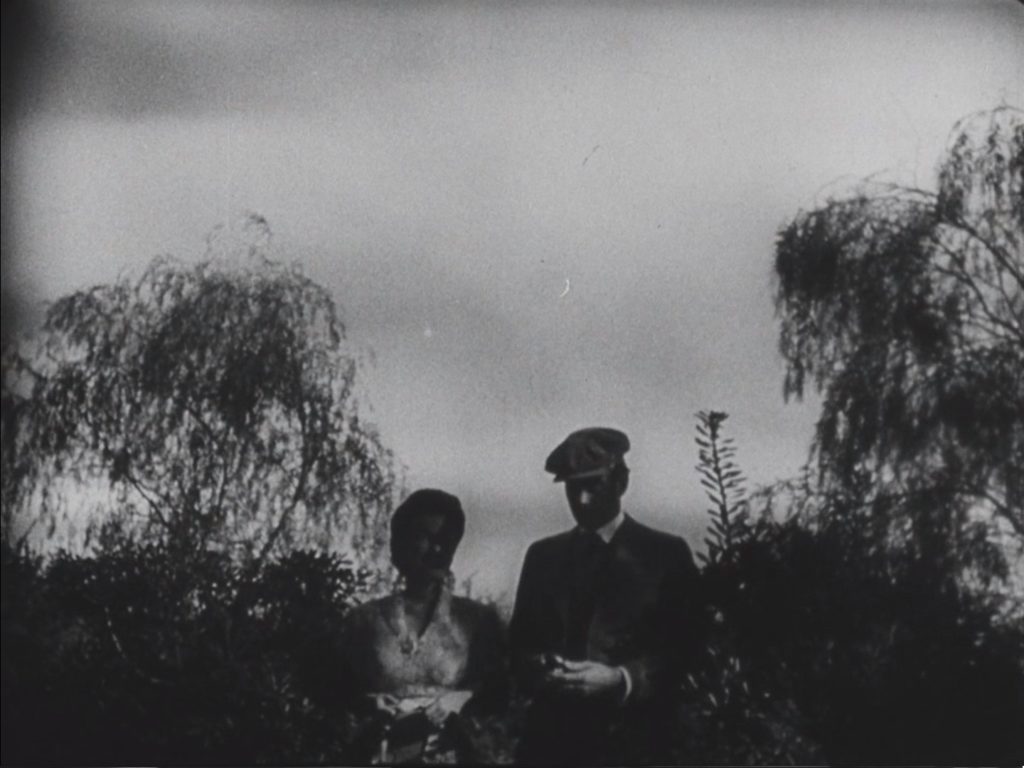 Lucy and Eugene are walking in their garden as the camera moves ahead of them. Eugene knocks his pipe in his hand.  It's obvious that considerable period of time has passed.
LUCY
Did you ever hear the Indian name for that little grove of beech trees?
EUGENE
No…and you never did either!
Lucy laughs. They stop and he turns to her.
EUGENE
Well?
LUCY
The name was "Loma-Nashah" and it means "They -Couldn't-Help­it."
EUGENE
Doesn't sound like it?
LUCY
Indian names don't.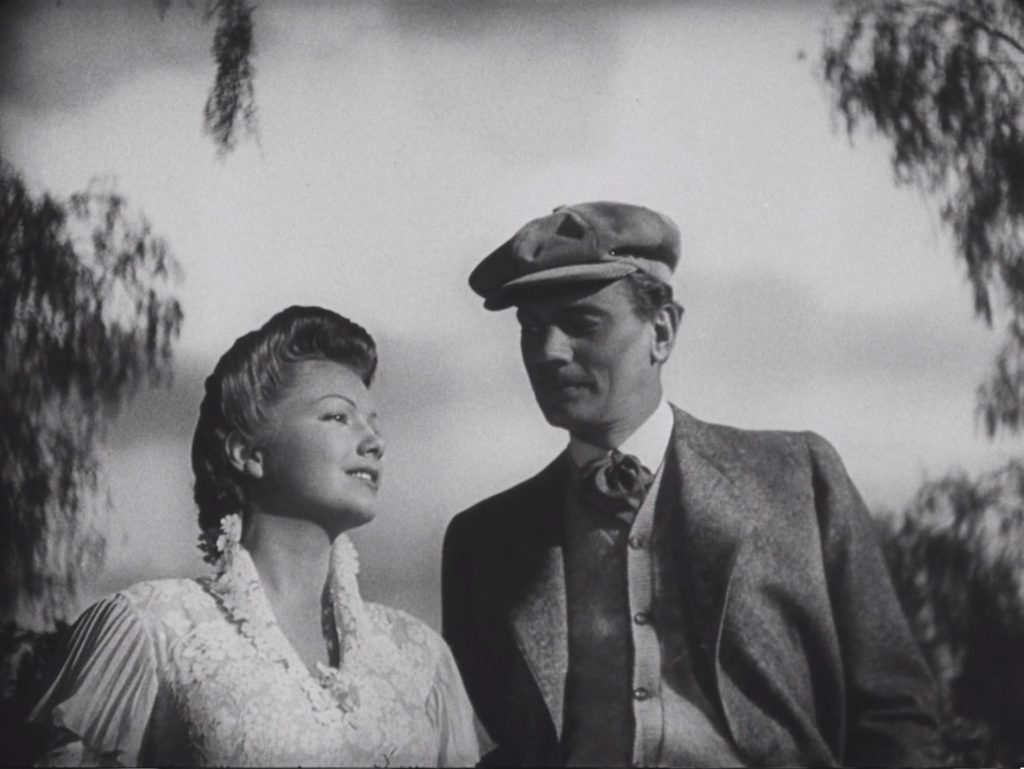 They continue moving as the camera moves back.
LUCY
There was a bad Indian Chief lived there, the worst Indian that ever lived, and his name was—it was…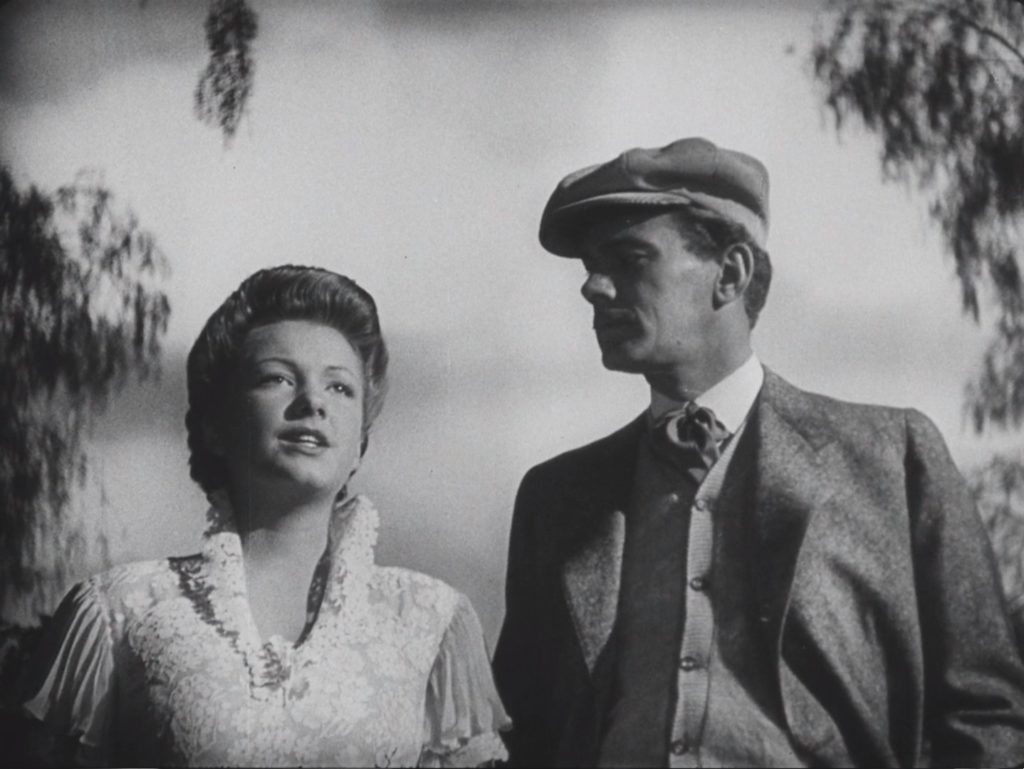 They stop again and Eugene faces her.
LUCY
…"Vendonah." Means "Rides-Down-Everything."
EUGENE
What?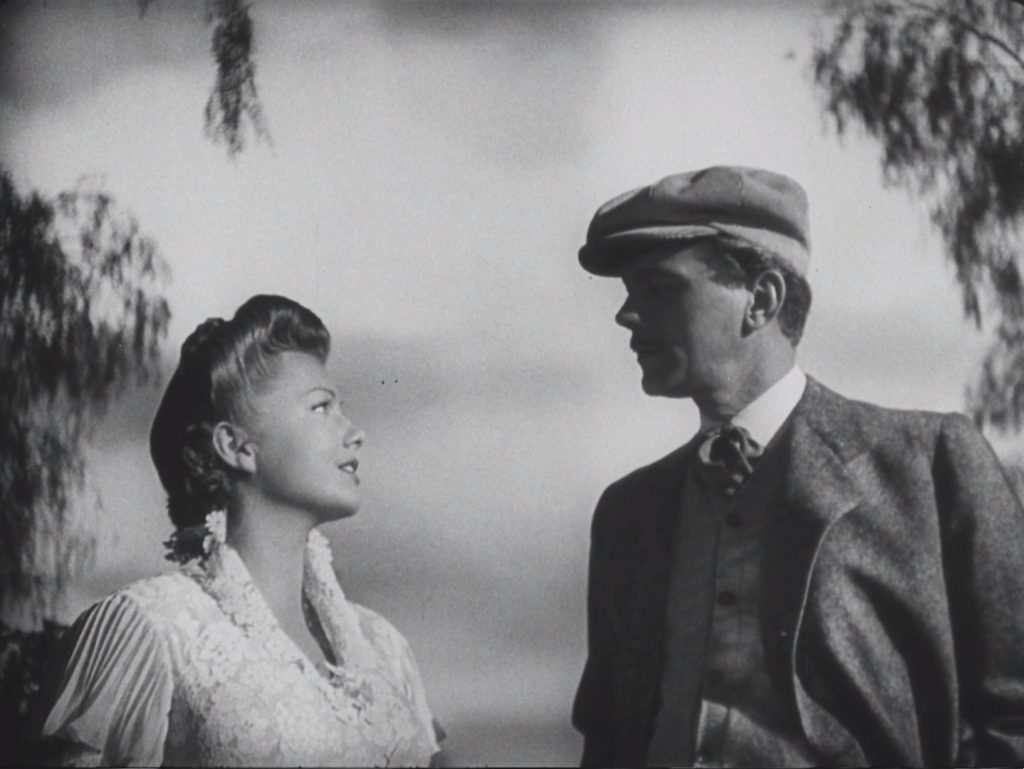 Lucy turns to face him and they stop walking.
LUCY
His name was Vendonah, same thing as "Rides-Down-Everything."
EUGENE
I see.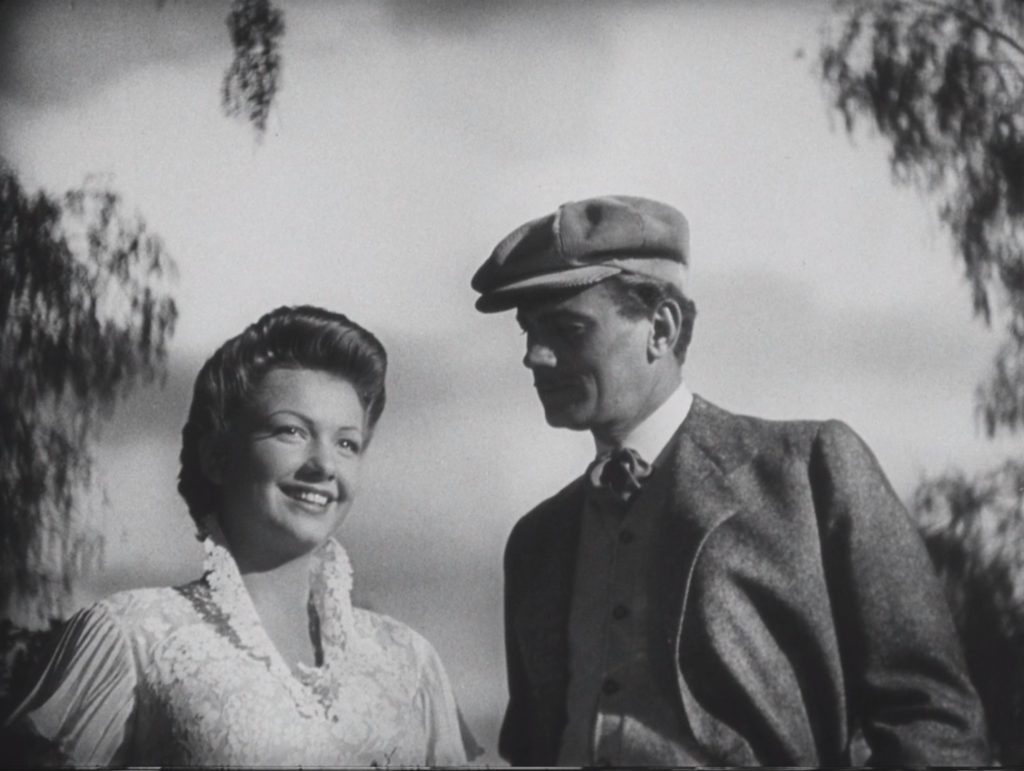 Lucy laughs nervously. He gives her a quick look, then fixes his eyes upon the end of the garden path
EUGENE
Go on.
LUCY
Vendonah was unspeakable. He was so proud that he wore iron shoes and he walked over people's faces with them. So at last the tribe decided that it wasn't a good enough excuse for him that he was young and inexperienced–he'd have to go. So, they took him down to the river and put him in a canoe, and pushed him out from shore; and the current carried him on down to the ocean—and he never got back…They didn't want him back, of course. They hated Vendonah…but they weren't able to discover any other warrior they wanted to make chief in his place…They couldn't help feeling that way.
EUGENE
I see. So that's why they named the place, "They-Couldn't­Help-It!"
LUCY
Must have been.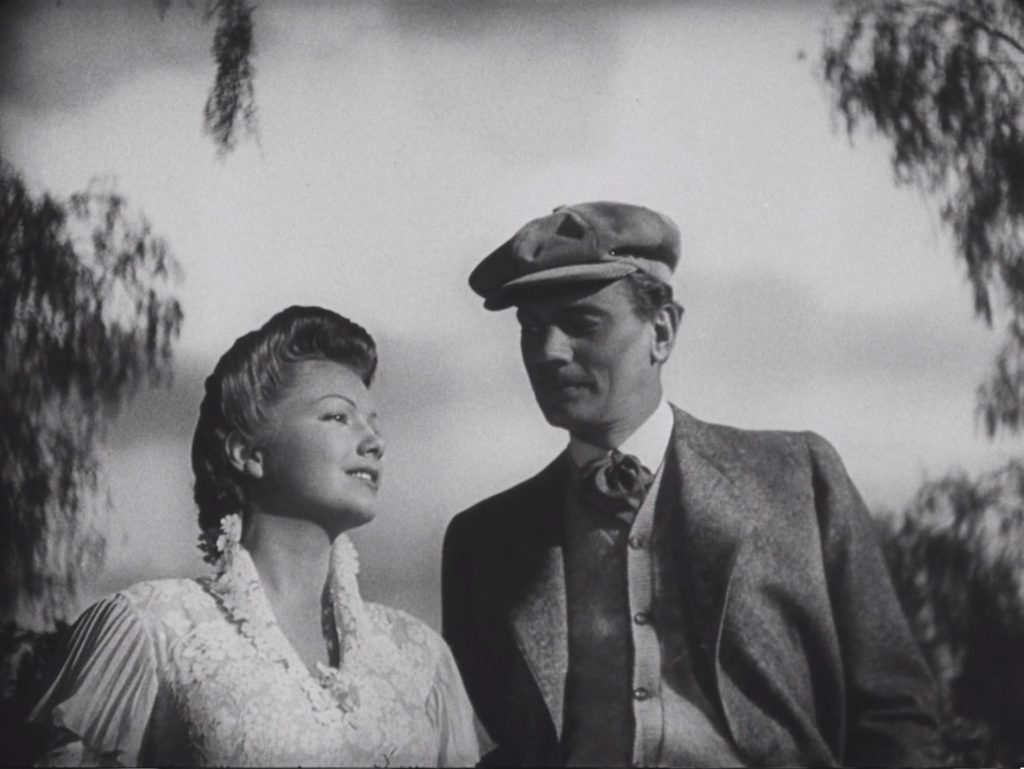 They resume walking towards the camera as the camera moves backward. They stop and face each other again. Eugene muses
EUGENE
So—you're going to stay here in your garden… You think it's better just to—keep on walking about your flower beds till you get old…like a pensive garden-lady in a Victorian engraving
LUCY
I suppose I'm like the tribe that lived here, Papa. I had too much unpleasant excitement. I don't want any more…in fact—I don't want anything but you.
EUGENE
You don't?
He glances off.
EUGENE
What was the name of the grove?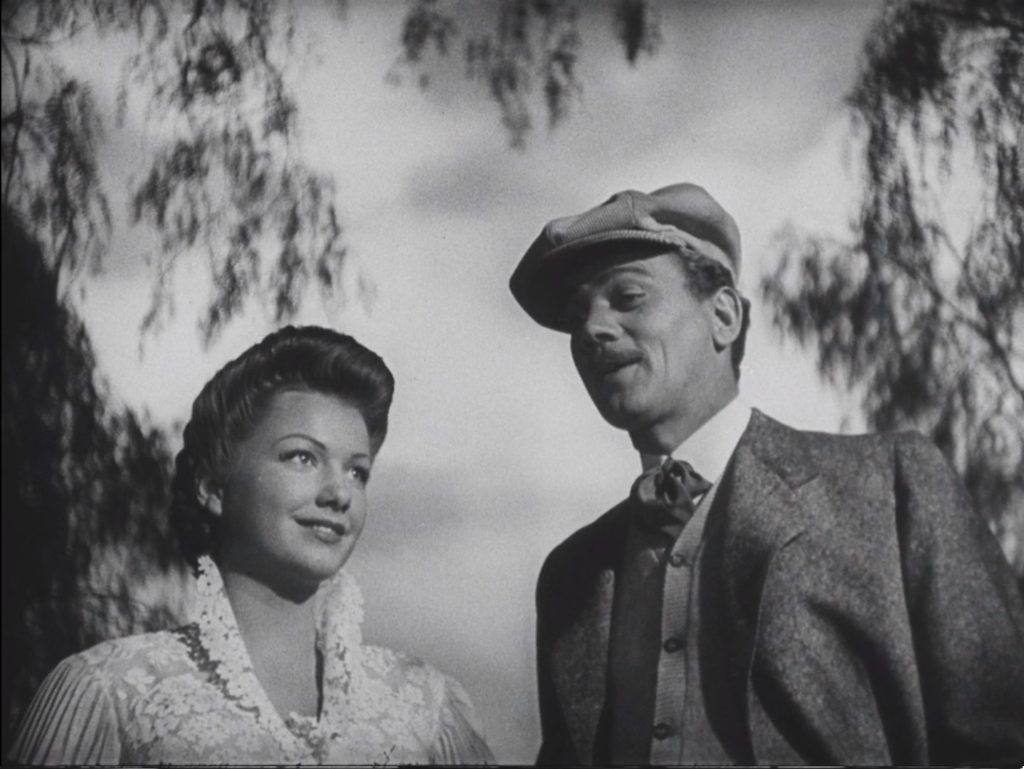 He faces her again.
LUCY
They couldn't…
EUGENE
The Indian name, I mean.
LUCY
Oh—Mola-Haha.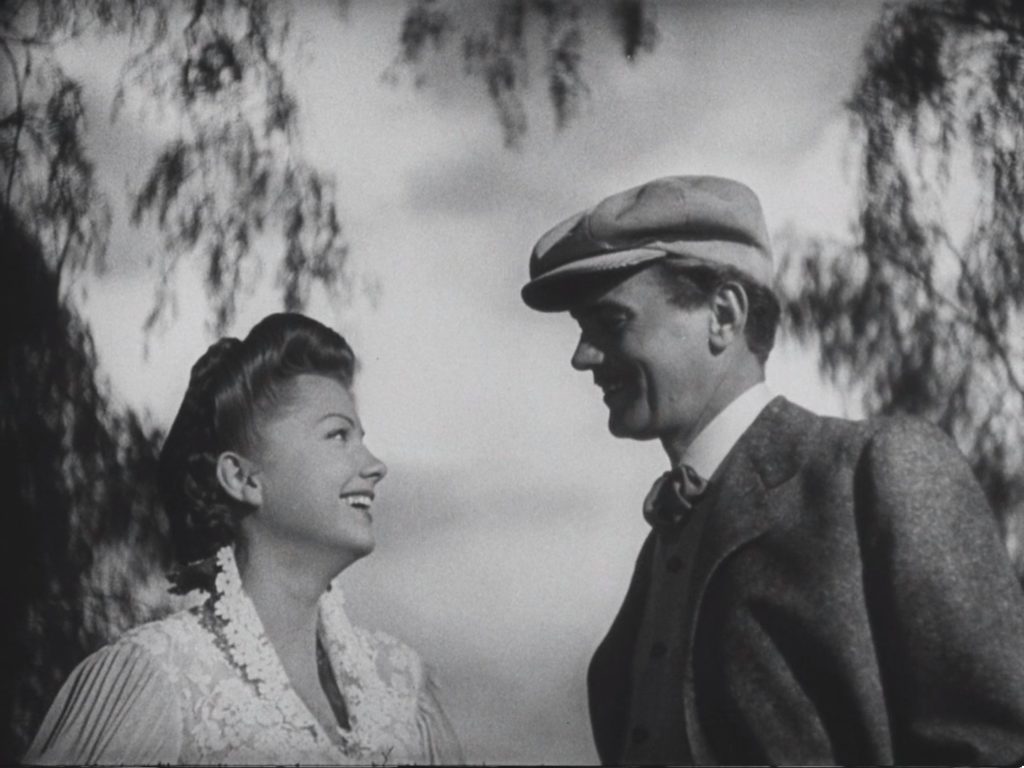 They laugh together.
EUGENE
"Mola-Haha"…that wasn't the name you said.
LUCY
Oh, I've forgotten.
EUGENE
I see you have. Perhaps you remember the chief's name better.
Lucy looks off
LUCY
I don't.
He puts his arm around her and draws her near.
EUGENE
I hope someday you can forget it.
DISSOLVE TO:
(SINGLE TAKE SCENE)
A crowd on a busy street. An accident has just occurred and two interns are carrying a half conscious George on stretcher to the ambulance. Policeman are shouting to the crowd in Irish accents.
POLICEMAN's VOICE
All right, stay back there, now!
A smallish young man in driving coat is shouting and protesting his outrage in a strident voice.
DRIVER
He run into me much as I run into him, and if he gets well—he ain't goin' to get not one single cent out of me!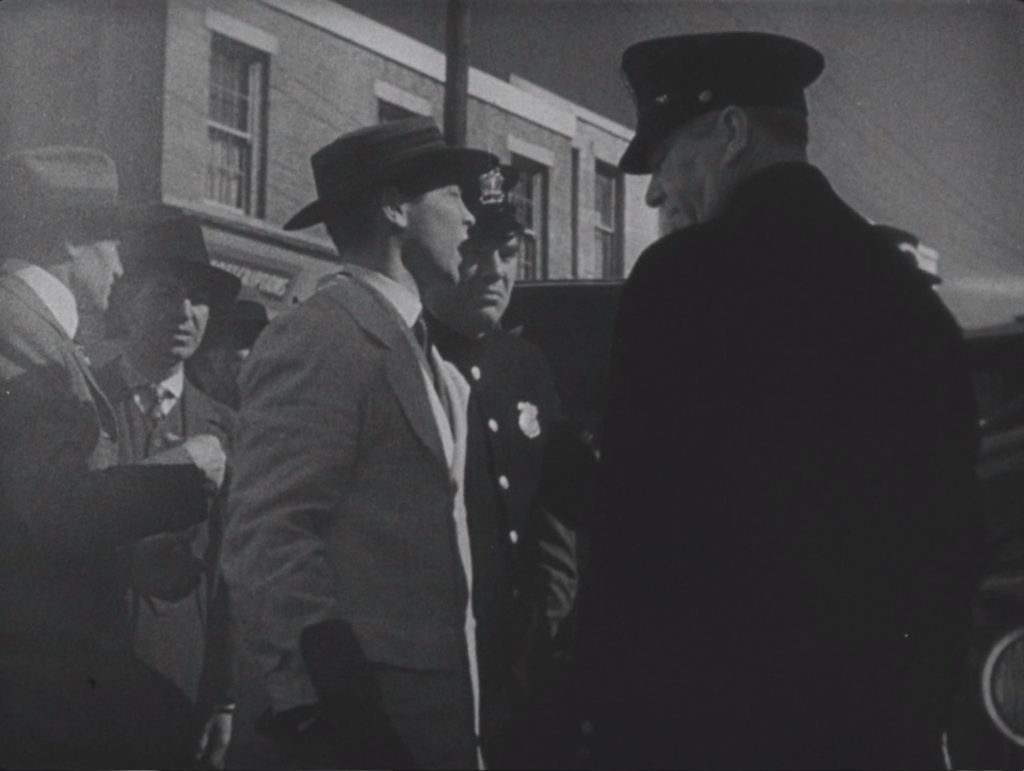 Another policeman standing beside him is talking to a fellow patrolman who has joined him. Others are heard talking indistinctly. The policeman approaches the driver as the camera moves closer to him. A second policeman joins him
DRIVER
I'm perfectly willin' to say I'm sorry fer him, though, an' so's the lady with me.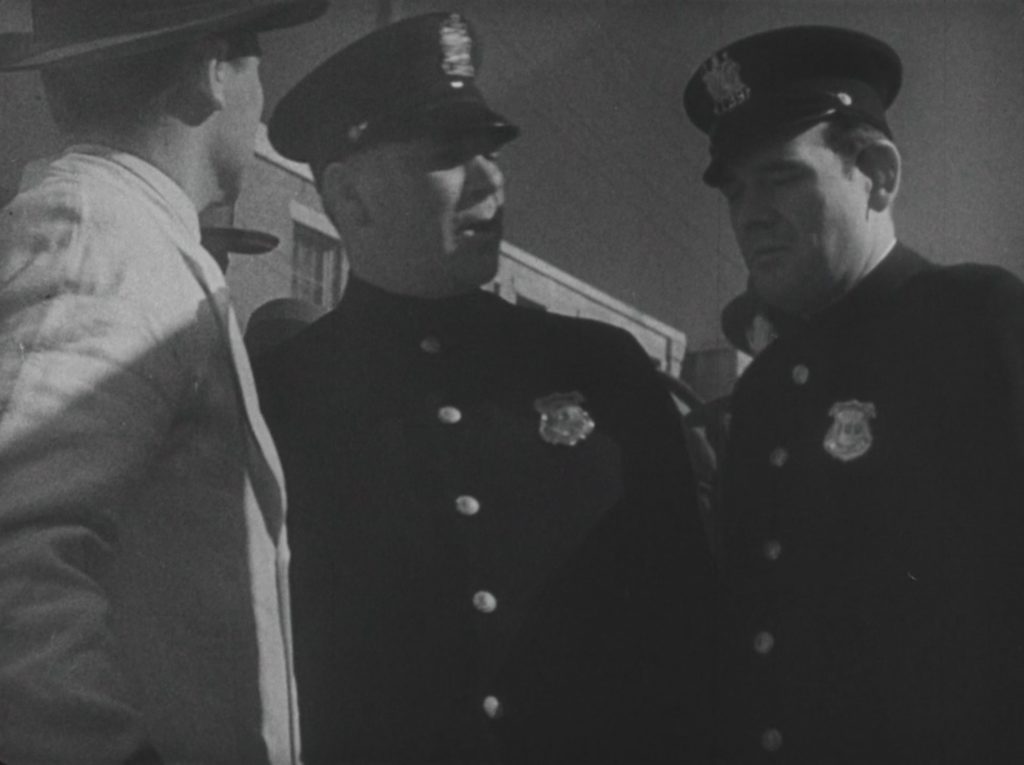 The policeman in the center speaks to the other policeman.
POLICEMAN
Wunnderful the damage them little machines can do, you'd never believe it.
The policeman turns to the driver and orders him.
POLICEMAN
All right Sonny, back in your car, back in your car.
The policeman takes the driver by the shoulder and pushes him toward car. The driver continues complaining.
DRIVER
We're both willin to say—understand?
The policeman turn and begin dispersing the crowd. The camera follows them.
POLICEMAN
All right, stay back there, now.
Referring to George.
POLICEMAN
I guess he ain't got much case to give that fellow…
The two talk indistinctly, crowd noises all around them.
POLICEMAN
…that's all he did…
They move backward and a truck passes.
POLCEMAN
…broke both his legs for him and gosh knows what all!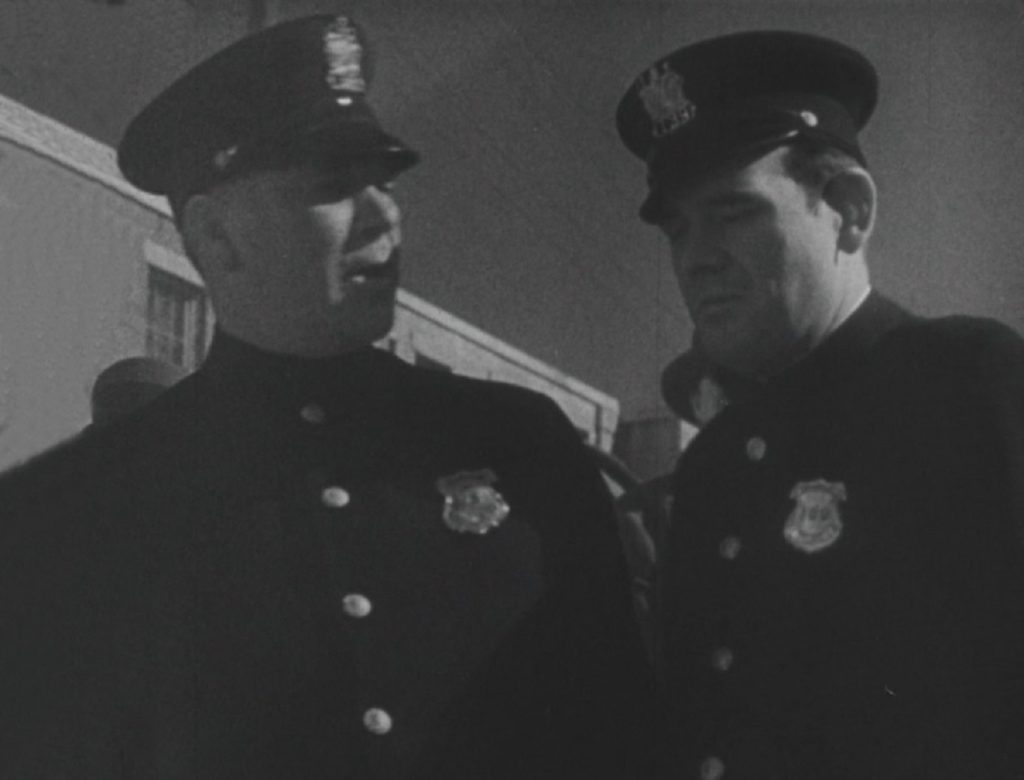 They stop and face each other.
SECOND POLICEMAN
I wasn't here then—what was it?
POLICEMAN
Riff Raff!
FADE OUT/FADE
CLICK PLAY TO HEAR MUSIC (CD-ELEGY )
Headline on front page of Indianapolis Daily Inquirer
Camera zooms in on article.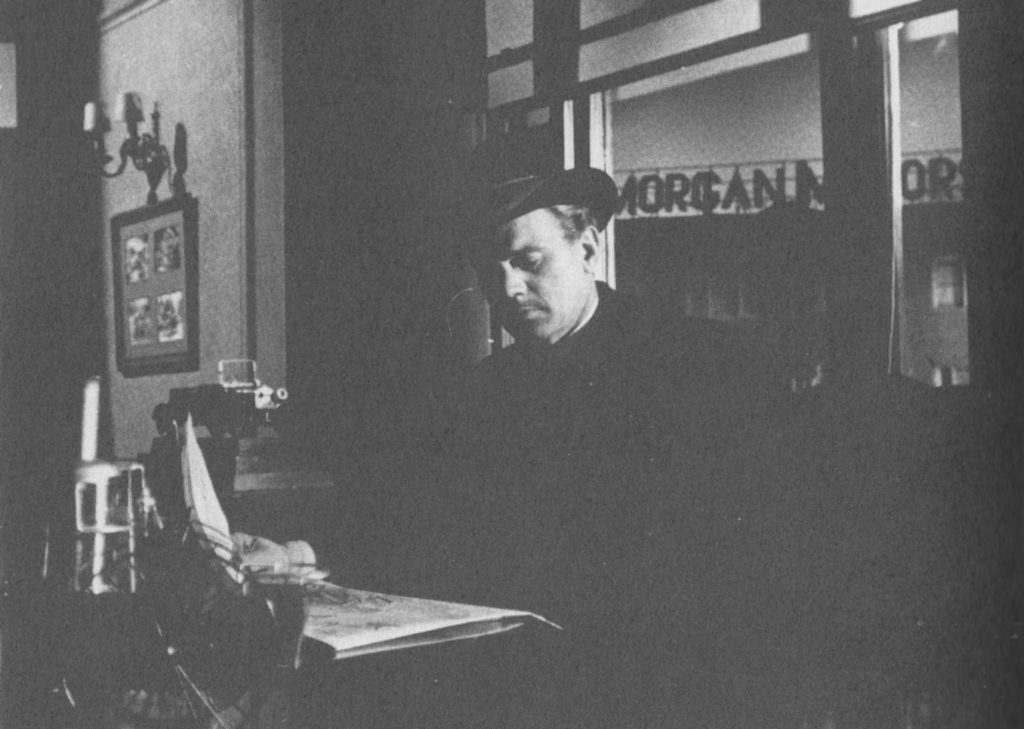 Having read the Newspaper Eugene is sitting in the shadows of his office at the Morgan factory.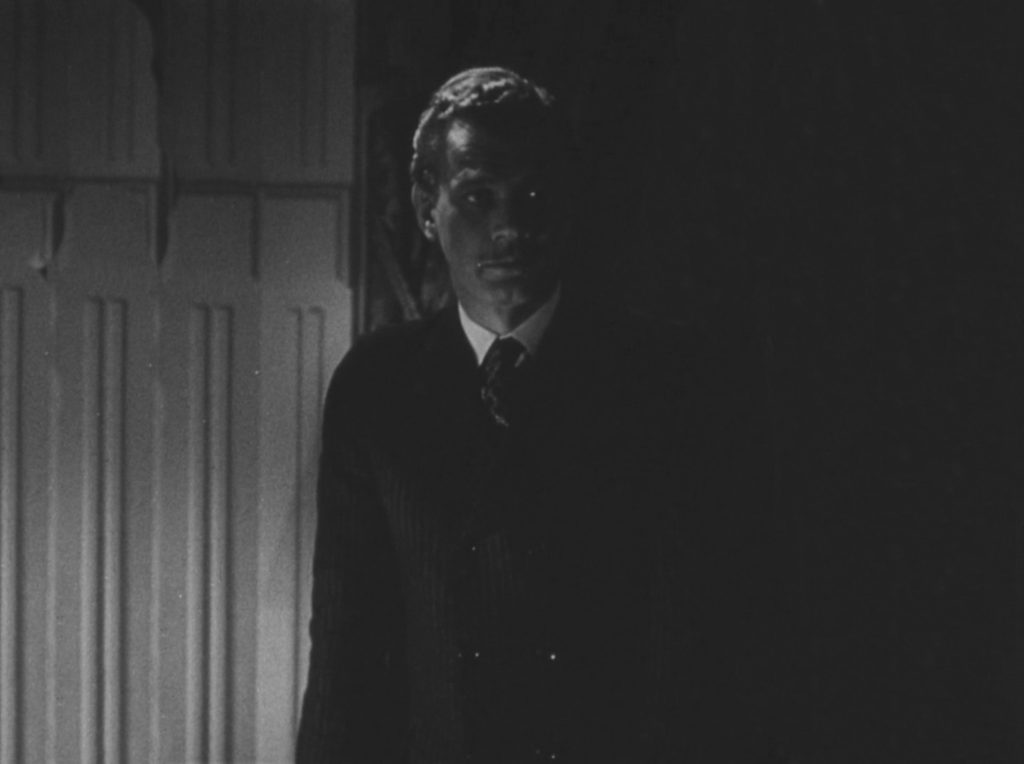 He rises, walks to the window and looks out as he mulls something over lost in deep thought.
Pre-occupied Eugene looks grimly towards the camera.
DISSOLVE TO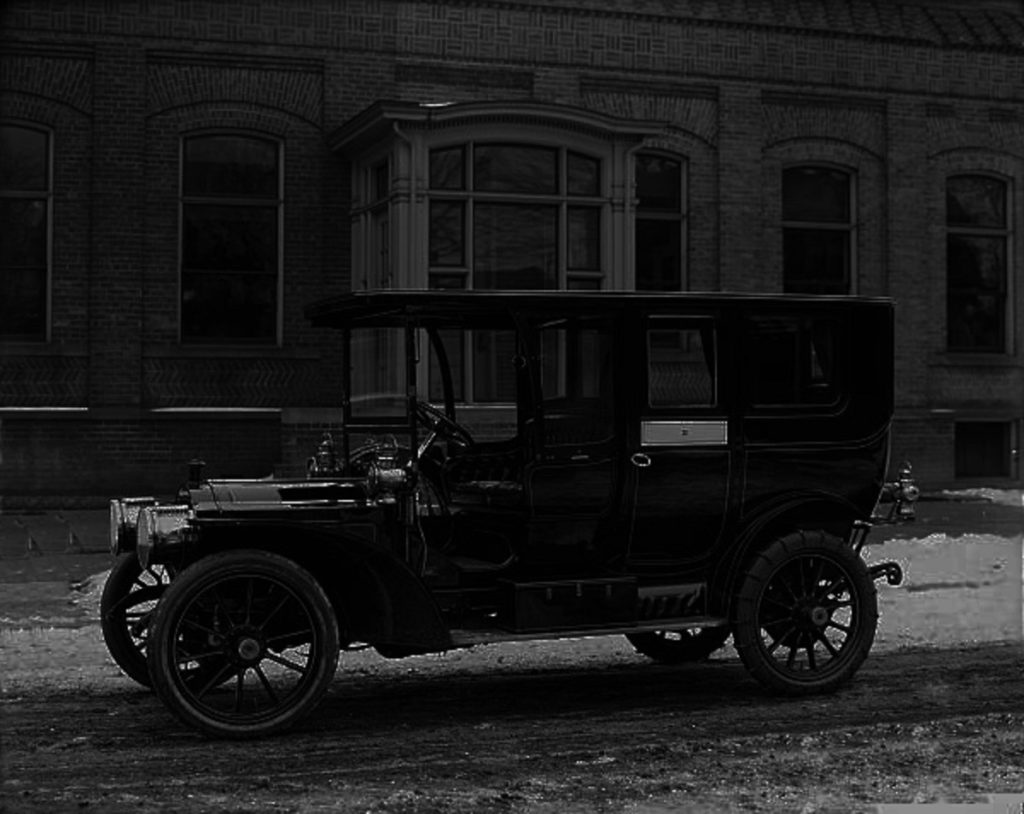 A chauffeur driven touring car is parked inside the factory gate.
DISSOLVE TO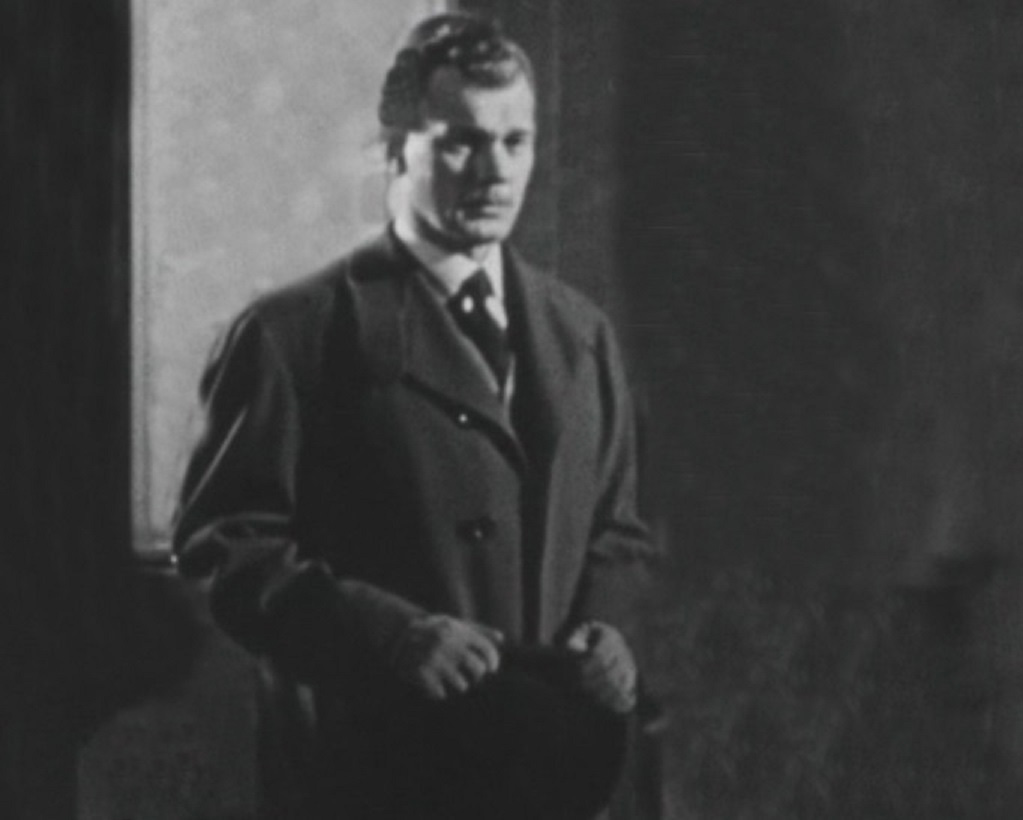 Eugene can be seen from the car walking out of an office building.
He reaches the car.  Eugene talks to the driver through the window.
EUGENE
I won't go home now, Harry. Drive to the City Hospital.
HARRY
Yes sir. Miss Lucy's there. She said she'd expect you'd come there before you go home.
Eugene is surprised.
EUGENE
She did?
HARRY
Yes, sir.
After Eugene gets into the car the driver starts it up.
Inside the factory gate the car drives towards the camera, moving past the gate.
DISSOLVE TO
From across the street the camera is shooting to the City hospital. Eugene's car stops in front of the entrance. Eugene gets out and walks up the hospital steps.
WIPE DOWN / DISSOLVE TO: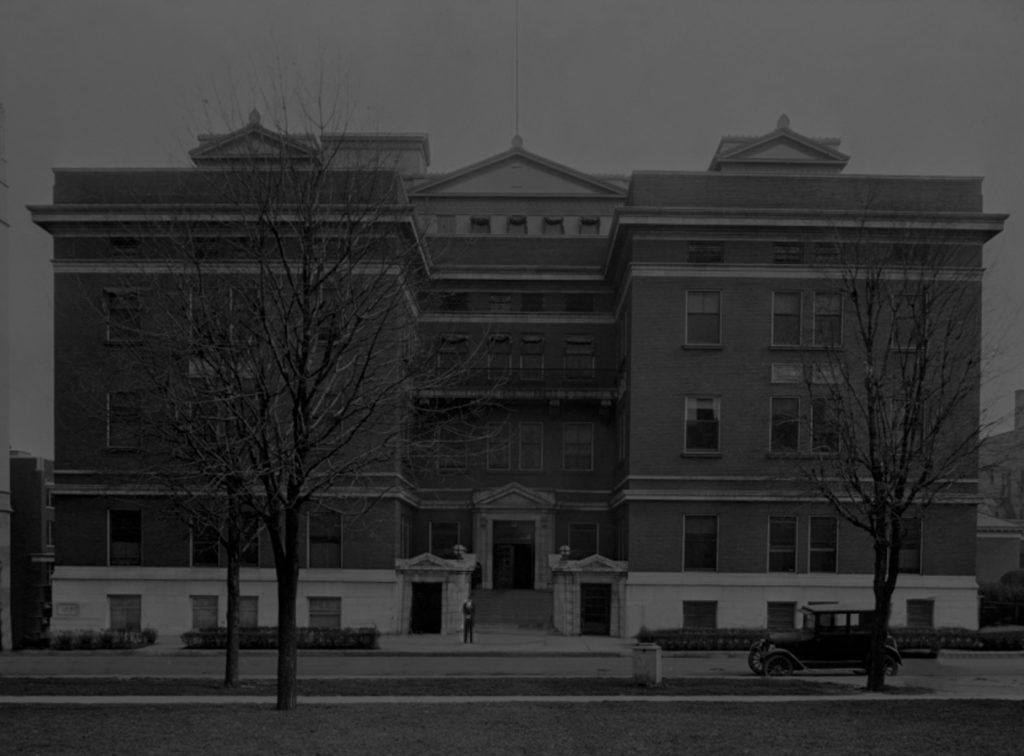 Eugene walks out of the hospital, down the steps and gets into his the car.
DISSOLVE TO
The camera is shooting from the street to tall buildings in the distance with lights in some of the windows. Eugene's car appears and parks in front of a building. Traffic noises are heard as Eugene gets out.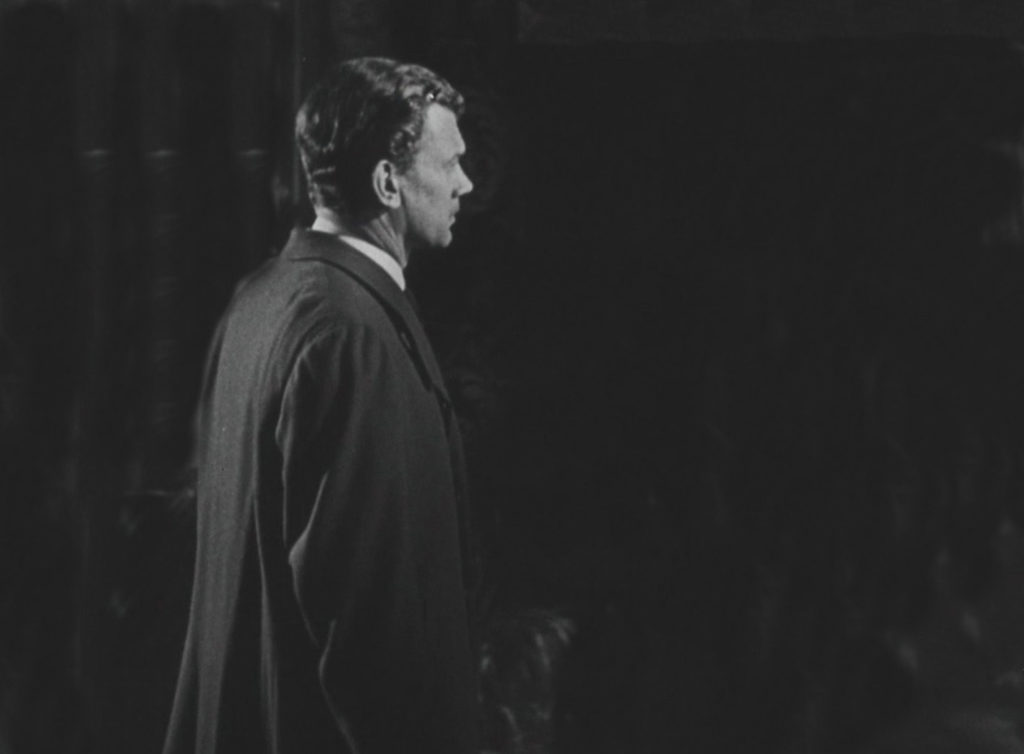 Close to the camera Eugene walks through the front gates.   The shot cuts to darkness and to  Eugene's POV.  The doorbell rings and the door is opened by an elderly man standing in a hallway eating his dinner. He looks directly at camera while dimly heard in the background is a  talking record playing, "No News; or, What Killed The Dog."  The camera moves close to the unpleasant looking man as he turns and walks down the hallway away from the camera .  Eugene is in a third rate, shabby, cheap boarding house/half old folks home filled with sad looking elderly men and woman waiting out the rest of their lives.
CLICK PLAY TO HEAR "NO NEWS: OR, WHAT KILLED THE DOG"
The camera pans to the left where the land lady rise from a table and walks towards the camera.  Curious, a man pauses in the doorway watch completely unaware of how uncomfortable his staring might have on someone.  The camera pans further to the left and a mirror sitting there.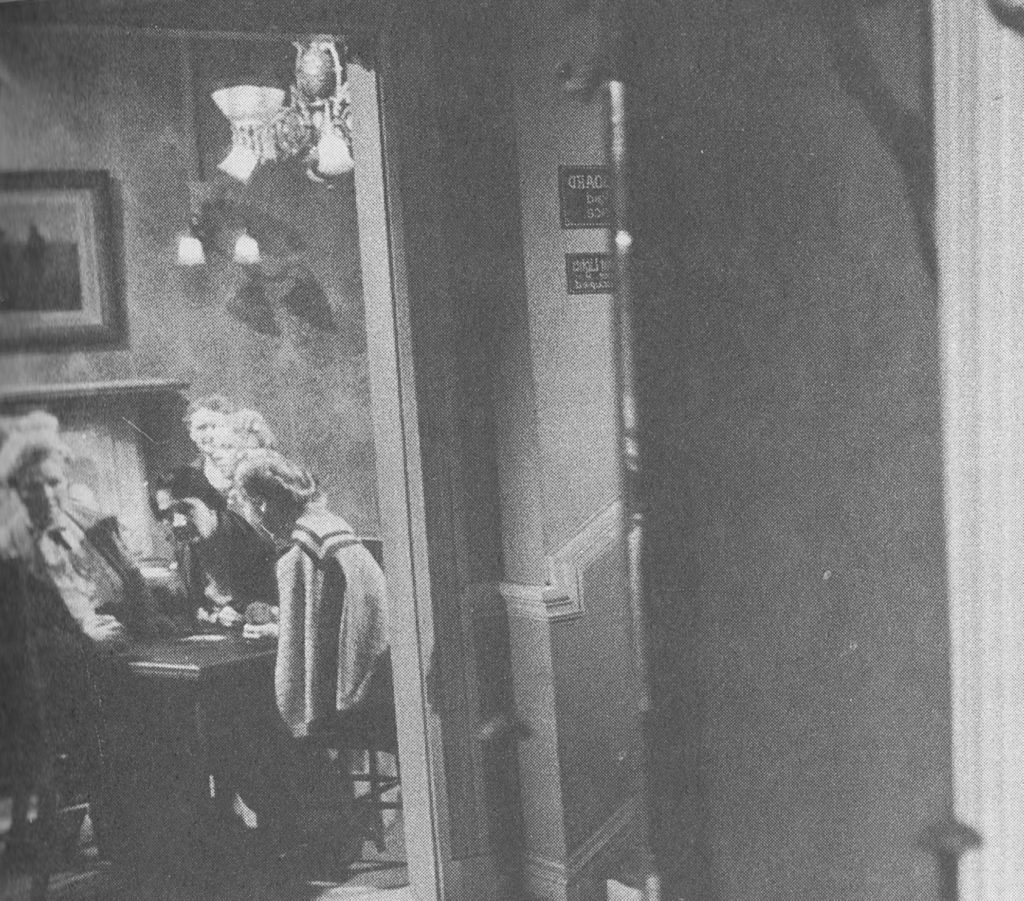 Through the mirror's reflection on the left,  a group of women are seen playing cards gathered at tables in a room on the right. In reflection, with Eugene seen close to the camera, the landlady reaches him.
EUGENE
I'd like to see Miss Fanny Minafer, please.
LANDLADY
Just a moment.
Seen  in the mirror's reflection. the Landlady walks to the room on the right and Eugene slowly walks further into the hallway
LANDLADY
Miss Minafer, there's a gentleman to see you.
A seen through the mirror's reflection, sitting at a table in a room filled with elderly women playing cards, Fanny stands.  All the curious old women in the room are unabashed as they gap.  It is obvious that everyone living here is everyone else's business and make no attempt to hide this fact.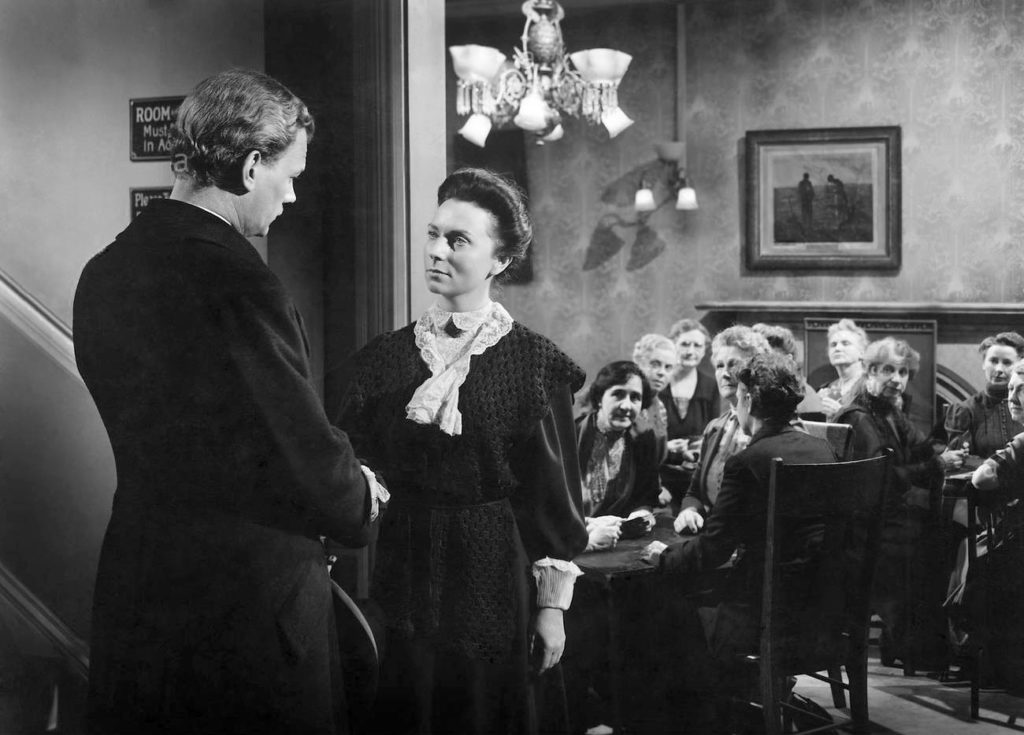 Fanny walks up to Eugene. Fanny is oddly calm, oddly distant. This is a Fanny that hasn't been seen before.  It's as if during her breakdown with George all the life has been drained from her and, now, all pretense gone she is merely going through the motions of a woman who, having lost everything including her dignity, has calmly accepted her lot in life.
EUGENE
Hello Fanny.
Fanny answers without emotion. Her lifeless voice a contrast to Eugene's warm and cheerful greeting.  It is as if the two are functioning in different worlds.
FANNY
Hello, Eugene.
Still in reflection Fanny leads Eugene towards the mirror.
EUGENE
I missed you at the hospital. I'm sorry.
FANNY
There's nothing to worry about.
The camera pans as Fanny leads Eugene towards a room on the other side of a corridor that separates it from the staircase off the hall.  In reflection the old women playing cards are so curious about Fanny and this strange man that they are stretching their necks to see what is happening.  It is  reminiscent of the towns people at the beginning of the film fascinated at the doings of Eugene and Isabel.   Fanny speaks in a detached voice.
FANNY
The doctor told me he's going to get him all well
EUGENE
Yes
FANNY
I saw Lucy there.
EUGENE
Yes
As she speaks to Eugene Fanny walks into the room and he follows. Behind them in the next room a man sitting at a table eating.  Since the Victrola sits in this room, the talking record is now louder.
FANNY
Lucy looks very well
EUGENE
Yes.
When Fanny sits down on a rocking chair they both turn to the man behind them at the table eating. Fanny begins rocking and the chair squeaks.  Wanting some privacy she speaks to the man.
FANNY
Will you excuse us, Mr. Fleck?   (To Eugene) You feeling any better?
Turning back, Fanny talks to Eugene continuing to rock in a rocking chair whose squeak is very reminiscent of the rocking chair on the Amberson Veranda all those years ago.  The difference between then and now couldn't offer a greater contrast.   Behind them the man eating, and not happy about this,  gets up and walks off screen. Fanny looks old and tired.
EUGENE
Yes, she got there before I did. How are you Fanny?
Fanny again speaks to Eugene in an empty vo, a voice and tine that  she might use with a stranger.   She makes no attempt to charm or please him as she had done in the past.
FANNY
Oh, I'm fine…
The camera shoots over the Victrola watching the record go round. Past it a man is sitting on a chair reading. The recording dominates the scene and sets the mood.
FANNY
…Fine.
Annoyed and making no pains to hide it, the man reading stands, tosses his book down and walks over.   Not caring if it might make them uncomfortable, he glares at Fanny and Eugene and the camera pans following him as he leaves the room and, walking into the hall, closes the door behind them.  Any sort of privacy here is near impossible but Fanny is oblivious to this. Eugene, still standing, turns to Fanny rocking. The chair's squeaking joins in with the record.
EUGENE
You look fine.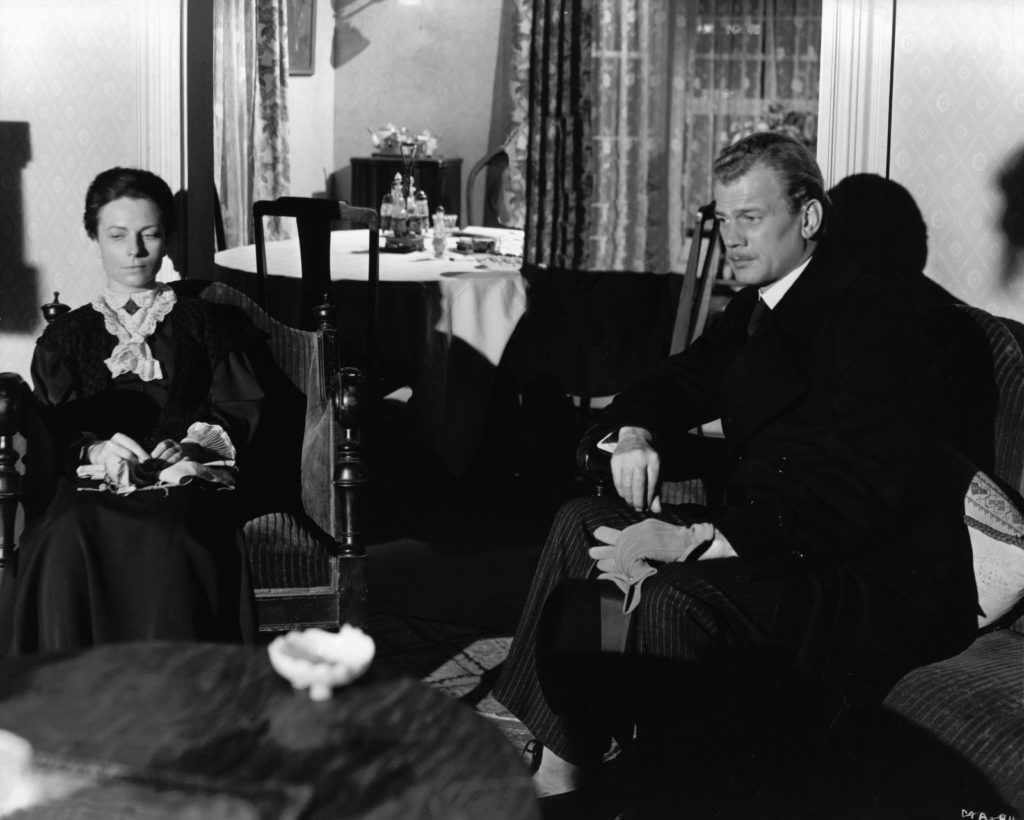 Eugene sits in a chair across from Fanny
EUGENE
About your nephew.
Mind seeming to be elsewhere, Fanny isn't certain who Eugene is referring to.
FANNY
George?
Eugene speaks thoughtfully; expressing his deep feelings.
EUGENE
I thought at first I wouldn't go to the hospital.
Again Fanny shows no emotion but, instead, indifference.
FANNY
No?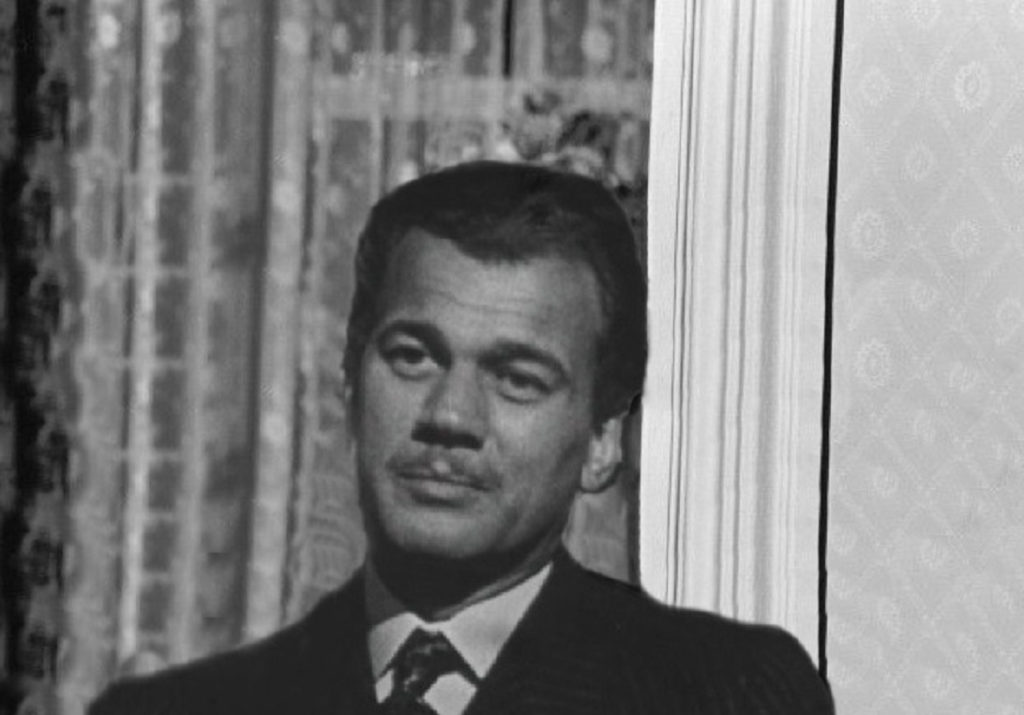 Eugene is speaking about something about which he feels deeply.
EUGENE
I thought it would be hard not to be bitter, but of course I went.
Rocking her squeaking chair Fanny listens with little interest. It's obvious she is making it clear that this holds little interest for her.
The camera is shooting over the Victrola. Fanny is rocking when the needle on the record scratches.
Eugene glances over at Fanny soberly rocking. The Victrola needle scratching on record, Fanny does nothing about it as it seems she hasn't noticed it. Eugene on the other hand jumps up and the camera pans to follow him as he walks over to the Victrola.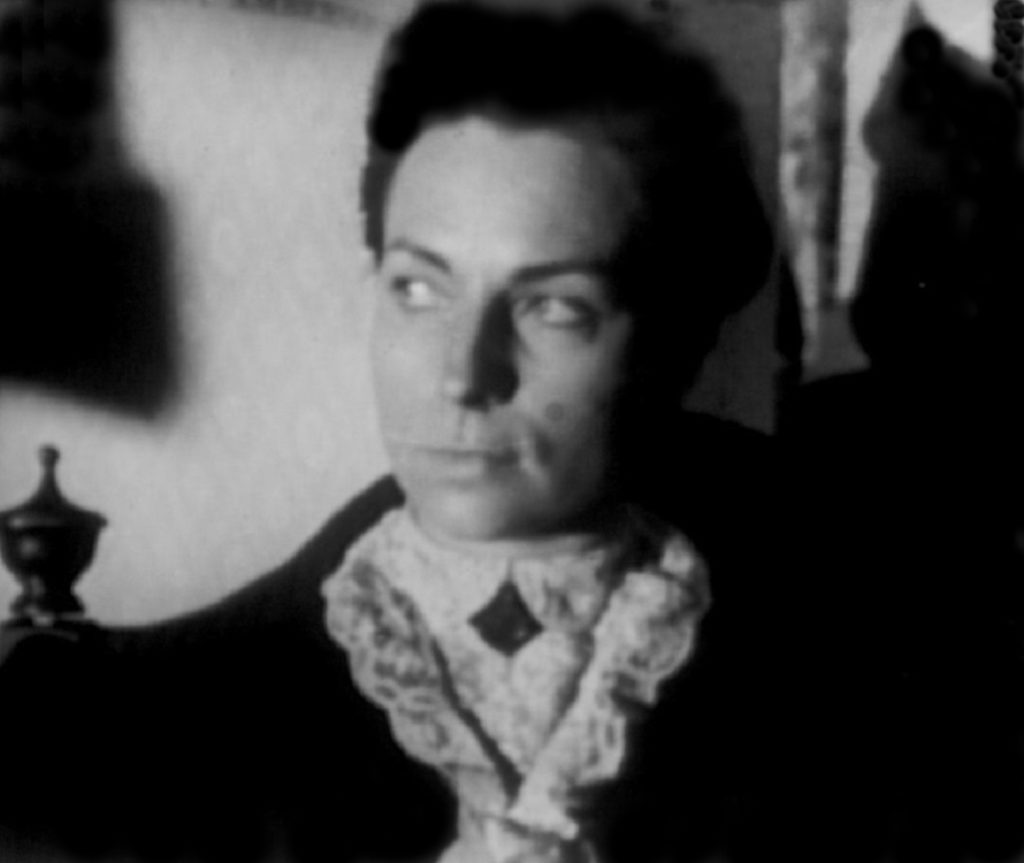 Sitting rocking, flanking the Victrola, Fanny speaks over the scratching.
FANNY
Think they'll get married—after all?
Camera is shooting over Victrola, Eugene standing beside it. Behind him Fanny continues to rock in her chair. Eugene's hand lifts the needle off the record and stops the Victrola. He answers Fanny's question.
EUGENE's VOICE
Think so Fanny.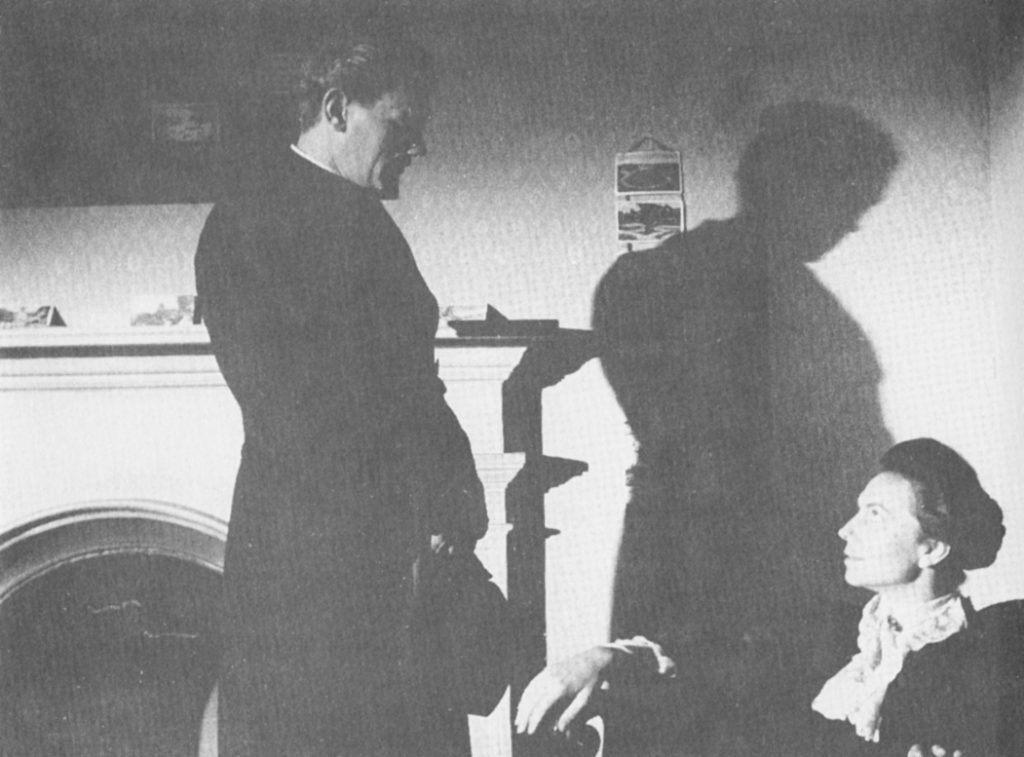 Eugene turns from the Victrola, looks at Fanny rocking in the squeaking chair.
EUGENE
Lucy says so.
Walking in front of Fanny, Eugene's shadow passes over her
Eugene sits near the camera.  He talks wistfully, thoughtfully; completely unaware of Fanny's indifference.
EUGENE
Funny, how much like her, he looks.
Fanny responds as none of this registers.
FANNY
Who?
EUGENE
George?
FANNY
Oh.
EUGENE
Like Isabel.
FANNY
Oh.
As she speaks Fanny smiles a perfunctory smile purposely ignoring what Eugene is saying.  She changes the subject.
FANNY
Well, it's nice to see you, looking well.
EUGENE
Thanks Fanny.
Eugene looks off while talking to Fanny. Then glancing at her he hesitates, finally noticing her disinterest. So, he explains why he is telling her this.
EUGENE
I just wanted to come here—and—you were always so close to Isabel—she was so fond of you. You know what he said to me when I went into the room?
   Fanny is surprised but not particularly curious.
FANNY
George?
EUGENE'S VOICE
He said…
Eugene is in close-up. He speaks slowly; sadly as he is very moved.
EUGENE
…"You must have known my mother wanted you to come here today so that I could ask you to forgive me."
Fanny, chair squeaking, glances down as this settles in.  It's all the interest she is able to show.
Eugene glances at Fanny. Happy, he is smiling.
EUGENE
We shook hands.
Fanny looks off and rocks the chair faster which makes the squeaking harder.  Obviously hearing Eugene talk about Isabel brings back old resentments.  Her rocking expresses her discomfort.
FANNY
Hm.
Eugene continues to speak wistfully while Fanny rocks in the on the other side of the room.
EUGENE
I wish you could have seen Lucy
He looks down and then having said what he came here to say, Eugene stands and moves off.
Still rocking, Fanny glances up at Eugene as his shadow passes over her face while the squeaking from the rocking chair continues.
EUGENE'S VOICE
Fanny, you're the only person I'd tell this to, but it seemed to me as if someone else was in the room down there at the hospital.
Fanny stops rocking and the squeaking stops. Eugene's shadow passes over Fanny's face once again.
Eugene stops and looks down at Fanny his words filled with emotion.
EUGENE
…and that through me she had brought her boy under shelter again—that I'd been true to my true love.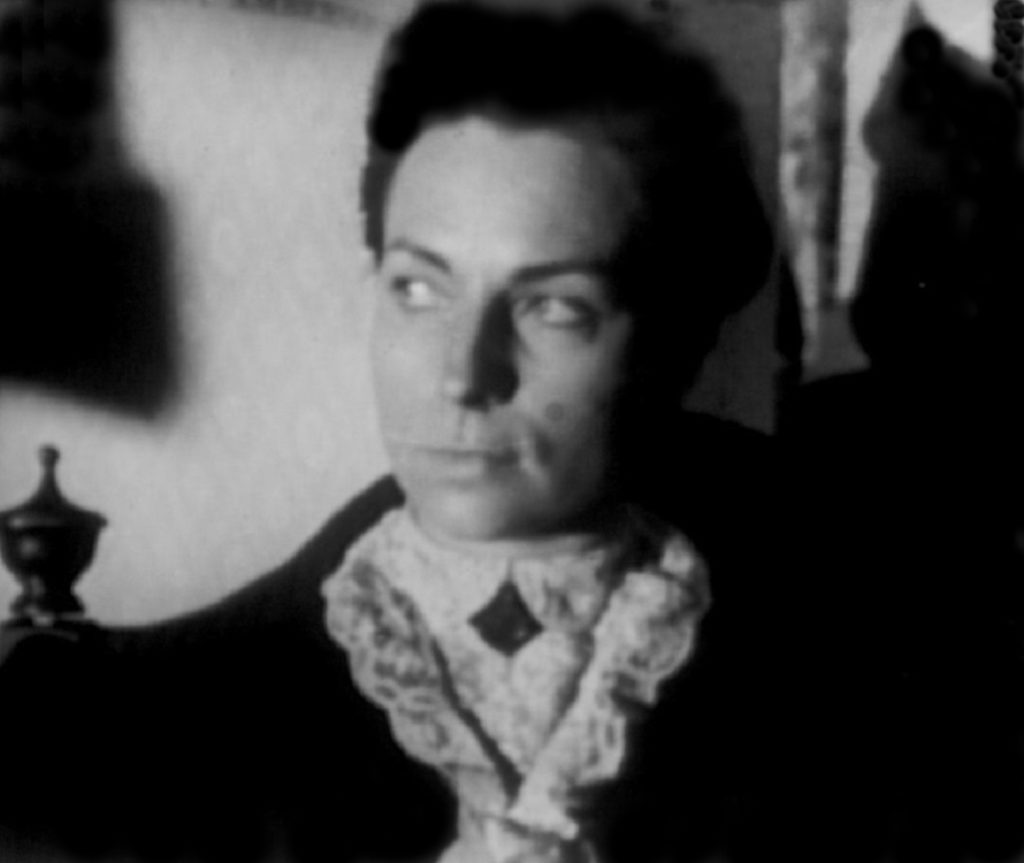 Staring off Fanny starts rocking hard and the squeaking grows louder. The rocking speaks of it uncomfortable memories.
FANNY
Yes.
In shadow Eugene is standing in front of the camera.
Fanny is staring down as she continues to rock. Eugene's shadow passes over her face.
Fanny is sitting on the rocking chair while Eugene standing in front of her in shadow speaks. No longer able to ignore Fanny's indifference, Eugene concludes that it is time to go.   It is obvious that whatever feelings Fanny might have felt towards him in the past are gone.   There is nothing between them any longer, not even conversation.   They could be strangers.  Everything is over for Fanny;  her feelings, her world and even Eugene's world.  They are two people unable to communicate. 
EUGENE
Well, I'll say good-night.
Fanny rises slowly, draws herself up and walks out of the frame. Eugene turns and leaves after her as they move into the hall.  The mirror is in front of the camera is reflecting the women in the room gathered at the tables strain their necks to watch. The door opens and Eugene and Fanny walk out. The camera pans as they walk towards the mirror. A door is heard closing. A man passes behind them and walks out of frame.   Another door is heard closing. There is simply no privacy here.
Fanny and Eugene pause close to the camera. She glances at Eugene smiling grimly a bit embarrassed. As she speaks a man stops and rudely stares at them.  Eugene tries his best to ignore it.
FANNY
Well, good-night, Eugene.
As the man walks off screen, Eugene smiles slightly.
FANNY
Good night, Fanny.
The camera pans as Eugene walks towards the camera.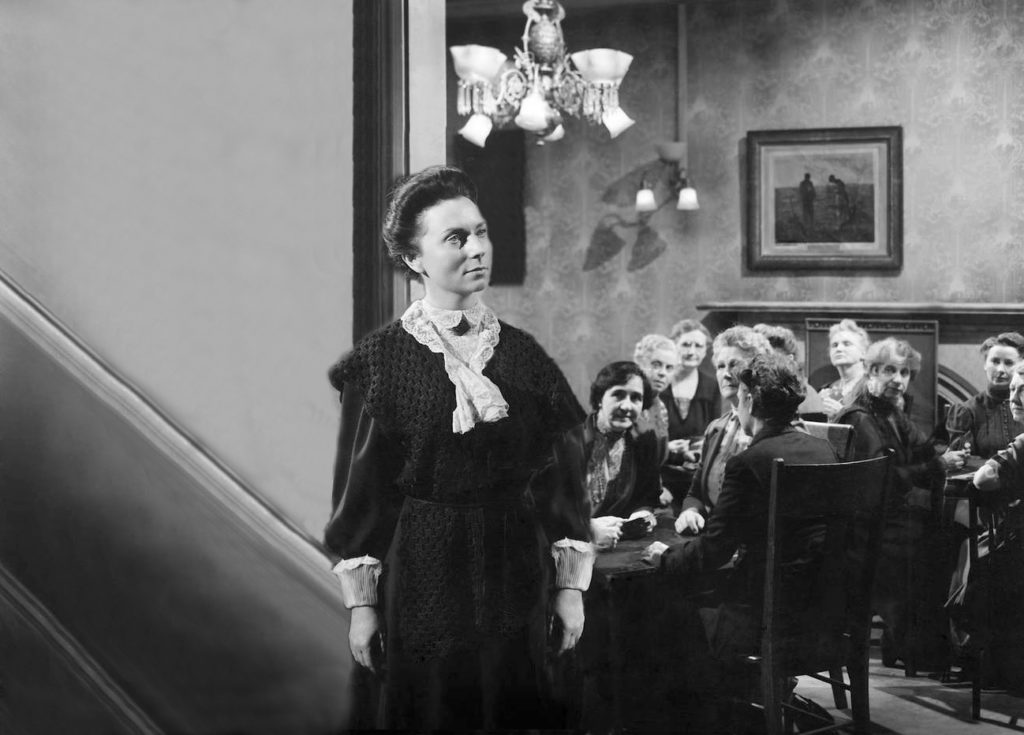 Through reflection a lifeless , resigned Fanny watches Eugene leave; a penniless spinster her world  gone, waiting out her last days in this pathetic, awful boarding house .  The eavesdropping women in the room behind her watch Fanny curiously as she turns and joins the group sitting at one of the tables.  These elderly men and woman, or what is left of them, 35 years earlier had been residents of the "golden" world of that midland town of memory which the narrator had so lovingly celebrated.   A way of life has come to an end.  That midland town has transformed into a city where these sad looking elderly men and woman are all that's left of that vanished time; totally forgotten by a world in which they are no longer a part as they wait out the rest of their sad lives.
CLICK PLAY TO HEAR MUSIC (CD-END TITLE)
Eugene's car is parked in front of the boarding house.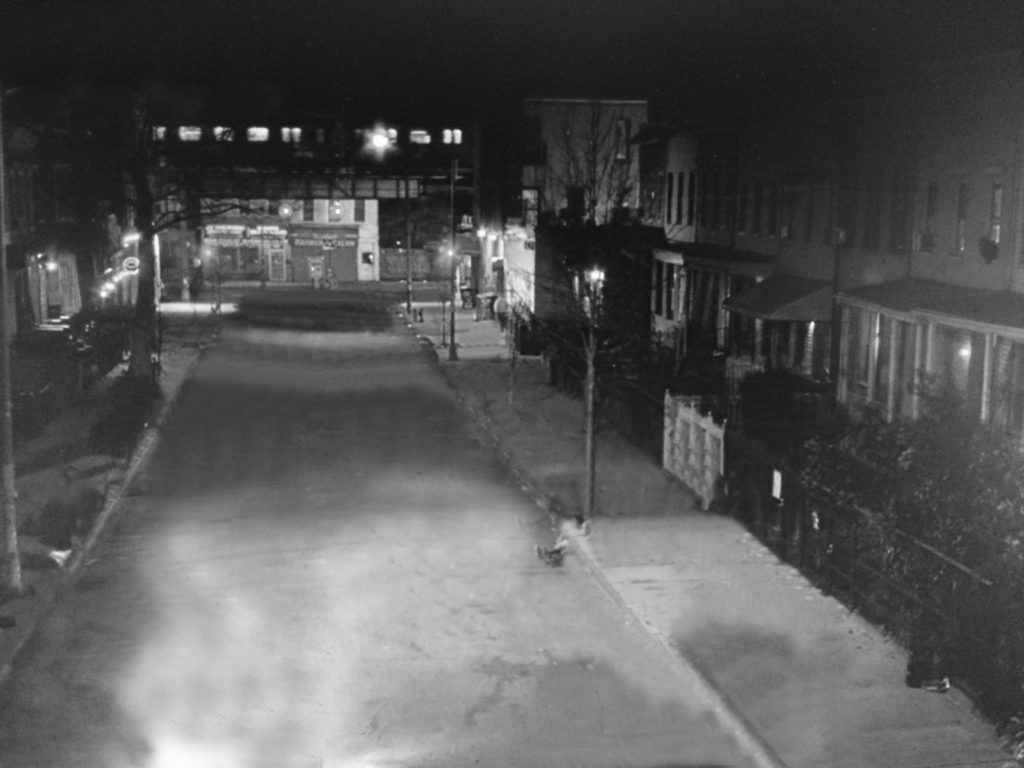 Tall buildings stand at the end of the street light in their windows while factories spew out their smoke and an elevated train is rattling by in the far distance.   Sadly, this, then is what that magical midland town that opened the film has transformed into and the price of  "progress."  The car starts and drives away into the distance as traffic passes across the street. The Car finally turns a corner and seems to be swallowed up by the city the the automobile and Eugene Morgan have created and then the car disappears.
FADE OUT
NARRATOR'S VOICE
Ladies and Gentleman, that's the end of the story…The Magnificent Ambersons…
FADE IN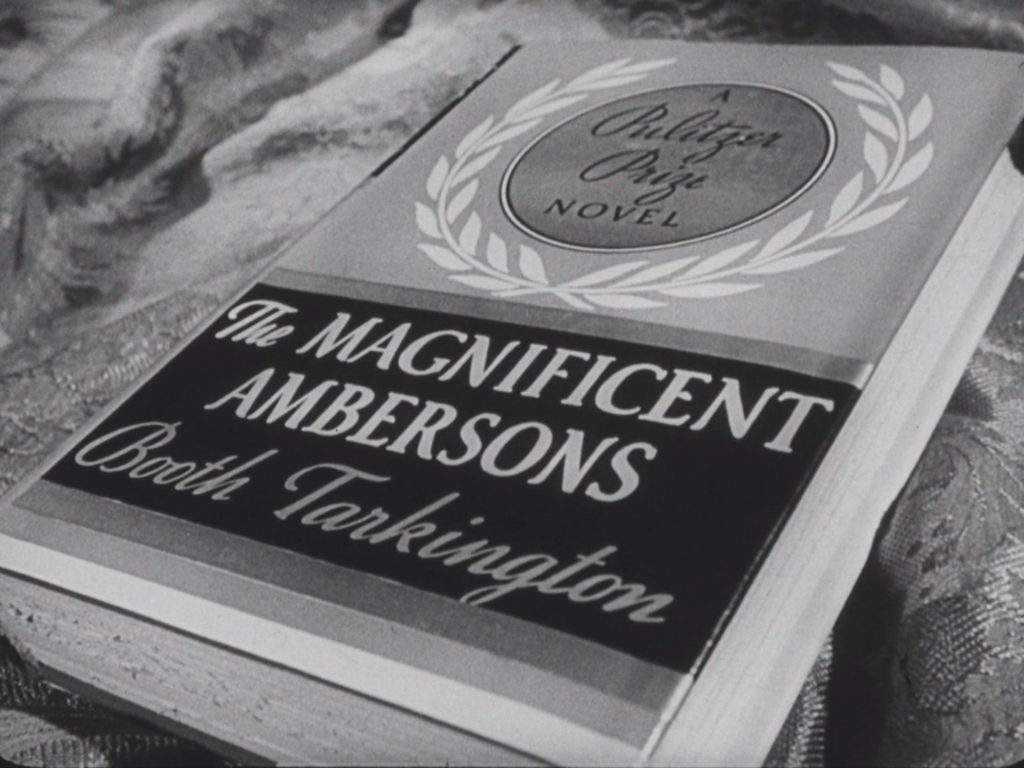 NARRATOR
…was based on Booth Tarkington's Novel. Stanley Cortez…
DISSOLVE TO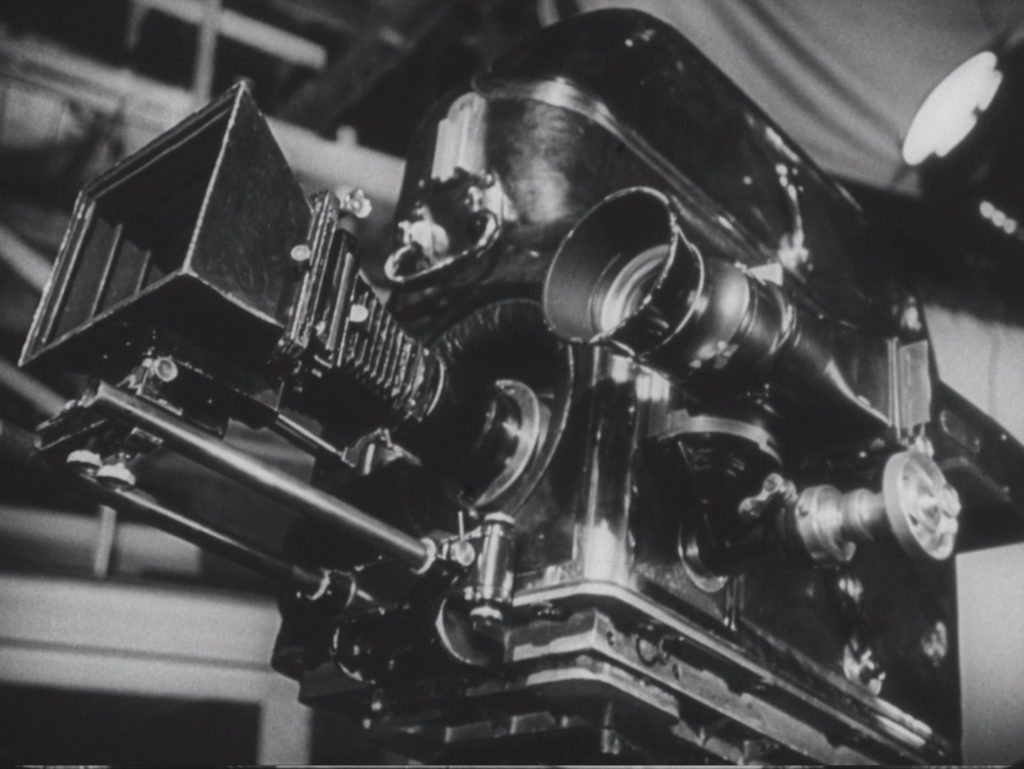 NARRATOR'S VOICE
Stanley Cortez was the photographer.
DISSOLVE TO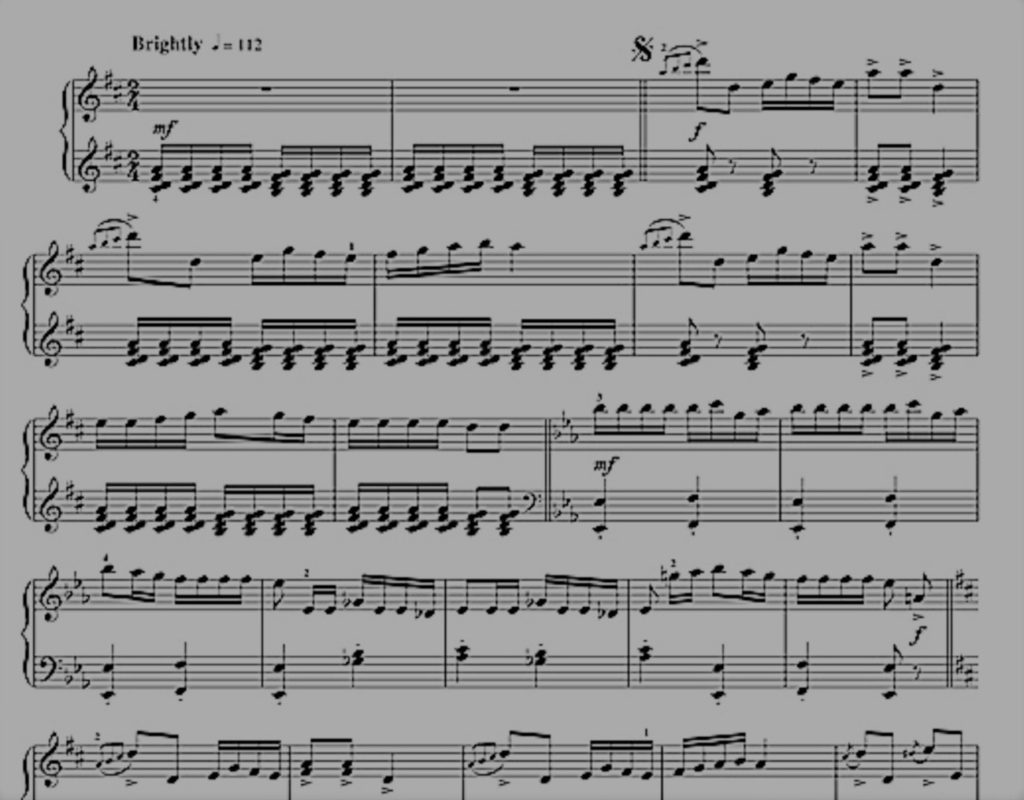 NARRATOR'S VOICE
Bernard Herrmann wrote and conducted the music.
DISSOLVE TO
NARRATOR's VOICE
Mark Lee Kirk  designed the sets.
DISSOLVE TO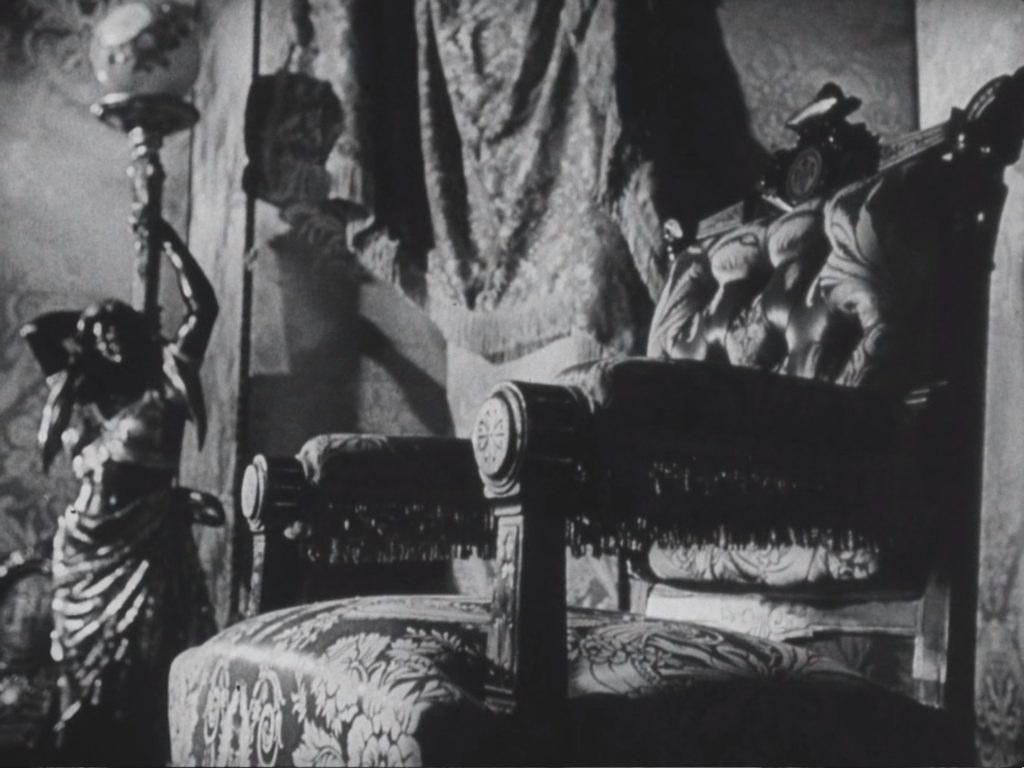 NARRATOR'S VOICE
Al Fields dressed them.
DISSOLVE TO
NARRATOR'S VOICE
Robert Wise was the film editor.
DISSOLVE TO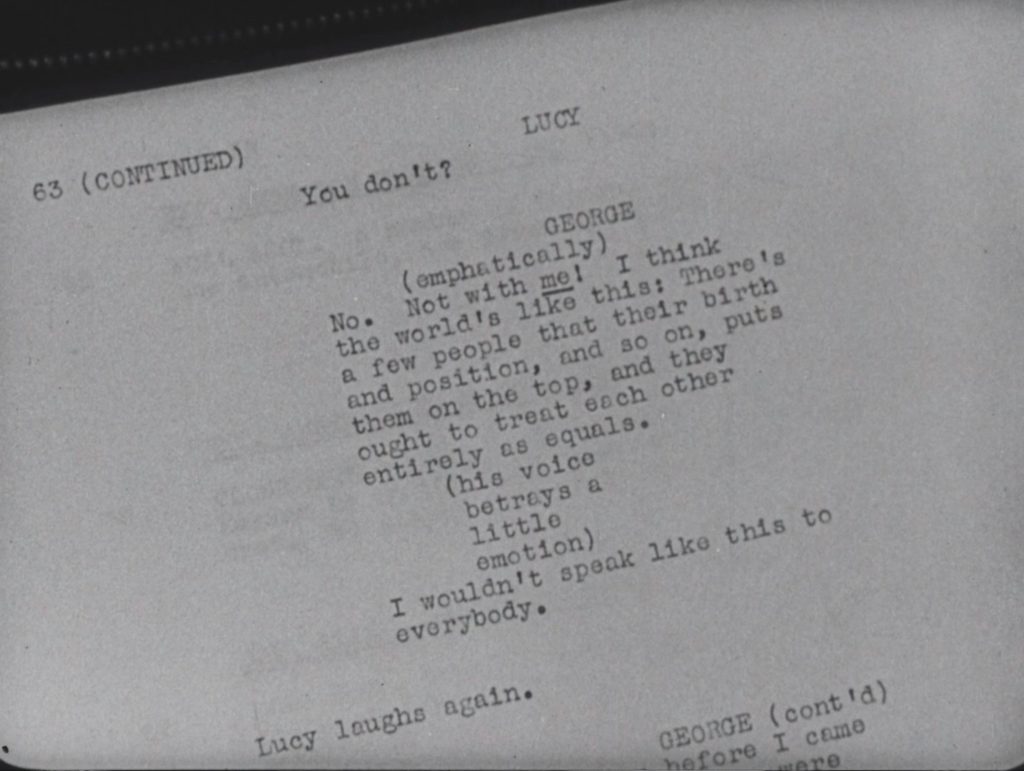 NARRATOR's VOICE
Freddie fleck was the assistant director
DISSOLVE TO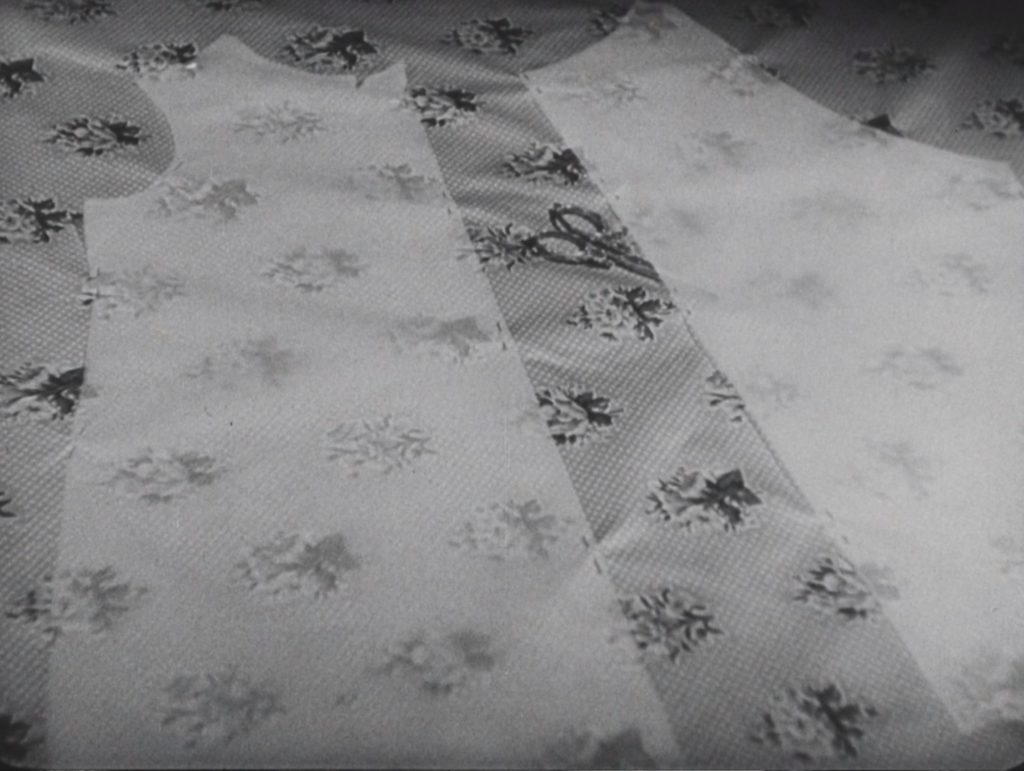 NARRATOR's VOICE
Edward Stevenson designed the ladies wardrobe.
DISSOLVE TO
NARRATOR's VOICE
The special effects ere by Vernon L. Walker.
DISSOLVE TO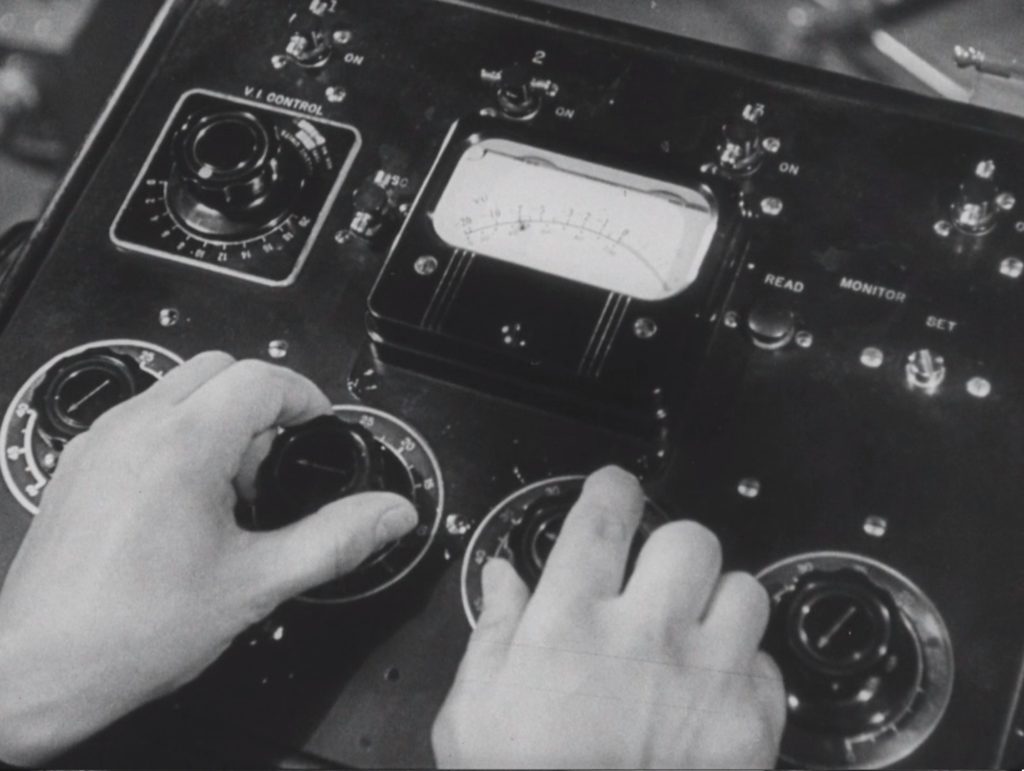 NARRATOR's VOICE
The sound recording was by Bailey Fesler and James G. Stewart.
FACE OUT/FADE IN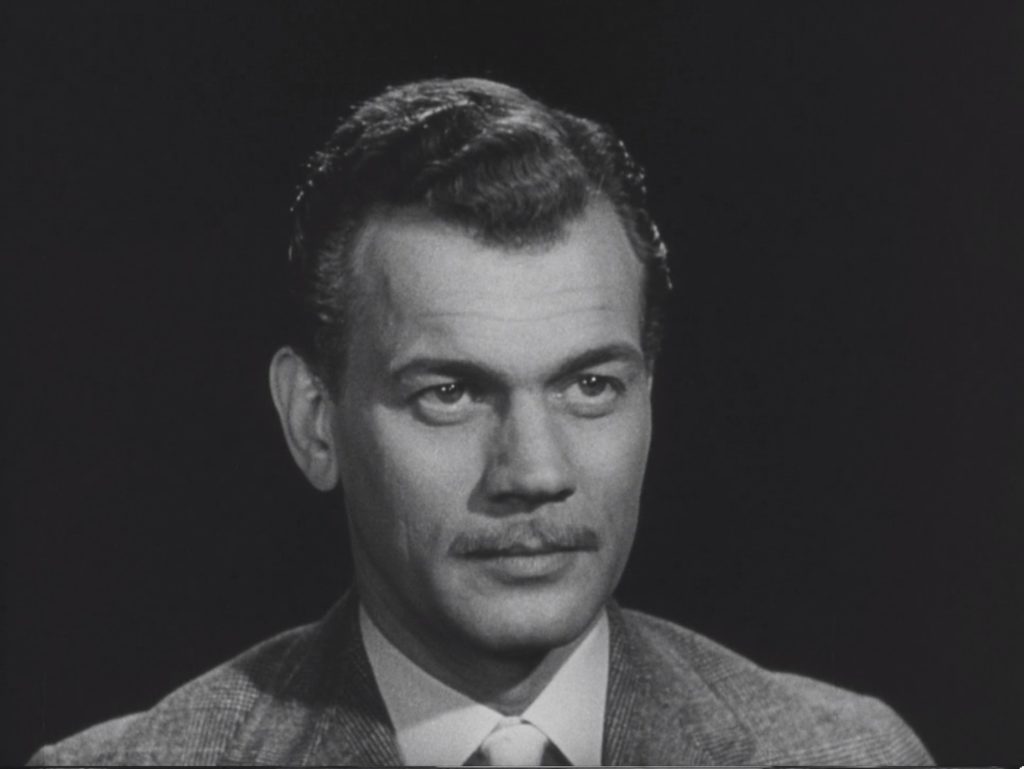 NARRATOR'S VOICE
Here's the cast.  EUGENE…. Joseph Cotton
DISSOLVE TO
NARRATOR's VOICE
Isabel…Dolores Costello
DISSOLVE TO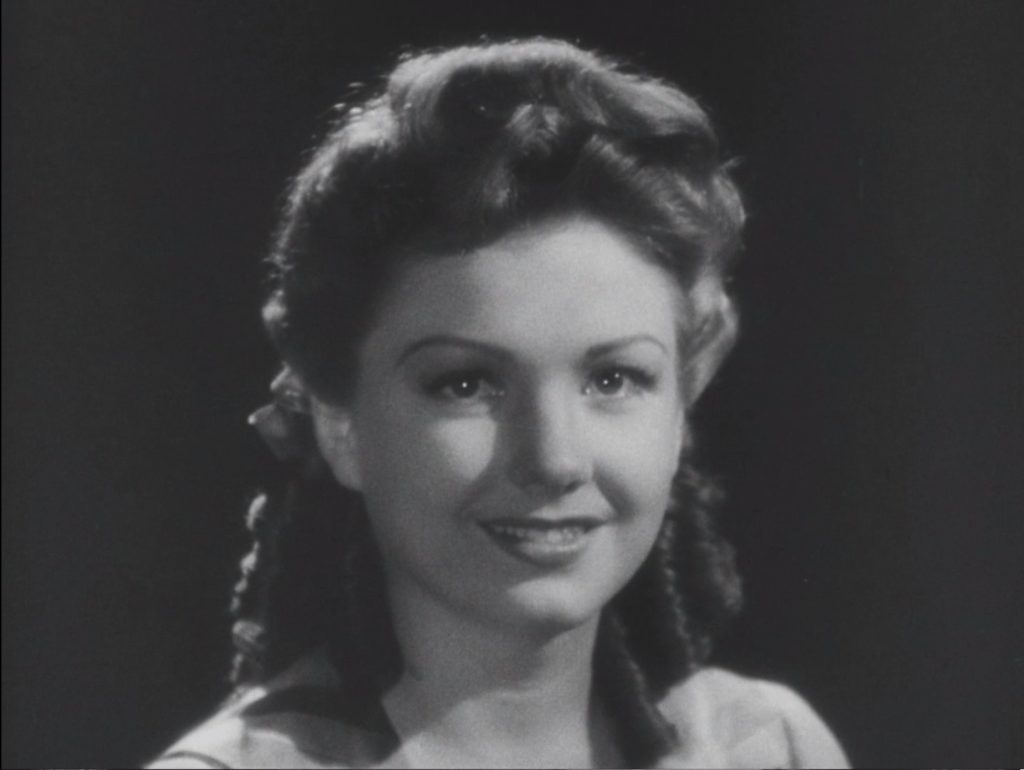 NARRATOR's VOICE
LUCY…Anne Baxter
DISSOLVE TO
NARRATOR's VOICE
George…Tim Holt
DISSOLVE TO
NARRATOR's VOICE
Fanny…Agnes Moorehead
DISSOLVE TO
NARRATOR's VOICE
Jack…Ray Collins
DISSOLVE TO
NARRATOR's VOICE
Roger Bronson…Erskin Sanford.
DISSOLVE TO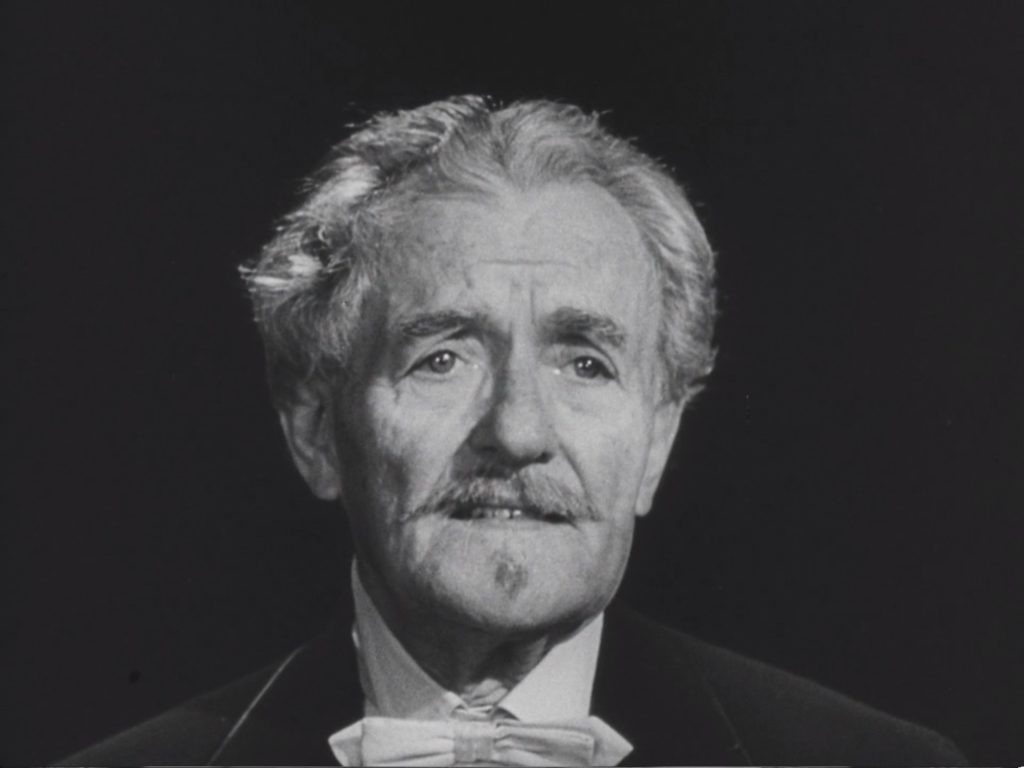 NARRATOR's VOICE
Major Amberson….Richard Bennet.
DISSOLVE TO
NARRATOR's VOICE
I wrote the script and directed…My name is Orson Welles…This is a Mercury production.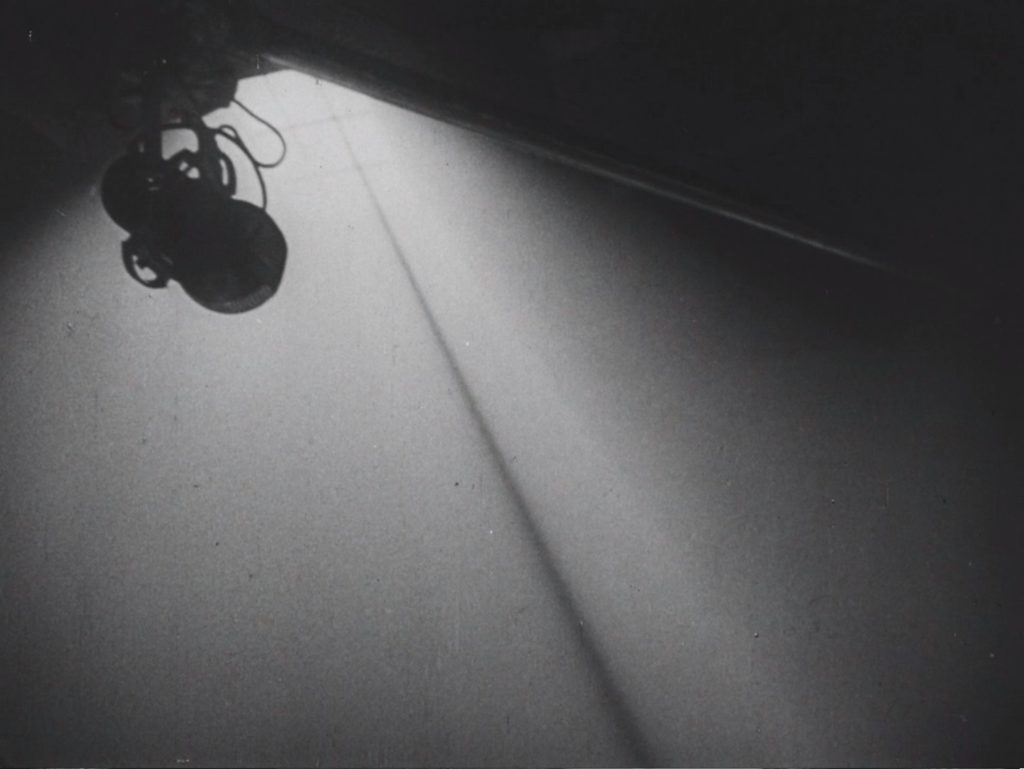 Music rises to crescendo.