Orson Welles As Hollywood Director

ORSON WELLES – HOLLYWOOD DIRECTOR
This is sort of a postscript. The material  included here is from my private collection of ads, programs, scans and various other paper collectibles regarding Welles' Hollywood films.  Obviously, the auction material is not mine – just the scans.  This first section deals with CITZEN KANE.  With the first section and KANE material I tried to present the film's transformation from pre-release, through critical success into a classic and then film icon.  The same might have occurred to AMBERSONS if the film hadn't been truncated and altered. Following this is an illustrated  insider's contemporary look at the production.  There is also 390 stills and promotional material dealing with three films devoted to the making of CITIZEN Kane; THE BATTLE OVER CITIZEN KANE, RKO 281 and MANK.
I wish to thank John Hulscher for his scans of the front and back cover of the World Premiere Citizan Kane program.
The second section represents Welles other Hollywood  films made during the 40s except—obviously—AMBERSONS.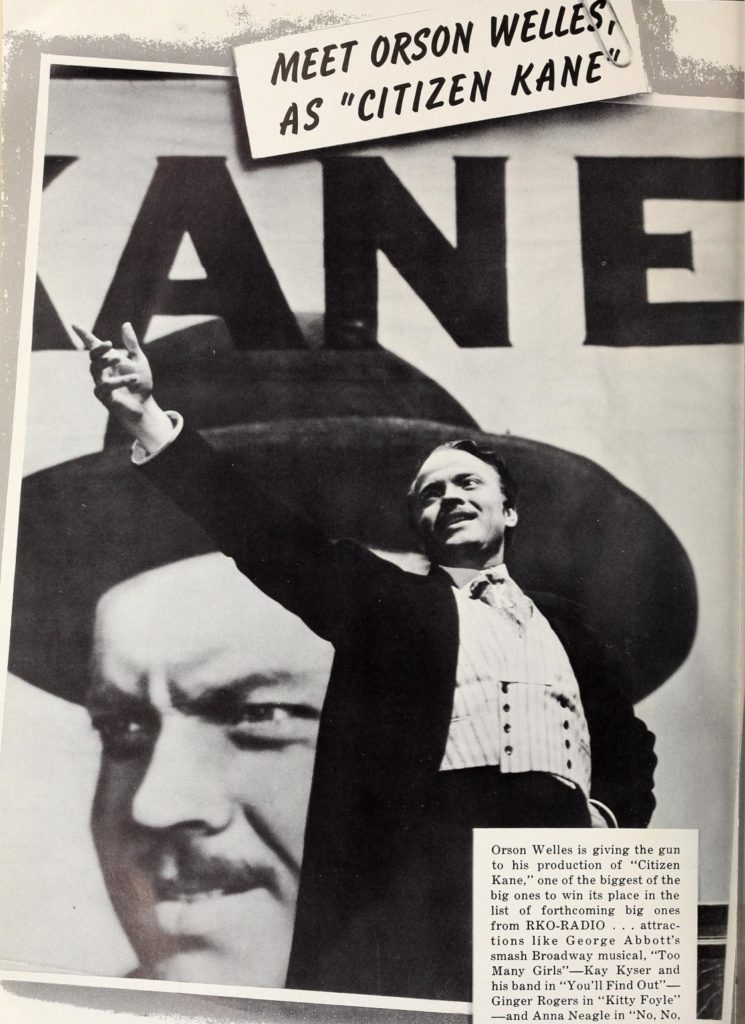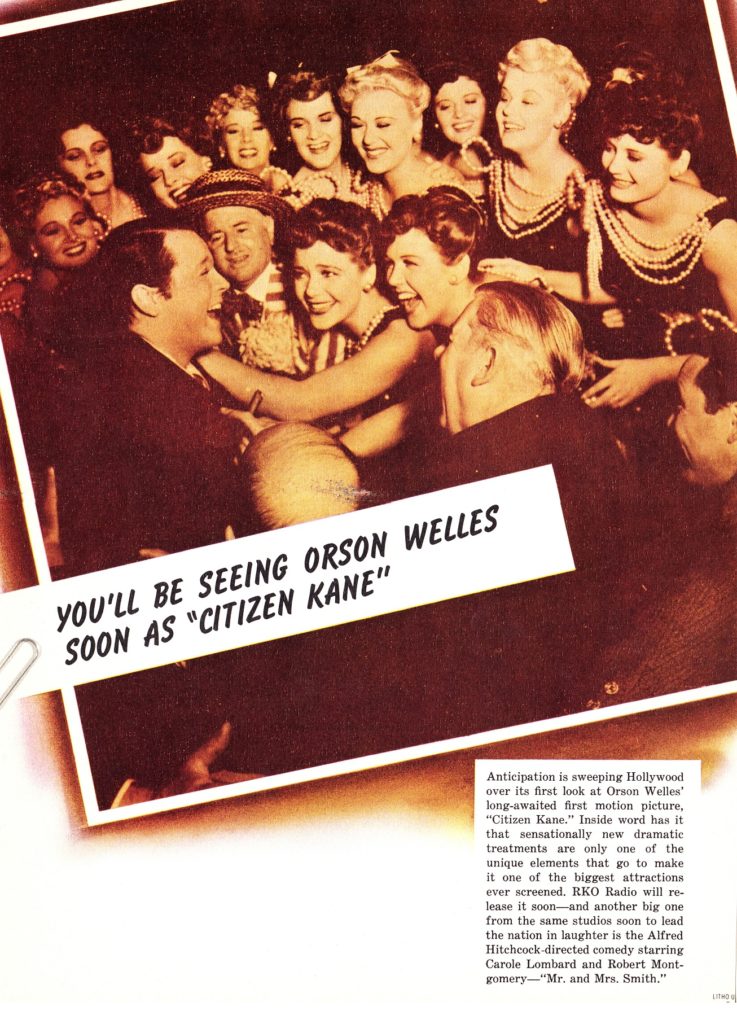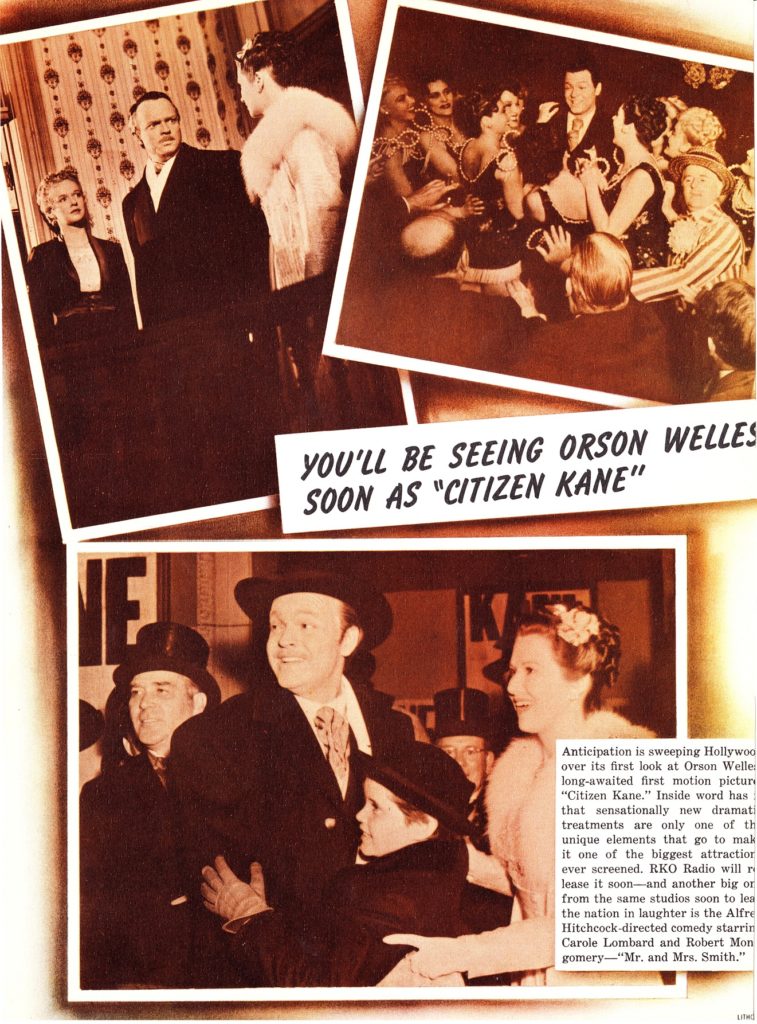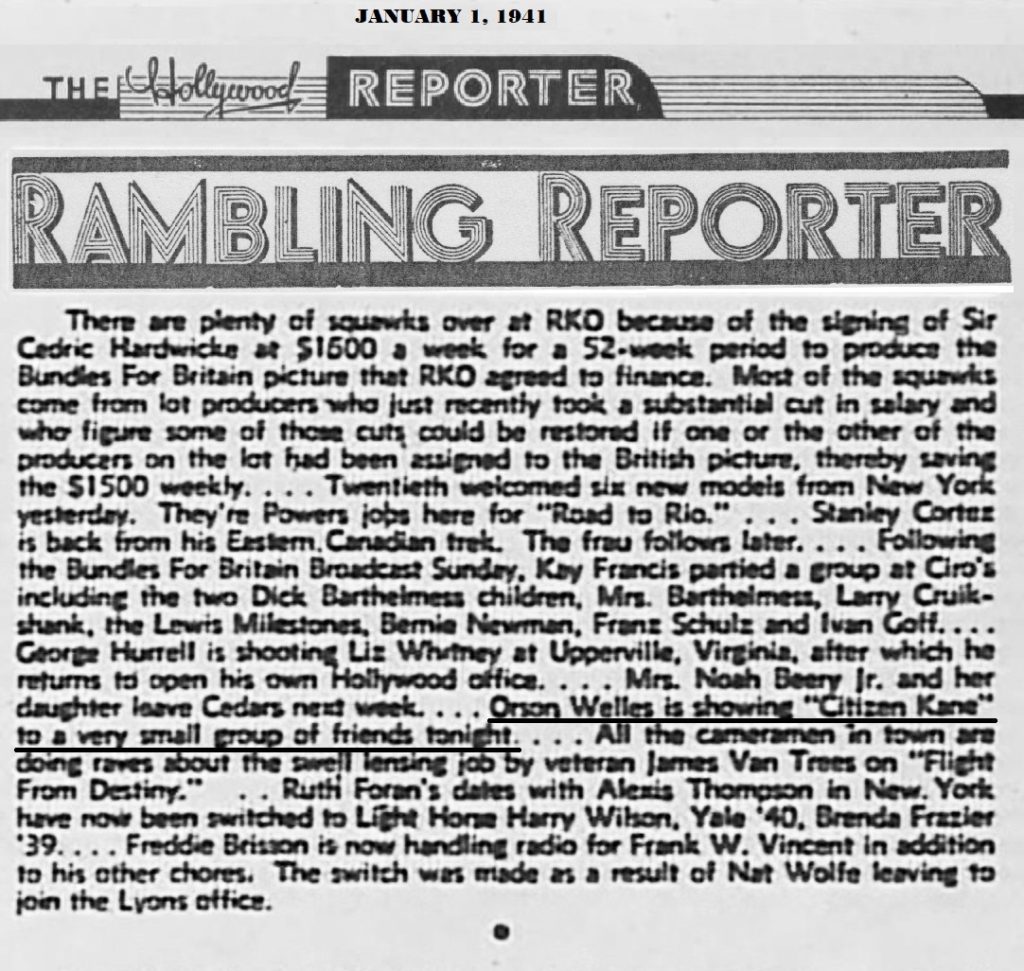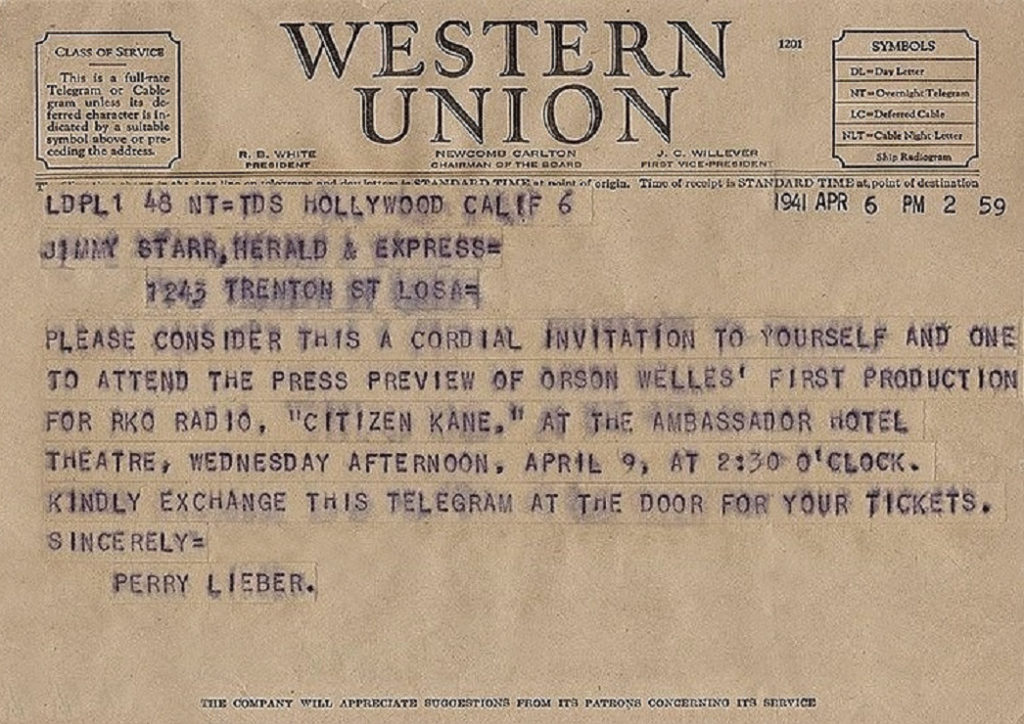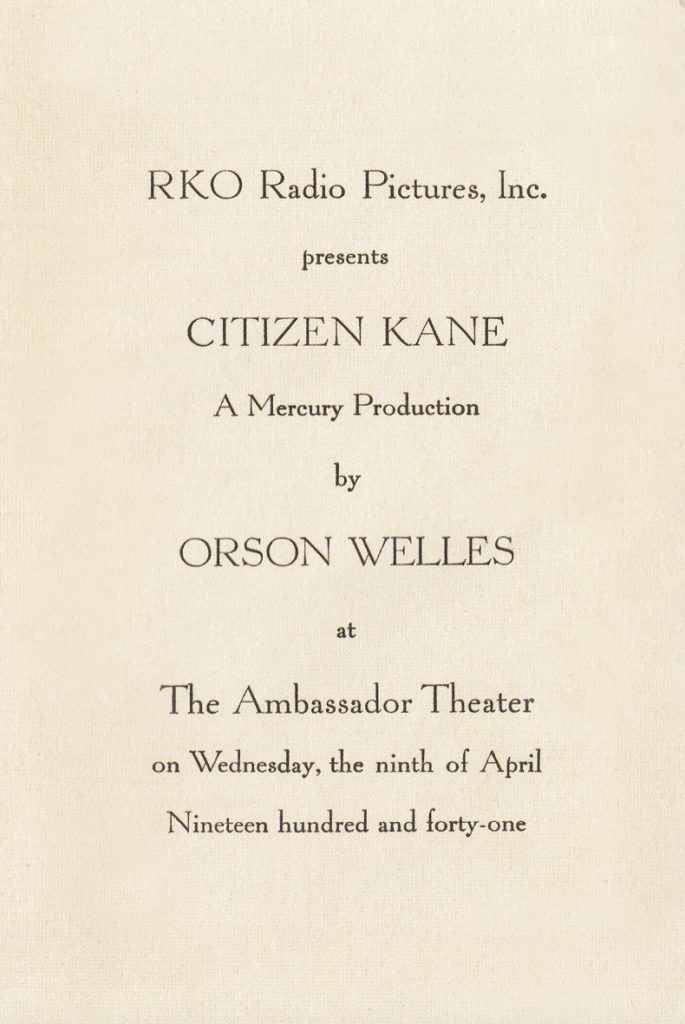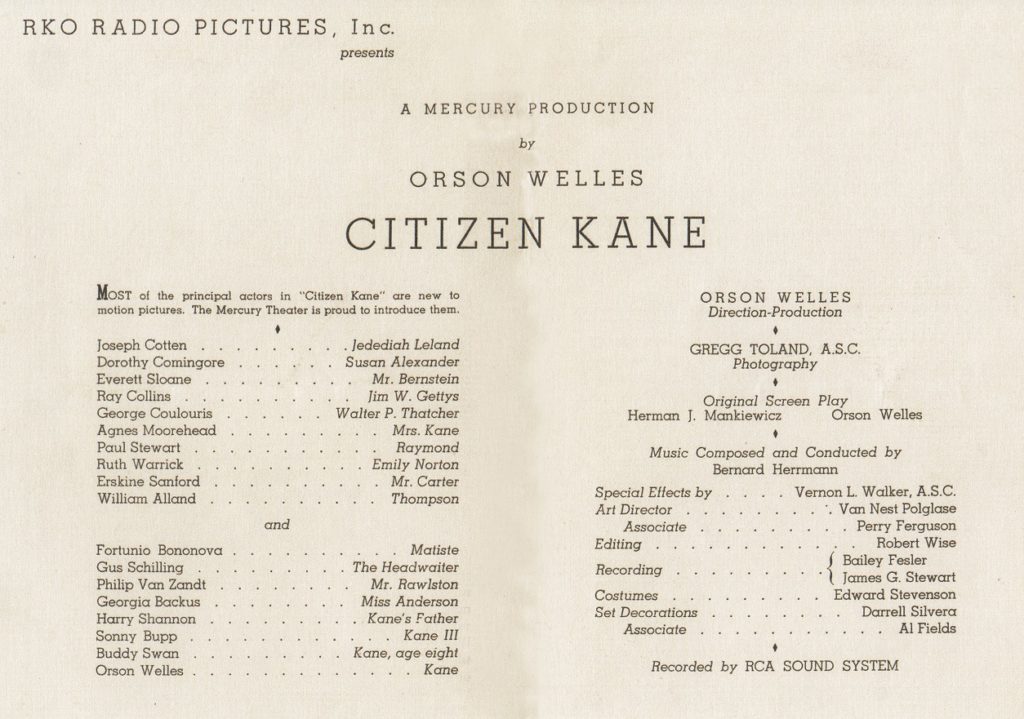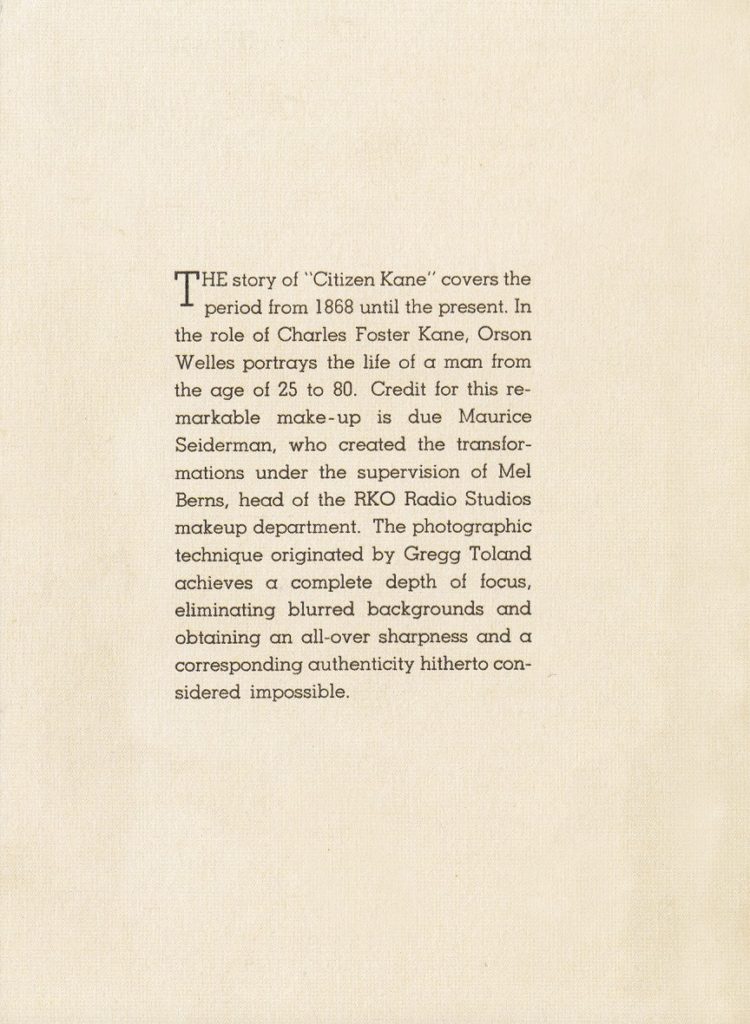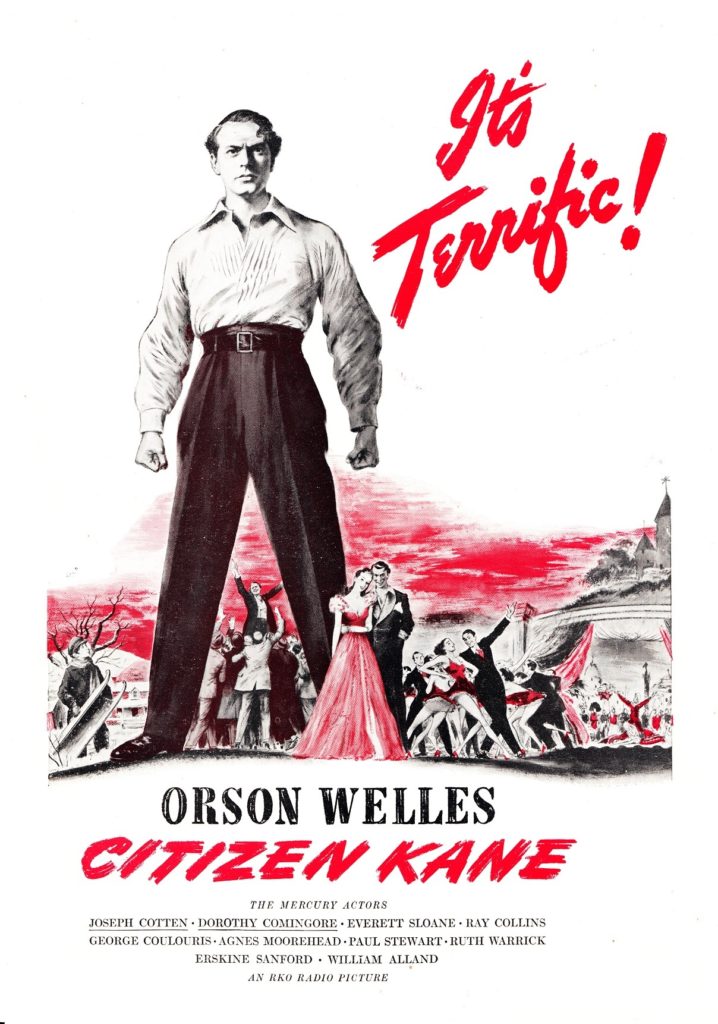 WELLES ARRIVES IN NEW YORK FOR KANE PREMIERE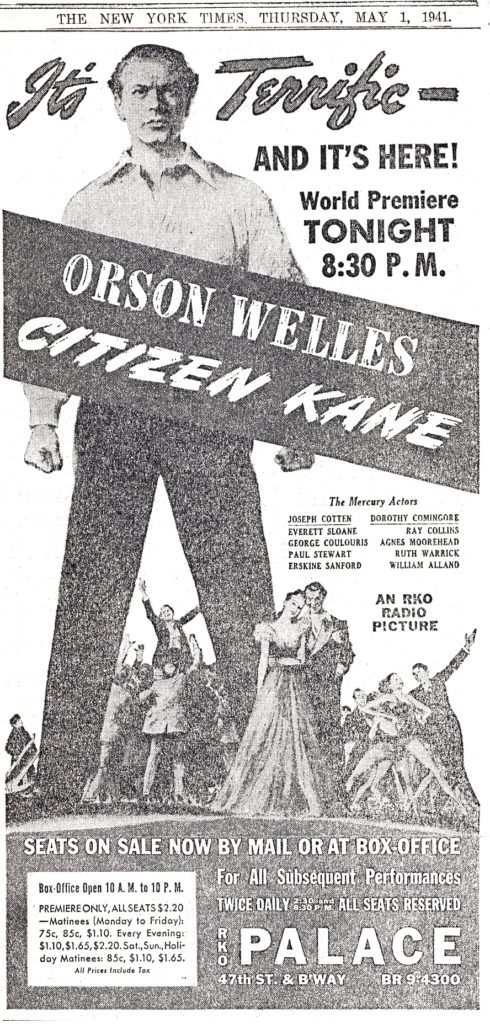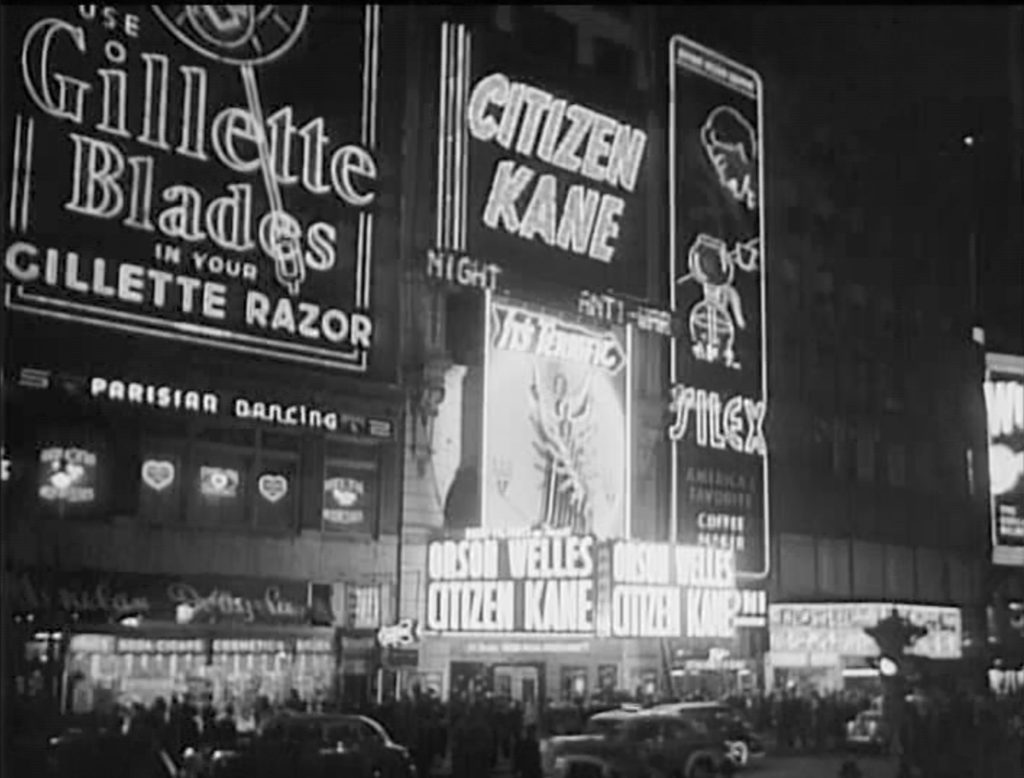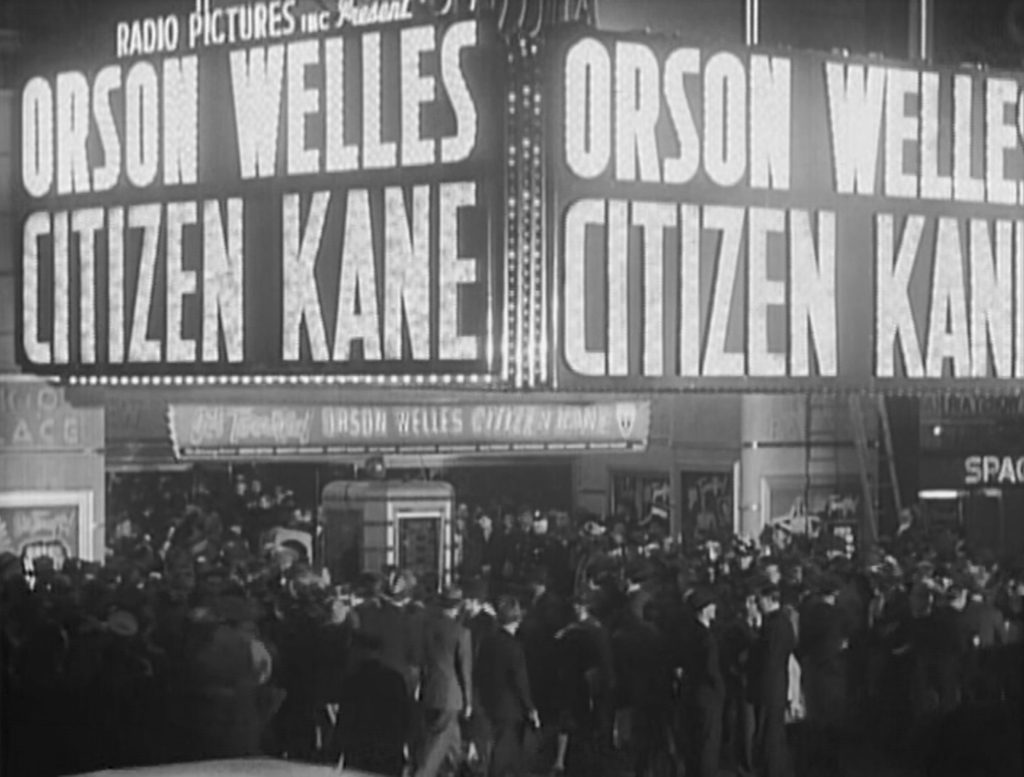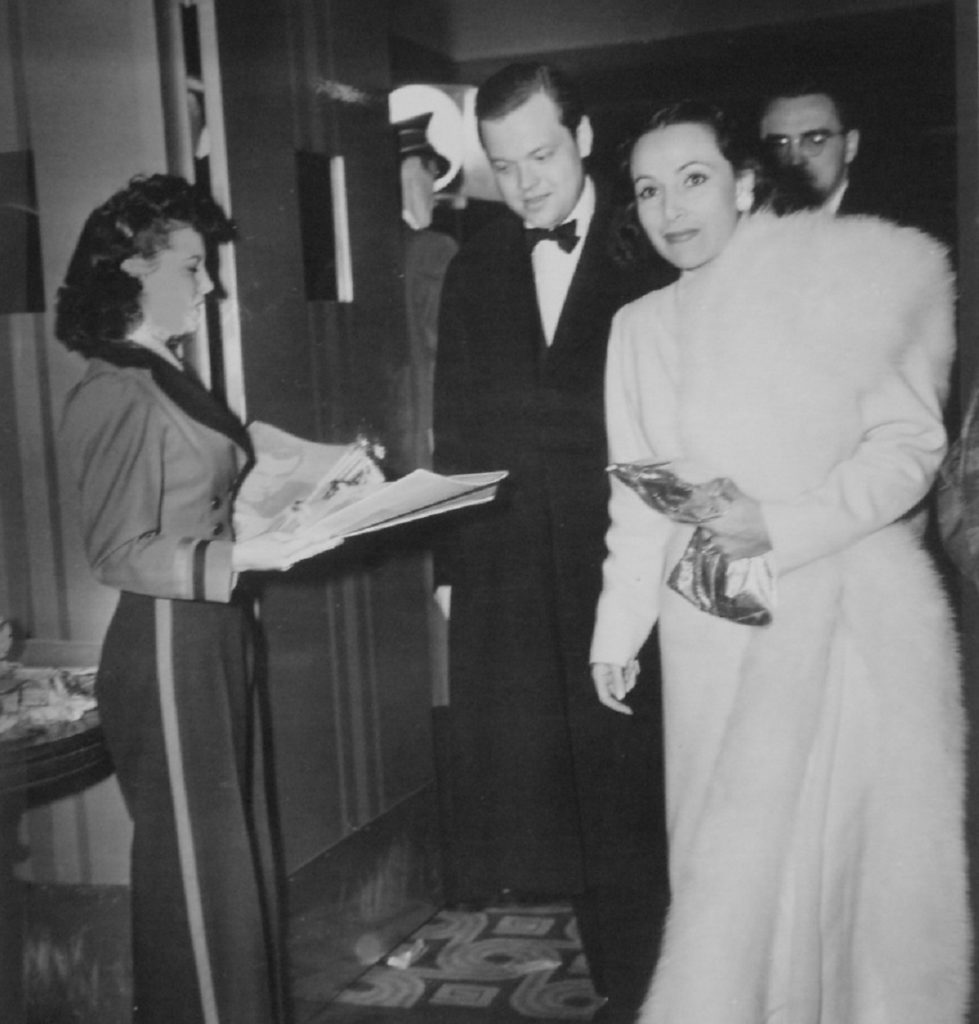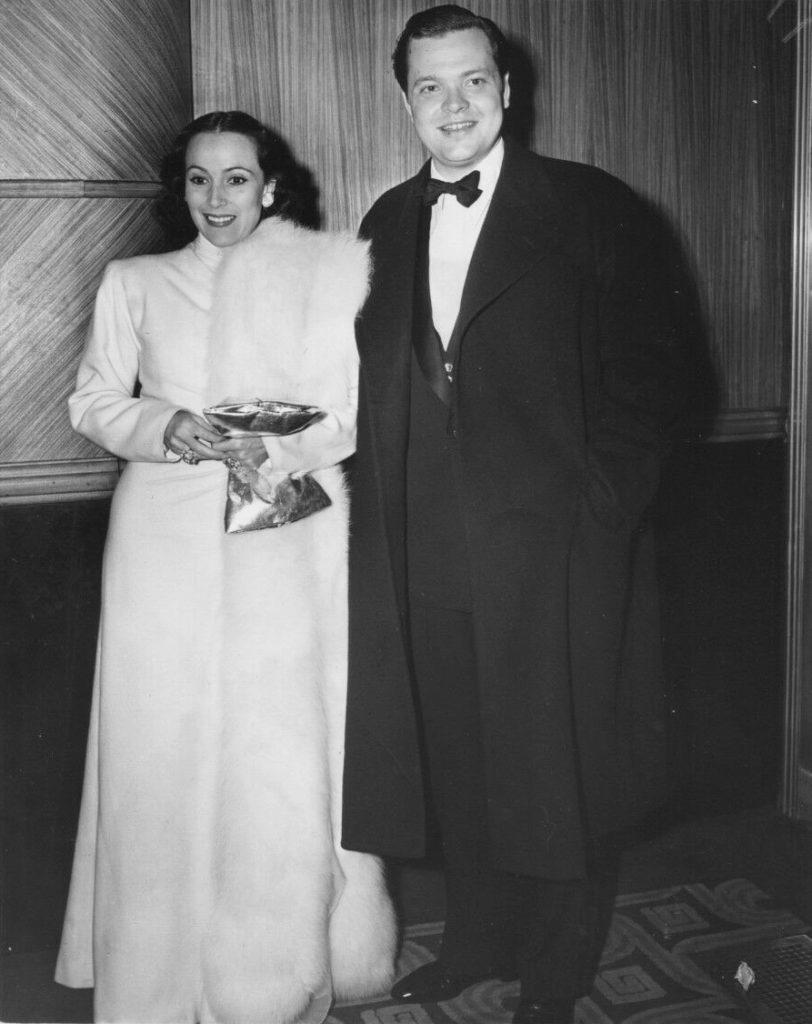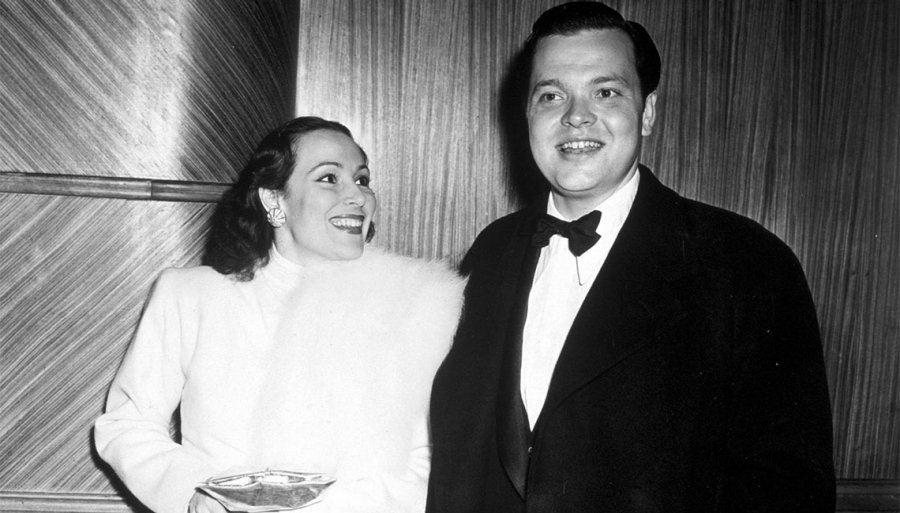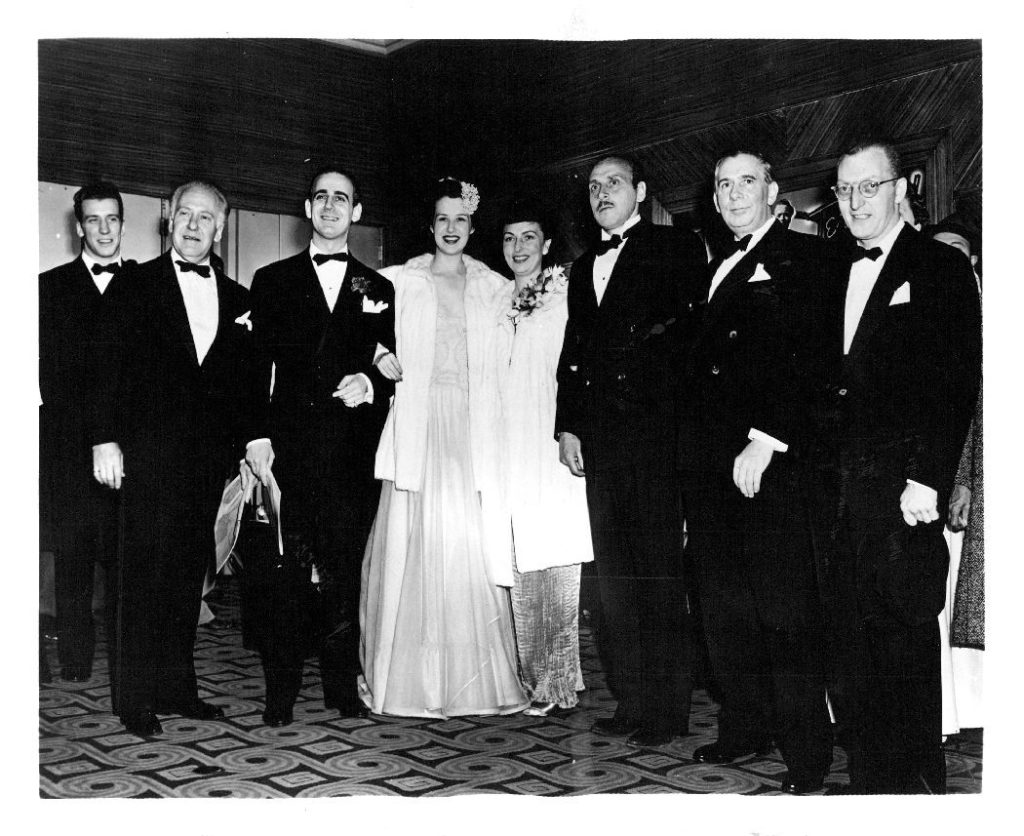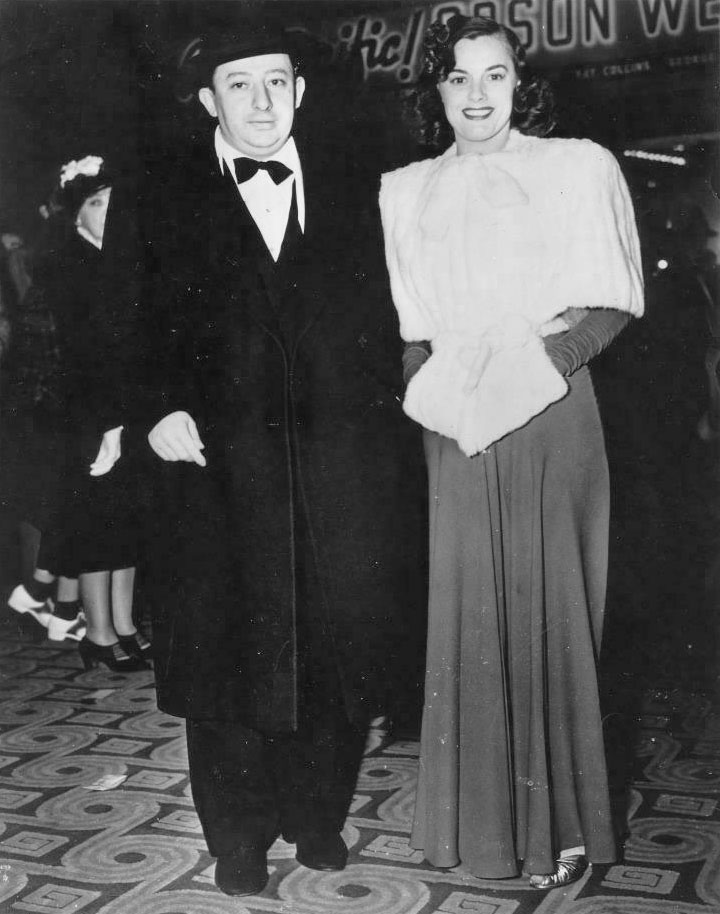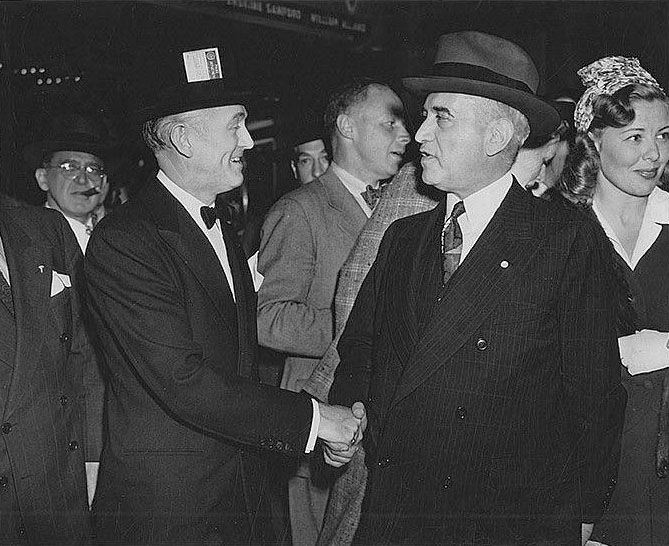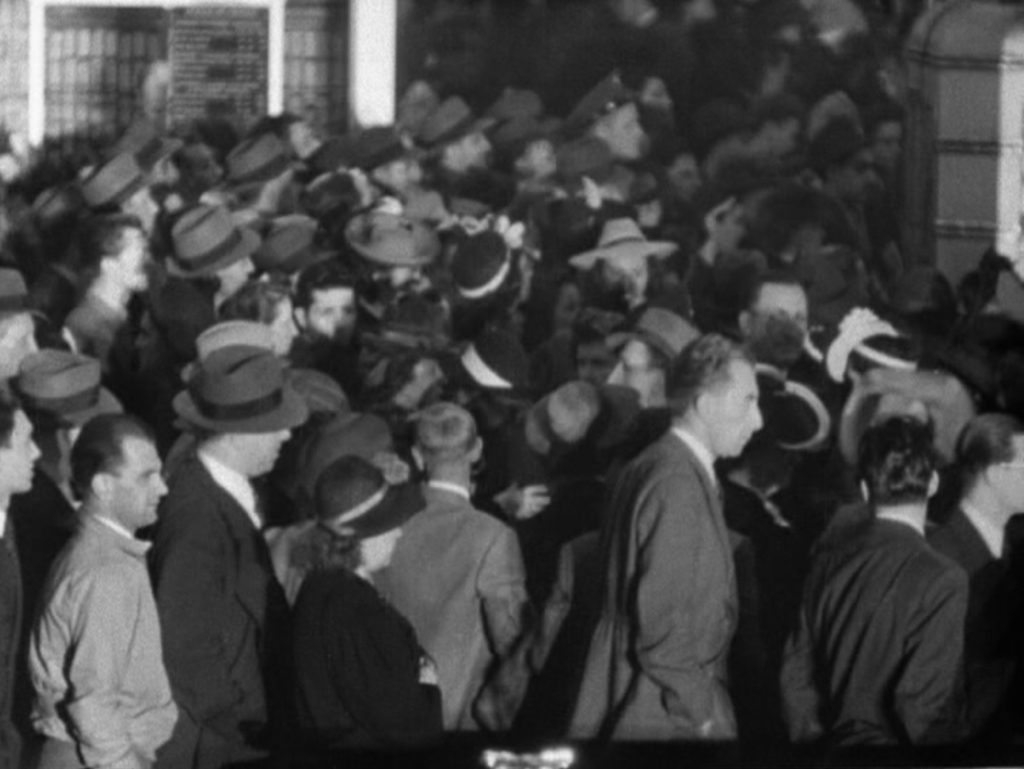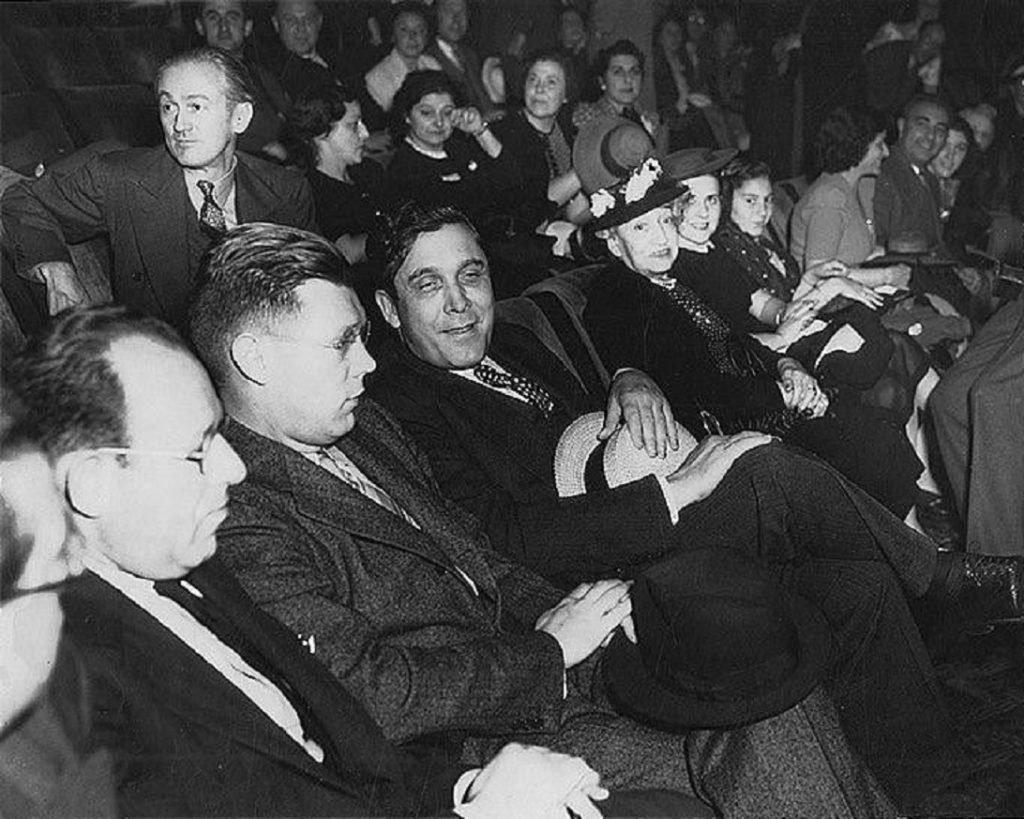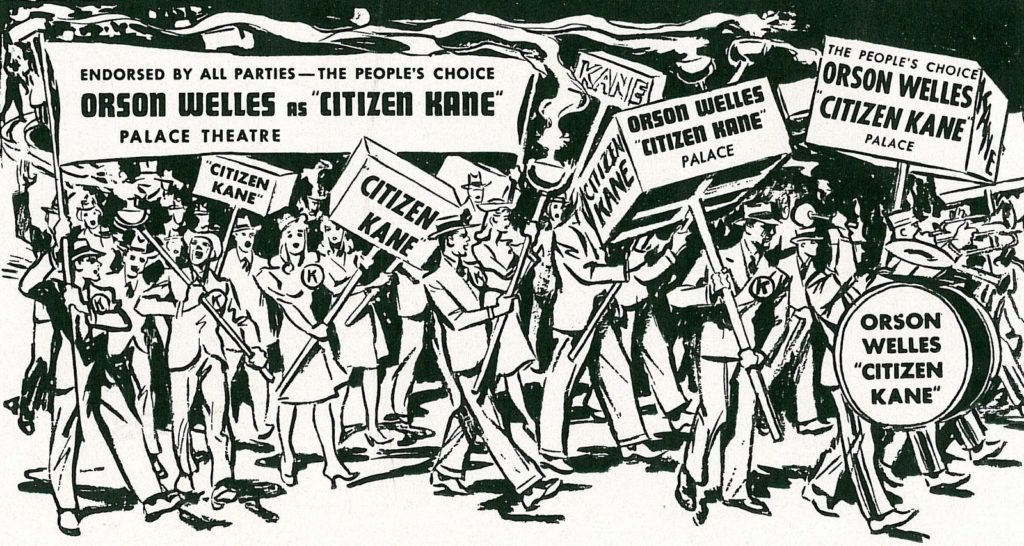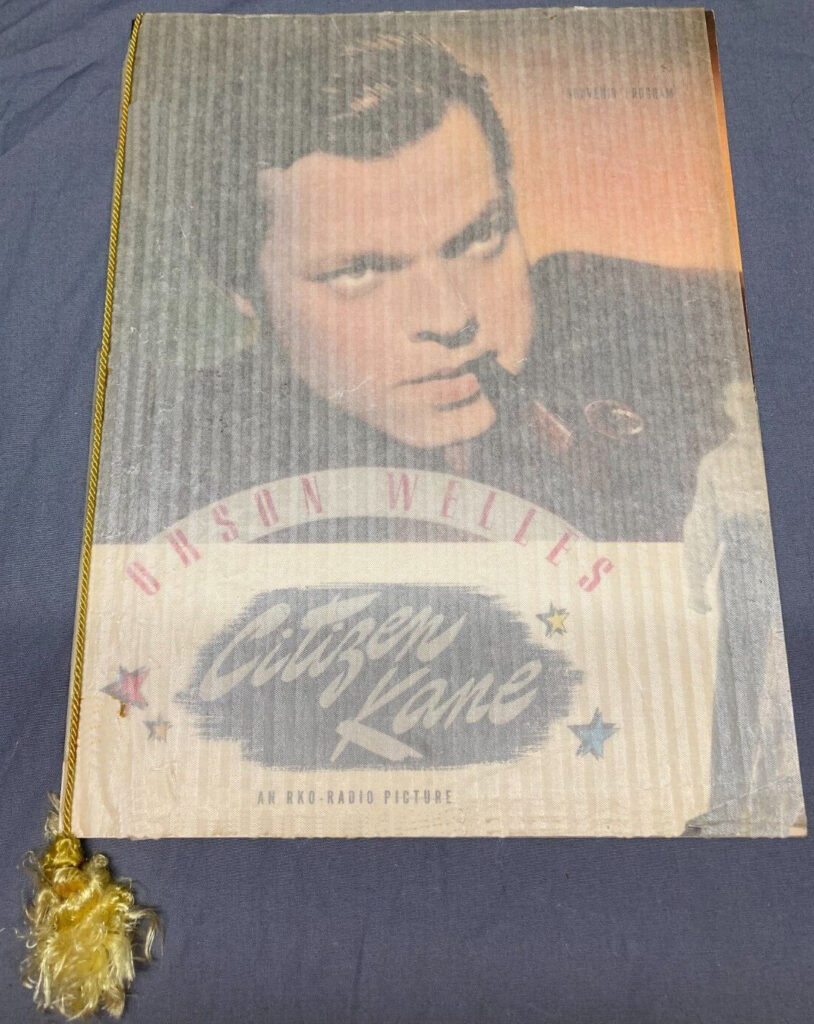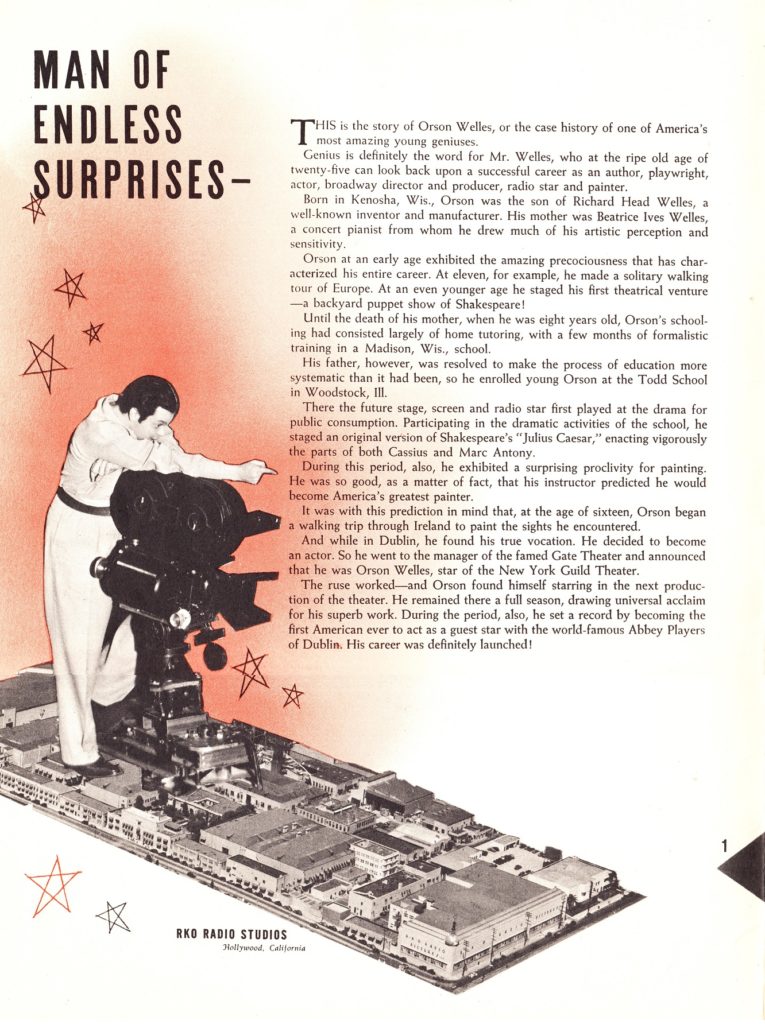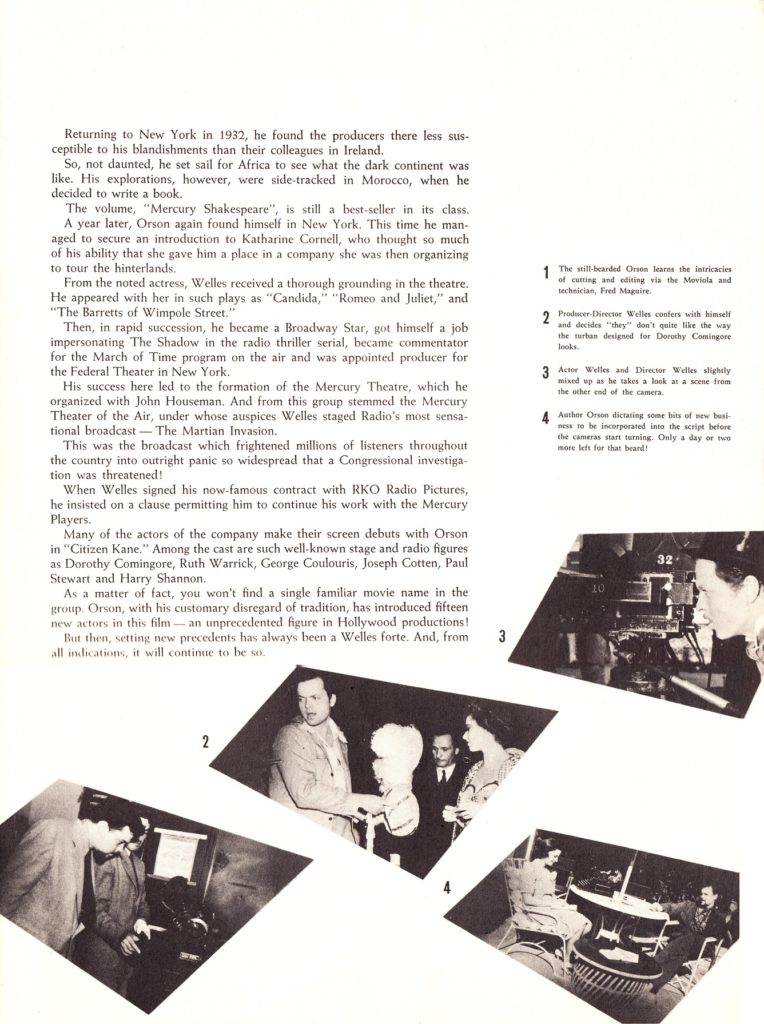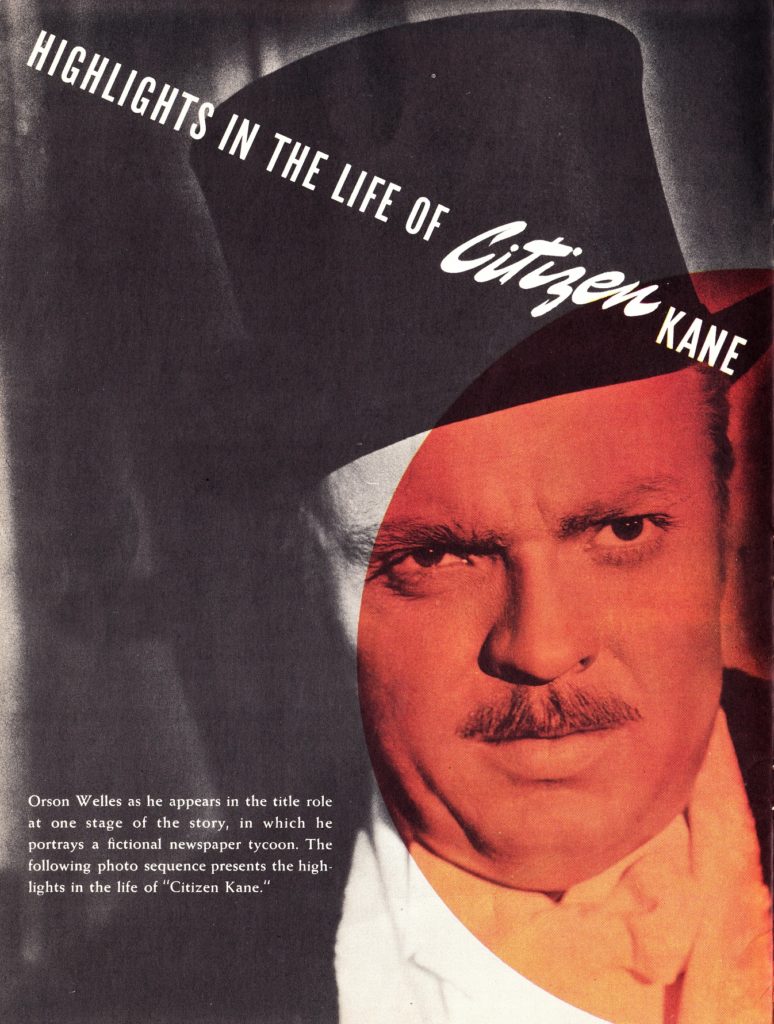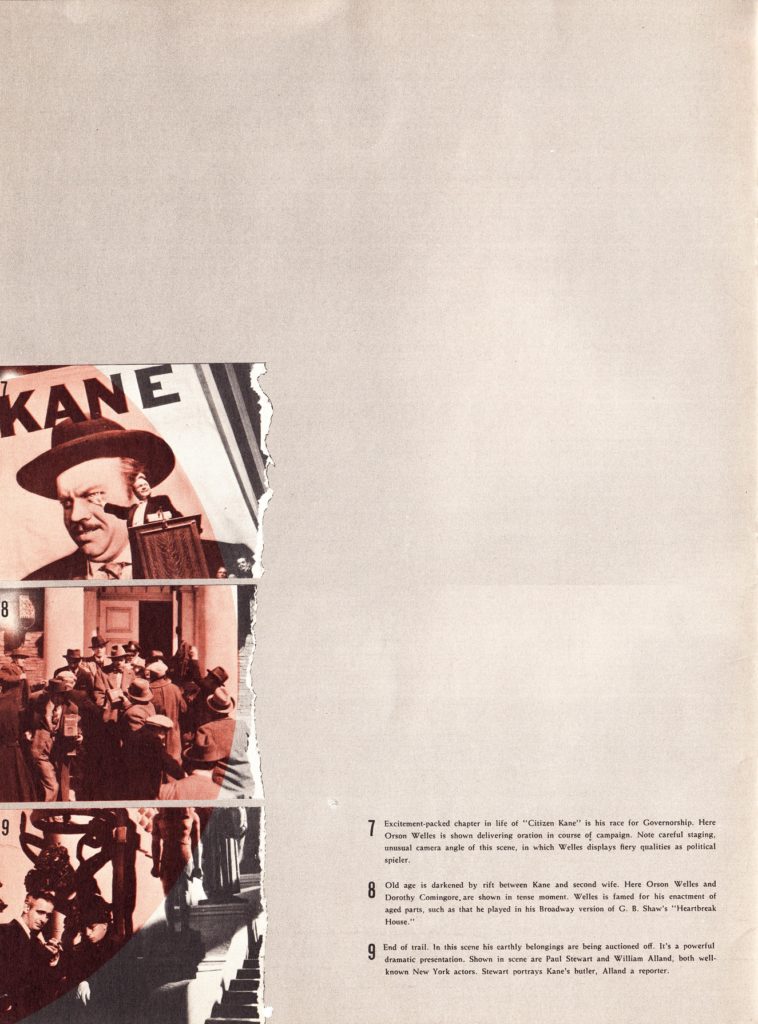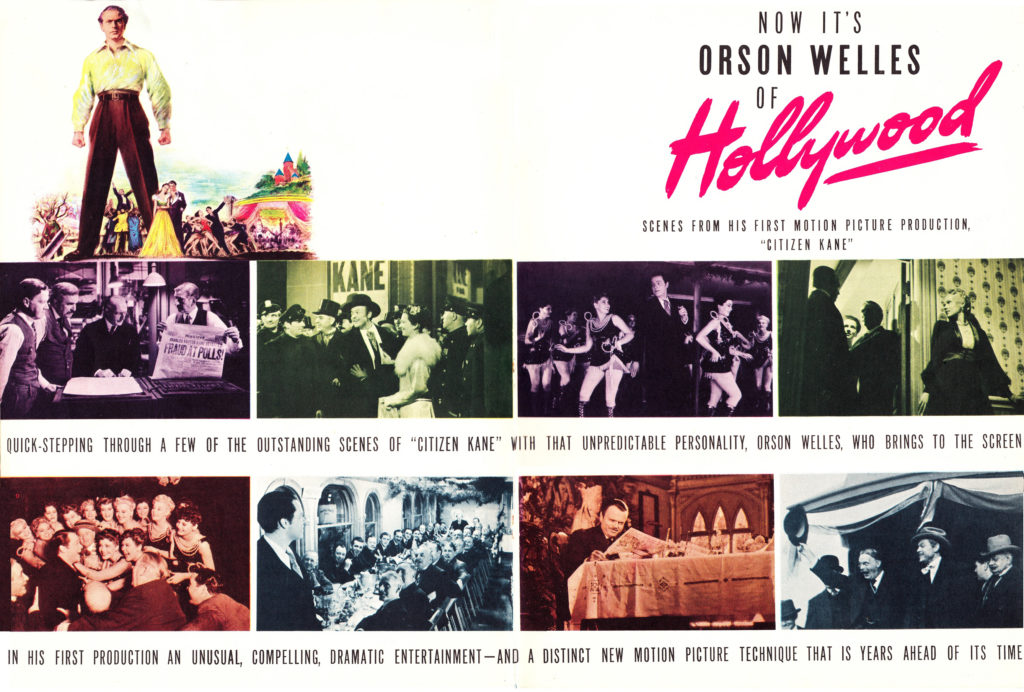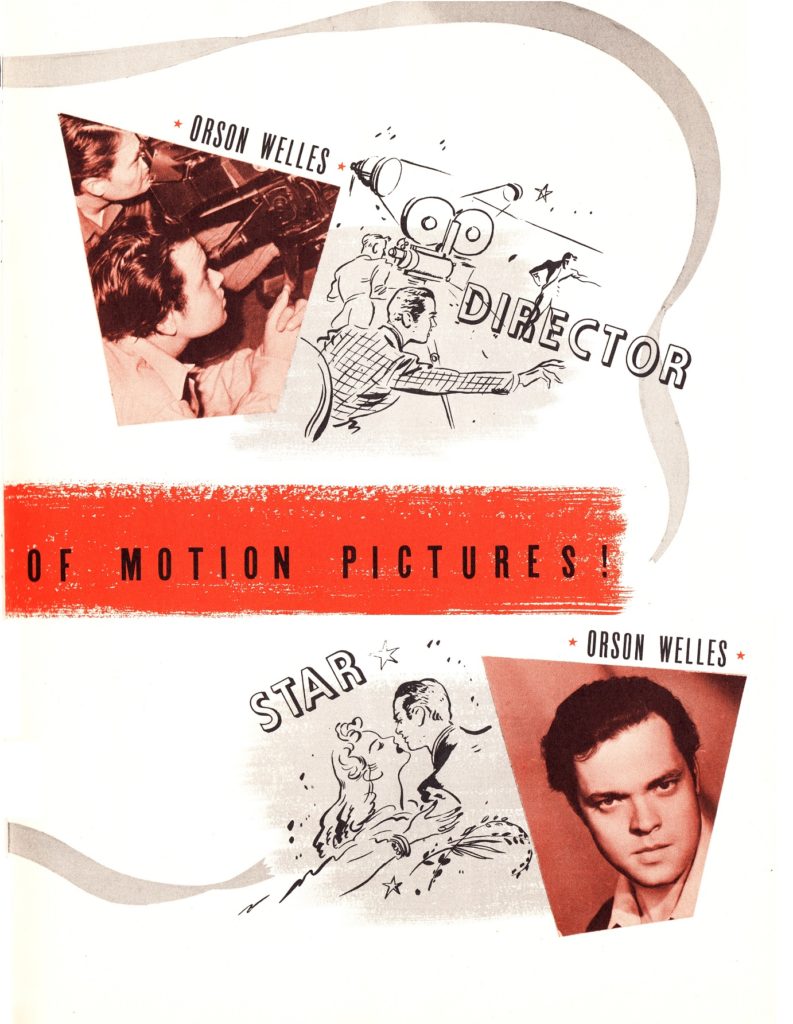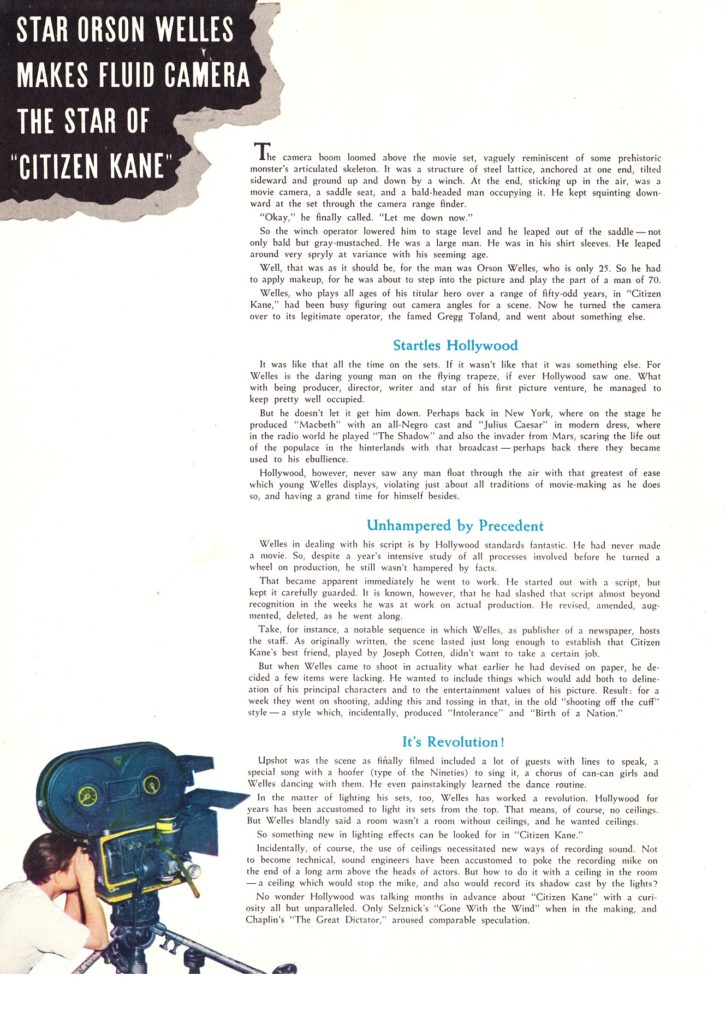 LOS ANGELES PREMIERE AT CAPITAN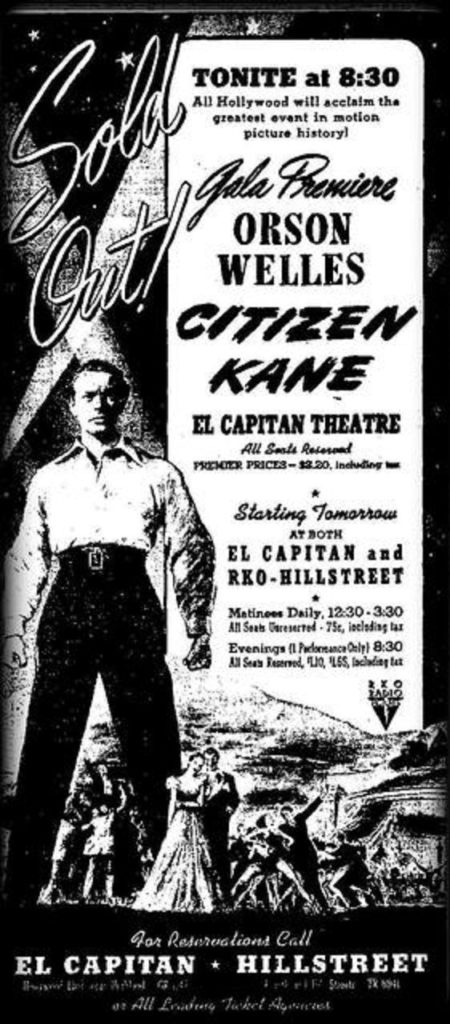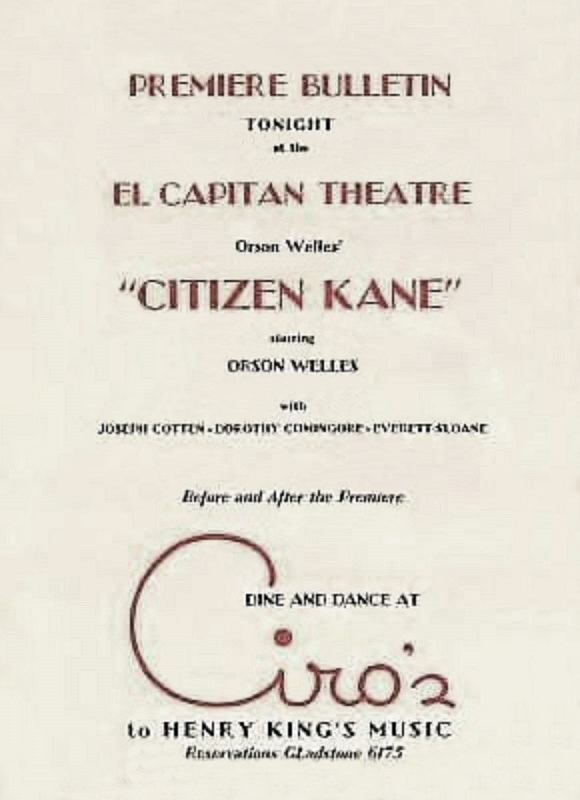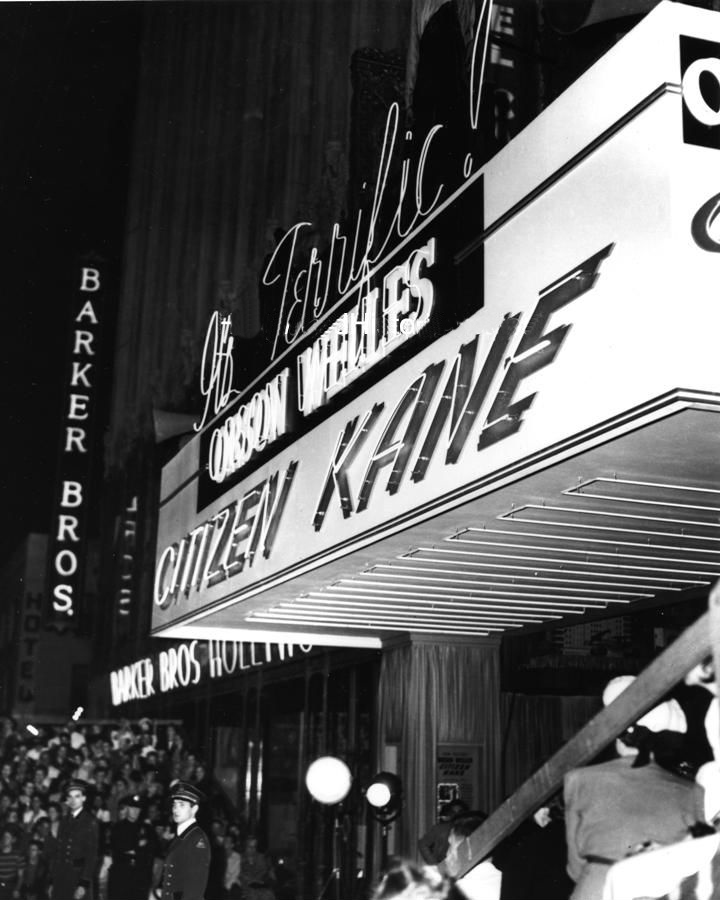 CITIZEN KANE CHICAGO PREMIERE AT WOODS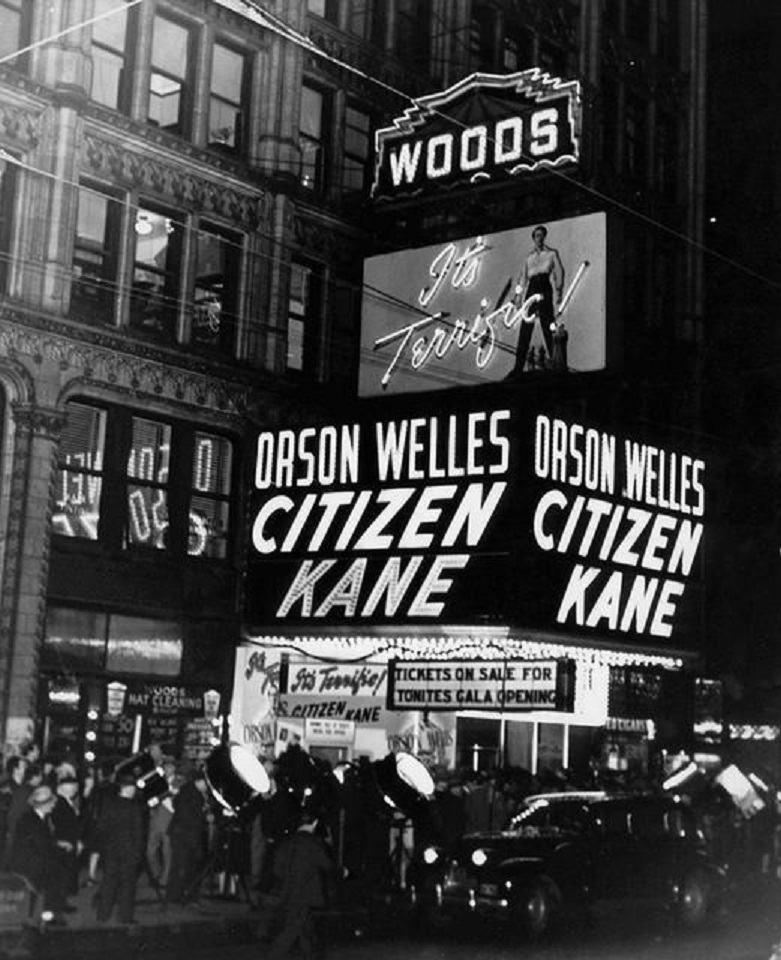 CITIZEN KANE WASHINGTON PREMIERE AT KEITH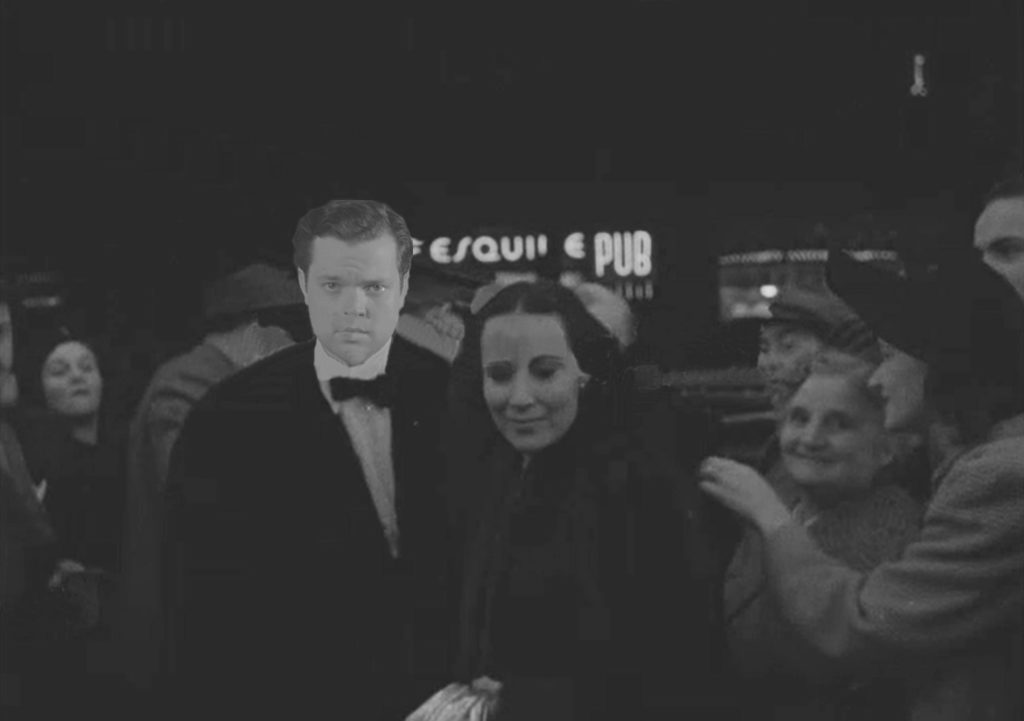 CITIZEN KANE BOSTON PREMERE AT MAJESTIC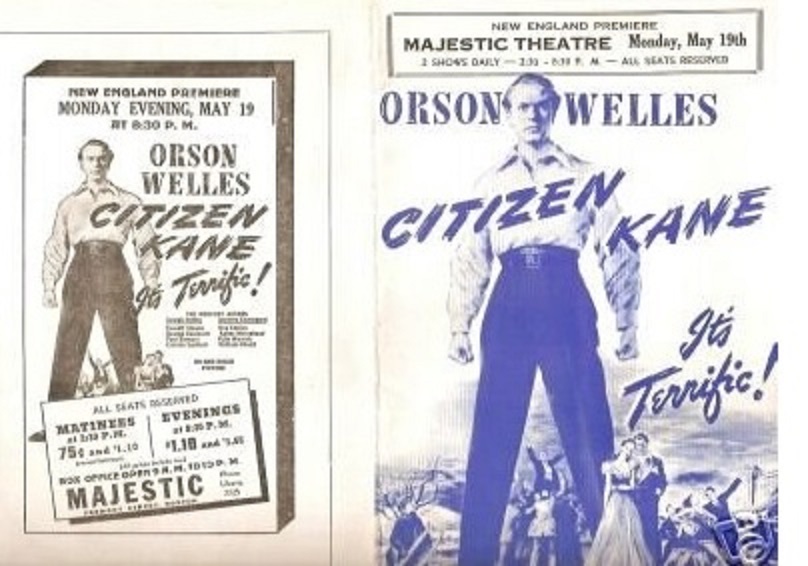 CITIZEN KANE'S SAN FRANCISCO ROADSHOW ENGAGEMENT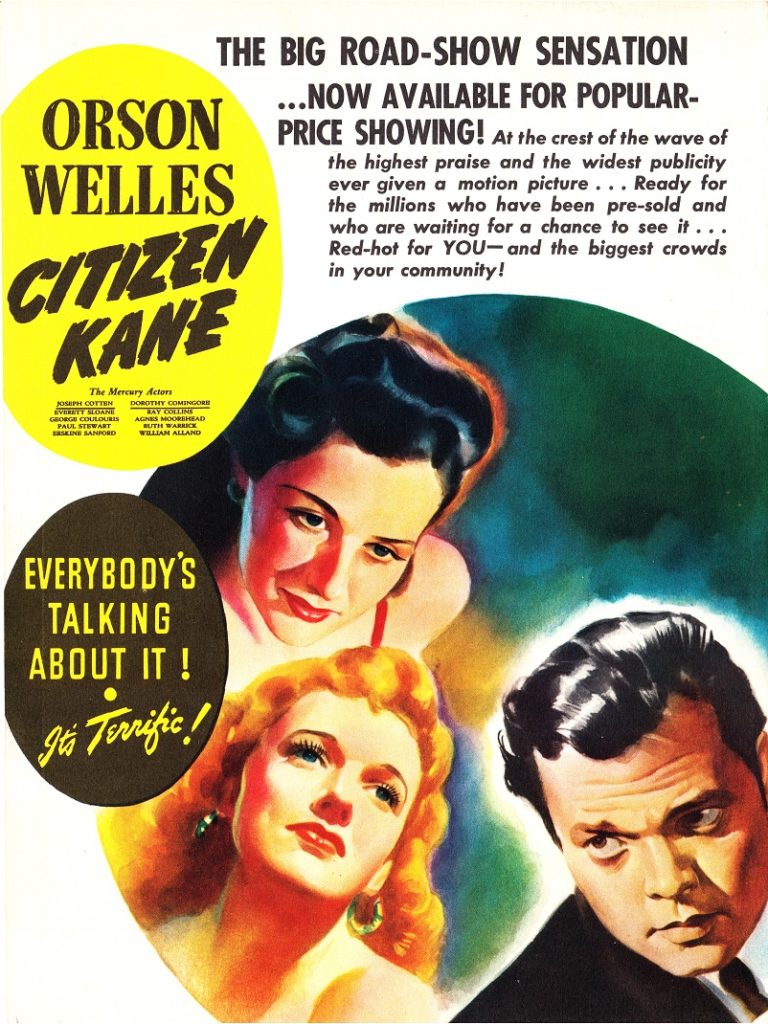 SAN FRANCISO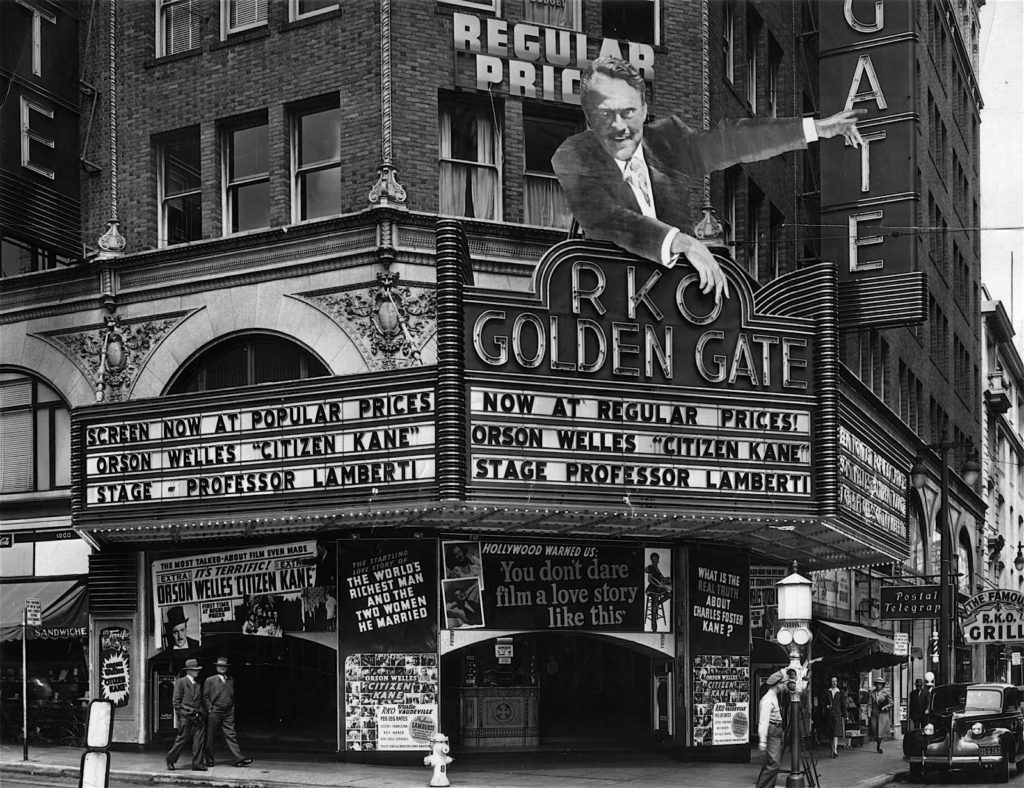 NEW YORK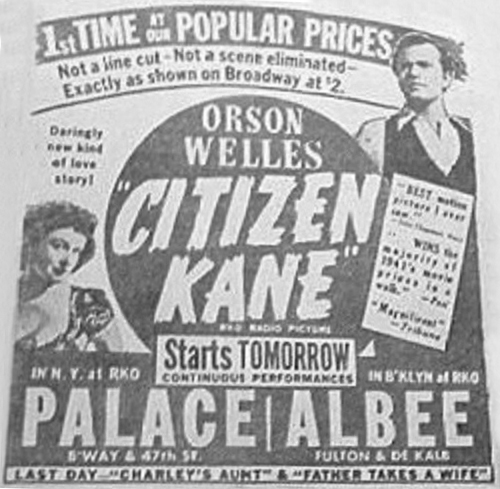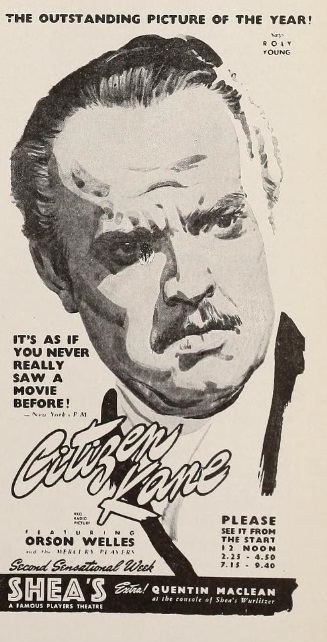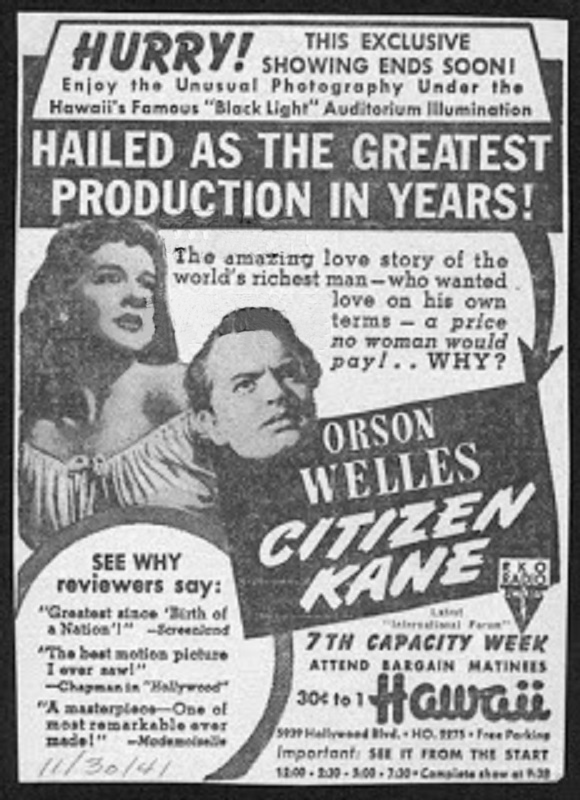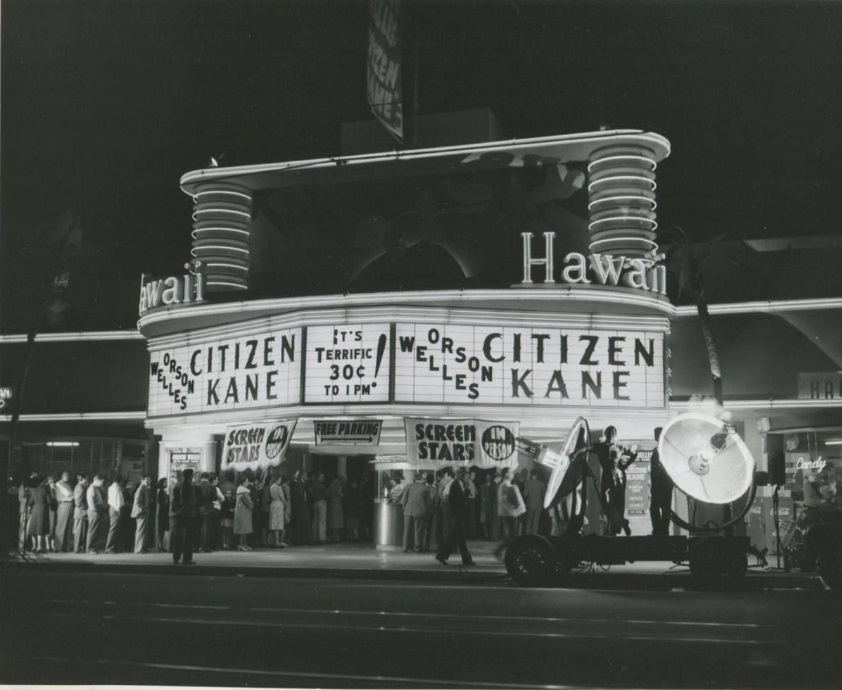 LOS ANGELES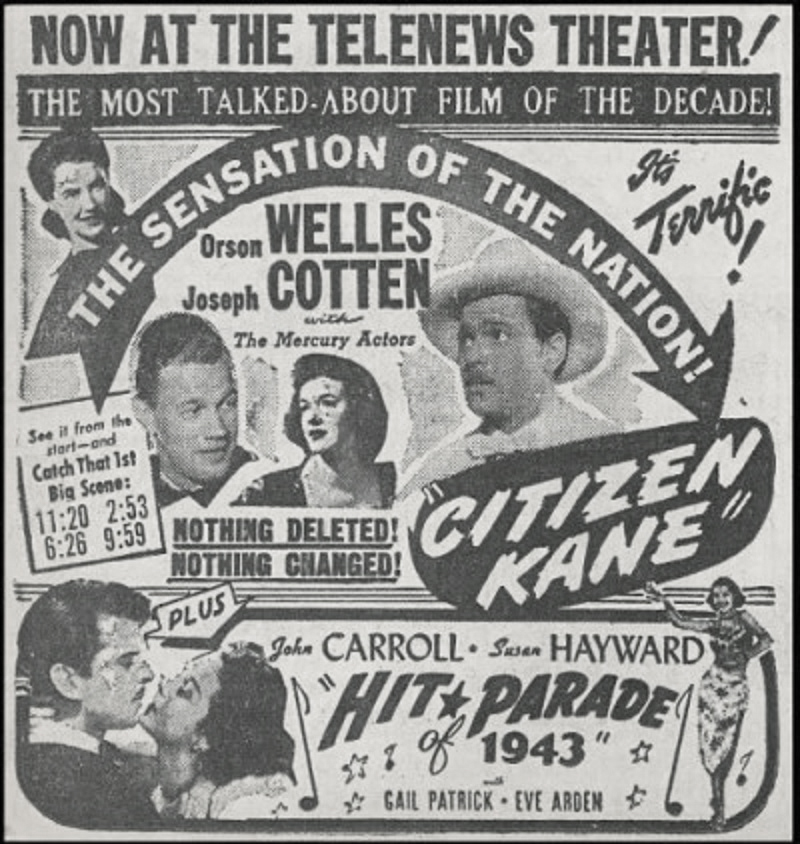 THE MOTION PICTURE HERALD: WHAT THE PICTURE DID FOR ME
__________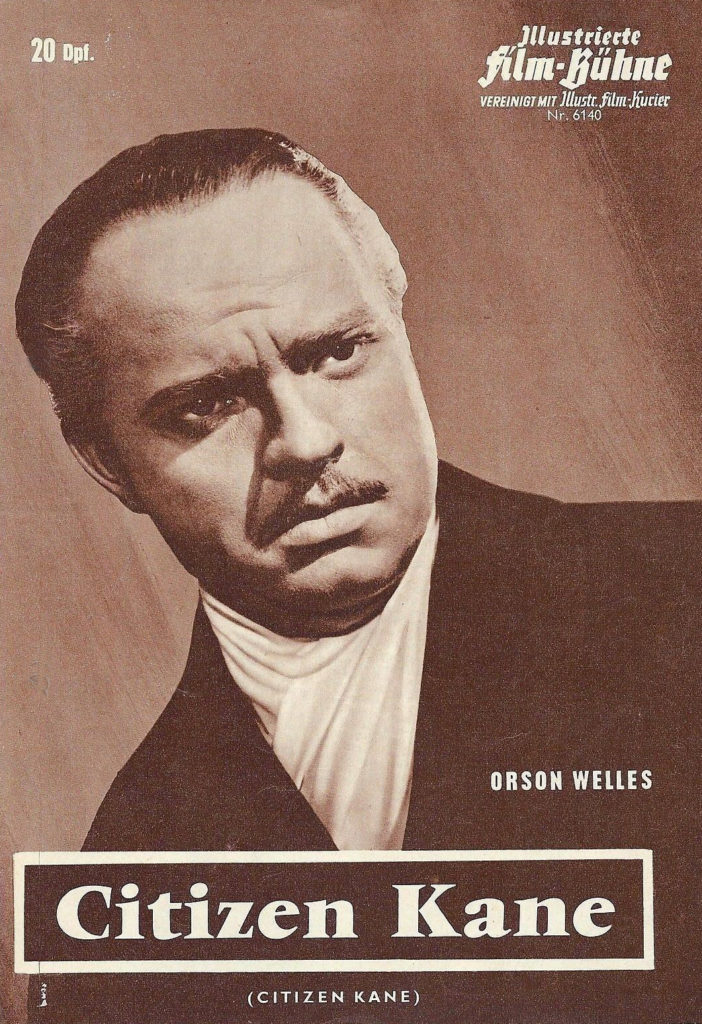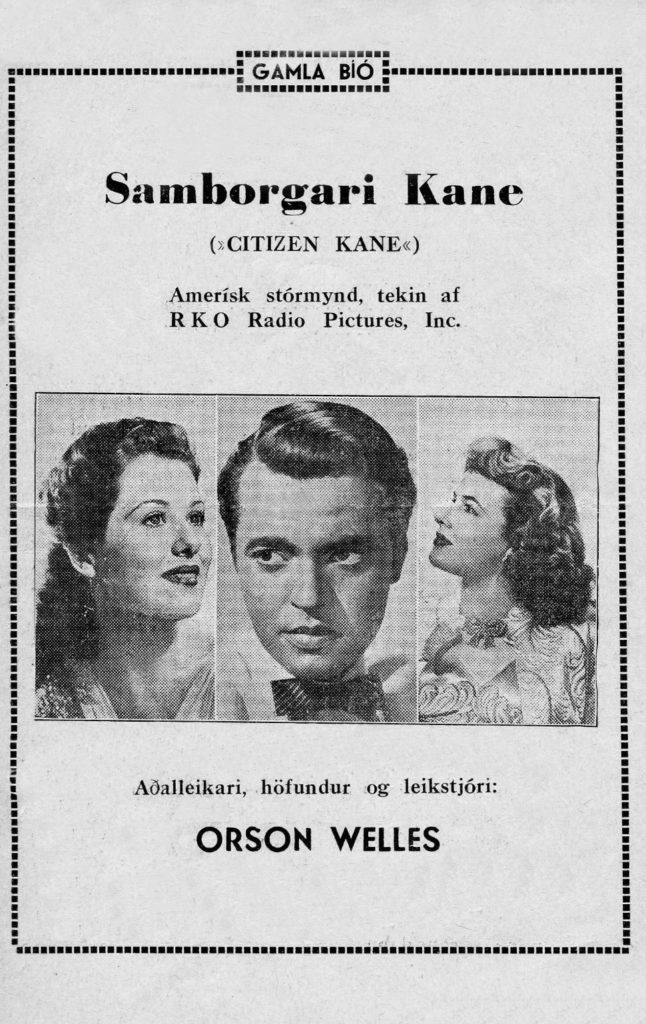 EUROPEAN RELEASE
__________
1956 THEATRICAL RE-RELEASE
__________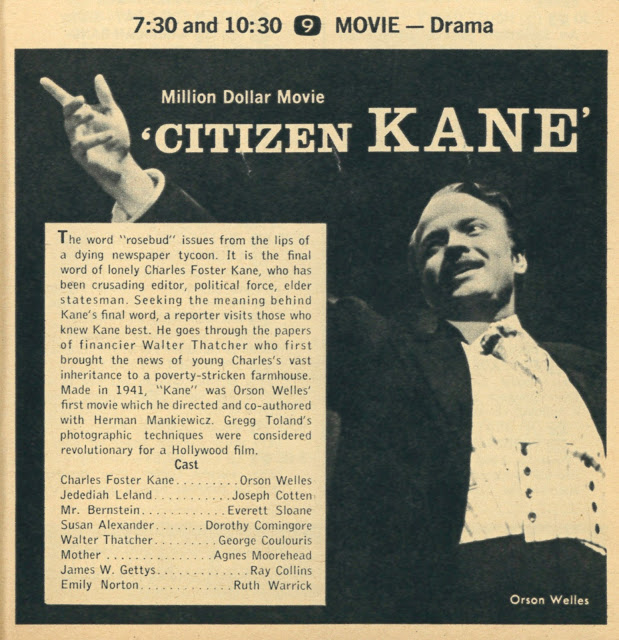 1958 NEW YORK TELEVSION PREMIERE
__________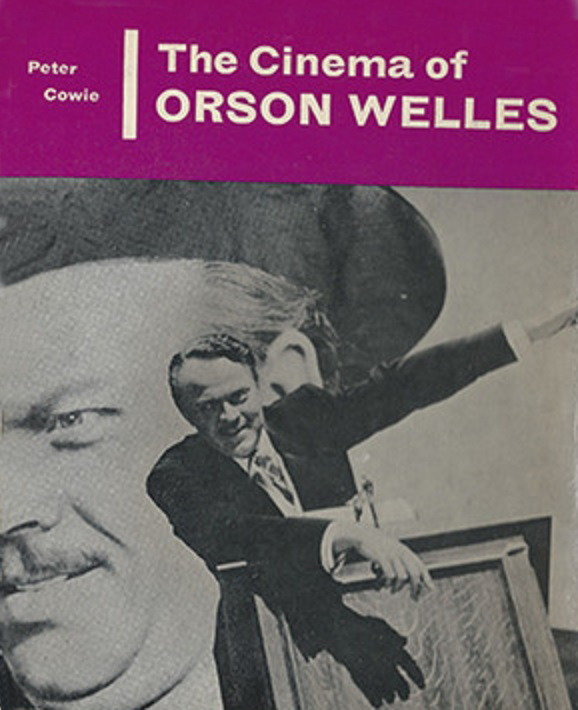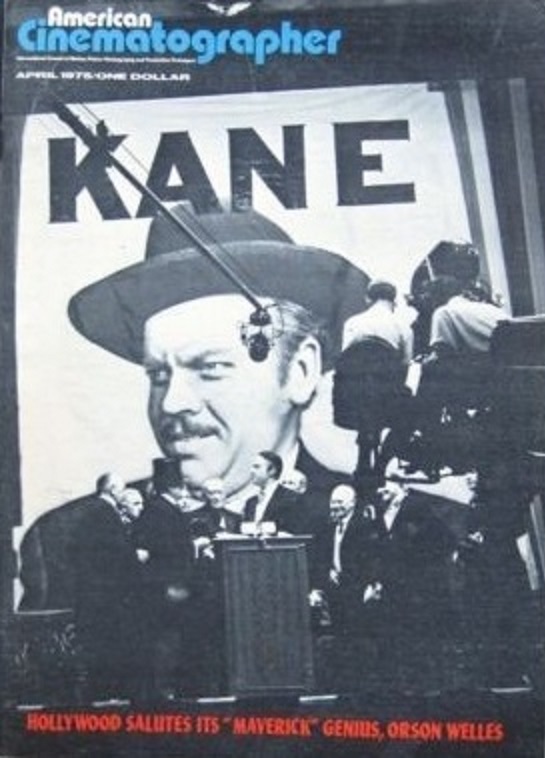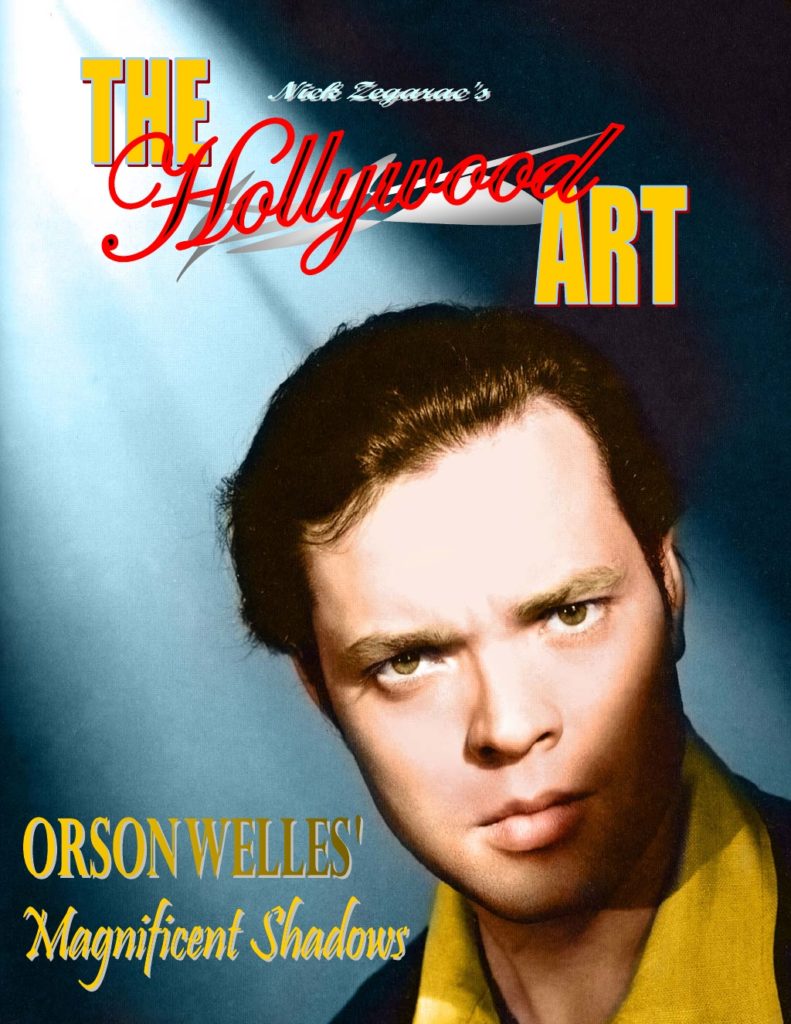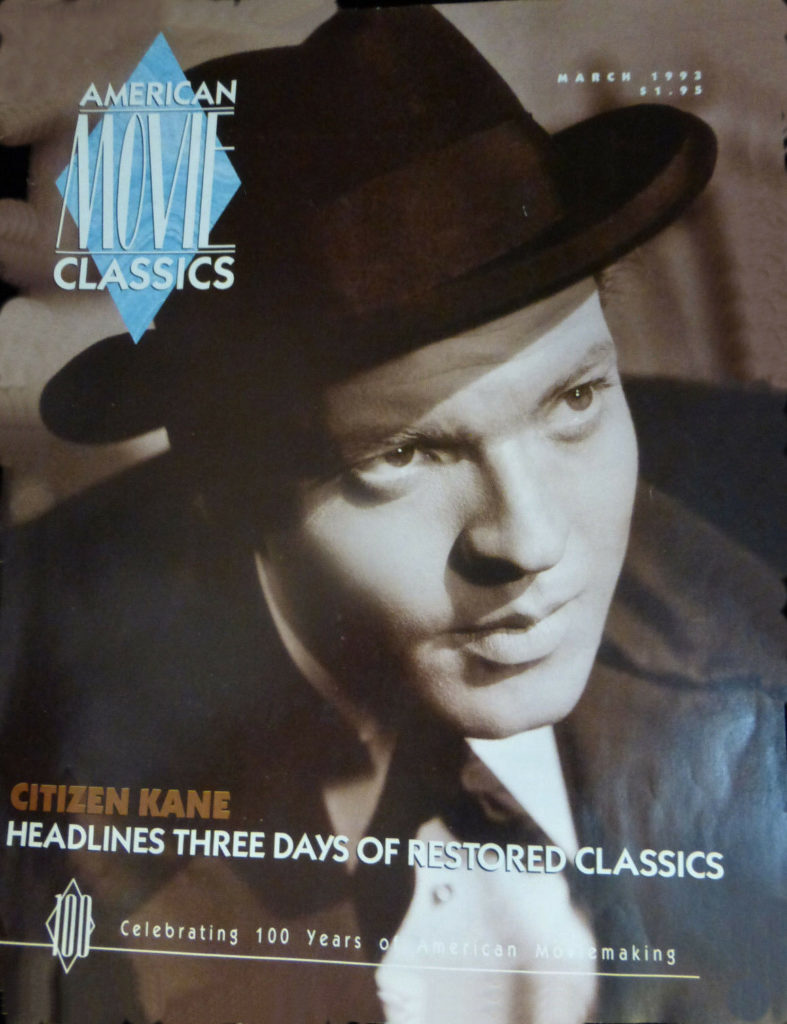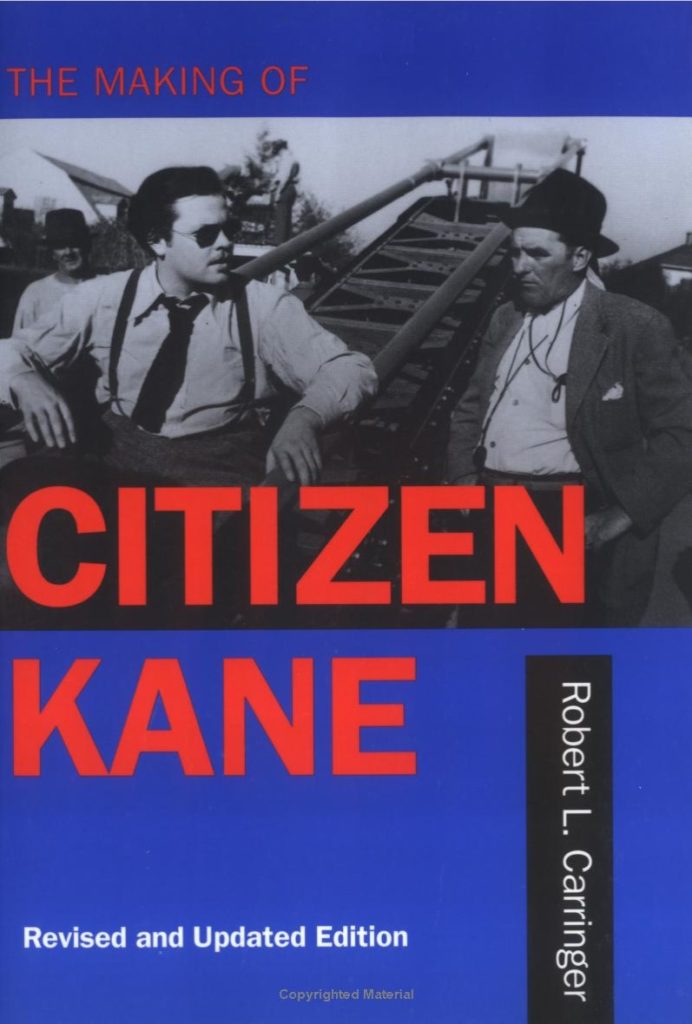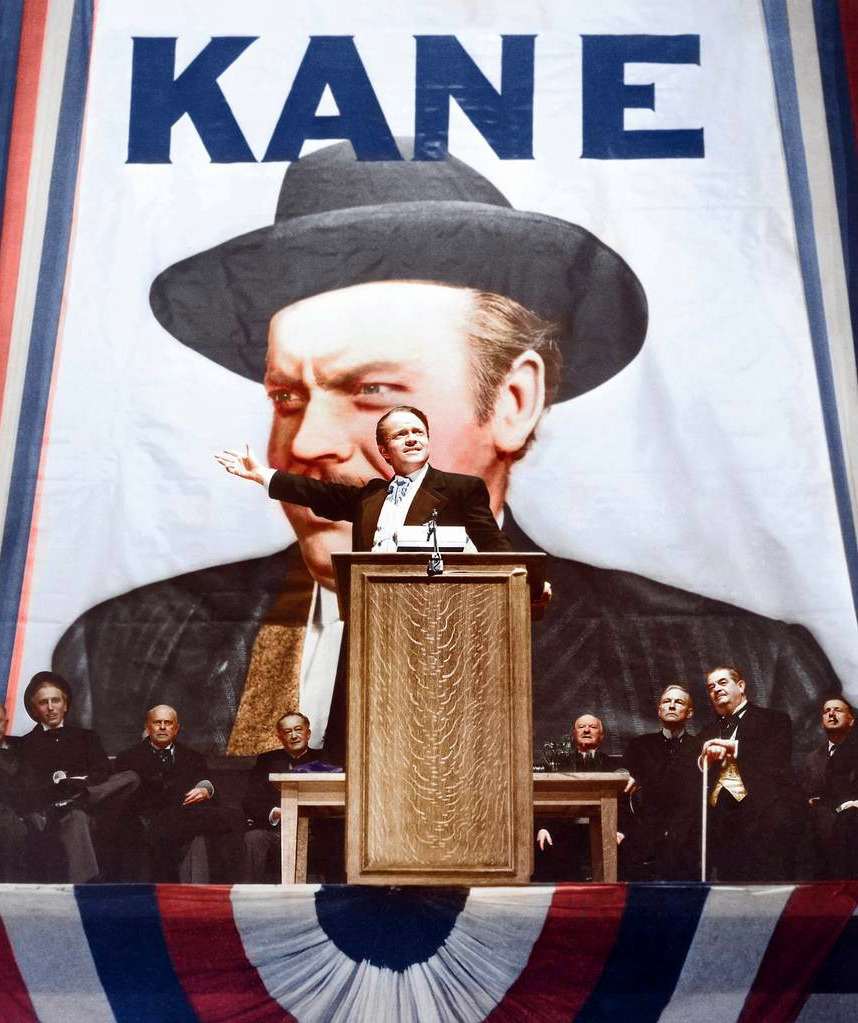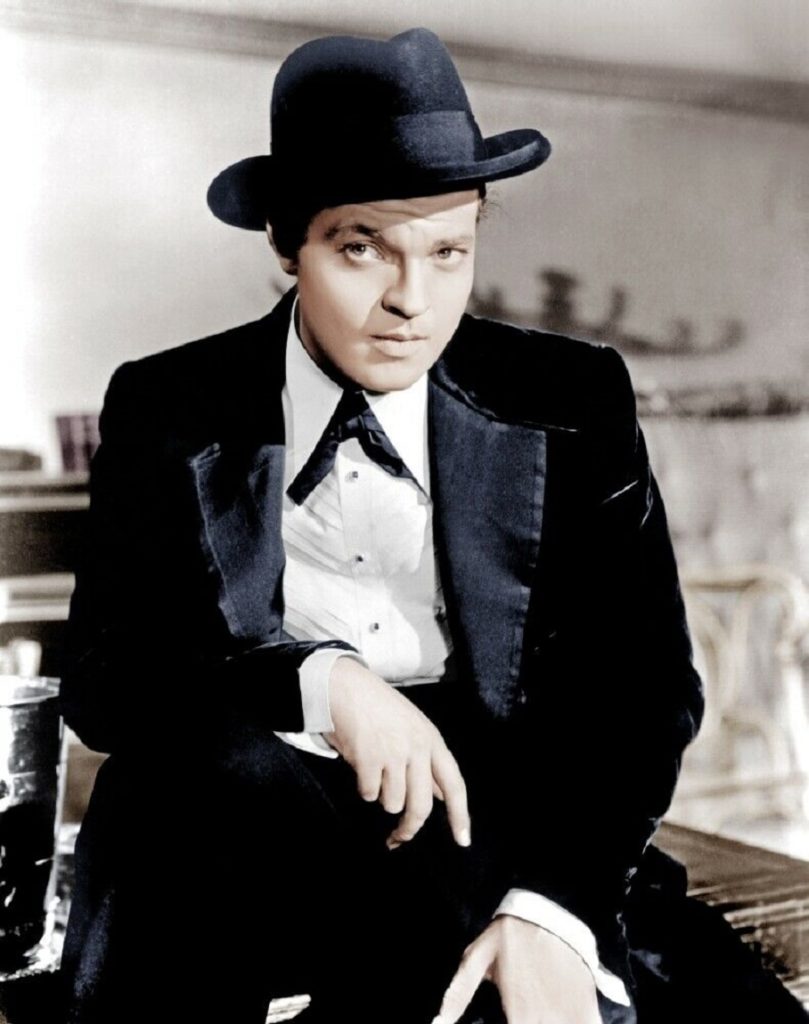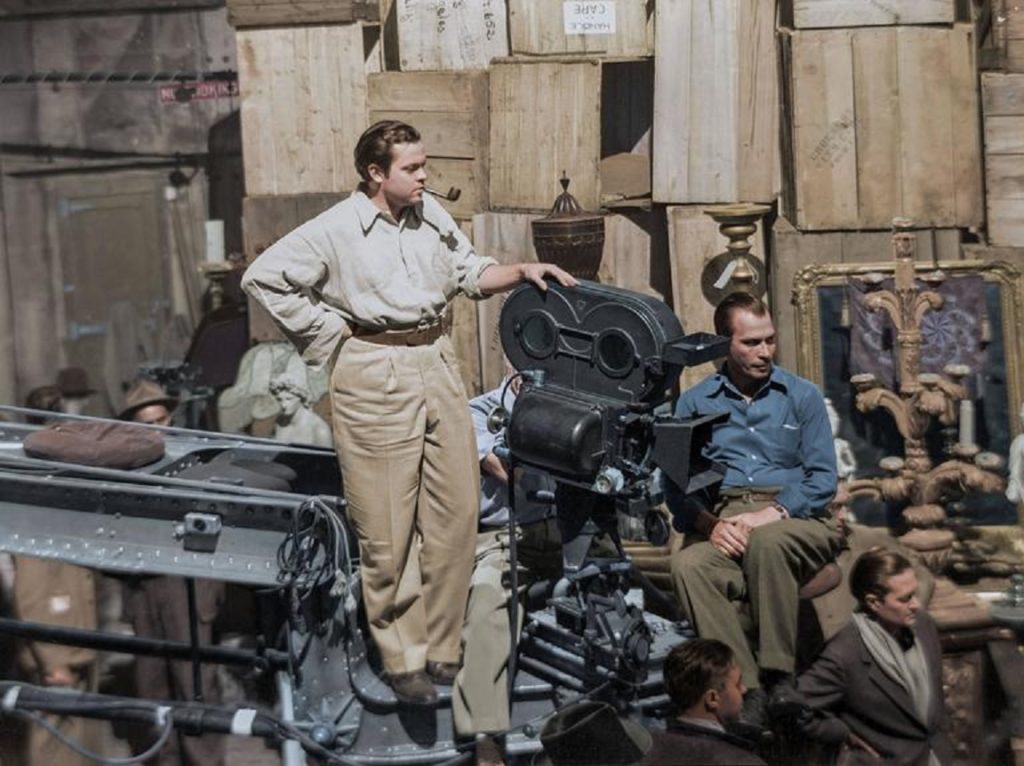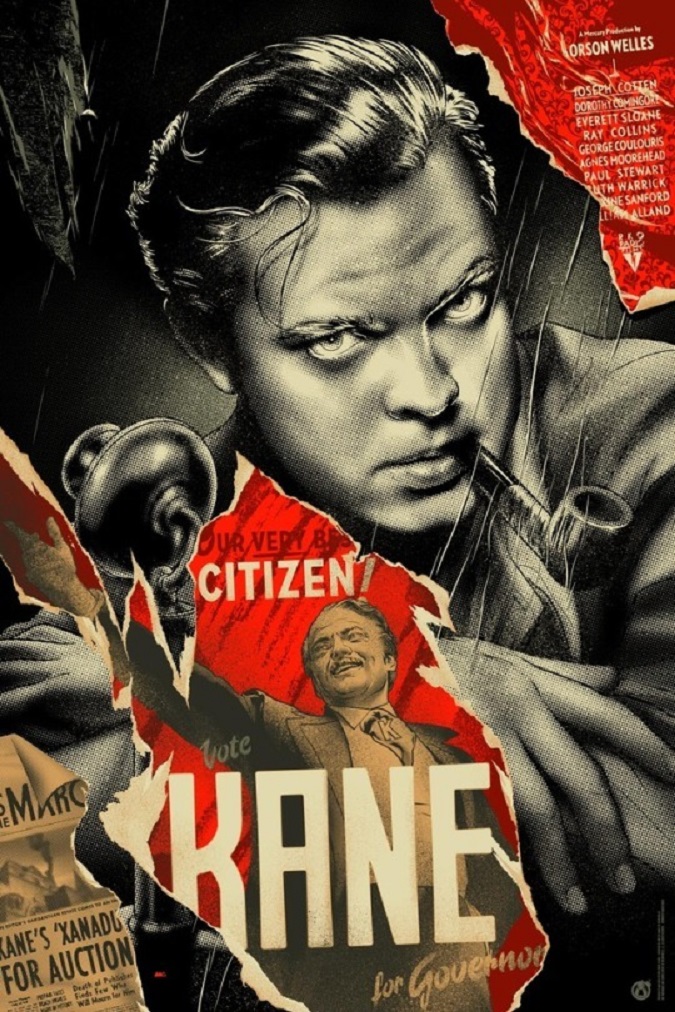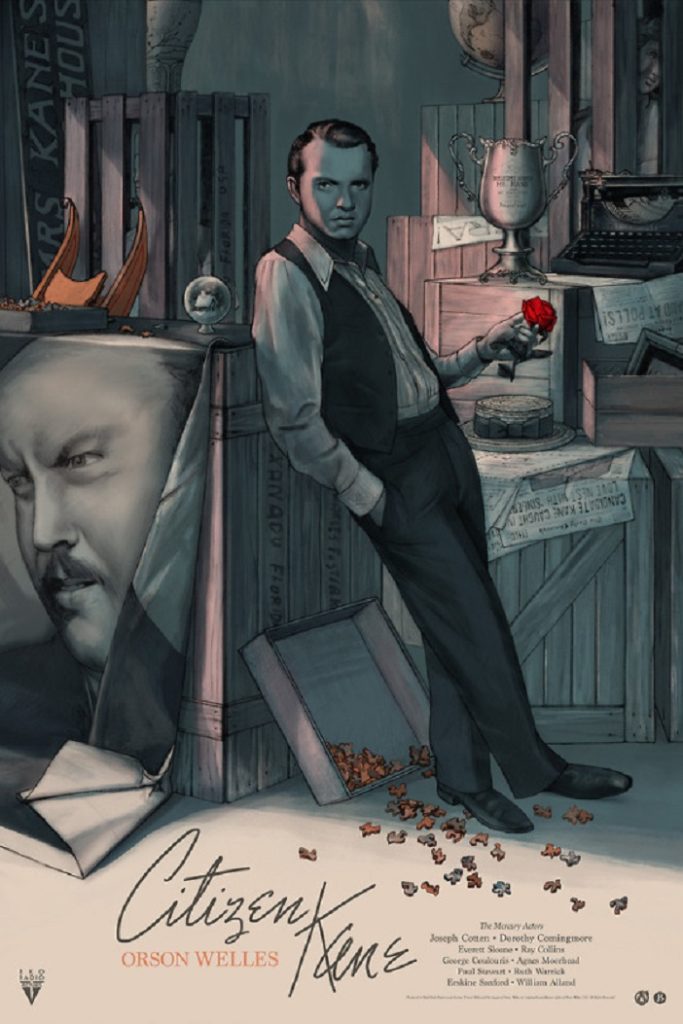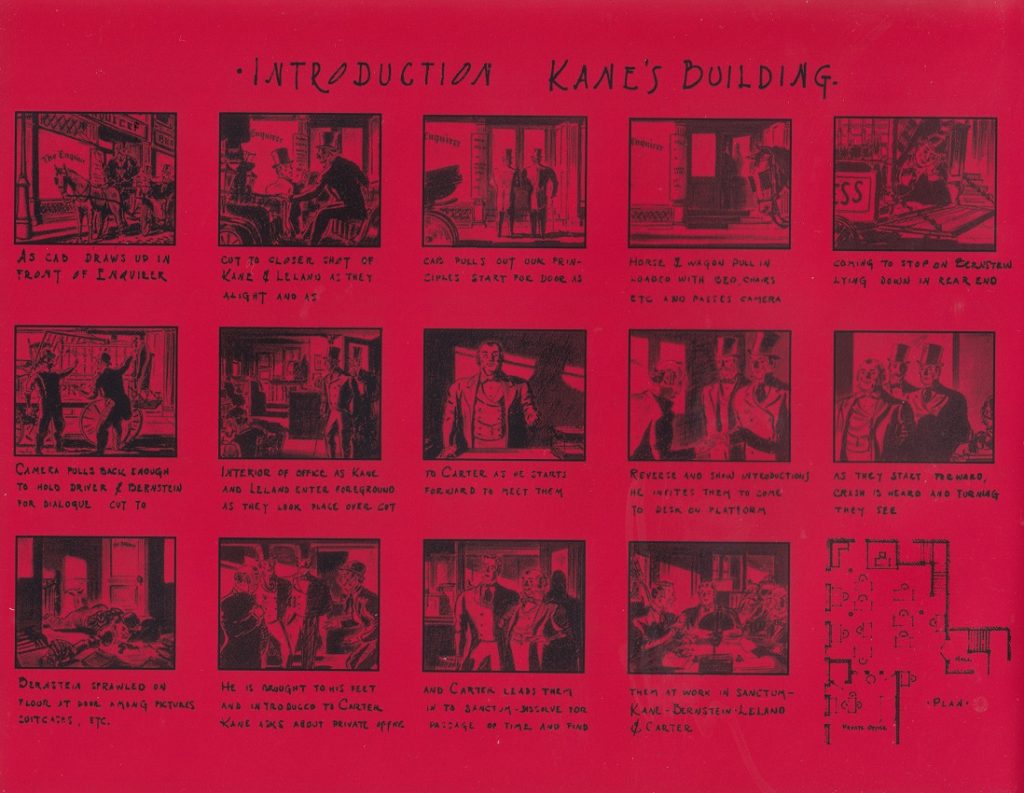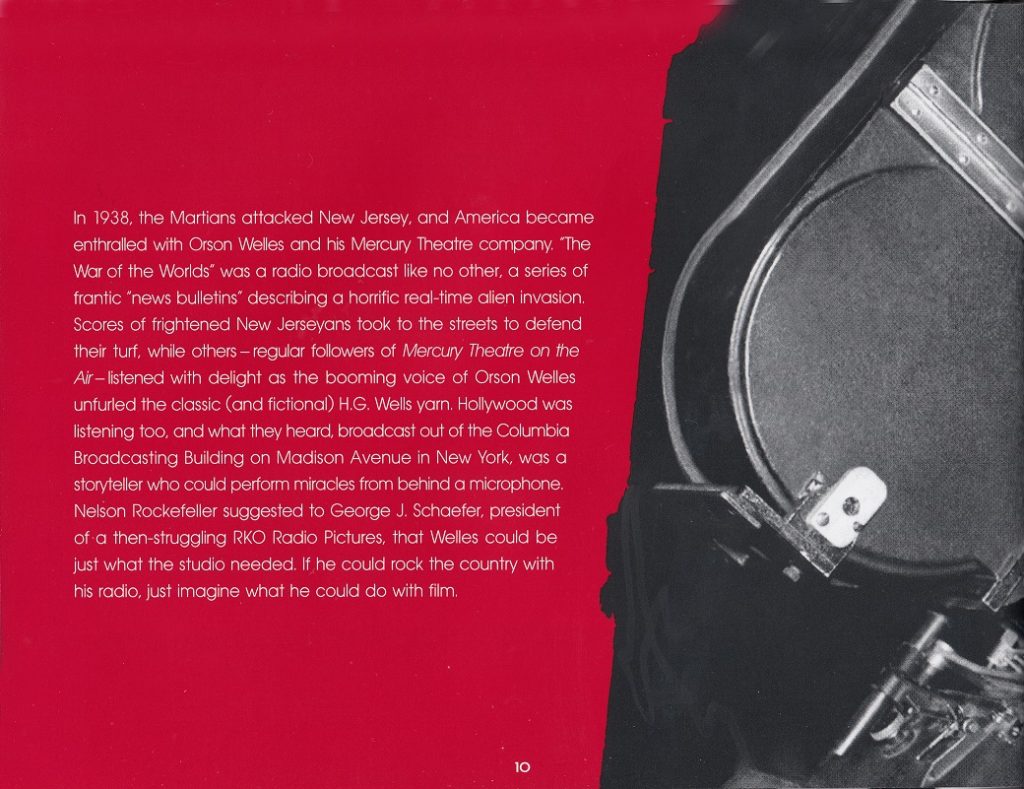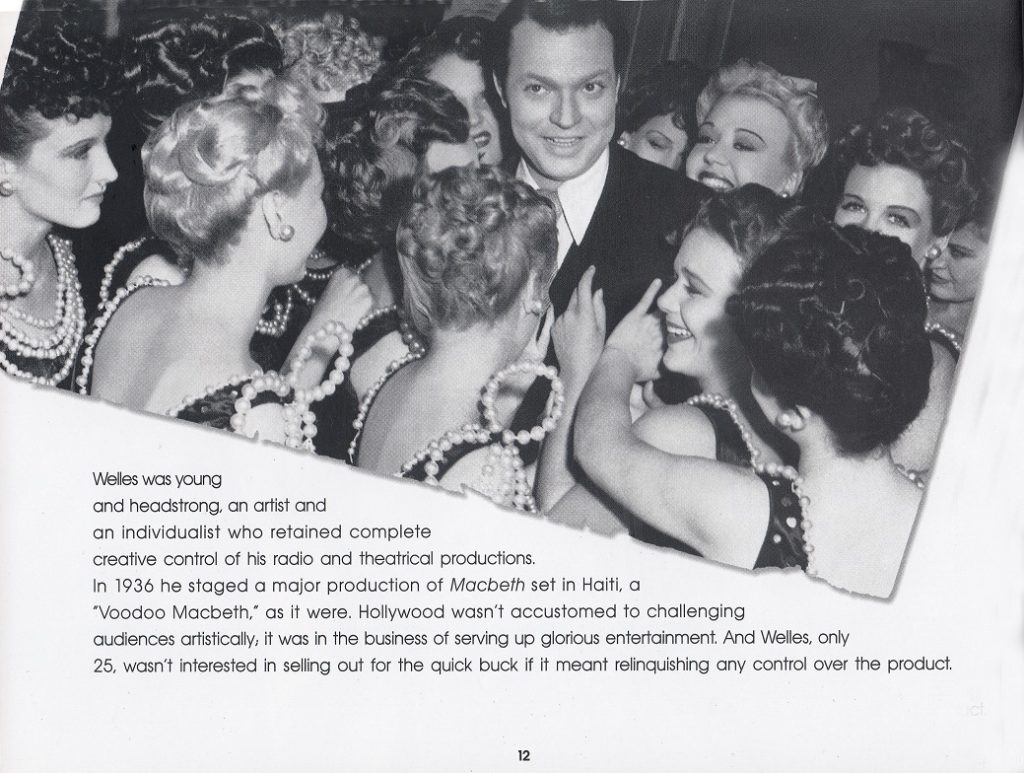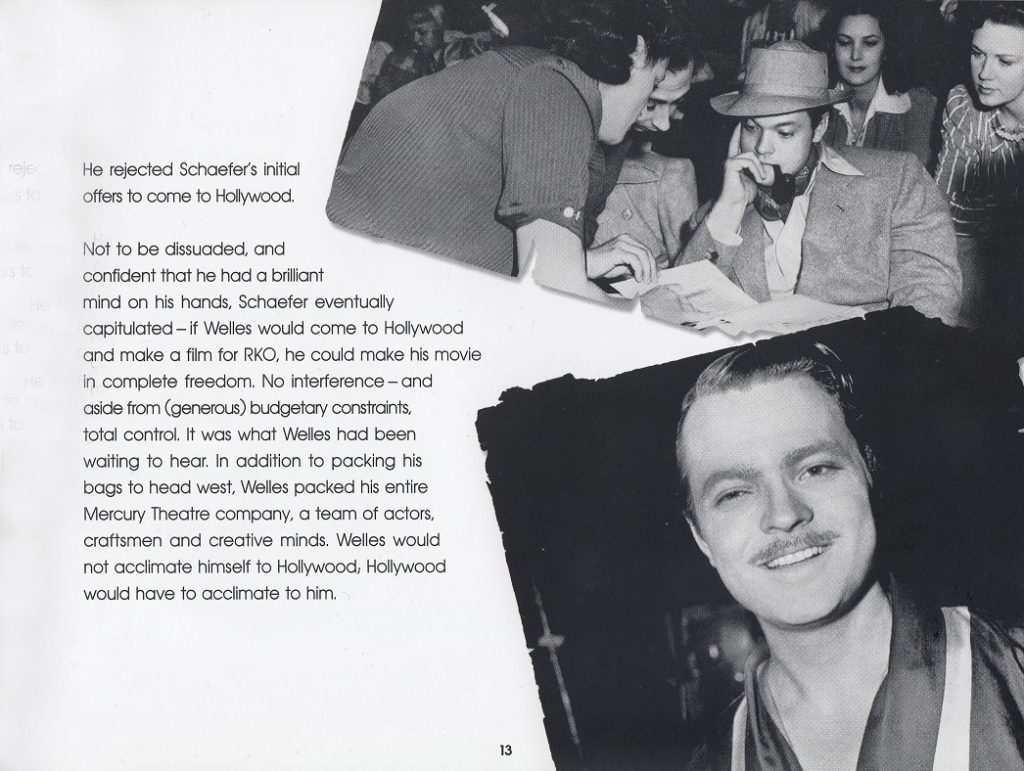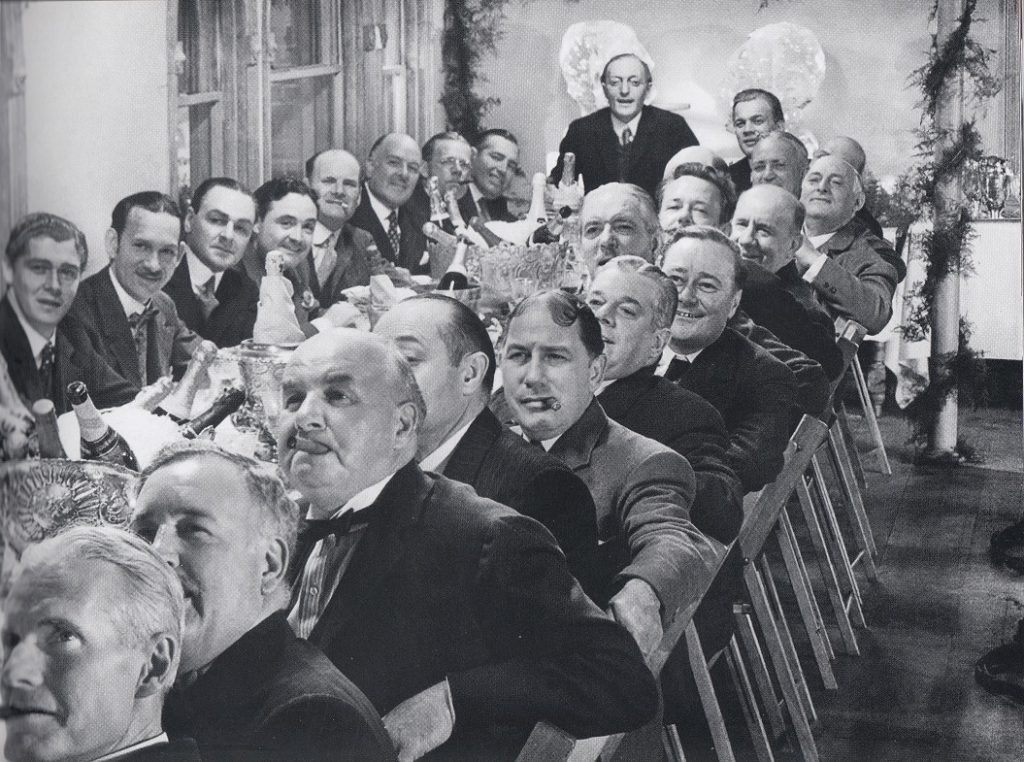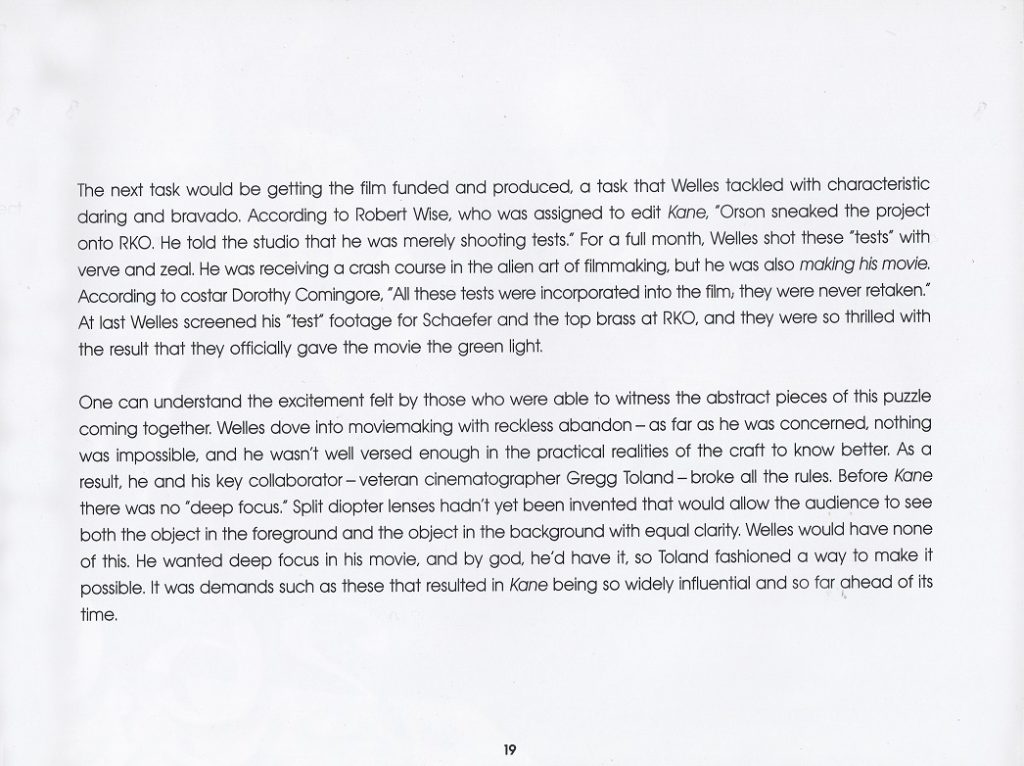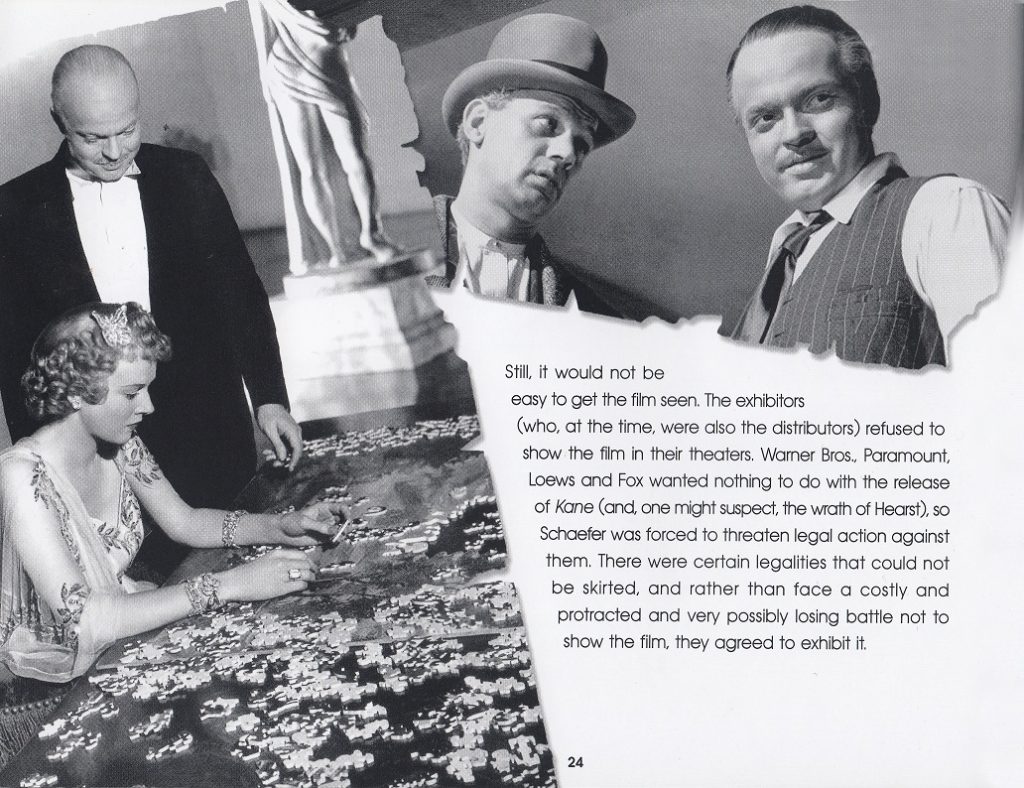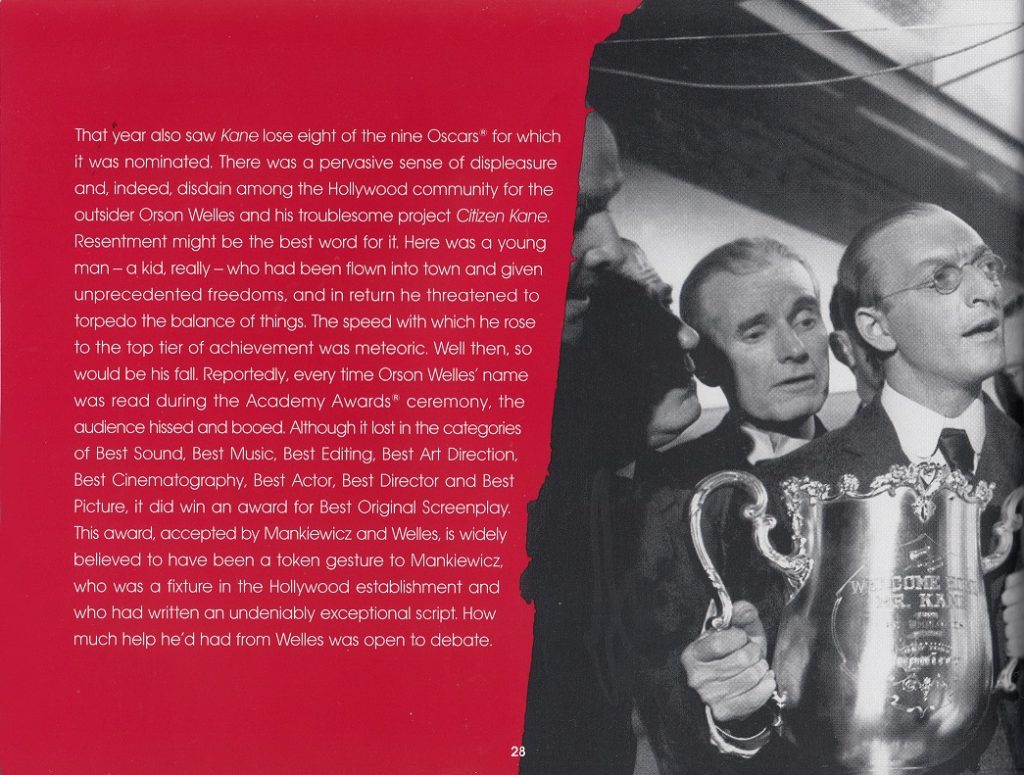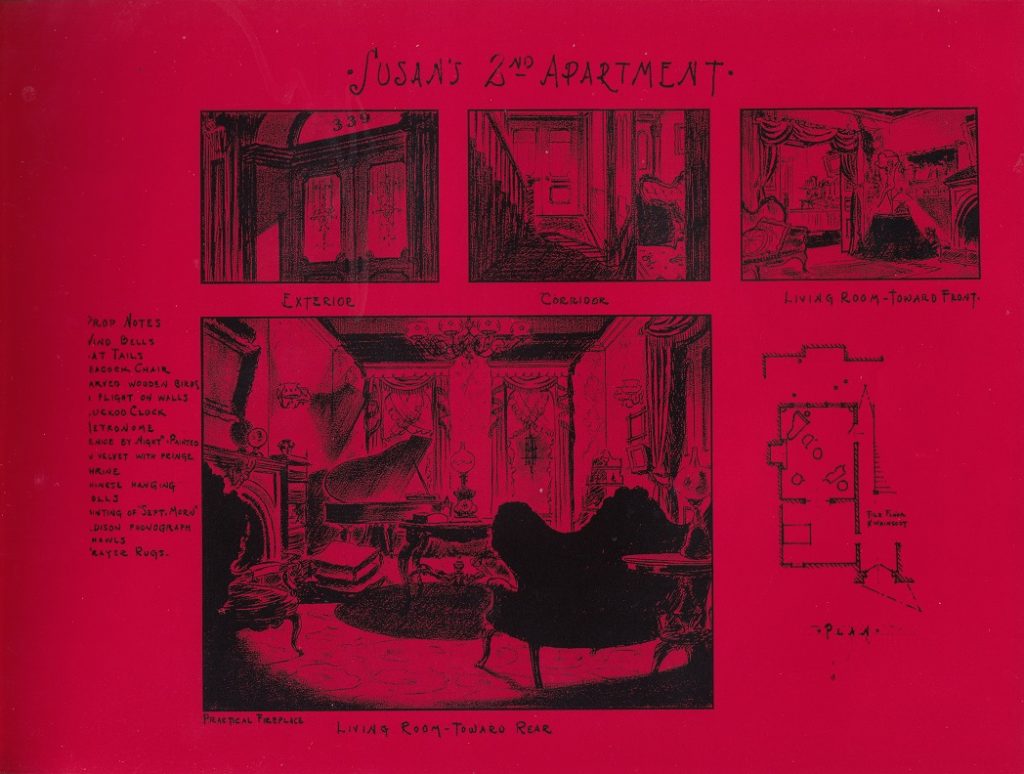 __________
CITIZEN KANE COLLECTIBLES
Kane related material that came up for auction Including Welles' Oscar.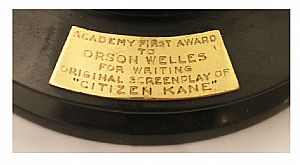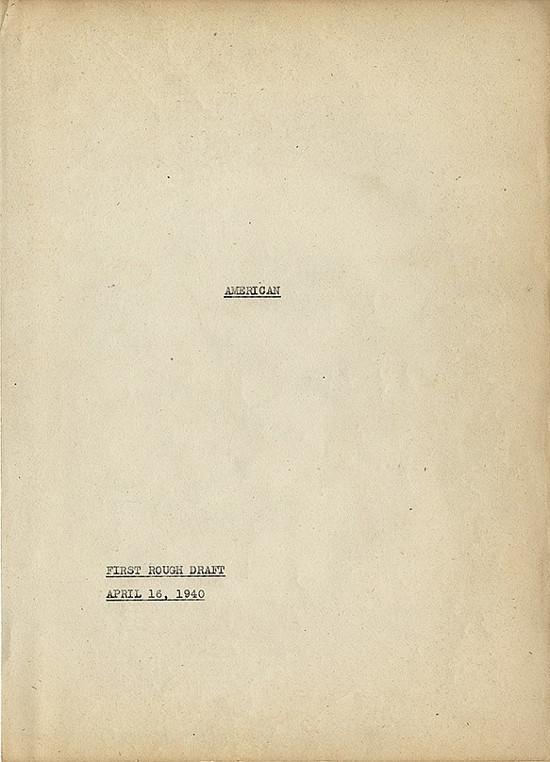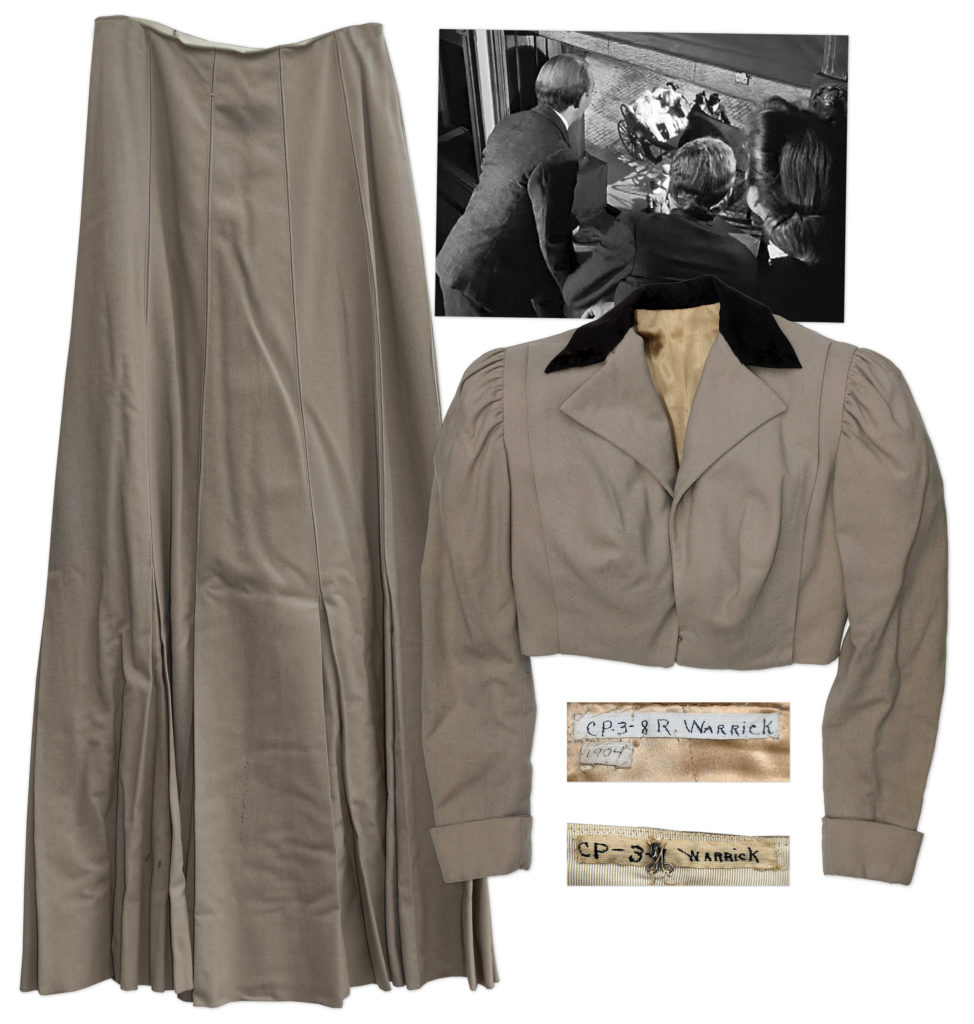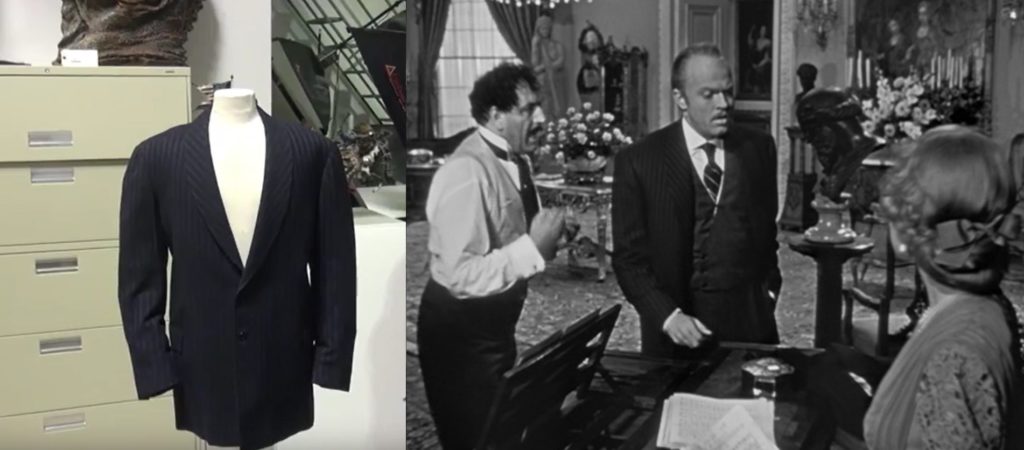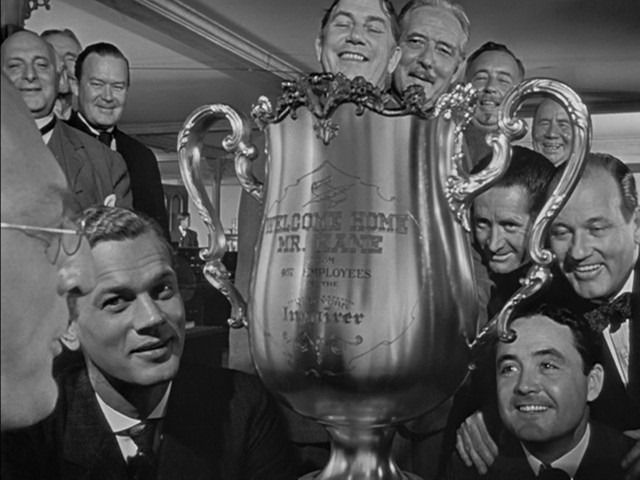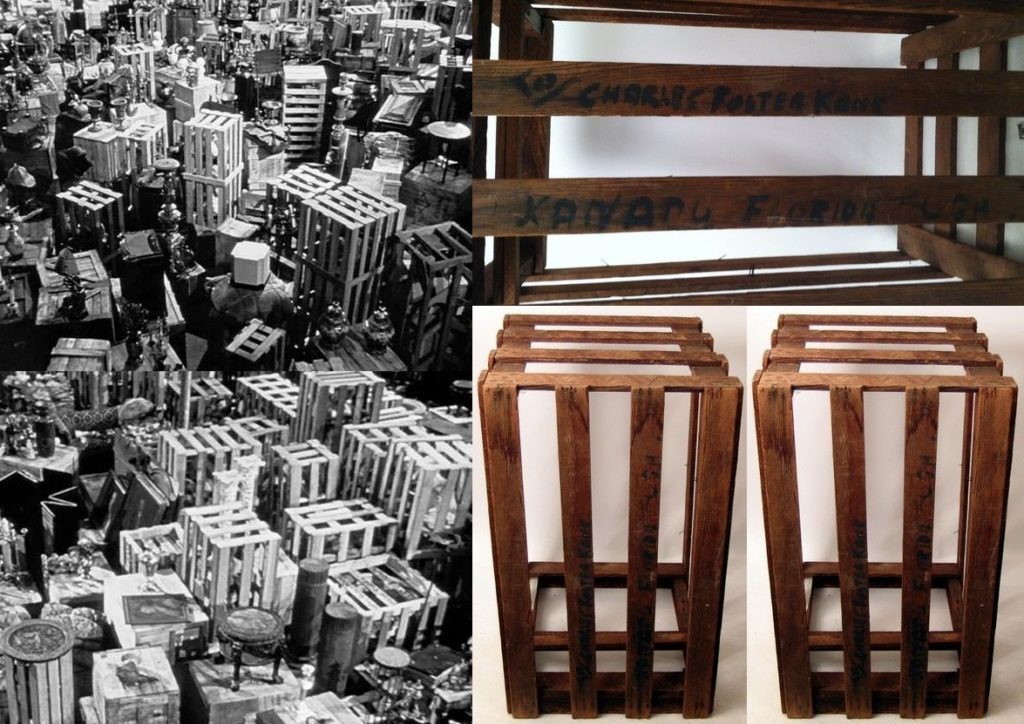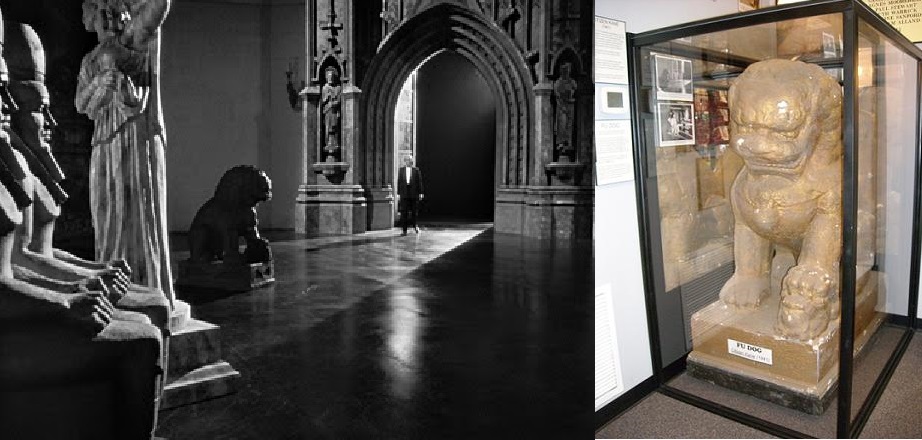 __________
"CITIZEN KANE" EXHIBIT
UNIVRSITY OF MICHIGAN
2016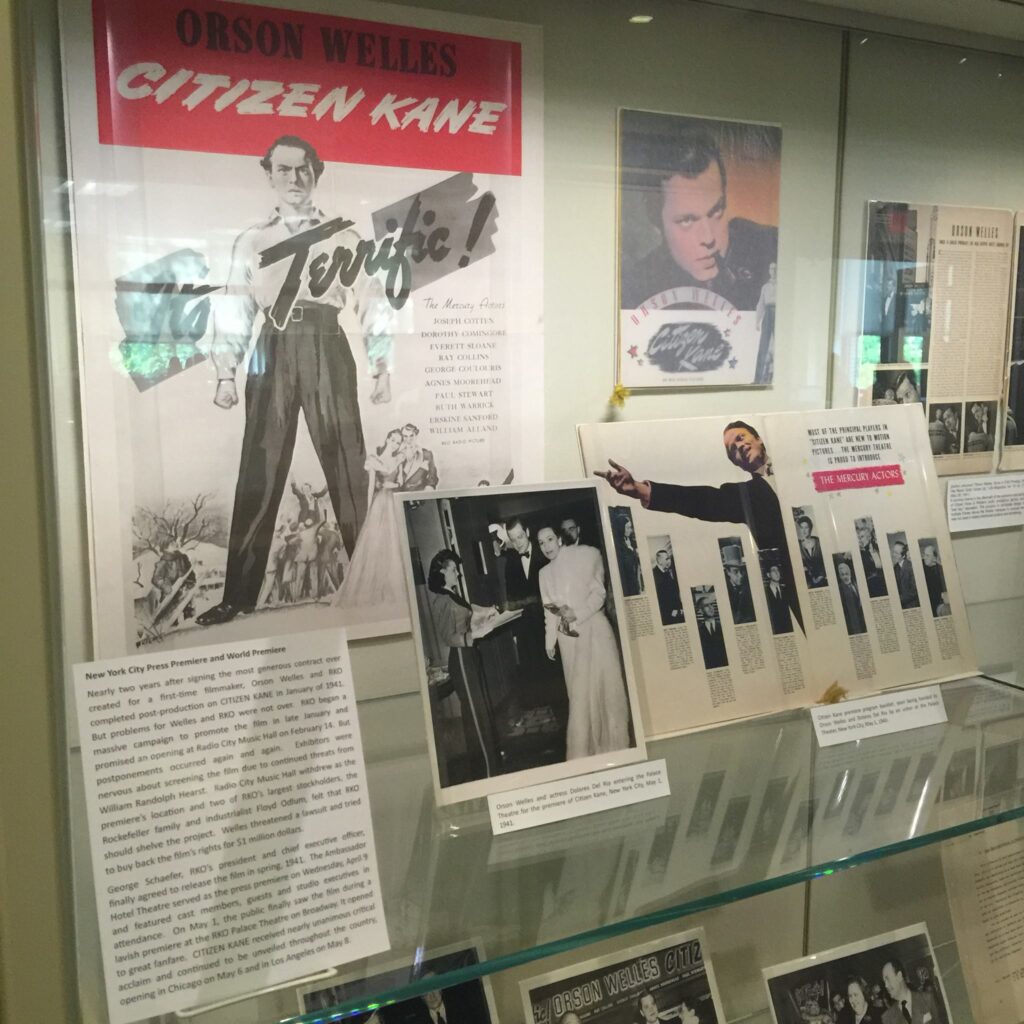 __________
"CITIZAN KANE" PROPS

"KANE" PROP RE-USED IN "THE CAT PEOPLE"
__________
"CITIZEN KANE" IN POP CULTURE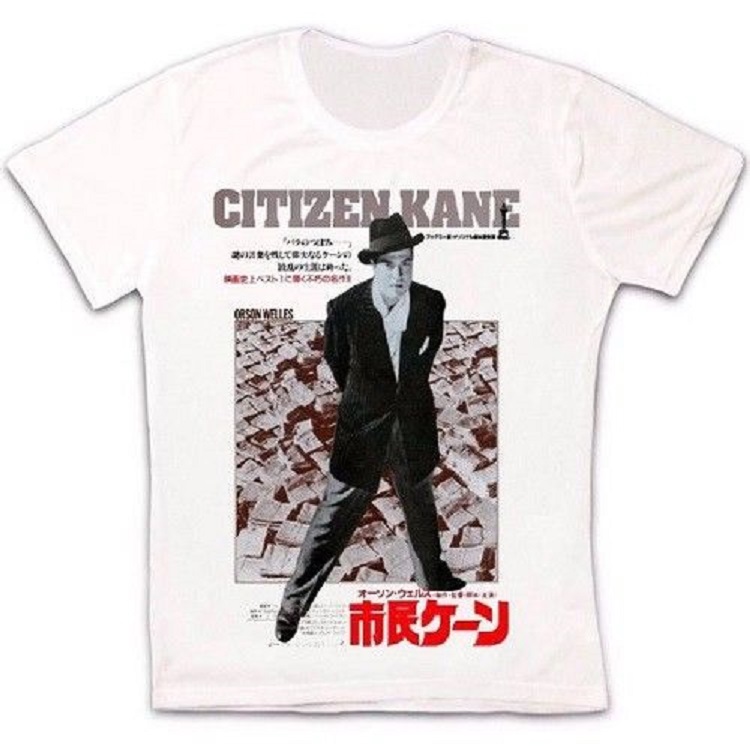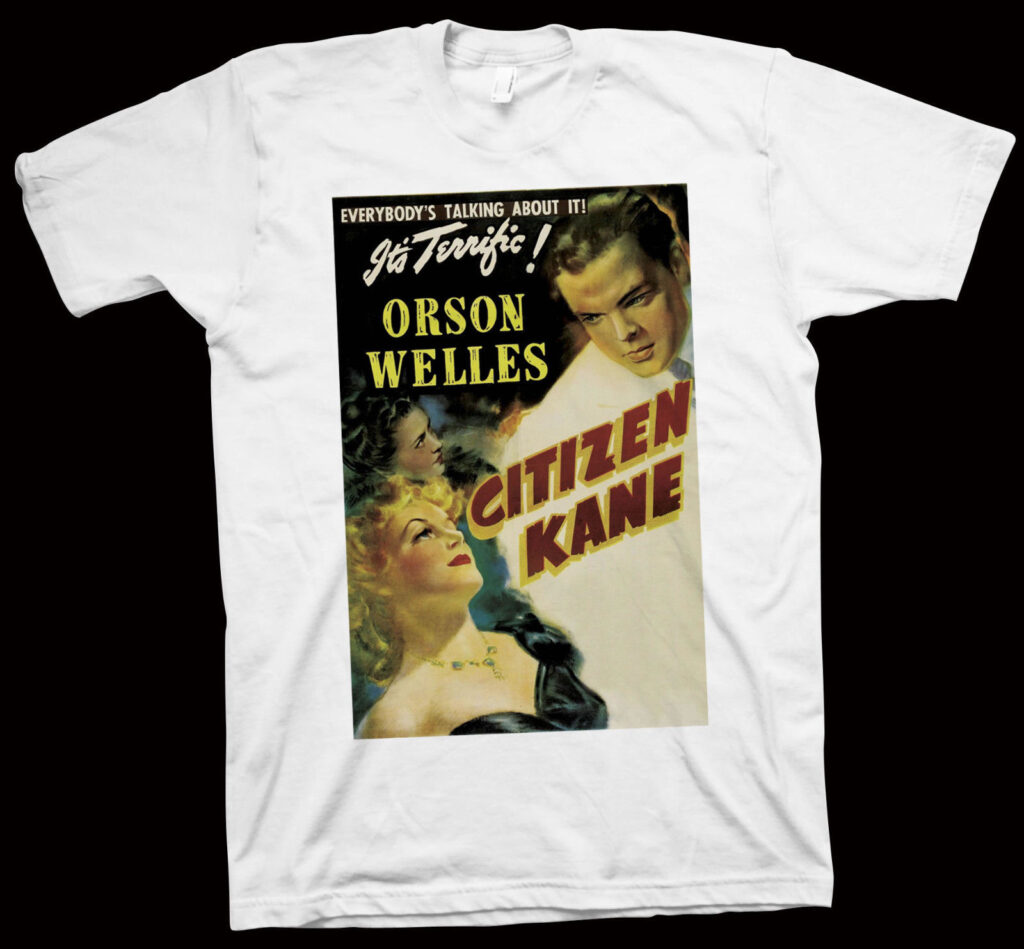 ___________________________
CITIZEN KANE – AN INSIDERS LOOK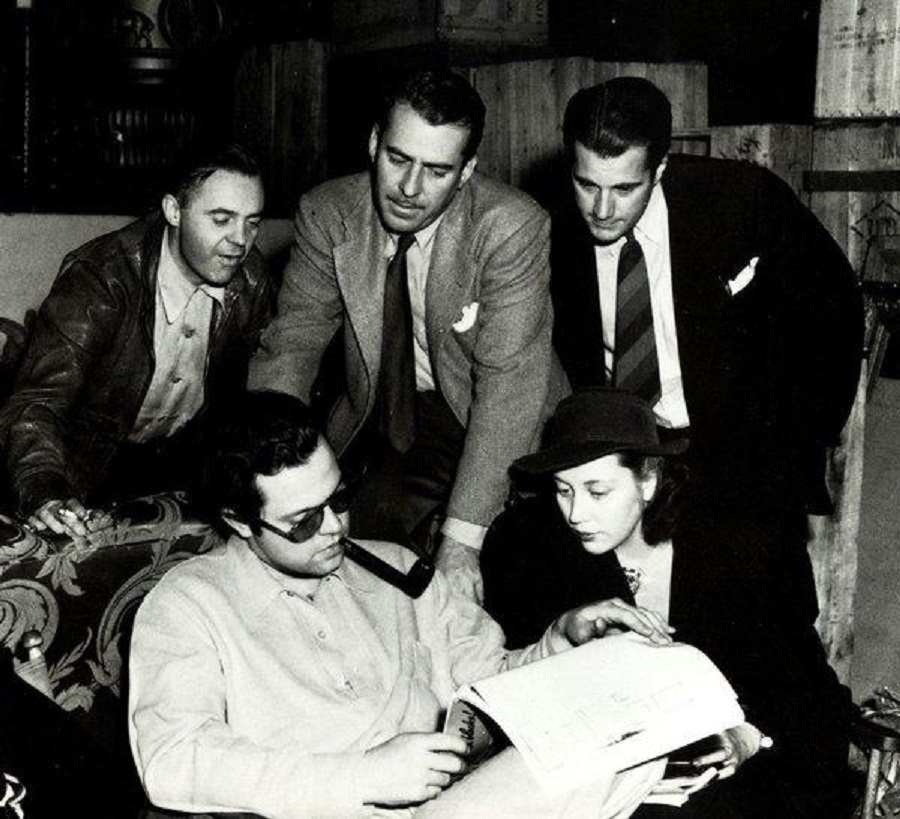 TROPSPER AT  BOTTEM RIGHT –  DRESSED FOR HER PART IN THE FILM – GOING OVER MATERIAL WITH WELLES.
WORKING WITH ORSON
Kathryn Trosper
I found this letter on eBay in 2007 and threw the scans into a computer file thinking I might  use them someday  and someday turned out to be today.  Kathryn Trosper was 24 when, during the filming of  CITIZEN KANE, she wrote this letter to Jack Moss.  It serves as a snapshot view of the production.  Although Trosper worked as  Orson Welles personal assistant, Welles gave her a bit part at the end of the film playing the photographer who asks, "what is Rosebud."  Consequently, before her death in 2016, at age 100, Trosper was the last living cast member.  Hired by Welles in 1939, she was involved with CITIZEN KANE from its inception until the film went into release and even typed up Welles' script pages as he wrote them. Therefore Trosper was in a unique position to write about both Welles and the filming.
September 10, 1940
It seems like there is much to tell you. My personal situation with Orson is much better than it was then – I am hit over the head only every second Tuesday afternoon now – we shoot every night until 7:30 – and usually an hour or so later. Occasionally he had an all-night session, but the god-damned unions have him stymied a little because when he works all night he has to have a ten–hour interval for crew. It was never like this in the theater! But he is truly getting some wonderful results. The opera sequence is unbelievable. The Bernstein narration is out of this world. Everett is very good. Erskin Sanford steals every shot he's in, and they've made the composing room, the welcome to the Inquirer……(The next seven lines were illegible but I could make out  that Trosper discussed other scenes as well as the long hours everyone was putting in. She brought up the chorus girl scene about to be filmed and the affect the girls might have on the men.)  They haven't seen a dame around here for so long – being almost completely isolated out here at Pathe – and they get home so late the wives have all formed a boycott – so rape I'm sure will be the order of the day with those sixteen chorus cuties. I must say they don't kill me – but also they ain't hay, you should excuse me.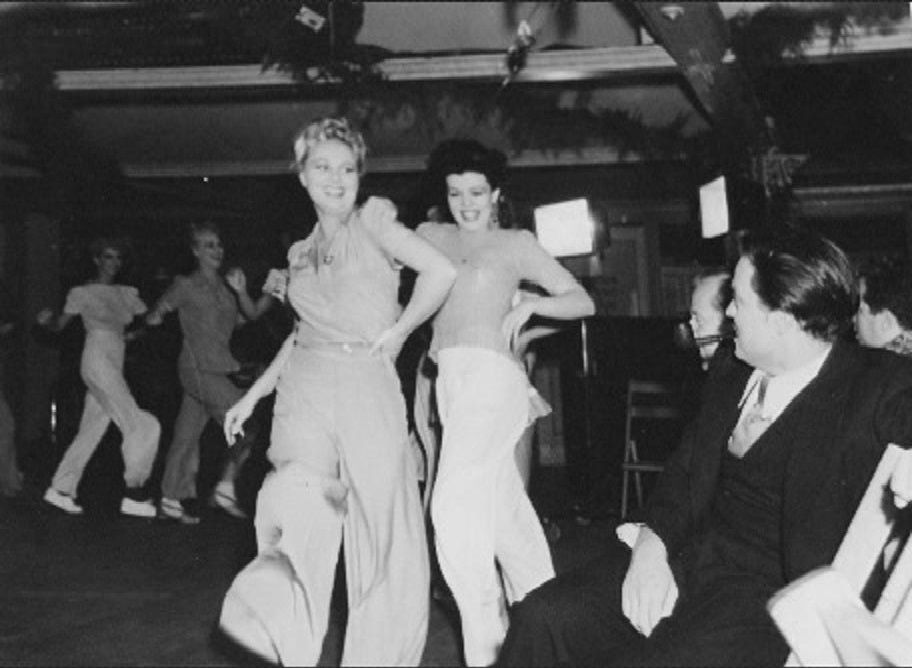 Orson's foot episode is one which should only be written by a master. I wish I could express to you some slight way an impression of it. So with this apologetic preamble I'll tell briefly about it. In his great coat, no doubt slightly hampered by an assortment of health belt, old jock straps and ham, he stumbled and fell down a very steep stairway built on the set. It's just a sprain says he and after a break for lunch they went on with shooting. He said that the ankle was broken in two places and X-ray and hospital quick.  But the confusion and running around was wonderful. Orson had by this time consumed an entire fifth of a rather cheap brandy, and since he hasn't drunk in so long, it was beginning to have a slight effect. So Donahue [Assistant director Edward Donahue],  driver Bert and Alfalfa [Welles' Valet] and Bill Alland and I went to Good Samaritan – Donahue thoughtfully buying more brandy on the way down. Orson insisted that we drink with him – and each time we'd hit a bump, I'd shoot the bottle to him. By the time we got to the hospital, he was practically out, and by the time we got him to the Xray-room, he was completely out. There were great mutterings about getting Dr. Bernstein out at once; I had calls to him. The X-ray showed a fracture-sprain and the insurance doctor insisted that he stay for the night. So we got him a room (and he was a frightening looking object believe me – with gobs of that rubber make-up torn off and his eyes blood shot and hair stringing down) and literally scaring the be-Jesus out of them We finally got him settled in his room and a little interview with the admitting nurse was amusing. When asked if he had any religion he seriously told the nurse he was a member of "The Great I AM" organization – he'd never been in a hospital before because he had faith. He was an American and proud of it – aren't we all?   References; Johann Haussman (carefully spelling it out) who could be reached twenty-four hours a day at Paramount.
For ten days or two weeks afterwards (with Dr. Bernstein who came out to be in attendance) Orson was rolled around the lot in his wheelchair or hobbled pitifully around on his crutches. My job was to massage, gently, the foot twice a day – because I have the healing touch. This was done, whenever possible, in full view of the entire set – and not a little embarrassing to me to have to sit there pummeling away at a foot which is grotesque enough under normal conditions. Now it is strapped up in some sort of little leather business and he gets around as well as ever. One night at Ciro's, with Jo Cotton and Toland and the lady, he made a spectacular entrance with crutches and at least twelve people helping him – and two hours later he danced with Del-Rio. But left on crutches, the way he came in. This was picked up by a few local columnists, so I suppose there is that seed of doubt that anything had actually happened to him.
A week ago, they came running here from the set and screamed; Get another doctor! Mr. Welles has hurt himself again! This time, in pushing off the type, he had cut his little finger to the bone and amidst blood and gore he had three stitches take in it. This too has passed.
Four days ago – with foot in brace, finger in bandages, he came walking into the bungalow twisted and contorted – ordered a masseur – friend of Maurie, the Russian – whose card later disclosed he was a rectal specialist) and was treated for neuritis. That too has passed, and unless he gets a slight dose, (pardon me) I don't really know what else can happen to him, but it will.
Baer [an executive assistant on the film] is functioning very efficiently and seems to be quite happy which may or may not be due to the fact that he and three boys are taking a lovely house at the beach – and they're just together constantly.
Members of the organization are getting fairly well – and the only feud going on at the moment is between Bill Alland and Everett Sloane. Sloane slightly resented correction from the dialogue director on timing (under the assumption that it was a mistake of Orson's timing) – Alland said all right he would tell Orson – and Everett called him a stool-pigeon, which hurt Bill's feelings – and has threatened to fight it out as soon as the picture is over. This may or may not die down. I will keep you posted.
Kathryn
_____________
THE STILLS
ORSON WORKING
The following production stills are from CITIZEN KANE.  I had them sitting in a computer file and was using them to study exactly how Welles executed this or that shot.  I hadn't planned to use them on this site but, after Kathryn Trosper's humorous letter gave me the spirit of the production, I now look at these stills in a entirely different light.  Instead of serious, the stills are fun – Orson Welles style.  So, instead of letting them sit in a file I included them  here.  When Orson Welles made a movie – as hard as it may have been to make – he always had fun making it because he gave his creativity free rein. In fact, so much so, that it became infectious to everyone who worked with him.   In other words, "I think it would be fun to run a newspaper."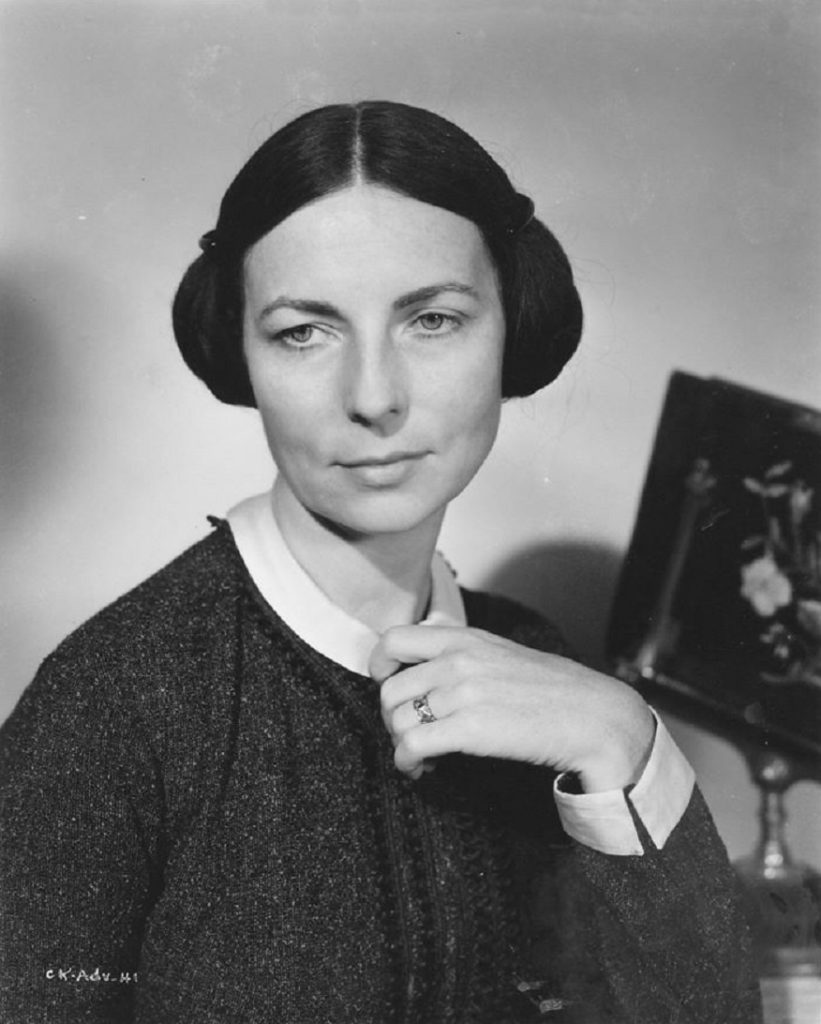 CITIZEN KANE ADV 1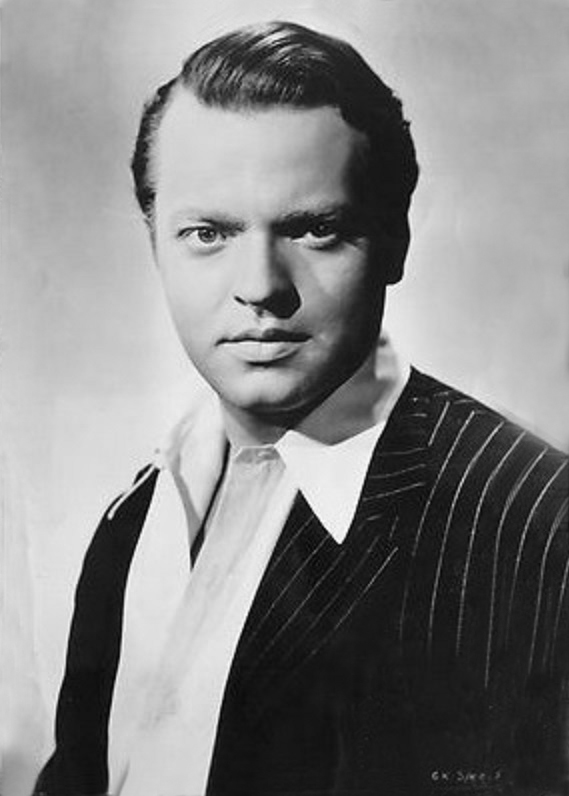 CITIZEN KANE 2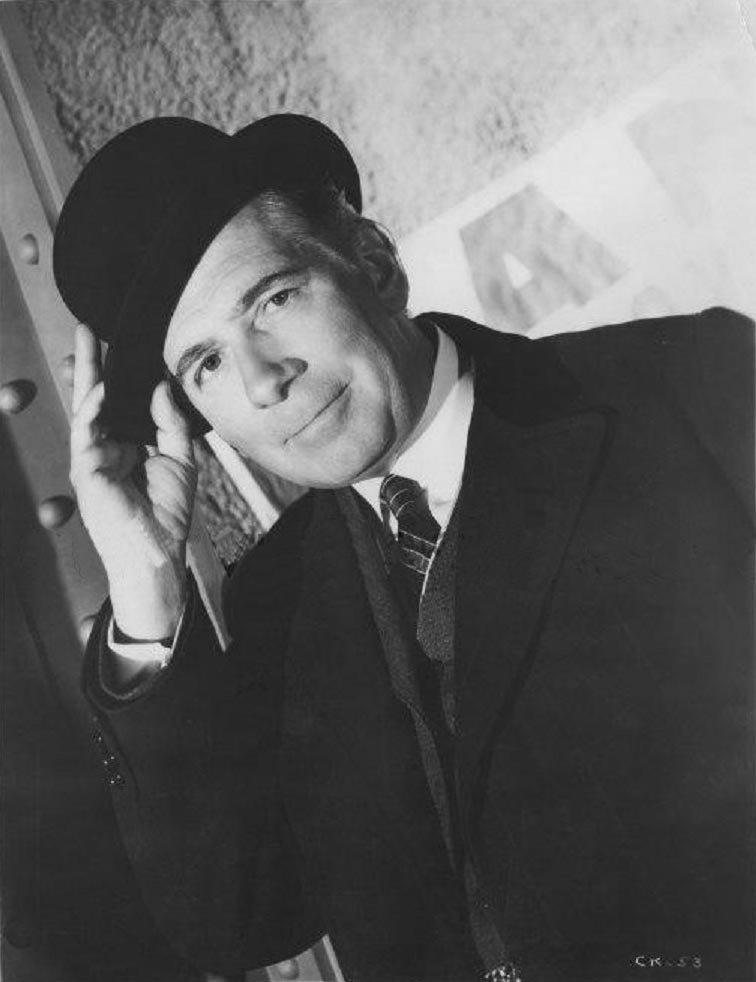 ?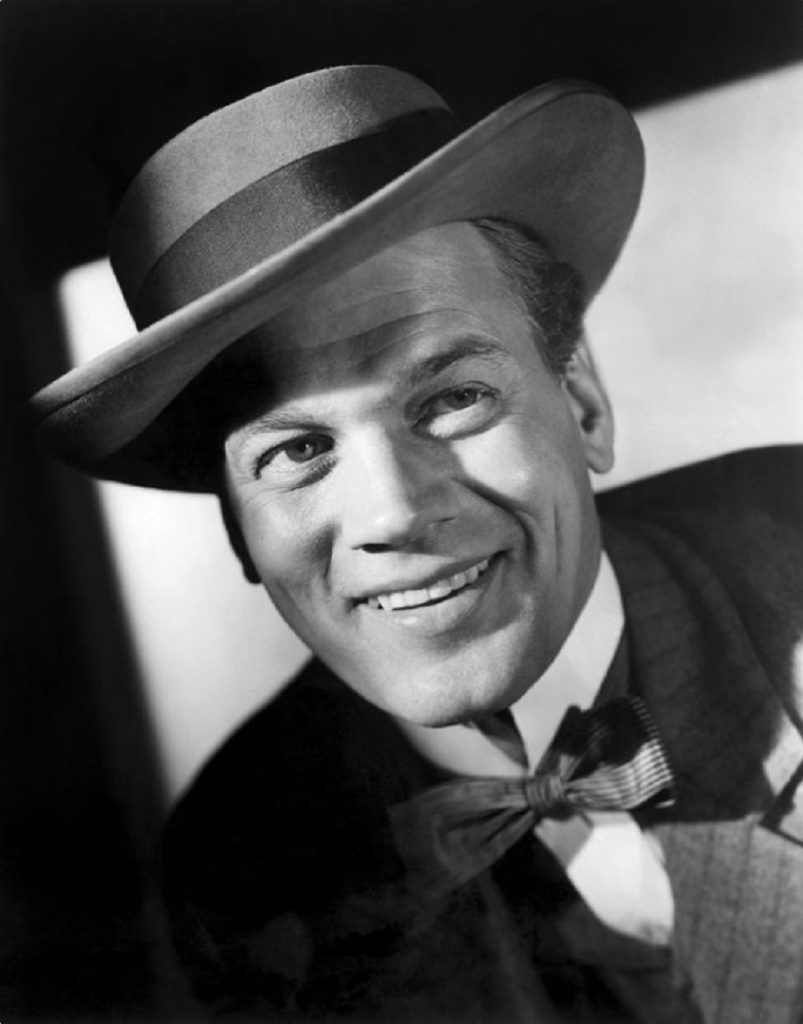 ?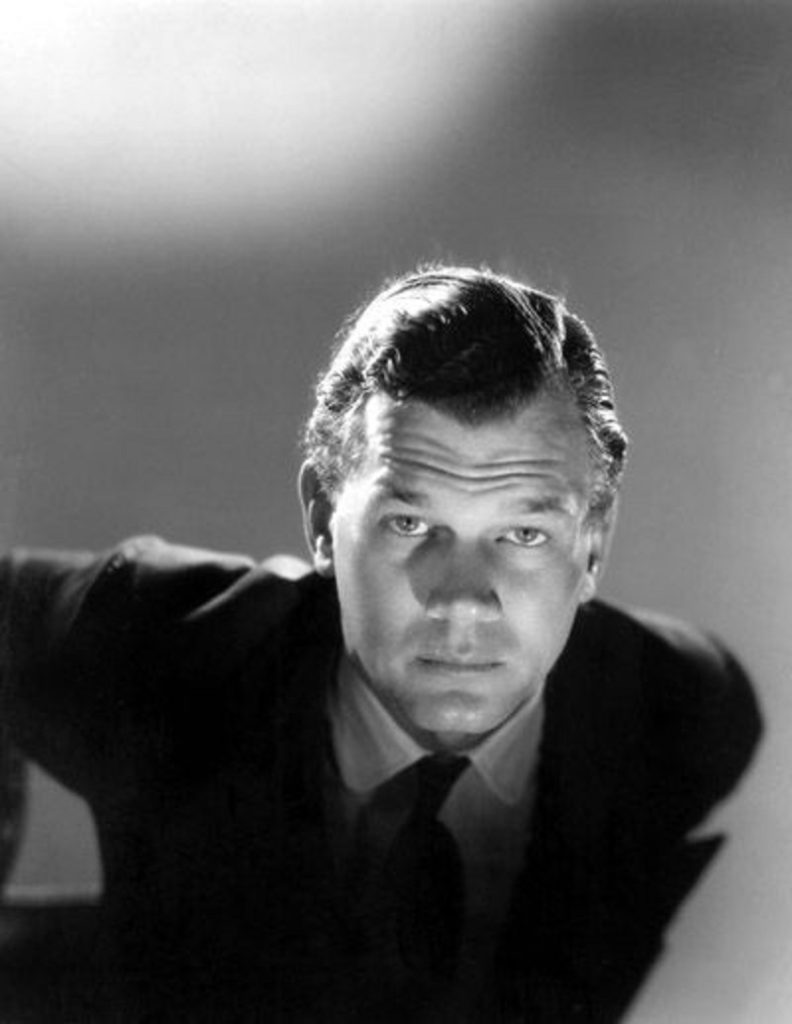 ?
CITIZEN KANE ADV 6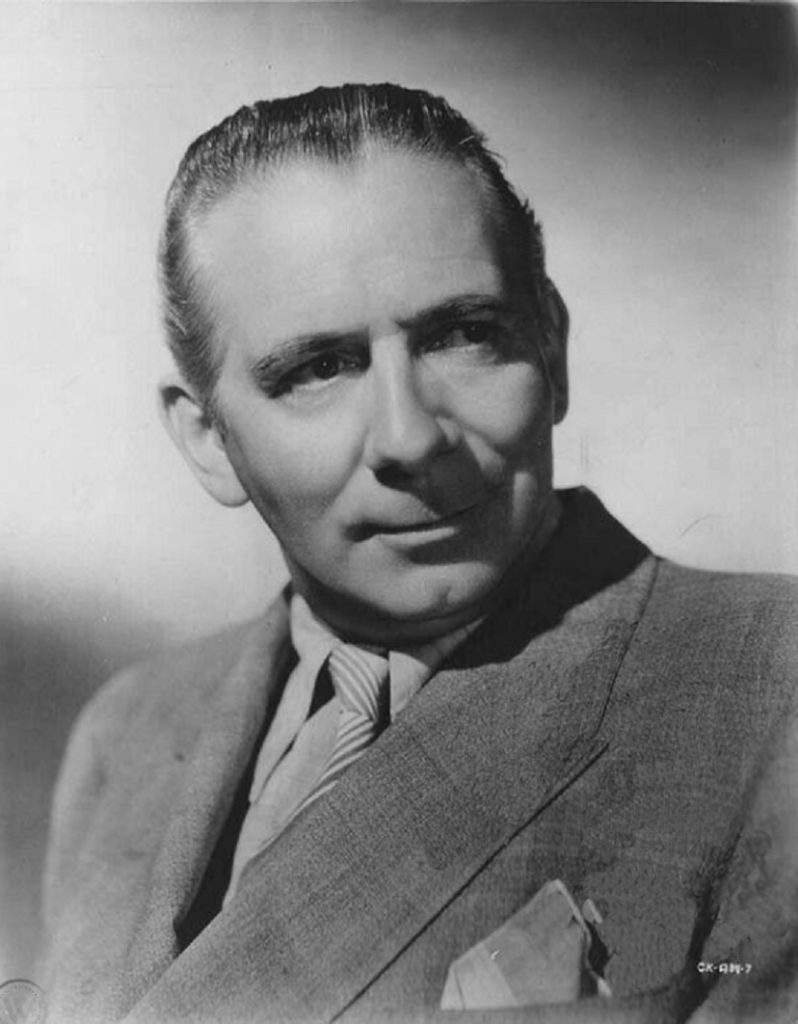 CITIZEN KANE ADV 7
?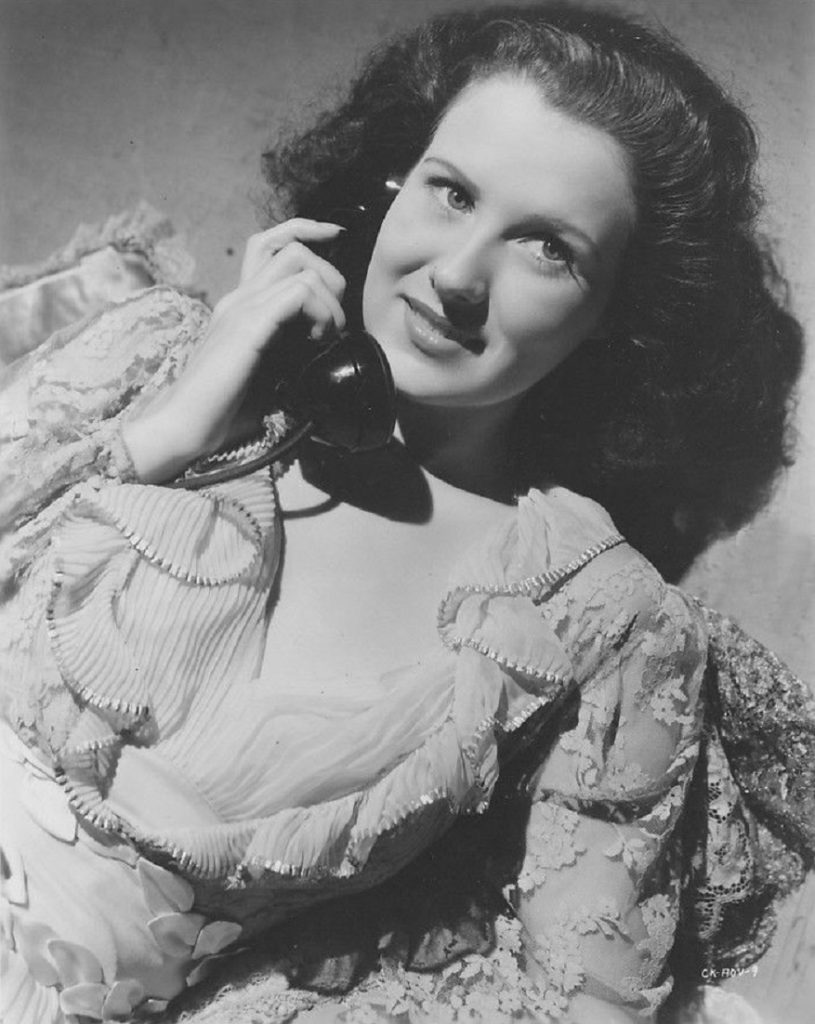 CITIZEN KANE ADV 9
CITIZEN KANE ADV 12
CITIZEN KANE R Series
?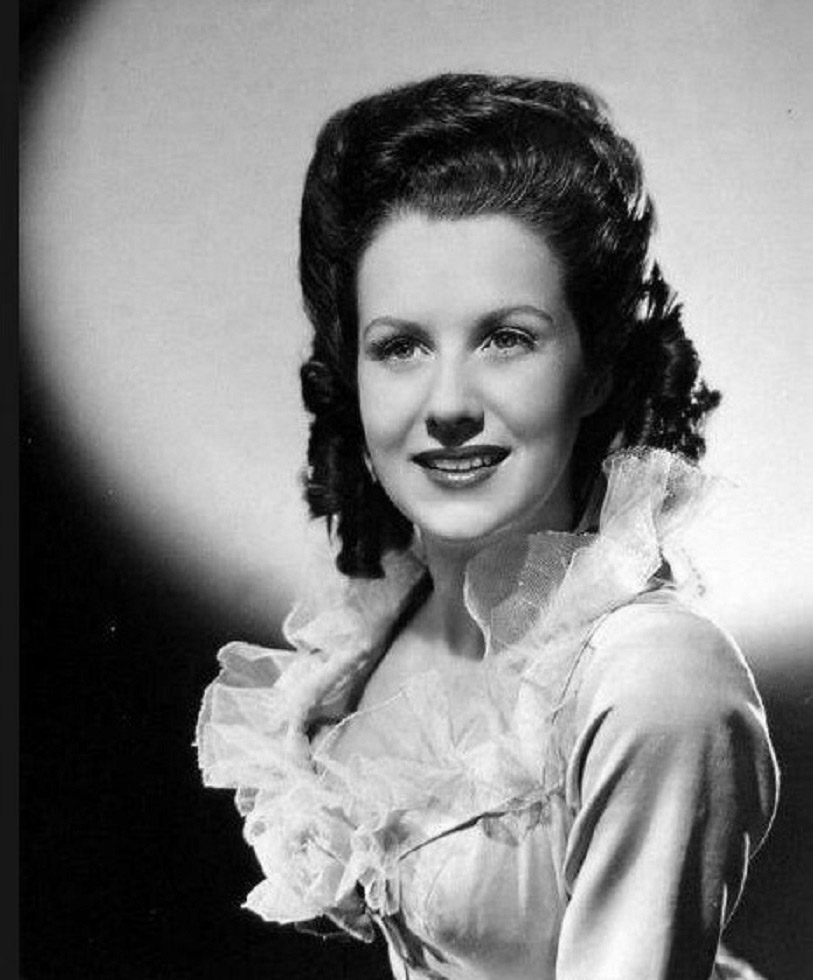 ?
RUTH WARRICK RF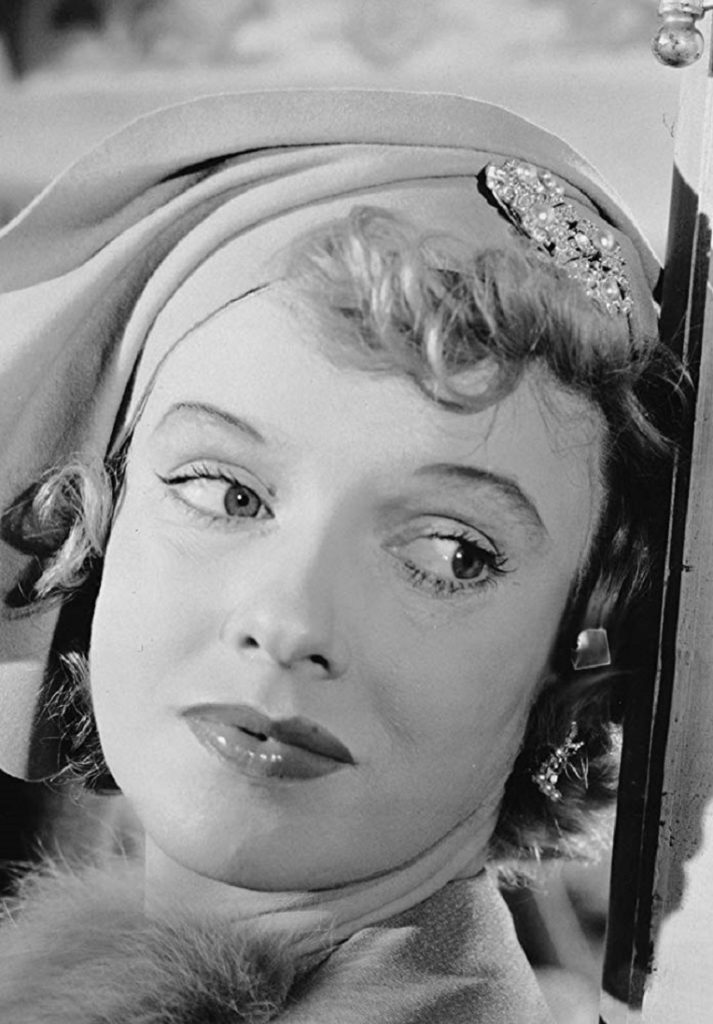 ?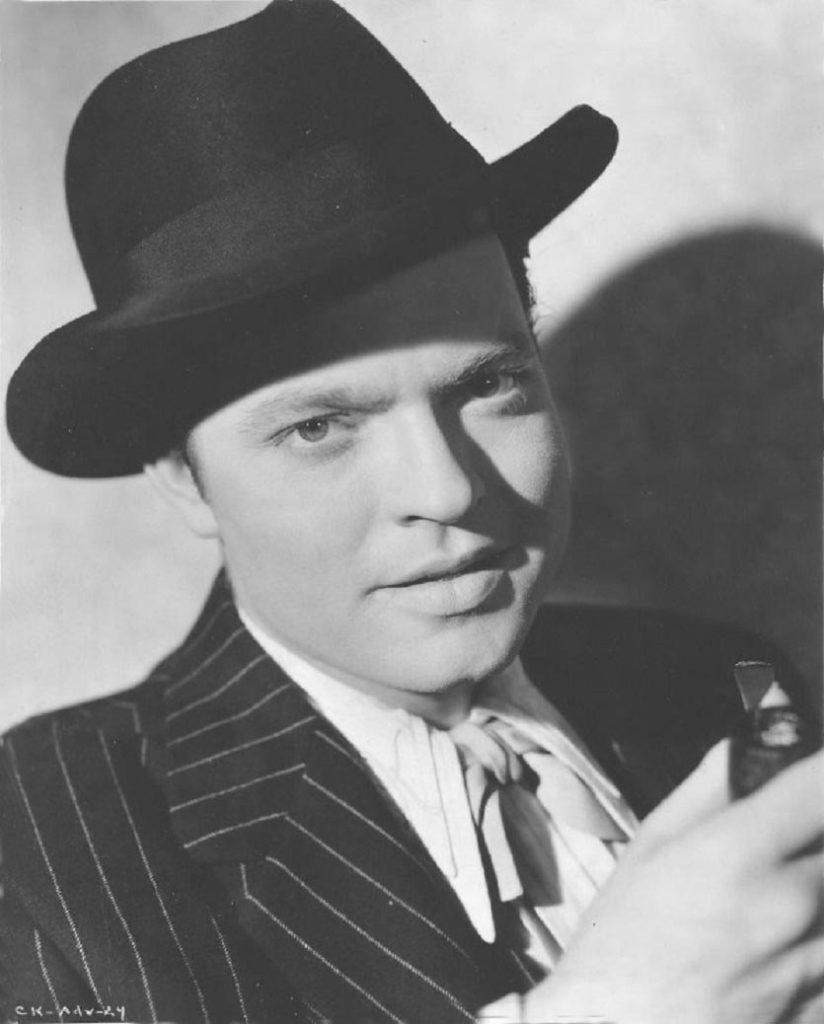 CITIZEN KANE ADV 24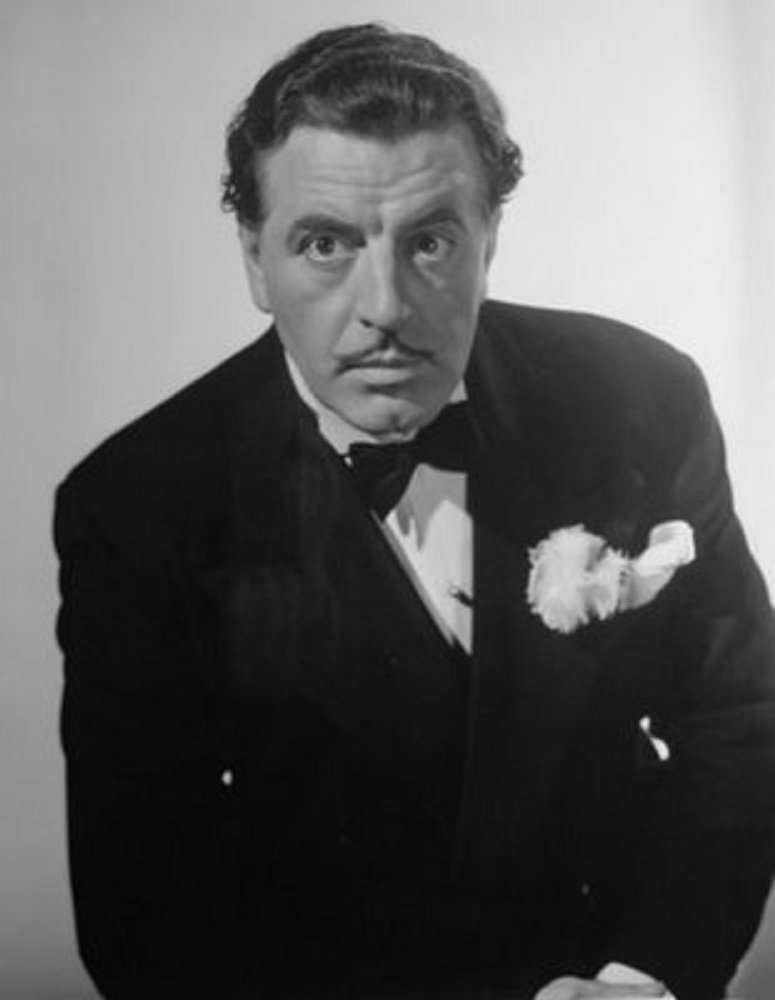 ?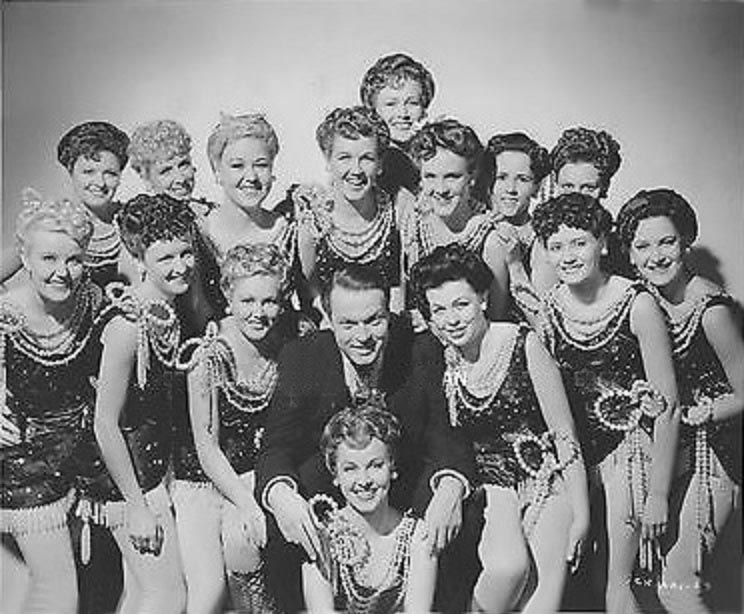 ?
CITIZEN KANE ADV 32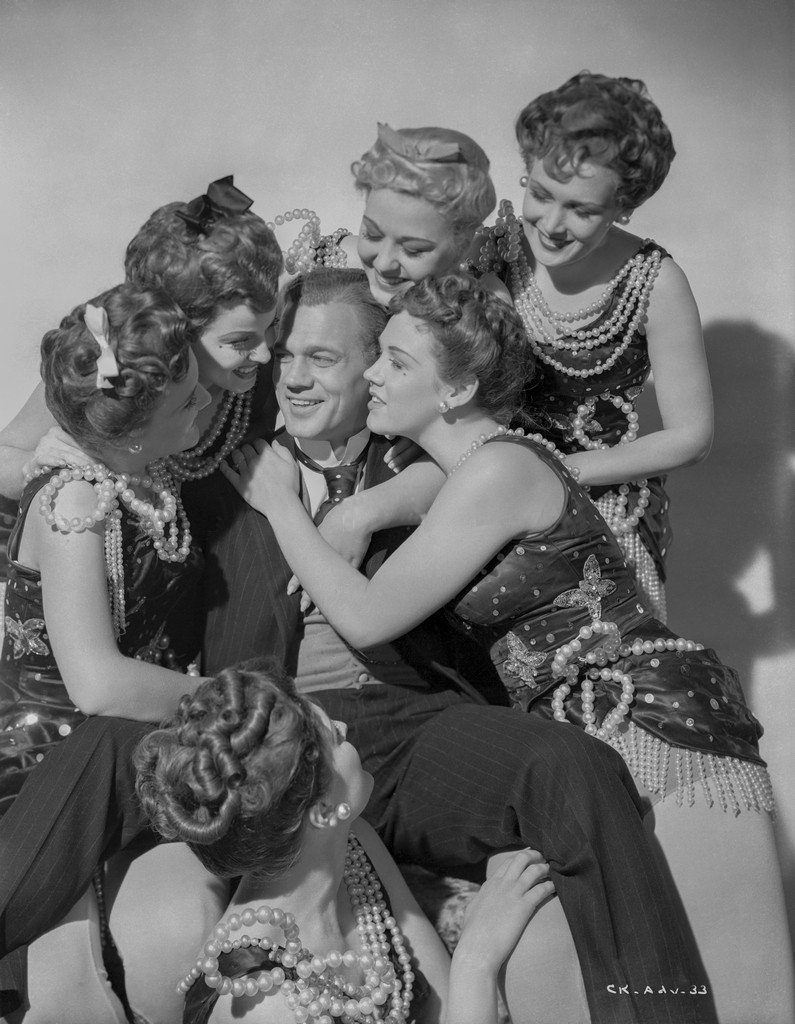 CITIZEN KANE ADV 33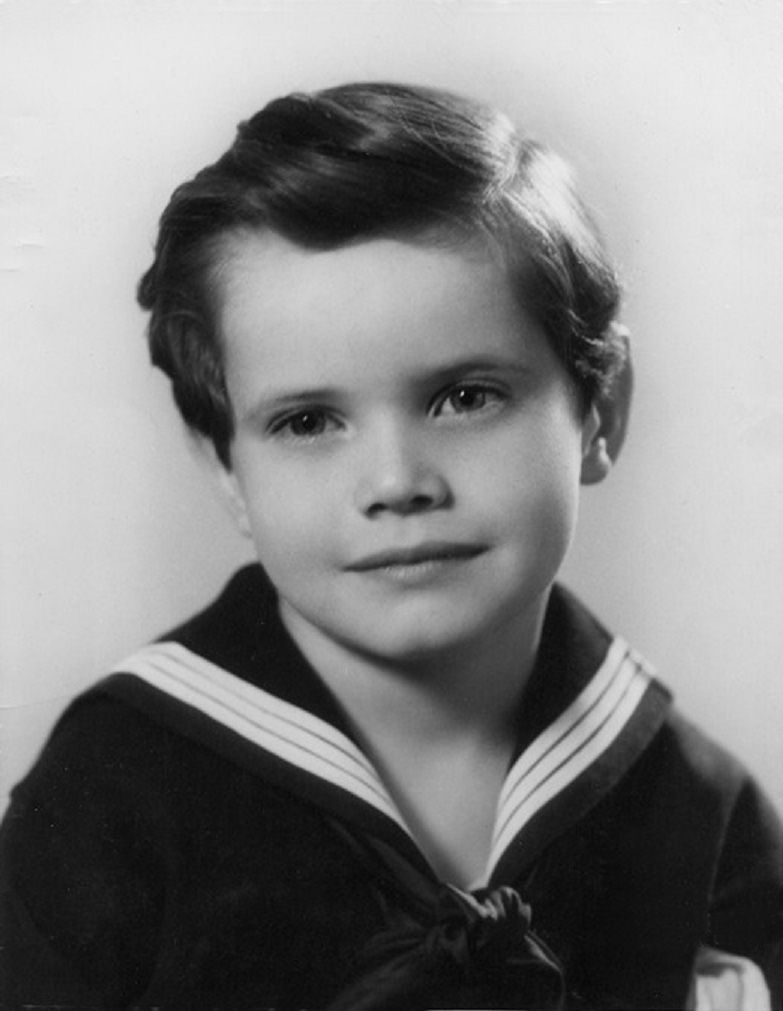 ?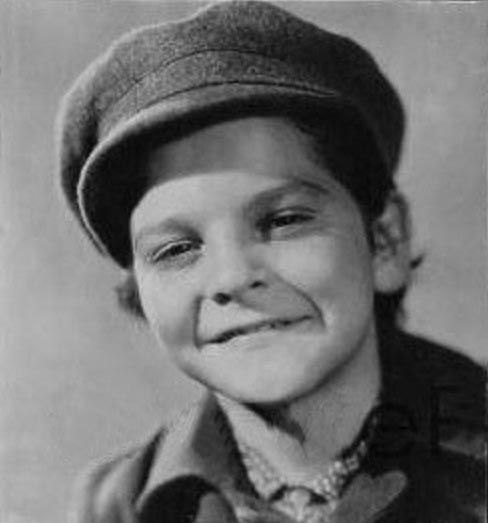 ?
?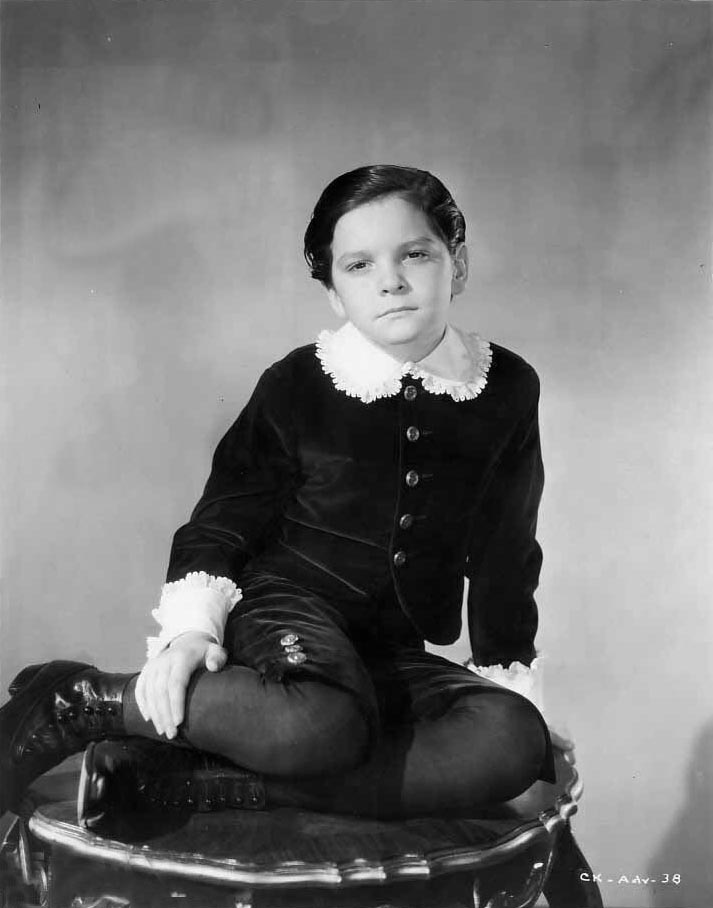 CITIZEN KANE ADV 38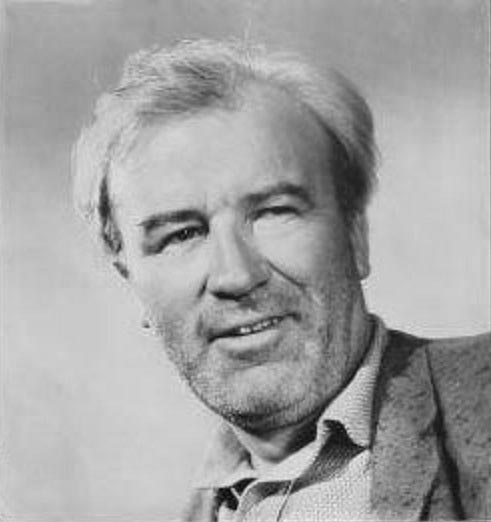 ?
CITIZEN KANE ADV 40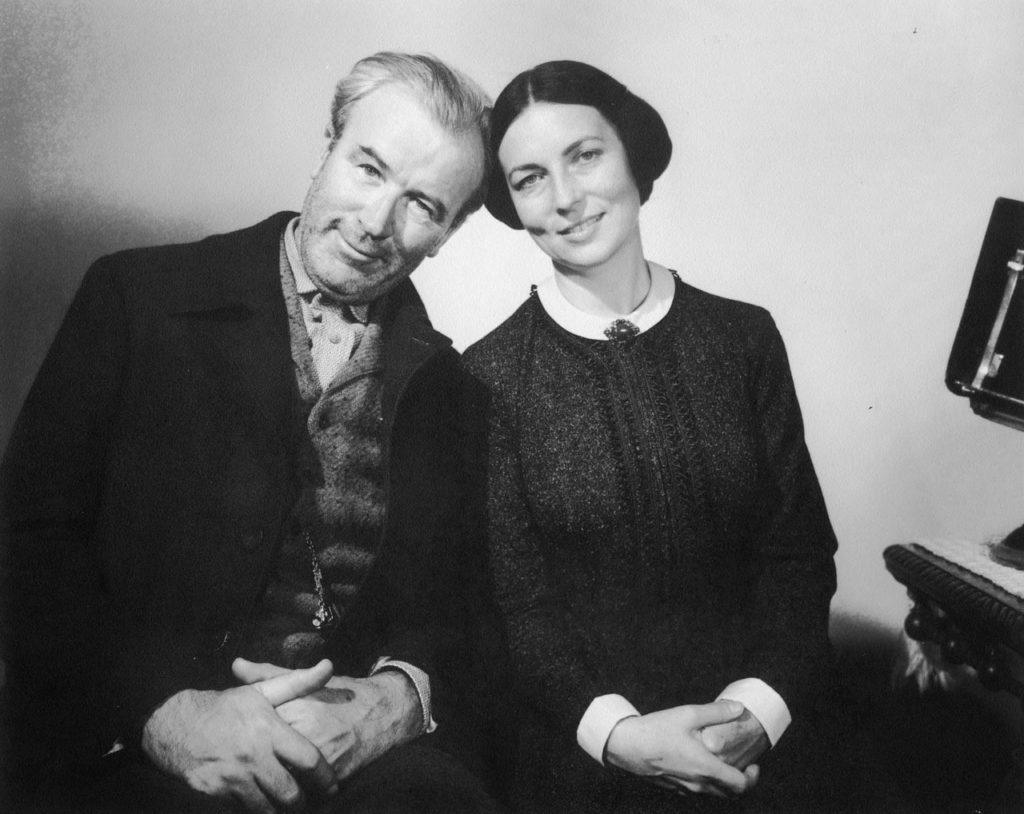 ?
?
?
ORSON WELLES  56b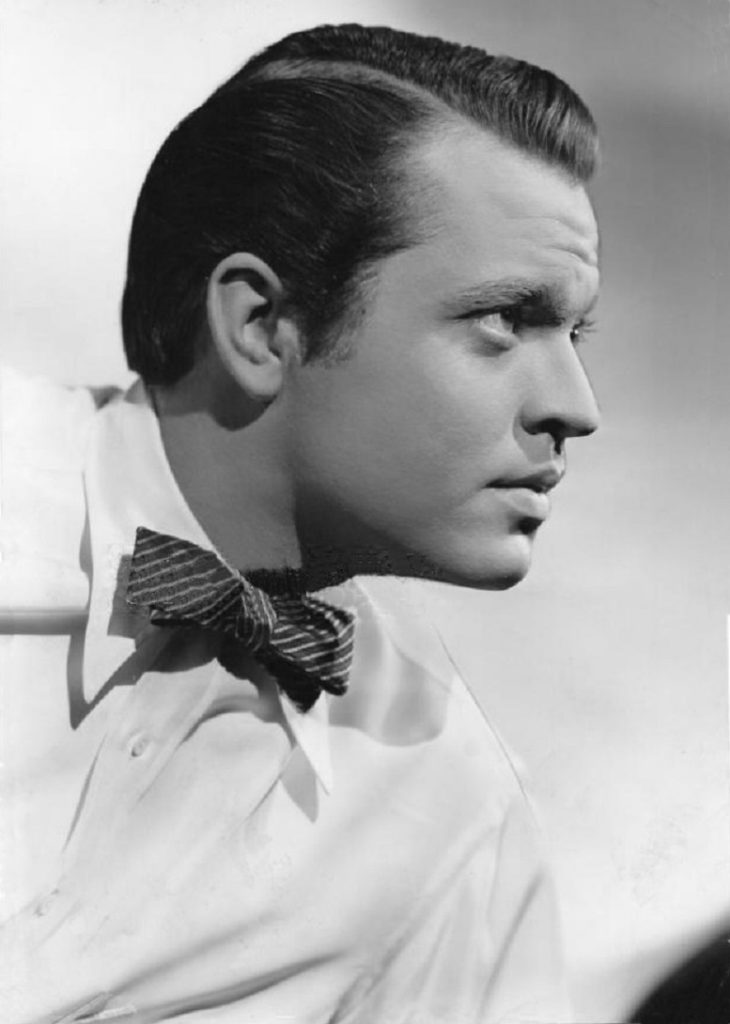 ?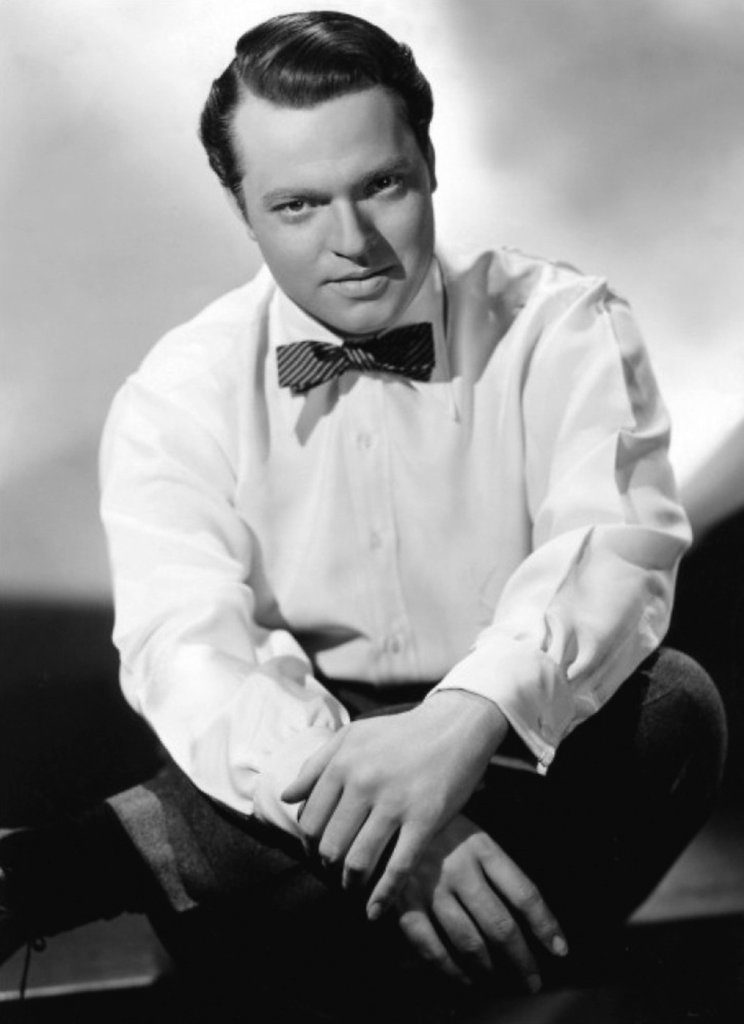 ?
?
CITIZEN KANE ADV 49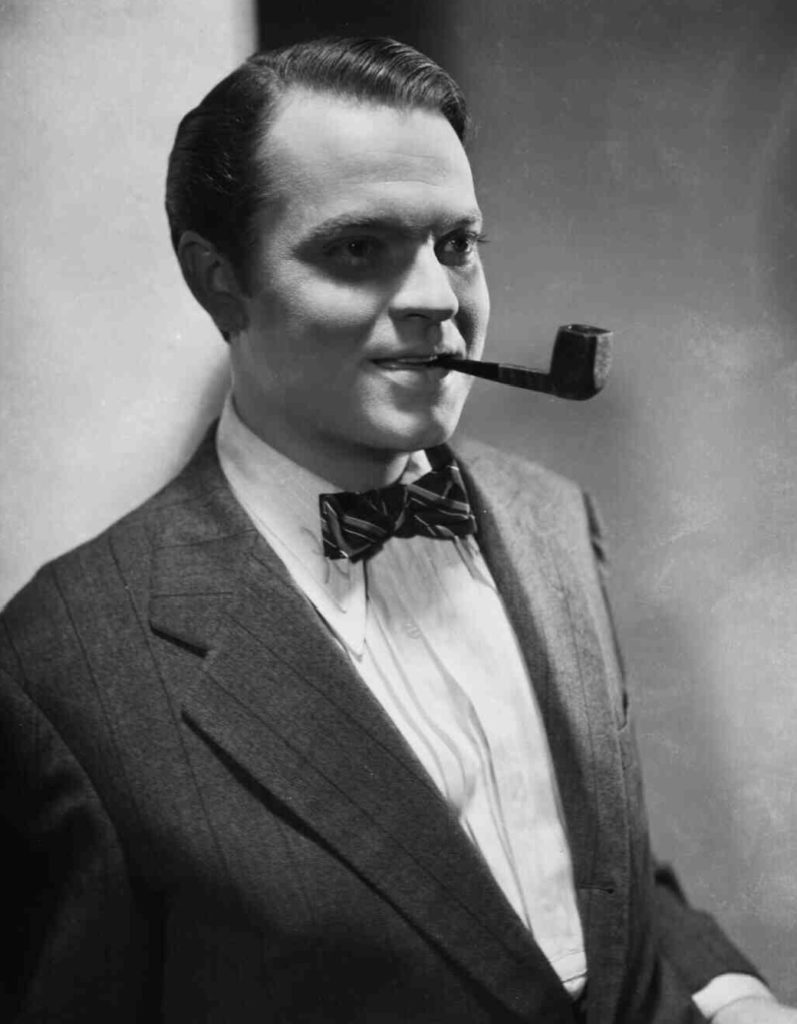 ?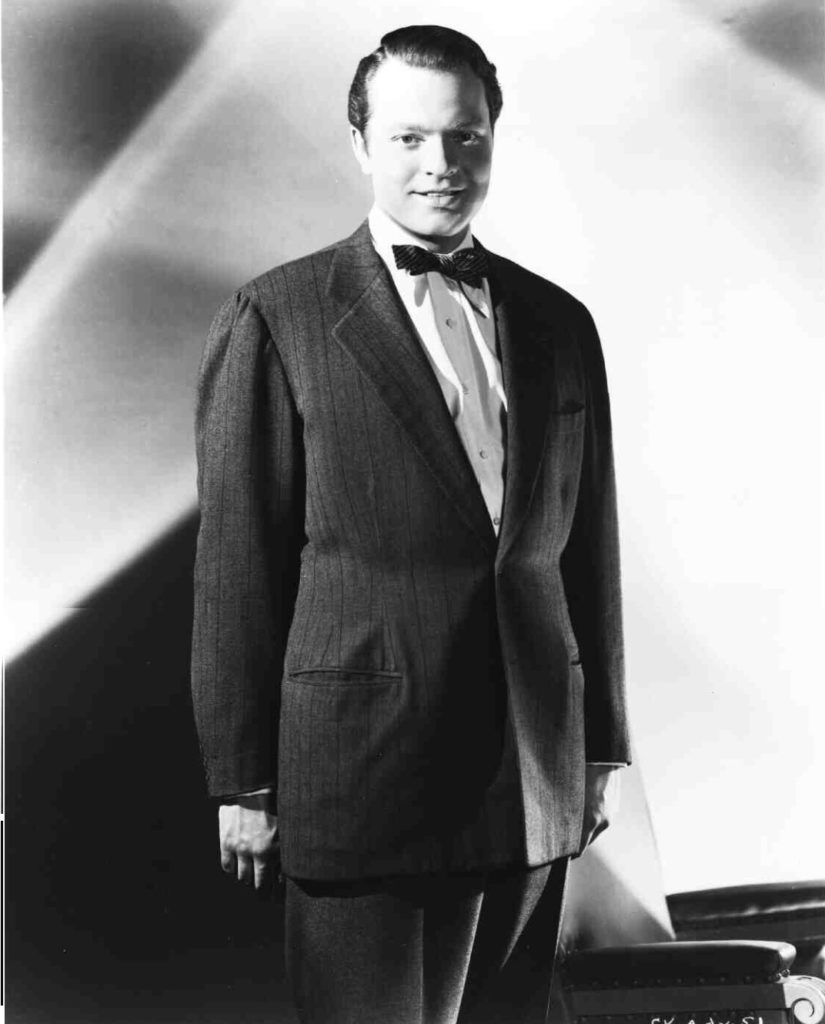 CITIZEN KANE ADV 51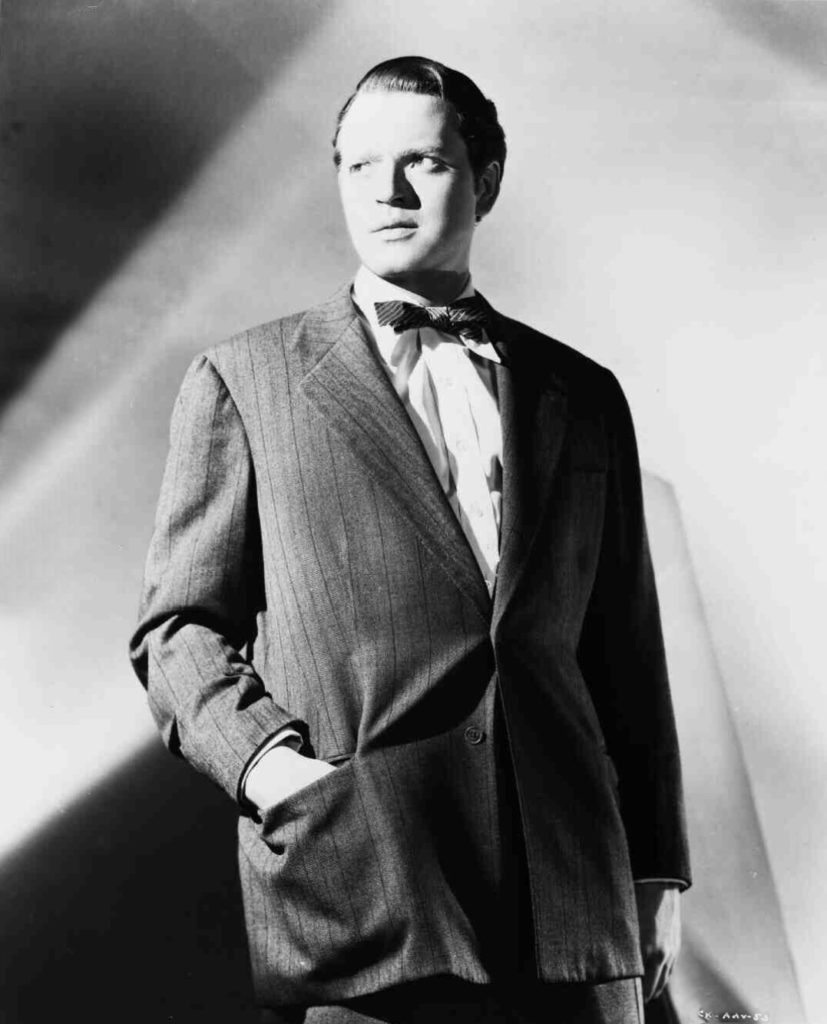 CITIZEN KANE ADV 53
CITIZEN KANE ADV 54
CITIZEN KANE ADV 55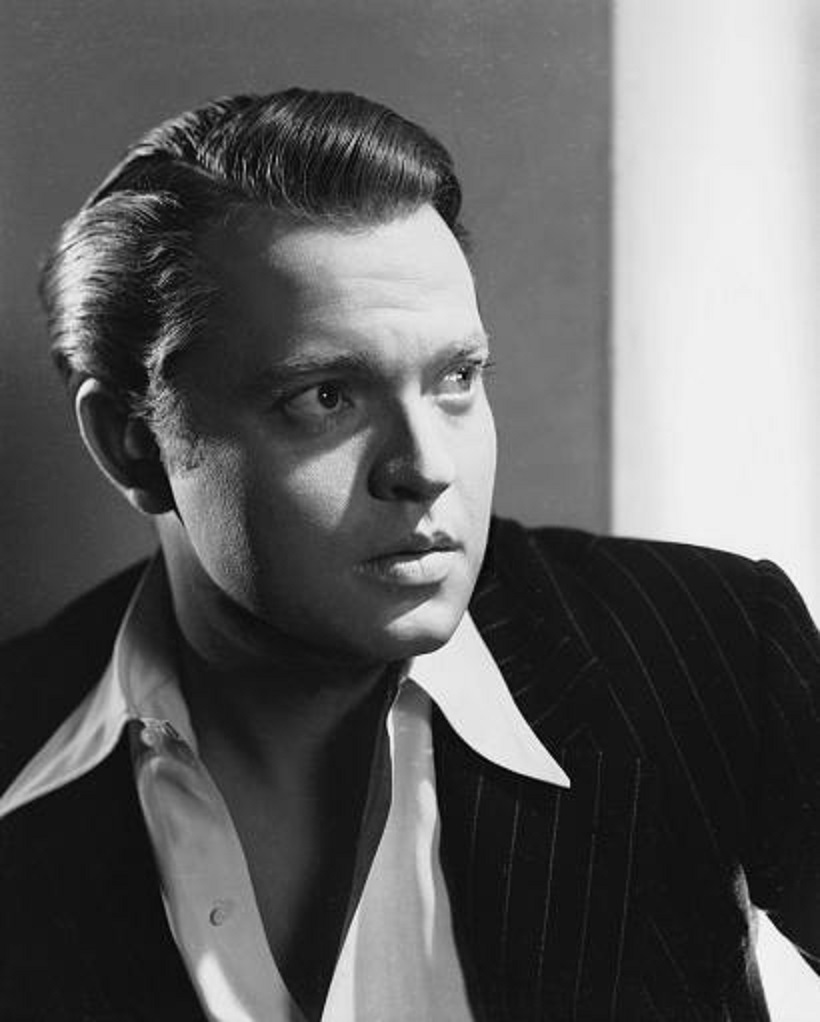 ?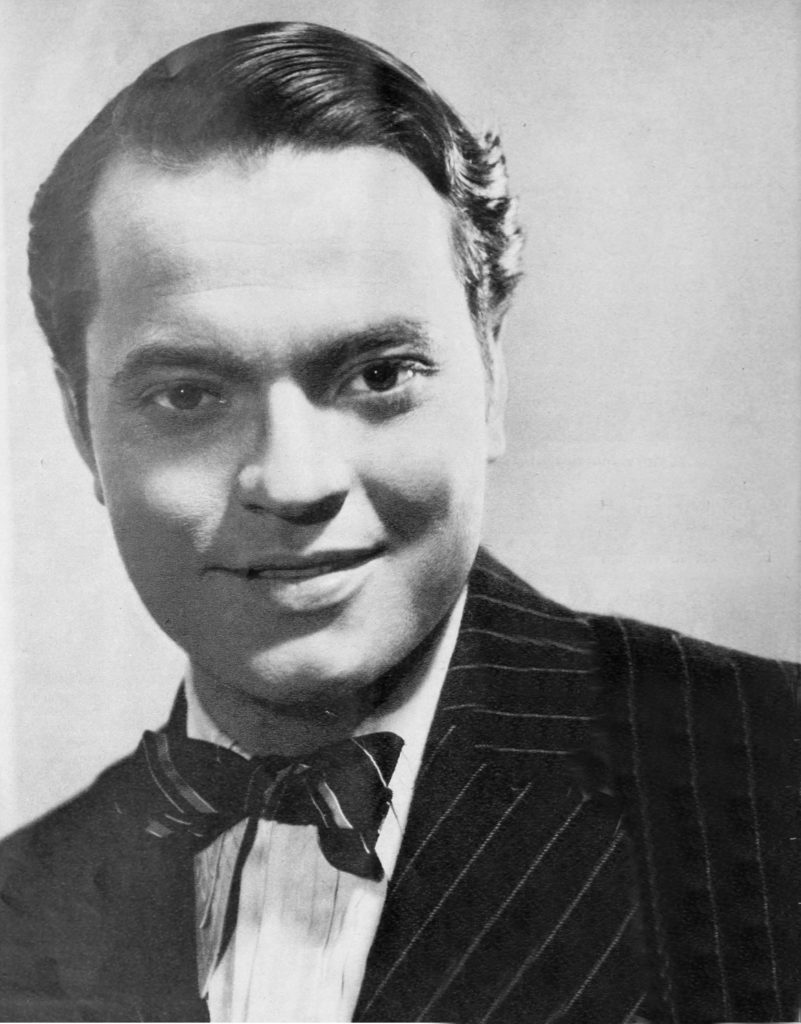 ?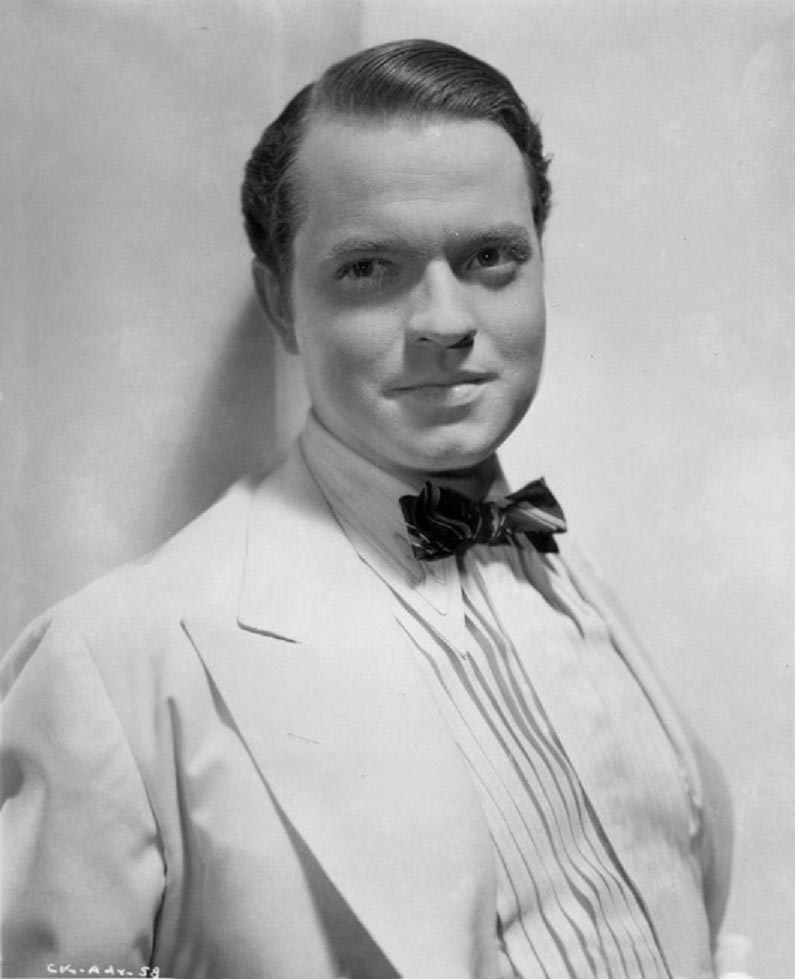 CITZEN KANE ADV 58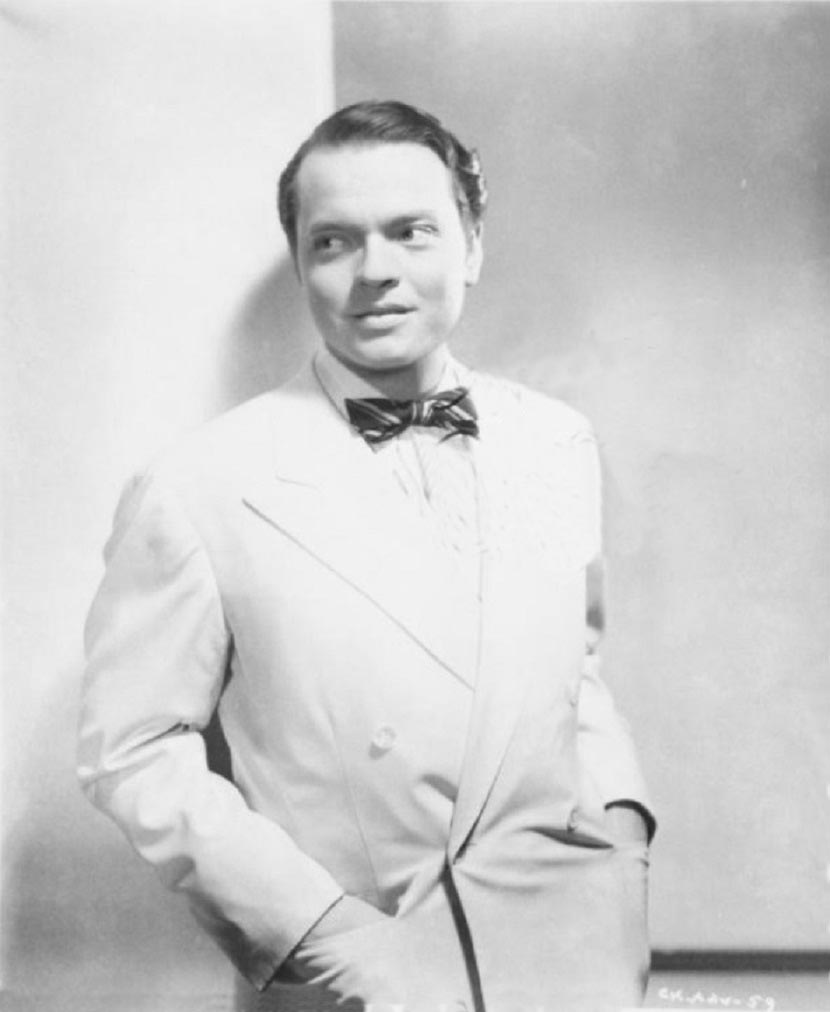 CITIZEN KANE ADV 59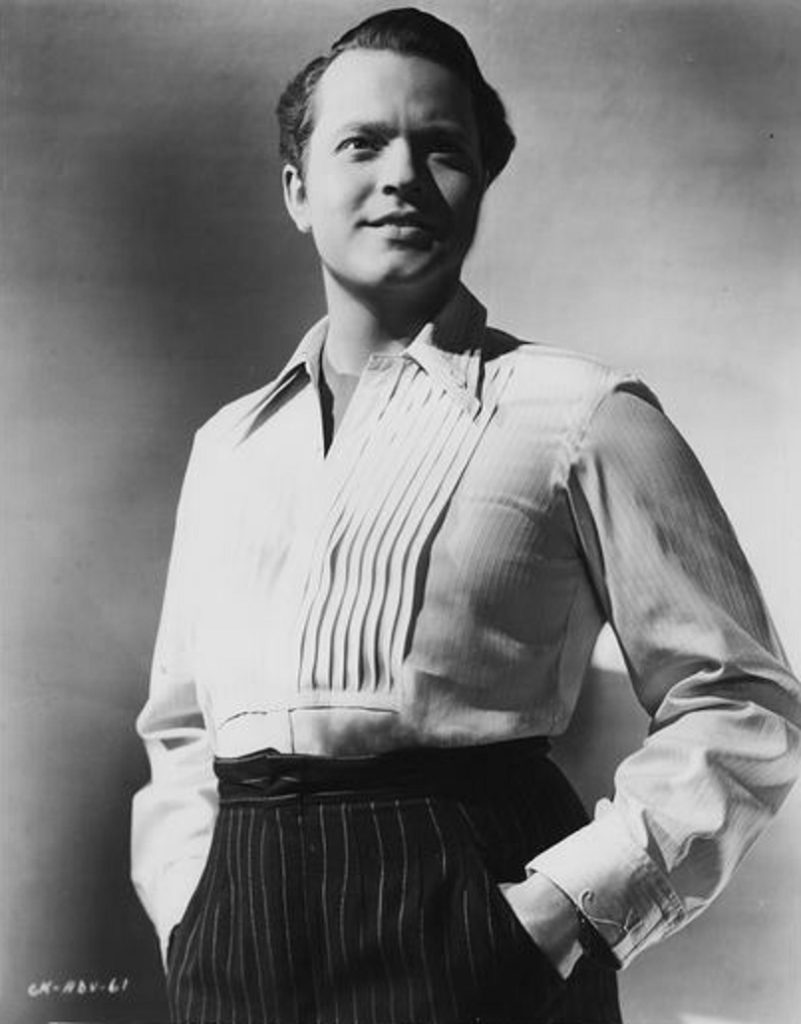 CITZEN KANE ADV 61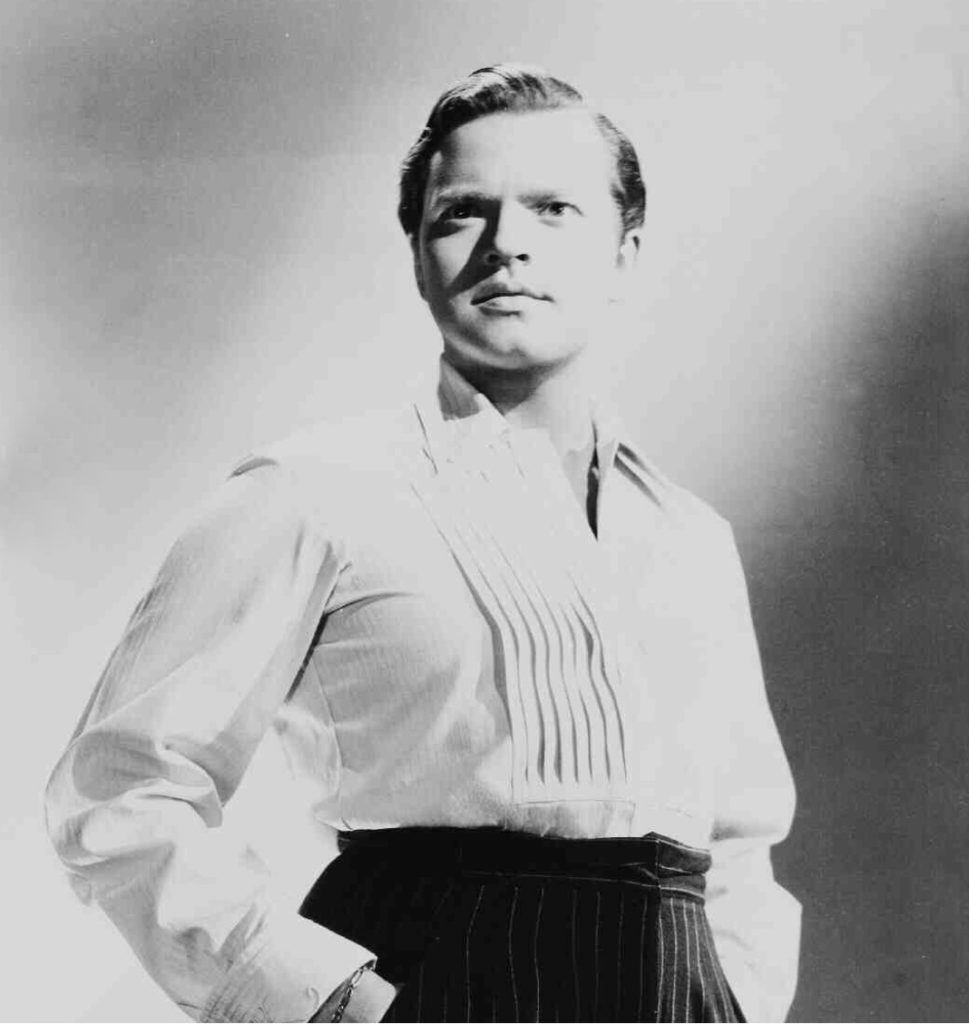 ?
CITIZEN KANE ADV 63
CITIZEN KANE ADV 64
CITIZEN KANE ADV 65
CITIZEN KANE ADV 66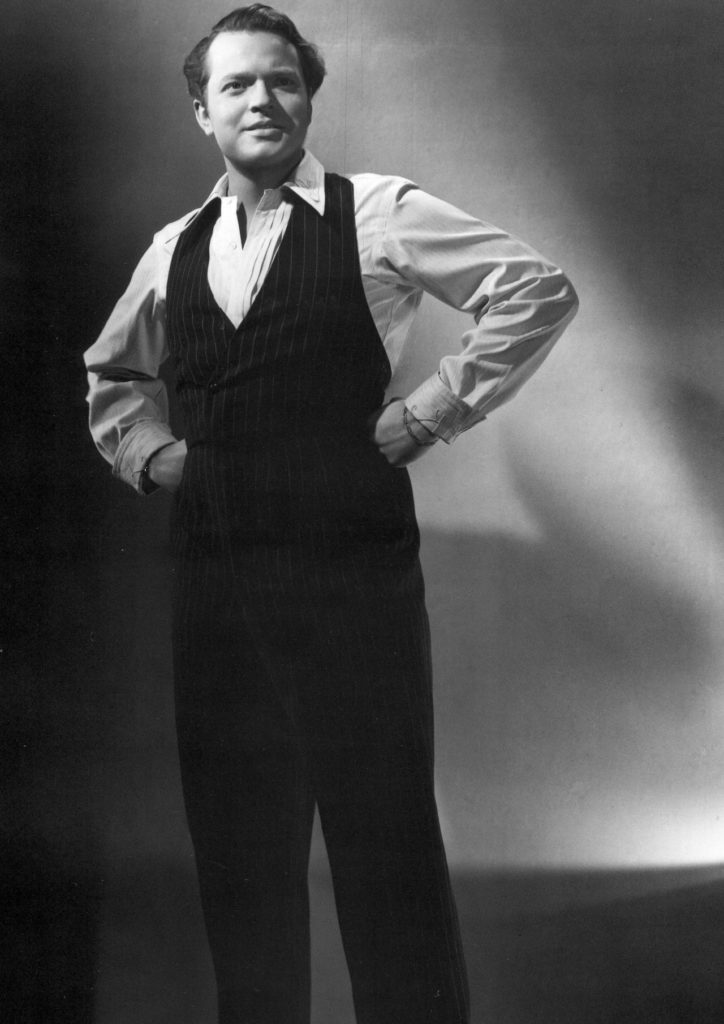 ?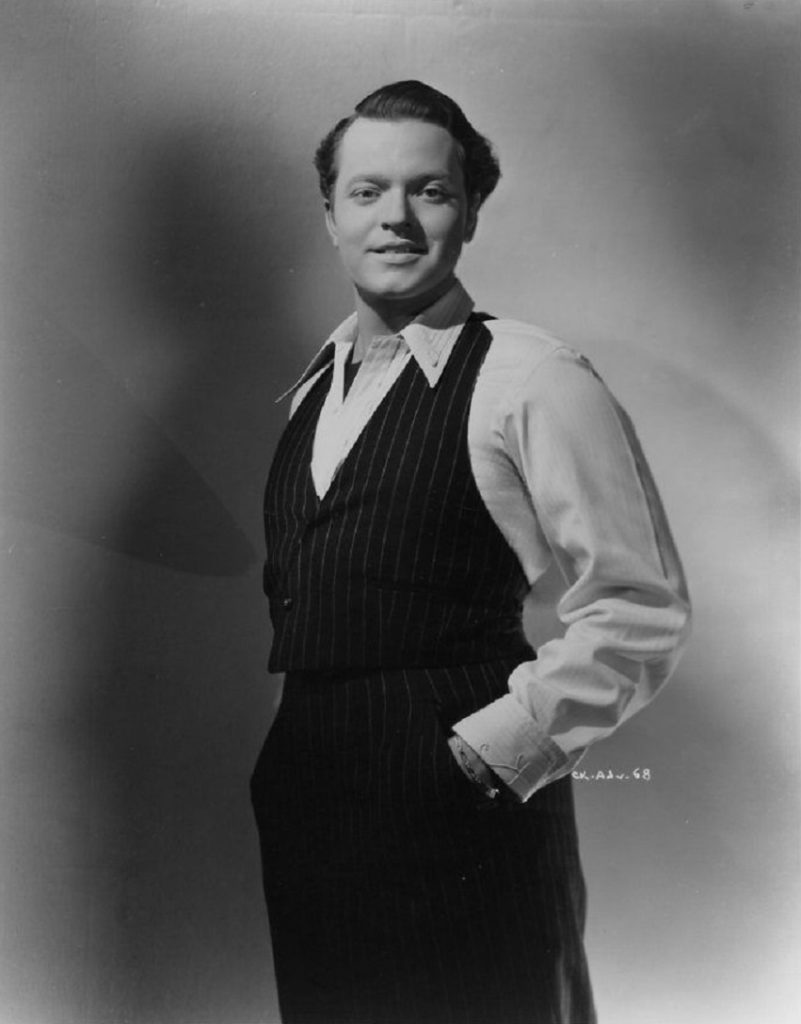 CITZEN KANE ADV 68
?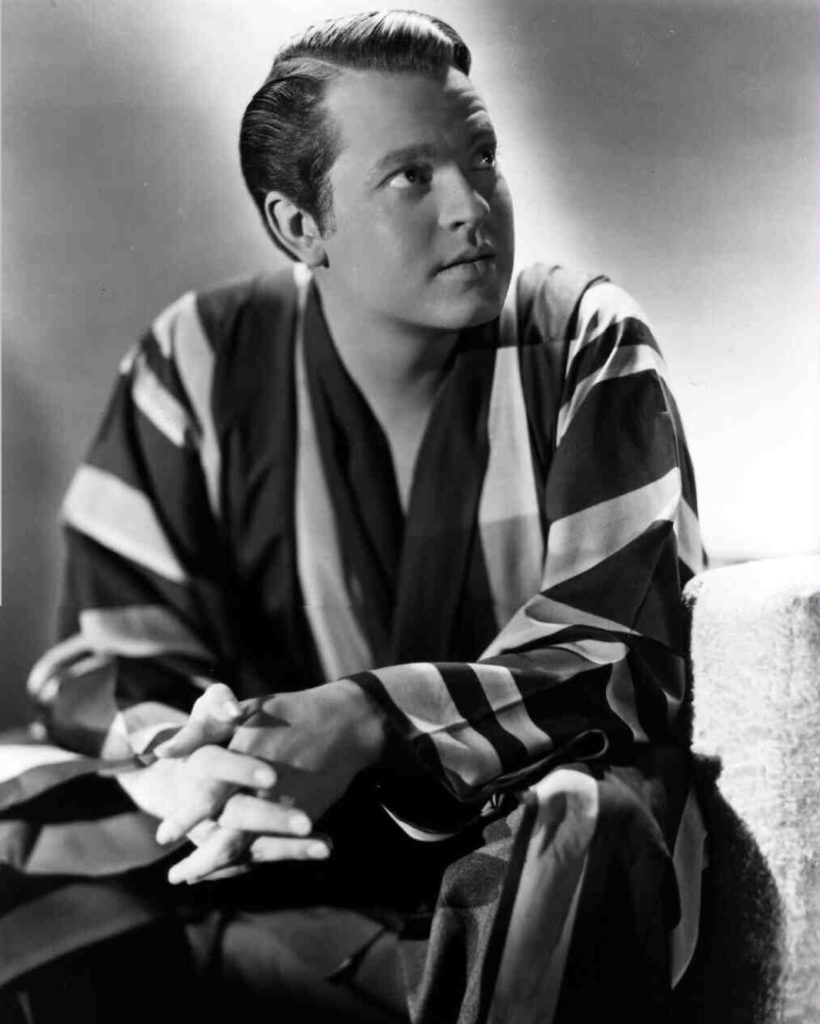 ?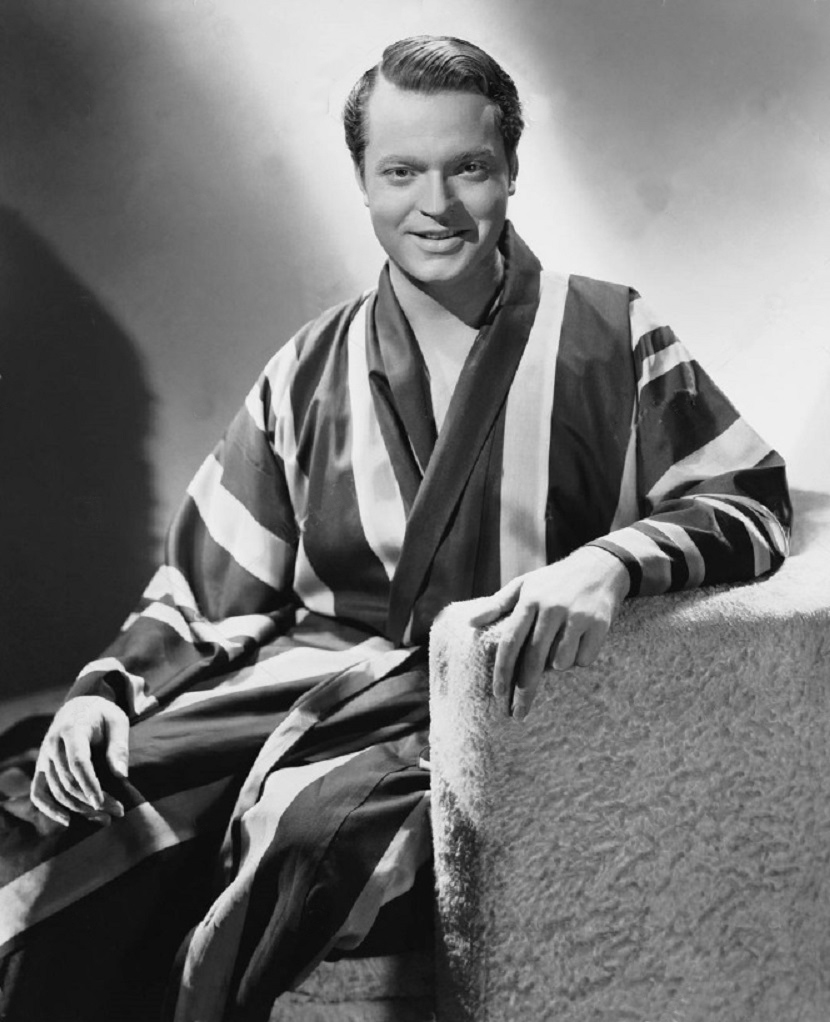 ?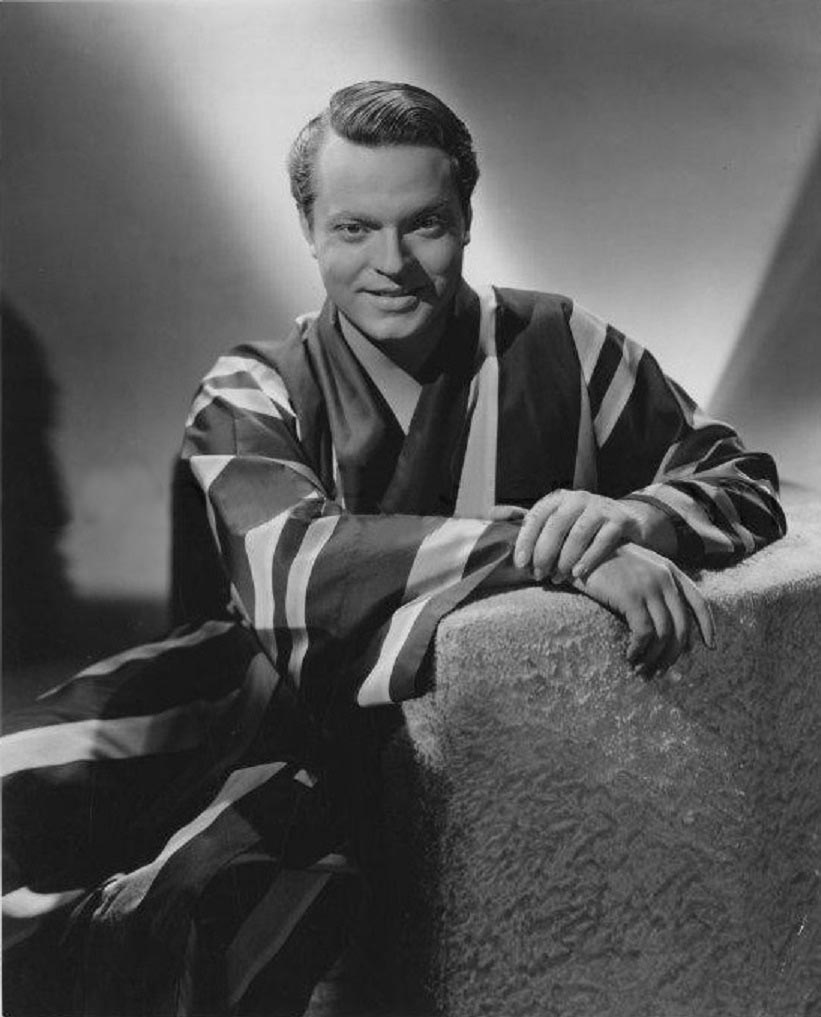 ?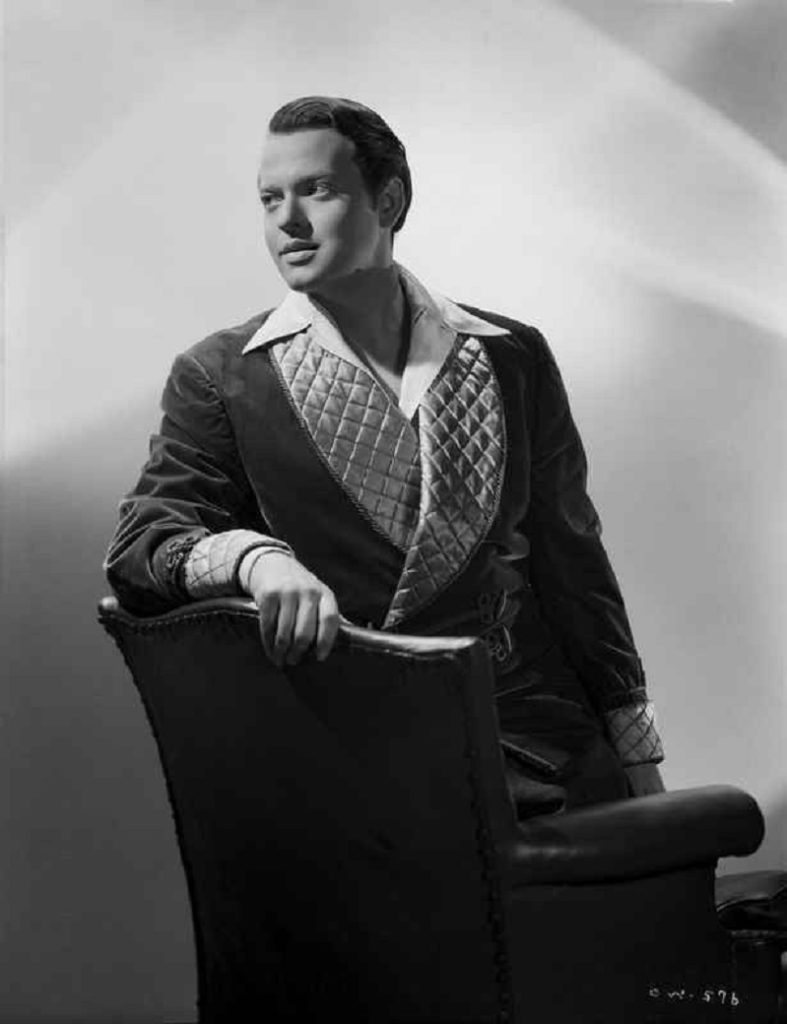 ORSON WELLES 57b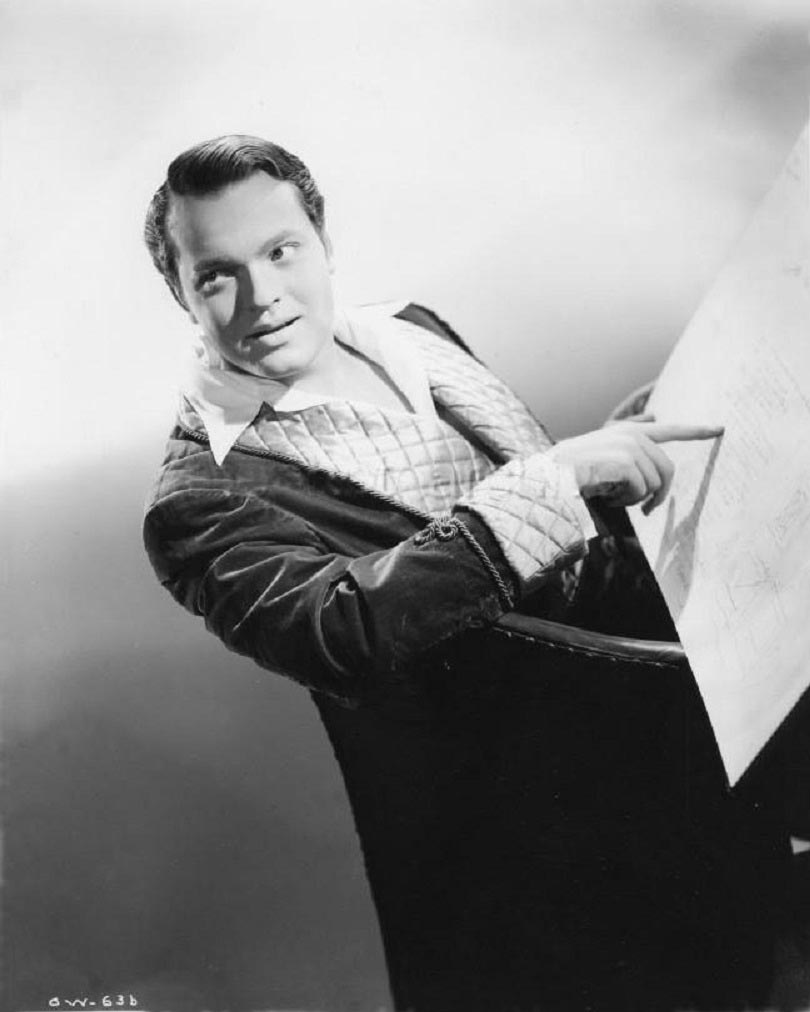 ORSON WELLES 63b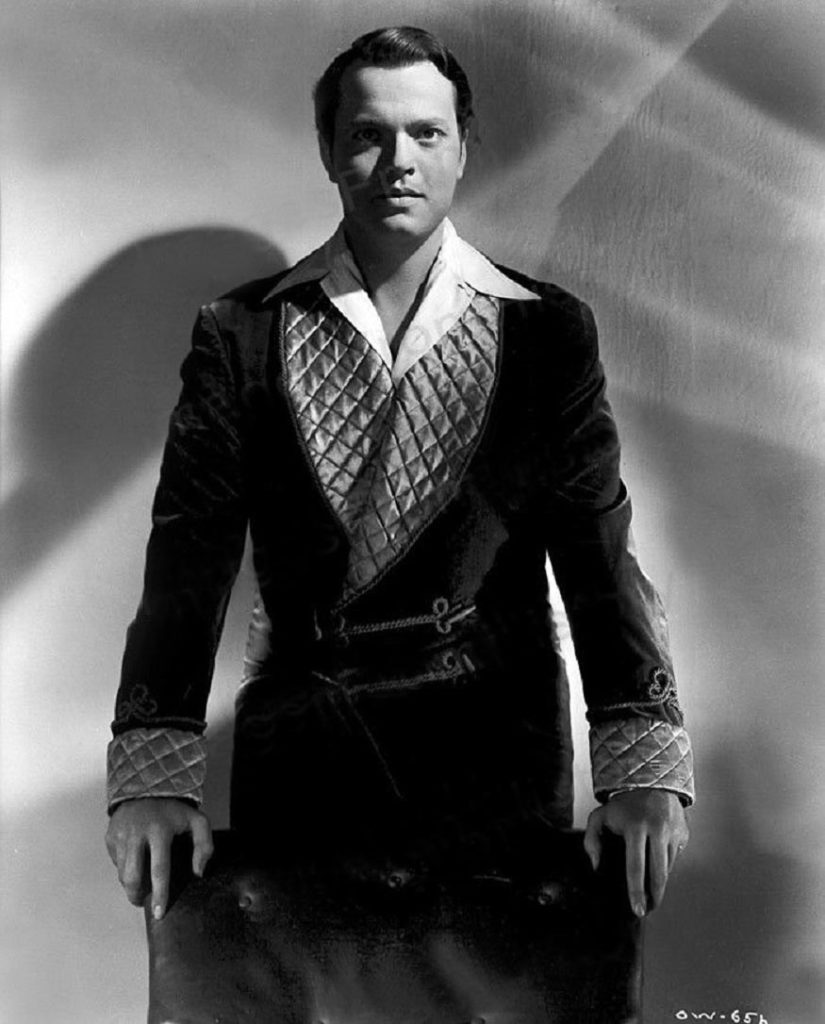 ORSON WELLES 65b
?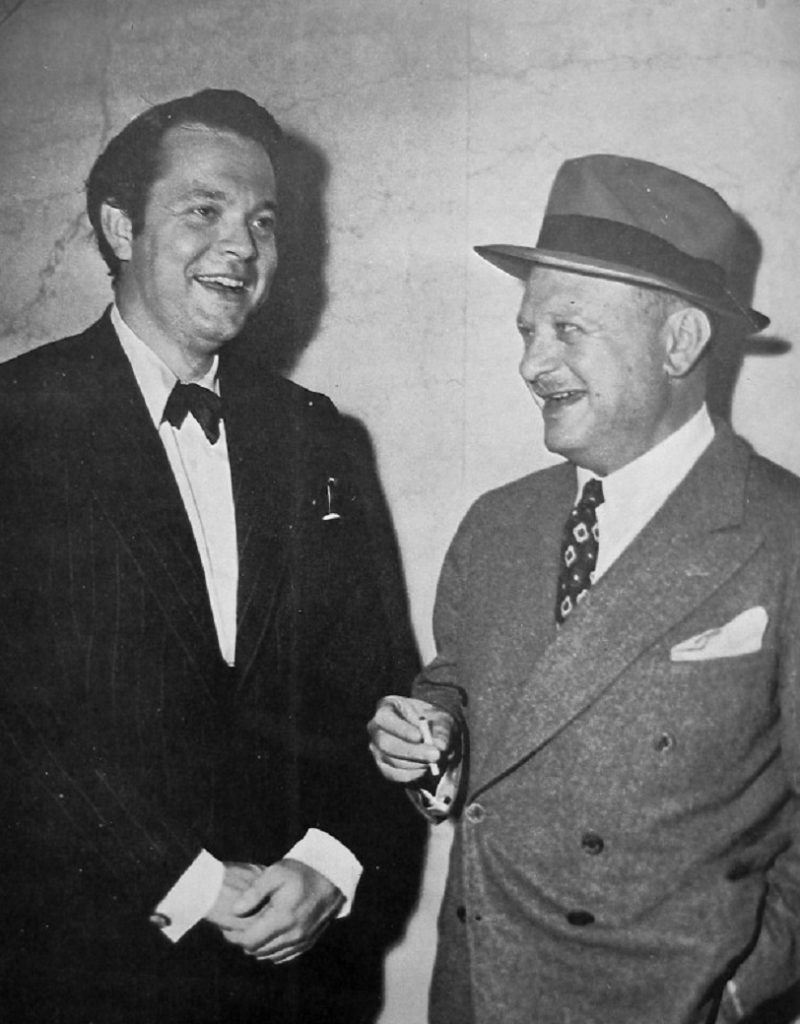 ?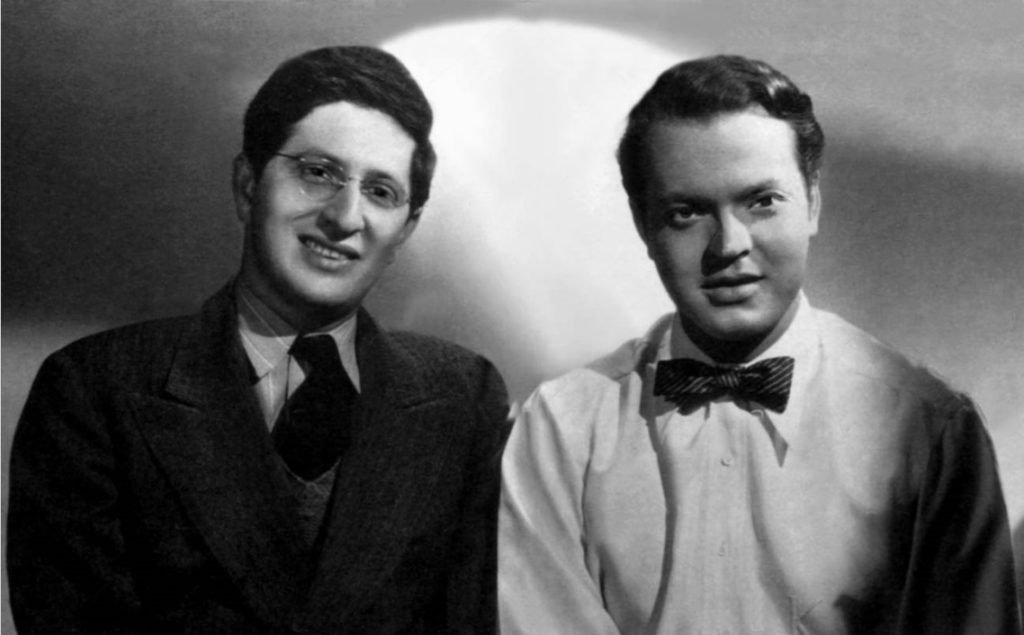 ?
?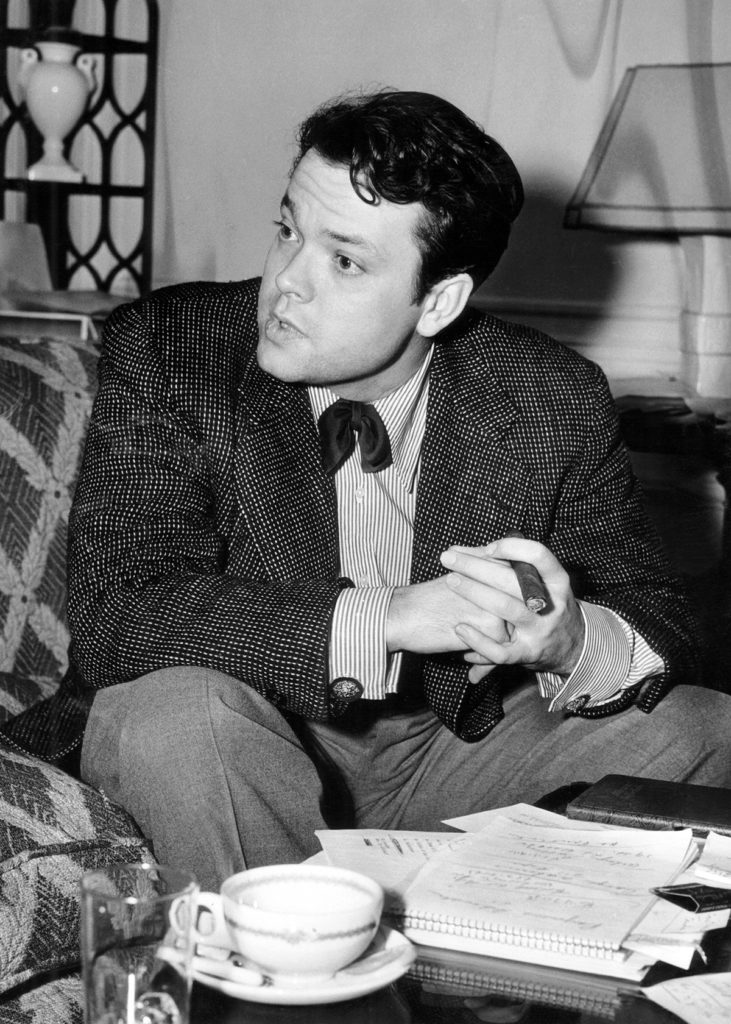 ?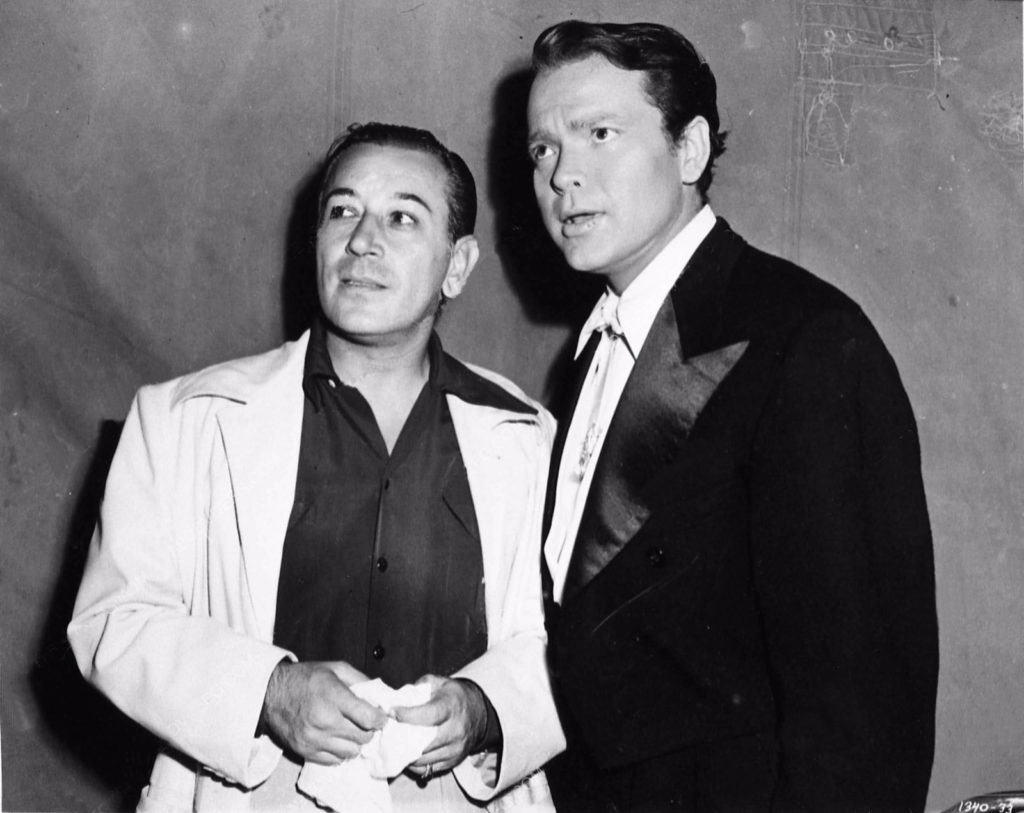 ?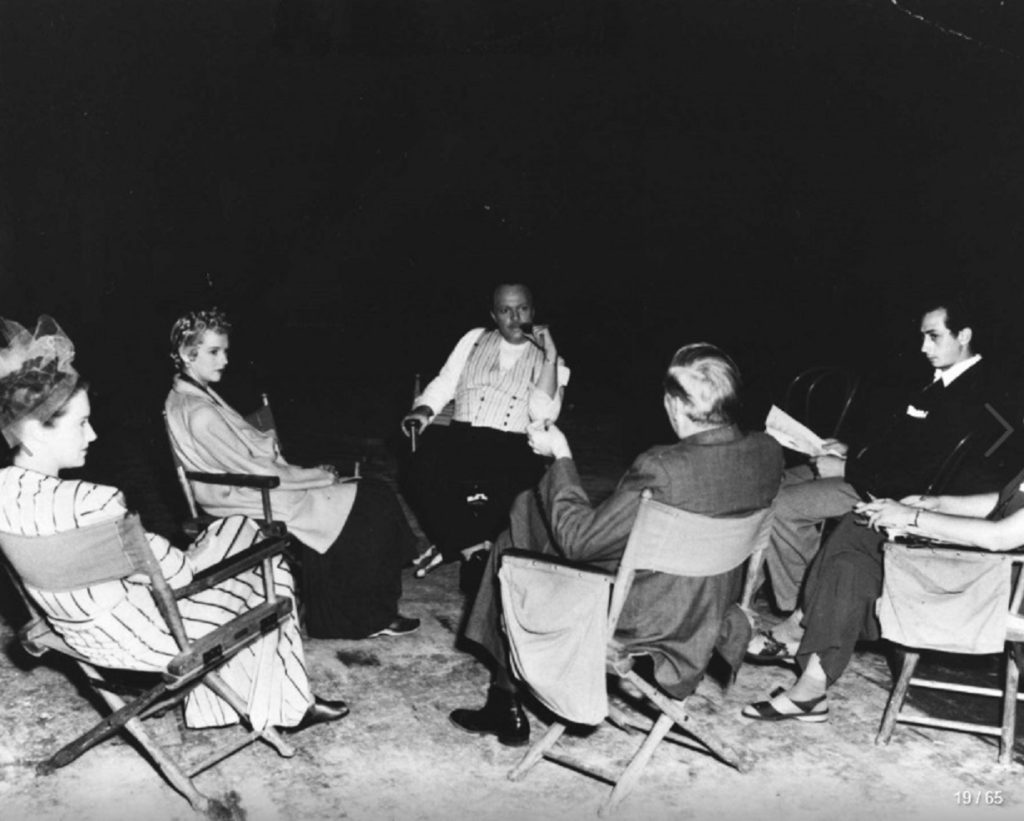 ?
CITIZEN KANE B Series (B41131-6)
CITIZEN KANE B Series (B411830-6)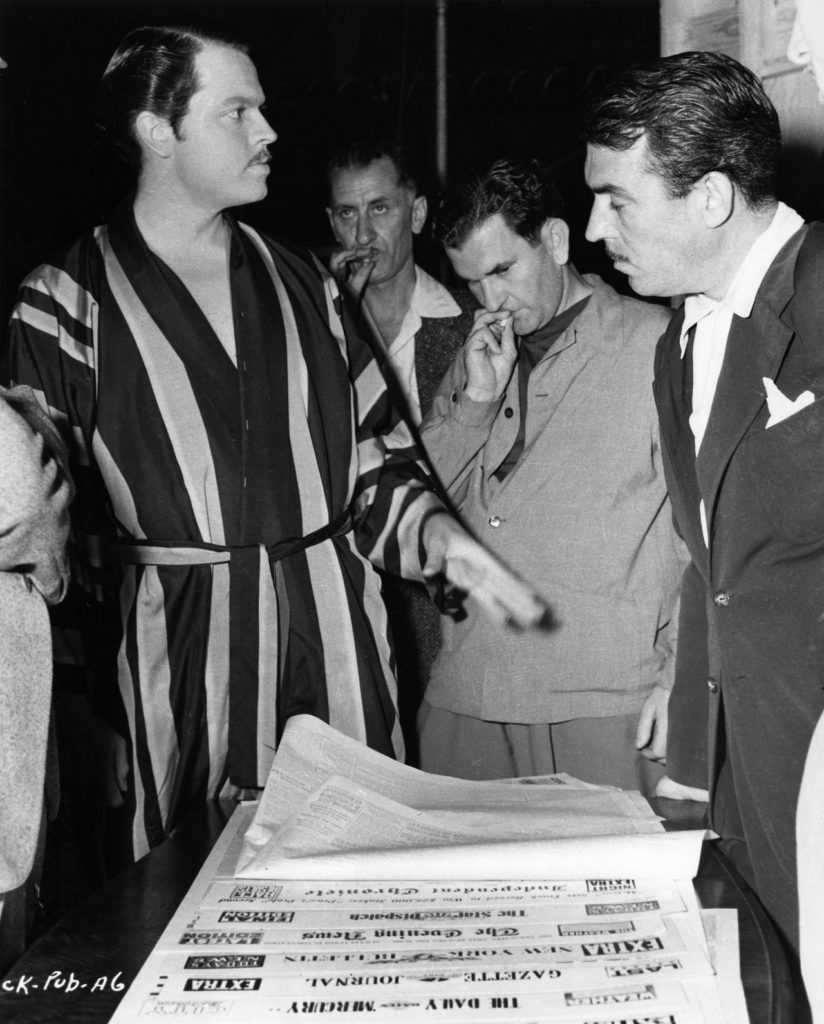 CITIZEN KANE PUB A6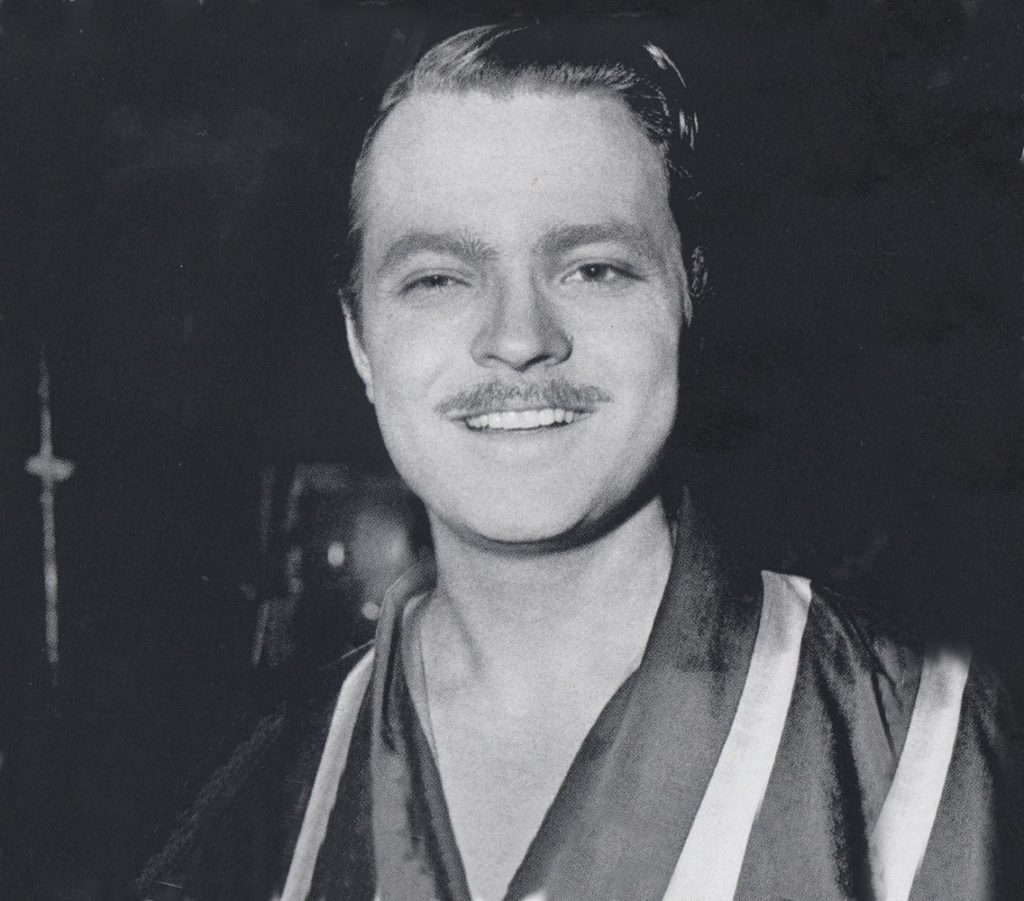 ?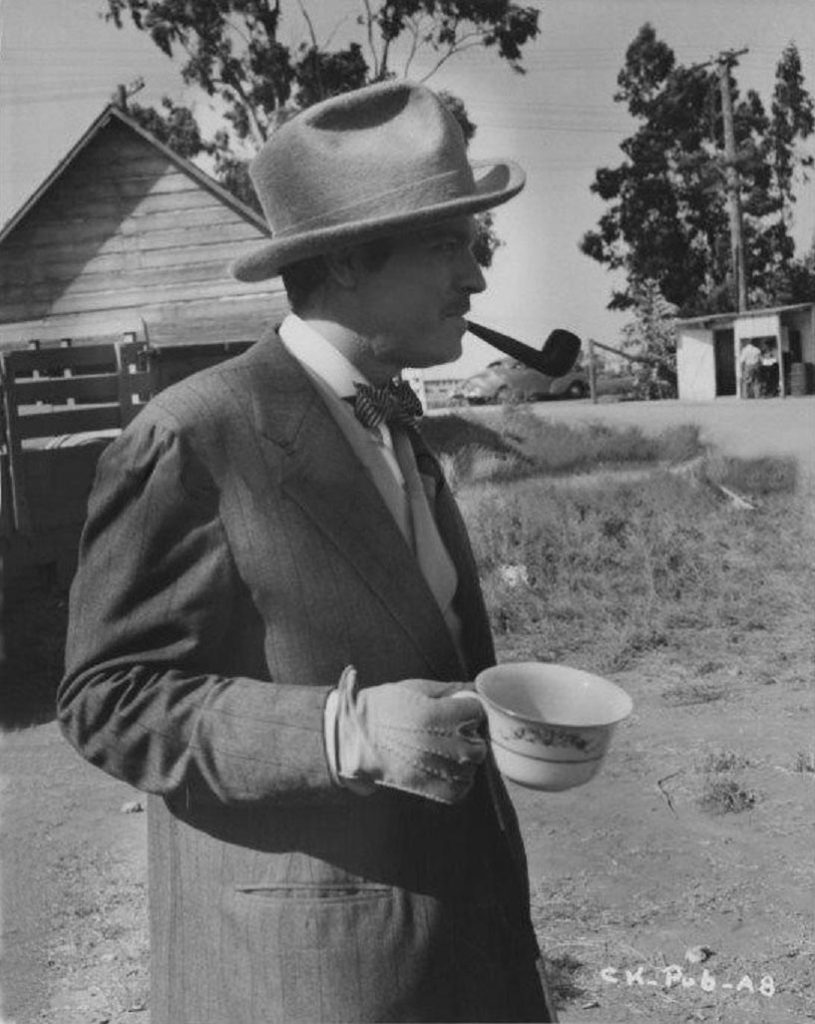 CITIZEN KANE PUB A8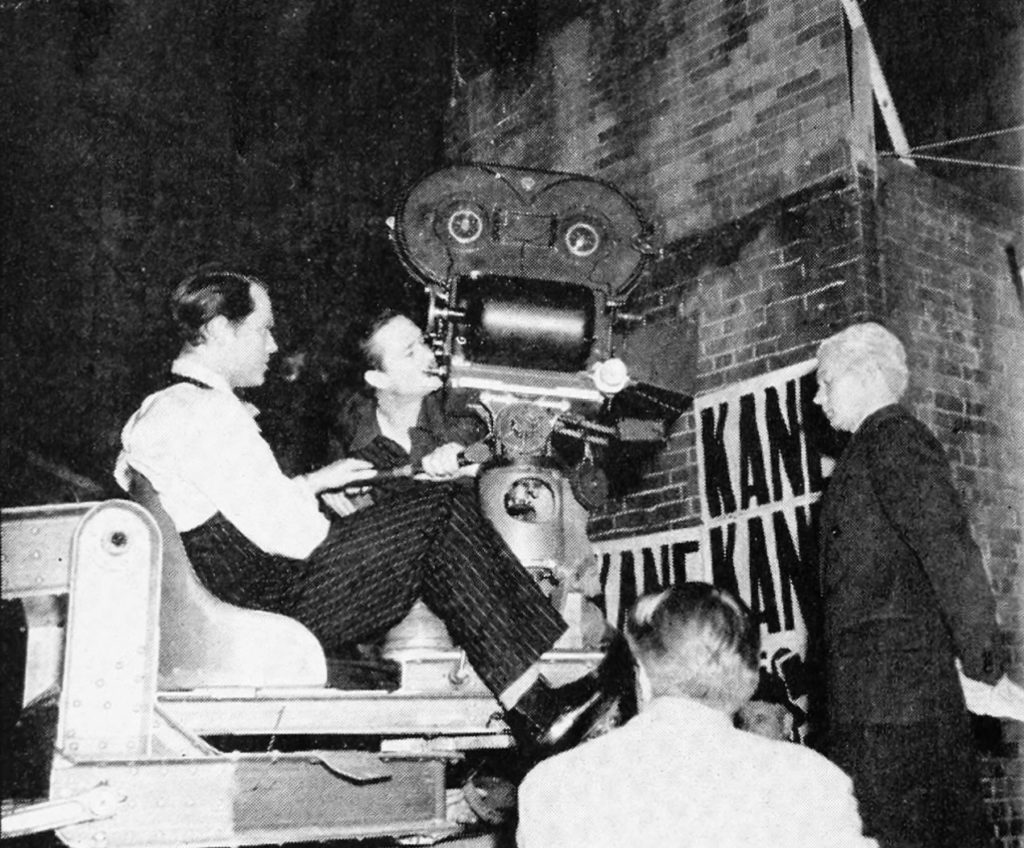 ?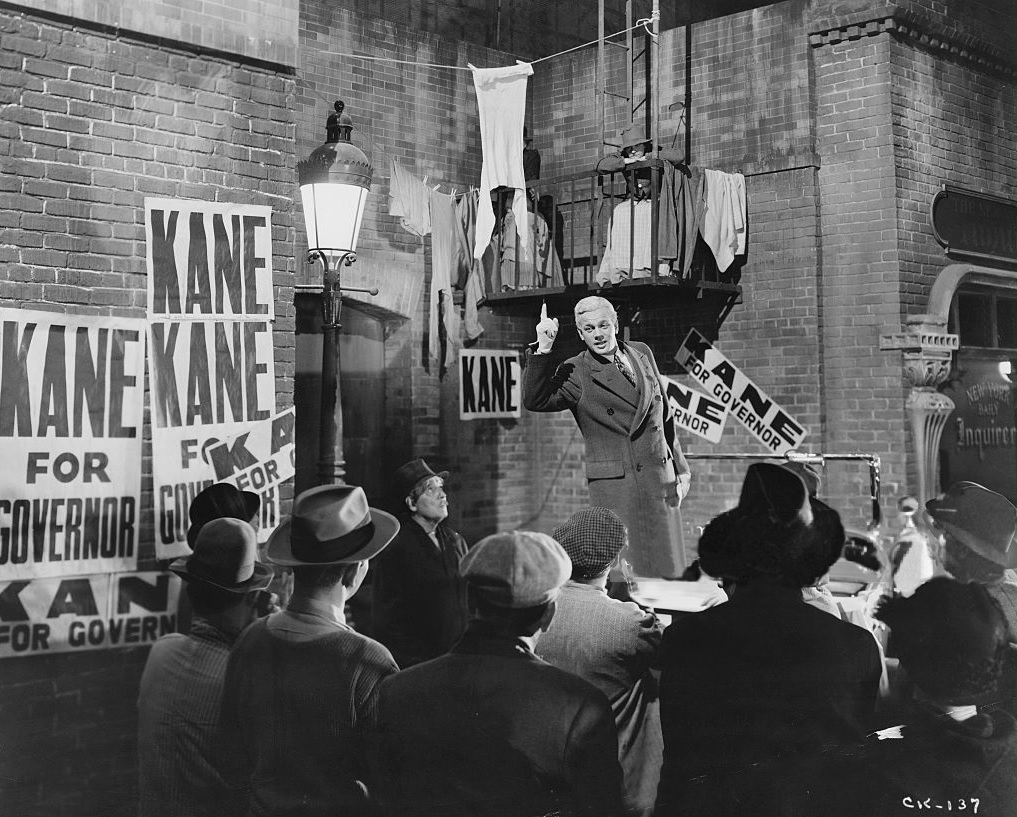 CITIZEN KANE 137
?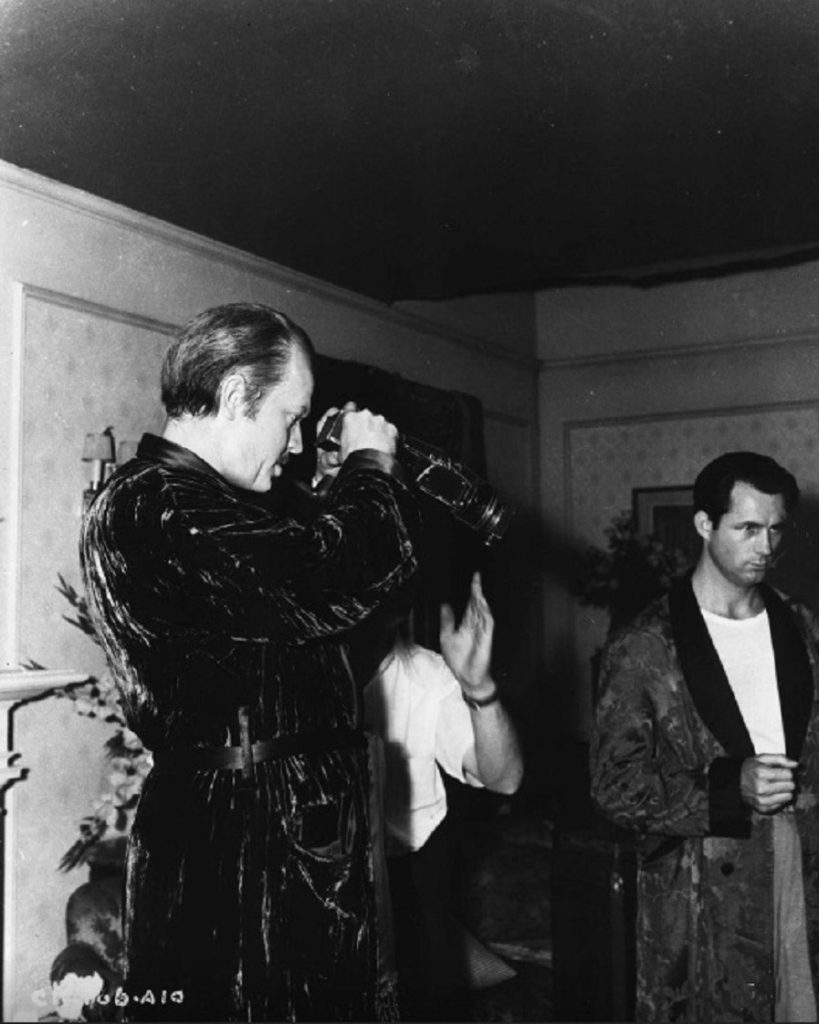 CITIZEN KANE PUB A10
?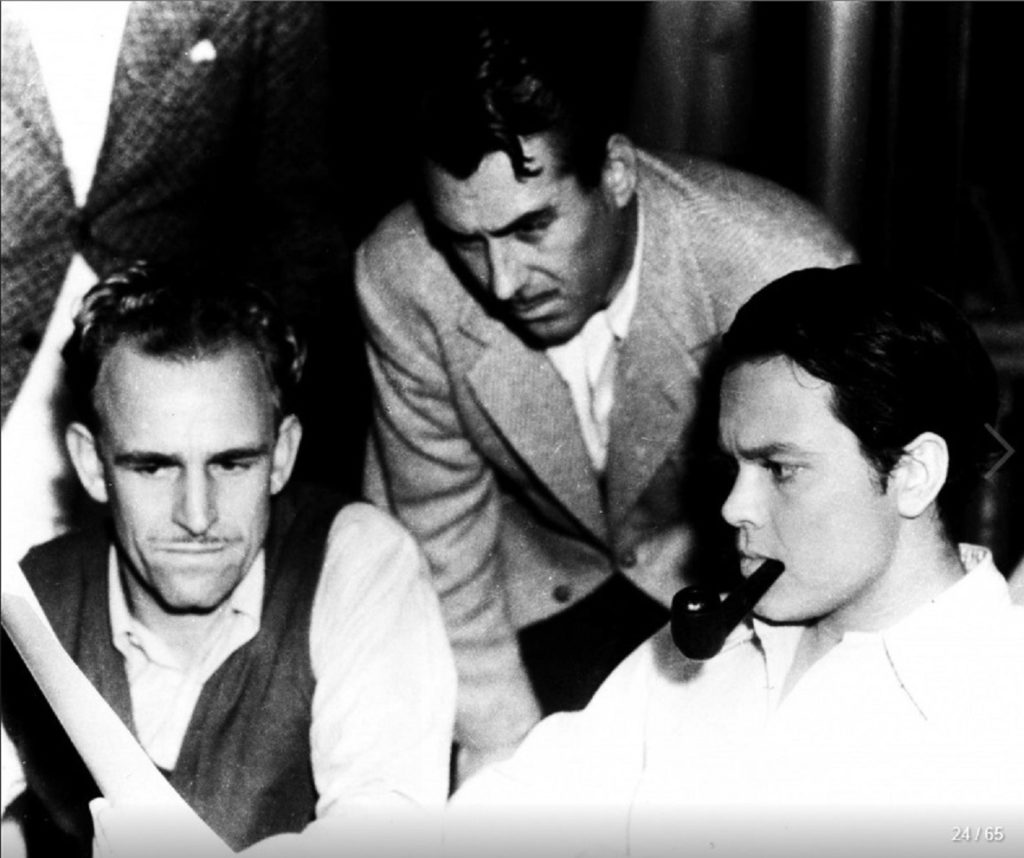 ?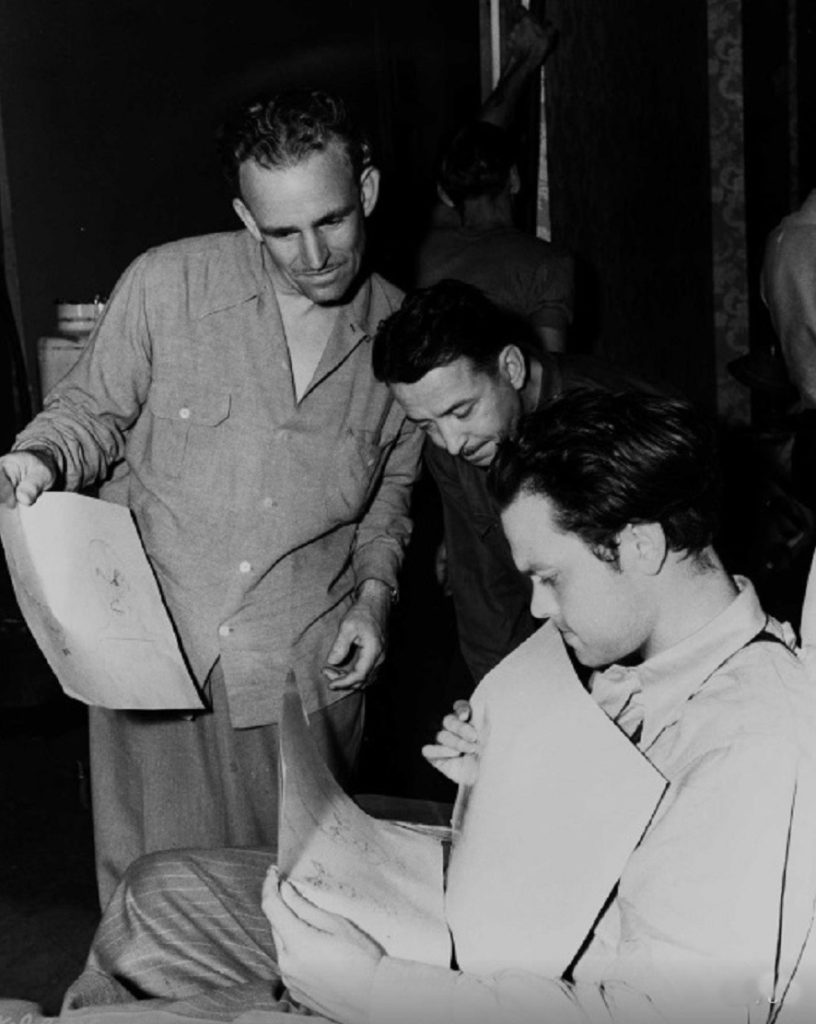 ?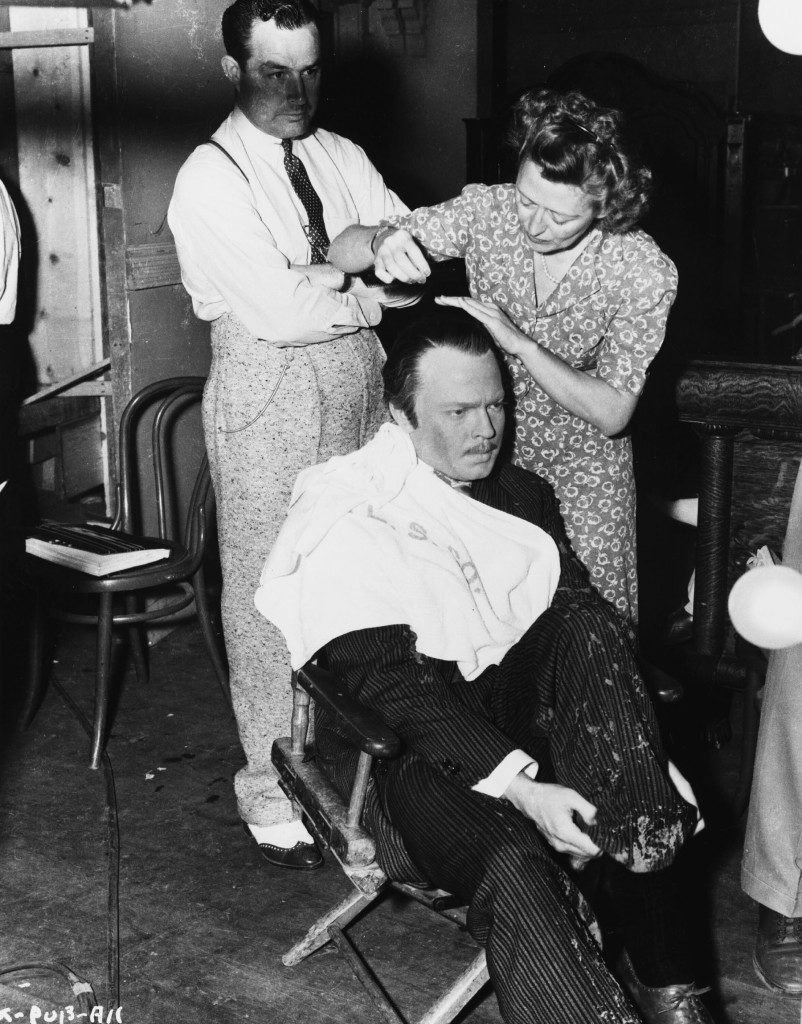 CITIZEN KANE OUB A11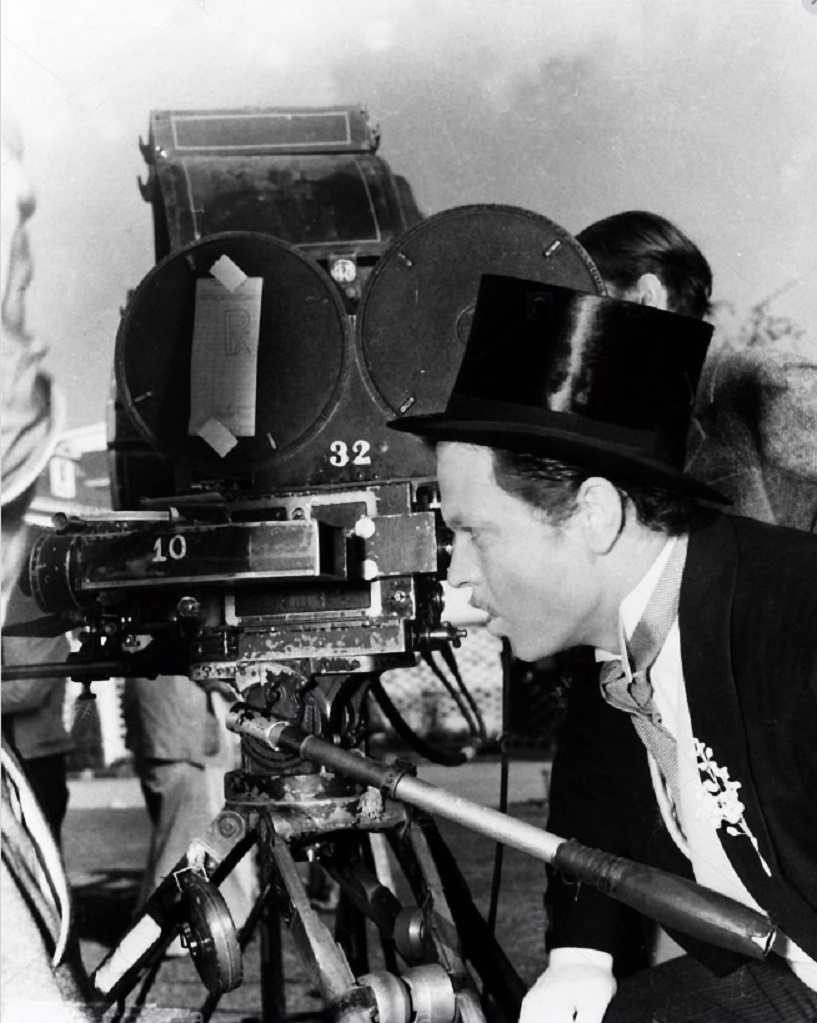 CITIZEN KANE PUB 12X
?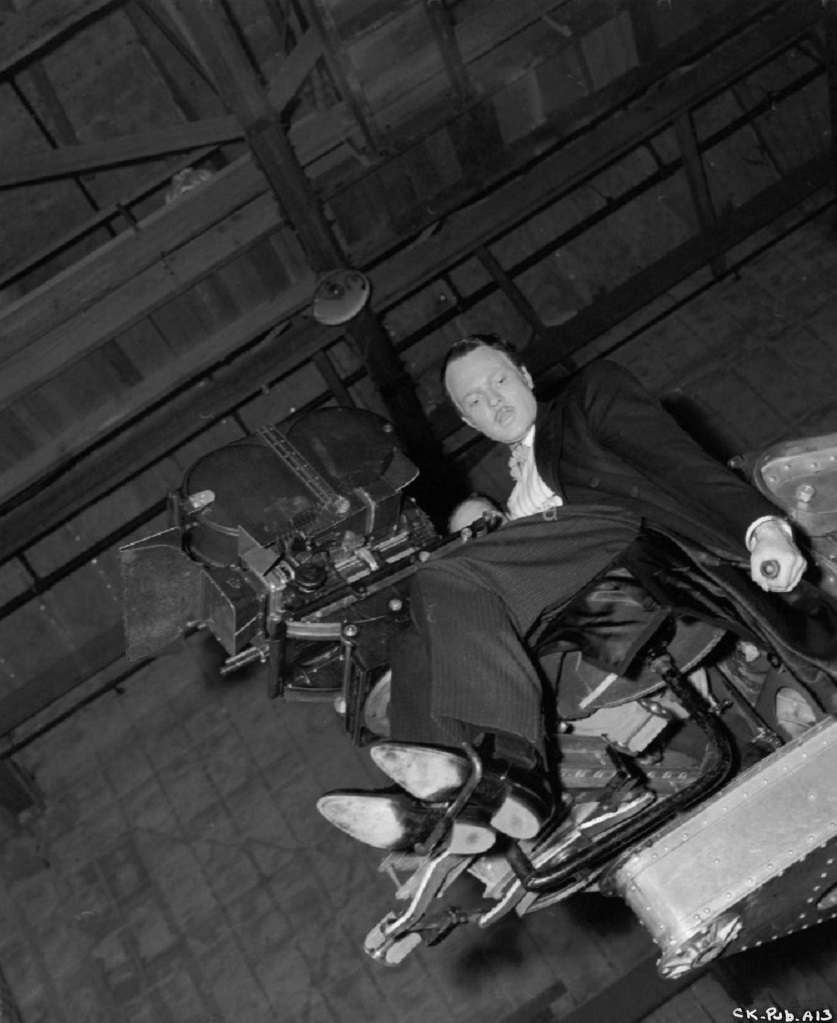 CITIZEN KANE PUB A13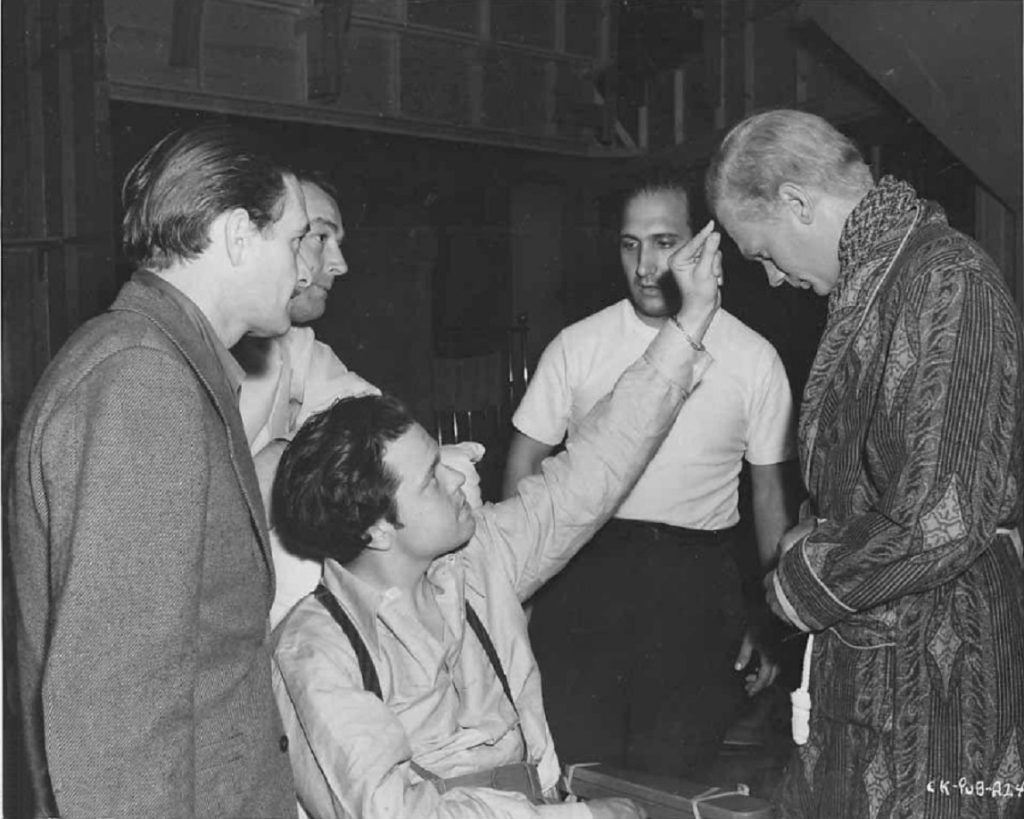 CITIZEN KANE PUB A17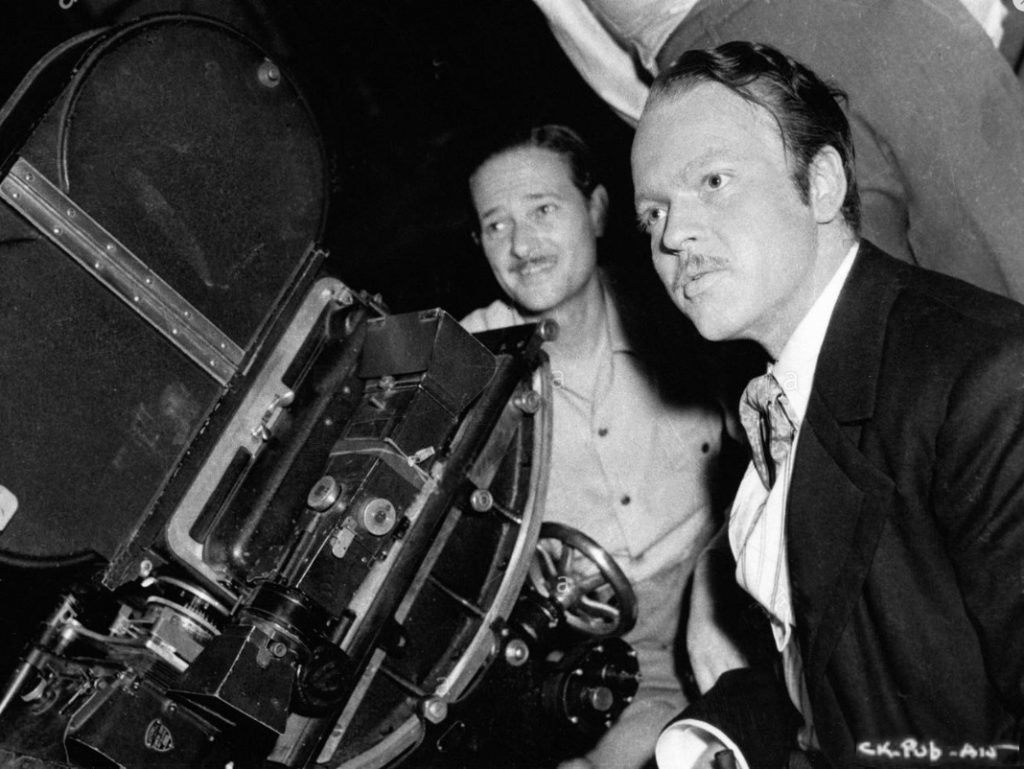 CITIZEN KANE PUB A15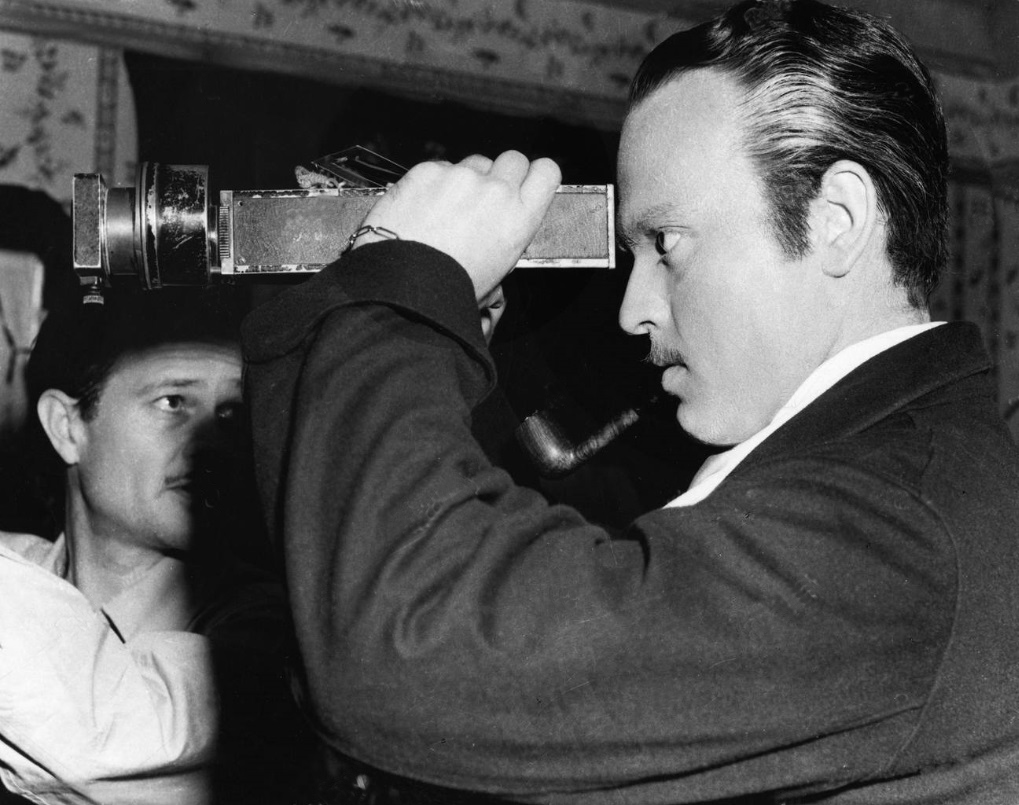 ?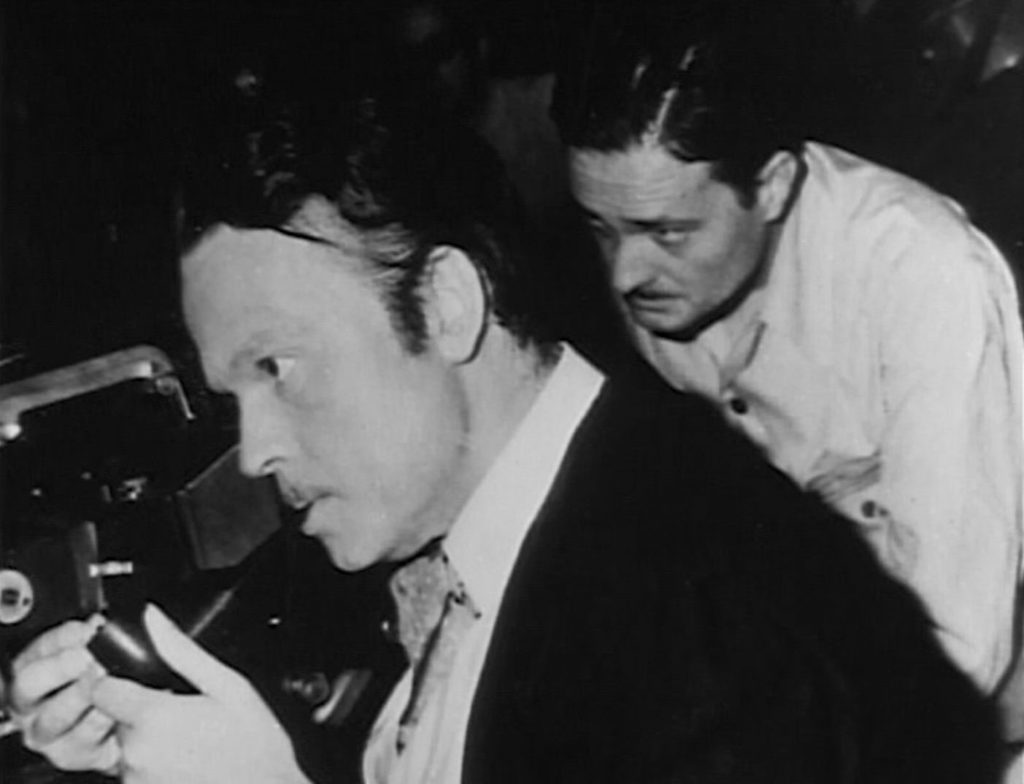 ?
CITIZEN KANE PUB A17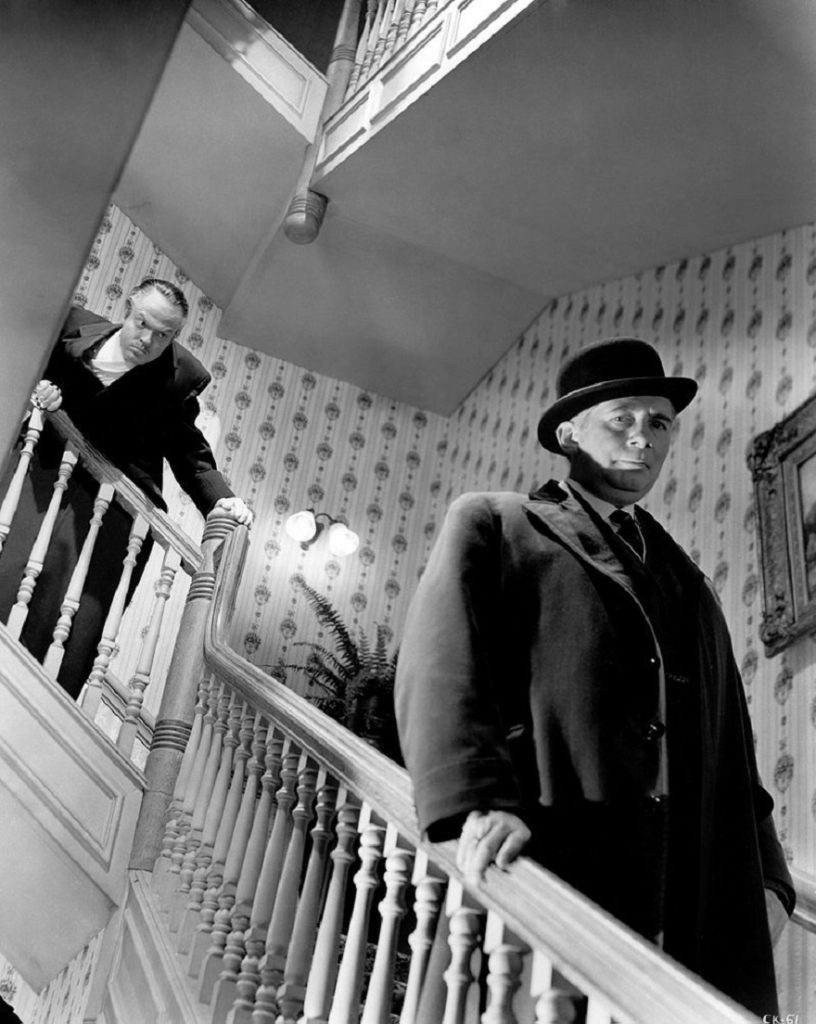 CITIZEN KANE 51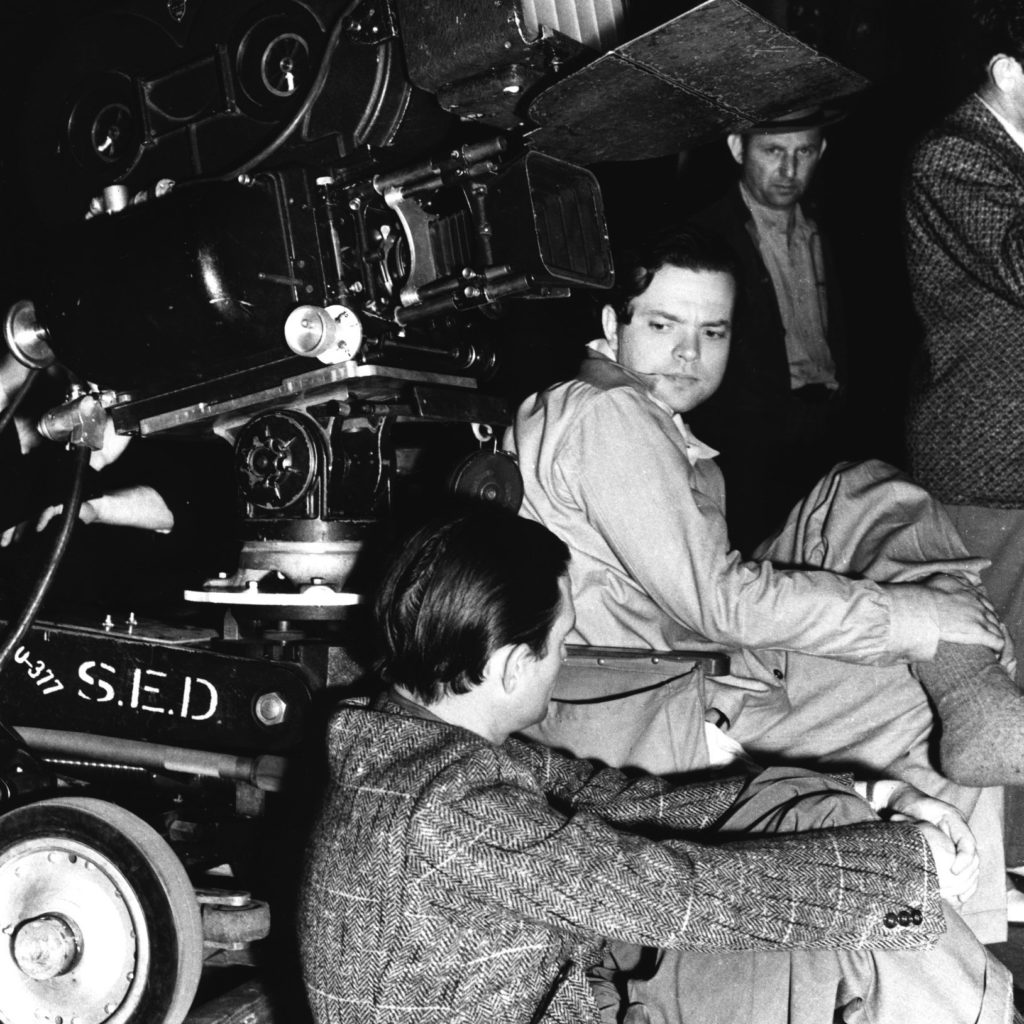 ?
?
CITIZEN KANE PUB A19
?
CITIZEN KANE PUB A21
CITIZEN KANE R Series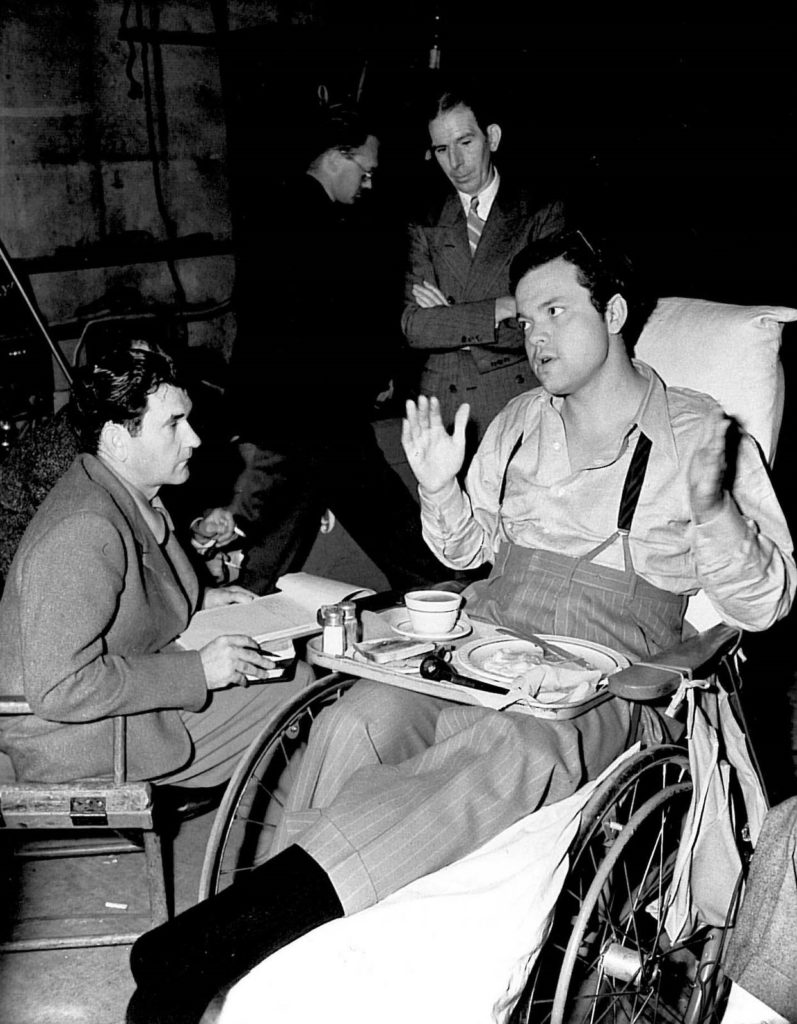 ?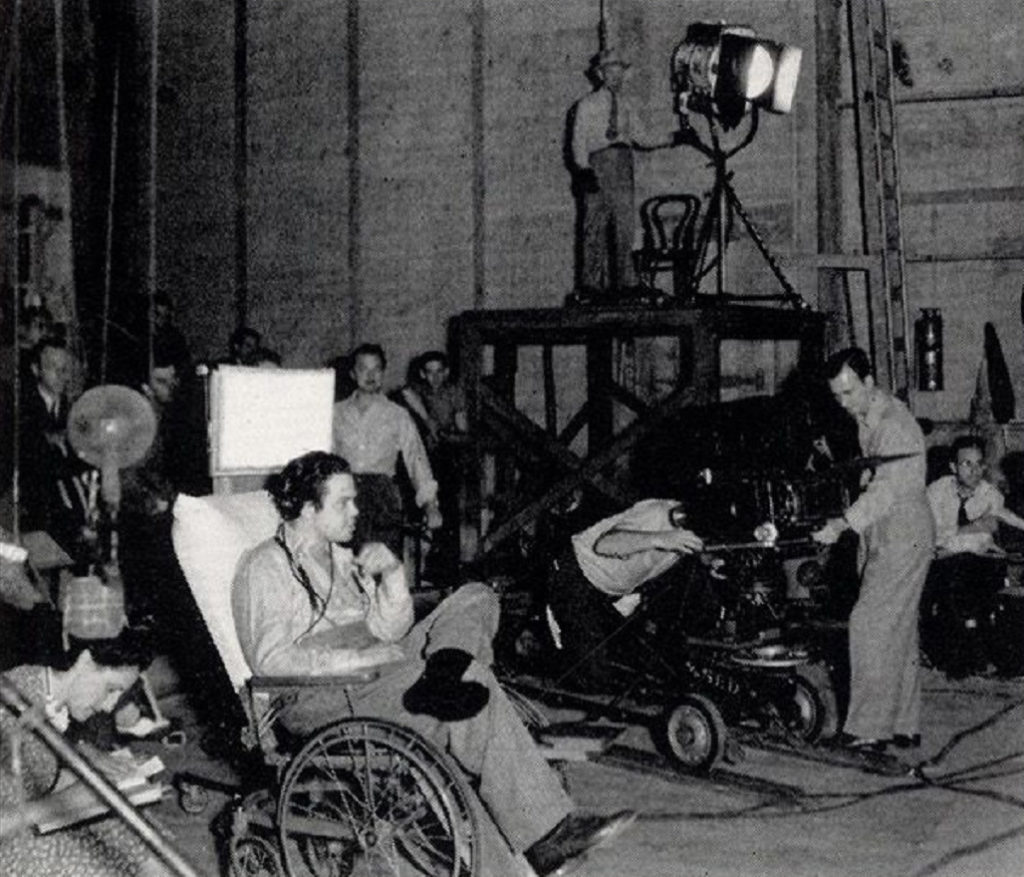 ?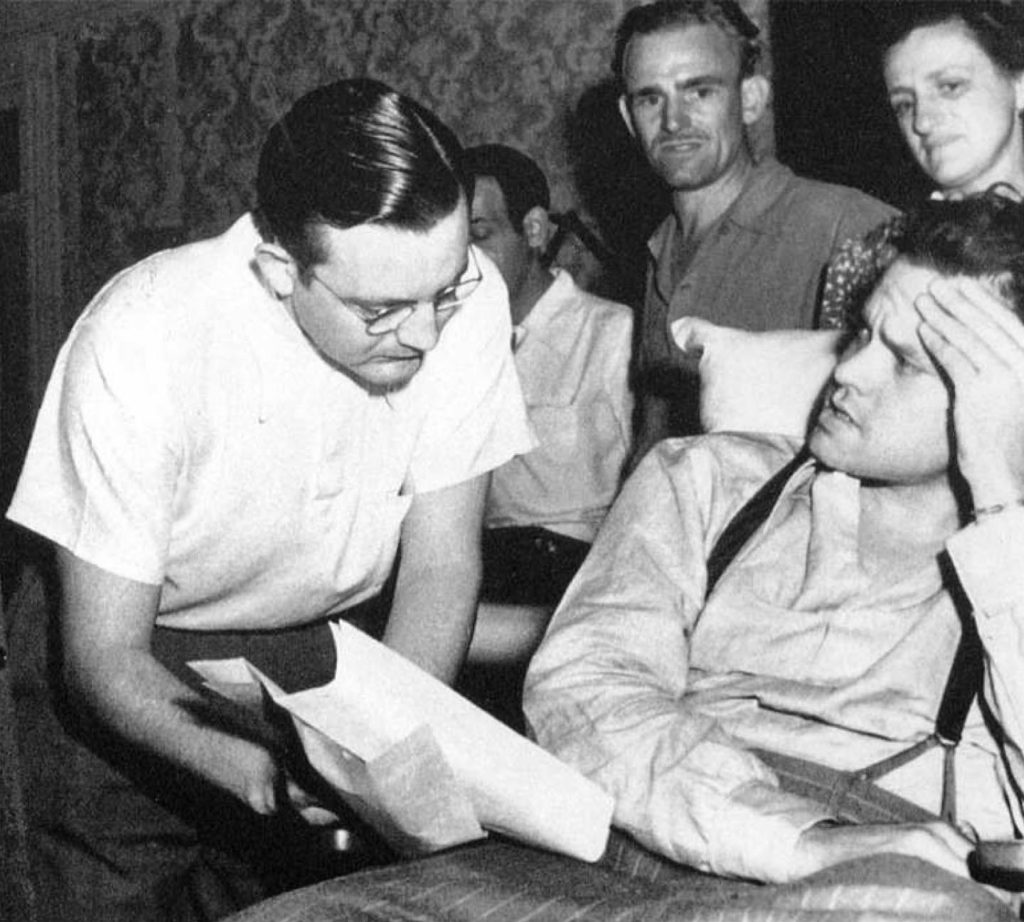 ?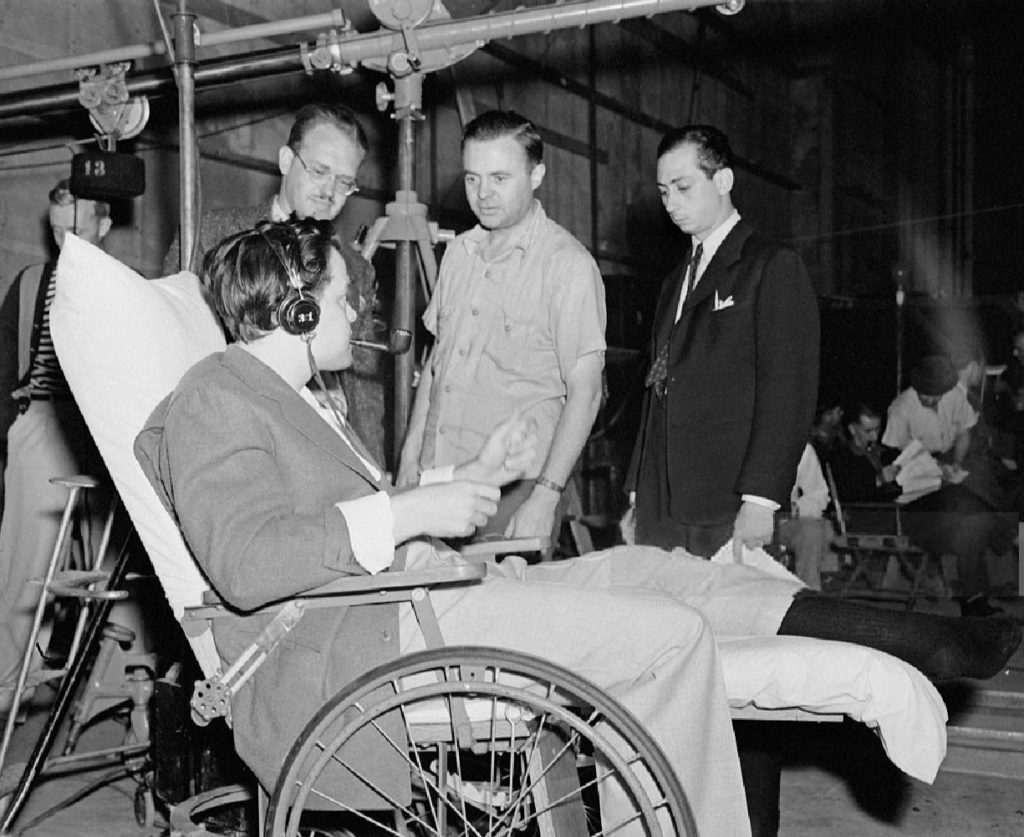 ?
?
?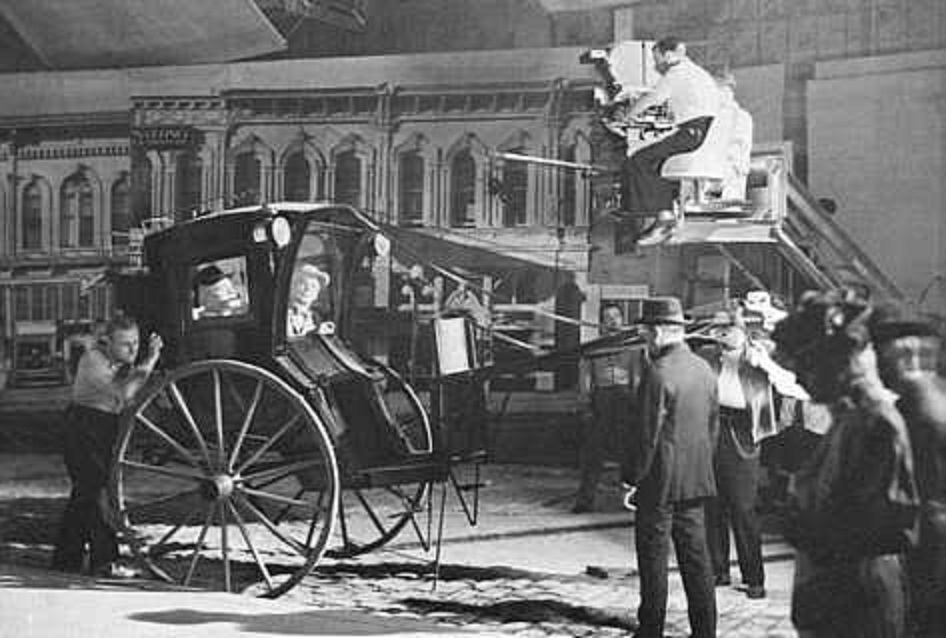 ?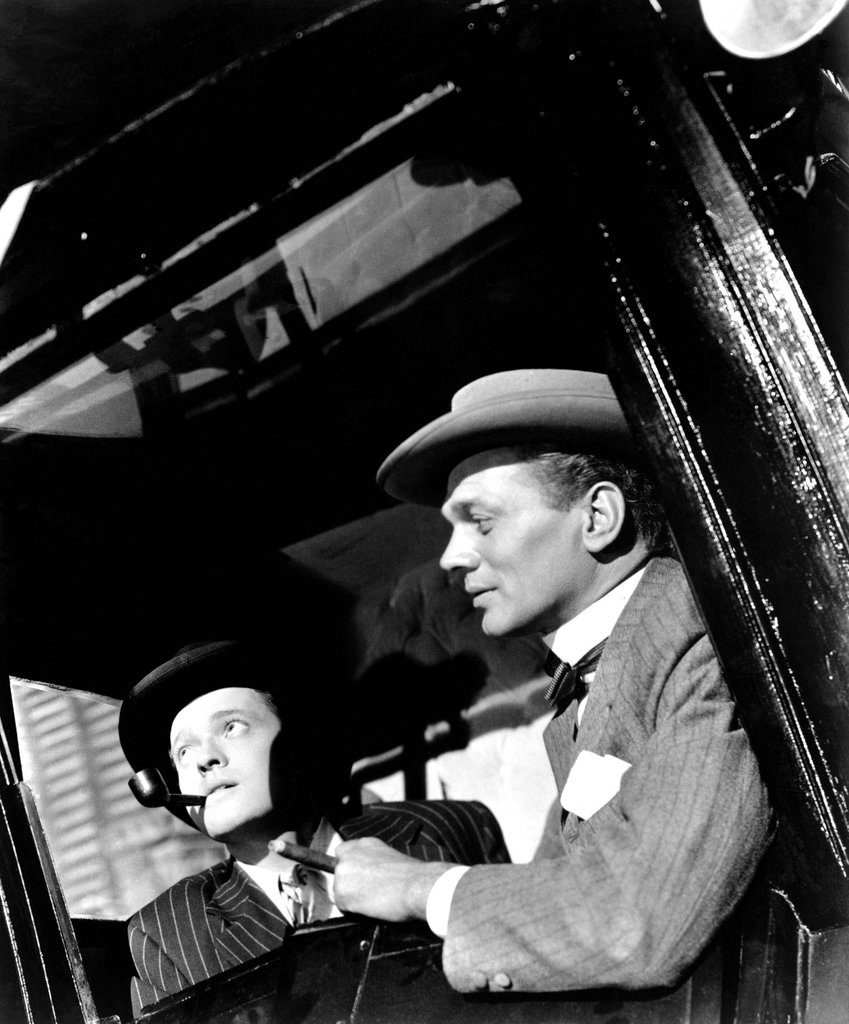 CITIZEN KANE 41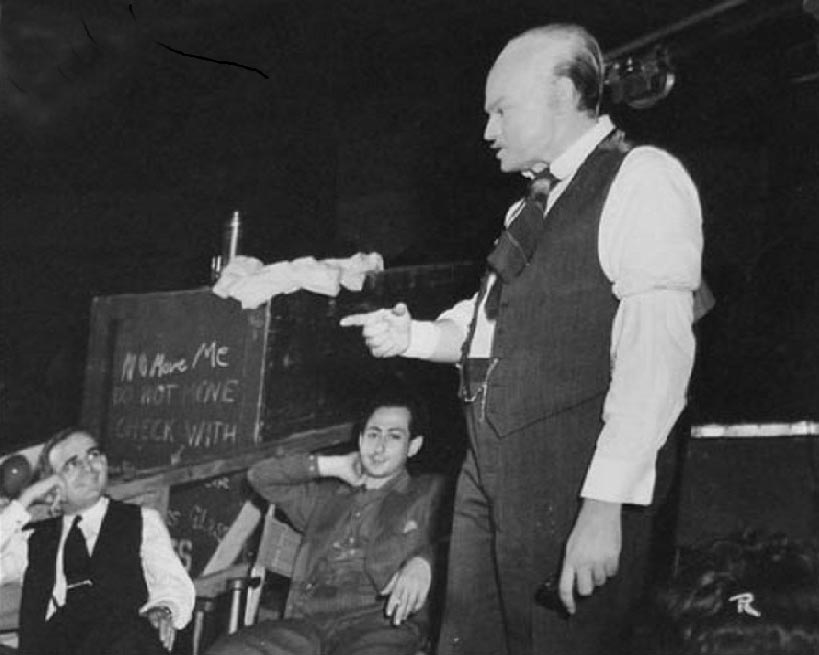 CITIZEN KANE R Series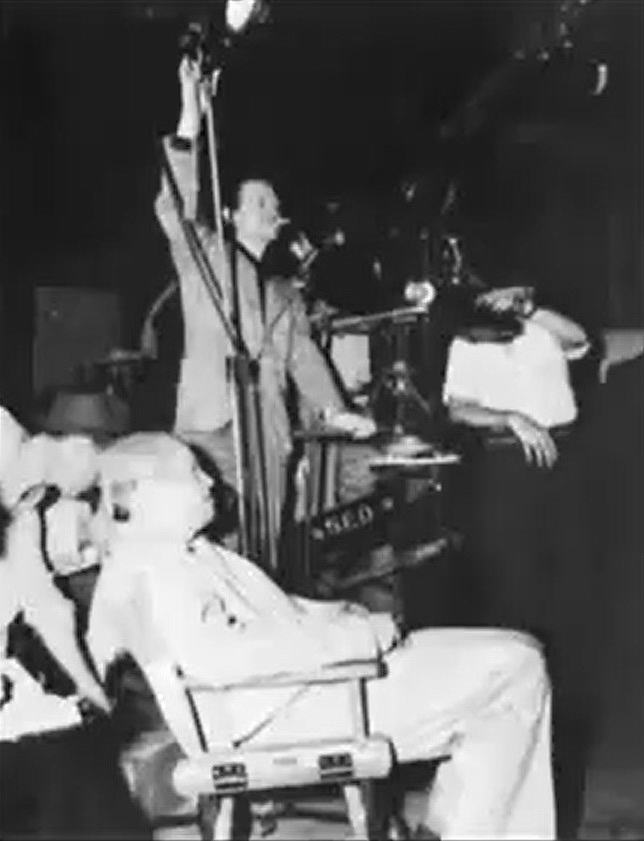 ?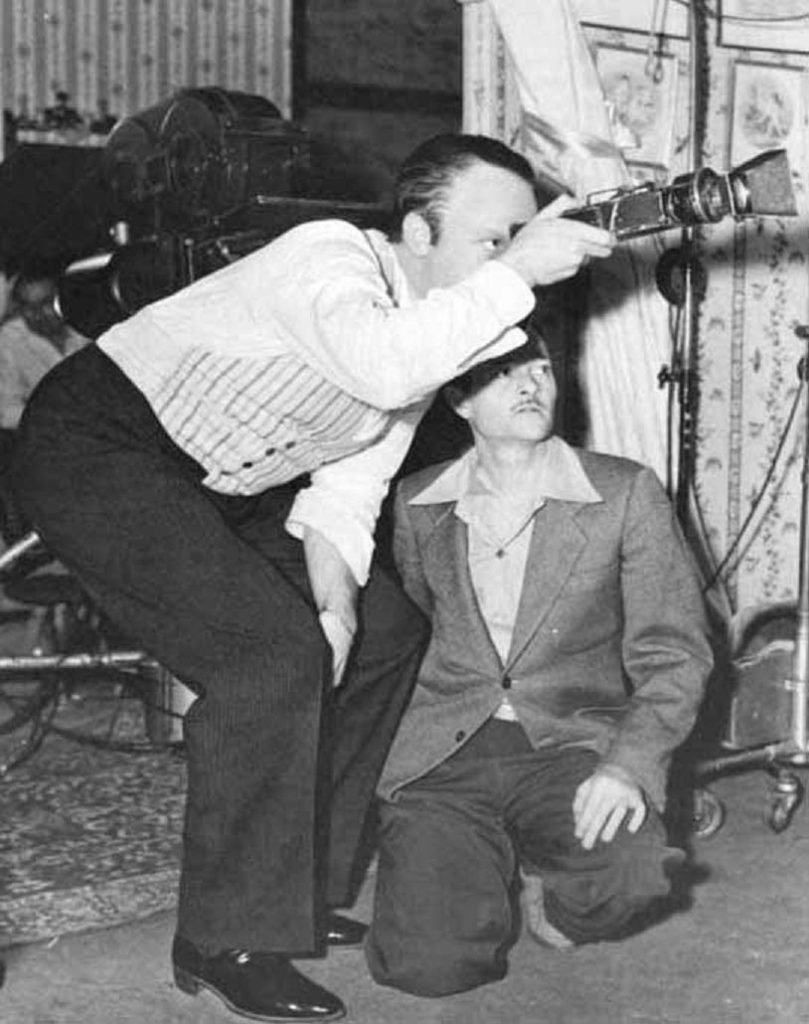 ?
?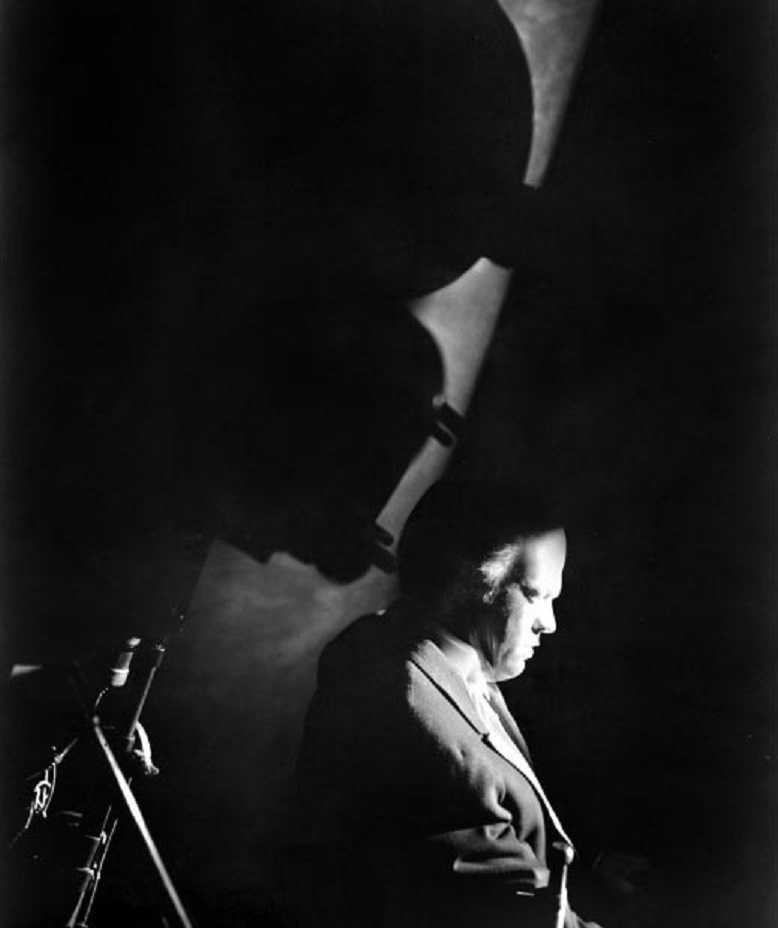 ?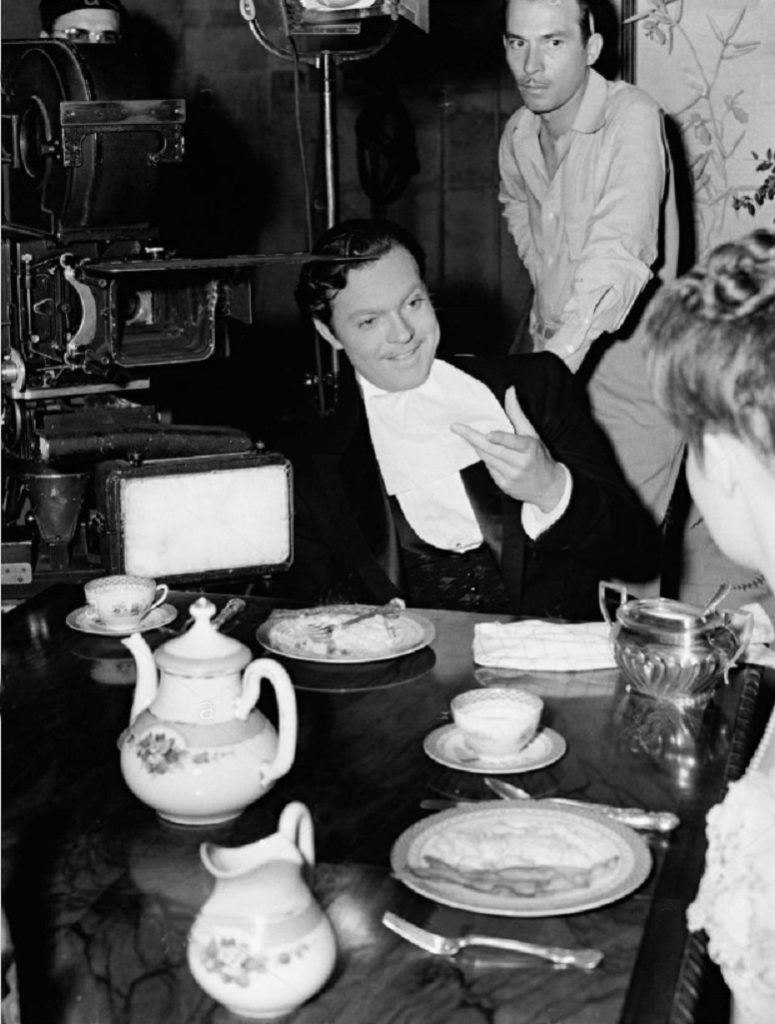 ?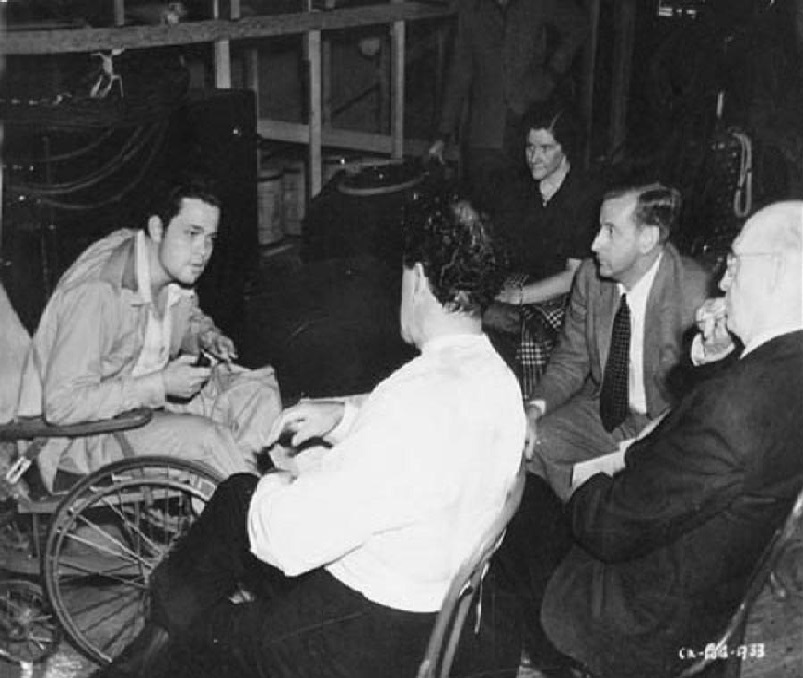 CITIZEN KANE PUB A33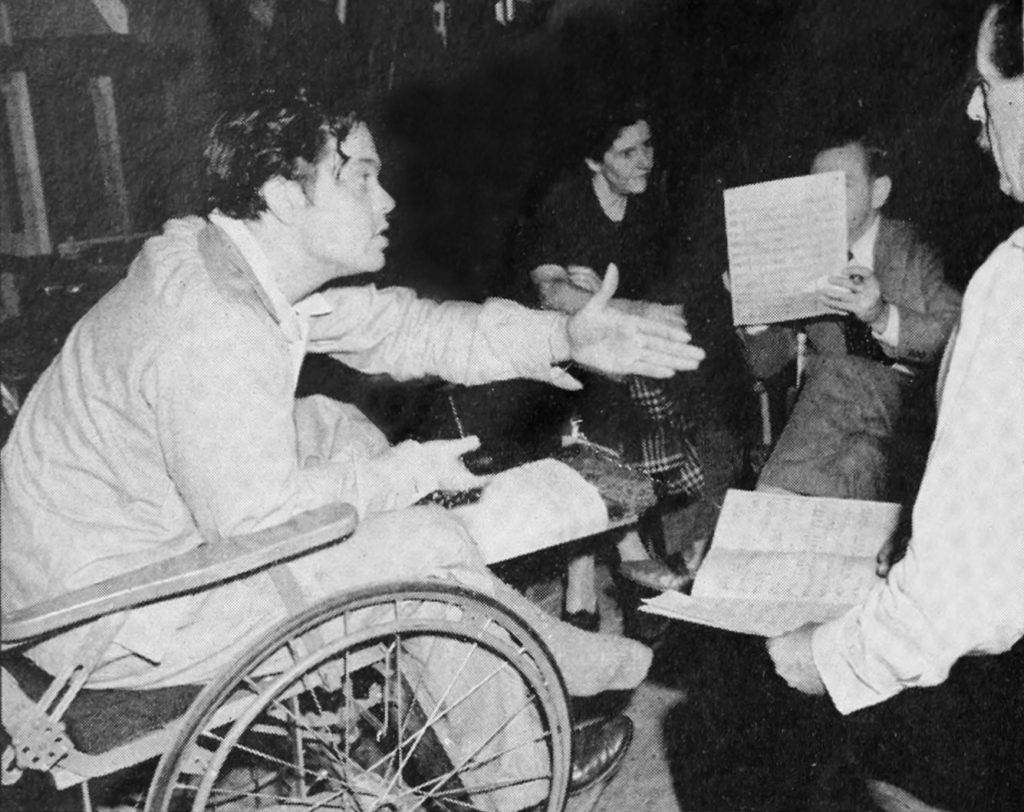 ?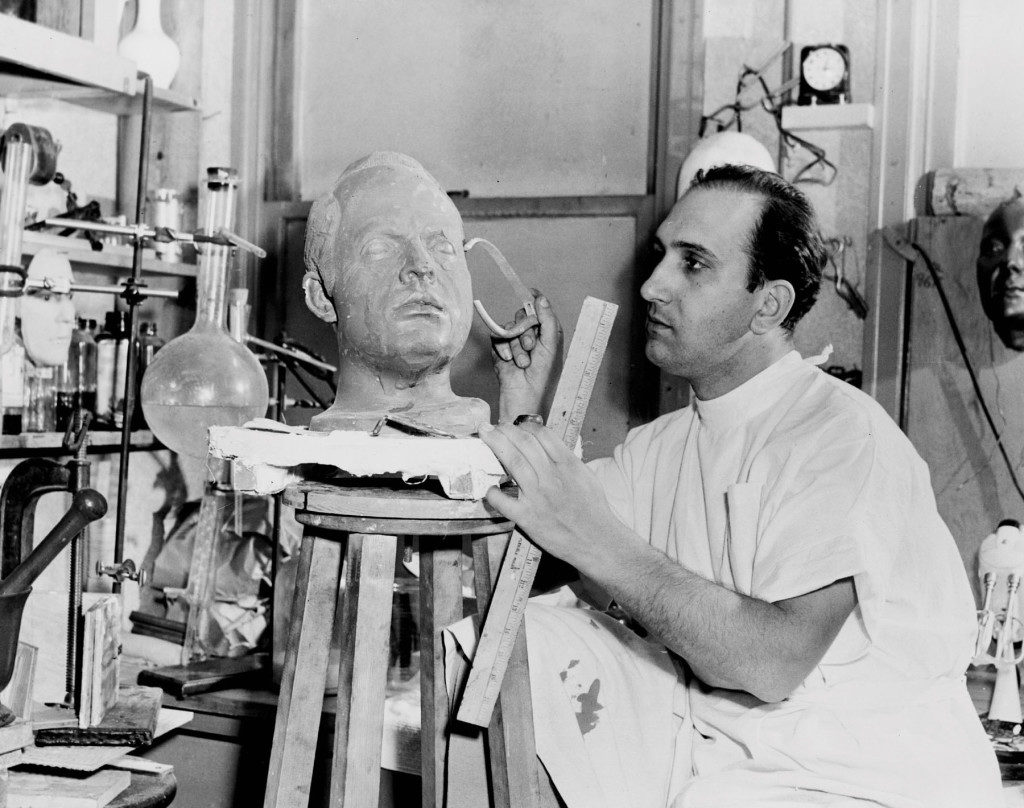 ?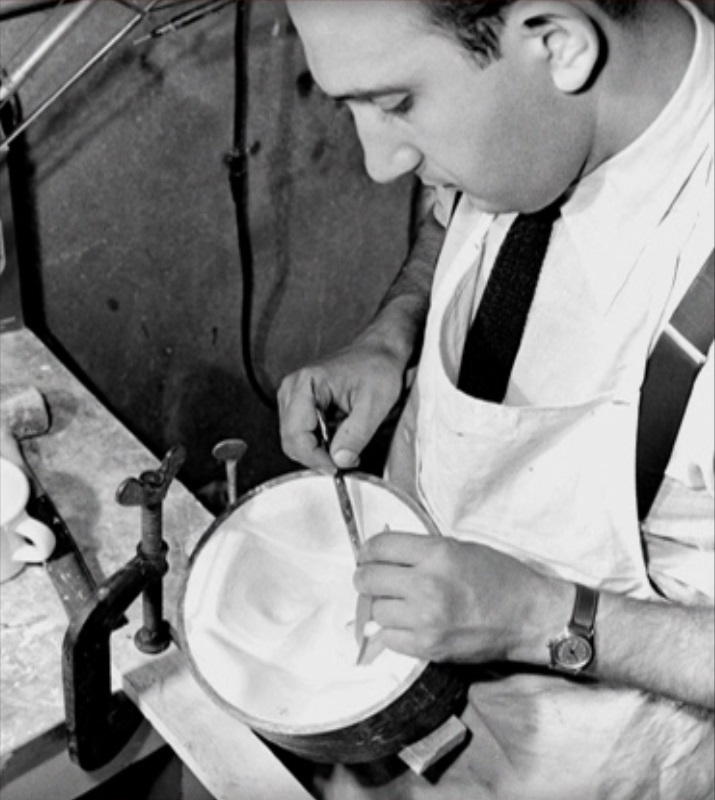 ?
?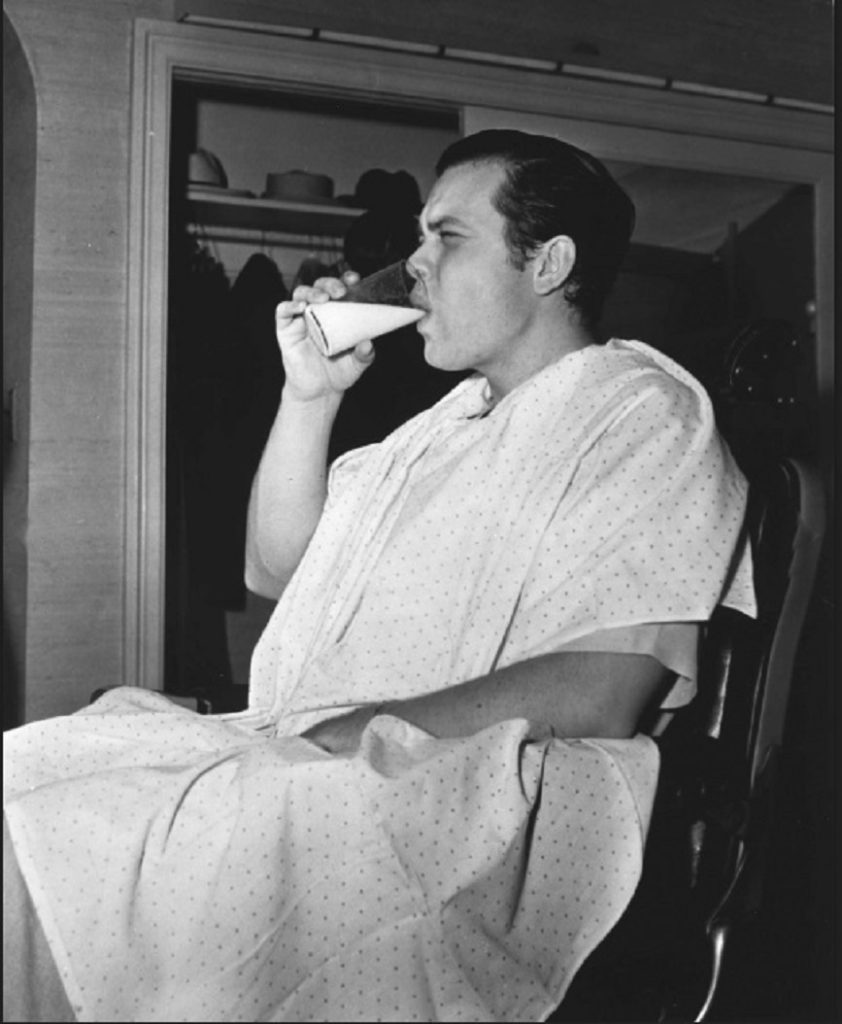 ?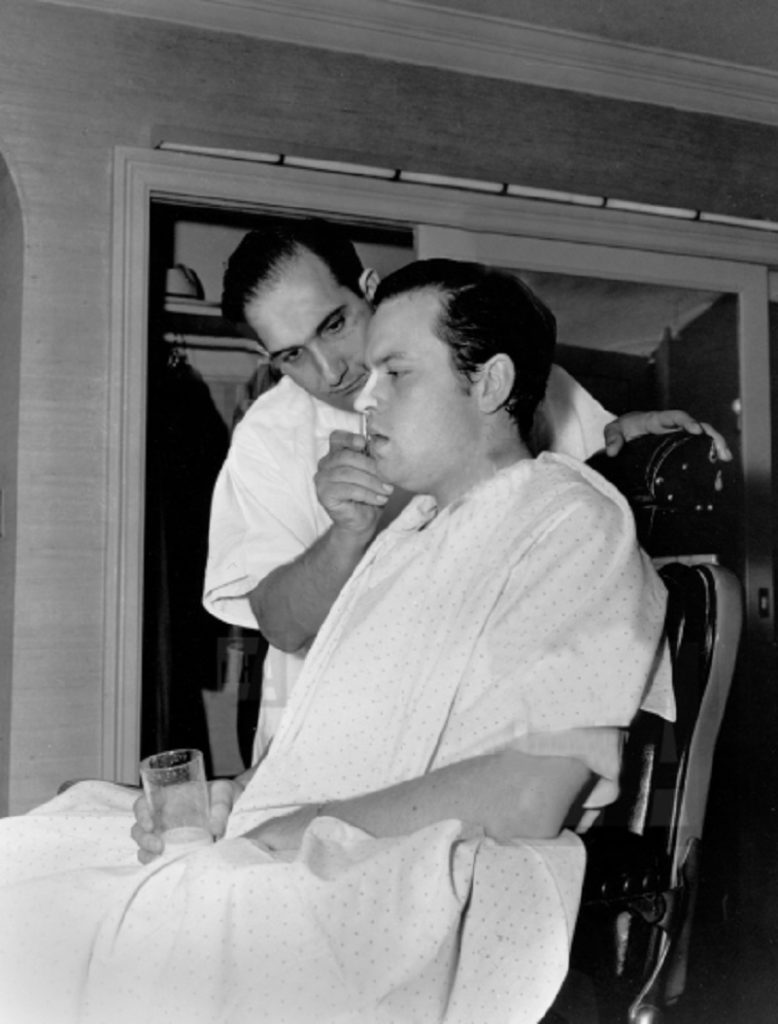 ?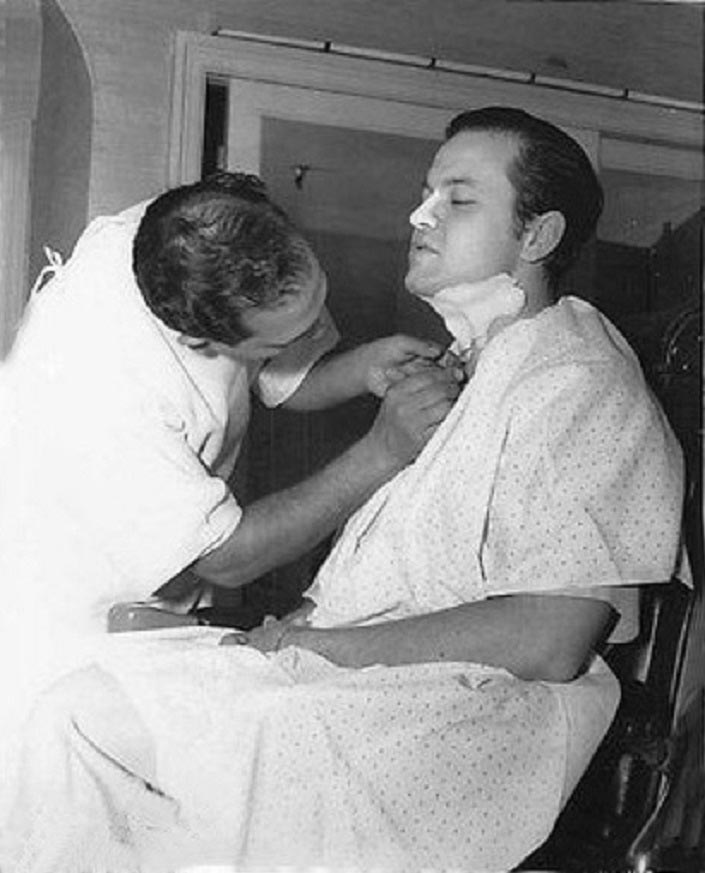 ?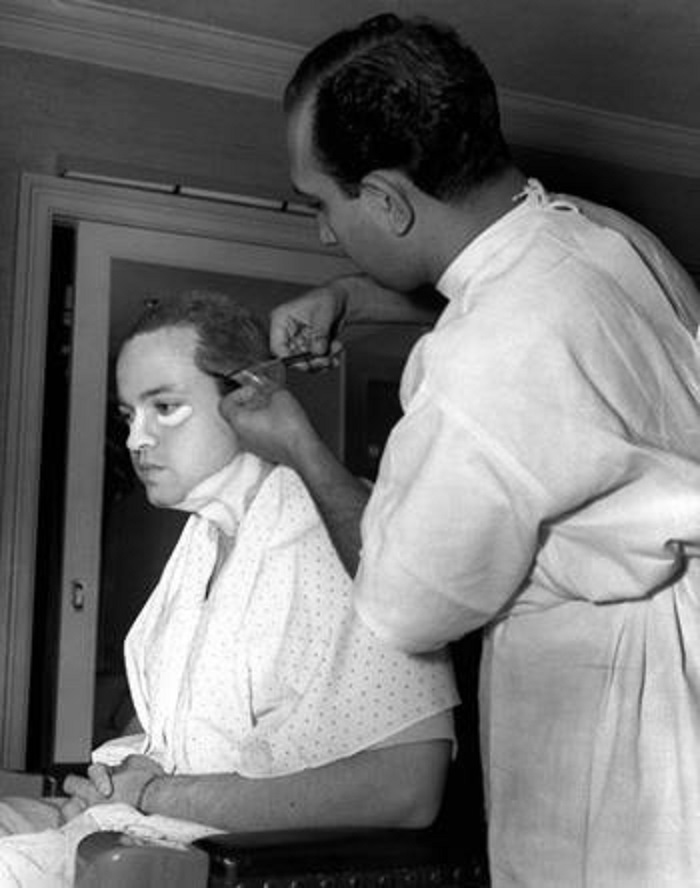 ?
?
?
?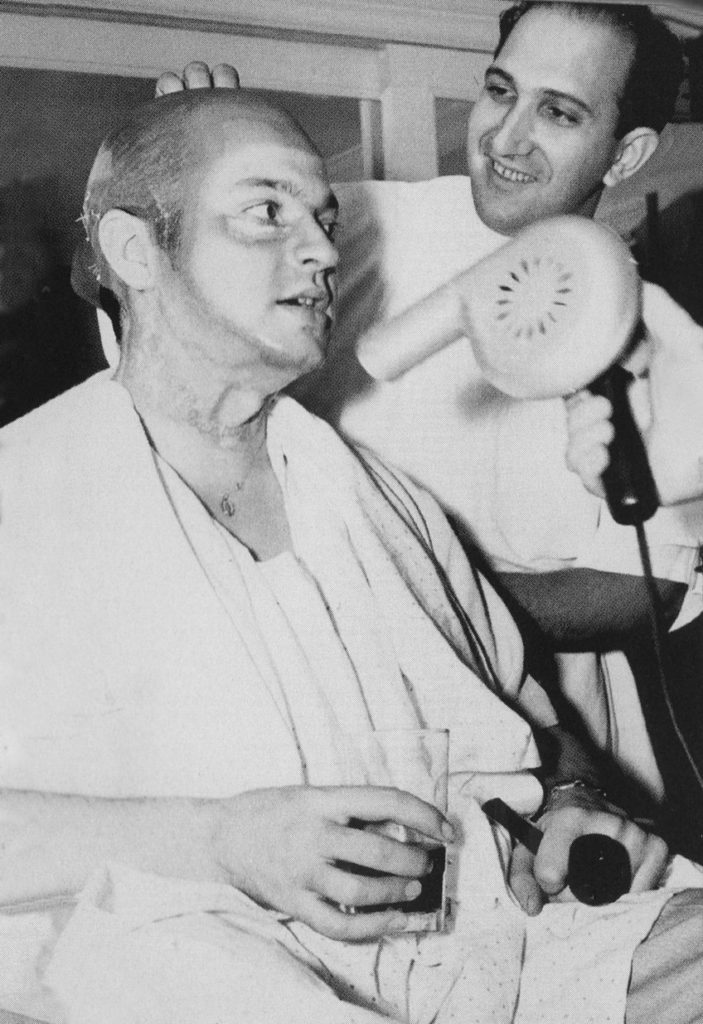 ?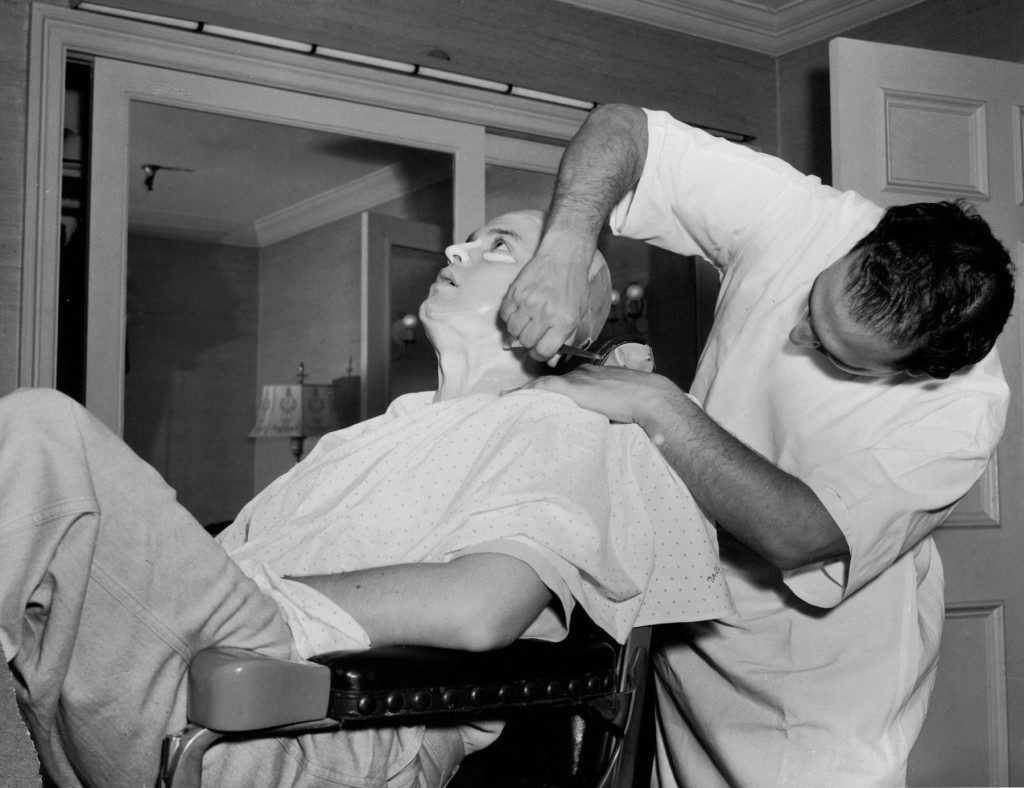 ?
?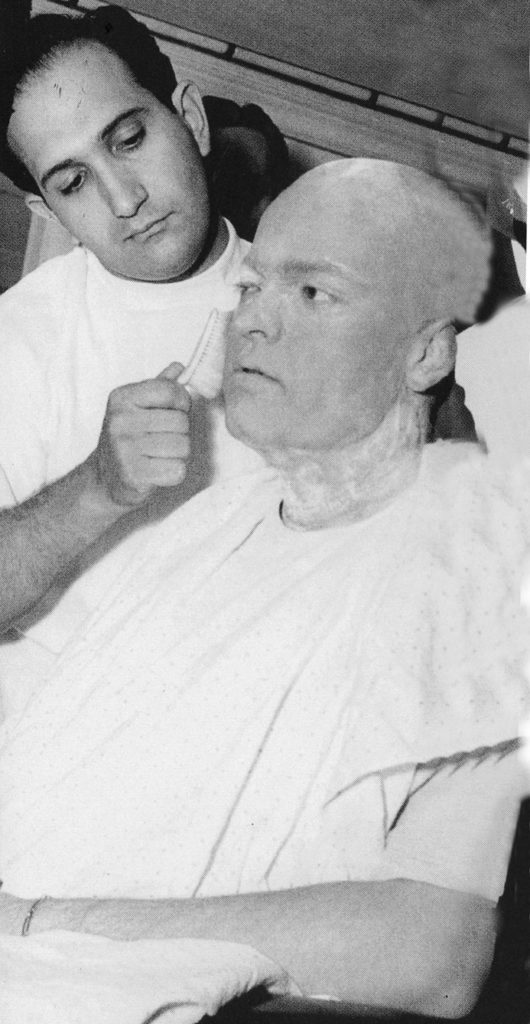 ?
?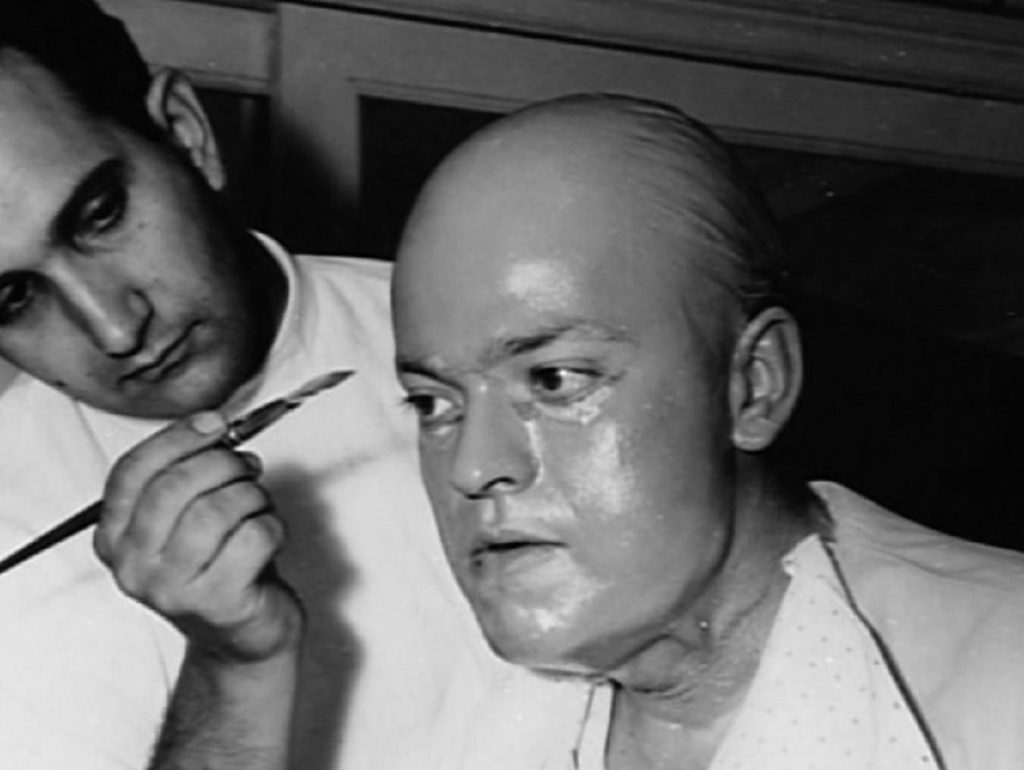 ?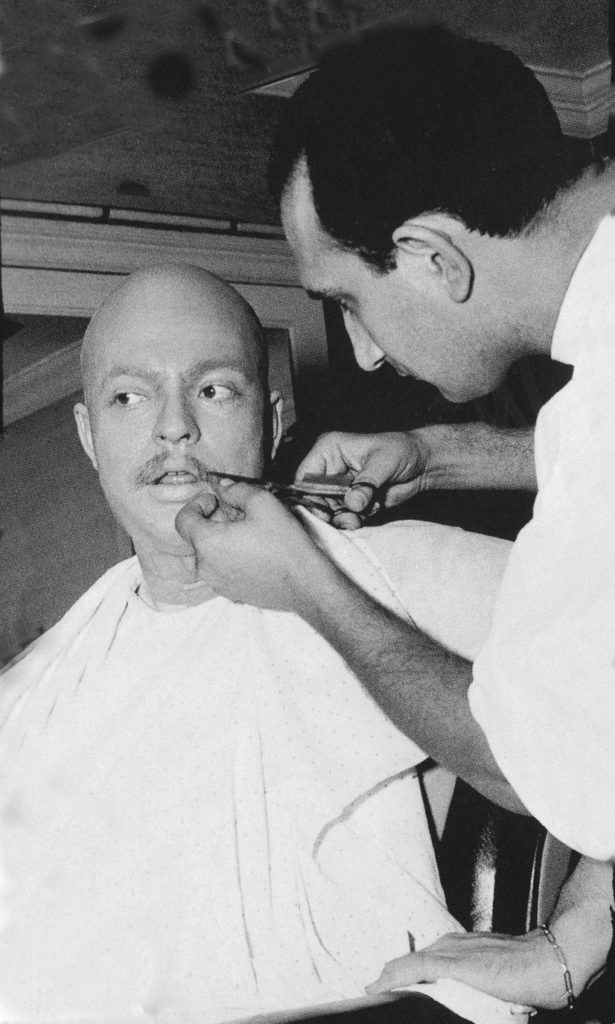 ?
?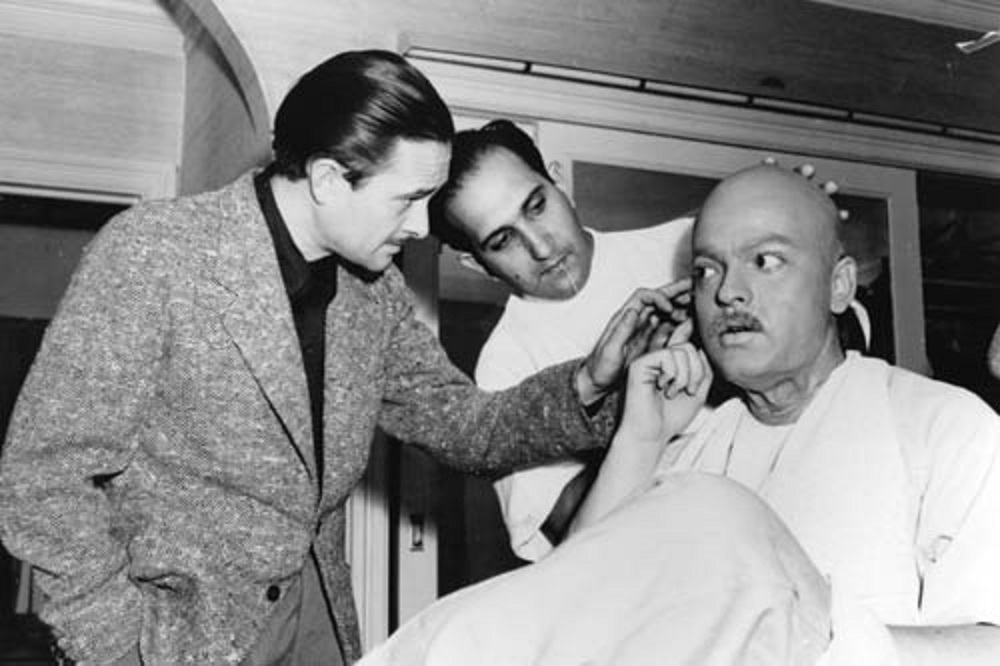 ?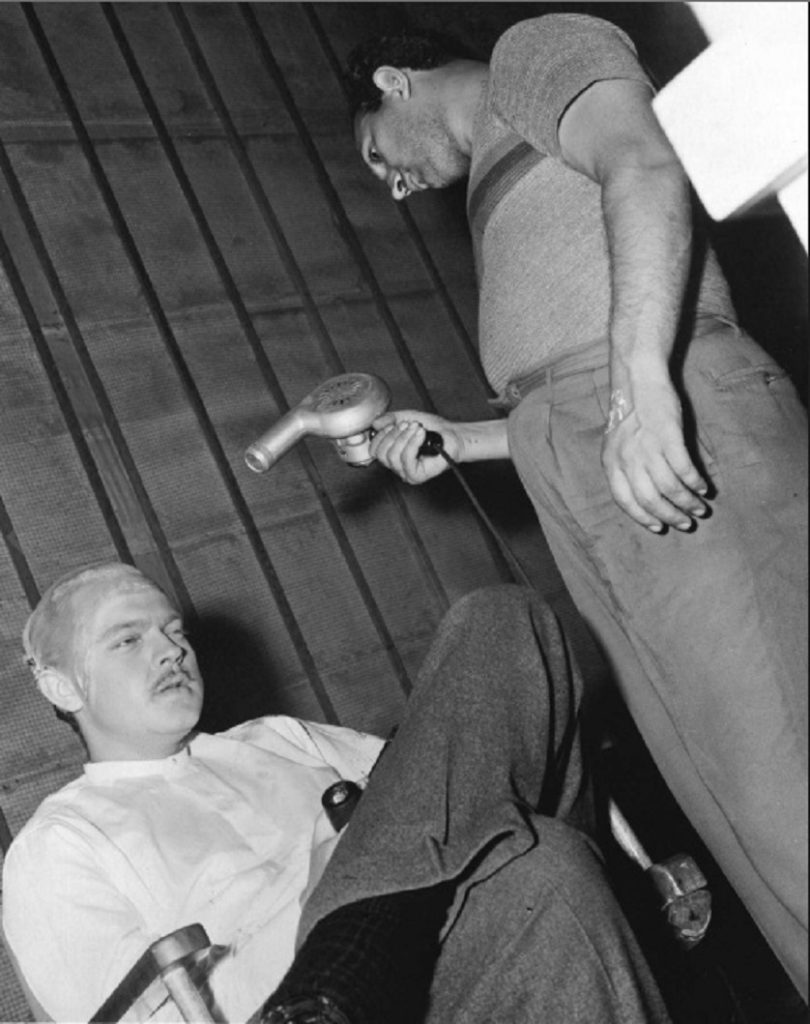 ?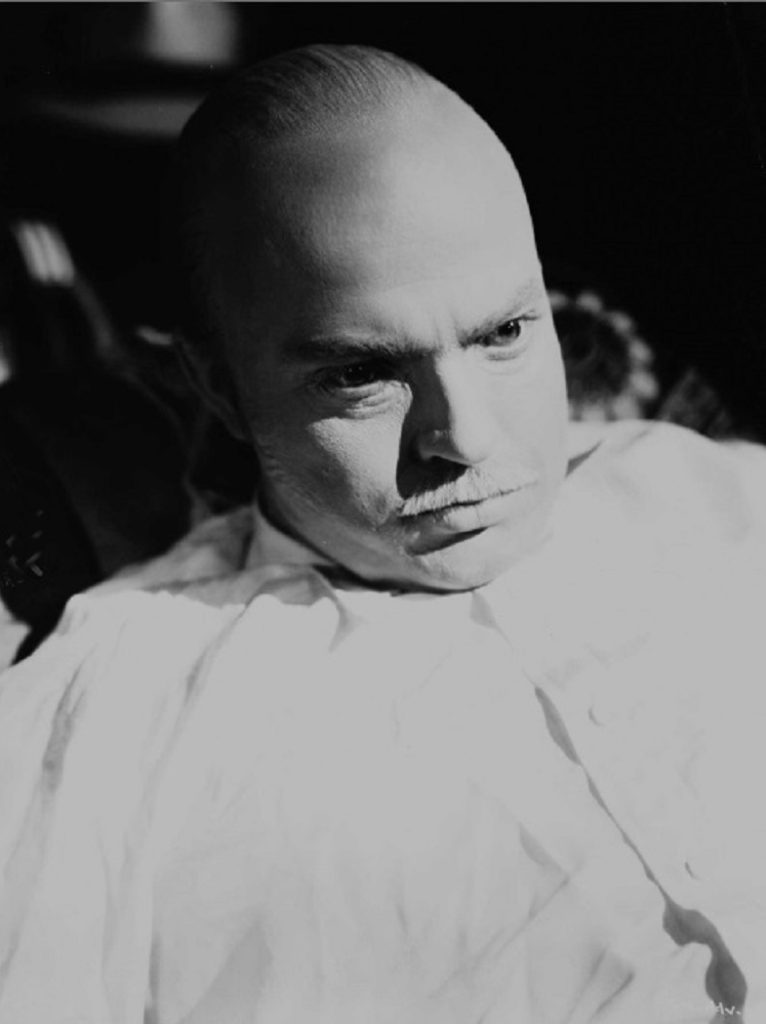 ?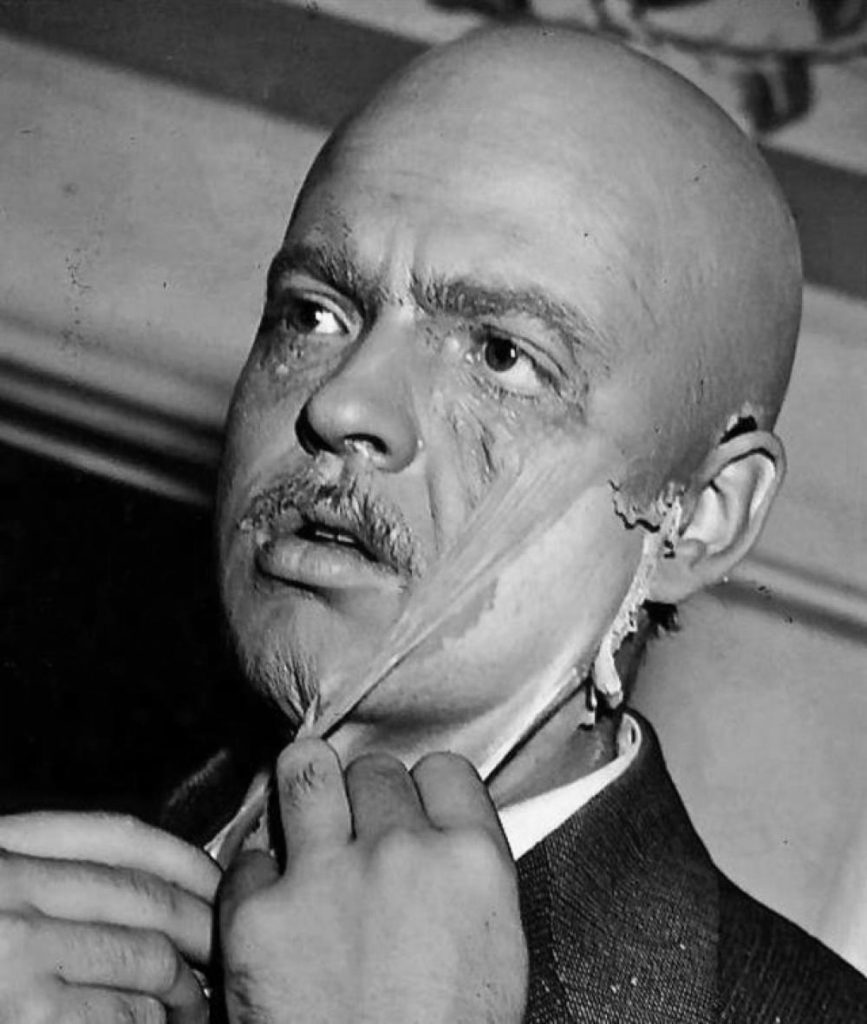 ?
?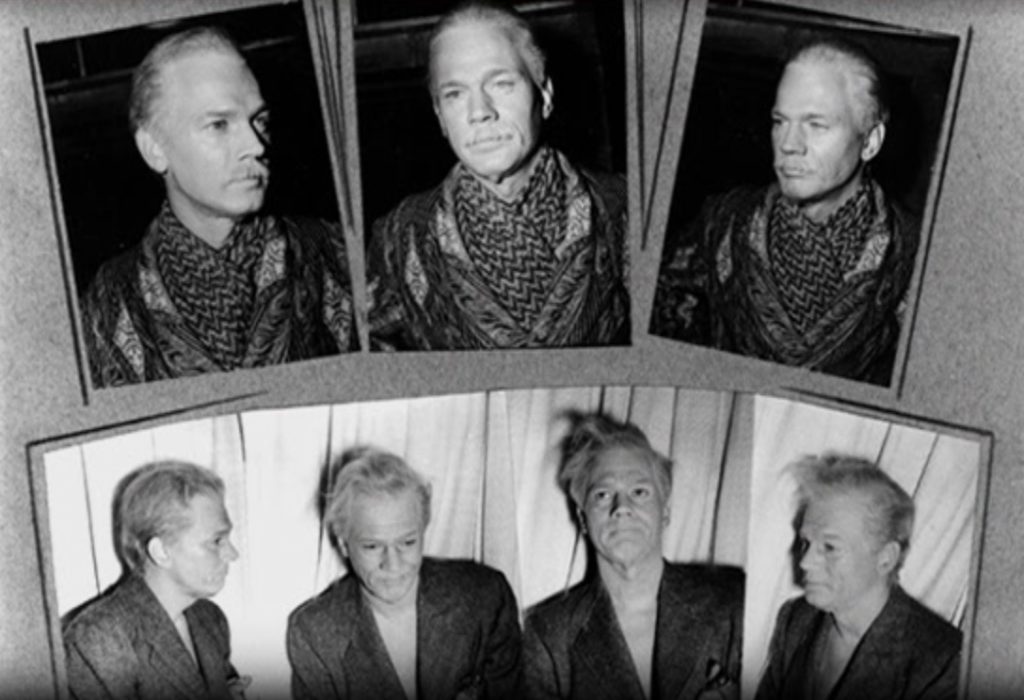 ?
?
CITIZEN KANE R Series
CITIZEN KANE ADV 5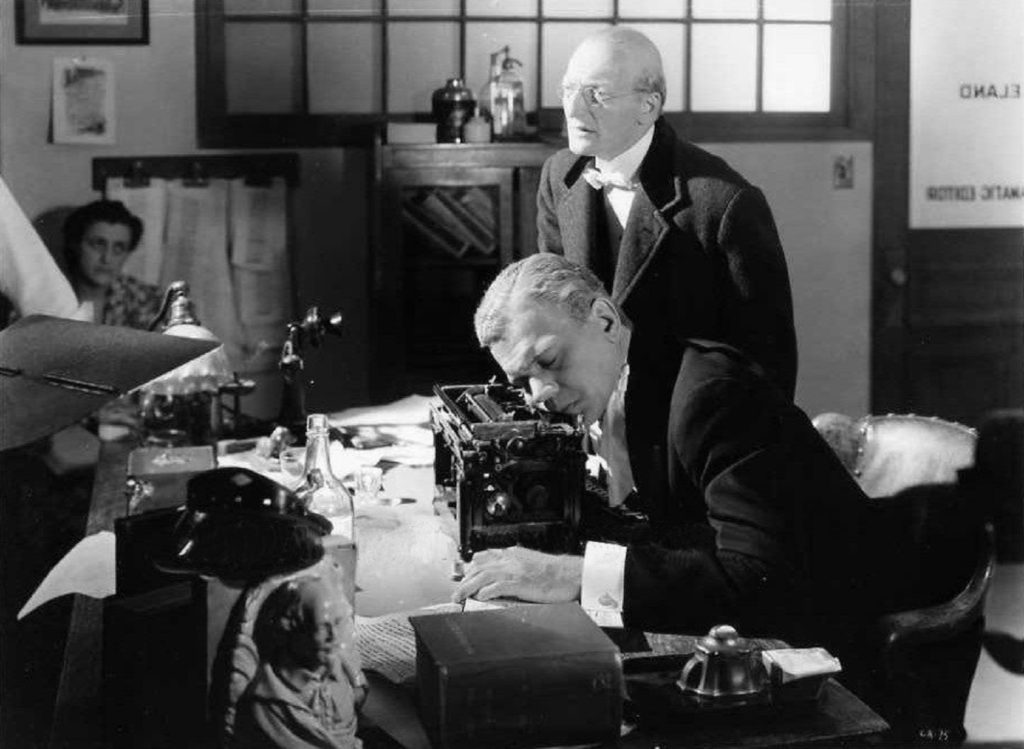 ?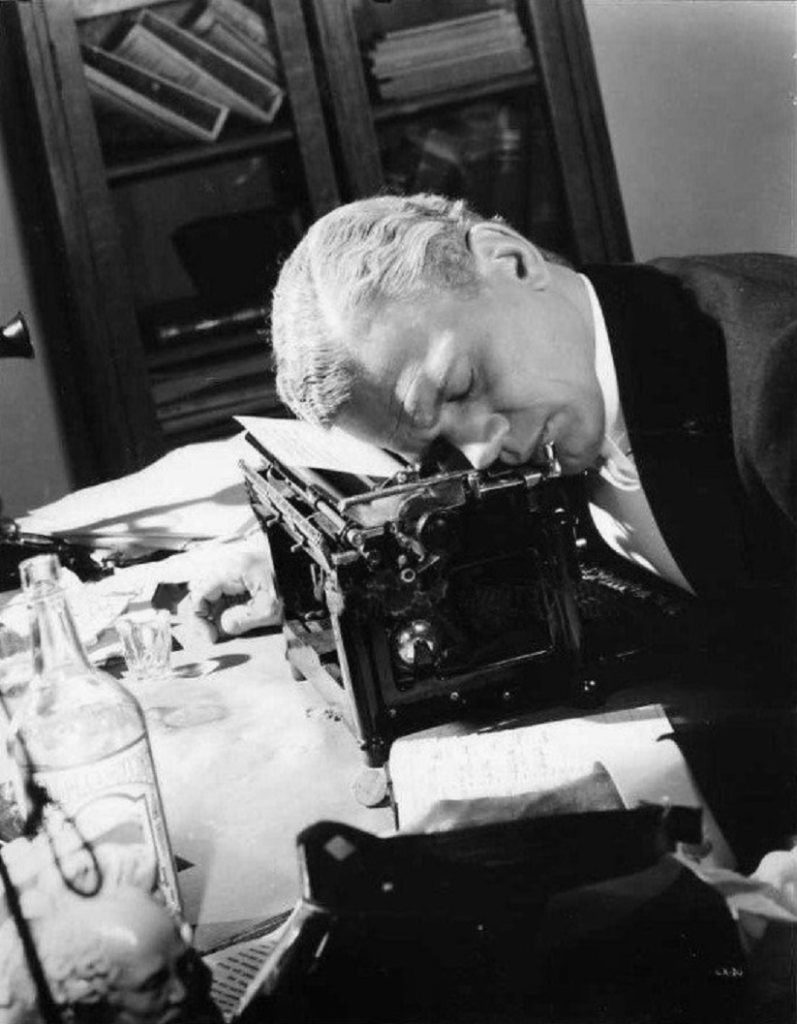 ?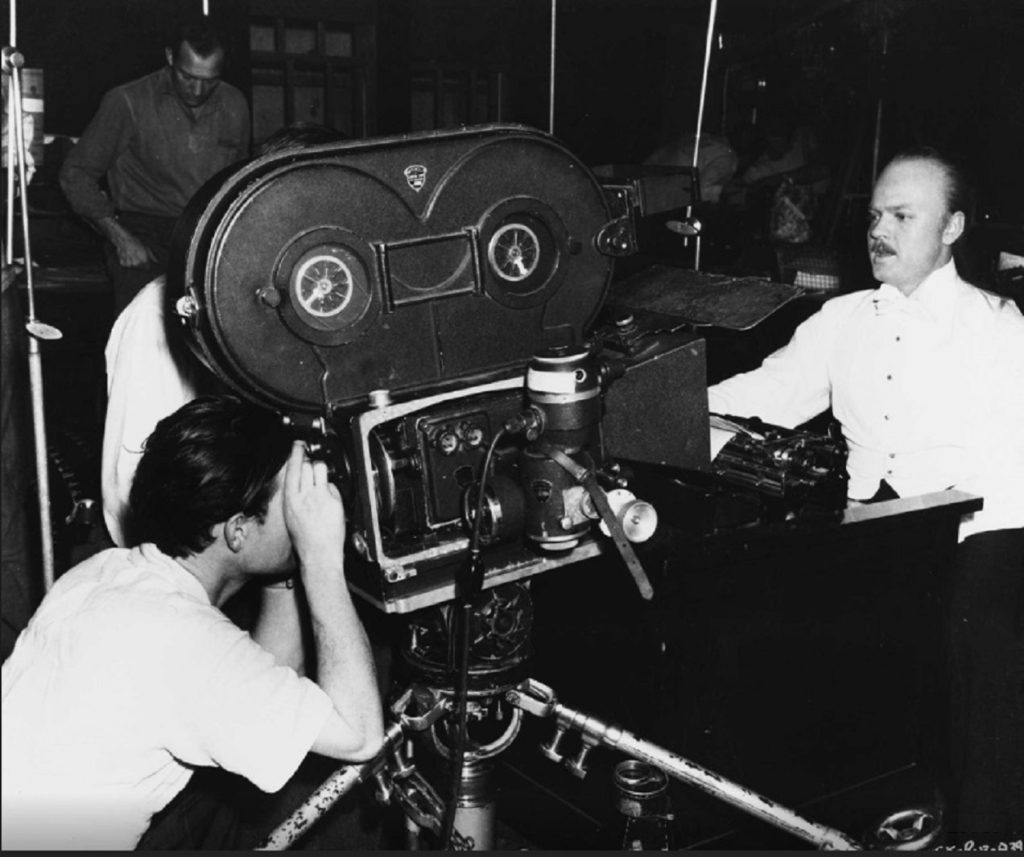 CITIZEN KANE PUB A39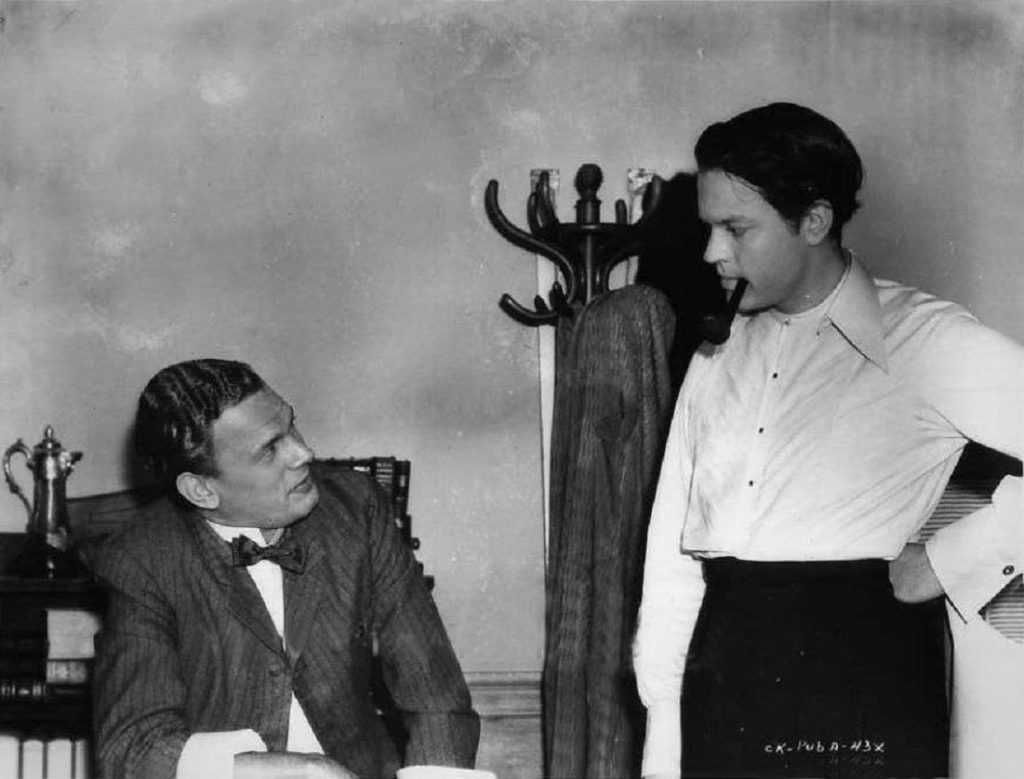 CITIZEN KANE PUB A43
?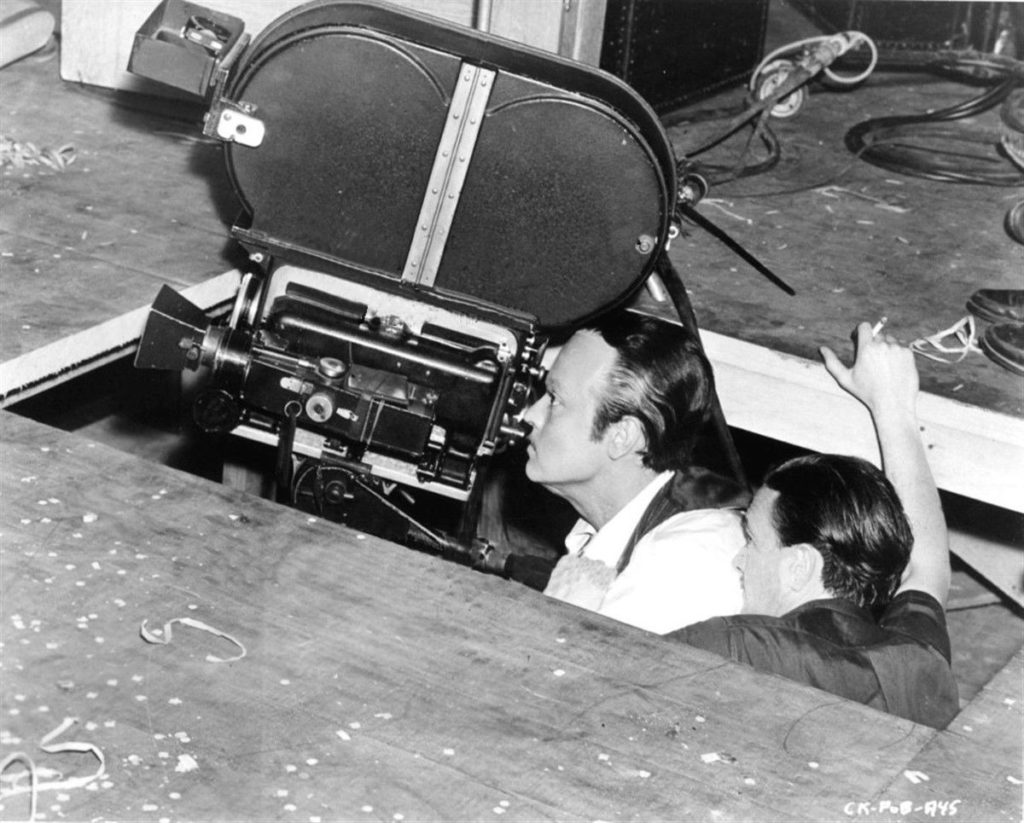 CITIZEN KANE PUB A45
CITIZEN KANE PUB A46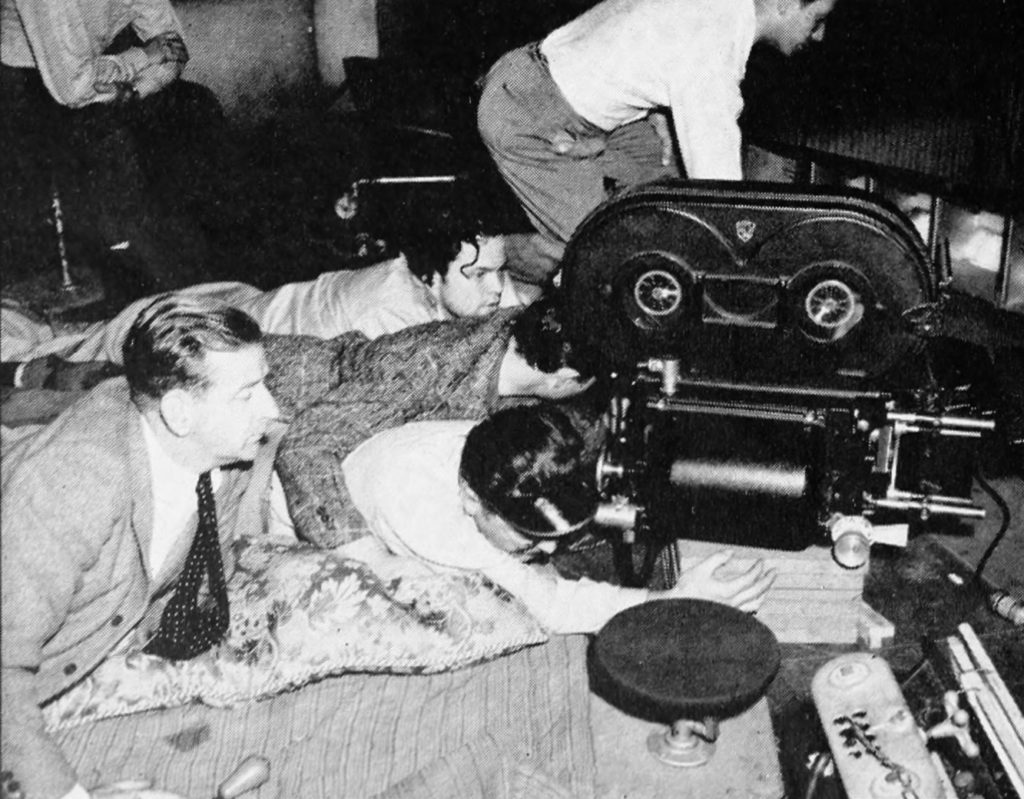 ?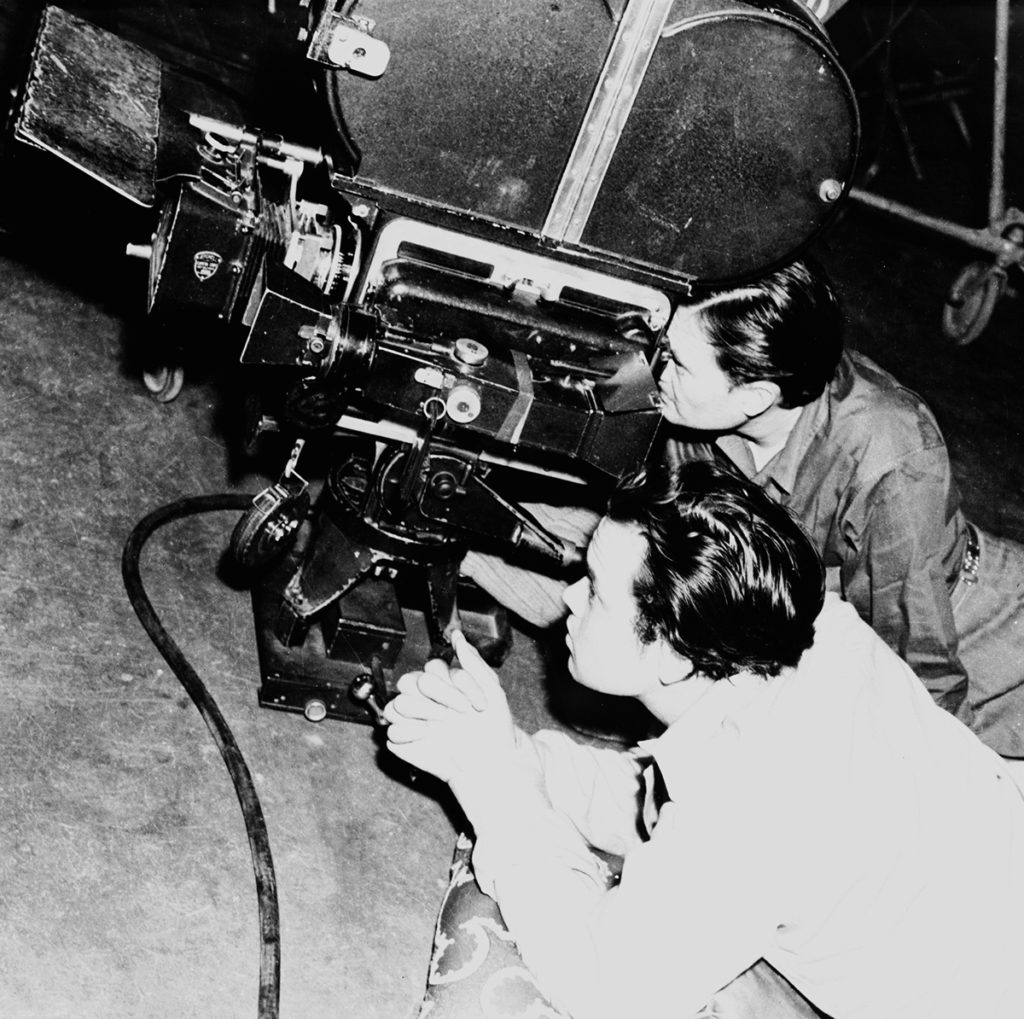 ?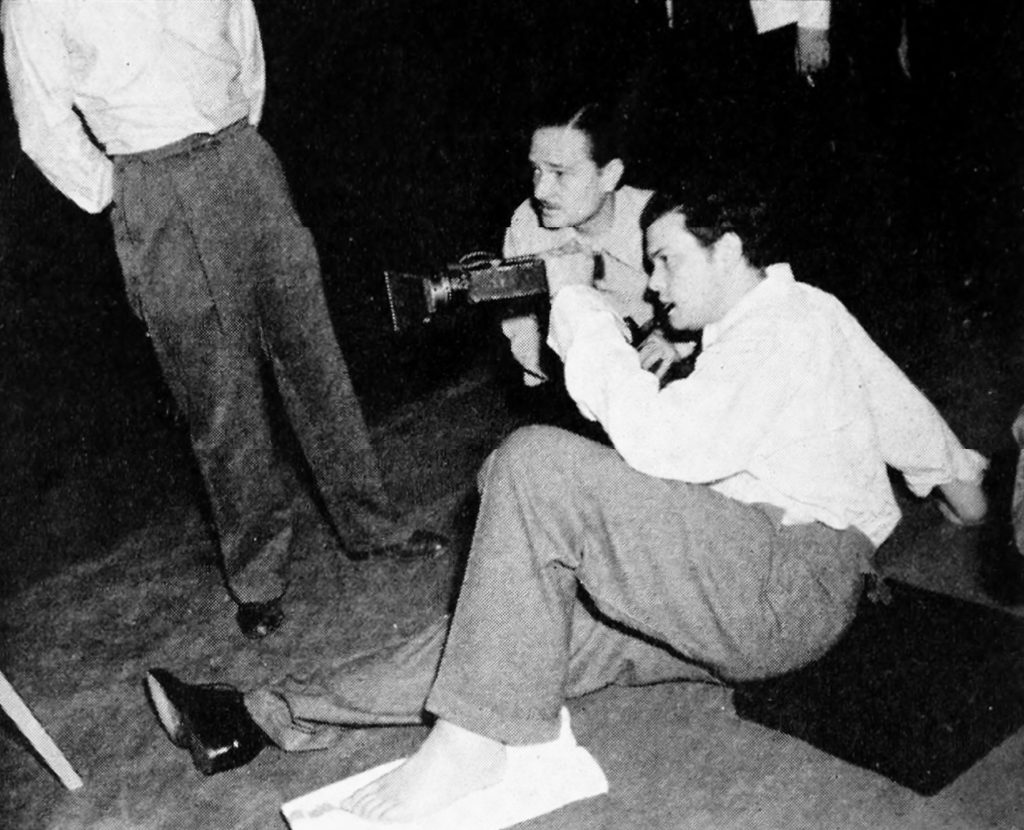 ?
?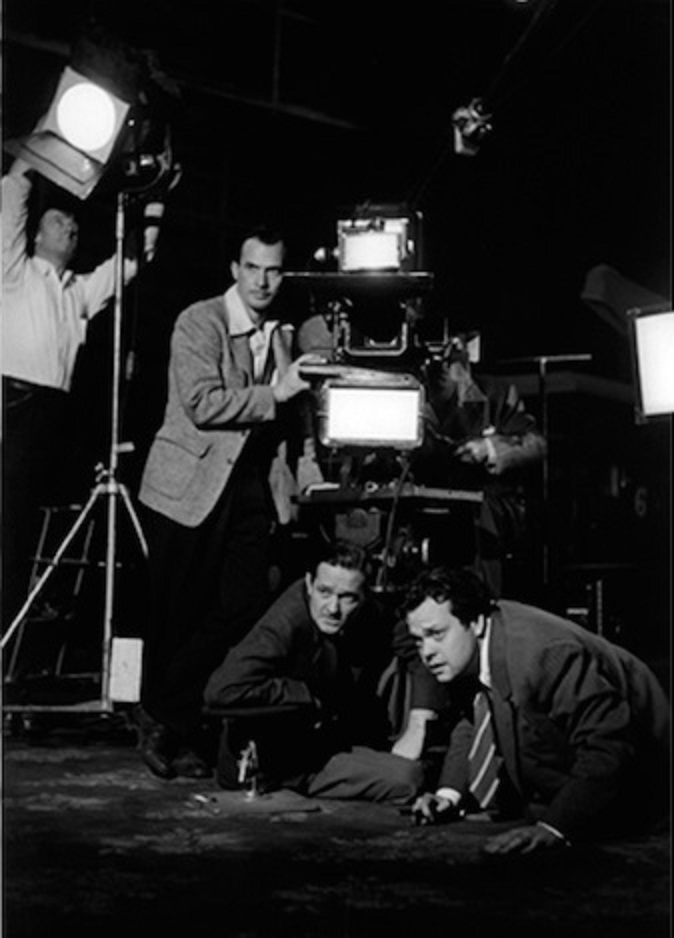 ?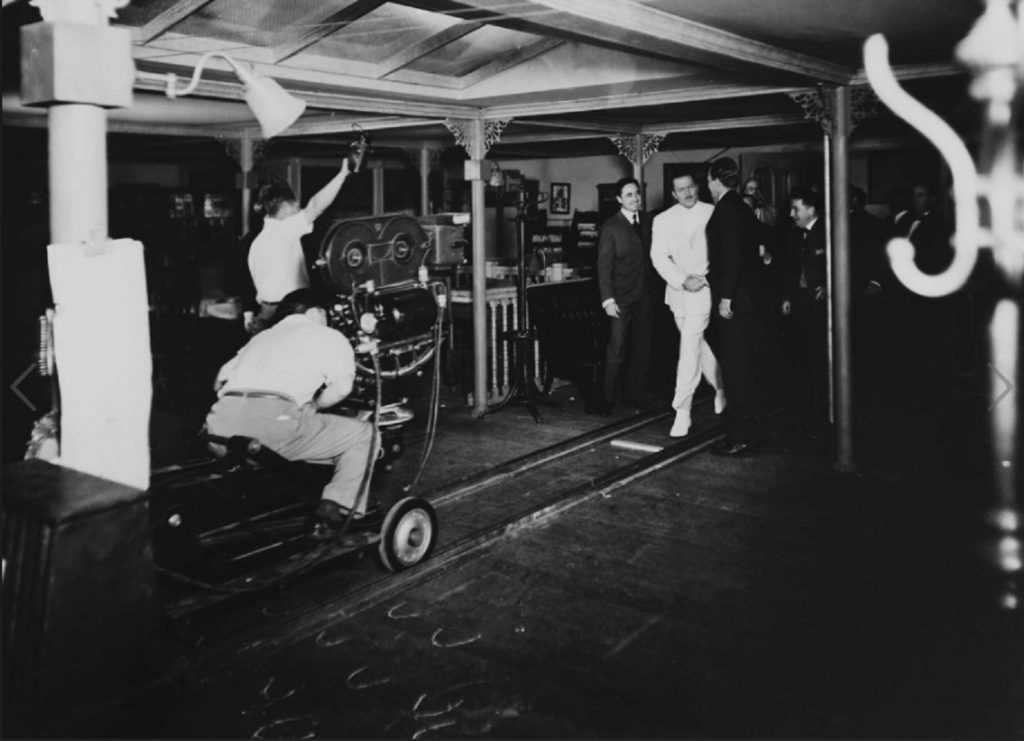 ?
CITIZEN KANE 125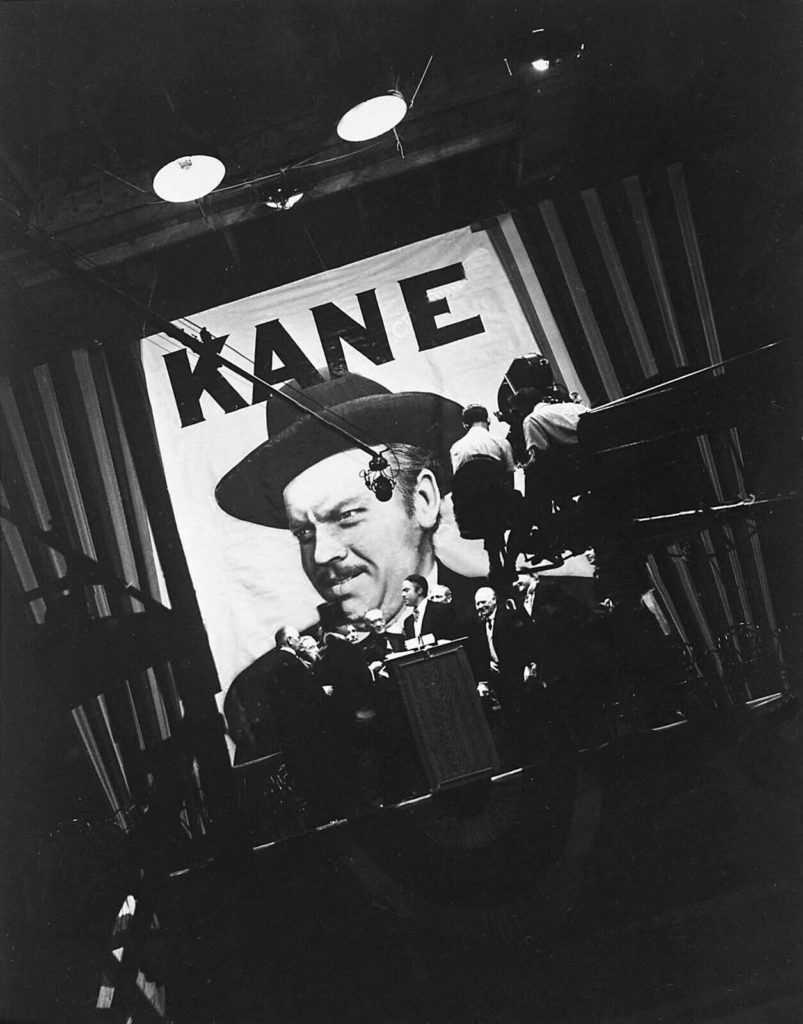 ?
CITIZEN KANE 32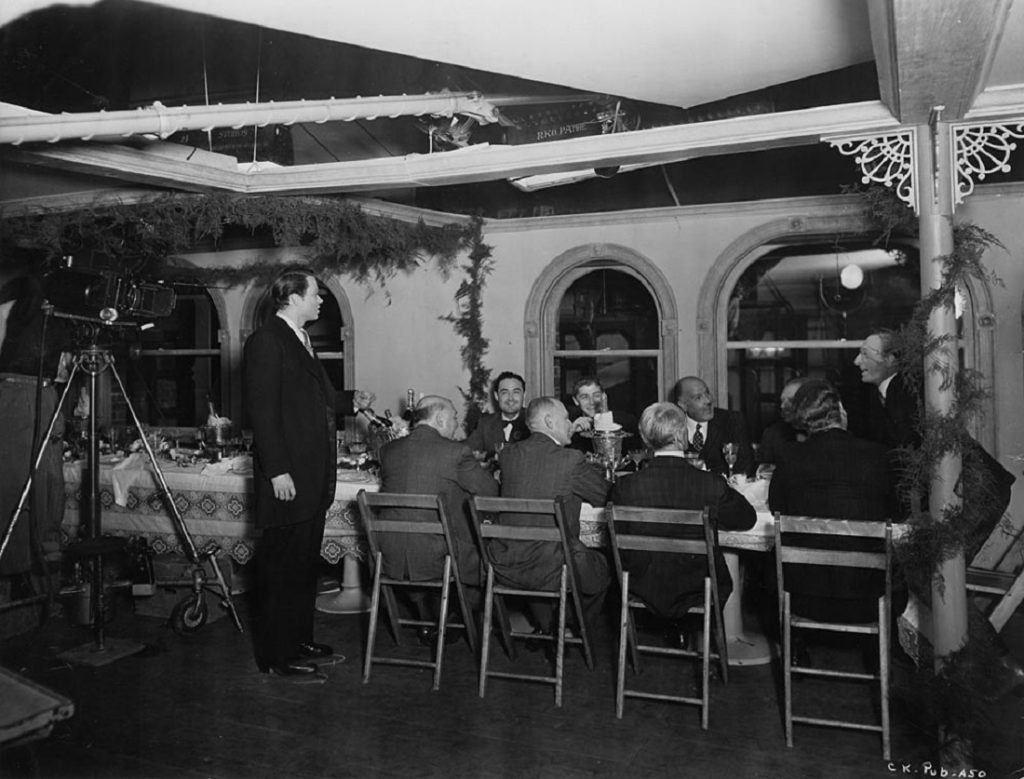 CITIZEN KANE PUB A50
?
?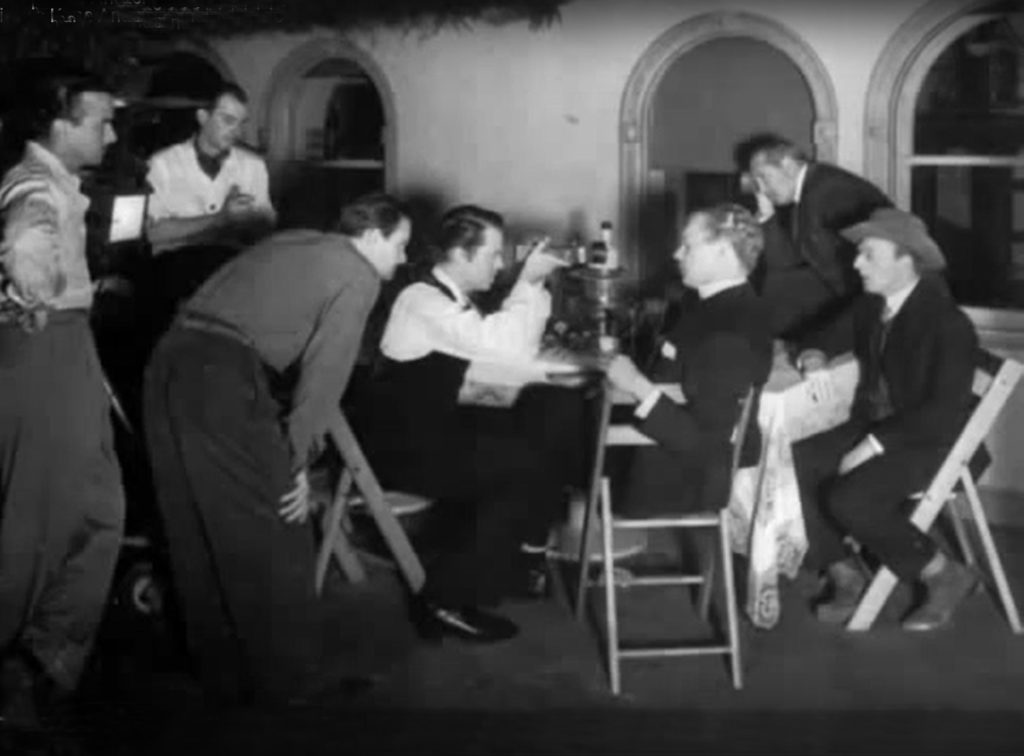 ?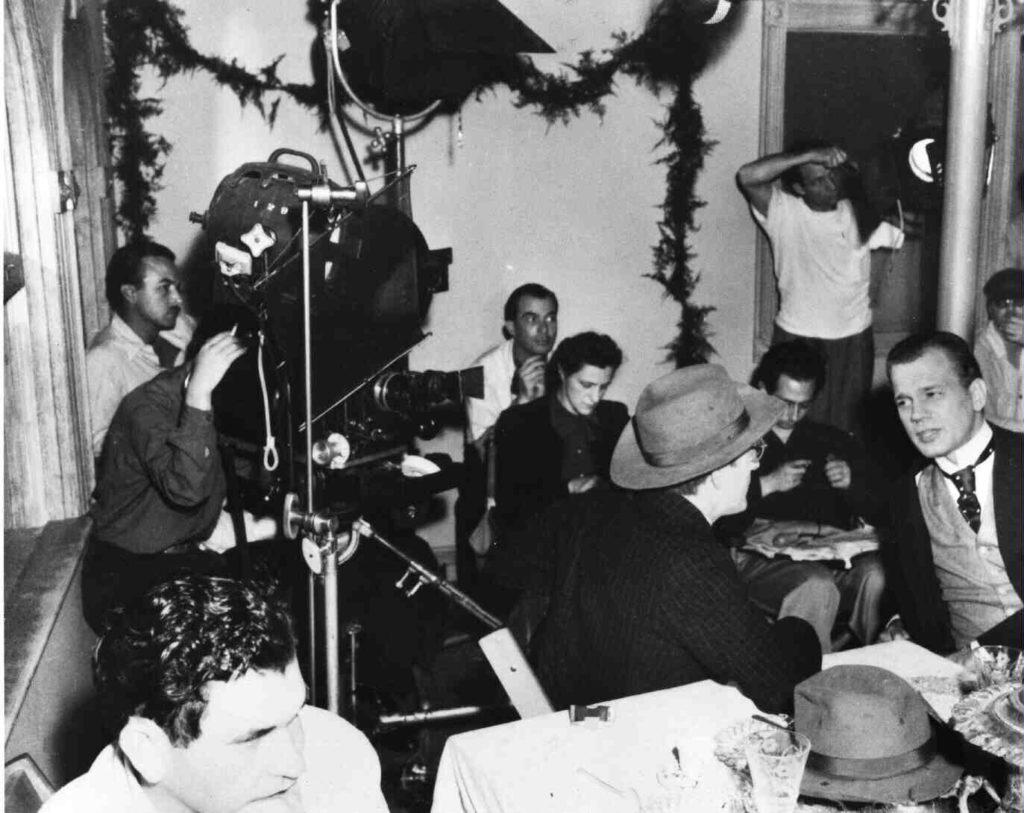 ?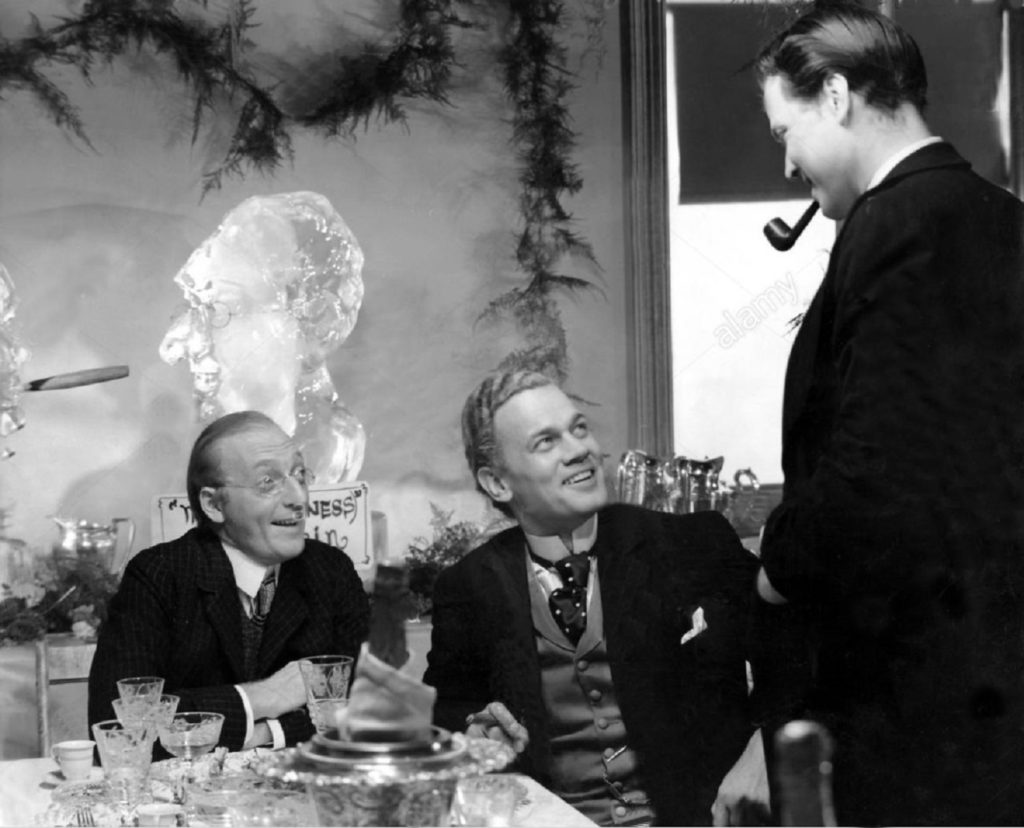 ?
CITIZEN KANE B Series (B416130-0)
?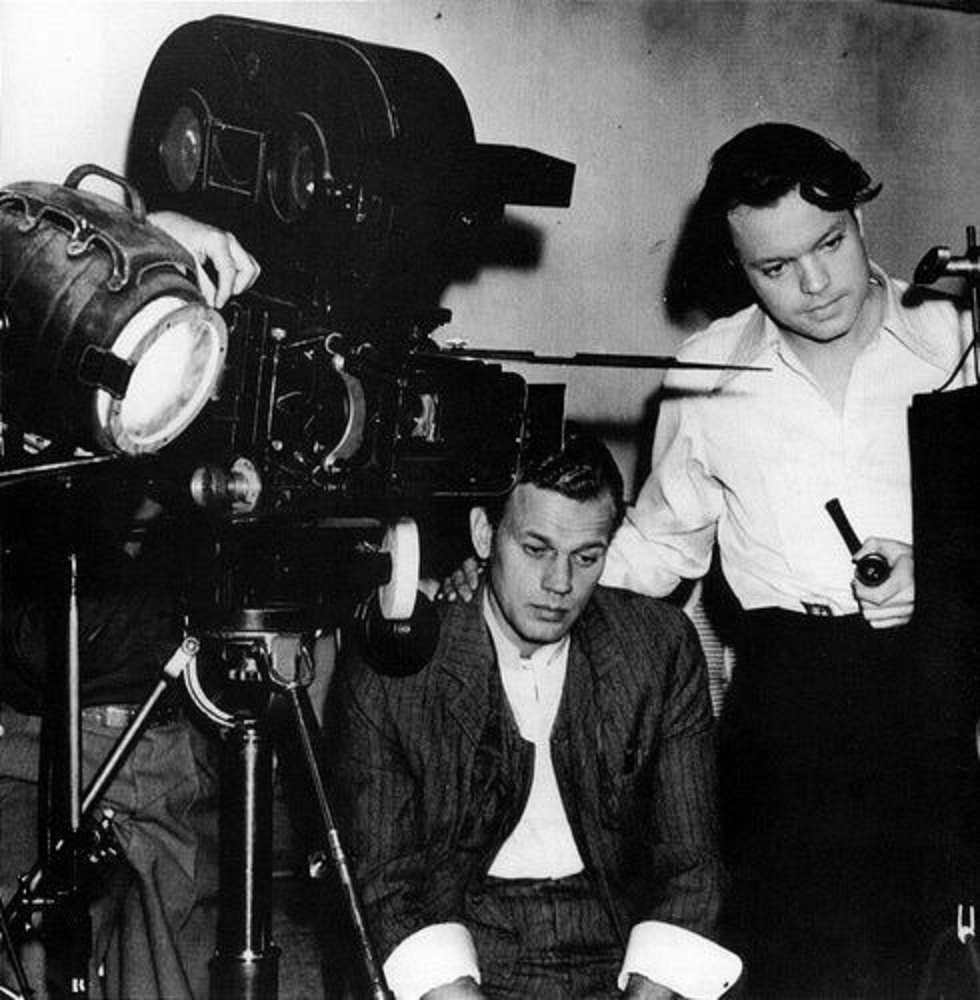 ?
CITIZEN KANE PUB A54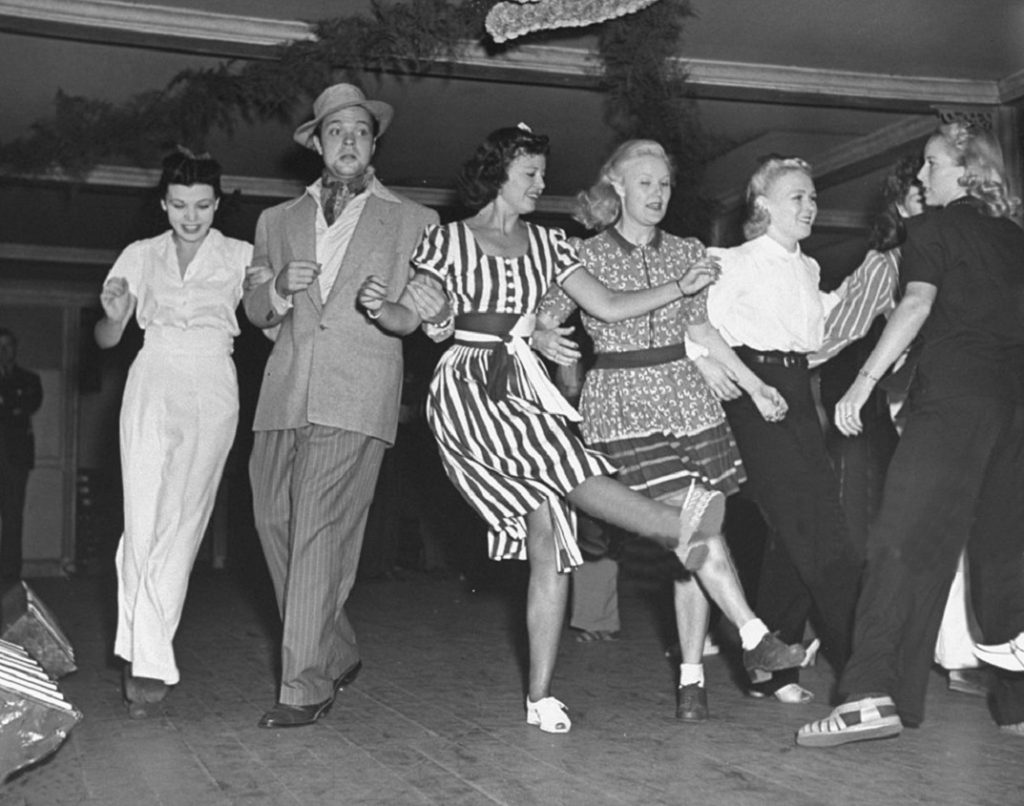 ?
?
?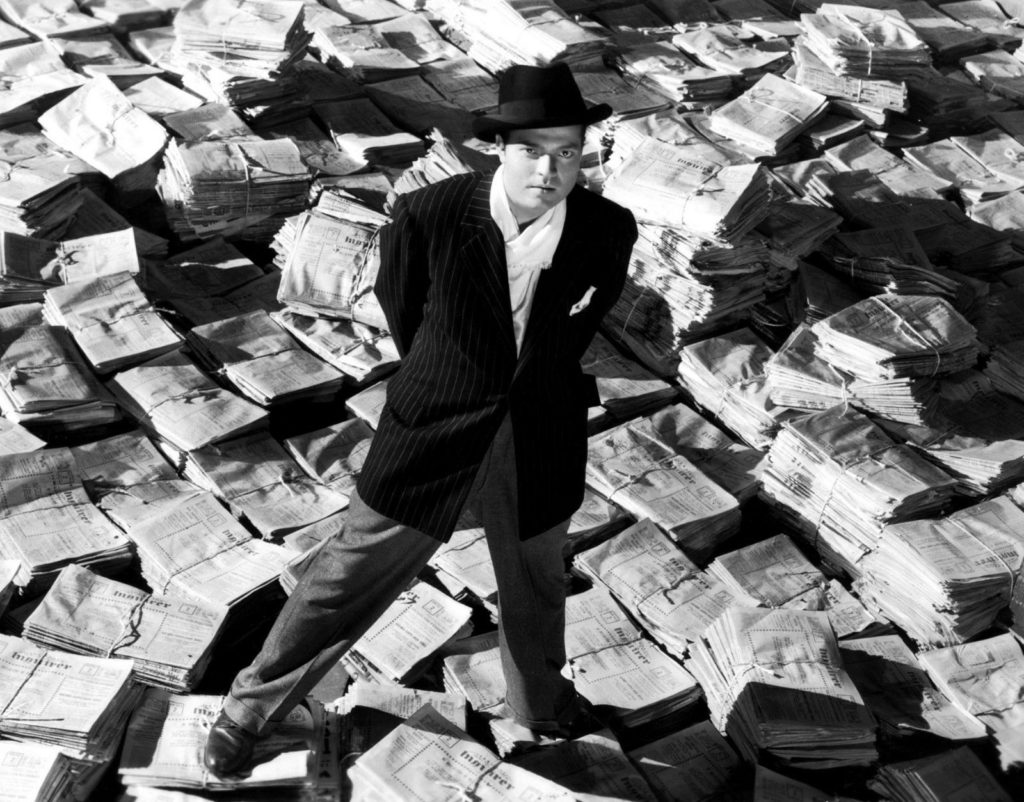 CITIZEN KANE 116
CITIZEN KANE 117
CITIZEN KANE PUB A57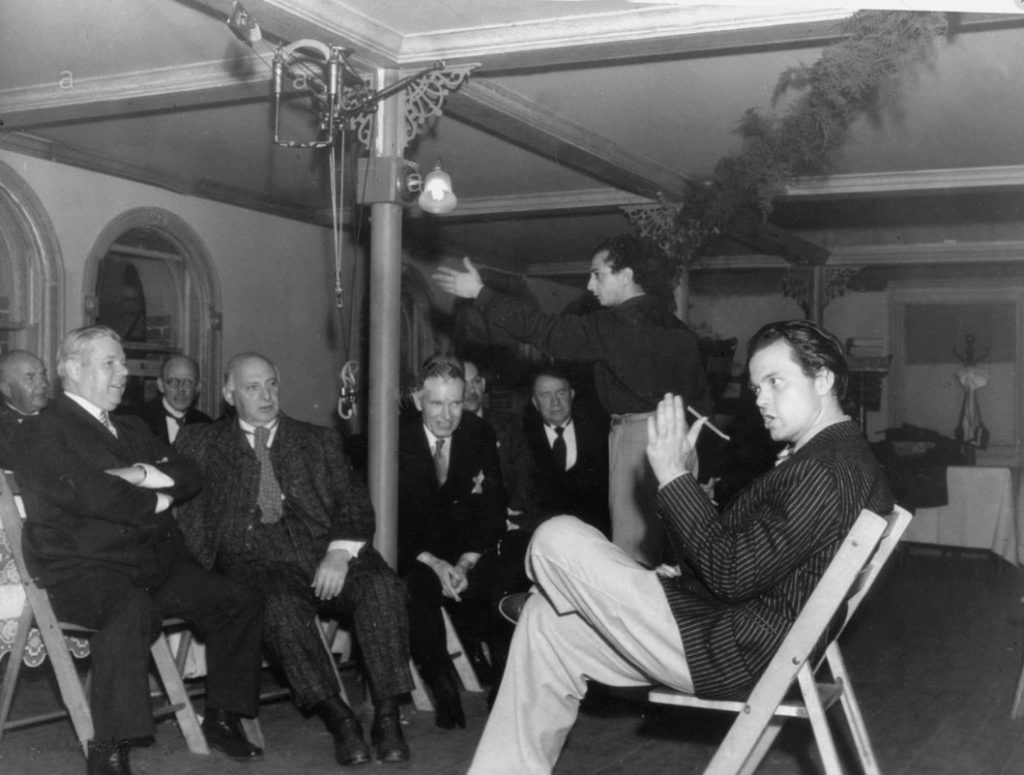 ?
?
CITIZEN KANE PUB A63
?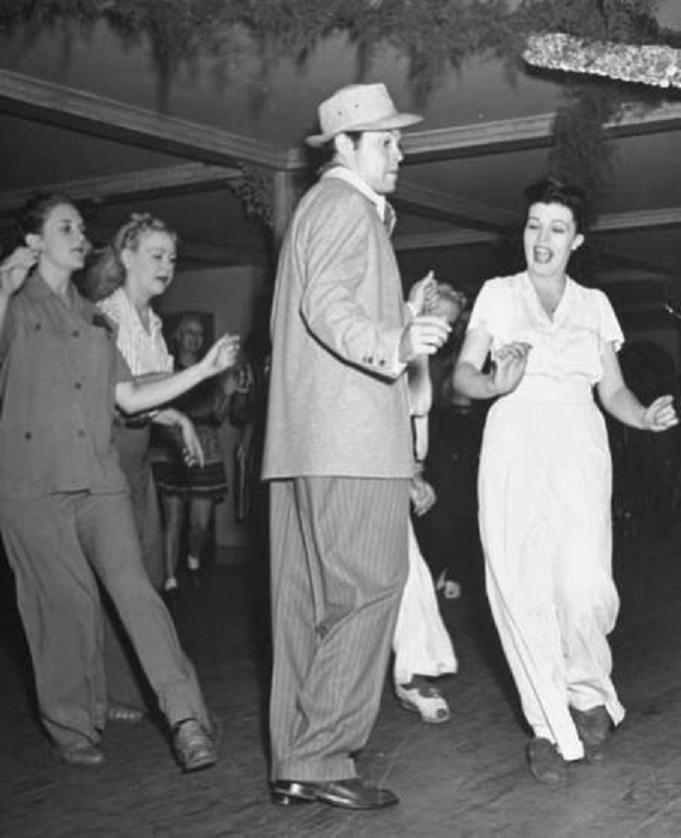 ?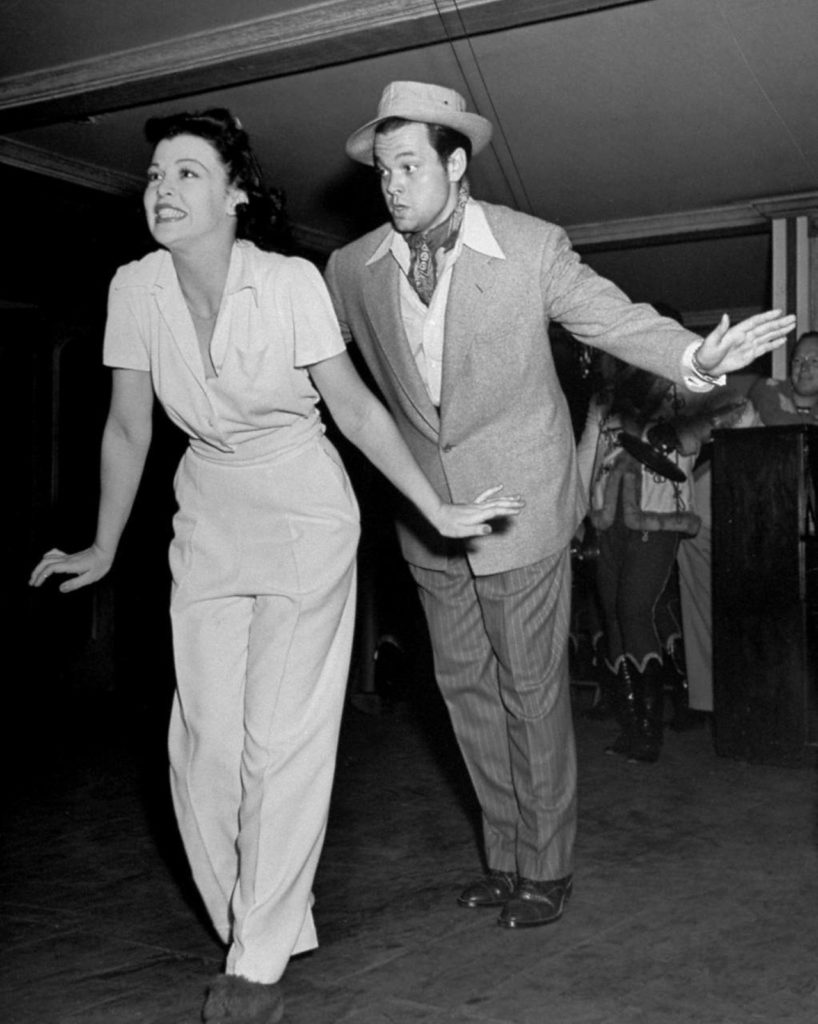 ?
?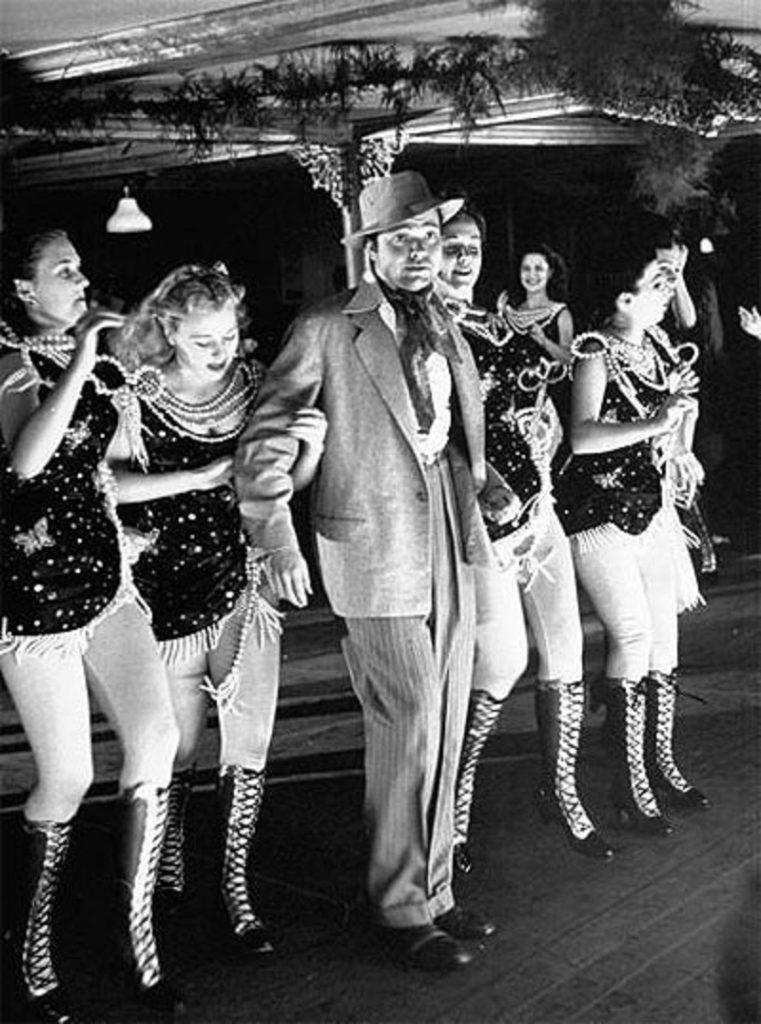 ?
CITIZEN KANE PUB A68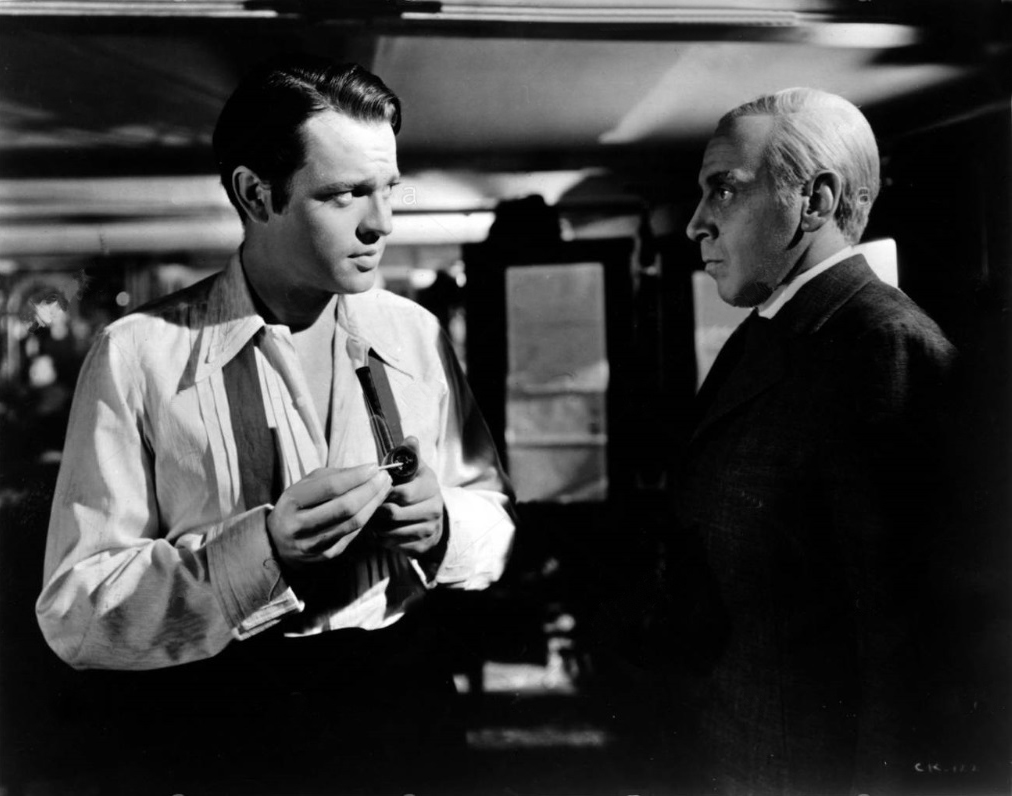 CITIZEN KANE 122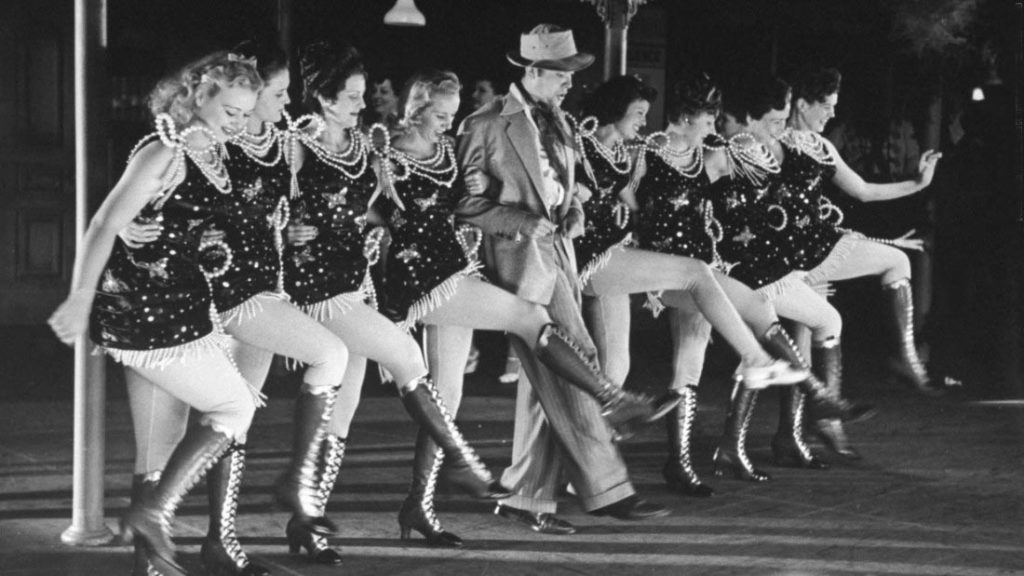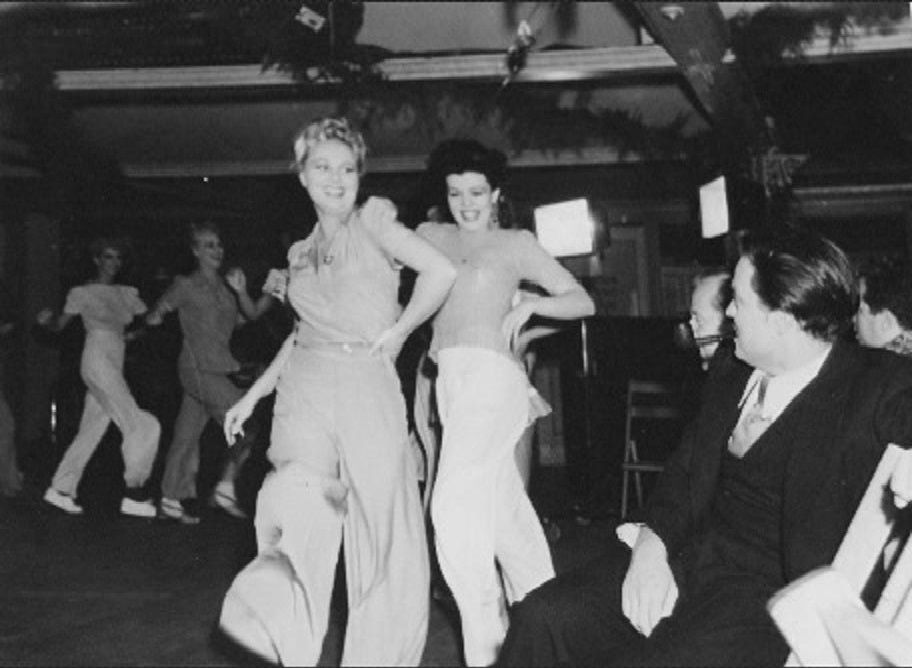 ?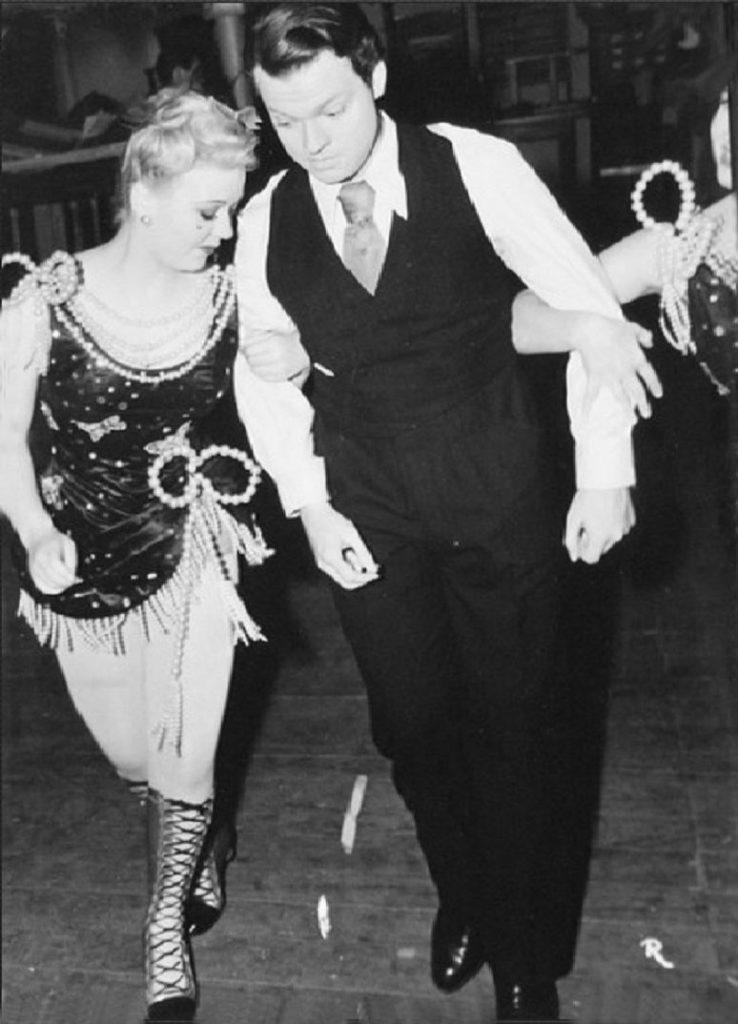 CITIZEN KANE R Series
CITIZEN KANE R Series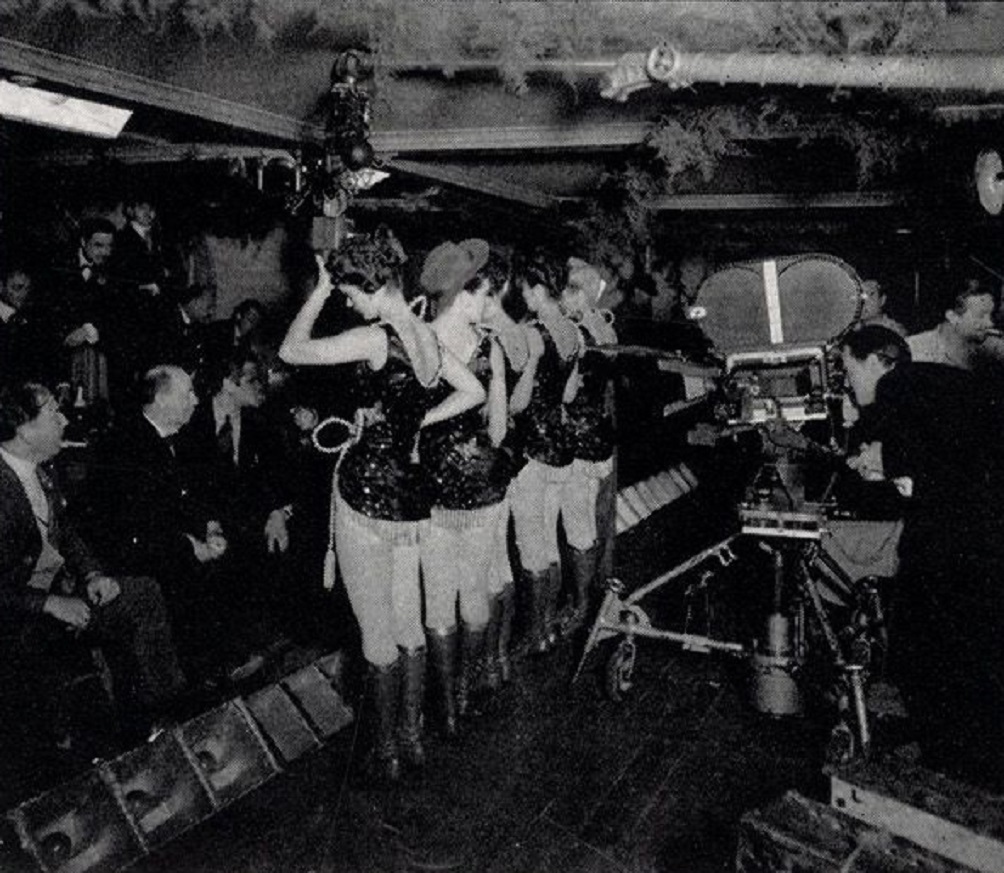 ?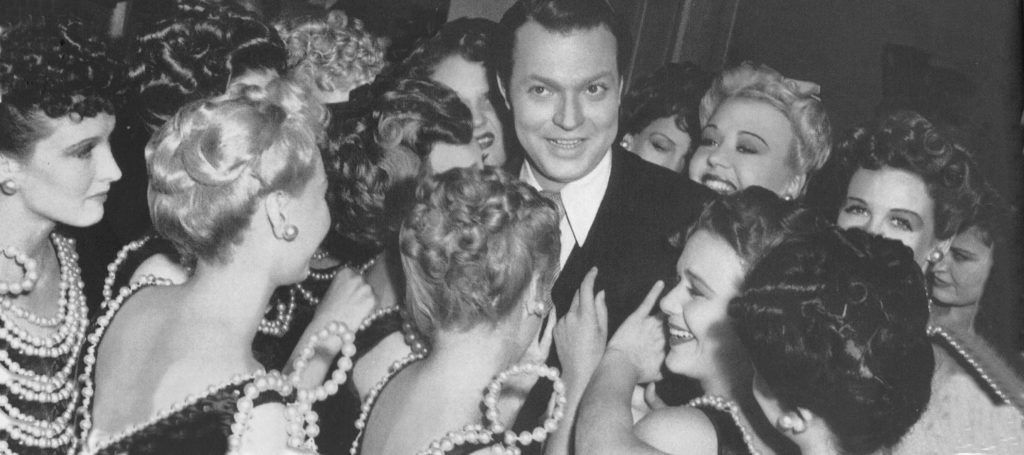 ?
?
?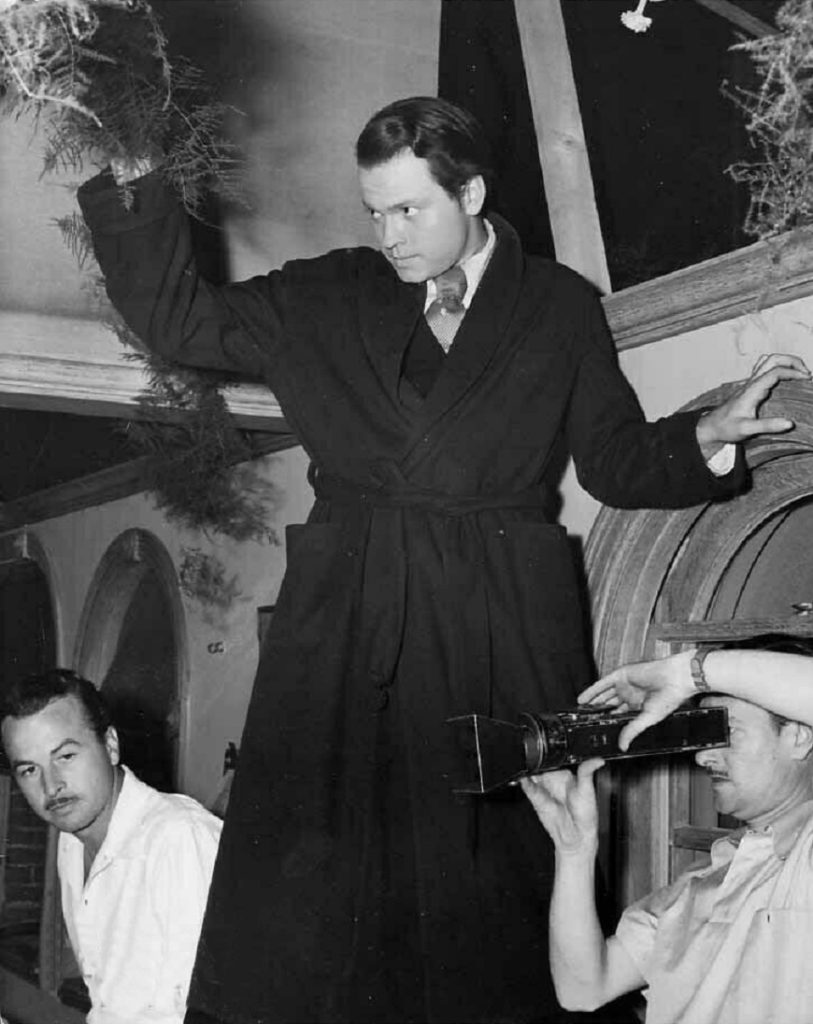 ?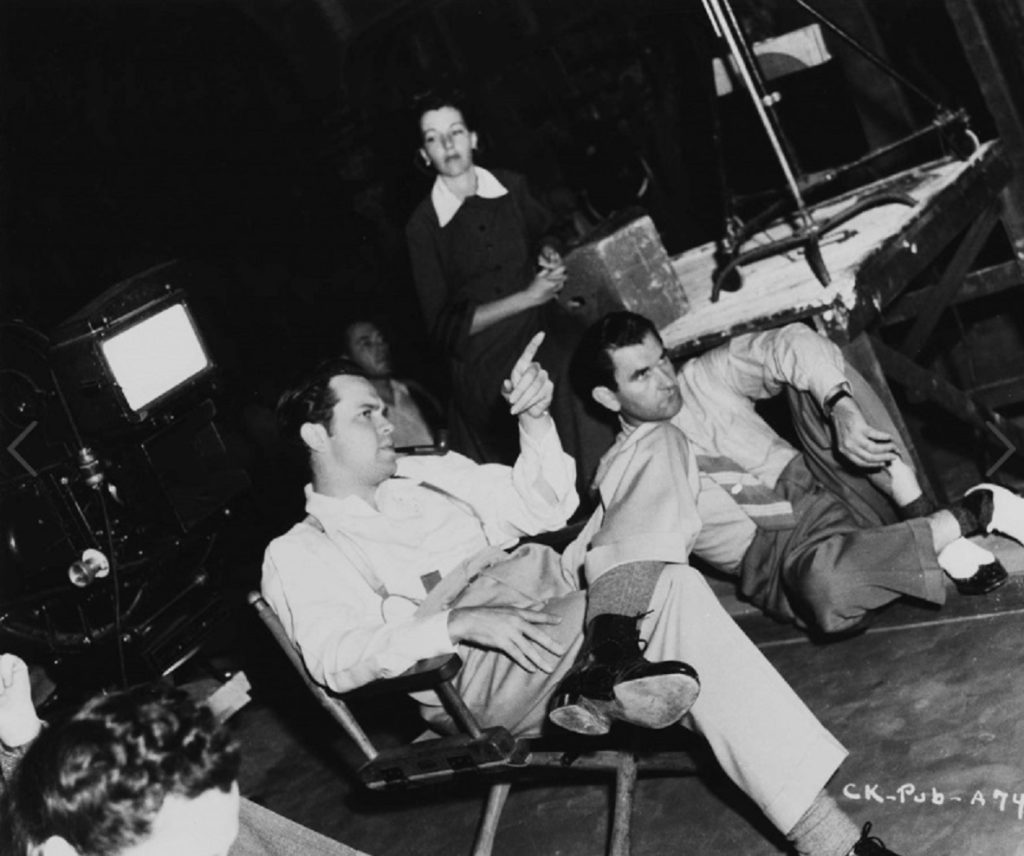 CITIZEN KANE PUB A74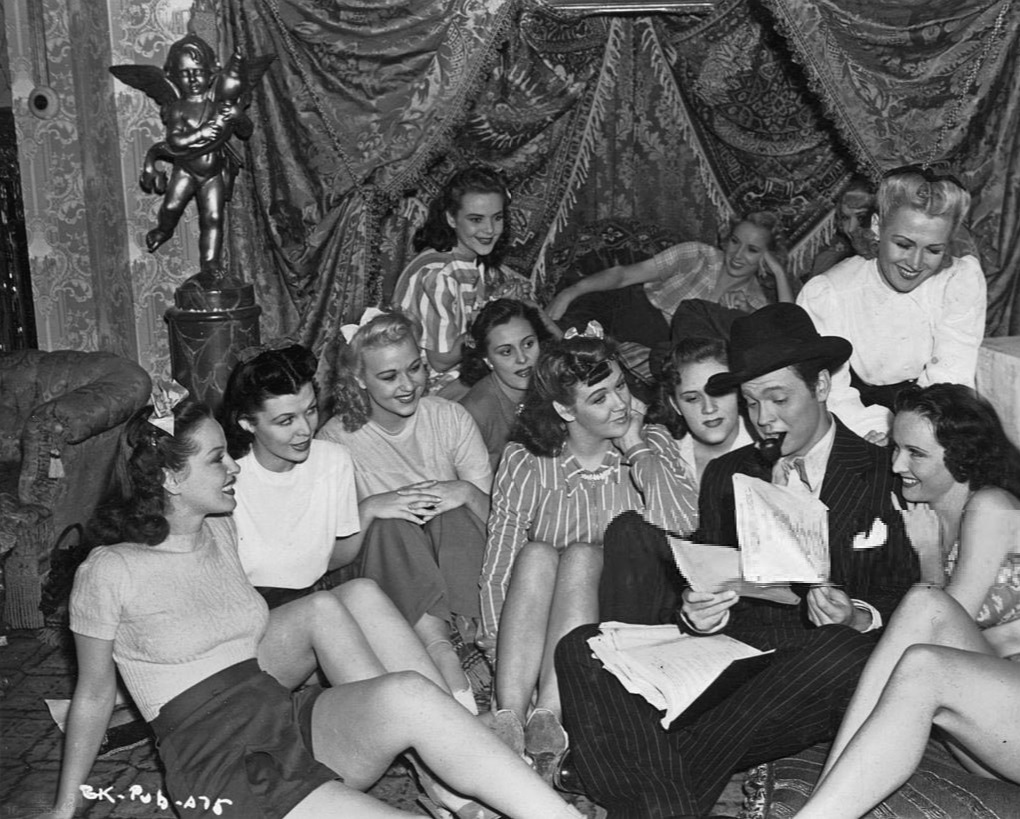 CITIZEN KANE PUB A75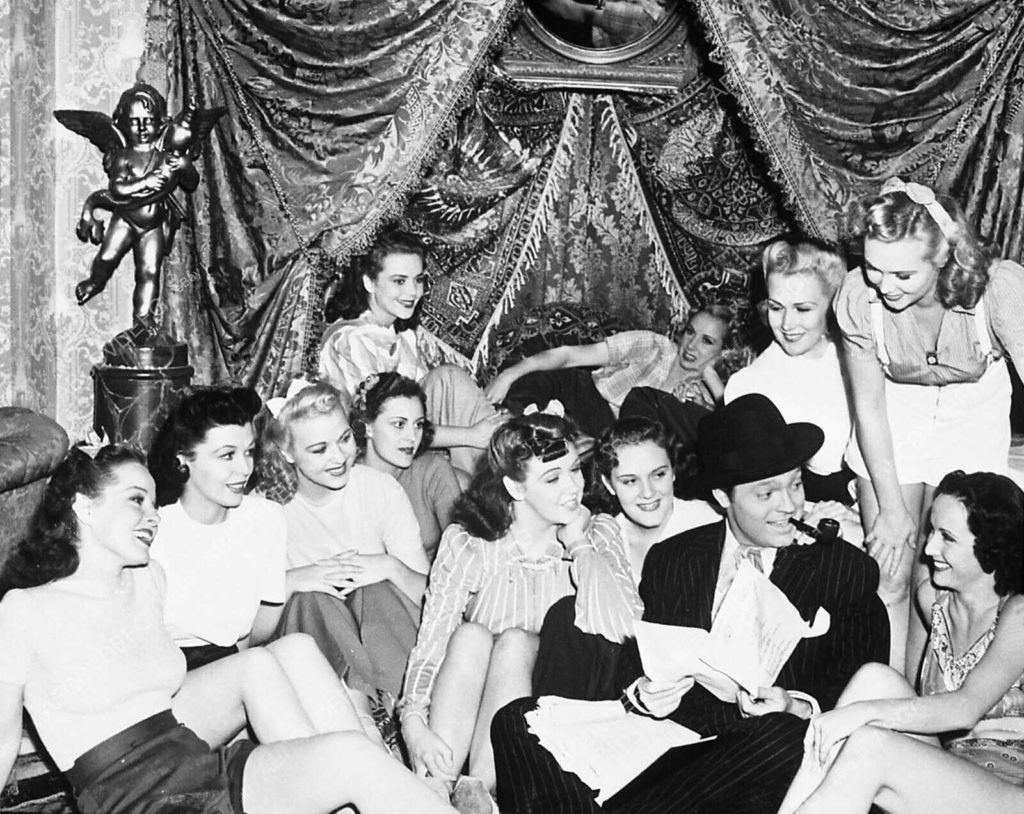 ?
CITIZEN KANE PUB A77
?
CITIZEN KANE PUB A79
?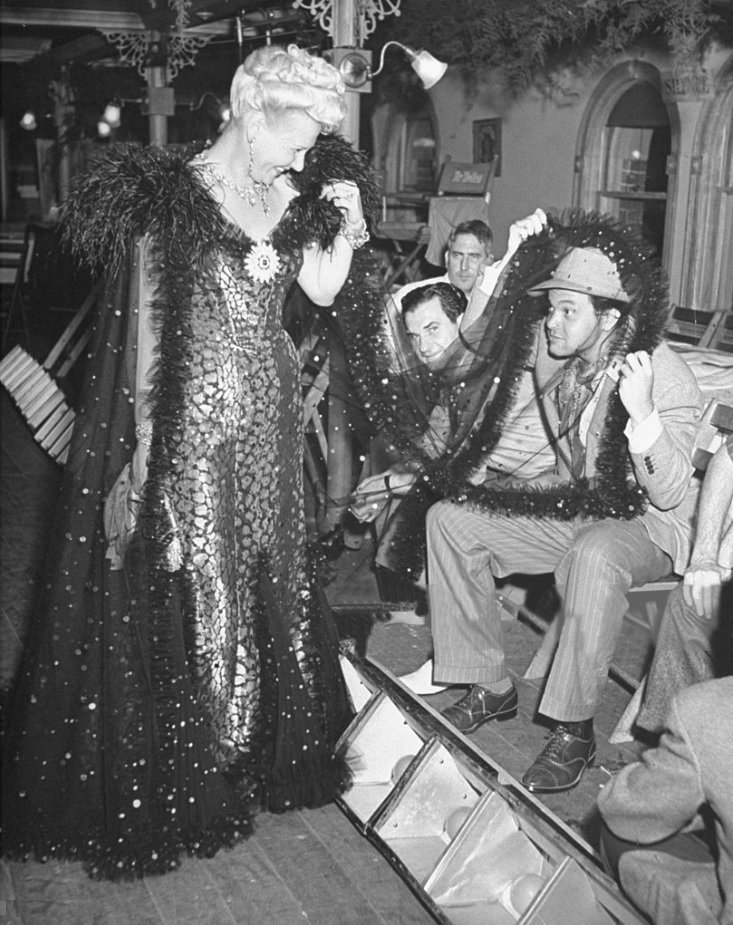 ?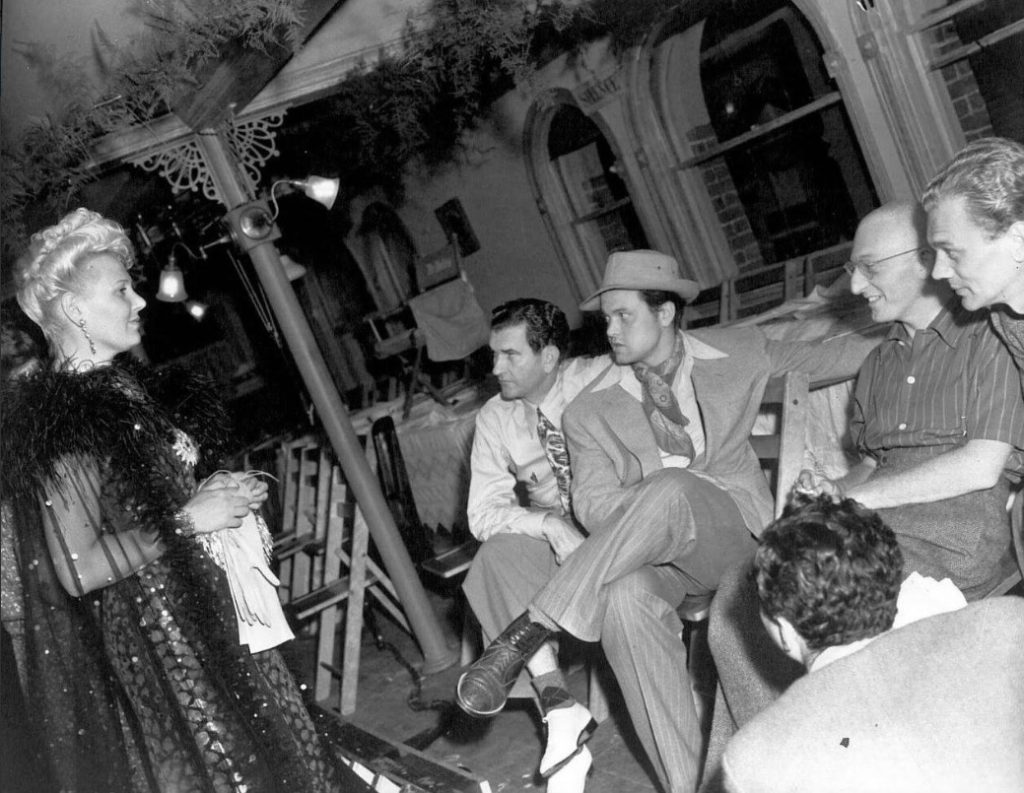 ?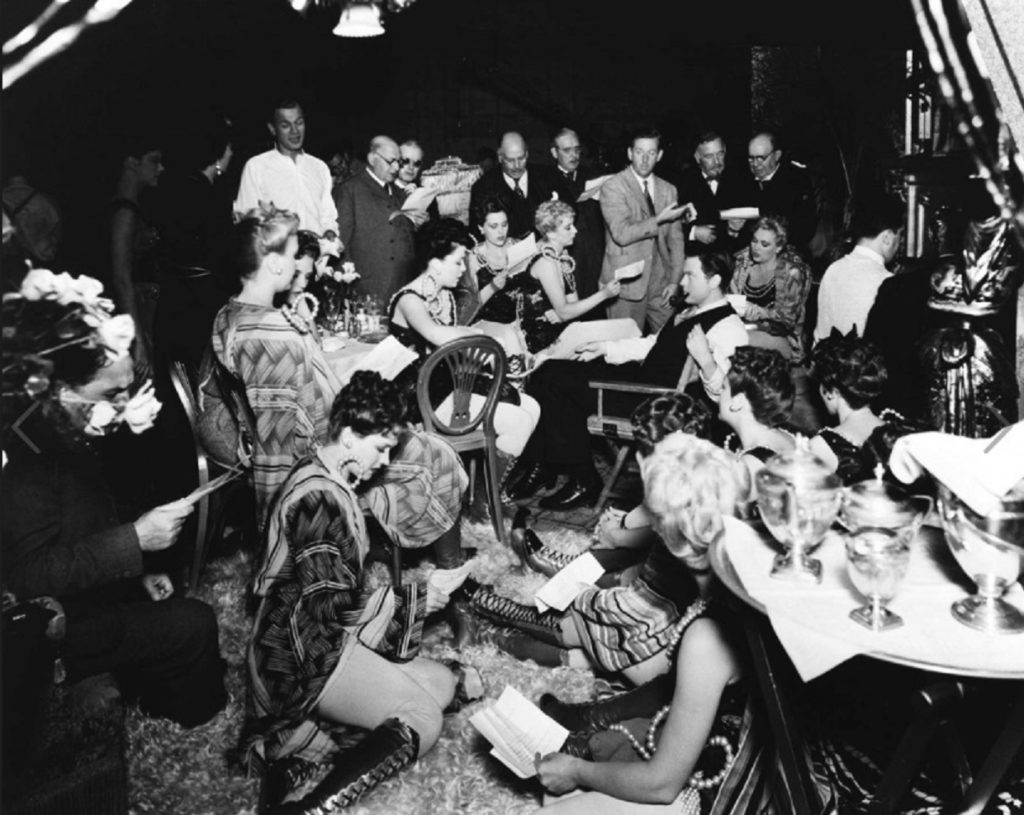 ?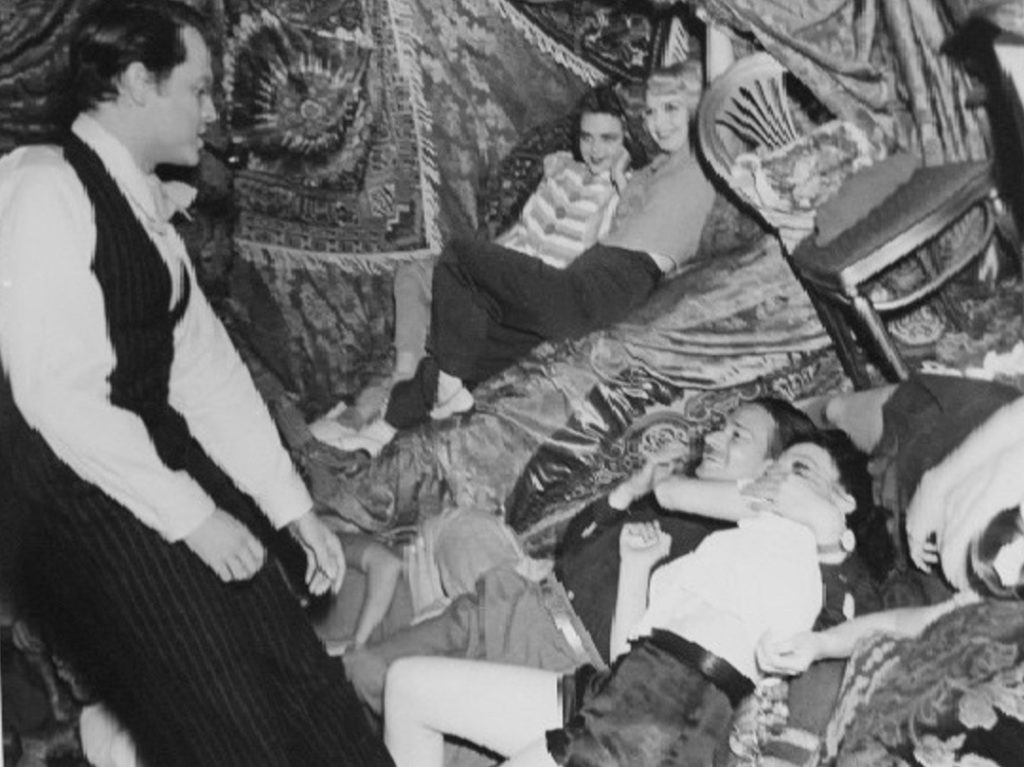 ?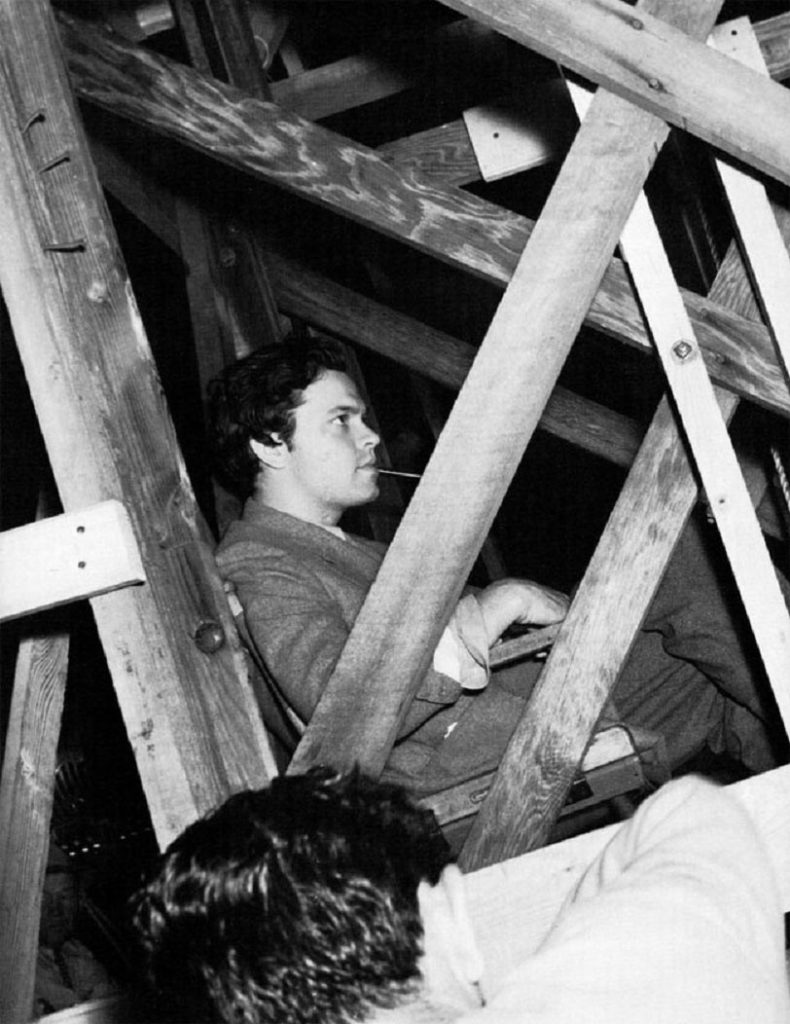 ?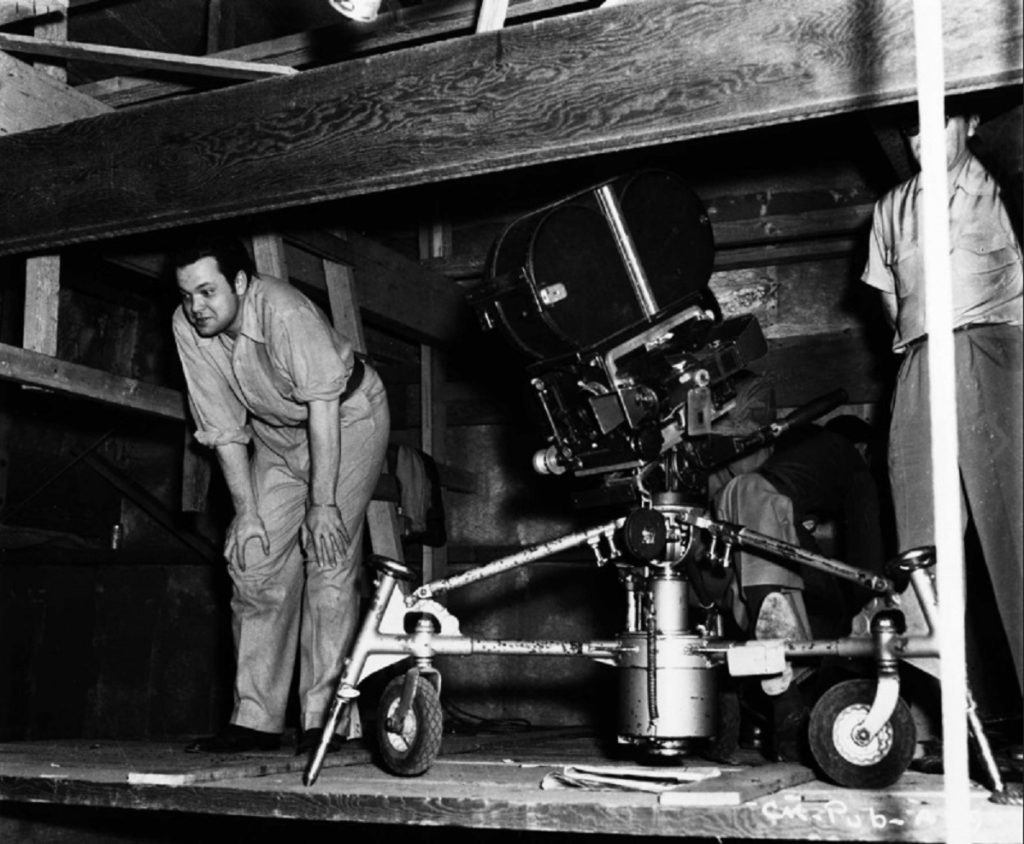 ?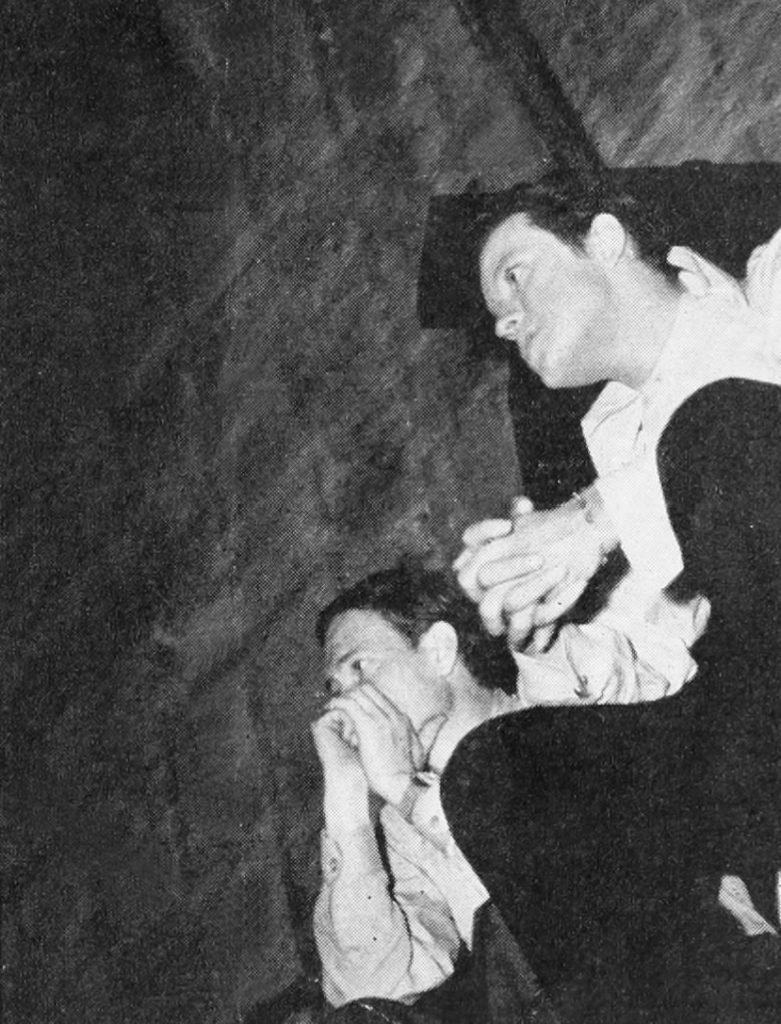 ?
CITIZEN KANE B Series (B41129-3) (2482)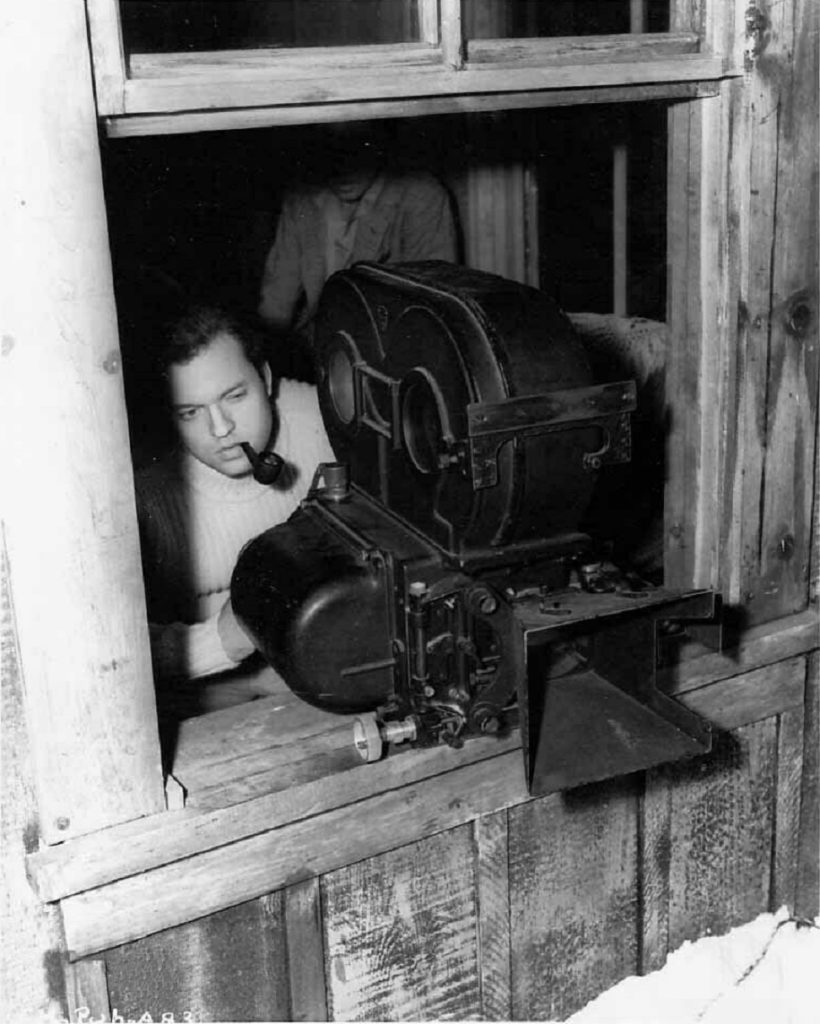 CITIZEN KANE PUB A83
?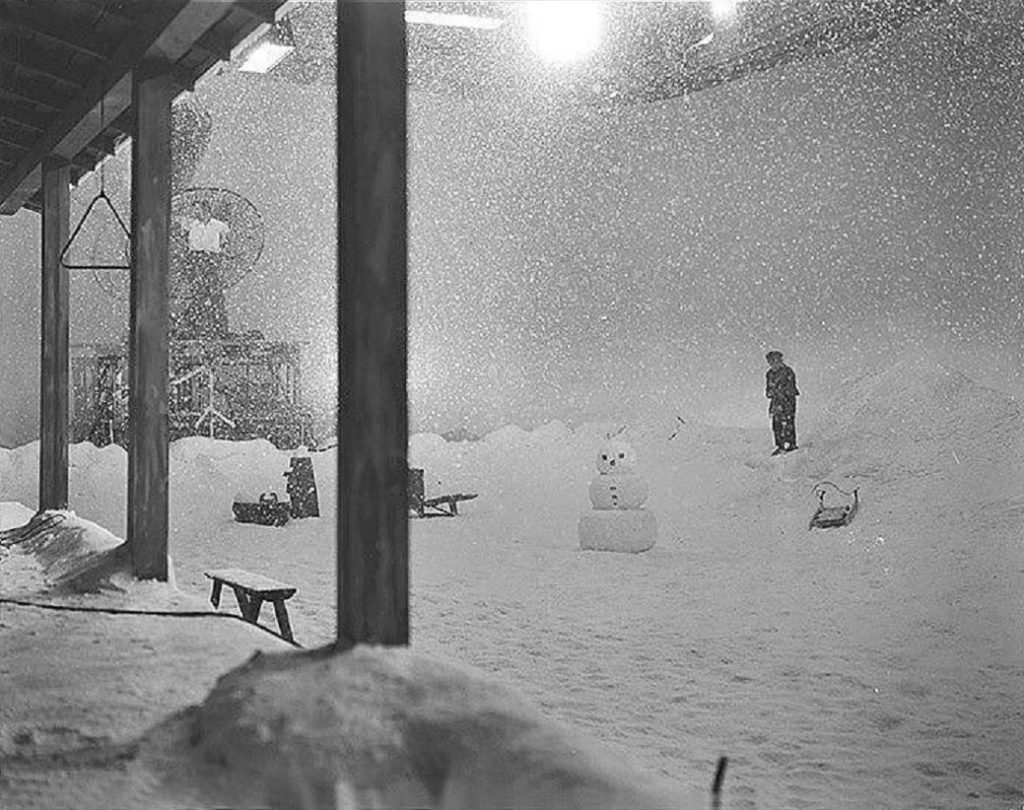 ?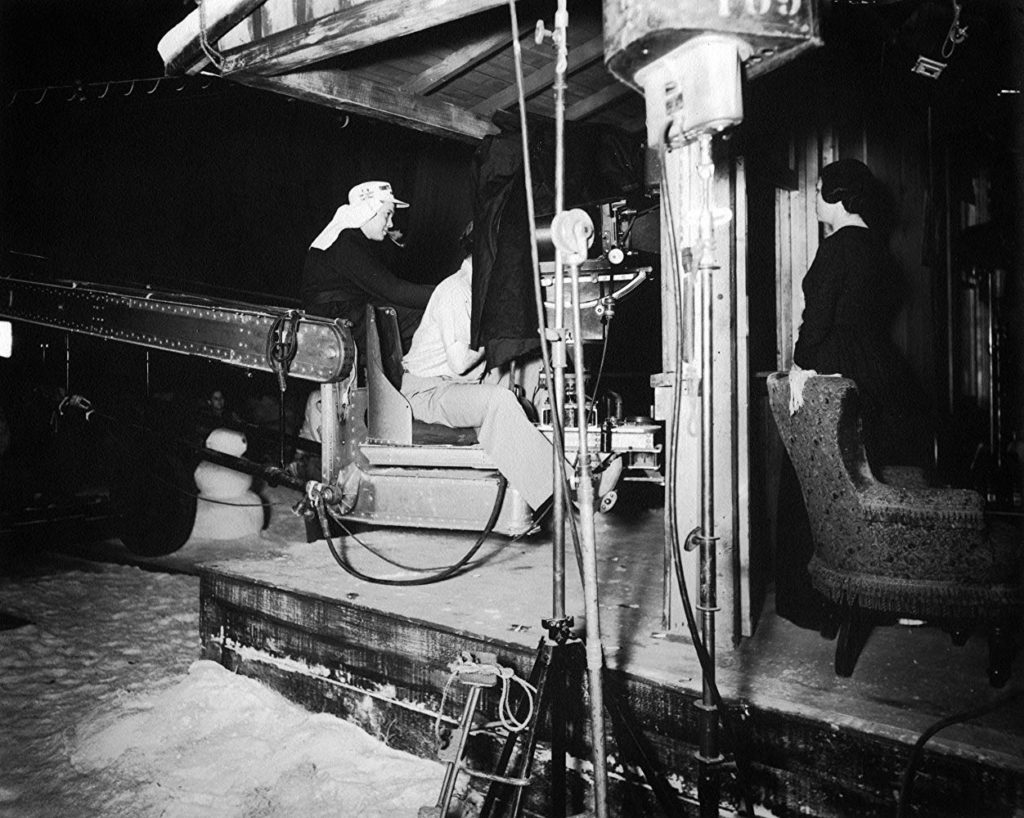 ?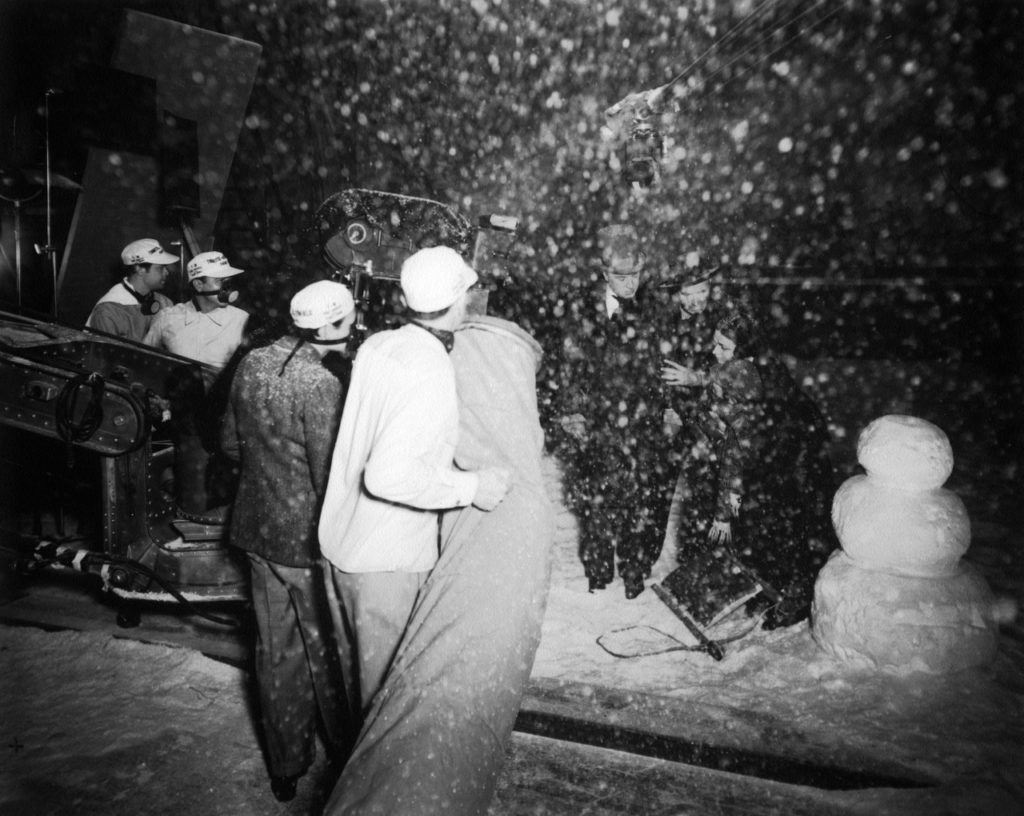 ?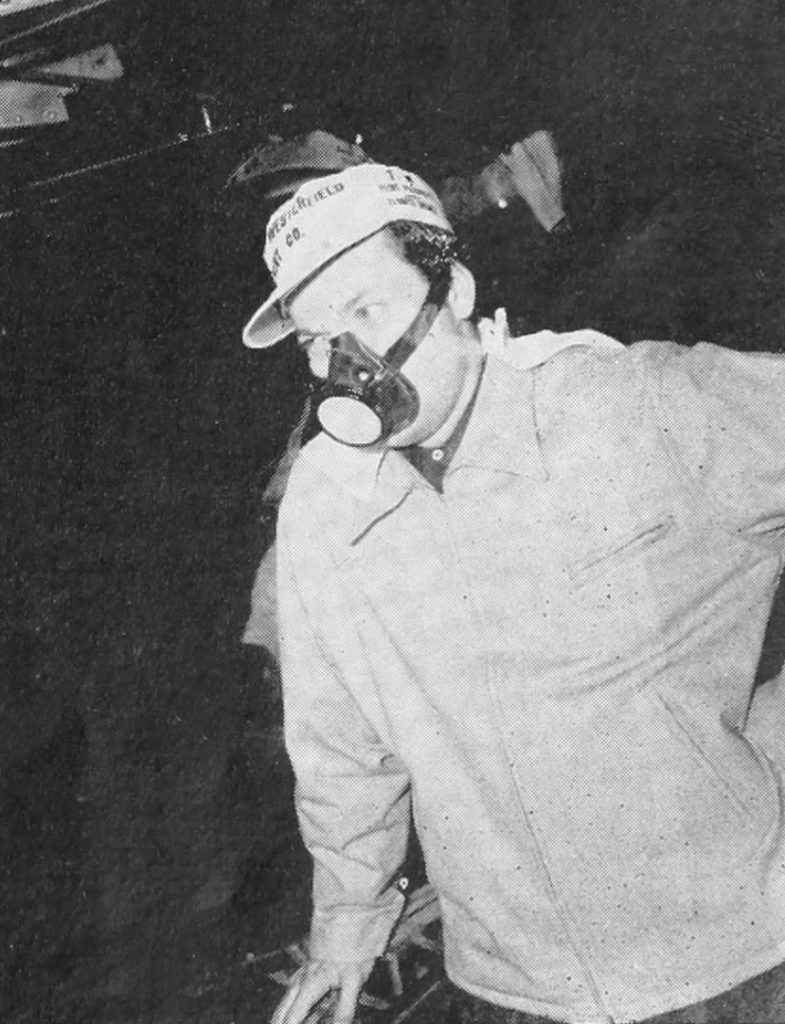 ?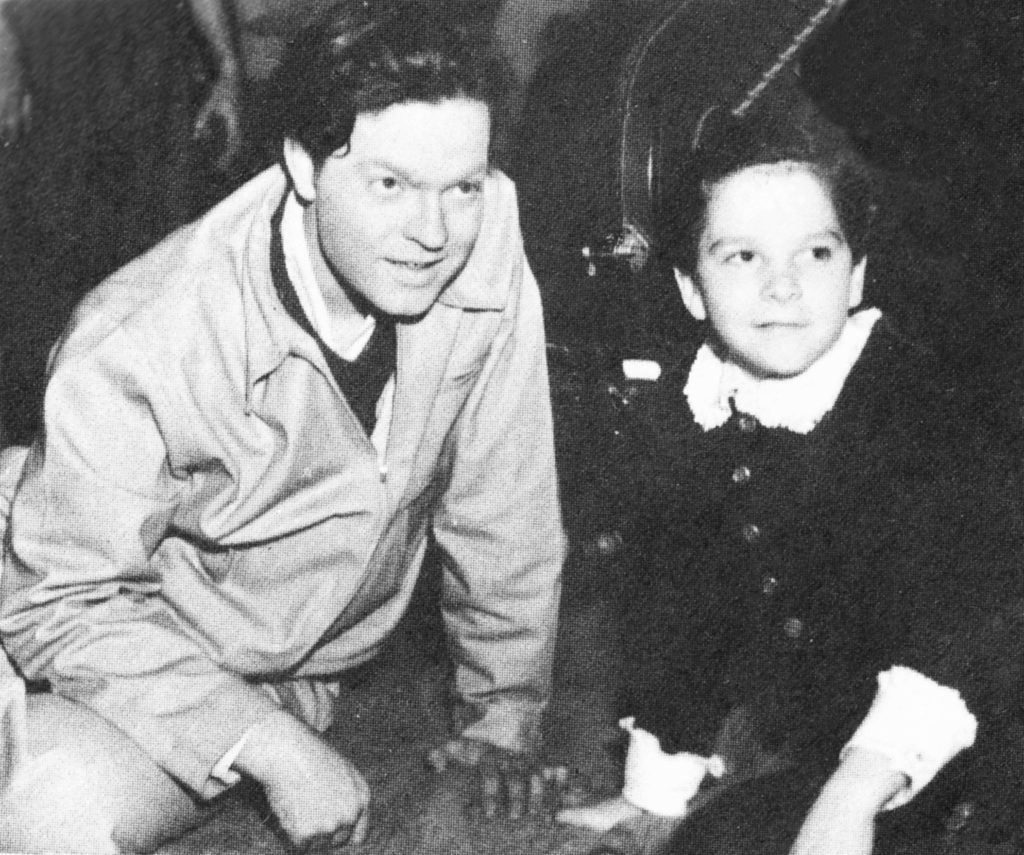 ?
?
?
CITIZEN KANE 112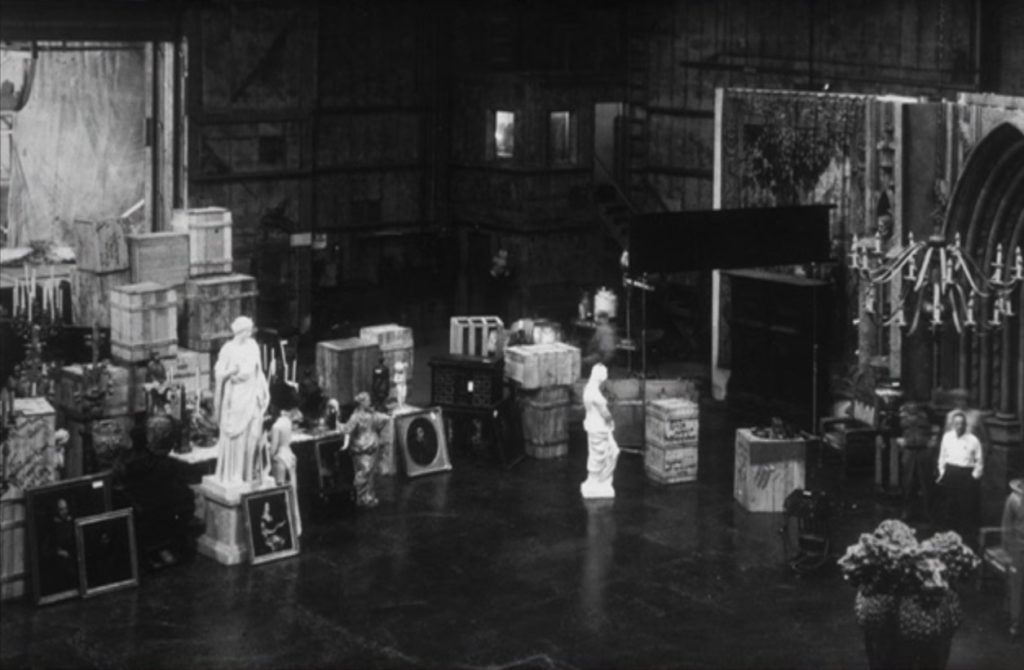 ?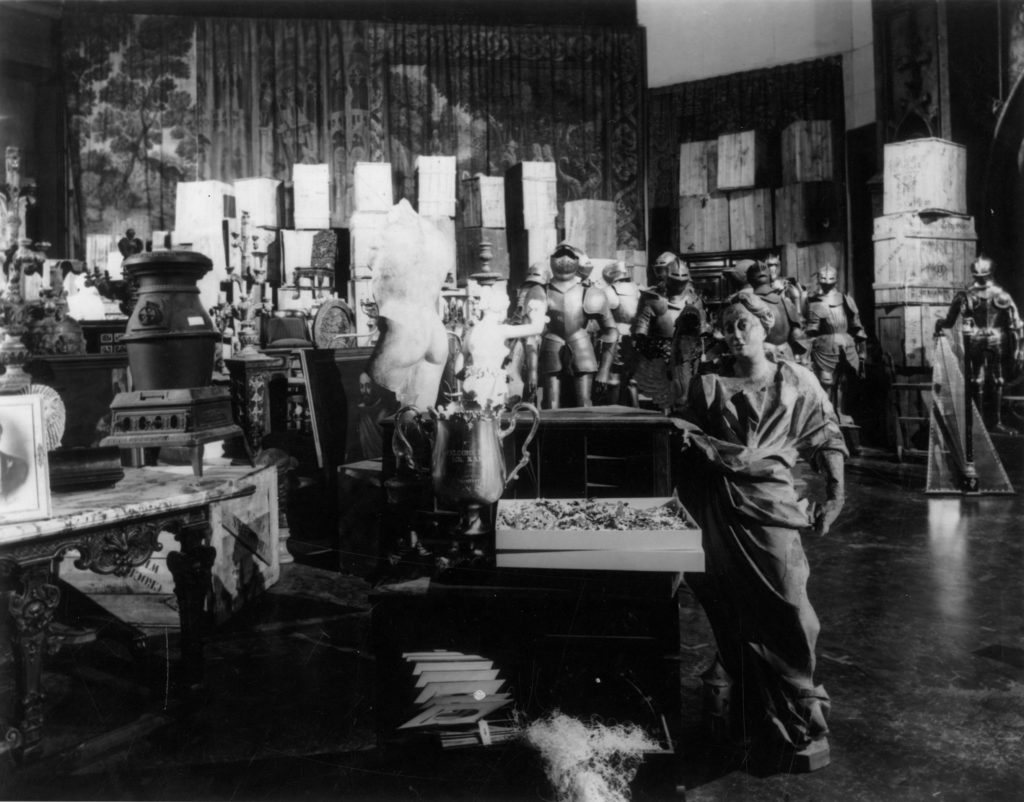 ?
CITIZEN KANE PUB A87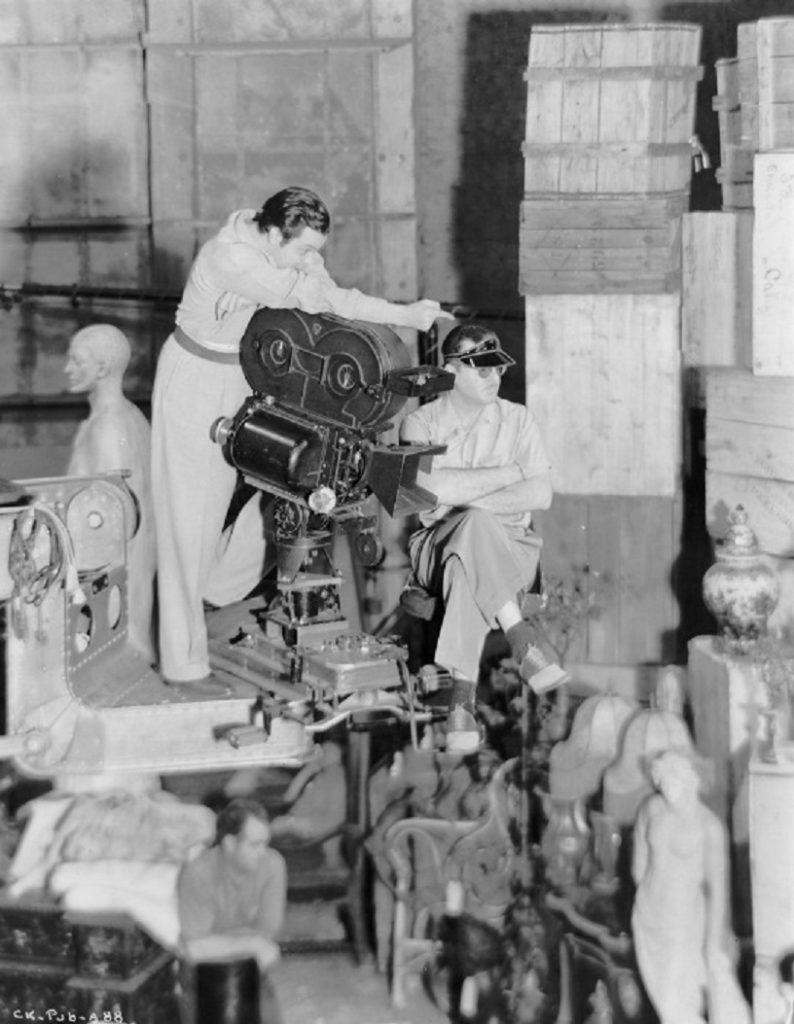 CITIZEN KANE PUB A88
CITIZEN KANE PUB A88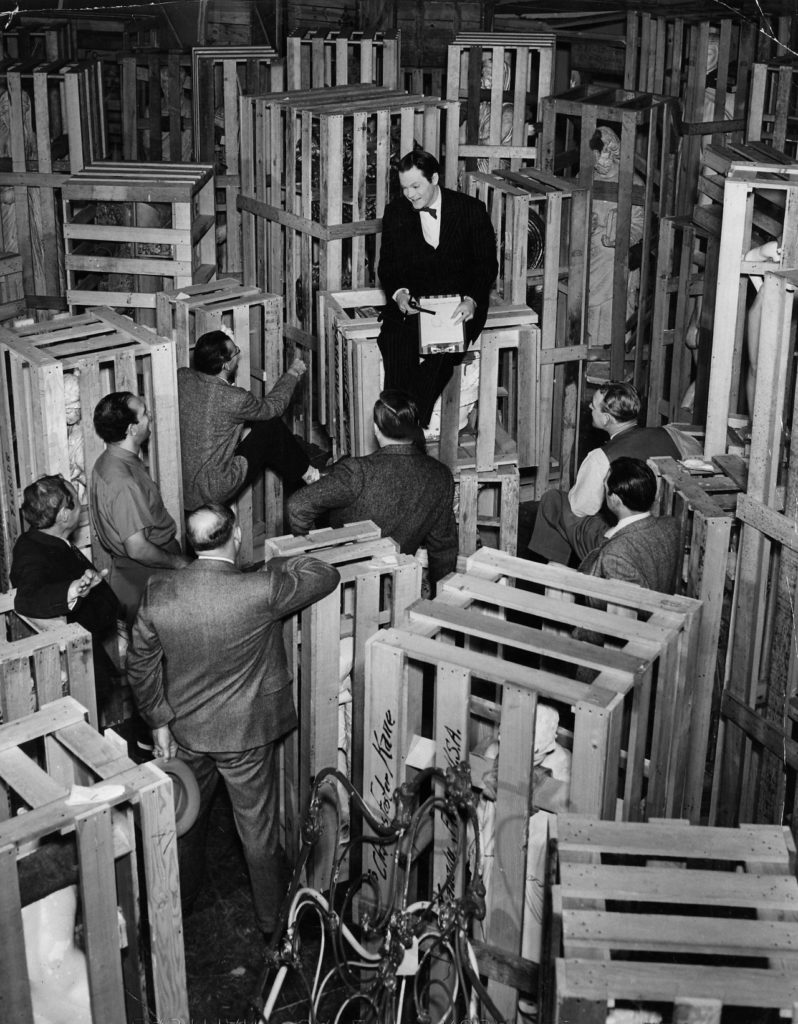 ?
?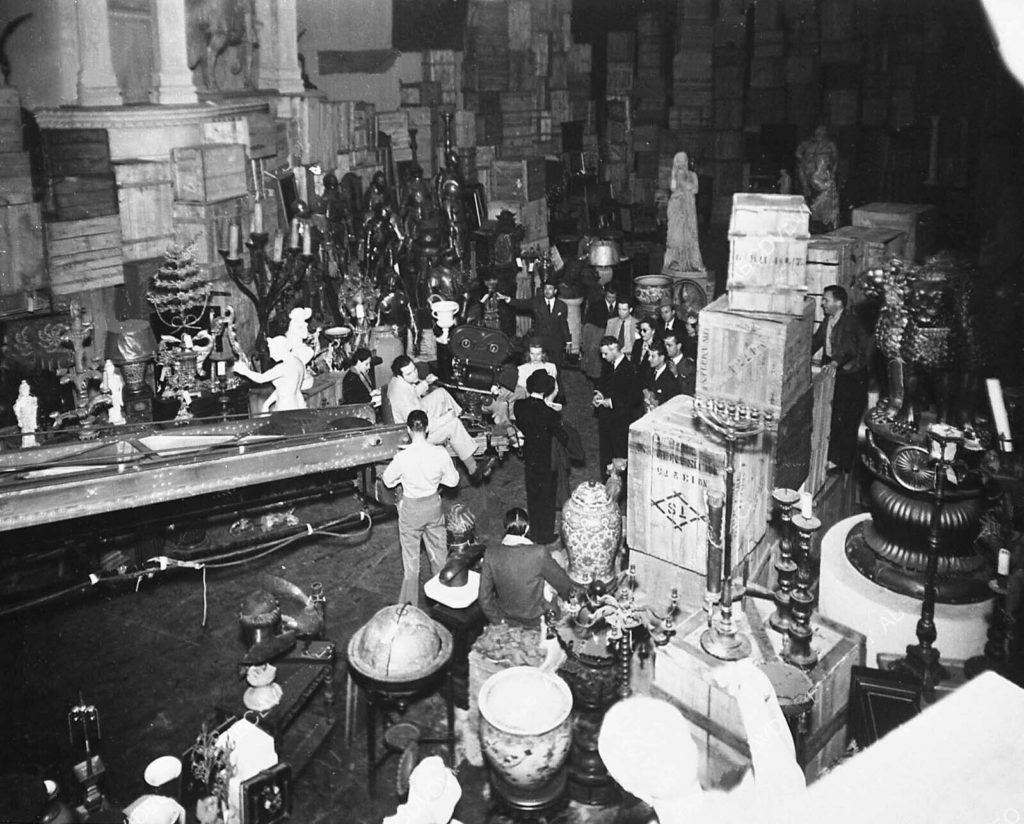 ?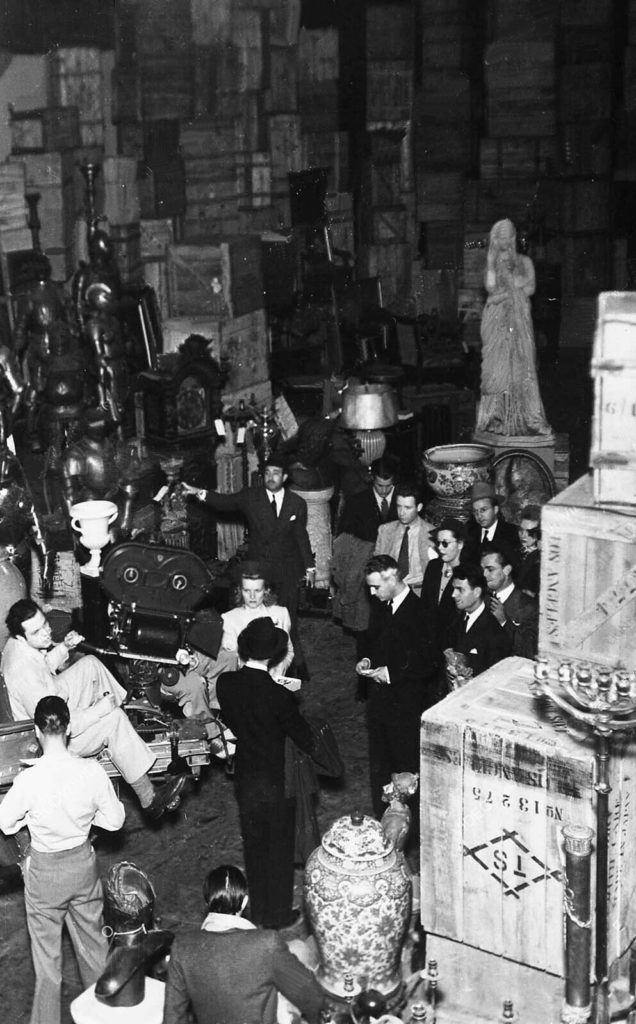 ?
?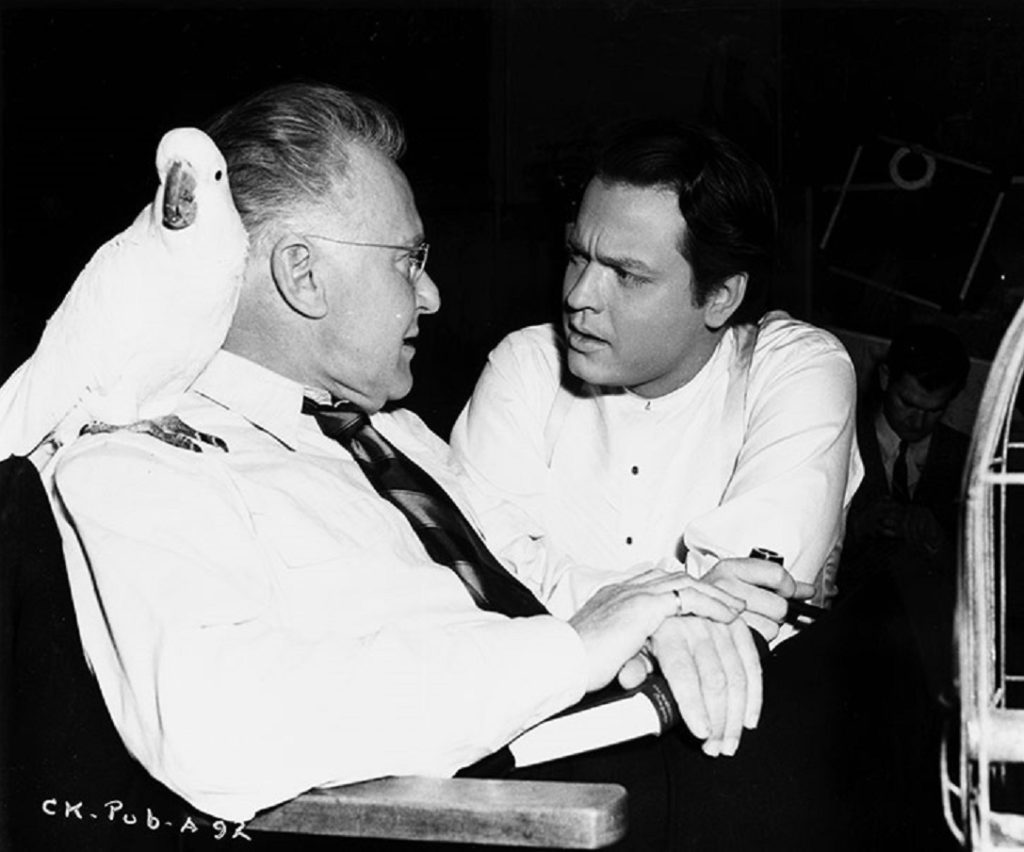 CITIZEN KANE PUB A92
CITIZEN KANE R Series
?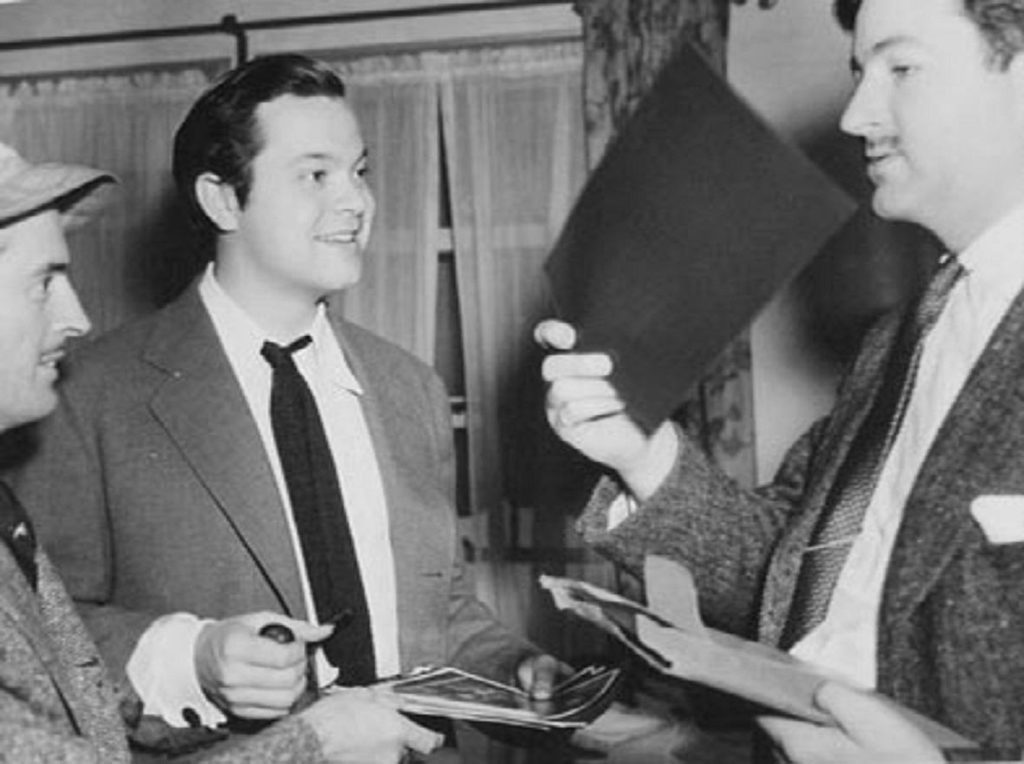 ?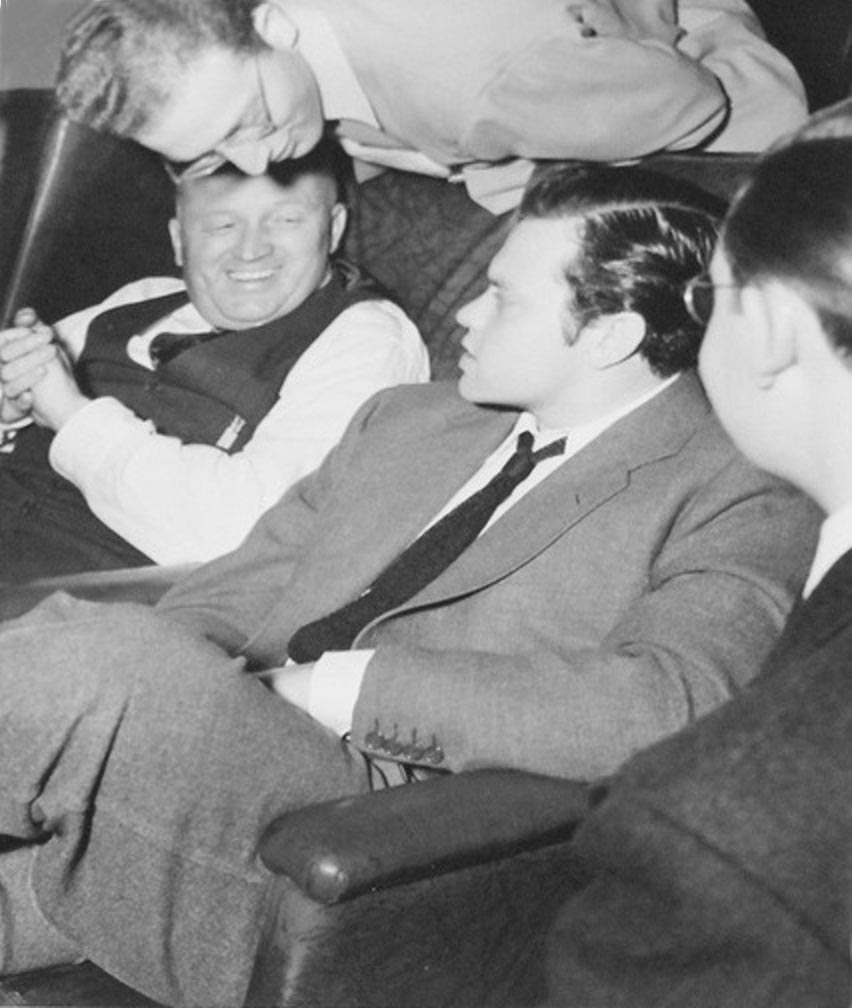 ?
?
?
?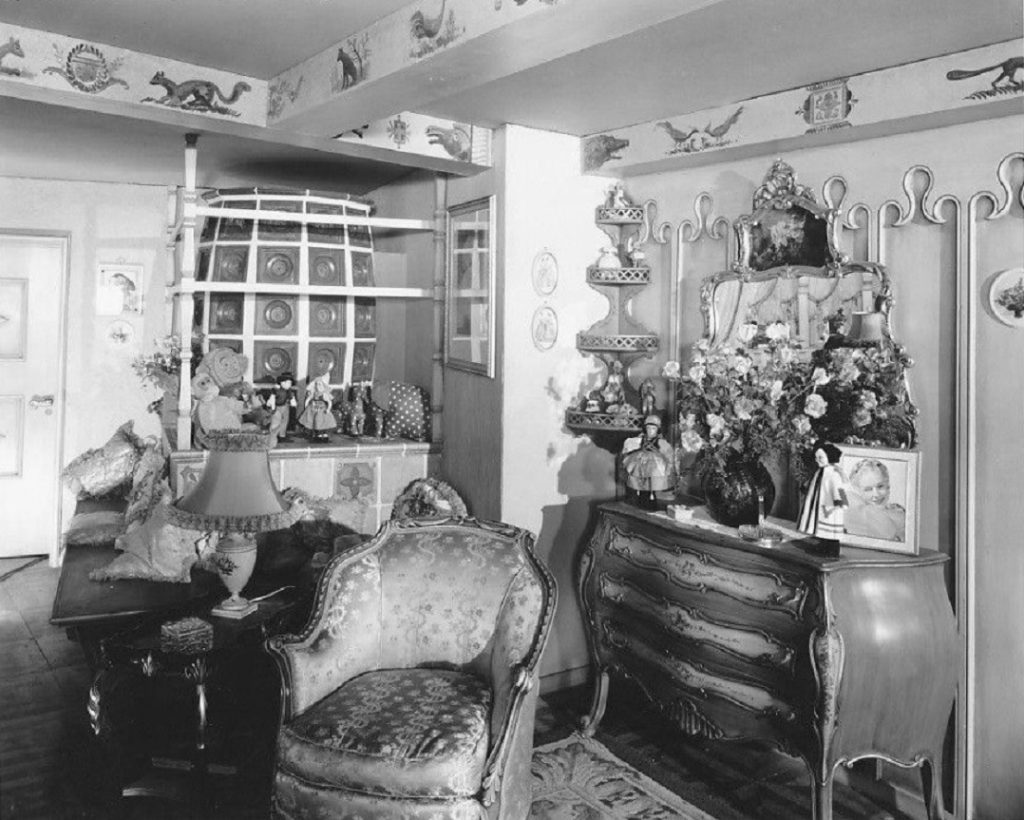 ?
?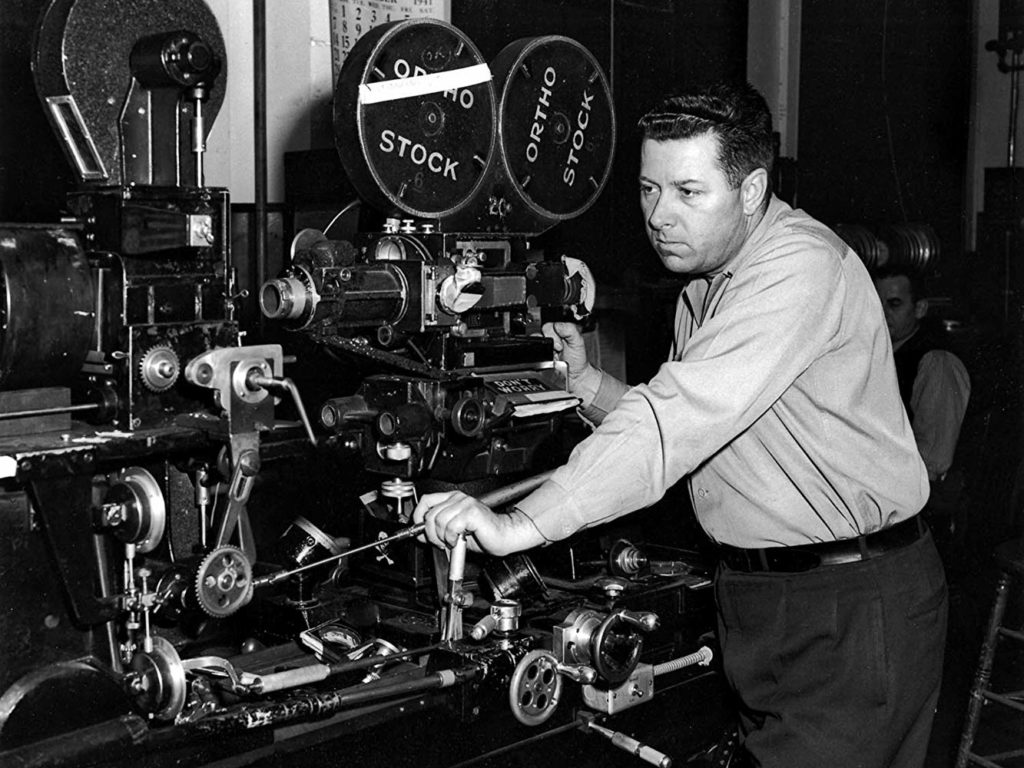 ?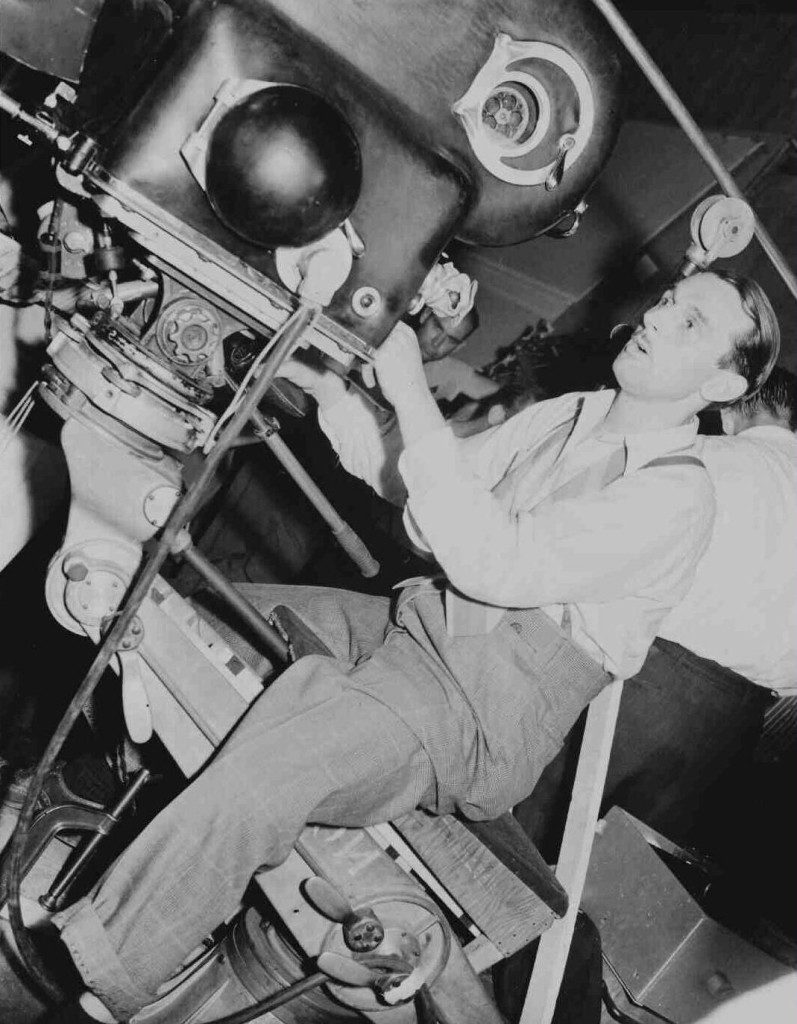 ?
___________
MORE "KANE" STILLS
I am posting these stills in response to someone who wrote me. A great fan of CITIZEN KANE, she wrote that nowhere was there any sort of attempt on the web to organize the film's stills in a systematic manner as I had done with the stills for THE MAGNIFICENT AMBERSONS. As a collector, if the KANE stills were done in a similar manner—and not just the pre-production and production stills as I had done above but all the Kane stills—many KANE fans would find it useful. So, I decided to post the following stills rather than–once again–just leaving them in a computer file.
It should be noted that the official KANE set, like AMBERSONS, contained 275 photos. But, like AMBERSON there were many photographs sent out to publications before the complete set was assembled. (These are labeled R and B series)  Therefore, the total number of Kane stills could total  as many as 450 photographs.   Between the pre-production and production stills above and what I am posting below the total here is just under 390. Like AMBERSONS I have tried to organize by studio numbering and when there wasn't a number, put these stills near similar numbered stills.  If I was certain of the studio number or  whether R or B series I labeled them as such.
CITIZEN KANE OPENING 21
CITIZEN KANE OPENING 8
CITIZEN KANE 1
CITIZEN KANE 2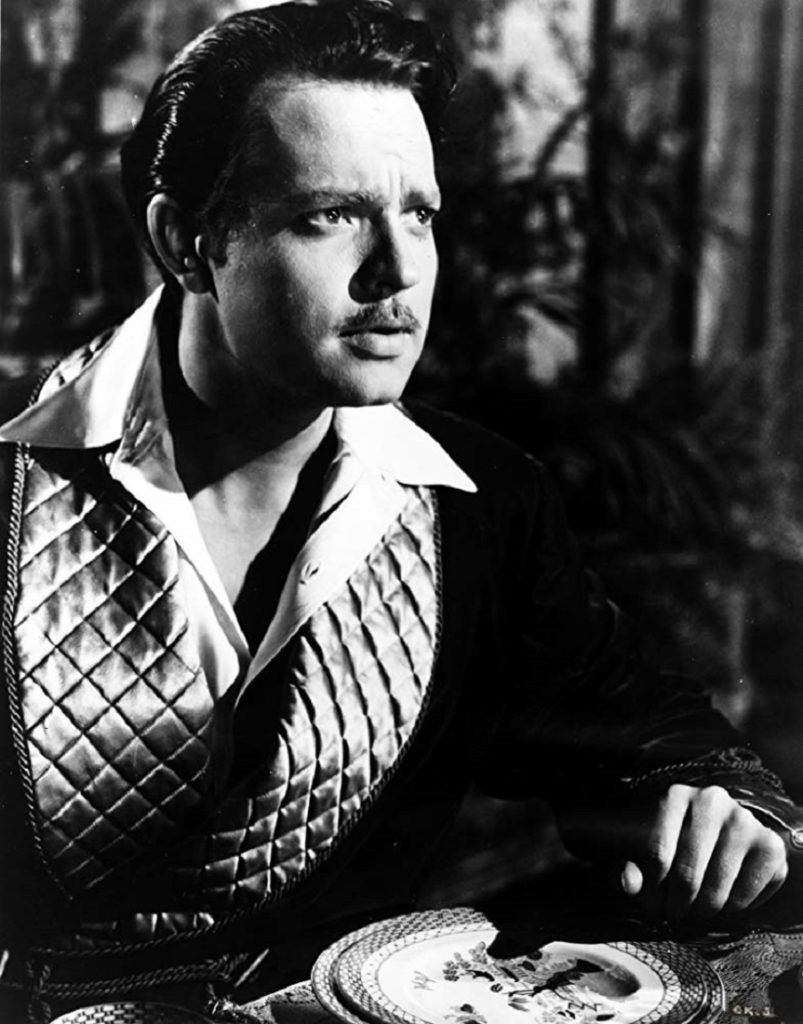 CITIZEN KANE 3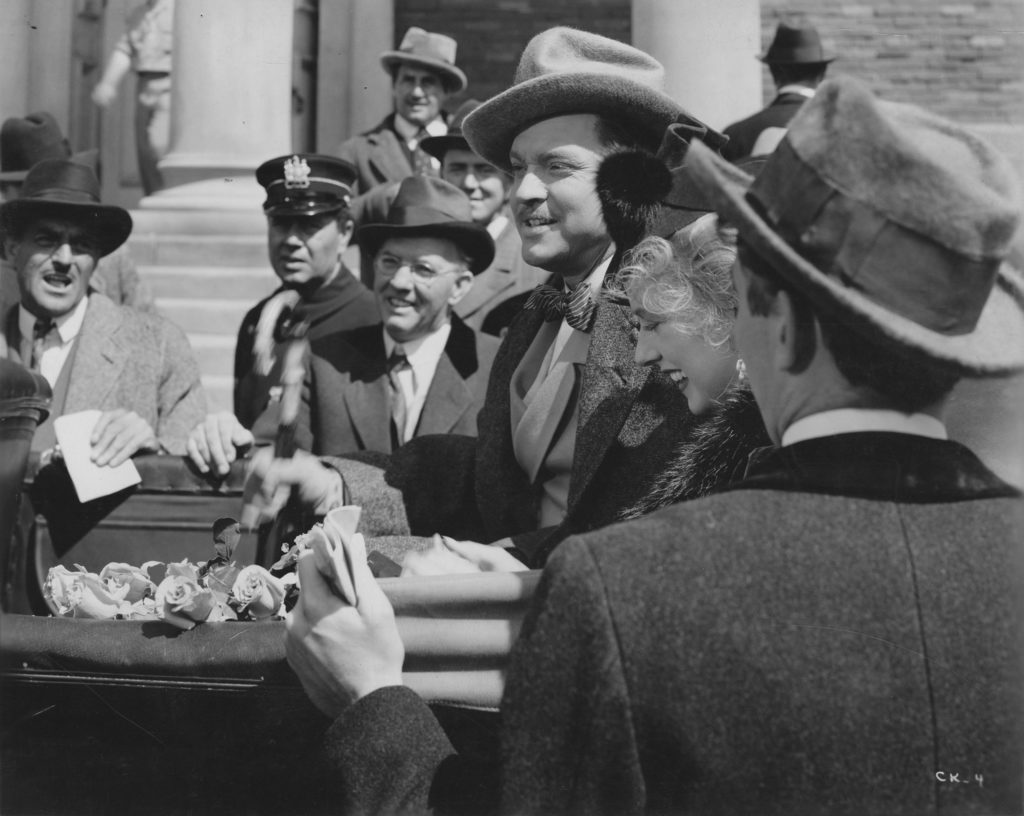 CITIZEN KANE 4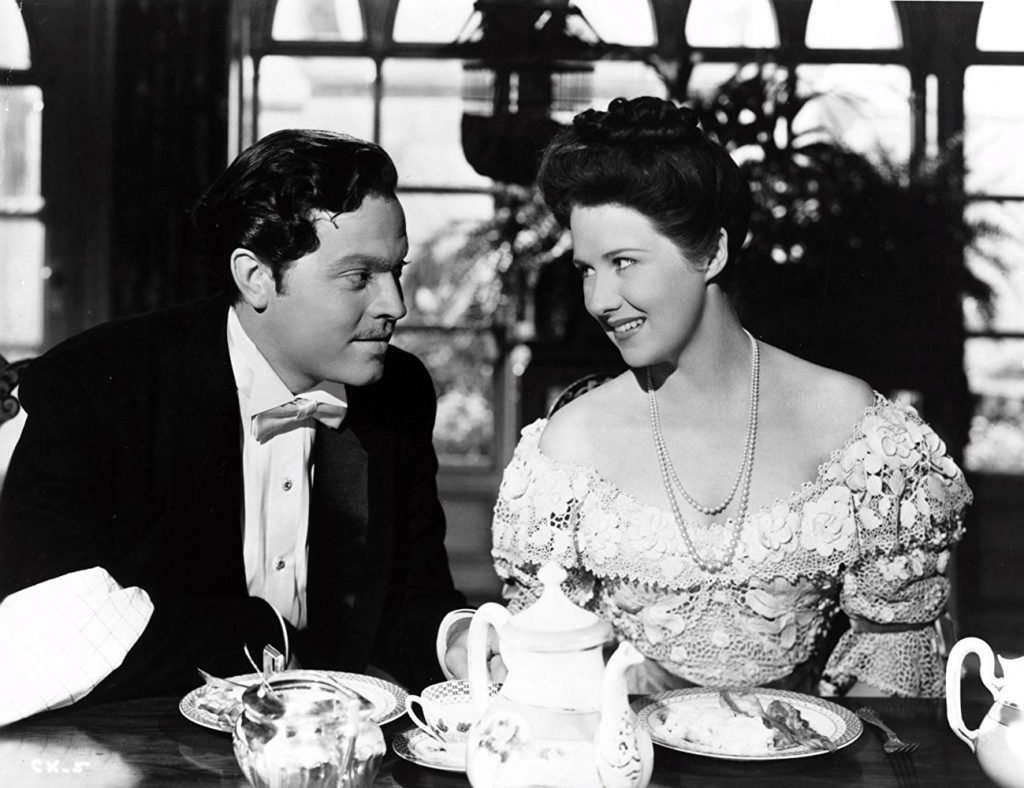 CITIZEN KANE 5

CITIZEN KANE 6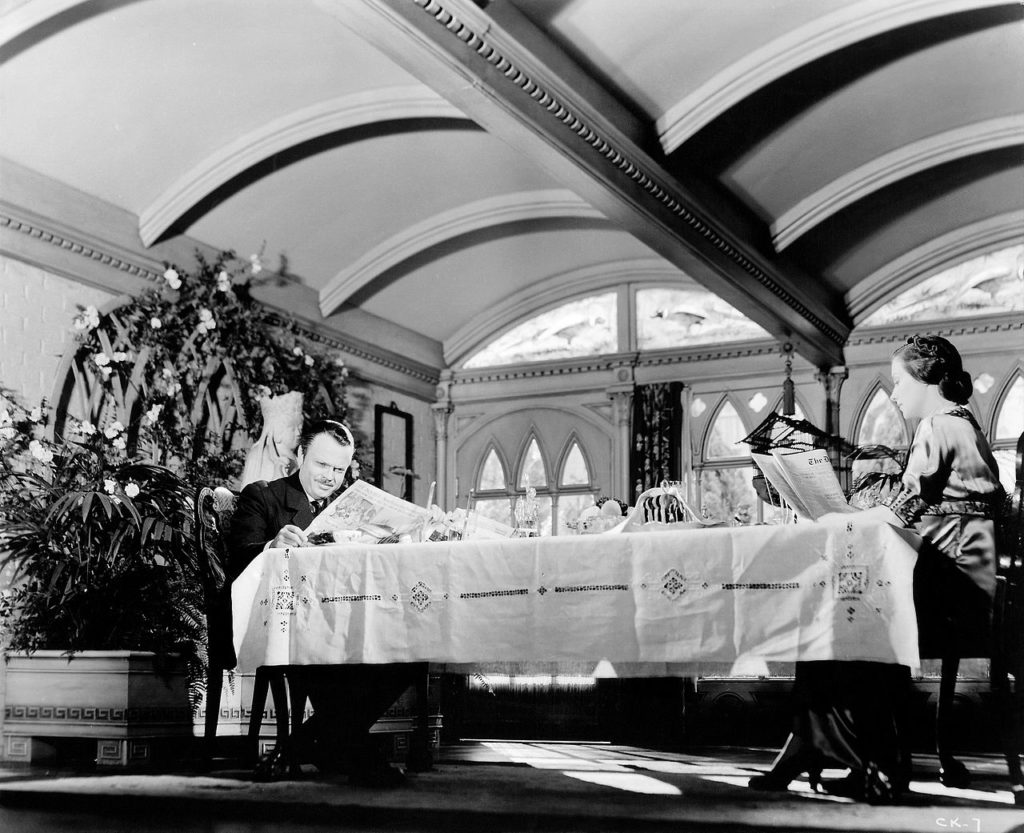 CITIZEN KANE 7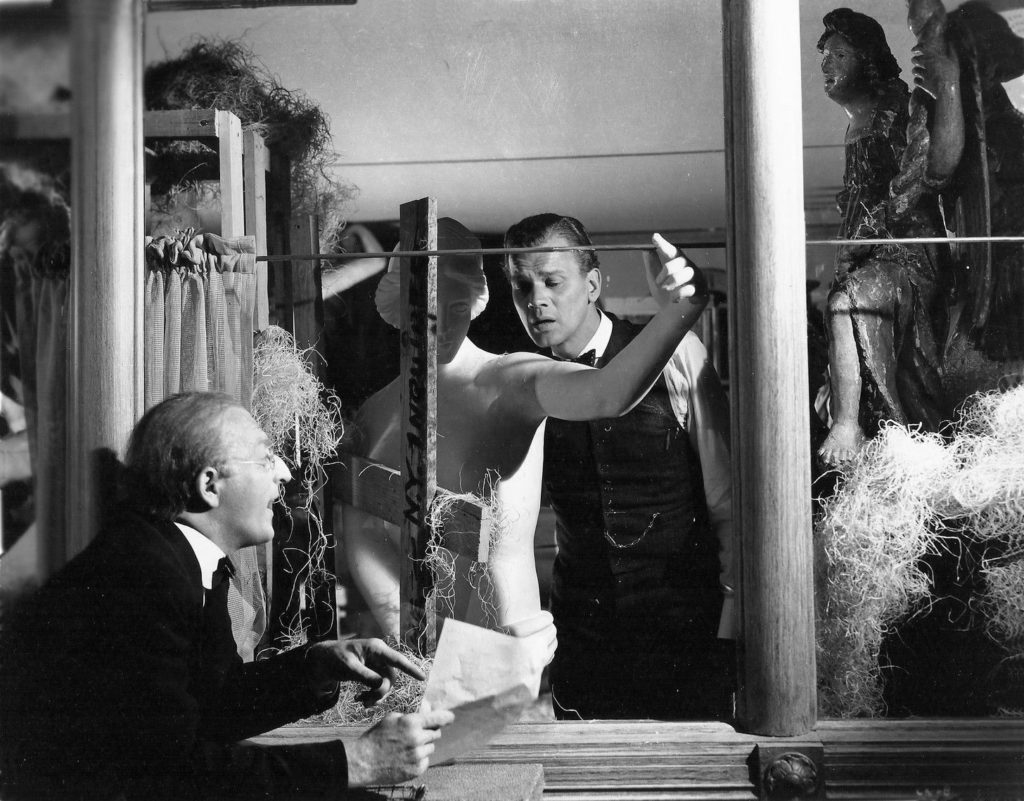 CITIZEN KANE 8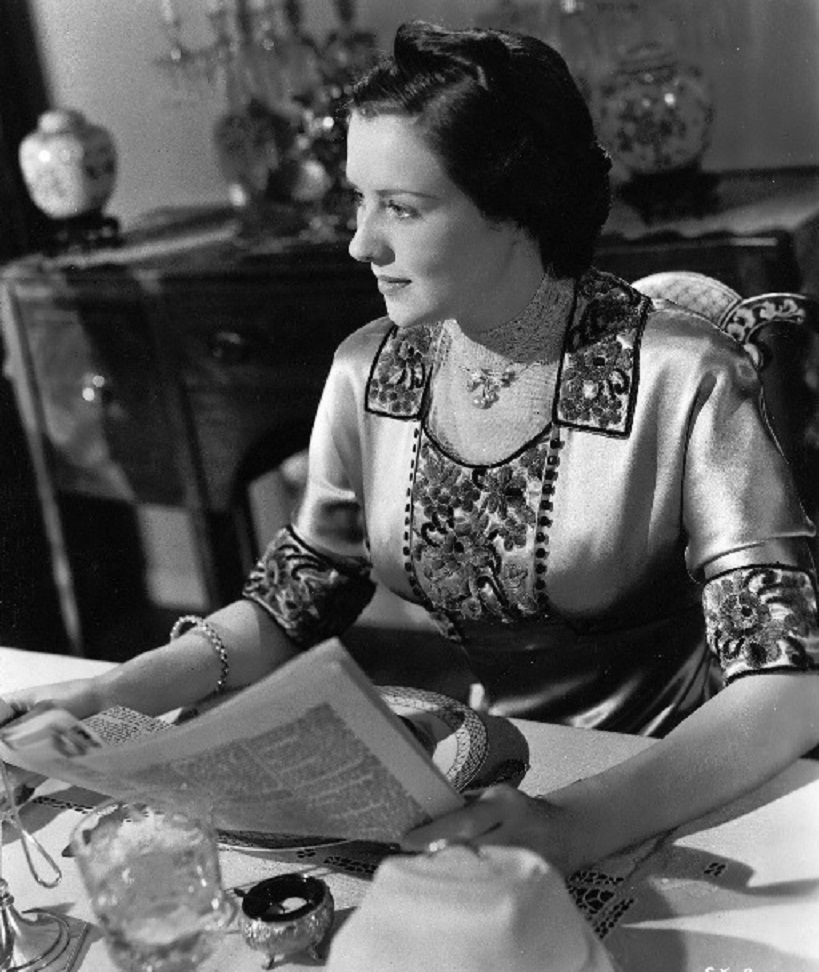 CITIZEN KANE 9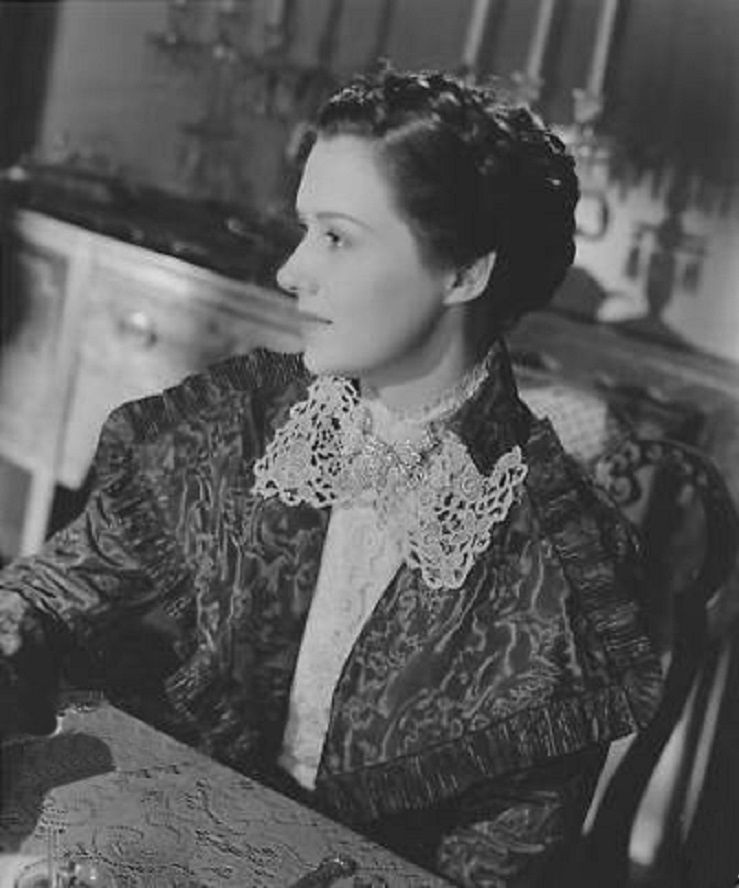 ?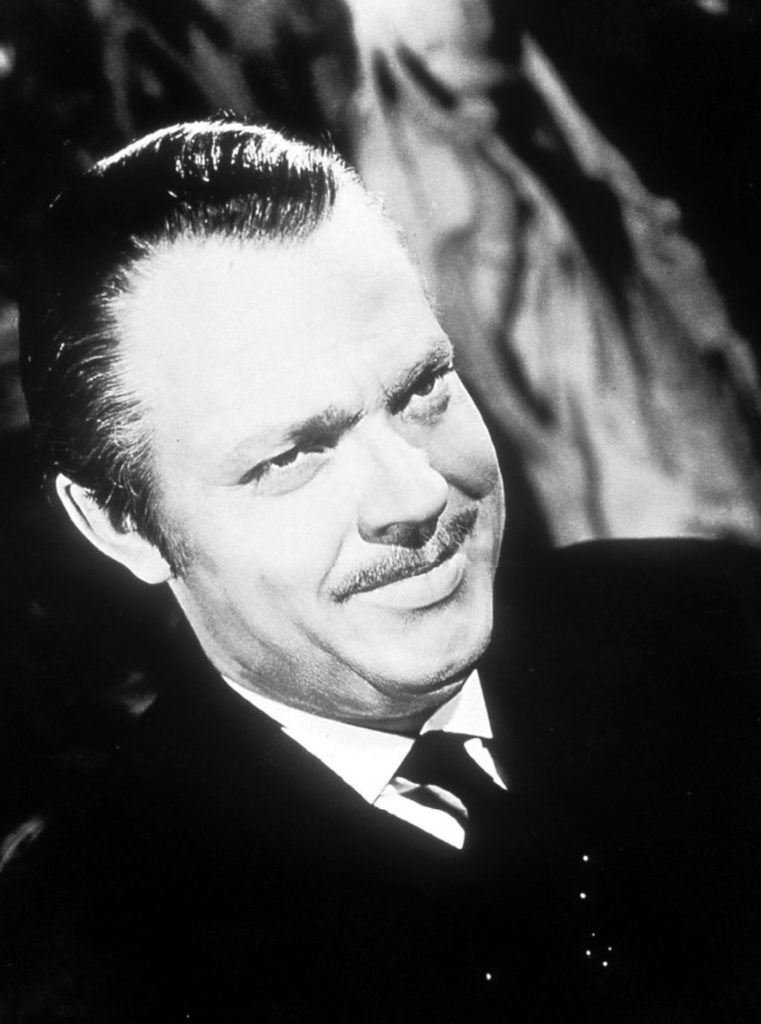 CITIZEN KANE B Series
CITIZEN KANE 11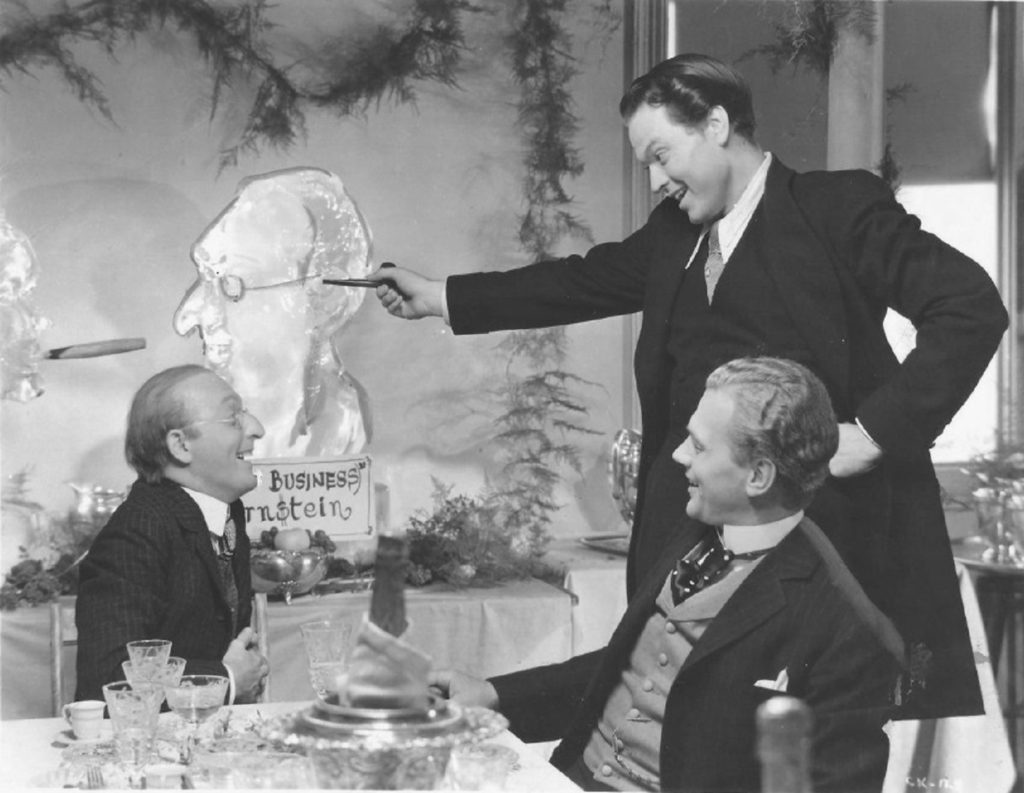 CITIZEN KANE 12
CITIZEN KANE 13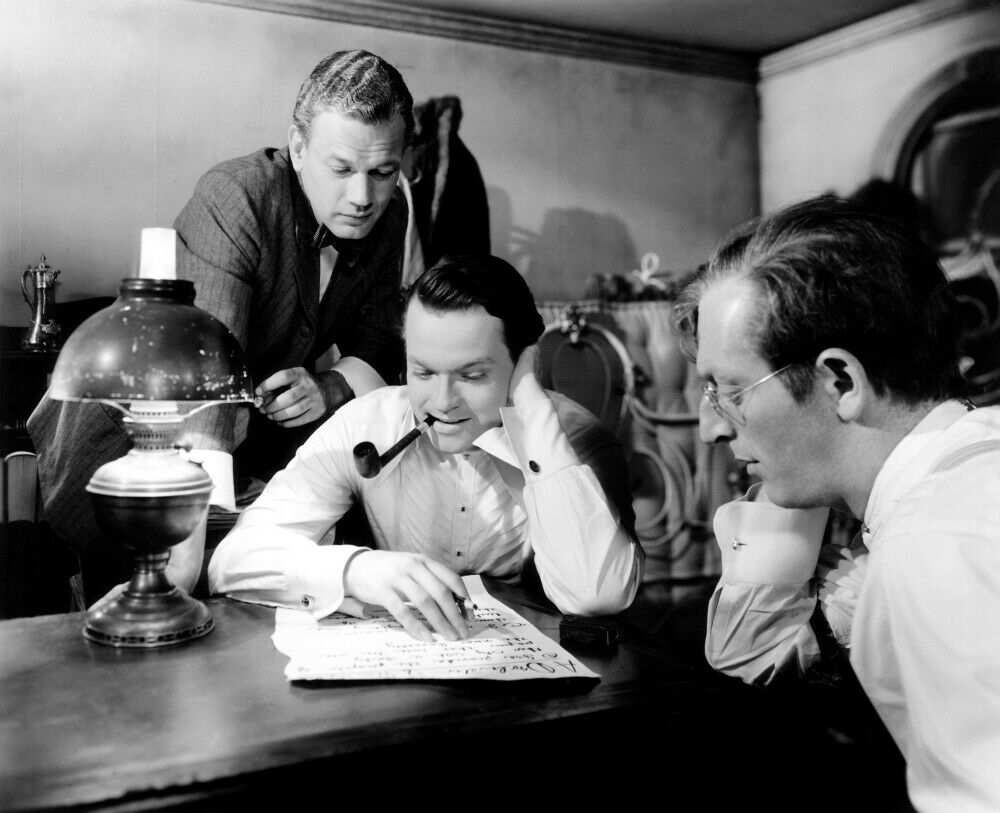 ?
CITIZEN KANE 15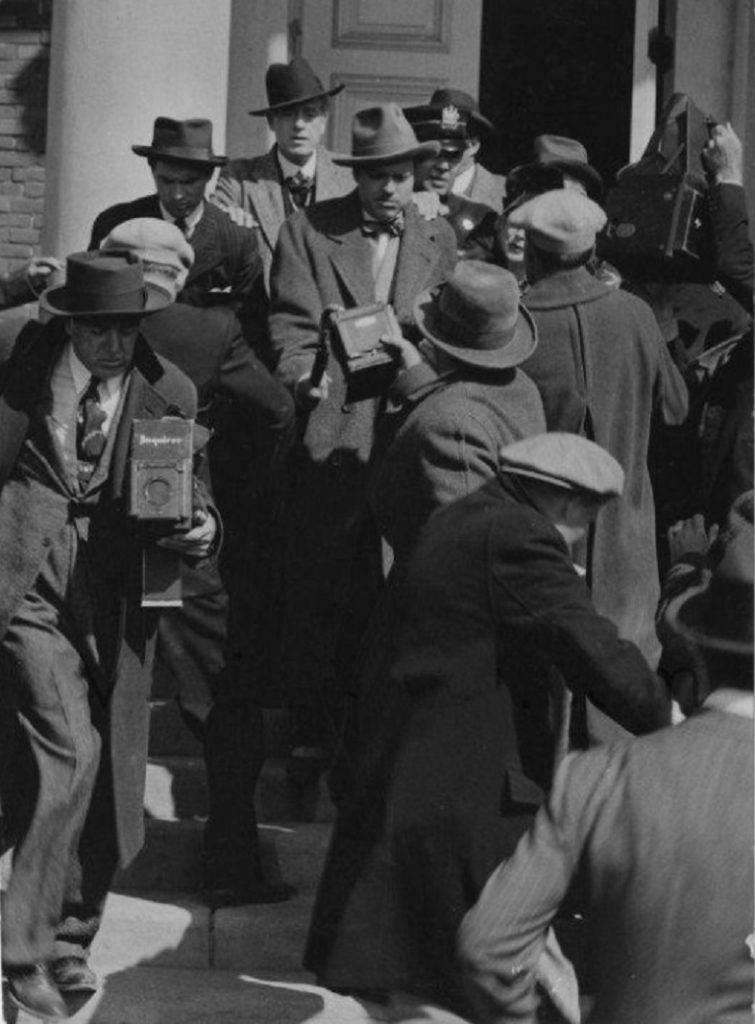 CITIZEN KANE 15b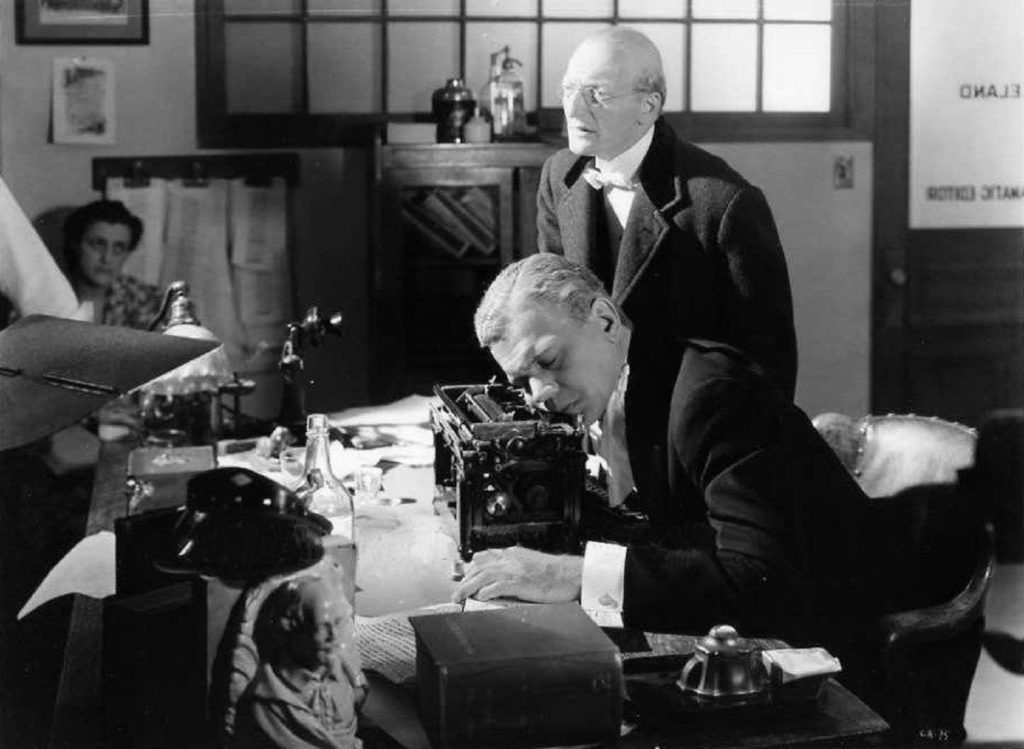 CITIZEN KANE 15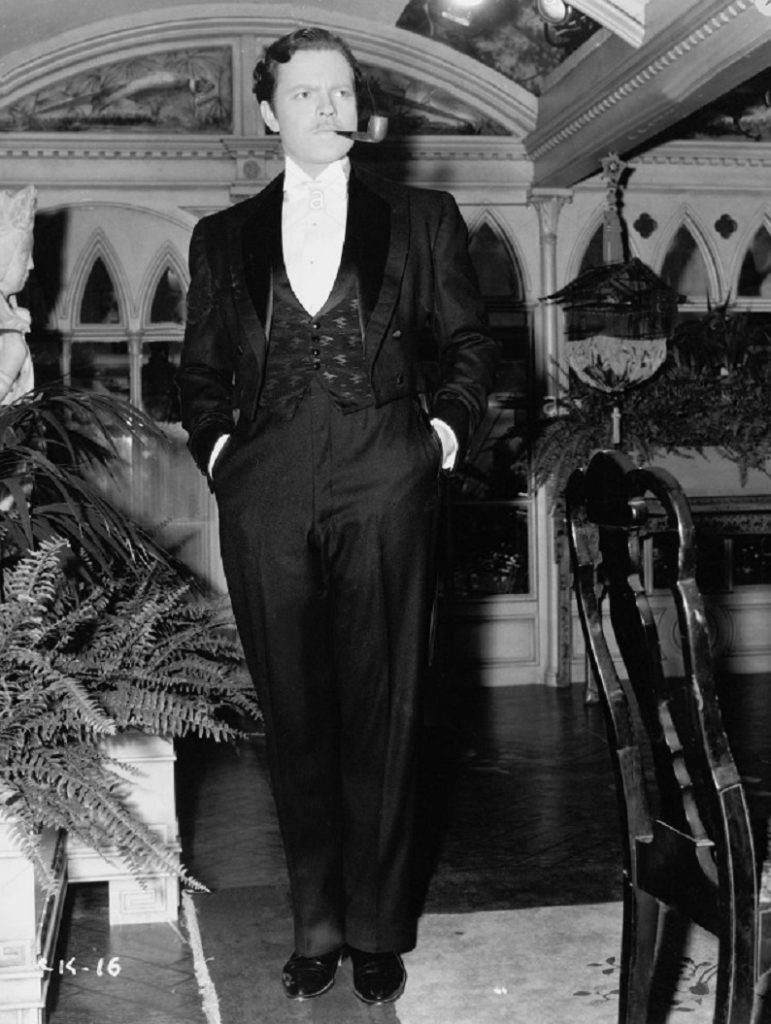 CITIZEN KANE 16
CITIZEN KANE 18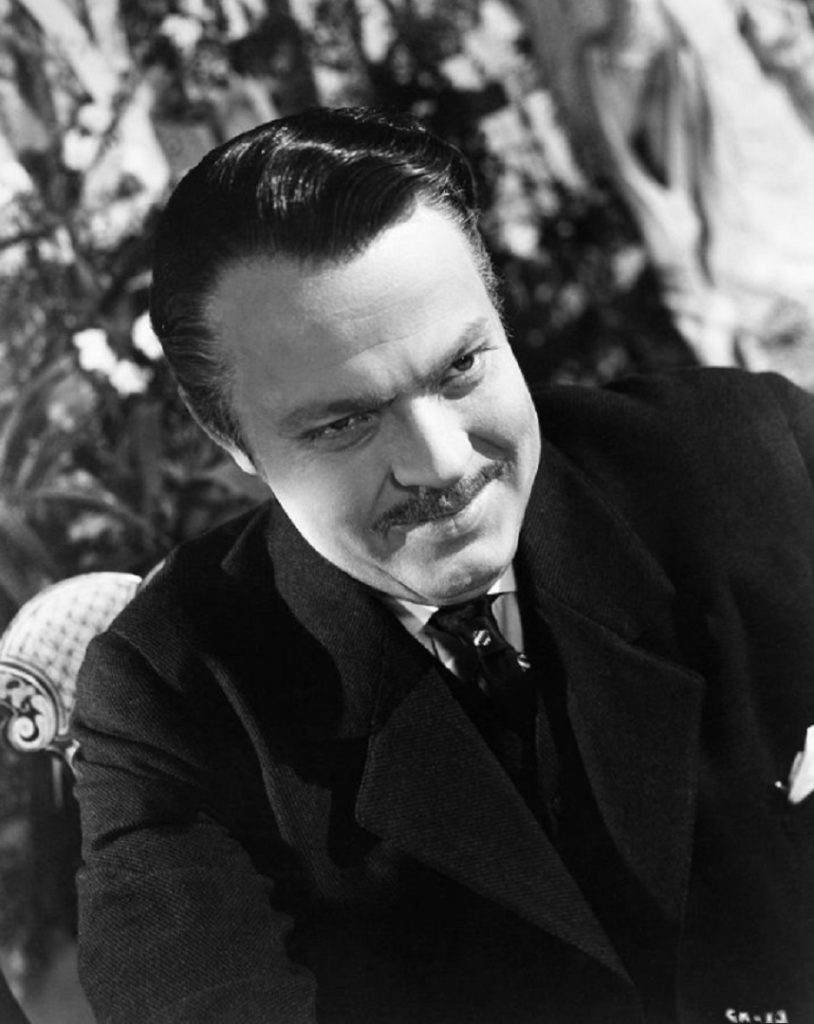 CITIZEN KANE 19
CITIZEN KANE 20
CITIZEN KANE 21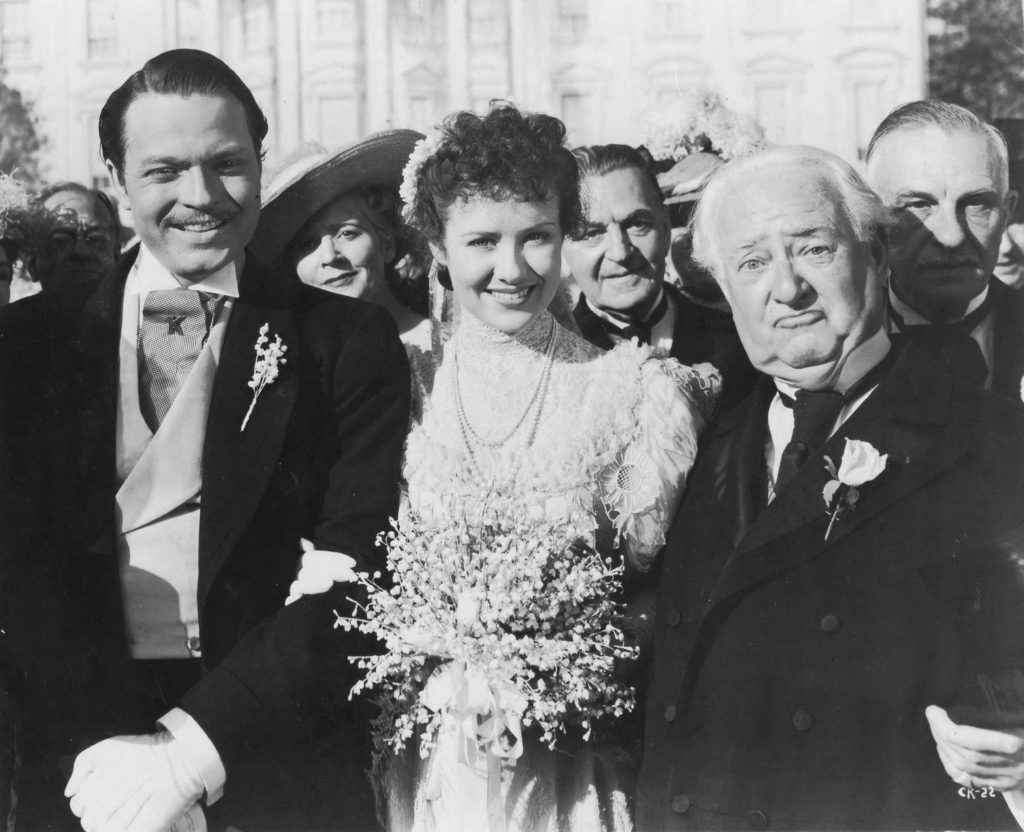 CITIZEN KANE 22
CITIZEN KANE 23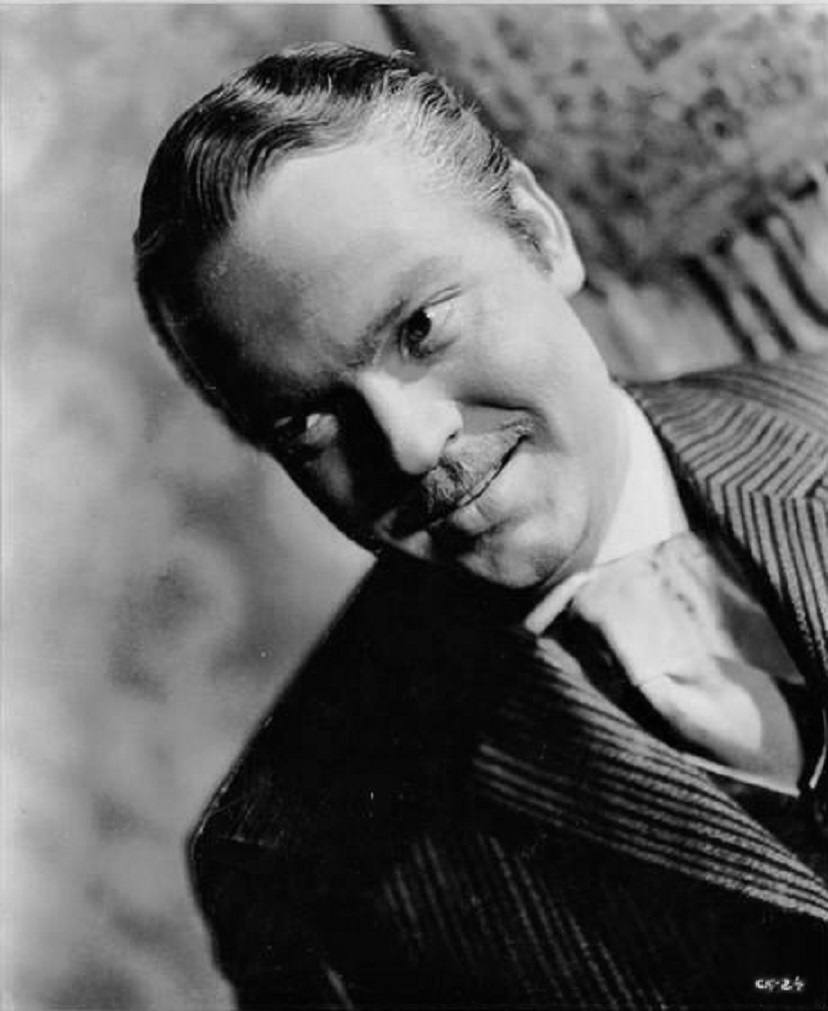 CITIZEN KANE 24
CITIZEN KANE 25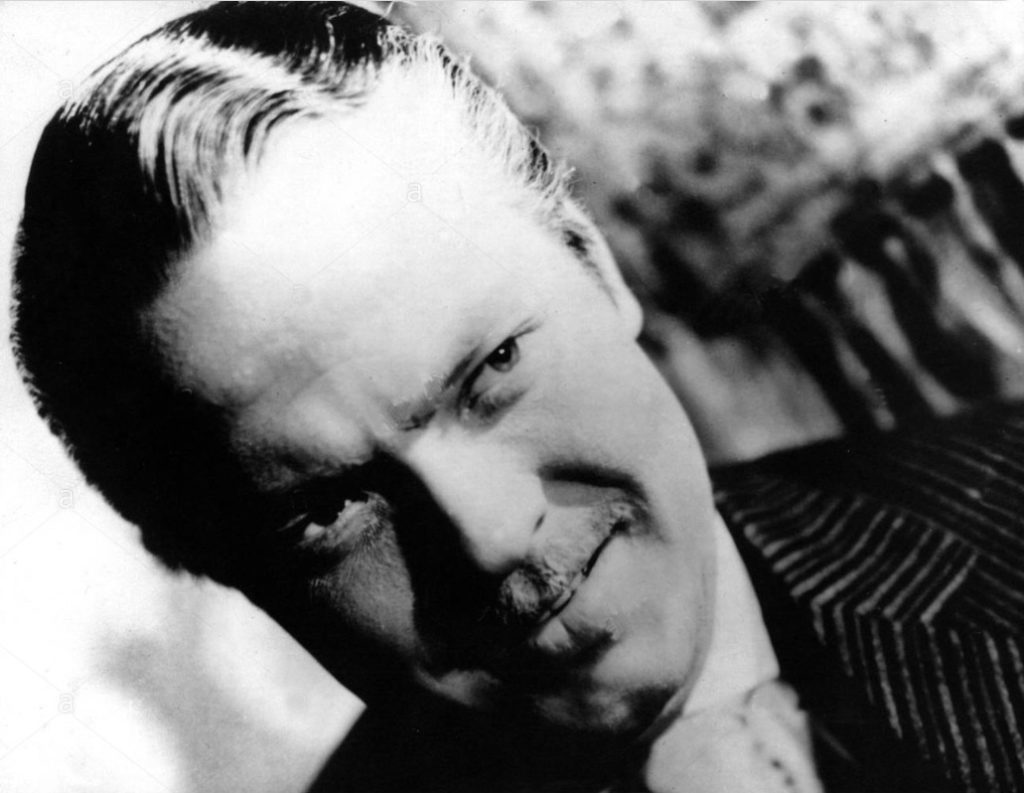 CITIZEN KANE 25b
CITIZEN KANE R Series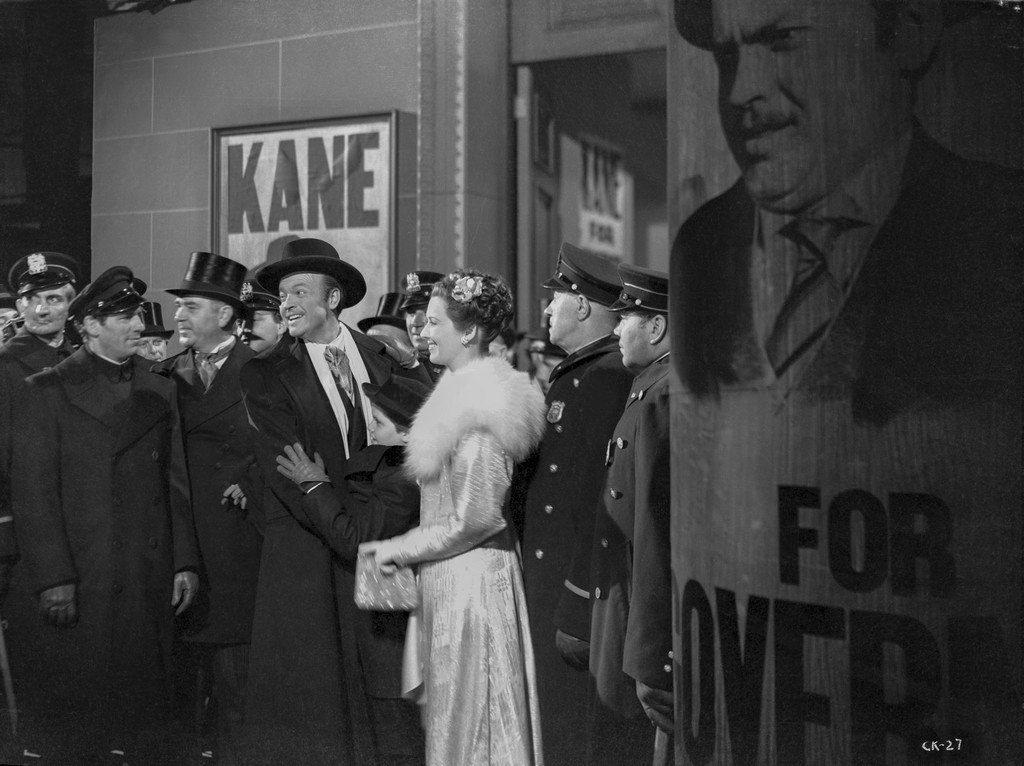 CITIZEN KANE 27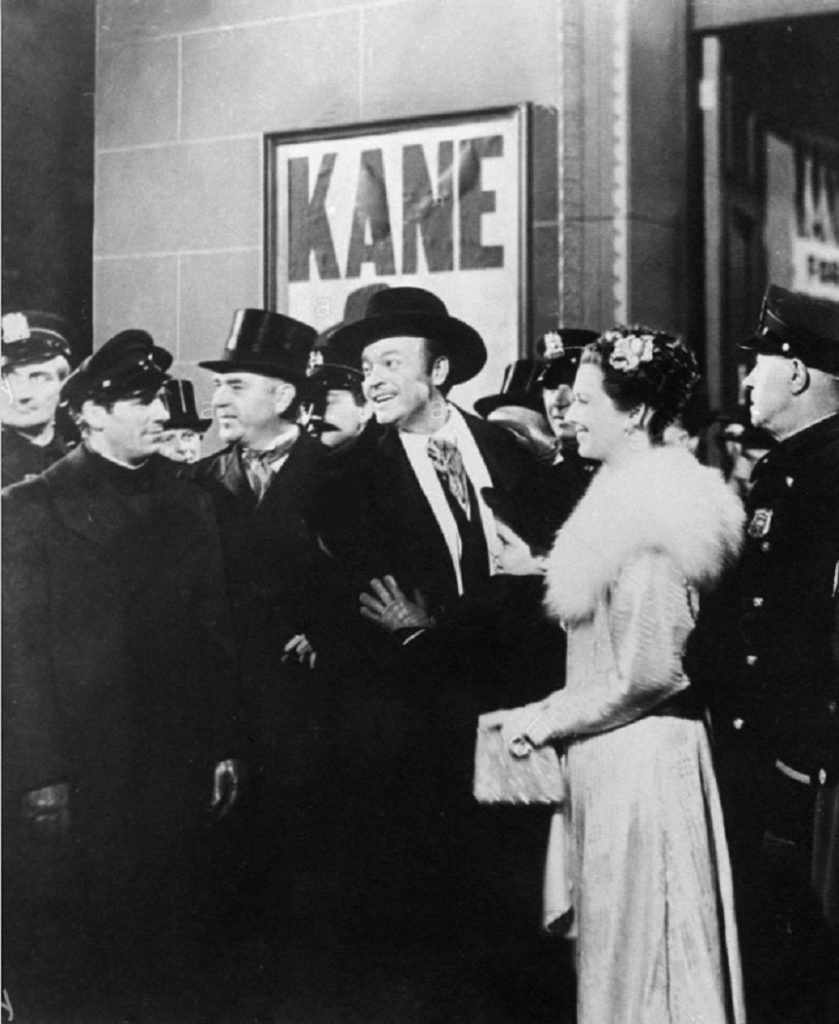 CITIZEN KANE 27b
CITIZEN KANE 29
CITIZEN KANE 30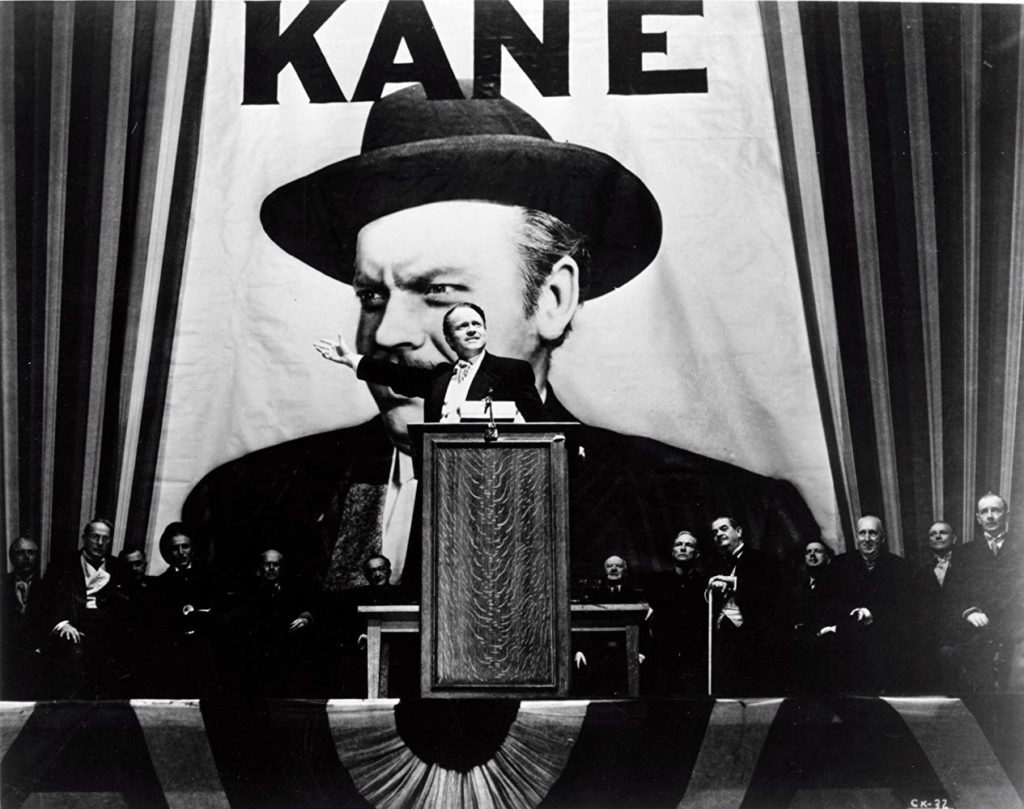 CITIZEN KANE 32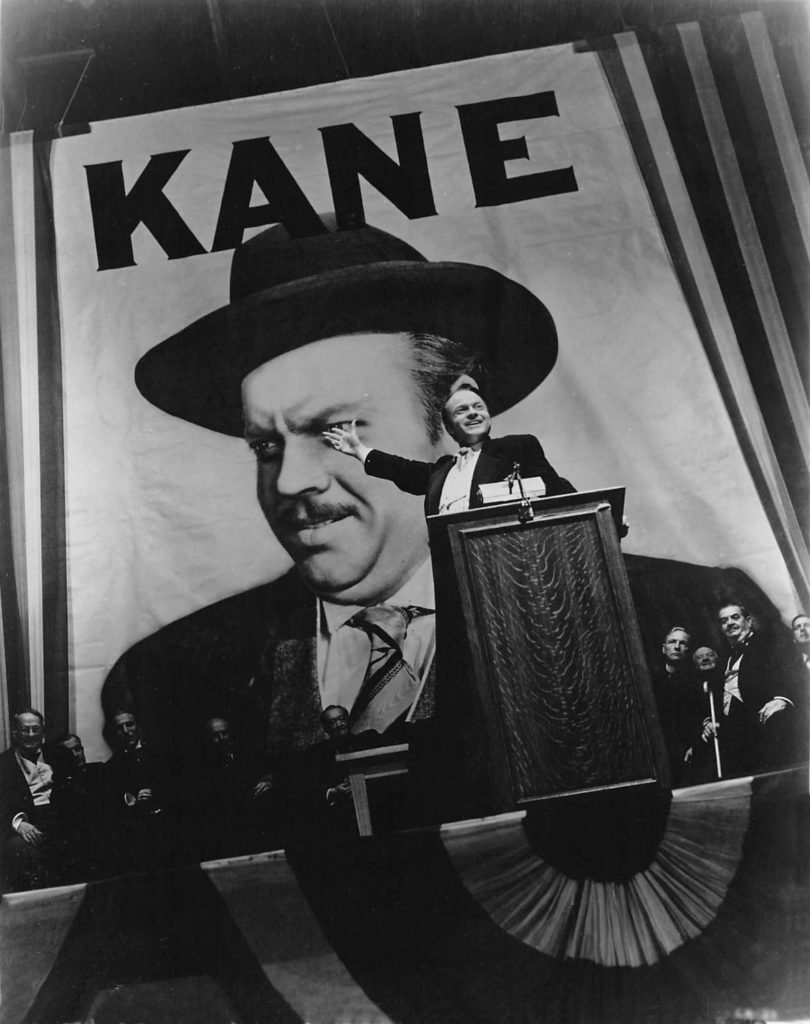 CITIZEN KANE 33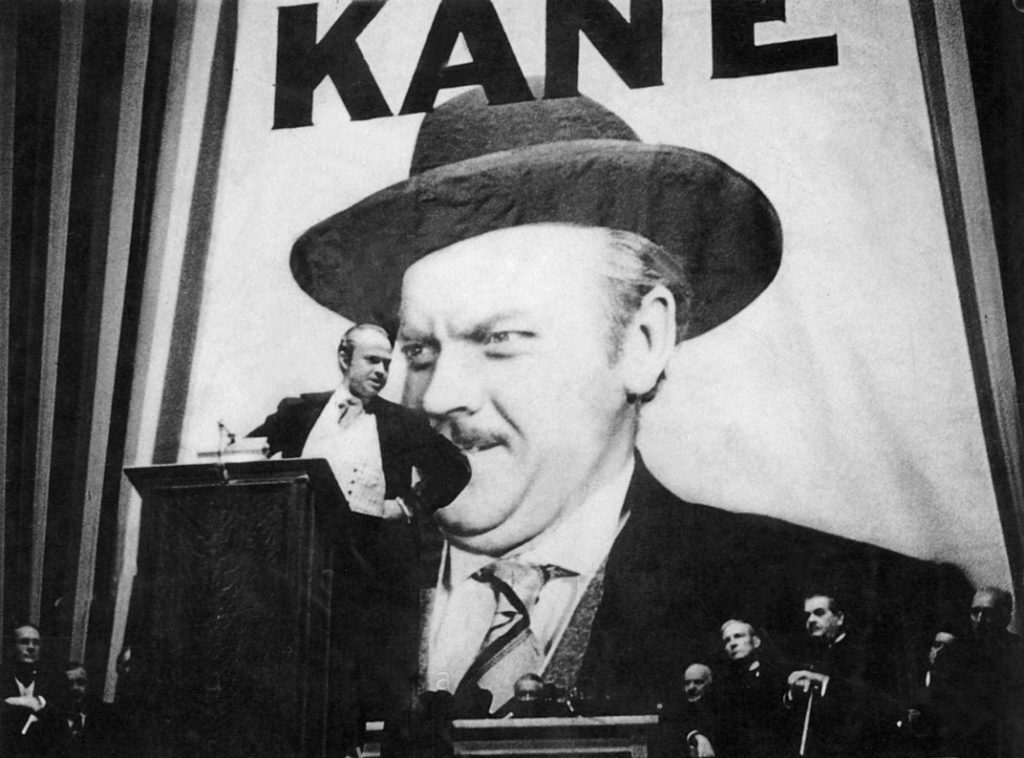 ?
?
CITIZEN KANE 36
?
CITIZEN KANE 39
CITIZEN KANE B Series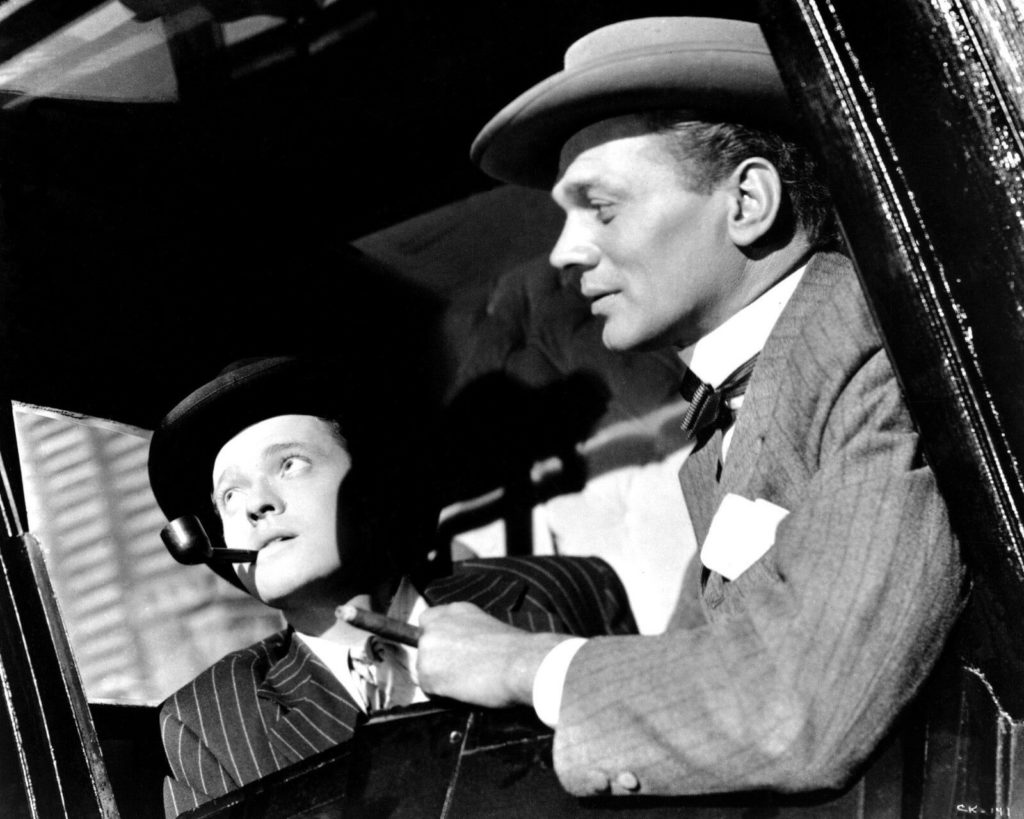 CITIZEN KANE 41
CITIZEN KANE 141b
CITIZEN KANE 42
CITIZEN KANE 43
CITIZEN KANE 44
CITIZEN KANE 45
CITIZEN KANE 46
CITIZEN KANE 47
CITIZEN KANE 48
CITIZEN KANE 49
?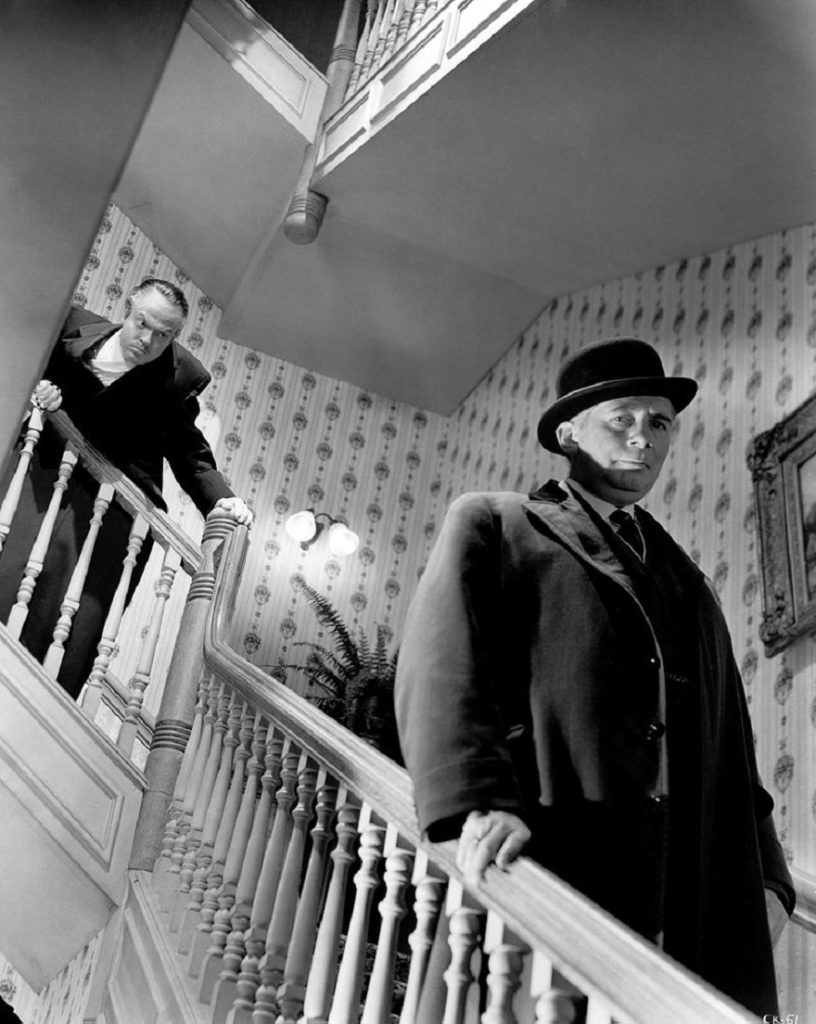 CITIZEN KANE 51
CITIZEN KANE 52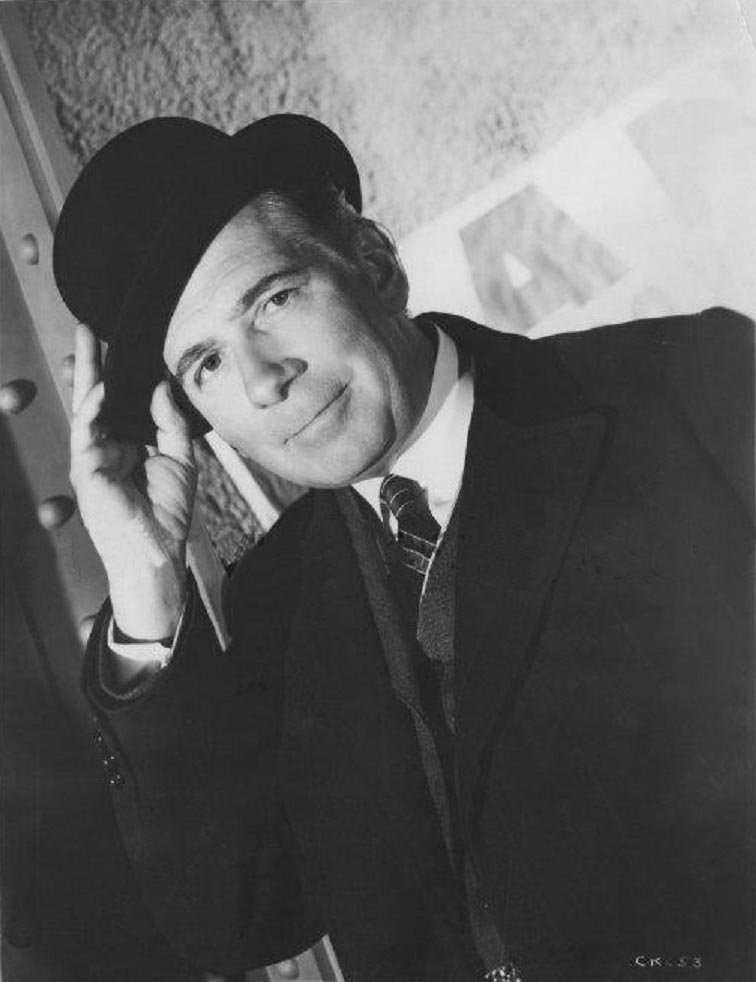 CITIZEN KANE 53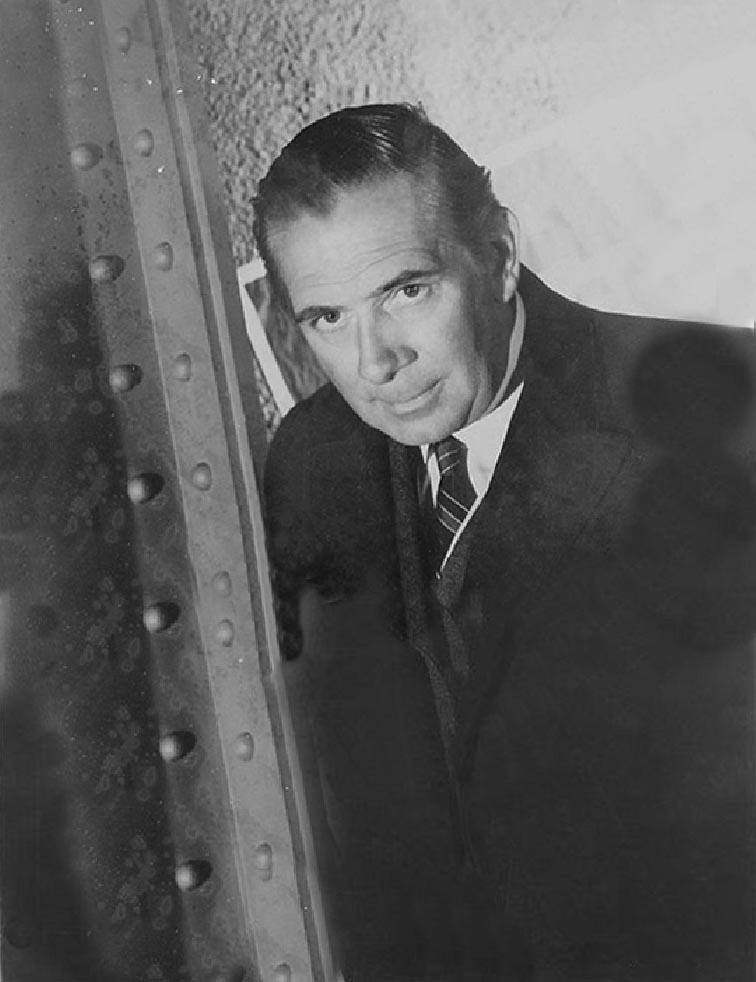 ?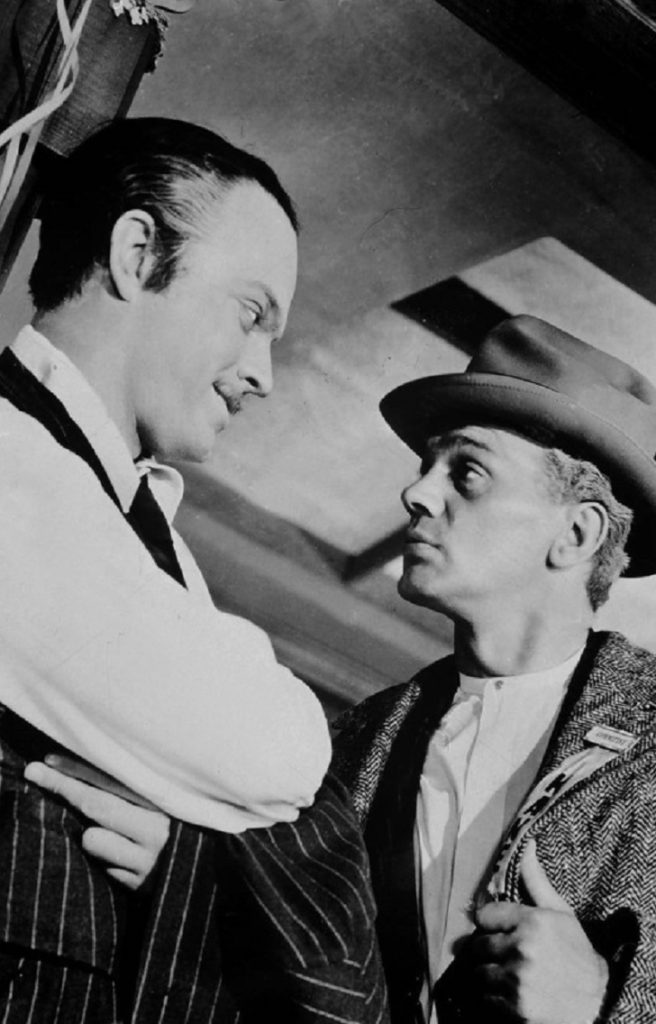 ?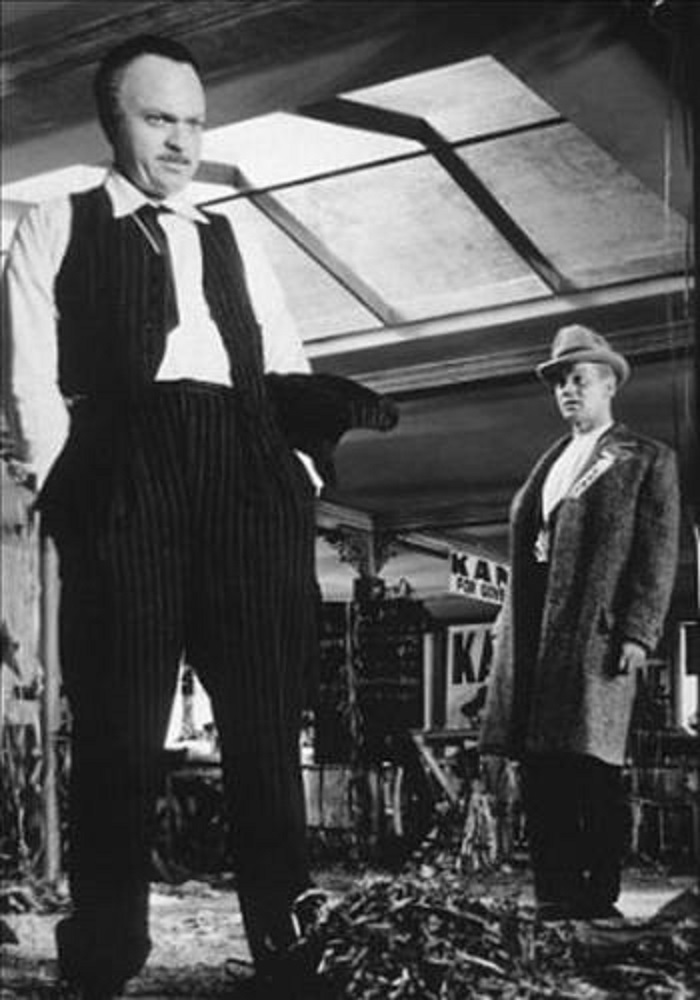 ?
CITIZEN KANE R Series
CITIZEN KANE 58
CITIZEN KANE 59
CITIZEN KANE 60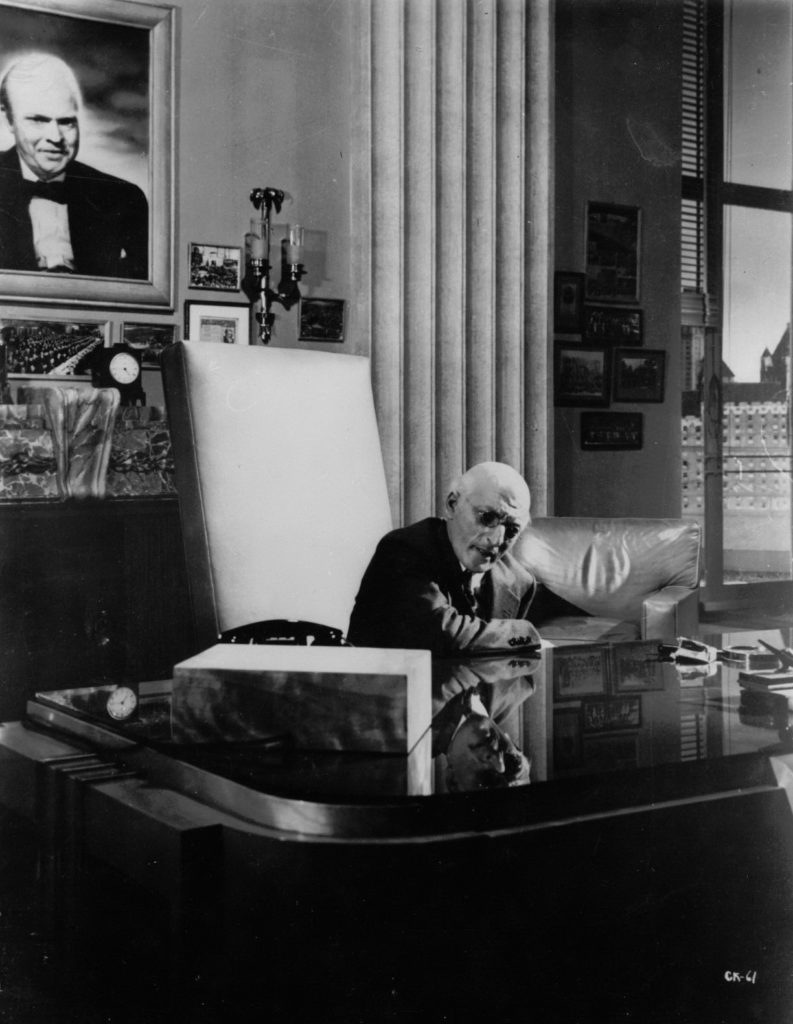 CITIZEN KANE 61
CITIZEN KANE 62
CITIZEN KANE 64
CITIZEN KANE 65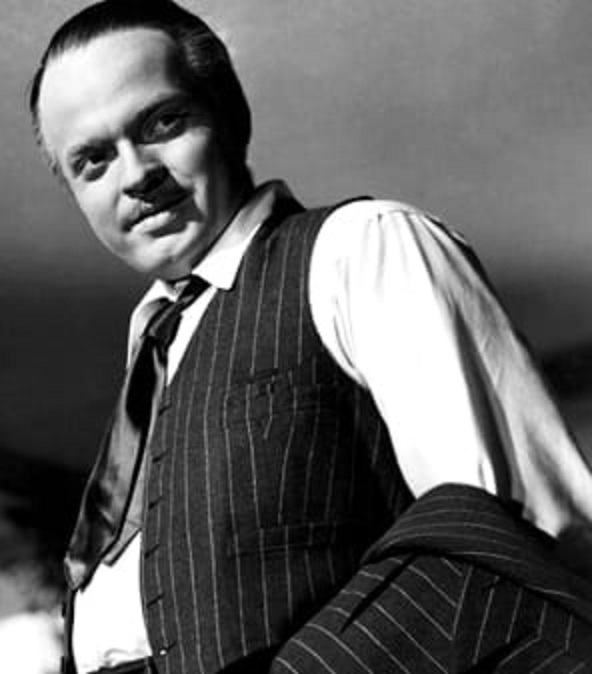 CITIZEN KANE 65b
CITIZEN KANE 66
?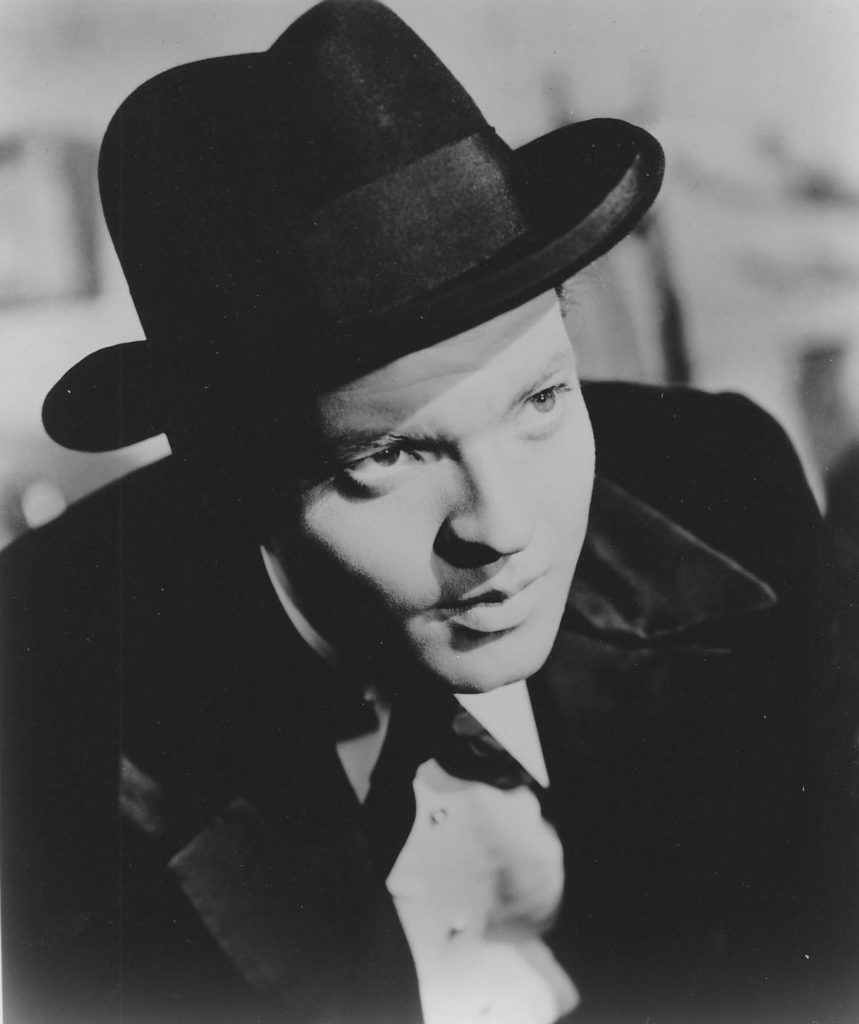 ?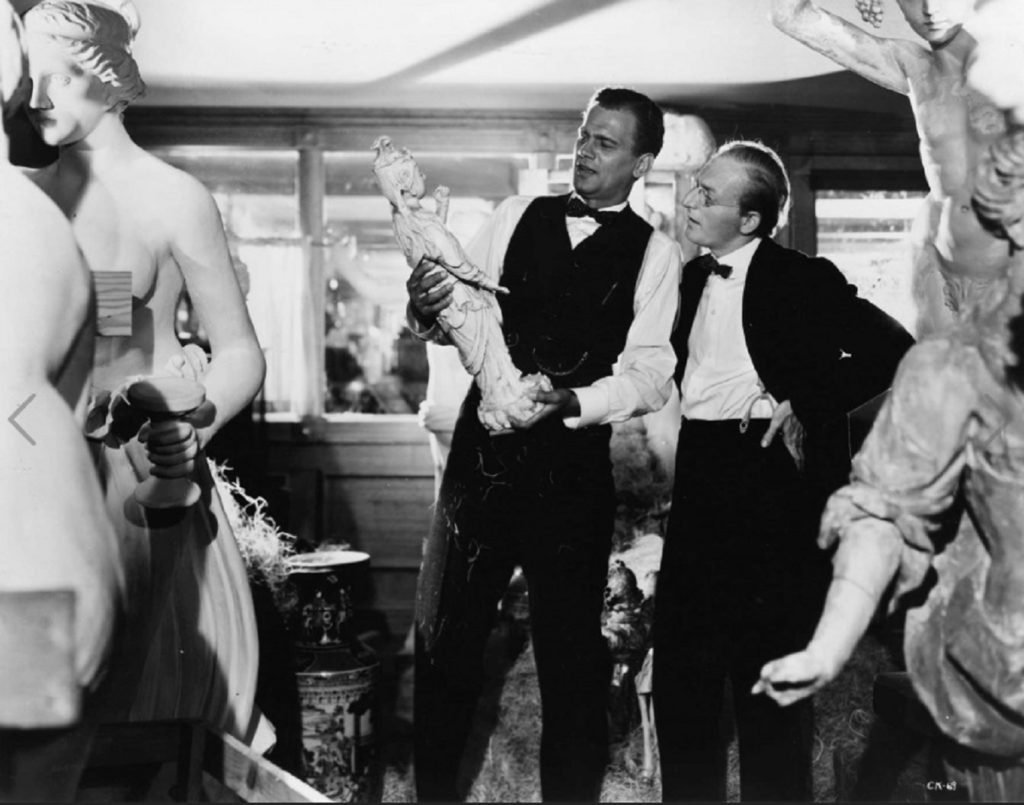 CITIZEN KANE 69
CITIZEN KANE 70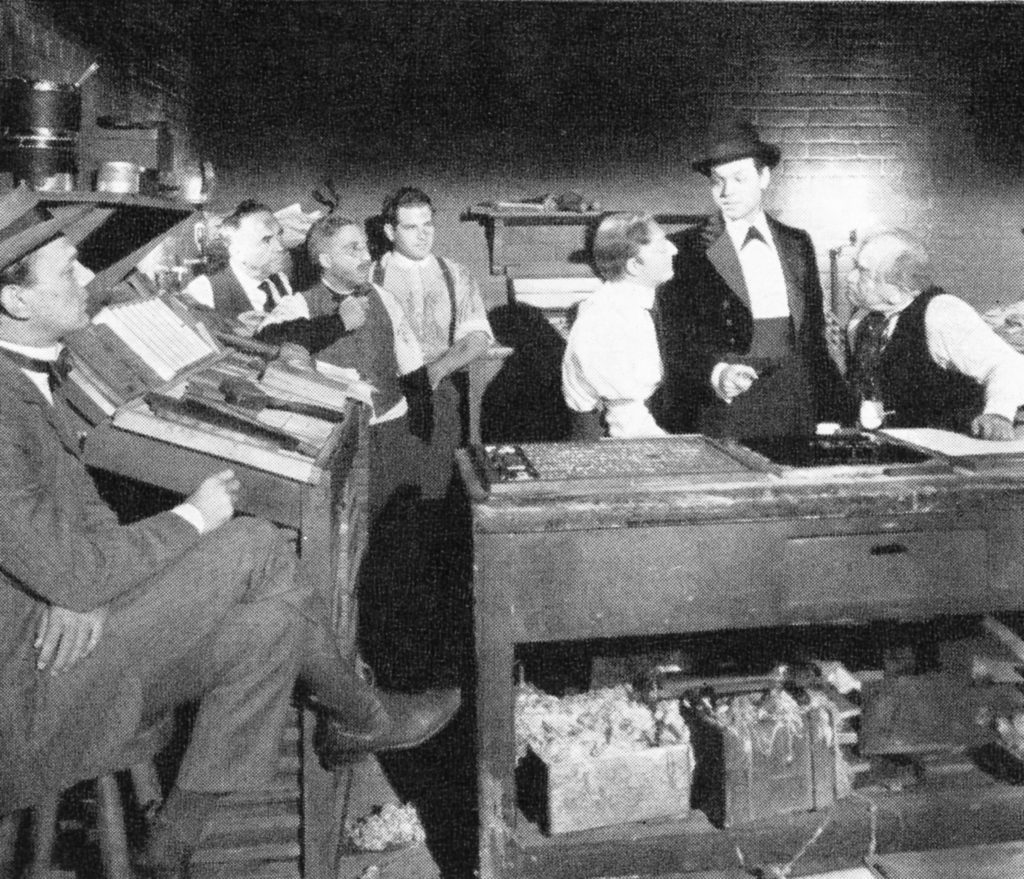 ?
CITIZEN KANE 72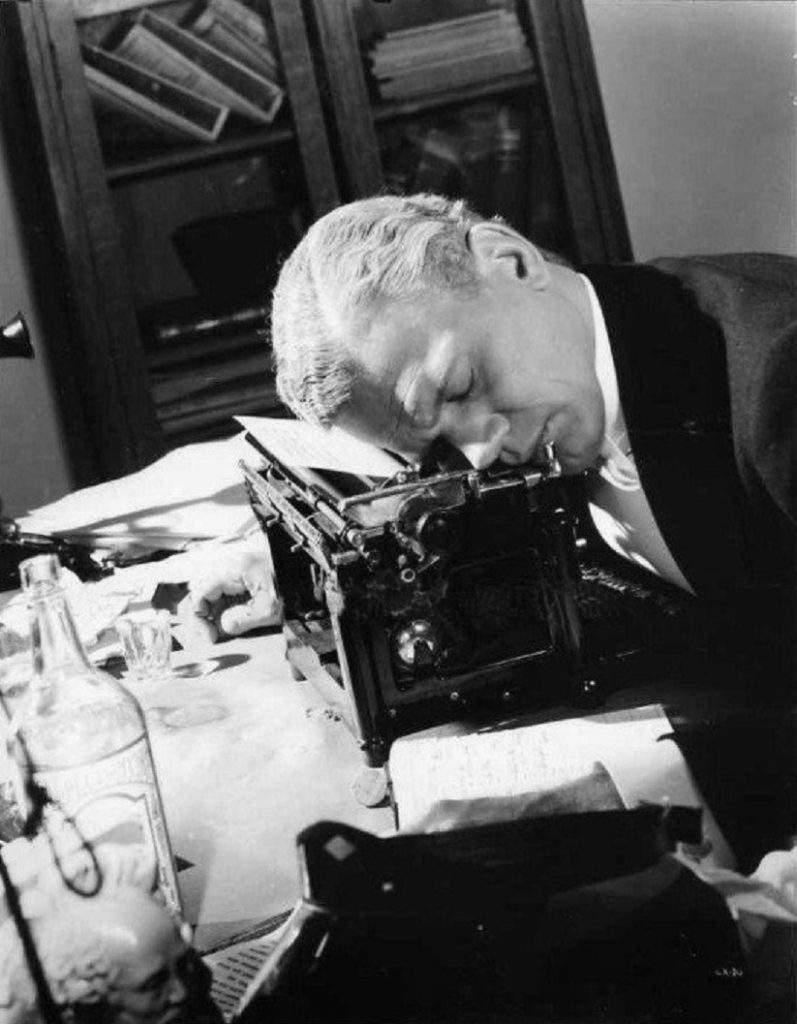 CITIZEN KANE 75
?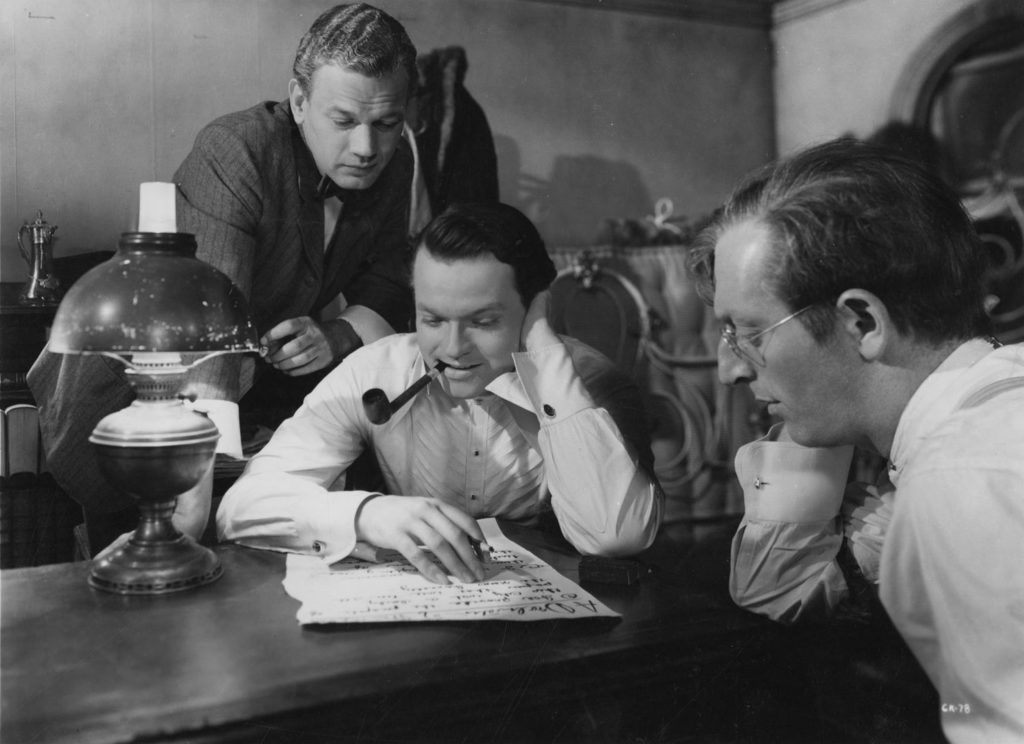 CITIZEN KANE 78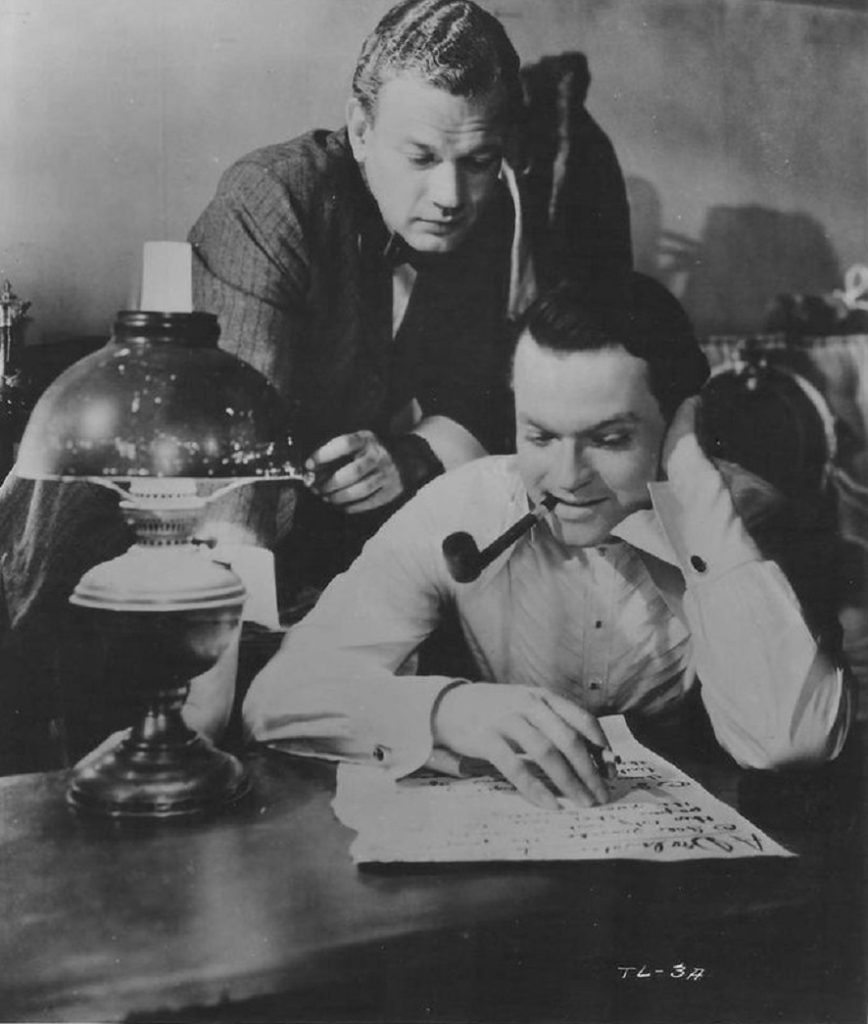 CITIZEN KANE 78b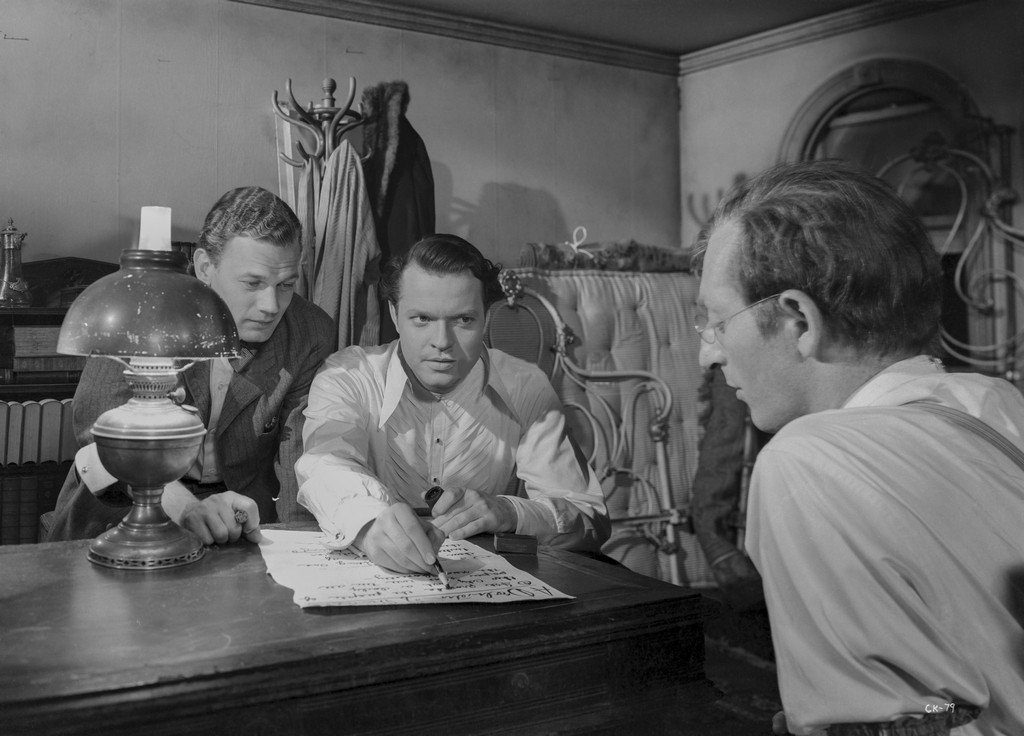 CITIZEN KANE 79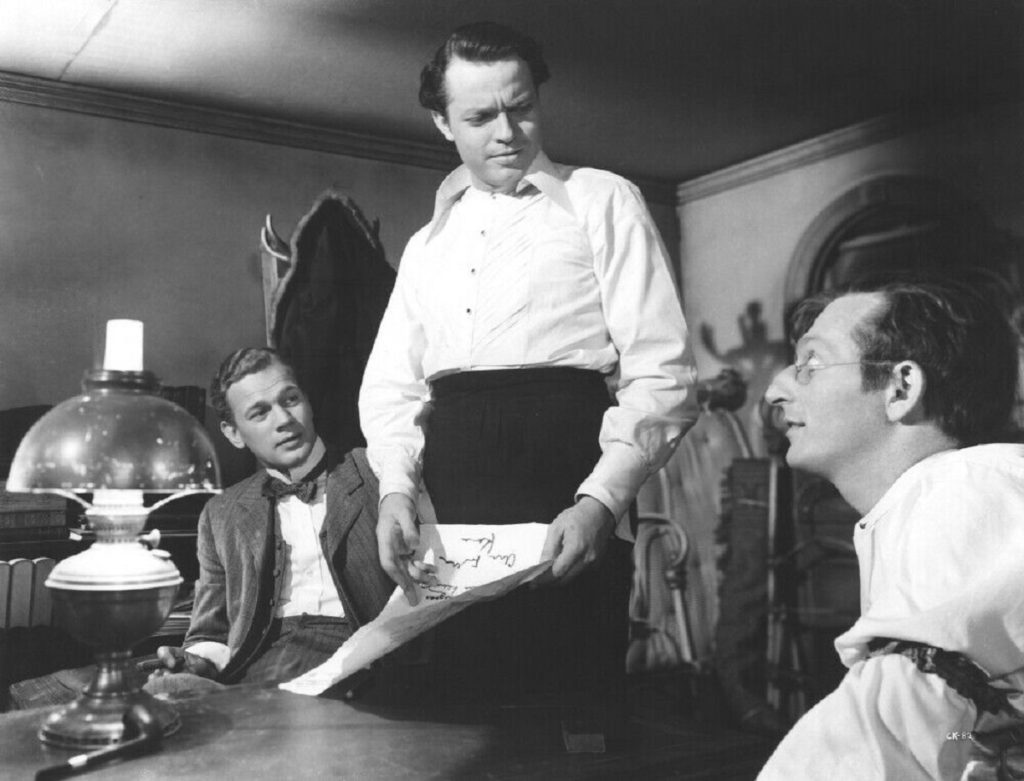 CITIZEN KANE 80
?
?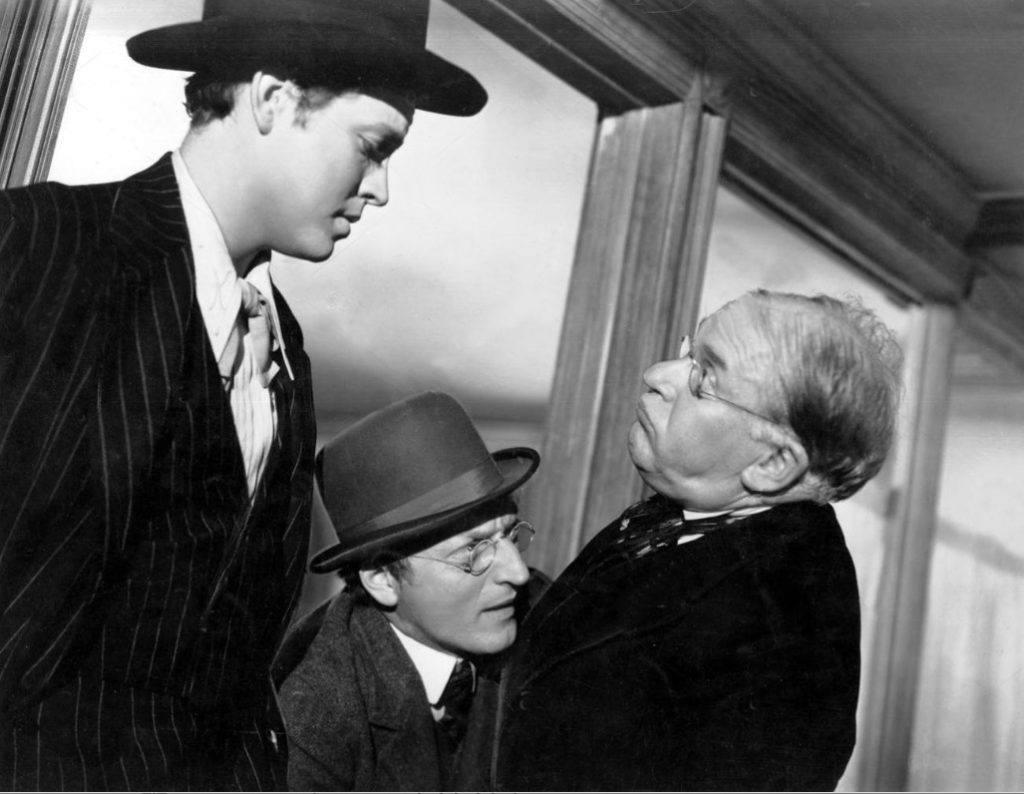 ?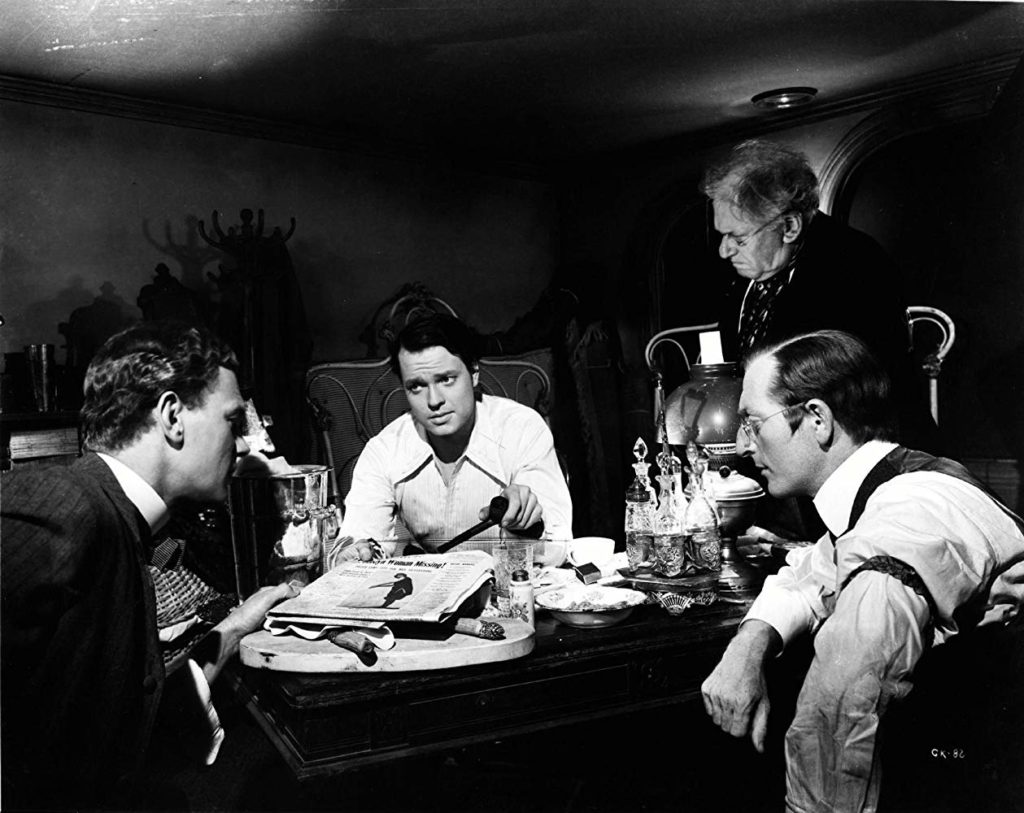 CITIZEN KANE 82
CITIZEN KANE 83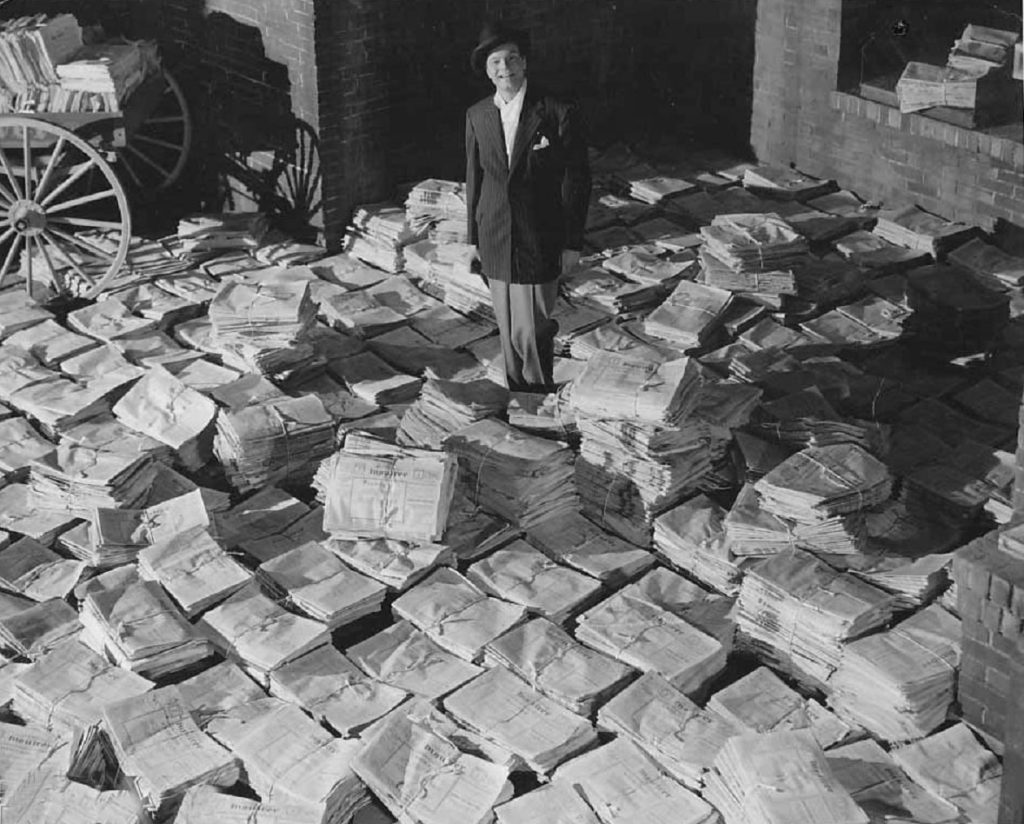 ?
CITIZEN KANE 88
CITIZEN KANE 89
?
CITIZEN KANE 92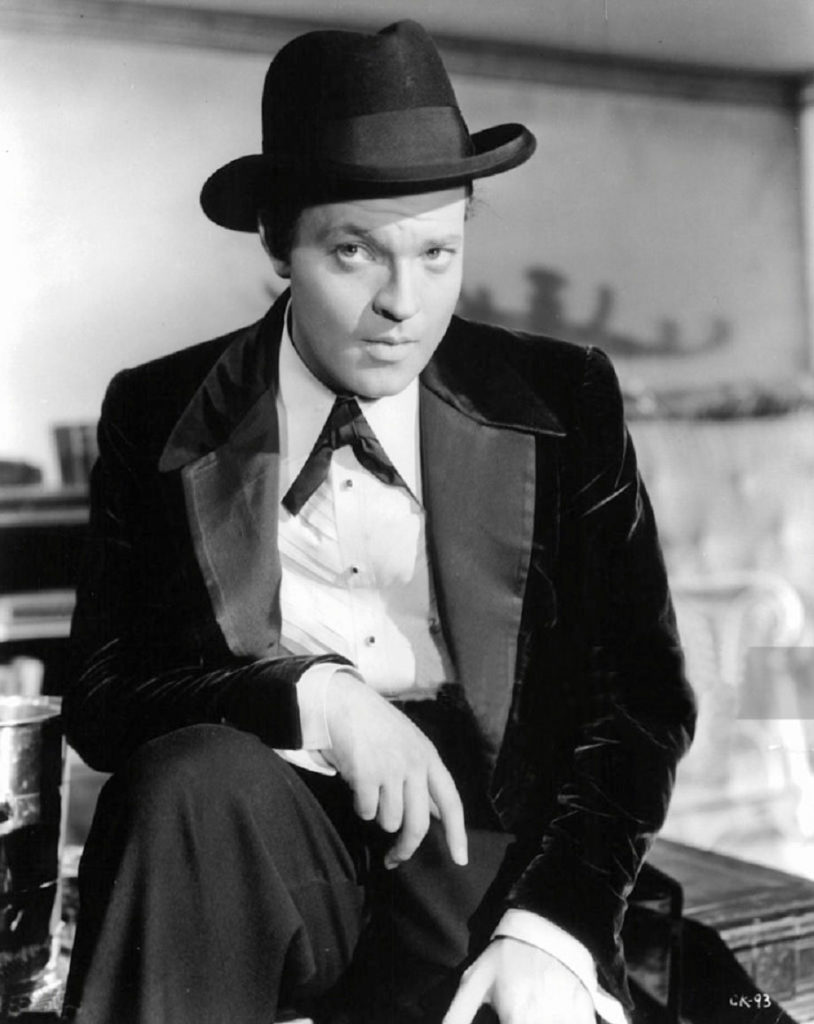 CITIZEN KANE 93
CITIZEN KANE 95
CITIZEN KANE 96
?
?
CITIZEN KANE 99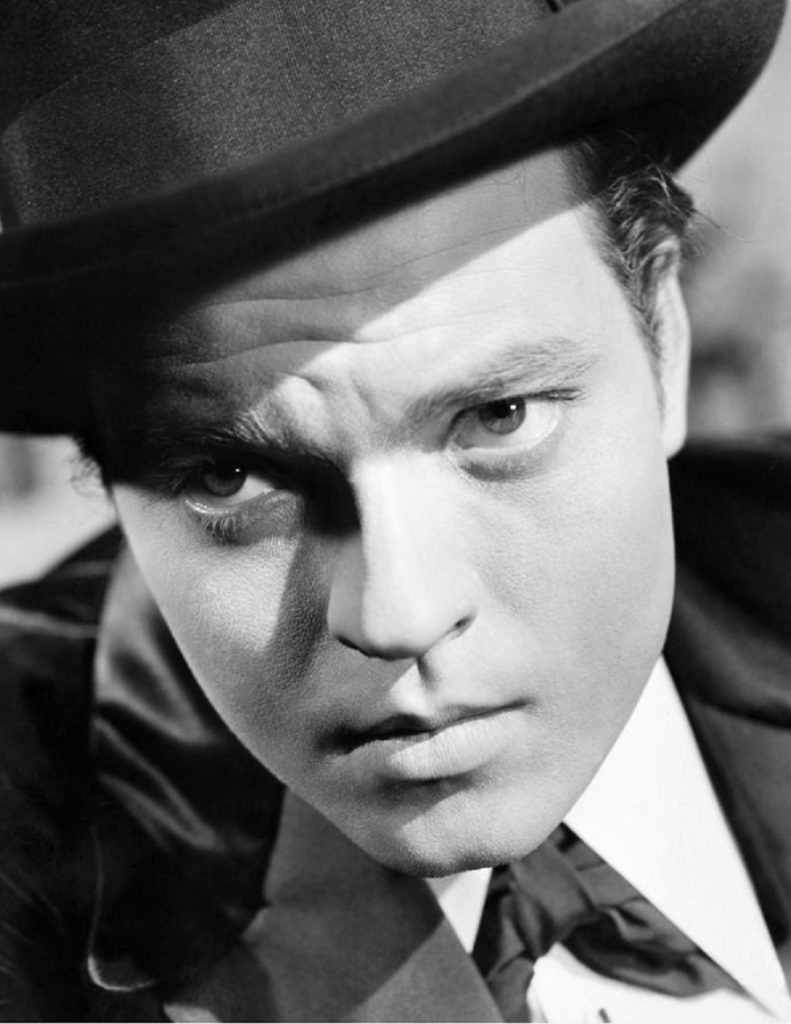 ?
CITIZEN KANE 101
CITIZEN KANE 102
?
?
?
?
CITIZEN KANE 107
CITIZEN KANE 108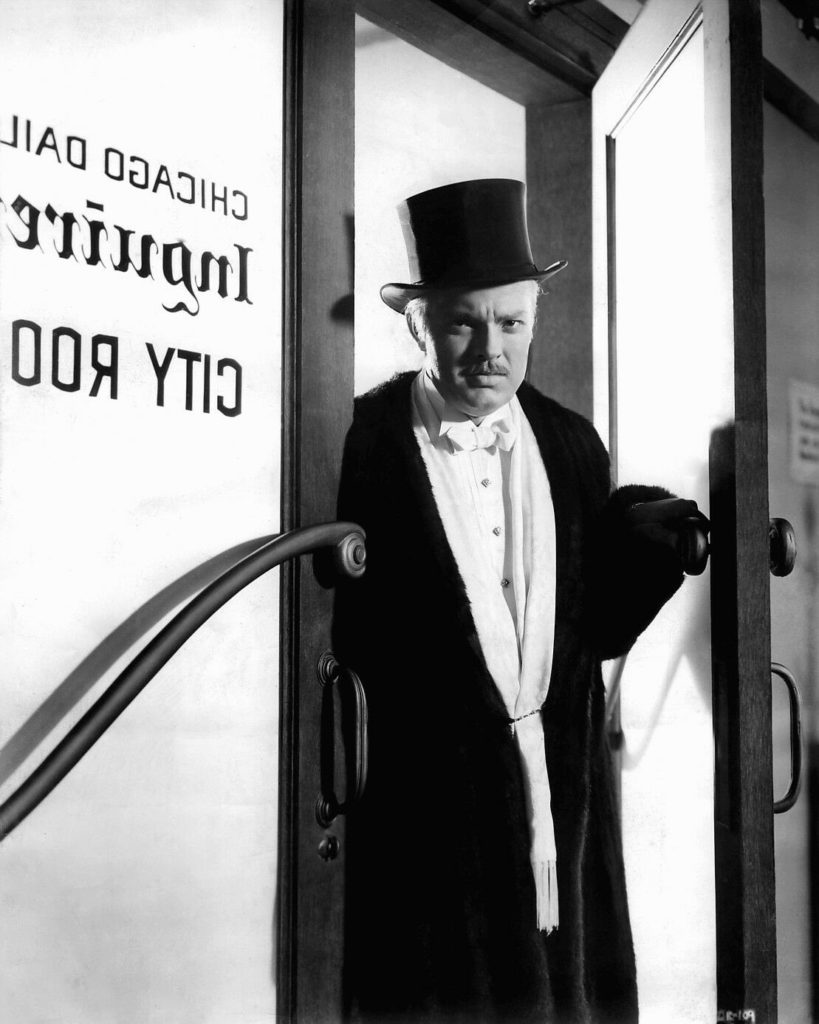 CITIZEN KANE 109
CITIZEN KANE 110
CITIZEN KANE 111
CITIZEN KANE 112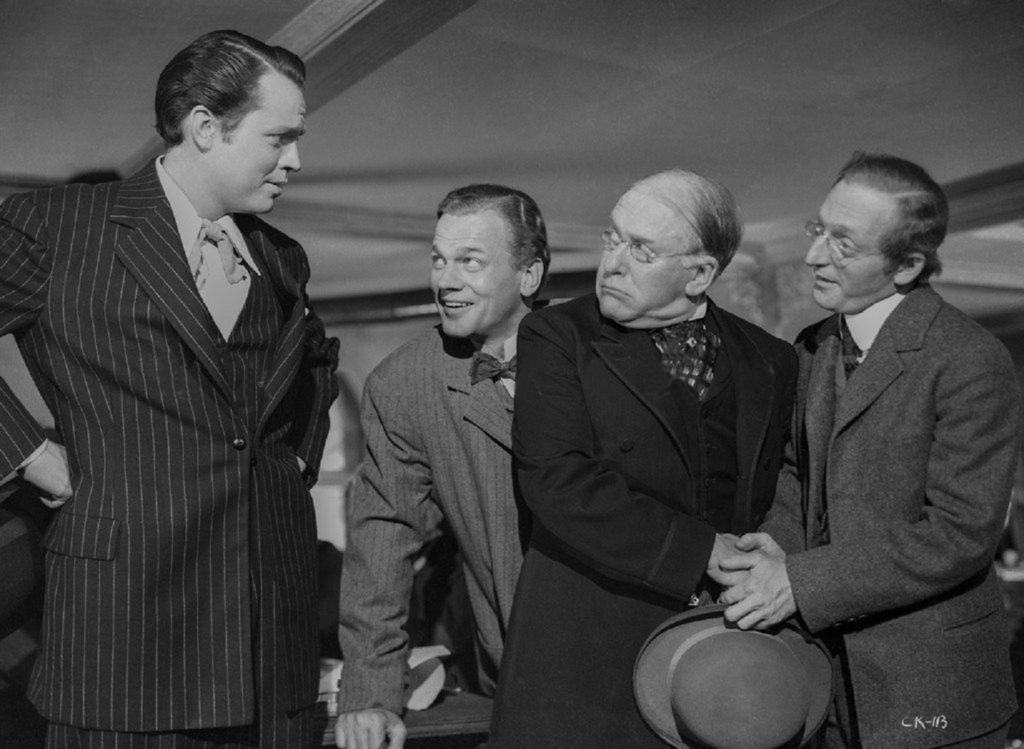 CITIZEN KANE 113
CITIZEN KANE 115
CITIZEN KANE 116
CITIZEN KANE  117
CITIZEN KANE 118
CITIZEN KANE 119
CITIZEN KANE 120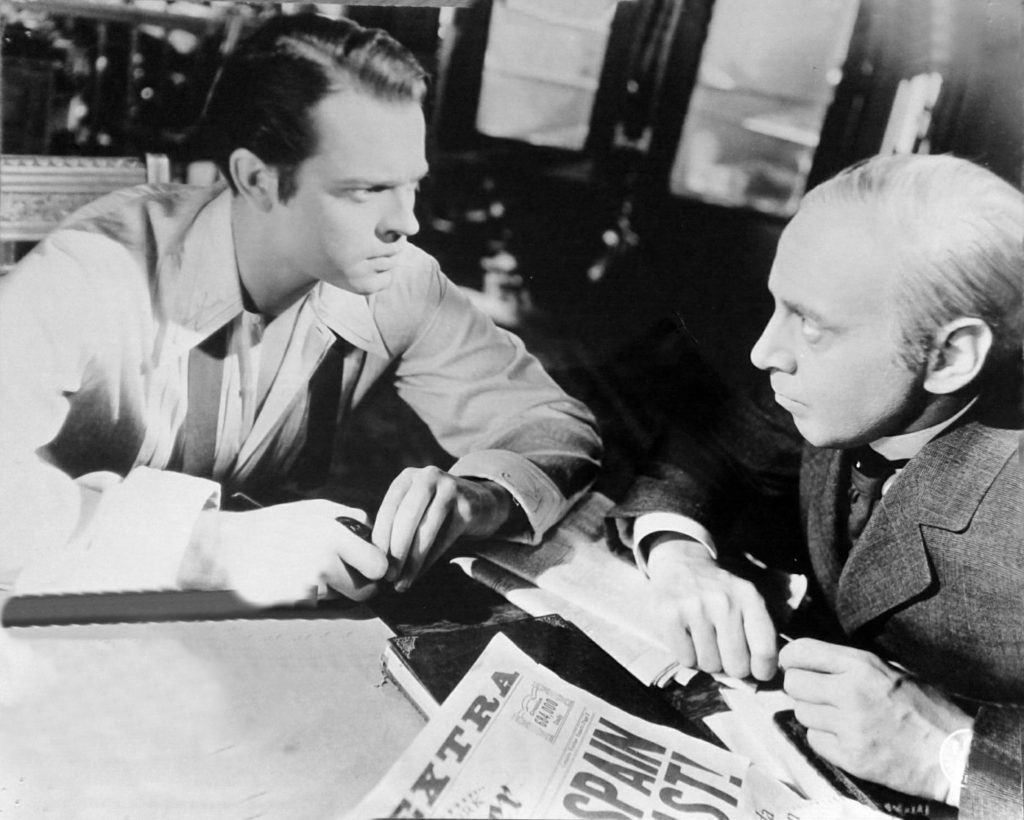 CITIZEN KANE 121
CITIZEN KANE 122
CITIZEN KANE 123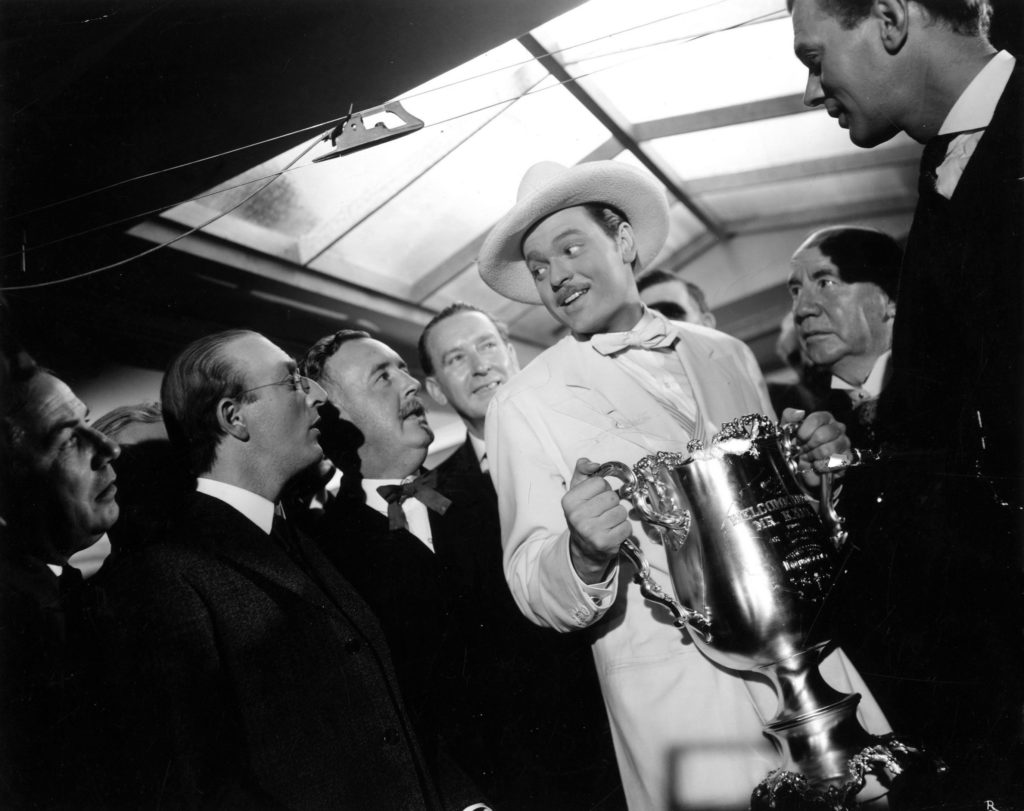 CITIZEN KANE R Series
CITIZEN KANE 125
CITIZEN KANE 126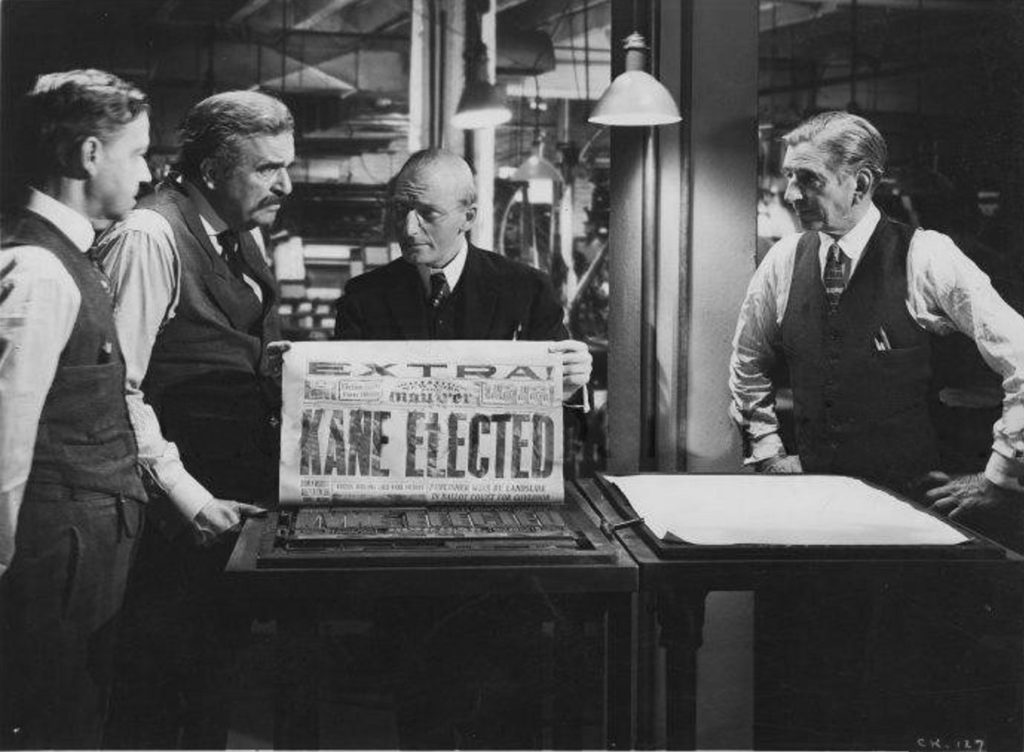 CITIZEN KANE 127
CITIZEN KANE 128
CITIZEN KANE 129
CITIZEN KANE 130
CITIZEN KANE 131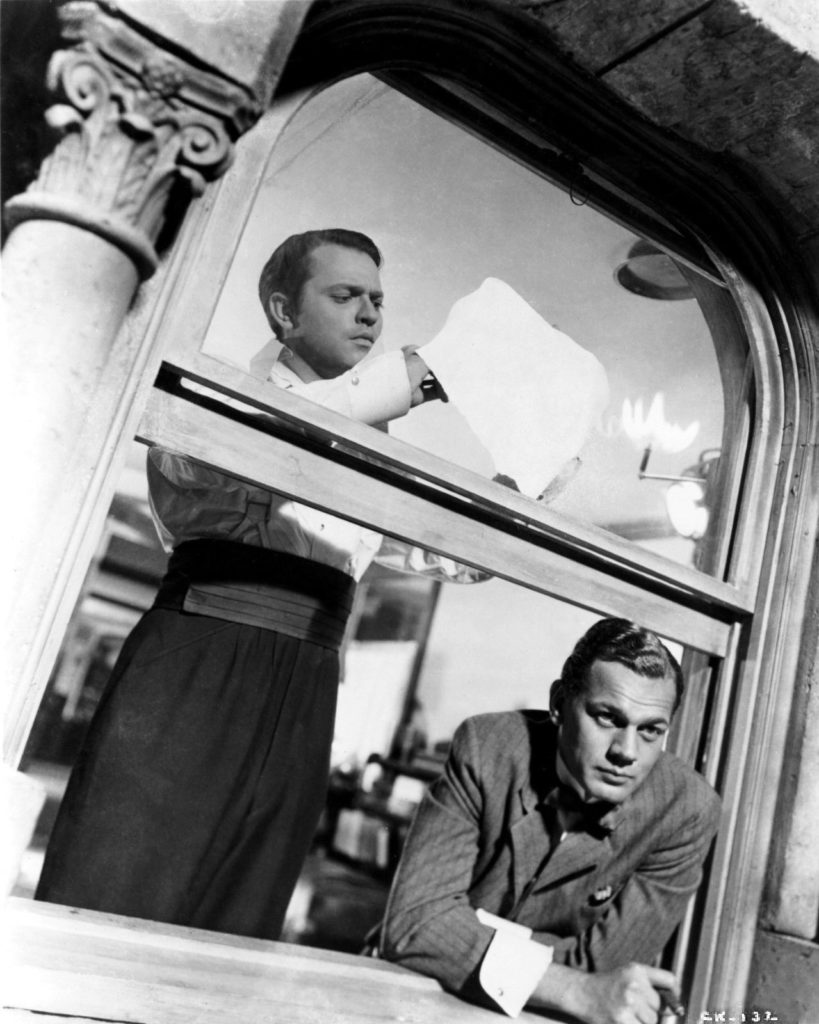 CITIZEN KANE 132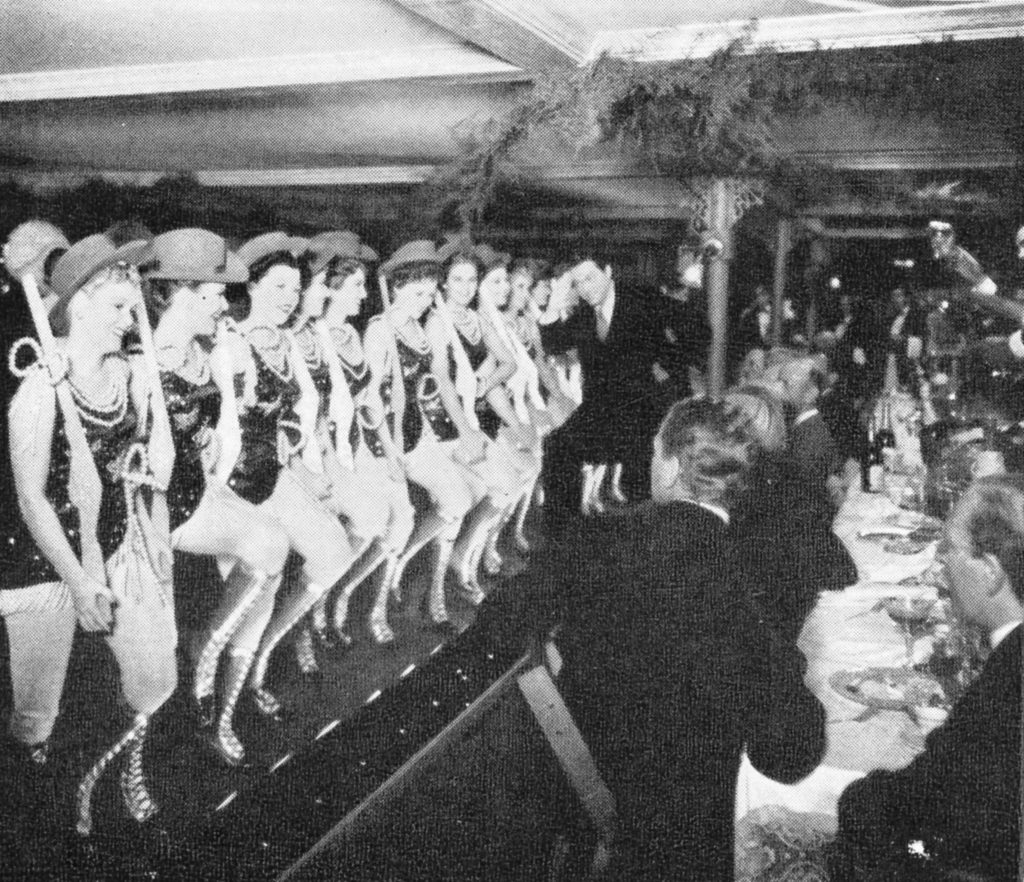 CITIZEN KANE R Series
CITIZEN KANE R Series  (R4116-4)
?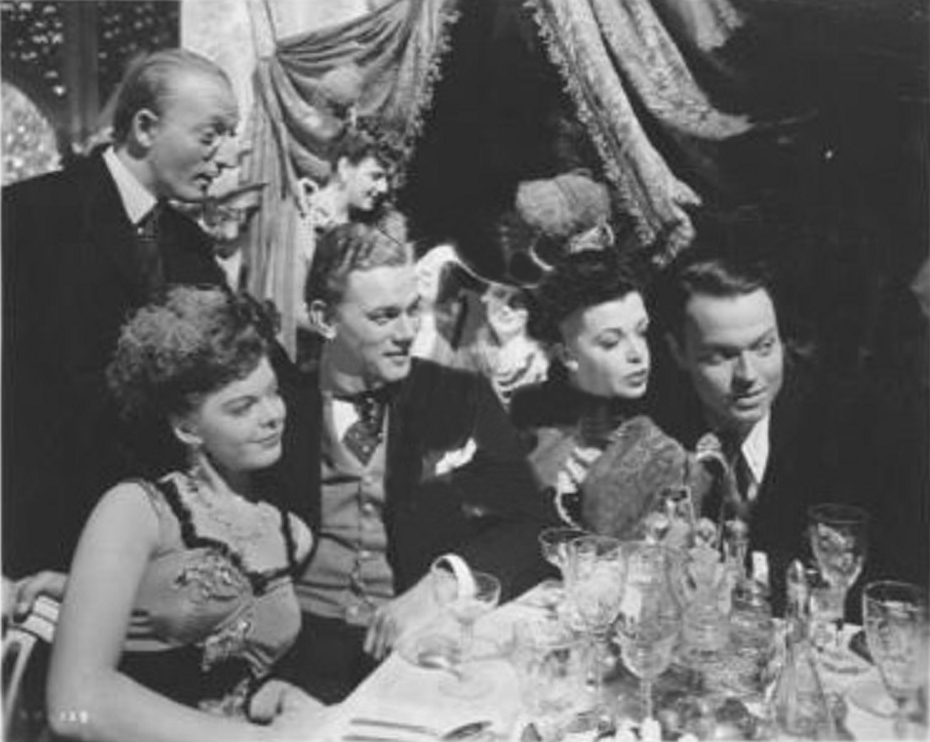 ?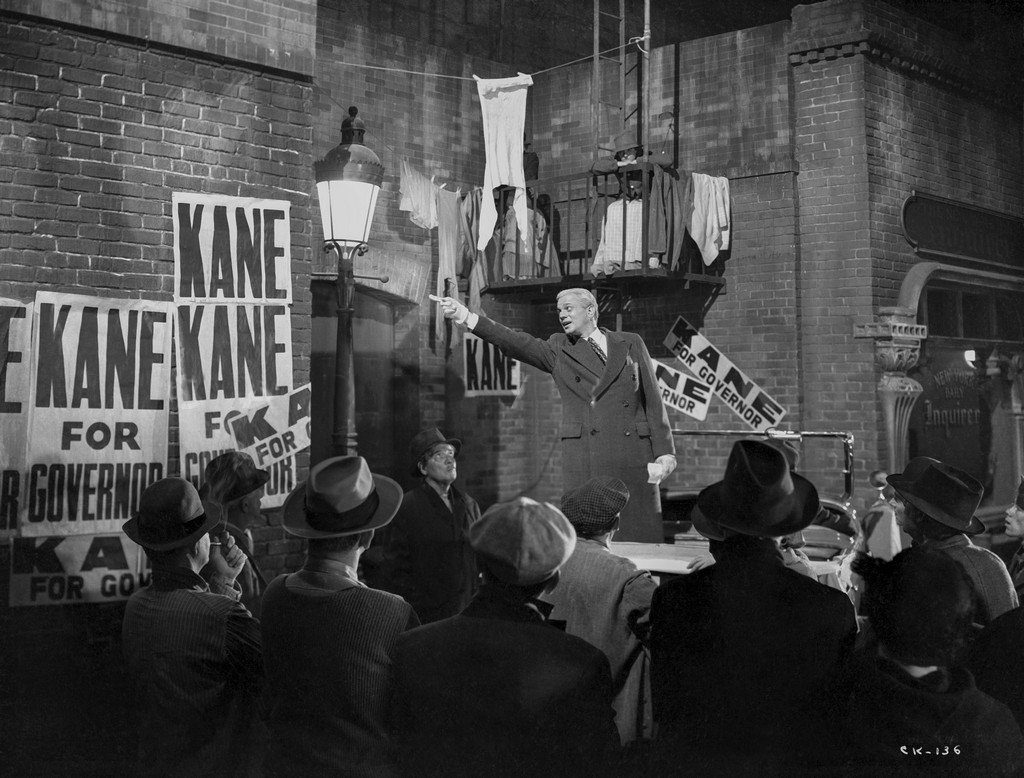 CITIZEN KANE 136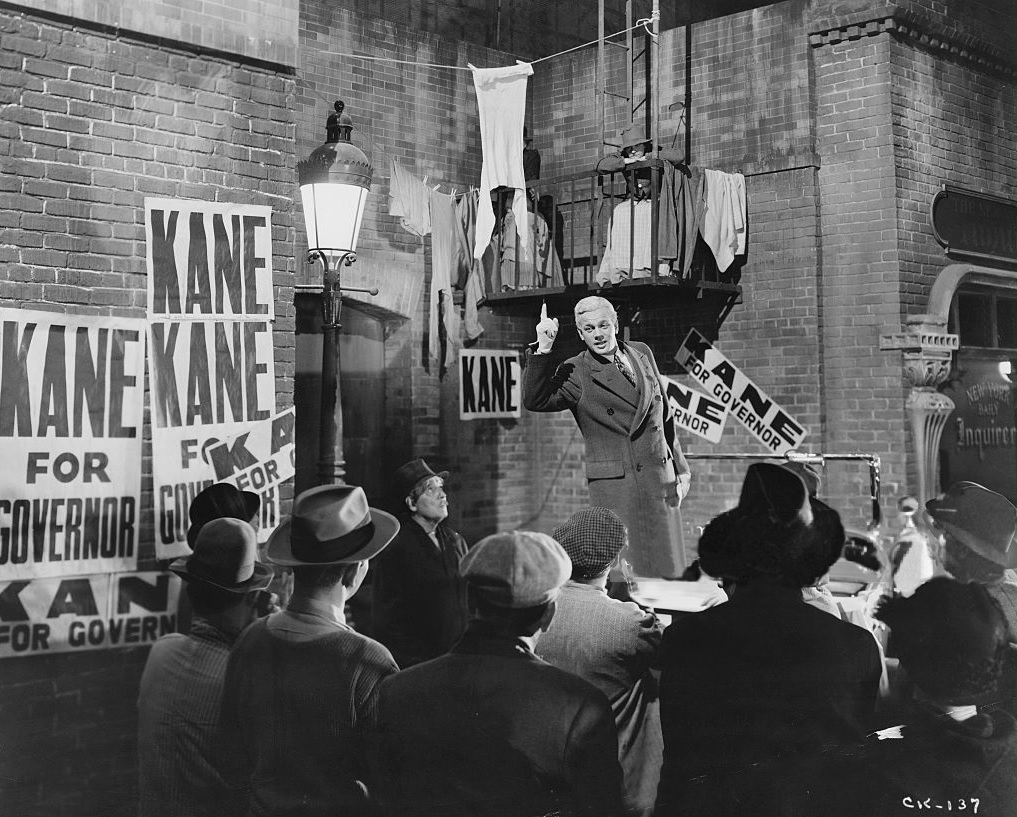 CITIZEN KANE 137
?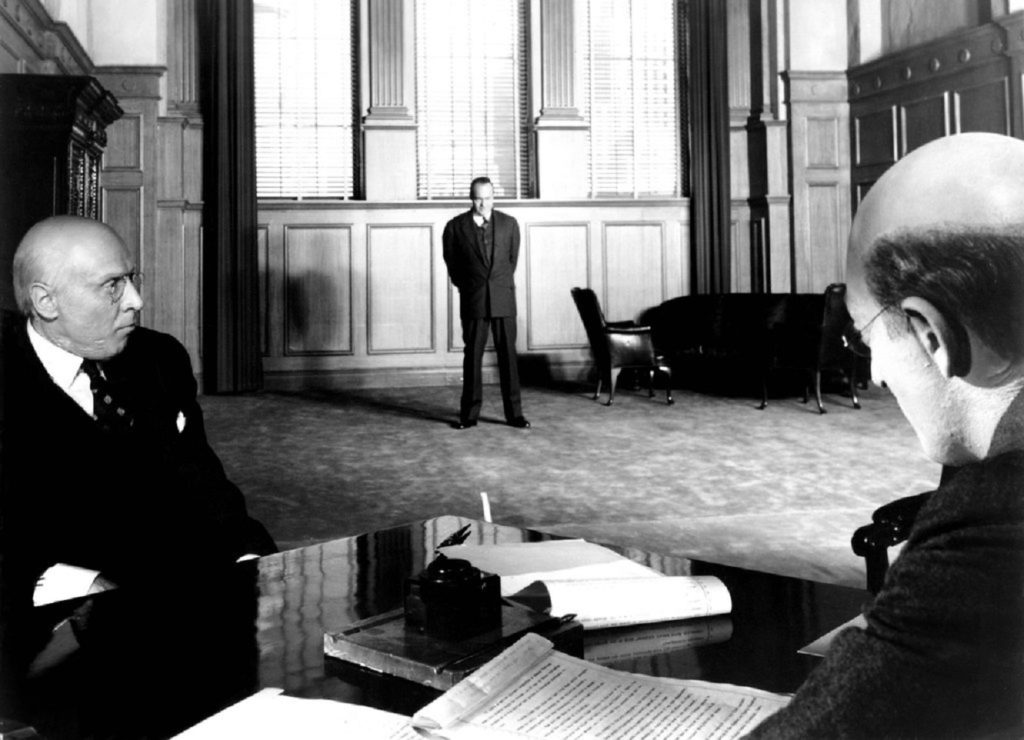 ?
CITIZEN  LANE ADV 6
CITIZEN KANE R Series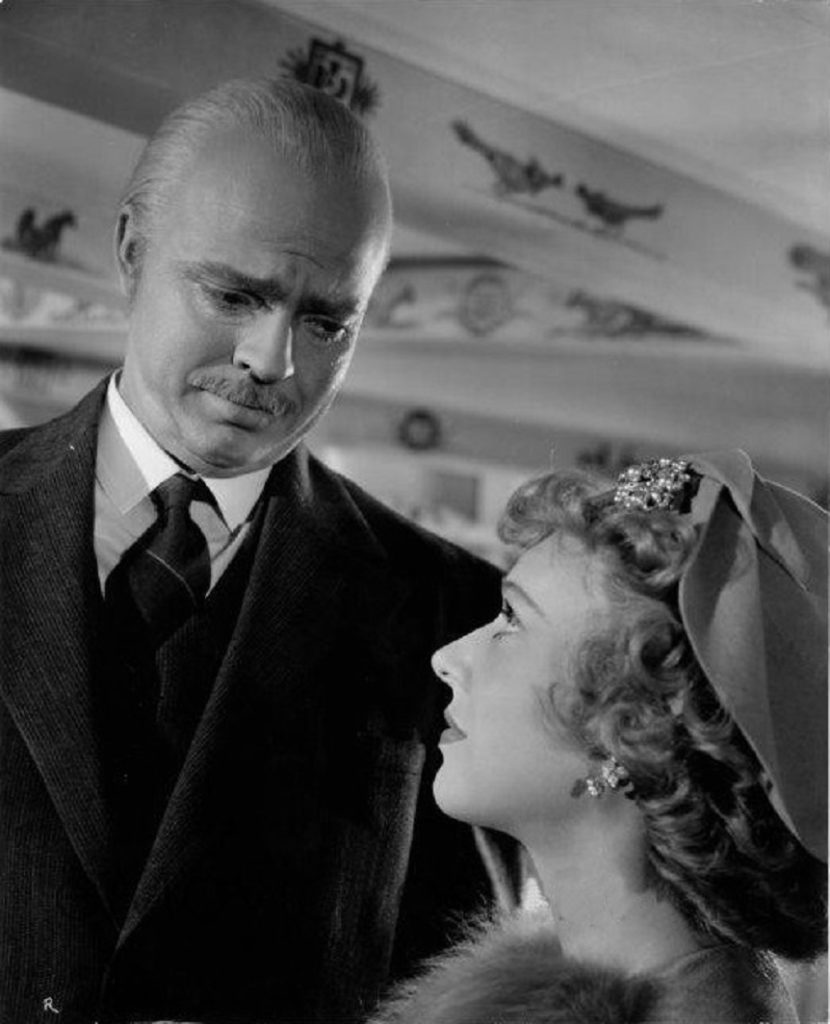 CITIZEN KANE R Series
CITIZEN KANE 143
CITIZEN KANE 144
?
CITIZEN KANE 146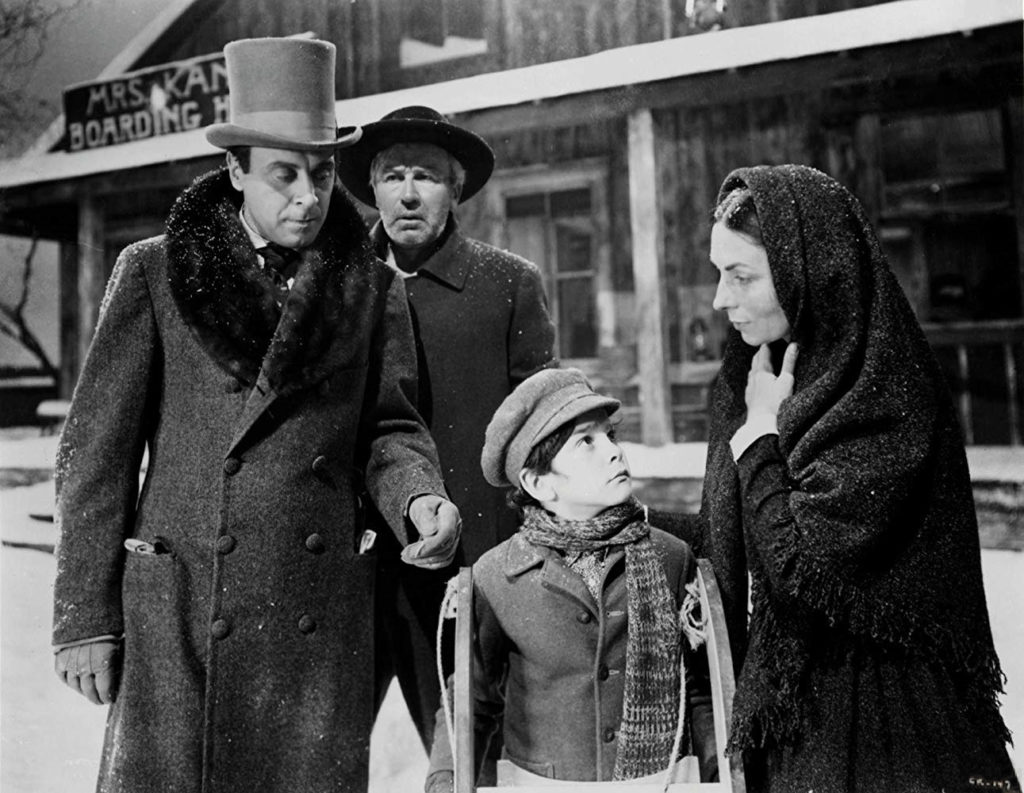 CITIZEN KANE 147
?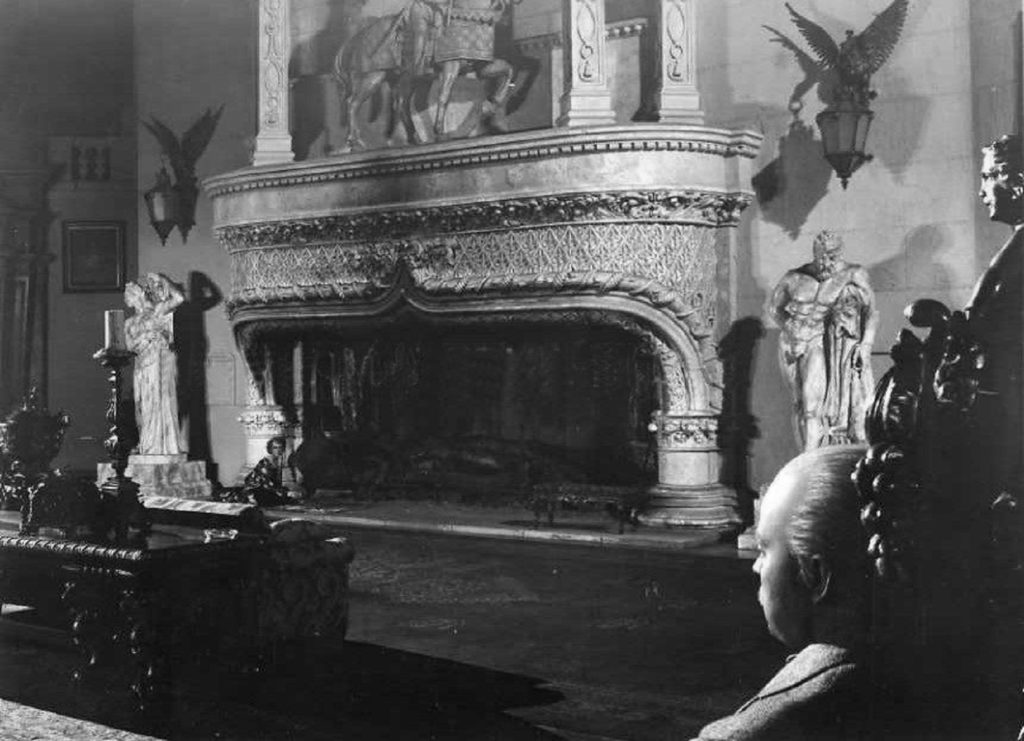 ?
?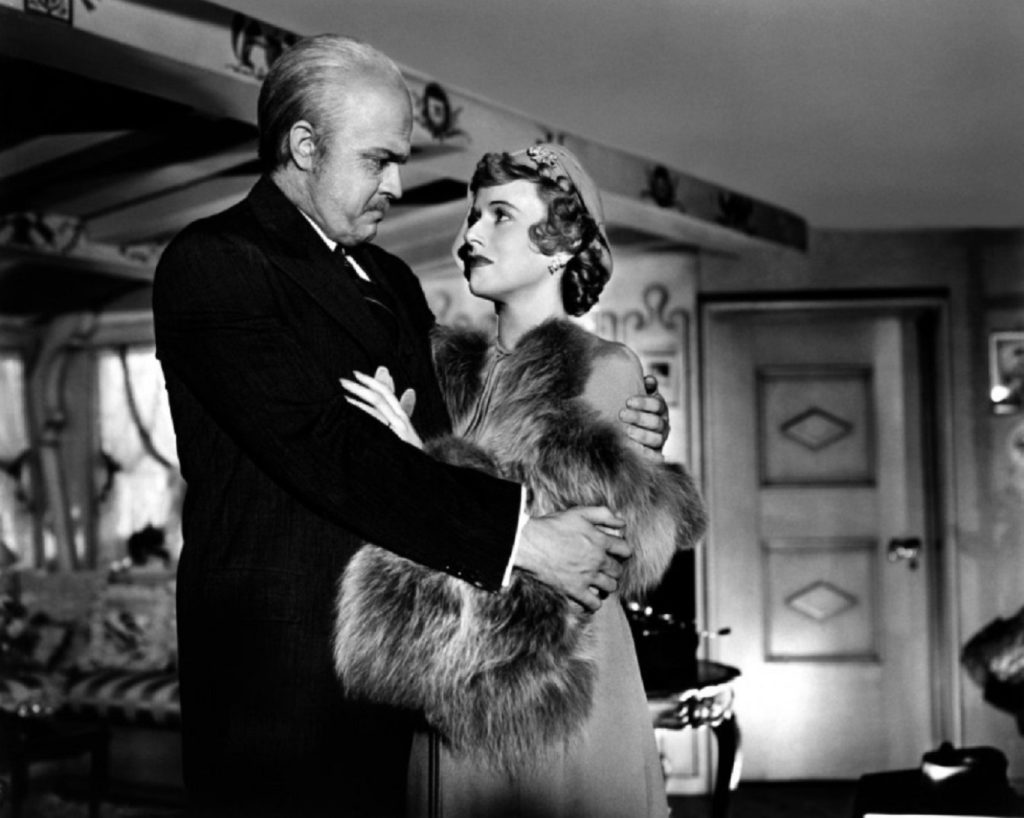 ?
CITIZEN KANE 152
CITIZEN KANE 153
CITIZEN KANE 154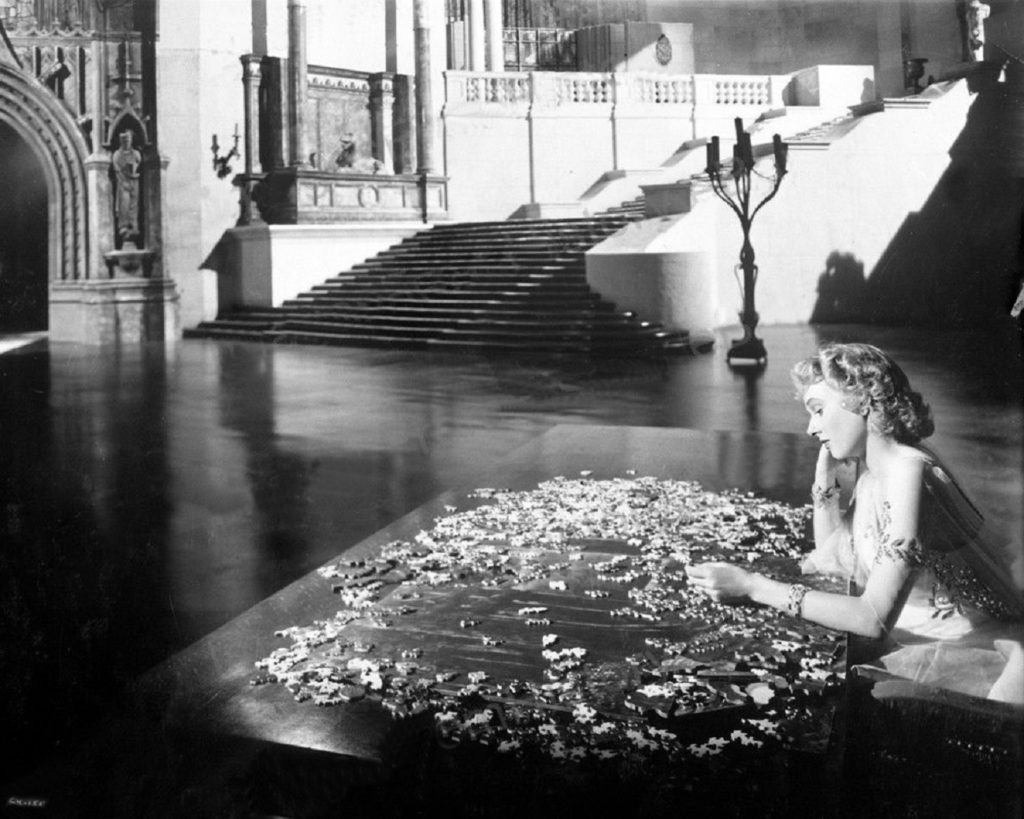 CITIZEN KANE 155
CITIZEN KANE 156
CITIZEN KANE 157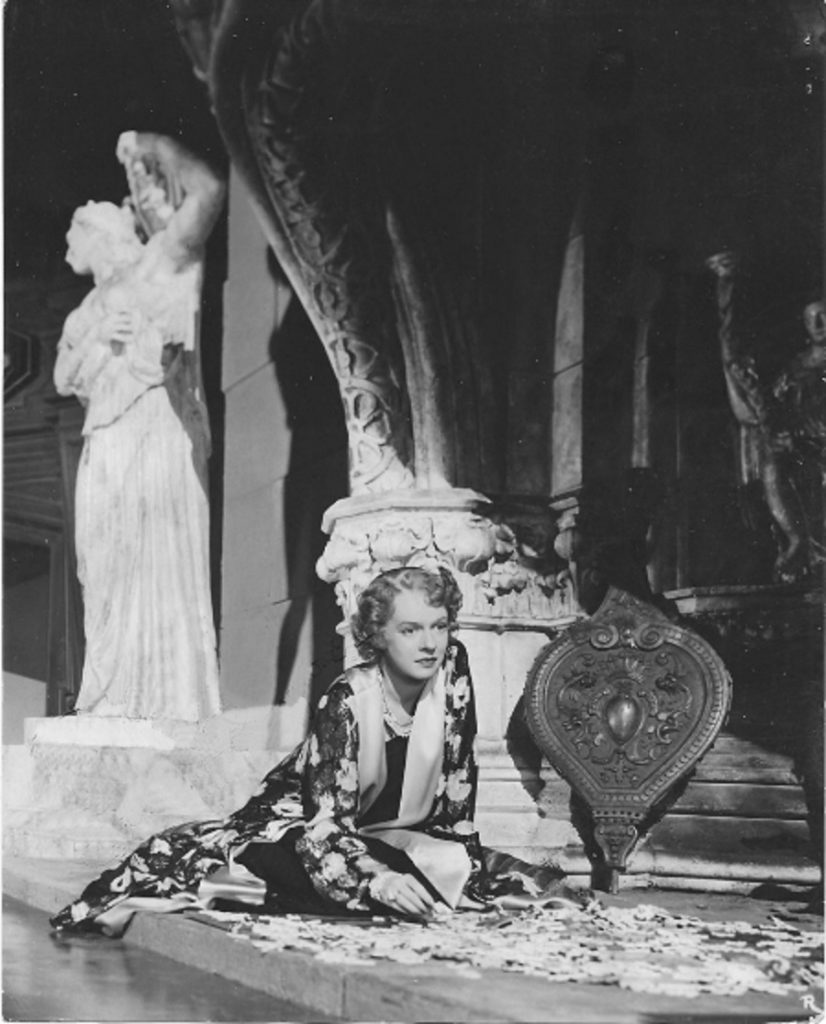 CITIZEN KANE R Series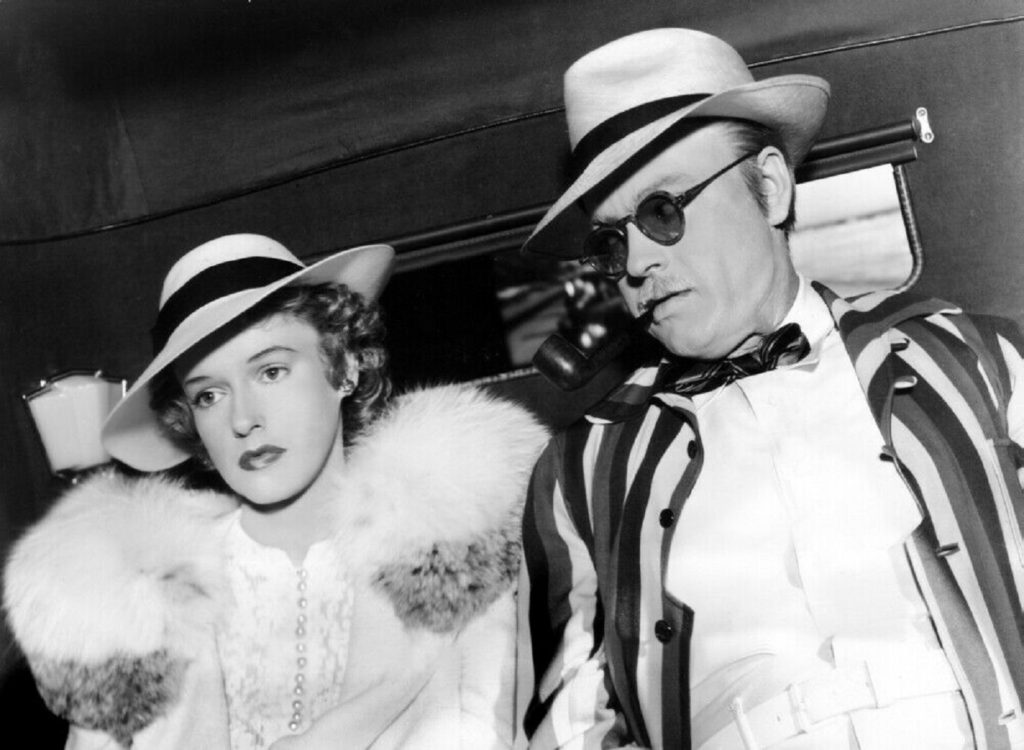 ?
CITIZEN KANE 160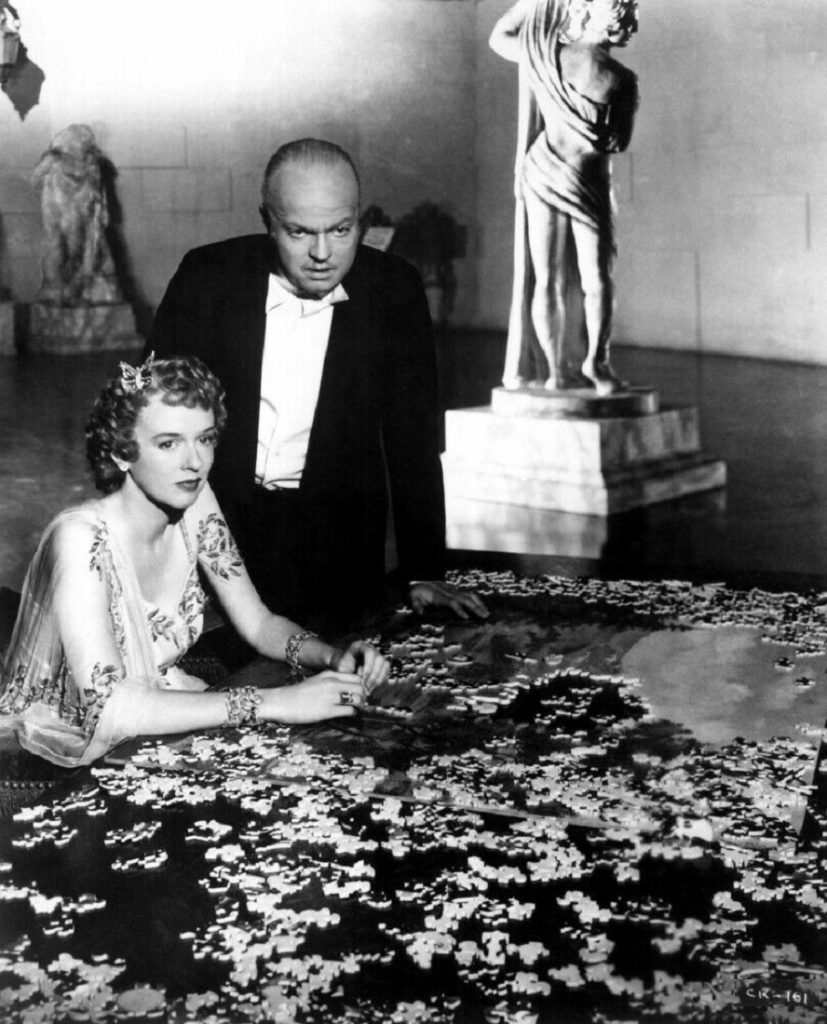 CITIZEN KANE 161
CITIZEN KANE 162
___________
DOROTHY COMINGORE
COMINGORE IN THE "CITIZEN KANE" TRAILER
All the leading actors in CITZEN KANE went on to long and successful Hollywood careers—that is except Dorothy Comingore.  Following KANE the actress only appeared in three films—all but one were bit parts—and did three television shows before her acting career came to an abrupt end in 1951.    Part of this was of her own making – she was considered "difficult"-  but most of it was caused by others and would prove the great tragedy of CITIZEN KANE.
In 1941, having given a career defining performance in KANE, Comingore was suddenly in great demand.  Unfortunately, not only did she turn down part after part—wanting  her next role to be in an important film—but RKO, the studio which had her under contract, refused to loan her out.   Eventually she became sick and when she returned to the studio, for various reasons, was fired.  A bit of a firebrand – when at Columbia she called studio head Harry Cohn a schmuck to his face – she soon found work hard to come by and began drinking, eventually becoming an alcoholic. Because her second husband had been a fervent member of The Communist party in the 1930s (eventually he would  give names) and because of her for her own union activities, Comingore was called before HUAC in 1951. But, unlike her second husband, she not only refused to testify but had audience and reporters laughing at the committee.  Now blacklisted, and because of her alcoholism, her second husband sued for and won custody of their two children. A few months later came a solicitation charge, believed to be trumped up by local police due to her HUAC testimony.  The charge was dropped when, at the request of her third husband, Comingore agreed to "a short stay" at a mental facility to treat her alcoholism; a short stay that lasted two years.  Now stripped of her visitation rights with her children, following her stay in the mental facility, Comingore married again but, due to a broken back, became a recluse for the rest of her life.   In December 1971, just as KANE was enjoying a massive resurgence due to Pauline Kael's "Raising Kane," and the bruhaha about it,  the actress died at age 58 in total obscurity from pulmonary disease brought on by alcoholism.  It was a sad end to life that had shown so much promise.
A little known fact is that Dorothy Comingore was pregnant during the entire filming of Citizen Kane and gave birth to her first child, a daughter, a week after the film completed principal photography.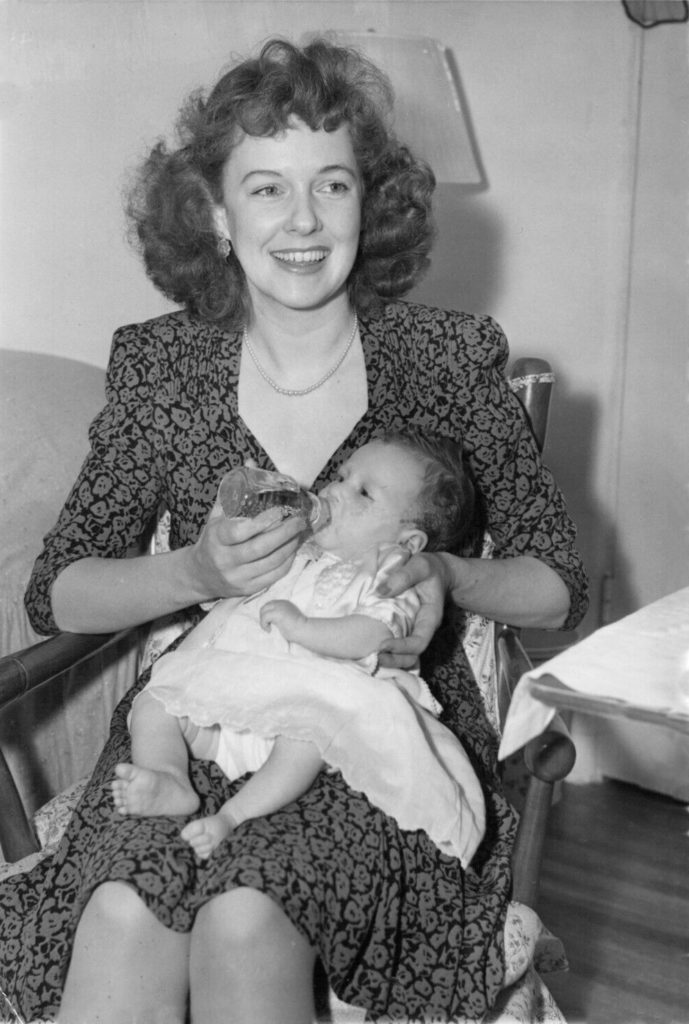 Most of the photographs below are publicity stills sent to newspapers and magazines to promote CITIZEN KANE when Comingore's career was on an upward trajectory. (A few are pre-Kane from her time at Columbia when she worked under the name Linda Winters.  She changed her name back to Comingore when Welles signed her for Kane.) The last photos are of Comingore during her appearance before HUAC and, finally, photos of her under arrest for solicitation.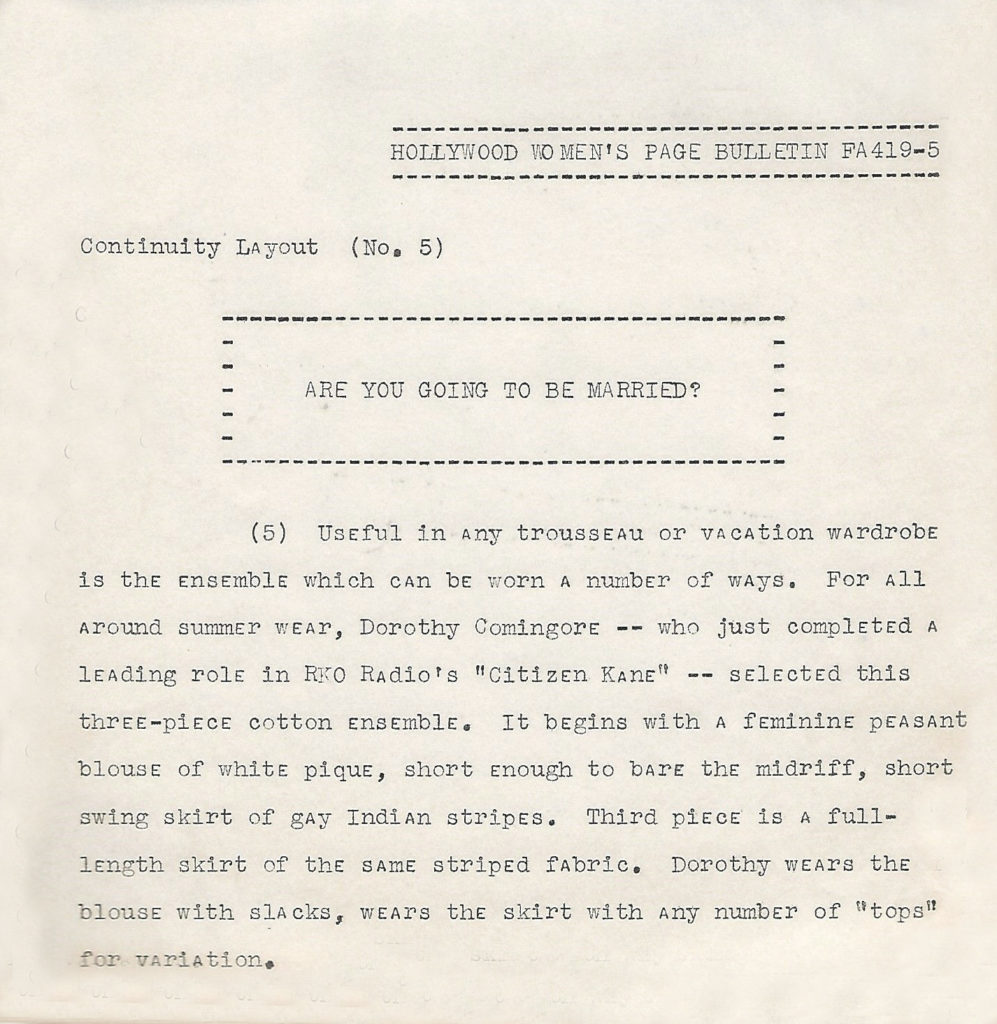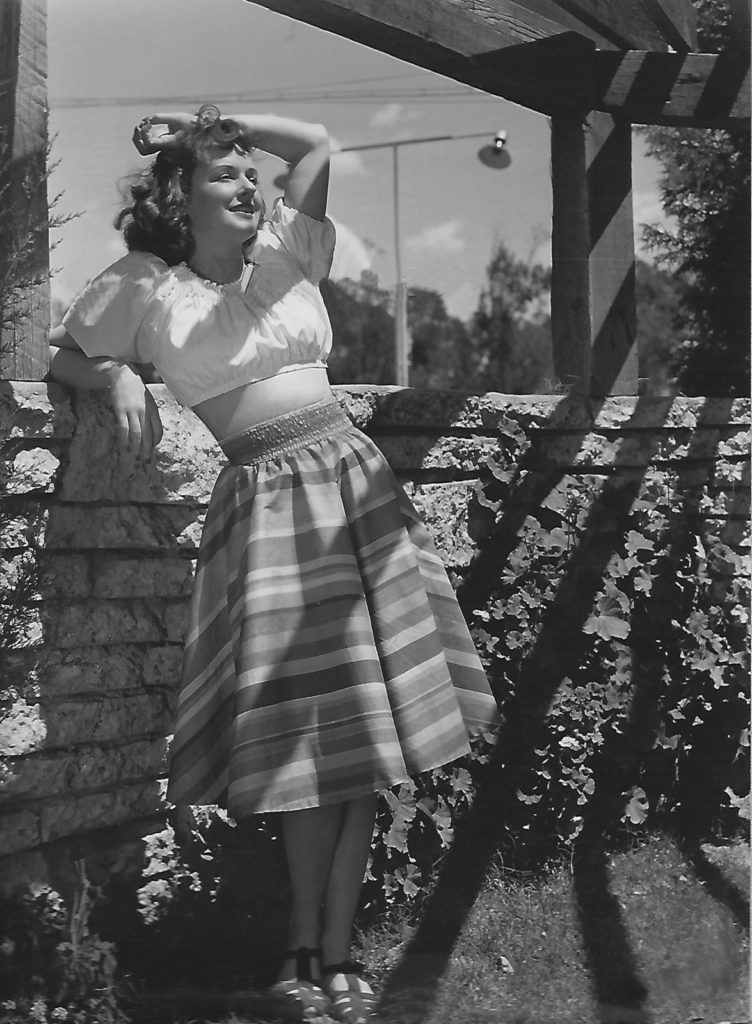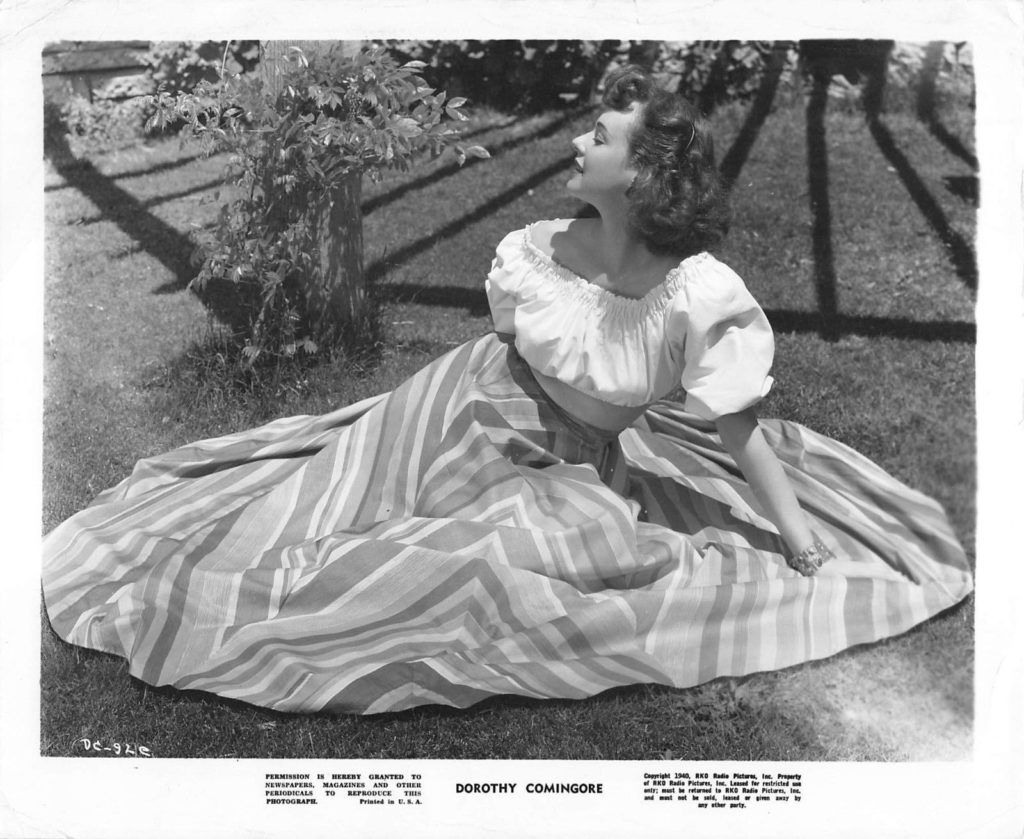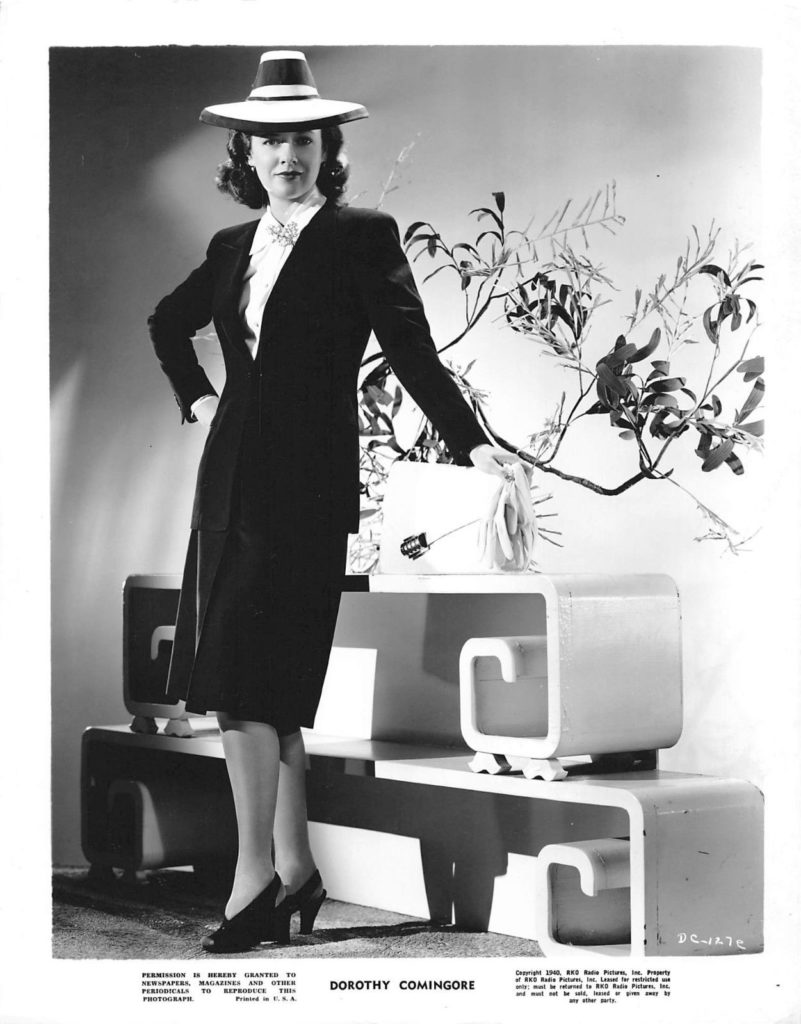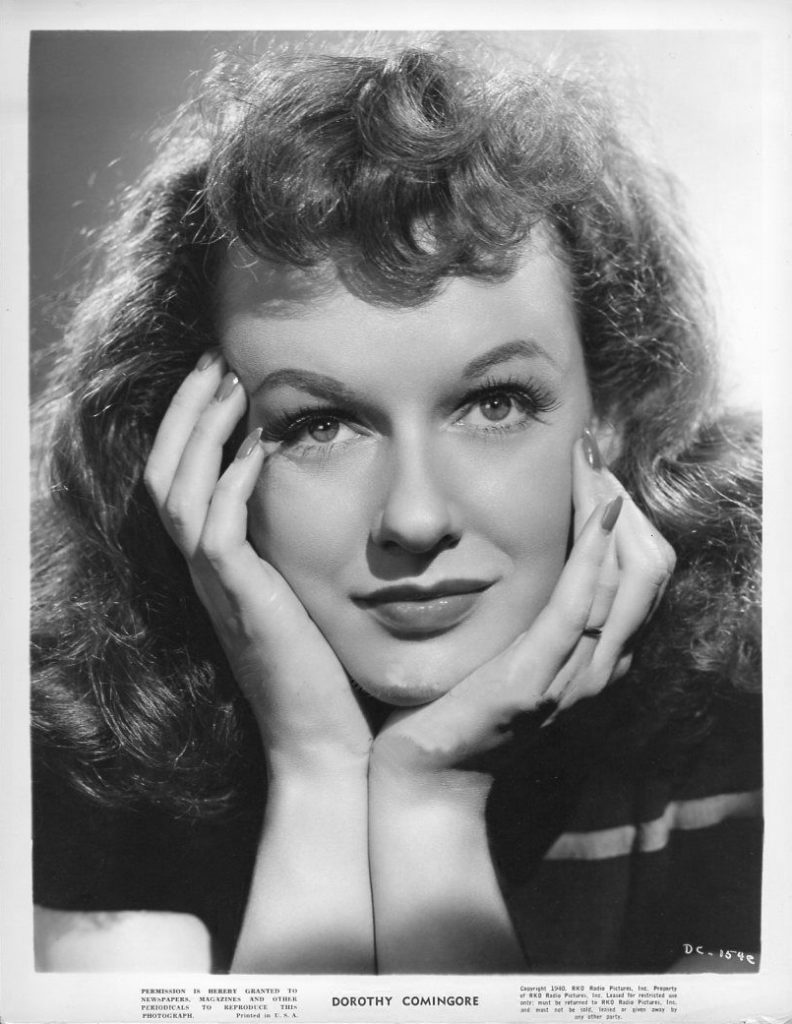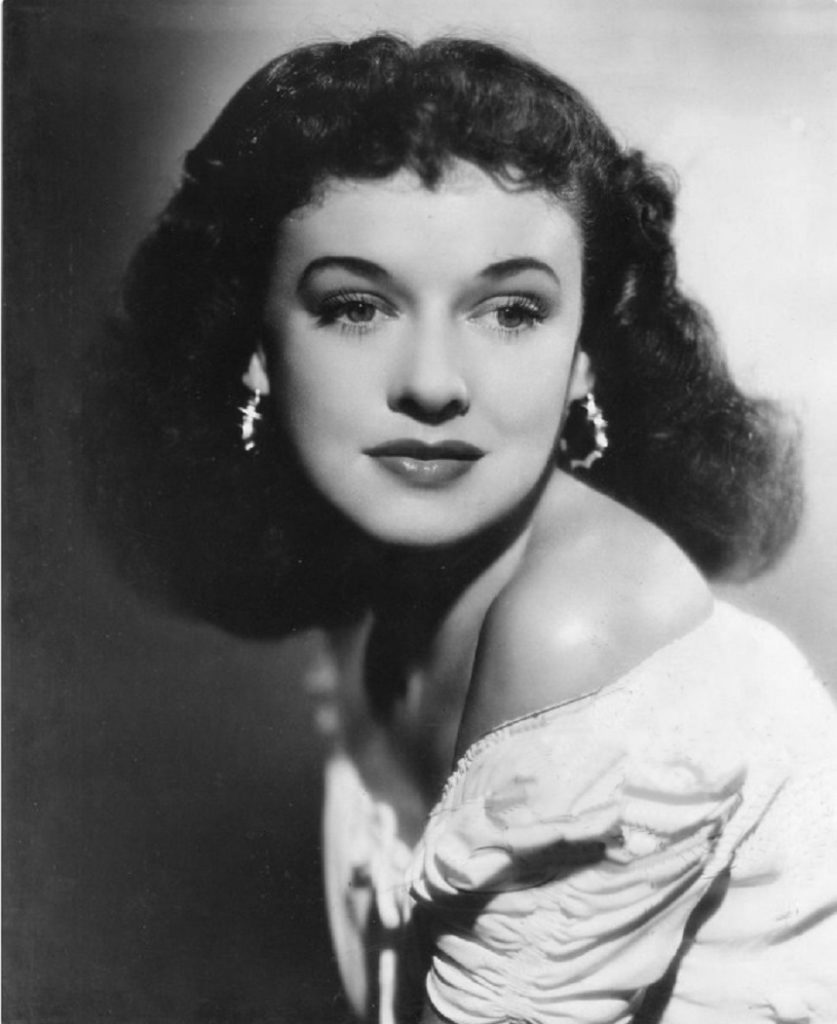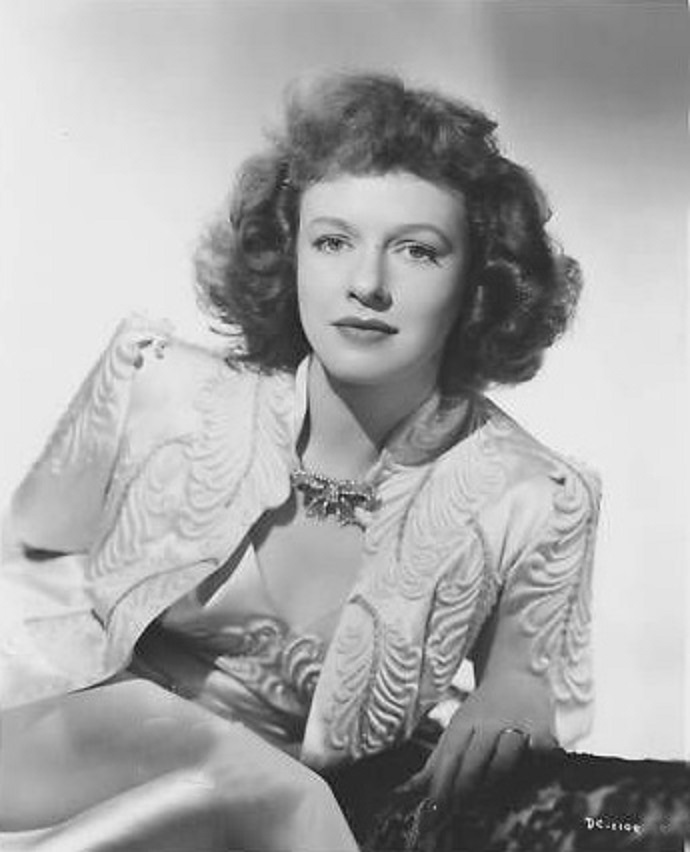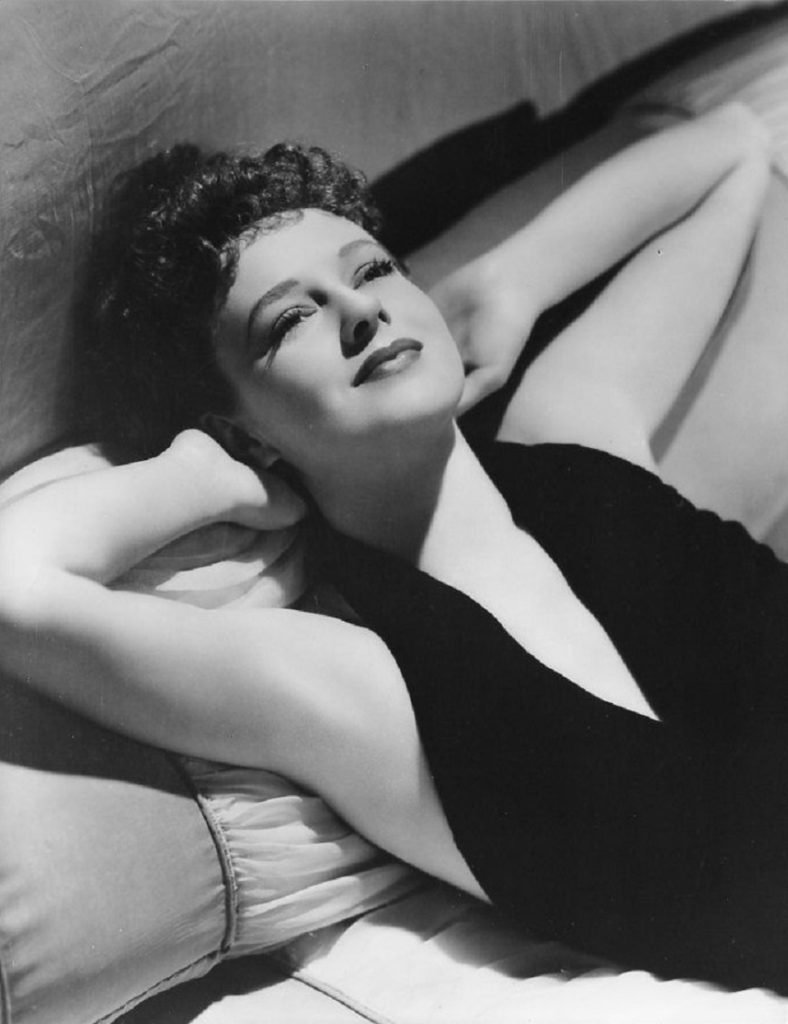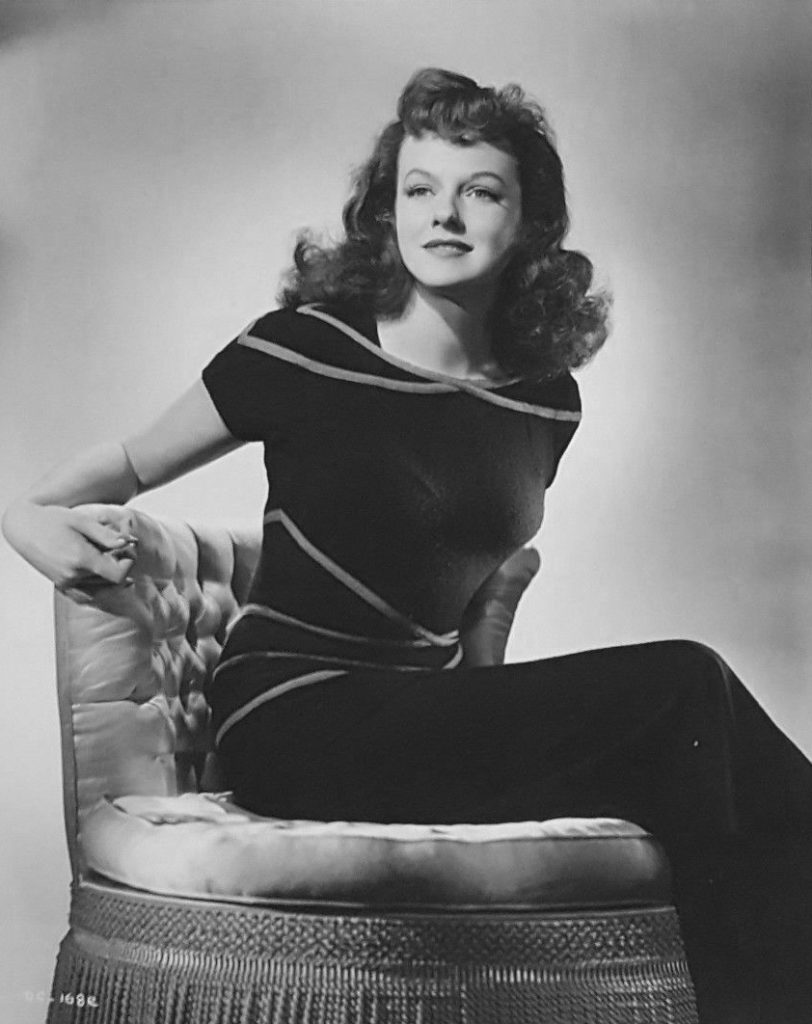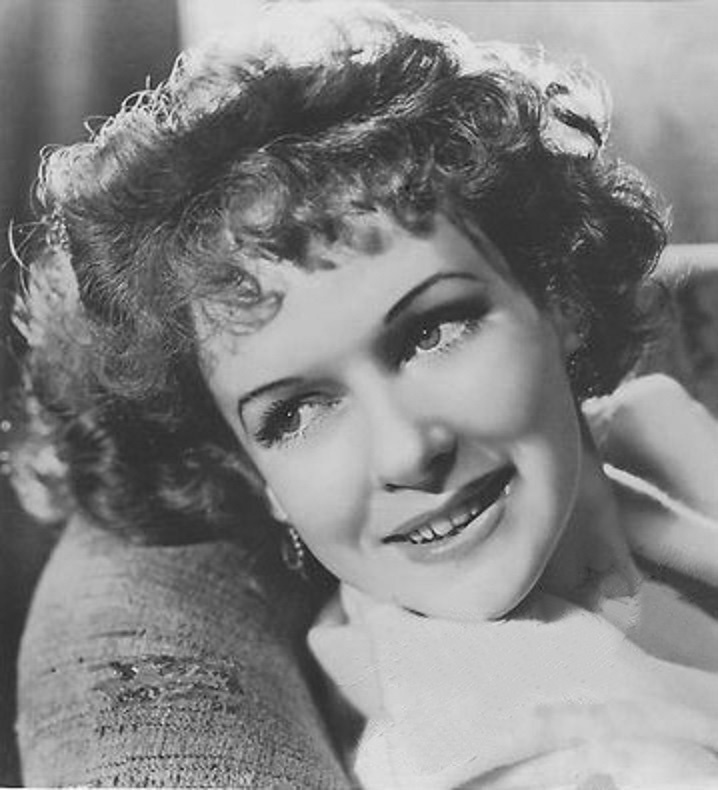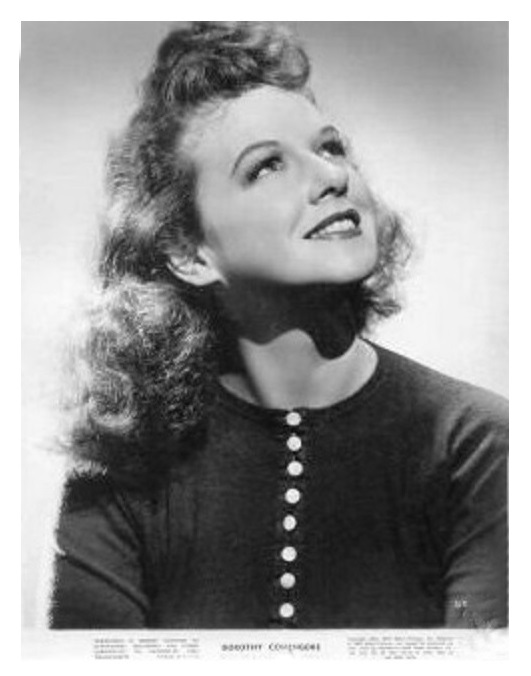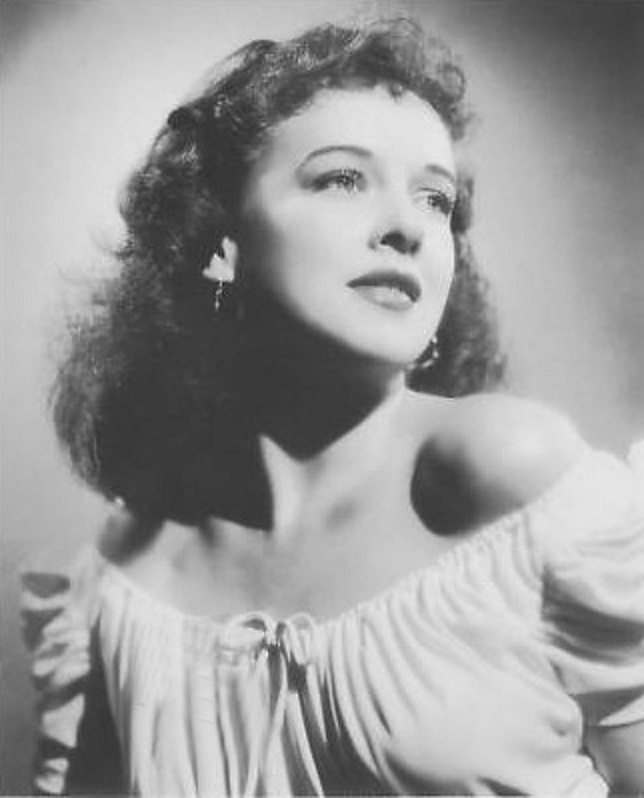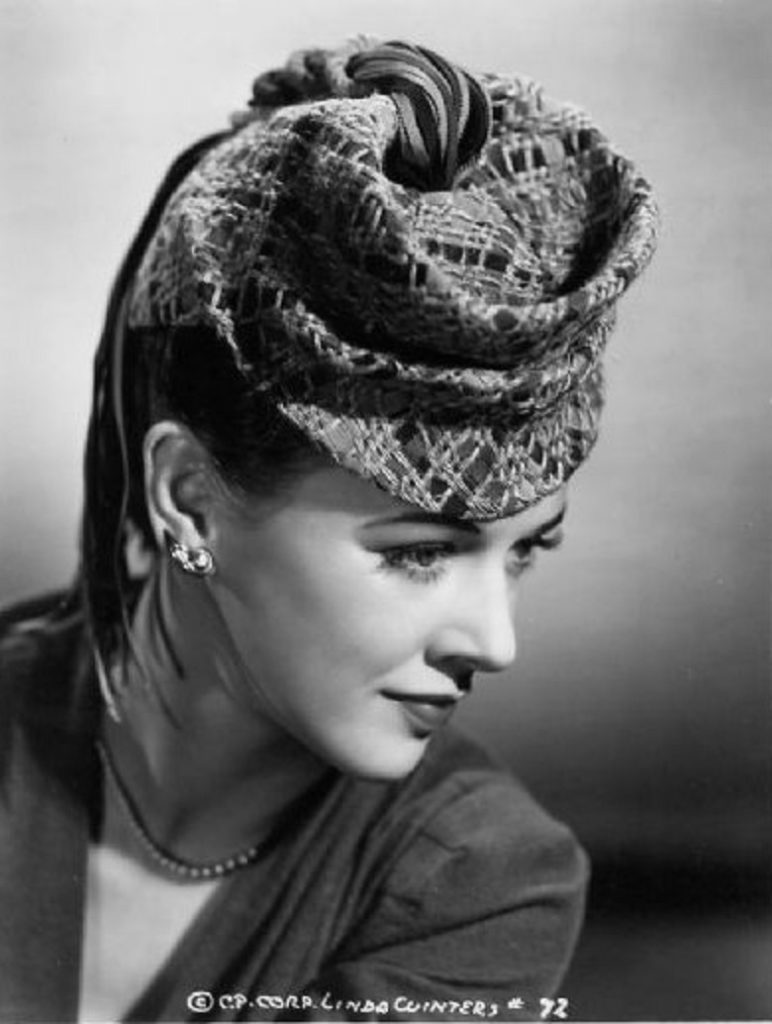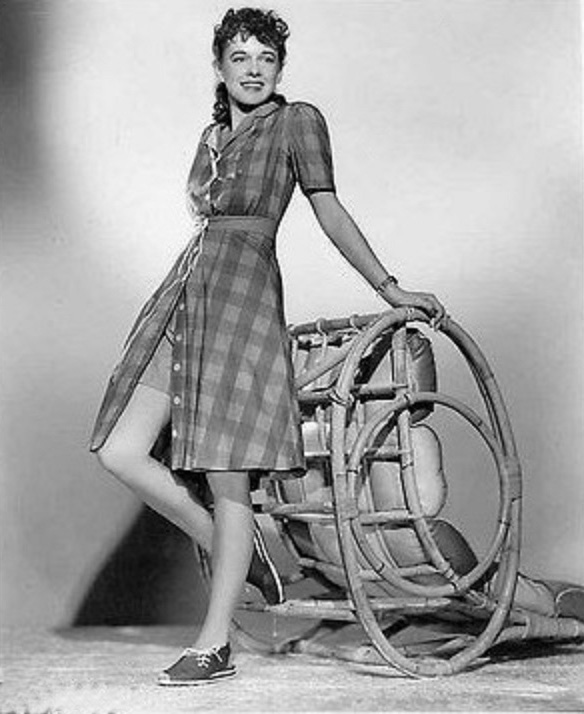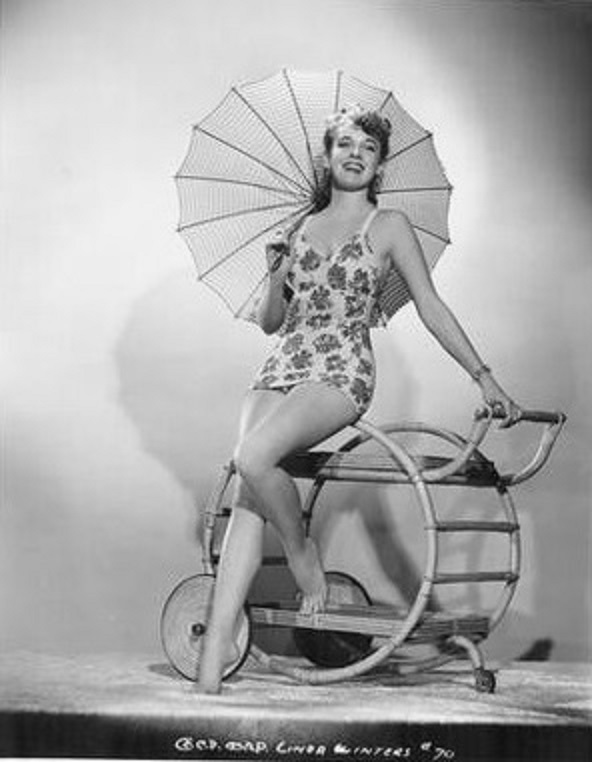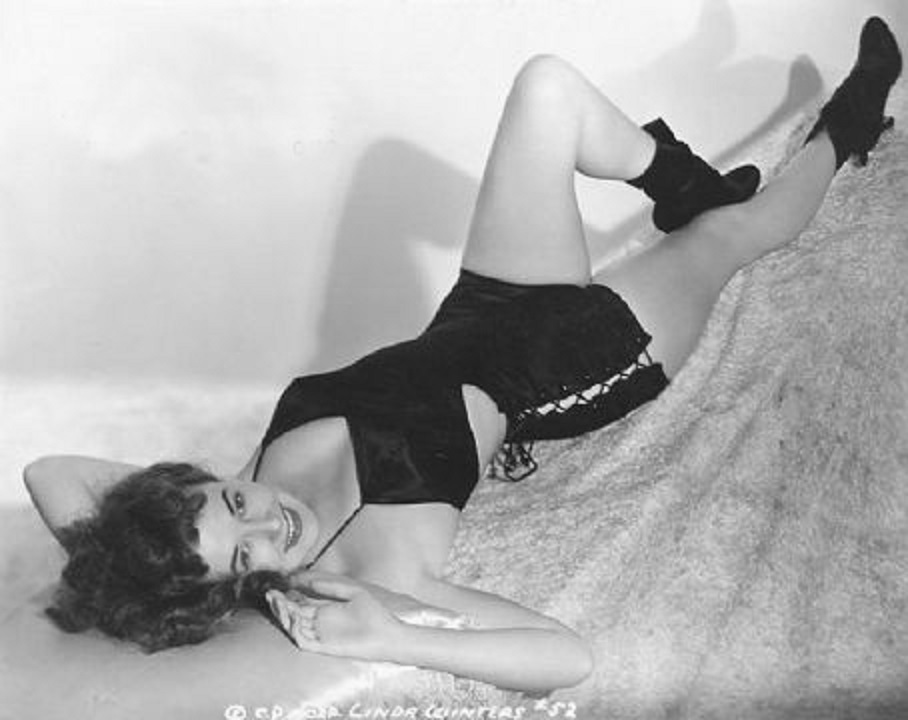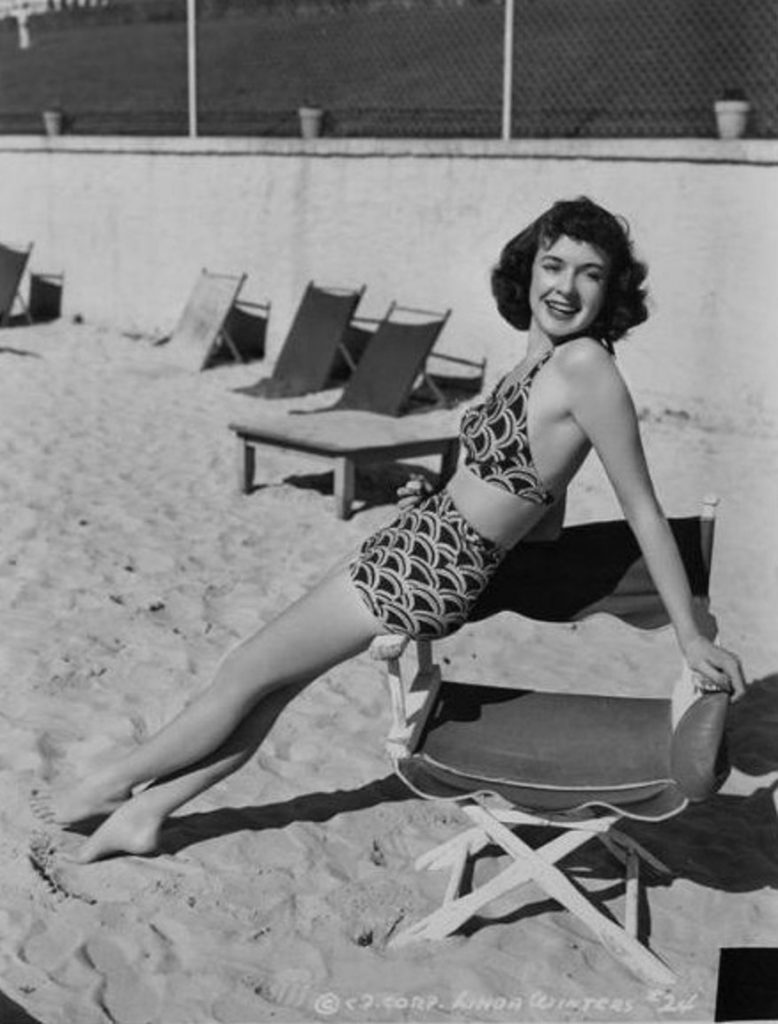 ________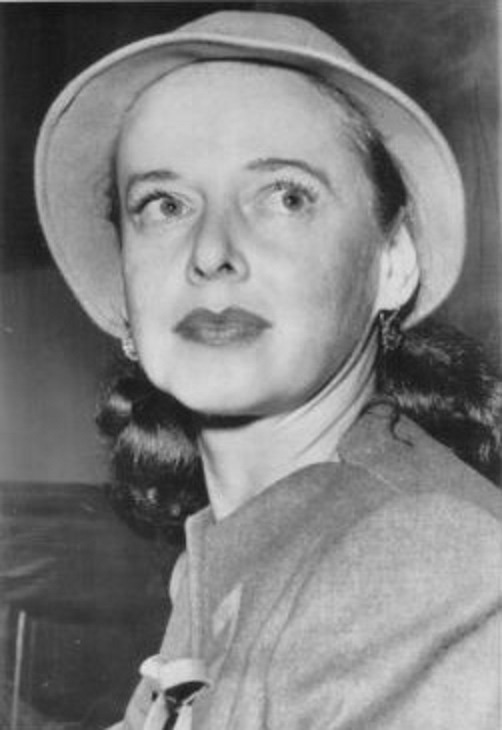 TESTIFYING BEFORE HUAC
________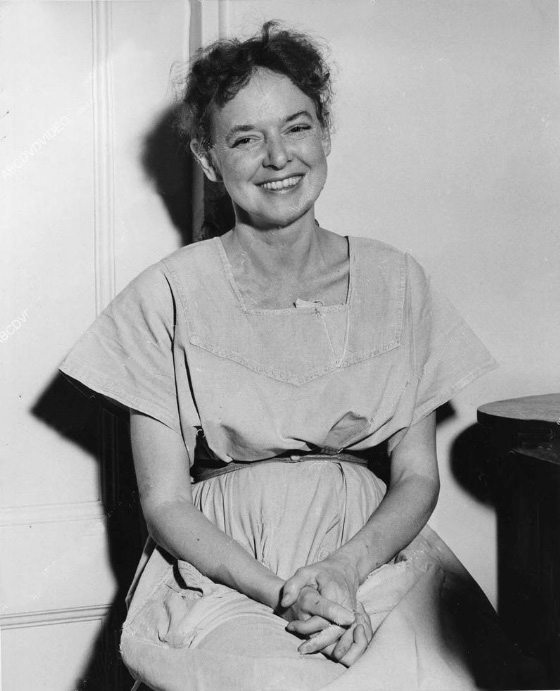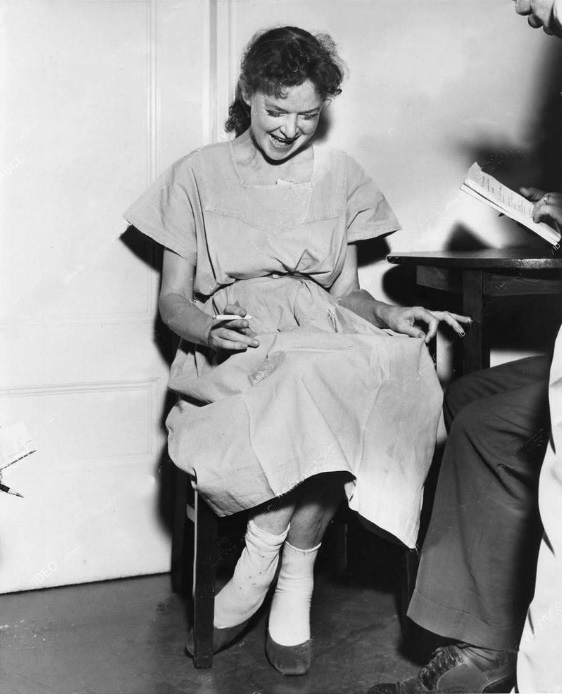 UNDER ARREST FOR SOLICITATION
11 YEARS EARLIER COMMINGORE ON RIGHT IN 1941  AT L.A. KANE PREMIERE
_____________
RKO 281
I had the press kit for RKO 281 and, because it wasn't anyplace else on the web I thought – for historical purposes – I might as well add it to the KANE material on this page. There have only been a handful of movies produced about the making of a particular film.  RKO 281 is the best. Having seen the PBS Documentary THE BATTLE OVER CITIZEN KANE director Ridley Scott liked it so much that he decided to produce a feature length film based on the documentary and, thus, the reason RKO 281 came about. Incidentally, 281 was the production number of CITIZEN KANE. In other words, CITIZEN KANE was the 281st production made by RKO since it opened its doors more than a decade earlier.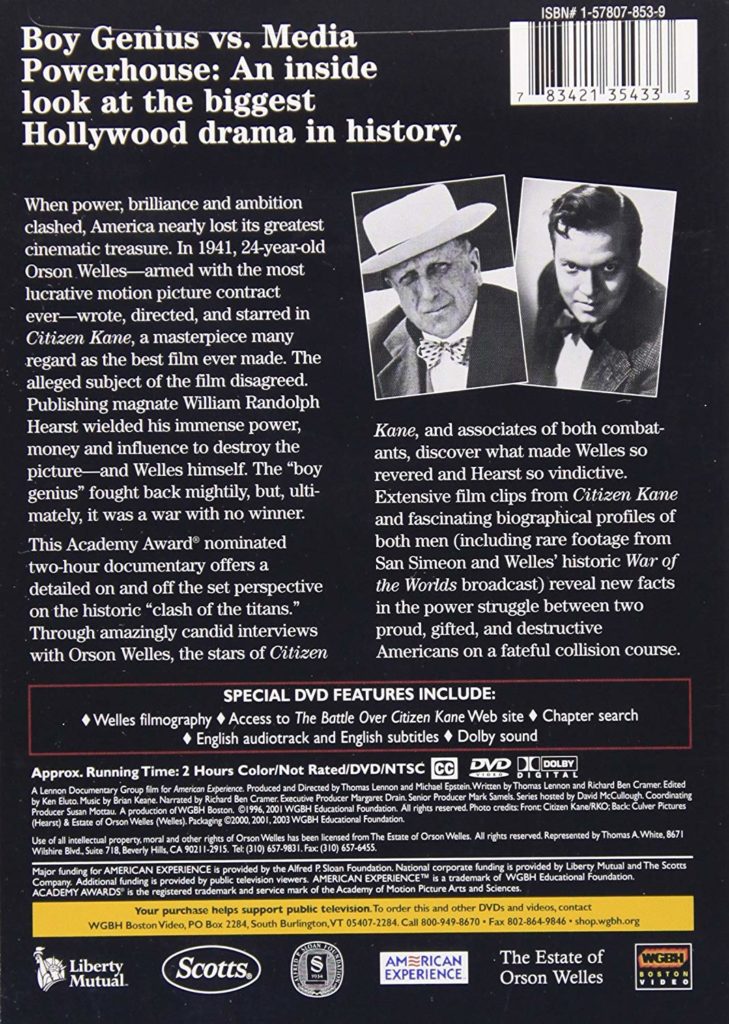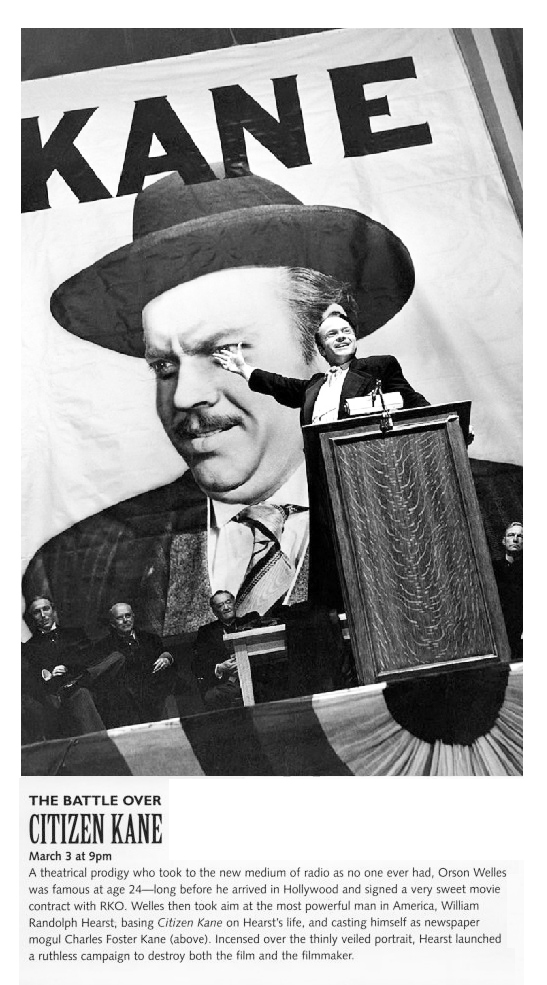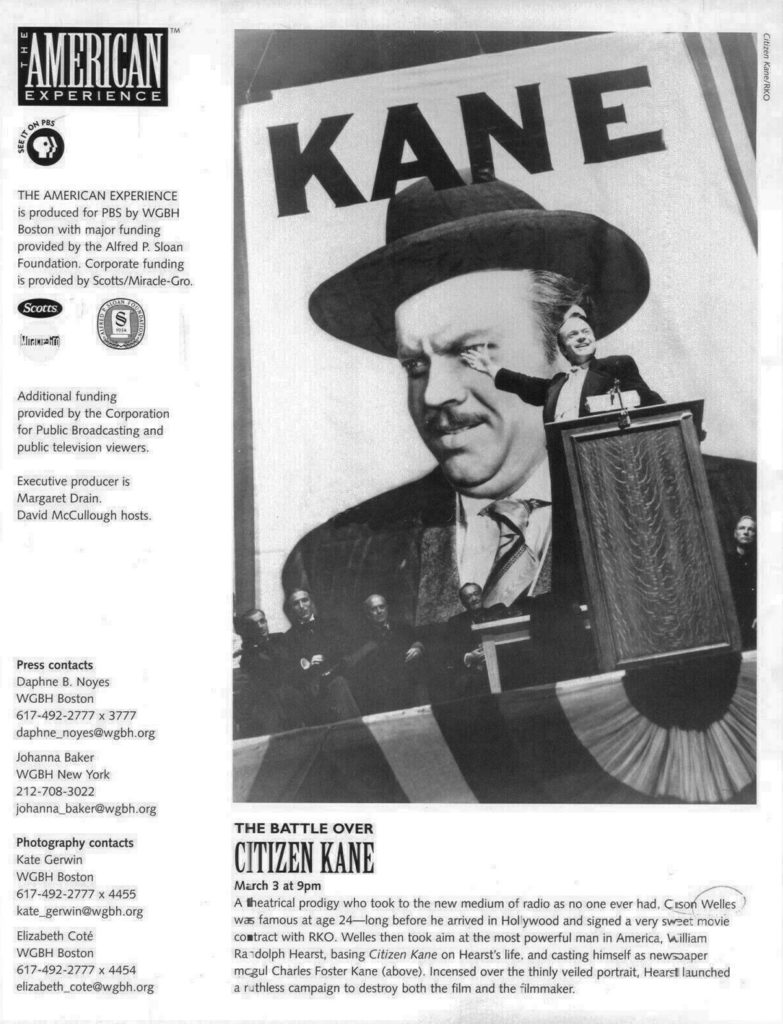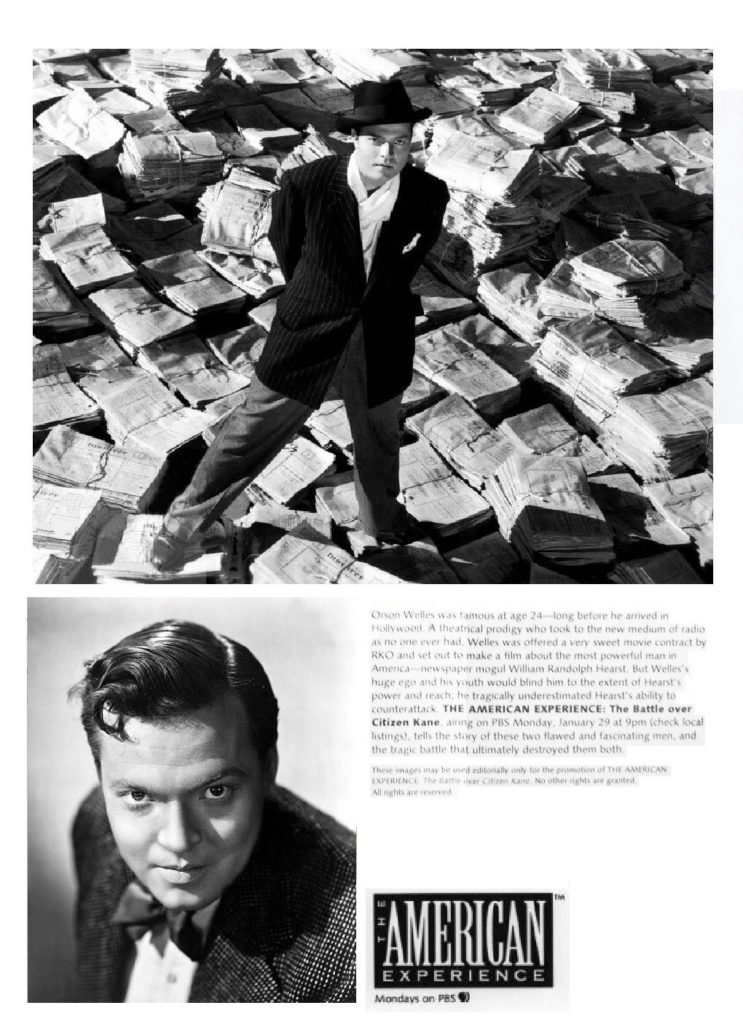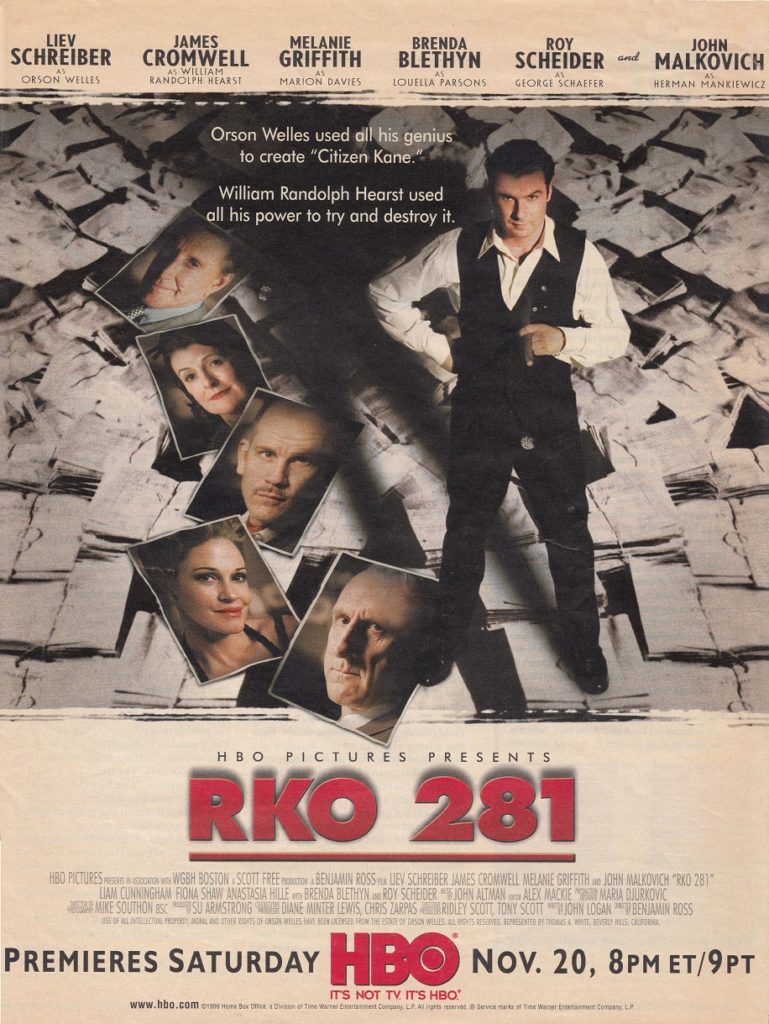 RKO 281's ORSON WELLES
ORSON WELLES' ORSON WELLES
RKO 281's ORSON WELLES AND HERMAN MANKIEWICZ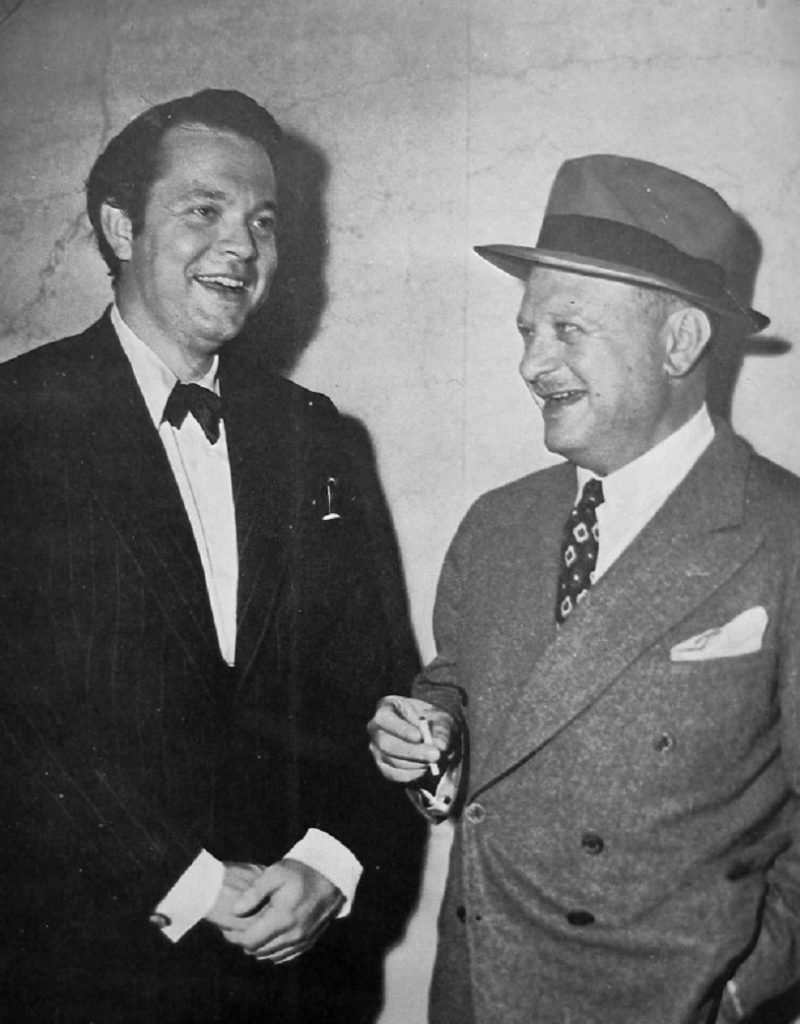 ORSON WELLES' WELLES AND HERMAN MANKIEWICZ' MANKIEWICZ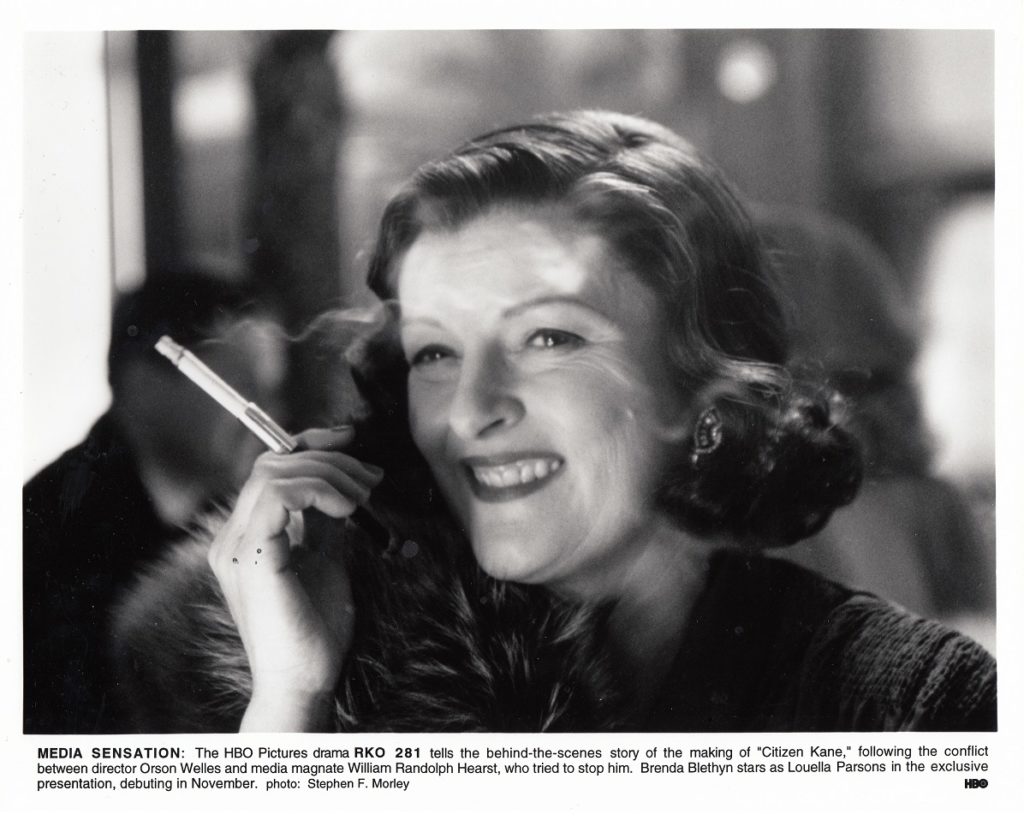 RKO 281's LOUELLA PARSONS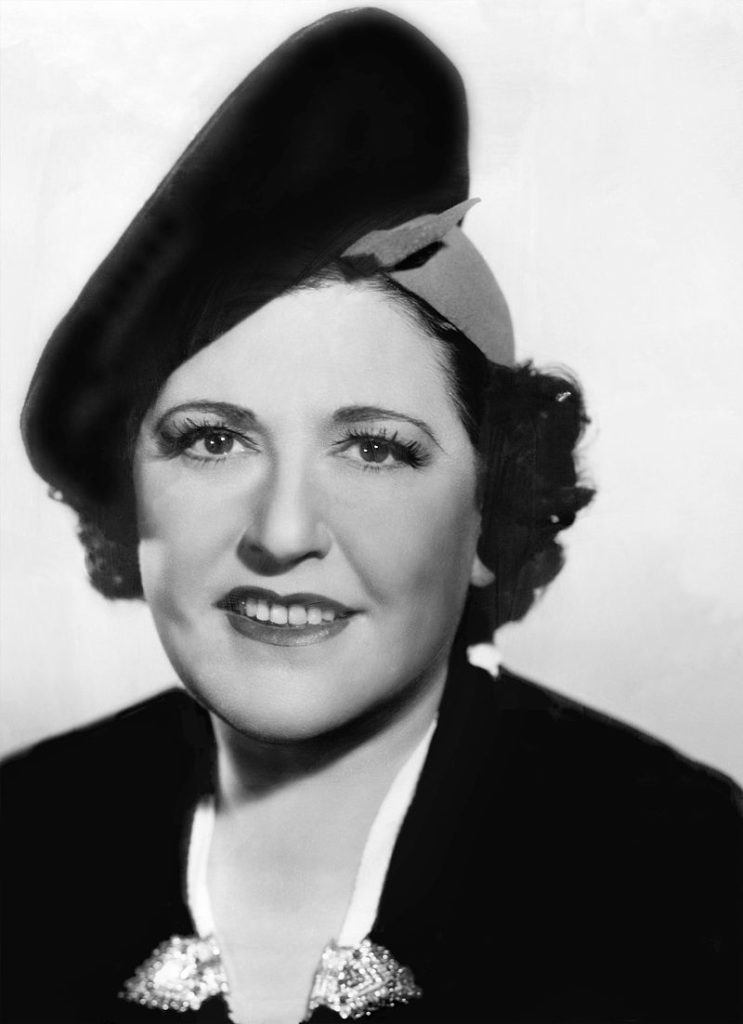 AN EXTREMELY COMPLIMENARY PHOTO OF LOUELLA PARSONS
RKO 281's MARION DAVIES AND WILLIAM RANDOLF HEARST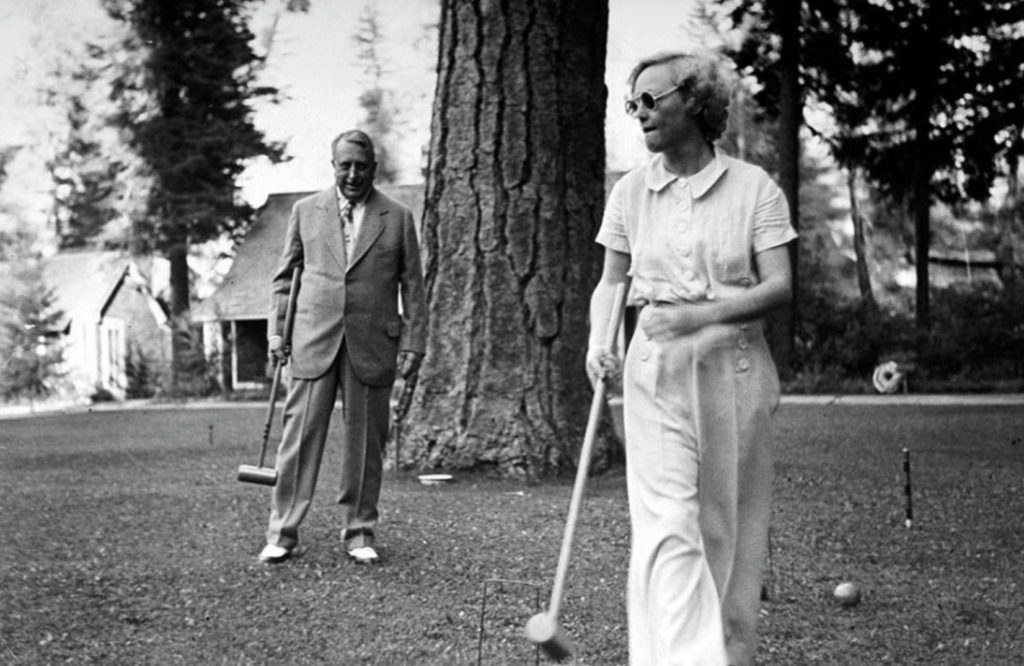 MARION DAVIES AND WILLIAM RANDOLF HEARST AT PLAY.  HEARST LOVED DAVIES IN PANTS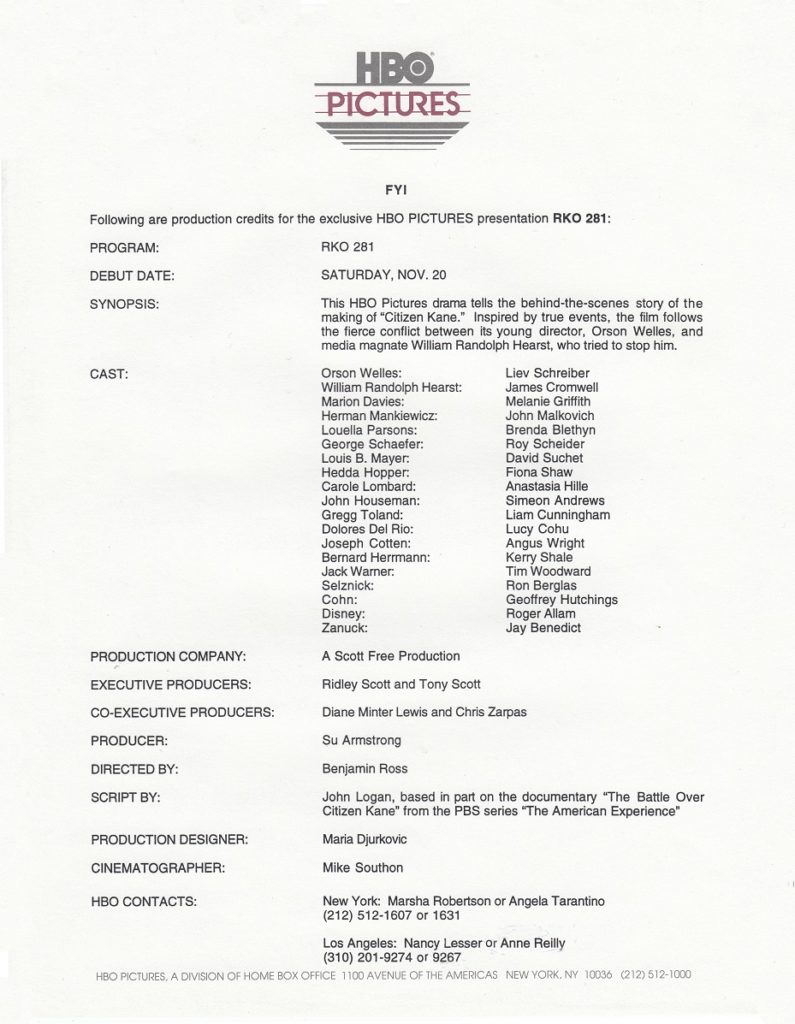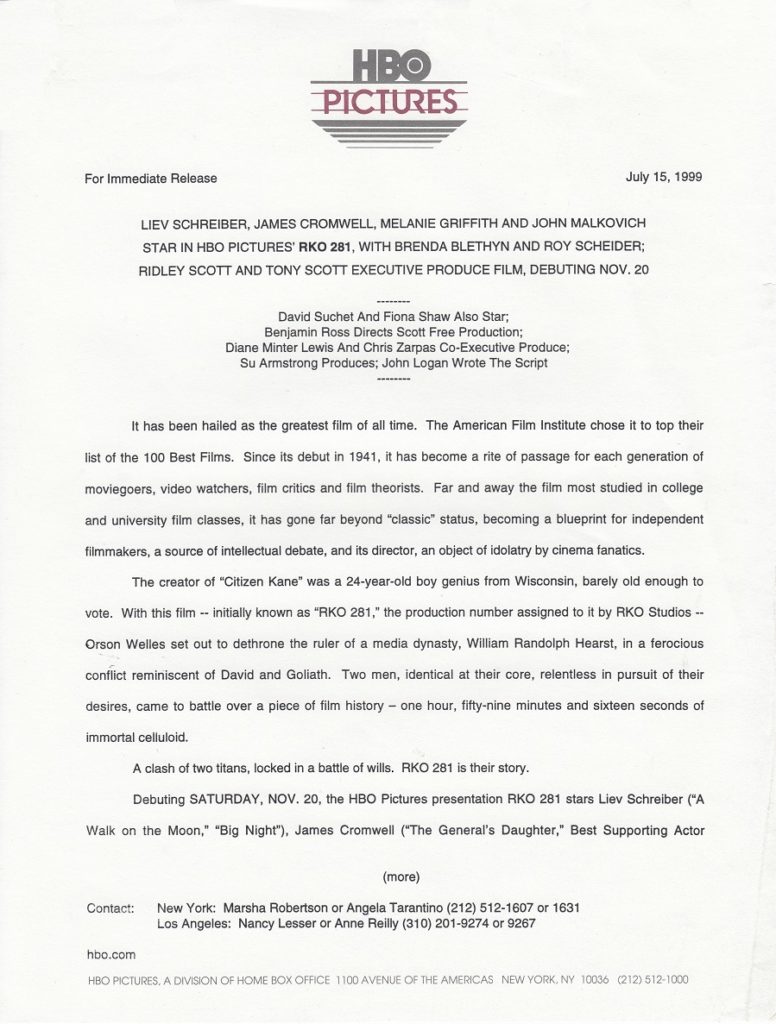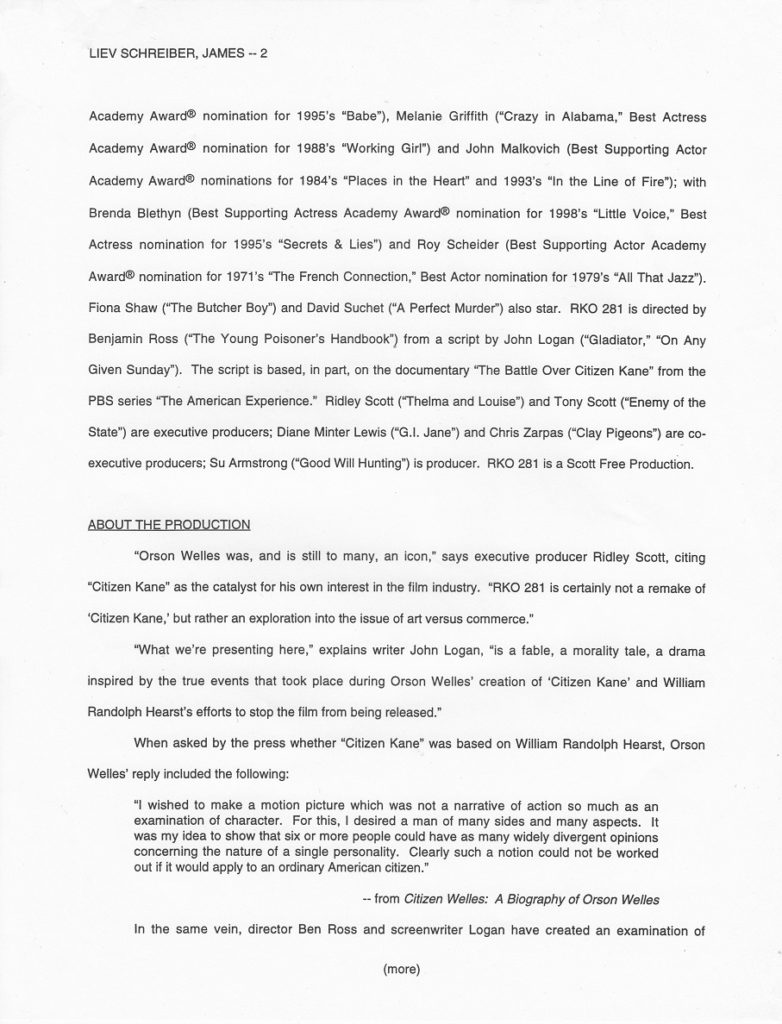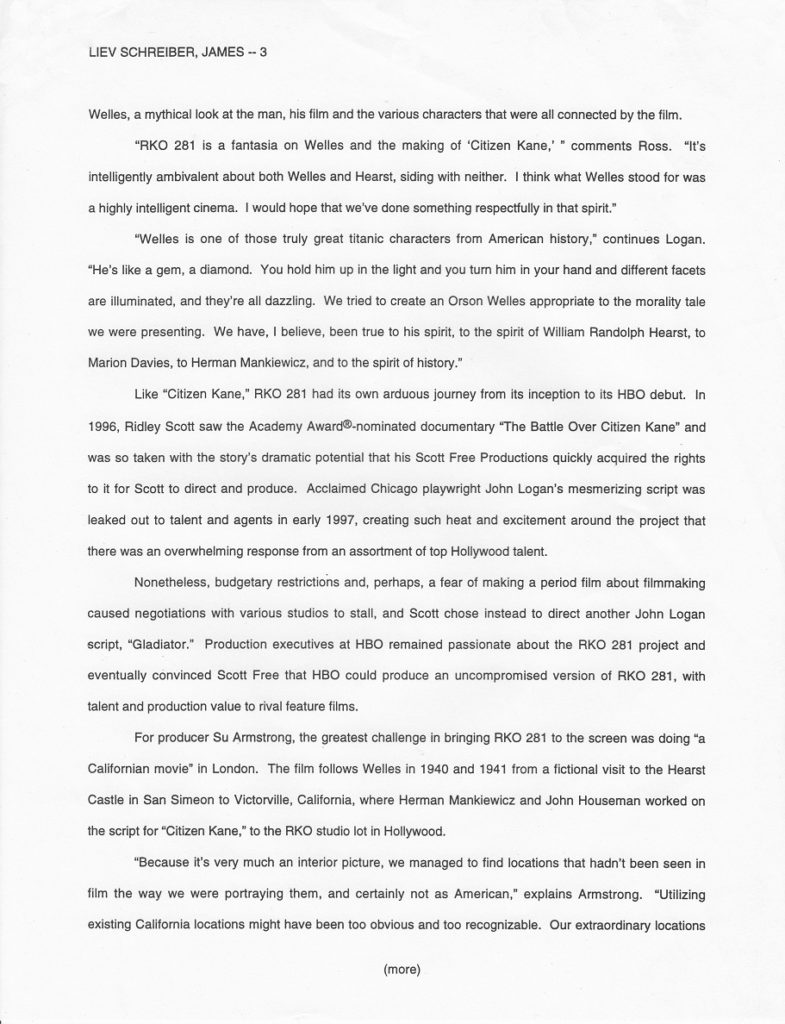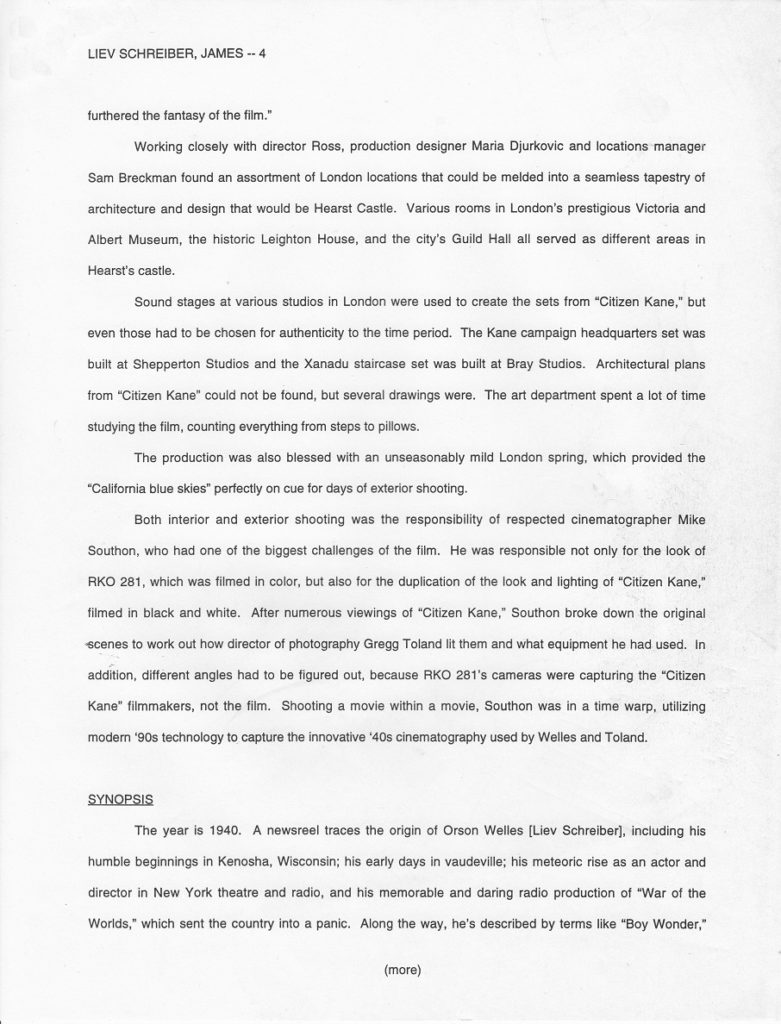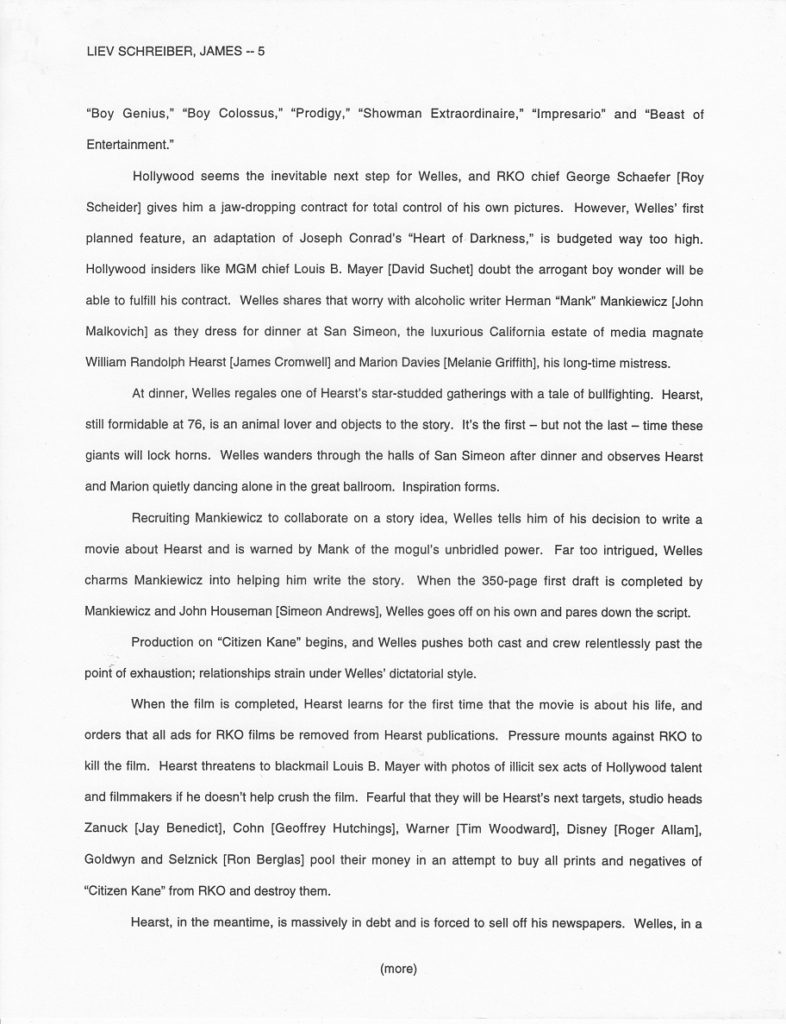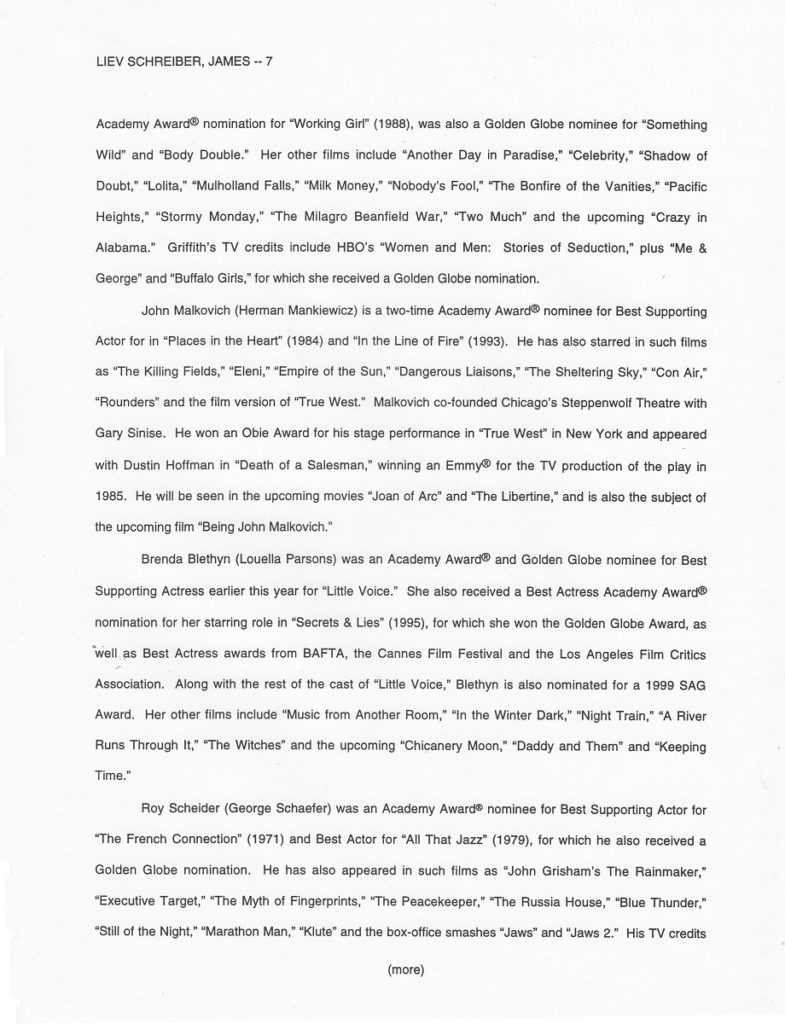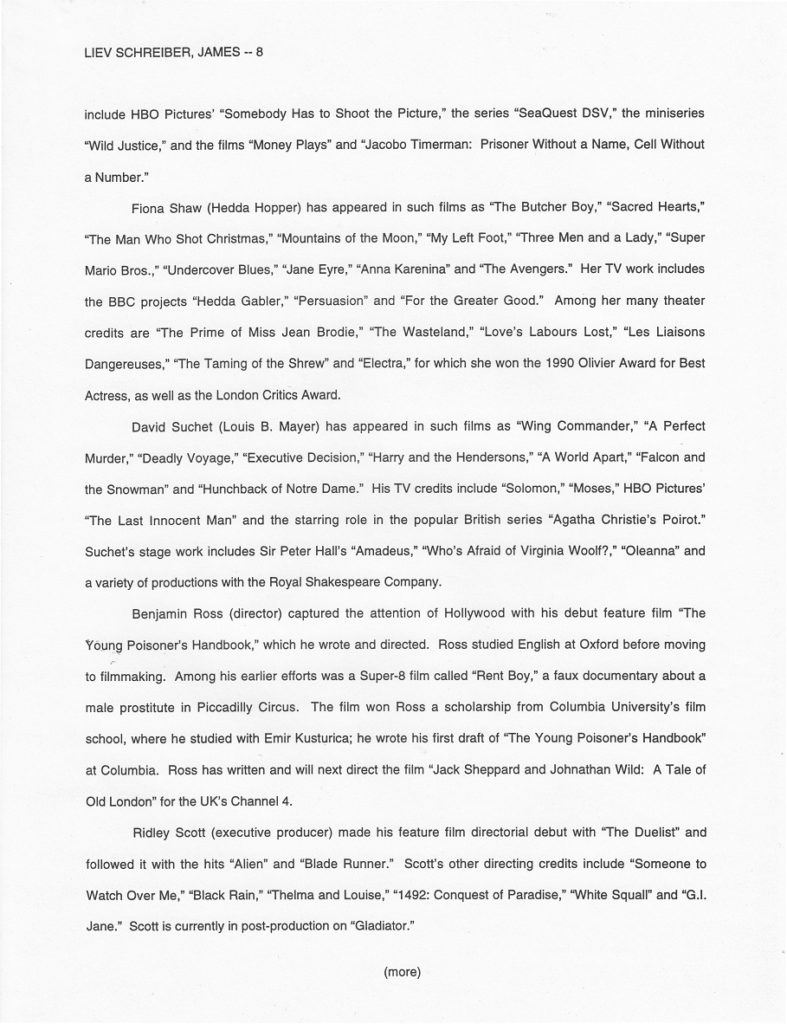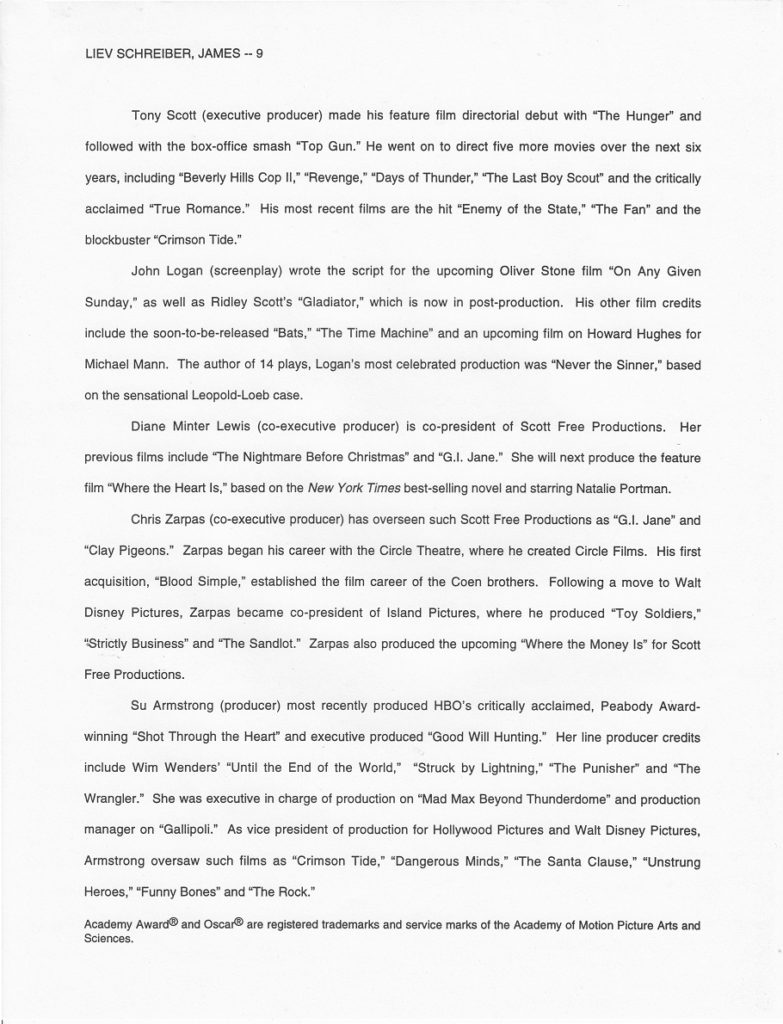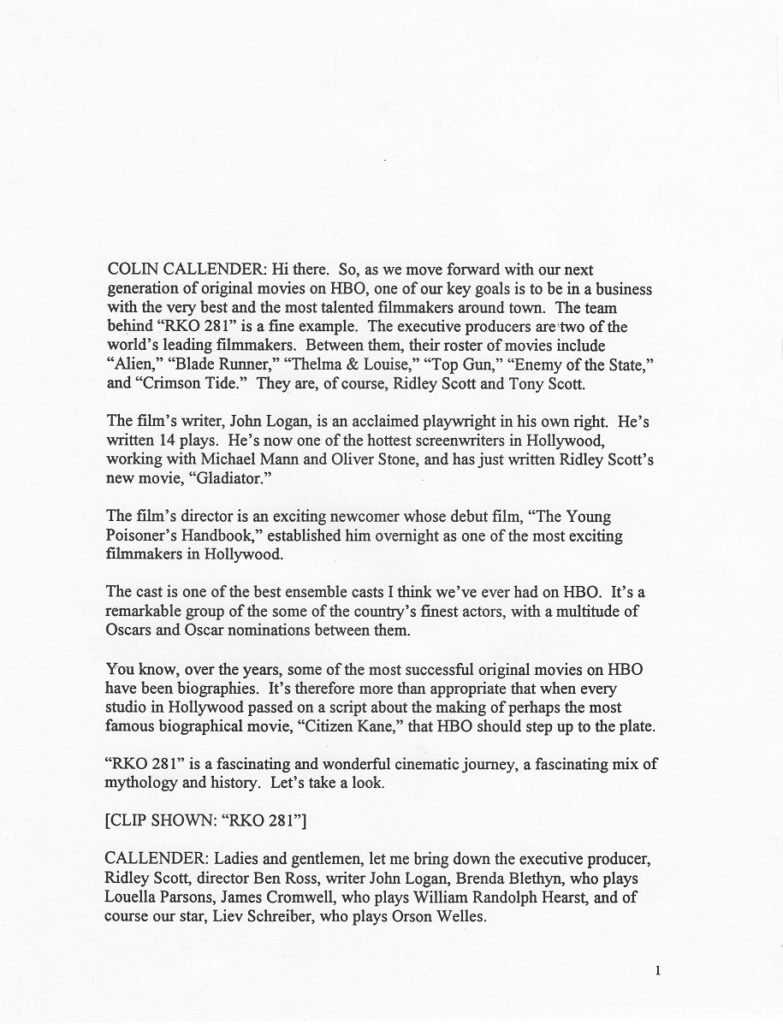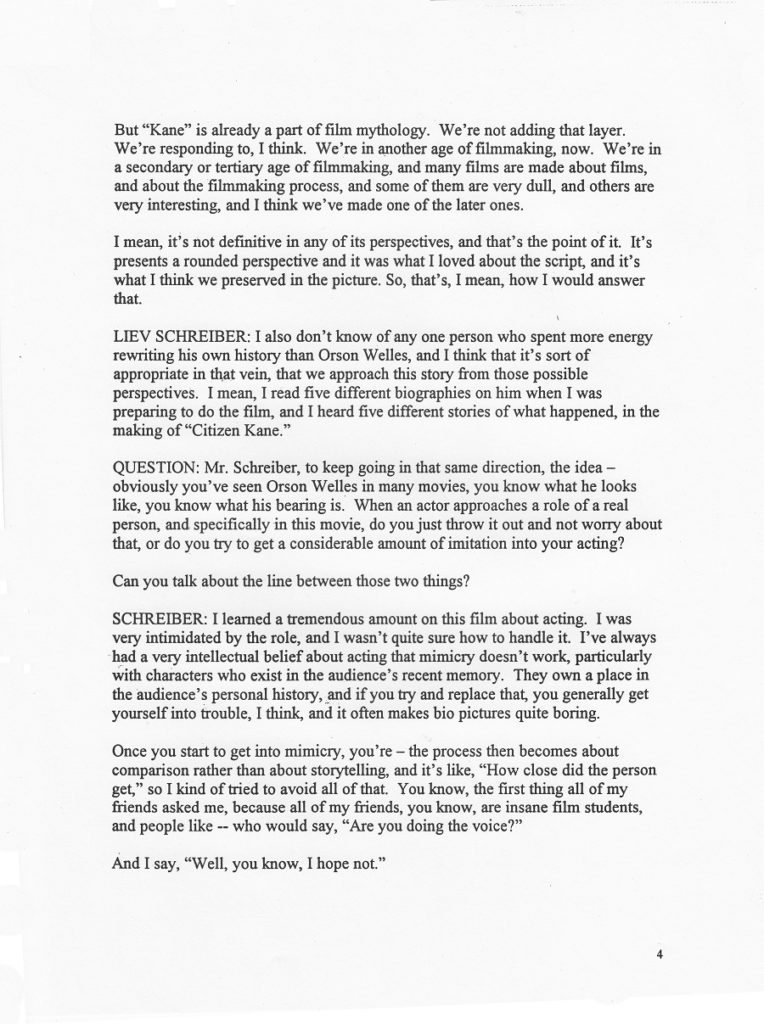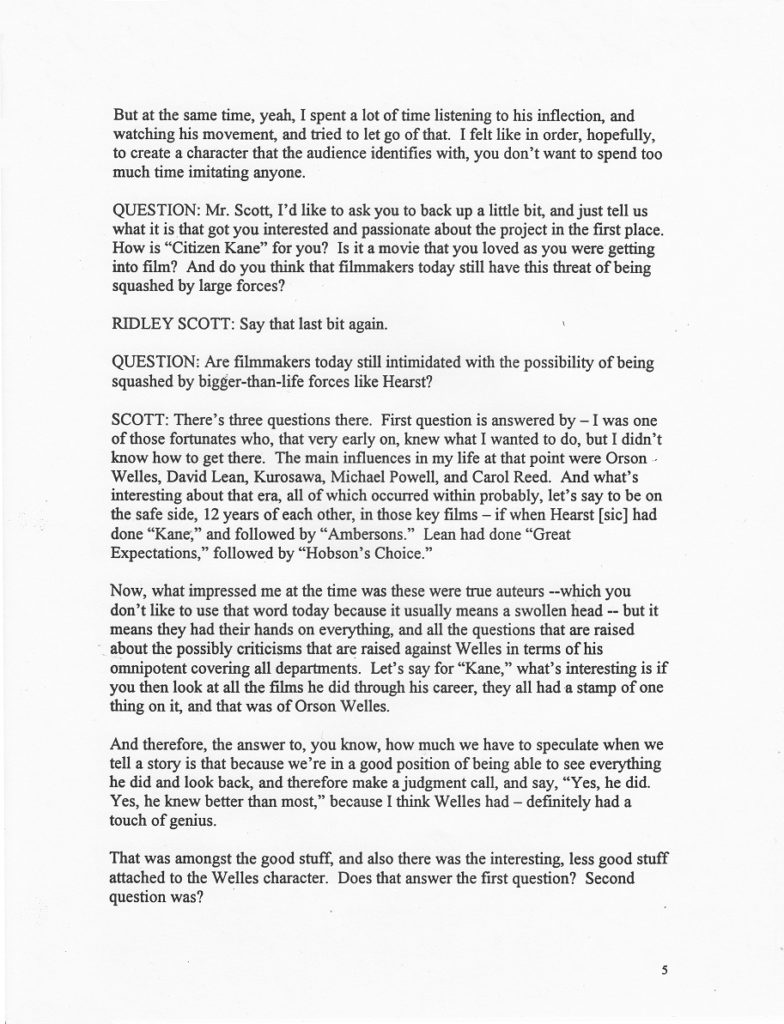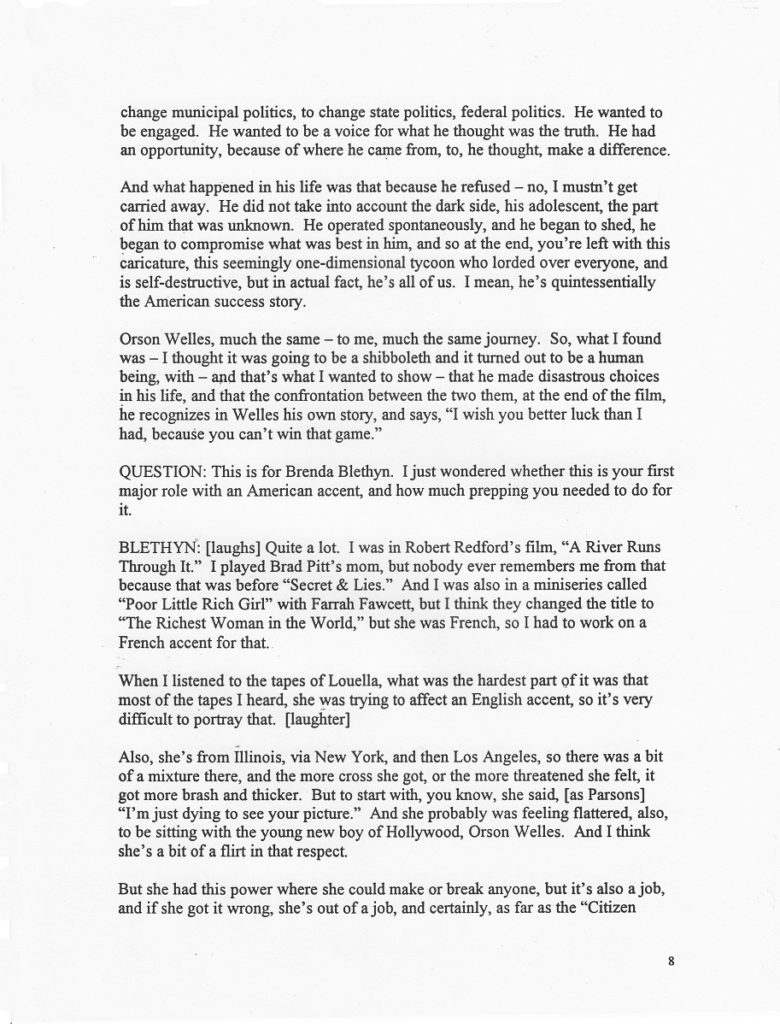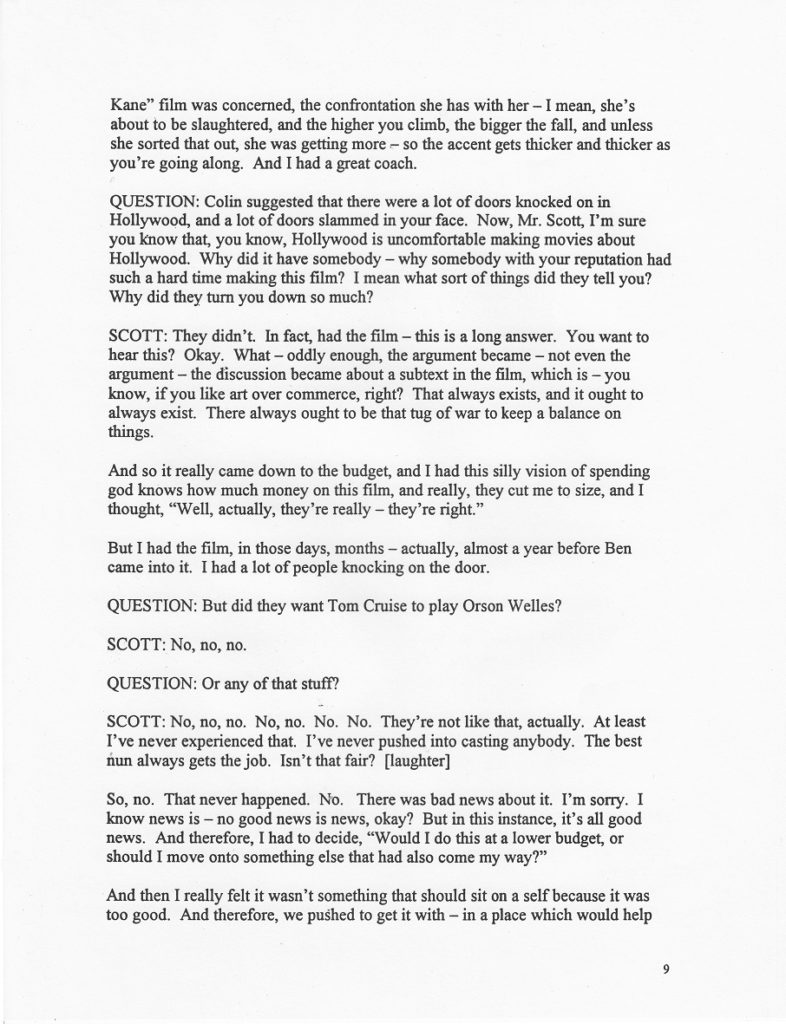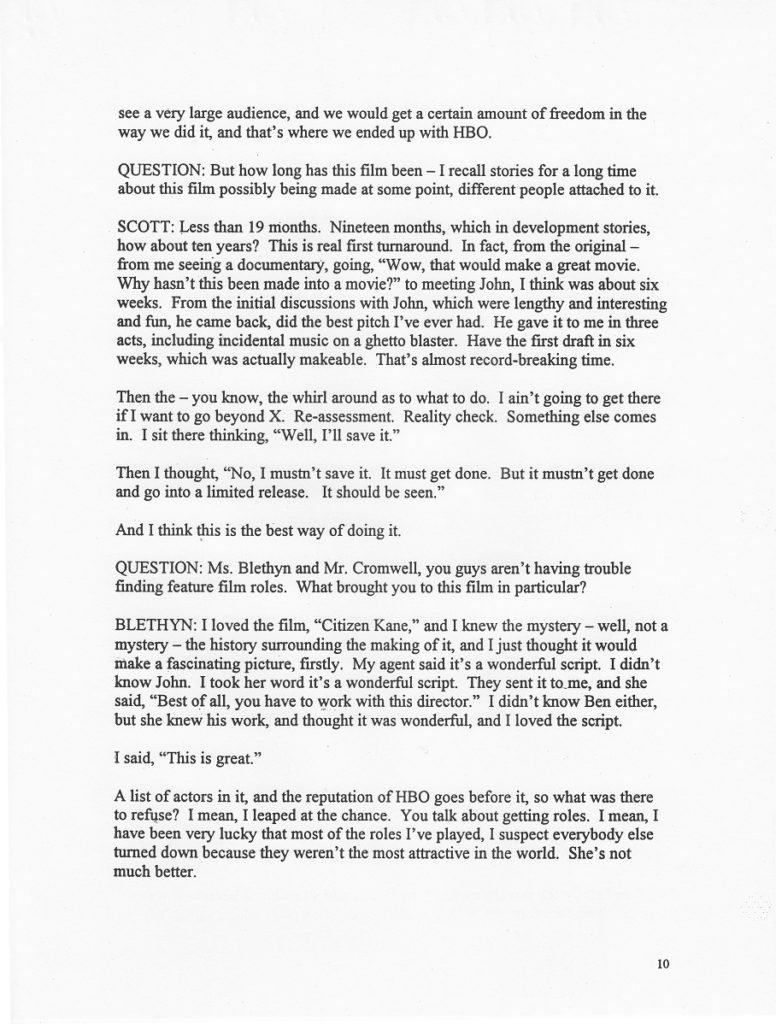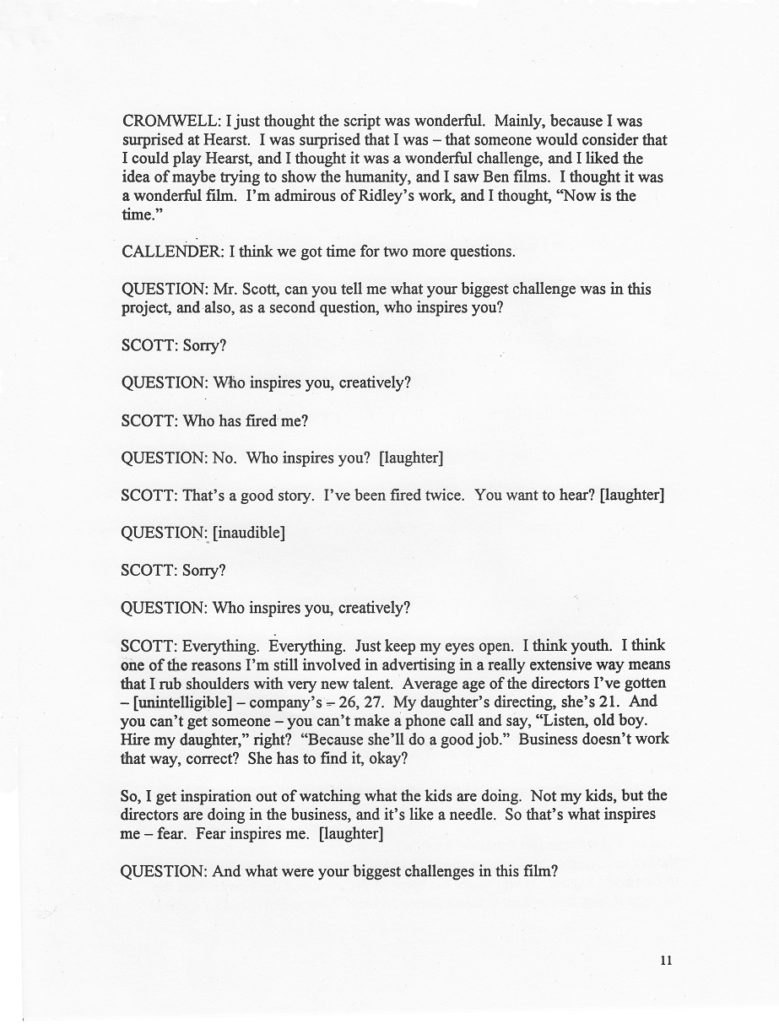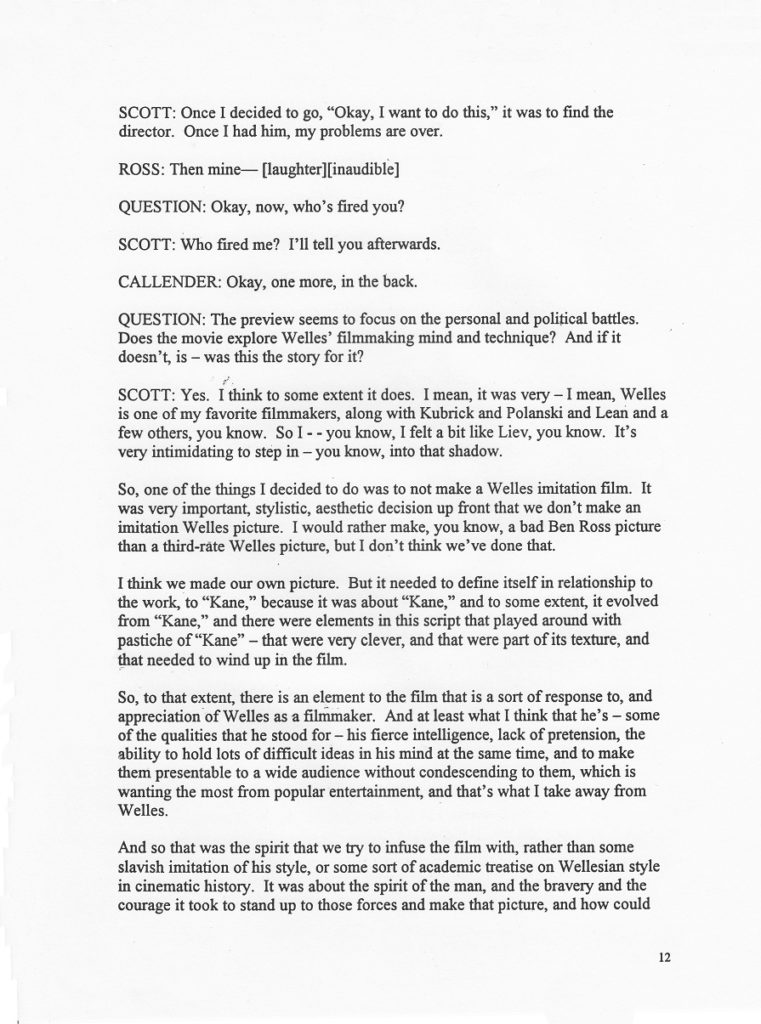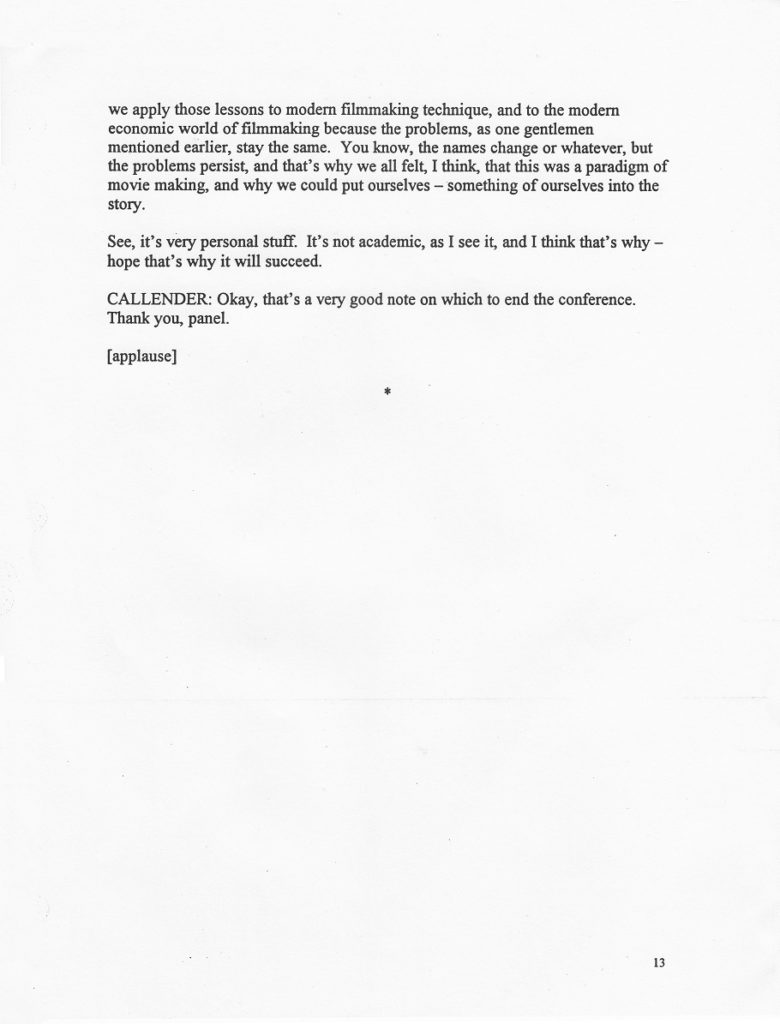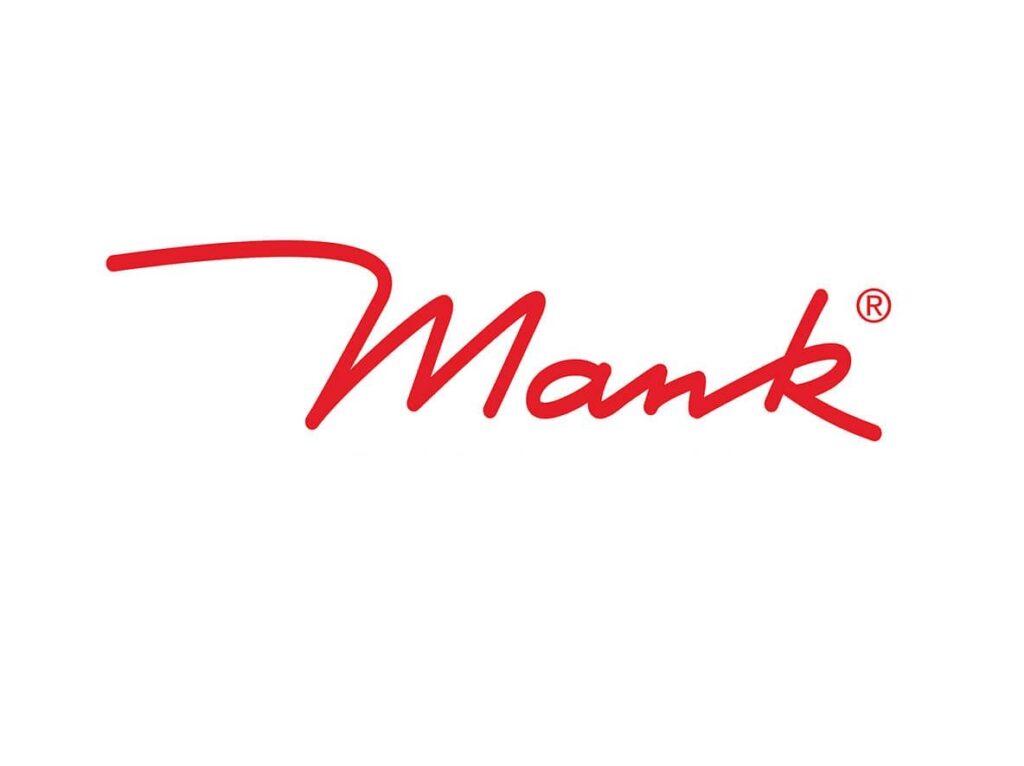 MANK,  is a 2020 semi fictional account of Herman J. Mankiewicz' participation in the writing of CITIZEN KANE.  Playing fast and loose with Mankiewicz personal life, the film was spot-on regarding the actual writing of the KANE.   MANK'S screenplay  was written a number of years earlier by the father of the Film's director David Fincher.  Produced by Netflix International Pictures it had a short run in theaters before being shown on the streaming service.  Heavily promoted and well received by the critics the film was nominated for 11 Academy Awards including Best Picture.  It won  two; Best Cinematography and best Production Design,
Nominated for an An Academy Award Gary Oldman Played Herman J. Mankiewicz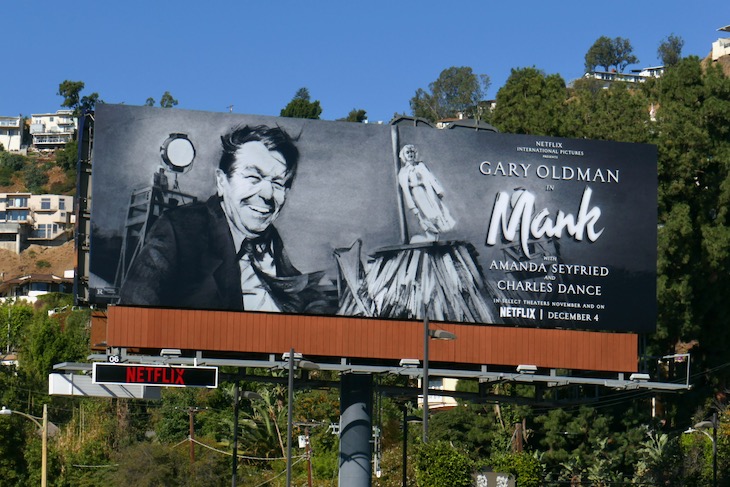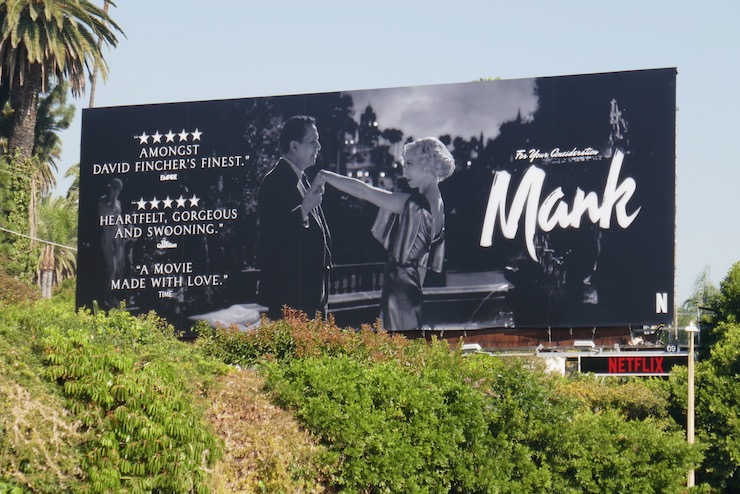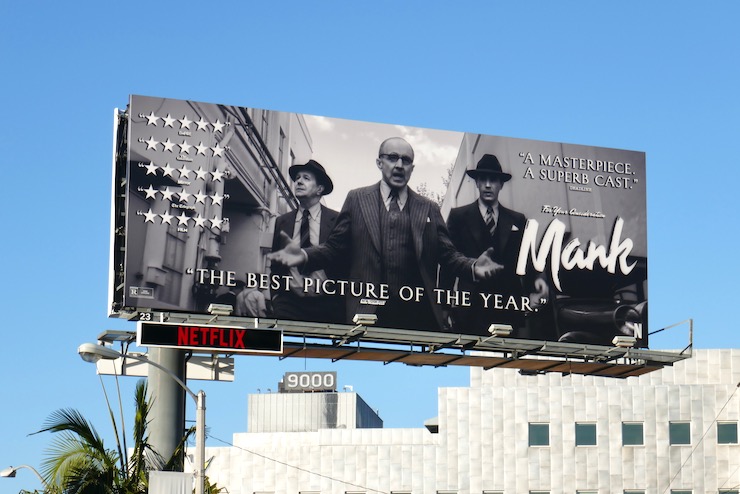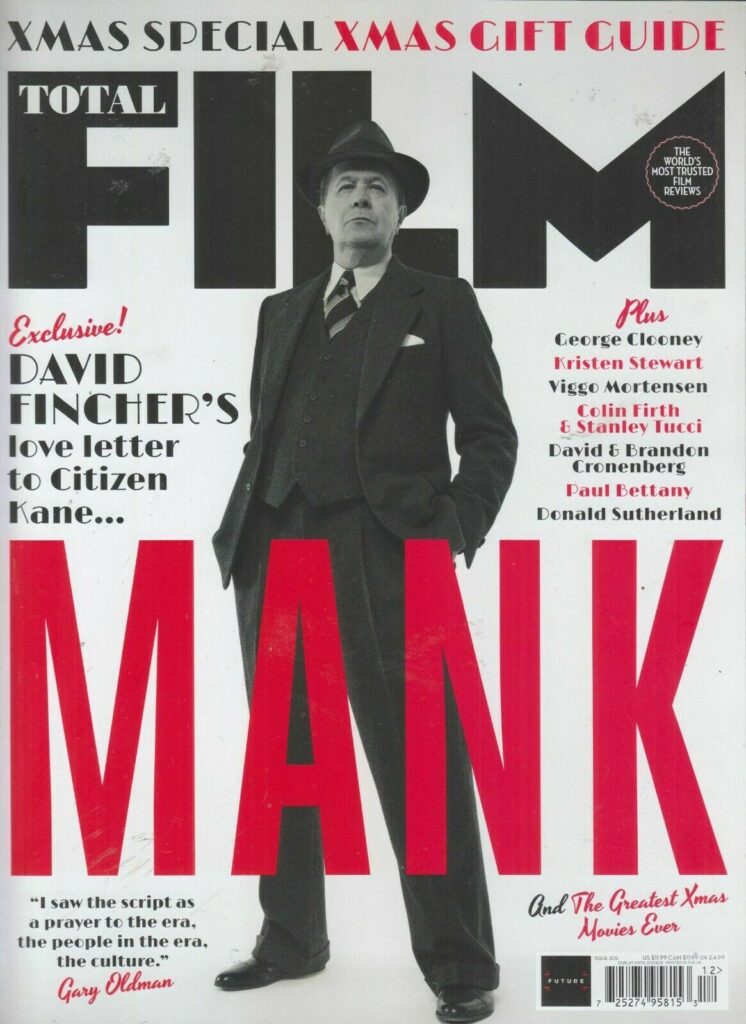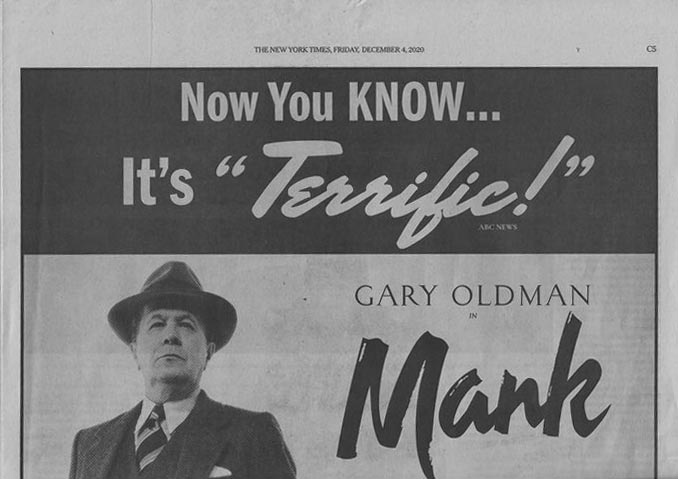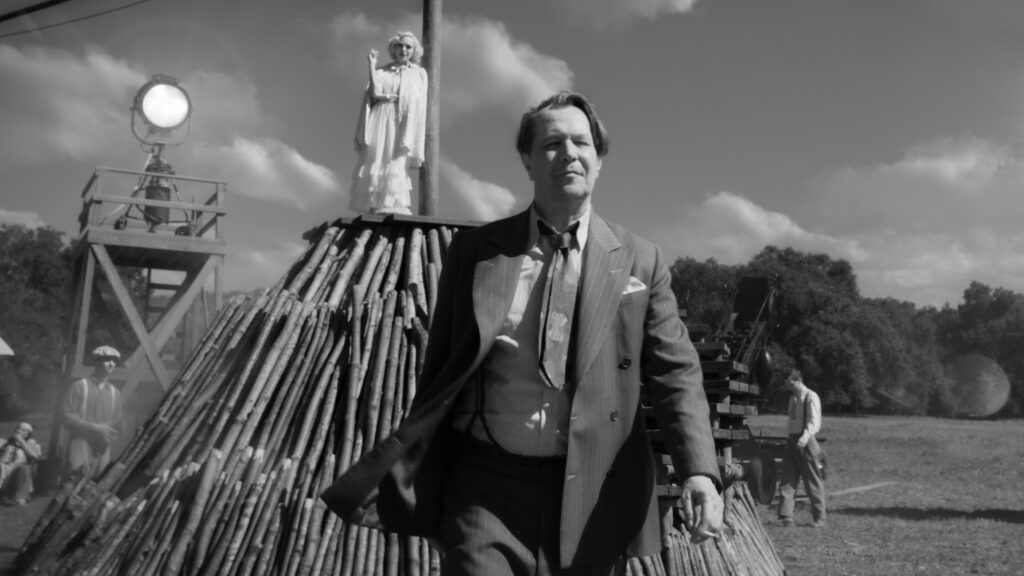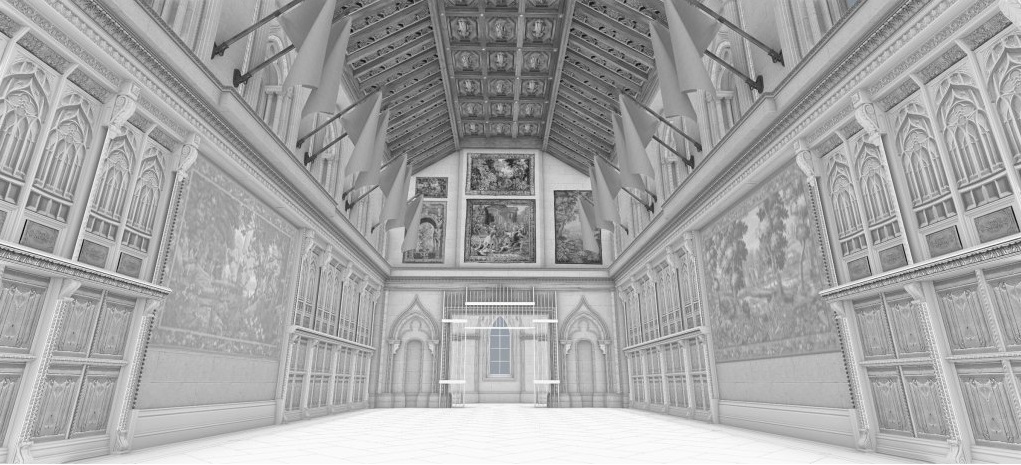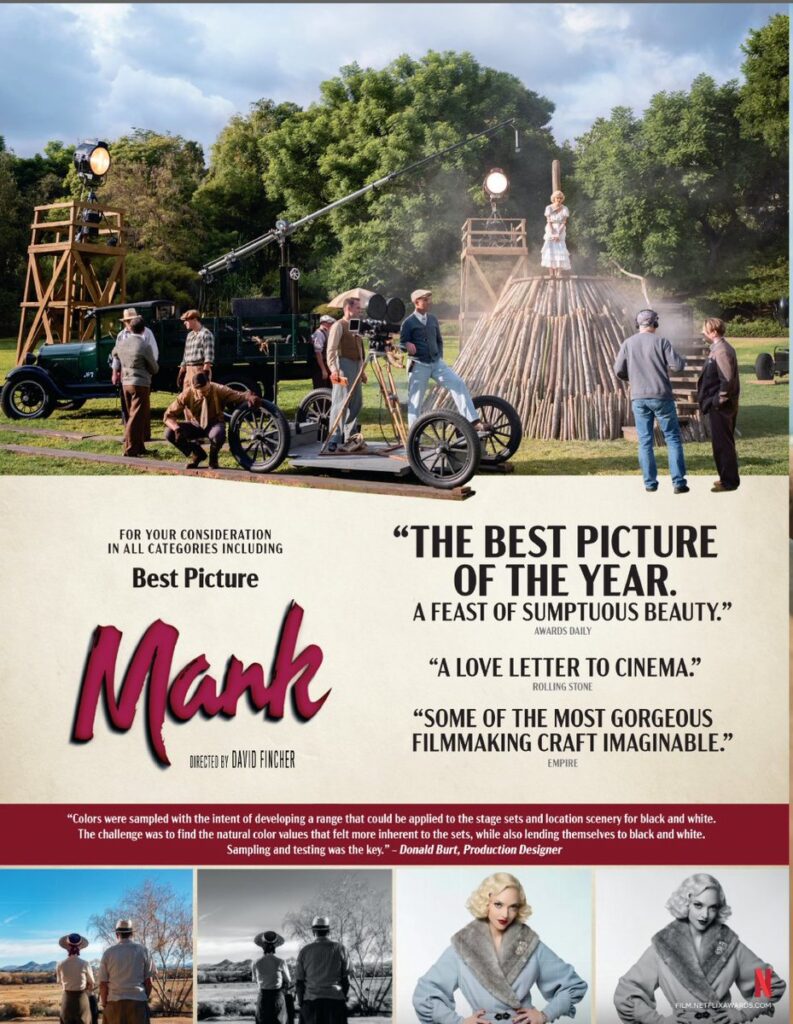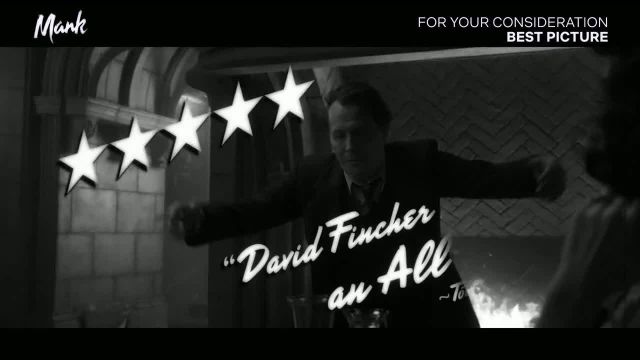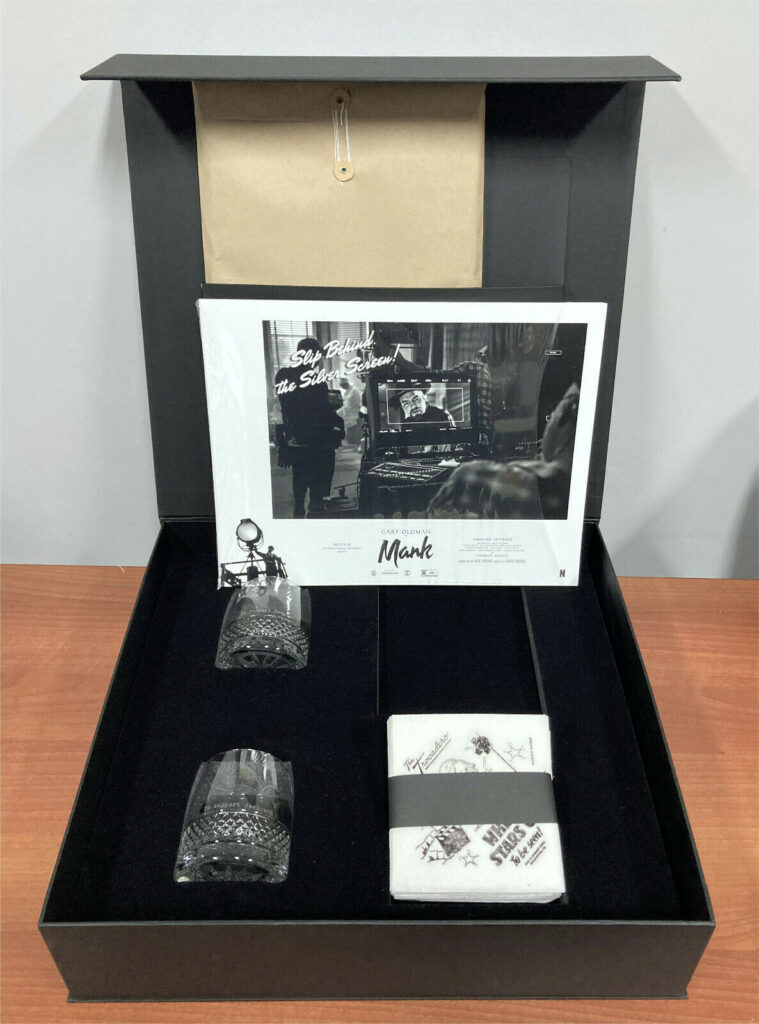 _________________
SECTION TWO
WELLES OTHER HOLLYWOOD FILMS
___________________
THE STRANGER
Welles made THE STRANGER under severe creative restrictions.  "I didn't get a job as a director for years afterwards.  The next picture I did do was THE STRANGER and I did that to show people that I didn't glow in the dark and I could say 'action' and 'cut' just like all the other fellows."   As it turned out, THE STRANGER was the only film Welles directed in Hollywood that actually turned a profit when first released.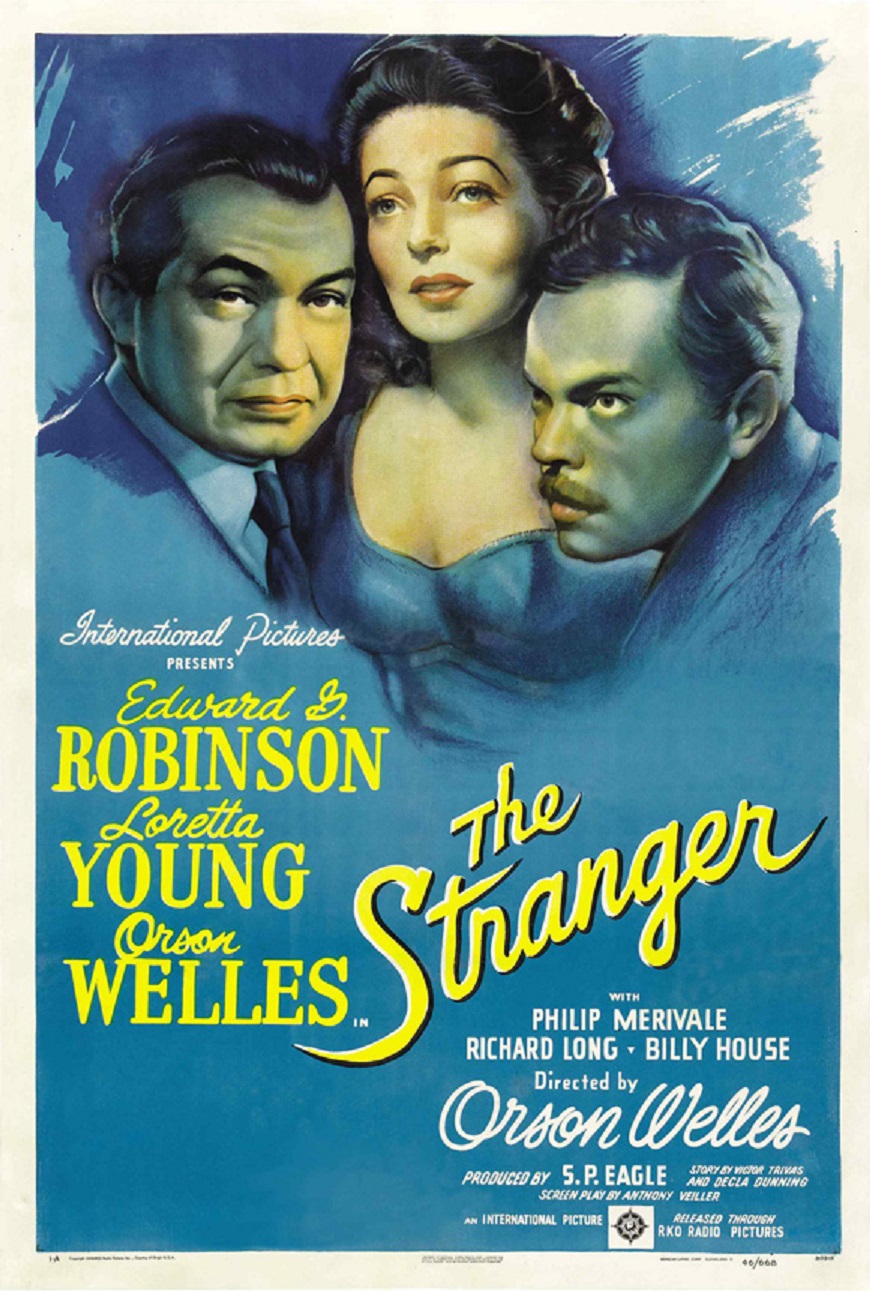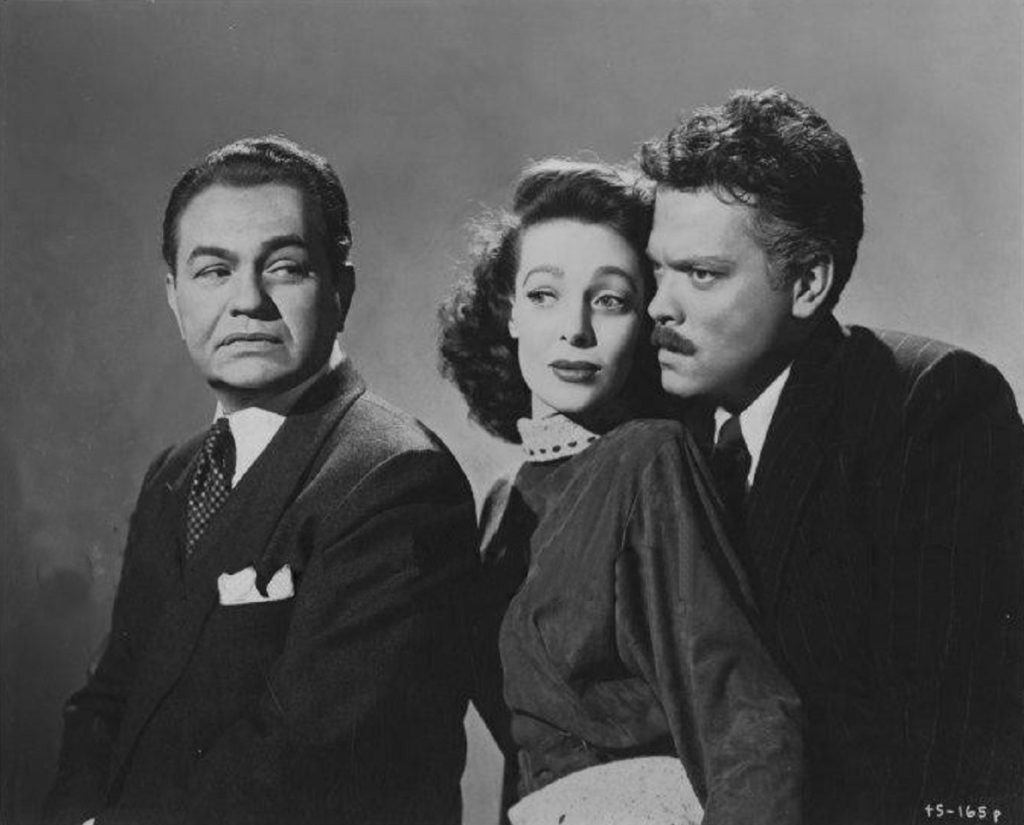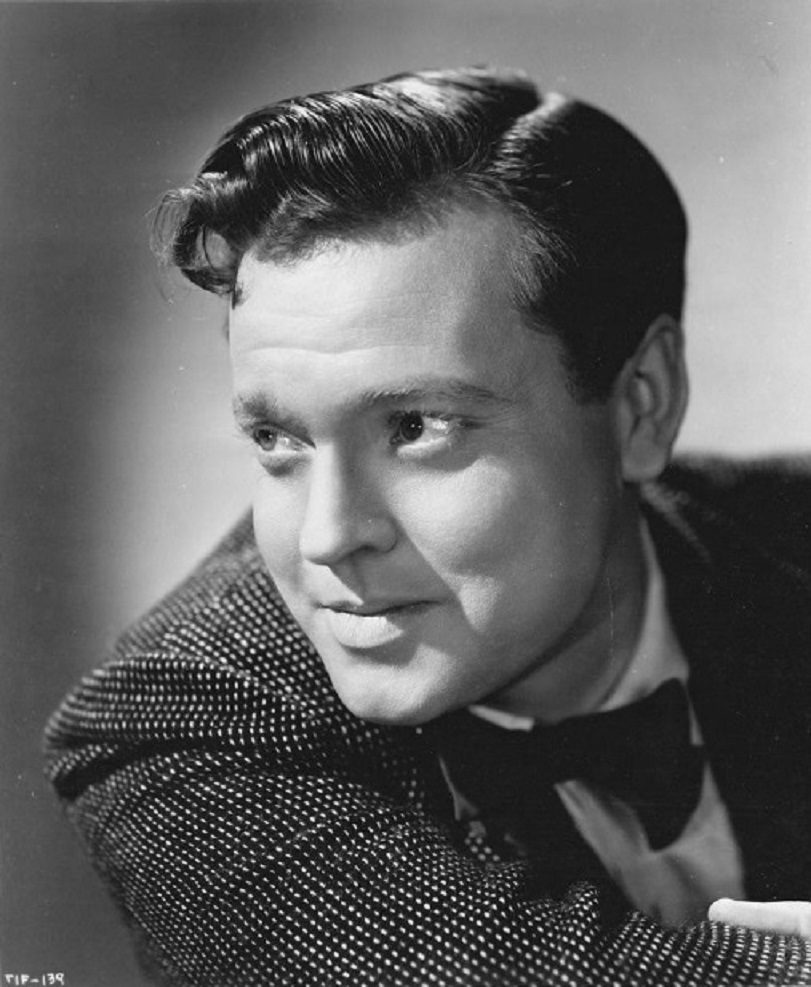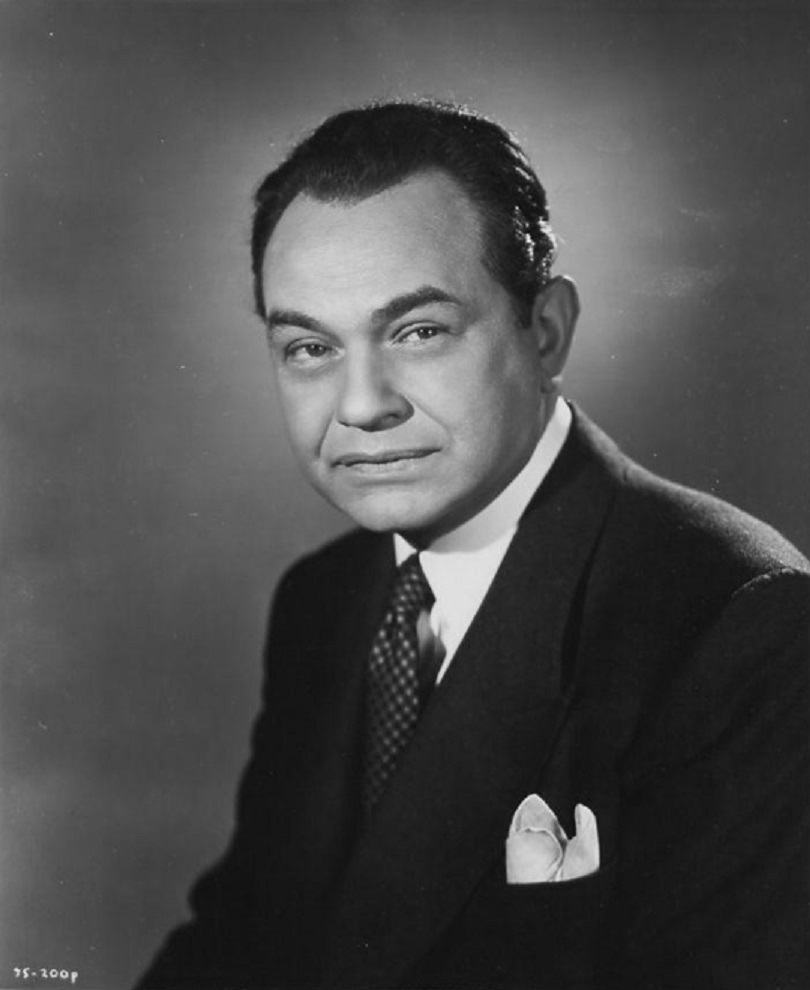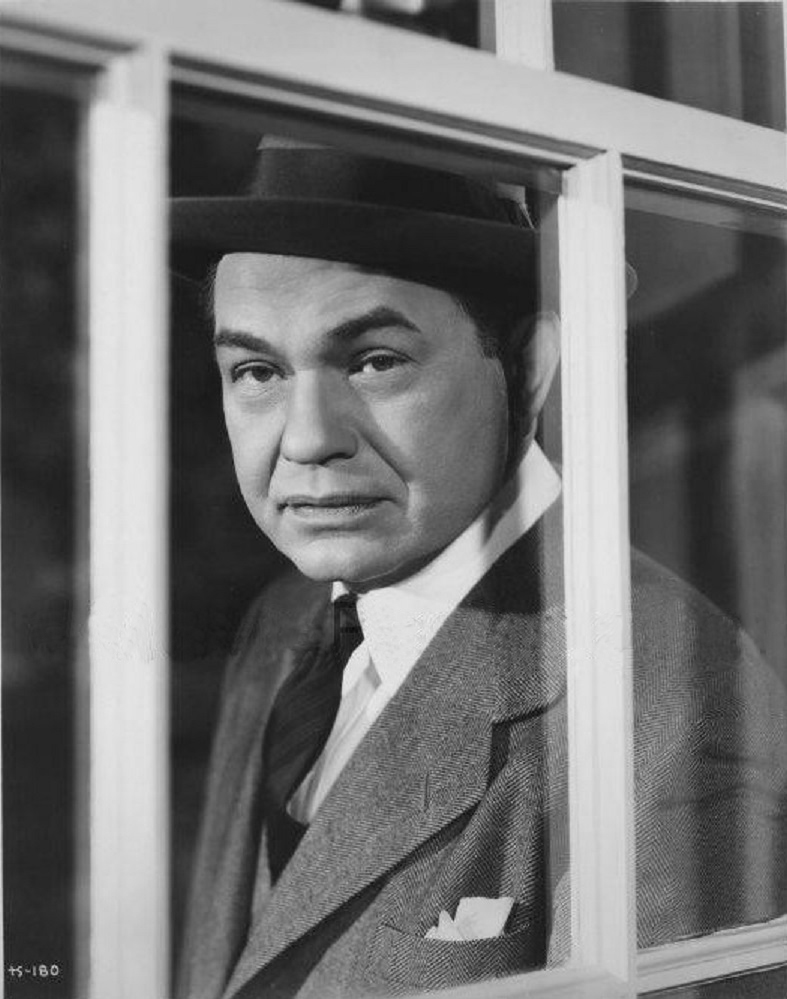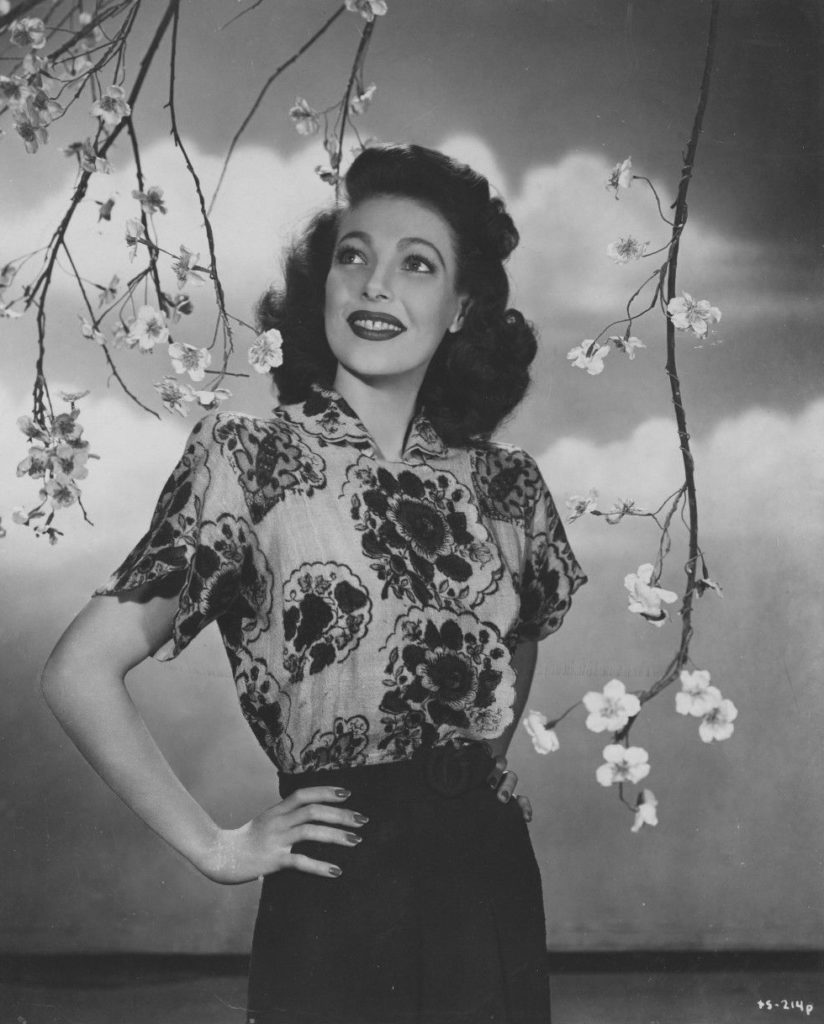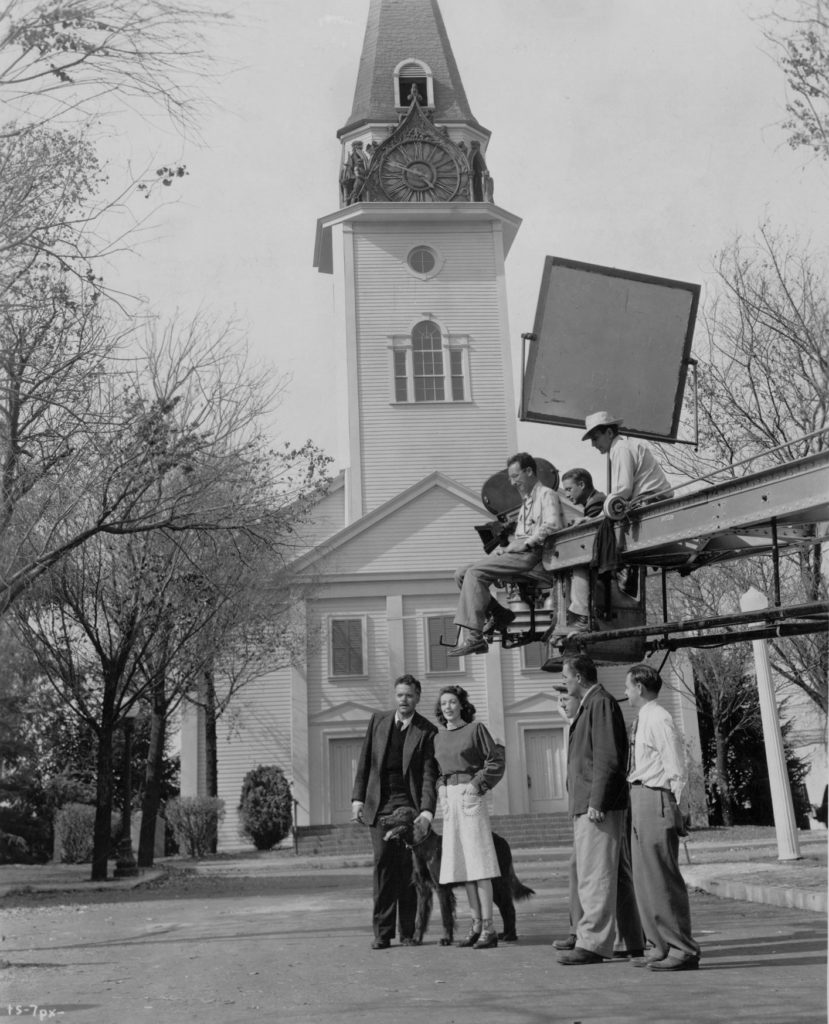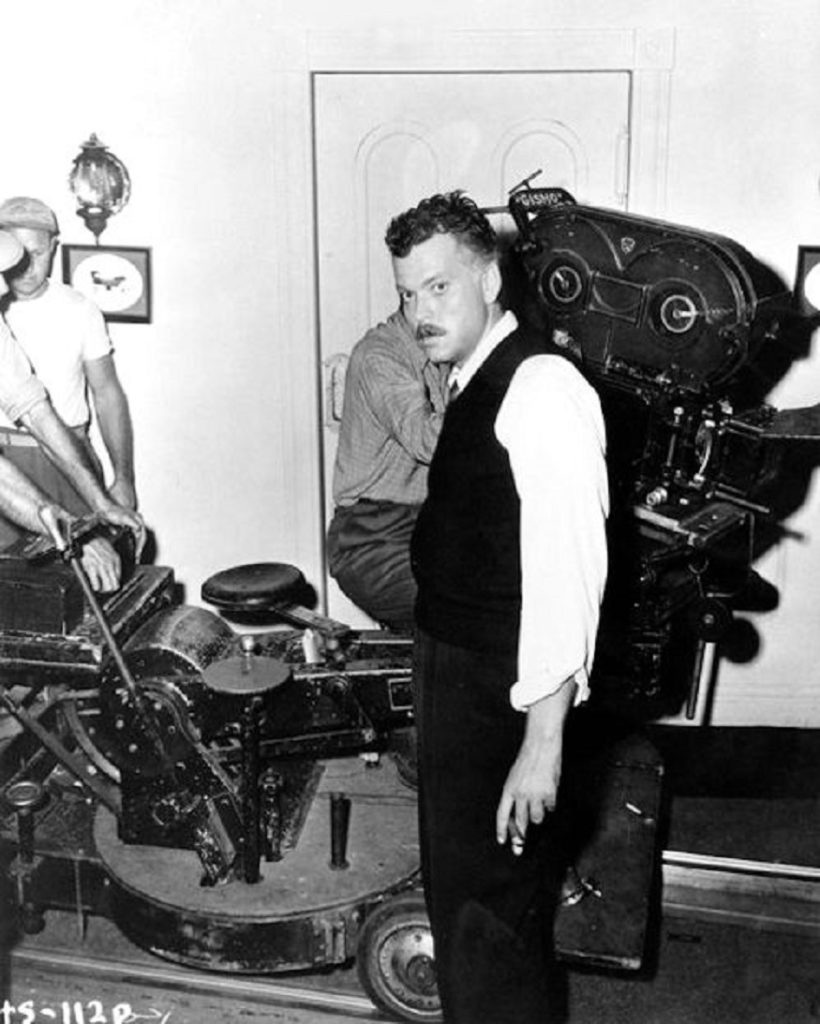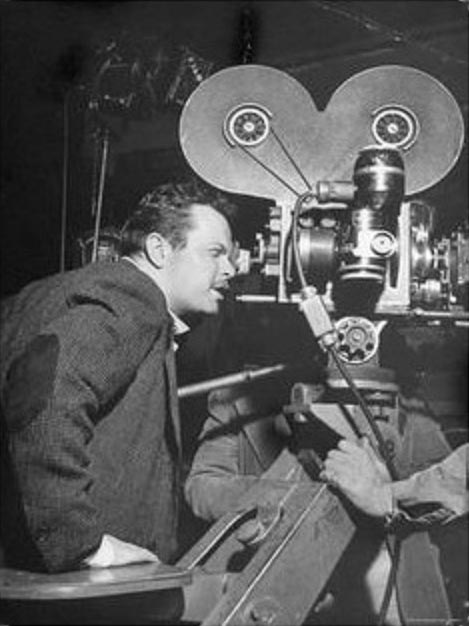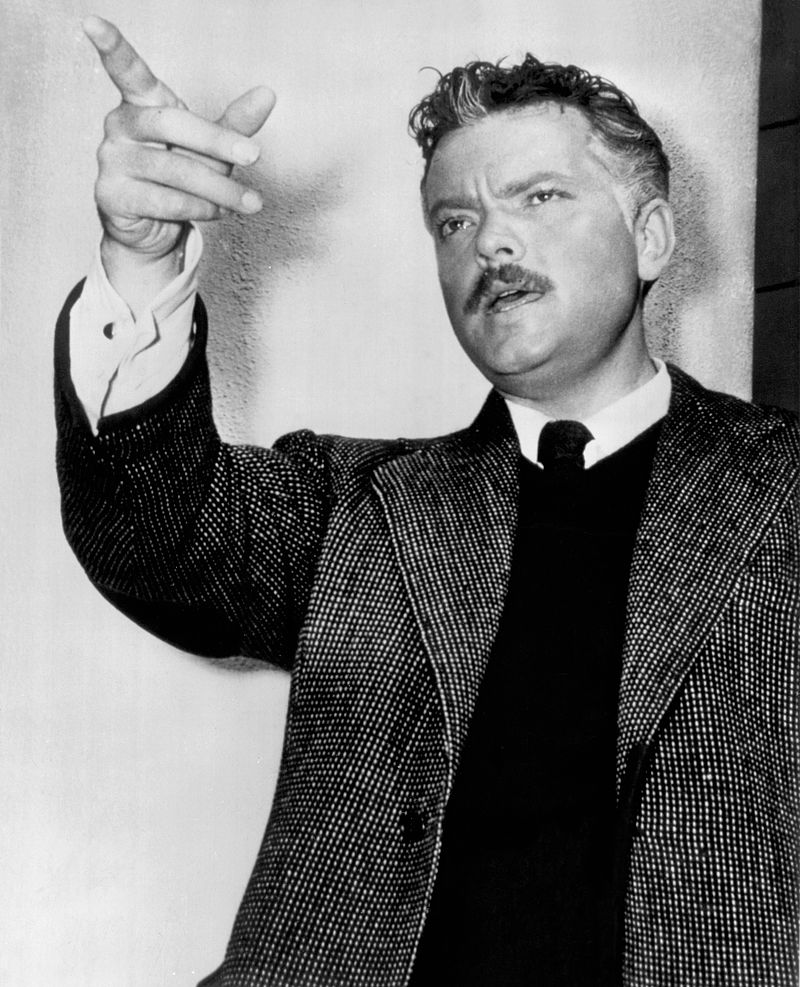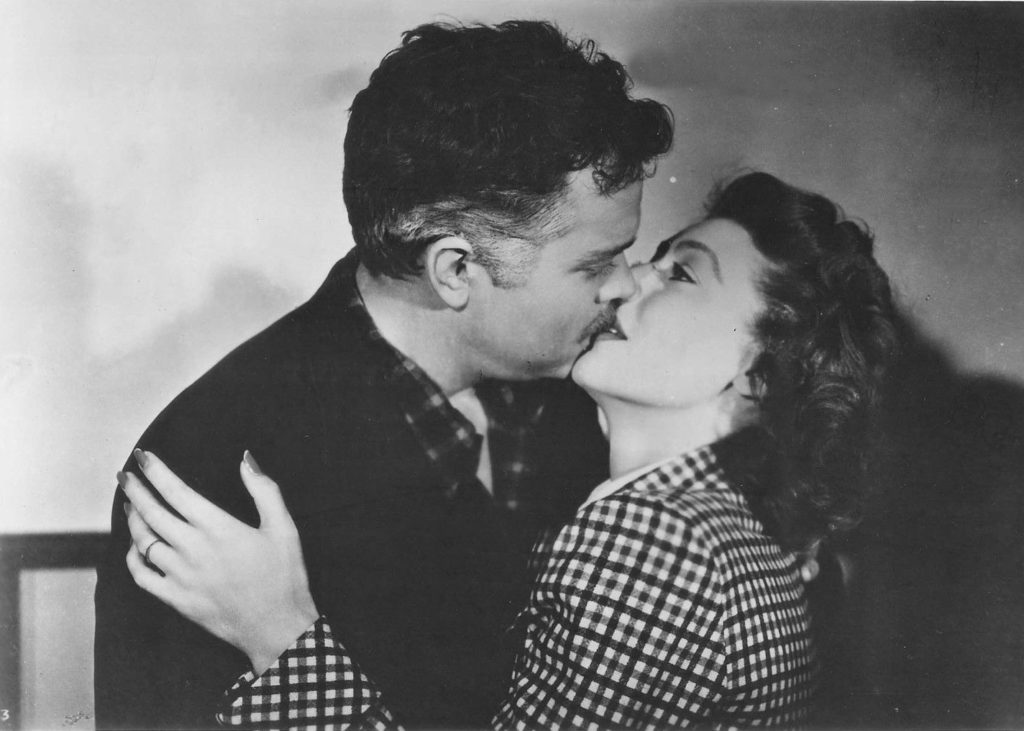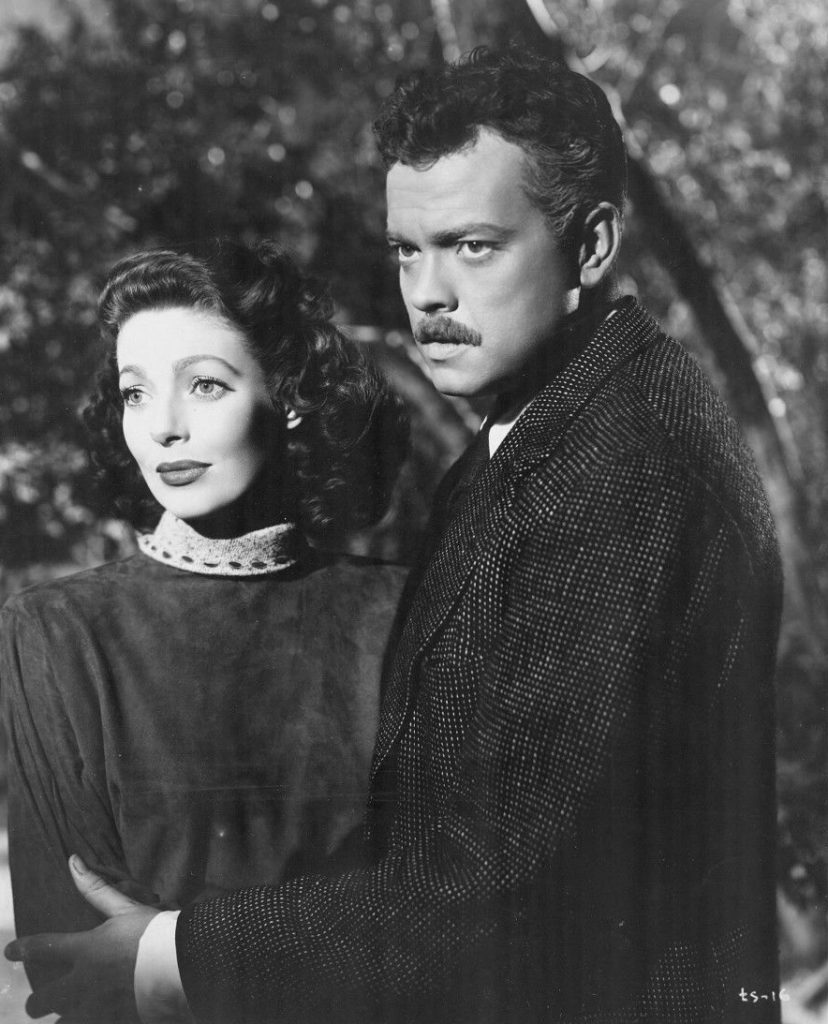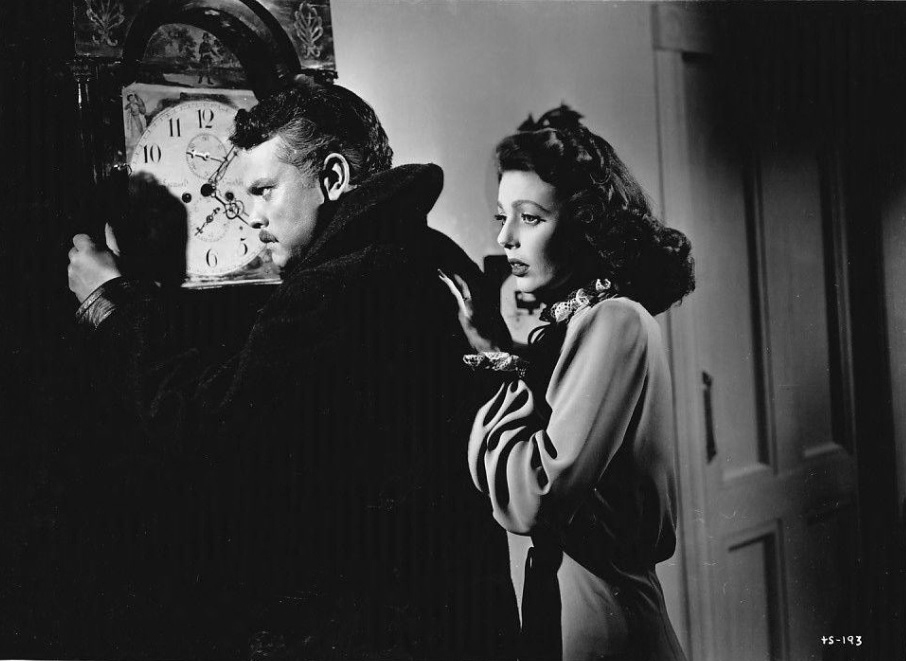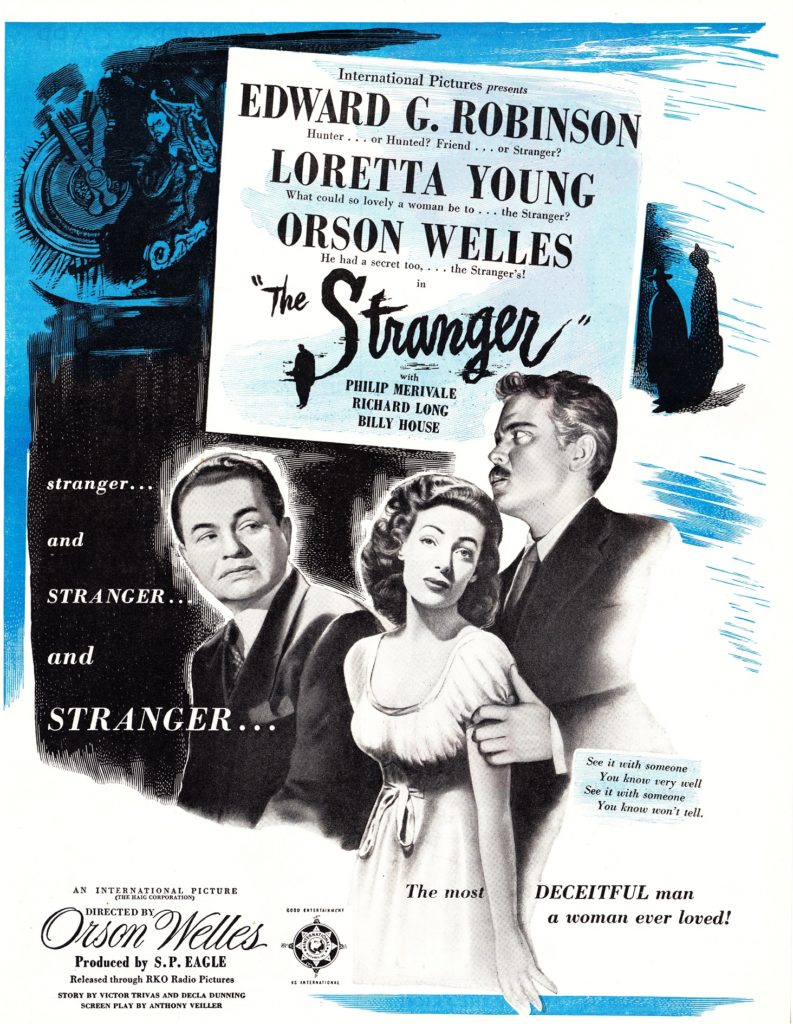 ___________________
LADY FROM SHANGHAI
When Welles cut wife Rita Hayworth's red hair and dyed it blond he created a worldwide media sensation that is still talked about today.  I have included as many color photos of Hayworth new hair style because as much as Welles directed the film he also directed Hayworth's "new" look.  I also included two of Hayworth's photo shoots.  The first because it was directed by Welles and the second because it was shot on the famous funhouse set.  In the released film, since almost all the scenes in the funhouse were cut, these layout photos shots are pretty much  all that's left for us to see what it looked like.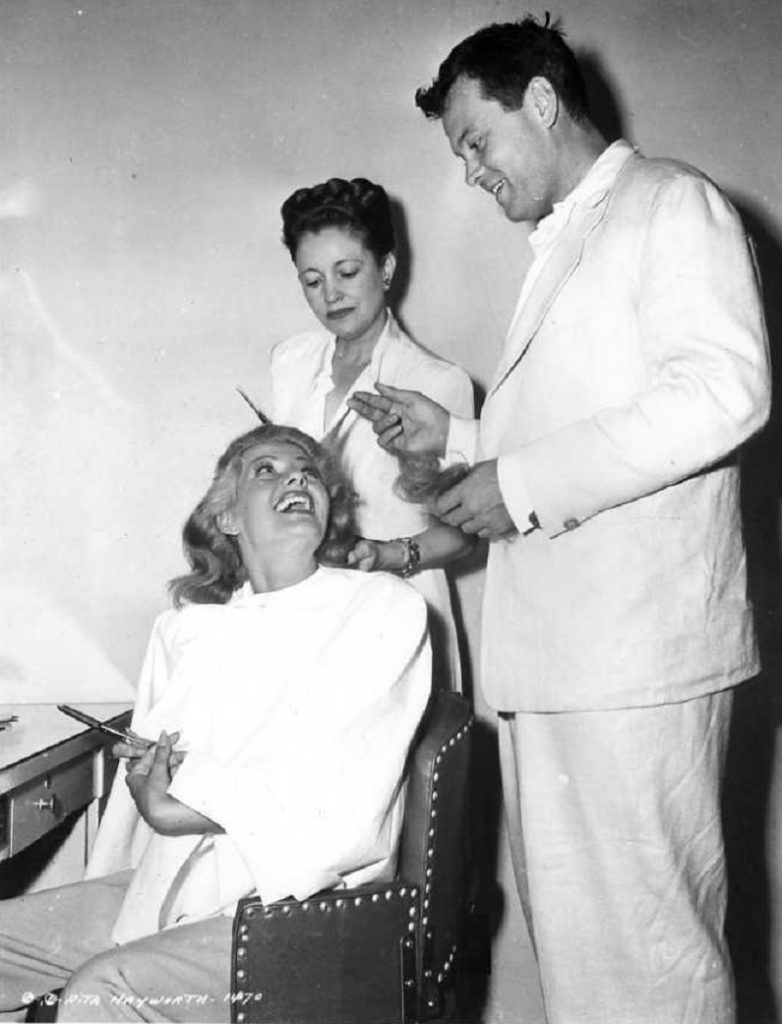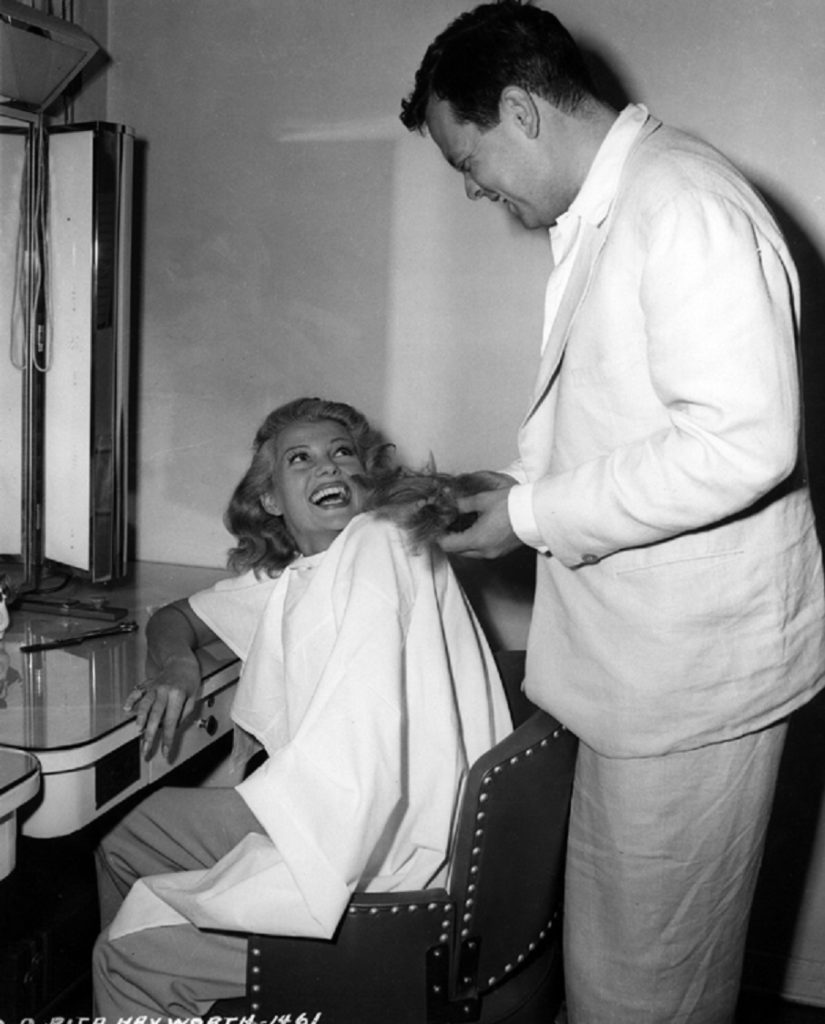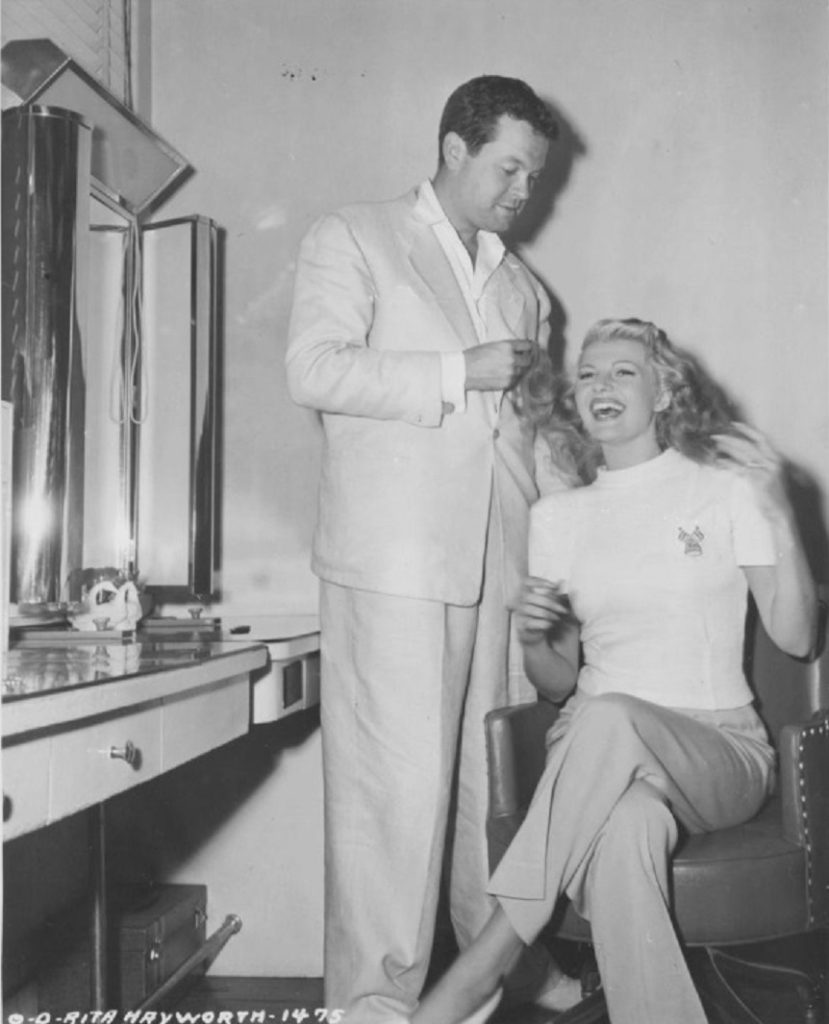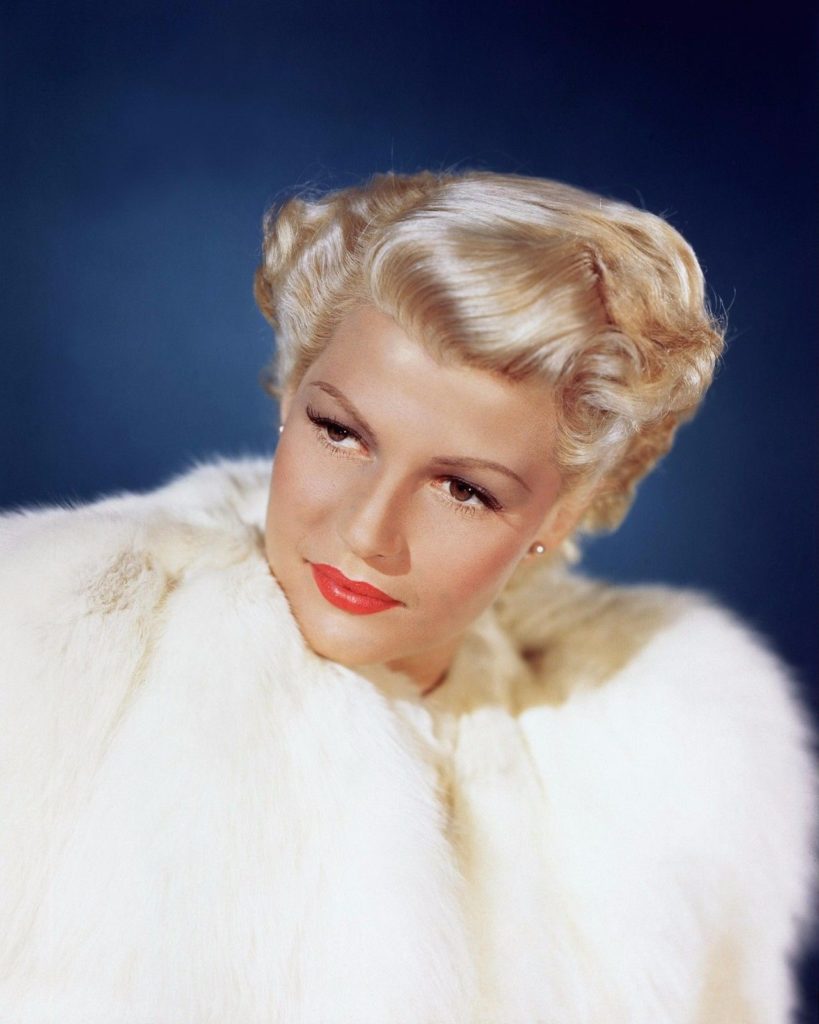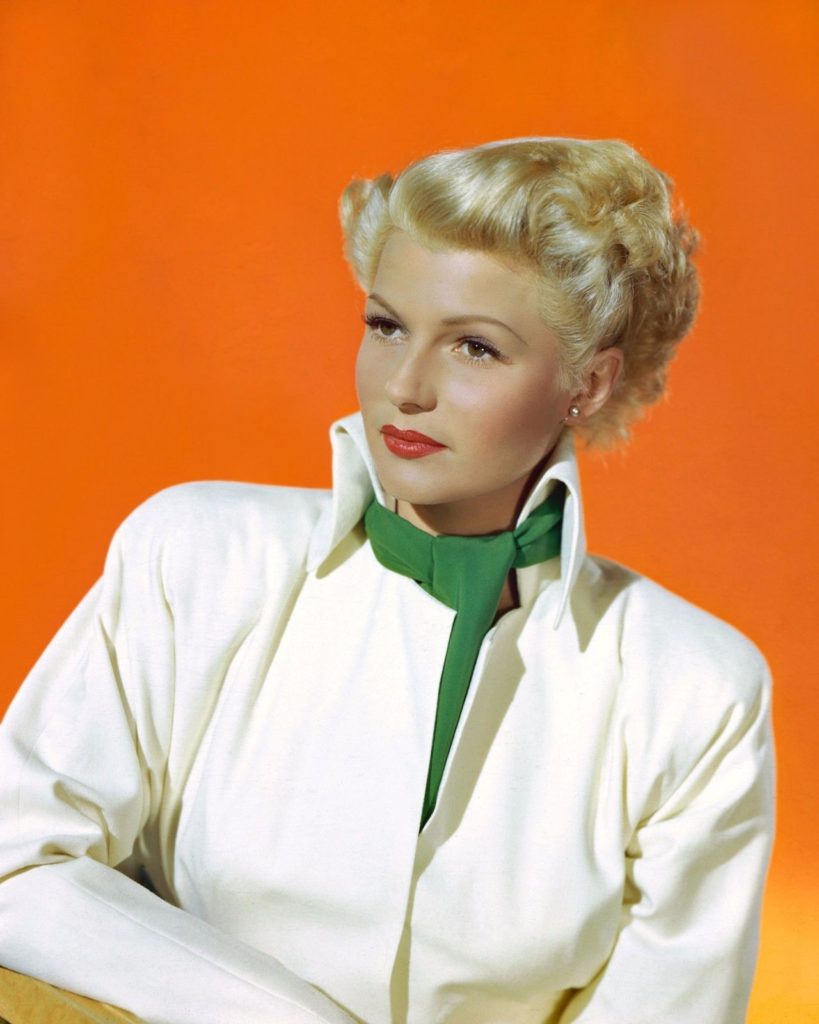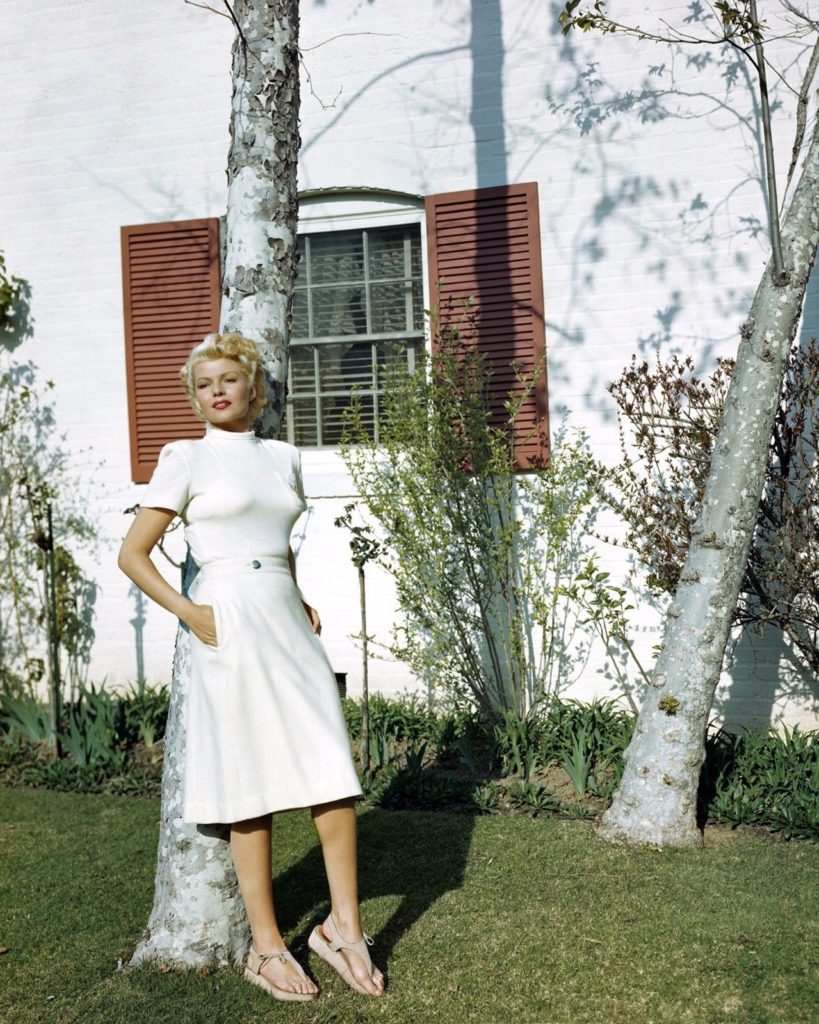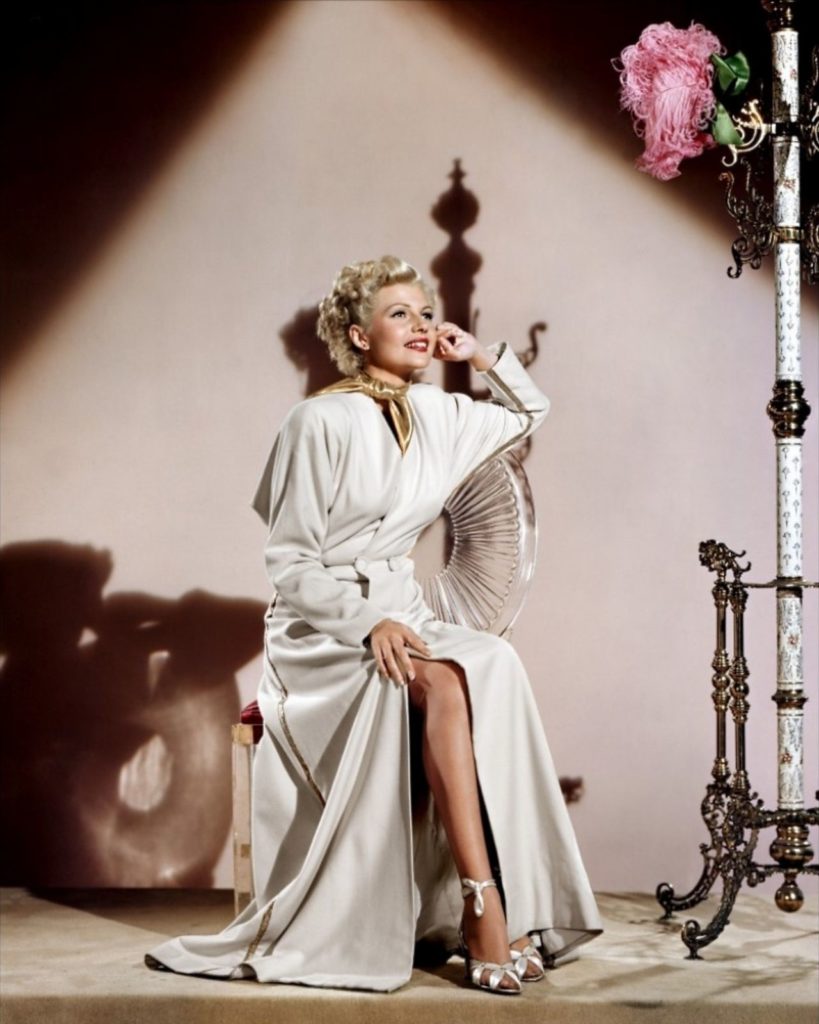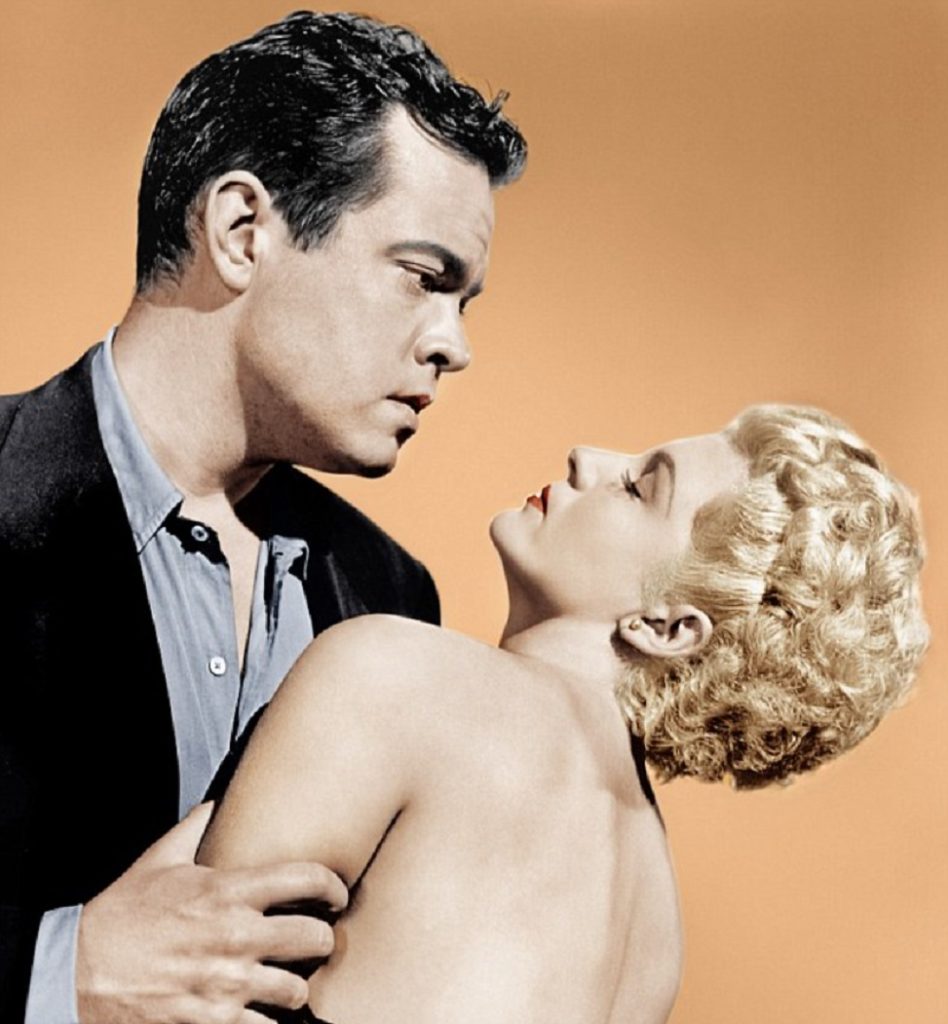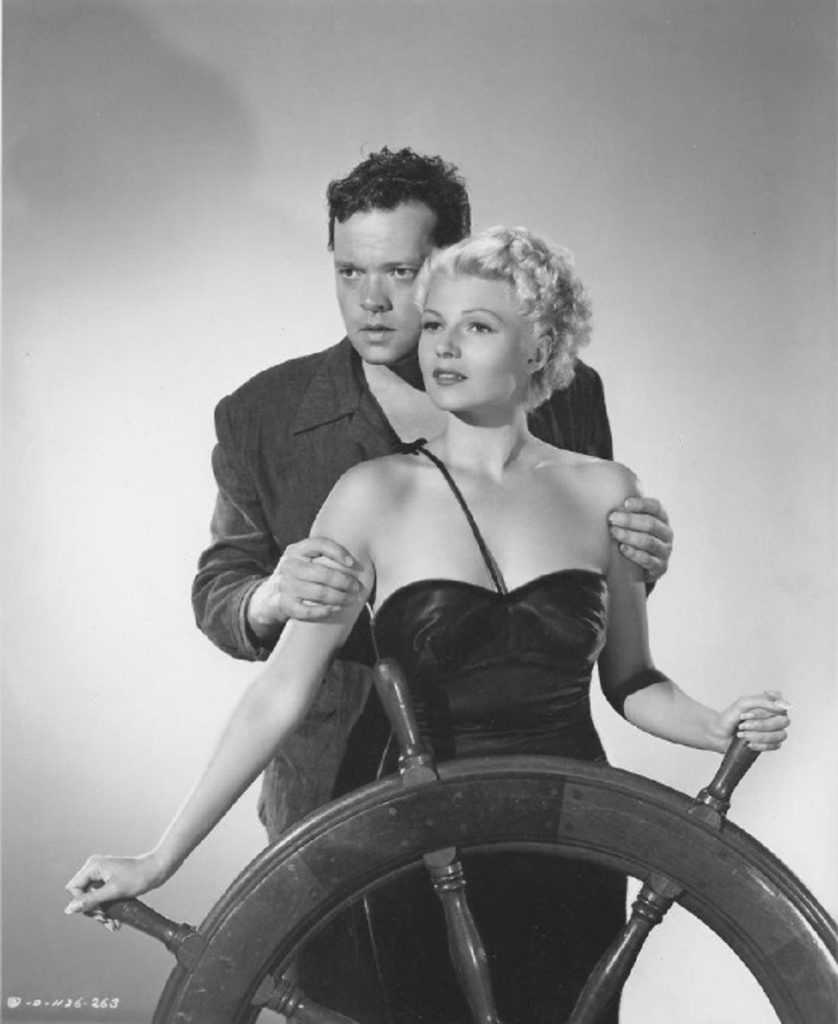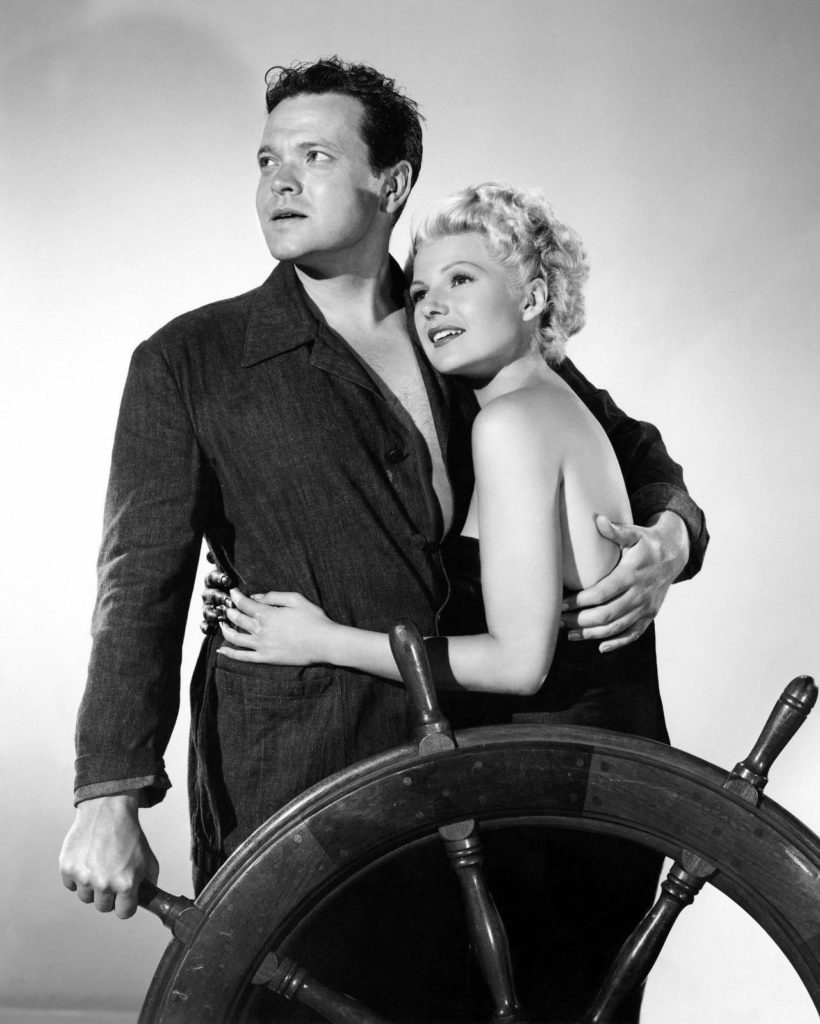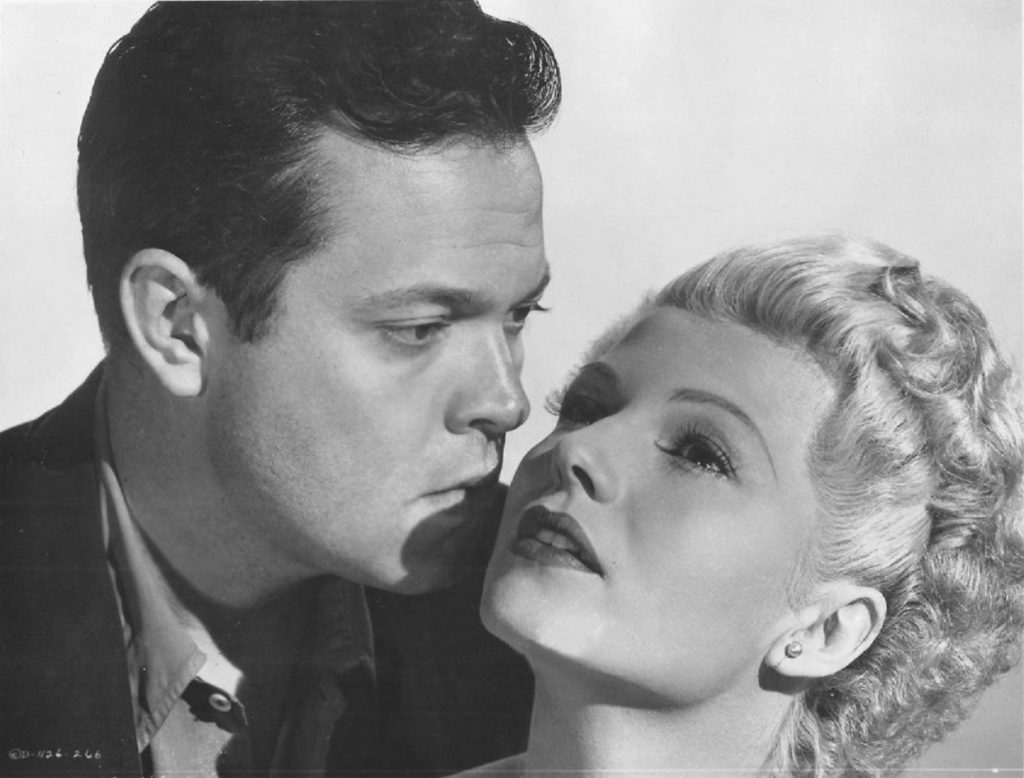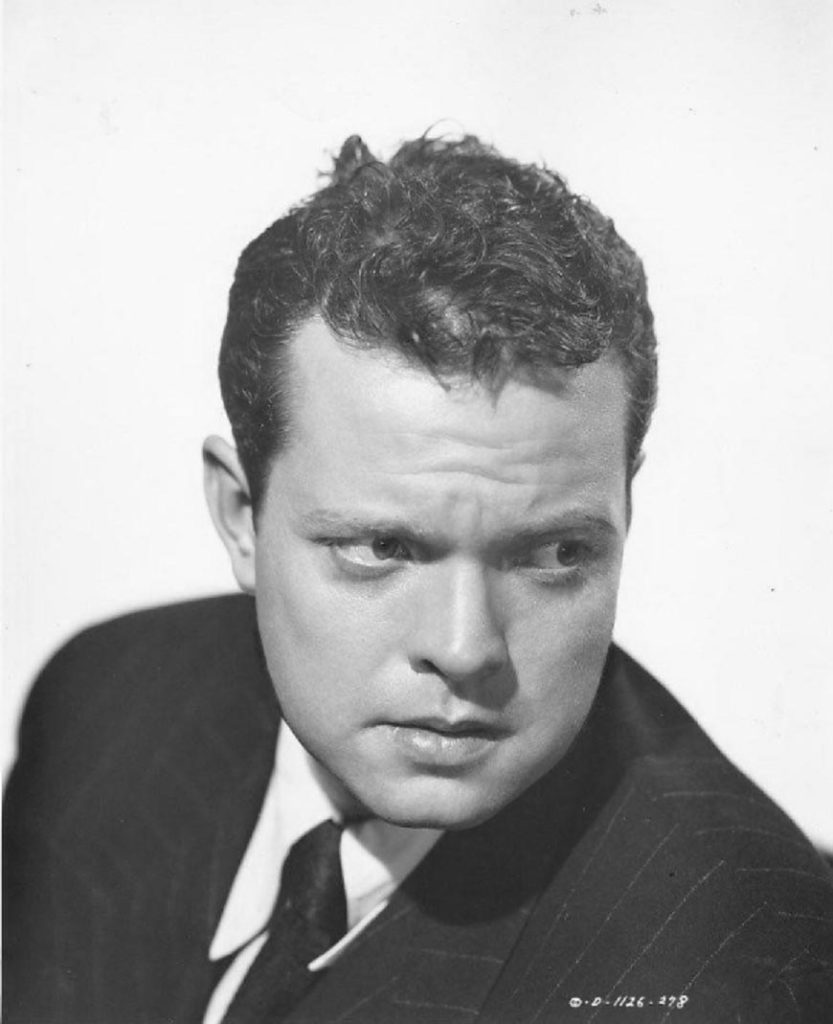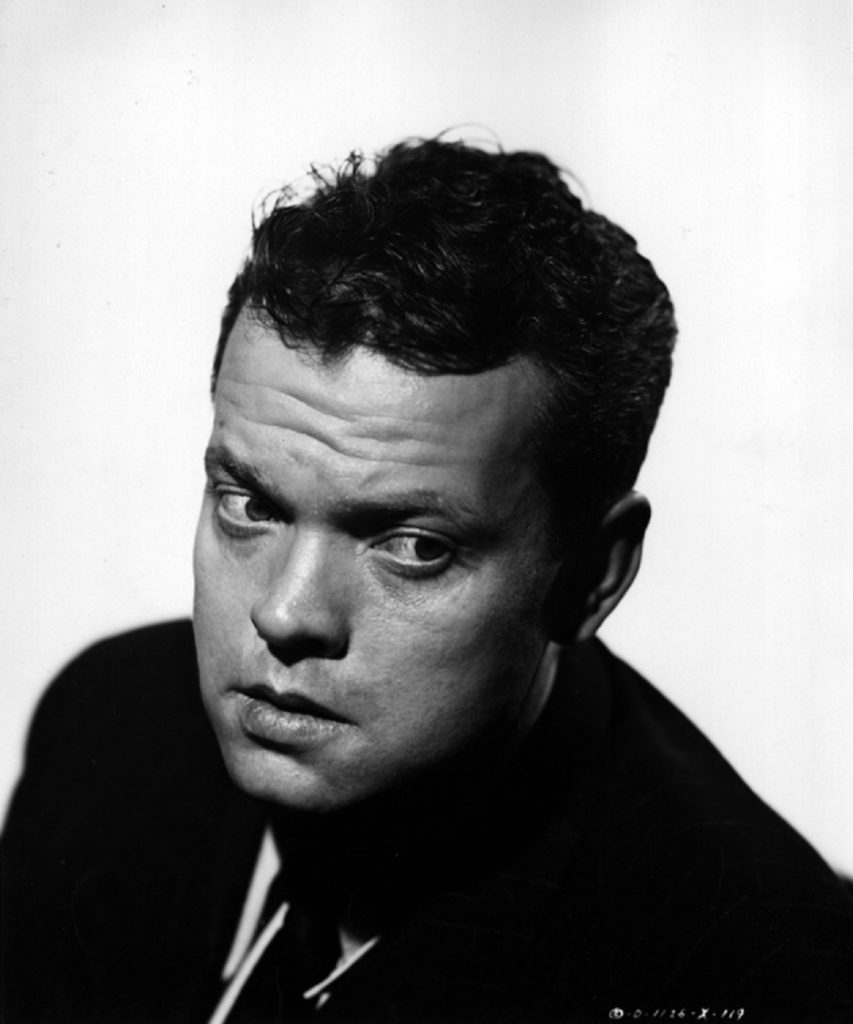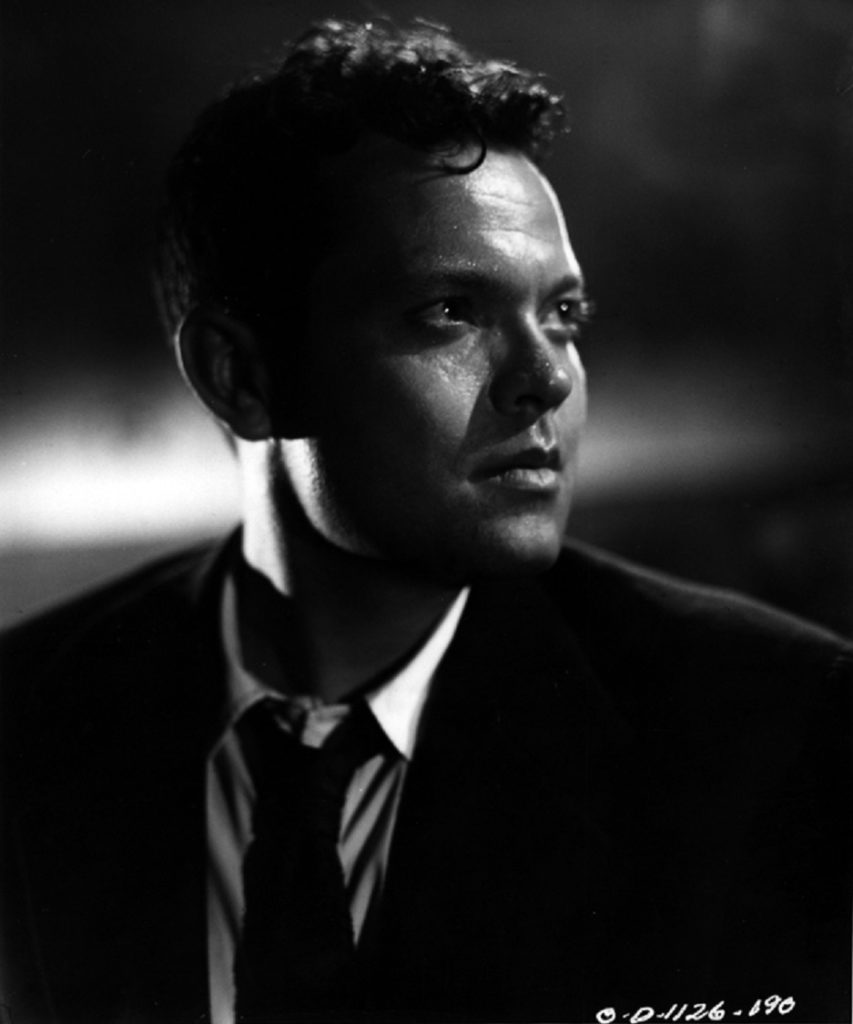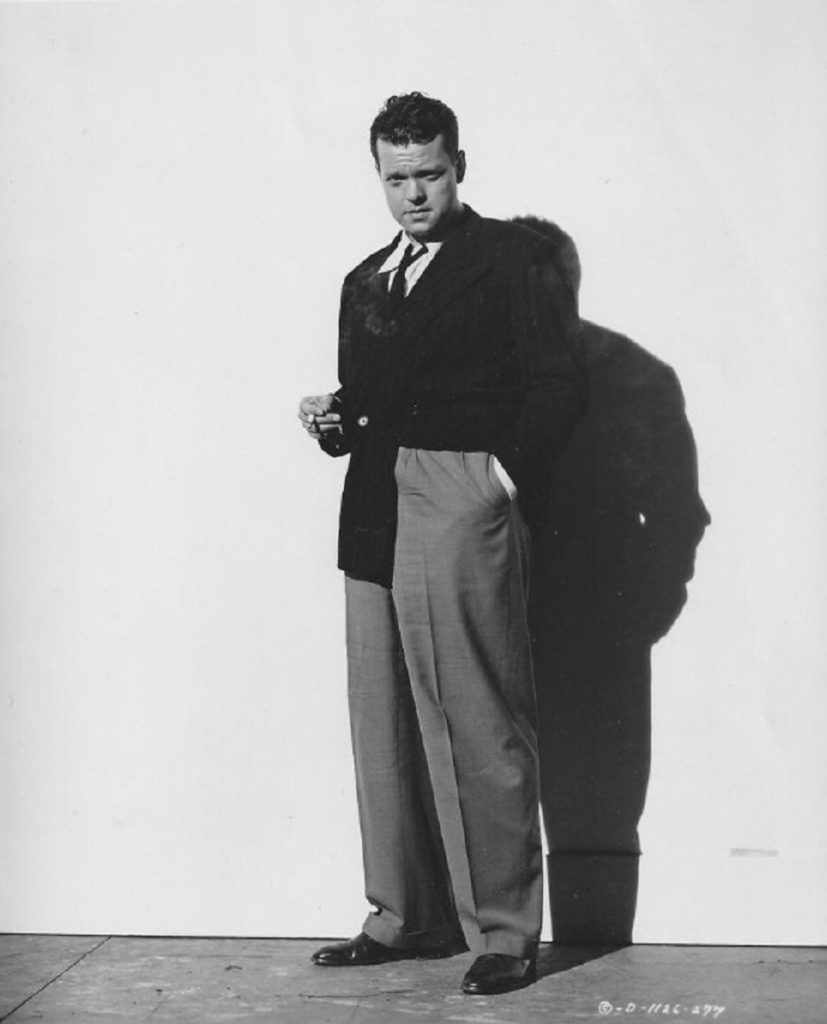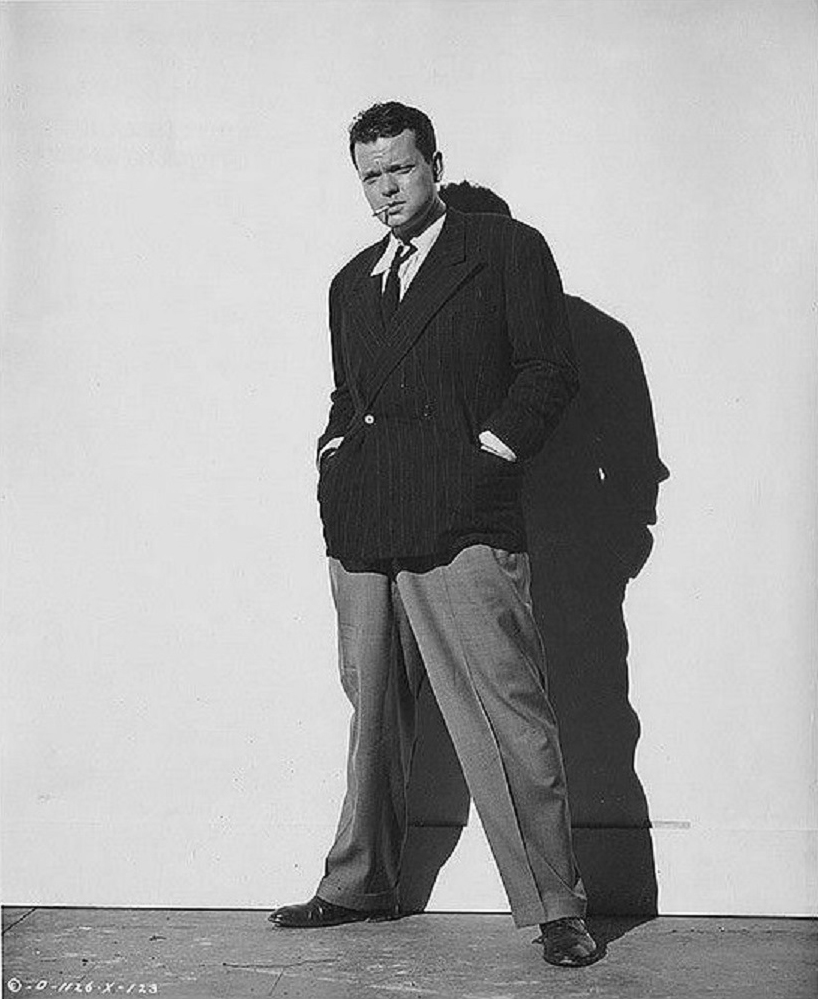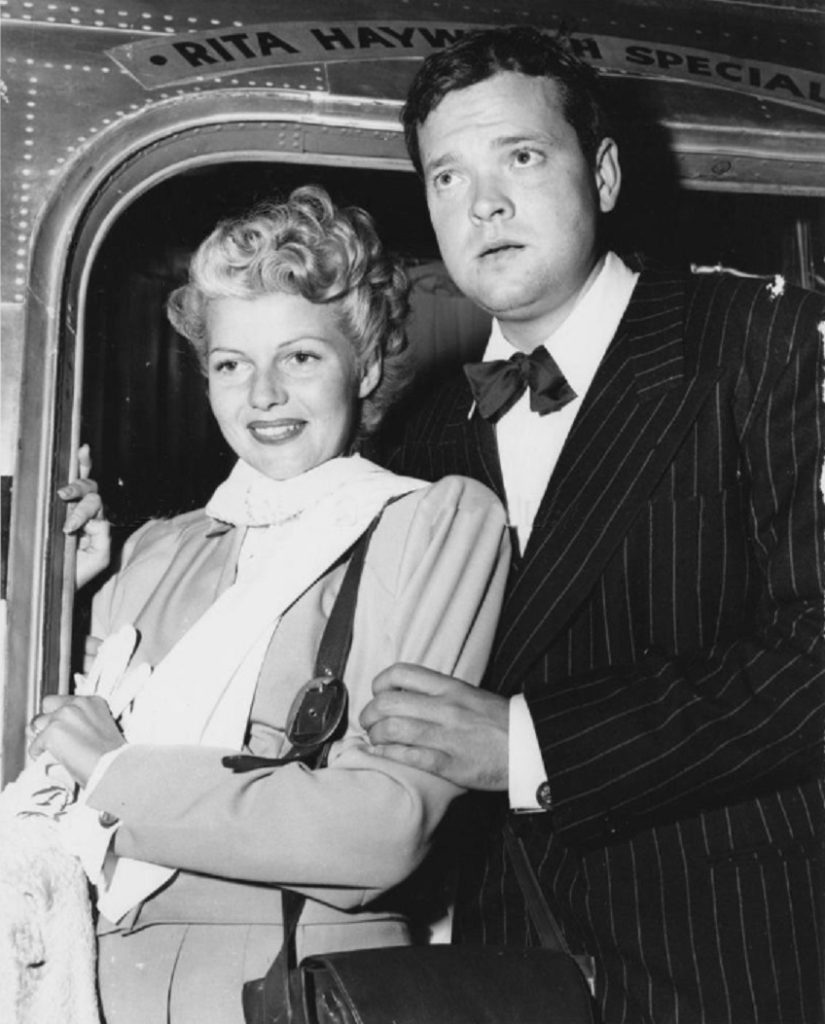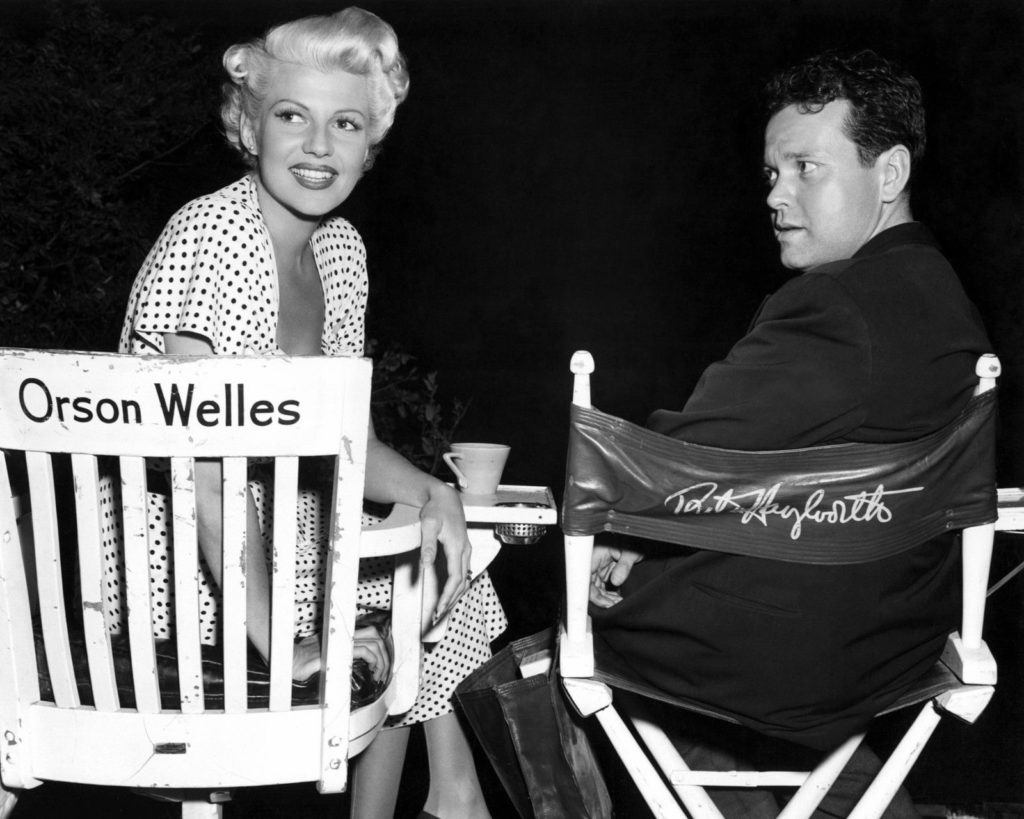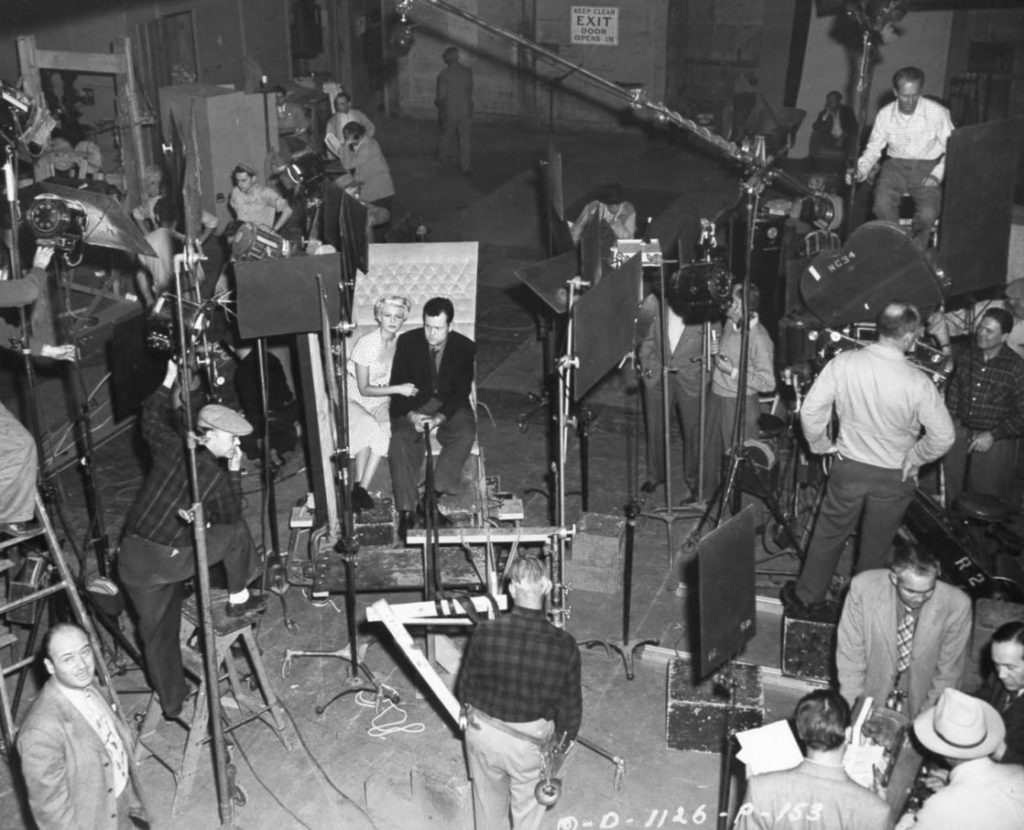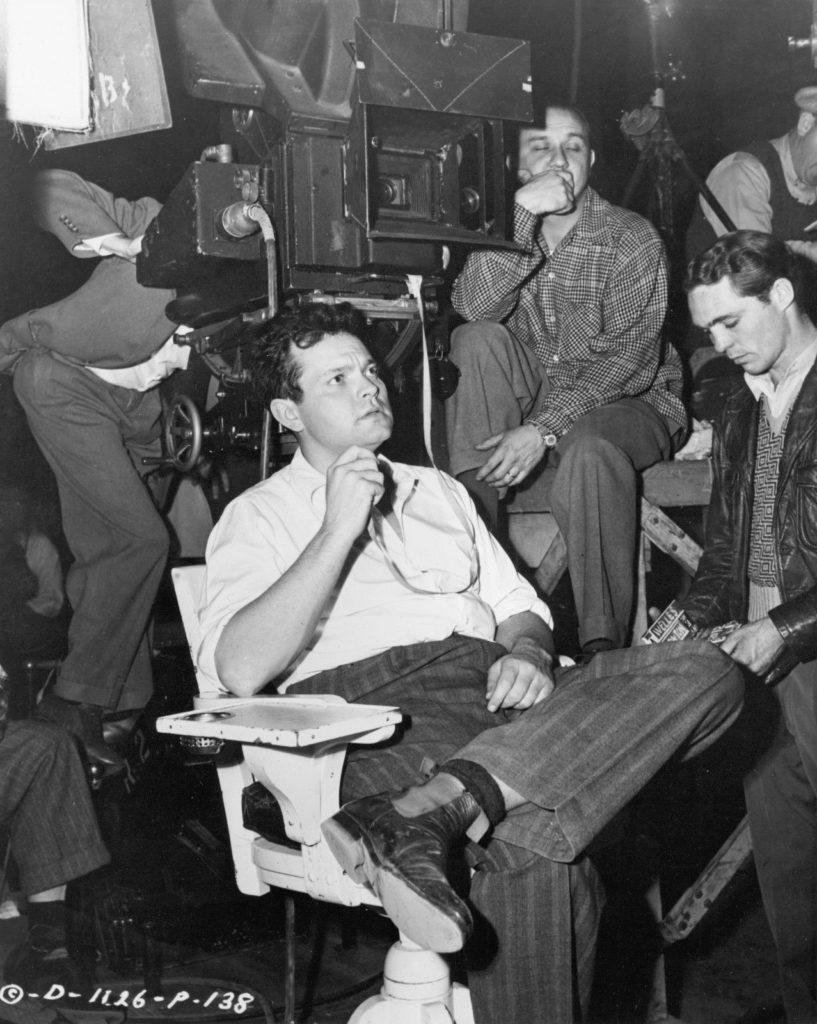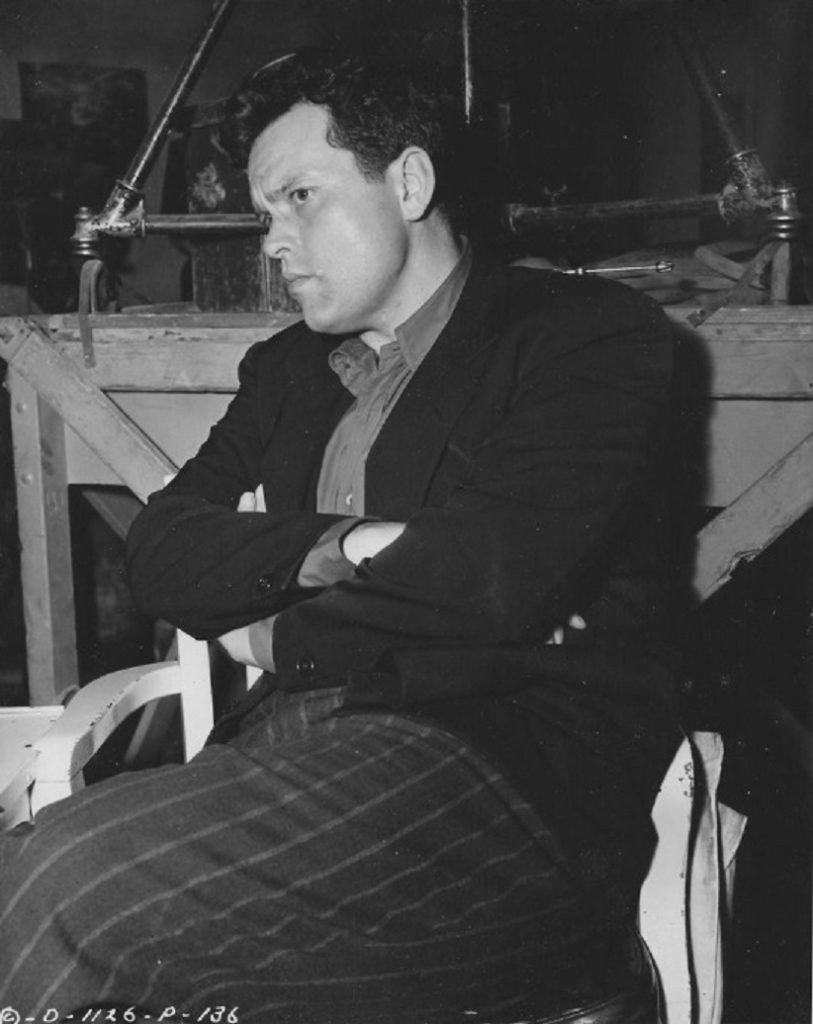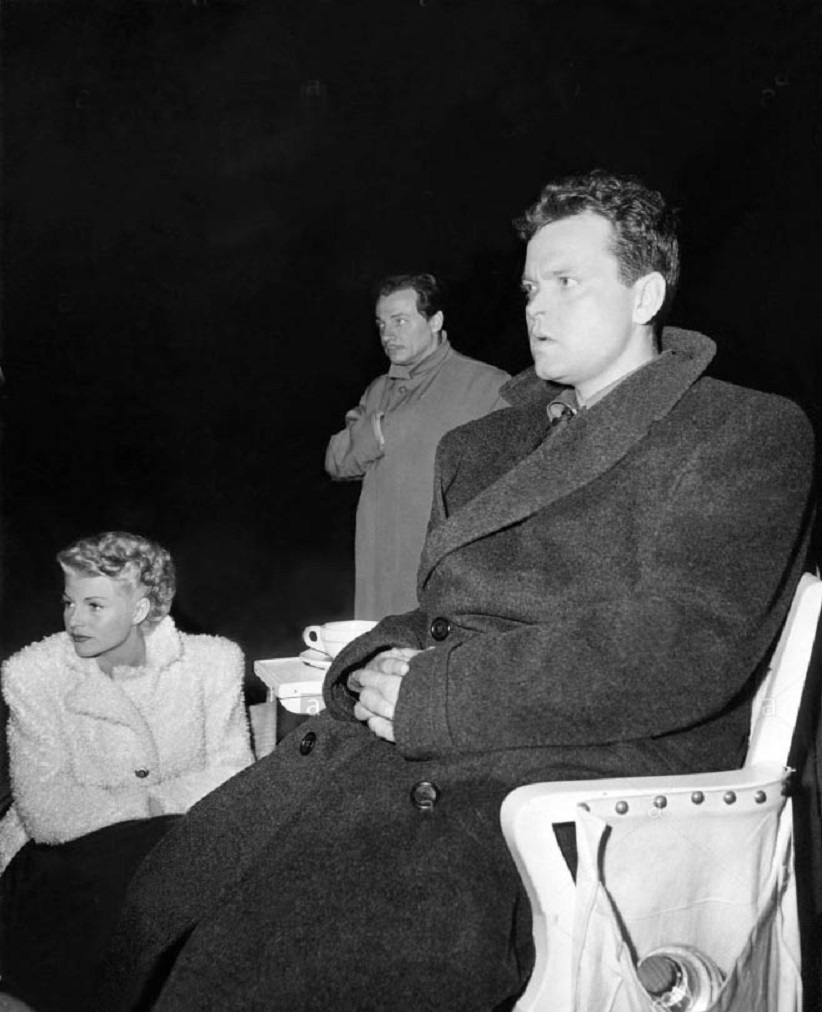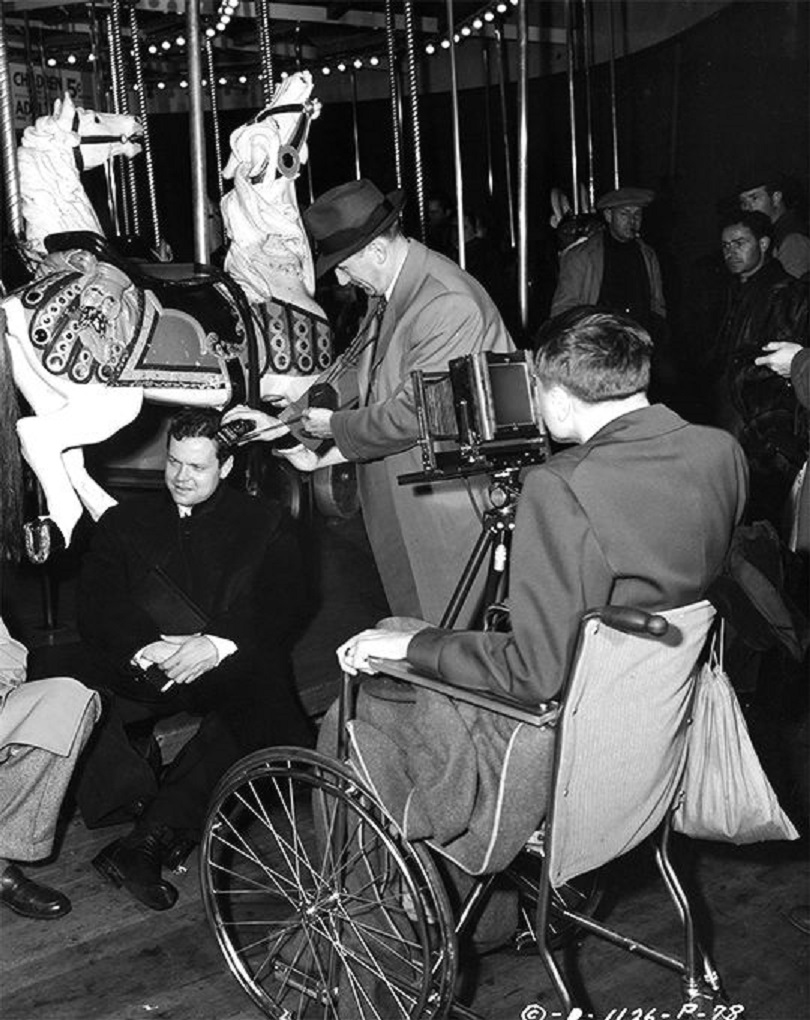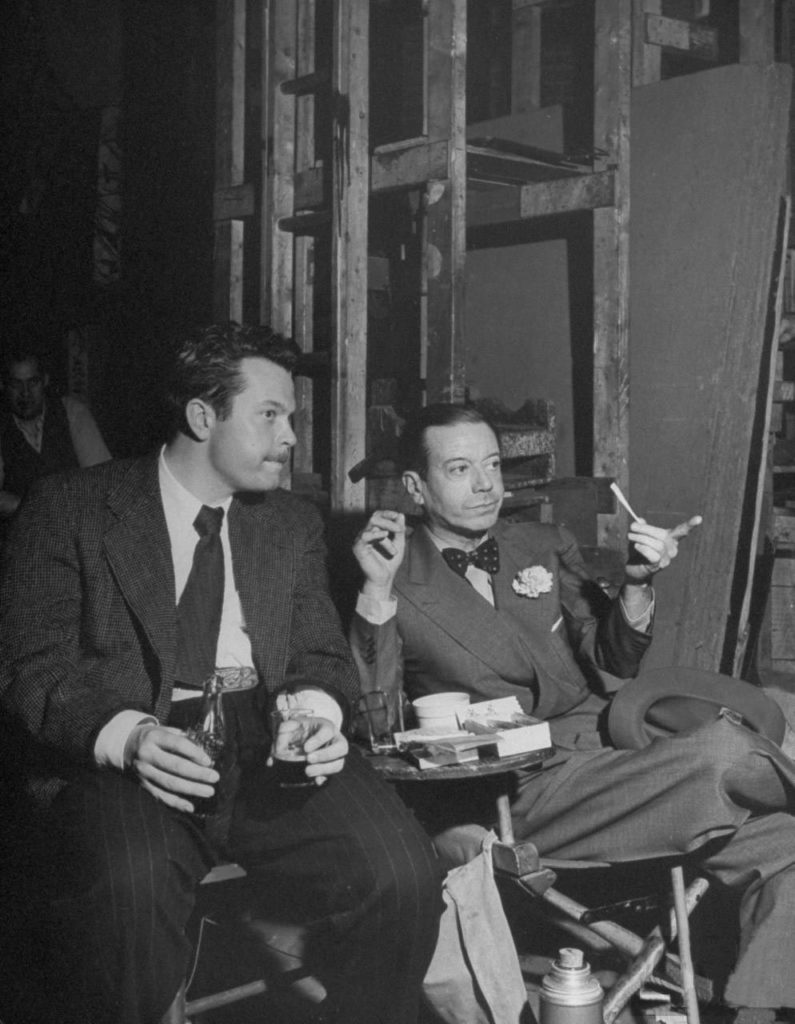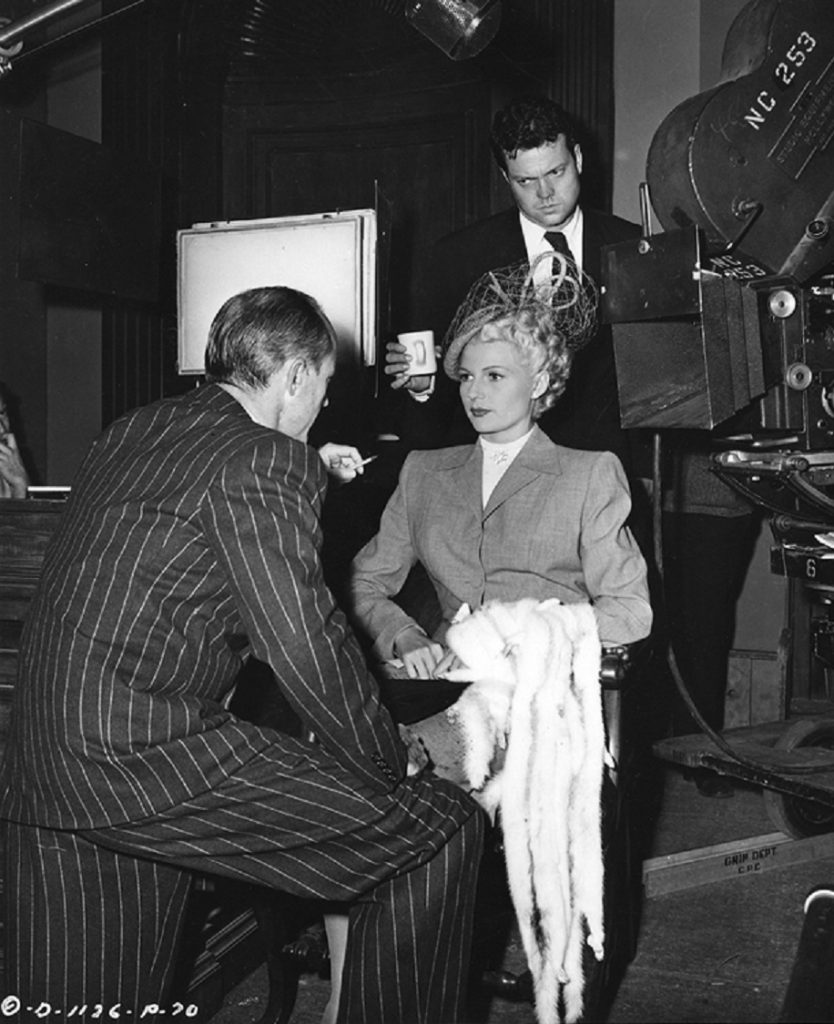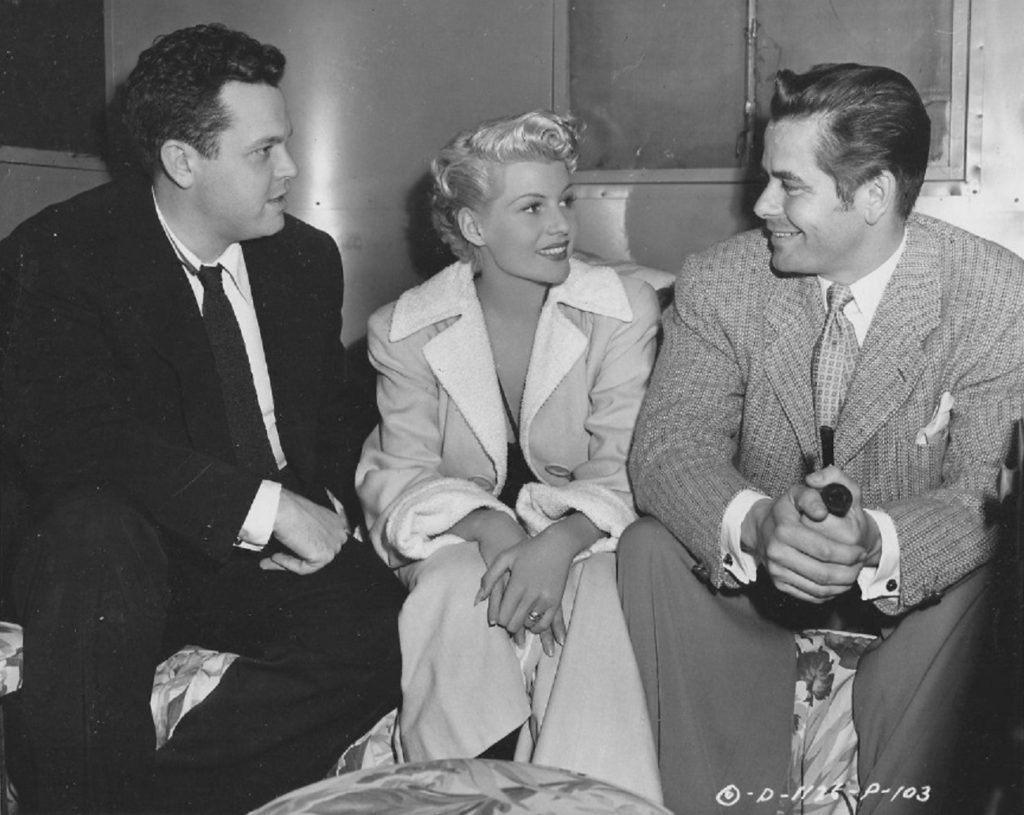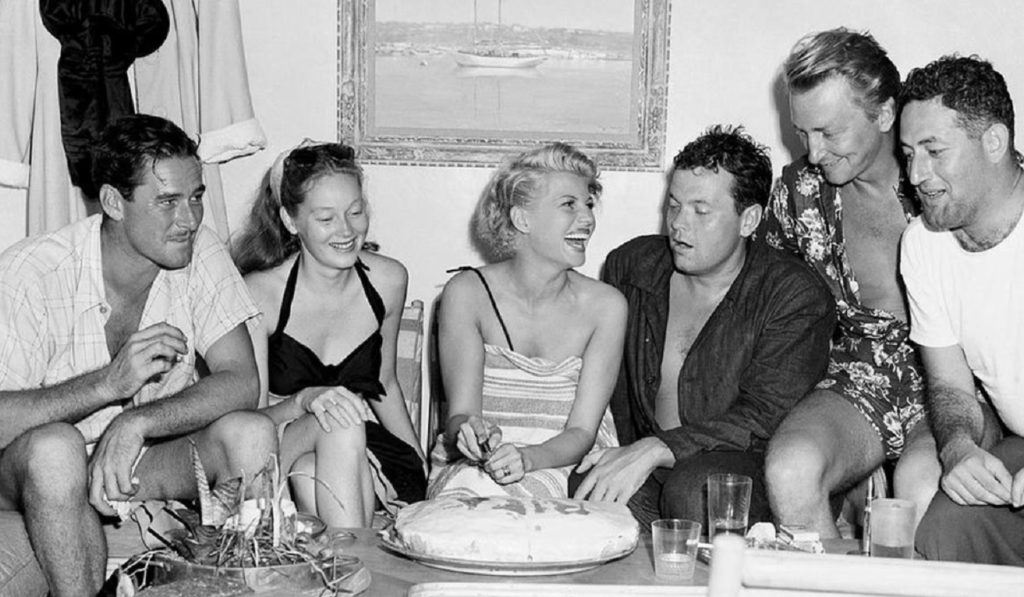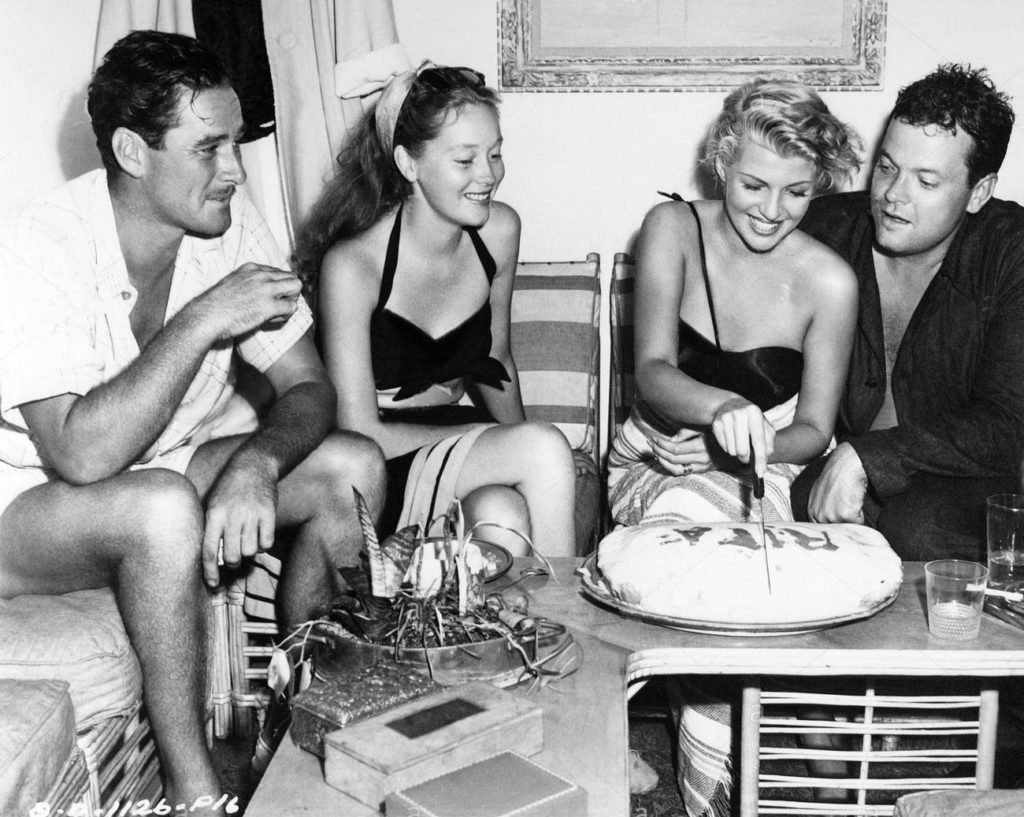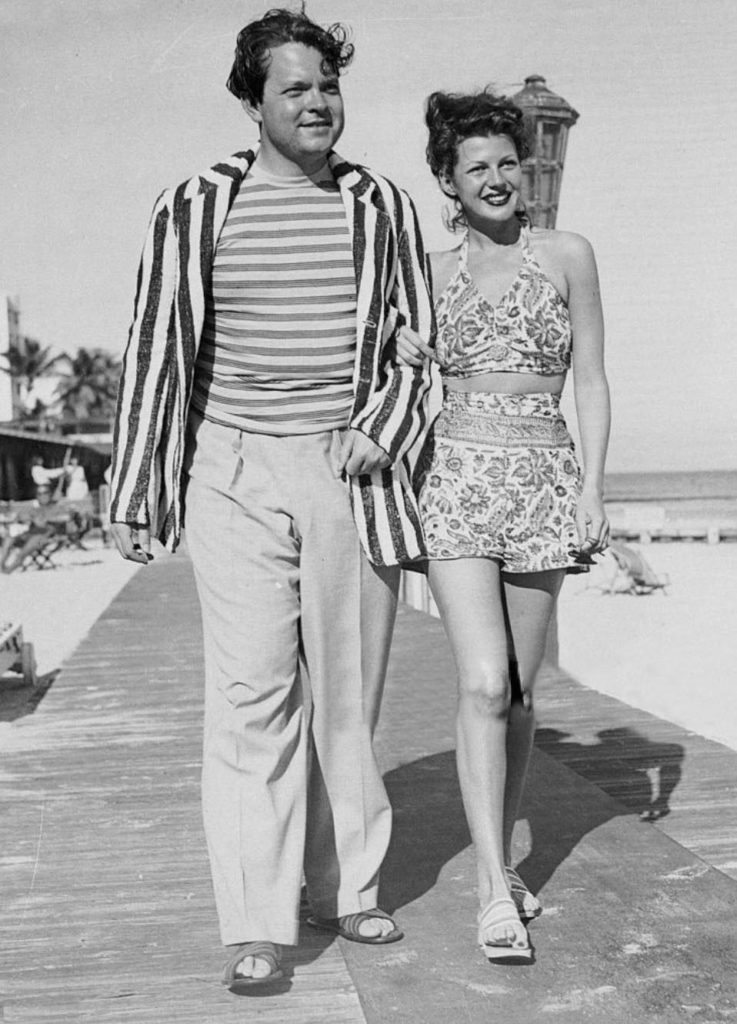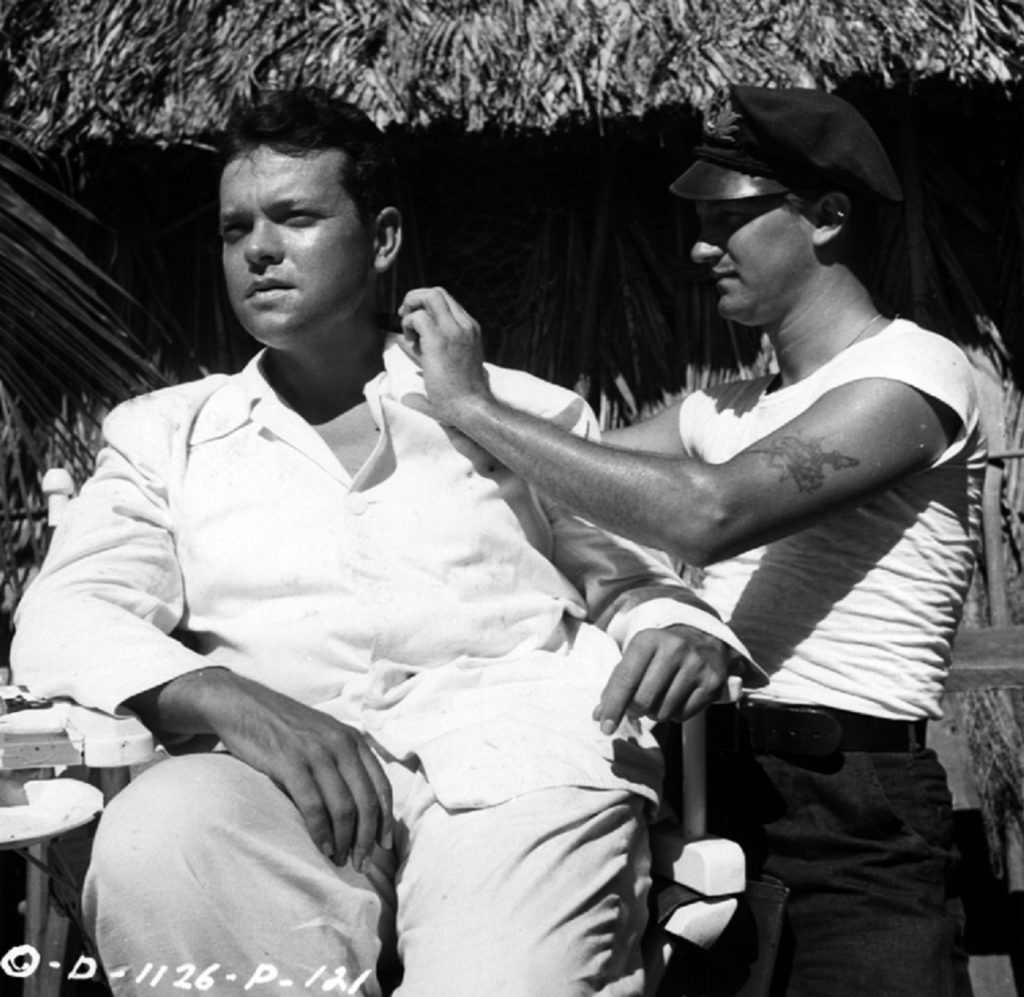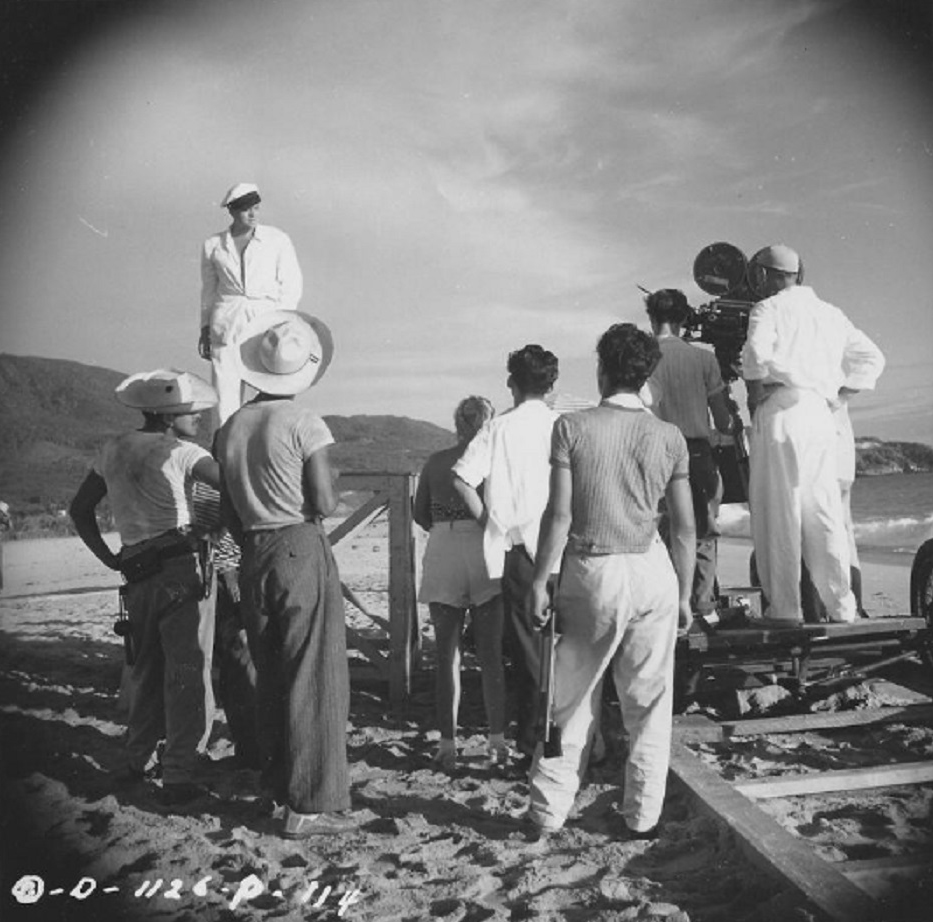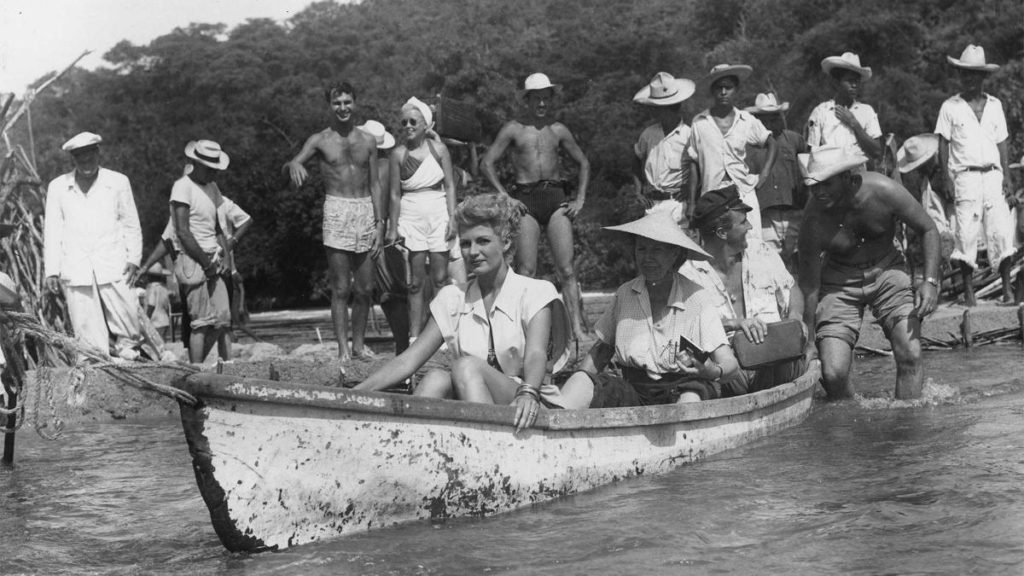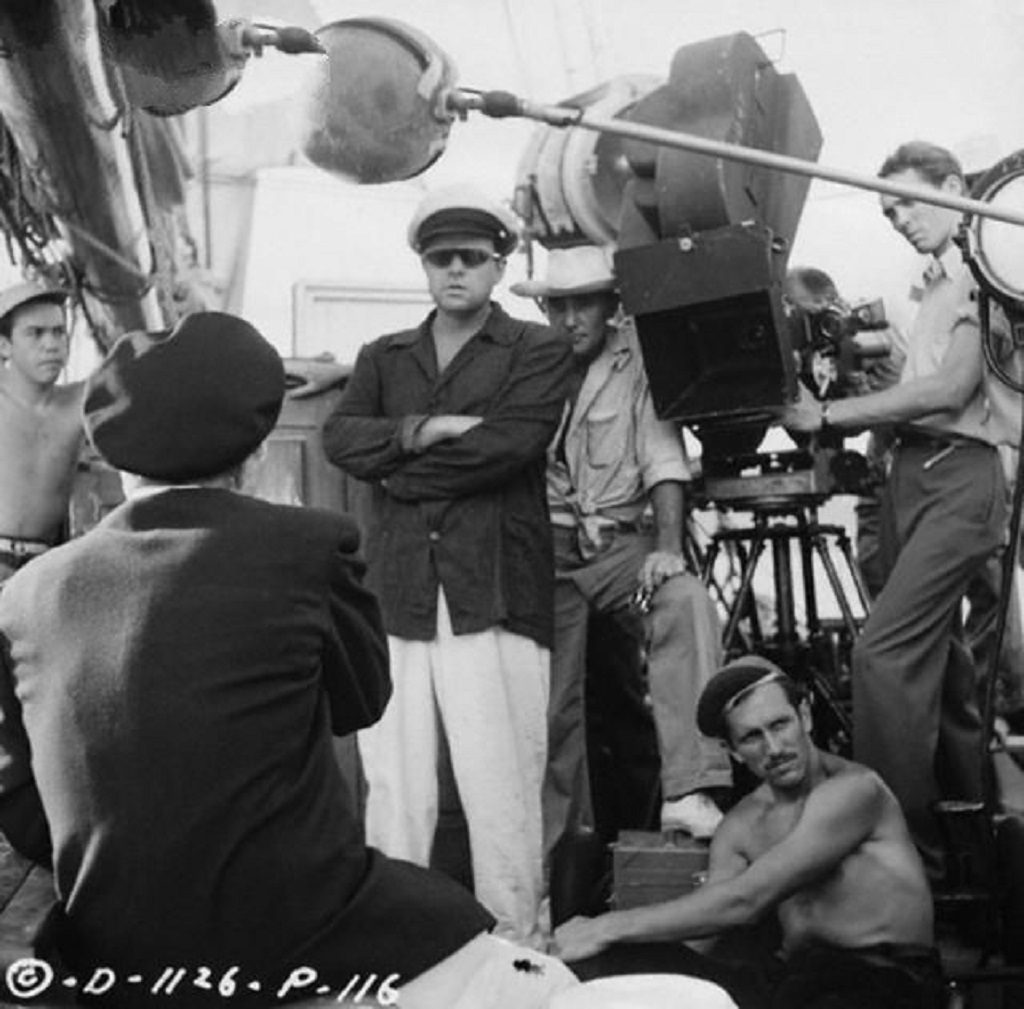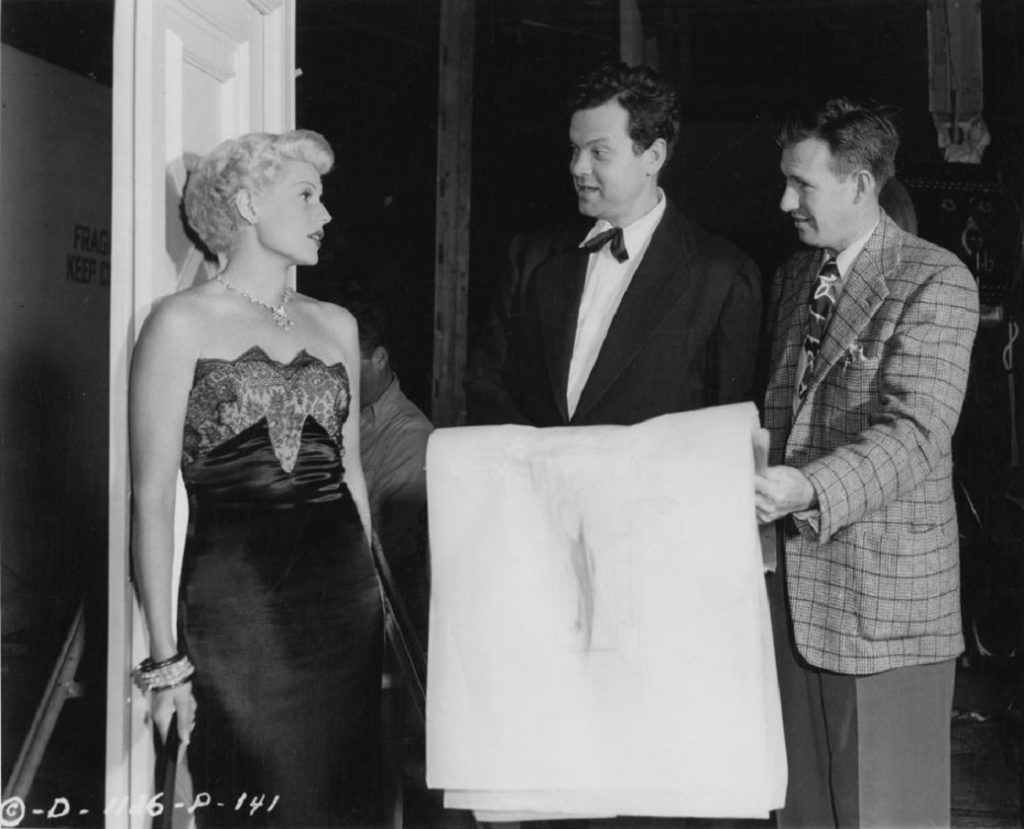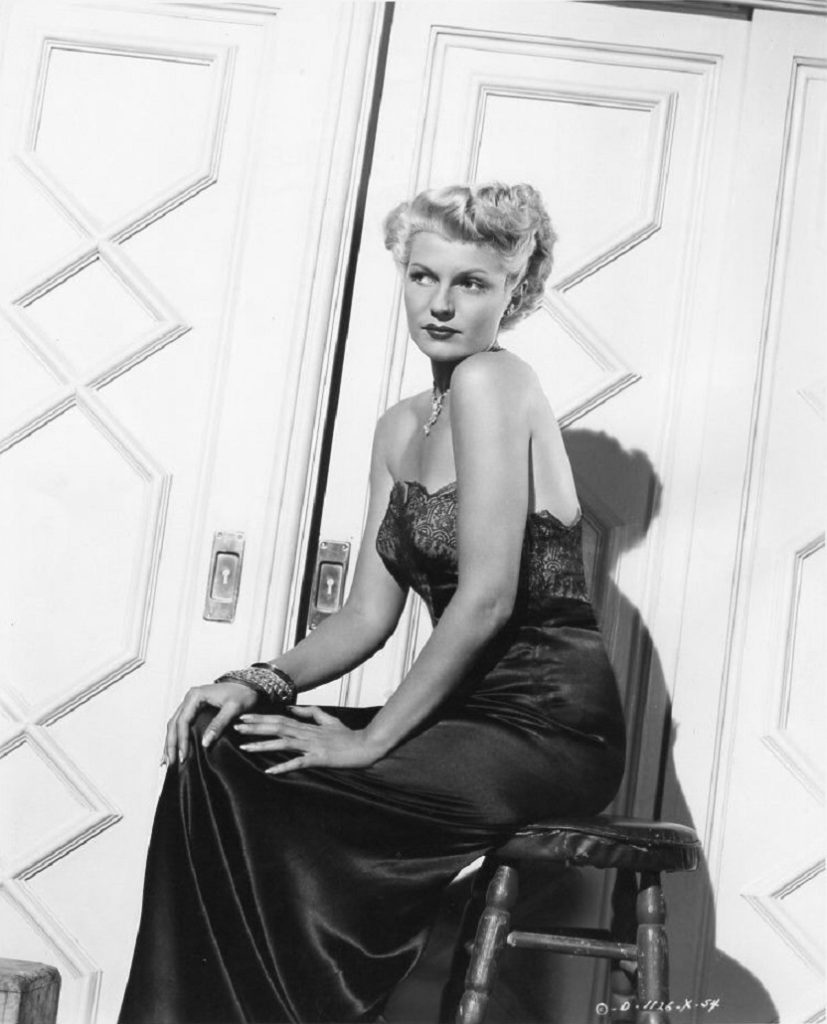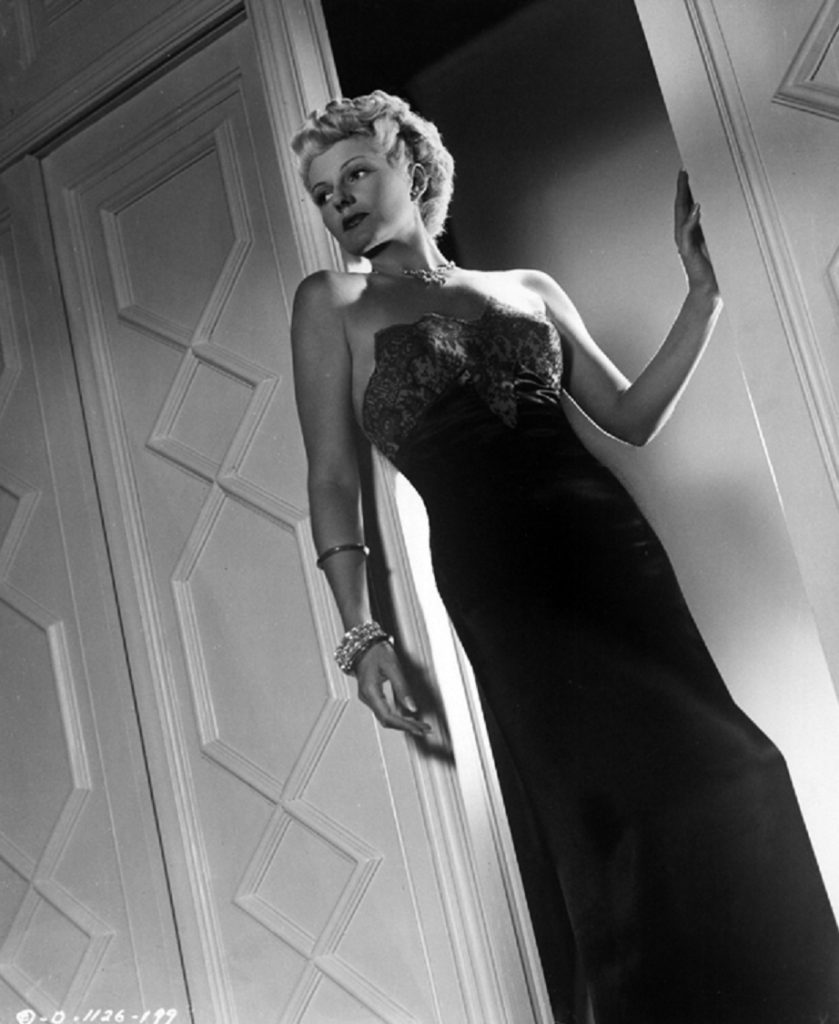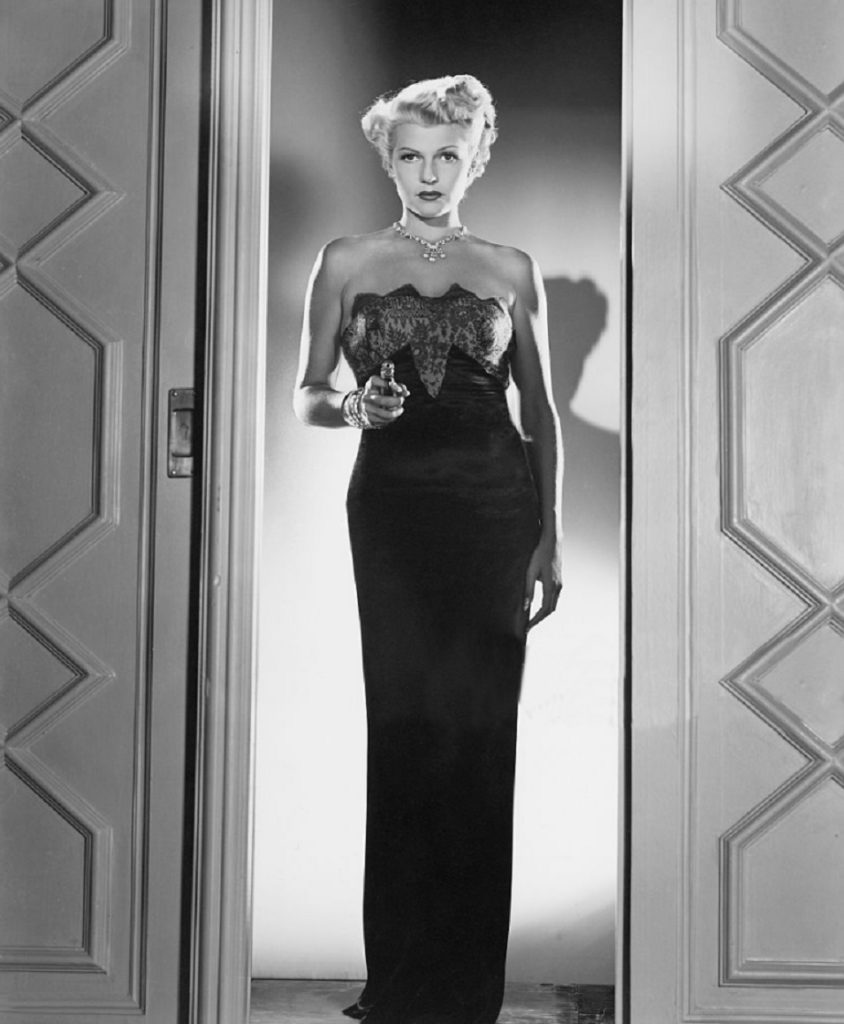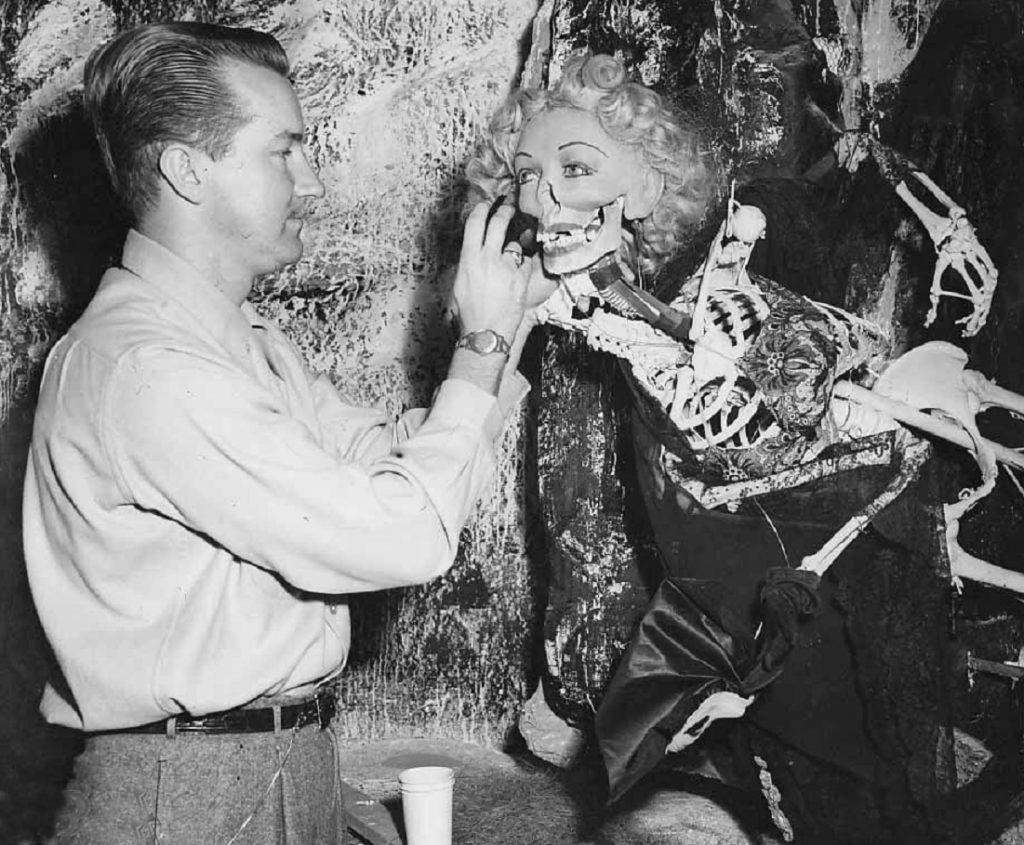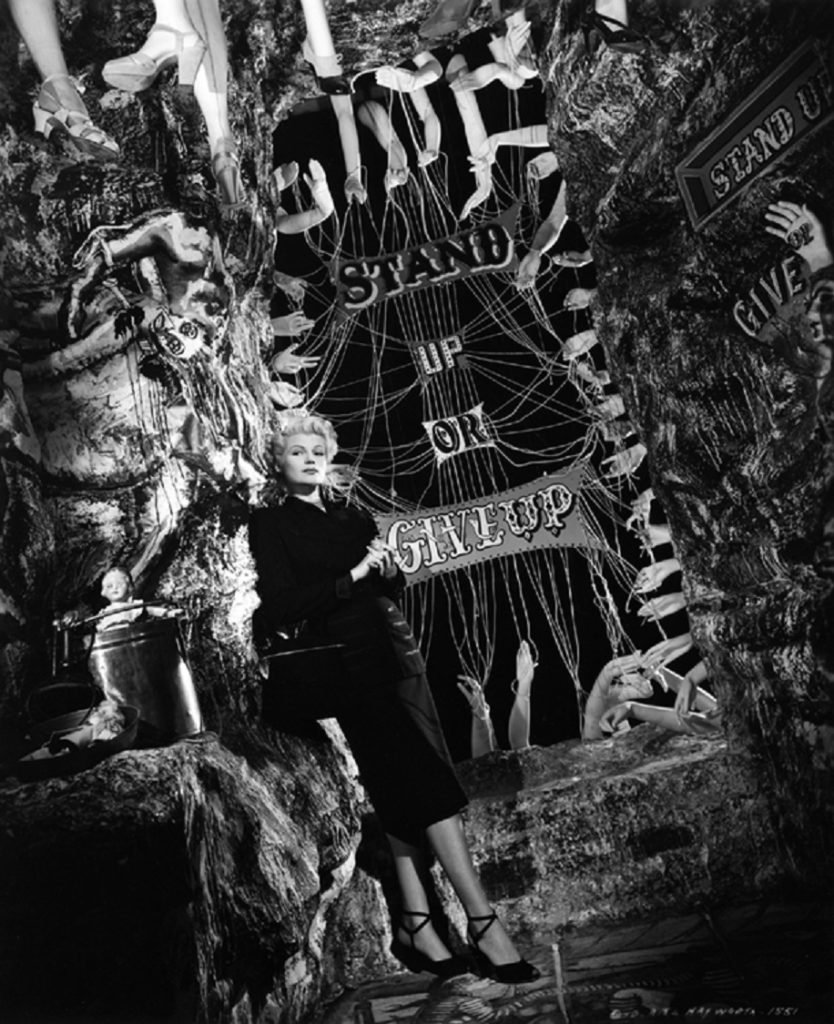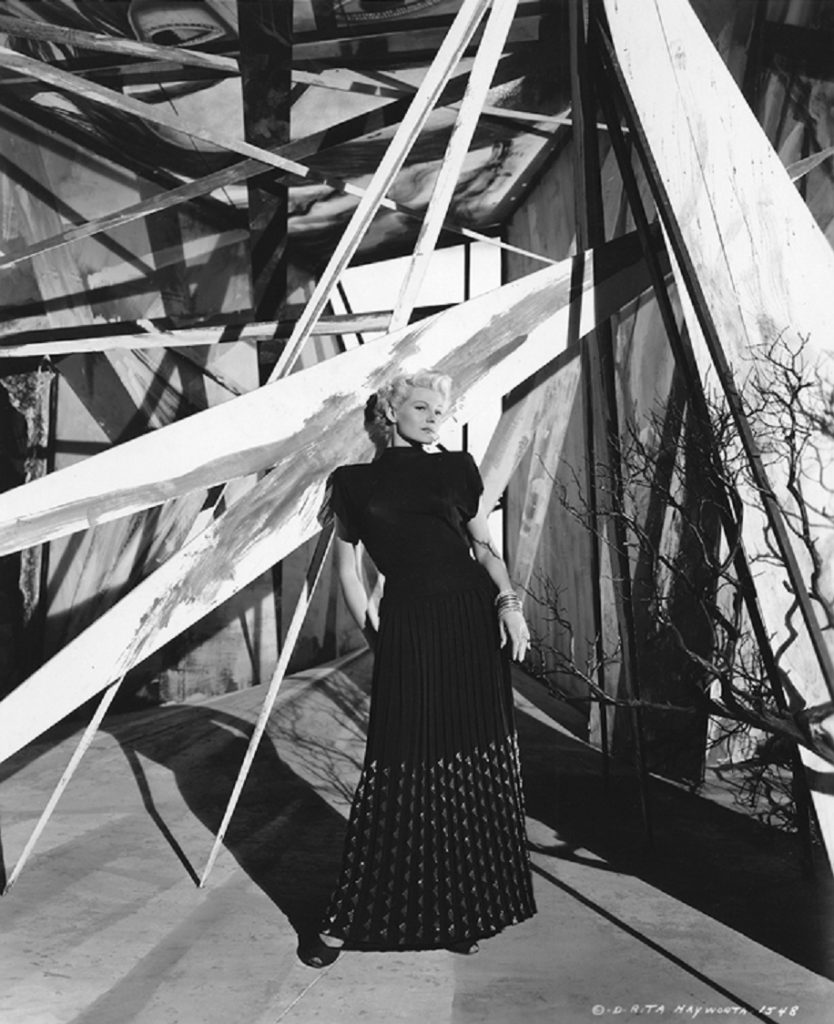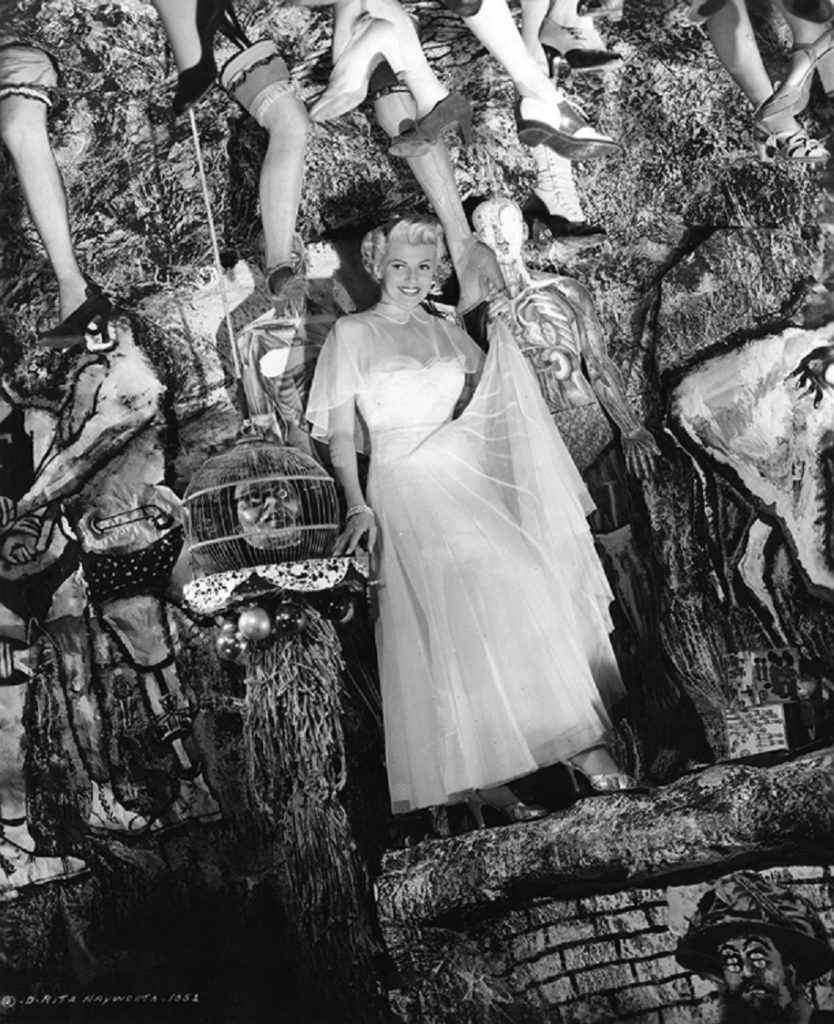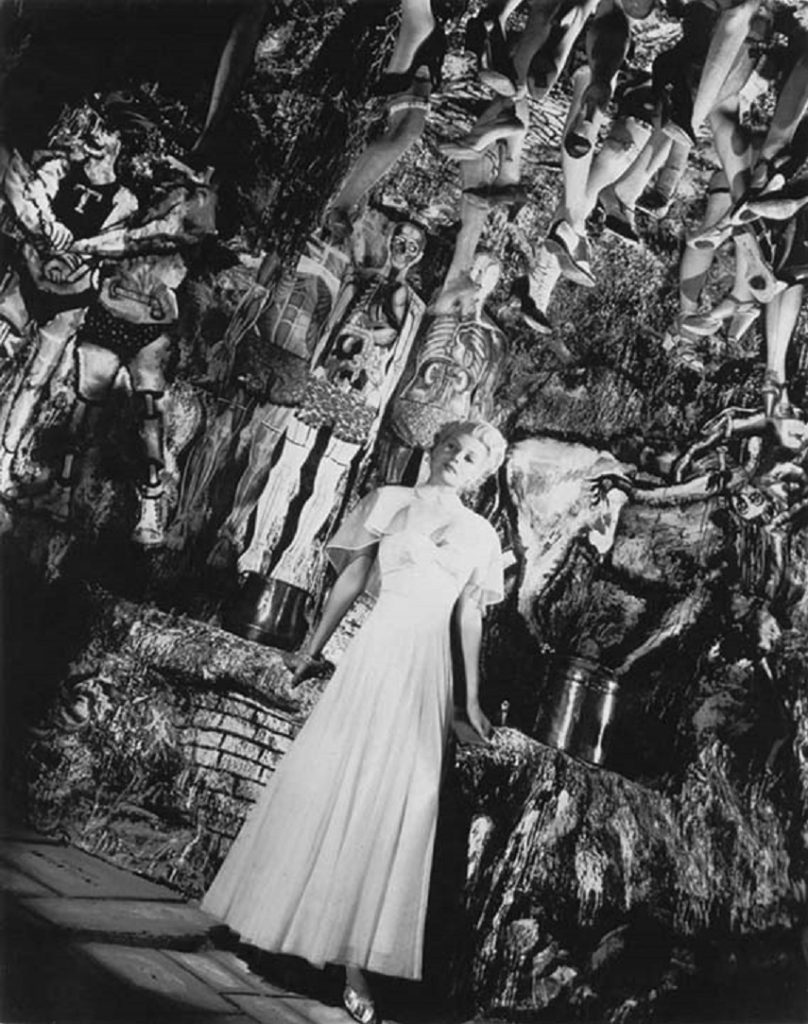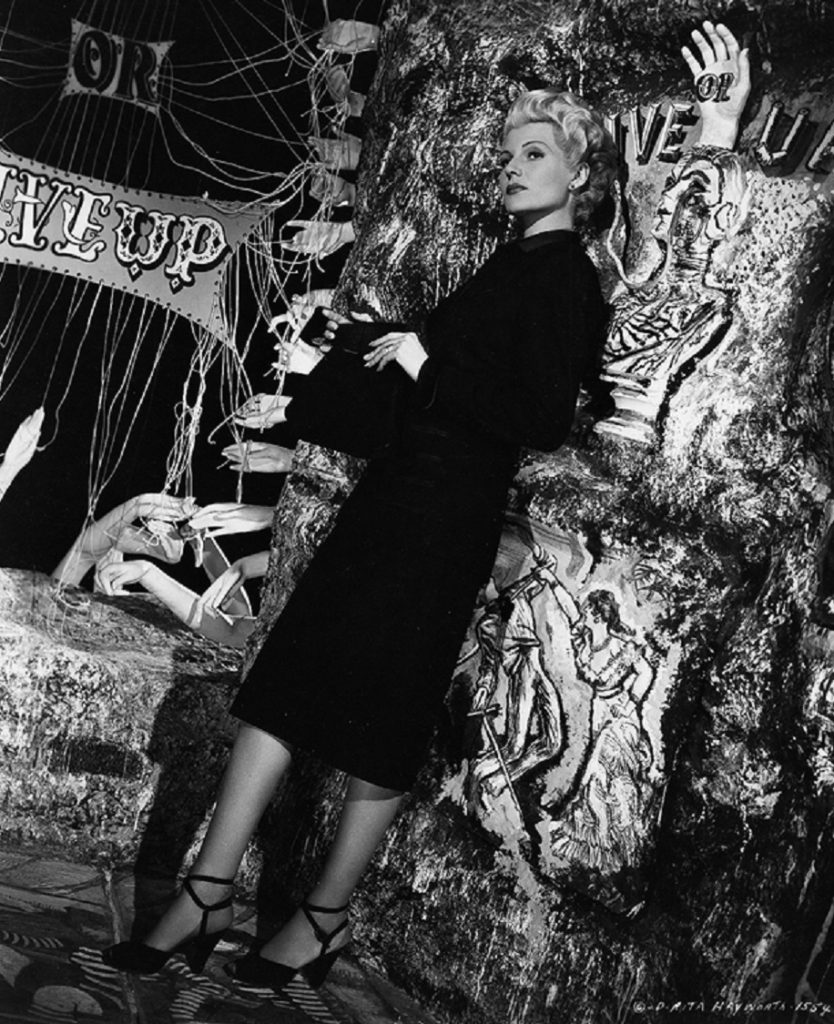 ___________________
MACBETH
As for MACBETH,  even before editing was completed, Welles had already left for Europe to begin the second phase of his directing career—independent film making.