FAFE IN
CLICK PLAY TO HEAR MUSIC (CD-FIRST LETTER)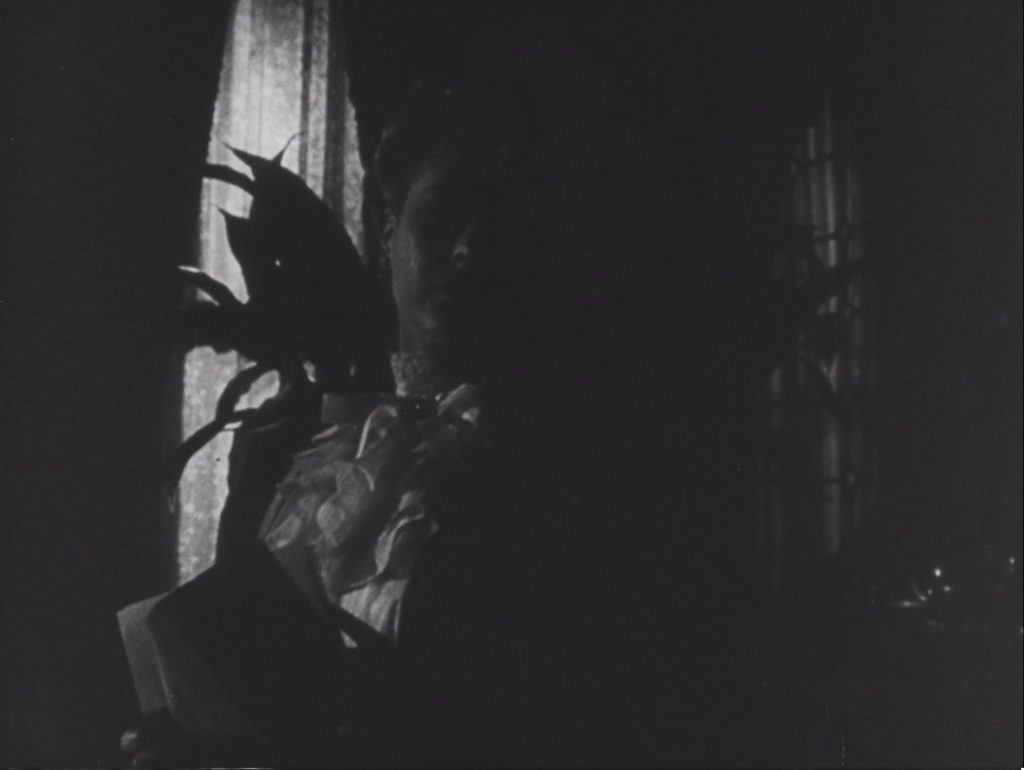 In the Mansion of the library the Camera pans showing Isabel standing by the window reading a letter. The room is dark but nonetheless as she reads she is extremely moved. She walks slowly ahead as the camera moves back. Eugene's voice is heard.
EUGENE'S VOICE
Dearest one, yesterday I thought the time had come when I could ask you to marry me, and you were dear enough to tell me "some time it might come to that." But now we're faced not with slander and not with our own fear of it, because we haven't any, but someone else's fear of it—your son's. And, oh, dearest woman in the world, I know what your son is to you, and it frightens me!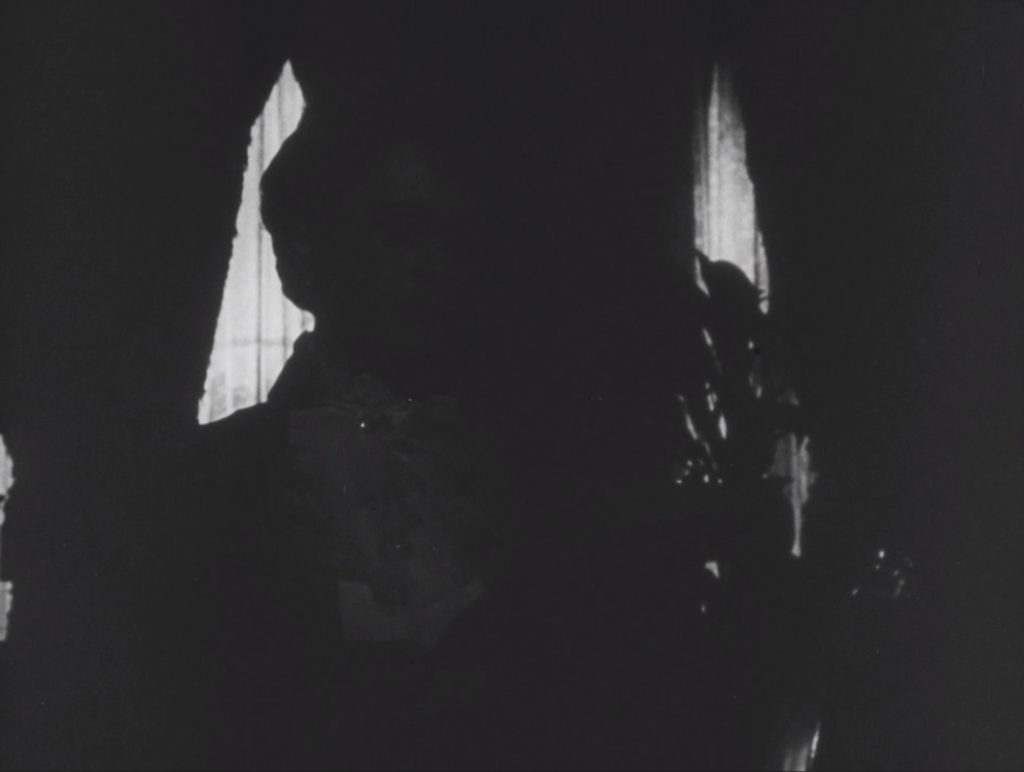 She stops in front of Camera, turns and walks back to the window continuing to read as the camera follows her.
EUEGENE's VOICE
Let me explain a little: I don't think he'll change. At twenty-one or twenty-two so many things appear solid and permanent and terrible which forty sees are nothing but disappearing miasma. Forty can't tell twenty about this; twenty can find out only by getting to be forty.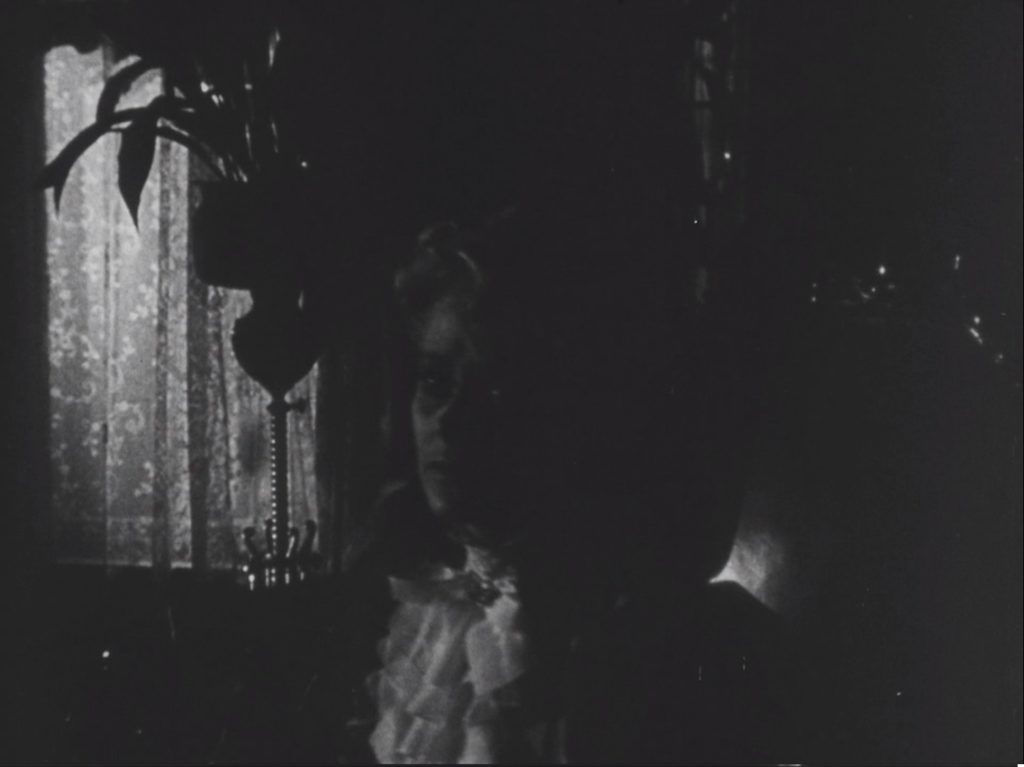 She turns around and faces camera.
EUGENE'S VOICE
And so we come to this, dear: Will you live your own life your way, or George's way?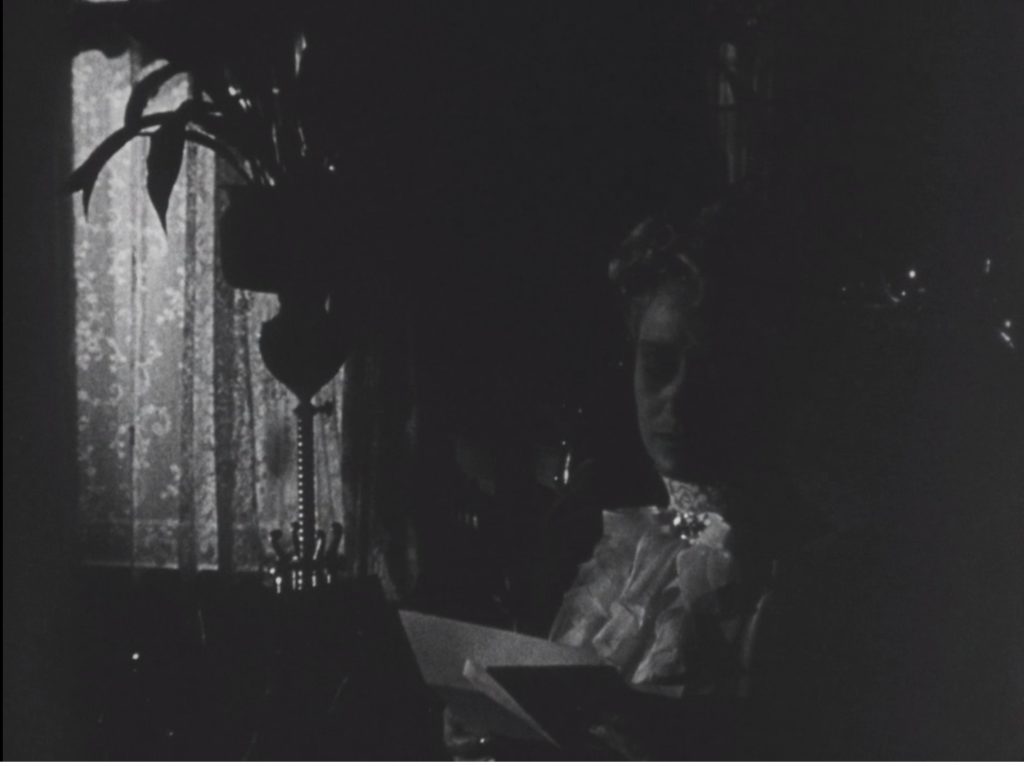 Isabel lowers the letter. Looks off and the camera pans as she sits down.
EUGENE'S VOICE
Dear, it breaks my heart for you, but what you have to oppose now is the history of your own selfless and perfect motherhood.       Are you strong enough, Isabel? Can you make the fight?
Isabel looks up.
She stands and walks across the room. The camera moves backward with her.
She stops in partial light as she continues reading as Eugene's voice is heard.
EUGENE'S VOICE
I promise you that if you will take heart for it, you will find so quickly that it has all amounted to nothing…You shall have happiness, and only happiness. I am saving too much for wisdom, I fear…But oh, my dear, won't you be strong—such a little short strength it would need!
She pauses and moves closer to the camera.
EUGENE's VOICE
Don't strike my life down twice, dear. This time I've not deserved it.
Extremely torn, Isabel looks off, tears in her eyes and lowers the letter.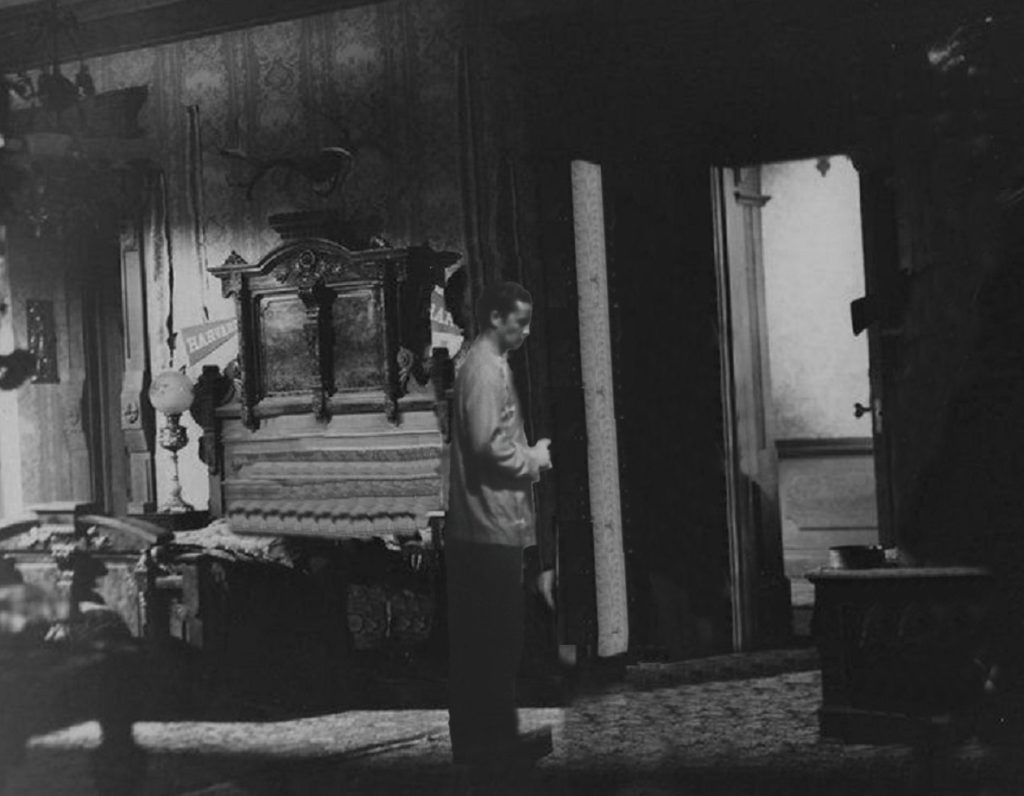 In his room George has just finished reading the letter. Finished reading he lowers it looking grim.   He turns, and as the camera pans with him. He stops by the fireplace and begins to put the letter in the fire but hesitates, looking around he walks to the door and opens it.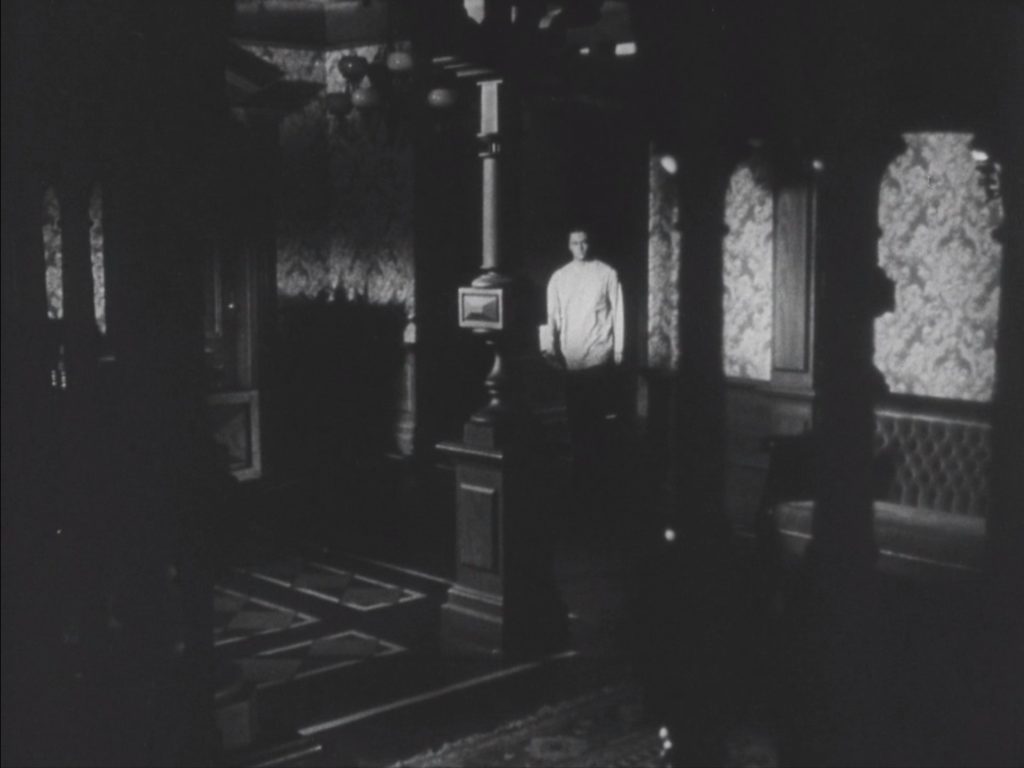 George comes out of his room and, hot with determination
He crosses the floor as camera pans to follow him. He knocks on his mother's door.
ISABEL'S VOICE
Come in.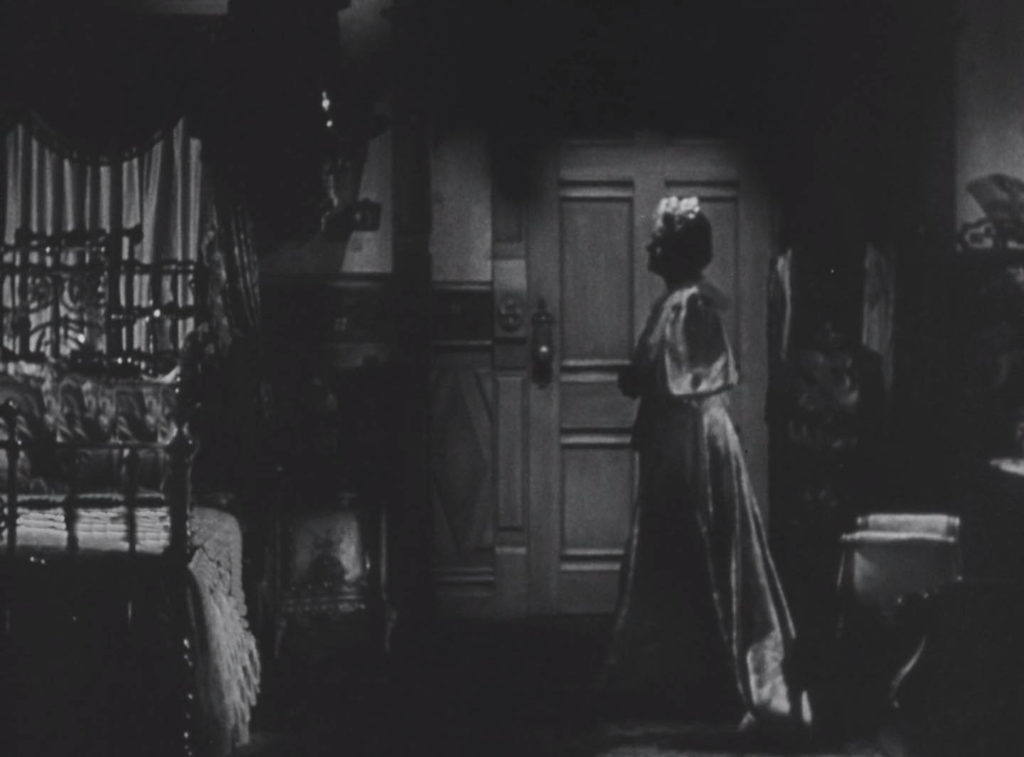 Isabel goes to door opens it and George walks in.
Isabel is standing by the door and looking grim, George walks in Isabel closes the door and as George walks past her she talks anxiously.
ISABEL
Did you read it, dear?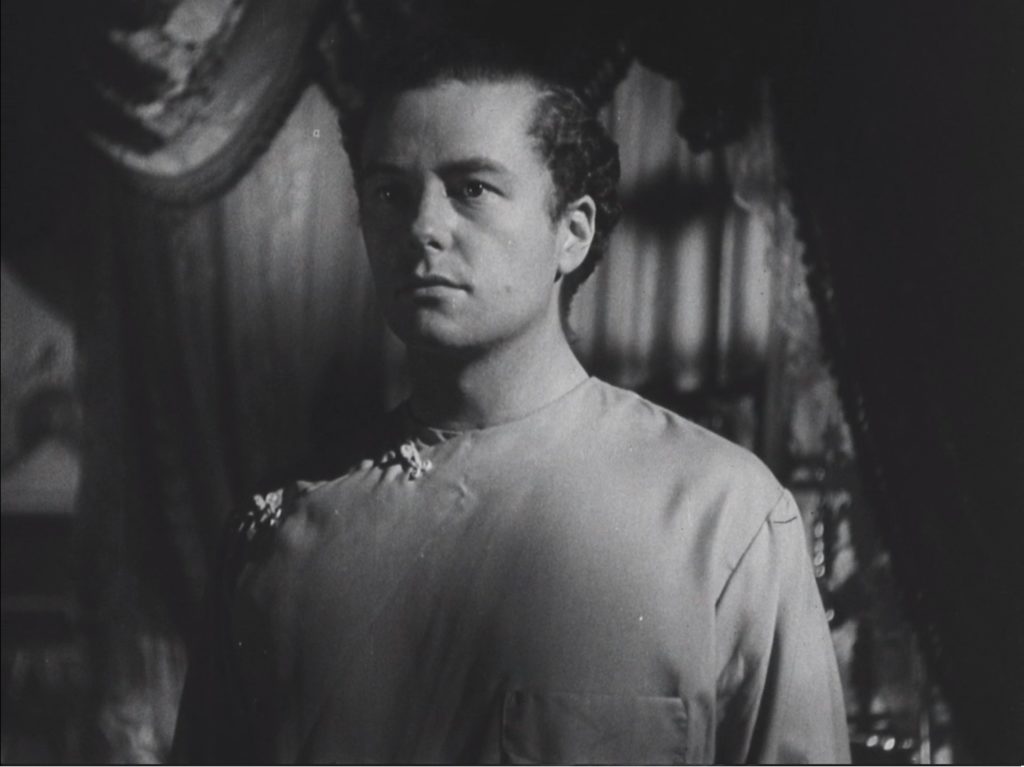 George turns beside the fireplace.
GEORGE
Yes, I did.
Talking, Isabel moves to the bench in front of her dresser. She sits down.
ISABEL
All of it?
George, standing beside fireplace away from the camera, is holding the letter.
GEORGE
Certainly!
Talking he walks to the other side of the bed and stops by the divan speaking emphatically.
GEORGE
It's simply the most offensive piece of writing that I've ever held in my hands!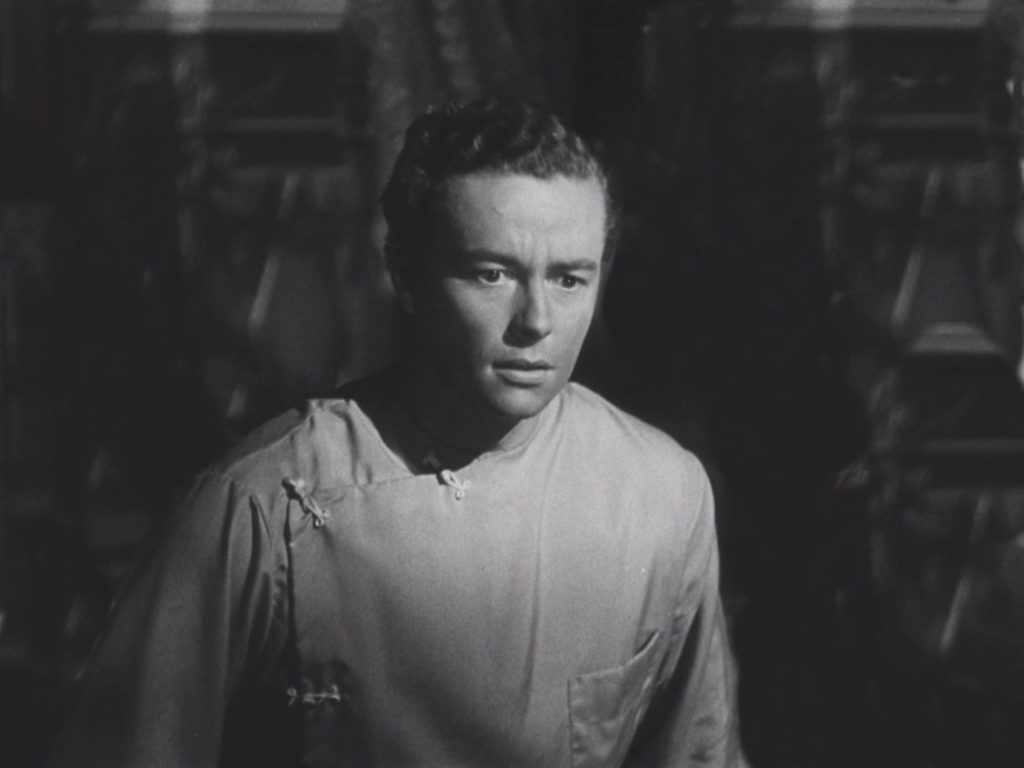 He sits down on the Daven looking ahead to the camera
George is looking at his mother.
GEORGE
Don't you think that this is a pretty insulting letter for a man to be asking you to hand his son?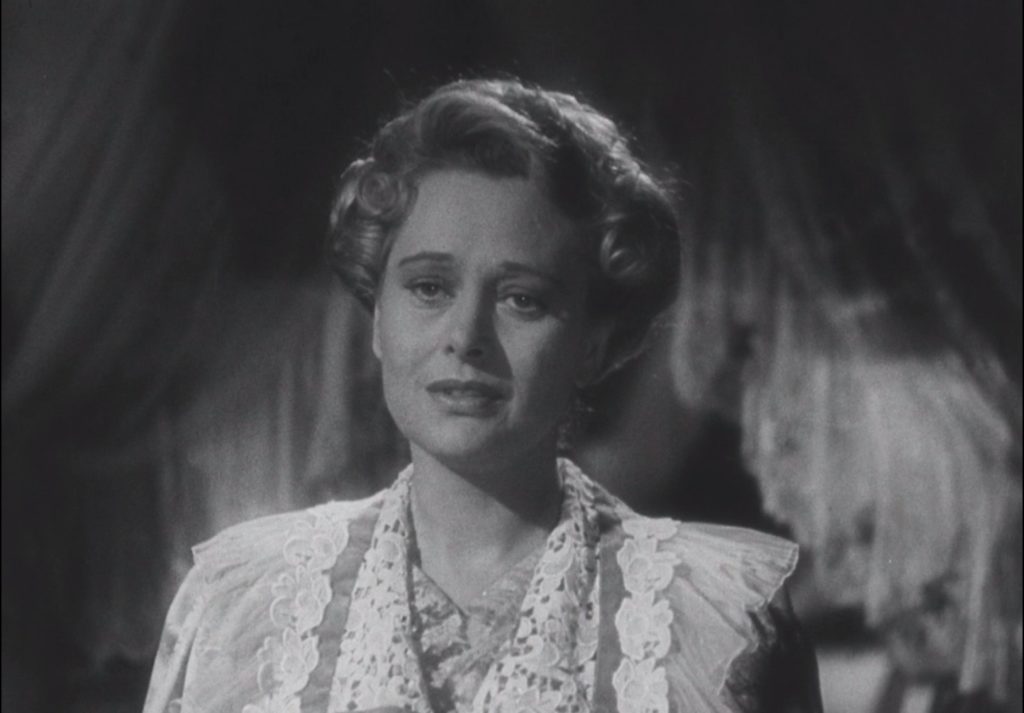 Startled, Isabel looks at George and pleads.
ISABEL
You can see how fair he means to be.
Still looking at his mother George is determined.
GEORGE
Do you suppose it ever occurs to him that I'm doing my simple duty?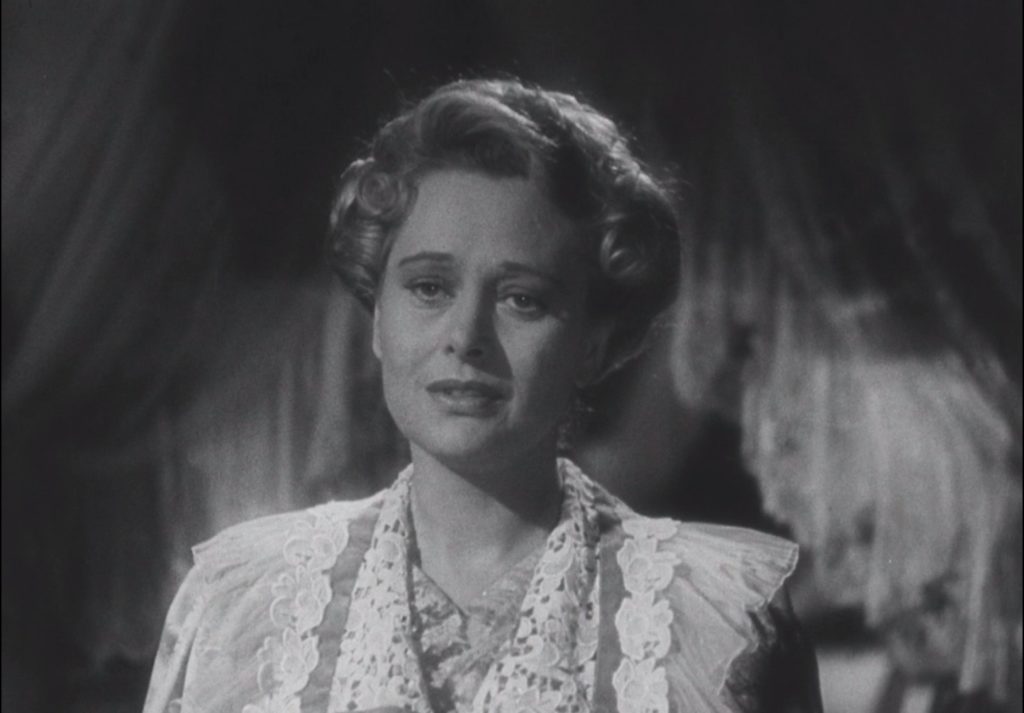 Seated Isabel listens
GEORGE's VOICE
That I'm doing what my father would do if he were here?
George rises and goes to the fireplace as the camera pans to follow
GEORGE
He said he and you don't care what people say but I know better.
He throws the letter into the fire.
At the fireplace George turns to his mother
GEORGE
He may not care but you do.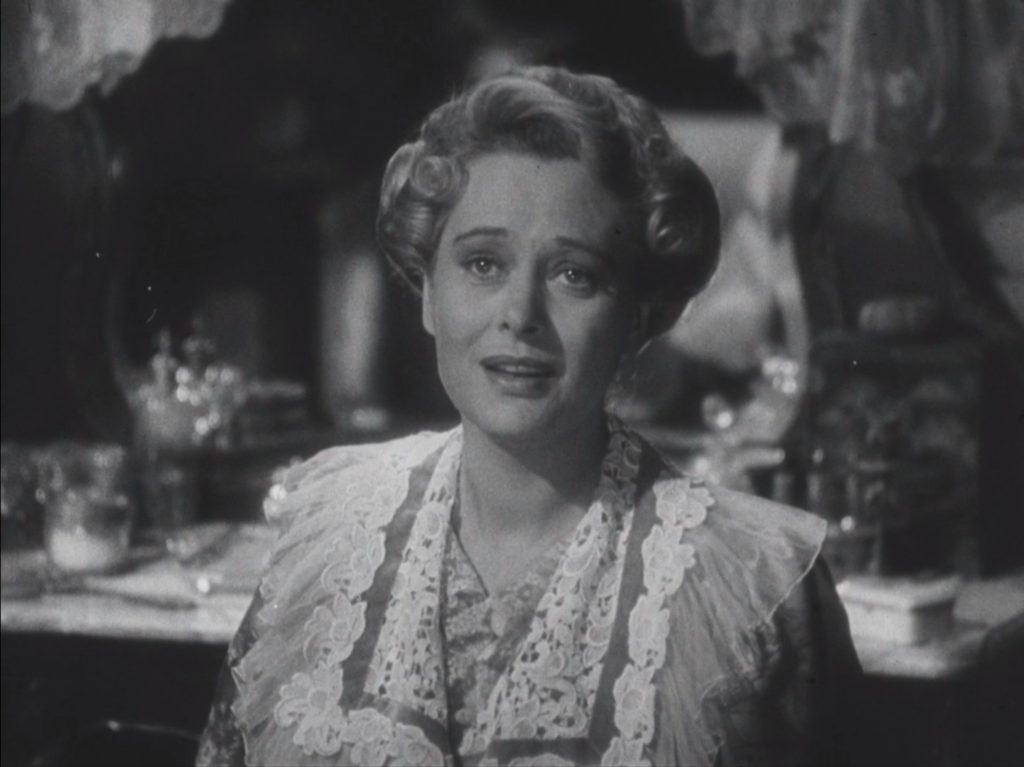 Isabel is in tears.
GEORGE
You're My Mother and your an…
George looks at his mother
GEORGE
…an Amberson and you're too proud to care for a man who could write such a letter!
At the fireplace George walks, the camera panning as he passes Isabel whose head has dropped and is staring down. She is pained and hurting.
He goes to the door opens it and turns.
GEORGE
Well, what are you going to do about it, Mother?
George is at the doorway looking at his mother and demanding.
GEORGE
What kind of an answer are you going to make to such a letter as that?
Isabel has tears in her eyes and speaks brokenly. She is confused and defeated and so falterers.
ISABEL
Why, I don't quite know, dear.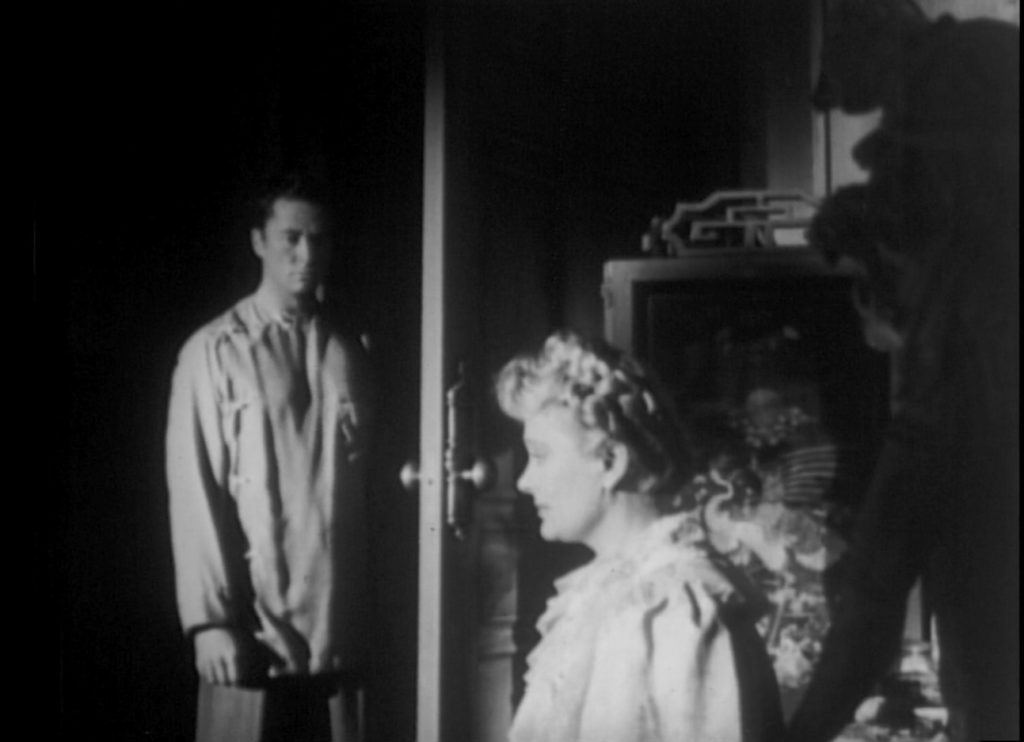 In the doorway George talks with bitterness.
GEORGE
It seems to me that if he ever set foot in this house again…I…I can't speak of it.
George turns and walks out of the room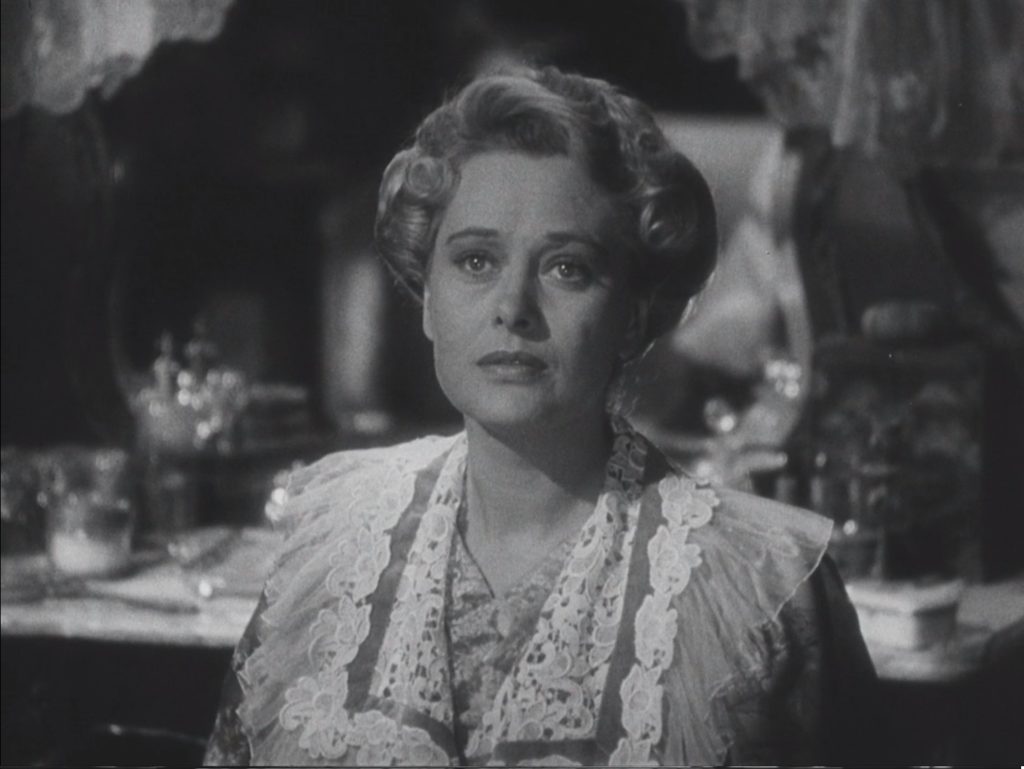 Isabel sits looking ahead tears in her eyes.
 FADE DISSOLVE
CLICK PLAY TO HEAR MUSIC (CD-ROMANZA)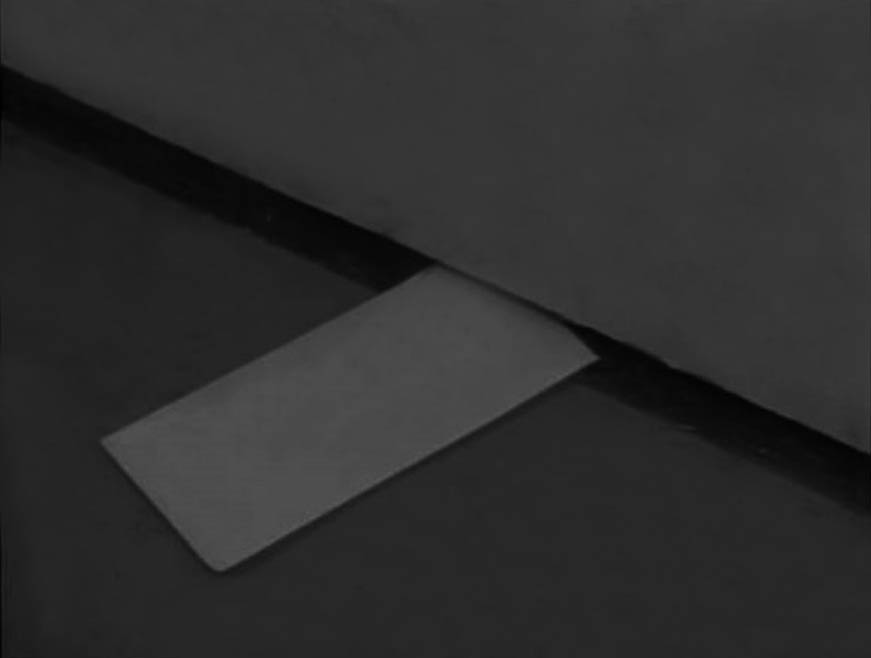 A letter is slipped under George's door.
DISSOLVE TO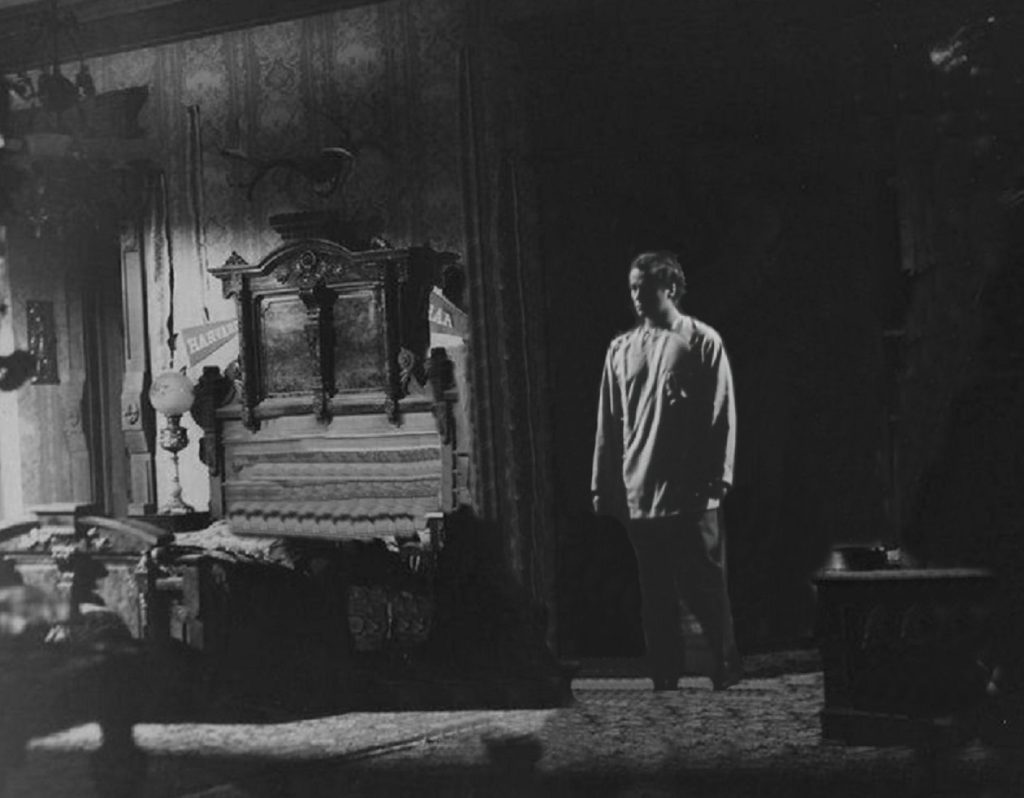 A shadow moves across it.  George leans over, picks it up. The camera pans up to follow him to his bed.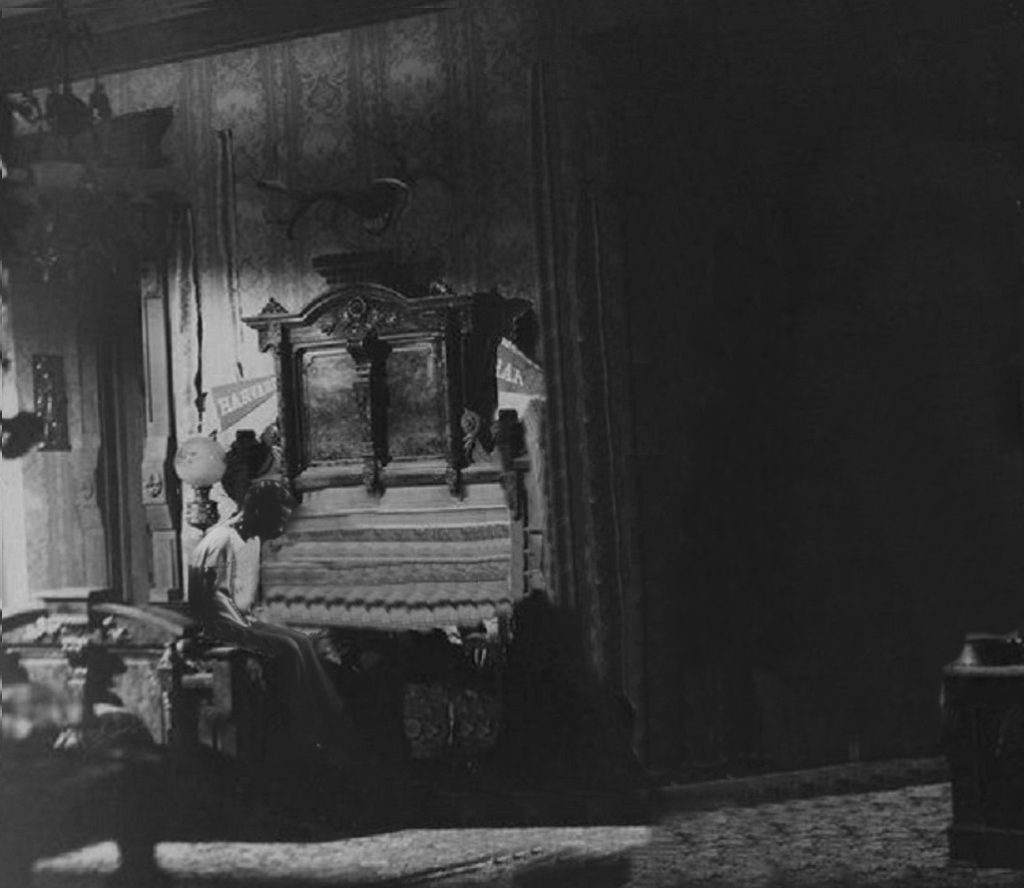 At his bed where he opens the letter. Reading Isabel's letter George lies on his bed.
ISABEL'S VOICE
George, my own dearest boy. I think it is a little better for me to write to you like this  because I'm foolish and might cry again, and I took a vow once, long ago, that you should never see me cry. I've written Eugene just about what I think you would like me to.
George turns over on his stomach with his back to the camera and reads as the camera slowly moves closer to him.
ISABEL'S VOICE
He'll understand about not seeing him. He'll understand that though I didn't say it in so many words.
George opens a page
ISABEL'S VOICE
My darling, my beloved, my beloved! I think I shouldn't mind anything very much so long as I have you "all to myself"—as people say—to make up for your long years away from me at college. We'll talk of what's best to do shan't we. And for all this pain you'll forgive your loving and devoted…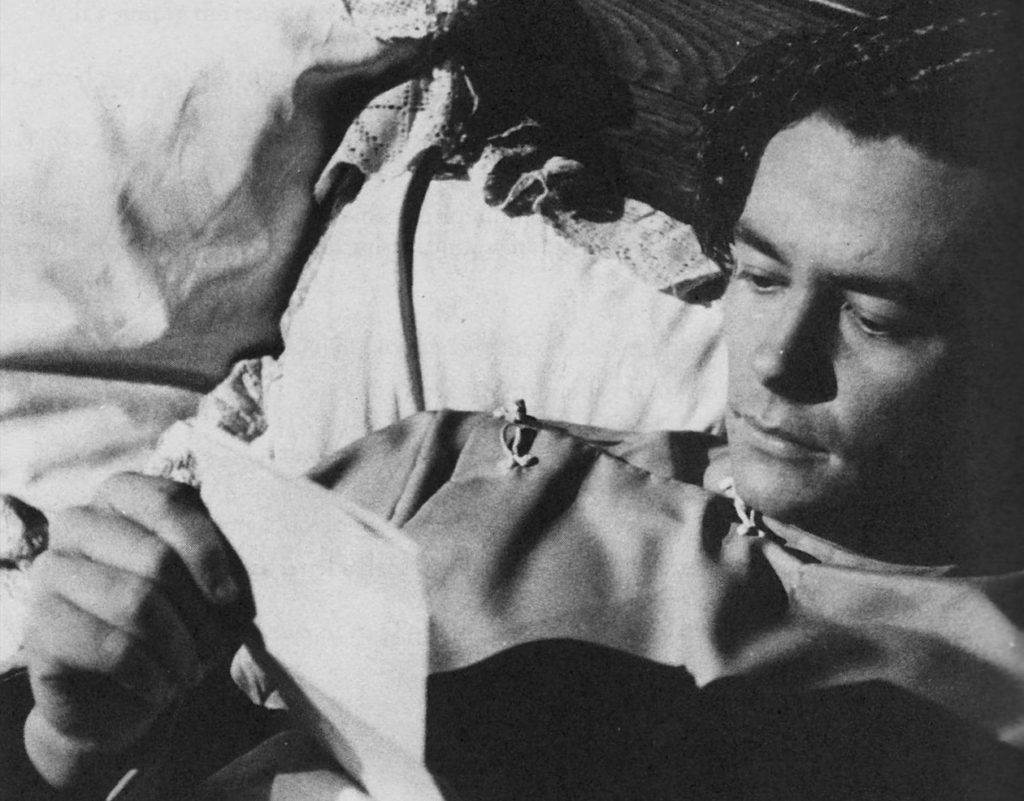 Camera is shooting up at George's face the letter before it. He whispers.
GEORGE
Mother.
He gazes ahead and frowns.
 FADE/ DISSOLVE:
(SINGLE TAKE SCENE)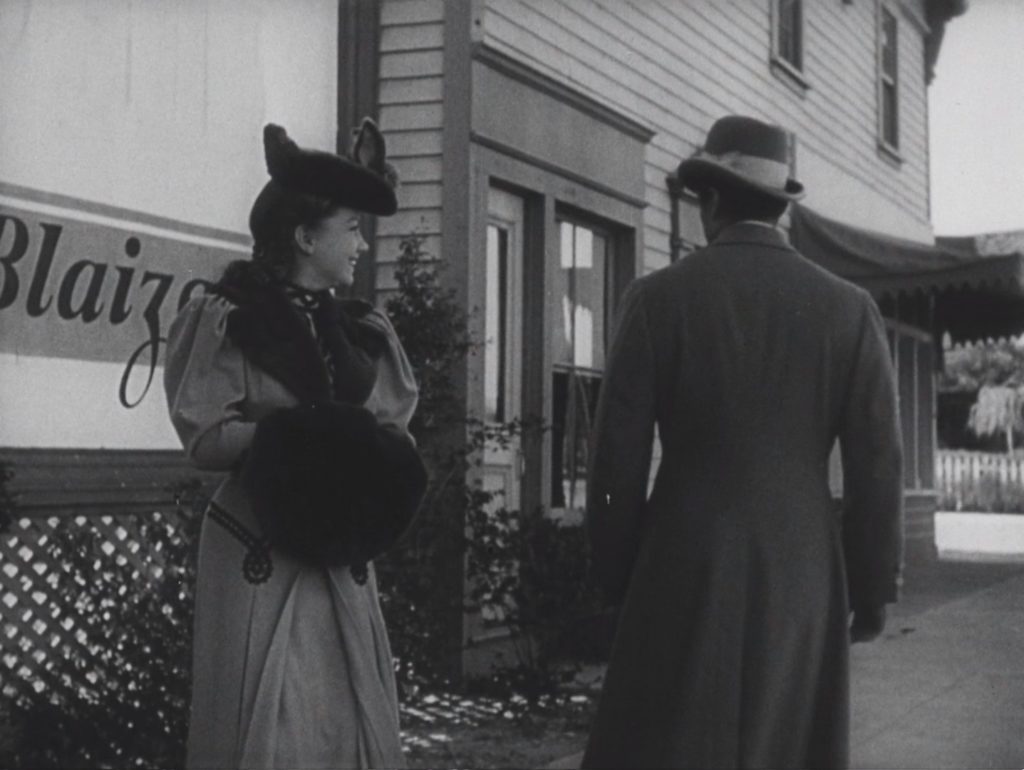 Lucy is walking up National Avenue when George walks past her as an automobile engine is heard. She stops and speaks to George without any hesitation. After what has happened he obviously expects her to rebuff him. But Lucy smiles. She doesn't know.
LUCY
Hello.
She walks to him. George takes off his hat and approaches her. She stops.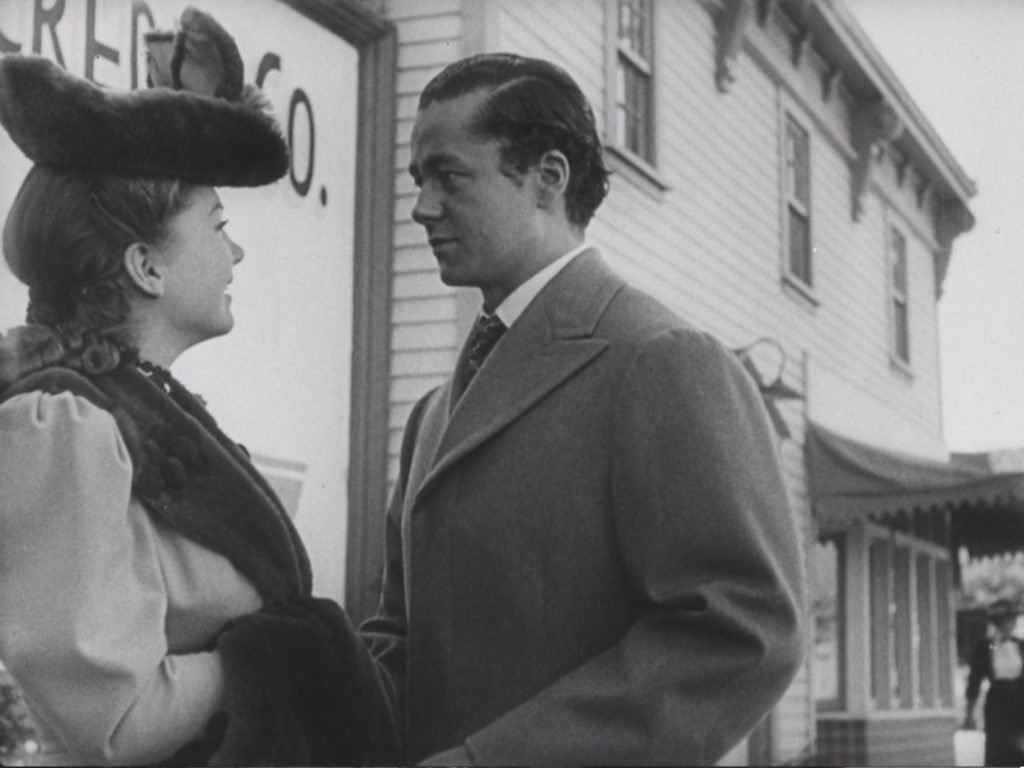 He stammers.
GEORGE
Lucy, you—haven't you…
"What I did to your father" is the sentence he doesn't complete. She hadn't
LUCY
Haven't I what?
GEORGE
Nothing. May I walk with you a little ways?
LUCY
Yes, indeed.
As they start walking George looks and speaks seriously while Lucy is being cordial.   The camera follows them as they walk down the street. George puts on his hat and traffic is heard..
GEORGE
I want to talk to you—Lucy.
LUCY
I hope it's something nice. Papa's been so glum today he's scarcely spoken to me.
 Reflections of moving traffic are seen in the shop windows they pass
GEORGE
Well…
LUCY
Is it a funny story?
GEORGE
It may seem like one to you. Just to begin with—when you went away you didn't let me know? Not even a word—not a line.
LUCY
Why no, I just trotted off for some visits.
GEORGE
At least you might have done something.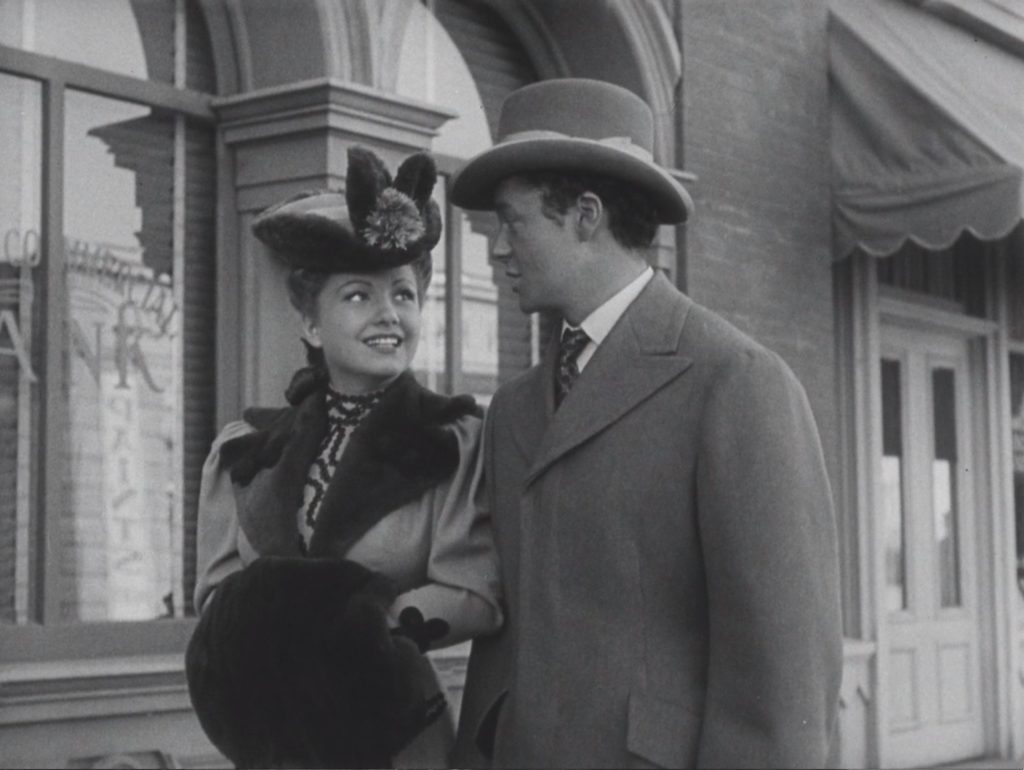 She speaks briskly seeming disinterested and this bothers him.
LUCY
Why, no. Don't you remember, George? We had a quarrel and we didn't speak to each other all the way home from a long, long drive! And since we couldn't play together like good children, of course it was plain that we oughtn't to play at all.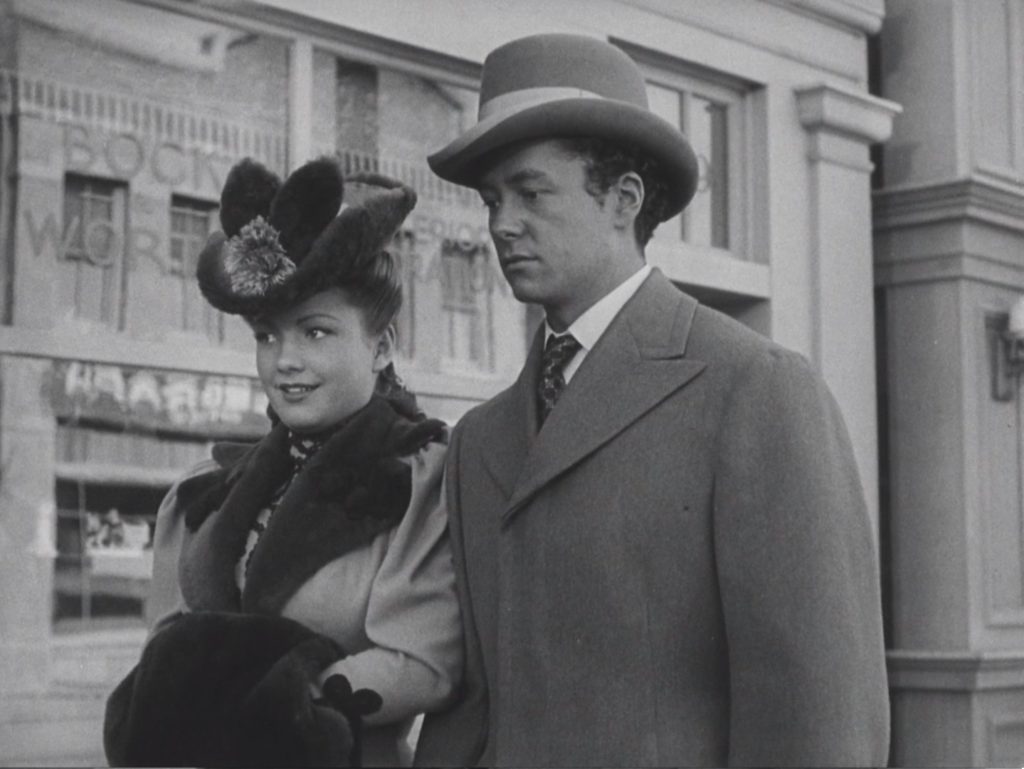 George is hurt.
GEORGE
Play!
LUCY
What I mean is we'd come to the point where it was time to quit playing—well, what we were playing
GEORGE
At being lovers, you mean, don't you?
LUCY
Something like that. It was absurd!
GEORGE
It didn't have to be absurd.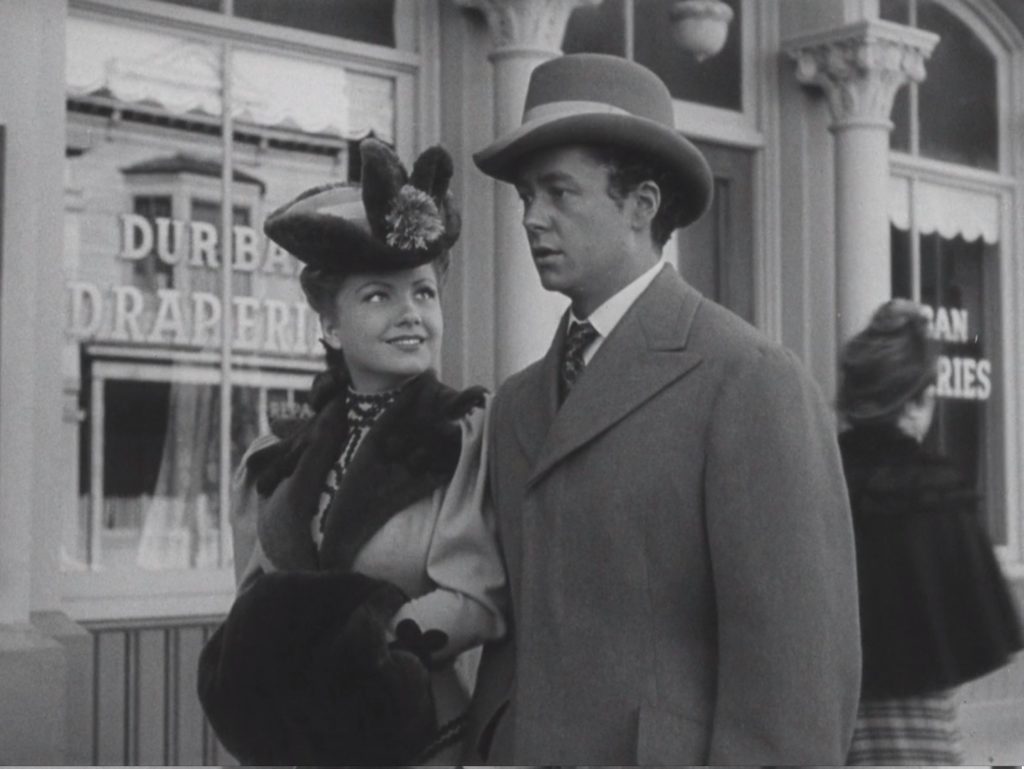 Lucy is speaking lightly and cheerfully to the point of being sunny. The complete opposite of George. He is hurting.
LUCY
No, it couldn't help but be! The way I am and the way you are, it wouldn't ever be anything else.
He sighed.
GEORGE
This time I'm going away. That's what I wanted to tell you. I'm going away tomorrow night indefinitely.
LUCY
I hope you'll have ever so nice a time, George.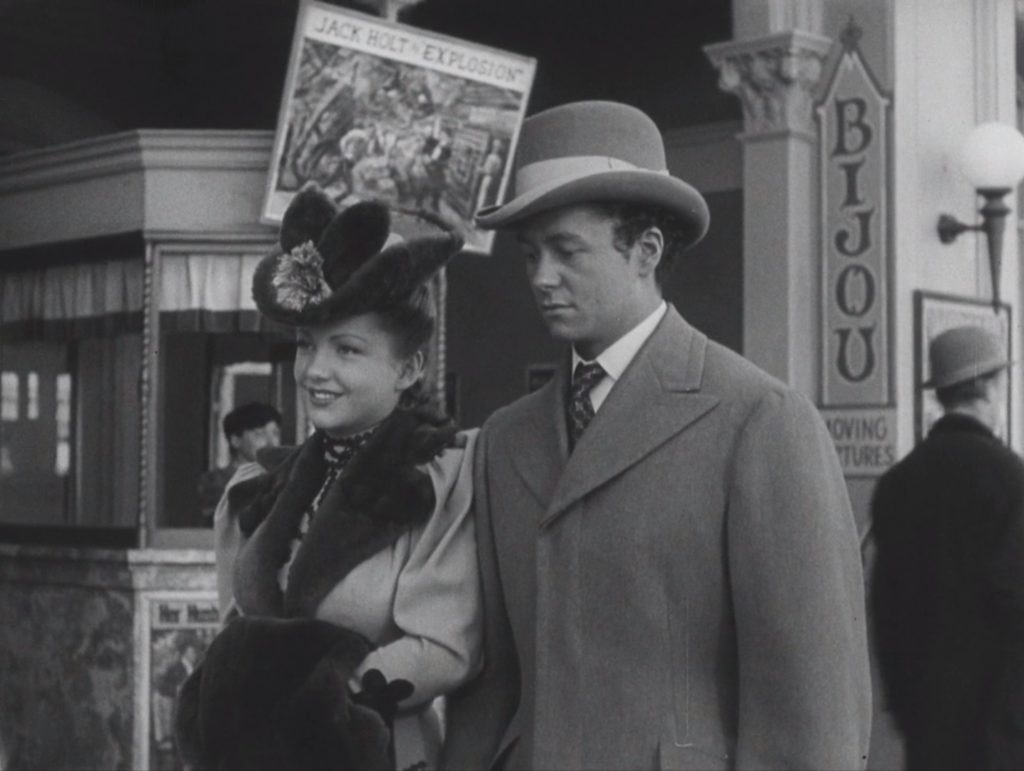 They pass in front of a Bijou movie theater, posters advertise Milies "Ghost at Circle X Camp" and a Jack Holt Adventure. The camera continues to move with them.
GEORGE
I don't expect to have a particularly "nice" time.
LUCY
Well, then, if I were you I don't think I'd go.
He is desperate in his speech.
GEORGE
This is our last walk together.
LUCY
Evidently! If you're going away tomorrow night.
GEORGE
Lucy—this may be the last time I'll see you—ever—ever in my life. Mother and I are starting tomorrow for a trip around the world and…
He halts and she stops with him and they face each other. The two have come to a corner at the edge of the business section of the city and people are everywhere about them; brushing against them, sometimes, in passing.
She smiles as brightly as before.
GEORGE
We've made no plans at all for coming back.
LUCY
My, that does sound like a long trip! Do you plan to be traveling all the time or will you stay in one place for the greater part of it? I think it would be lovely to…
GEORGE
Lucy!
LUCY
…too…
Lucy's indifference has completely defeated George.
GEORGE
I can't stand this.
Lucy laughs lightly.
GEORGE
I'm just about ready to go in this drug store here and ask the clerk for something to keep me from dying in my tracks!
Lucy Laughs harder.
GEORGE
It's quite a shock, Lucy.
LUCY
What is?
GEORGE
To find out just how deeply you've cared for me! To see how much difference this makes to you.
She is still smiling and sunny.
LUCY
George.
GEORGE
I can't stand this any longer. I can't! Good-bye, Lucy.
He takes off his hat and speaks to her hoping this might cause her to react differently. But all she does is smile lightly
GEORGE
I think it's good-bye for good, Lucy!
He turns away again.
LUCY
Good-bye! I do hope you'll have the most splendid trip.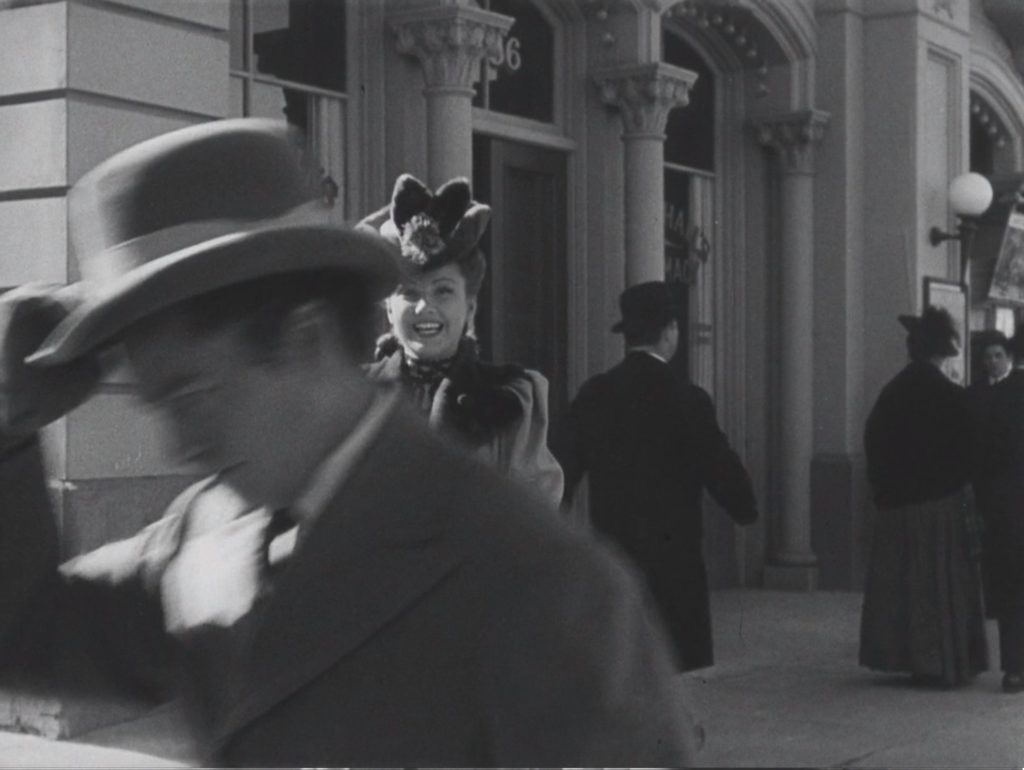 He puts on his hat, turns heavily away and strides savagely onward waking away.
Lucy stands watching him, the same cordial smile. She waves cheerily.
LUCY
Give my love to your mother.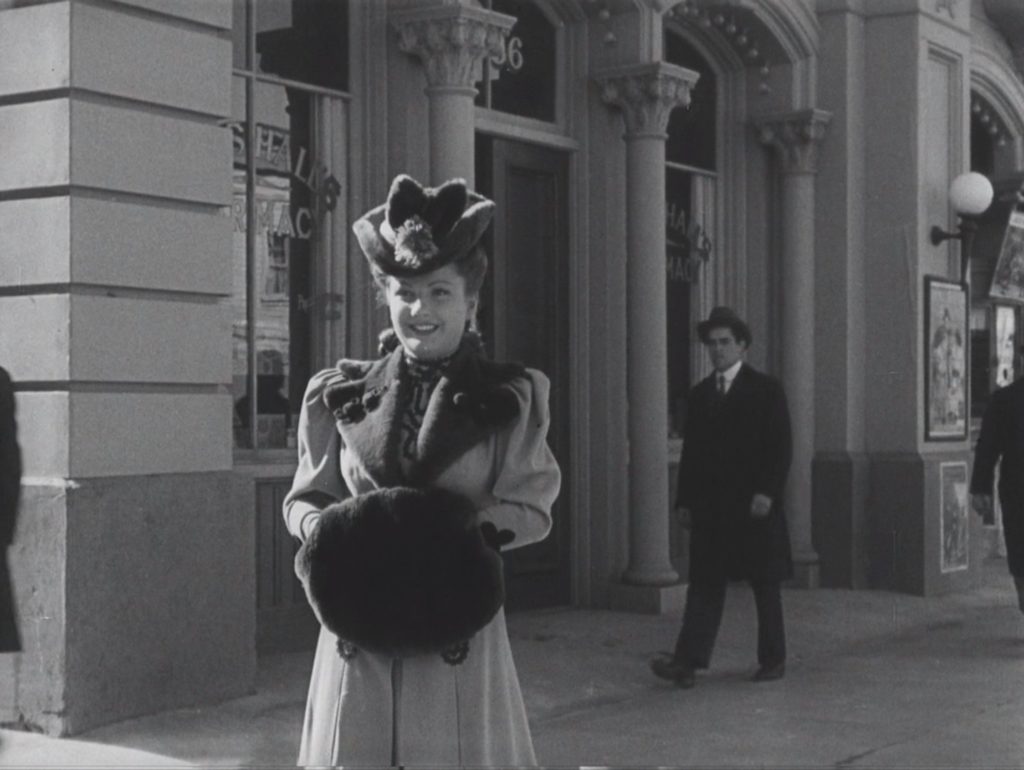 Horns are heard and people pass. Lucy remains where she is until George is out of sight.
She turns and walks toward the drugstore, hesitates and then walks inside to the entrance.
Whistling is heard as Lucy walks in.
The clerk moves in front of the camera. Lucy stops at counter and the clerk comes to her. She is the utmost composed.
LUCY
Please let me have a few drops of aromatic spirits of ammonia in a glass of water.
The clerk nods walks to the shelves and the camera pans to follow.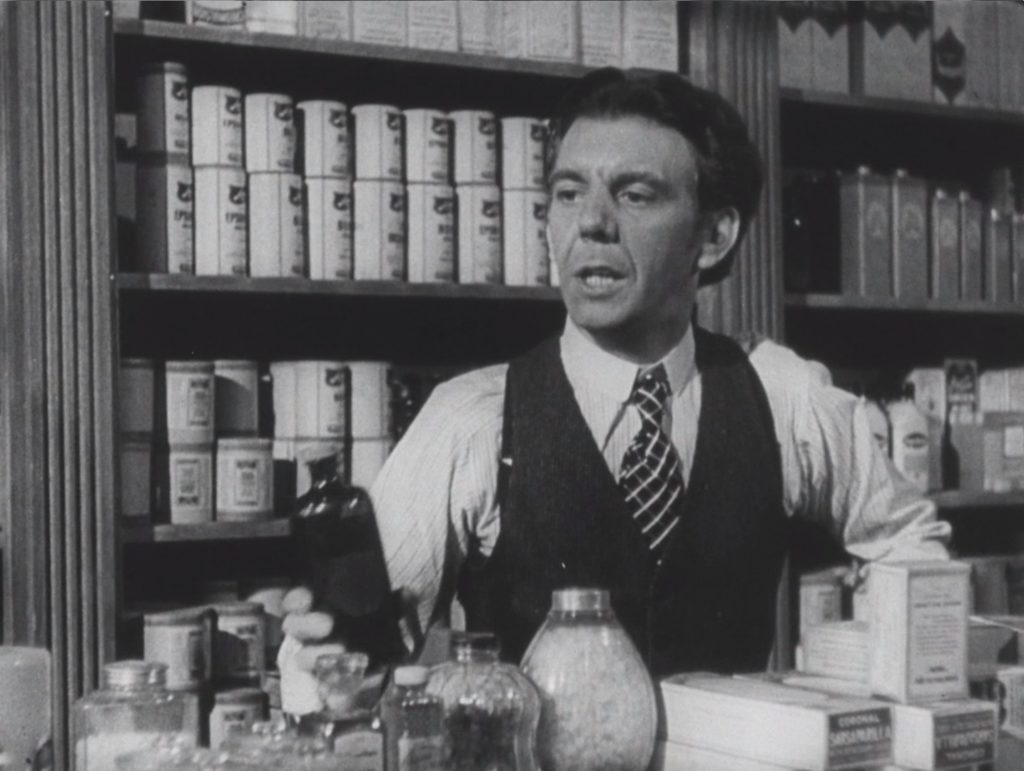 He takes bottle from a shelf turns around and is surprised and astonished. Obviously Lucy has fainted.
CLERK
For goshos' sake, Miss—
DISSOLVE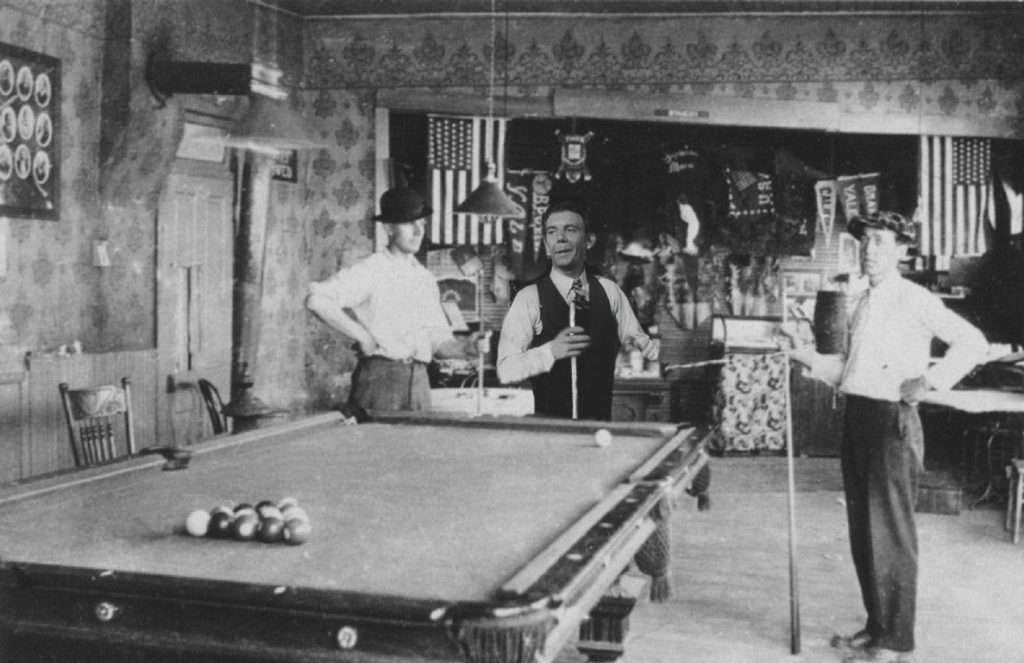 That night in a pool hall the clerk is turned towards camera. He is bragging to his friends.
CLERK
And if I hadn't been a bright, quick, ready-for-anything young fella…
Camera moves back. He turns holding the pool cue and pushes markers above.
CLERK
…she'd a' flummixed plum!
He turns back to towards the camera.
CLERK
One the prettiest girls that over walked in our place and took one good look at me. I gu
ess it must be the truth what some a' you town wags say about my face, huh!
FADEOUT/FADE IN
CLICK PLAY TO HEAR MUSIC (SECOND NOCTUNE)
(SINGLE TAKE / SINGLE ANGLE SCENE)
The major and Fanny are sitting on the Mansion's veranda. Fanny, her side to us, is close to the camera. The major is sitting next to her and the two are dimly seen as a steady stream of passing automobiles can be seen on the street in the far background.  The autos dominate the street as the camera looks out towards Mrs. Johnson's house. It is the house which opened the film and used to show what life was once like in the town years earlier.   As Fanny and the Major speak the audience can see the town is changing.
MAJOR AMBERSON
Funny thing. Those now houses were built only a year ago. They look old already. Cost enough money, though, I guess I should have built those apartments after all.
FANNY
Housekeeping in a house is harder than in an apartment.
MAJOR AMBERSON
Yes. Where the smoke and dirt are as thick as they are in the Amberson Addition, I guess the women can't stand it. Well, I've got one painful satisfaction—I got my taxes lowered.
FANNY
How did you manage such an economy?
MAJOR AMBERSON
I said it was a painful satisfaction, Fanny. The property has gone down in value, and they assessed it lower than they did fifteen years ago.
FANNY
But farther out—
MAJOR AMBERSON
Oh, Yes, "farther out!" Prices are magnificent "farther out" and farther in, too! We just happen to be in the wrong spot, that's all.
He sighs; and both are silent, looking out at the constantly passing traffic of autos. The long flares of passing automobile headlights are seen against the darkness. Now and then a bicycle winds its way and at even longer intervals, a buggy plodded by. Fanny speaks thoughtfully.
FANNY
There seem to be so many ways of making money nowadays. Jack had some scheme he was working on before he went abroad.
MAJOR AMBERSON
Yes—that invention. "Millions in it!" Some new electric headlight. He's putting half he's laid by into it. Had a letter from him the other day asking me to go into it, too.
FANNY
He seemed certain it would pay twenty-five percent the first year, enormously more after that; and I'm only getting four on my little principal.
Again both are silent, watching the passing traffic. Thinking about his daughter the Major speaks gravely.
MAJOR AMBERSON
Isabel wants to come home. Her letters are full of it. Jack writes me she talks of nothing else. She's wanted to come for a long while. She ought to come while she can stand the journey
Another long pause. No response from Fanny as Isabel is the last thing on Fanny's mind. She is too caught up with thoughts of becoming rich as with Fanny, somehow or another it's always about Fanny.
FANNY
People are making such enormous fortunes out of everything to do with motor cars, it does seem as if…I wrote Jack I'd think it over seriously.
MAJOR AMBERSON
Well, Fanny, maybe we'll be partners. How about it? And millionaires, too!
The Major laughs ruefully.
FADEOUT/FADE IN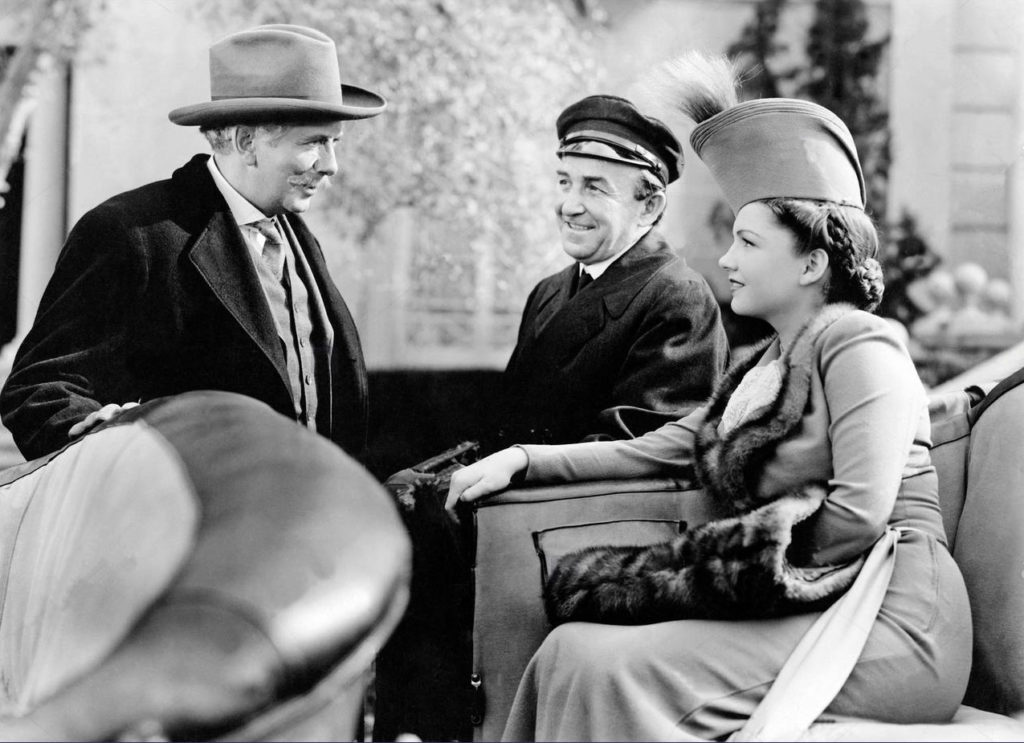 In the Drive of the Morgan Mansion Jack is helping Lucy out of a touring car driven by a chauffeur.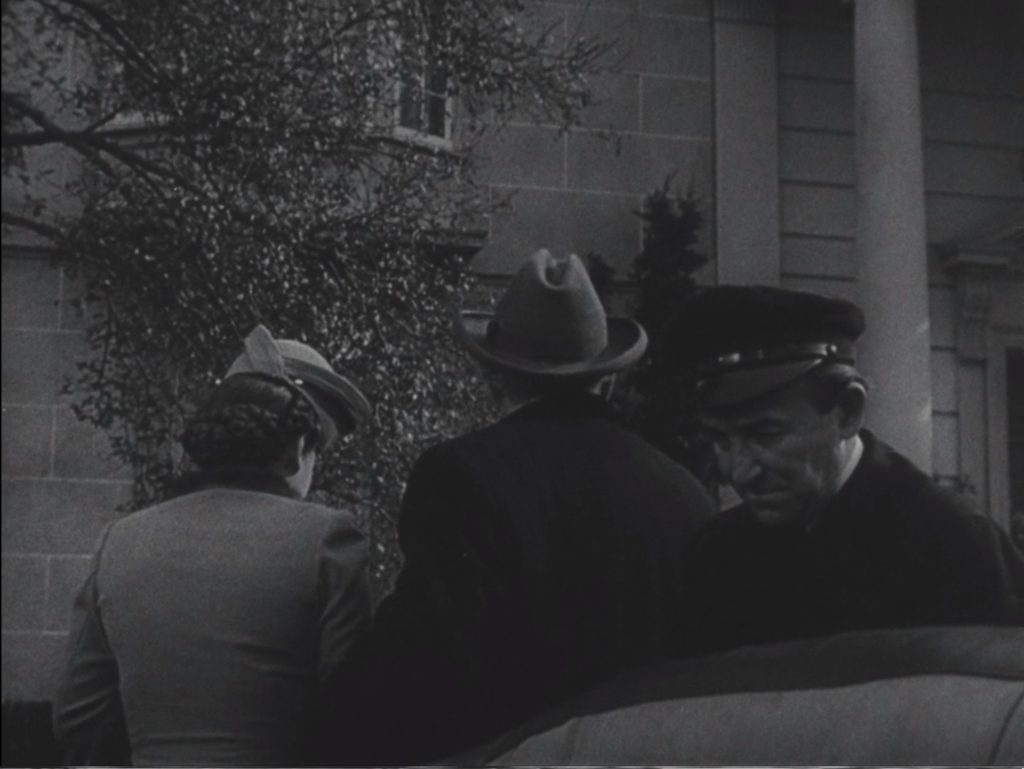 Jack talks as they walk towards the entrance to the house.
JACK
I wonder, Lucy, if history's going on forever repeating itself. I wonder if this town's going on building up things and rolling over them, as poor father once said it was rolling over his poor old heart. It looks like it.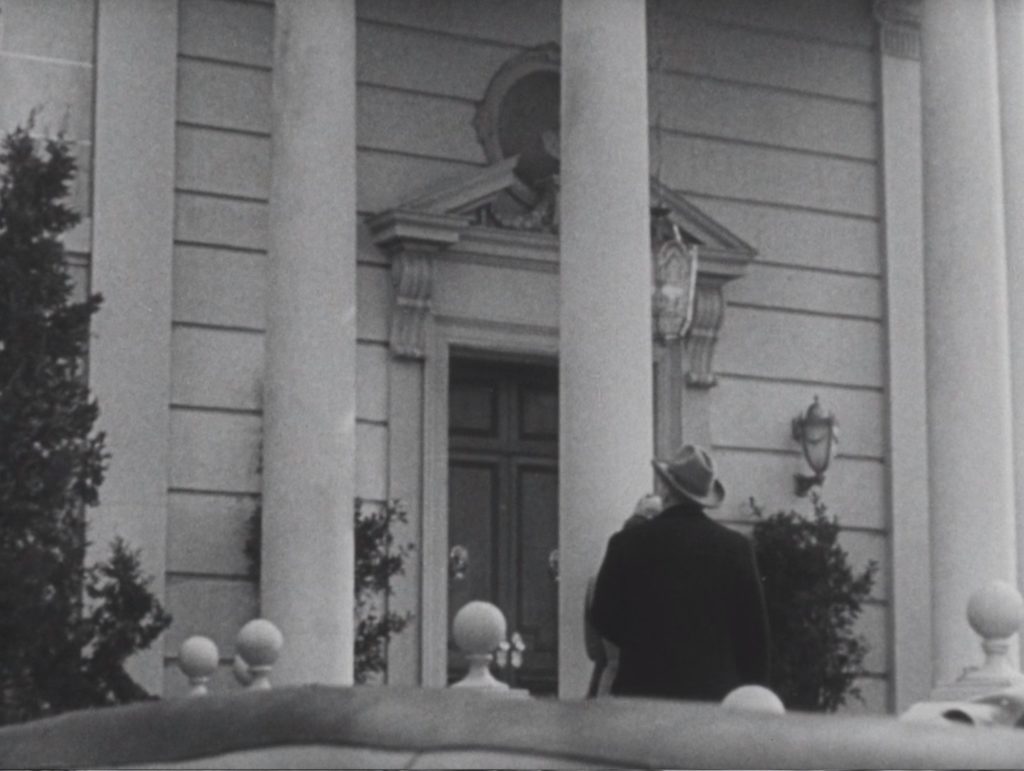 They go up the steps to the house's entrance and the camera pans slightly.
JACK
Here's the Amberson Mansion again, only it's Georgian instead of nondescript Romanesque; but it's just the same Amberson Mansion my father built long before you were born.
Walking up the steps Lucy turns with Jack next to her. The two turn around to face the town.
JACK
You're pretty refreshingly out of the smoke up here.
The door behind them is opened by a butler as Lucy speaks.
LUCY
Yes, until the smoke comes and we have to move on further.
JACK
No, no. You'll stay here. It'll be somebody else who'll move out further.
Jack chuckles, Lucy takes his arm and they walk into the hall.
DISSOLVE TO
(SINGLE TAKE / SINGLE ANGLE SCENE)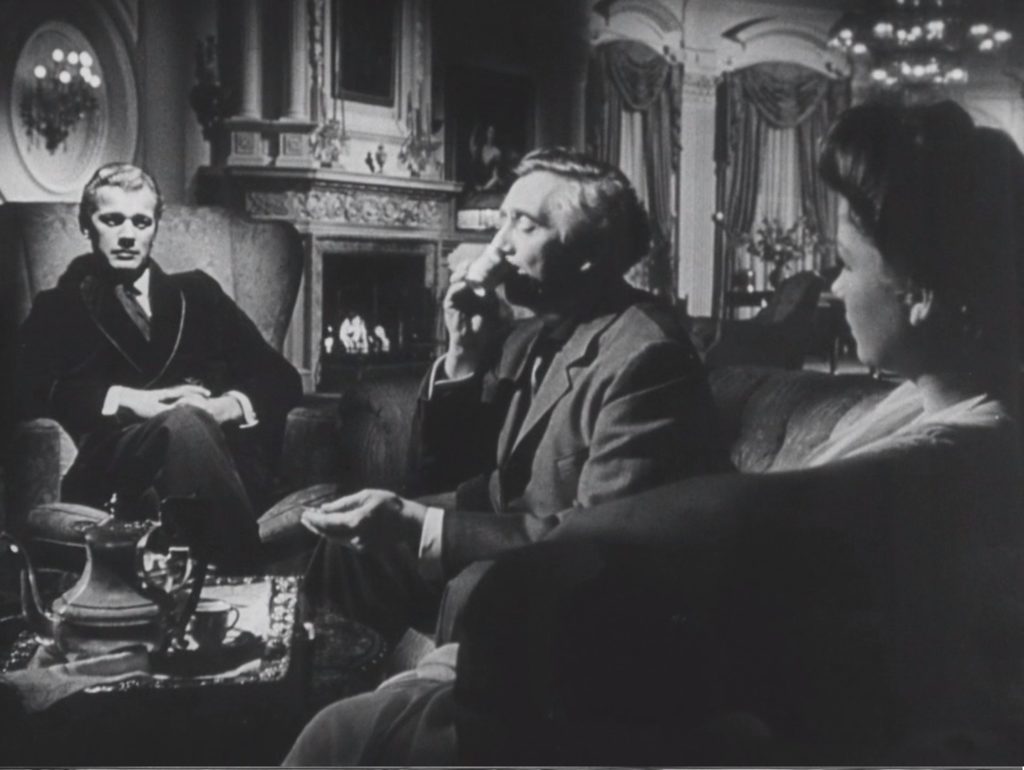 The Morgan's drawing room is a grey and shadowy room. Lucy is sitting on a divan and Jack is sitting in a chair with Eugene in back of him on a chair. There is an enormous fireplace and Jack drinks from a cup.
He places it on the table. Then speaks in a casual but serious tone
JACK
I found Isabel as well as usual.
He pauses, Jack's attention for a moment is occupied with a cigar as he bestows minute care upon the removal of the little band from his cigar while avoiding looking at the two. What he speaks of is painful for him to say as much as it will be for them to hear.
JACK
Only I'm afraid "as usual" isn't particularly well. It struck me Isabel ought to be in a wheel-hair.
Jack pauses and Eugene asks quietly.
EUGENE
What do you mean by that?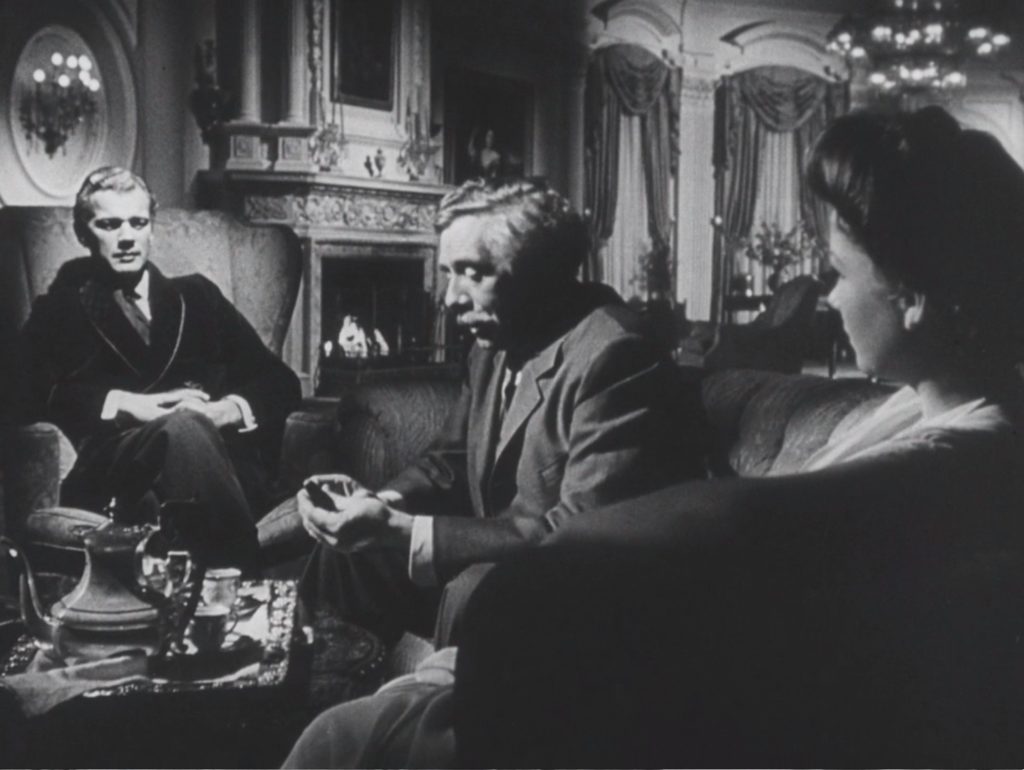 Jack still avoids looking at the two as it is painful for him to speak about this.
JACK
Oh, she's cheerful enough. At least…she manages to seem so…She's pretty short of breath…Father's been that way for years, of course…but never nearly so much as Isabel is now…I told her I thought she ought to make George let her come home.
Although his face doesn't change Eugene is surprised hearing this.
EUGENE
"Let her?" Does she want to?
JACK
She doesn't urge it. George seems to like the life there in his grand, gloomy, and peculiar way…She'll never change about being proud of him and all that…He's quite a swell…But she does want to come…She'd like to be with father, of course; and I think she's…well, she intimated one day that she was afraid it might even happen…that she wouldn't get to see him again. I think she was really thinking of her own state of health.
Eugene has gotten what Jack is intimating.
EUGENE
I see. And you say he won't "let" her come home?
JACK
Oh, I don't think he uses force…He's very gentle with her…I doubt if the subject is mentioned between them and yet…yet, knowing my interesting nephew as you do, wouldn't you think that was about the way to put it?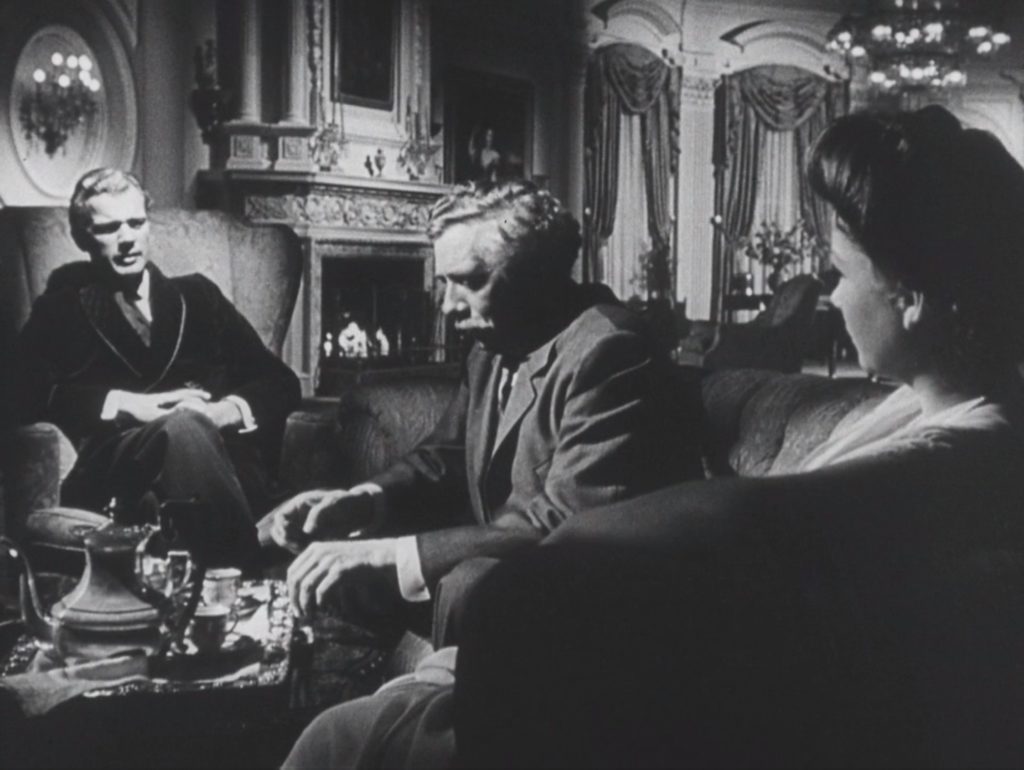 Eugene nods.
EUGENE
Knowing him as I do…Yes. Yes, I should think that's about the way to put it.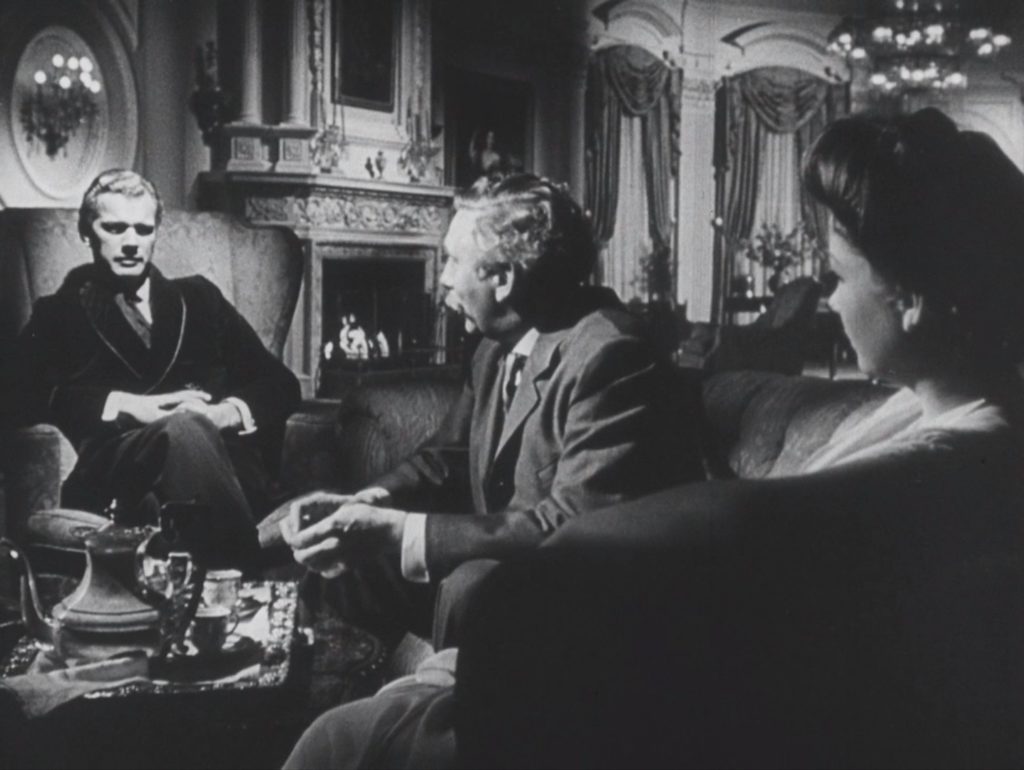 Jack looks at Eugene smiling slightly but embarrassed..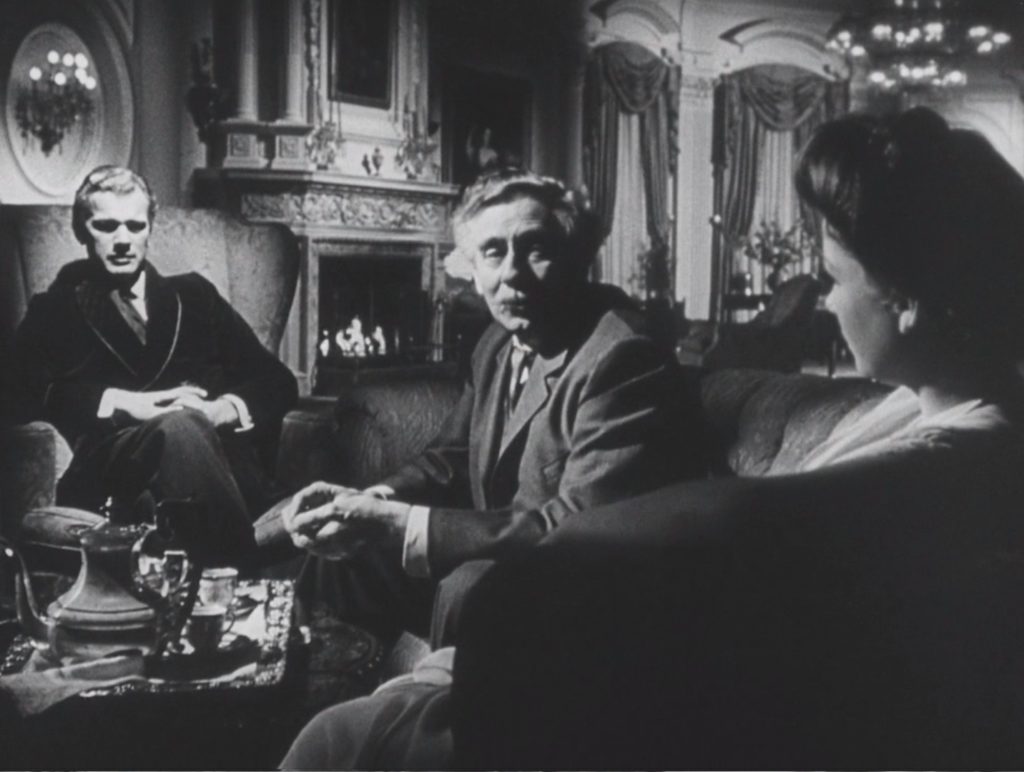 He looks at Lucy
FADEOUT/FADE IN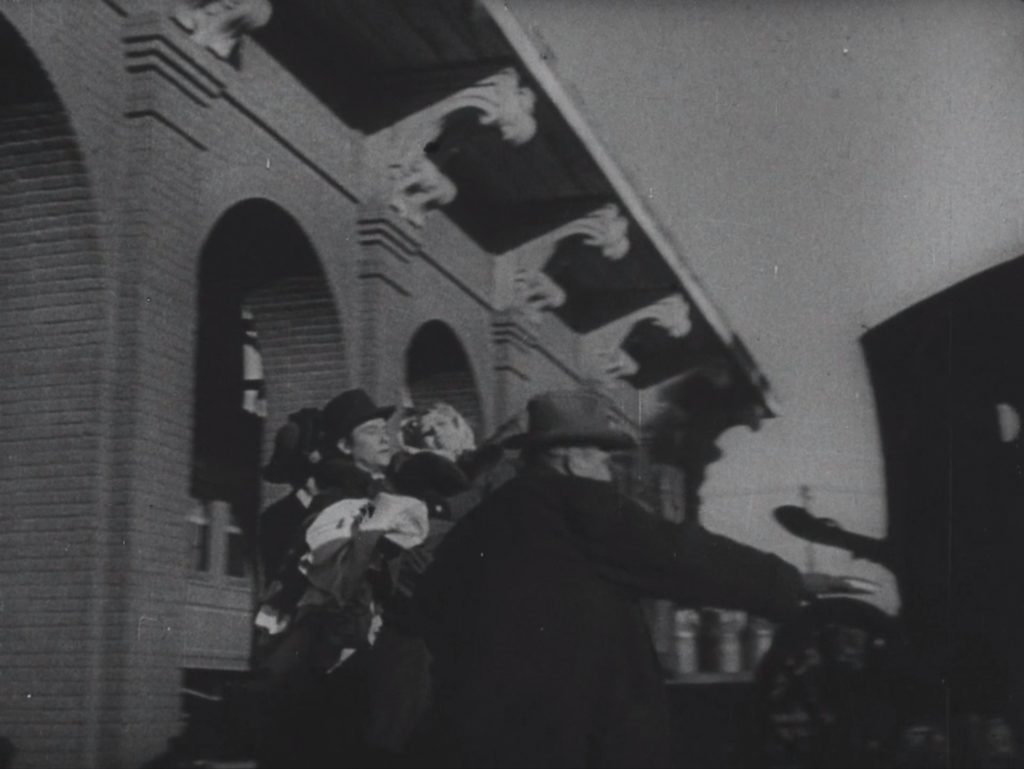 Outside the train station train noises are heard. Against this background of loud station noises at the entrance George is carrying Isabel.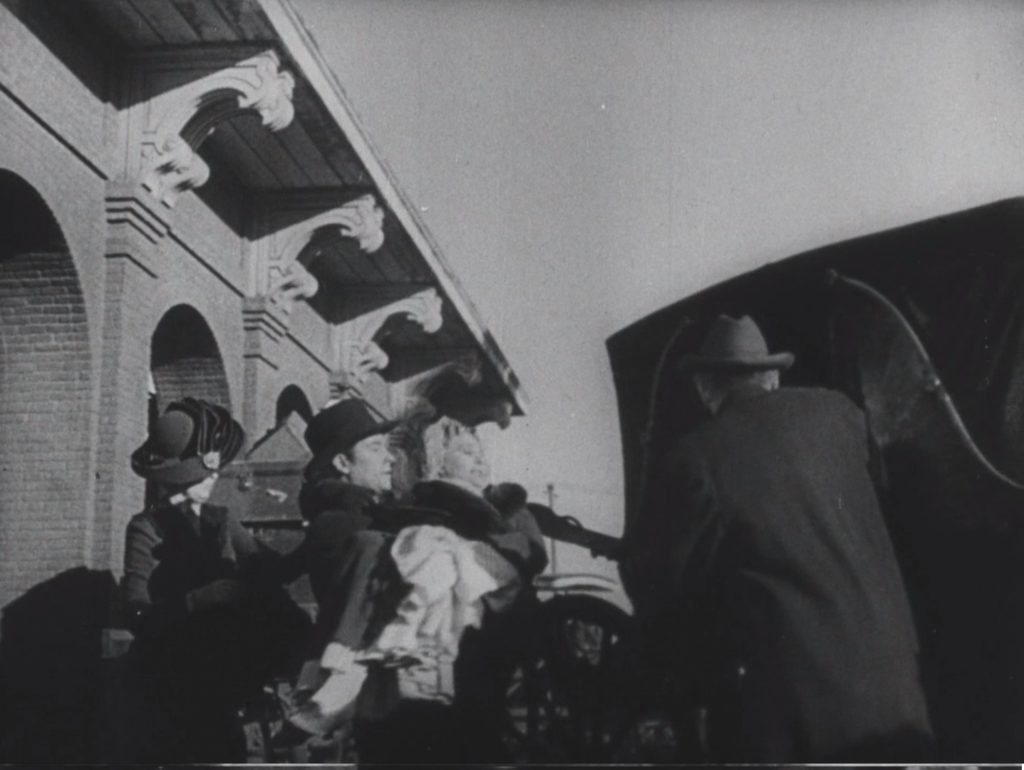 Jack rushes in front of them to open a carriage door. Fanny follows and Jack climbs in.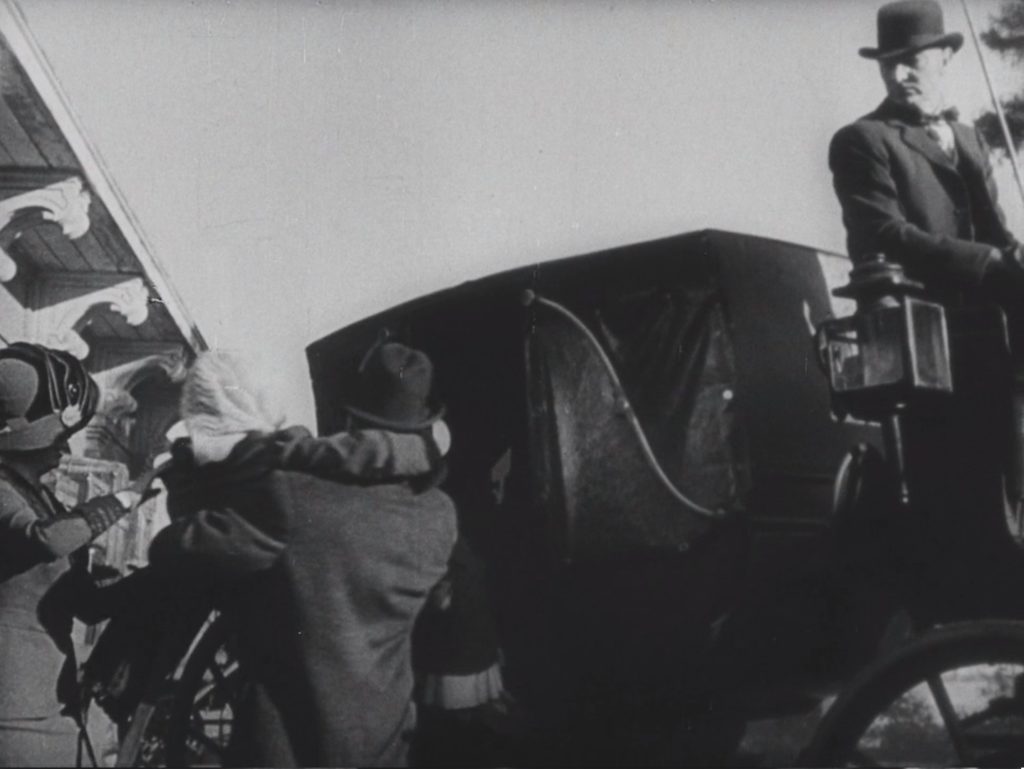 George begins to lift Isabel into the carriage.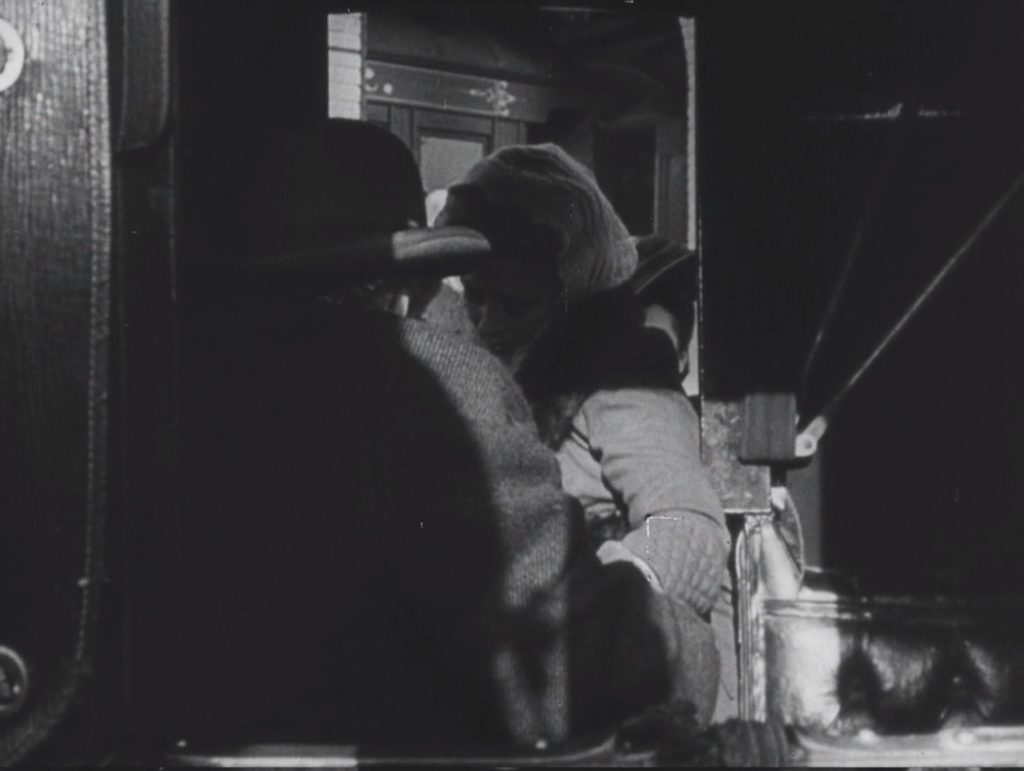 Jack is helping Isabel in and seats her.
George and Fanny get into carriage
 George sits beside his mother.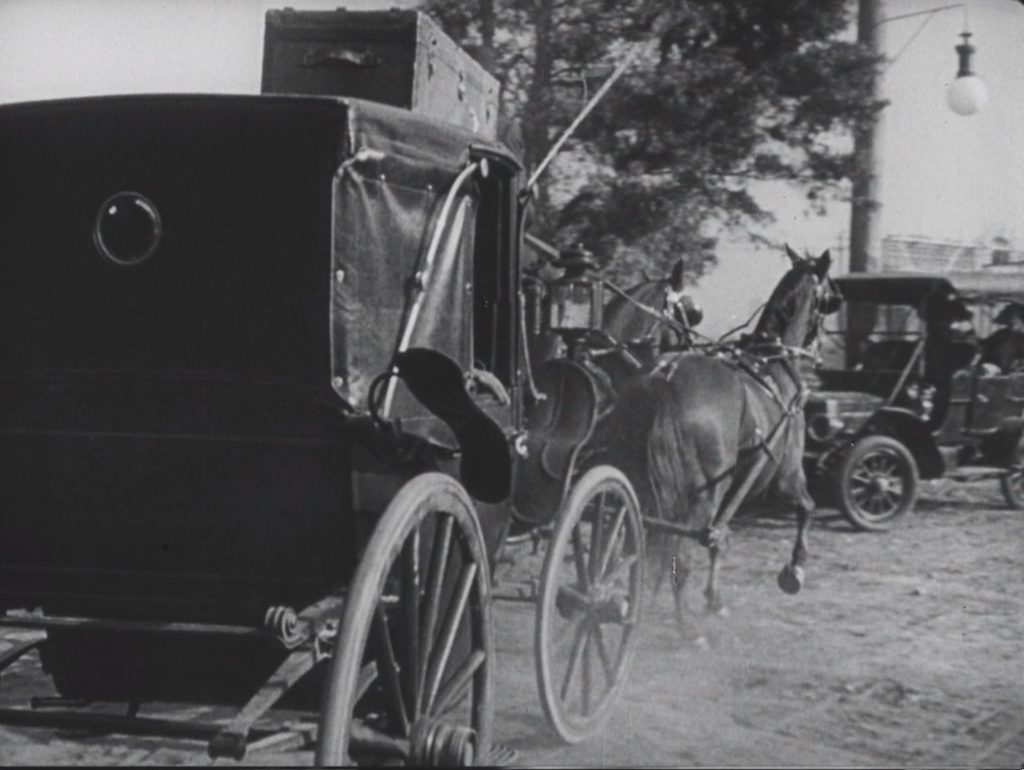 The carriage moves, auto horns are heard honking at the carriage. Some cars move  on as they pass by.
DISSOLVE TO
(MUSIC CD-DEPARTURE)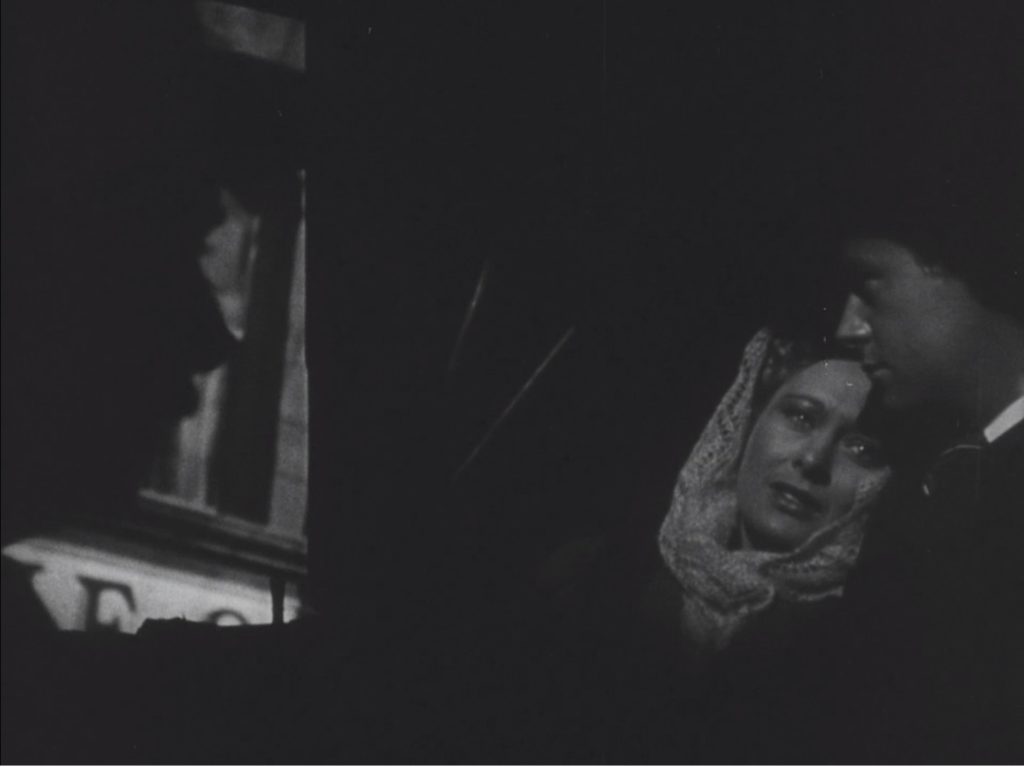 Jack is in profile with Isabel and George sitting together her head resting on his shoulder. Isabel speaks weakly in a whisper. Appearing drained of life she can only manage a whisper.
ISABEL
Changed…So changed.
JACK
You mean…the town. You mean the old place is changed don't you, dear?
Her lips barely move.
ISABEL
Yes.
Jack attempts to raise her spirts.
JACK
It'll change to a happier place, old dear, now that you're back in it…and going to get well again.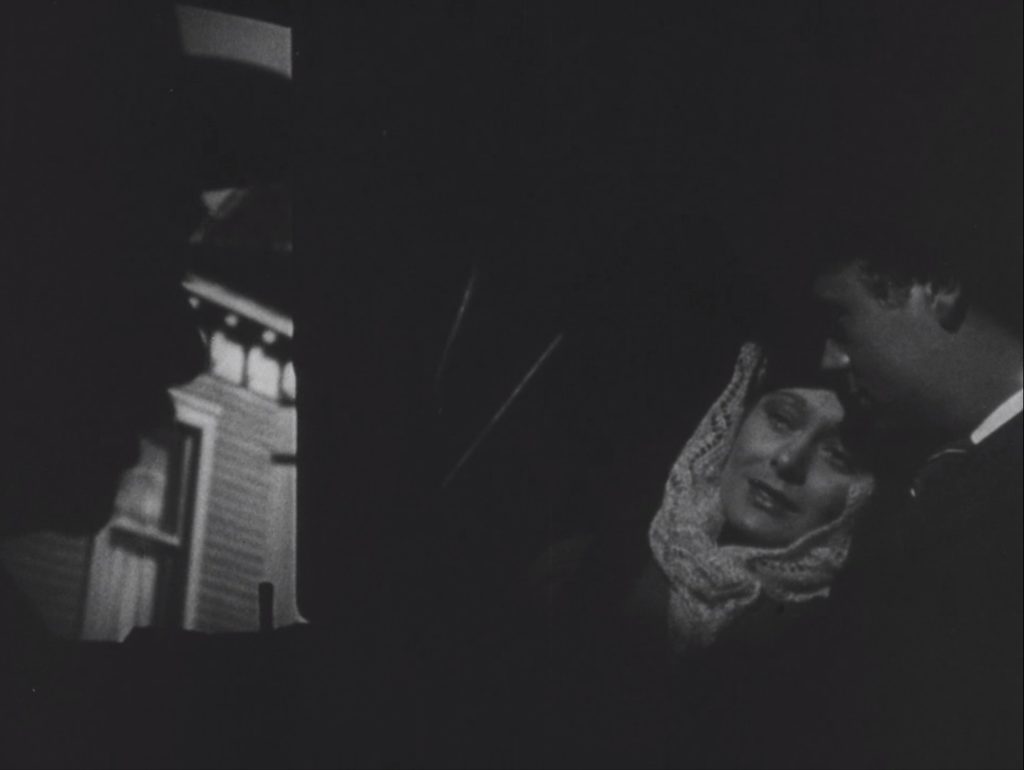 DISSOLVE TO
(SINGLE TAKE / SINGLE ANGLE SCENE)
 On the 2nd floor of the Mansion George is devastated while around him a stricken group including Jack—beside him—and the Major stand  looking at the nurse coming out of Isabel's room at the far end of the screen. The major's figure is stooping with age and his untrimmed white hair straggles over the back of his collar. He now needs a cane and appears old, divested of the world.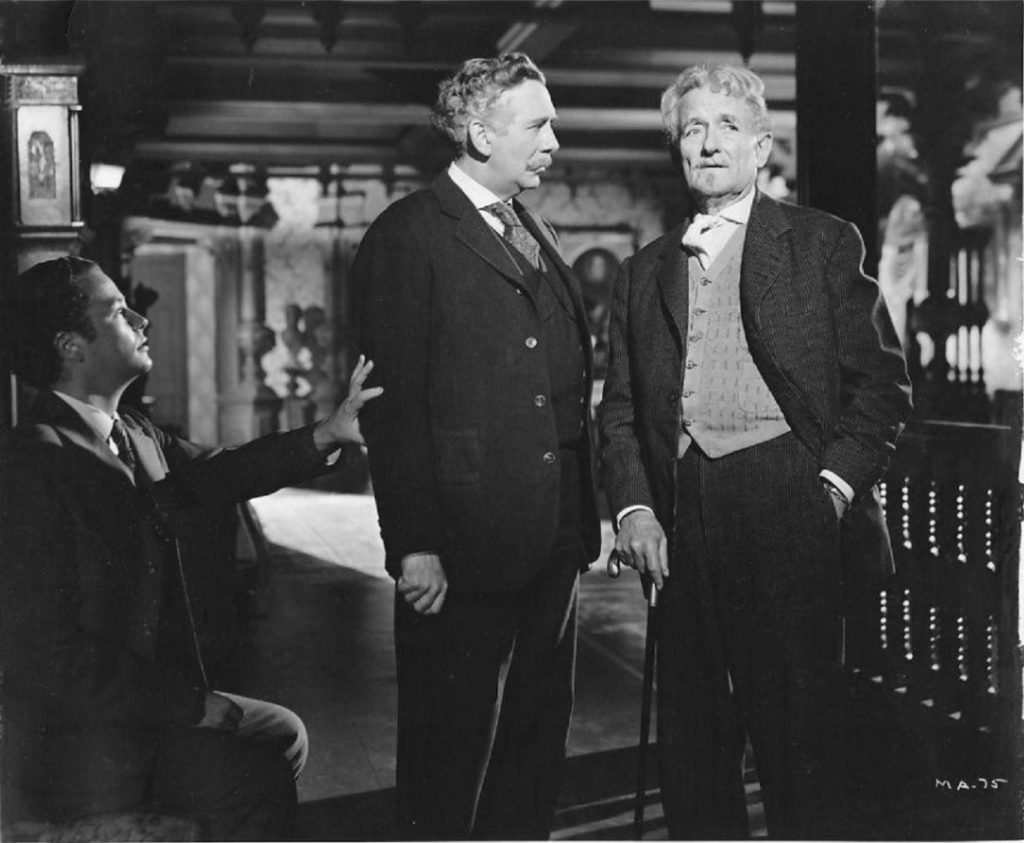 As the nurse approaches the Major turns to speak to her.
MAJOR AMBERSON
Nurse, when are they going to let me see my daughter?  I think she wants…
He stops talking bewildered when the door to Isabel's room opens and the doctor stands in the doorway.
MAJOR
a…a…a…I'm sure she wants to see me. I've got something to say to her too…
Jack goes to his father. The Major is mumbling.
MAJOR
…if she don't want…
JACK
Father!
MAJOR
…to let me in to see
The major turns to Jack and Jack looks at doctor who beckons to the Major. The major turns to see and then shuffles forward leaning on his shaking cane looking old as he creeps his way towards Isabel's open doorway. Jack glances at a completely devastated George still sitting and then follows the Major walking towards Isabel's room.  Fanny comes up the stairs and in a whisper calls to George.
FANNY
George…George…George…
Isabel weak voice is heard
ISABEL'S VOICE
Father…Father…
FANNY
George!
They glance backward to see the Major and doctor enter Isabel's room. Fanny walks closer to the George and very uncomfortable, whispers.
FANNY
Eugene is here.
George is hardly listening his mind elsewhere, worried and concerned about his mother as he realizes she is going to die.
GEORGE
Hm?
This is difficult for Fanny.
FANNY
He's downstairs.
GEORGE
What?
FANNY
Eugene is here.
George stands and walks to Fanny looking at her sharply as he slowly comprehends her words.
GEORGE
Eugene is here!
FANNY
He's downstairs. He wants to know if he can't see her. I didn't know what to say…I said I'd see. I didn't know—the doctor said
George speaks grimly.   The last person he wants to see or hear is Eugene Morgan
GEORGE
The doctor said we "must keep her peaceful." Do you think that man's coming would be very soothing? Why, it would be like taking a stranger into her room. Doesn't he know how sick she is?
George walks behind Fanny staring ahead and talks impatiently.
GEORGE
You tell him the doctor said she had to be quiet and peaceful. That's what he did say, isn't it?
Pained, Fanny says nothing just turns and goes down the steps as George watches after her.